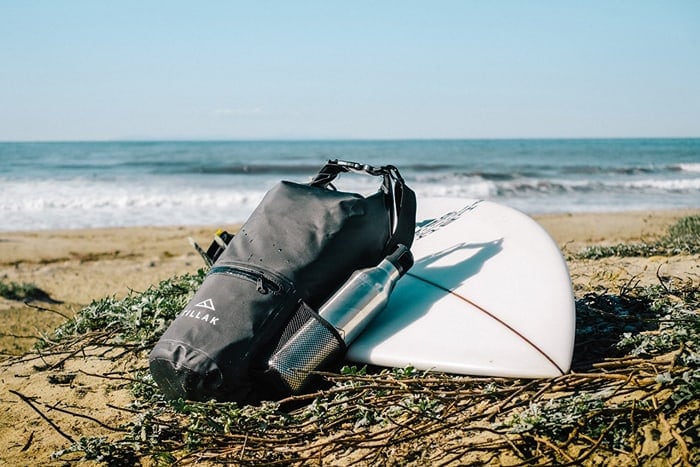 A dry bag is an awesome piece of adventuring equipment that's really helpful in a ton of travel scenarios but often overlooked. If you're headed out on a river trip, then yeah, it's pretty obvious, but there are so many situations where a good dry bag comes in handy.
Whether you're headed on a camping adventure, sailing saga, motorcycle mission, or surf trip, a dry bag will protect your gear from the elements and give you peace of mind that your beloved tech (cameras, lenses, phones, etc) are safe and sound. Consider a dry bag a low-cost insurance policy for your next trip.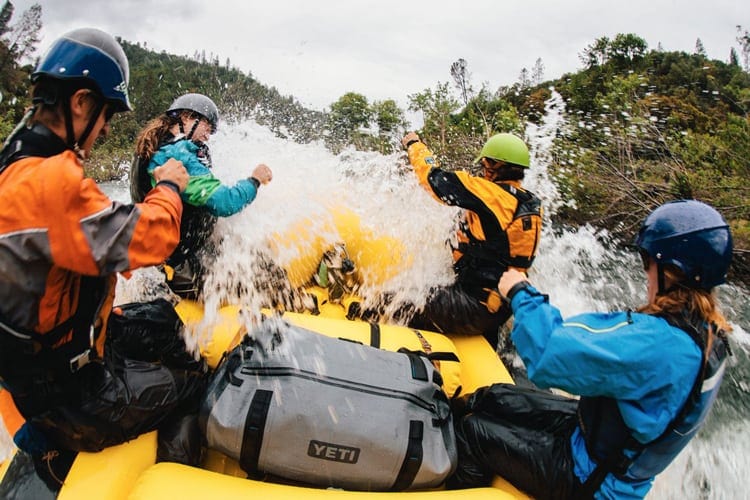 There are a whole lot of dry bags on the market, so we've done some serious research to find you the five best dry bags out there. But first, here's a quick lowdown on dry bags versus dry sacks to help give you an idea of what best suits your needs.
Dry Bags Versus Dry Sacks
Dry bags are not created equal and can be a bit confusing because some are designed to keep water completely out when submerged in water, and others are only 'water resistant.' You would think that something marketed as a dry bag would keep your stuff dry, but it's not so cut and dry (cue joke drums).
There are two distinct types of dry bags: a legit 'dry bag,' and a 'dry sack.'
Dry bags are made of a heavyweight fabric that gives you the most water protection and durability. If watersports are in your future or you want your bag to protect your stuff when totally submerged in water, then a dry bag is what you're looking for. Because these bags aren't typically designed to be carried on your back, weight isn't as much of a concern. The priorities here are a hardy durable fabric and a design that keeps water out. Some dry bags have a grippy texture on the outside to make it easier to handle in wet conditions.
Dry sacks are more lightweight and designed to organize/compartmentalize gear inside a dry bag or a pack. So yes, essentially a dry sack is made to be carried and protected within another bag. Dry sacks are only 'water resistant' and aren't intended for submersion or designed to be the sole watertight barrier to protect electronics, cameras, or other items sensitive to water damage.
And just to make things a bit more complicated, some brands call their bag a 'dry bag,' when it is actually, in fact, a 'dry sack.' Le sigh. So when considering a dry bag, be sure to read the small type and description to confirm that the bag will provide a watertight barrier.
That being said, all the bags on this list are true dry bags of the most durable kind so you'll be all set for any water-logged adventures in your future.
5 Best Dry Bags
1 • Sea to Summit Big River Dry Bag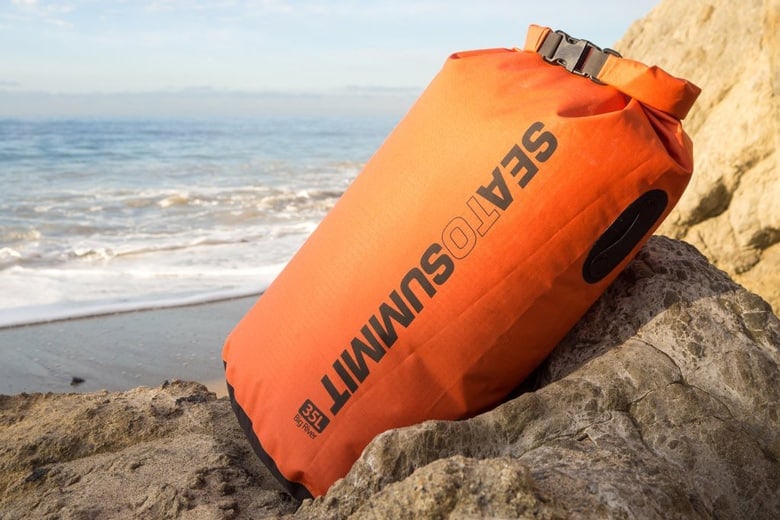 The Sea to Summit Big River Dry Bag has the durability of a top-notch dry bag with the compressibility and lighter weight of a dry sack. The 420 D nylon fabric is super strong and abrasion resistant while maintaining an airtight seal. The bag comes in seven colors and five sizes (in Liters): 5L, 8L, 13L, 20L, and 35L.
2 • Tillak Kiwanda 10L Dry Bag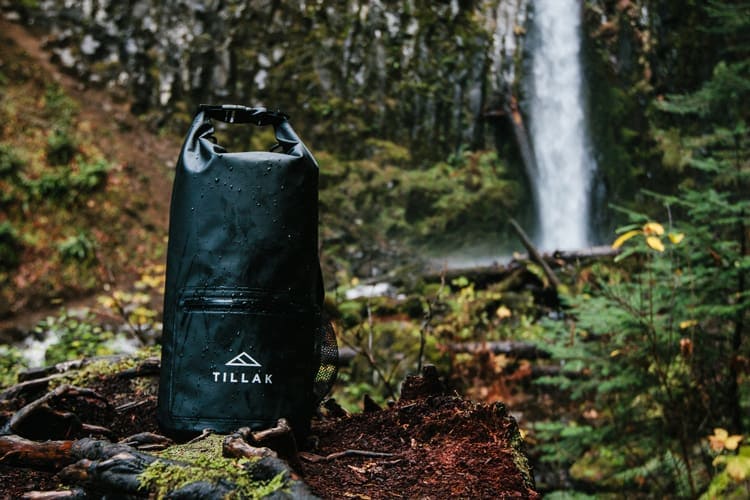 The Kiwanda 10-Liter Dry Bag is a small yet sturdy dry bag with a modern look and a few handy extra features. The bag is made from heavy-duty lightweight 500-denier polyester and has removable/adjustable backpack straps, water bottle pocket, and an external zip pocket.
This dry bag is a great option for day boat trips or hikes where you don't need a ton of storage space, and you can put those backpack straps to use. An added bonus is that Tillak gives 25% of profits toward outdoor recreation and conservation-related environmental stewardship efforts. Awesome.
3 • SealLine Baja Dry Bag
The SealLine brand is a favorite among many outdoors people and river-runners alike. The SealLine Baja Dry Bag is a popular all-purpose dry bag made with a premium polyurethane-coating (aka, PVC-free) which gives it greater puncture resistance than vinyl-coated dry bags, while also being lighter weight.
With the traditional roll-top closure, the Baja Dry Bag offers waterproof protection, which means it can withstand quick submersions and will float if dropped in water. The Baja Dry Bag comes in six sizes (in liters): 5L, 10L, 20L, 30L, 40L, and 55L.
4 • Mad Water Waterproof USA Duffel Bag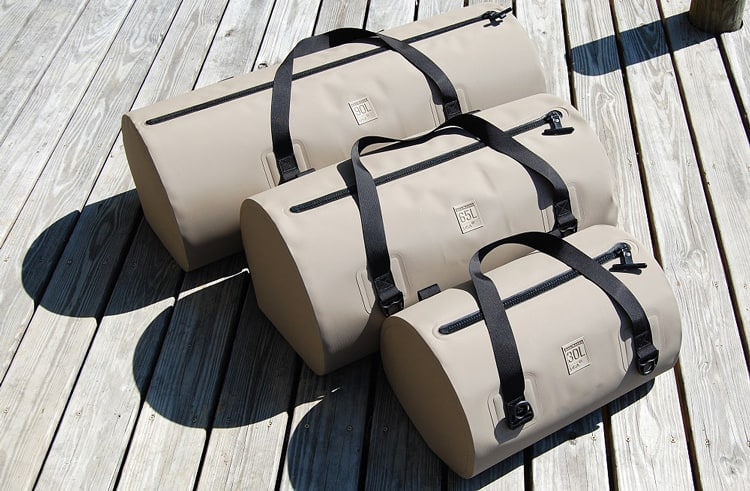 If you're looking for a durable submersible bag with a zipper closure instead of the typical rolltop closure, the Mad Water Waterproof USA Duffel Bag is a top pick. The zipper closure makes it convenient to access your things more easily (as opposed to the typical roll top), and the bag is made of a heavy-duty double-coated PVC free polyurethane, so it will hold up to pretty much anything you put it through.
The bag is (amazingly) submersible up to 15 feet (3 meters), although it's so airtight that it will float, so if you have some air in it, the bag isn't likely to go underwater in the first place. The Mad Water Duffel Bag comes in three sizes: 30L, 65L, and 90L.
5 • YETI Panga Submersible Duffel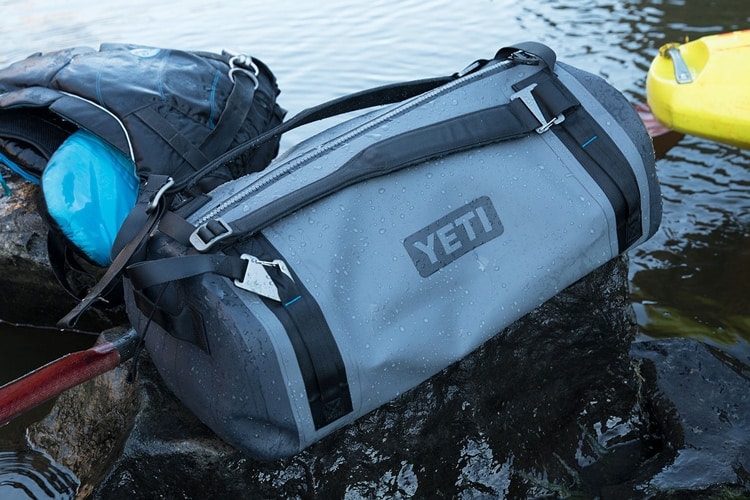 Known for their burly and handsome coolers, in 2017 YETI entered the luggage space with their YETI Panga Submersible Duffel. Made from high-density nylon and thick tpu lamination, this bag is the heaviest on the list and built to take a beating.
The Hydrolok zipper makes sure water stays out so your gear stays bone-dry without the hassle of the traditional roll top dry bag design. And versatile straps give you multiple options to carry your duffel, including wearing it as a backpack.
As with YETI's other products, the Panga Duffel comes with a hefty price tag, but the quality is top-notch and ready to face any adventure you have in mind. The Panga comes in three sizes: 50-, 75-, and 100-Liter.