Traveling costs can add up quickly and get pretty expensive these days. Between airfare, car rental, and a place to lay your head, in many cases you're already looking at a couple thousand dollars. So wouldn't it be nice if one of these larger expenses, like your flight, was free from time to time?
Well, you're in luck, because you can get free flights if you know how, and I'm going to share with you how to get free flights with reward points. I got a free $600 nonstop flight to Costa Rica and half price flights to Hawaii and New York.

I remember when I first got the travel bug and started doing online research on how to travel more often for less money. I stumbled upon websites like Bootsnall, The Points Guy and Nomadic Matt. I was blown away by all the information out there on "travel hacking" and how to get free accommodations- whether it be flights, hotel rooms, upgrades or car rentals.
After a fair amount of online research I learned that one of the easiest and fastest ways to earn a free flight was through having a good credit card with a great rewards system and a healthy sign up bonus. There are plenty of good options when it comes to choosing the right card, and it can feel a little overwhelming at times because nobody wants to make a bad decision. But don't sweat it! You can always get multiple cards, and it's not the end of the world if you get a card you don't like.
Some people take this gambit to the next level and continuously open and close cards just for the sign up bonus. Many cards will offer you around 40,000 rewards points to sign up, some even more. 40,000 points is about $400 in credit towards flights, car rentals, hotels, online shopping, etc. Usually, in order to get the sign up bonus points you will have to charge a certain amount of money to the card within a 3-month period.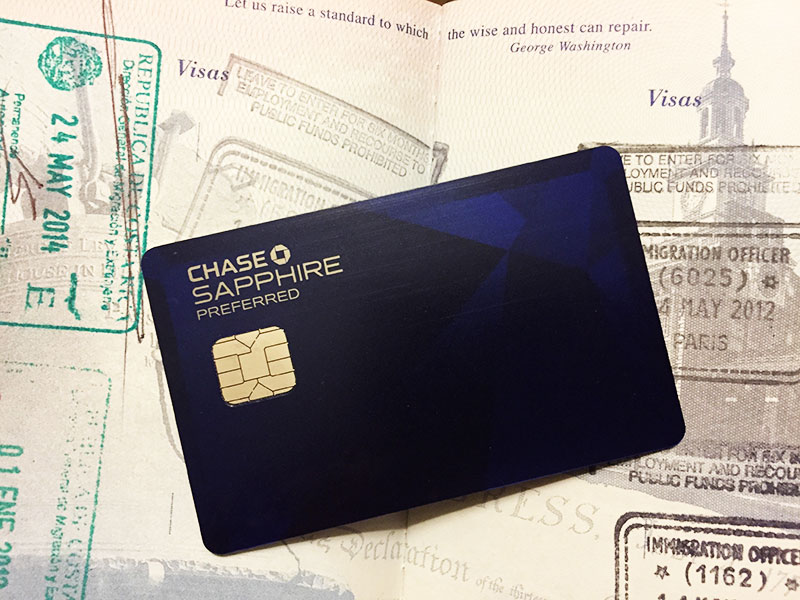 I went with the Chase Sapphire Preferred card. I had to spend about $5,000 within 90 days, which originally sounded like a lot, but it actually happened a lot sooner than I expected. The day I received the card I changed all of the monthly expenses that I could over to the card (i.e. car insurance, gym, online subscriptions, etc.). I also started using the card for every single purchase I made- it adds up quick.
By the time three months had passed I had earned about 45,000 rewards points. Plus, I was so pumped on the card and the idea of being quickly on my way to my first "free" flight that I got my sister and girlfriend at the time (now wife :)) to join as well. Chase sometimes offers a refer-a-friend or family member bonus of 5,000 for each person. That put me at 55,000 points, and just a few short months later I had over 60,000 points and roughly $600 dollars in credit to use however I wanted to.
One thing to note is that during this time I did not spend more money to rack up points, because that would defeat the purpose. I was just going about my normal life. So with my $600 dollars in rewards credit I ended up using it on a $597 nonstop flight to Costa Rica, with my girlfriend and my sister. It was such a great feeling because what I did was, I used the credit to buy 1 ticket and then I purchased the other ticket and split it with my girlfriend. And the best part about it all is that I proposed to my girlfriend on that trip, and here we are a year and half later, married, happy as ever and traveling the world together, one free flight at a time.
p.s. Since having the card I have not only bought the $600 ticket to Costa Rica, but I have also paid for half of a $500 flight to Hawaii, and over half of a $500 flight to New York. I also am currently sitting on about 75,000 points. Life is good, and travel is more affordable 🙂