When planning for a big trip, or travel in general, it's a good idea to look at opportunities to save money. When you get serious about saving money and you really focus on that end goal, you might be surprised at how many ways you can save. And you might just find, as I did, that some of those ways are right in front of our noses. Mine was parked in my carport.
Mission: Car Swap
I've never splurged when it comes to cars. Overall, I'm pretty strategic with my money. But then there was last year. I'll spare you the details, but long story short, I bought a 2008 Audi A3 with 78,000 miles on it for around $17,000. After paying California taxes and being pressured into a no-so-great warranty, it was more like $20,000. I paid Kelly Blue Book and it wasn't a bad deal, but it also wasn't a budget-friendly decision.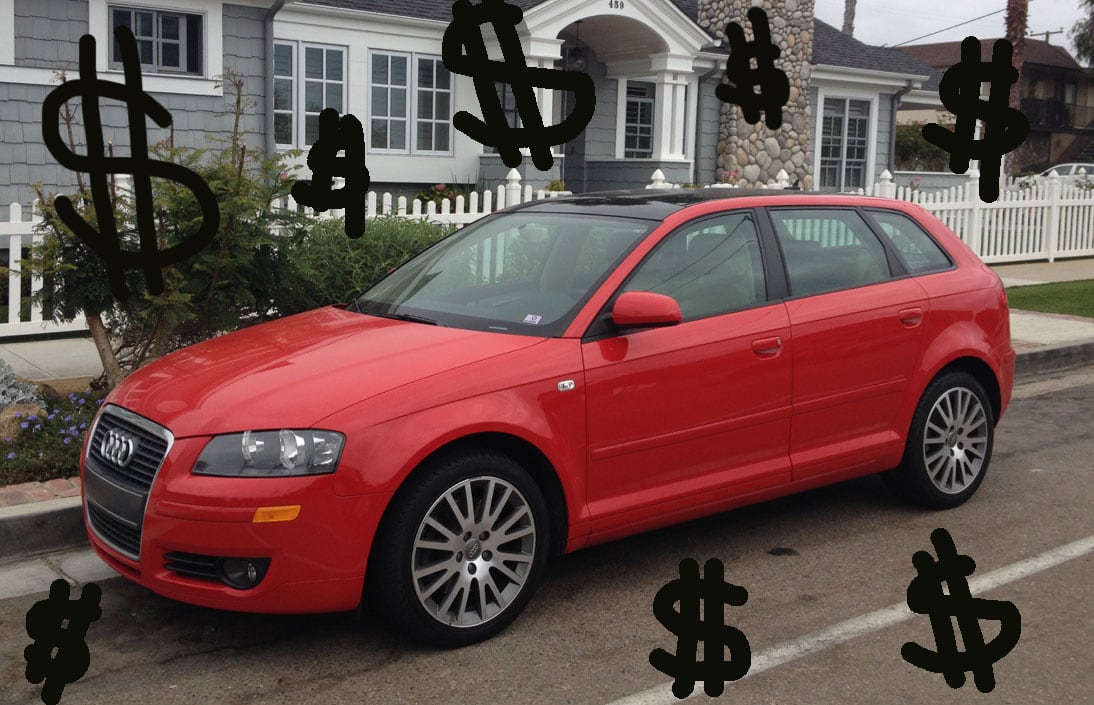 Lesson #1: Don't buy a luxury car if you're not in the mood to cater to the high-maintenance that goes along with it.
Ooooh… It handles so nicely, love that double moon roof, that superbly-designed interior. Yeah that's nice, but it also comes with having to use premium gas, and $200 maintenance visits at the dealership that basically equate to a $200 oil change. Not to mention the decrease in value and higher overall charges to fix anything. Seven months after buying the car, I had a lovely $700 trip to the mechanic, and about 11 months after buying the car I looked up the value on Kelly Blue Book and the value fell- like, hard. Now, with 91,500 miles, if I sell it privately, the value is $11,421 – $11,871.
There aren't other A3s actually priced at the KBB prices, they are all higher, but still, the decrease in value was shocking. And I wouldn't stand for it!
My previous car, a 2002 Mazda Protégé 5, had insane value. I bought it for $8,000 and sold it for $5,000 about six years later! It was such a wonderful car, never had any issues, and great gas mileage.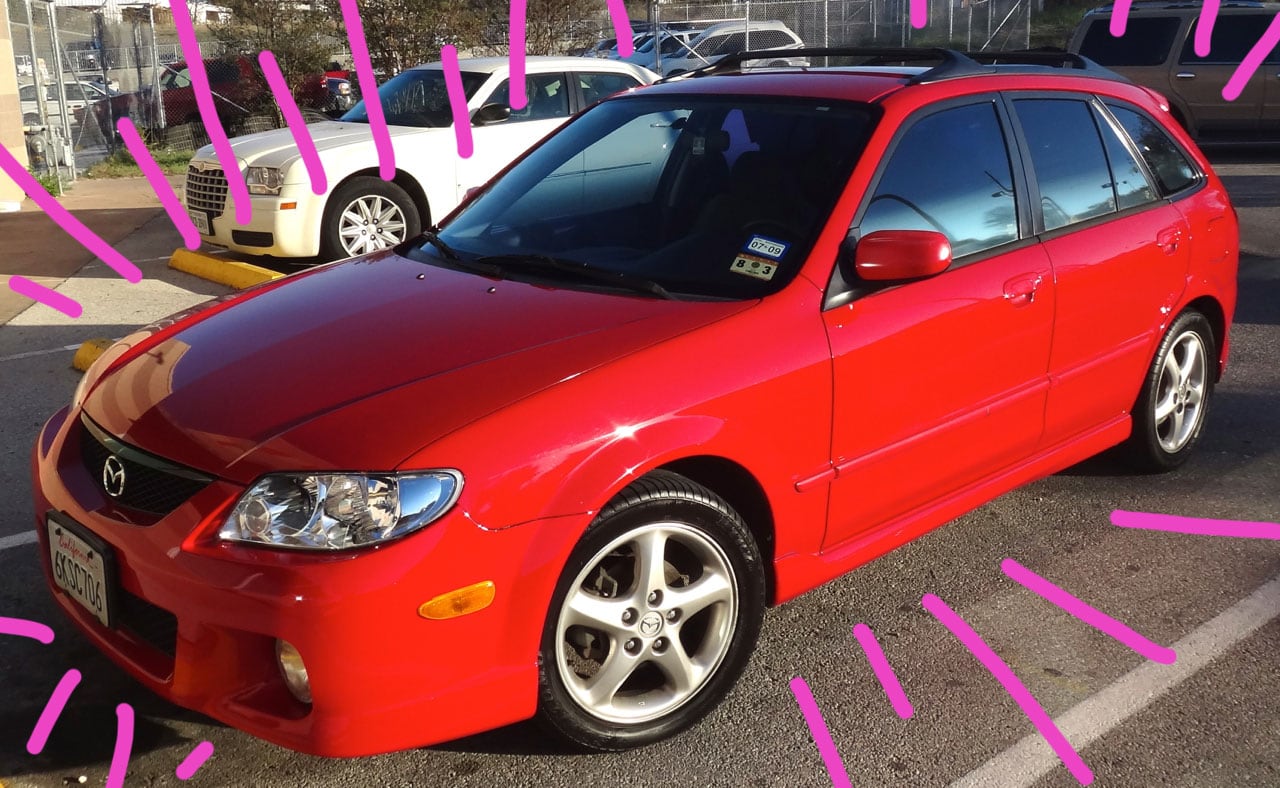 Here I was with a luxury car longing for the days of value with my Mazda. I decided to cut my losses before any more crazy maintenance costs kicked in, and find a practical, reliable car that would be really nice to my bank account.
My criteria: Compact, great gas mileage, low miles, reliable, the right price, and a hatchback. I have a thing for hatchbacks.
A month and a half and tons of research later, I found my perfect match at the seriously-right price. I bought a 2012 Hyundai Accent hatchback with 19,500 miles for $10,300. It took a lot of waiting and watching for the right car, but all of that work translated into a nearly brand-new car for an incredible price.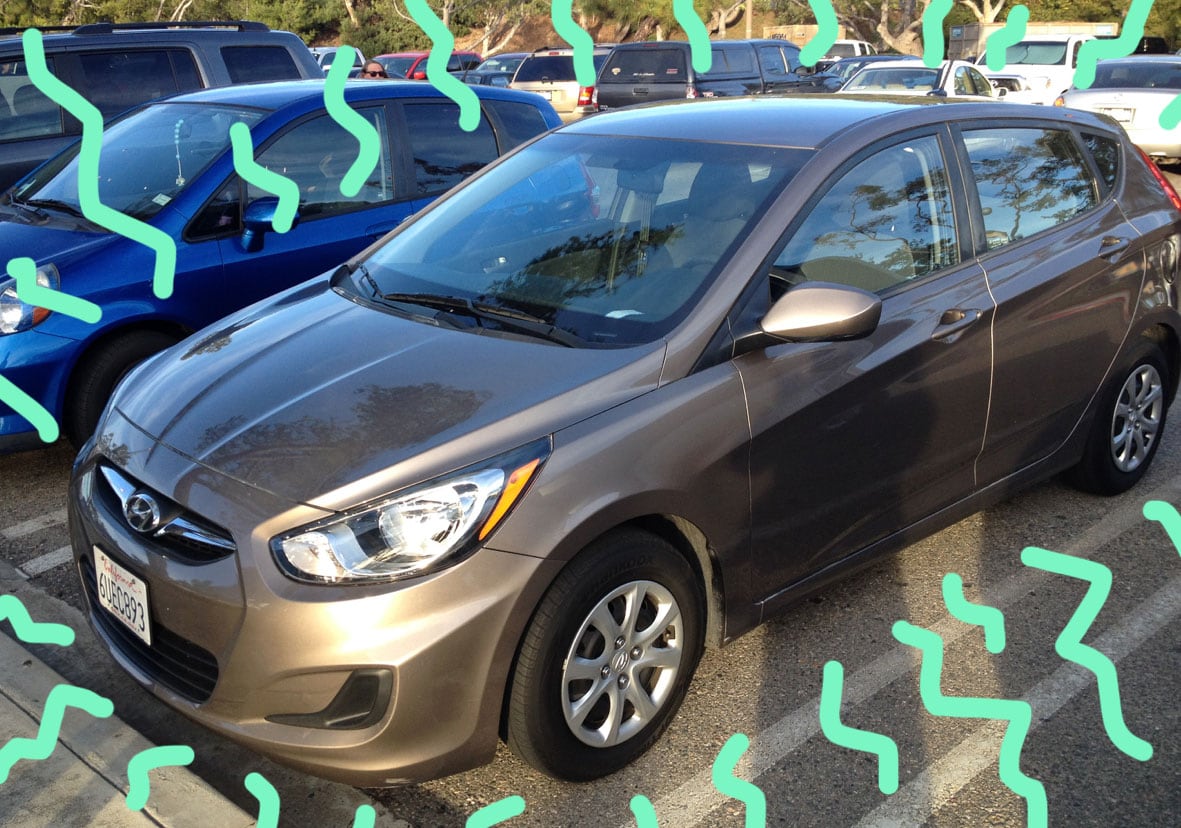 Lesson #2: Research, research, research. And be patient.
It feels great to have found a great deal, and the best part is knowing that instead of flushing money down the toilet with my totally unnecessary luxury car, I'm putting way more dolla dolla bills in my travel account.
Mission accomplished.