Aurea
Hacienda Iguana, Playa Colorado, Nicaragua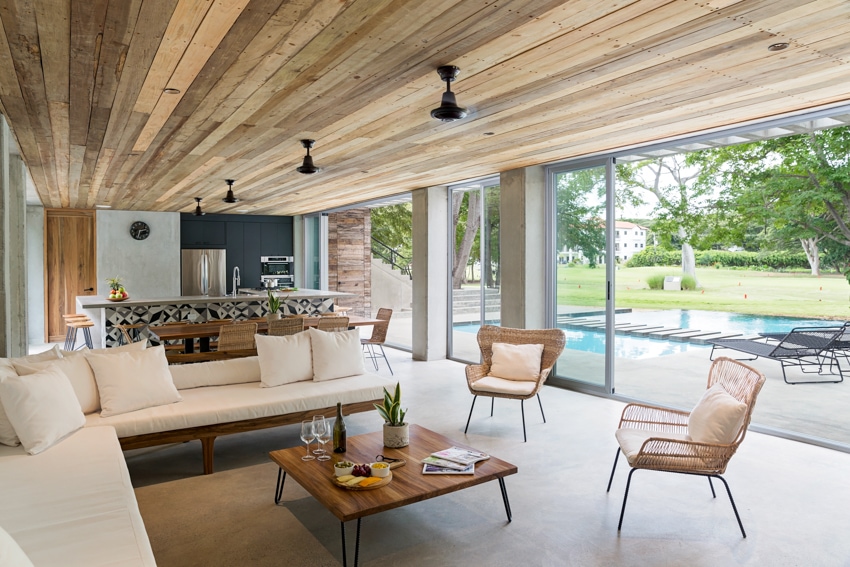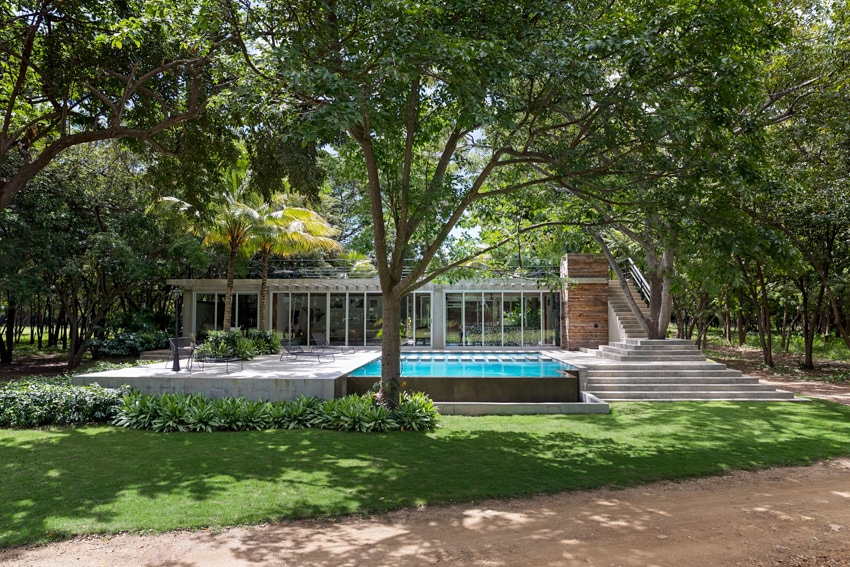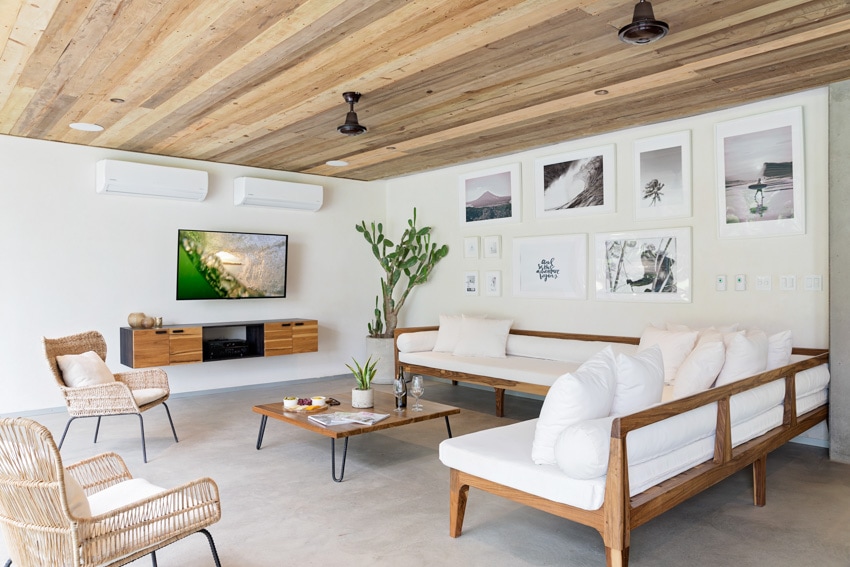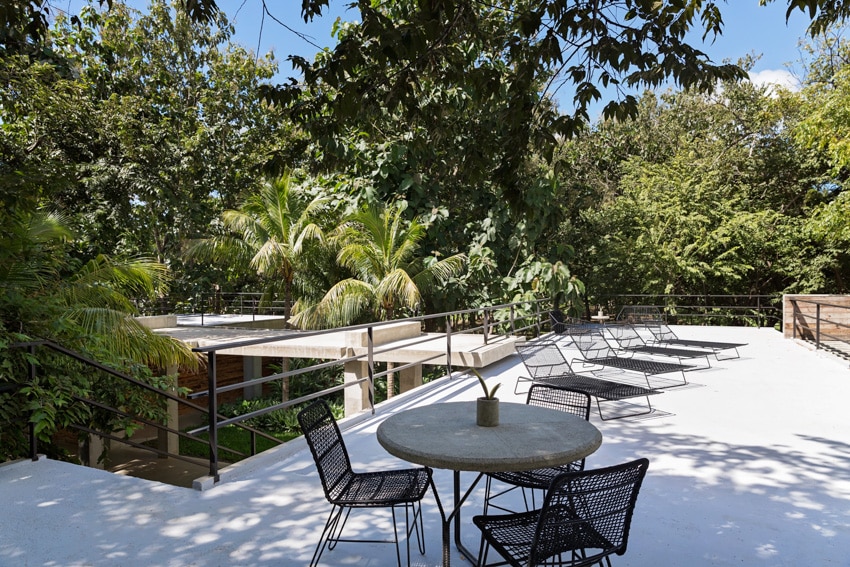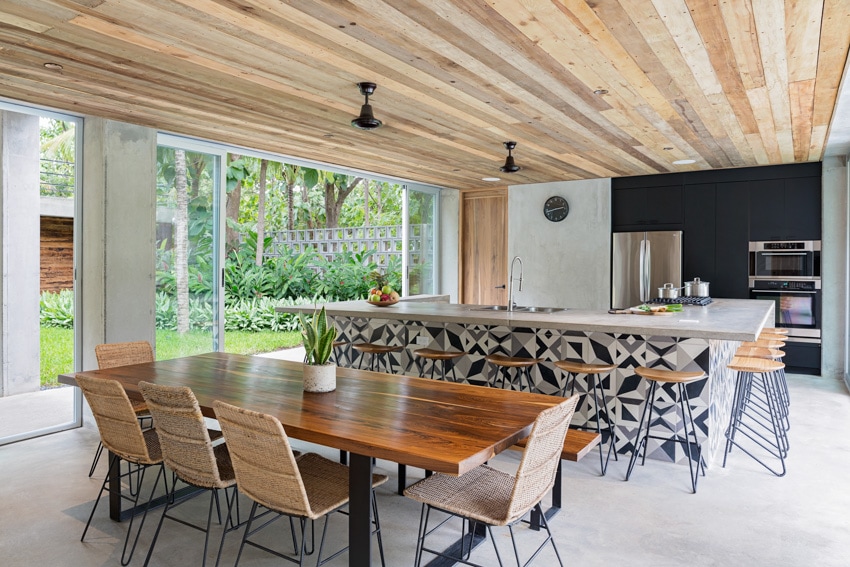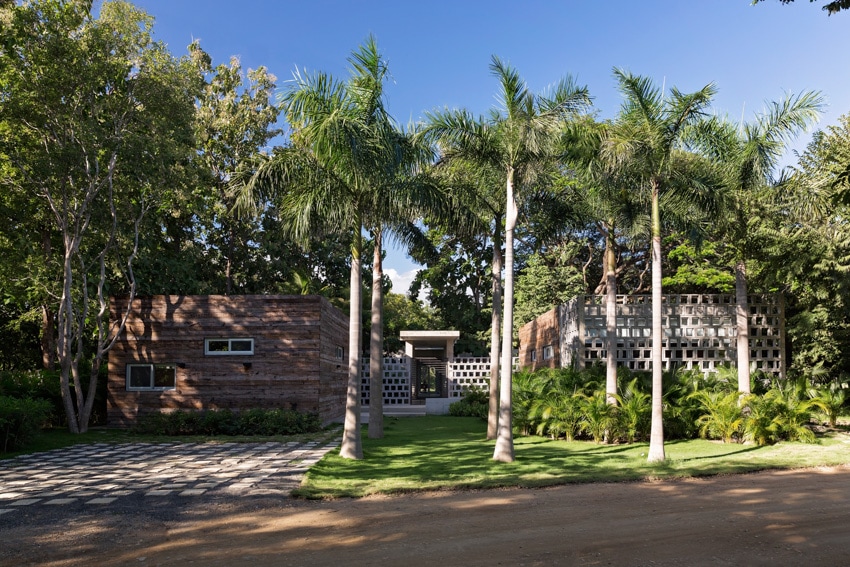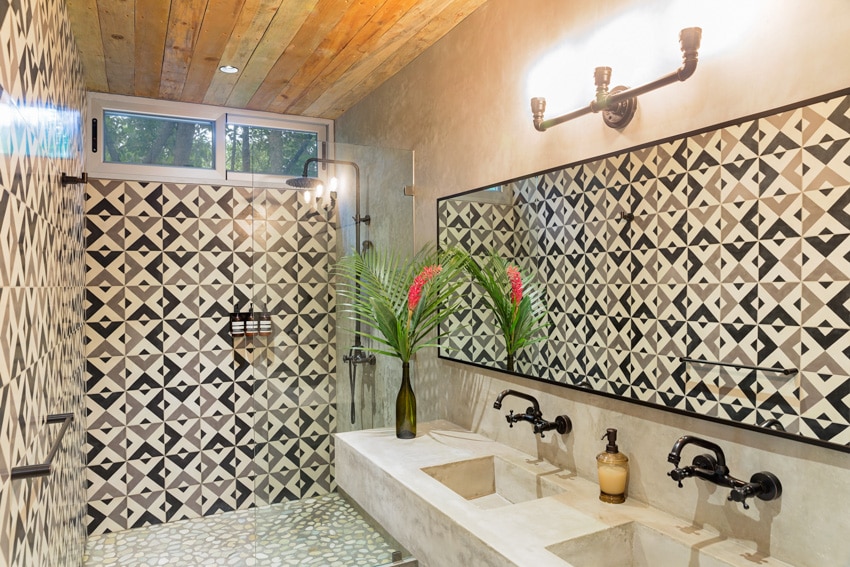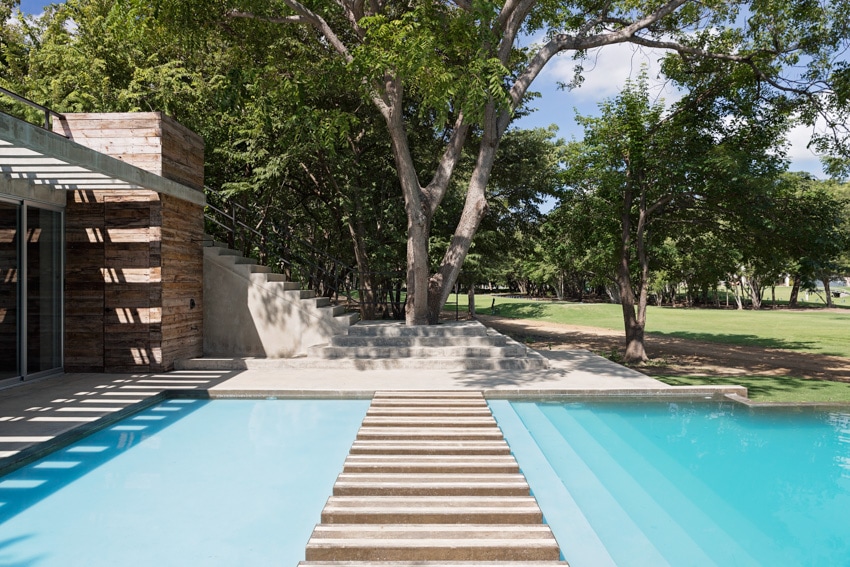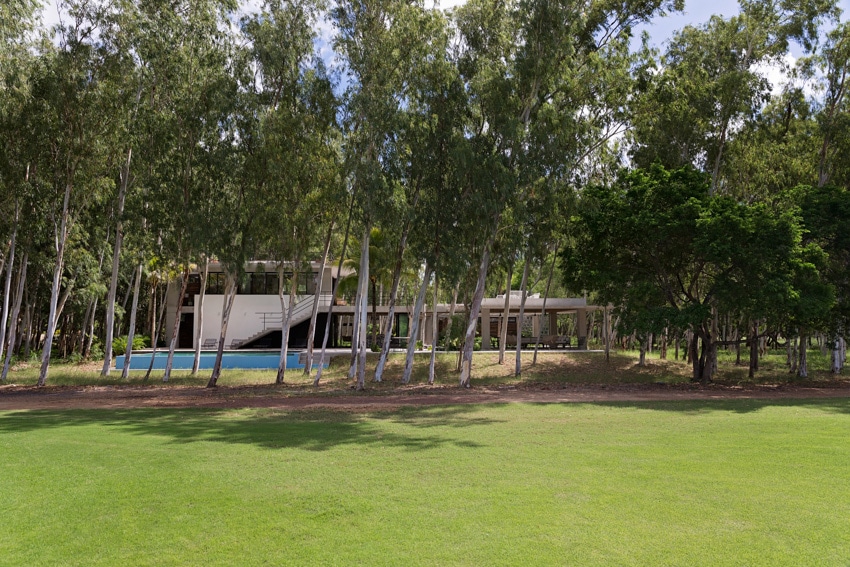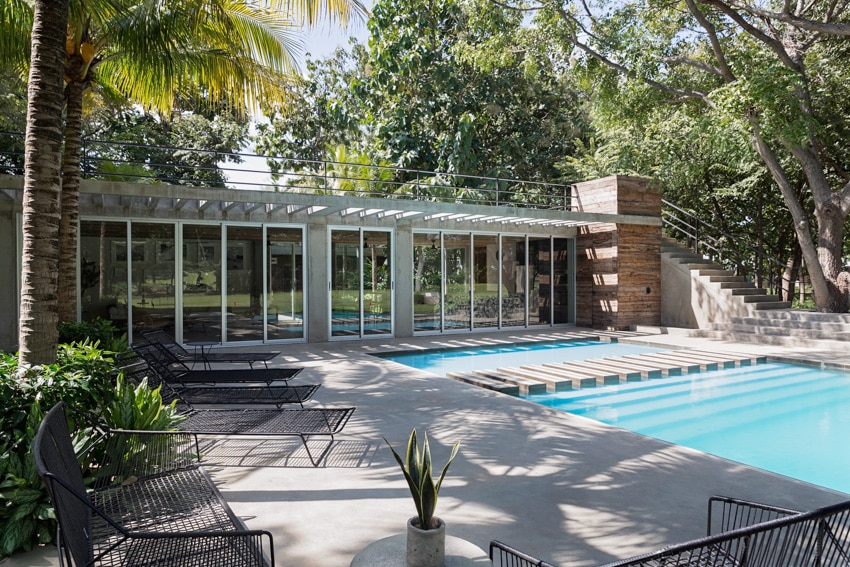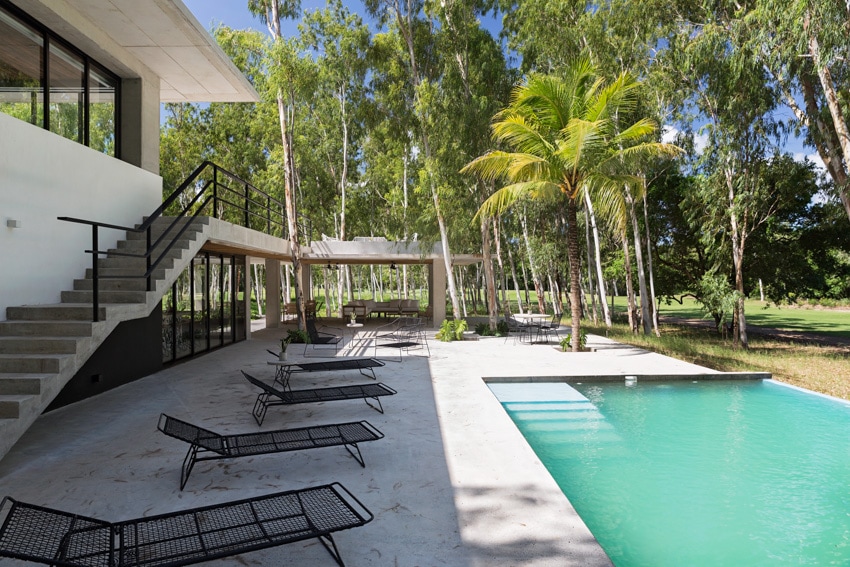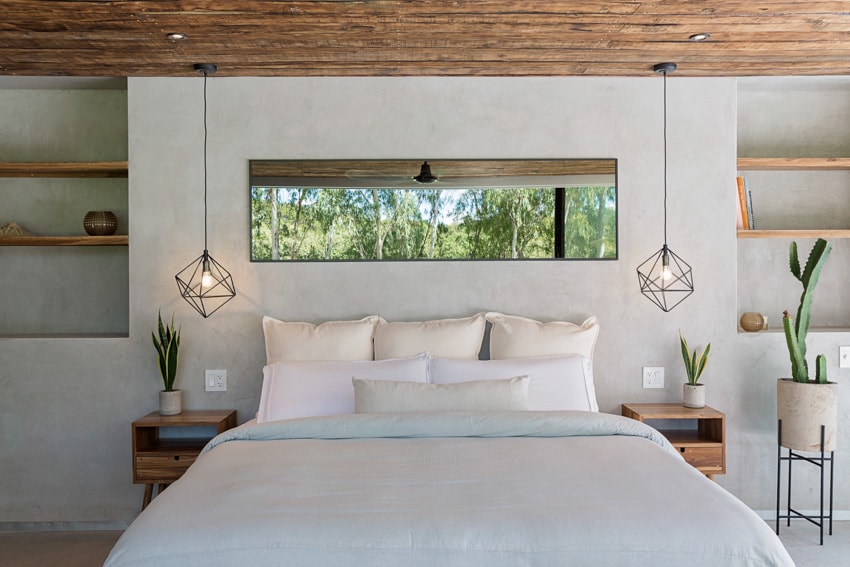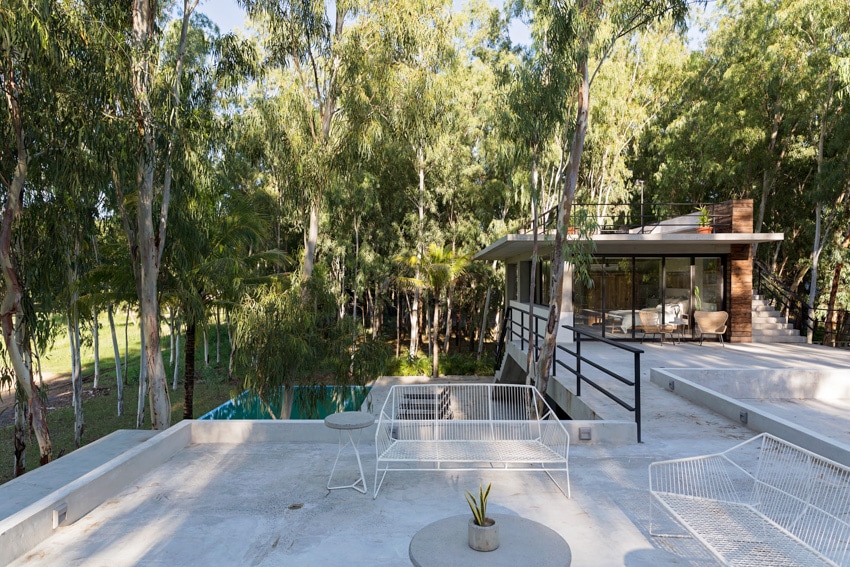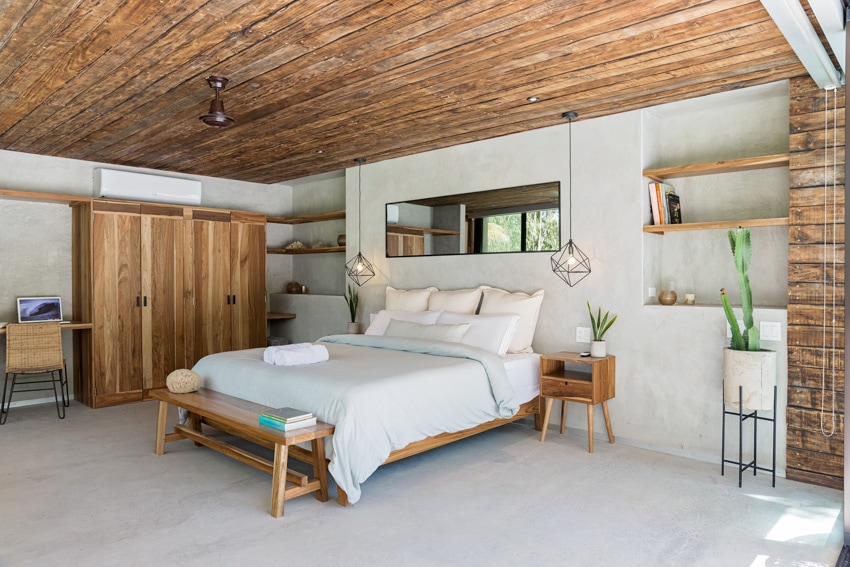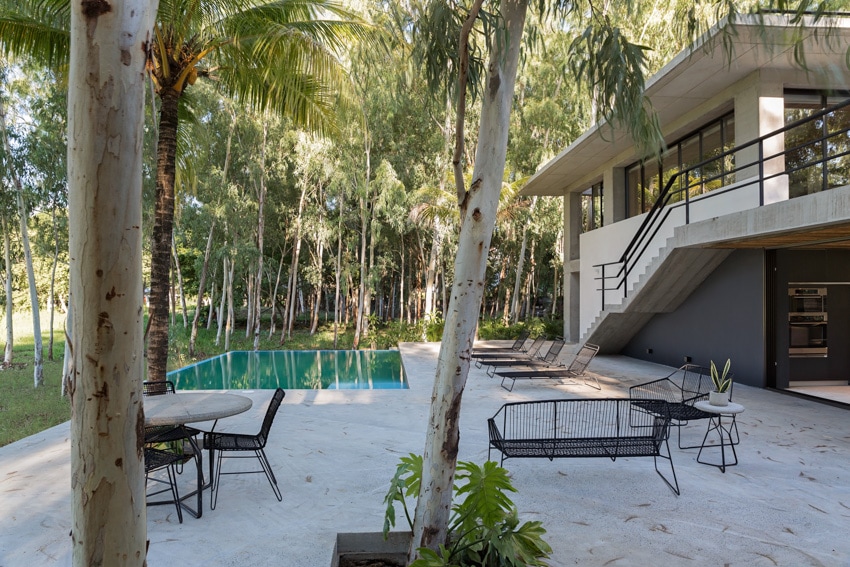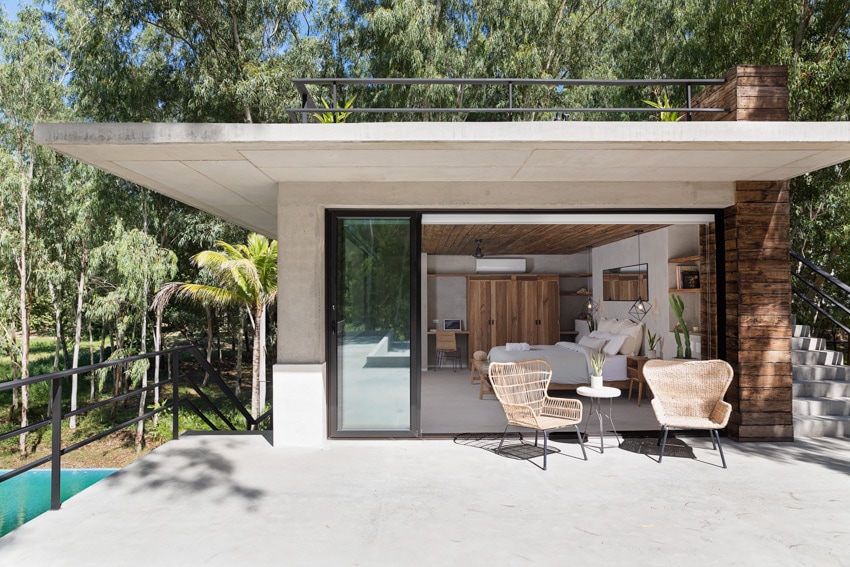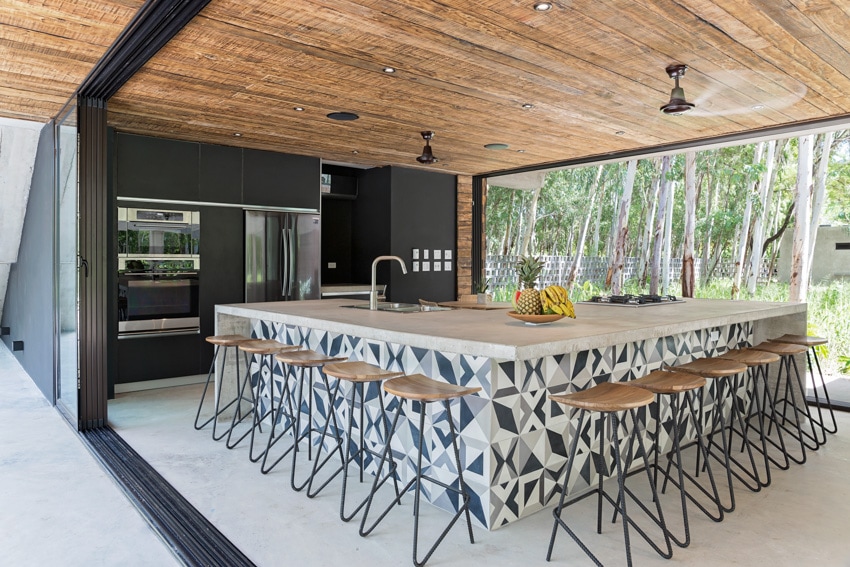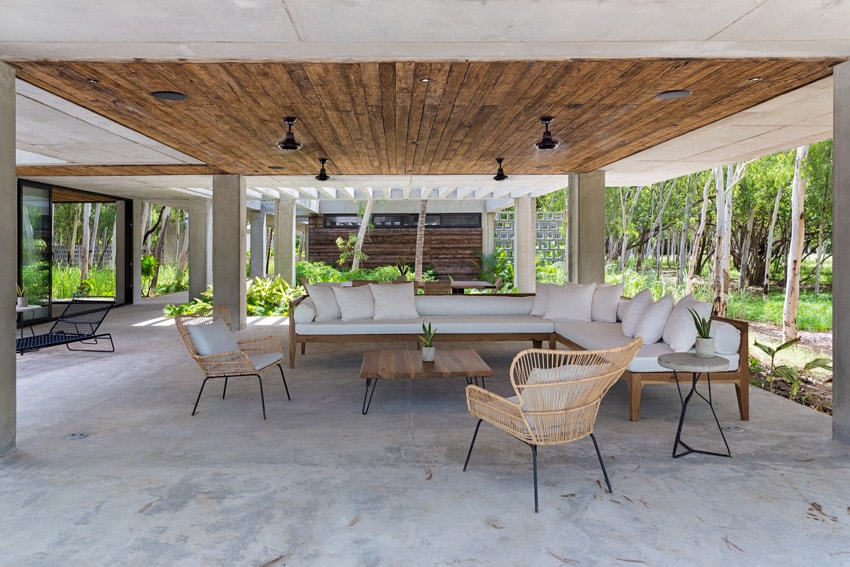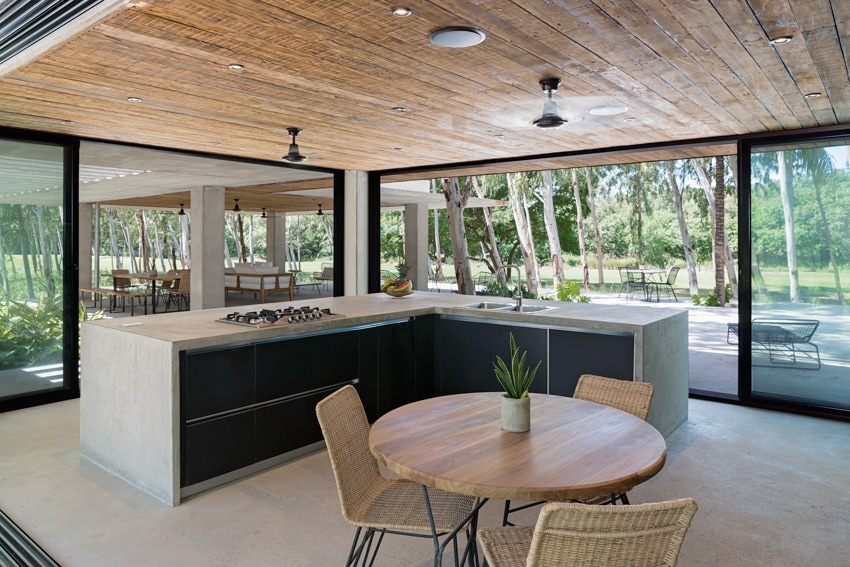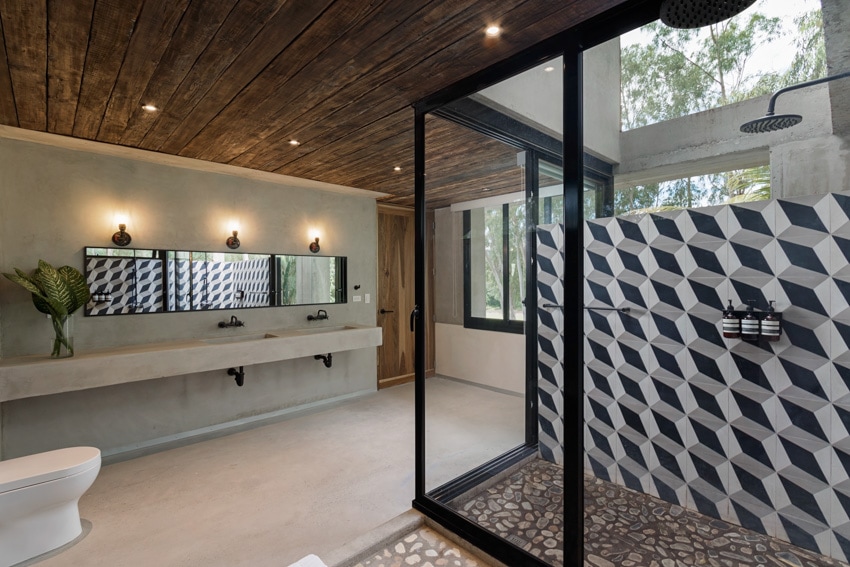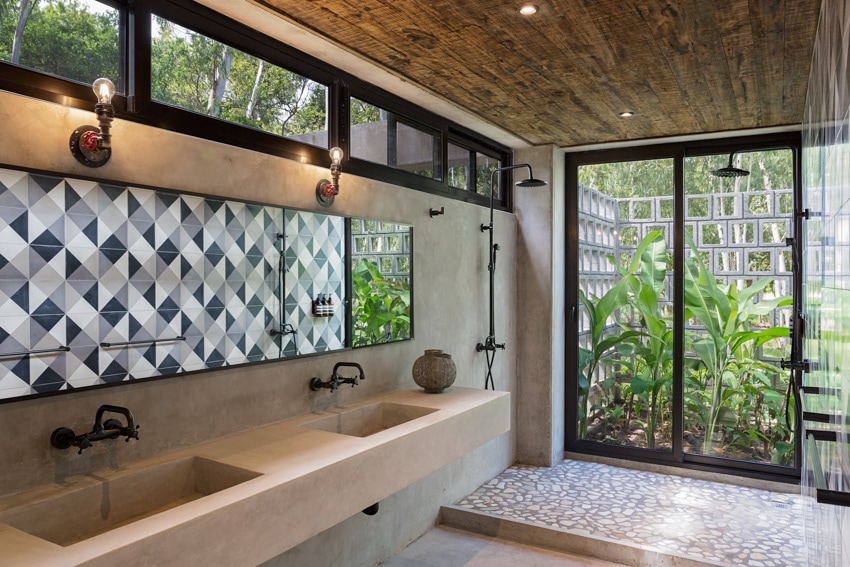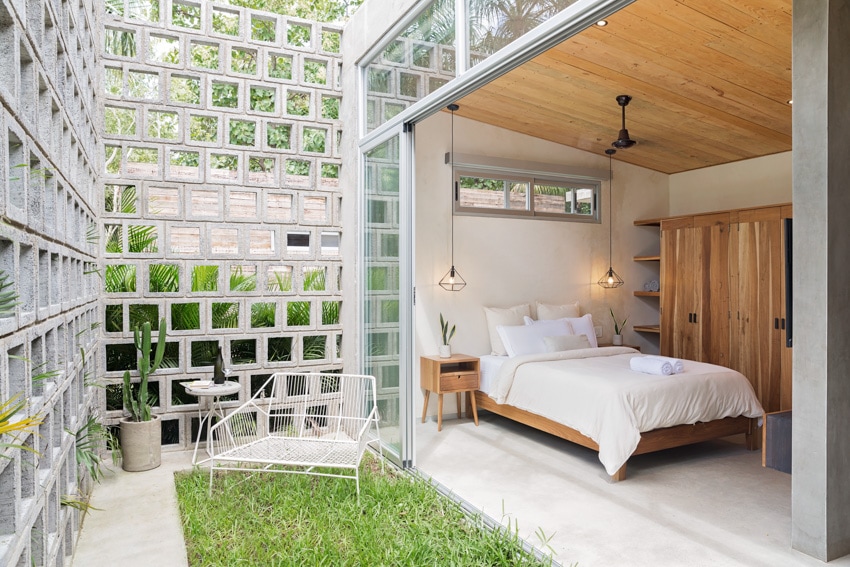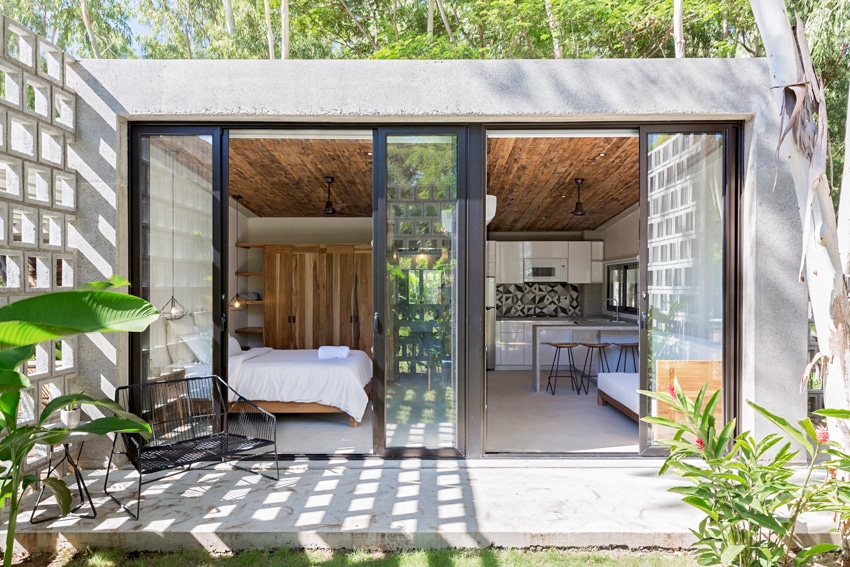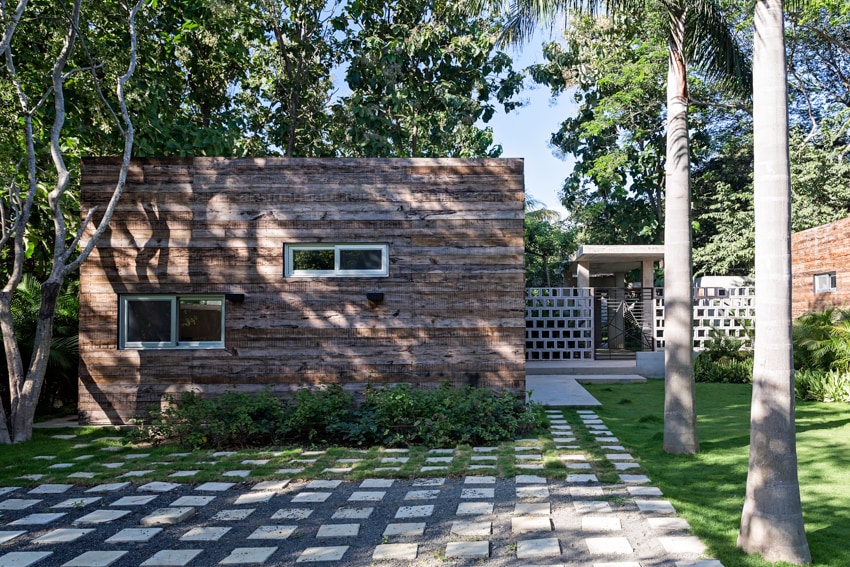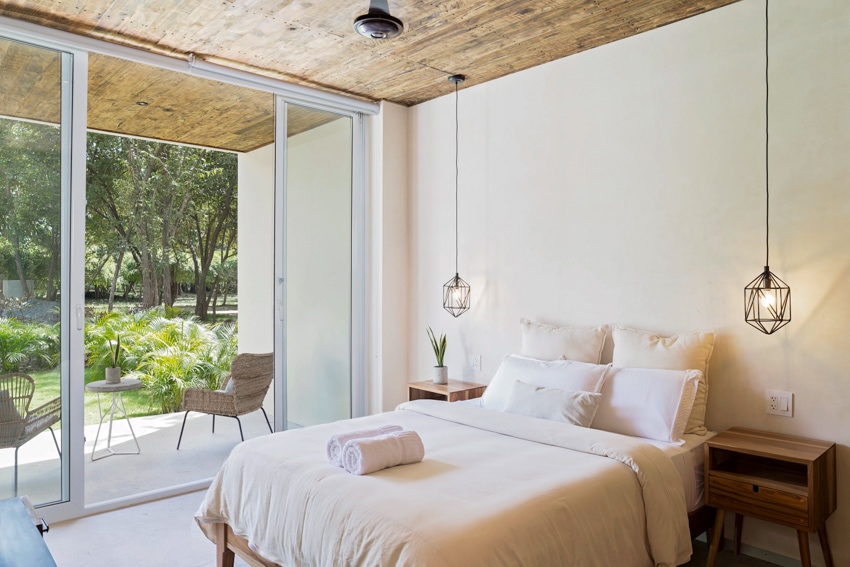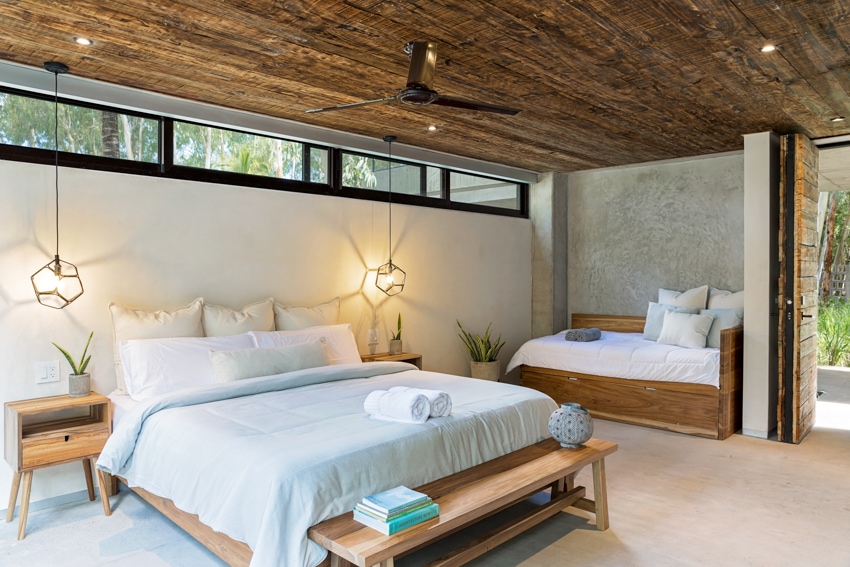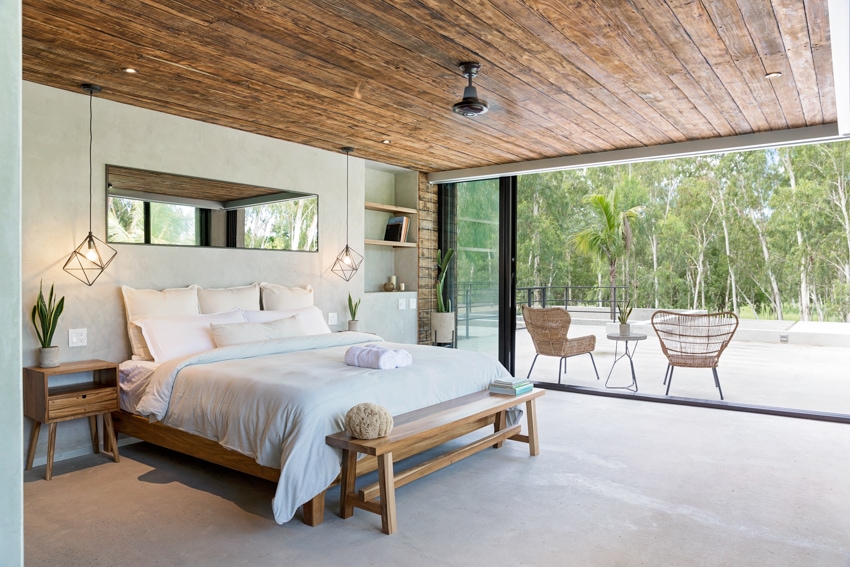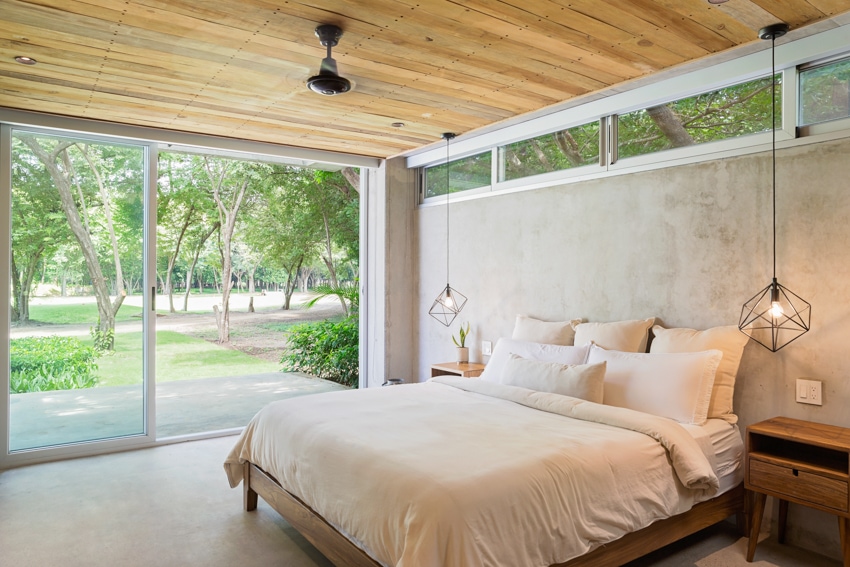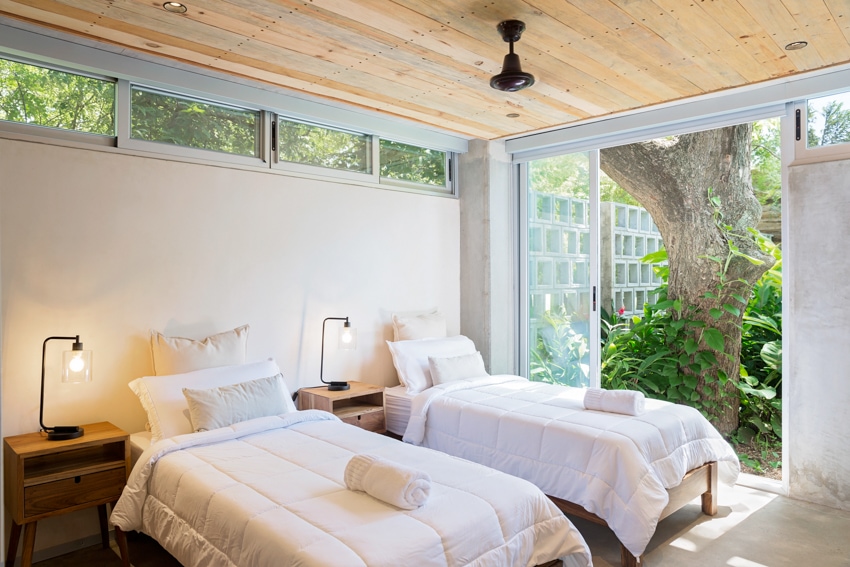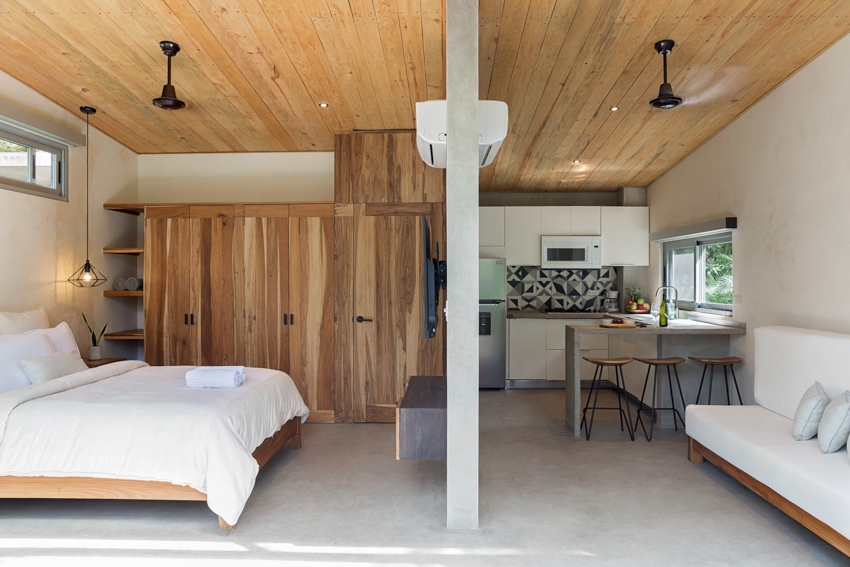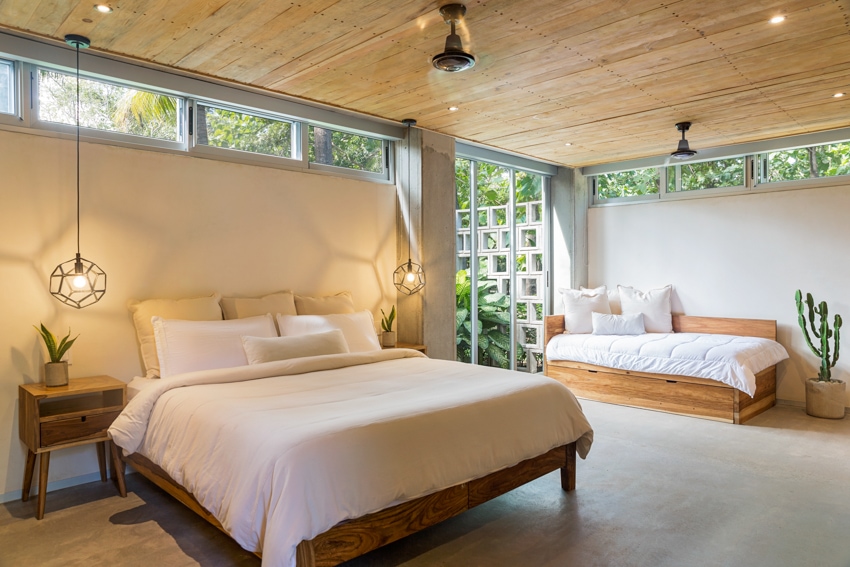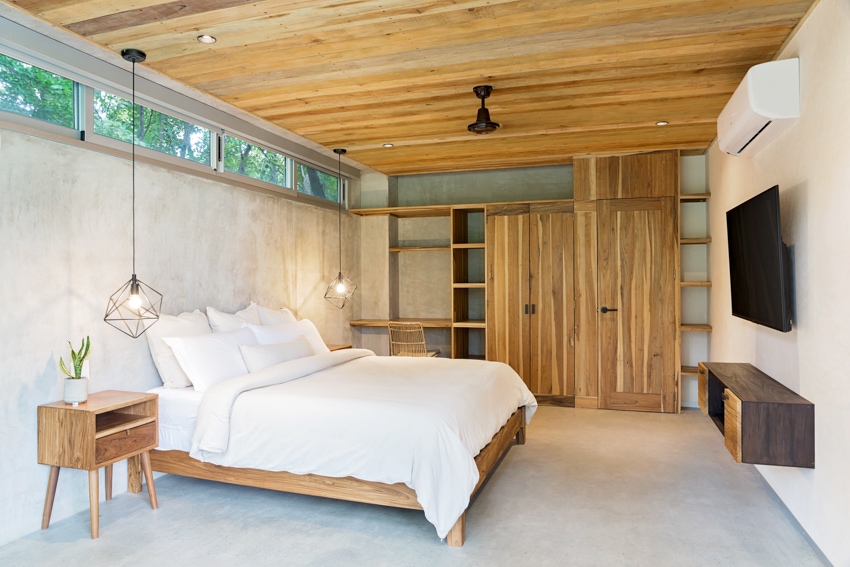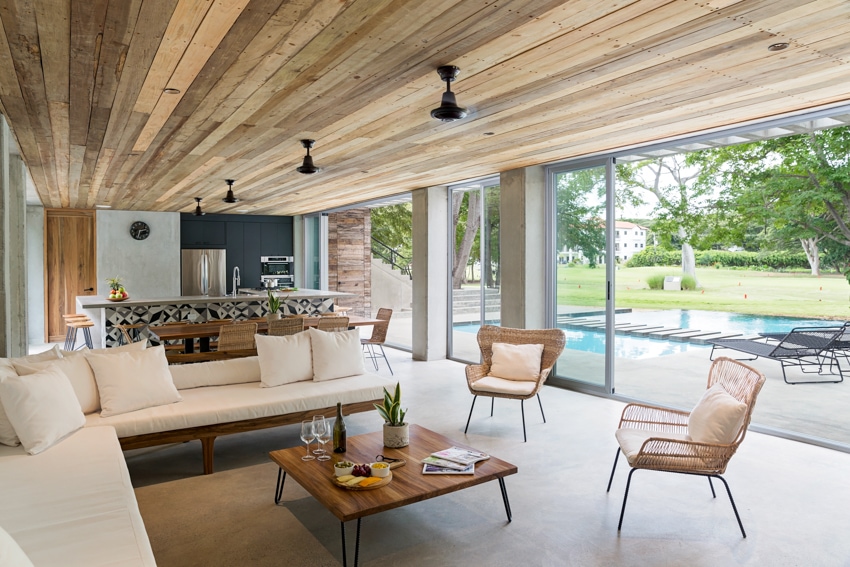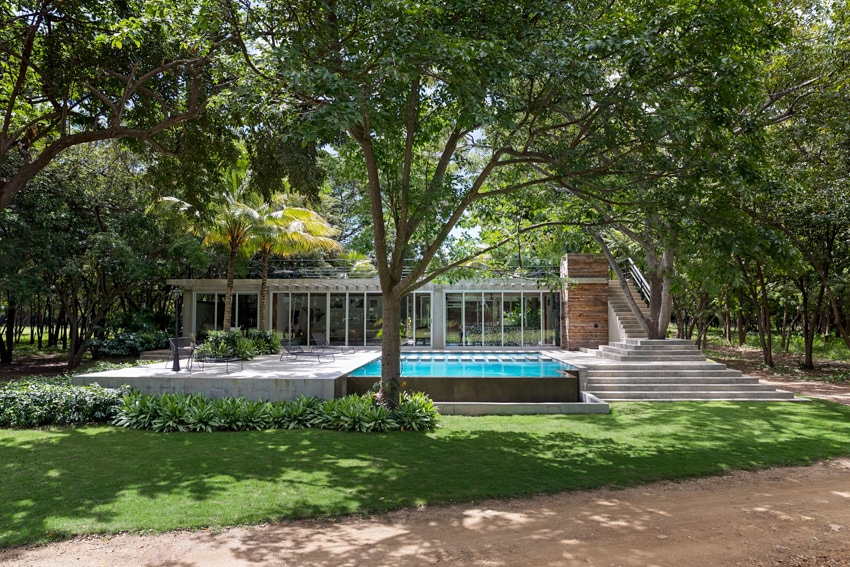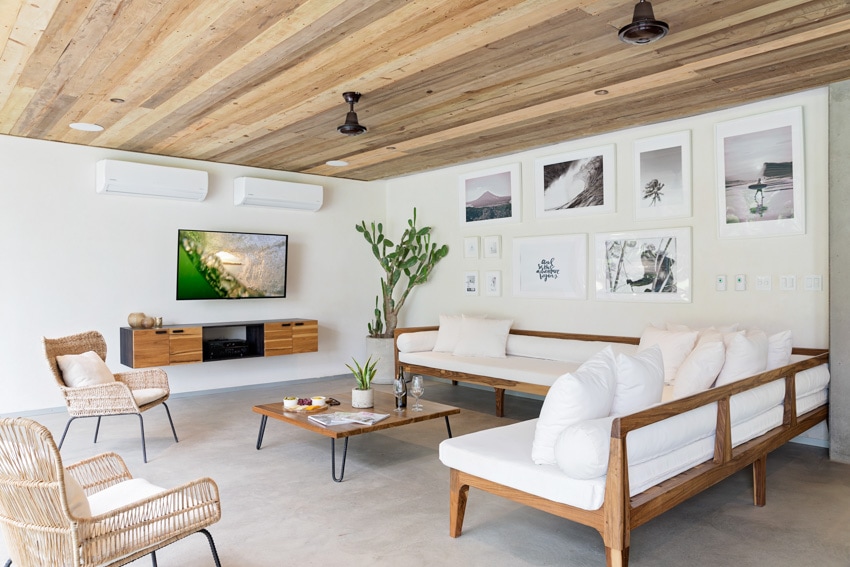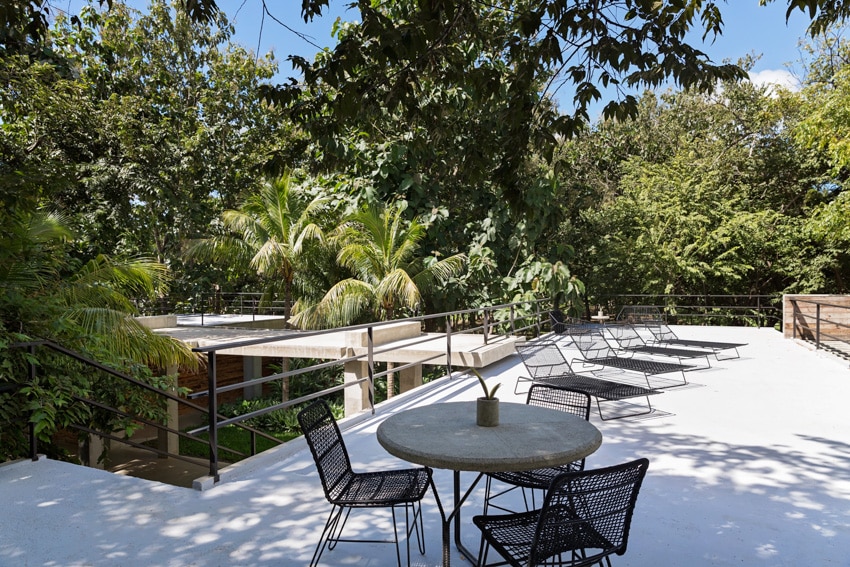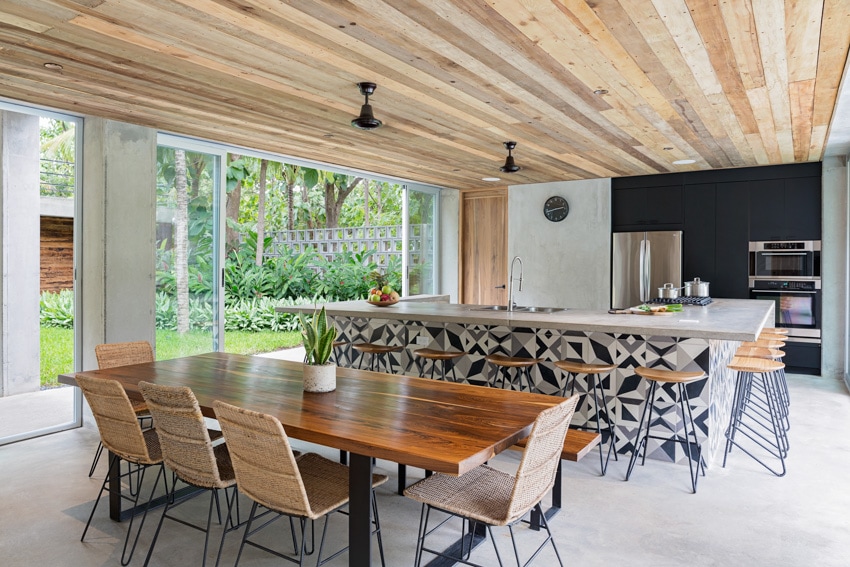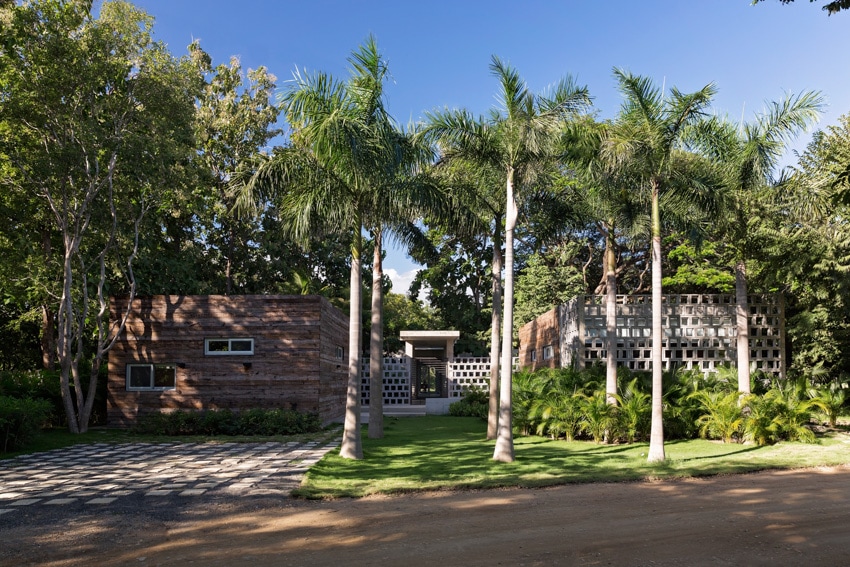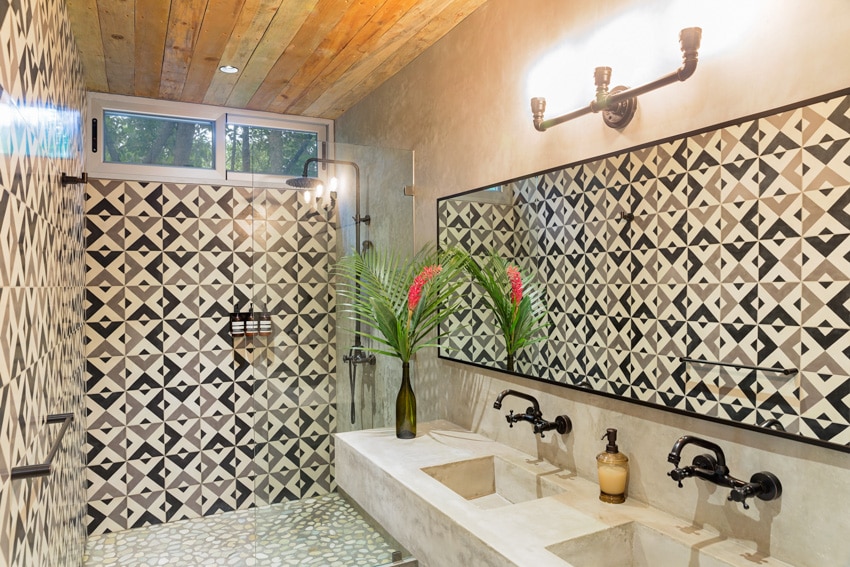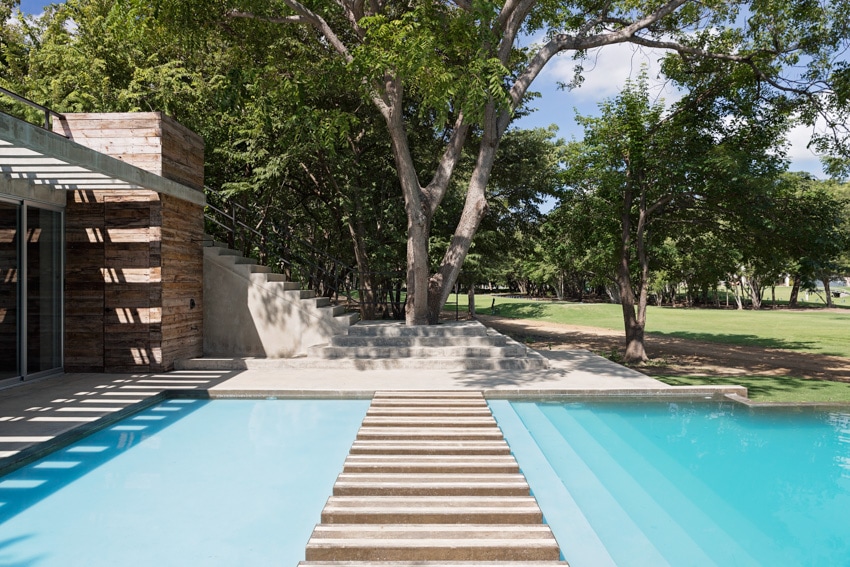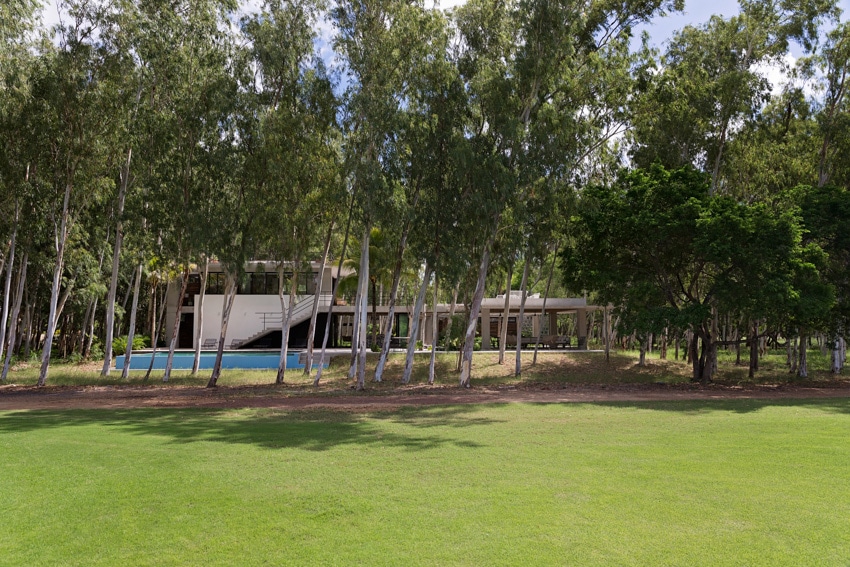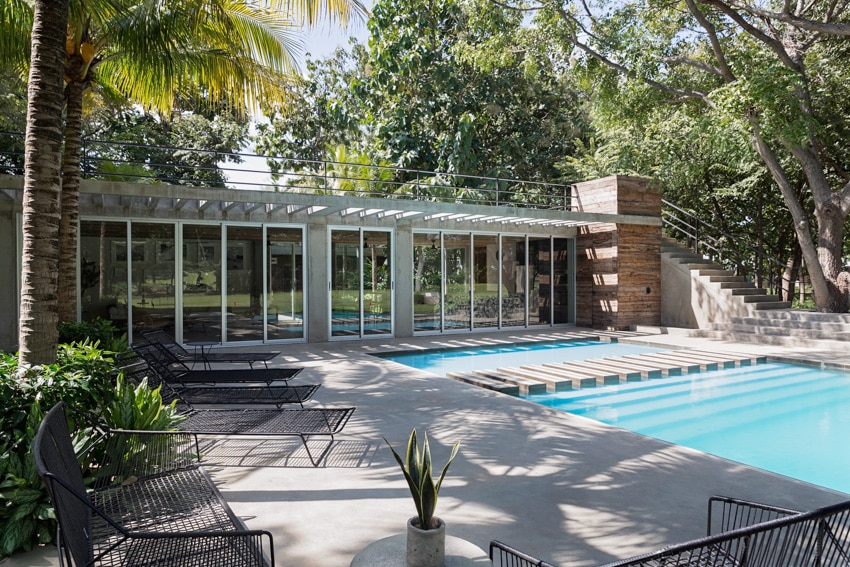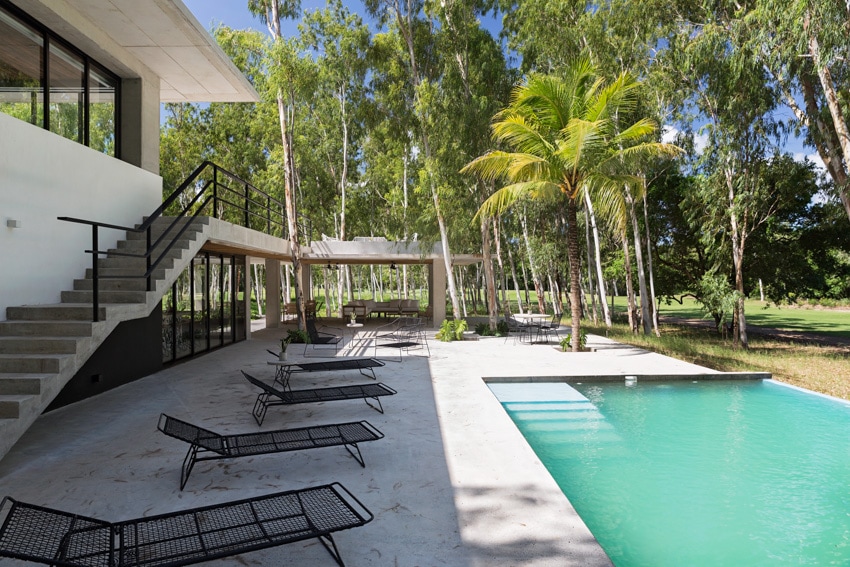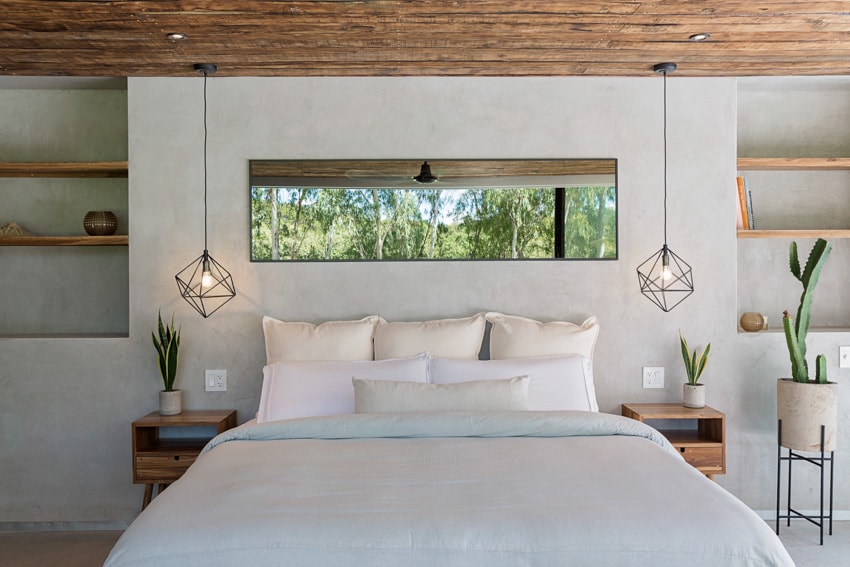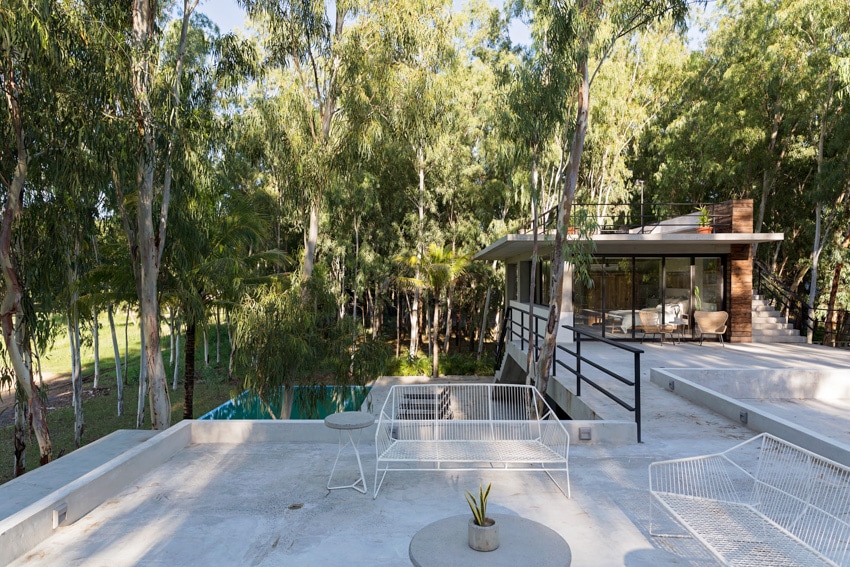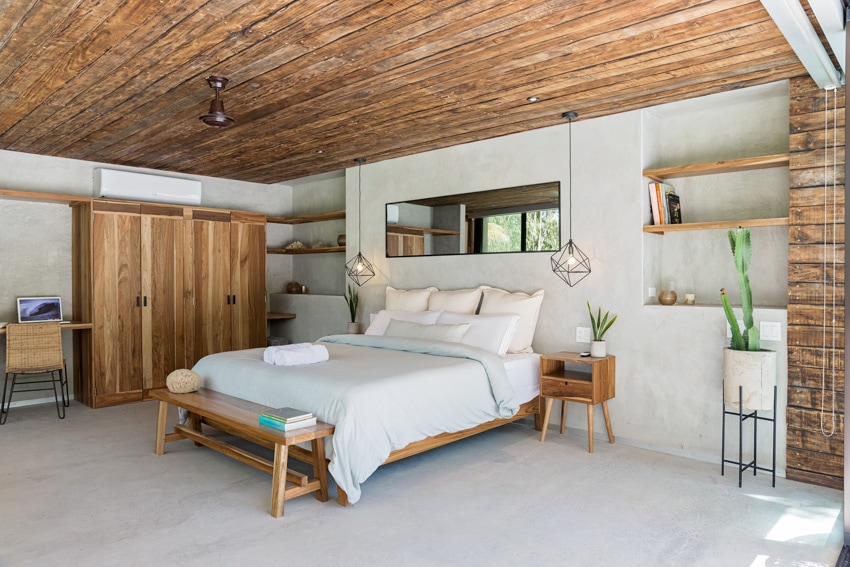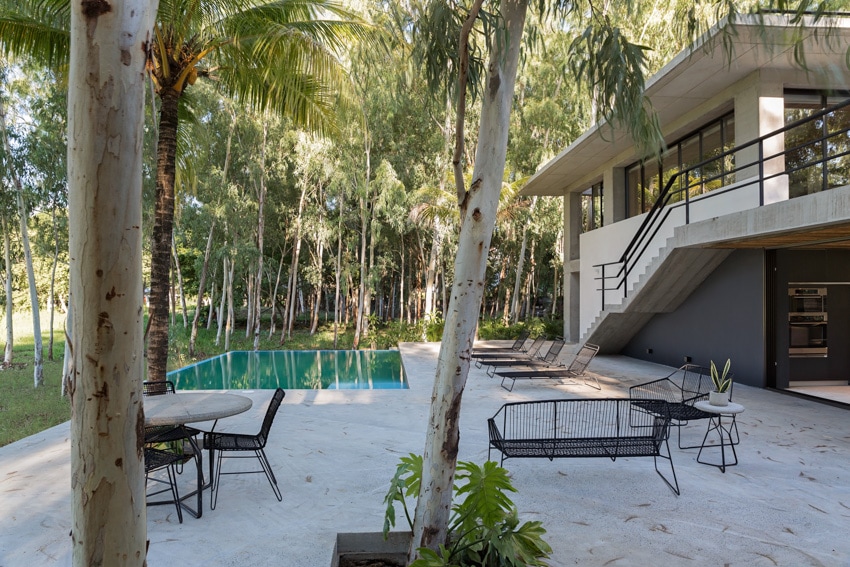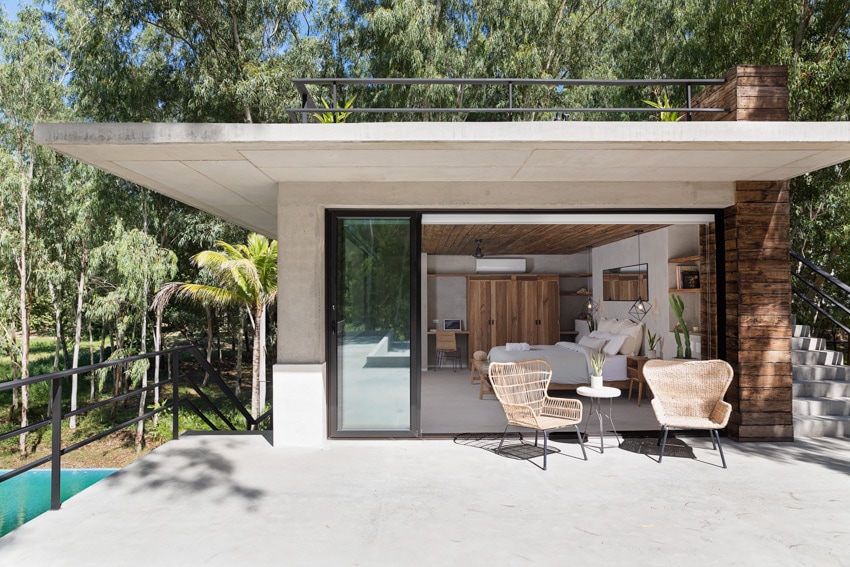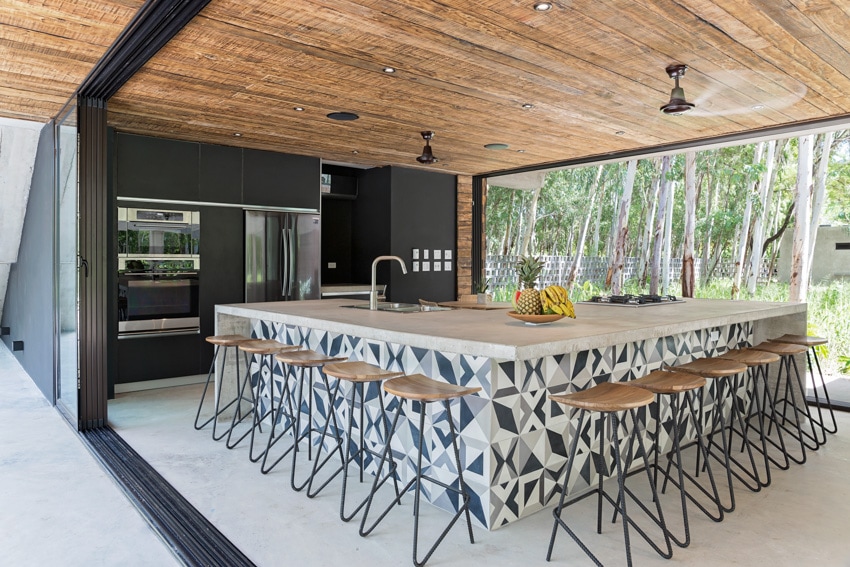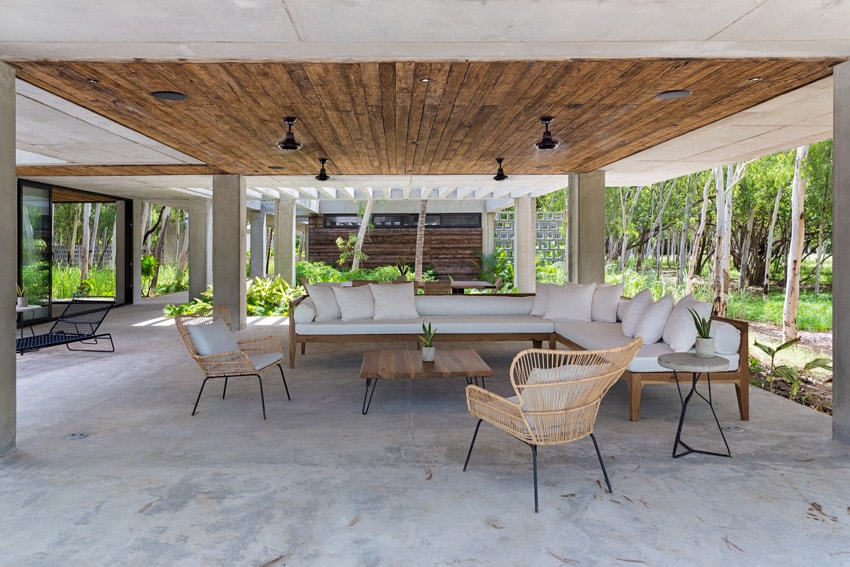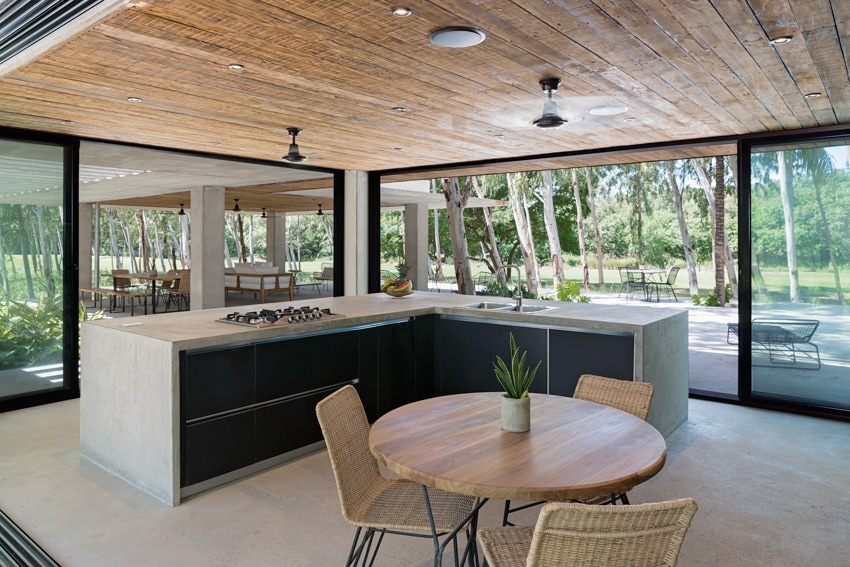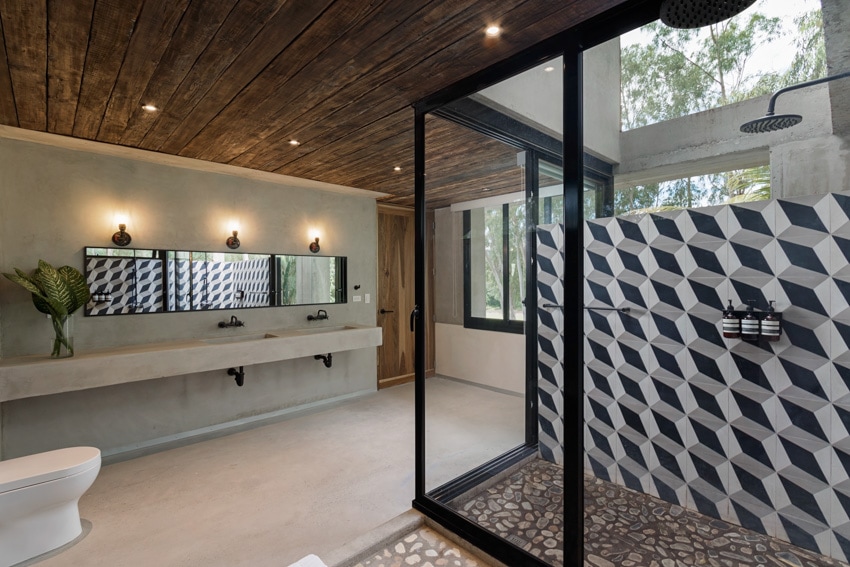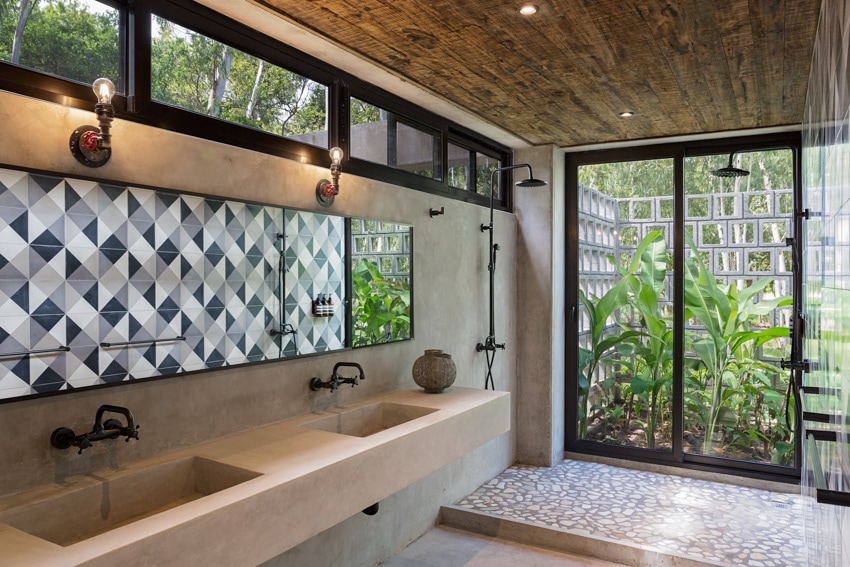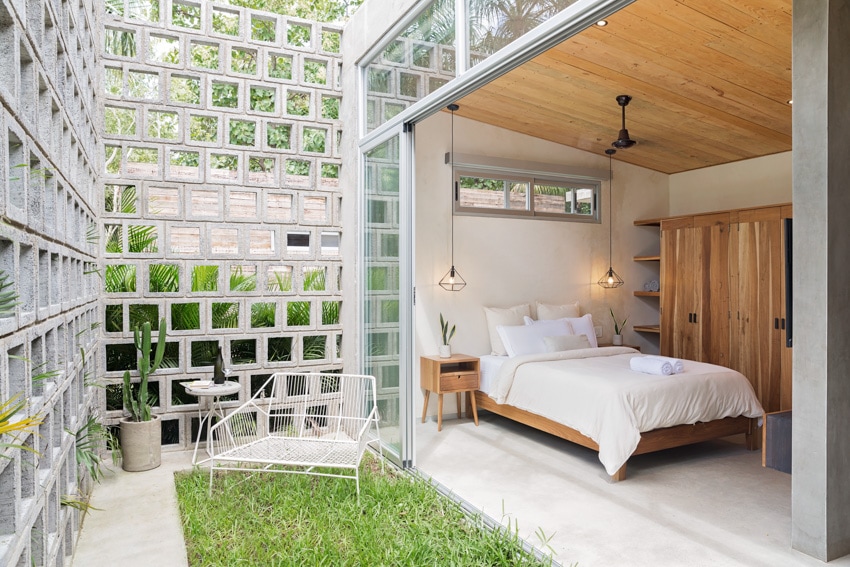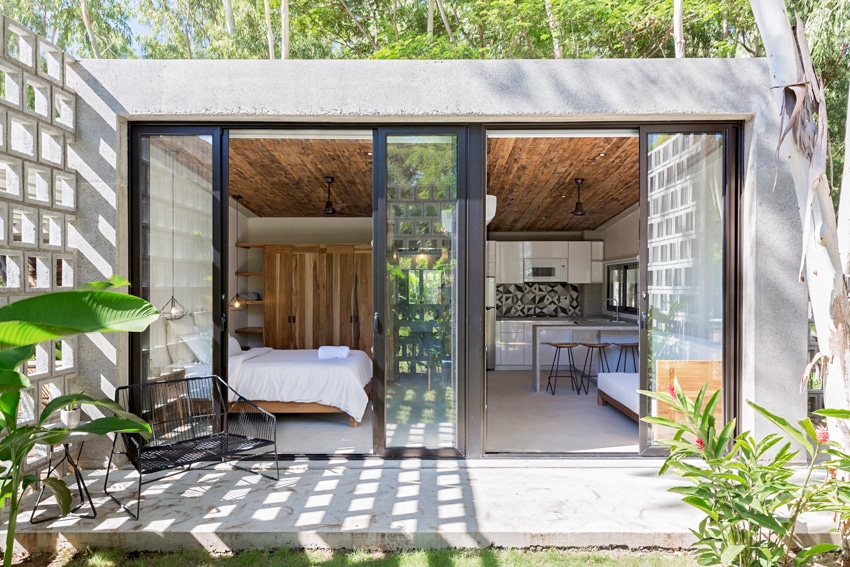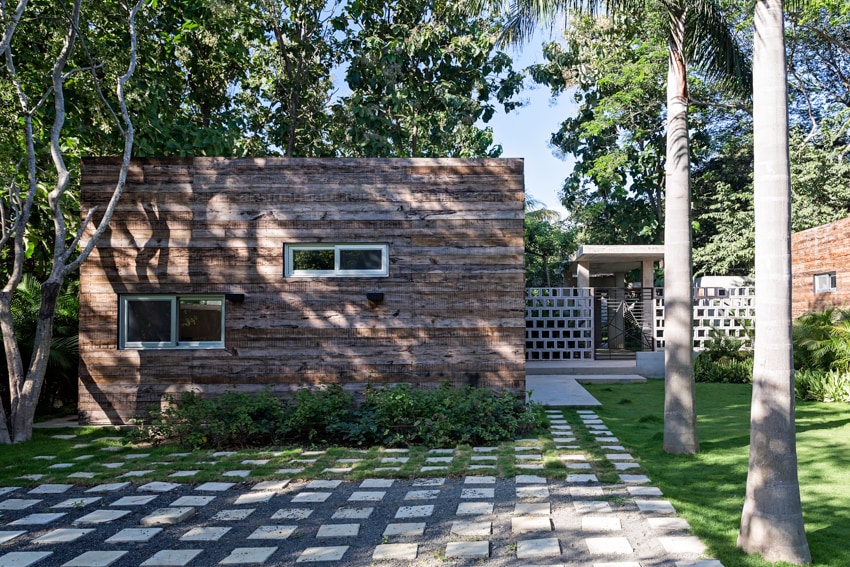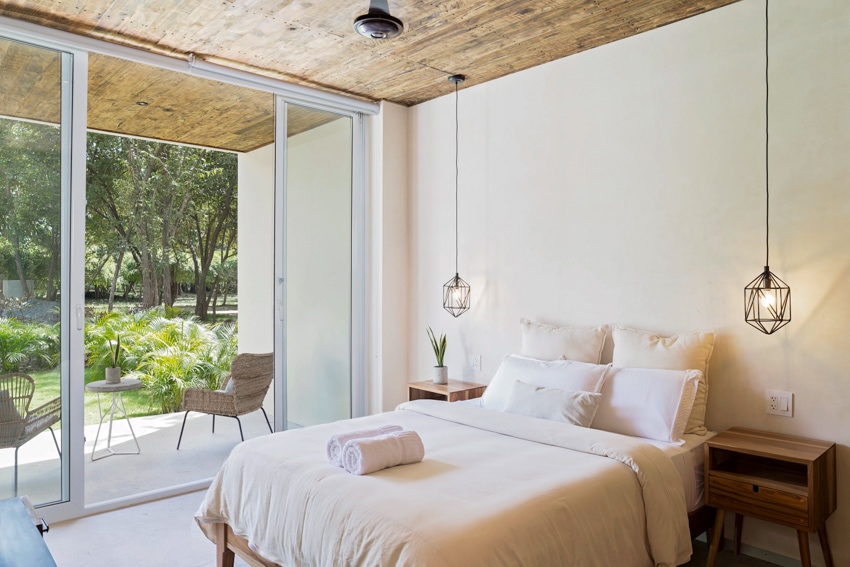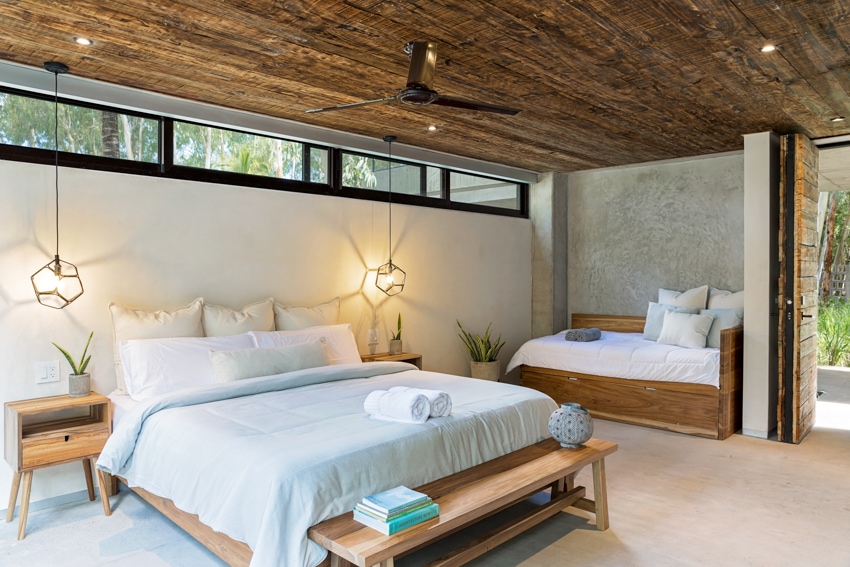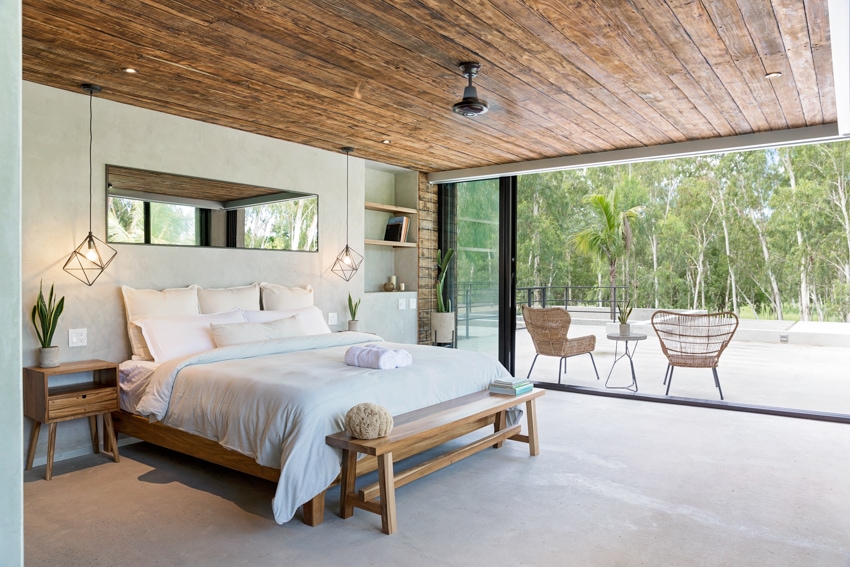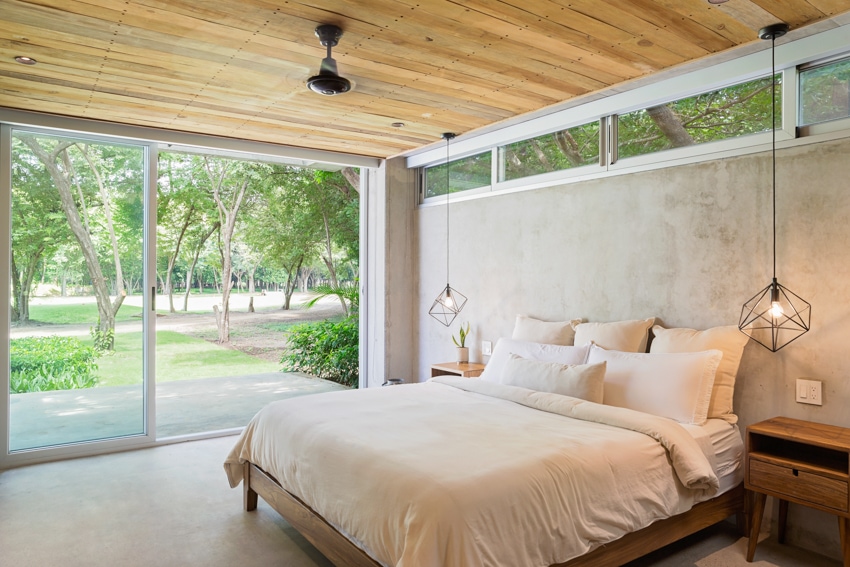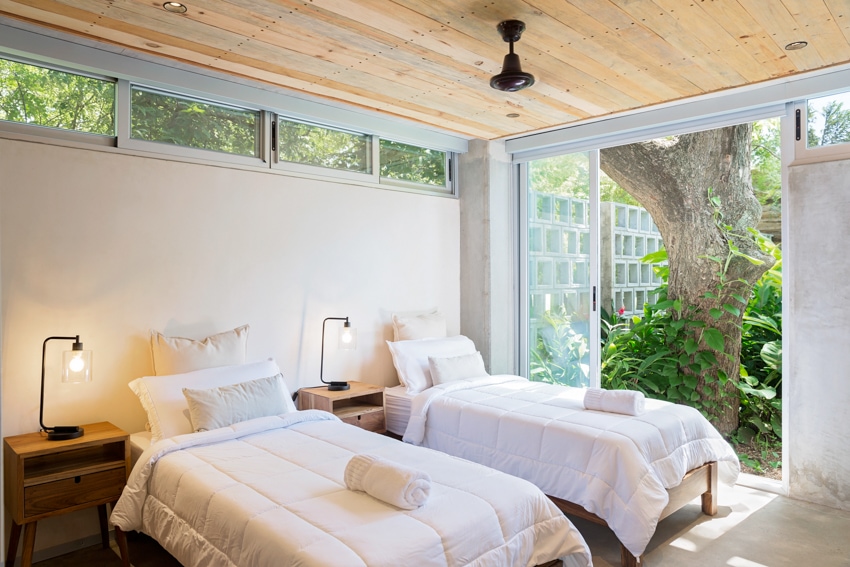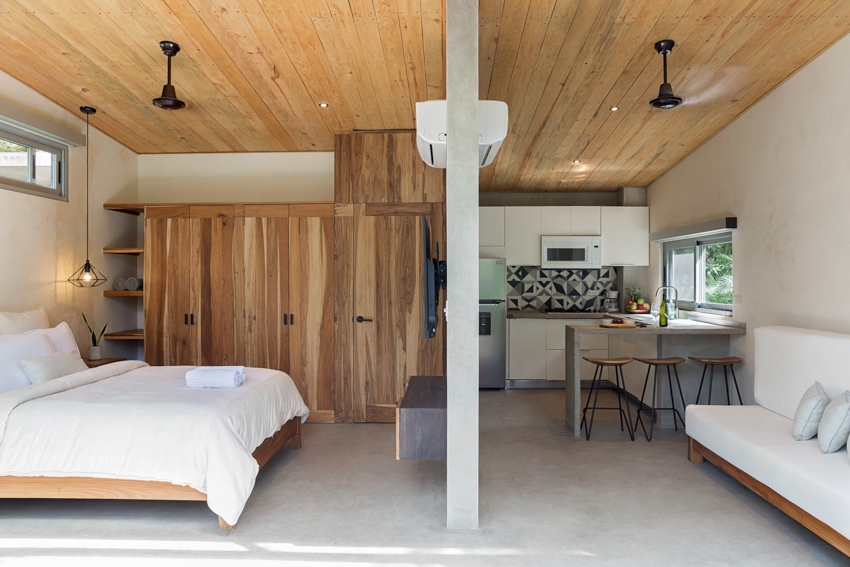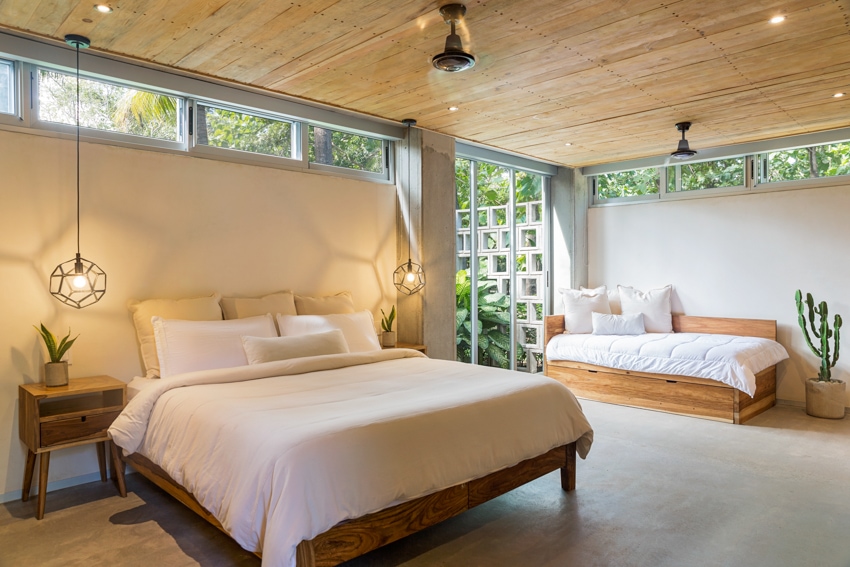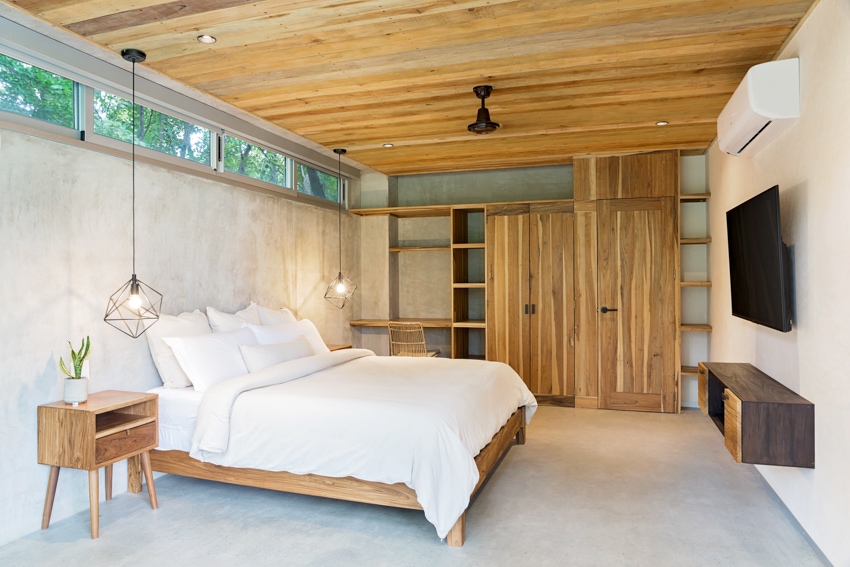 Design-forward boutique hotel surrounded by lush golf course grounds on Nicaragua's wave rich Emerald Coast.
Located in the private resort style community of Hacienda Iguana in Tola, Rivas, Aurea is a beautifully designed getaway where you can customize the perfect stay to suit your style. It's kind of like a choose-your-own adventure – there are apartments, rooms, or whole villas available and you can opt for an all-inclusive trip with activities and meals included, or do your own thing a la carte.
The hotel consists of two separate five-bedroom villas designed to accommodate any sized crew. Each villa can be rented out by the room, or you can rent out the entire villa if you're traveling with a larger group or family.
Nestled into an abundance of trees and greenery, both villas feature floor-to-ceiling windows, breezy modern design, large outdoor terraces, pools, and rooftop chill areas. The layout of both villas is unique in that the rooms are extremely private – most rooms don't share any walls and are almost like individual units within the villa complexes.
The location gives you easy and centralized access to the some of the best waves on Nicaragua's Emerald Coast – it's about a 6-8 minute walk (or 1-2 min by car) to Panga Drops and Playa Colorado, with many more nearby breaks on offer.
The Lowdown
VIBE: Mod indoor/outdoor digs
LOCALE: On the turf near the surf
ROOMS: 2 separate properties with 5 rooms each / 10 rooms total
FAMILY FRIENDLY: Yes
CLOSEST AIRPORT: Augusto C. Sandino International Airport (MGA) in Managua
PRICING: $90 – $180 per night for private rooms / $360 – $600 per night for a villa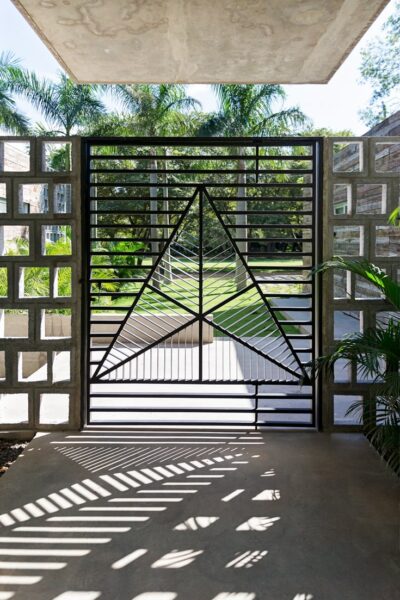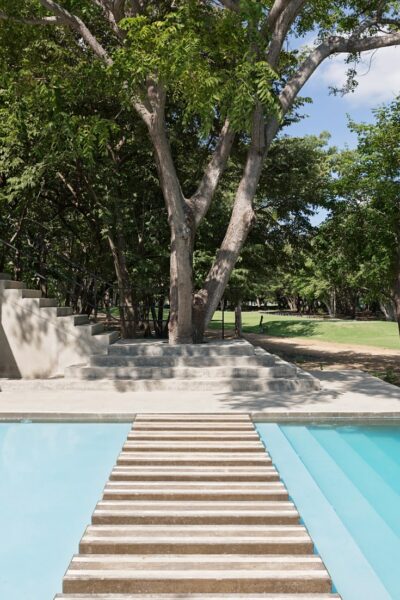 Features
Inside
Finished concrete blends with rustic wood ceilings and open minimalist spaces. Giant windows and sliding doors offer an indoor/outdoor feel and tons of natural light. Outfitted with modern comforts, rooms are airy, spacious, and some units have private patios or terraces.
Outside
Lush golf course greens and natural habitat surrounds the villas. Towering trees give shade to the properties and are the perfect spot for frequent monkey sightings. There's no shortage of places to lounge with the pool, multiple terraces, and many outdoor areas.
Eat & Drink
Aurea offers in-house chef service for entire villa rentals or groups of 7 or more. Their simple yet creative menu emphasizes local, mostly organic, and tropical ingredients. They can cater to vegetarian, vegan and gluten-free menus. For guests not getting chef service. There are several nearby restaurant options.
The Surf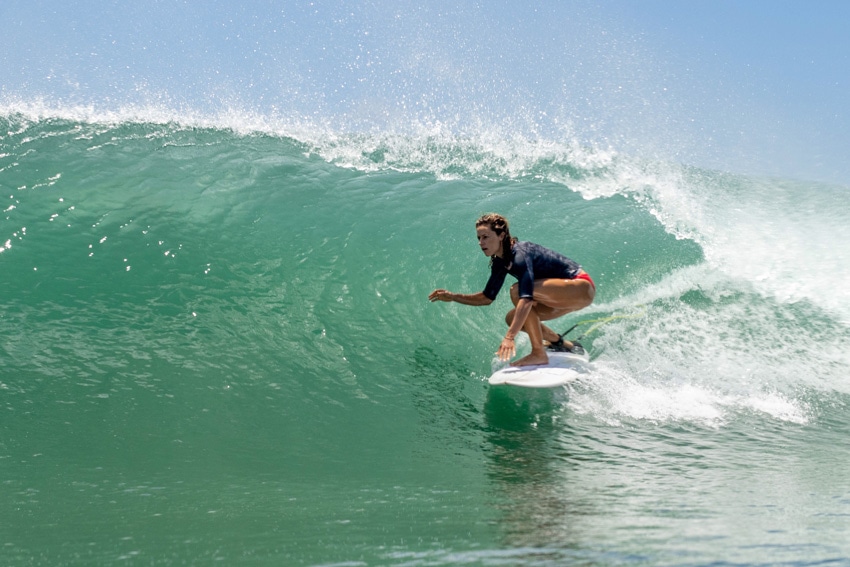 With 300+ days of offshore winds, Nicaragua is well-known for consistently having an abundance of amazing waves and surf conditions on offer. While the main surf season runs from March to September when consistent and sizable south swells greet the Emerald Coast, surf can be found just about anytime of the year. Waves often run shoulder to overhead and stand out spots can reach double overhead+ during solid peak season swells. Experienced surfers will enjoy the variety of punchy beach breaks and barrels on offer, and there are a few more user-friendly spots that can be sought out as well.
WATER TEMP: 80 – 84 °F ( 27 – 29 °C) all year long, but can drop into the 60s and 70s January through March
PEAK SURF SEASON: May – August
SHOULDER SURF SEASON: Sept – April
SURF EXPERIENCE: Best for intermediate to advanced surfers but beginner's can seek out more user-friendly waves and the shoulder season is great for beginner to intermediates
Details
CHECK IN: 3 – 11 pm
CHECK OUT: 11 am
Rates
$100 – $180 per night for a room
$360 – $600 per night for a villa
Good to Know
– Aurea has lots of activities available at an extra charge such as fishing, sailing, snorkeling, horseback riding, paddle boarding, mountain biking and other local tours. They also have an in-house masseuse team with a variety of spa and wellness treatments available such as massages, facials, manicures and pedicures.
– The Eucalypto villa accommodates up to 14 People in the main house plus four people in each of the adjacent studio apartments, for a total of 22 guests. The Teka villa accommodates eight people in the main house plus an additional four in each of the two side studio apartments, for a total of 16 guests.
– Nicaraguan customs will not let you bring drones or spear fishing guns into the country (they will hold them at customs) so be sure to leave those items at home.
Location
Hacienda Iguana, Playa Colorado, Nicaragua
Getting There
Fly into the Aeropuerto Internacional Augusto C. Sandino (MGA) in Managua. Aurea is about a three hour drive southwest of the airport and the hotel offers 24/7 transportation for $80 per car with capacity of 4 people.
Alternatively, you can fly into Liberia (LIR) or San Jose, Costa Rica (SJO), and take a flight with SANSA Airlines to Costa Esmeralda Airport (ECI).
The Small Print
Terms and Conditions
General Guidelines:
– Keys will only be issued once you have agreed to the Terms and Conditions and paid all accommodation/booking fees.
– Aurea´s Office hours are between 8:00 and 21:00 hours.
– Check in time is between 15:00 and 21:00 hours.
– Check out time is at 11:00 hours.
– If you intend to arrive/depart outside our office hours, you must make prior arrangements with our team. Please be aware that after hours check in and check out fees of $40 may apply.
– Please note Aurea´s properties have a minimum 2 night stay policy unless otherwise stated on the listing.
– All guests are responsible for the safekeeping of accommodation keys, a fee of $80 applies if a replacement key is required.
– If you lock your keys in the apartment, an agent may be available to attend. Please be aware that after hour calls will incur a $40 fee. If an agent is unable to attend and a locksmith is required, the tenant will be charged the locksmith's costs.
– All keys are to be returned at checkout.
– No functions or parties may be conducted at the property under any circumstances unless agreed with Aurea's Team.
– All accommodation must be used for private/residential use only and to accommodate the number of guests stated on booking description. Exceeding the stated number of guests will result in a termination of booking and/or charges of $50 per night per additional guest.
– Misconduct, unrespectful behavior or any form of violence will result in the immediate termination of booking and the ejection of the premises with no further notice or refund.
– If required, the tenant agrees to allow Aurea´s personnel to conduct inspections of all premises upon reasonable notice and a mutually convenient time.
– Please ensure air-conditioners and all electric components are turned off when guests are not in the property.
– Please remember to take personal property and belongings with you upon departure as Aurea will accept no responsibility whatsoever for any such items left behind.
– Where there are security doors, guests/clients are advised to lock up.
– Indoor smoking is not allowed. If there is evidence of such, including a smoke odor, tenants will be charged a fee of $100 to cover the cleaning of curtains, linen and air-conditioning sterilization.
– Guests/clients in occupation, are fully responsible for all breakages and damages caused to the property, its furniture fittings, or any consequent loss. Any such breakages, damages or loss must be reported IMMEDIATELY to Aurea´s Agents and either replaced to the satisfaction of the Agent, or paid for prior to departure.
– No pets are allowed either in the landscape of the property, nor inside the accommodation under any circumstances. Any pets found in accommodation properties will result in a termination of booking and/or cleaning and fumigation charges of $400.
– Tenants and/or visitors shall park vehicles only in specific designated areas.
– The tenants are responsible for the behavior and actions of their visitors whilst on the premises.
– Additional charges or immediate termination may apply in the event of excessive noise, nuisance or disturbance caused to neighboring properties during tenants occupancy.

Payments/Cancellations/Refunds
– Please ensure that you read the cancellation, refund and payment policy.
– Aurea will accept payments by credit card, paypal or cash.
– The client/guest agrees to be liable to all outstanding balances and rental funds at the time of checkout.
– Upon booking, the tenant/client will be charged 50% of total reservation.
– 7 days prior to arrival, the tenant/client will be charged the remaining 50% of total reservation.
– Cancellations made after booking are non-refundable.
– If tenants choose to vacate the property prior to check out date, all funds paid will be non-refundable.
– All extensions to a reservation must be fully paid when the extension request is made.
– Extensions cannot be guaranteed and are subject to availability.
– If there is an extreme circumstance as to why you need to cancel, a refund may be considered at the discretion of Aurea.
– Aurea will not accept the following reasons for canceling, including but not limited to:
– Change of travel plans
– Found alternate accommodation
– Property location isn't suitable

What to bring
– All premises are fully self-contained. Personal requisites are not provided. It is expected that you will need to bring personal cleaning items.
– Beach towels are not provided. It is expected that you will need to bring beach towels.
– Beach items such as umbrellas or chairs are not provided.

Cleaning
– Linen is available for hire.
– A professional clean will be carried out on check out and the cost is included in your total booking price. Mid-stay cleans & a change of linen are available upon request and do incur additional fees.
– If a property is found to be left in an unreasonable state at check out, there may be excess cleaning charges involved.
– This will be determined on a case to case basis and a member of Aurea´s team will contact the tenant to advise of the excess cleaning.
– For urgent assistance call +505 8209 2434. After hour fees of $40 may apply in some circumstances.


DISCLAIMER
– I/We hereby acknowledge and agree that the Aurea will not be held responsible nor liable for:
– Any injury or loss suffered by the occupants, their invitees or guests whatsoever or however caused whilst I/we are in occupancy of the accommodation due to my/our failure to comply with the Terms and Conditions.
– Any injury or loss suffered by the occupants, their invitees or guests whatsoever or however caused due to negligence on my/our /their part.
– Any injury or loss suffered by the occupants, their invitees or guests whatsoever or howsoever caused as a result of insects or wildlife in or around the accommodation site. All occupants are to take specific care at all times and requested not to approach any wildlife under any circumstances.
– Any noise, disturbance or inconvenience caused as a result of renovation/building/road works being carried out in or near the vicinity of the accommodation.
– I/We hereby acknowledge and agree that the agent has the absolute and sole discretion to cancel my/our occupancy in the event that my/our actions or behavior compromise the safety and /or quiet enjoyment of neighboring properties or others.
– I/We hereby agree that I/we will be fully responsible and liable for payment of all charges incurred, irrespective of such cancellation, together with any financial loss suffered by Aurea, to be debited from my credit card without further notice.
– I/We hereby agree to the cancelation and refund policy stated above.