The Floating House
Santa Teresa, Costa Rica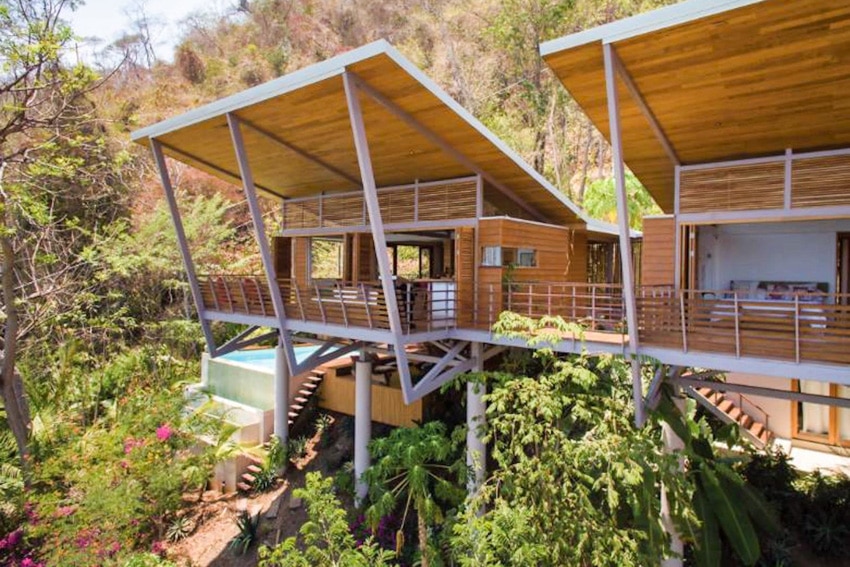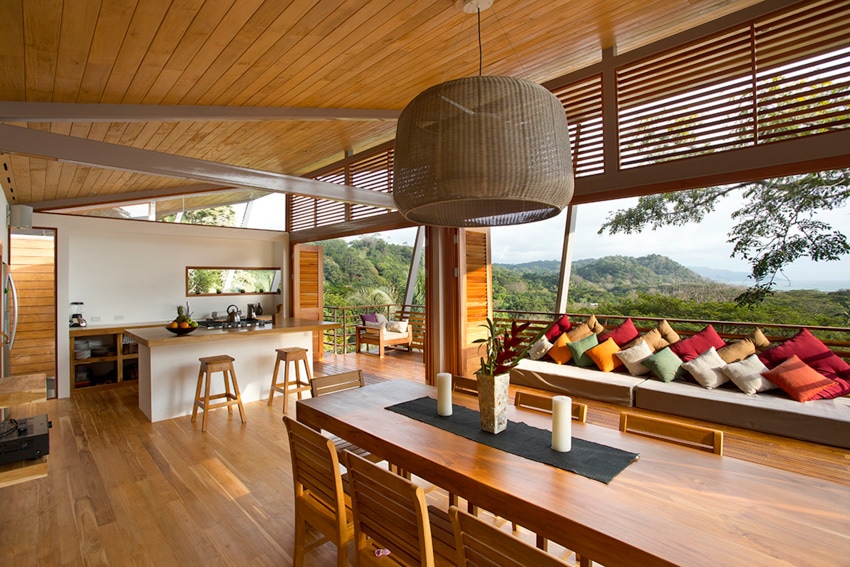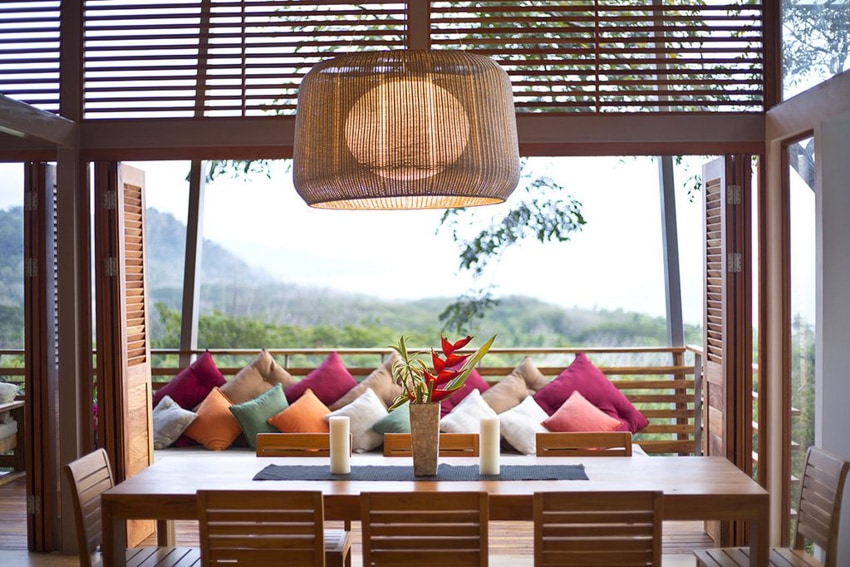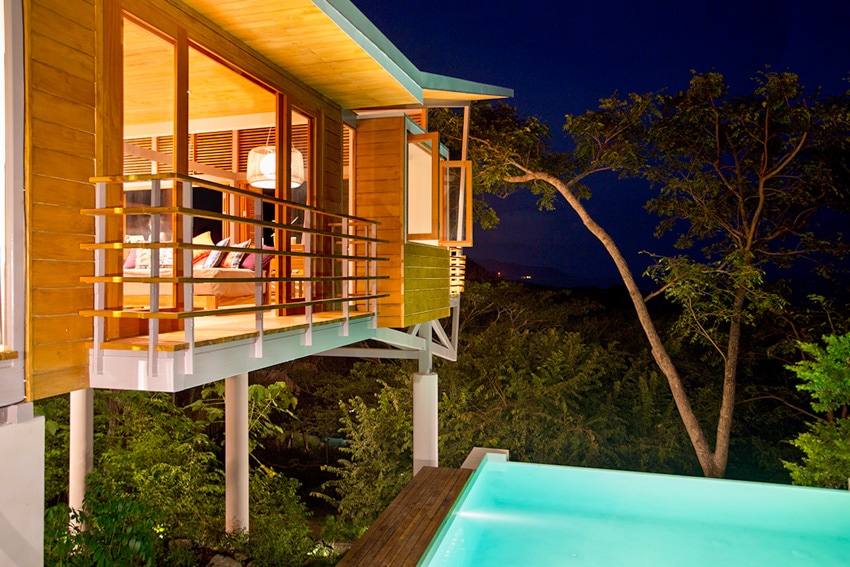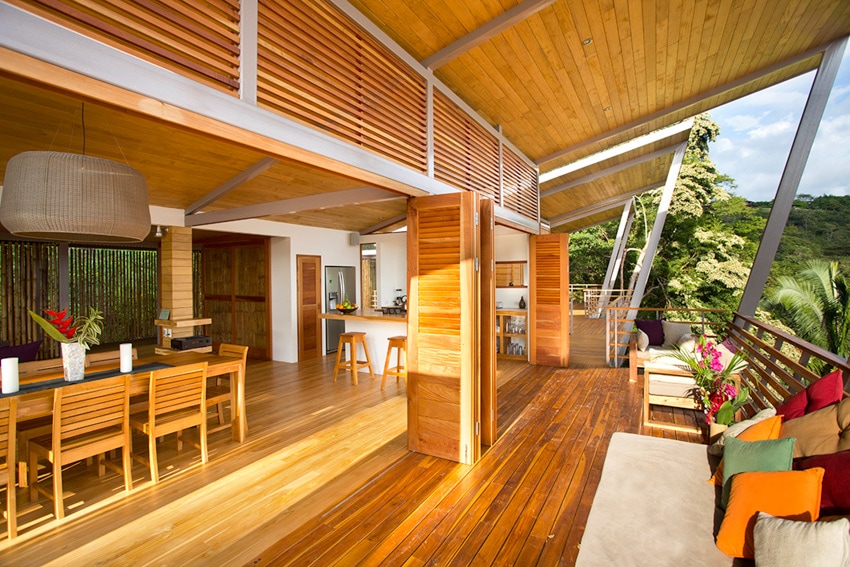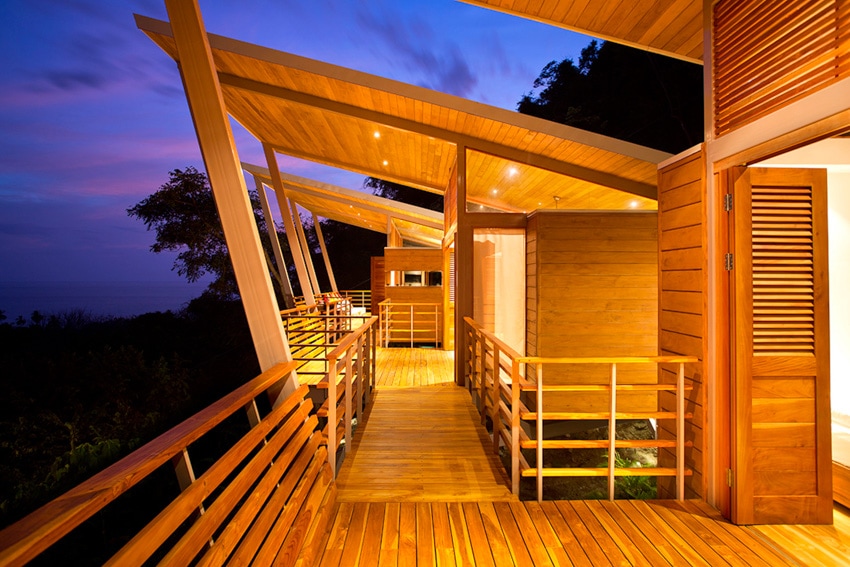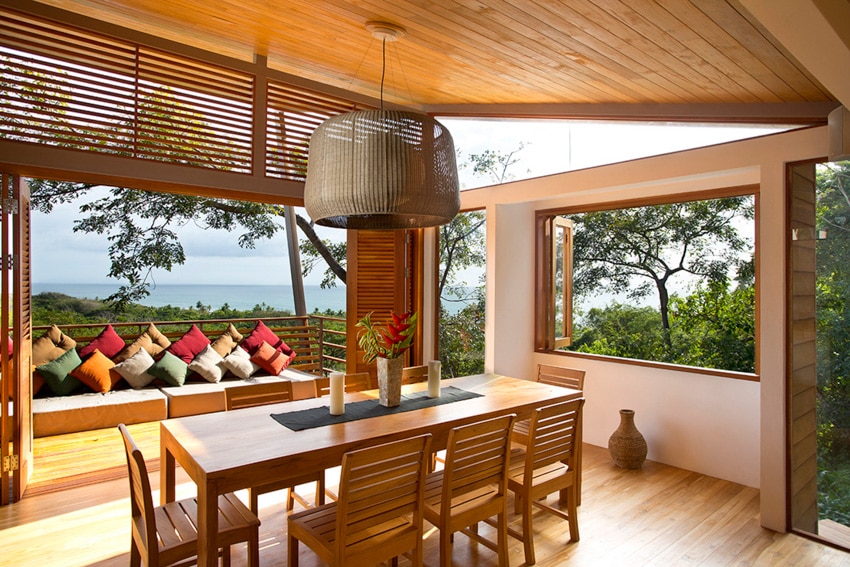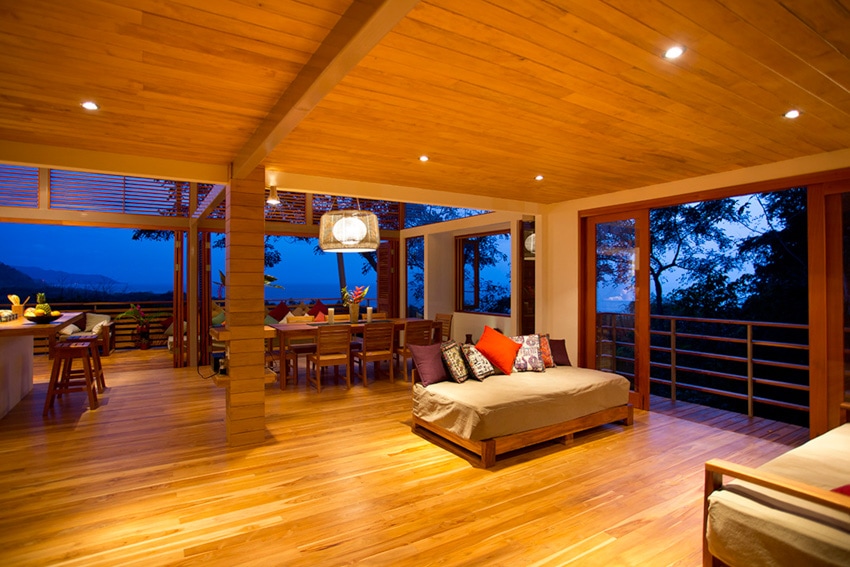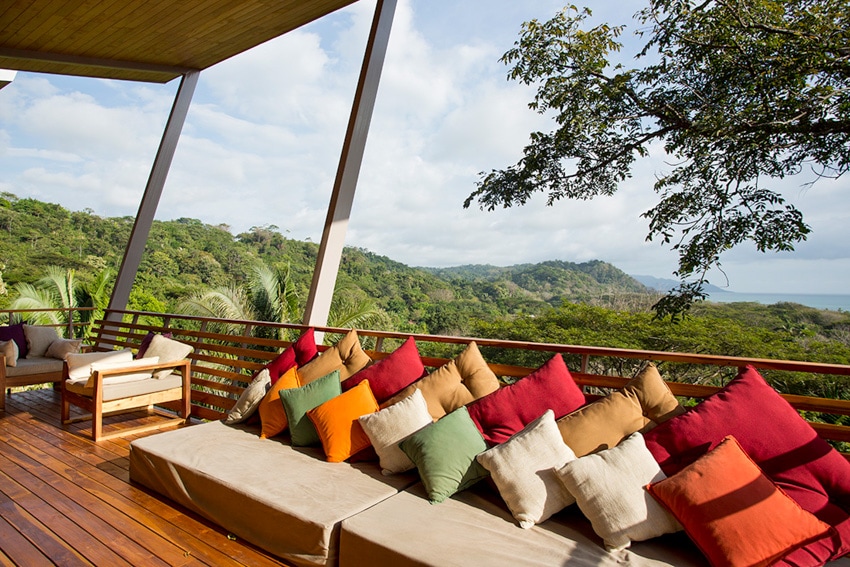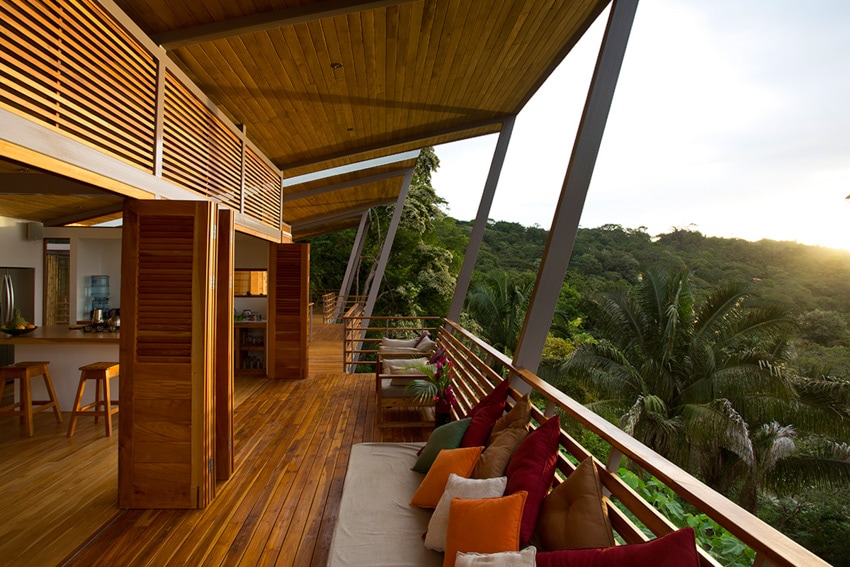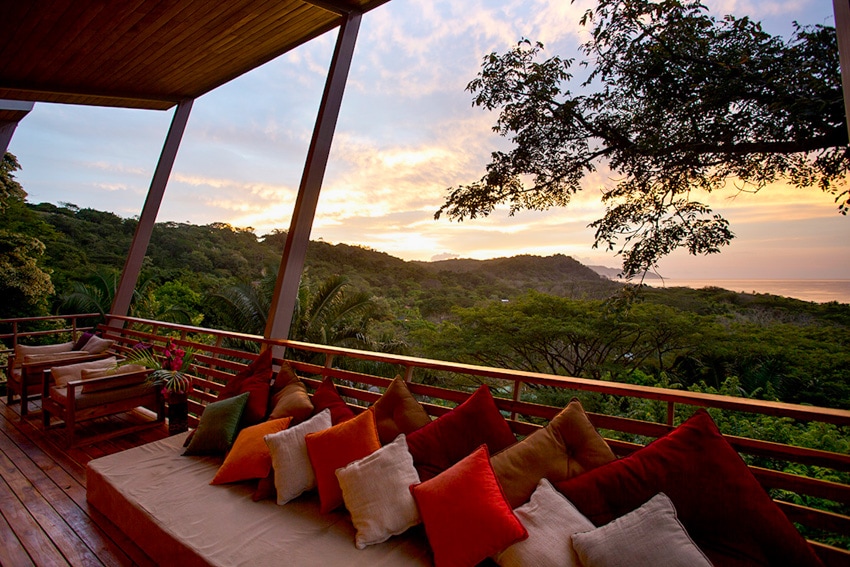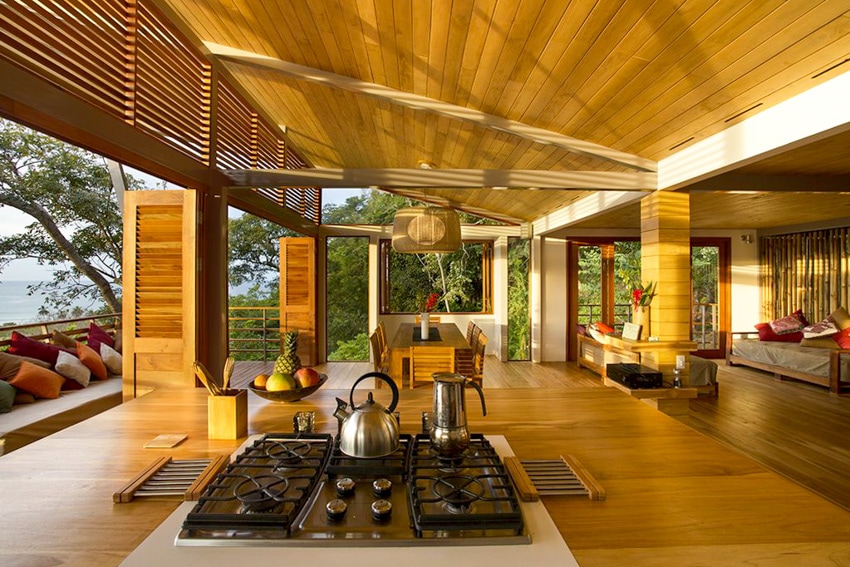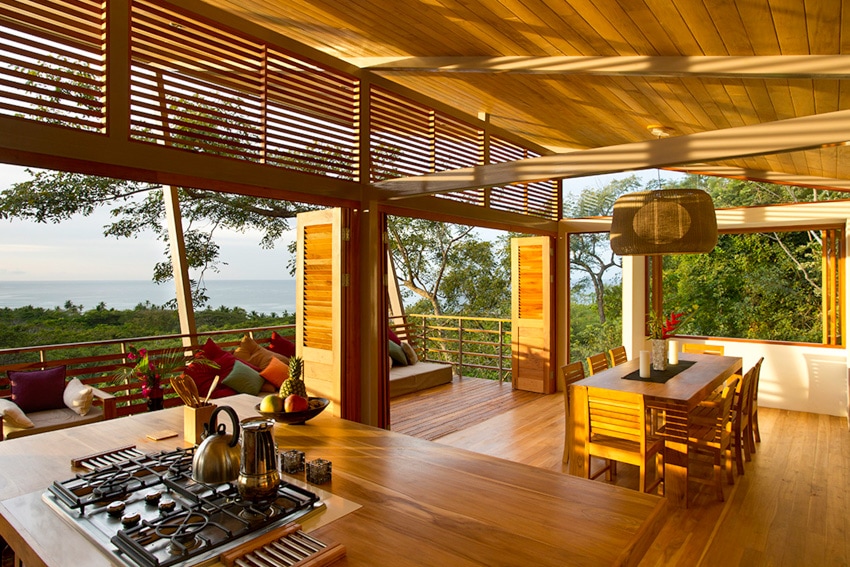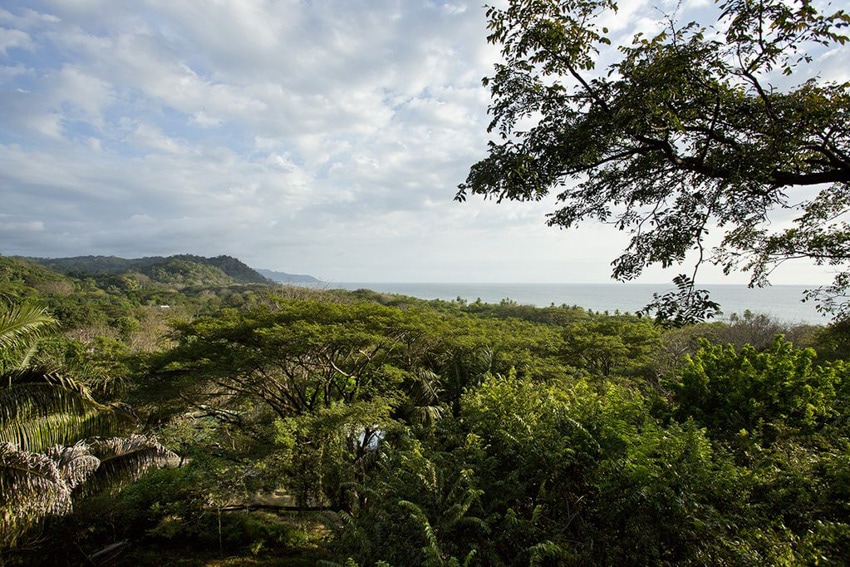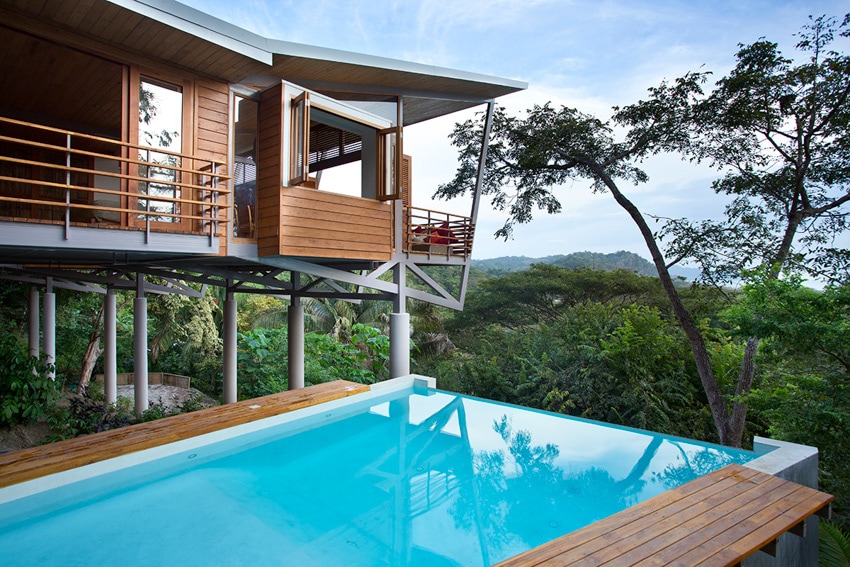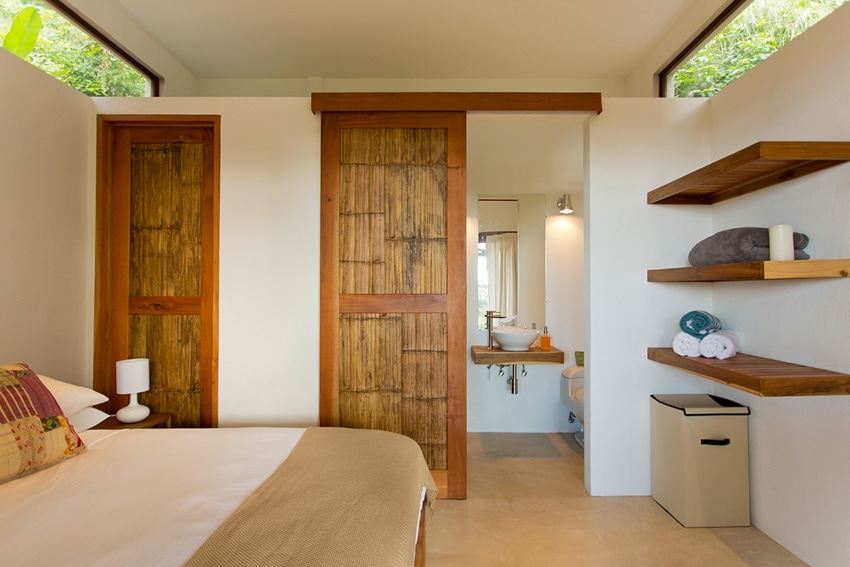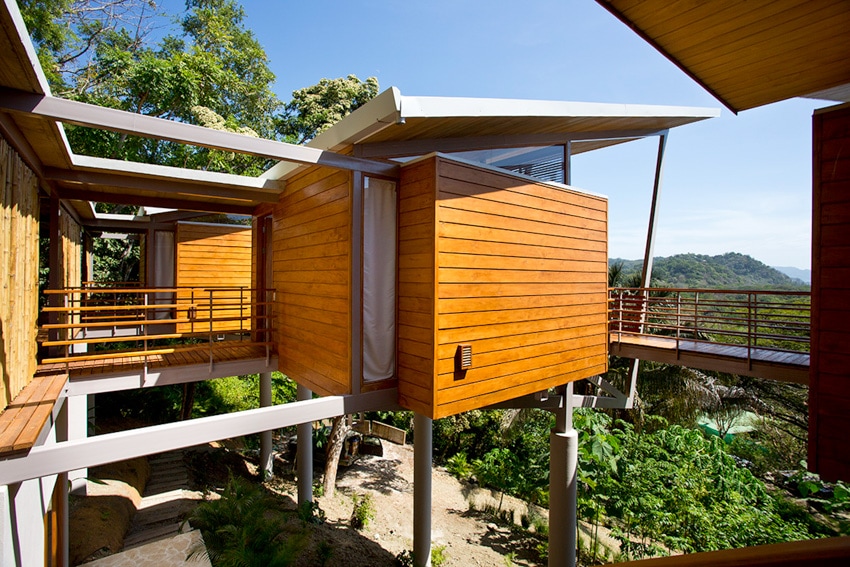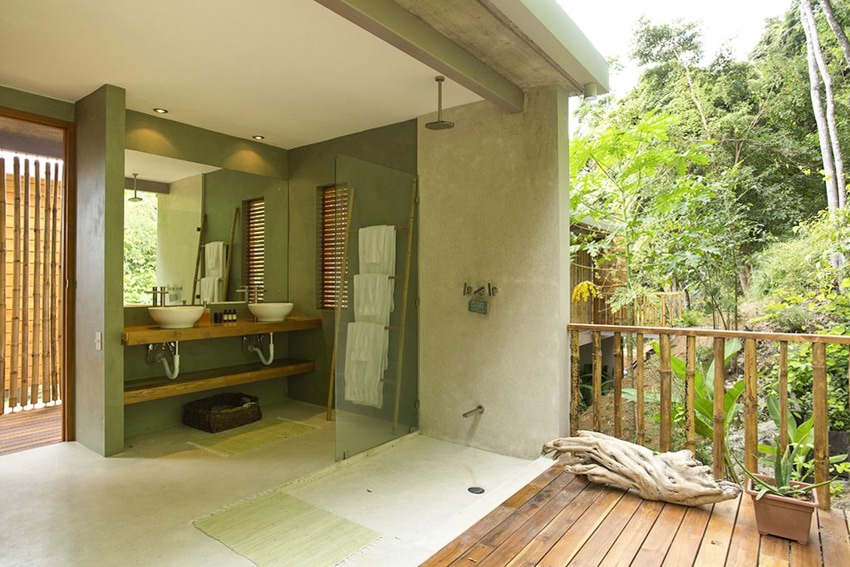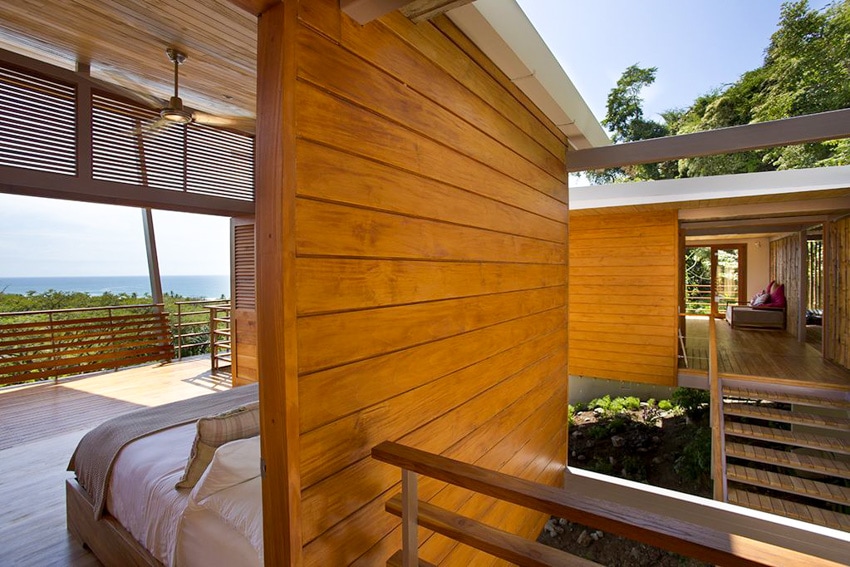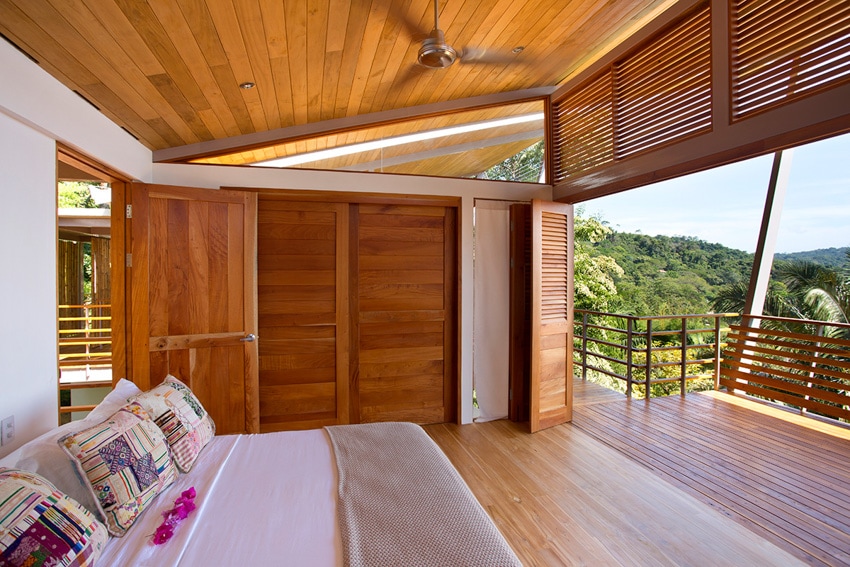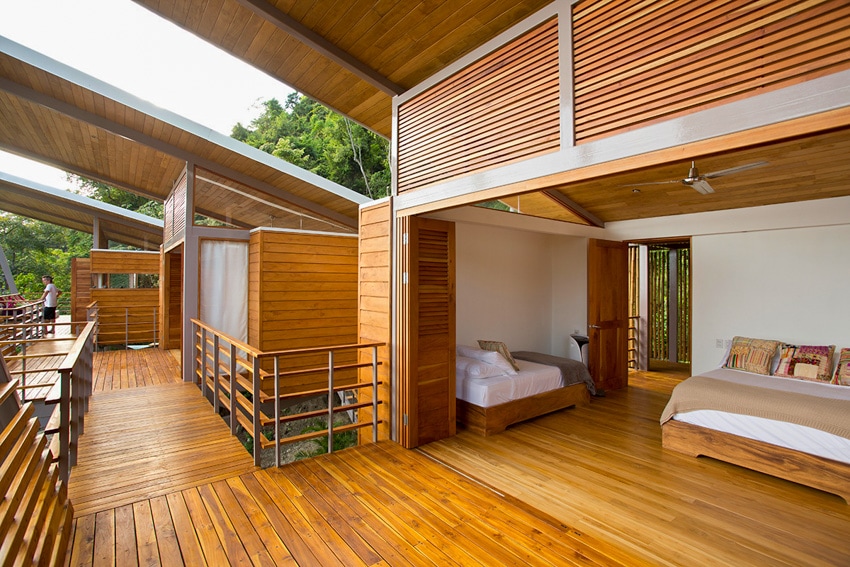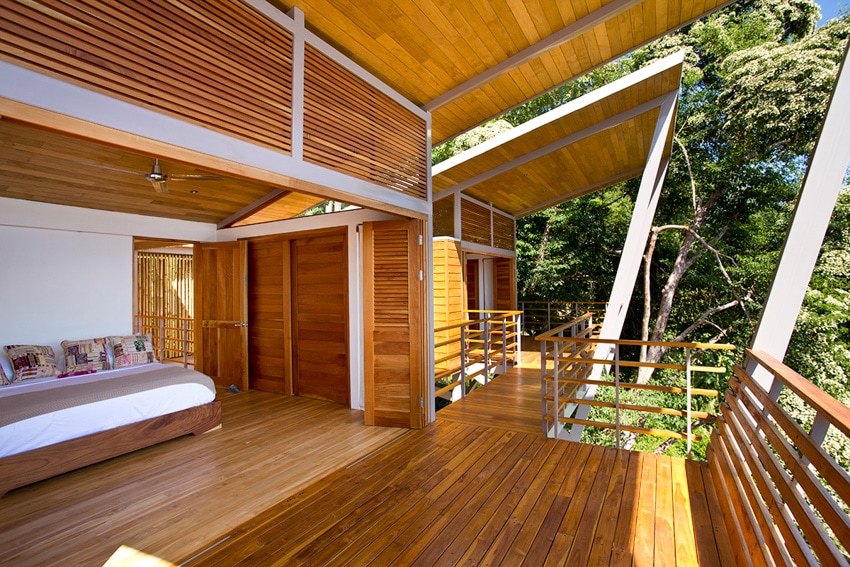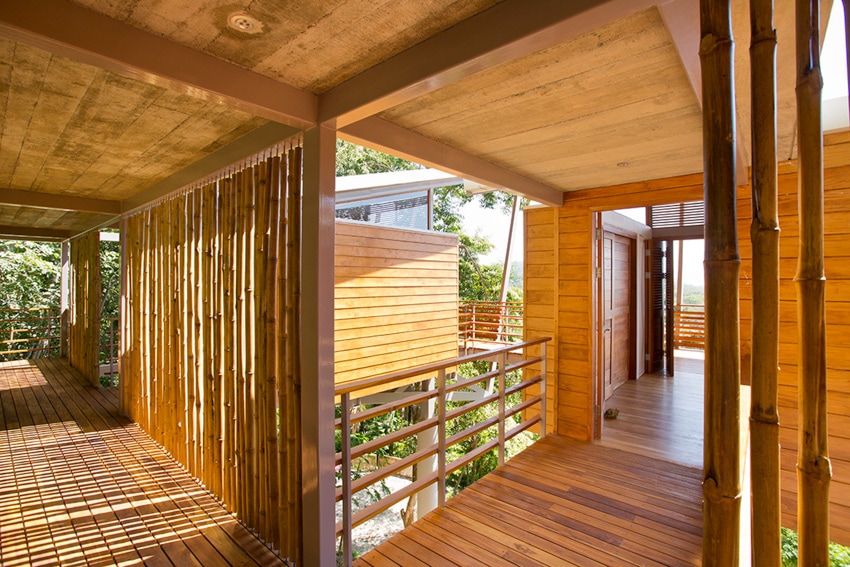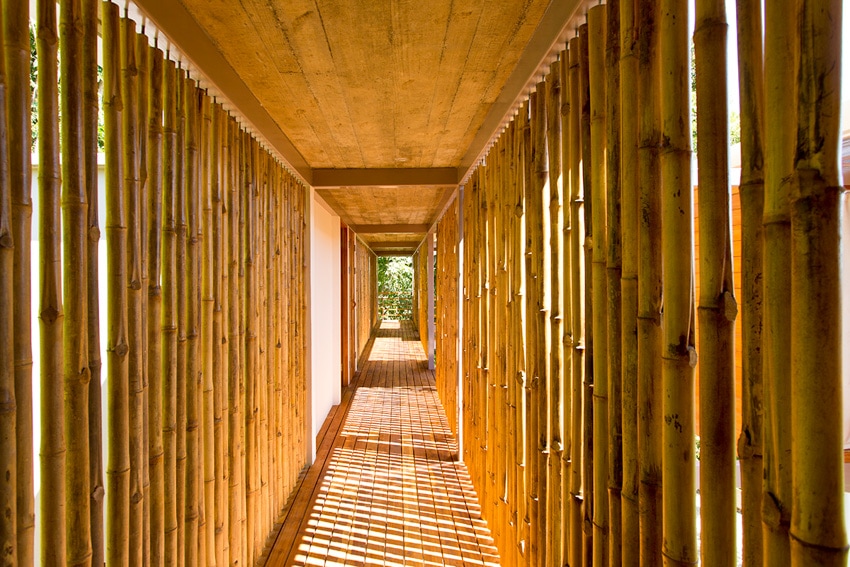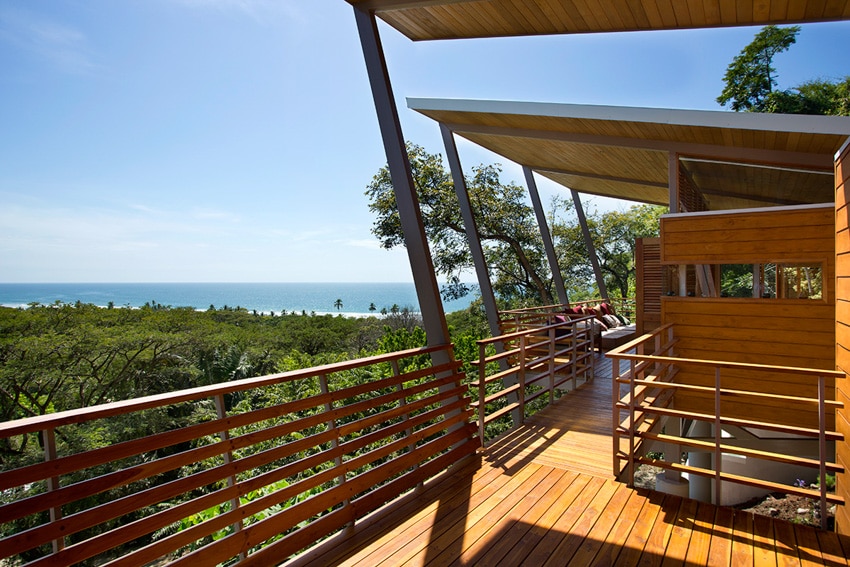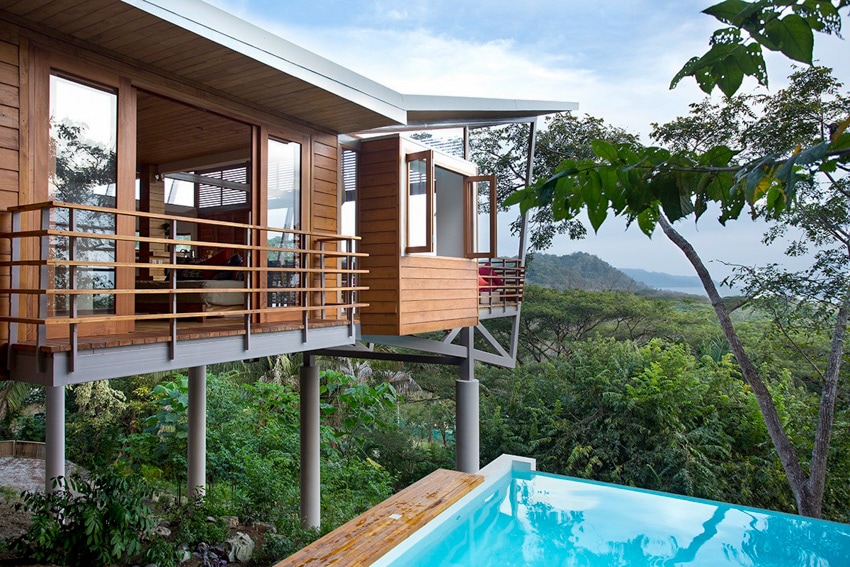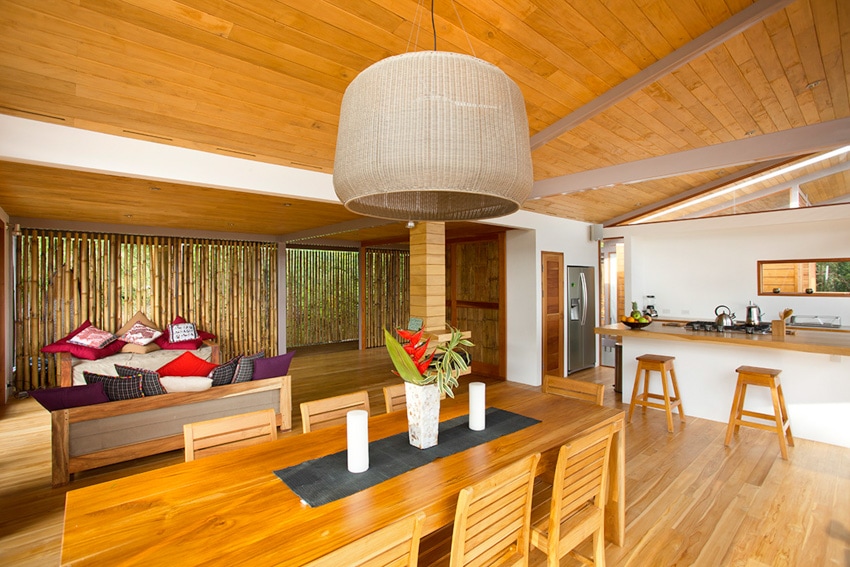 floating-house-costa-rica-12
floating-house-costa-rica-11
floating-house-costa-rica-10
floating-house-costa-rica-9
floating-house-costa-rica-8
floating-house-costa-rica-7
floating-house-costa-rica-6
floating-house-costa-rica-5
floating-house-costa-rica-4
floating-house-costa-rica-3
floating-house-costa-rica-2
floating-house-costa-rica-1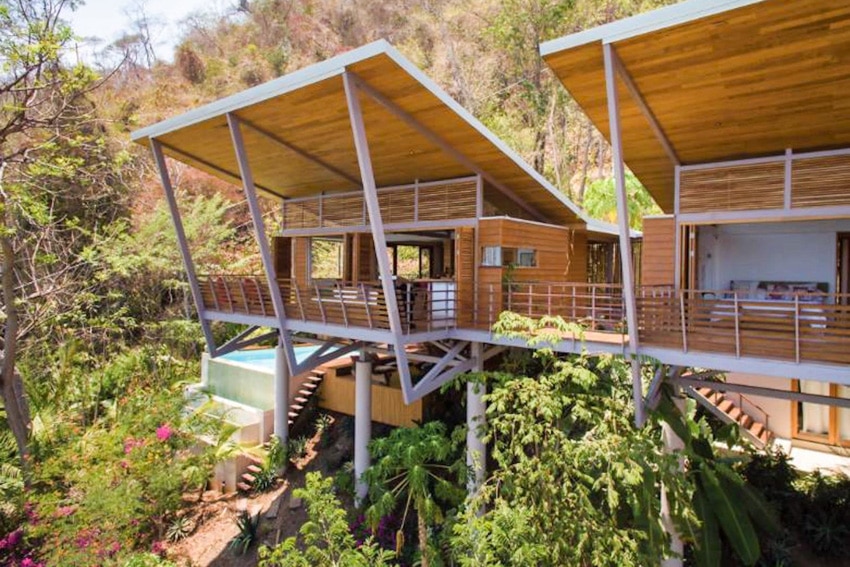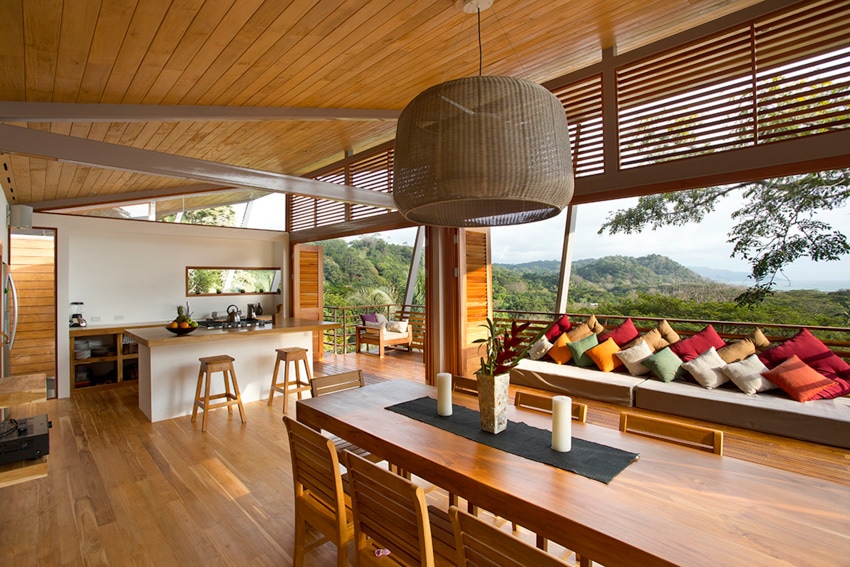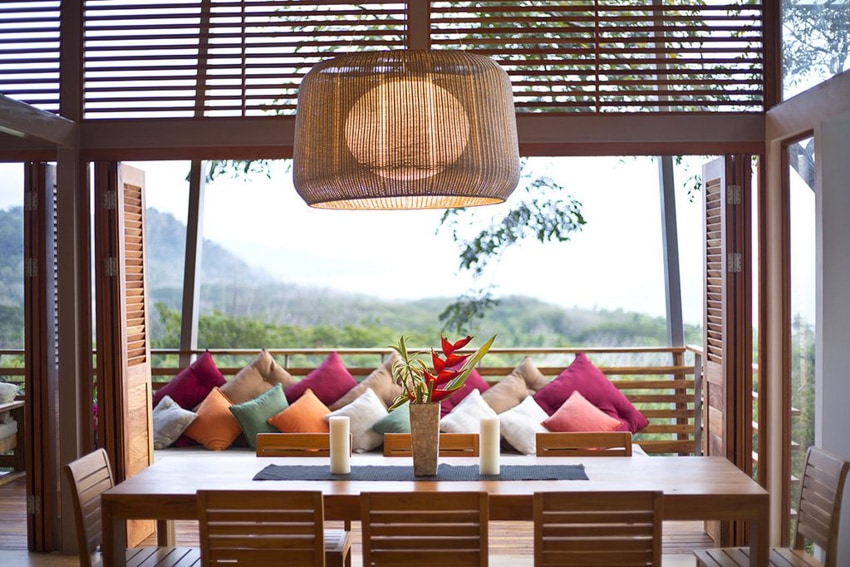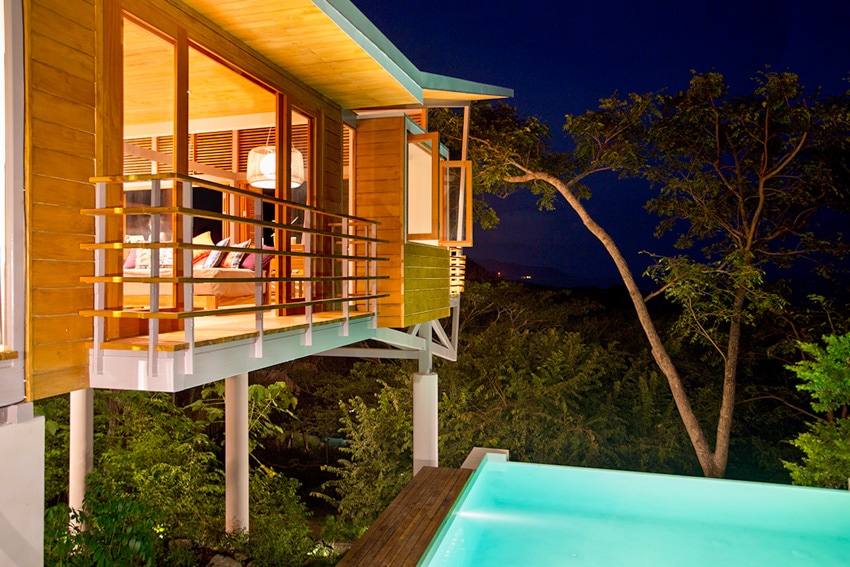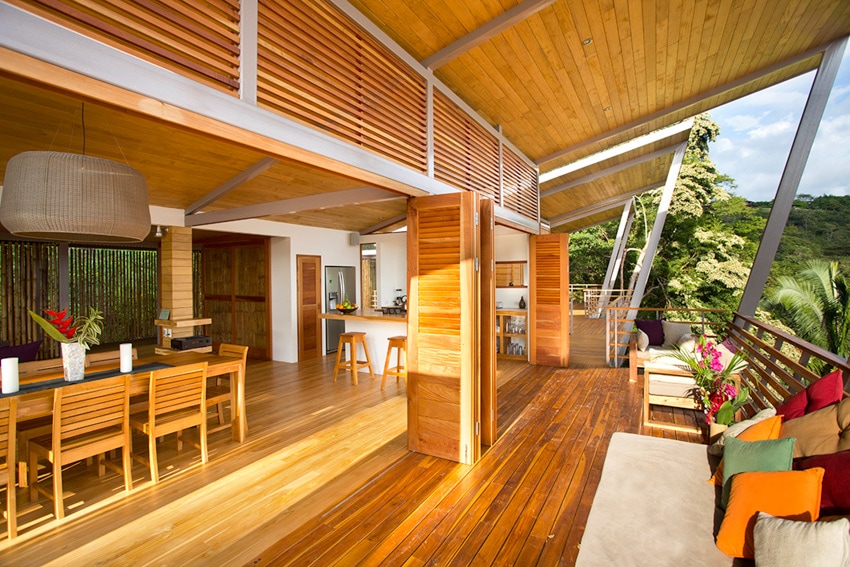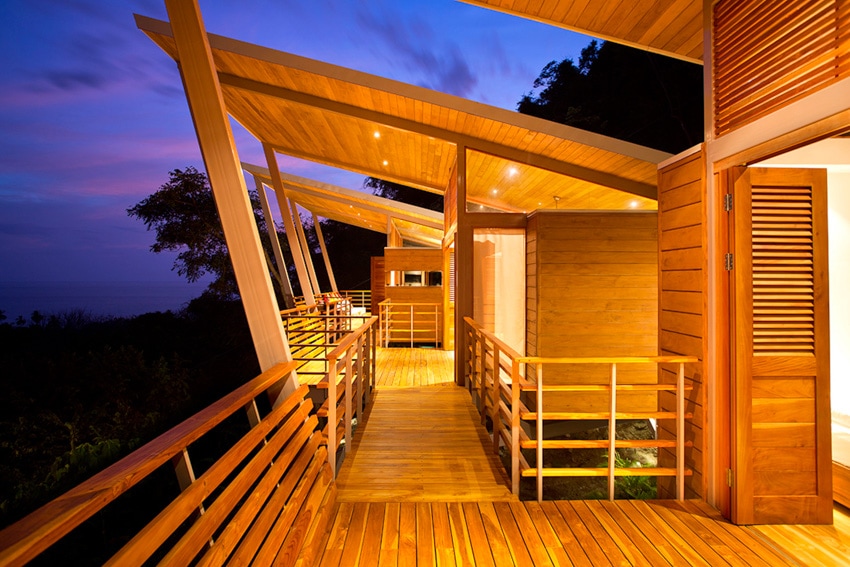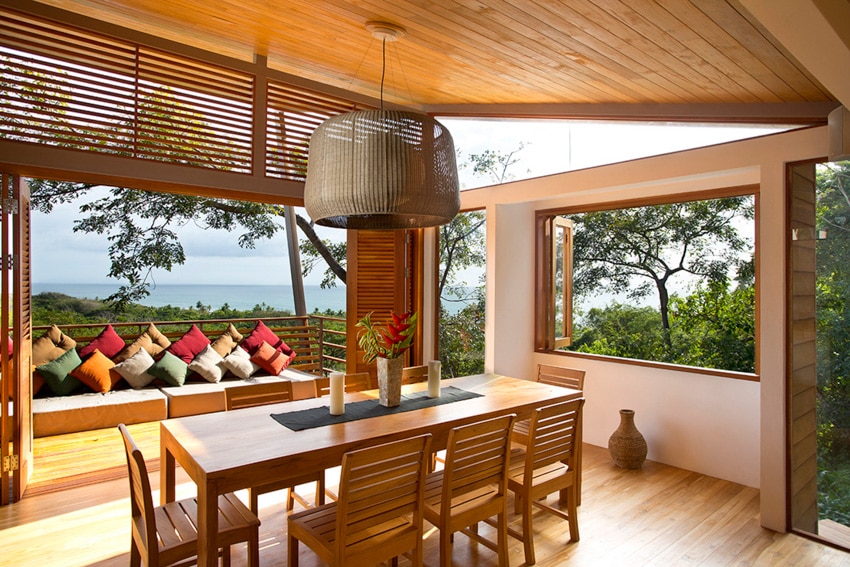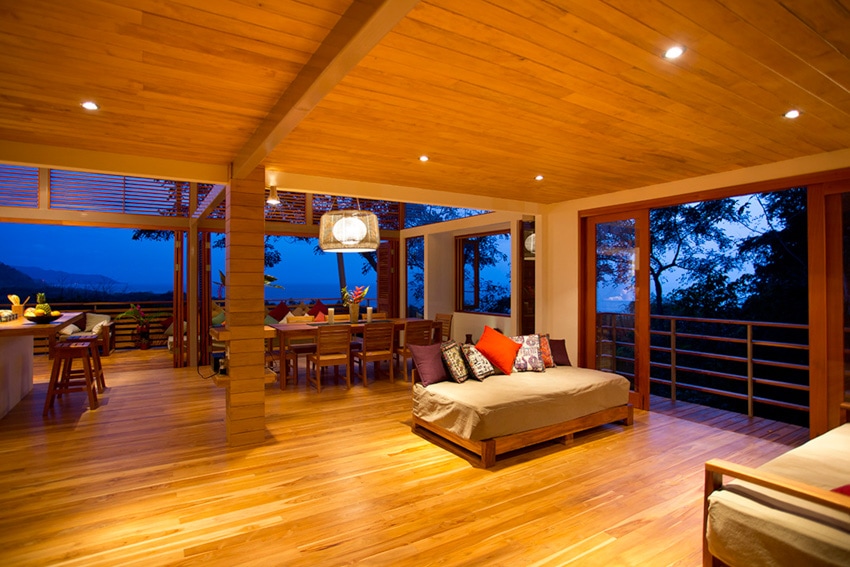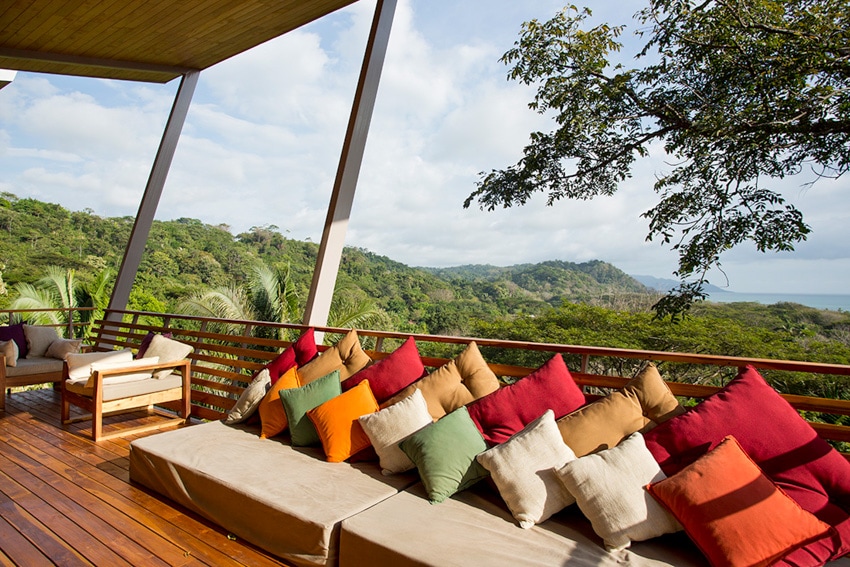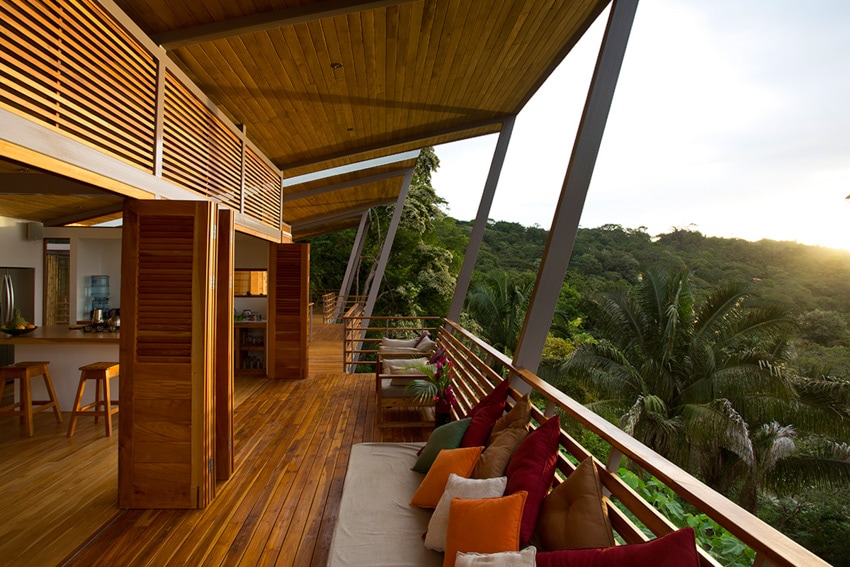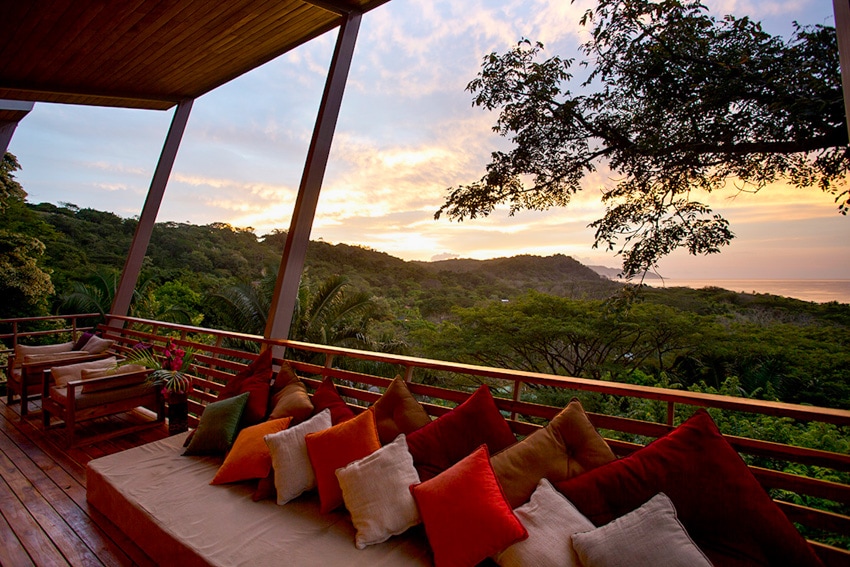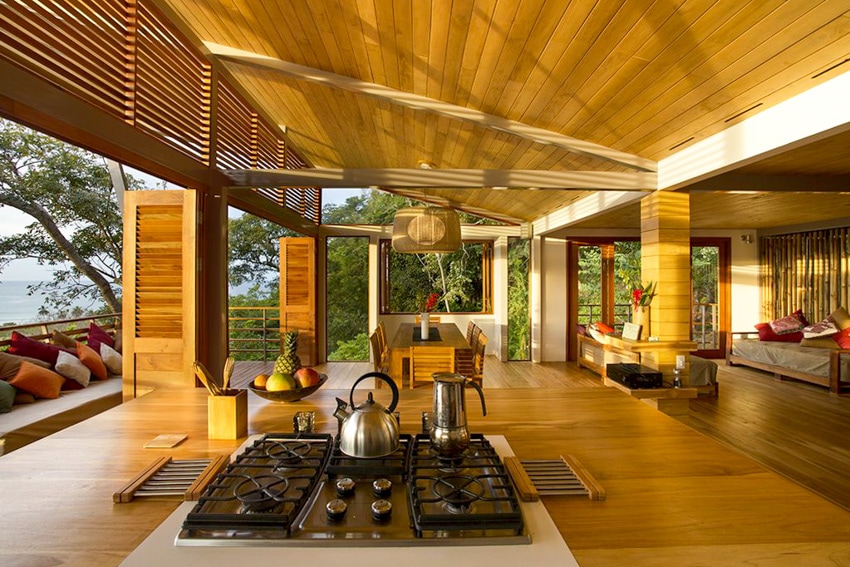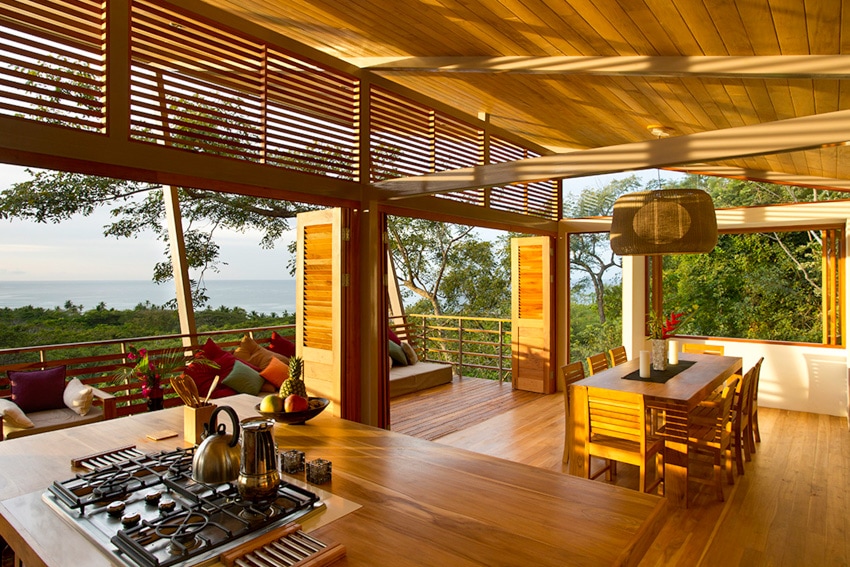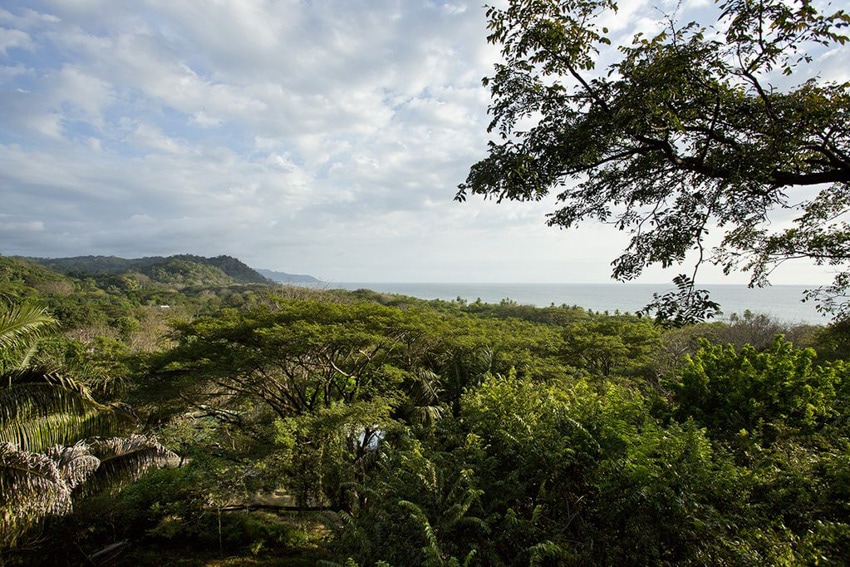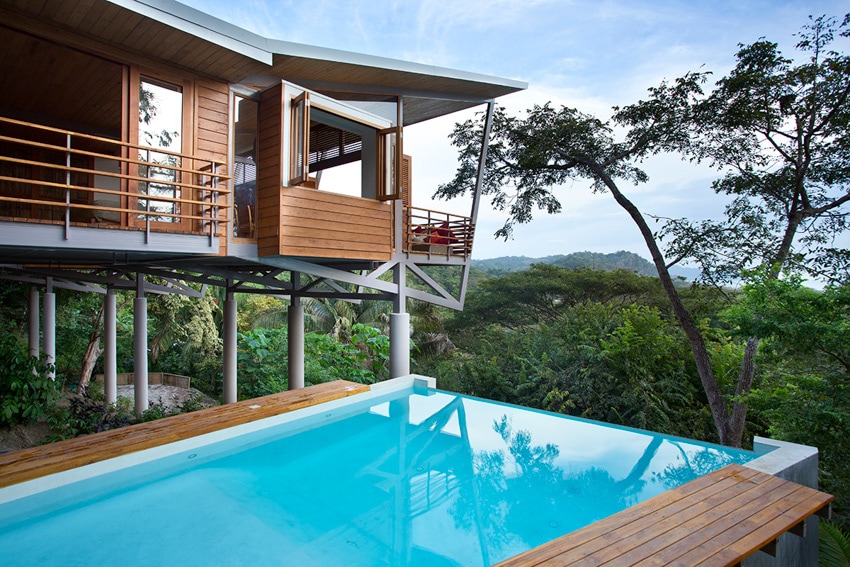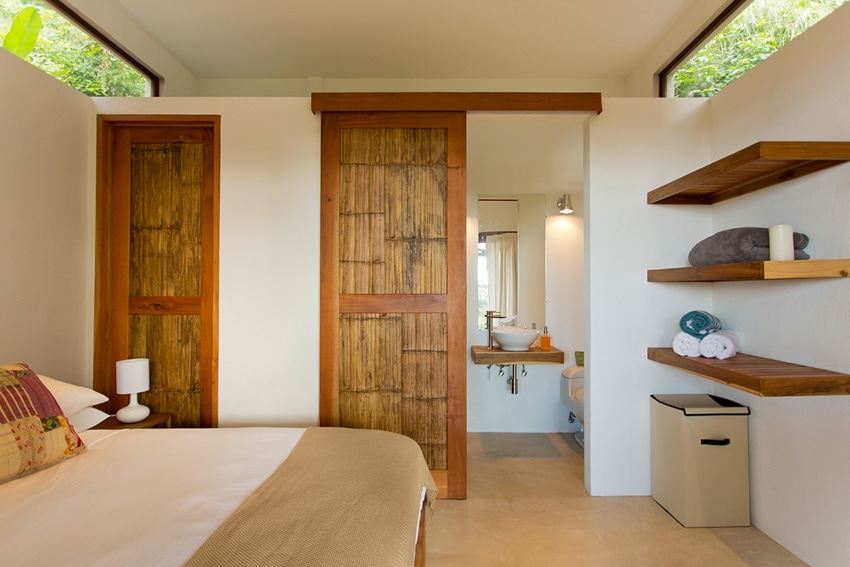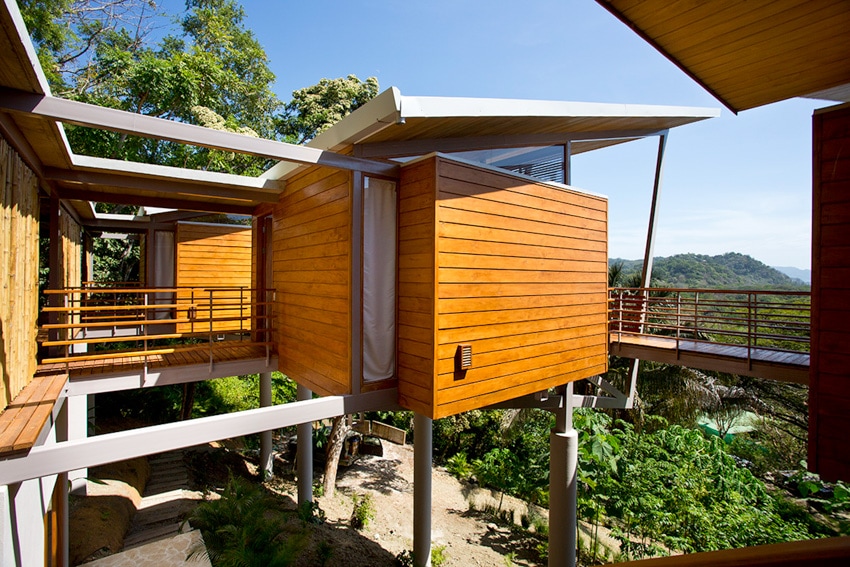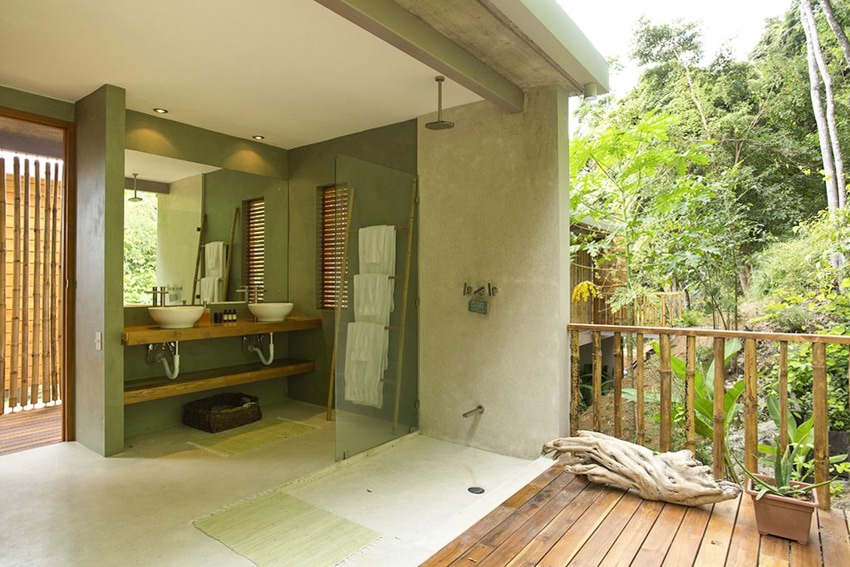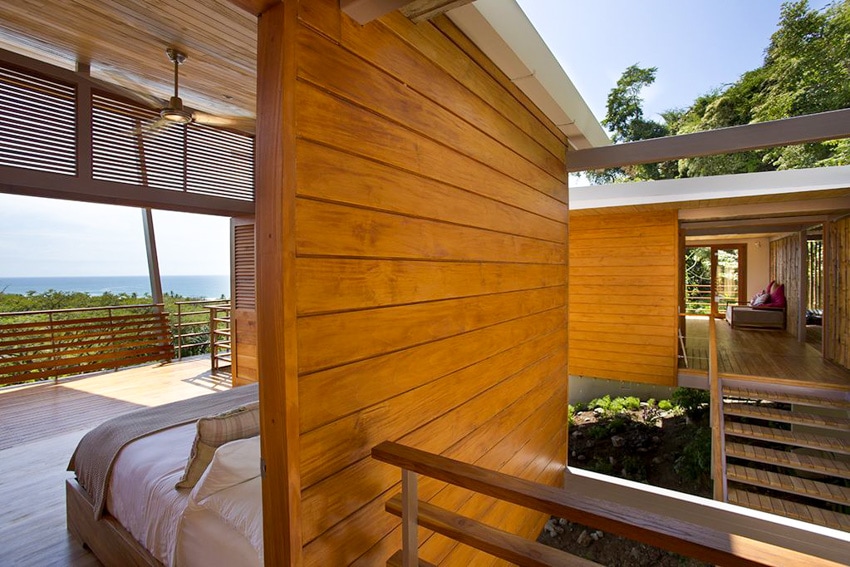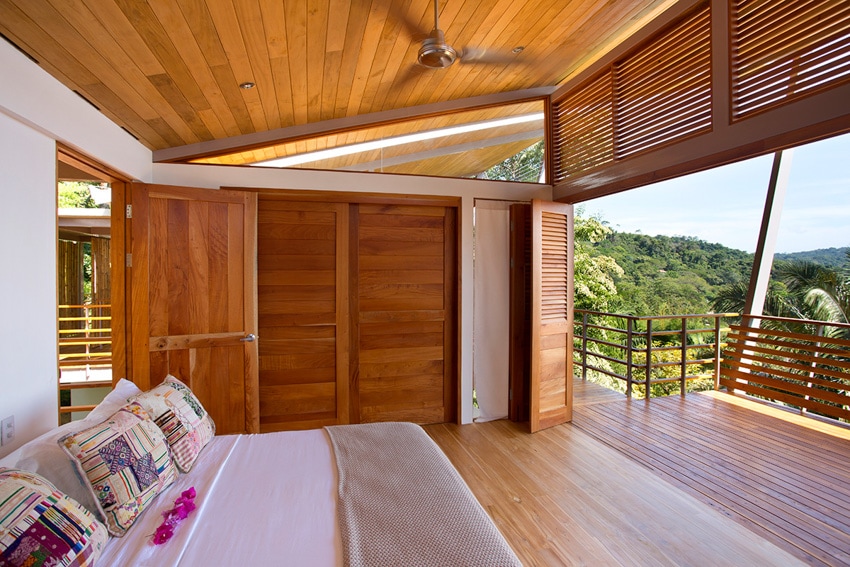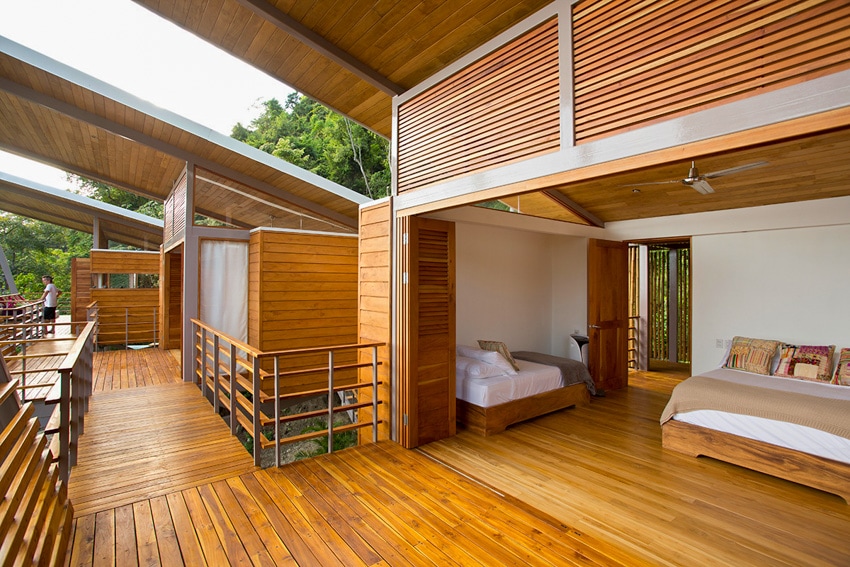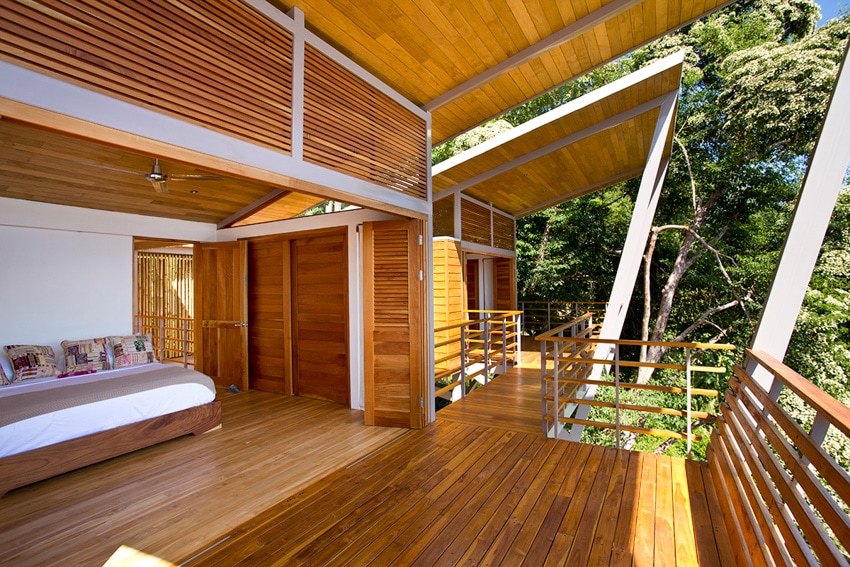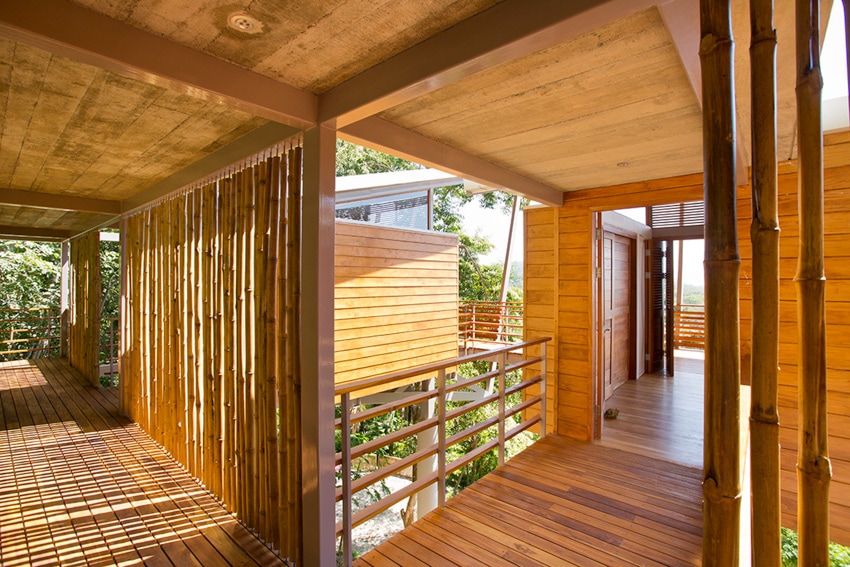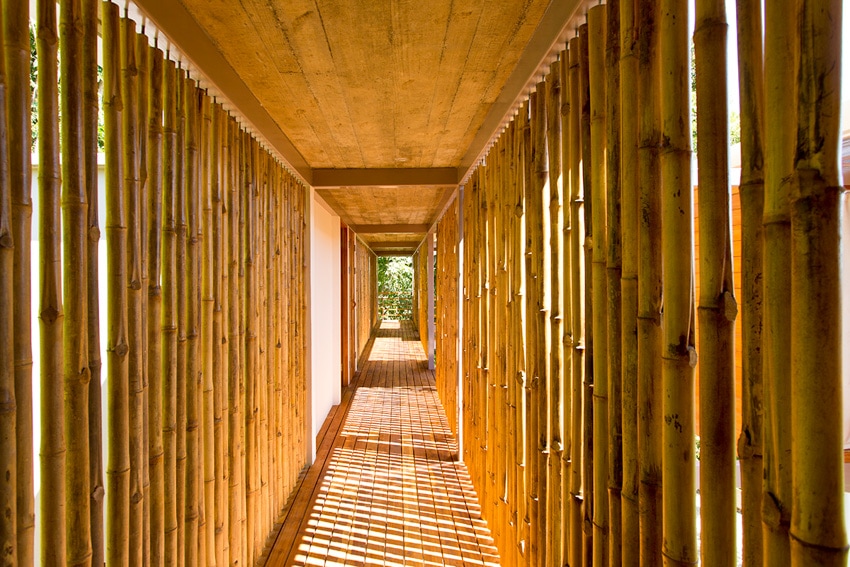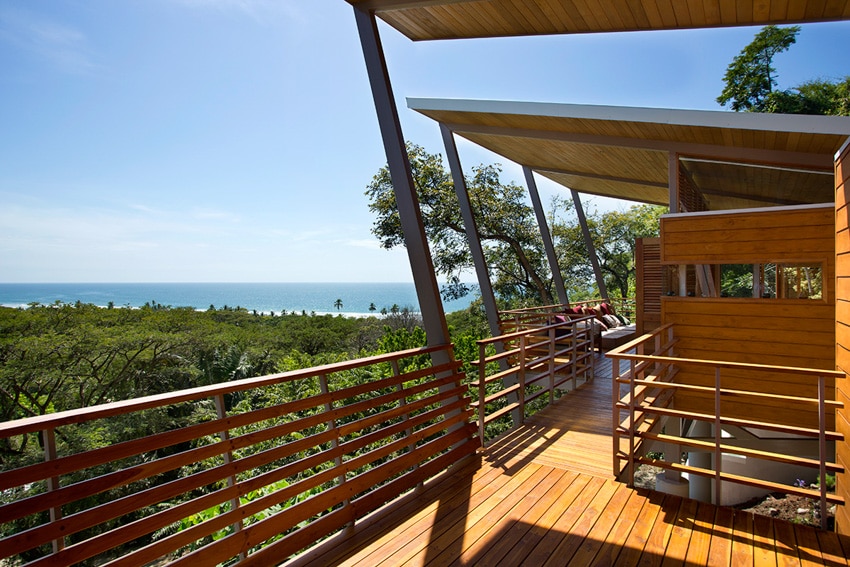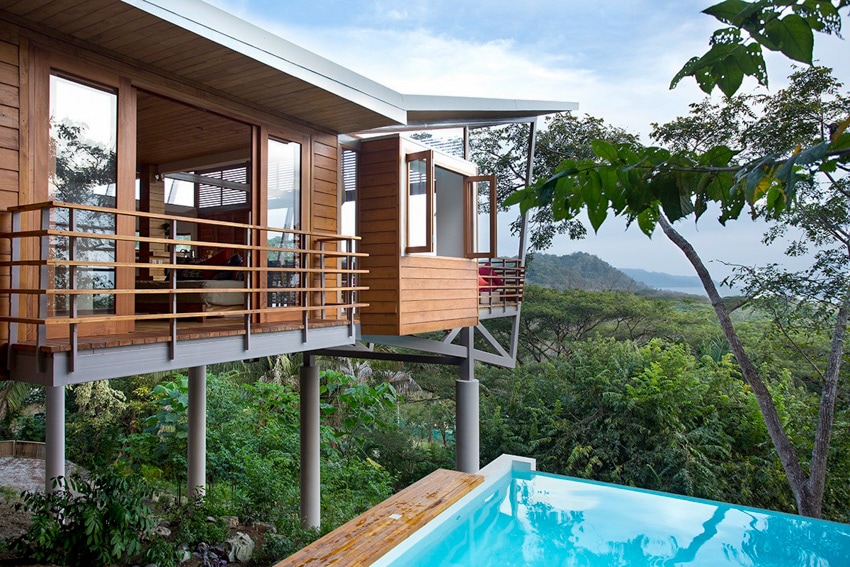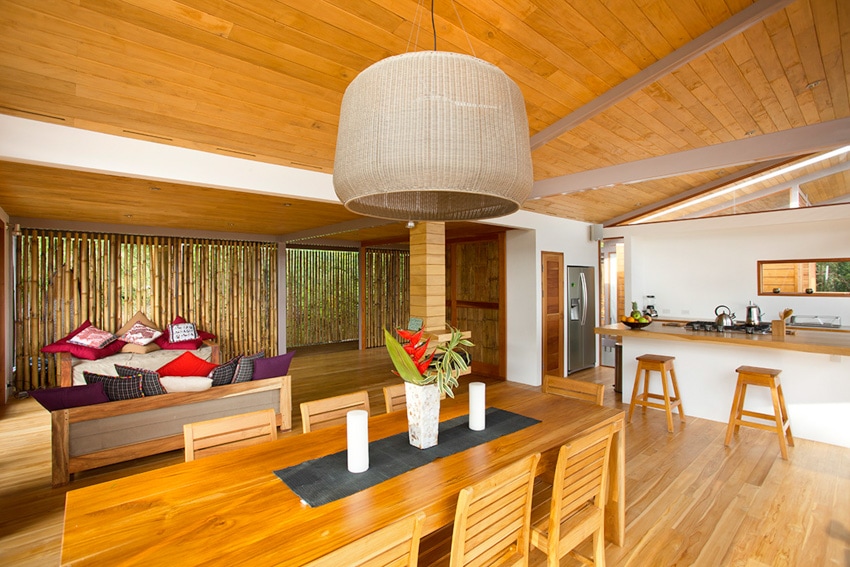 Indoor-outdoor architectural masterpiece in the treetops with stunning 180-degree ocean and jungle views.
Live like the monkeys high above the Costa Rican jungle at The Floating House in Santa Teresa. This modern marvel is perched over the canopy with views straight to the sea, down the coastline, and back to the mountains. Santa Teresa has earned its spot on the map as one of the world's most pristine and beautiful surf destinations thanks to its off-the-beaten-path location and consistent waves.
The Floating House features an angular roof that extends up and out towards the beach while the front facade completely retracts to create an open-concept living space that comfortably accommodates seven. The three bedroom eco-retreat is just a five minute walk to Playa Hermosa – a large beautiful stretch of beach and surf break with no crowds to speak of.
The dreamy treehouse has been recognized across design sites and publications for its attention to detail and seamless assimilation with its natural surrounds. In order to have the least amount of impact on the land, the home consists of three modular pieces that are connected by various bridges and walkways. Every detail from the bedding to the water filtration system has been carefully selected for quality, comfort, and sustainability.
There are a couple of great restaurants within walking distance of the house, or you can make the ten minute drive into Santa Teresa where you'll find a wide variety of restaurants, bars, and shops.
The Lowdown
VIBE: Childhood treehouse dream come true
LOCALE: The canopy above Playa Hermosa
ROOMS: 3 bedrooms, 3 bathrooms / sleeps 7
FAMILY FRIENDLY: Yes, except children under 5 not allowed due to nature of the house
CLOSEST INTERNATIONAL AIRPORTS: Liberia Airport (LIR) or San Jose Airport (SJO)
PRICING: from $950 – $1,375 per night most of the year, $2,600 for April 1 – 8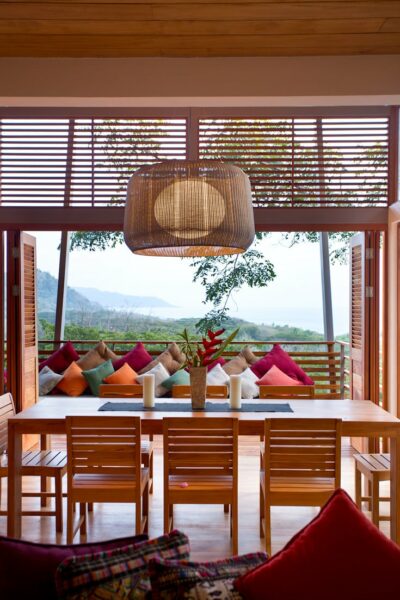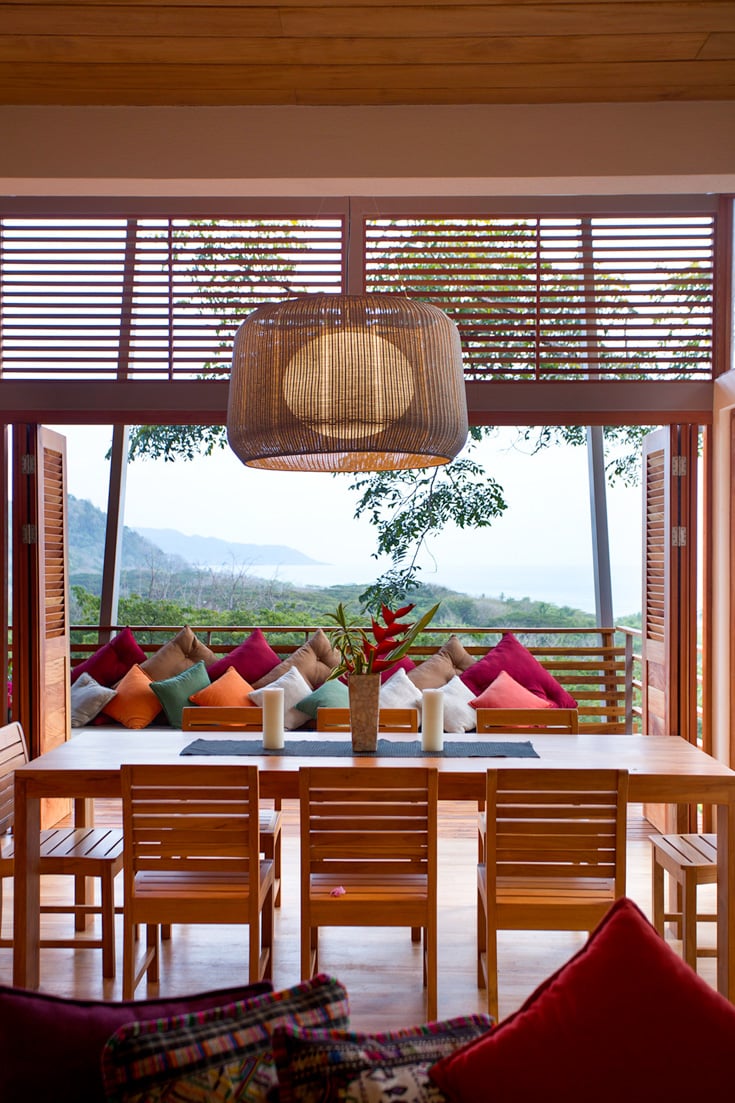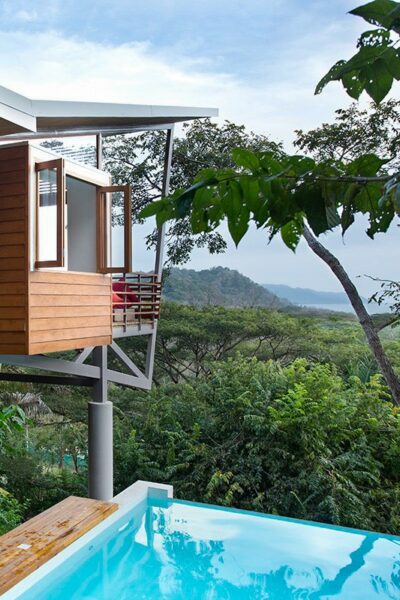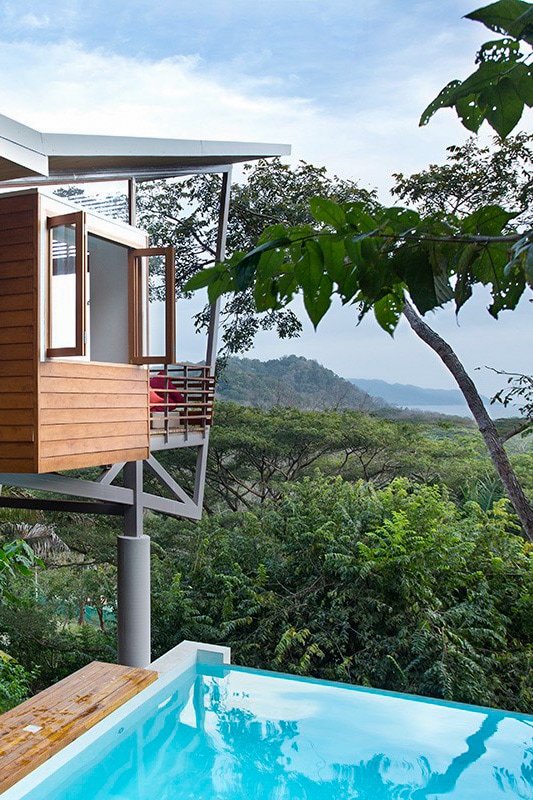 Features
Inside
Inside, find teak floors, custom furniture built to complement the jungle, and a breathtaking bamboo lined corridor connecting the bedrooms to the living spaces. The home is true indoor-outdoor living – from the large open-air living room with canopy views, to the chef's kitchen hovering over Playa Hermosa.
Outside
In a word: views. Boasting some the best views in Santa Teresa, 180 degrees of views to be exact, The Floating House has maximized their treetop vantage point, including the infinity pool carved right into the mountainside. Scout the surf at Playa Hermosa each morning from the wraparound terrace before heading to the beach.
Eat & Drink
Just a ten minute drive from town, load up on local groceries for your stay (or you can have them delivered) and when you're ready for someone else to take care of the cooking, walk to nearby TP8 for homemade pasta and wood-fired pizza, and Colour Cafe for breakfast and lunch. Staying in? Plan to have dinner and drinks during golden hour.
The Surf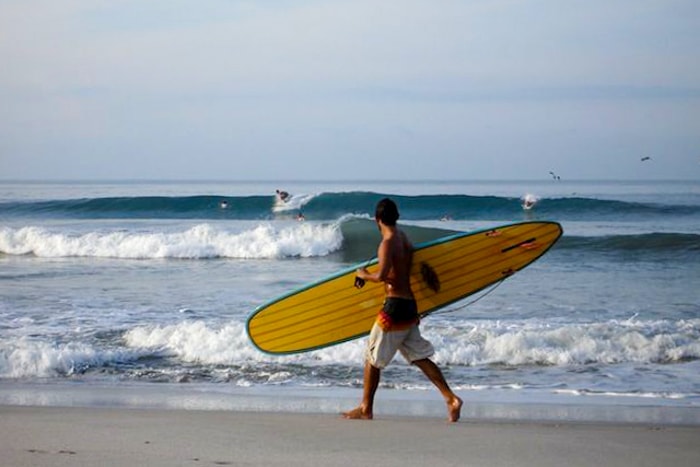 Santa Teresa and nearby Mal Pais (both located on the Nicoya Peninsula) have become one of Costa Rica's most popular surf zones, boasting a wide variety of point breaks and beach breaks that are warm, fun, consistent, and user-friendly. Appropriate for surfers ranging from beginners to experts, the local waves are typically the biggest during the south swell season from April through October, while there are still plenty of fun and clean waves on offer the rest of year during the dryer summer months of November through March. Playa Hermosa, where the villa is located, has a variety of super fun peaks on offer for all levels and a nice channel to paddle out through on bigger days.
WATER TEMP: 77 – 86 °F (25 – 30 °C)
SURF SEASON: Gets waves year-round
BIGGEST SURF SEASON: Apr – Oct
SHOULDER SURF SEASON: Nov – Mar
SURF EXPERIENCE: Beginner to advanced
Details
Stays come with a fantastic concierge service, daily housekeeping, and security.
CHECK IN: 3 pm
CHECK OUT: 11 am
Rates

Jan 8 – Mar 31: $1,200 per night
April 1 – 8: $1,500 per night
April 9 – 29: $1,200 per night
April 30 – Sep 1: $1,000 per night
Sep 2 – Nov 17: $950 per night
Good to Know
The concierge can recommend and help arrange any activities your heart desires – think kayaking, zip-lining, mountain bike tours, gourmet dining tours, snorkeling, etc. They can also help arrange a private massage therapist, a wonderful private chef, quality babysitters, and can even have your groceries delivered for you at check in.
Location
Santa Teresa, Costa Rica
Santa Teresa is a small laidback surf town located on the Nicoya Peninsula on the Pacific Coast of Costa Rica. Once a small fishing village, over the past 15 years Santa Teresa has seen a surge in growth with surfers and travelers seeking surf, sun, and the pura vida way of life. Many of those visitors found all of the above and decided to stay.
This rise in expats from all over the world has led to an international feel to this charming surf village, and along with it an influx of fantastic restaurants, villas, and hotels to enjoy. While there has been significant development, there are no high-rises to speak of, the main road is still unpaved, and residents and visitors still gather on the beach every evening to hang out and collectively watch the epic sunsets.
With long beaches lined with great surf breaks, consistent swell, and year-round warm water, this spot is a quintessential surfer's paradise.
Getting There
You can either fly into San Jose Airport (SJO) in central Costa Rica, or Liberia Airport (LIR) in northern Costa Rica. Santa Teresa is located on the Nicoya Peninsula and is about a 4 to 5 hour journey by car from both airports. You can either rent a car at the airport, take a shared shuttle bus, private car, or the get a short 25-minute domestic flight to the airport of Tambor on the Nicoya Peninsula. The Tambor airport is about a 50-minute drive to the Floating House, transfers can be arranged through the concierge. There is a new airport in the area too called Santa Teresa/Manzanillo, it's only for private charters right now, which a lot of guests are doing but around May 2023 it should become a regular domestic airport. Let us know if you are interested in this option.