Maqai Beach Eco Surf Resort
Qamea Island, Northern Fiji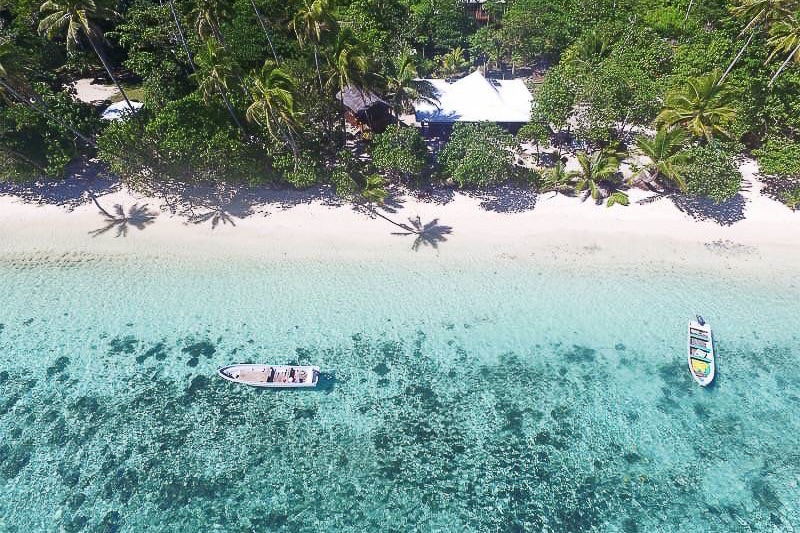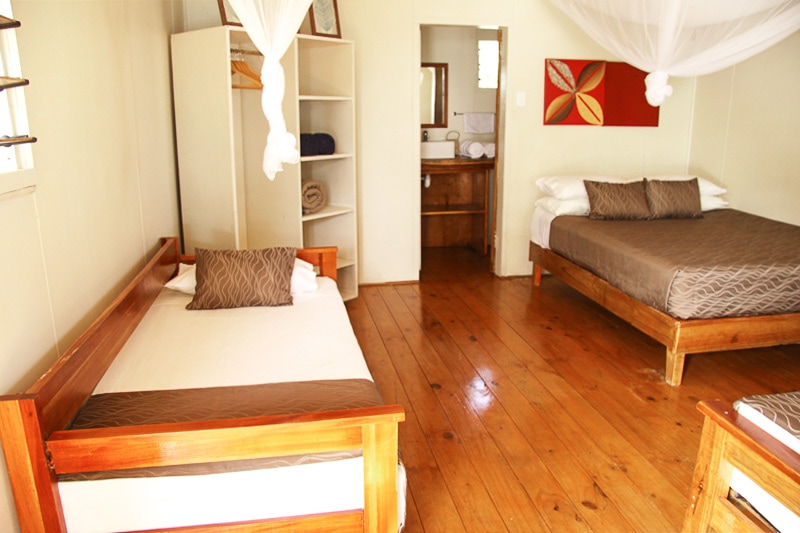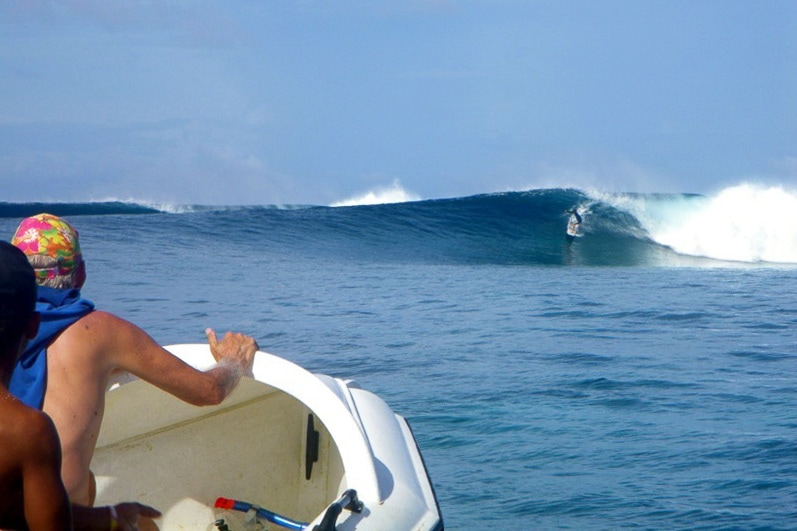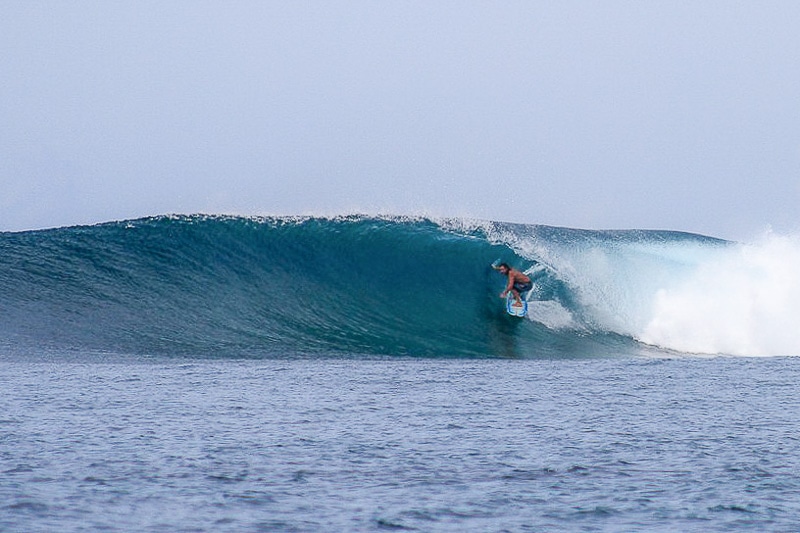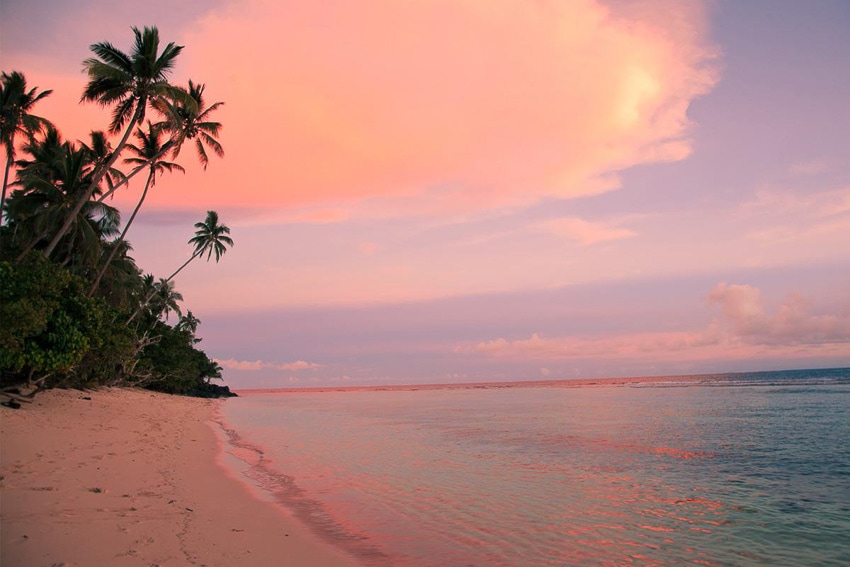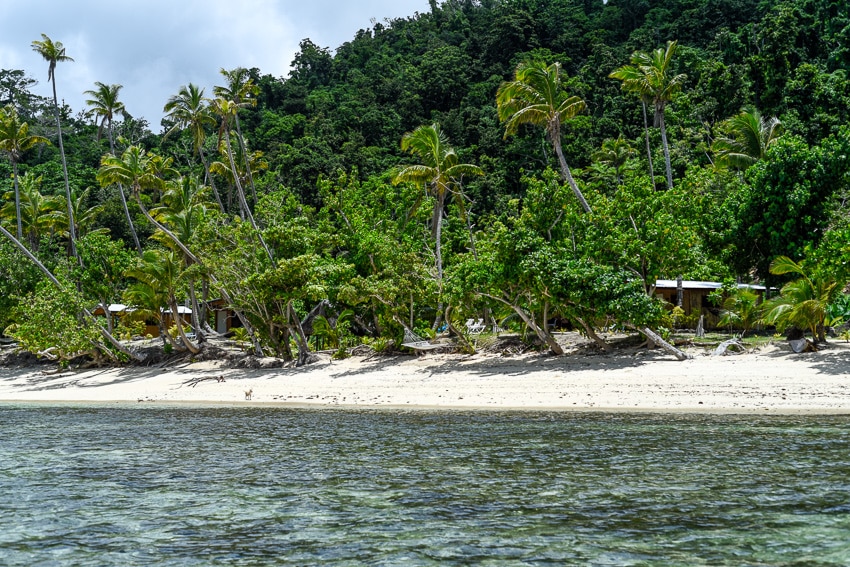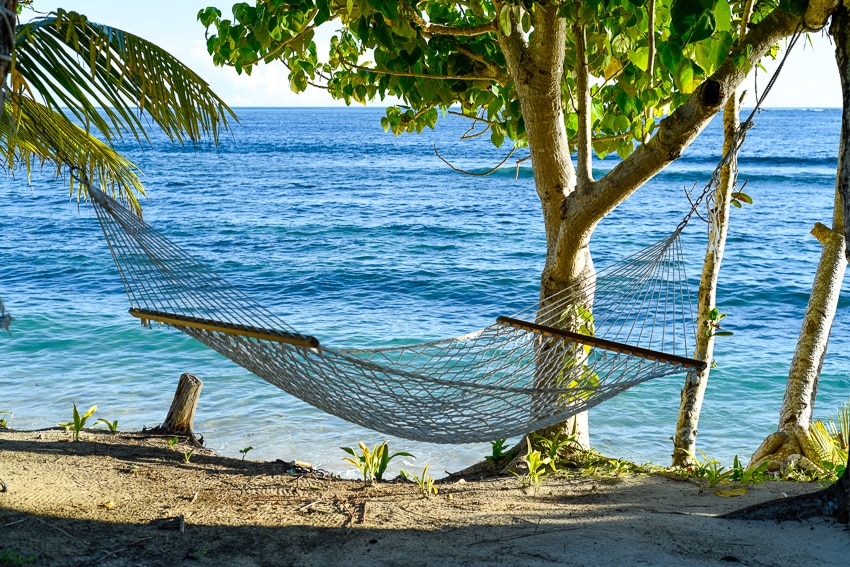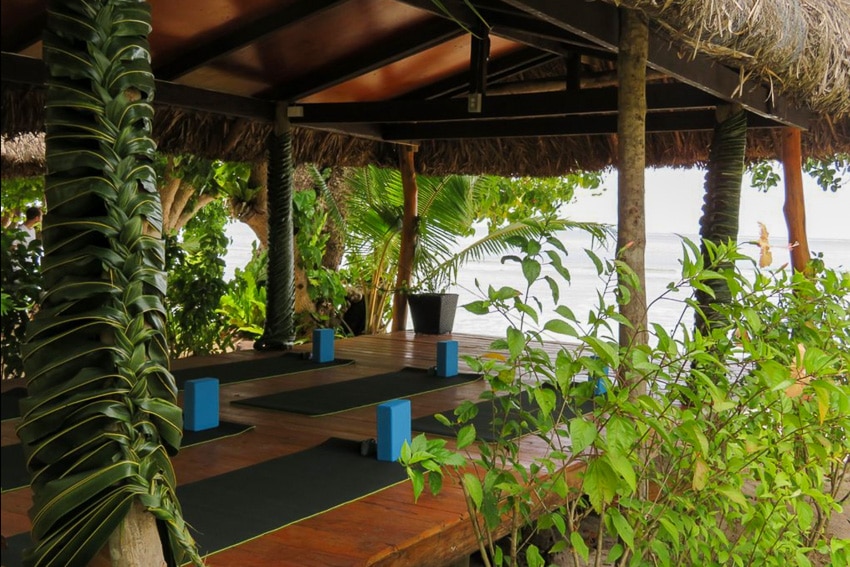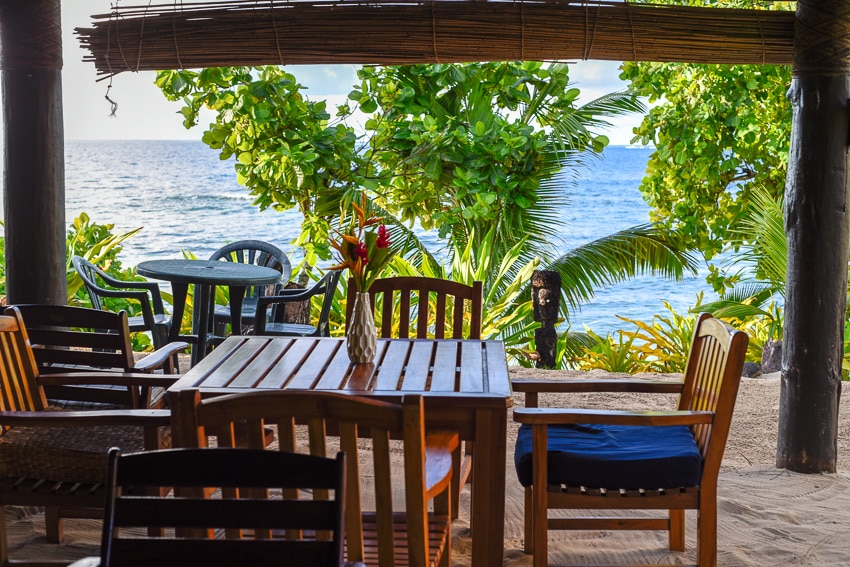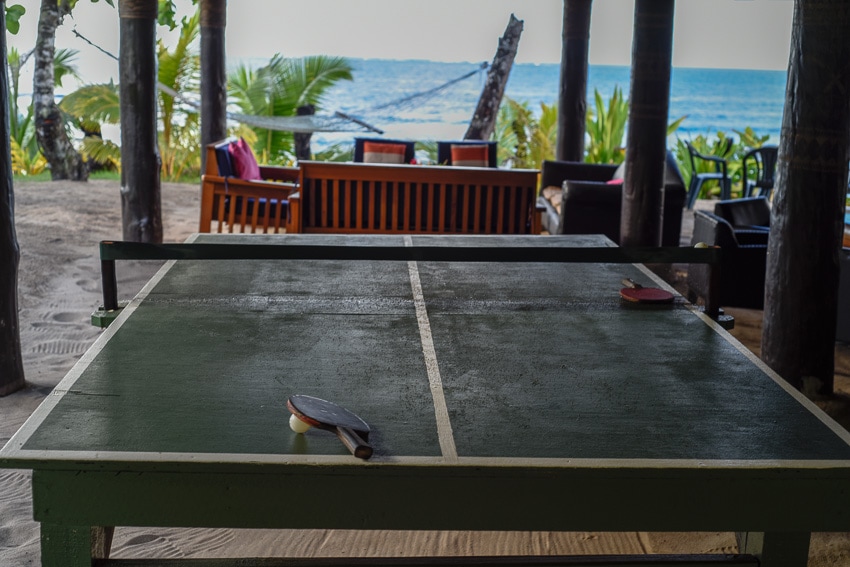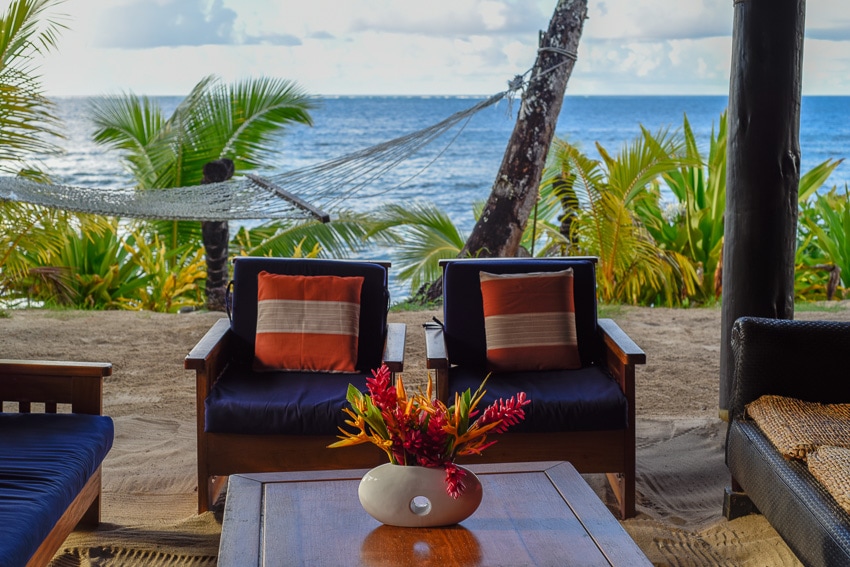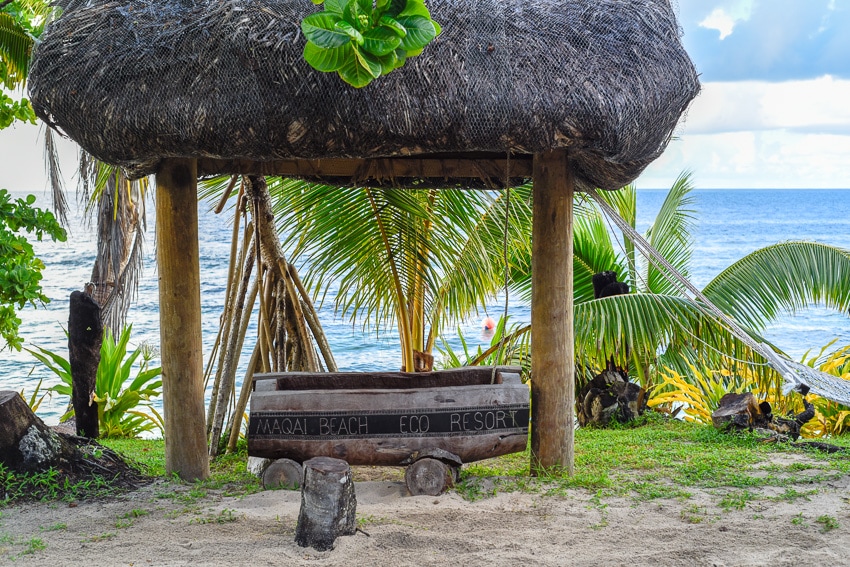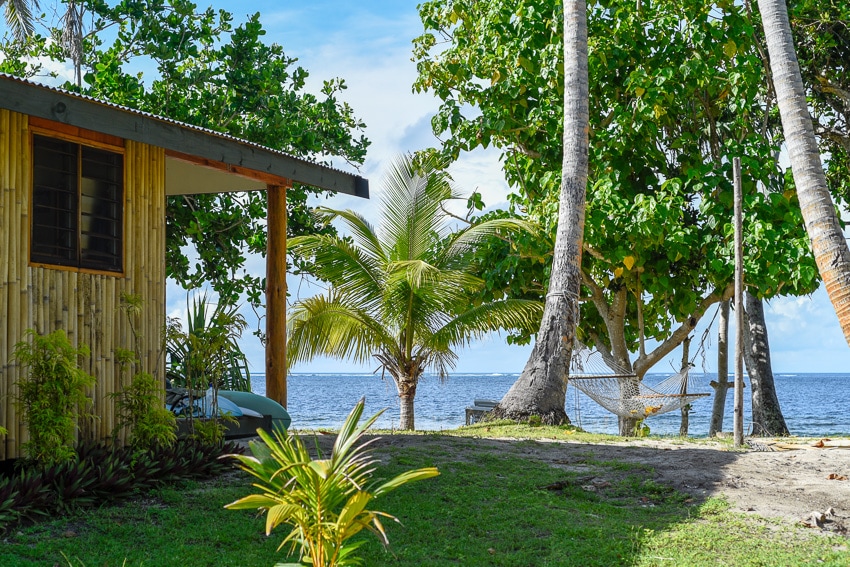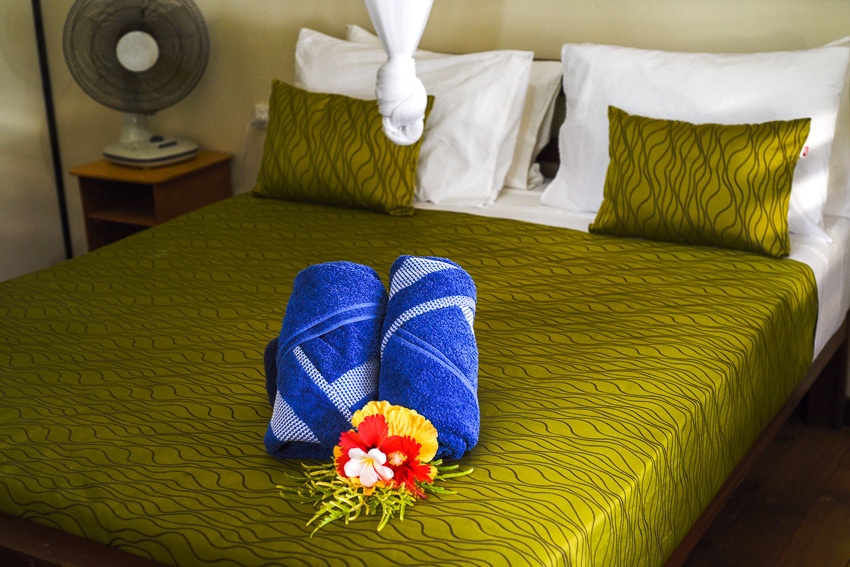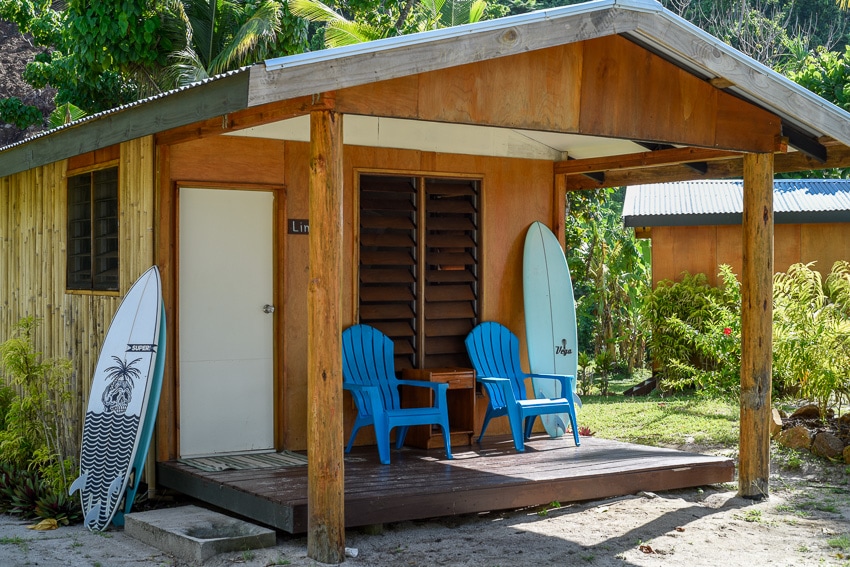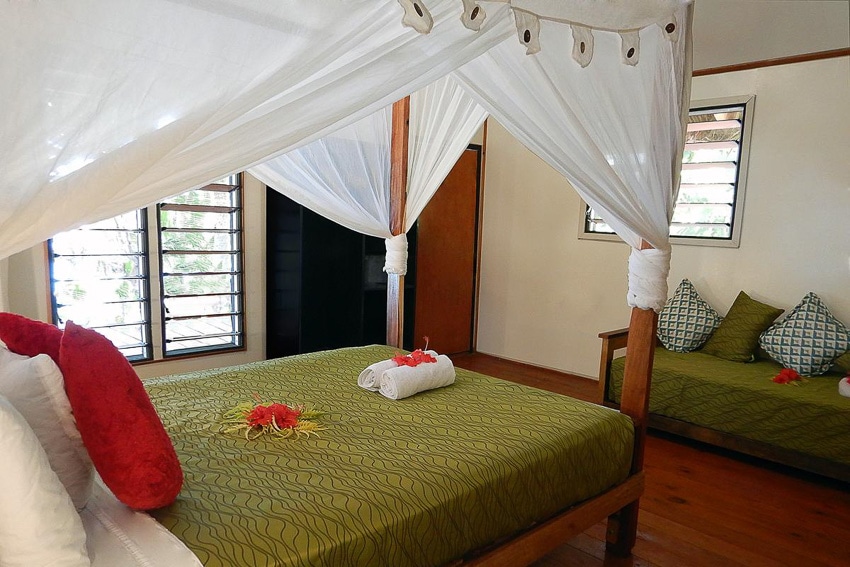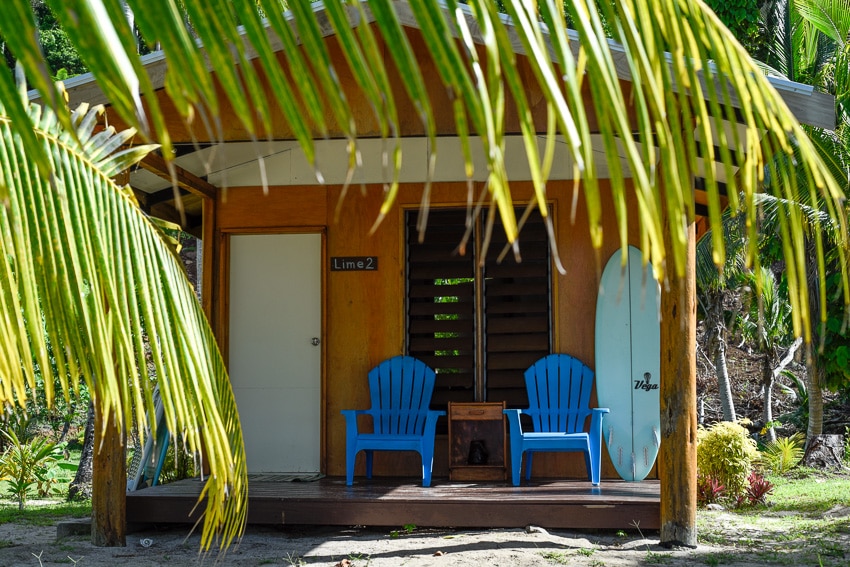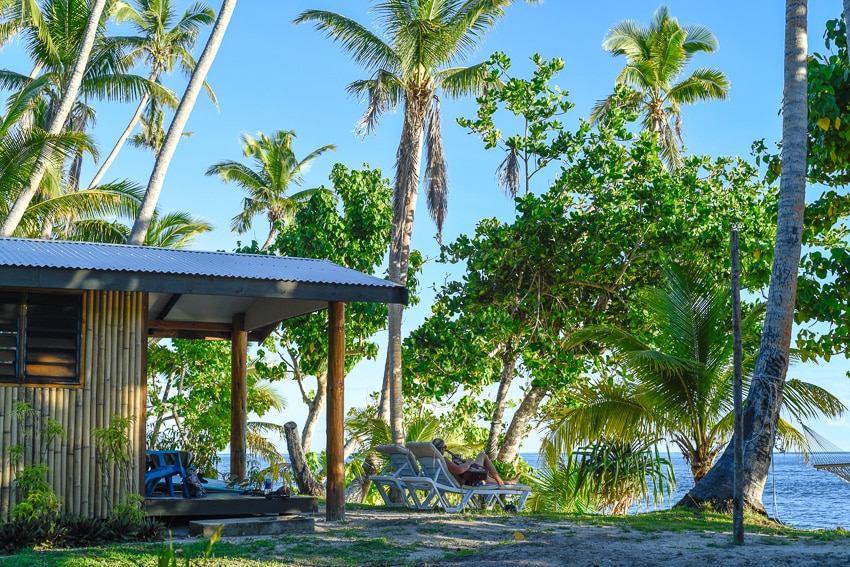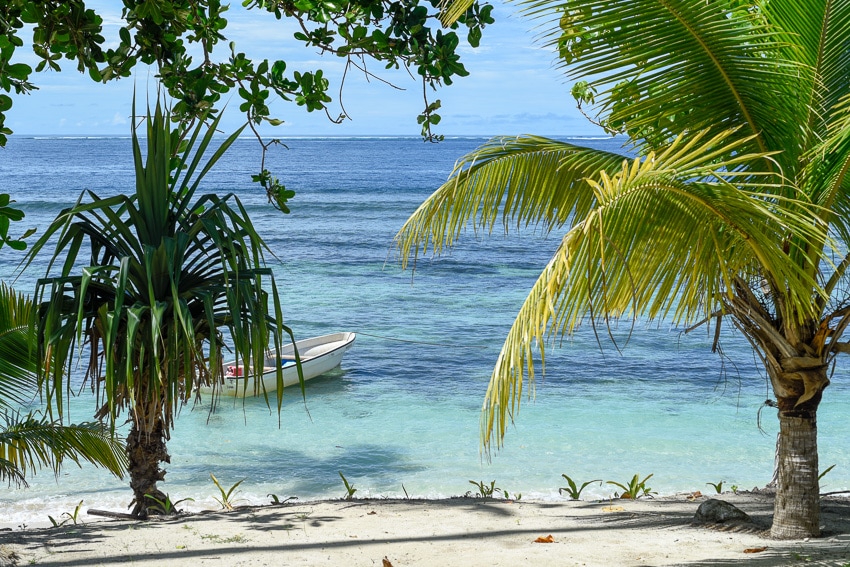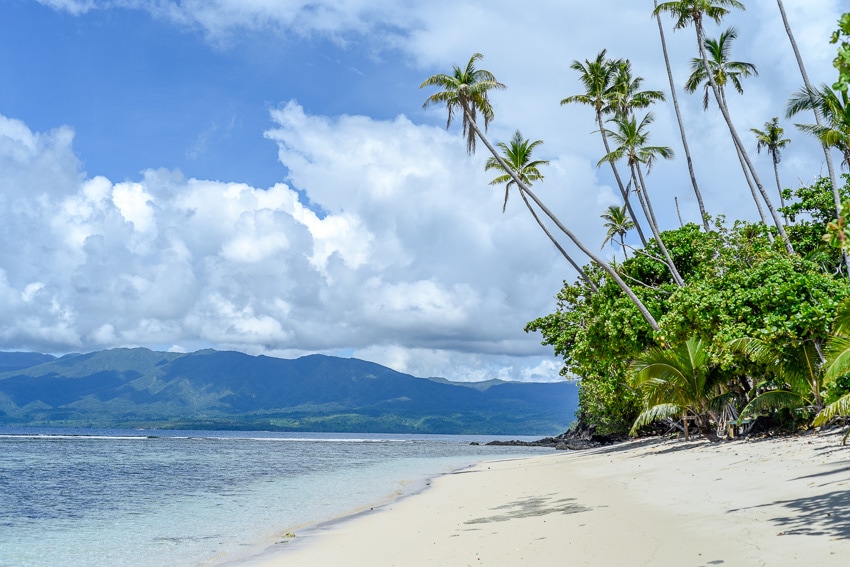 maqai-beach-eco-surf-resort-1
maqai-beach-eco-surf-resort-22
maqai-beach-eco-surf-resort-19
maqai-beach-eco-surf-resort-18
maqai-beach-eco-surf-resort-17
maqai-beach-eco-surf-resort-16
maqai-beach-eco-surf-resort-15
maqai-beach-eco-surf-resort-14
maqai-beach-eco-surf-resort-13
maqai-beach-eco-surf-resort-12
maqai-beach-eco-surf-resort-11
maqai-beach-eco-surf-resort-10
maqai-beach-eco-surf-resort-9
maqai-beach-eco-surf-resort-8
maqai-beach-eco-surf-resort-7
maqai-beach-eco-surf-resort-6
maqai-beach-eco-surf-resort-5
maqai-beach-eco-surf-resort-4
maqai-beach-eco-surf-resort-3
maqai-beach-eco-surf-resort-2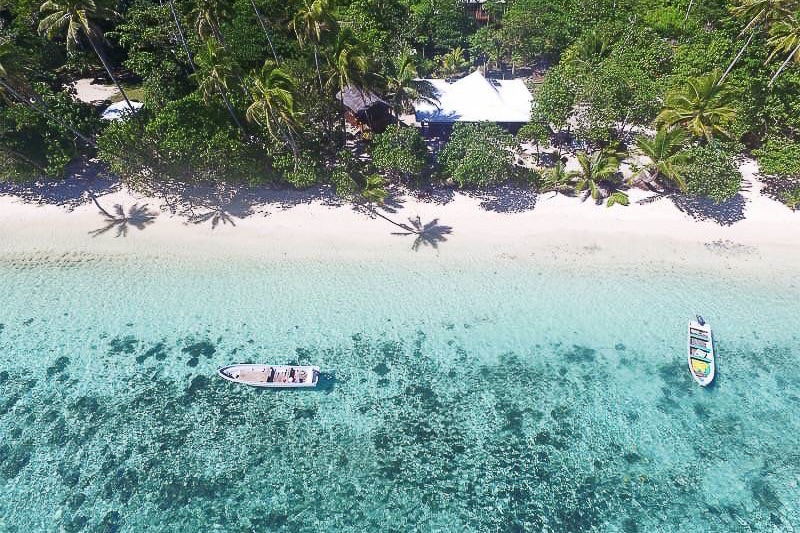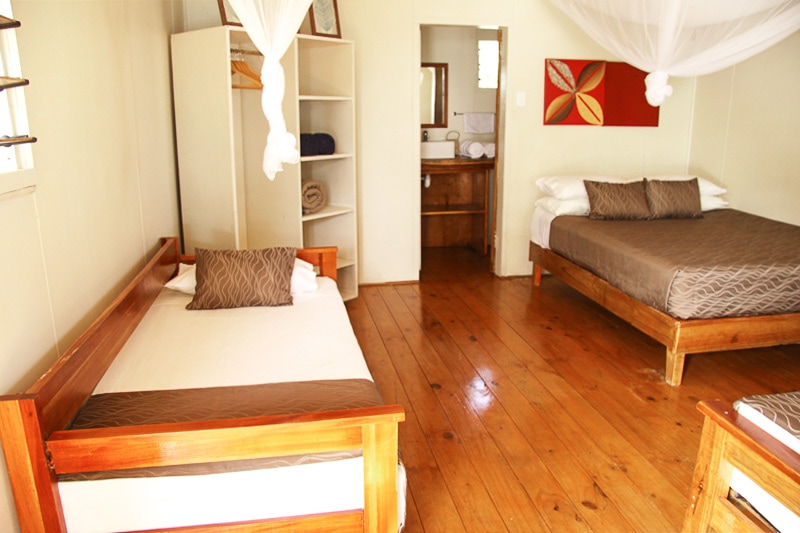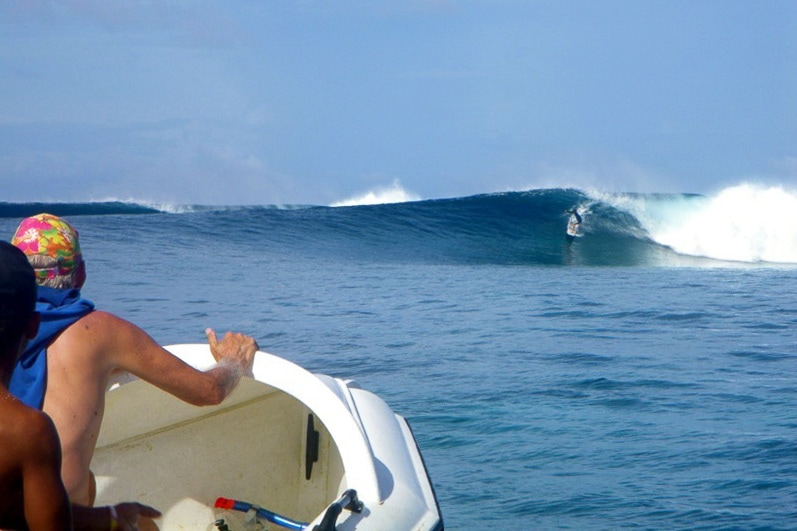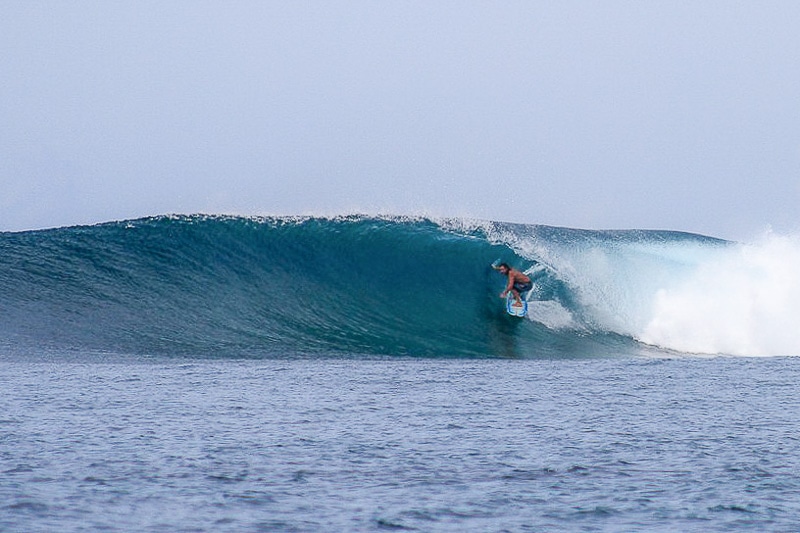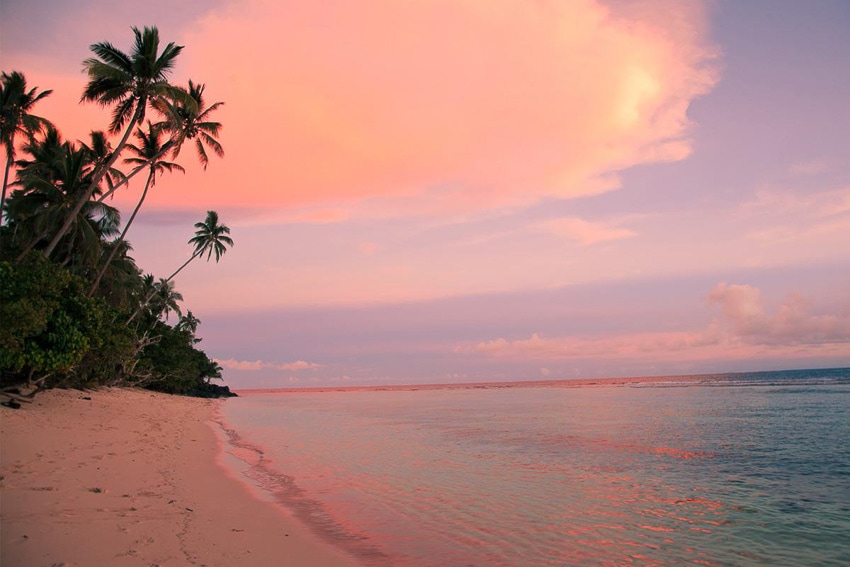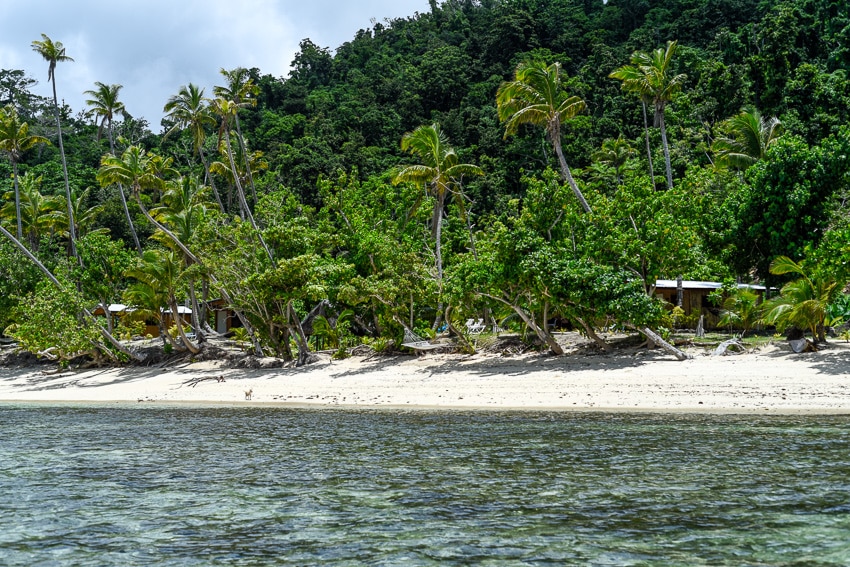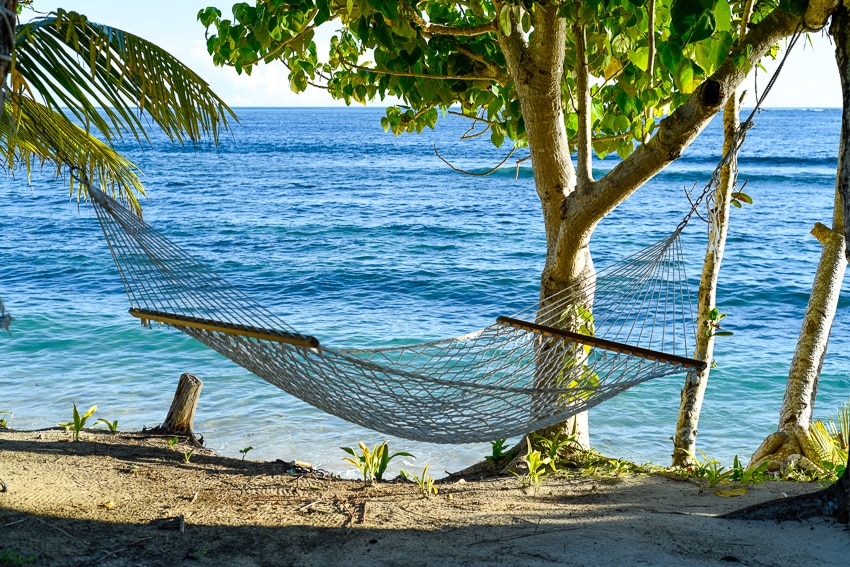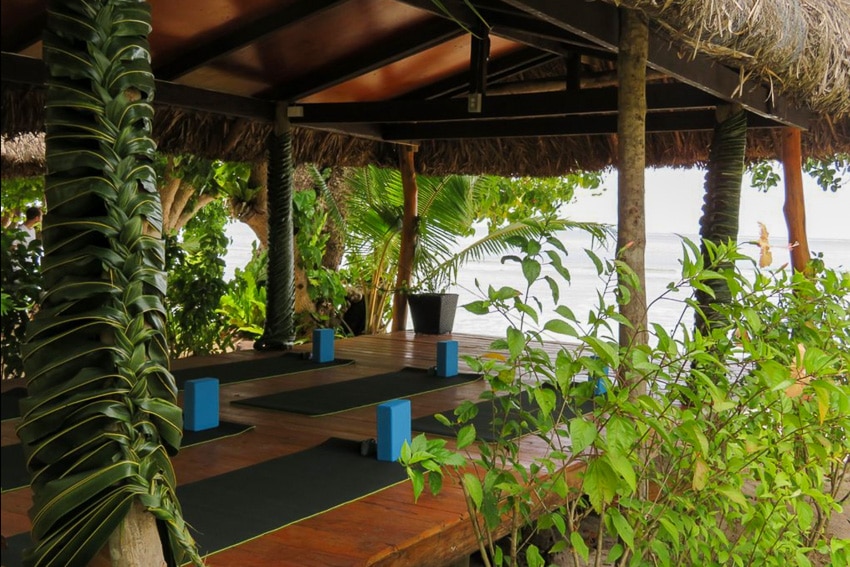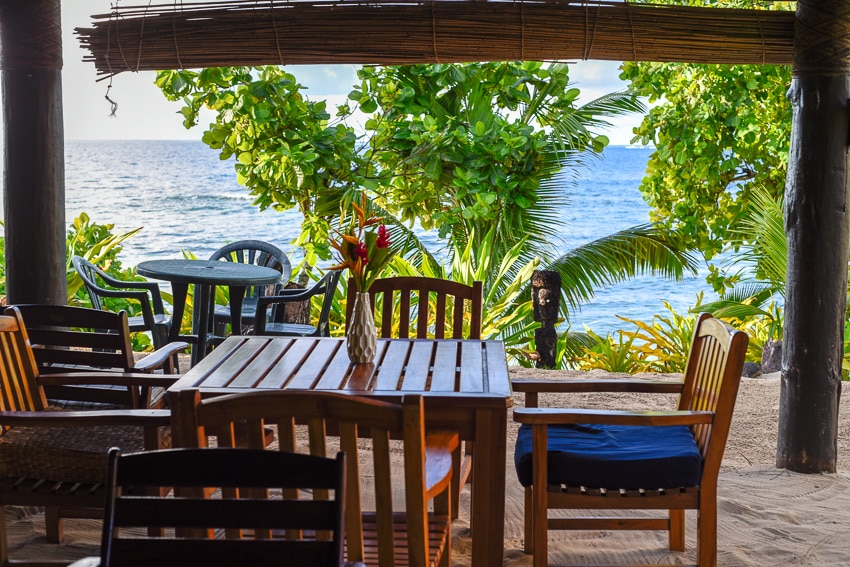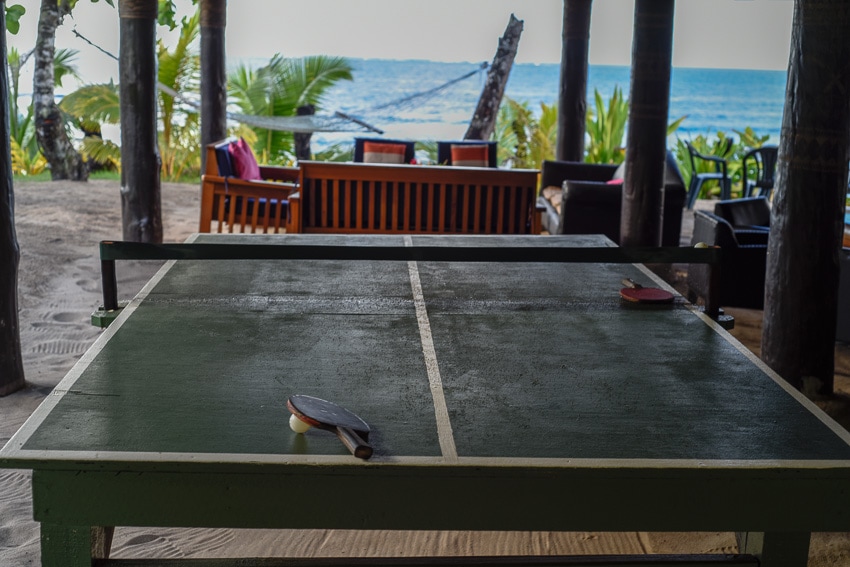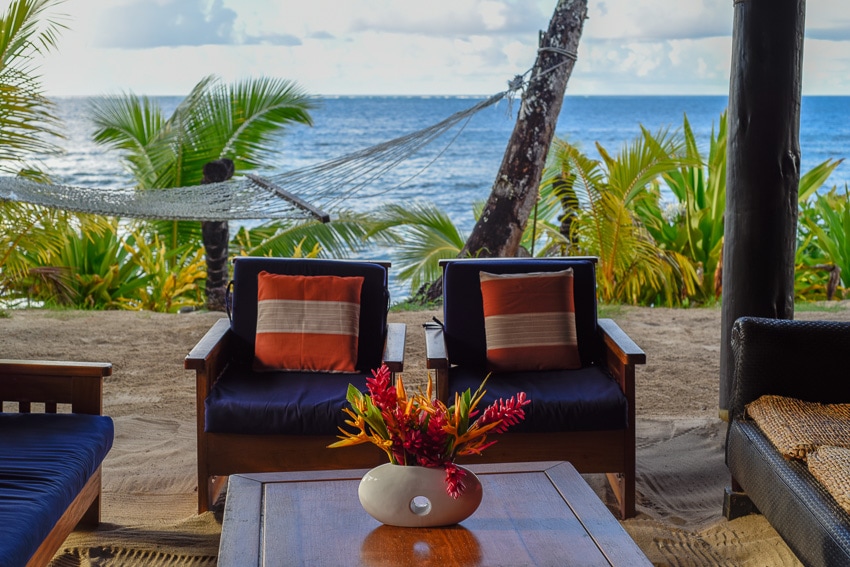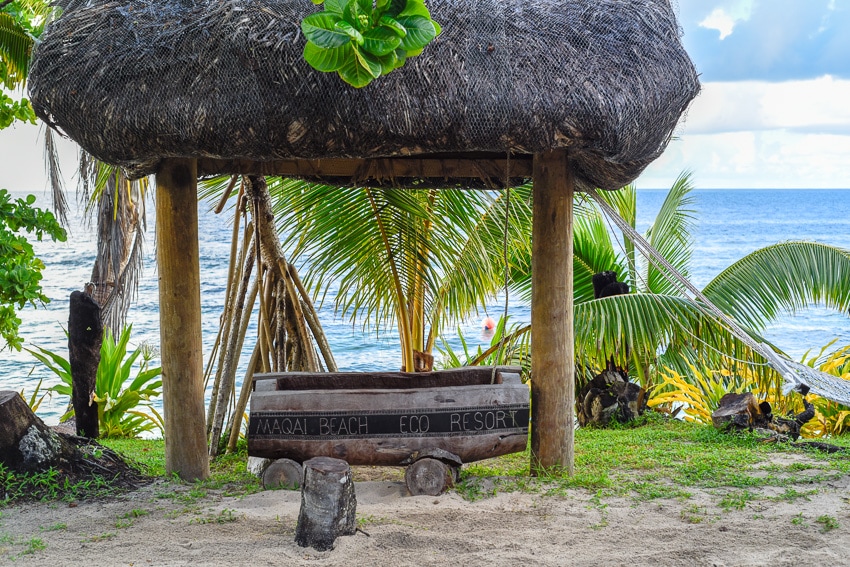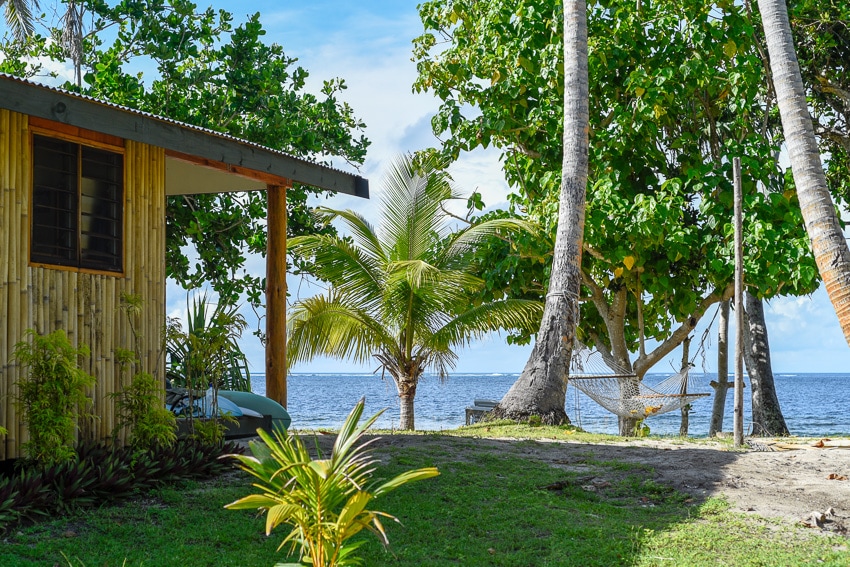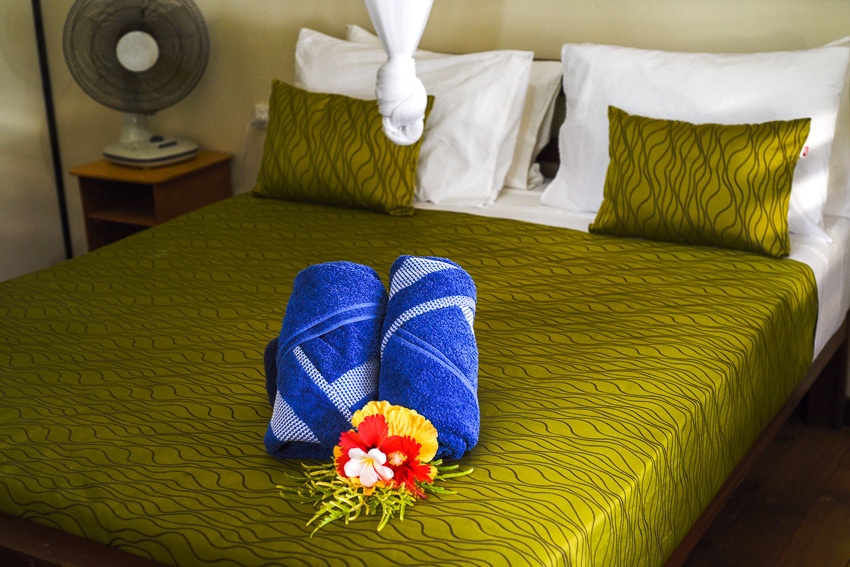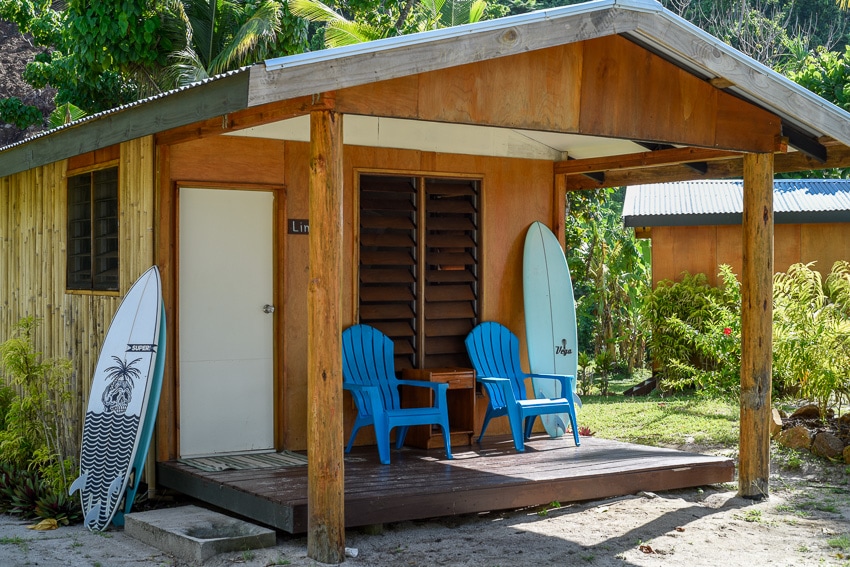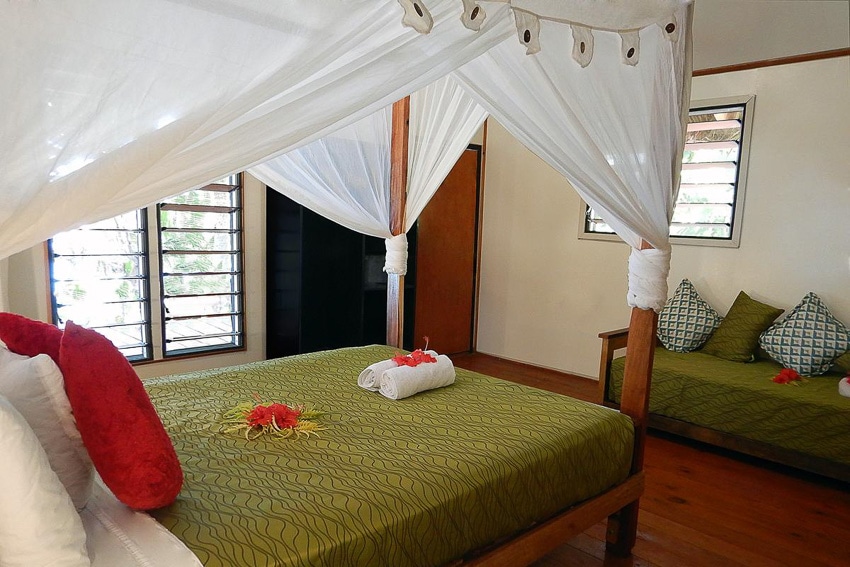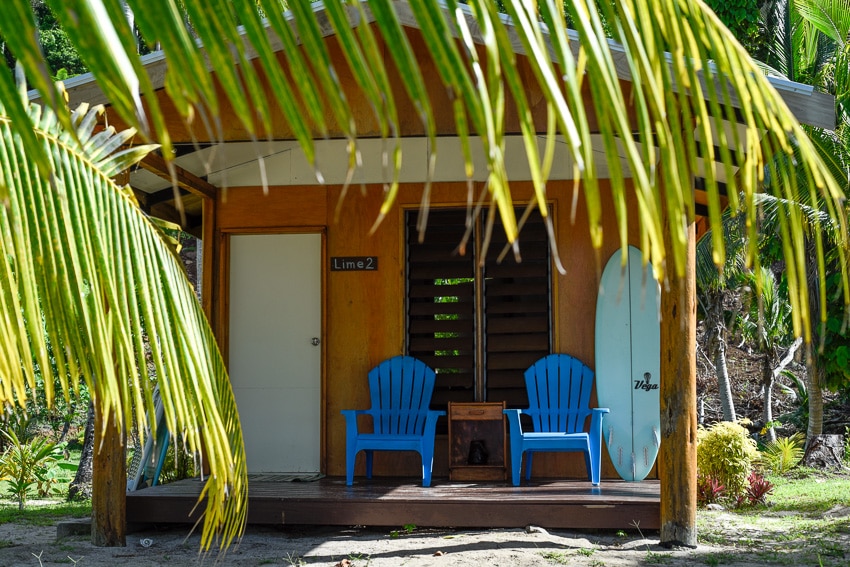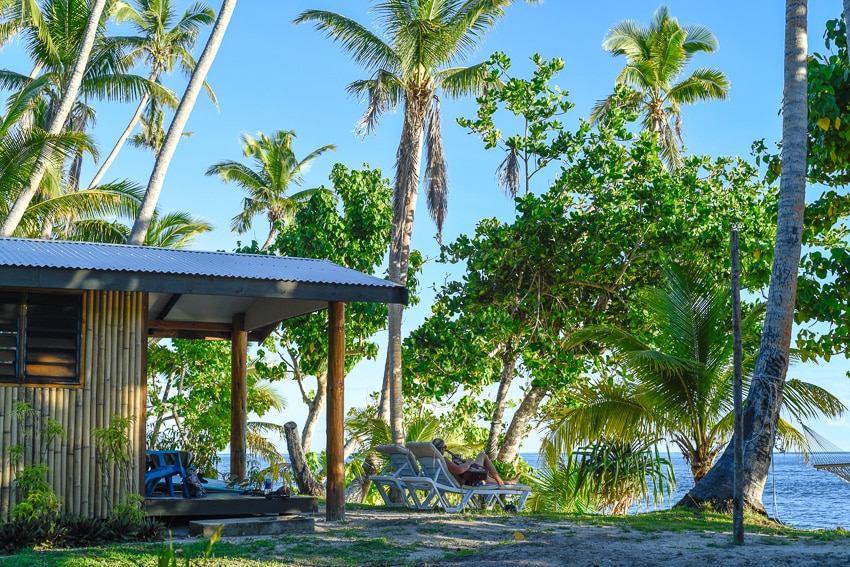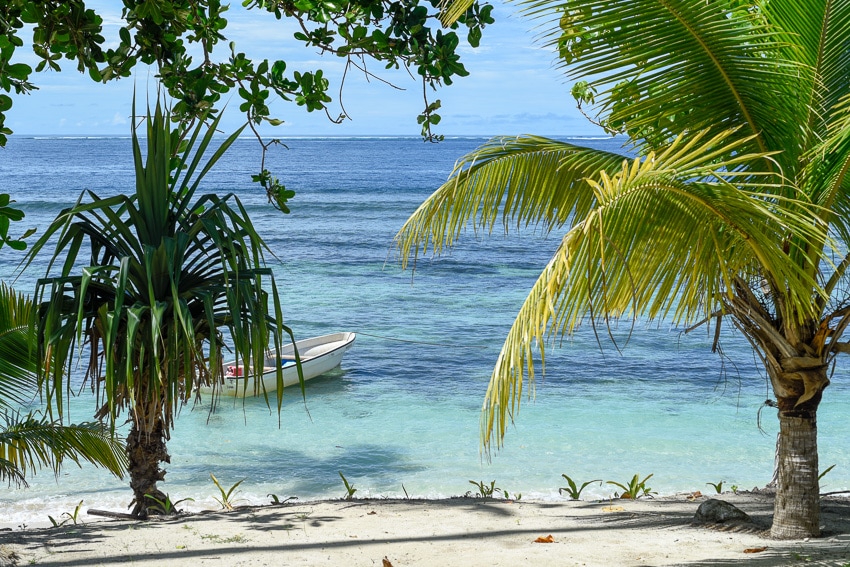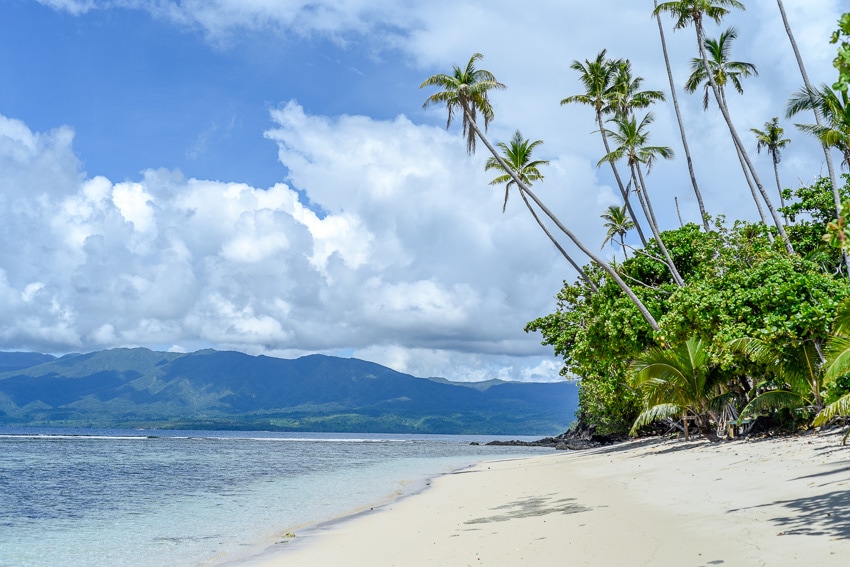 Remote island hideaway nestled into five acres of rainforest on Qamea Island in northern Fiji.
We're all familiar with the famous Fijian surf breaks of Cloudbreak, Restaurants, and the like (and their crowds), but Fiji has a few rare surf gems tucked away from the well-worn surf path. Maqai Beach Eco Surf Resort and its stellar wave out front are a couple of those gems.
Located on Qamea Island, just east of Taveuni Island in northern Fiji, this slice of paradise sits on a private stretch of white sand beach with perfectly turquoise Fijian water and some seriously amazing surf on offer, minus the crowds. Directly in front of the resort, there's an epic right-hand wave and a handful of breaks within a 5 to 15-minute boat trip.
Some hotels might feel off-the-beaten-path, well Maqai (pronounced "Mun-guy") really is off-the-beaten path. If you've ever wanted to live out your own Robinson Crusoe fantasy, this is the place. It's like being a castaway on a remote tiny island, except you're glamping, eating delicious food, and you have boats to the best breaks around.
With all-inclusive surf packages, an outstanding staff that makes you feel like family, and darn good pricing for the South Pacific, Maqai is a special surf resort out of the ordinary.
The Lowdown
VIBE: Beachfront glamping
LOCALE: Remote tropical island
ROOMS: 9 beachfront huts
FAMILY FRIENDLY: Yes, but children must be at least 4 years old
CLOSEST AIRPORT: Matei Airport Taveuni (TVU)
PRICING: rooms from $125 per night + $74/person per night for required meal plan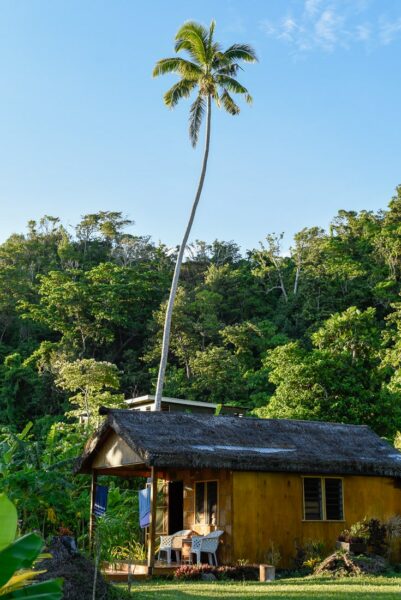 Features
Inside
The beachfront bures (Fijian huts) are very basic but comfortable, and what they lack in amenities they make up for in location (it's only a few steps to the beach and water's edge). Rooms include private bathrooms, mosquito nets, fans, and unlimited tropical breezes.
Outside
Soaking up the stunning natural surroundings is the name of the game at this island paradise. There are a few land-based activities, but the highlights (besides the waves) center around the crystal clear water – go snorkeling, diving, and exploring pristine beaches.
Eat & Drink
The Sandbar is the open-air communal area of the resort with areas for dining, lounging, and pingpong-ing. Since the resort is so remote, full meal packages are required. Lucky for guests, the food is homemade, delicious, and enjoyed with your feet in the sand.
The Surf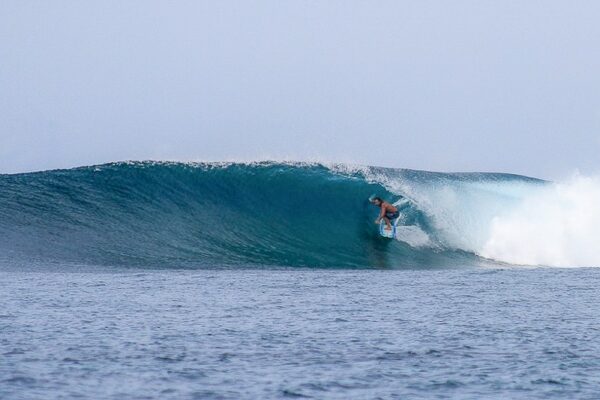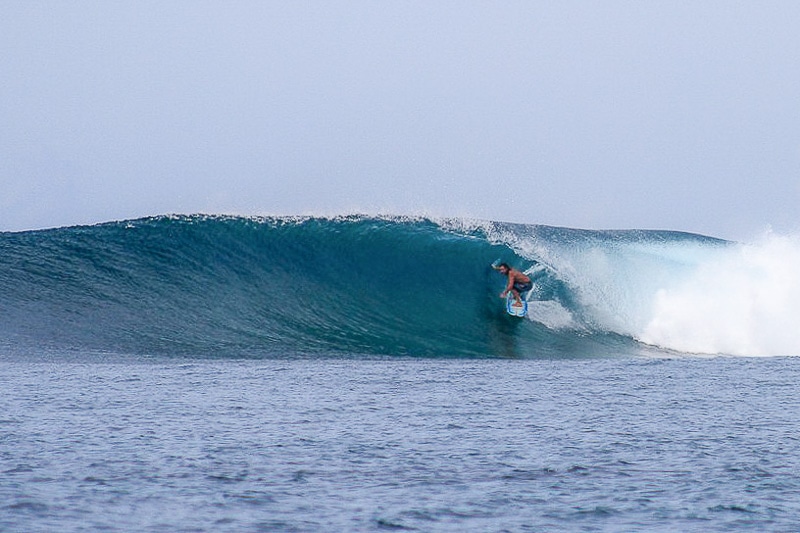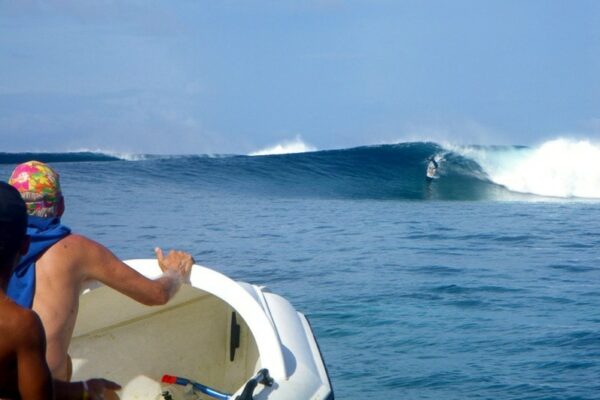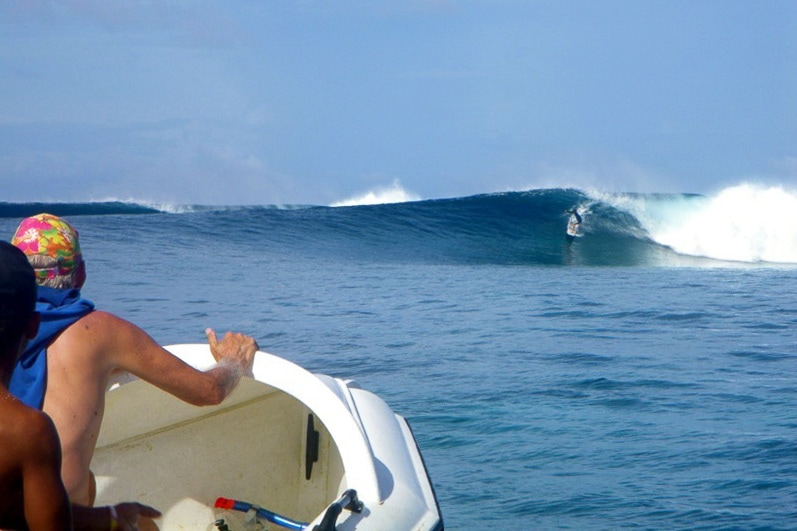 Many of the most famous breaks in Fiji are located in the south, which pick up different swells than northern Fiji where Maqai is located. While the area gets year-round swell, the best surf season in Maqai is their summer, around November to April, when the offshore winds are most consistent. The summer season in Maqai is when the rights really fire up. There's no need to waste surf time getting out to breaks, as a 5-minute boat ride will take you to a selection of uncrowded waves including Maqai, a world-class 250-meter long right hander, Kava's (a fast left ideal for carving), and Bula Bowls (a fun left with a barreling end section).
WATER TEMP: 75 – 86°F (24 – 30°C)
PEAK SURF SEASON: Nov – Apr
SHOULDER SURF SEASON: May – Oct
SURF EXPERIENCE: Best for intermediate to advanced surfers, but there is a small wave out front for beginners
Details
Stays at Maqai are available nightly or through surf packages. Note that daily meal plans are required for all guests, as there isn't access to other restaurants. Airport transfers are also required, as the only access to Maqai is via boat.
All prices are in Fijian dollars and include taxes, and we've added the rough conversion in USD for your reference (which can fluctuate based on conversion rates).
CHECK IN: 1 pm
CHECK OUT: 10 am
ROOMS (rates are per night)
– TWIN BEACHFRONT: $270 FJD (~$125 USD)
– DOUBLE BEACHFRONT: $270 FJD (~$125 USD)
– SUPERIOR BEACHFRONT: $360 FJD (~$166 USD)
– FAMILY BEACHFRONT: $360 FJD (~$166 USD)
MEAL PLANS
Required meal plans are not included in the room rates above, so these are an additional cost per day, per guest. The daily meal plan includes continental and light cooked breakfast, lunch and 2-course evening meal
– ADULTS: $160 FJD (~$74 USD) per person
– KIDS (4 – 12): $95 FJD (~$44 USD) per child
TRANSFERS
Roundtrip transfers to/from the airport are also an additional required cost per guest. Your travel includes pick up in a taxi from Matei Airport in Taveuni to the boat landing and boat transfers to Maqai Beach Resort.
– ADULTS: $175 FJD (~$81 USD) per person
– KIDS: $90 FJD (~$42 USD) per child
EXAMPLE NIGHTLY RATES (with meals plans for 2 guests)
– Double Bure ($270 FJD) + 2 meal plans ($160 FJD x 2) = $590 FJD (~$272 USD)
– Superior Bure ($360 FJD) + 2 meal plans ($160 FJD x 2) = $680 FJD (~$314 USD)
Surf Packages
5 NIGHT INTERMEDIATE / ADVANCED SURFER PACKAGE
• Transfers to/from the airport to Maqai Resort
• 5 nights accommodation
• 5 days daily meal plan
• 5 boat trips to Maqai Reef
• Free use of snorkel and kayak equipment
• 1-hour coco back massage
• $50 FJD Bar Voucher
2 SURFERS: from $4,150 FJD (~$1,913 USD)
SOLO SURFER: from $2,815 FJD (~$1,298 USD)
7 NIGHT INTERMEDIATE / ADVANCED SURFER PACKAGE
• Transfers to/from the airport to Maqai Resort
• 7 nights accommodation
• 7 days daily meal plan
• 7 boat trips to surf with guide
• Free use of snorkel and kayak equipment
• 1-hour coco back massage
• $70 FJD Bar Voucher
2 SURFERS: from $5,530 FJD (~$2,549 USD)
1 SURFER & 1 NON-SURFER: from $5,110 FJD (~$2,356 USD)
SOLO SURFER: from $3,850 FJD (~$1,775 USD)
5 NIGHT BEGINNER SURFER PACKAGE
• Transfers to/from the airport to Maqai Resort
• 5 nights accommodation
• 5 days daily meal plan
• 2 boat trips to Maqai reef or beginner break with surf guide
• 2 x 2-hour surf lessons
• 4 days surfboard hire
• 1-hour coco back massage
• $50 FJD Bar Voucher
2 BEGINNER SURFERS: from $5,270 FJD (~$2,429 USD)
SOLO BEGINNER SURFER: from $3,440 FJD (~$1,585 USD)
FAMILY SURF PACKAGES & CUSTOM PACKAGES
Pricing on request. Inquire with your desired dates and surf experience to check for availability and get a tailored quote.
Good to Know
Qamea Island is pretty much off-the-grid, so wifi is barely accessible and extremely limited at best. Plan on taking a break from technology.
The resort does not have any air conditioning.
The resort does not accept children under the age of four years old due to their remote location.
Maqai is pronounced "Mun-guy."
Location
Qamea Island, Northern Fiji
Getting There
Fly into either the Nadi International Airport (NAN) or Nausori International Airport (SUV) in Suva, and then you'll take a short (and super scenic) flight to the Matei Airport (TVU) on the island of Taveuni. Sometimes an overnight stop over is required in Nadi or Suva depending on when your international flight arrives.
There are more flights available from Nadi to Taveuni, so flying from Nadi could give you the most flight options. These domestic carriers seat 18 passengers, and we advise to book your domestic flights as early as possible to secure the best fares.
The Maqai staff will meet you at the Taveuni Airport and transfer you to Qamea Island by way of a 30-minute taxi ride and 30-minute boat trip.
* For notes on traveling with surfboards, see the Terms & Conditions below.
The Small Print
Terms and Conditions
GENERAL
Please note our payment and cancellation policy in this booking agreement We require a deposit of 50% of the total to confirm your reservation and a confirmation email will be forwarded upon the charges being debited from your credit card or bank transfer. The balance is payable on arrival. Please note that all credit card transactions incur a surcharge of 5% per transaction. All International Bank transfer fees are payable by the customer and will be deducted from your deposit in the event that they have not been paid.
TRAVELING WITH SURFBOARDS
The Twin Otter aircraft operating flights from Nadi/Suva to Taveuni are small aircraft with limited baggage capacity. The hold can take bags and sports equipment up to 6'6" in length. Board bags above this size can only be transported in the passenger cabin which require low capacity flights to accommodate them. This can lead to difficulties concerning prompt arrival of larger boards. We advise caution when traveling with boards larger than 7′ as delays can be a frustrating start to a surf trip. Maqai Resort has a stock of quality mini-mals and longboards available to rent for those wishing to use a longer board during their stay without the hassle or risk of traveling with their own. Maqai Resort is in no way responsible nor liable for any loss, damage, or delays due to baggage experienced on any connecting service.
TRANSFERS
Your roundtrip transfers include pick up in a taxi from Matei airport in Taveuni to the boat landing and boat transfer to Maqai Beach Resort. If traveling at low tide you may be required to walk a short distance to the resort so be prepared to get your feet wet! Please pack in your hand luggage your reef booties, a light rain jacket and a large rubbish sack to cover your suitcase. Your luggage will be transferred by our staff if required to walk. All transfers are subject to sea and weather conditions. Should adverse conditions prevent operation, our client is responsible at their own cost for their additional accommodation whatever it may be and/or alternative travel arrangements not organized by the company. Maqai Beach Resort shall be the sole judge of when vessels should not operate under this clause.
EXCLUSIONS
Not included in the packages/pricing are your flights from Nadi to Taveuni or any travel prior to arriving at the Taveuni airport.
PET POLICY
Only assistance dogs are allowed.
MEAL PLANS
The meal package is compulsory for each guest and must be taken, as there are no alternative dining places on the island. Rates are correct at the time of publishing and are subject to change.
CONTRACTORS
When another company or persons operates a tour, activity, excursion, or shore transfers, Maqai Beach Surf Resort is only acting as the sales agent. Responsibility for the operation and liability for any mishap lies with those operators solely and not with Maqai Beach Surf Resort. Maqai Beach Surf Resort is not responsible for missed flights or ferry sailings or any associated expenses due to late arrival. Maqai Beach Surf Resort is not responsible for booking refunds due to aircraft and sailing vessel delays.
TRAVEL INSURANCE
There are limited medical facilities at the neighboring village and Taveuni, so if any medical problem arises you will need to return to Nadi or Suva. If you develop a serious medical condition you will most likely want to leave Fiji for Australia, New Zealand, or home. There is also a higher degree of risk in public areas on vessels, etc. Sea conditions and sometimes cyclones can prevent travel on the booked dates as well. It is therefore essential that when booking with Maqai Beach Surf Resort you have a valid FULL travel insurance policy to cover the cost of any emergency medical treatment or accident and to protect your holiday payments in the event of cancellation.
BOOKINGS & CANCELLATION POLICY
We require a deposit of 50% of the total to confirm your reservation. Maqai will not regard a booking as canceled unless and until written notice is received from you or someone acting on your authority. The following cancellation charges will apply: – Cancellation after deposit is made, forfeit of 25% of package price. – Cancellation within 90 days of arrival date: forfeit of entire 50% deposit. – Cancellation notice must be received by email, the receipt of which must be verified by a duly authorized representative of the resort. – Refunds are subject to Bank fees/credit card fee adjustments and currency fluctuations. Please make sure you have Full travel insurance to cover your trip.
OHTER DETAILS
– Check-in time is 1 pm and check-out time is 10 am. In most instances, guests will be able to check-in and depart without these reference times which are only invoked when the resort is full. – Meal plans are for 3 meals per day starting with either lunch or evening meal on the first day. Extra meals will incur charges. – A 5% fee applies to all transactions paid by credit card. – We strongly advise taking out comprehensive travel insurance to cover your trip in case of cancellation or refund request. – Maqai Beach Eco Surf Resort will not accept responsibility for any delay, additional expense or inconvenience which may be caused directly or indirectly by events outside of Maqai Beach Resort control such as late arrival of Domestic or International Flights, surfboard delays, civil disturbance, fire, floods, unusually severe weather, cyclones, acts of God, acts of Government, or the failure of any machinery or equipment.
FORCE MAJEURE
The Resort shall be relieved of its obligations hereunder in the event and to the extent its performance of this agreement is delayed or prevented in whole or in part by any cause beyond its control, including, without limitation, acts of God, change of laws, war or hostilities (declared or not), civil unrest, fire, flood, earthquake or explosion, sale, seizure of the Resort under legal process, strikes, lockouts or labour stoppages or any other circumstances beyond the control of the Resort that makes it impossible for the Resort to operate fully or partially. Should any event be cancelled, postponed or otherwise adversely impacted as a result of a force majeure event, there shall be no refunds for payments already received by the resort. Maqai Beach Eco Resort will use all reasonable efforts to work with Clients to provide accommodation at a later date if necessary, subject to resort availability.