Lucero Surf Vacations
Santa Teresa, Costa Rica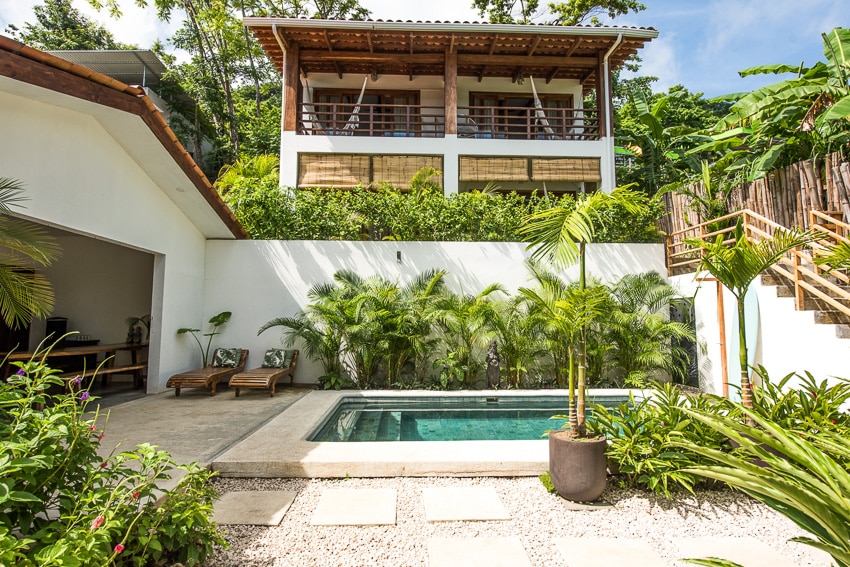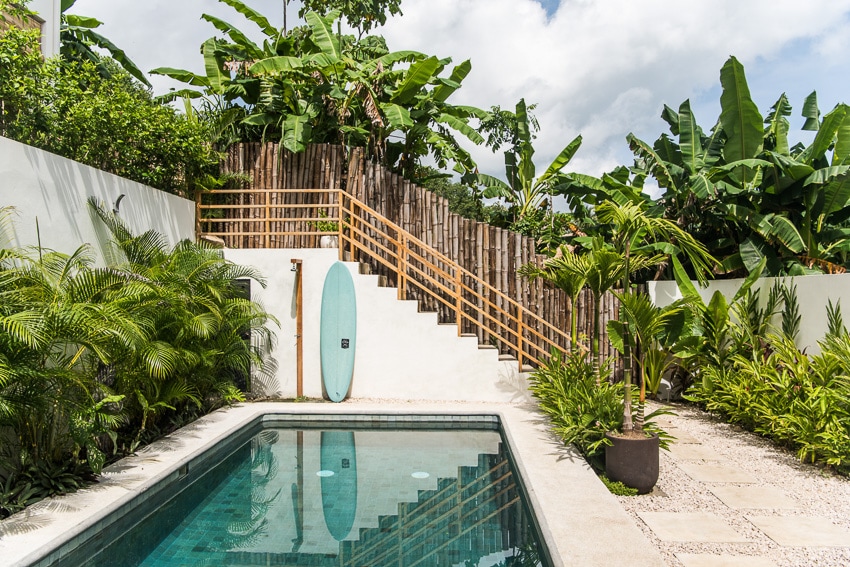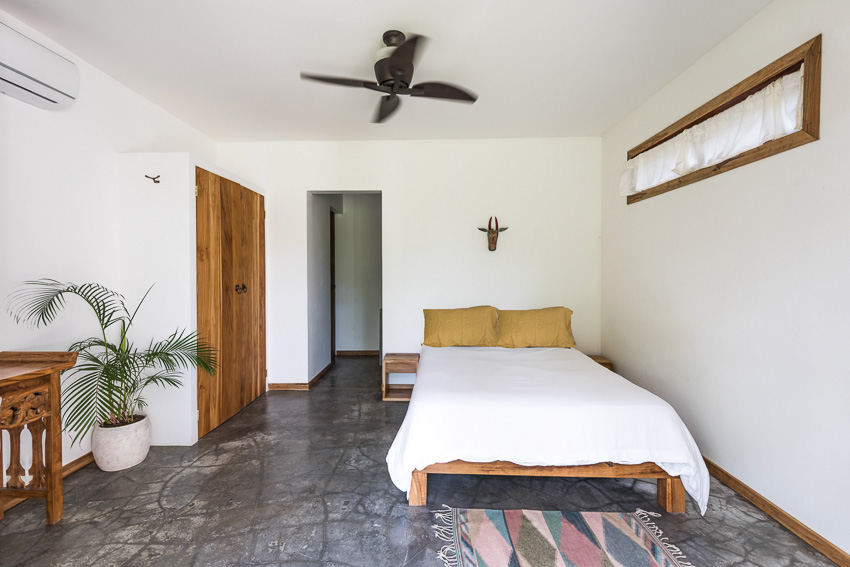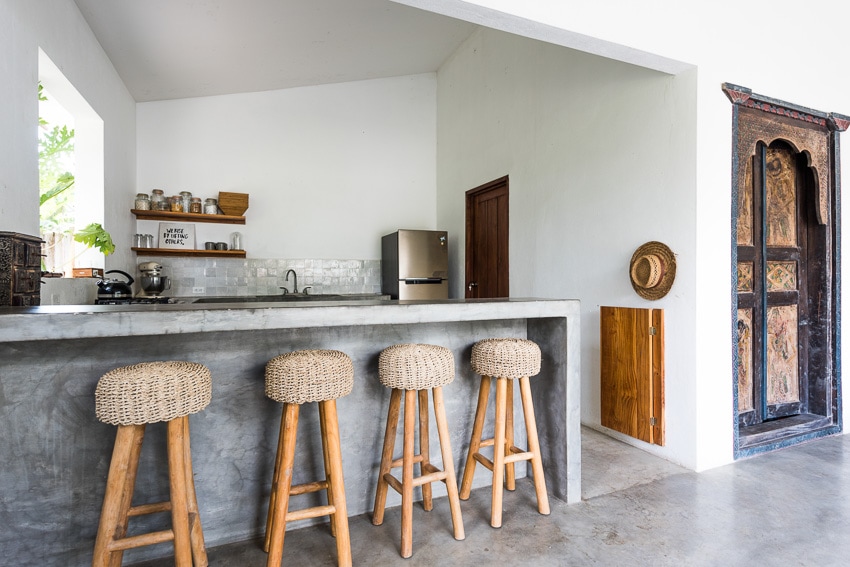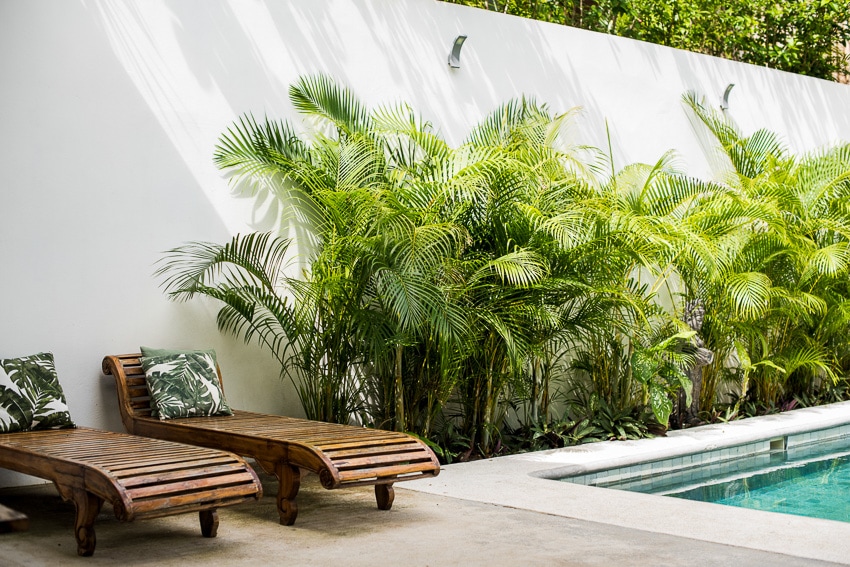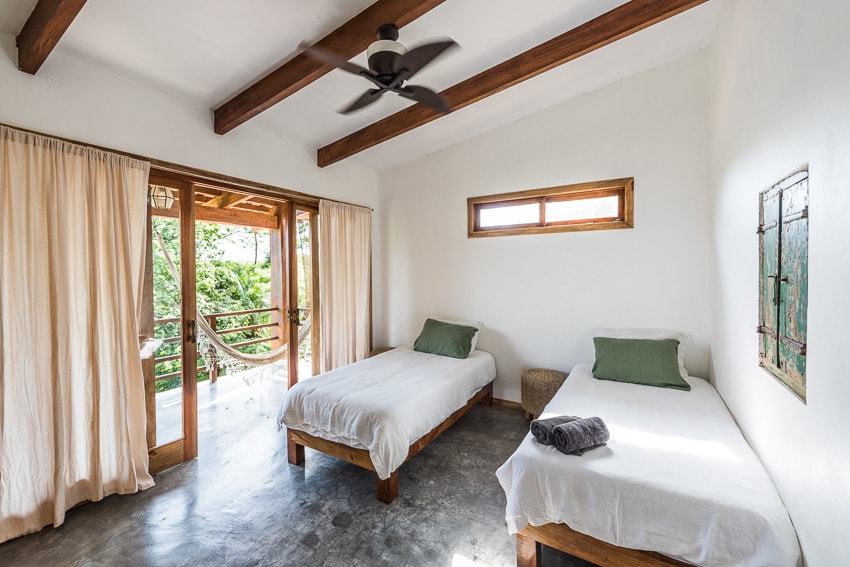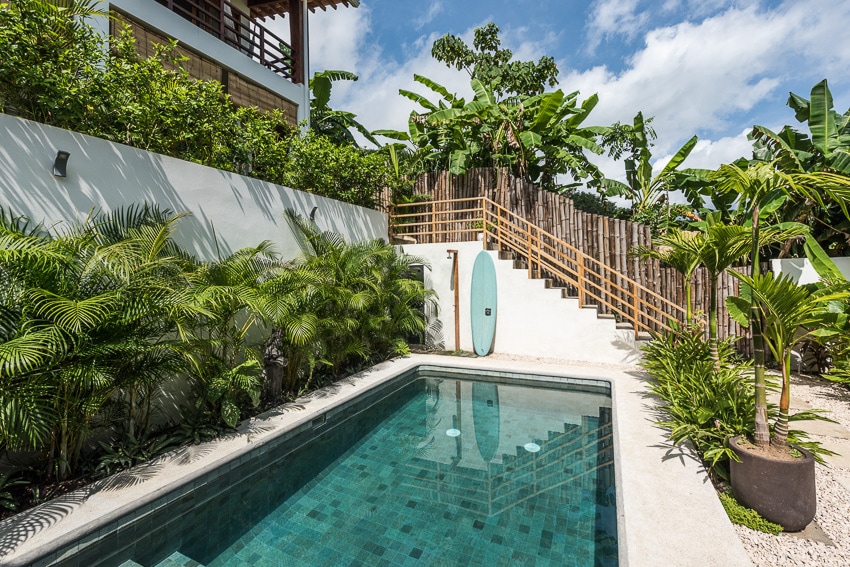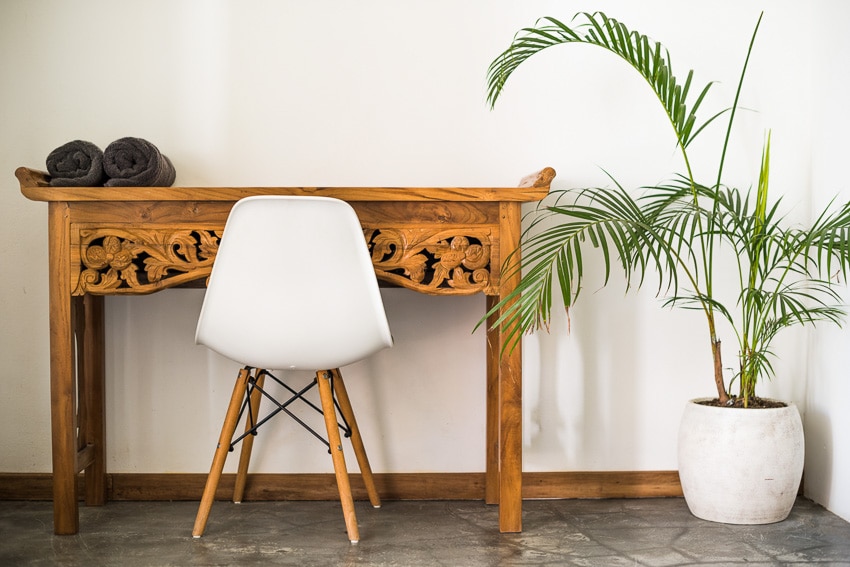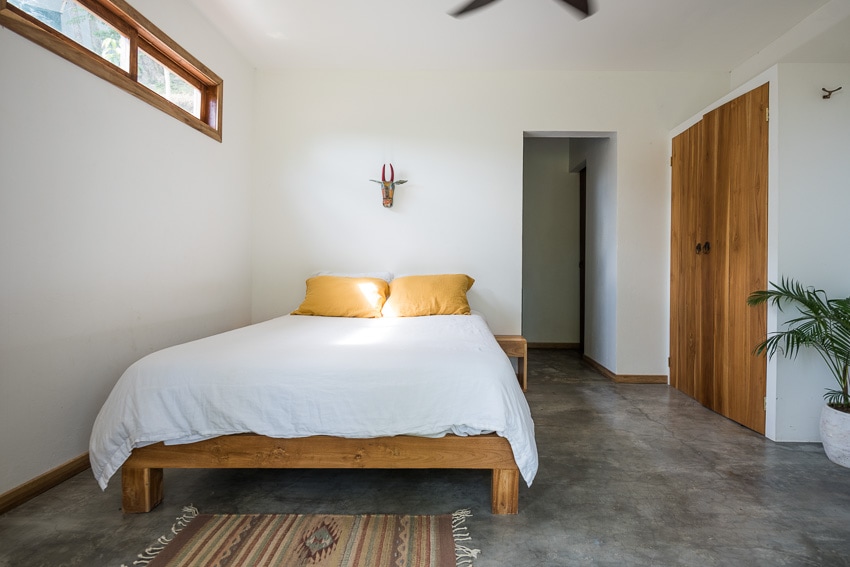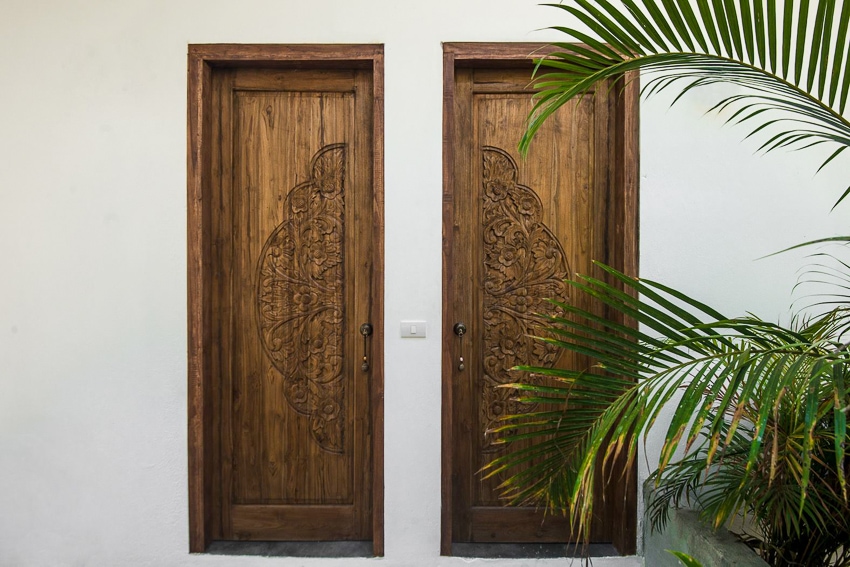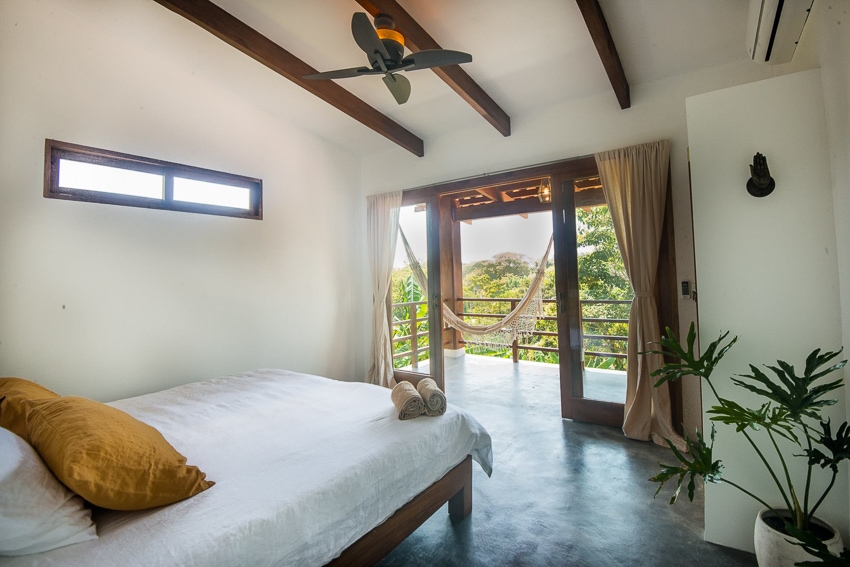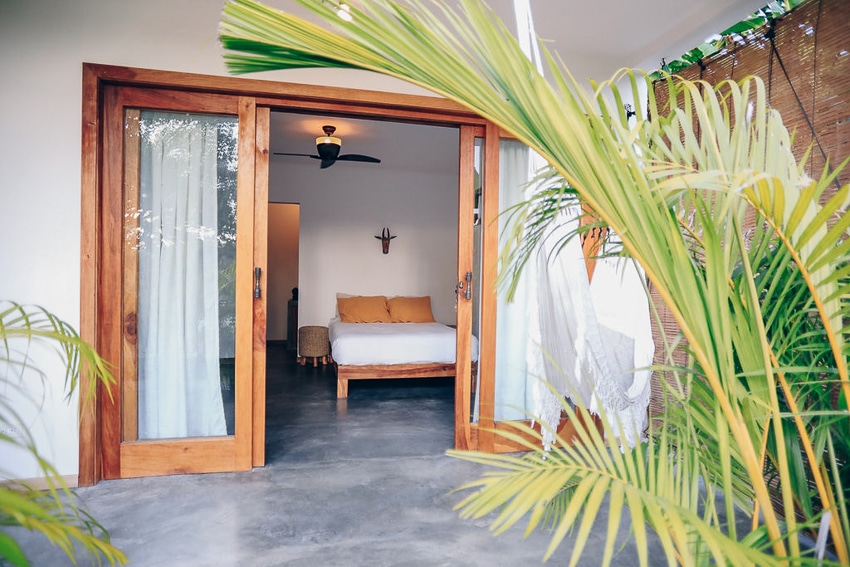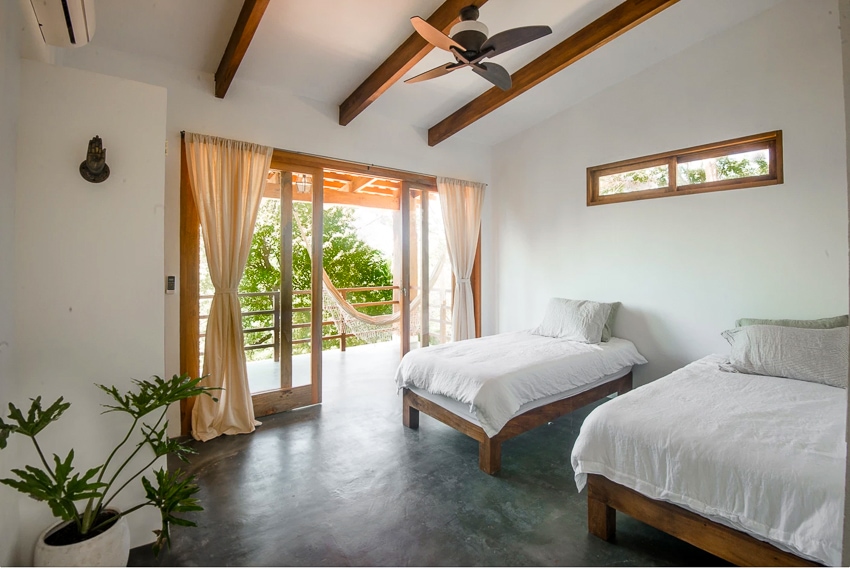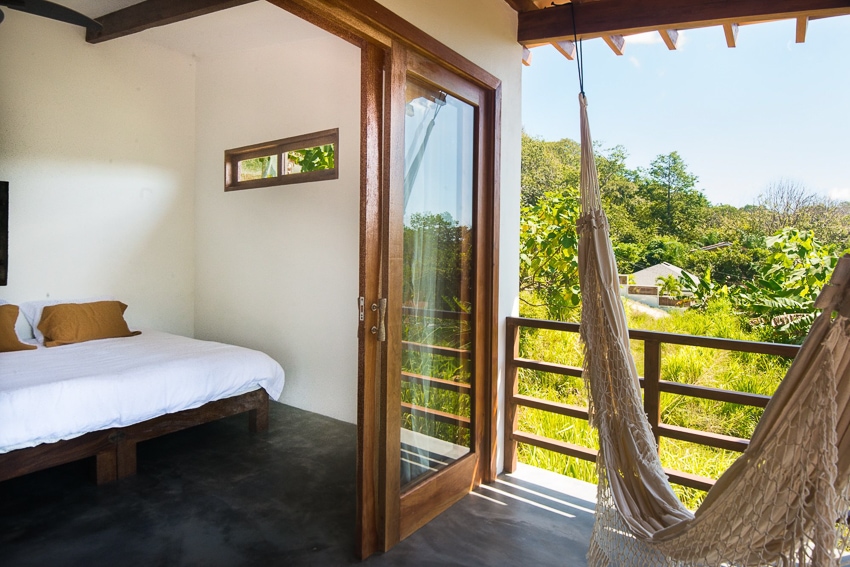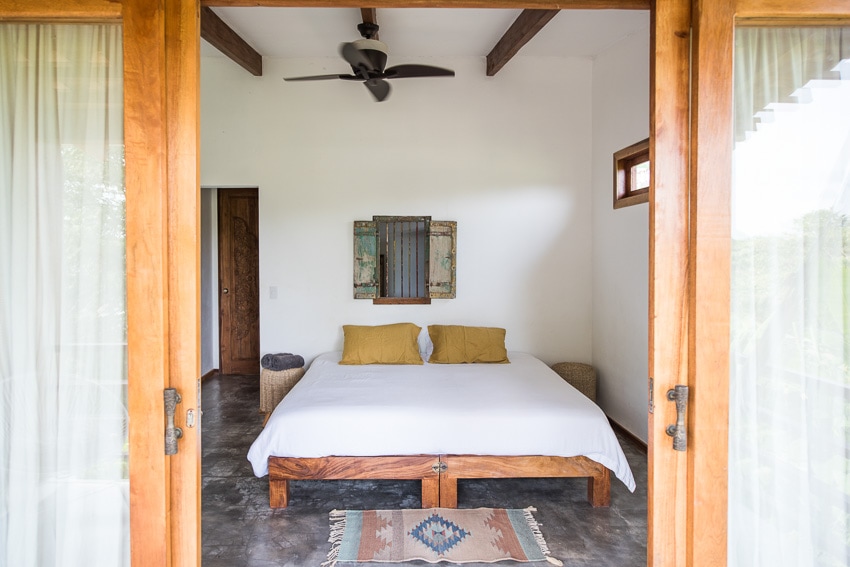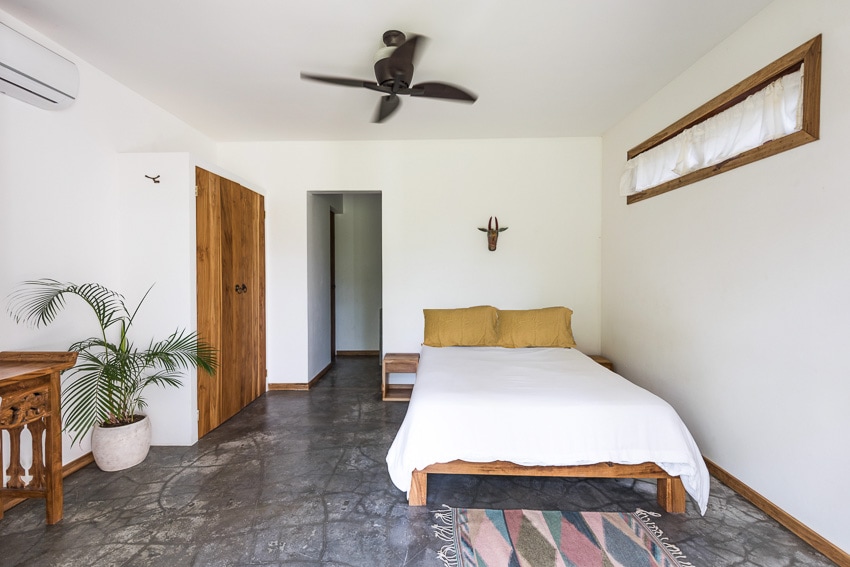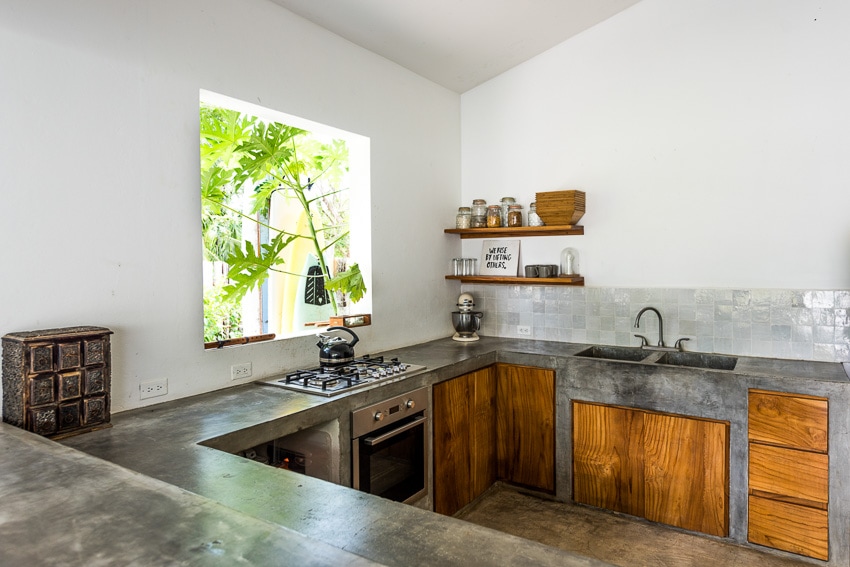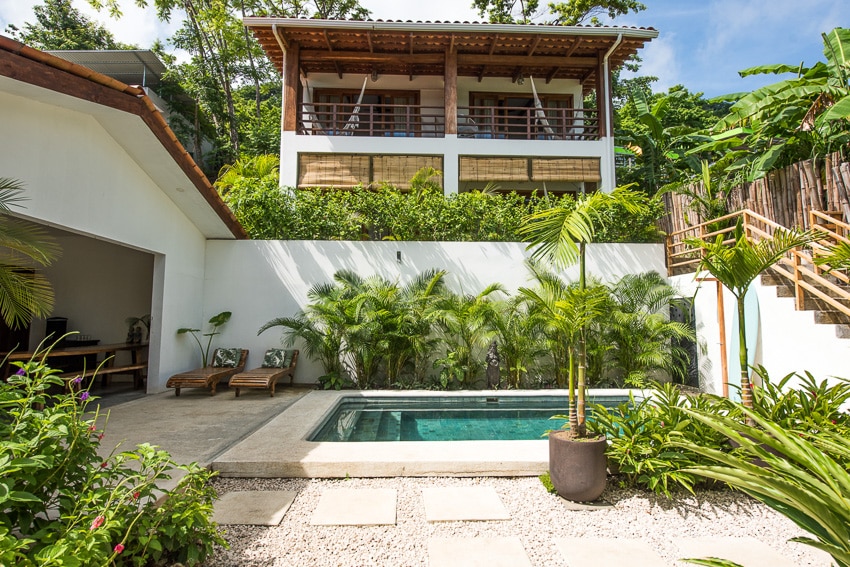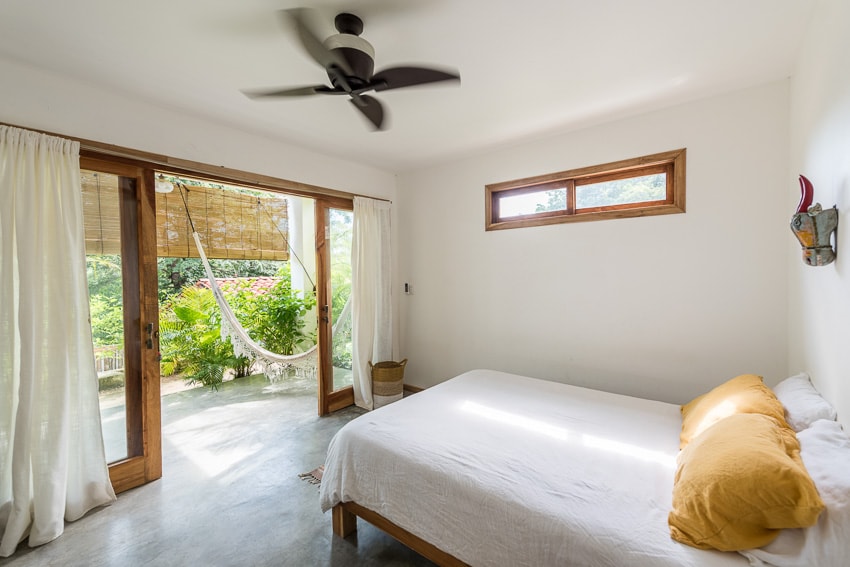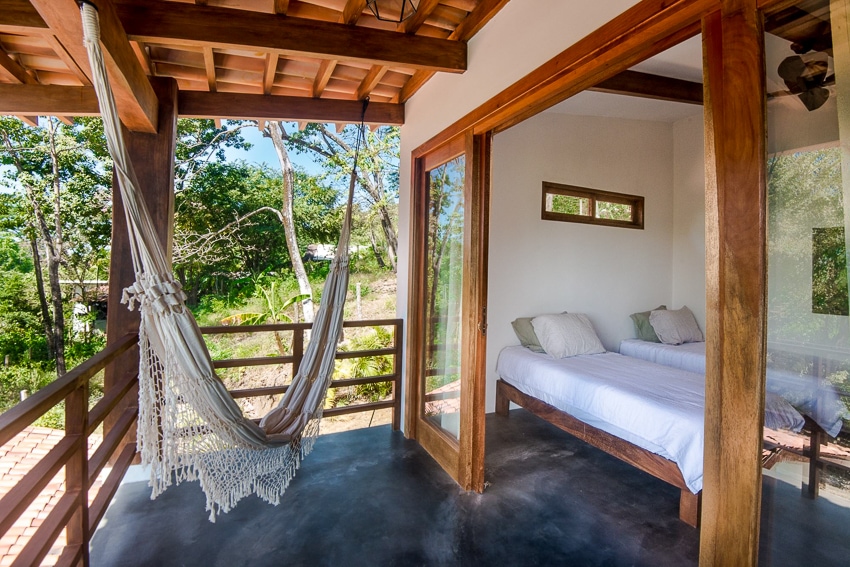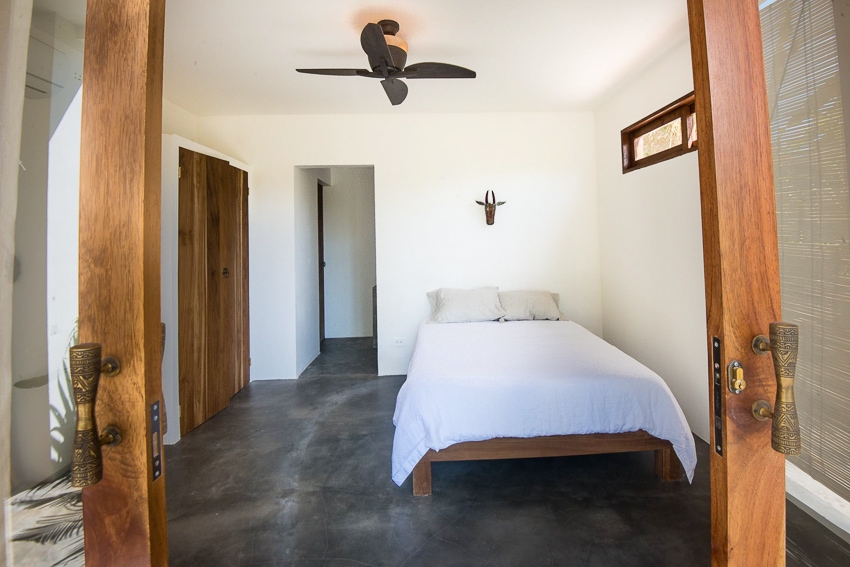 santa-teresa-costa-rica-surf-camp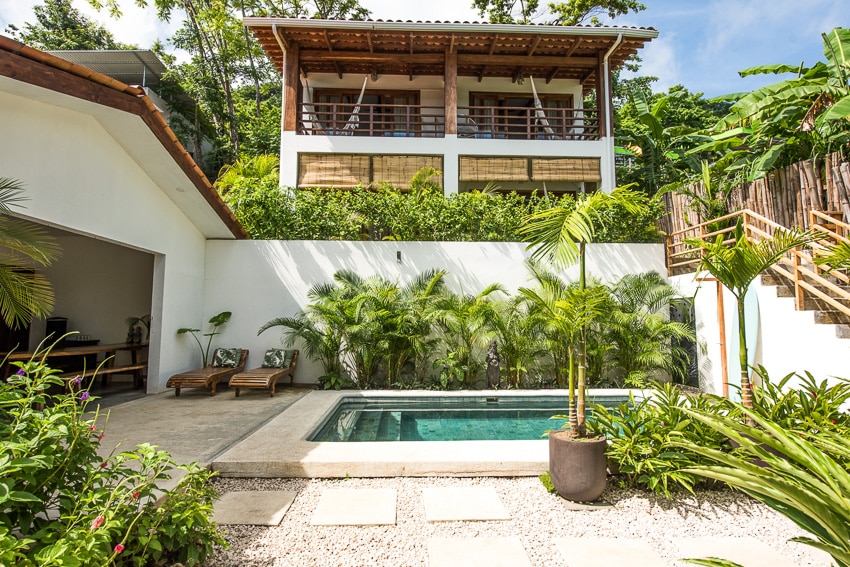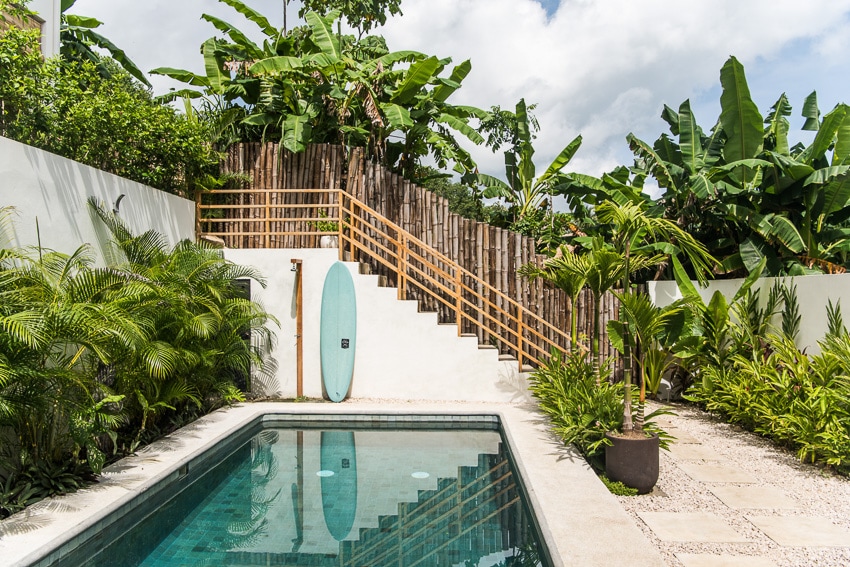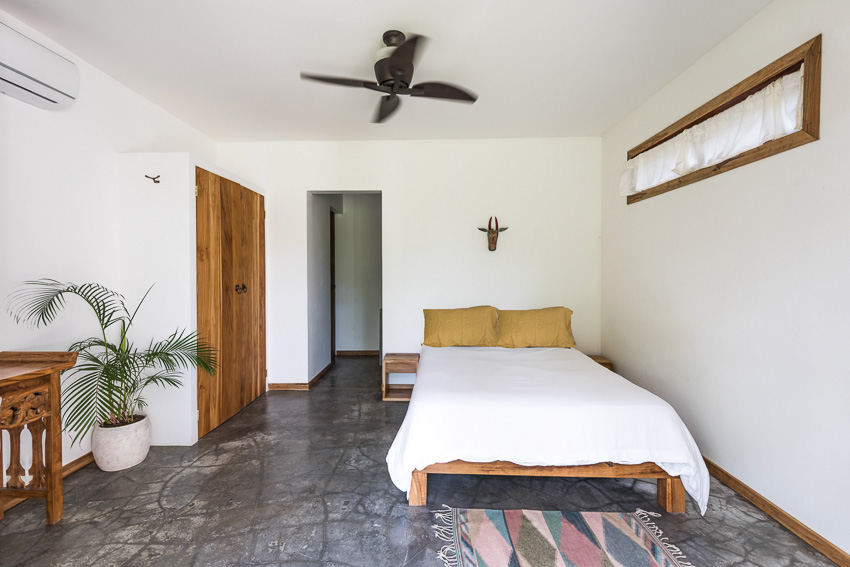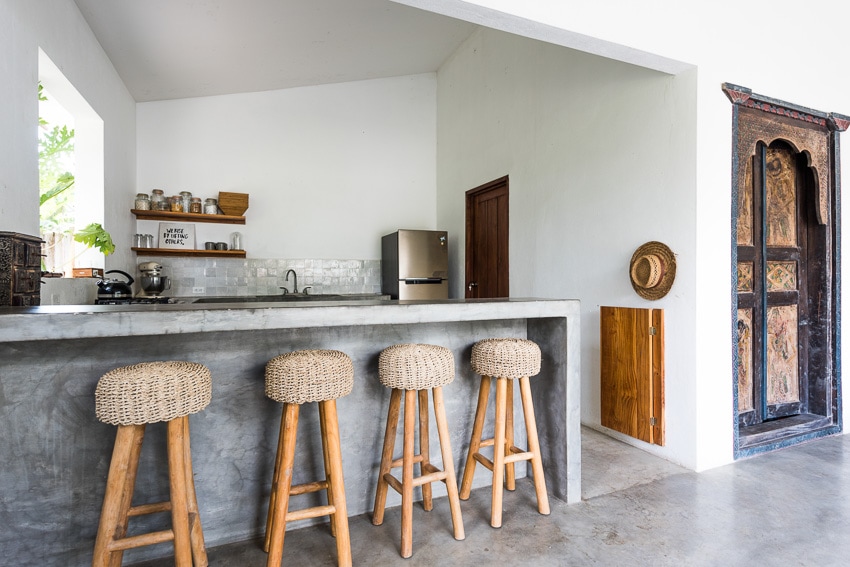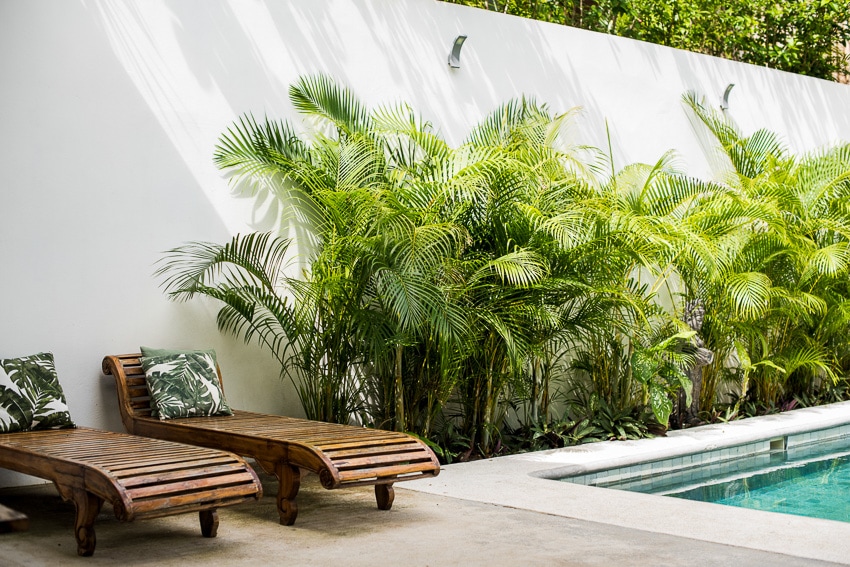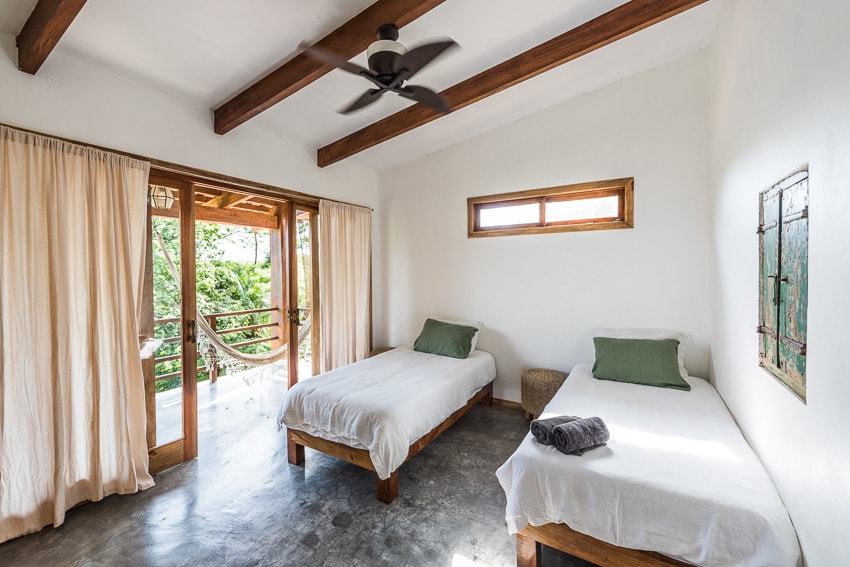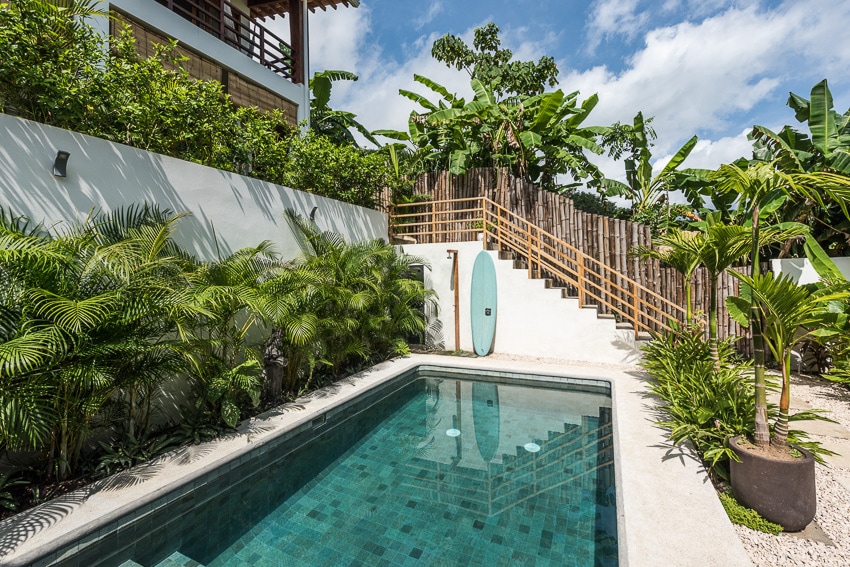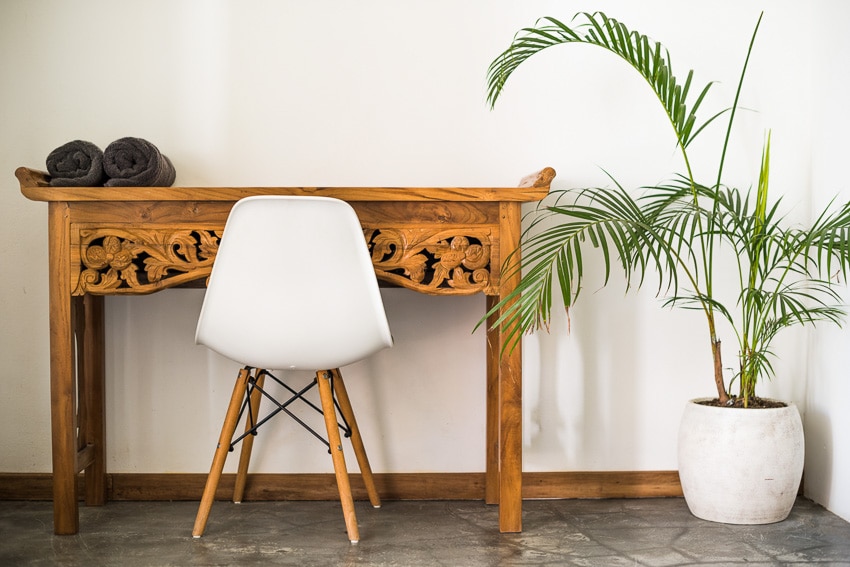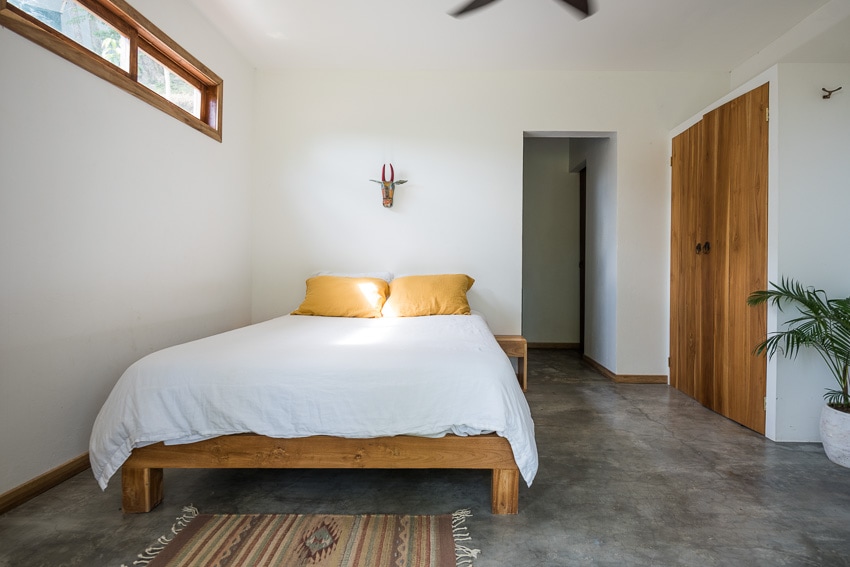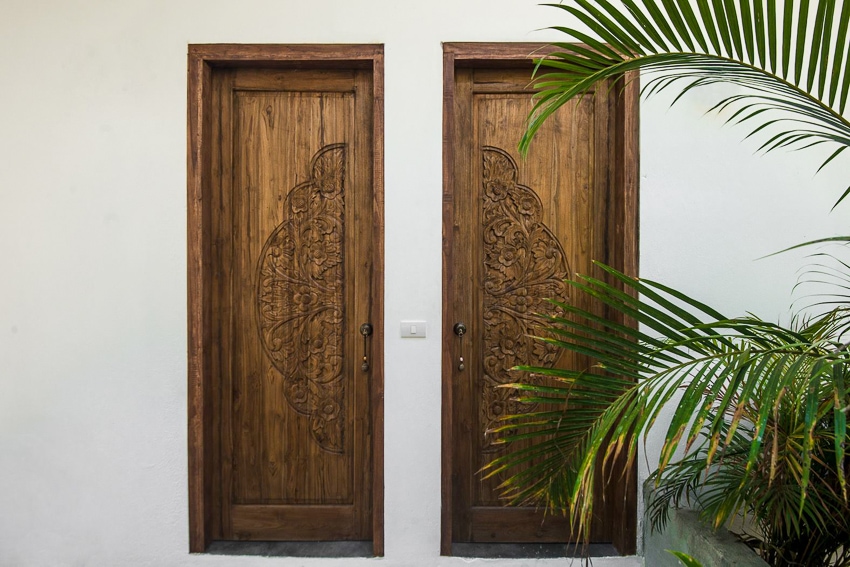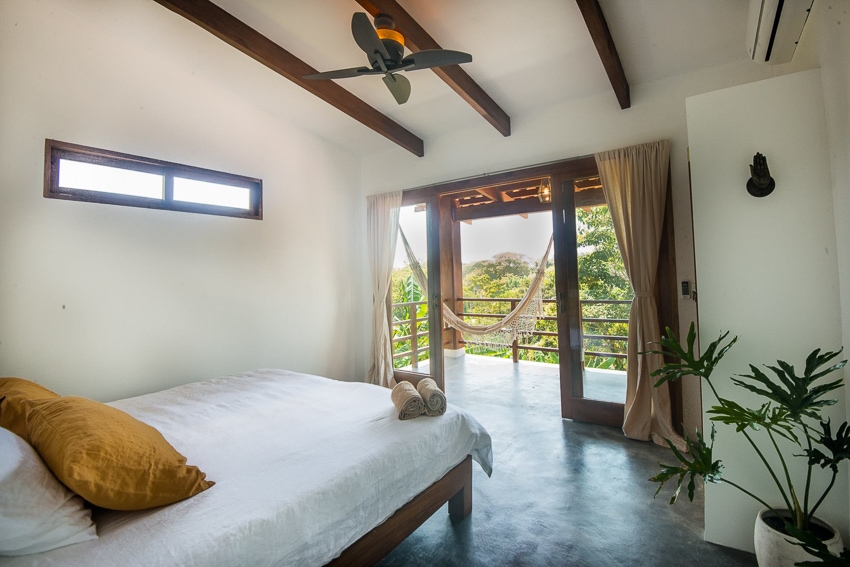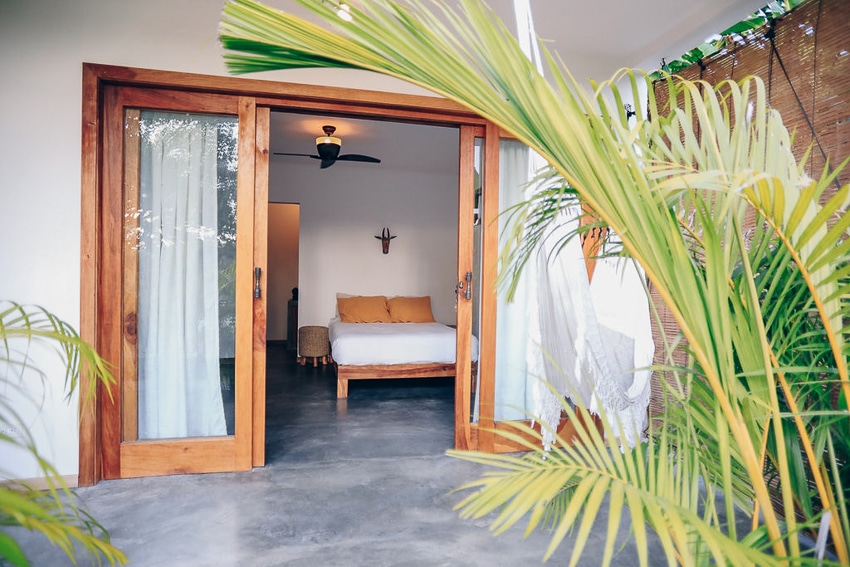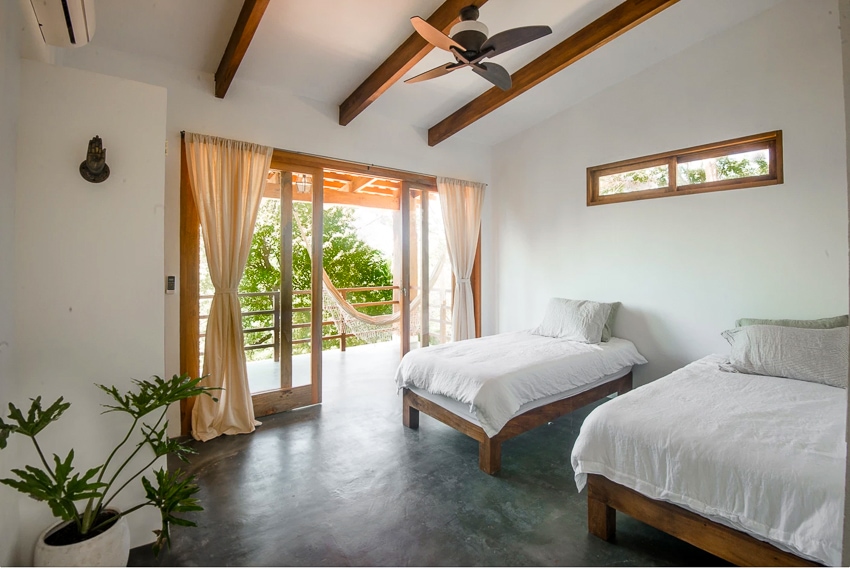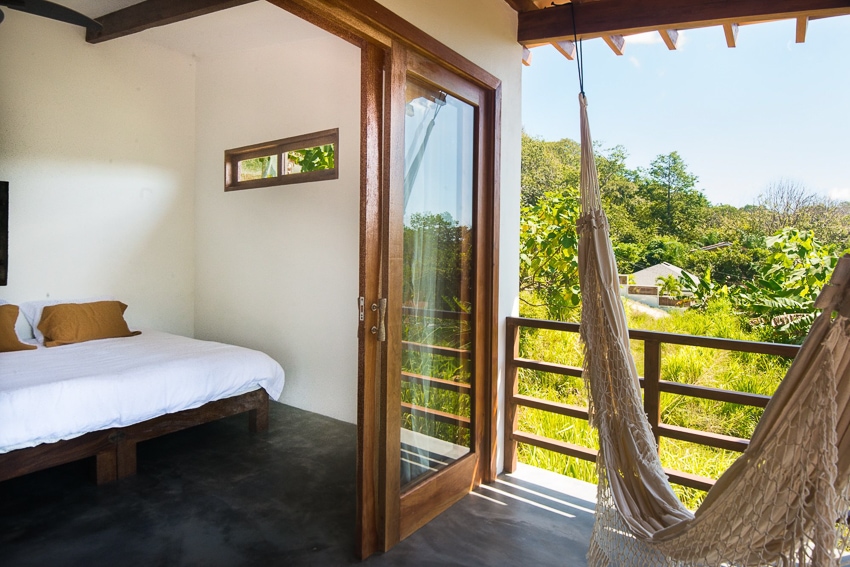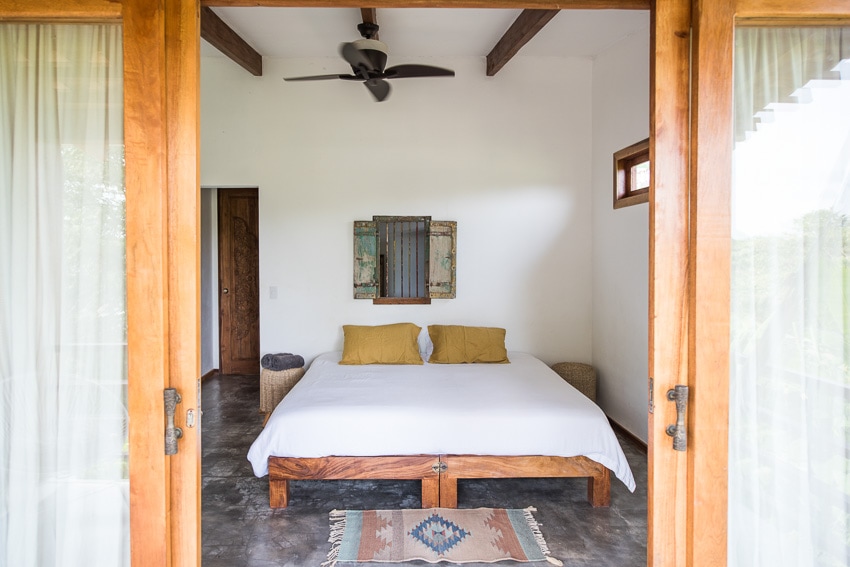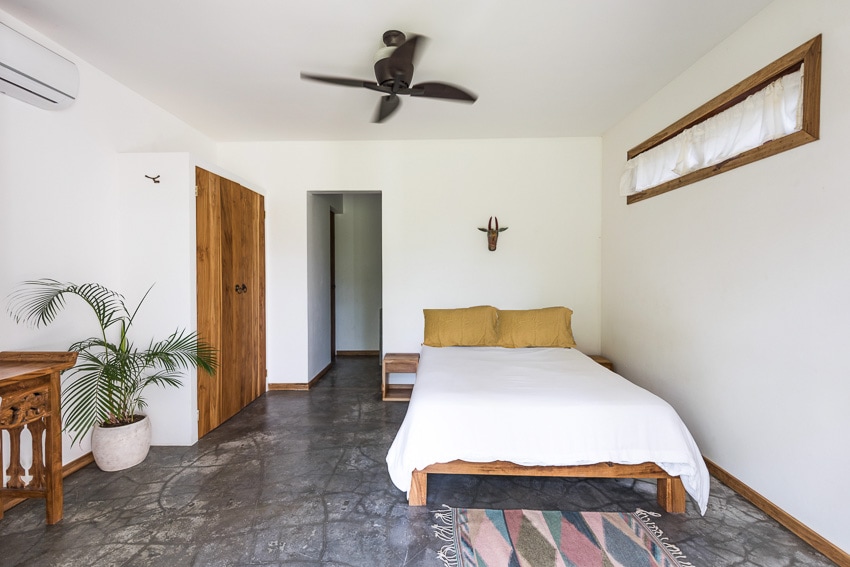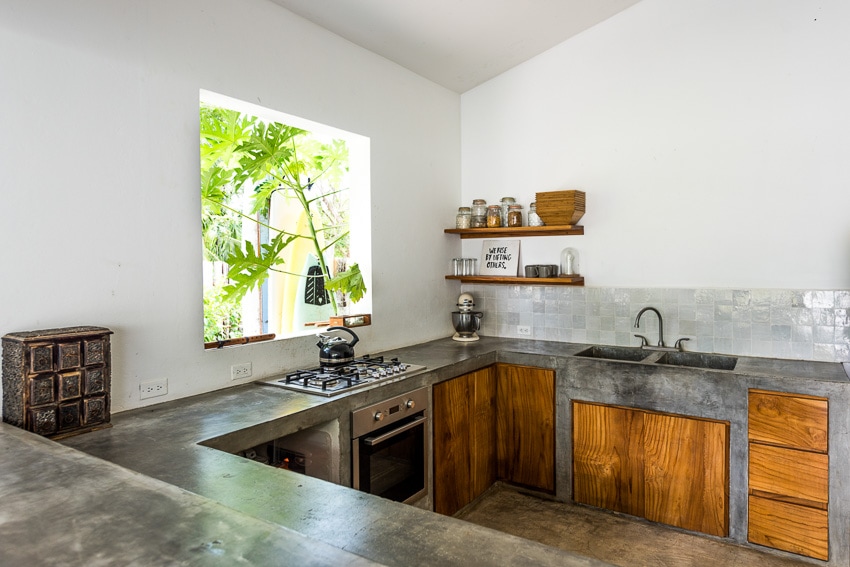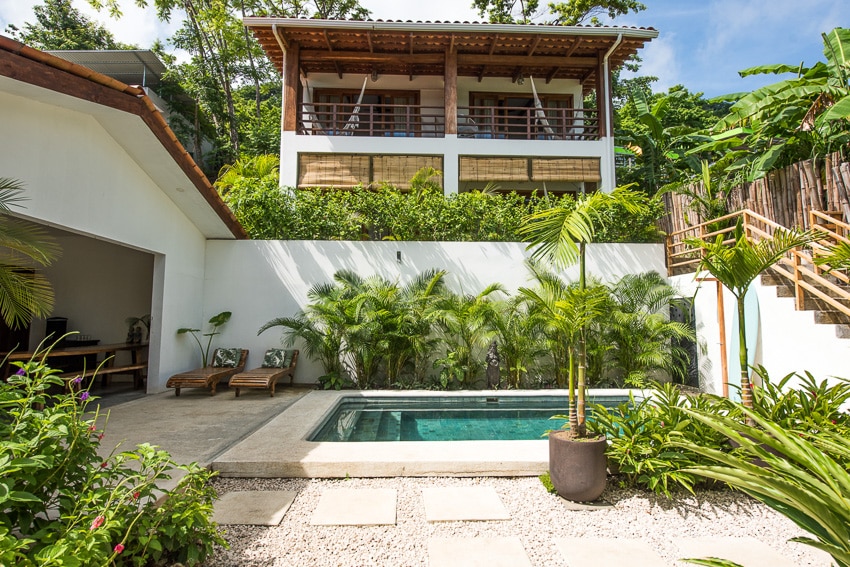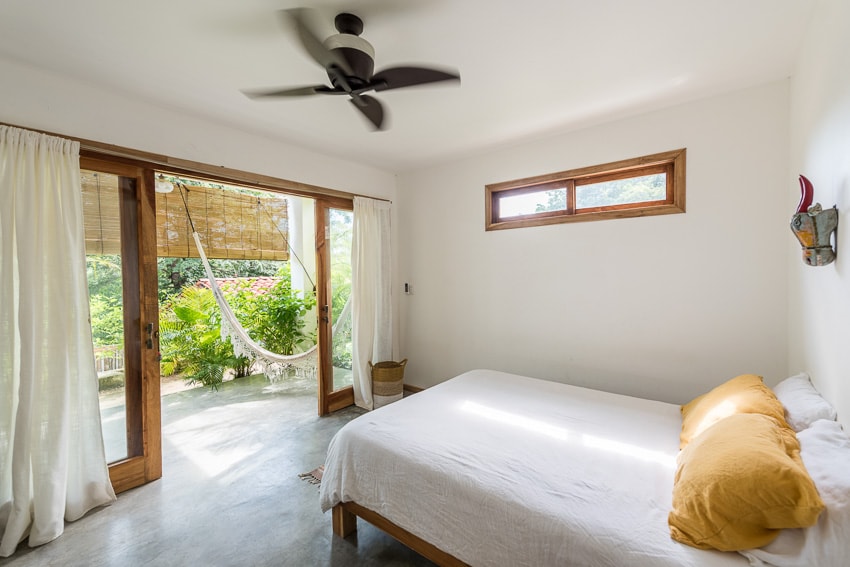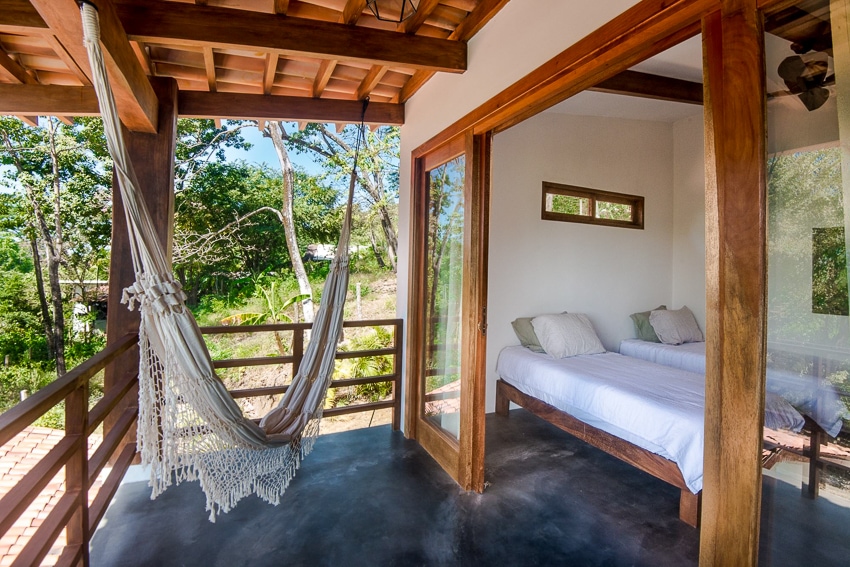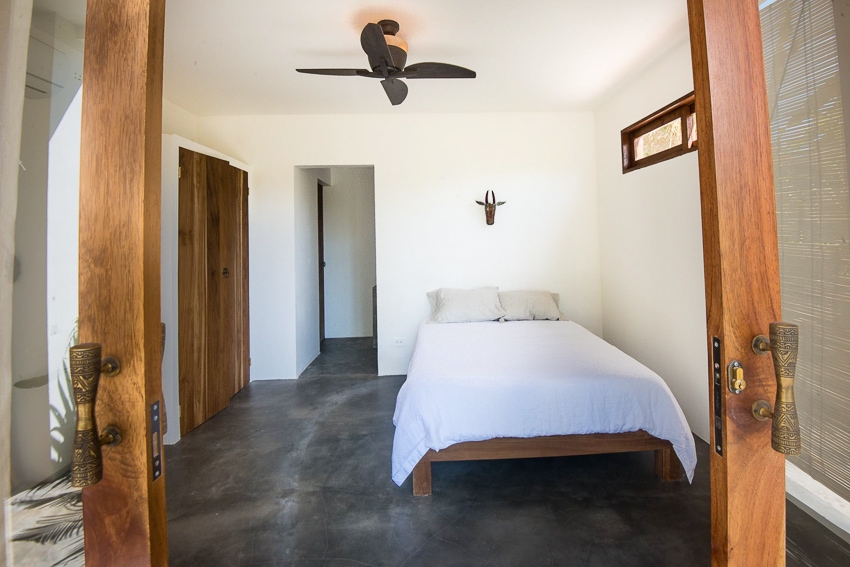 Boutique surf hotel at a beautiful property with fantastic surf lessons.
Set up on a jungle hillside in the heart of Santa Teresa, Costa Rica, Lucero Surf Vacations is a family-owned boutique surf camp made with love. With only eight spots available per week, gracious hosts Jared and Marieke take great care of every guest and make them feel like a part of the family.
The property has a lovely boutique hotel feel to it. The exterior of the buildings are Spanish-style with white-washed walls and clay tile rooftops, and the inside takes on a Balinese flavor with finished concrete, minimalist decor, and details like brass Balinese door knobs and teak wood accents. The rooms are filled with light and come with hammocks made for lazy post-surf afternoons.
The location is a great one – it's close to the main road and beach so you can walk everywhere (to the market, many restaurants, the beach, etc), but tucked away in a quiet private spot.
Weekly Surf & Stay Packages typically run Sunday to Saturday (6 nights) and include accommodation, (mostly organic) delicious breakfast with vegetarian and vegan options, four surf lessons or surf guiding sessions, and complimentary use of surf gear during your stay.
The Lowdown
VIBE: Minimalist Bali meets Spanish Colonial
LOCALE: Jungle sanctuary close to the action
ROOMS: 4 rooms, 1 apartment, a 2-bedroom villa, and a glamping tent
FAMILY FRIENDLY: Yes, very
CLOSEST INTERNATIONAL AIRPORTS: Liberia Airport (LIR) or San Jose Airport (SJO)
PRICING: $785 – $1,145 USD per person per week (pricing varies depending on room and occupancy)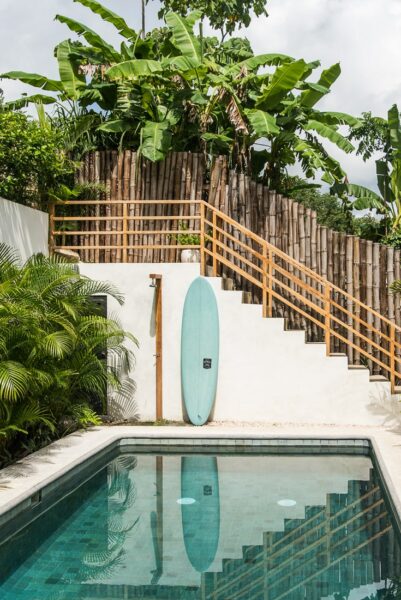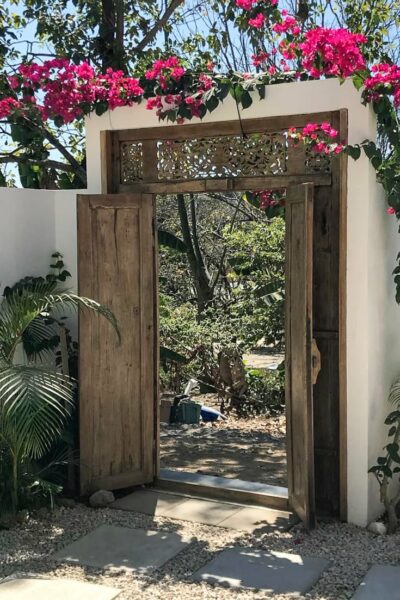 Features
Inside
Spacious boho-modern rooms are breezy with minimalist decor. All rooms have therapeutic mattresses, premium linen bedding, A/C, ceiling fan, mini fridge, safe, and your own comfy hammock out on the balcony.
Outside
On the bottom level there's a communal space with a restaurant for meals and surf theory lessons, and also a palm-lined pool area. The four rooms are on the second level looking out over lush landscaping and the pool.
Eat & Drink
Daily breakfast is included and prepared at the hotel with fresh local ingredients. For lunch and dinner, you're within walking distance to many great restaurants and the hosts will give you fantastic recommendations.
Details
Weekly packages typically run from Sunday to Saturday (6 nights), with some flexibility if you can only travel during certain dates. Mondays start with the first lessons of the week with the new group and Friday is the last day of lessons, so arriving on a Monday is possible but not advised.
Rates
Surf & Stay Package
Single Occupancy: $1,145
Double Occupancy: $785 per person
Family Package
Family of 4: $3,140 (to stay in 2 double rooms)
Family of 4: $3,320 (to stay in 2-bedroom villa)
* for other family sizes, please get in touch for pricing and availability
What's Included
Surf & Stay Package
6 nights accommodation
Daily breakfast buffet
4 surf lessons (Monday, Tuesday, Thursday, Friday)
Complimentary use of surf gear during your stay
Surf & Stay Family Package
6 nights accommodation
Daily breakfast buffet
4 surf lessons (Monday, Tuesday, Thursday, Friday)
Complimentary use of surf gear during your stay
Mostly All-inclusive Surf Package
6 nights accommodation
Daily breakfast and lunch prepared with fresh local ingredients
4 Surf lessons + theory per person
Free use of all surf gear at any time (multiple surfboards on-premises to select from and an endless selection at local surf shops included in rates)
Surf photos: the team will capture you in action
ATV waterfall adventure day (2 people per ATV) OR 1 other activity. There are a few fun activities either all day or part of the day that you can do like fishing on open sea, snorkeling at Tortuga island, zip lining through the jungle canopy, or you can simply choose to rejuvenate by getting a relaxing massage.
Please get in touch for a quote
Good to Know
Lucero Surf Vacations are fantastic for all types of travelers, but they're an especially great option for families, as some surf camps don't accept children into their programs. At Lucero they not only accept children into their lessons, they give kids wonderful surf lessons, have babysitters available to the parents, and the whole experience is a very family-friendly environment.
Location
Santa Teresa, Costa Rica
Santa Teresa is a small laidback surf town located on the Nicoya Peninsula on the Pacific Coast of Costa Rica. Once a small fishing village, over the past 15 years Santa Teresa has seen a surge in growth with surfers and travelers seeking surf, sun, and the pura vida way of life. Many of those visitors found all of the above and decided to stay.
This rise in expats from all over the world has led to an international feel to this charming surf village, and along with it an influx of fantastic restaurants, villas, and hotels to enjoy.
While there has been significant development in the area, there are no high-rises to speak of, most roads are unpaved, and residents and visitors still gather on the beach to hang out and collectively watch the epic sunsets.
With long beaches lined with great surf breaks, consistent swell, and year-round warm water, Santa Teresa is a quintessential surfer's paradise.
Getting There
You can either fly into San Jose Airport (SJO) in central Costa Rica, or Liberia Airport (LIR) in northern Costa Rica. Santa Teresa is located on the Nicoya Peninsula and is about a 4 to 5 hour journey from both airports. From San Jose, you can take a bus for $15. There is also a shared daily shuttle available for $50 (leaves at 7 am or 2 pm from SJO). A private shuttle is a good option if you are traveling with a group ($250 one way). Both the bus and shuttle from San Jose are between 4 and 5 hours of travel, including a ferry crossing of 1.5 hour.
Another option is to fly with a charter flight from San Jose to Tambor, which takes only 20 minutes and costs around $120 one way. The taxi from Tambor to Lucero Surf Vacations is $50.
Tips for Renting a Car
For the most freedom and flexibility on your trip (especially to explore surf breaks), we recommend renting a car. For car rentals in Costa Rica, we highly recommend SIXT.
Here's why in a nutshell: In Costa Rica, there is a mandatory third-party liability insurance for rental cars. Unfortunately, many companies and websites do NOT include this insurance cost in their quote you reserve online, so you could book a great-looking price online (like $5 a day) and end up having to pay an additional $12 – $27+ per day when you pick up your car, which can literally double or quadruple the cost of your rental car. (This is why most car rental companies in Costa Rica have terrible reviews.)
On our last trip to Costa Rica, we spent hours researching to try and figure out the accurate and best pricing for car rentals, and SIXT came out the winner. SIXT has clear pricing that includes the mandatory insurance (so there are no surprises), they have the best prices we found, and we ended up renting with them multiple times and had great experiences.
The Small Print
Terms and Conditions
PAYMENT TERMS
The deposit to confirm your reservation is 50% upfront and the remaining 50% balance due 30 days before arrival. If the booking is being made within 30 days of arrival, then the full payment is required at time of booking to confirm your reservation.
CANCELLATION POLICY
In case of cancellations received more than 45 days before the set arrival date all charges will be refunded.
There will be a charge of 25% of the total payment for cancellations received within 15 to 45 dates before arrival date and 50% of the total payment will be charged for cancellations received within 8 to 14 days before the scheduled check in date.
No refunds for cancellations received 7 or less days from arrival date.
EMERGENCY / INSURANCE
Your travel insurance may provide a full refund for your booking, and we recommend that all clients have a suitable insurance policy prior to booking.
We recommend you to have health insurance to cover yourself in case of injuries and health emergencies.
Lucero Surf Vacations will not be liable or responsible for any health related problems during your stay at our camp or accident / injuries at our site in any way.
IMPORTANT INFO ABOUT THE PACKAGES
Surf lessons included in the family package are 3 per family member, and it is not possible to give surf lessons to another family member.
Breakfast and water is included. Lunch and Dinners are not included.
Extra surf lessons / yoga or other activities can be coordinated before arrival or when you are here.
If the weather or other circumstances makes it unsuitable to surf, your lesson will be re-arranged for a different day/time.
If you have to cancel a surf lesson because you are tired or would like to do something else instead, Lucero Surf Vacations is not responsible to make up this lesson on a different day.
You will be asked to sign a release of liability upon arrival.