All-inclusive boutique surf hotel with easy access to plentiful surf on Nicaragua's Costa Esmeralda.
Steps from the sand at Playa Santana, Malibu Popoyo is the kind of place where you can revel in the bliss of having everything taken care of. Along with lovely accommodations, stays include three organic meals per day at the onsite restaurant, daily guided yoga sessions, unlimited 4×4 transportation to any surf break, and daily personal surf guiding for intermediate to advanced surfers, surf lessons available for an extra cost for beginners (details below).
When Playa Santana out front isn't your first choice for surf, get around to some of the nearby gems like Popoyo and Playa Colorado. With 10 world-class breaks within 30 miles, consistent swells, and Nicaragua's legendary 300+ offshore days a year, you're bound to have some darn good options.
VIBE: Central American beach chic
LOCALE: Secluded beachfront wave mecca
ROOMS: 12 rooms 
FAMILY FRIENDLY: Yes 
CLOSEST AIRPORT: Augusto C. Sandino International Airport (MGA) in Managua
PRICING: $200 – $250 per night (double occupancy) + 17% taxes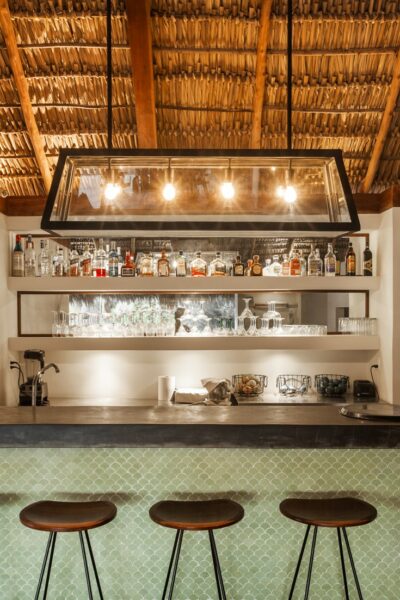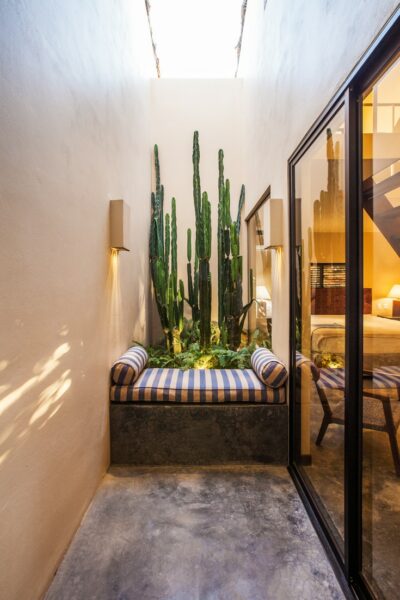 Minimalist yet comfortable rooms feature king-sized beds, unique art, tropical plants, organic cotton linens, artisan tiles, and semi open-air rain showers. Some rooms have high ceilings and a loft with an additional queen bed to accommodate up to four guests.
Lush gardens with generous cotton hammocks adorn the property. The cushion-lined edges of the 16-meter pool are perfect for dedicated chill time. Opt for a post-surf stretch at the open-air yoga palapa or sink into the communal lounge area for a beer and recount the day's adventures.
The onsite Sunset Cantina & Beach Bar serves up healthy and tasty eats using fresh local ingredients procured from La Quinta, their neighboring organic farm. Three meals per day are included in your stay, including cold-pressed juices and fresh smoothies. Beer and crafty cocktails are an extra charge.
Nicaragua is known for an abundance of consistent waves and 300+ days of offshore winds – which enable you to surf all day, pretty much every day. The main surf season is March to September when the larger and more consistent south swells show up. Waves can consistently run shoulder to overhead, with some stand out spots being double overhead or larger. Intermediate/advanced surfers will enjoy the amount of barrels on hand, but if you're a beginner surfer, there are a few great breaks available as well.
WATER TEMP: 80 – 84 °F ( 27 – 29 °C) all year long but can get a bit cooler once in a while
PEAK SURF SEASON: May – August
SHOULDER SURF SEASON: Sept – April
SURF EXPERIENCE: Beginner to advanced
Nightly stays include private accommodation, three organic meals per day at the onsite restaurant, daily guided yoga sessions, unlimited 4×4 transportation to any surf break, and daily surf guiding for intermediate to advanced surfers. Beginner surf lessons are available for $40 per person/lesson and include surfboard rentals. 
CHECK IN: 2 pm
CHECK OUT: 11 am
$200 – $250 per night (double occupancy) + 17% taxes
* $50 per additional guest per night
The resort has multiple activities/excursions available at an extra charge such as hiking, kiting, horseback riding, and local tours. Spa services are available such as full body massages, reflexology, detox scrubs and facials.
There is an optional half day surf theory + practice lesson available for $80 which includes an extra informational surf theory session. A variety of surfboards are available for rent from performance shortboards to beginner surfboards and funboards from $15+ per day.
The easiest option is to fly into the Augusto C. Sandino International Airport in Managua. Malibu Popoyo is about a two and a half hour drive southwest of the airport and the hotel can arrange transport for $100 each way.
PAYMENT POLICY
Master Card, Visa, Amex and ATM/ATH are accepted for payment. The balance due shall be paid in full in USD or the local currency Cordoba on the date of arrival. A 15% IVA and 2% INTUR tax will be charged and collected with the balance due on arrival.
CANCELLATION POLICY
Reservations can be cancelled or amended free of charge up to 60 days before 11am on the first day of your booking. If reservations are cancelled any later than that guests will be charged the full amount due including applicable taxes.
GENERAL POLICY
The hotel is not able to make exceptions for any circumstances like weather, flight delays or sicknesses. We highly recommend to purchase a travel insurance with a Cancel for Any Reason policy to cover these circumstances.
Any damages to the rooms and the hotel property will be promptly assessed and charged to the credit card of record. Smoking is not permitted in the suites of the hotel. Smoking is only permitted in the outdoor areas. Charges are applied for damages due to smoking.
Malibu Popoyo has a no visitor policy, and only registered guests are permitted on the premises, unless prior arrangements are made with the management.
CHECK-IN / CHECK OUT POLICY
The standard check-in time is any time after 2pm. To guarantee an early check-in, it is necessary to book the previous night. If rooms are available prior to check-in time, an early check-in may be possible. You're welcome to leave your luggage free of charge in the luggage store prior to your check-in. Check-out is any time before 11am.
PET POLICY
Pets are not permitted with the exception of certified service animals assisting disabled guests.
* As an Expedia affiliate, we may earn when you book through a link on our site. There is never an additional cost to you, and as 1% for the Planet members, we donate a portion of our earnings to nonprofits that support our oceans and the environment. Thank you for supporting Lush Palm – this helps us stay ad-free and continue to create fresh content and helpful guides.