Soul & Surf Sri Lanka
Ahangama, Sri Lanka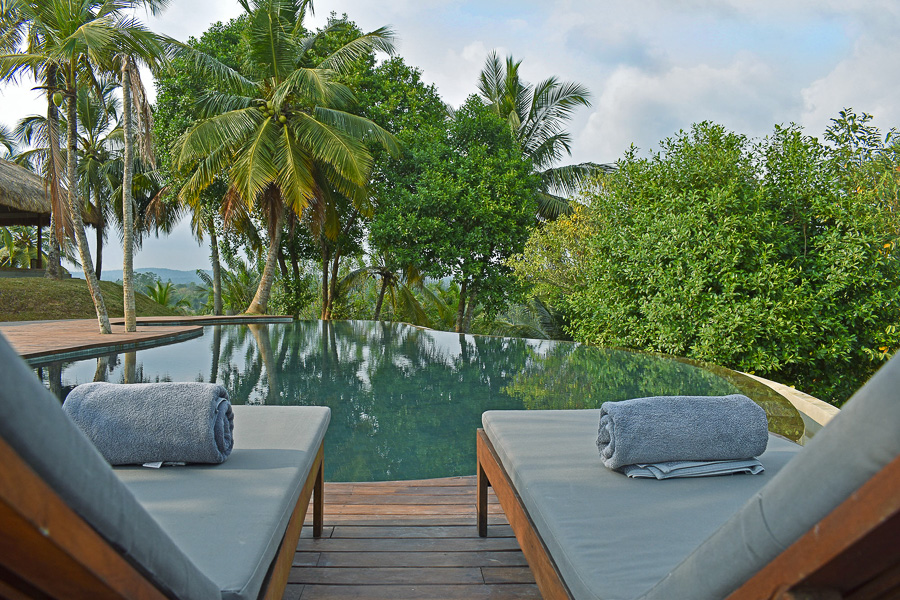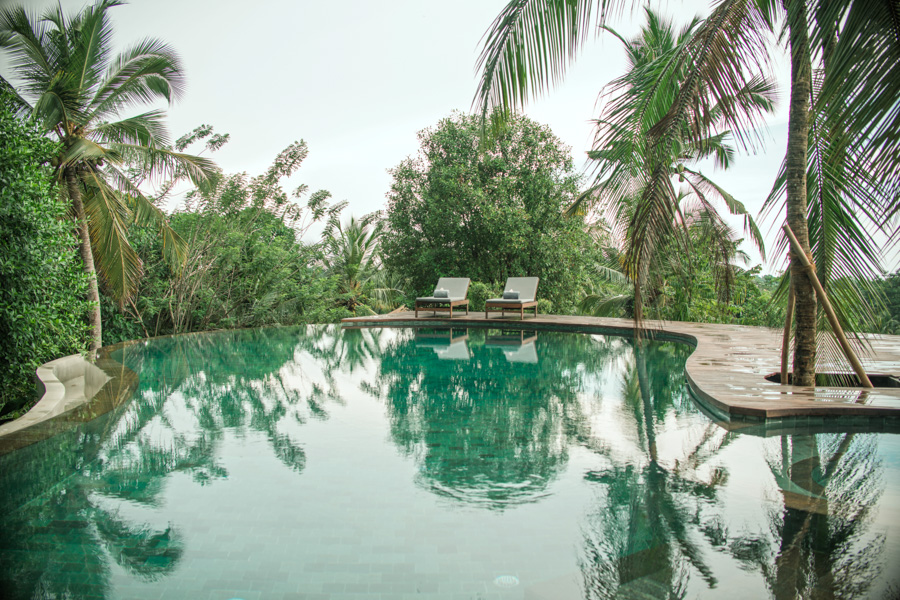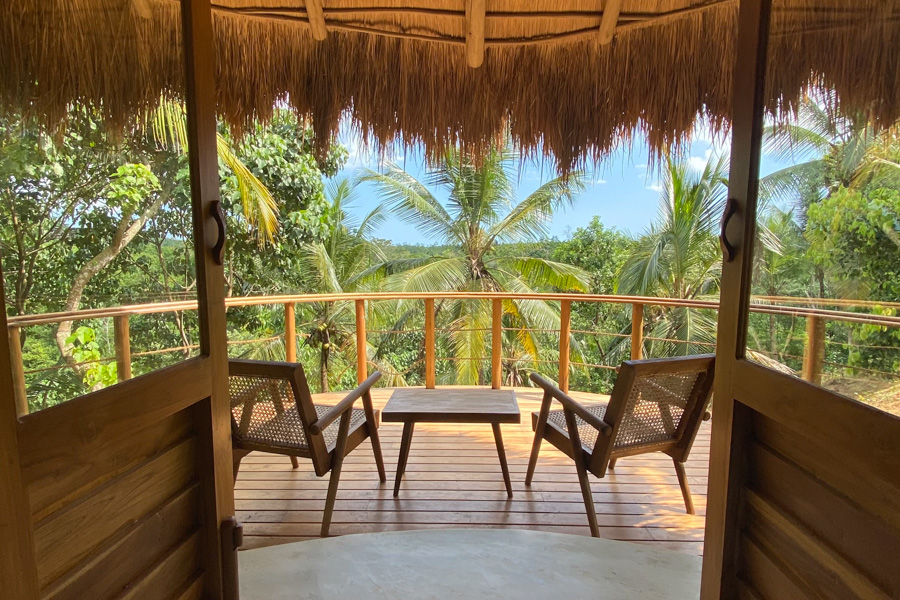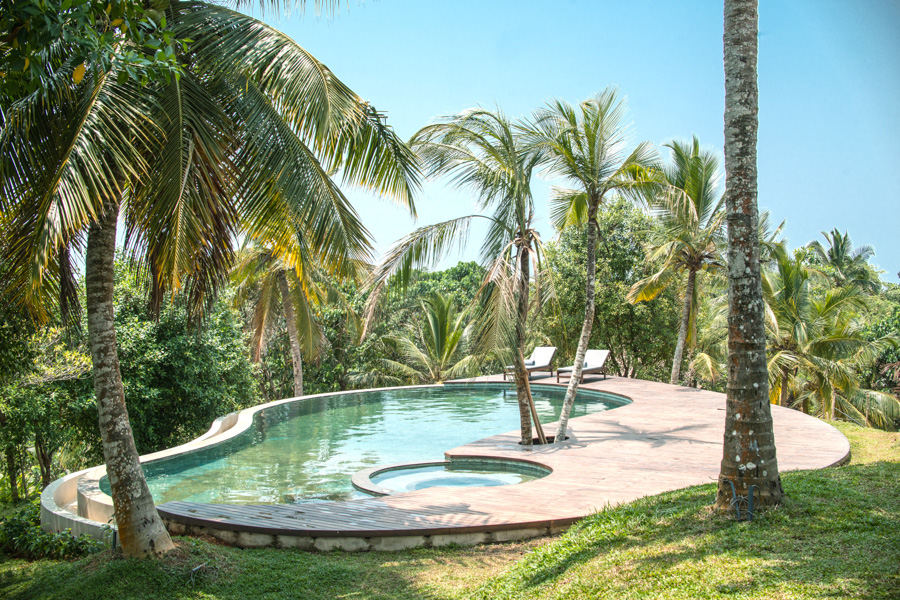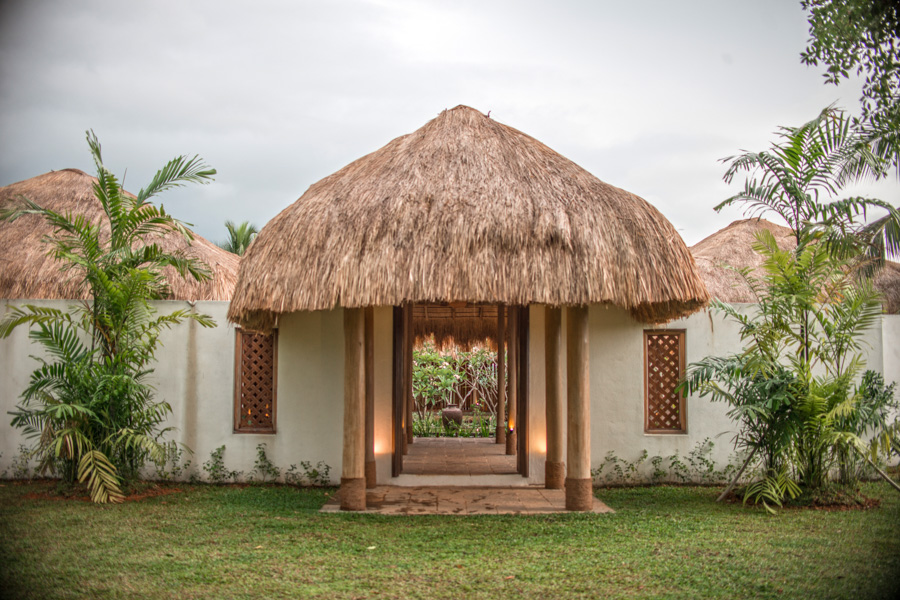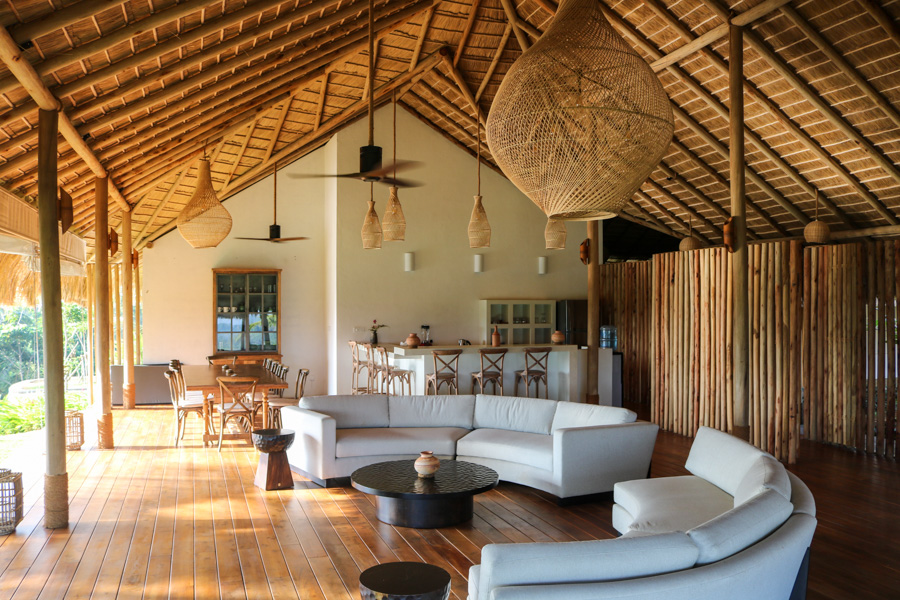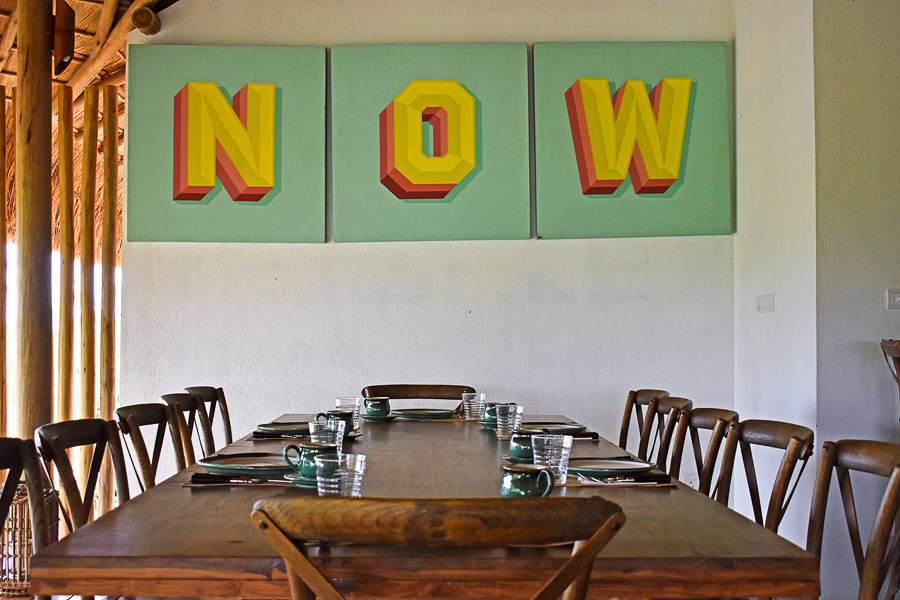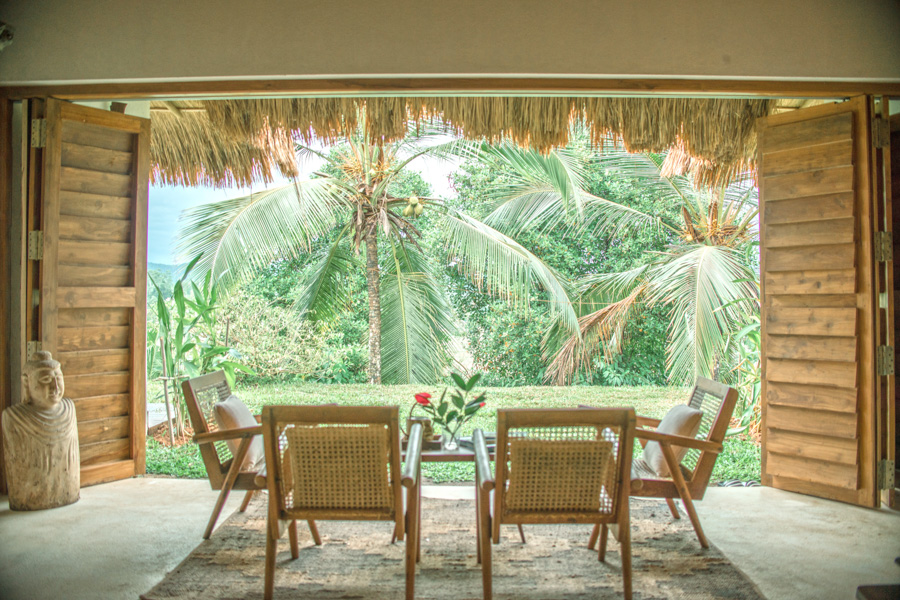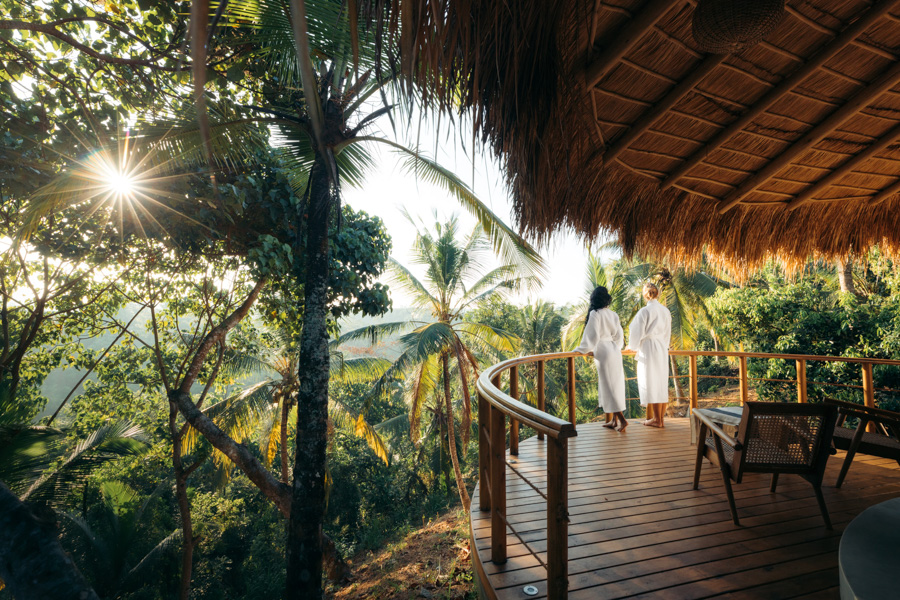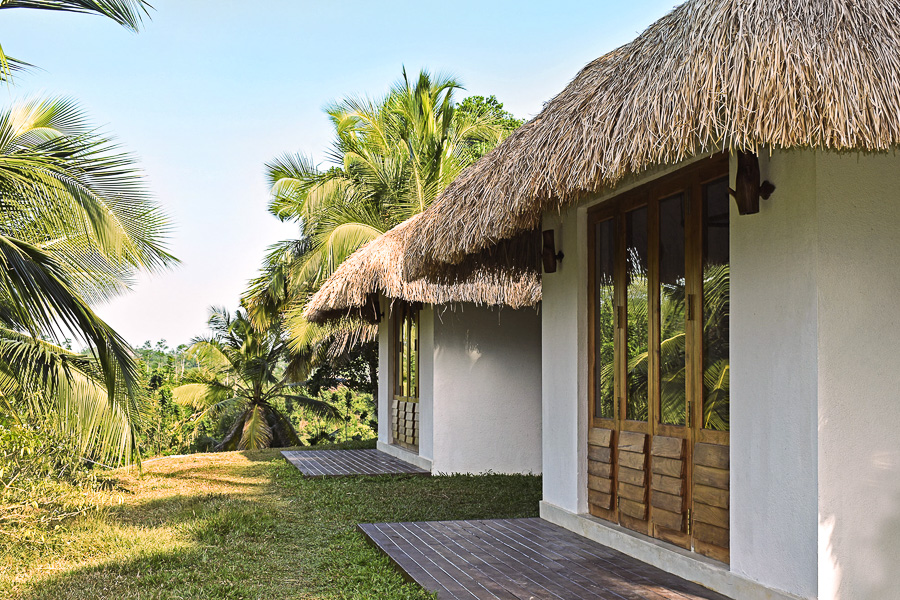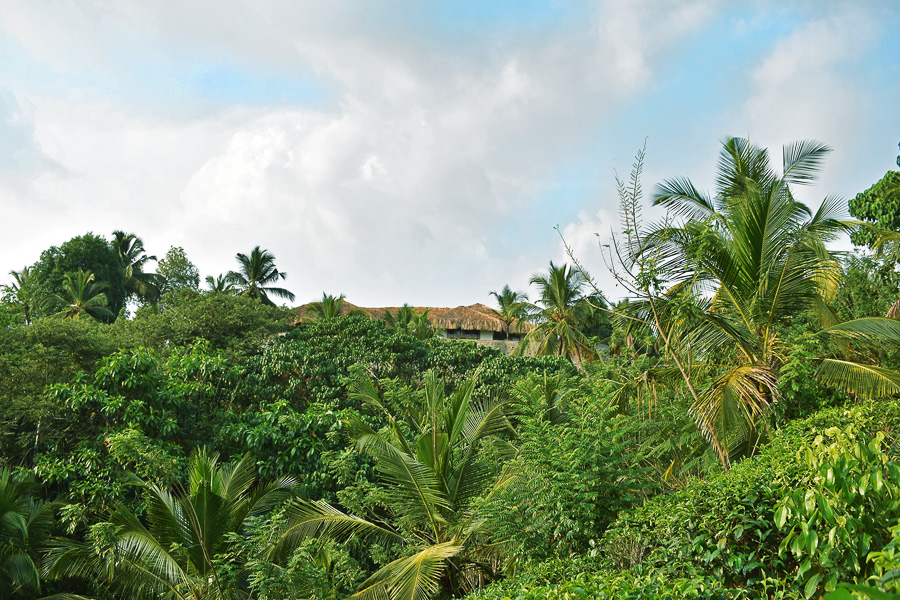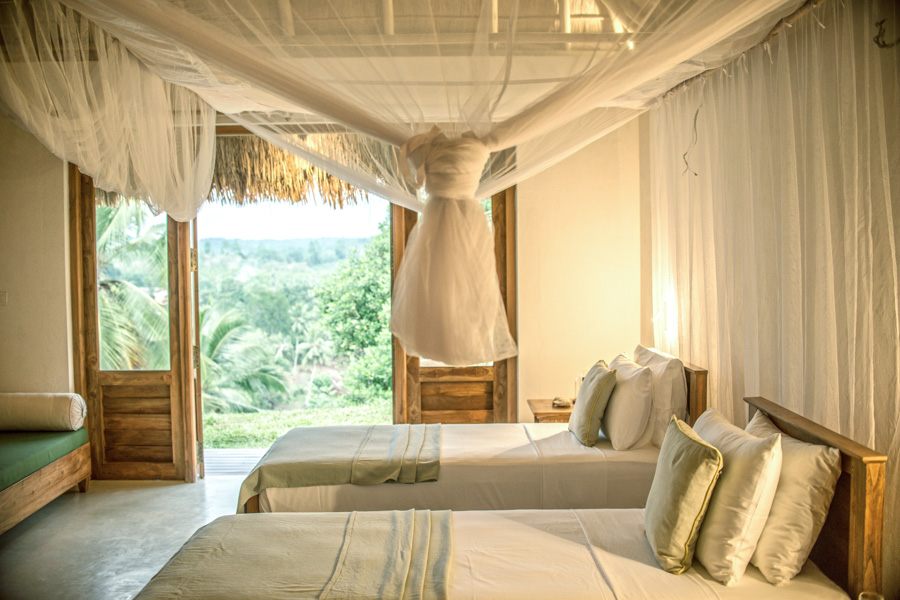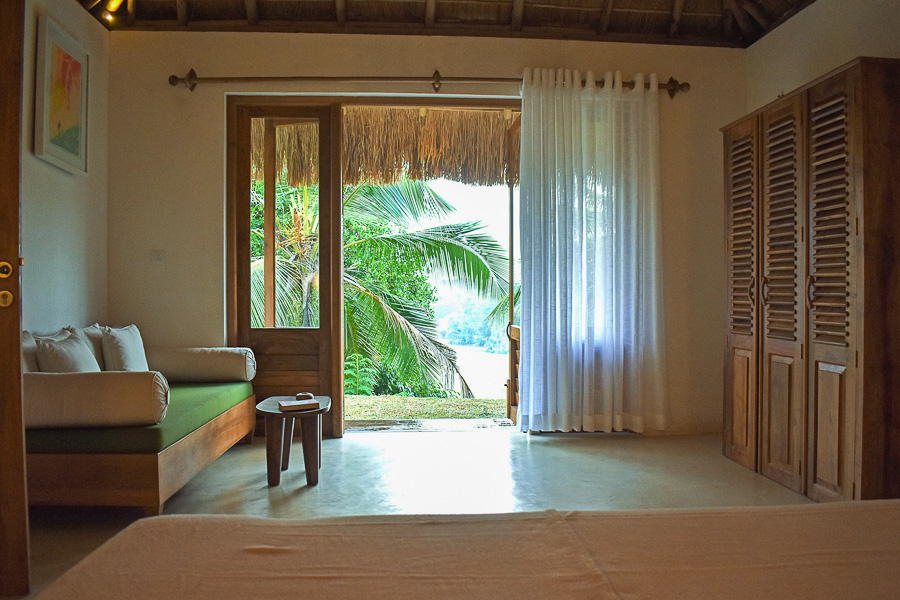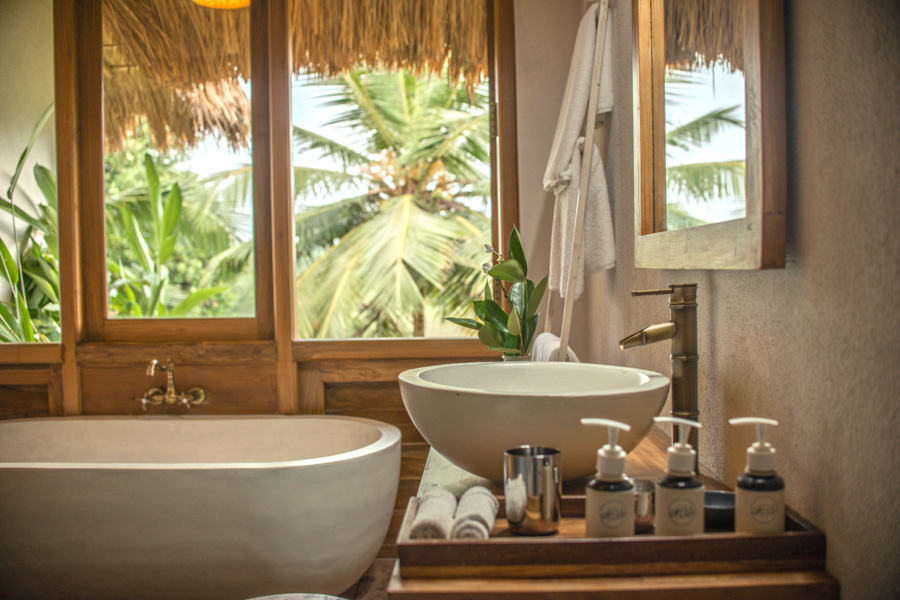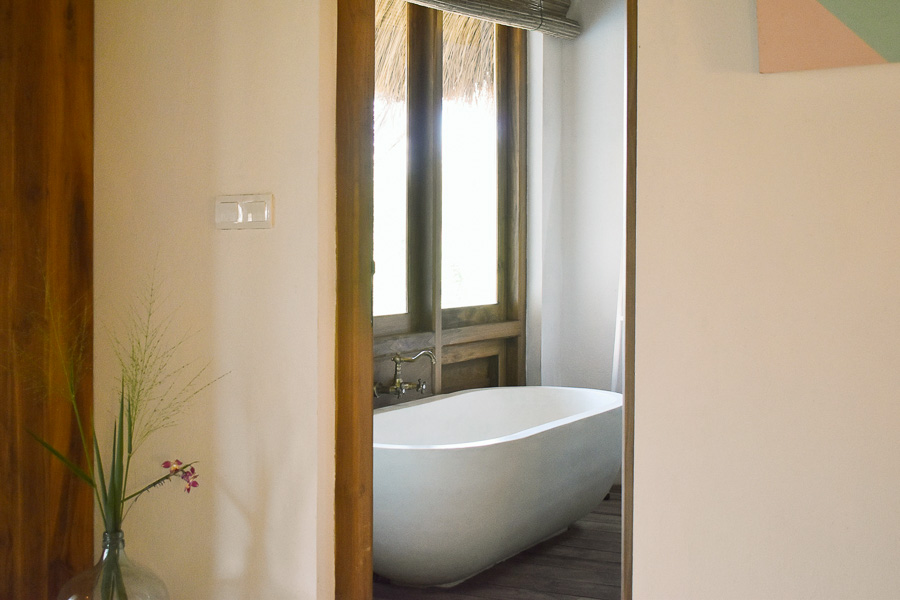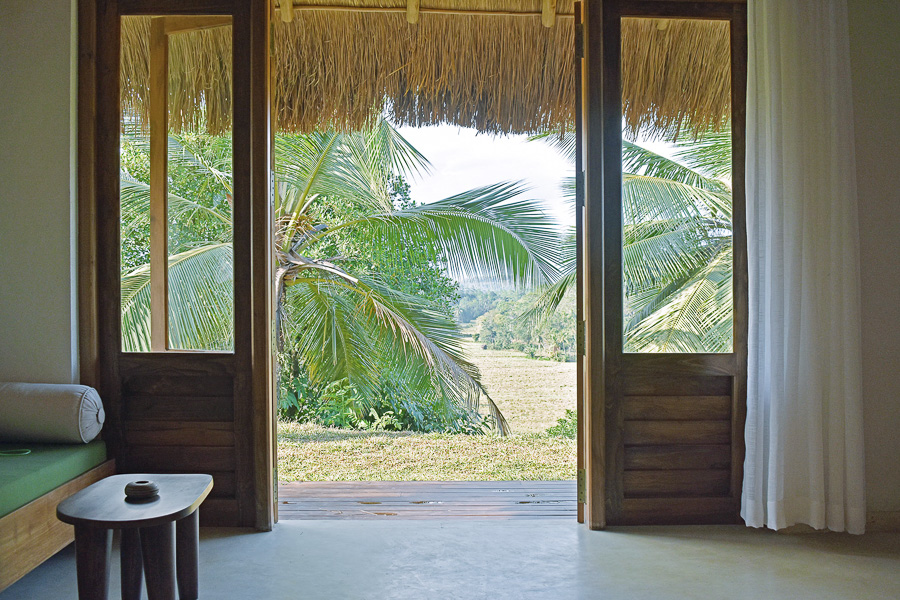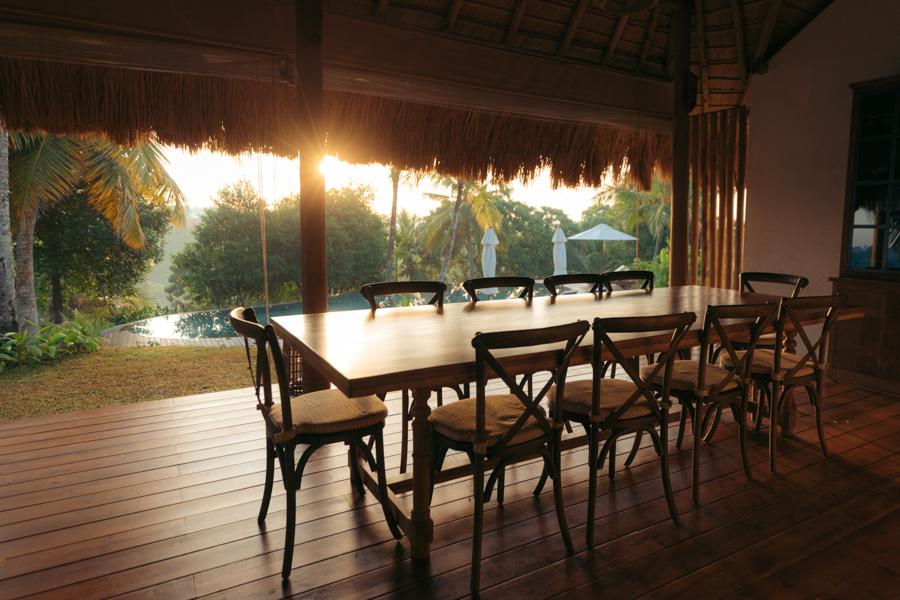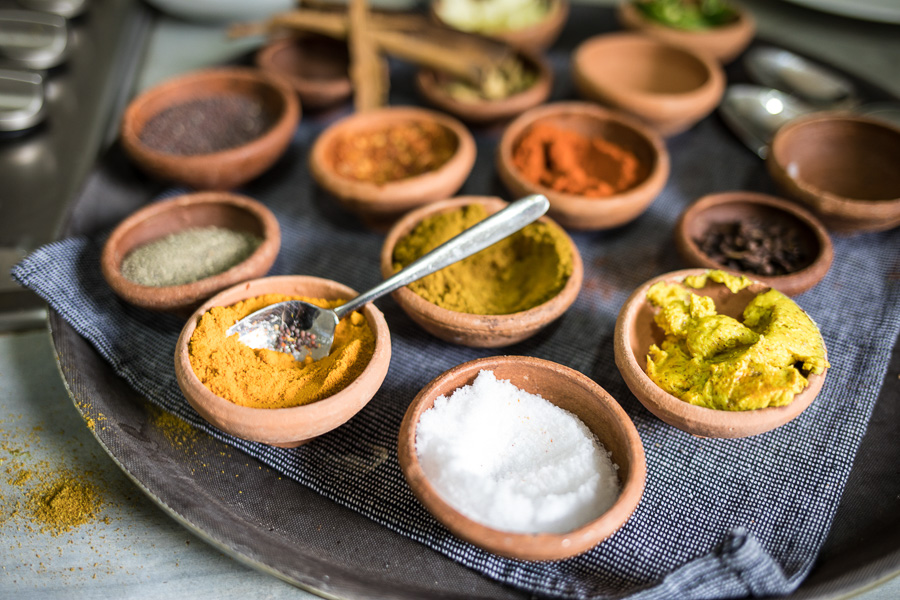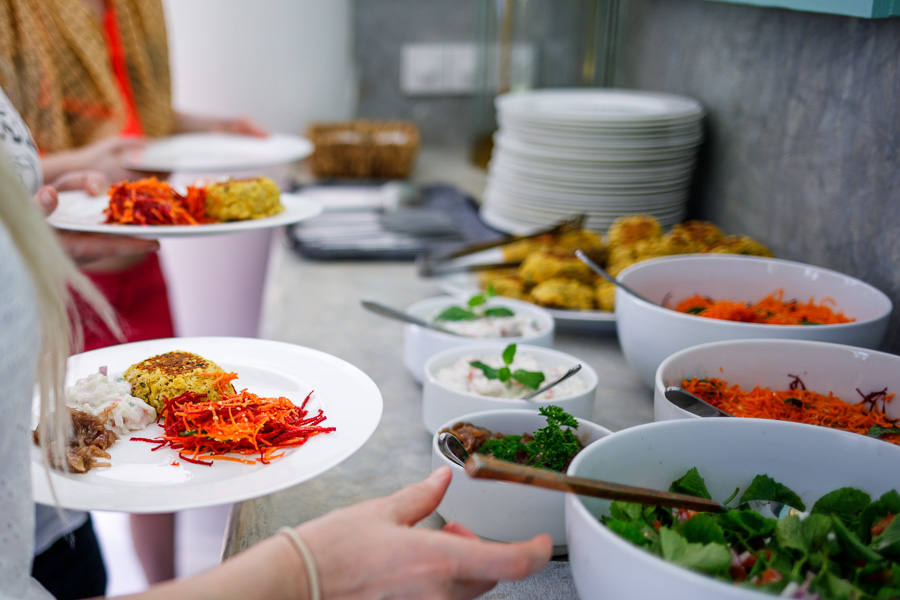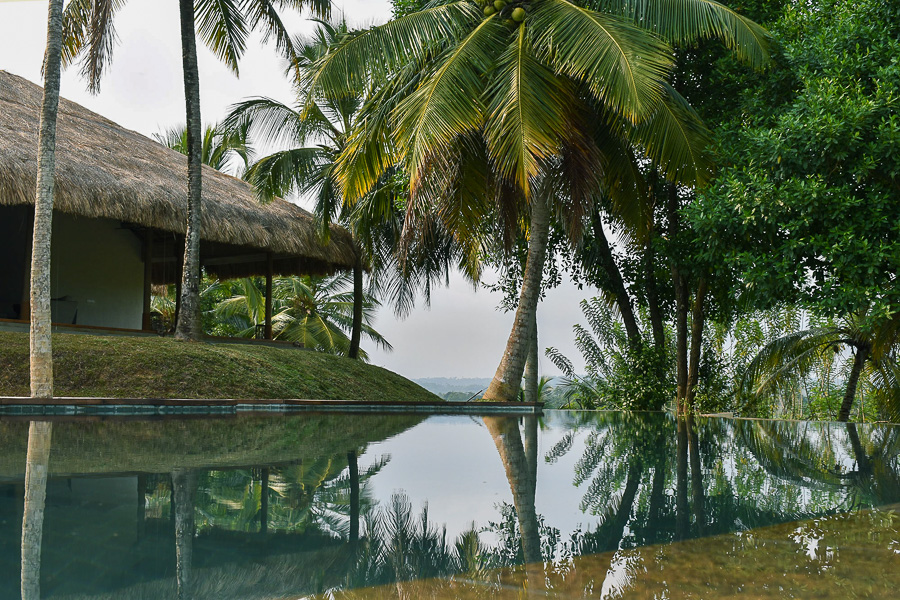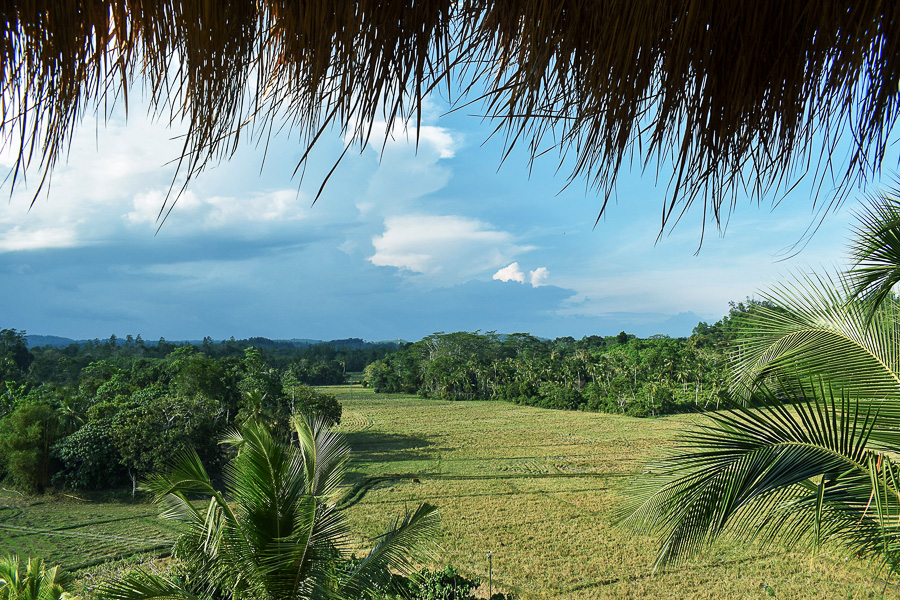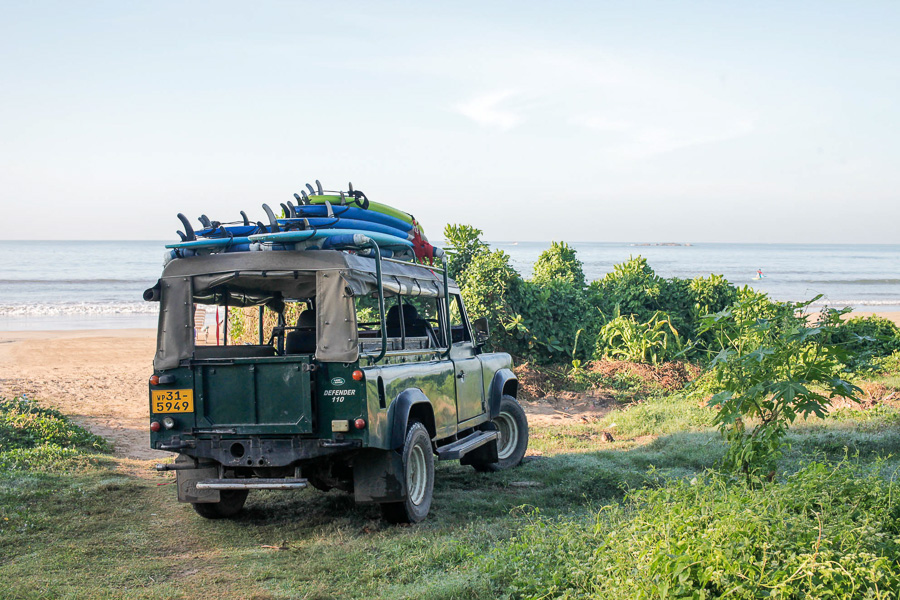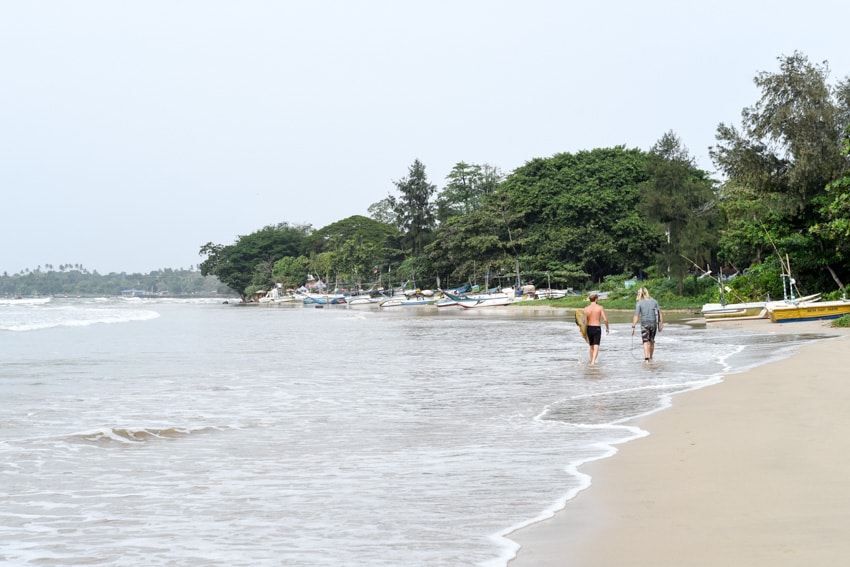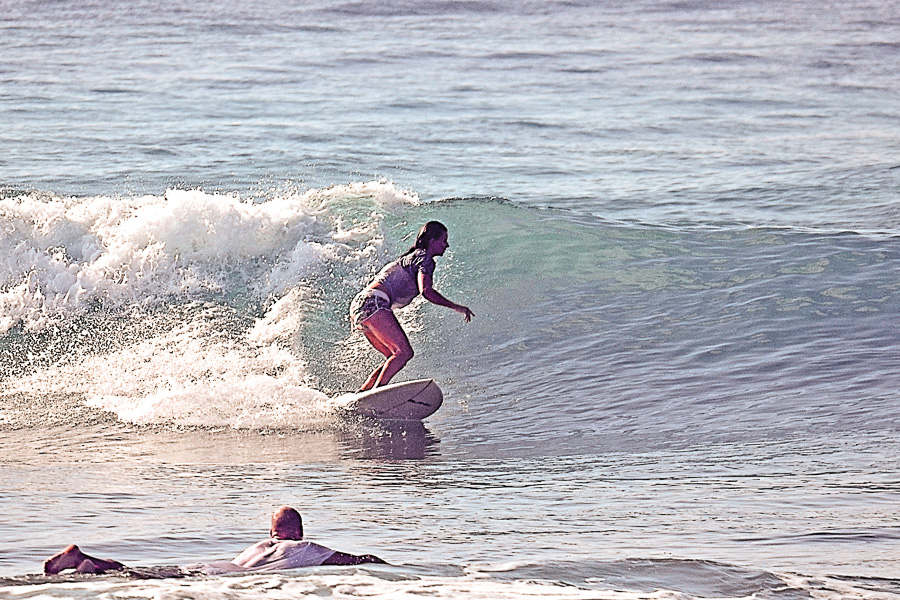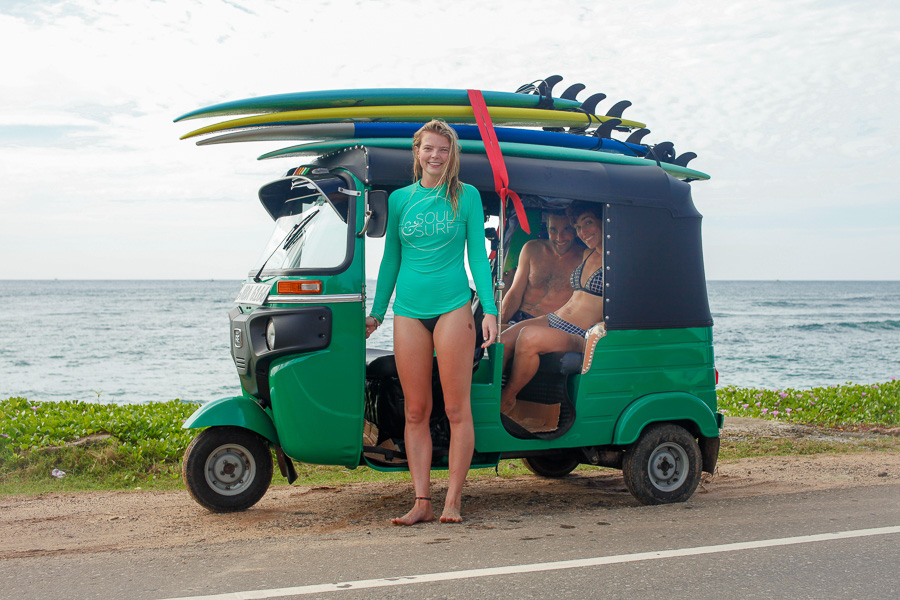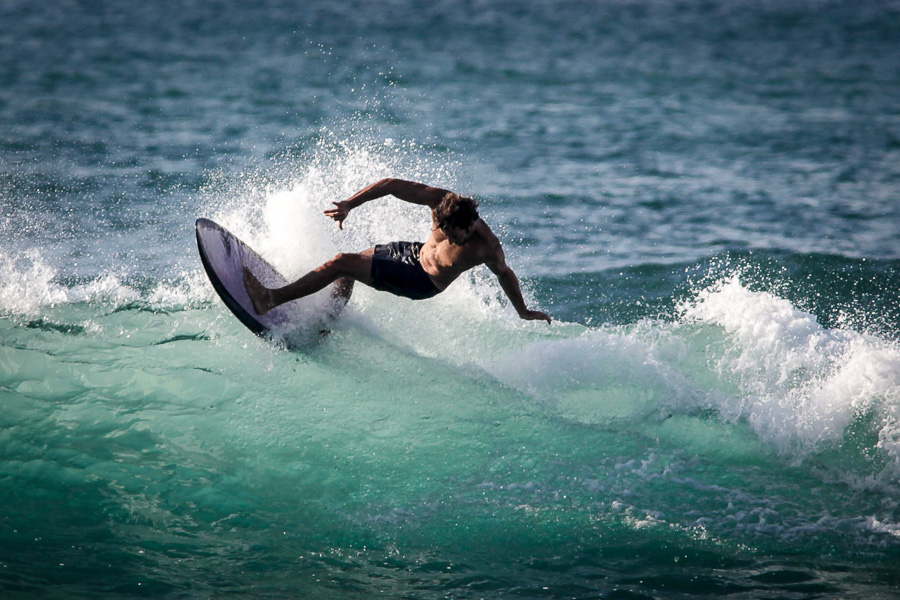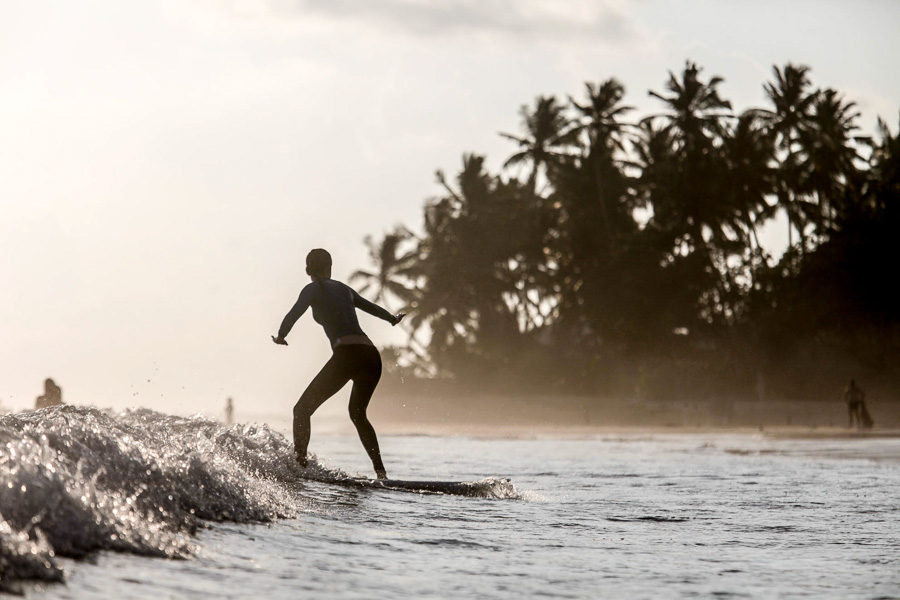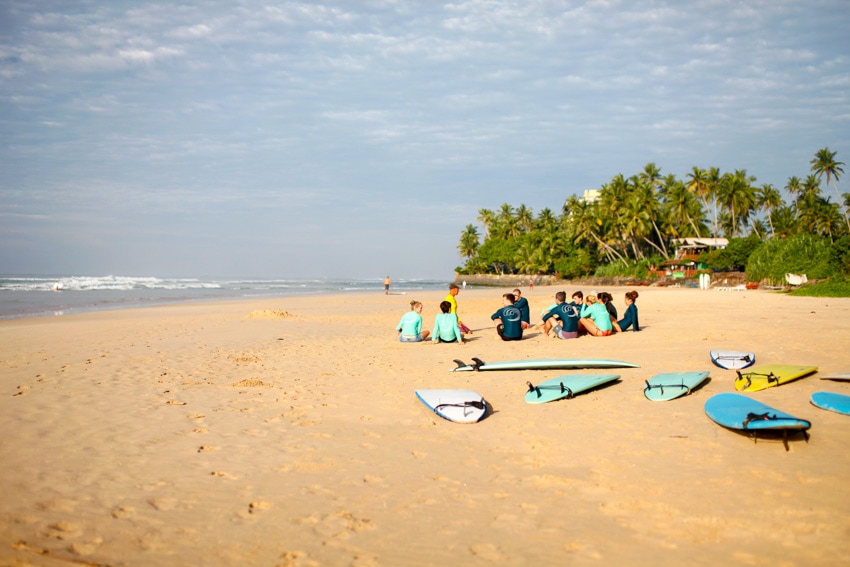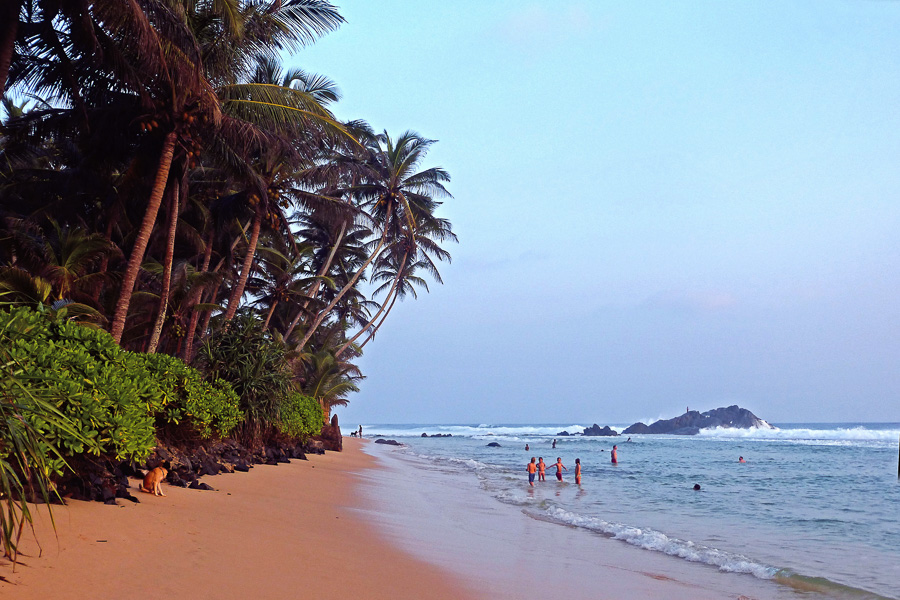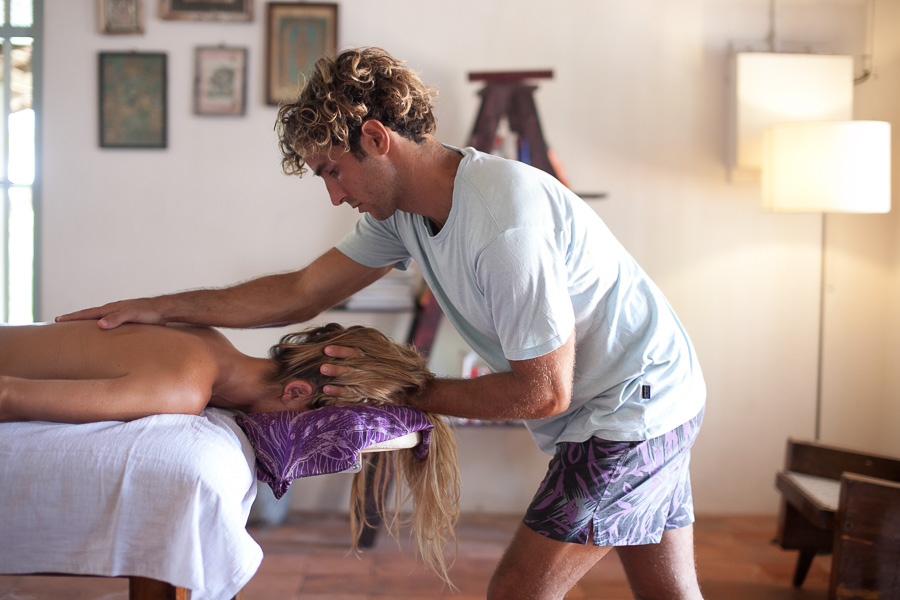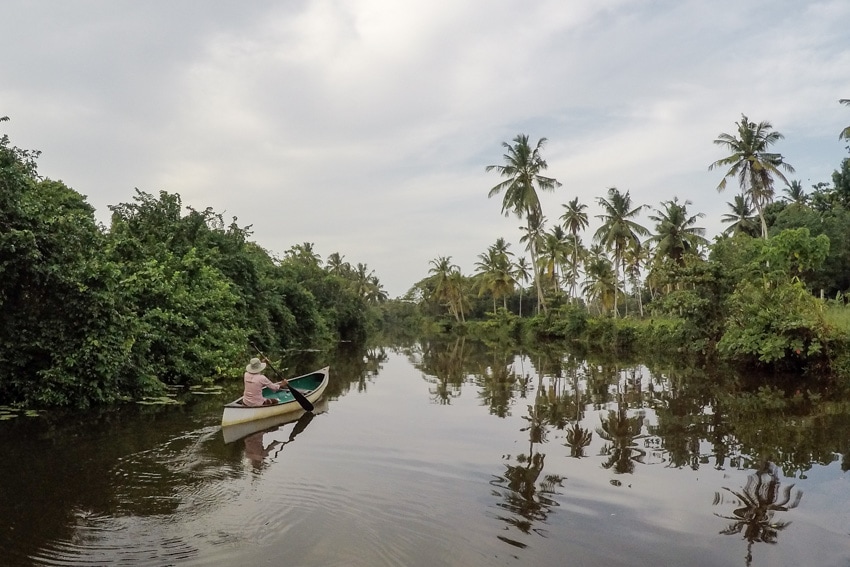 soul-and-surf-sri-lanka-131
soul-and-surf-sri-lanka-160
soul-and-surf-sri-lanka-167
soul-and-surf-sri-lanka-165
soul-and-surf-sri-lanka-164
soul-and-surf-sri-lanka-166
soul-and-surf-sri-lanka-134
soul-and-surf-sri-lanka-162
soul-and-surf-sri-lanka-168
soul-and-surf-sri-lanka-138
soul-and-surf-sri-lanka-137
soul-and-surf-sri-lanka-163
soul-and-surf-sri-lanka-141
soul-and-surf-sri-lanka-161
soul-and-surf-sri-lanka-145
soul-and-surf-sri-lanka-147
soul-and-surf-sri-lanka-169
soul-and-surf-sri-lanka-149
soul-and-surf-sri-lanka-150
soul-and-surf-sri-lanka-136
soul-and-surf-sri-lanka-148
soul-and-surf-sri-lanka-153
soul-and-surf-sri-lanka-126
soul-and-surf-sri-lanka-154
soul-and-surf-sri-lanka-155
soul-and-surf-sri-lanka-156
soul-and-surf-sri-lanka-157
soul-and-surf-sri-lanka-128
soul-and-surf-sri-lanka-152
soul-and-surf-sri-lanka-151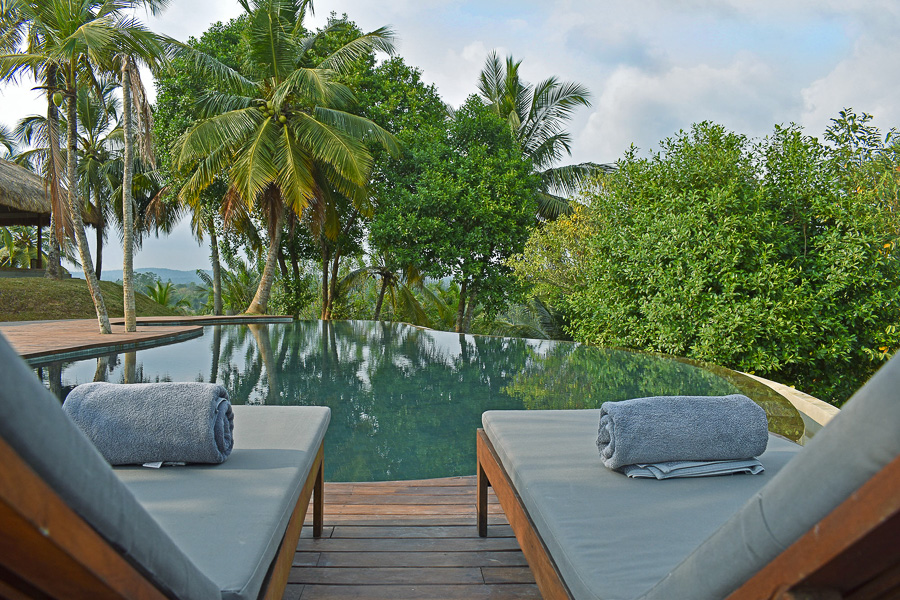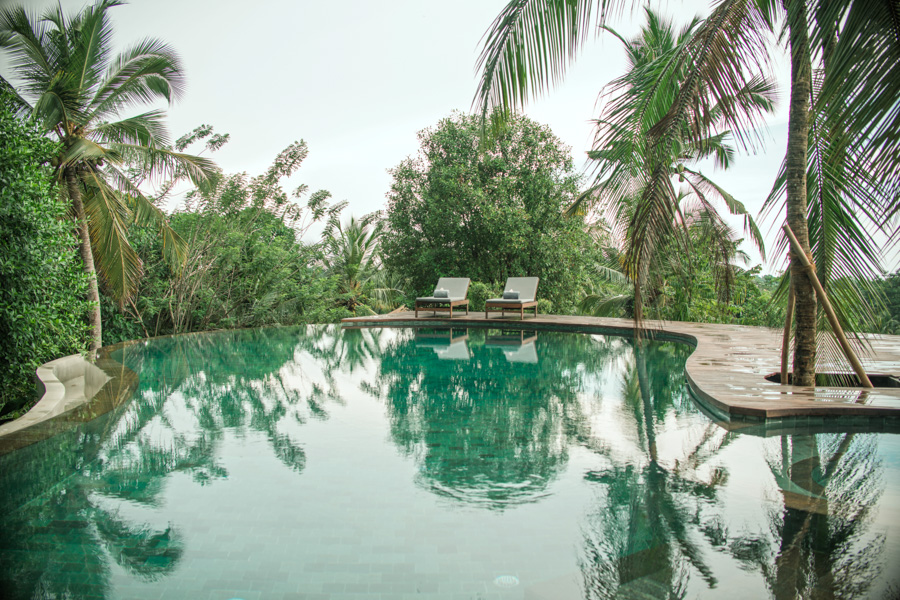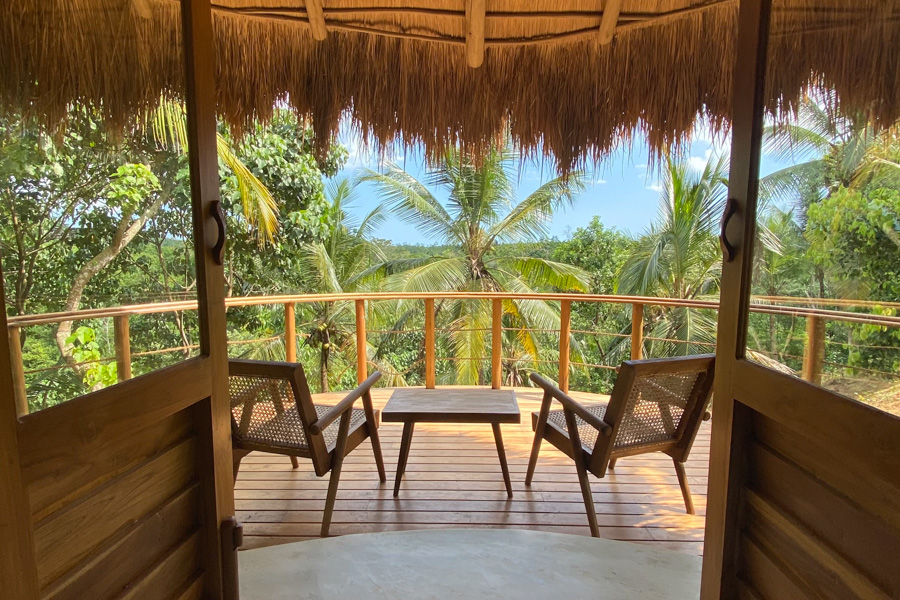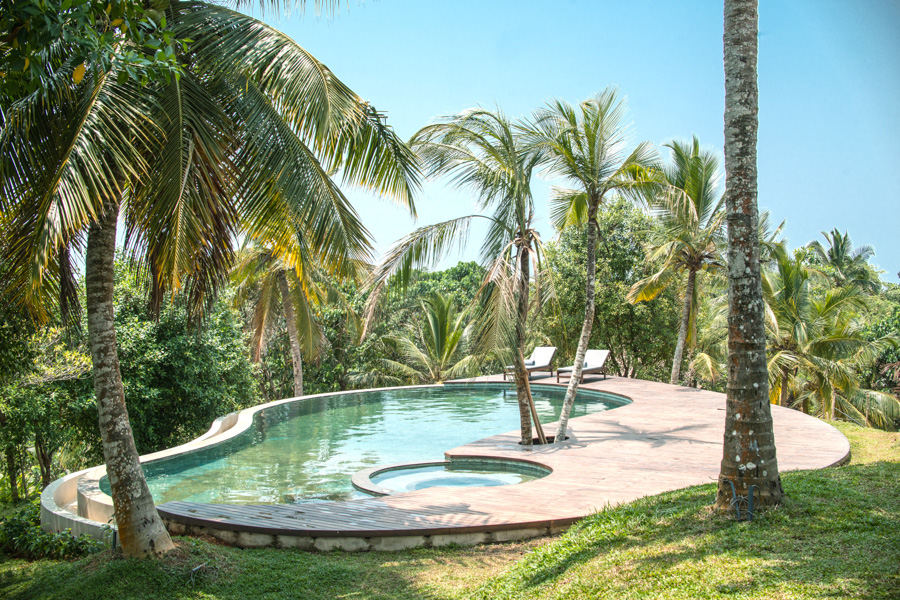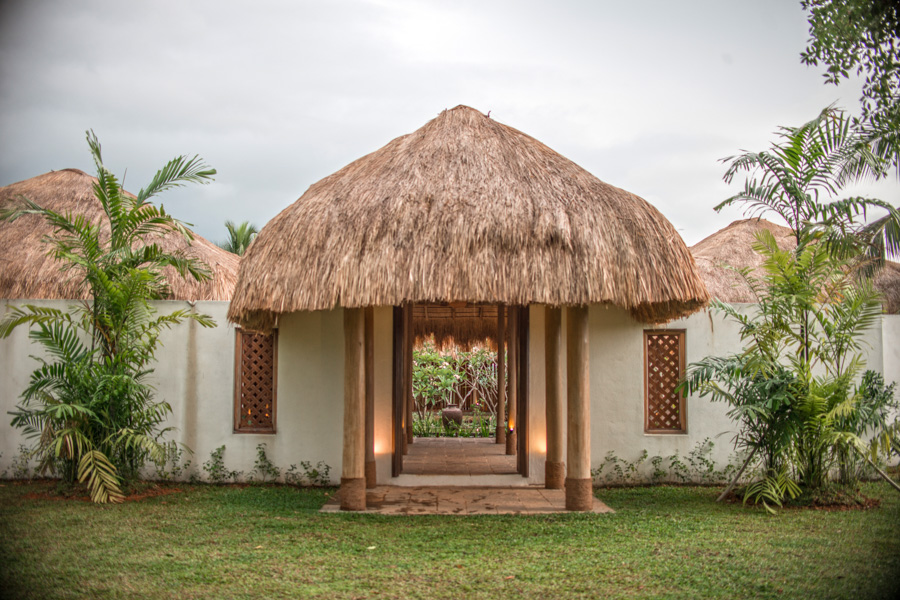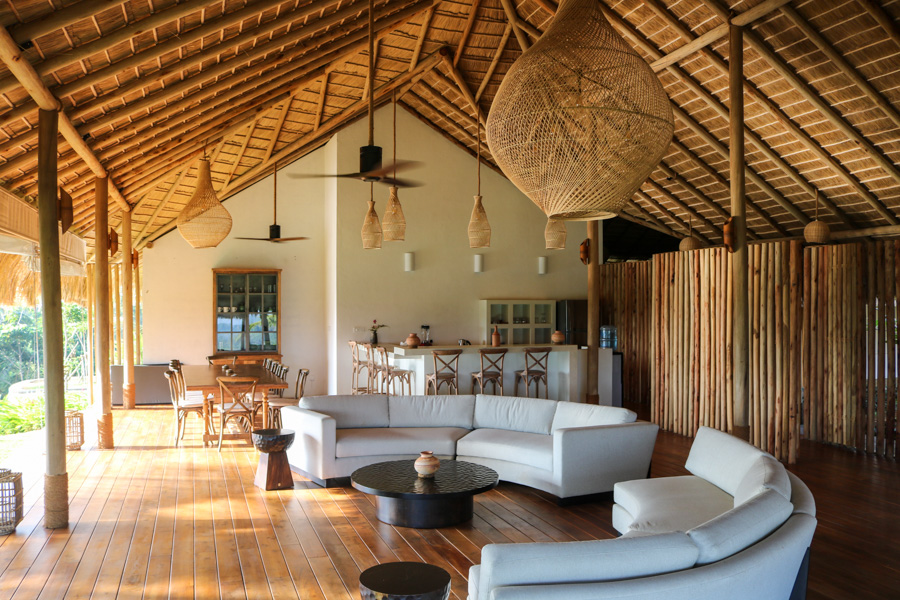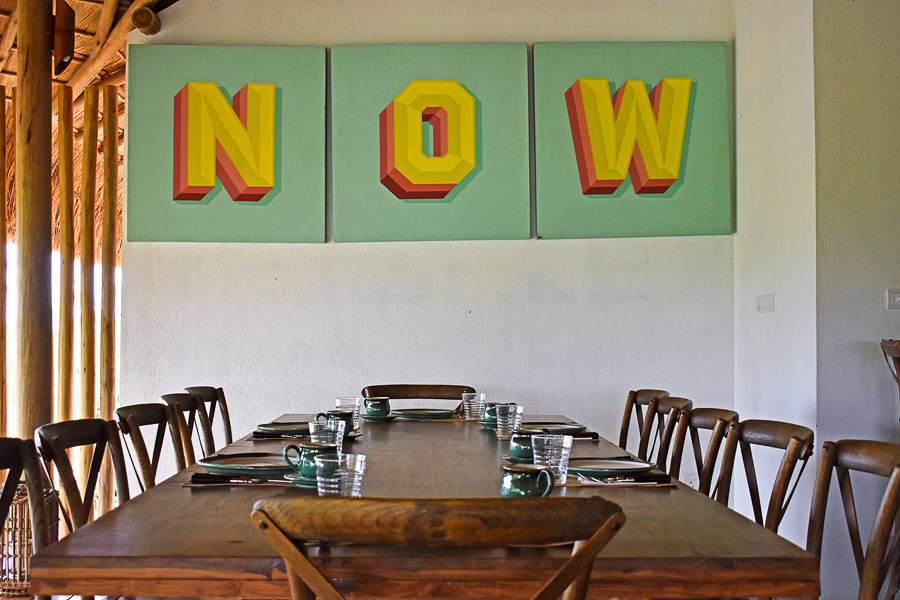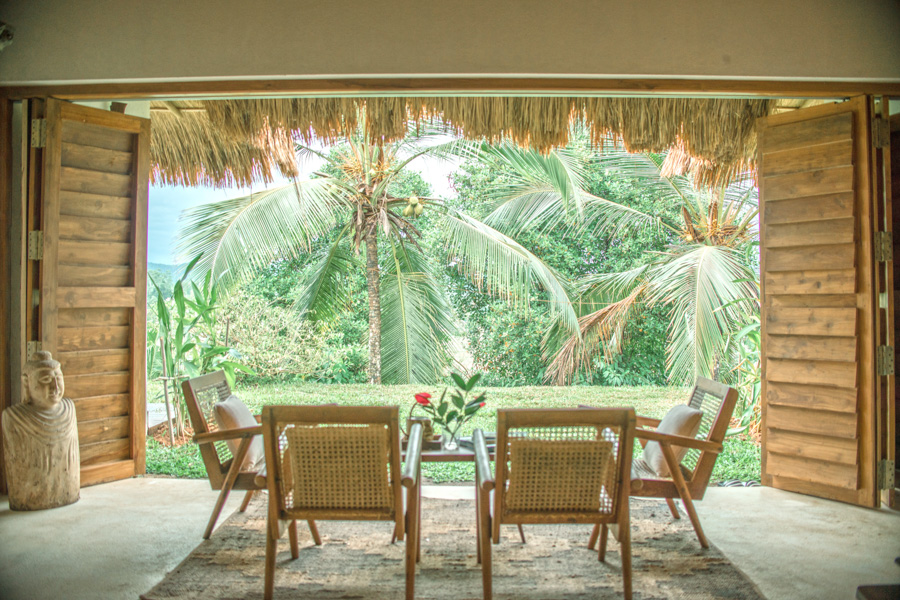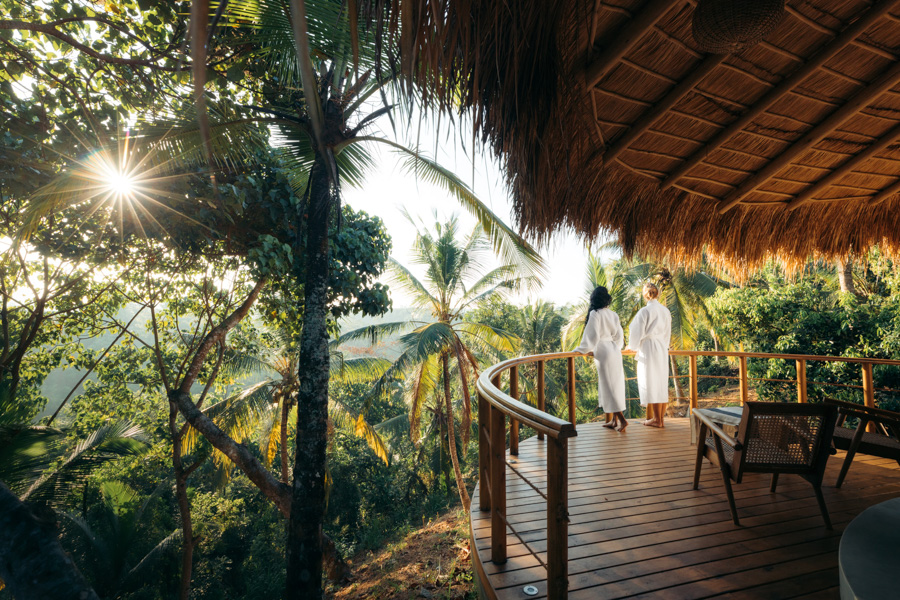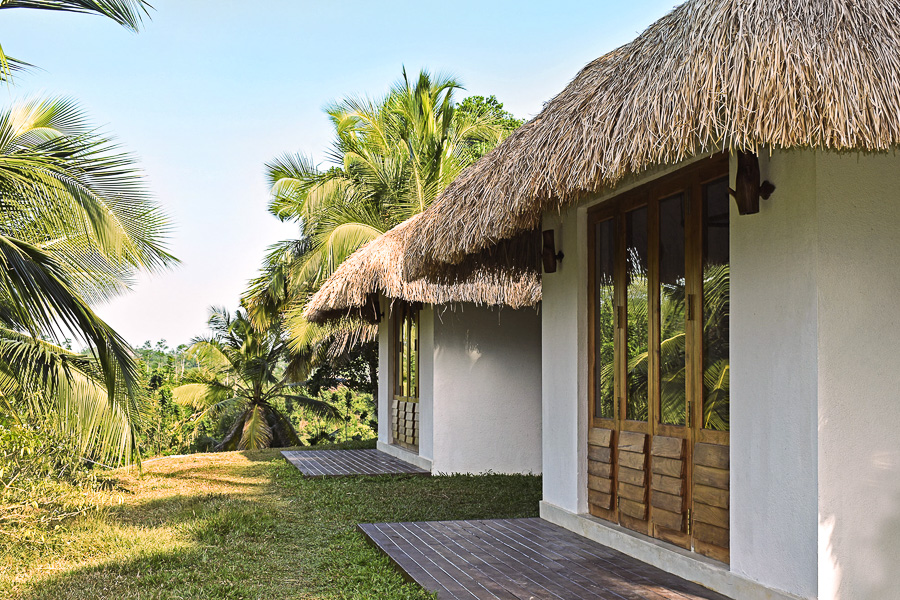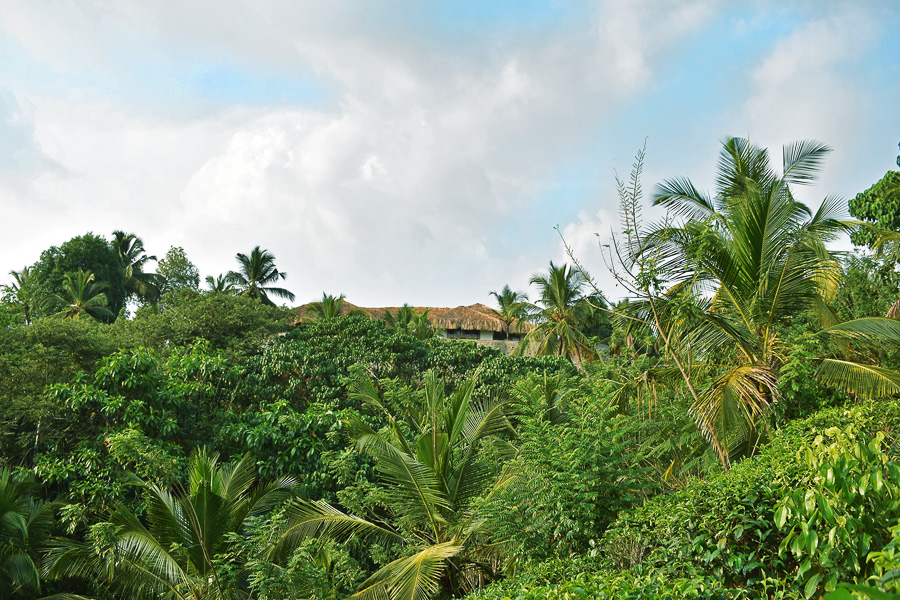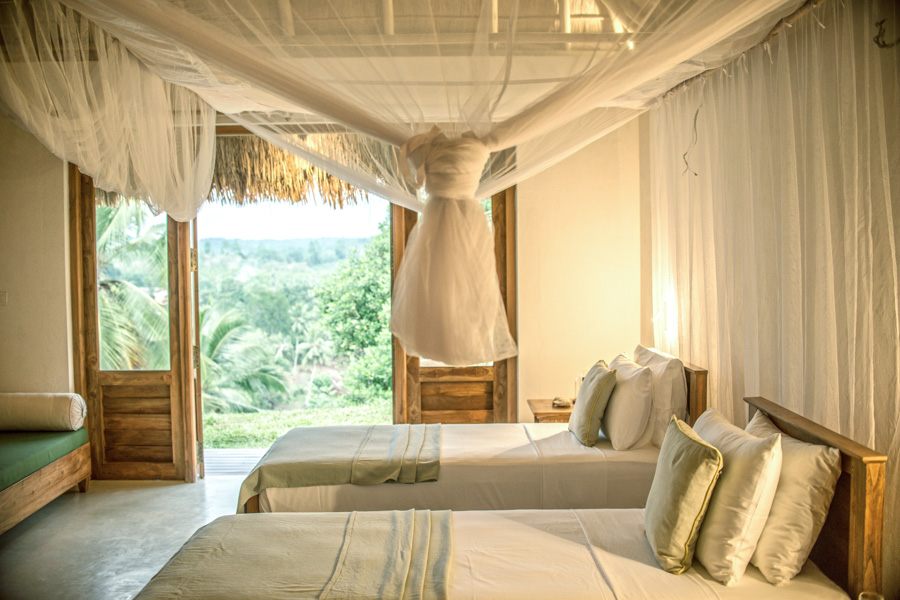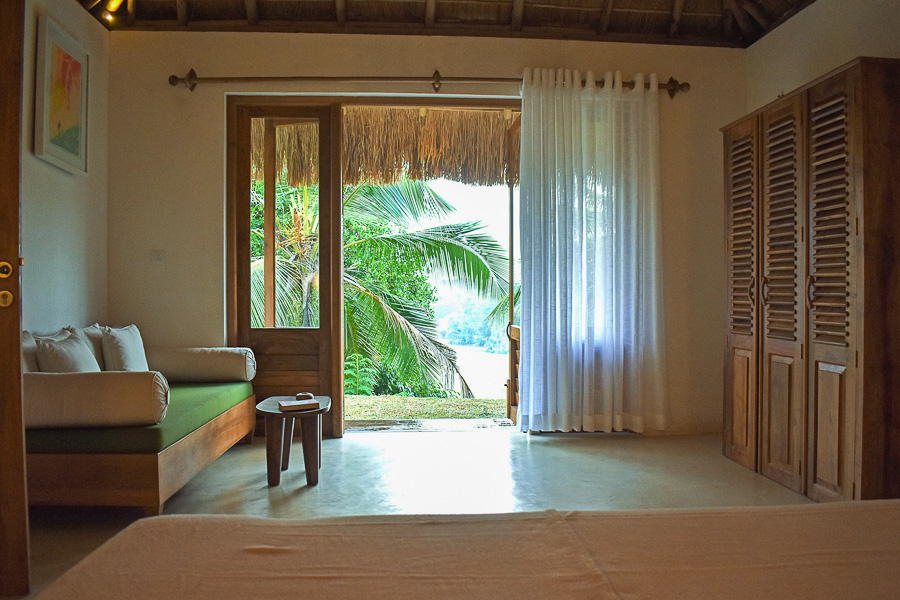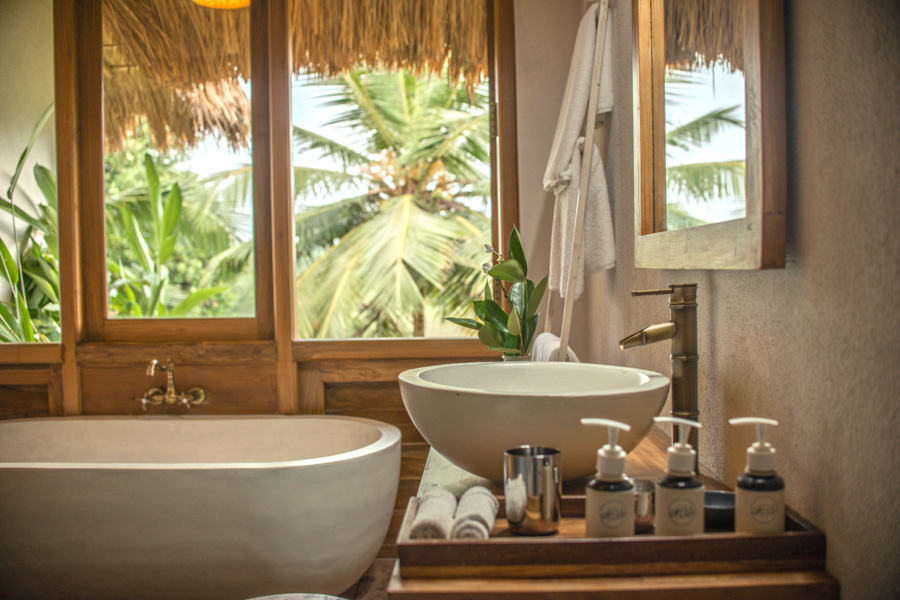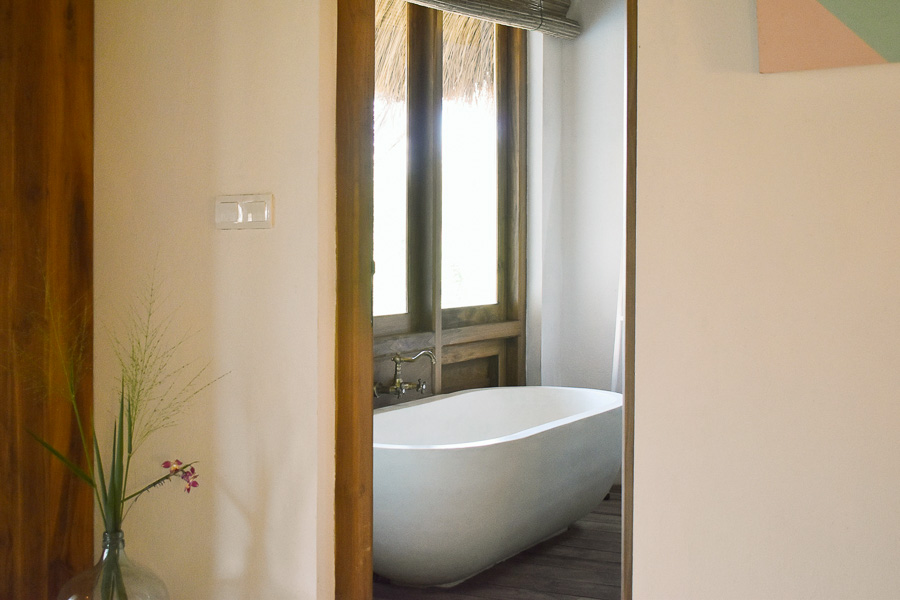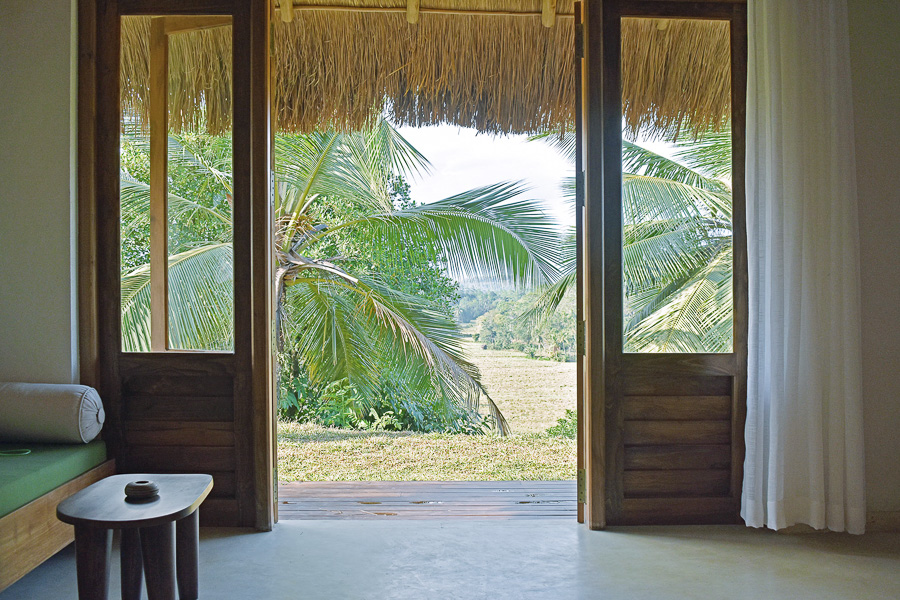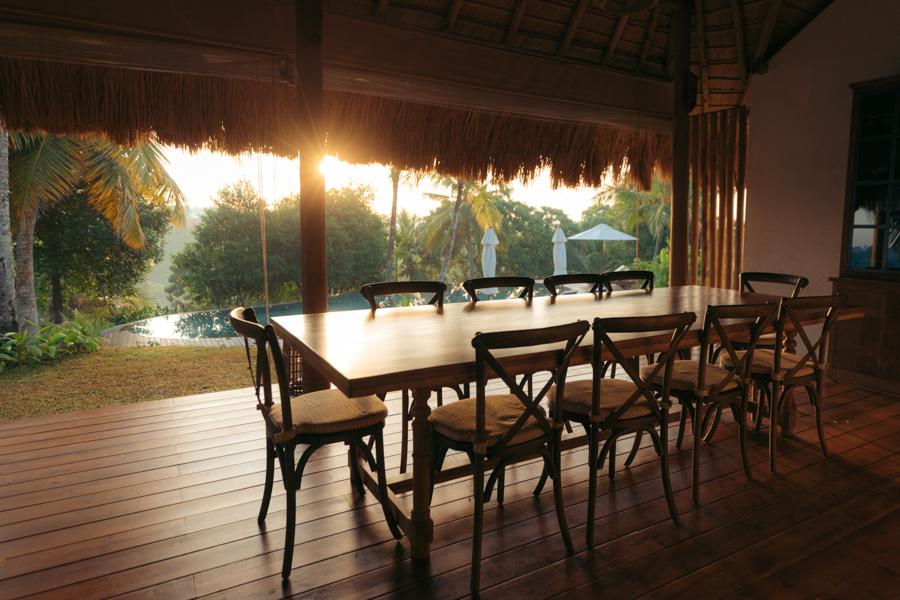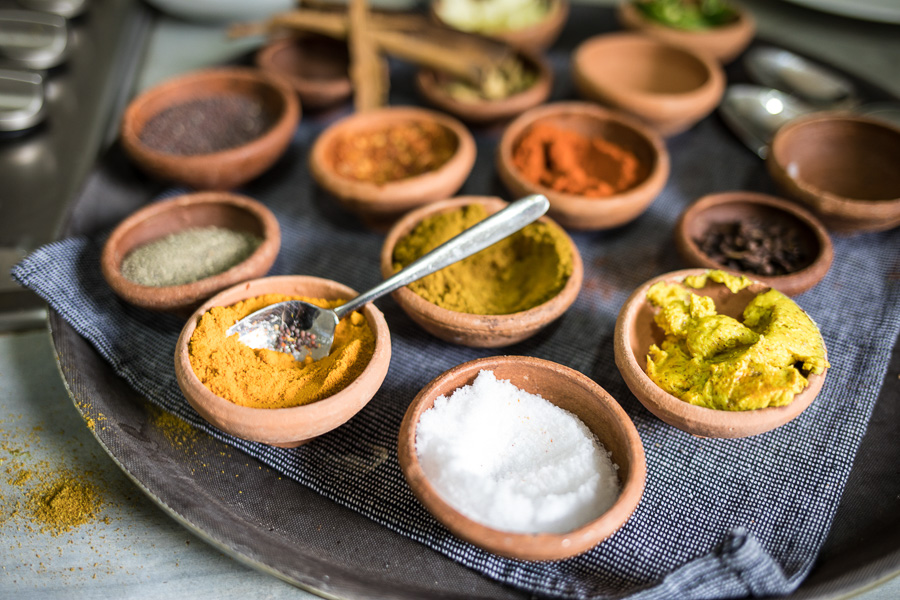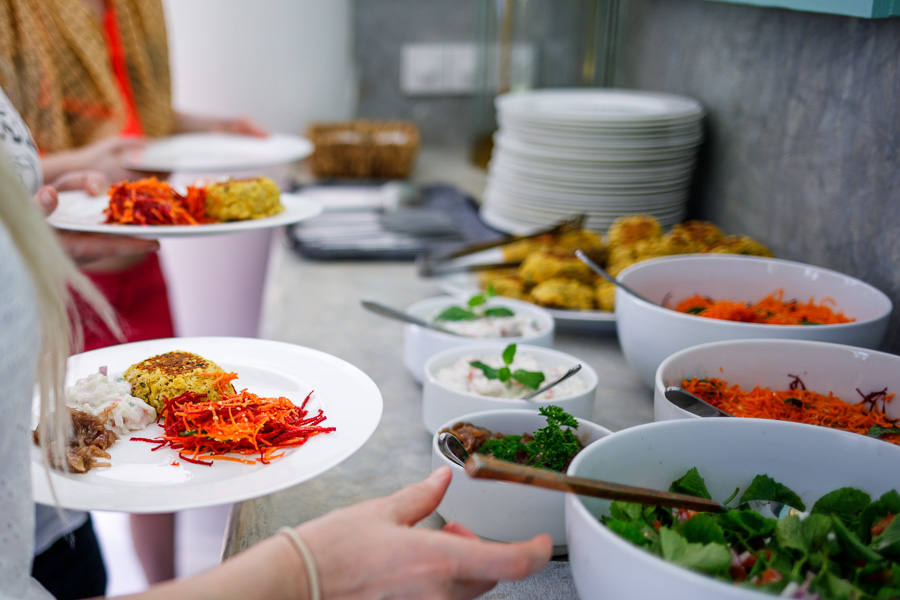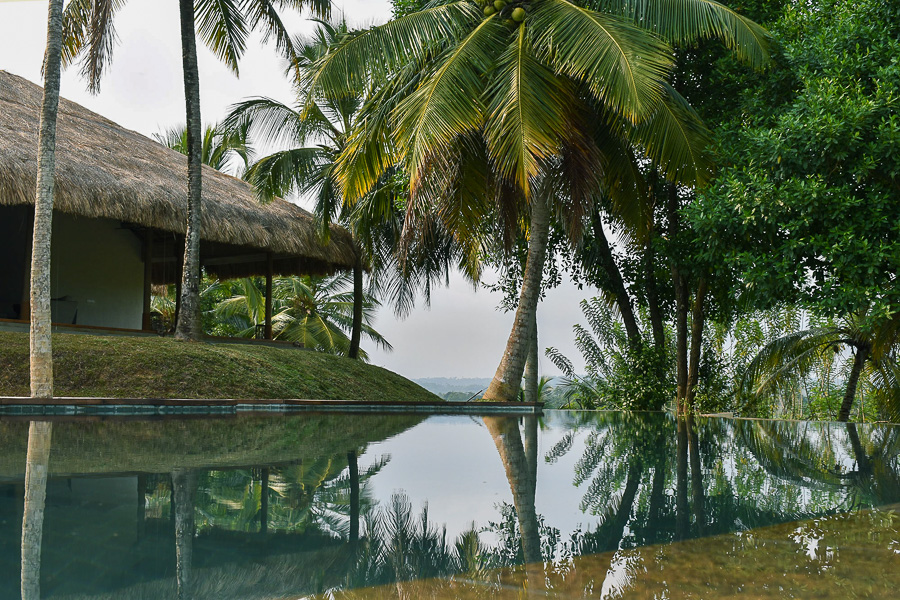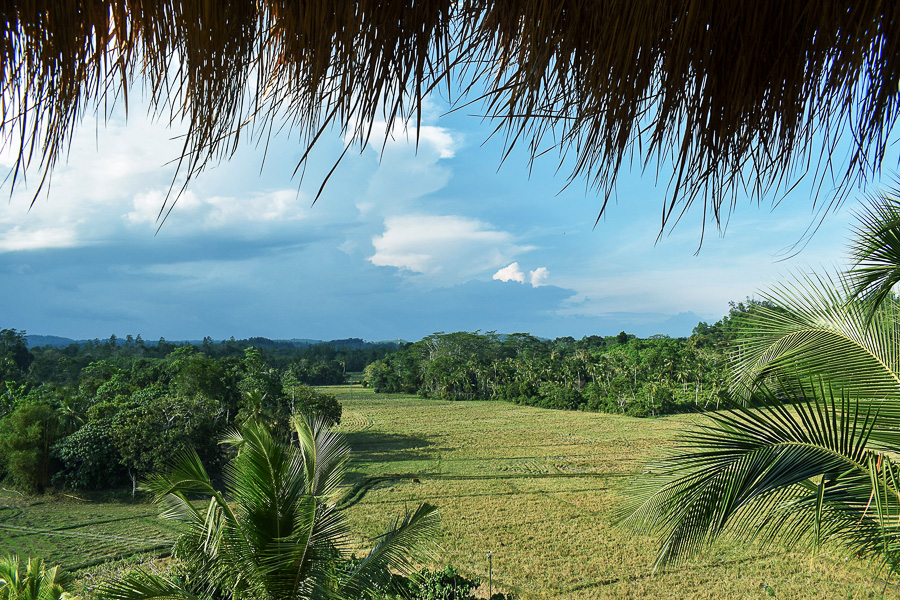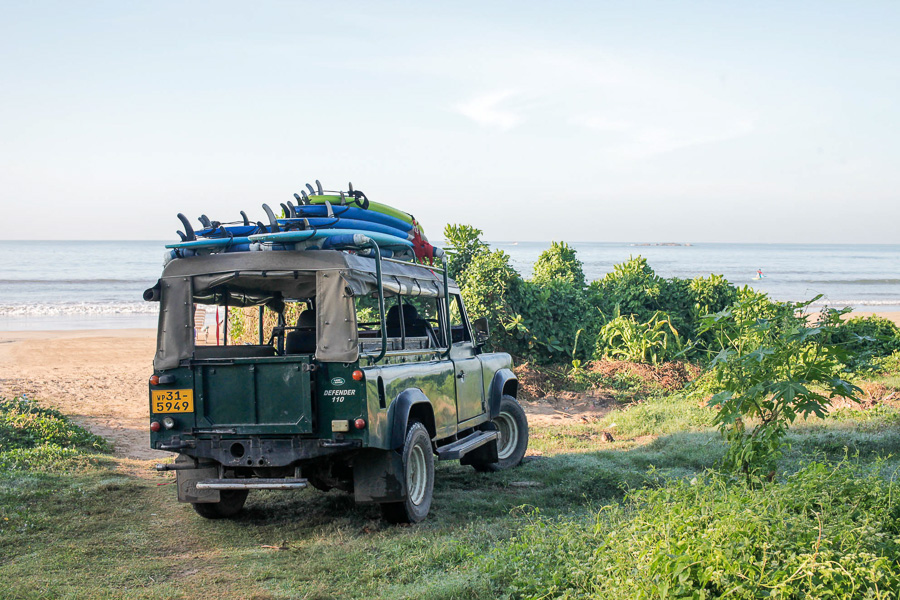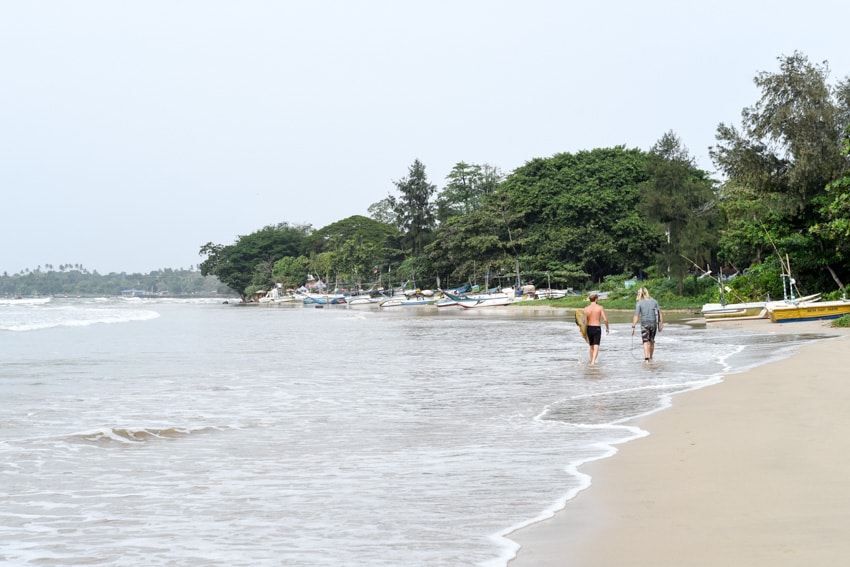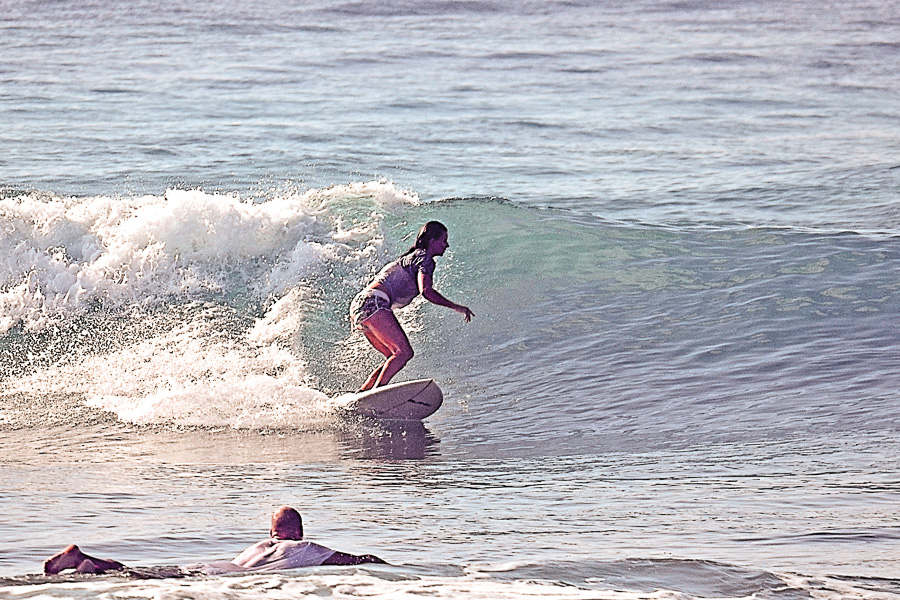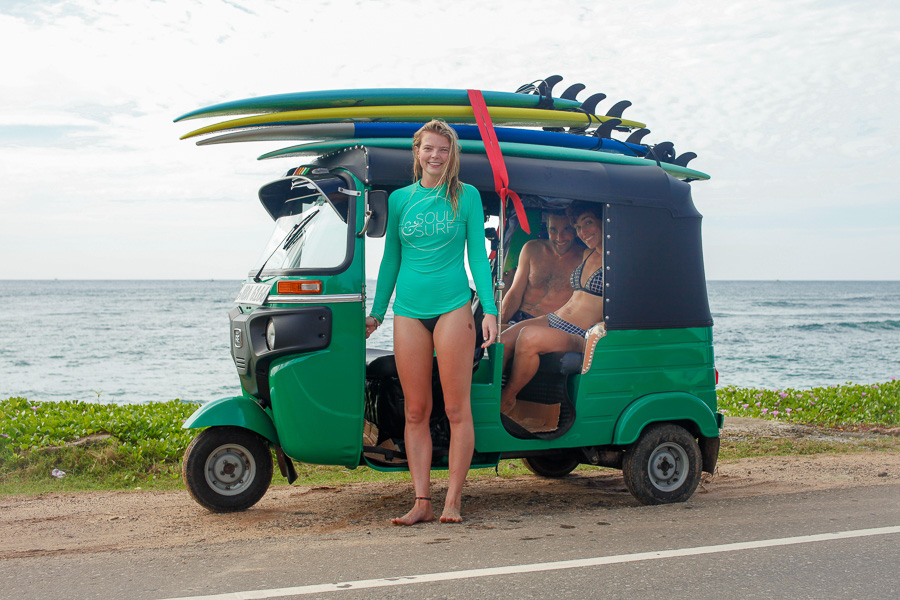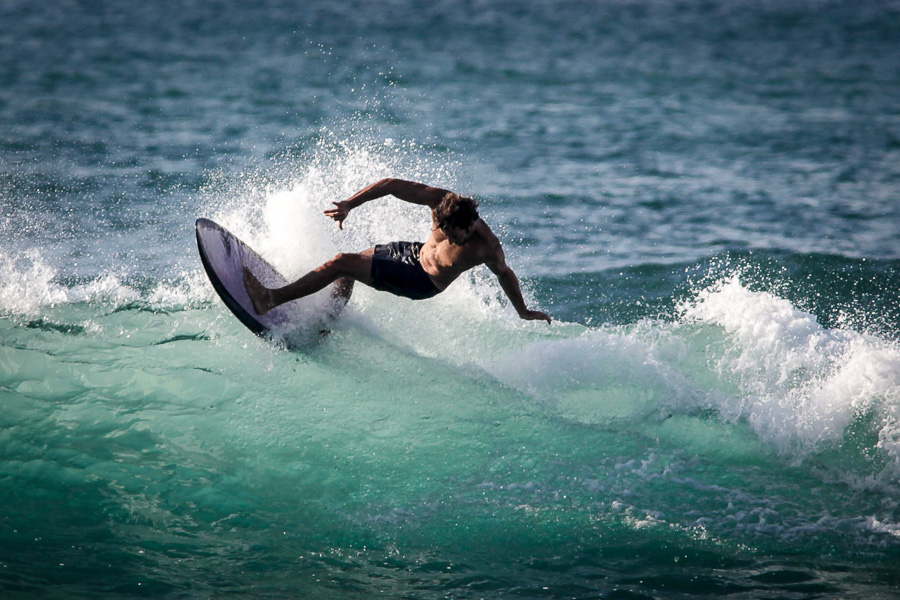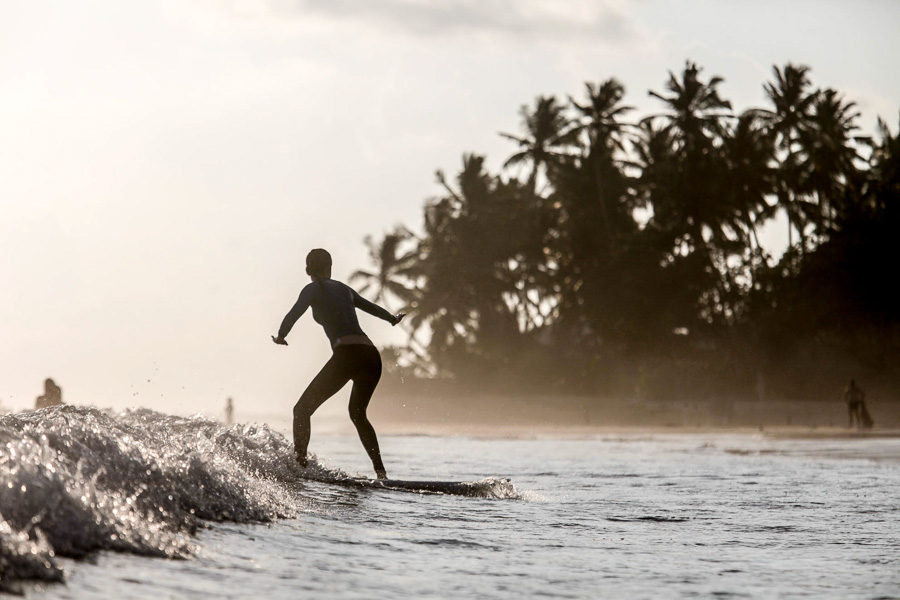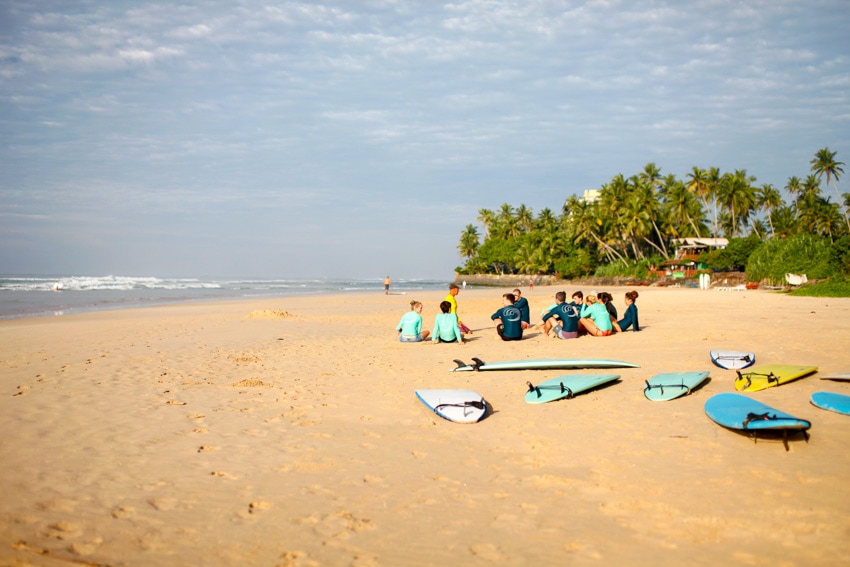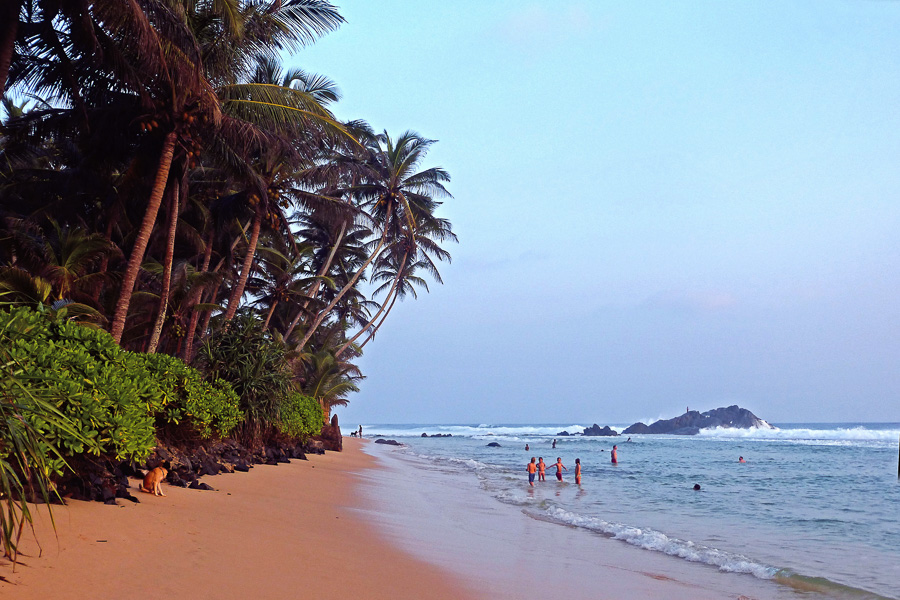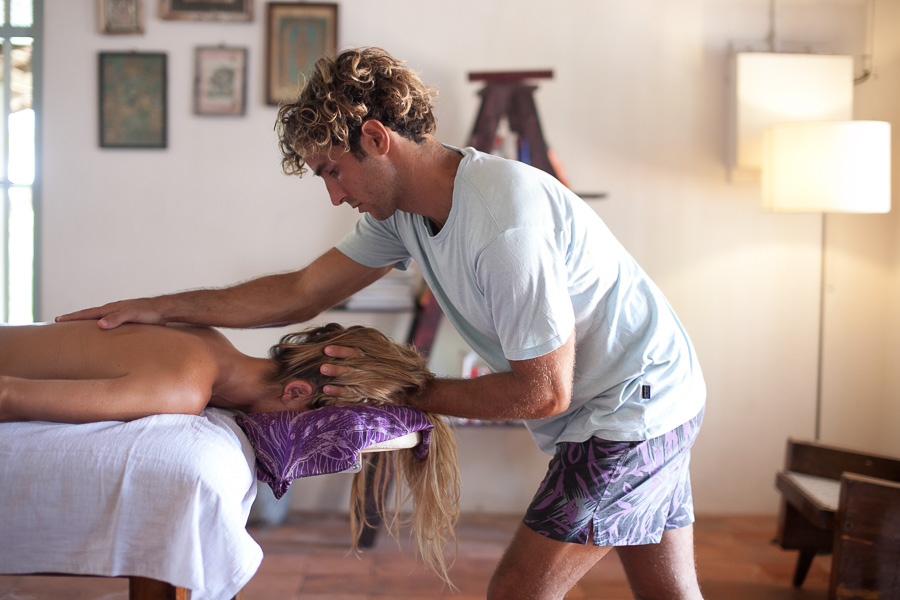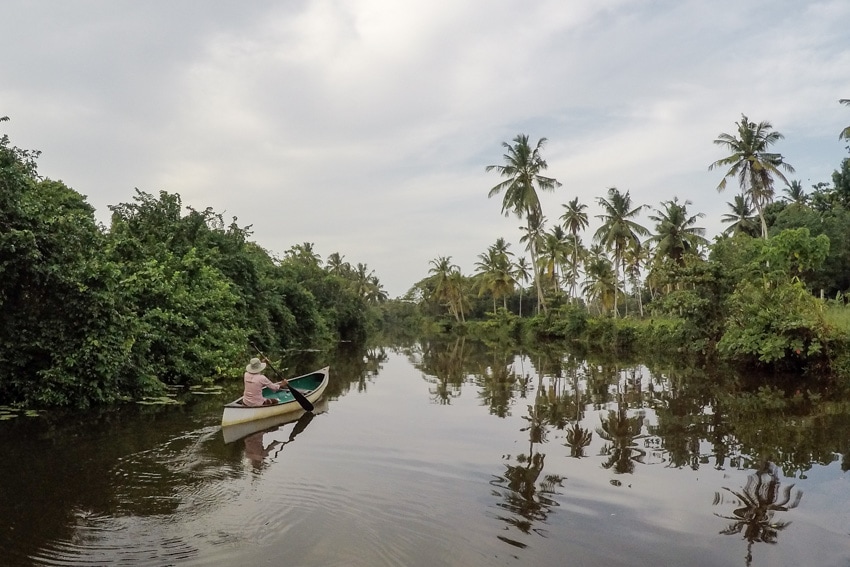 All-inclusive luxury surf and yoga retreats for all levels at a modern tropical locale in Sri Lanka.
Set amid a lush tropical jungle on the southwest coast of Sri Lanka, Soul & Surf's 7-day surf and yoga retreats check all the boxes and then some. Tropical paradise, check. Fun warm water surf, check. Yoga classes designed specifically for surfers, check. Exotic locale, yep.
A typical day at Soul & Surf goes something like this: yoga, surf, eat, chill, repeat… Start your morning with a vinyasa yoga class overlooking the lush jungle, followed by caffeine and pre-surf snacks, then a surf, followed by a delicious big communal breakfast, chill time around the pool, delicious lunch, more chill time, sunset surf session, and delicious dinner. Not to mention the non-stop flow of good company and awesome vibes.
If it sounds like surf yoga heaven that's because it is. Everything is taken care of so you can be free to truly kickback and just revel in the awesomeness.
The property and lodge are stunning, with views to match. Set on a tea and coconut estate, the lodge is surrounded by 12 private acres of organic tea bushes, coconut trees, and wild jungle. The retreat was built by local hands using sustainable materials from the area, and the location has a secluded, peaceful feel, yet it's only a 10-minute tuk tuk ride from Kabalana Beach and the wave-rich coast.
Soul & Surf Sri Lanka welcomes surfers of all levels. Many guests of the retreat are in the beginning stages of learning to surf, but the nearby waves have plenty of breaks on offer to cater to intermediate and expert surfers as well. Surfers are split up depending on ability, so if you're an intermediate/expert surfer, you basically have a personalized surf guide to get you on the best nearby breaks for your taste.
The Lowdown
VIBE: Serene countryside hideaway
LOCALE: Off the beaten jungle path
ROOMS: 6 private rooms
FAMILY FRIENDLY: Yes
CLOSEST AIRPORT: Bandaranaike International Airport (CMB)
PRICING: starting at £1,045 GBP (~$1,240 USD) per person, per week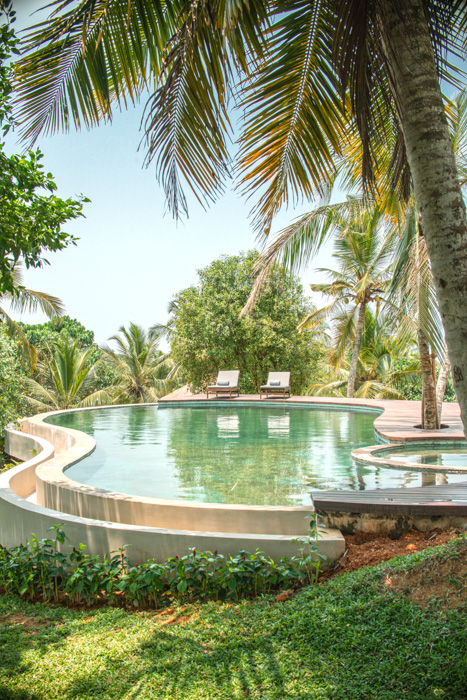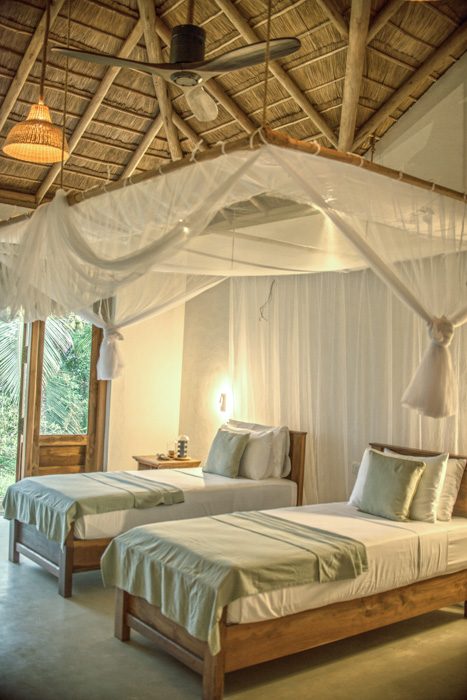 Features
Inside
The lodge is a mix of Sri Lankan flair and modern playful touches. Rich wood furniture and thatched roofs meet polished concrete floors and bright pops of color. Rooms are spacious and minimalist, with light-filled ensuite bathrooms and private verandas with views.
Outside
A large open-air communal lounge and dining area looks out to the palm-framed infinity pool with panoramic views of the surrounding countryside. Between surf and yoga bliss, take a pool dip or settle into a perfectly cushioned chaise lounge for ultimate relaxation time.
Eat & Drink
All meals are included in your stay and the food is fantastic — healthy, flavorful, and satisfying. Everything from fragrant Sri Lankan curries to overnight oats, falafels, and banana cakes. Meals are communal and served in the open-air poolside dining area.
The Surf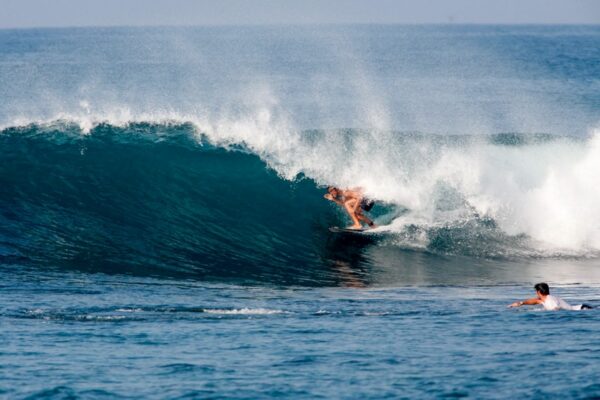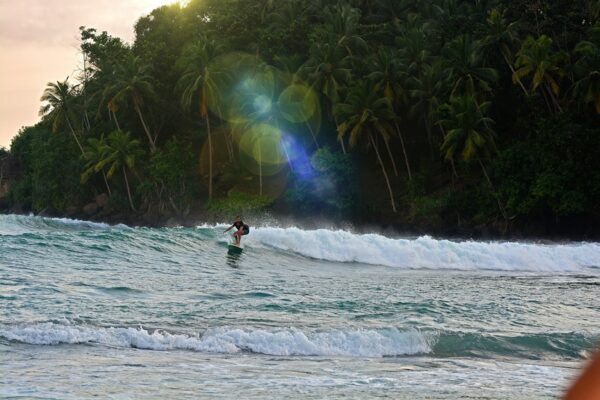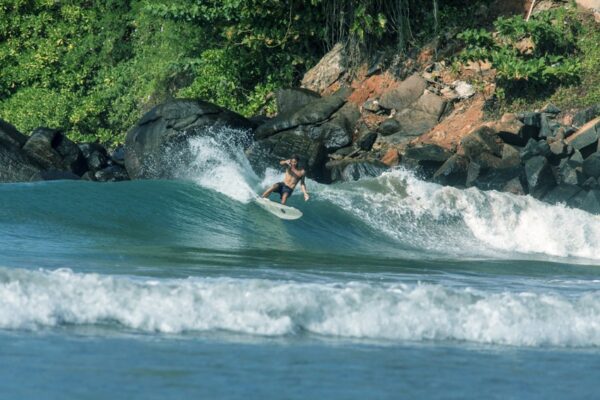 In southwest Sri Lanka, the high season is roughly November to April. This time of year brings the best conditions for surfing, so the area comes to life with visiting surfers. May through September is the offseason, and while many breaks aren't working due to unfavorable winds and swell, there's still some fun surf to be had. The conditions in Weligama Bay are perfect for beginners year round, so if you're just learning to surf, any time of year is a great time for a trip.
WATER TEMP: 80 – 84°F (27 – 29°C)
PEAK SURF SEASON: Nov – Apr
SHOULDER SURF SEASON: Aug – Oct
SURF EXPERIENCE: Beginner to advanced
Rooms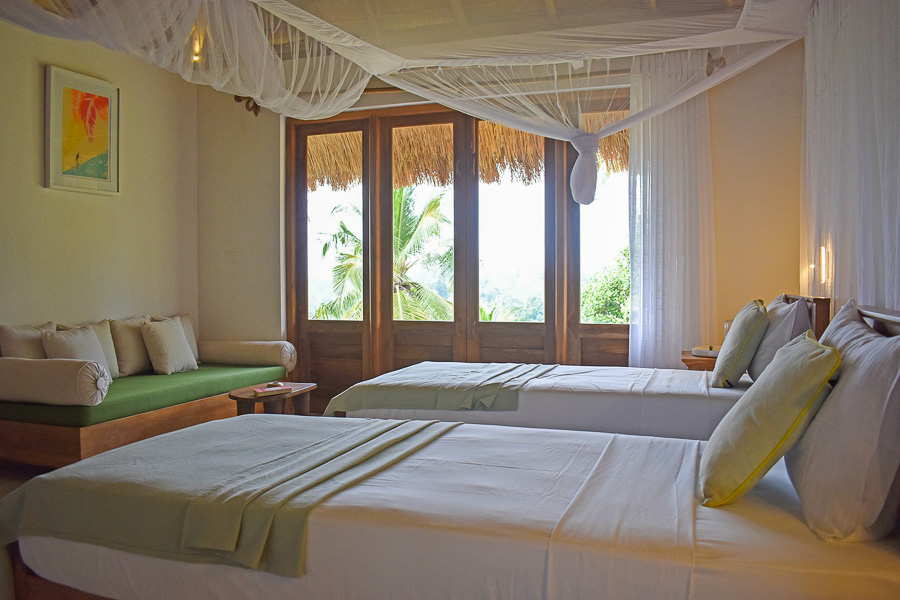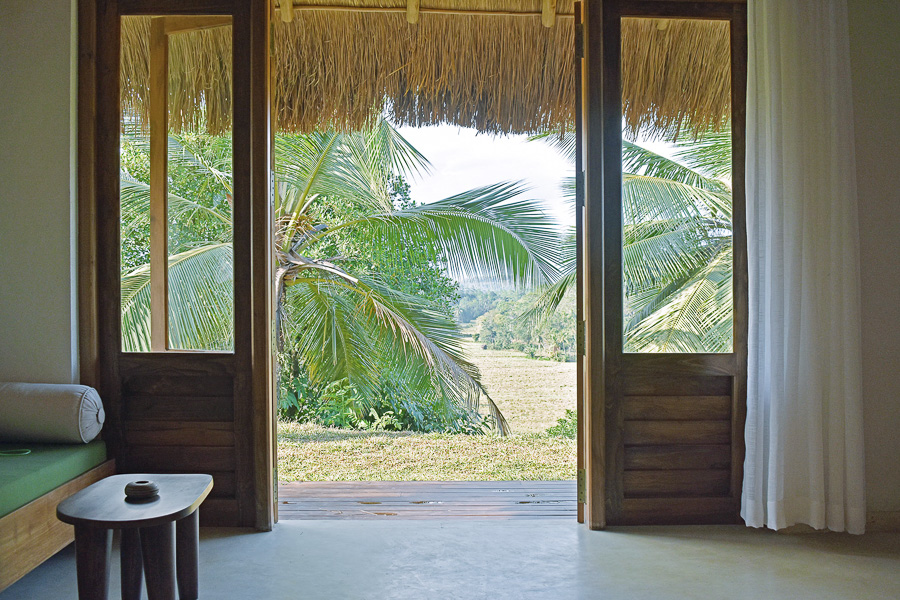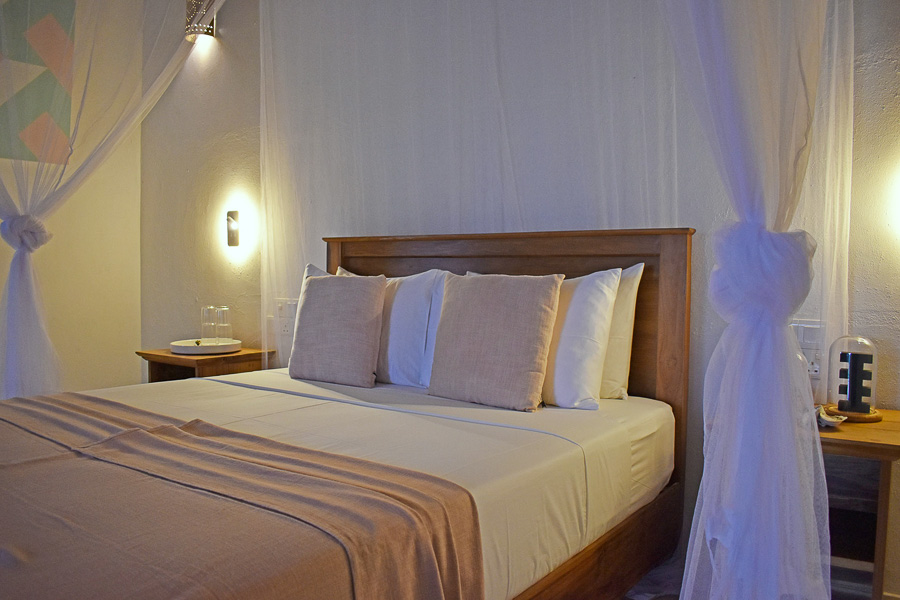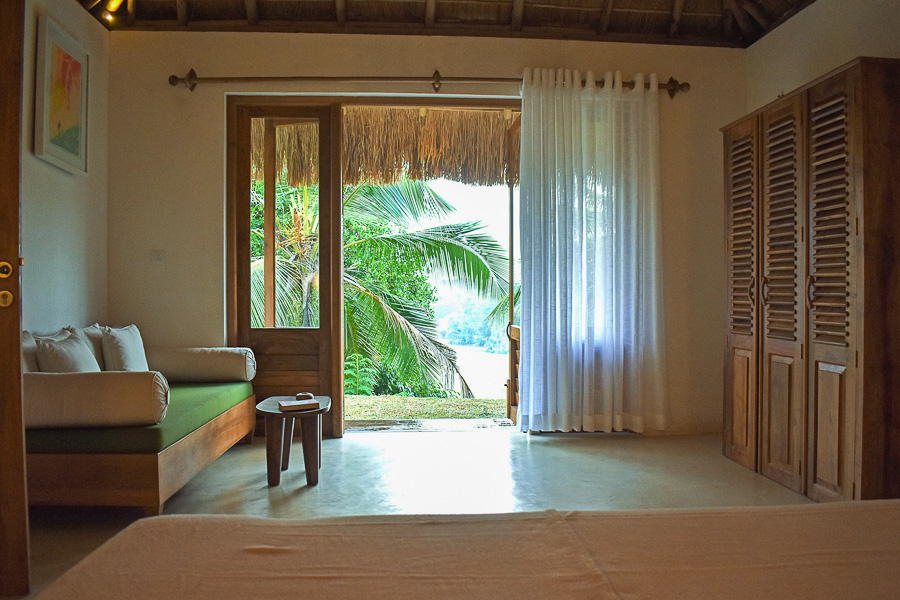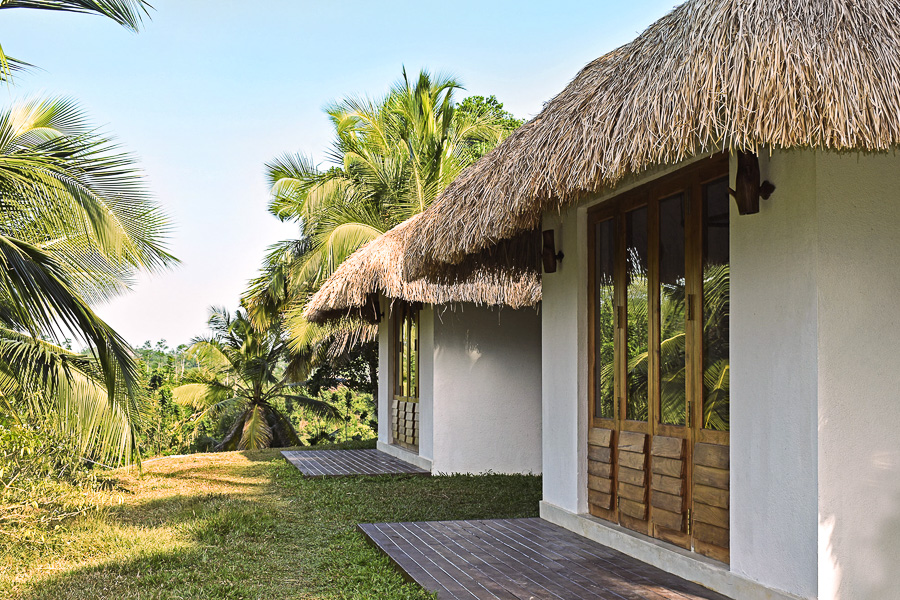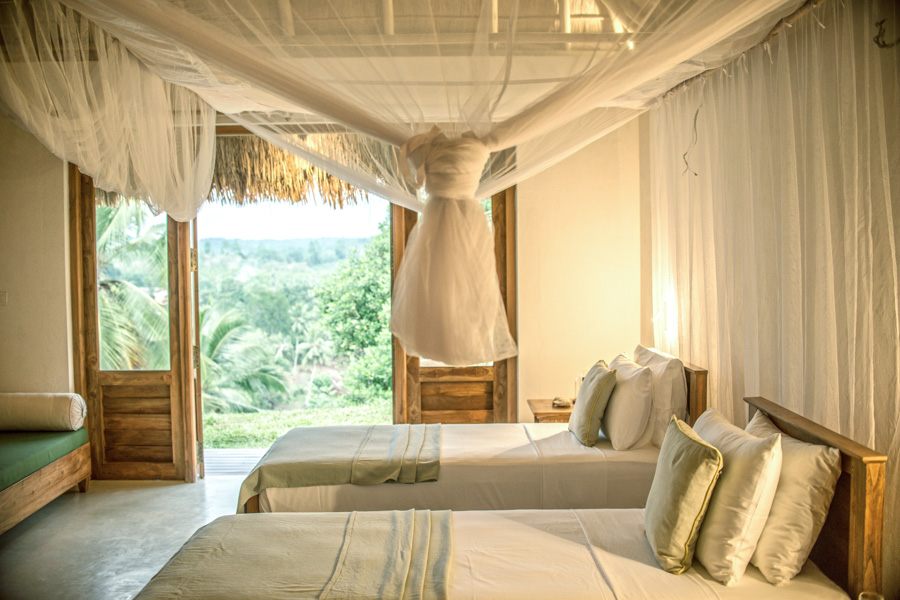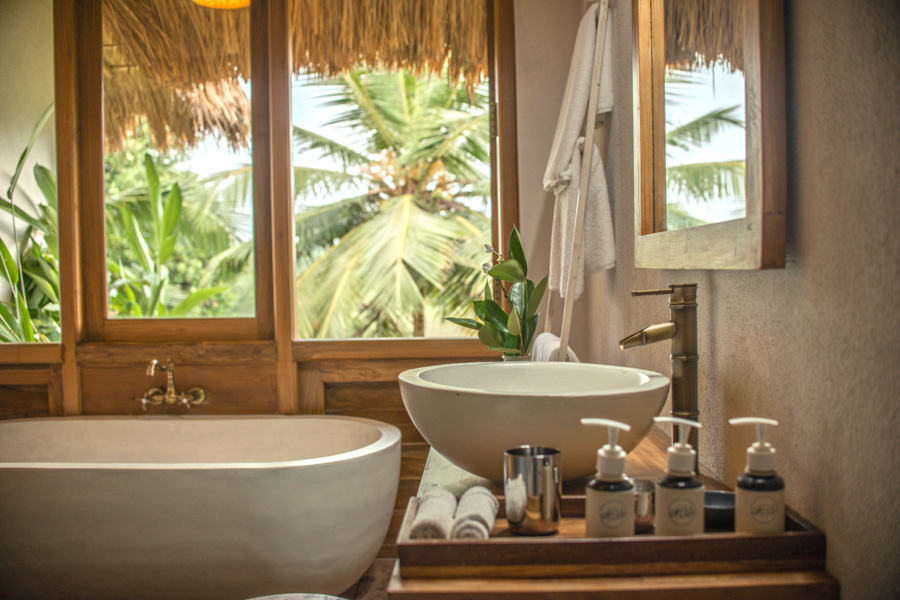 soul-and-surf-sri-lanka-139
soul-and-surf-sri-lanka-147
soul-and-surf-sri-lanka-140
soul-and-surf-sri-lanka-141
soul-and-surf-sri-lanka-138
soul-and-surf-sri-lanka-163
soul-and-surf-sri-lanka-161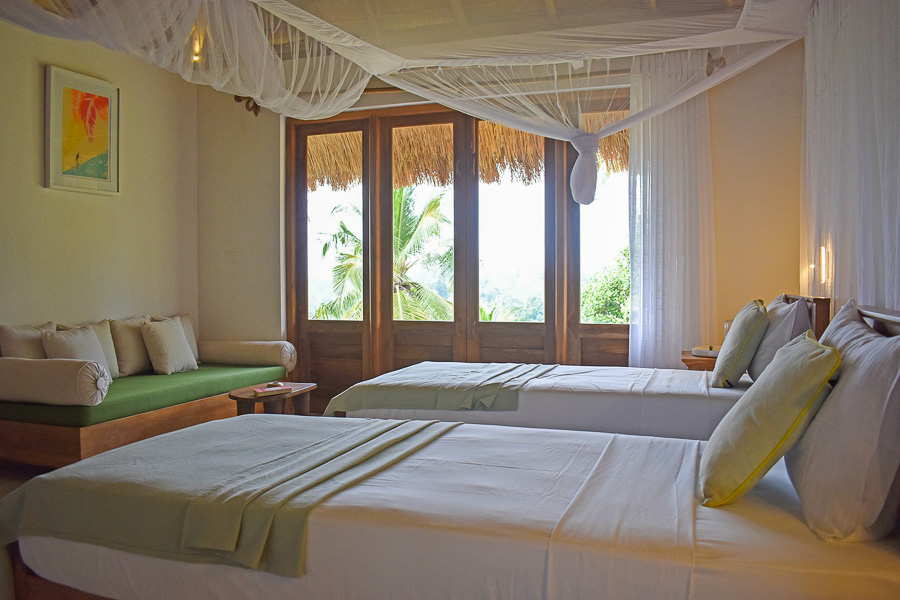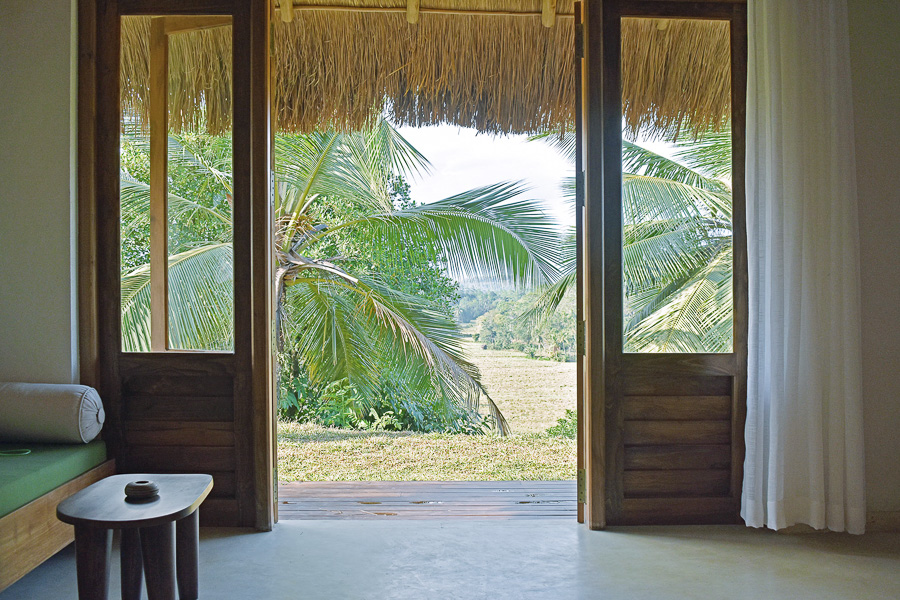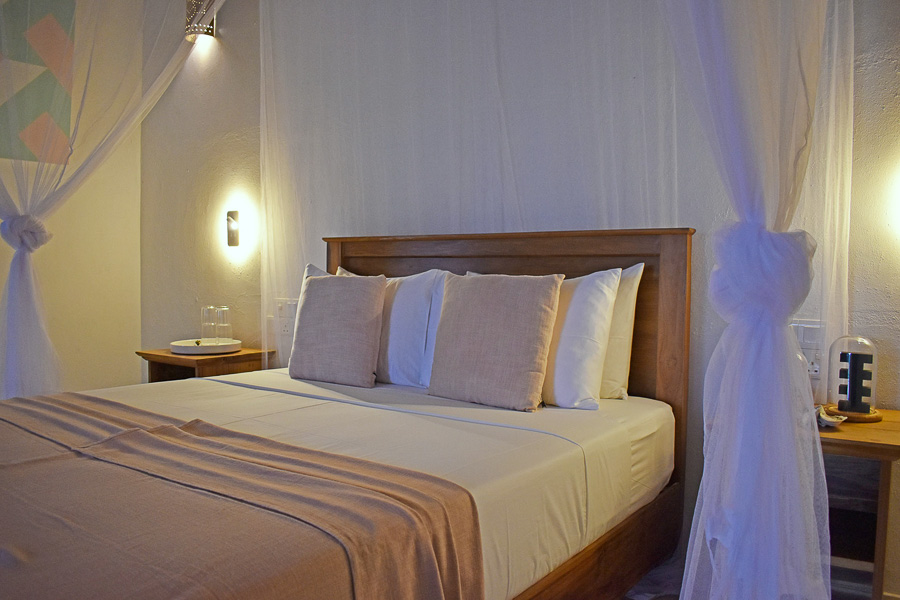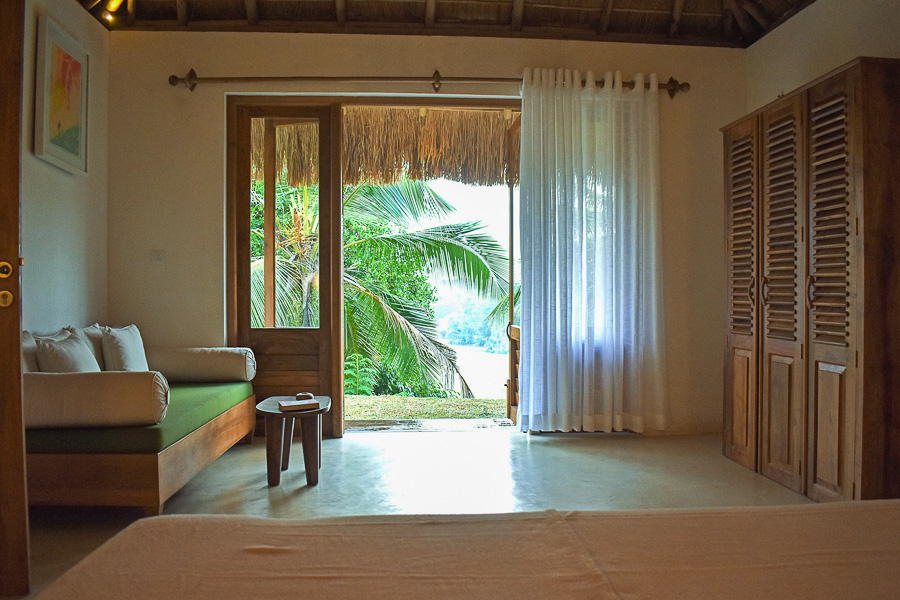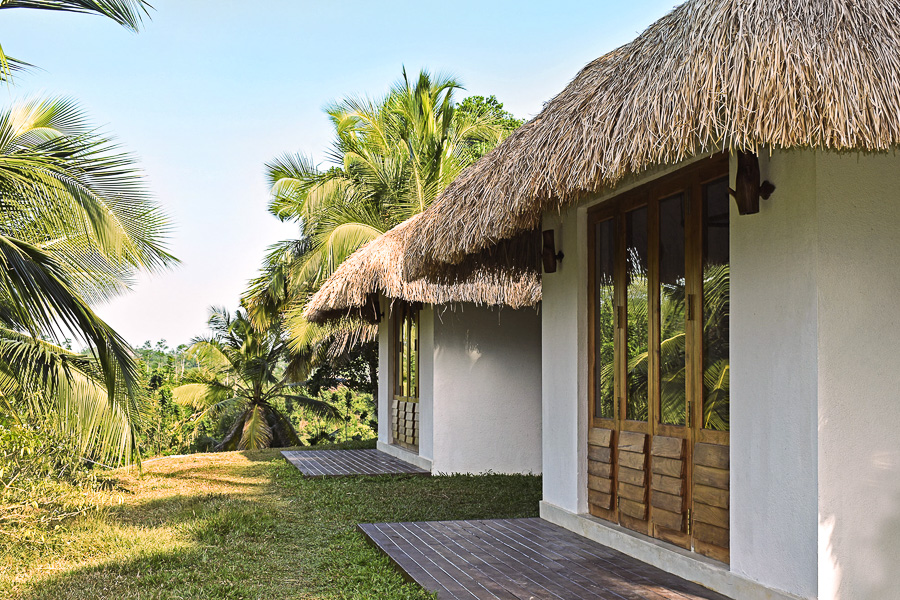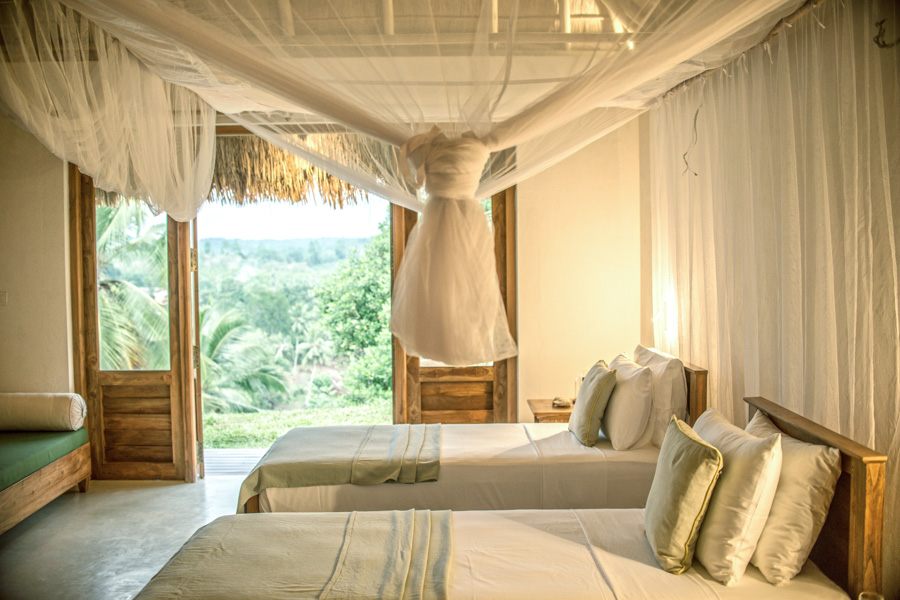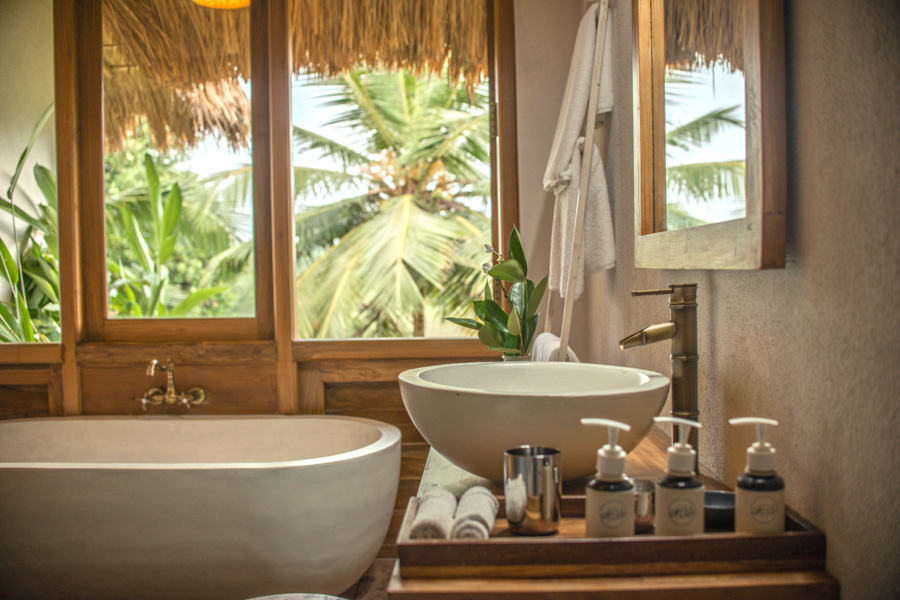 Choose between a 'Really Nice Room' in the main lodge or a 'Cabana Suite'. The Really Nice Rooms are a good size and sleep two. The Cabana Suites have a little more privacy and space set farther away from the main lodge, and are spacious enough for families or a group of friends (or couples who want the most space). Both options come equipped with A/C, en-suite bathrooms, and private verandas with beautiful views. (Contact us directly if you would like to book a Cabana Suite for a family or group of friends.)
Clip
Details
All-inclusive weekly retreats at Soul & Surf (7 nights) start on Saturdays and run to the following Saturday. (You can also book a 2-week stay for a total of 14 nights)
Weekly retreats include:
– 7 Nights Accommodation
– Welcome cocktail & cocktail on Friday BBQ Night
– All Meals – tropical breakfasts, light healthy lunches, hearty evening meals
– A beer, glass of house wine or soft-drink with evening meal
– 5 x Surf Lessons across the week (Sun-Fri, with a rest day on Weds)
– 5 x Guided Free-Surf Sessions
– 5 x 'Soul of Surfing' Workshops
– 4 x Surf Video Analysis Session
– 7 x Yoga Classes (a mix of Vinyasa, Slow Flow, Pranayma, Meditation & Yin)
– Afternoon Tea & Snacks
– Fruit, Snacks, Tea & Coffee available throughout the day
– Help yourself to as much fruit as you'd like
– Filtered Drinking Water
– Unlimited fresh coconuts
– Weekly Cooking Demo
– Weekly Guided nature walk on property
– Two Trees planted per person (via Mossy Earth)
– A bunch of great people on hand to make sure you have a good time
* There is also a 'non-surfer' option available if you (or someone in your group) isn't interested in surfing. Please get in touch with us to check options and availability.
* If you would like to visit with children, please contact us directly at hello@lushpalm.com so we can best accommodate you. If you are traveling in a group of 3, an extra bed can be added to any room, for 20% off the per person rate, or you can book a room for solo occupancy with the other package.
CHECK IN: 3pm
CHECK OUT: 11am
Rates
Rates are based on Double Occupancy (2 guests in one room), Single Occupancy (a solo traveler who would like a private room), or a Shared Room (for solo travelers who want to share a room with another traveler of the same gender).
* Pricing is in pound sterling (GBP). For pricing and options for kids, please submit an inquiry and let us know your request in the comments.
Double Occupancy & Shared Rooms ("Really Nice Room"):
– Oct 1 – Nov 12: £1,045 GBP per person, per week
– Nov 12 – May 6: £1,345 GBP per person, per week
– HOLIDAY: Dec 17 – Jan 7: £1,535 GBP per person, per week
Double Occupancy ("Cabana"):
– Oct 1 – Nov 12: £1,195 GBP per person, per week
– Nov 12 – May 6: £1,495 GBP per person, per week
– HOLIDAY: Dec 17 – Jan 7: £1,685 GBP per person, per week
Single Occupancy (limited availability):
– Oct 1 – Nov 12: £1,635 GBP per person, per week
– Nov 12 – May 6: £1,935 GBP per person, per week
– HOLIDAY: Dec 17 – Jan 7: £2,125 GBP per person, per week
Good to Know
Soul & Surf has incredibly skilled massage therapists on site who do excellent body work. Massages are an additional cost, paid in cash onsite, and we highly recommend them.
Location
Ahangama, Sri Lanka
Getting There
Fly into Sri Lanka's international airport in Colombo, Bandaranaike International Airport (CMB). Airport pick ups and drop-offs can be arranged when booking and are roughly 16,000 Sri Lankan rupees, (approximately $45 USD) paid directly to the driver. from/to Colombo airport. The drive as around 2.5 hours each way. Alternatively, you can get from Colombo to southwest Sri Lanka by train or bus, which takes around 3.5 hours.
The Small Print
Terms and Conditions
PAYMENT POLICY
A 25% deposit is required to make the booking and the remaining balance is due 30 days before you arrive to confirm the booking. Any extras you would like to purchase will be arranged and paid for when you are at Soul & Surf.
CANCELLATION POLICY
– If you make a cancellation 30 days or more prior to your check-in date, the cancellation charge (per person) is the deposit paid at the time of booking. – If you make a cancellation 0 – 29 prior to your check-in date, the cancellation charge per person is 100% of the travel arrangements. – More details in full Terms and Conditions below.
SOUL & SURF LIMITED — BOOKING CONDITIONS & KEY RIGHTS
Your contract is with Soul & Surf Limited of registered office SRC, 2nd Floor, Stanford Gate, South Road, Brighton BN1 6SB, company number 09173815. These booking conditions, together with our privacy policy and the written information we brought to your attention before we confirmed your booking, sets out the conditions of the contract between you and Soul & Surf Limited and our contractual commitments to each other. It is important that you read the following booking conditions carefully as they are the basis of your contract with Soul & Surf Limited. Please read them carefully, copy and keep with your travel documents. Definitions (a) References within the Booking Conditions to "Arrival Dates" means the date the services we have agreed to provide commence. (b) The references to "you" and "your" means the persons named in the booking (including any person or persons added or substituted subsequently). (c) "We" "Us" and "Our" means Soul & Surf Limited. (d) References to "arrangements", "travel arrangements" or "holiday" mean the services we have agreed to provide to or provide you with under your booking with us. 1 Your Holiday Contract 1.1 When you make your booking you agree that you have authority to accept and do accept on behalf of yourself and each person named in your booking, the terms of these Booking Conditions. The person making the booking ("the party leader") must be at least 18 years of age and authorised to do so by all persons named in the booking and the parent or guardian of all party members under the age of 18 years, when the booking is made. The party leader on behalf of themselves and each member of the party consents to the use of information in accordance with our privacy policy. 1.2 The party leader is responsible for making all payments due to us under the booking. All party members named within the booking are jointly and severally liable for all payments due under the booking. 1.3 A contract will exist as soon as we issue a booking confirmation invoice to the party leader. The contract is made in the terms of these booking conditions, which are governed by English law and the jurisdiction of the English Courts. You may choose the law and jurisdiction of Scotland or Northern Ireland if you wish to do so and you are resident in Scotland or Northern Ireland. 1.4 Once you have received your booking confirmation invoice please check this carefully together with all other documents we have sent to you. If any of the information contained within any of these documents is incorrect or incomplete, please notify us immediately in writing as it may not be possible to make later changes to it. We cannot accept any liability if we are not notified of any inaccuracies within 7 days of issue of the booking confirmation invoice to you. 1.5 We reserve the right to refuse to accept bookings in our absolute discretion without stating the reason for doing so. 2 Special Requests If you have a special request, please advise us or your travel agent at the time of booking. We cannot guarantee that the request will be met and any failure to do so will not be a breach of contract on our part. Confirmation that a request has been noted will be included on your booking confirmation invoice or upon the acknowledgment of booking. We are unable to accept bookings which are conditional upon a special request being met and these will be treated by us as a standard booking. 3 Financial Protection In respect of non-flight inclusive travel arrangements, we provide full insolvency protection by way of insurance held with Affirma, a trading brand of MGA Cover Services Limited, Farren House, The Street, Farren Court, Cowfold, West Sussex RH13 8BP (registered office), telephone: 0203 540 4422. See more details here. 4 Prices 4.1 We reserve the right to alter the prices of any of the travel arrangements shown on our website. You will be advised of the current price of the travel arrangement you wish to book before your contract is confirmed. 4.2 Unless stated otherwise, the price of your travel arrangement includes each and all of the component parts described within your booking confirmation invoice. 4.3 Not included in the price of your travel arrangement is flights, transport, travel insurance, excess baggage charges, tipping and any food or drink or additional excursions or activities which are not confirmed as being part of your arrangements. Additionally, any items or services purchased on board are not included in the cost of your travel arrangement unless specifically stated. 4.4 When you make your booking you must pay a non-refundable deposit of 25% of the cost of your trip or such other deposit as may be notified to you at the time of your booking request or full payment if it is within 4 weeks of departure. All prices shown are per person. The balance of the price of your travel arrangements must be paid by the date shown in your booking confirmation invoice which will usually be 4 weeks before your arrival date. If the deposit and/or the balance is not paid in time we shall cancel your travel arrangements. If the balance is not paid in time, we shall retain the deposit. 4.5 Changes in the cost of the following mean that the price of your travel arrangement may change after you have booked. However, there will be no change within 20 days of your arrival date. The price of transportation resulting from the cost of fuel or other power sources; The level of taxes or fees applicable to the travel arrangement imposed by third parties not directly involved in the performance of your travel arrangement, including tourist taxes, landing taxes or embarkation or disembarkation fees at ports; or The exchange rates relevant to your package 4.6 You may be charged for the amount of any increase in accordance with this clause plus the administration charge of £1.00 per person. However, if this means that you have to pay an increase of more than 8% of the total price of your confirmed travel arrangement (excluding any insurance premiums, amendment charges and/or additional services or travel arrangements) you will have the option of (i) accepting the price increase and pay the requested amount (ii) accepting a change to another trip if we are able to offer one (if this is of equivalent or higher quality you will not have to pay more but if it is of lower quality you will be refunded the difference in price) or (iii) cancelling your travel arrangement and receiving a full refund of all monies paid to us, except for any insurance premiums and any amendment charges and/or additional services or travel arrangements which do not form part of your package. Should you decide to cancel for this reason, you must exercise your right to do so within 14 days of the issue date printed on your final invoice. 4.7 Should the price of your travel arrangement go down due to the changes mentioned above, then any refund due will be paid to you. However, please note that travel arrangements that are purchased in local currency and some apparent changes have no impact on the price of your travel due to contractual and other protection in place. 5 If You Change Your Booking 5.1 If, after we have issued a booking confirmation invoice to you, you wish to change your travel arrangements, we will do our best to make these changes, although it may not always be possible to do so. Your request to change your booking must be made in writing by the party leader. You will be asked to pay an administration charge of £25 and any further costs we may incur in making this alteration. When changing your travel arrangements, the price will be based on the price applied on the date you make the change. The price may not be the same as when you first made your booking. 5.2 If you or any member of your party is prevented from travelling, that person may transfer their place to someone else subject to the following conditions: ) That person is introduced by you and satisfies each and all of the conditions applicable to the booked travel arrangement; ) We are notified in writing of the request for transfer not later than 7 days before departure; ) You pay the outstanding balance payment, and the amendment fee of £50.00 per person transferring, as well as any additional fees, charges and other costs arising from the transferee ) The transferee agrees to these booking conditions, and all of the terms of the Contract between us. 5.3 You and the transferee will remain jointly and severally liable for the payment of all sums. If you are unable to find a replacement, the cancellation charges set out in clause 6.1 will apply in order to cover our estimated costs. Otherwise, no refunds will be given to passengers not travelling or for any unused service. 5.4 Any discount you received when you made your original booking may be altered or reduced when changes are made if this discount had subsequently been altered, reduced or withdrawn. 5.5 If you have paid accommodation supplements and the number of people in your accommodation changes you may have to pay extra. 5.6 Any changes to your arrival date, transportation, destination, accommodation or length of travel must apply to all members of your booking. 5.7 If you have taken out travel insurance it may not be possible to change or cancel this and as such, any premium cannot be refunded. 6 If You Cancel Your Booking 6.1 If you, or any member of your party, cancel your travel arrangements at any time, written notification from the person who made the booking must be received by us at our registered office or by email at enquiries@soulandsurf.com. Since we incur costs in cancelling your travel arrangements, the following cancellation charges will be payable by you. The cancellation charge is a percentage calculated on basis of the total costs payable by the person cancelling not refundable in the event of cancellation. If you make a cancellation 30 days or more prior to your check-in date, the cancellation charge (per person) is the deposit paid at the time of booking. If you make a cancellation 0 – 29 prior to your check-in date, the cancellation charge per person is 100% of the travel arrangements. 6.2 You have the right to cancel your travel arrangement before departure without paying a cancellation charge in the event of "unavoidable and extraordinary circumstances" occurring at your destination or its immediate vicinity and which signifcantly affects the performance of the travel arrangement or which signficantly affects transport arrangements to the destination. In these circumstances, we shall provide you with a full refund of the monies you have paid but we will not be liable to pay you any compensation. 6.3 For the purposes of this clause, examples of "unavoidable and extraordinary circumstances" include warfare, acts of terrorism, significant risks to human health such as the outbreak of serious disease at the travel destination or natural disasters such floods, earthquakes or weather conditions which make it impossible to travel safely to your destination. 7 If We Change or Cancel Your Booking 7.1 Once your booking has been confirmed we will make every effort to provide you with the booked travel arrangement. Occasionally, it may be necessary to amend or cancel whole or part of your booking. We will notify you of any alteration or cancellation as soon as we reasonably can. 7.2 Independent travel arrangements (eg, flights, airport parking, car hire, etc) that you may arrange separately do not form part of our contract with you. Should we need to make changes to your travel arrangements, we will not liable for any amendment or any cancellation charges incurred by you in respect of any such independent travel arrangements. 7.3 If, before the start of your trip, we are constrained by circumstances beyond our control to significantly alter any of the main characteristics to your arrangement, we will offer you the choice of either (a) accepting the changed arrangements (b) accepting an offer for an alternative arrangement with comparable facilities from us, if available (we will refund you any price difference if the alternative is of a lower value) or (c) cancel your booking completely in which case we will refund you all monies paid by you. Please note that the above options are not available where any change made is a minor one. A significant change may include change of accommodation to that of a lower category and/or price. 7.4 If we make a significant change or cancel less than 14 weeks before departure (other than reason of non-payment of travel arrangements by you, events beyond our control (paragraph 8 below) or minimum group size numbers not being reached (paragraph 10 below)), we will also pay you compensation as detailed below:- You are required to advise us within 7 days of being notified of a significant change whether you wish to: (a) accept a proposed change or (b) cancel your booking and receive a refund. If you have not notified us within 7 days, we will write to you again to obtain confirmation of your choice of the options above. If you fail to respond within a further 7 days, we will cancel your booking and refund all payments made by or on behalf of you. 7.5 Please note that compensation referred to at 7.4 above and the options referred to at 7.3 above do not apply to any minor changes made by us. 8 Events Beyond Our Control 8.1 Please note that compensation will not be payable and we will accept no liability beyond offering you the options above where: (a) we are constrained to make a significant change or cancel your booking as a result of unusual and unforeseeable circumstances beyond our control. These circumstances will usually include but are not limited to, war, threat of war, riots, civil disturbances, terrorist activity and its consequences, industrial disputes, any failure to secure flying rights, natural and nuclear disaster, fire, epidemics, health risks and pandemics and unavoidable and unforeseeable technical problems with transport reasons beyond our control or that of our suppliers, closed or congested airports or ports, hurricanes and other actual or potential severe weather conditions, and any other similar events; or (b) we are constrained to cancel your booking because the minimum numbers of booking required have not been reached and we have notified you within the time periods specified at section (10) of these booking conditions; or (c) we cancel as a result of your failure to comply with any of the requirements of these booking conditions entitling us to cancel; or (d) we make a significant change or cancel your arrangements more than 14 weeks before departure; or (e) where the change or cancellation by us arises out of alterations to the confirmed booking request by you. 9 Post Departure Changes 9.1 If we are unable to provide a significant proportion of the travel arrangement that you have booked with us after your departure, we will, where possible, make alternative arrangements for you at no extra charge and if appropriate in all the circumstances we will pay you reasonable compensation. 9.2 A change of accommodation to an equivalent or higher standard is also not regarded as significant nor are alterations to your itinerary which do not materially affect your trip. 9.3 If we cancel or make a major change and you accept a refund, we will consider an appropriate refund of your travel insurance premiums if you can show that you are unable to transfer or re-use your policy. 10 Minimum Numbers 10.1 Some of the travel arrangements shown on our website can only be operated if there is sufficient demand for the same and a sufficient number of people book these travel packages. If there is insufficient demand on subsequent confirmed bookings, we have the right to cancel the travel arrangements in question. If we have to do so, we will notify you as soon as possible. In this situation, you will then have the choice of accepting an alternative travel arrangement of equivalent or closely similar standard. The cost of any alternative arrangement offer will be our selling price at the time of change. If the alternative is cheaper, we will refund you the difference. If the alternative is more expensive, you have the option to pay the difference. If you do not wish to take the alternative we offer you, you can choose to cancel your travel arrangement and receive a full refund of any monies you have paid to us. We will also consider an appropriate refund of insurance premiums paid, if you can show that you are unable to transfer or re-use your policy. When we cancel for lack of numbers in accordance with this paragraph no compensation or other amounts (for example, the cost of any connected travel arrangements you have made independently) will be payable. In the unlikely event that we do need to cancel your travel arrangement for the reason of lack of numbers, we will not do so less than 20 days before your arrival date if the trip is for more than 6 days. In the case of trips lasting between 2 and 6 days we will not cancel the package less than 7 days before the start of the package.in the case of trips lasting less than 2 days we will give you at least 48 hours notice of any cancellation 11 Our Liability to You 11.1 We agree to perform and provide the travel arrangements which make up your booking with reasonable skill and care. If the contract you have with us is not performed or is improperly performed by us or any of our suppliers, we will pay you appropriate compensation if this has affected your enjoyment of your travel arrangement. We will not be liable for any failure in the performance of the contract with you if this is due to:- a) The fault of yourself and/or another member of your party; b) A third party unconnected with the provision of the travel arrangements and where failure is unforeseeable or unavoidable; c) Unusual and unforeseeable circumstances beyond our control, the consequences of which could not have been avoided even if all due care and been exercised; d) An event which neither we nor our suppliers, even with all due care, could have foreseen or forestalled. 11.2 Our liability to you and any member of your party, except in cases involving death, injury or illness, shall be limited to a maximum of three times the cost of your booking. Our liability will also be limited in accordance with and/or in an identical manner to a) The contractual terms of the suppliers we use in the provision of your travel arrangements form part of your contract with us. These terms are incorporated into this contract as are; b) Any relevant international convention, for example the Montreal Convention in respect of travel by air, the Athens Convention in respect of travel by sea, the Berne Convention in respect of travel by rail, and the Paris Convention in respect of the provision of accommodation, which limit the amount of compensation you can claim for death, injury, delay to passengers, and loss, damage and delay to luggage. 11.3 We will not accept responsibility for any services which do not form part of your contract with us. These may include any excursion purchased during the course of your trip and any additional services or facilities which we have not agreed to arrange or provide as part of our contract with you. 11.4 You must inform us, without undue delay, taking into account the circumstances of the case, of any lack of conformity which you perceive during the performance of a travel service included in your package travel contract. 11.5 If we are found liable for loss and/or damage to your luggage or personal possessions (including money) our maximum liability to you is limited to £1,000 per person unless a lower limitation applies under this contract or by virtue of international conventions. 12 Assistance by Us During the Course of Your Booking 12.1 If your contract with us is not performed or is improperly performed by us as a result of a failing attributable to a third party unconnected with the provision of travel arrangement, or as a result of failures due to unusual or unforeseeable circumstances beyond our control the consequence of which could not have been avoided even with all due care, or as a result of an event which we or our suppliers, even with all due care, could not have foreseen or forestalled, and you suffer injury or other material loss, we will offer to provide you with prompt assistance as is reasonable in the circumstances. If you or any member of your party suffers during the course of your travel arrangement any difficulty as a result of any activity which does not form part of your contracted travel arrangements, we will offer you prompt assistance without undue delay. Such assistance may include assisting you in making communications and helping you to find alternative travel arrangements. If the difficulty is caused intentionally by you or as a result of your negligence, we may charge a reasonable fee for that assistance which will not exceed the actual cost incurred by us. All assistance (financial or otherwise) is subject to our reasonable discretion and subject to you notifying us promptly of your need. If you are entitled to have any costs and expenses arising from such an incident met by or from any insurance policy or if you recover any costs and expenses relating to the incident from a third party you must repay us the costs and expenses we have incurred in assisting you. 13 Passport, Visa, Documentation, Immigration and Health Requirements 13.1 The passport and visa requirements of yourself and your party, together with any other immigration requirements, are your responsibility and you should check these with the relevant embassies and/or consulates prior to travel. We do not accept any responsibility if you cannot travel if you have not complied with the relevant requirements in force prior to and at the time of travel. 13.2 It is also your responsibility to check all compulsory and recommended health requirements, including vaccinations, prior to travel and to ensure that you are in receipt of all and any necessary vaccination certificates and other health documentation. The costs of obtaining any such documentation are your responsibility and we are unable to accept any responsibility or liability if your travel arrangements are affected as a result of the failure to do so by yourself or any member of your party. 13.3 You must provide us with full details of any existing medical condition or disability that may affect your travel arrangements (including, in particular, any accommodation requirements) at the time of your booking. If in our reasonable opinion your chosen travel arrangements are not suitable for your medical problem or disability or you are not travelling with someone who can provide all assistance you may reasonably require, we have the right to refuse to accept the booking. If you do not give us full details of your medical problem or disability we can also cancel the booking when we find out full details if in our reasonable opinion, the travel arrangements are not suitable or you are not travelling with someone who can provide all assistance reasonably required. If we cancel your booking as a result of this, the cancellation charges set out in Clause 6.1 above will apply. 13.4 Information on foreign travel is provided and regularly updated by the Foreign and Commonwealth Office. Details can be found at www.gov.uk/foreign-travel-advice and www.gov.uk/knowbeforeyougo 13.5 If we are required or asked to reissue tickets that have been lost, destroyed or stolen and we agree to do so, any charges incurred as a result of this will be payable by you. 14 Health & Fitness 14.1 Activities within our travel arrangements may require a certain degree of physical fitness. It is your responsibility to ensure that you have the levels of fitness required for any activity you choose to participate in. If you are in any doubt, please consult your GP before departure. We, and those retained by us, to supervise any activities, retain the discretion at any time to decline to allow you to participate in any activity, if we reasonably believe that in the interests of your health, you should not do so. In such circumstances, we shall not be liable for any losses or compensation arising. 14.2 You must provide us with full details of any existing medical or physical problems (including unusual height or weight) or disability that may apply to you or any member of your group and which is likely to affect your ability to take part in some or all of the activities forming part of your travel arrangement (including, in particular, any accommodation requirements or difficulties that may be encountered in accessing buildings) at the time of booking. If, in our reasonable opinion, any particular activities or arrangements are not suitable for the medical or physical problems or disability or you are not travelling with someone who can provide all the assistance that may be required, we have the right to refuse to accept the booking or you may not be able to participate in certain activities, in which event we shall not be liable for any losses or compensation arising. 14.3 If you do not give us full details of any medical or physical problem or disability at the time of booking and/or promptly inform us of any adverse change to any existing medical or physical problem or disability and/or any new medical or physical problem or disability that arises after booking then we can also cancel the booking when we find out the full details if, in our reasonable opinion, the arrangements are not suitable in the circumstances. If we cancel in this situation, cancellation charges as set out at Section 6 must be paid by the person concerned. 15 Insurance 15.1 You must take out suitable insurance for all your needs before you travel and it is a condition of this contract that you or members of your party do so. We cannot be held responsible for any costs you may incur as a result of failing to do so. 15.2 You must provide us with the name of your insurer, policy number and 24 hour emergency help line number before you travel. 15.3 If you take part in activities whilst travelling that have been organised and arranged independently of us, participation is at your own risk and it is your responsibility to ensure that you have obtained the relevant insurance. 16 Your Responsibilities and Behaviour 16.1 As part of your booking with us, you are accepting liability for any loss or damage caused by you or any member of your party during the course of your trip. Payment for any loss or damage must be made to us or our supplier at the time that it occurs or as soon as is reasonably practicable thereafter. If the cost of the loss or damage is not known at the time, we will reasonably estimate it and if this reasonable estimate exceeds the amount paid, you must pay the difference once known, and if it is less, the difference will be refunded to you. You will also be responsible for, and agree to indemnify us, in respect of any claim subsequently made against us and all costs incurred by us (including our own and any other party's full legal costs) arising from your actions. 16.2 You are also responsible for the behaviour of yourself and other members of your party. We can refuse to accept you as a customer or refuse to continue dealing with you and/or any other member of your party by terminating your travel arrangements if yours or their behaviour is or is likely to be, in our reasonable opinion or in the reasonable opinion of our suppliers, disruptive, upsetting or dangerous to yourself or anyone else, or if you or any member of your party have caused or are likely to cause damage to property. In these circumstances, we will not pay any refund, compensation or other sum whatsoever or any costs or expenses incurred by you if we have to terminate your travel arrangements due to such unacceptable behaviour. In this situation we will have no further responsibility for you or any other member of your party (including any return travel arrangements). If your unacceptable behaviour means that you are not able to travel, we will treat your booking as cancelled from that moment and you will have to pay the full cancellation charges referred to in Clause 6.1 above. 17 Excursions and Activities and Resort Information Excursions, tours or other activities that you book or pay for whilst during your trip do not form part of the travel arrangements provided by us. Your contract will be with the operator or provider of that excursion, tour or activity and not with us. We are not responsible for the provision of the excursion, tour or activity or anything that may happen during the course of its provision by the operator. We do not accept any liability in relation to any such excursion, tour or activity and these Booking Conditions do not apply to them. 18 Local Charges & Tourist Taxes Unless we have stated that a local service or facility is included or free in our accommodation description, you may be asked to pay a charge locally, for example, local tourist tax, room services, snacks, drinks, etc. Tourist taxes may be payable by you when you check out of your accommodation. 19 Local Health & Safety Standards You should be aware that it is the standards and health and safety requirements of the country in which the services which make up your travel arrangements are provided which apply and not those of the United Kingdom. These standards will be different to those of the United Kingdom and may sometimes be lower. 20 Our Website, Brochure and Advertising The information contained in our website, brochure and advertising material is our responsibility and to the best of our knowledge and belief, it is correct at the time of publication. Occasionally errors may occur and information may change and you must, therefore, check all the details of your travel arrangements at the time of booking. 21 If You Have a Complaint In the unlikely event that you have cause to complain during the course of your travel arrangements with us, you must bring it to our attention immediately. If your complaint is not resolved then you must repeat your complaint in writing within 28 days of the end of your travel arrangements with us by writing to us at our Registered Office or emailing us at enquiries@soulandsurf.com. You must provide any booking reference and all other relevant information to enable us to fully investigate your complaint. Any complaints which do not involve death, personal injury or illness and which are not made in accordance with this procedure we are unable to accept liability. In accordance with the Alternative Dispute Resolutions for Consumer Disputes (Competent Authorities and Information) Regulations 2015 ("The ADR Directive") we advise that Soul & Surf Limited does not utilize the services of an approved Dispute Resolution Service for the purposes of complaints. 22 Data Protection In order to process your booking and to make sure that your travel arrangements run smoothly, we need to pass the information which you provide on to relevant suppliers such as transfer companies, hotels etc. The information which we provide may also be provided to credit checking companies and public authorities such as customs and immigration if required by law. Where your travel arrangement is outside the European Economic Area (ELEA), controls on data protection in your destination country may not be as strong as they are in the UK. However, we will not pass your information on to any person who is not responsible for part of your travel arrangements. If we cannot pass your information on to relevant suppliers, we cannot provide your booking, therefore in making this booking, you consent to your information being passed on to them. Your data controller is Soul & Surf Ltd. You are entitled to a copy of your information held by us and if you would like to see this, please ask us. It may be necessary to make an administration charge for providing this to you. Please refer to our privacy policy which forms part of these booking conditions.