Upscale boutique surf camp tucked away in the countryside on Portugal's stunning Algarve coast.
Surrounded by greenery and peaceful vibes, Tiny Whale Surf Lodge is a gem of a surf retreat. The retreat has been operating for years, but they recently made some major upgrades and moved into a beautiful new location with everything you would ever want on a surf getaway.
Tiny Whale specializes in week-long packages that include seven nights accommodation, most meals (by their very talented in-house chef), excellent small-group surf lessons, all surf equipment, transportation to the beaches, and other goodies.
Located in the small village of Colinas Verdes, about five minutes from Lagos on Portugal's southern coast, Tiny Whale is surrounded by quiet countryside yet in close proximity to the nearby town and beaches.
White stuccoed walls and terracotta tiled roofing give a nod to the traditional Portuguese farmhouse, and the interiors have been updated in a cozy minimalist style with neutral hues, woven natural rugs and light wood furniture.
A generous veranda and terrace stretches the span of the lodge with plenty of space to enjoy the sunny days and starry nights. After a day of surfing the stunning coast of the Algarve, get your relaxation on at a lounge chair around the pool before enjoying an alfresco dinner with your new surf friends. Then cap the evening off with a soak in the jacuzzi and a glass or two of local Arinto wine around the fire pit.
VIBE: Cozy modern farmhouse
LOCALE: Peaceful coastal countryside
ROOMS: 7 total / 4 private ensuite rooms, 2 private rooms, 1 shared room 
FAMILY FRIENDLY: Partially (babies up to 2 years and kids 12 years and older are accepted)
CLOSEST AIRPORT: Faro Int'l Airport (FAO), AKA Algarve Airport
PRICING: from 599€ (~$674 USD) per person per week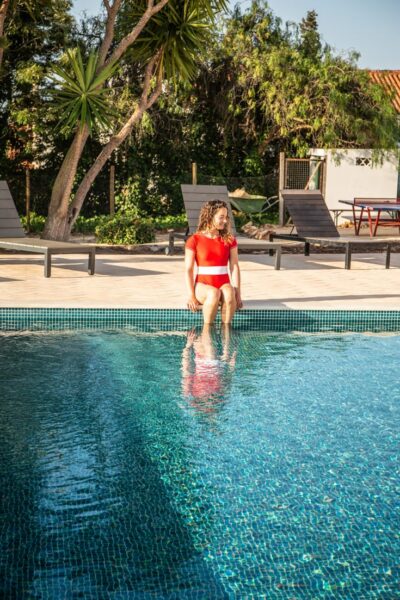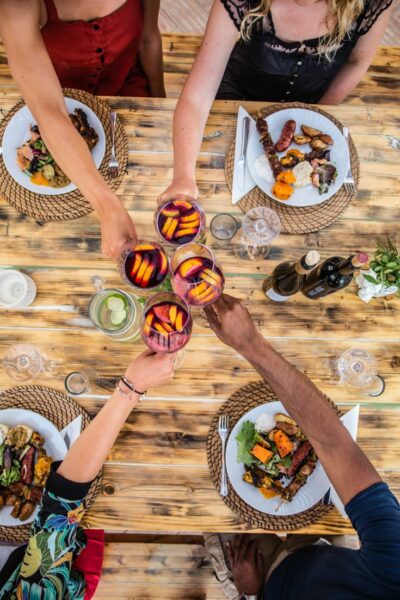 In the lodge there is a breakfast area, lounge, and reception where you can request anything you need during your stay. Common spaces are open and light-filled with a giant built-in couch and communal dining table. Rooms are tasteful and comfortable, with touches like cozy blankets for a homey feel. Choose from a variety of shared rooms, private rooms, or large ensuite rooms.
The beautiful outdoor space is perfect for taking advantage of Portugal's plentiful sunshine. The property is surrounded by trees and the large terrace has plenty of options for lounging and soaking up the sun. There's an outdoor pool, jacuzzi, dining area with pizza oven, bar, lounge area with fire pit, yoga space, ping pong table, and a surfboard/wetsuit area to store your gear.
The professional in-house chef makes fresh meals with locally-sourced produce. The stay includes almost all meals, including healthy breakfasts, beach picnics for surf days, and two-course dinners with dishes like tuna steak with salsa verde or Moroccan chicken tagine. The only meals that aren't included are two evenings when the hosts take the group out for dinner in Lagos.
The Algarve's position on the corner of the Iberian Peninsula blesses it with the widest swell window in Portugal and frequent offshores on the south coast. There's a wide range of reef and beach breaks, and the vast unspoiled coast give you the potential for uncrowded waves. Waves can be found year round in the region, but the summer can bring some flat spells. While May to July is typically the least favorable time for more advanced surfers, if you're just learning to surf, summer is a great time to visit, as the waves are small, and the weather and water are warmest.
WATER TEMP: 58 – 72 °F (14 – 22 °C) 
PEAK SURF SEASON: October – December
SHOULDER SURF SEASON: January – April, August, Sept
SURF EXPERIENCE: Beginner to advanced
ensuite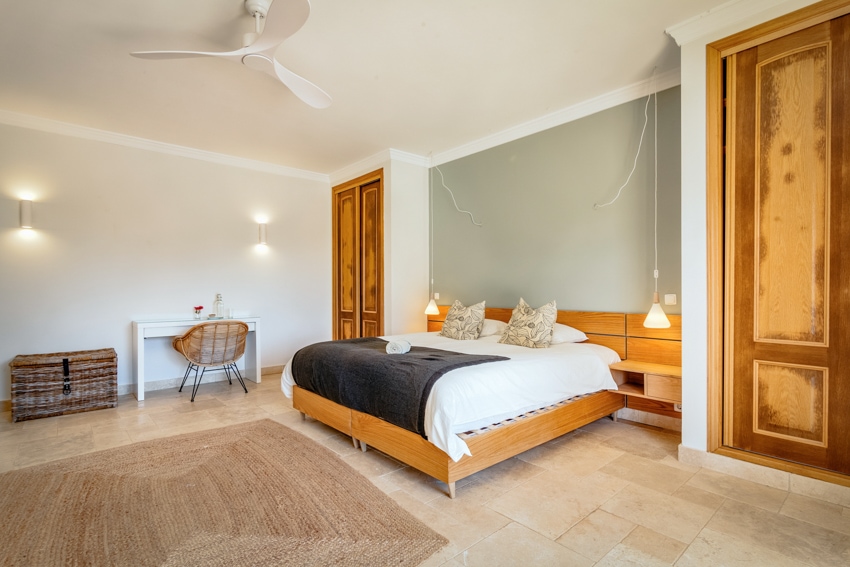 The spacious ensuite rooms have views of the garden and private ensuite bathrooms.
MAXIMUM GUESTS: 3
RATE: from 799€ (~$899 USD) per person per week (based on double occupancy)
private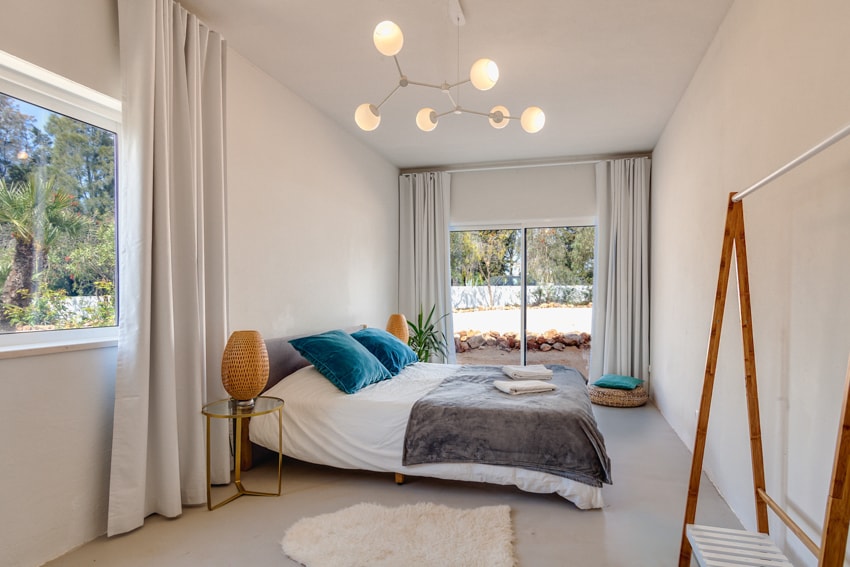 Various private double, family, twin, and single rooms are available.
MAXIMUM GUESTS: 3
RATE: from 699€ (~$786 USD) per person per week (based on double occupancy)
shared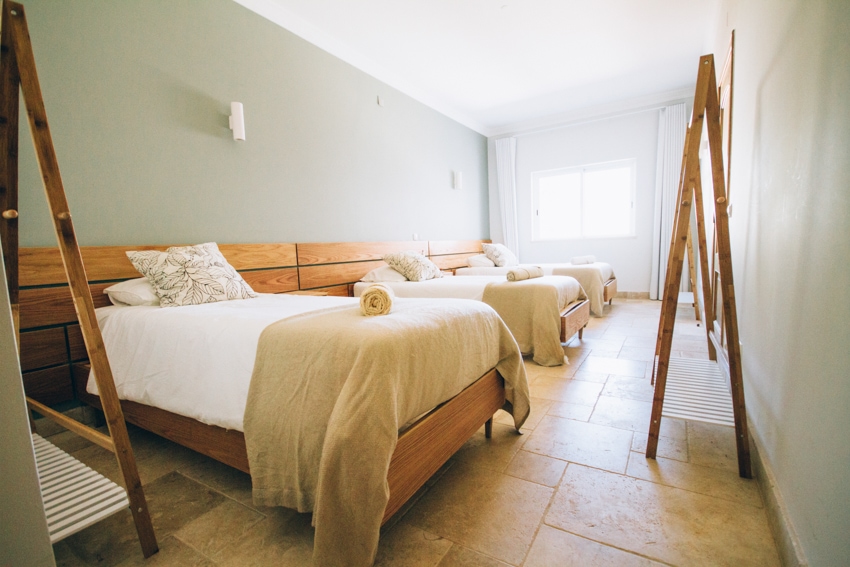 Shared rooms are a popular option for groups of friends or single travelers.
RATE: from 599€ (~$674 USD) per person per week
Weekly packages run from Saturday to Saturday and include seven nights accommodation, most meals, excellent small-group surf lessons, all surf equipment, transport to the beaches each day, daily video coaching or surf theory sessions, and two surf-inspired yoga sessions.
CHECK IN: 4 pm* 
CHECK OUT: 11 am
*guests are welcome to arrive earlier and enjoy the communal areas until their rooms are ready.  
7 nights accommodation
7 healthy breakfasts
5 beach picnics for your surf days at the beach
5 delicious 2-course evening meals at the lodge (made by their talented in-house chef)
5 carefully structured days surfing with ISA level 2 coaches based on your individual surfing goals
Your own surf coach for the week, teaching in a 1 to 3 coach-to-student ratio or less
Daily video coaching or surf theory sessions
All the surf equipment you'll need
Transport to the best beaches each day
2 surf-inspired yoga sessions
WIFI available in all bedrooms
Daily tea, coffee, and cakes back at the lodge after your surf sessions
Use of all surf lodge facilities including pool, jacuzzi, garden, etc
Optional deep tissue massage to relax and restore
Tiny Whale's experienced team on hand
The Lowdown on Dinner:
The in-house chef prepares dinner on Sunday, Tuesday, Wednesday, and Friday nights, and Saturday night is DIY Pizza Night. Dinner consists of aperitifs and cocktails served by the hosts by the pool, followed by a two-course dinner.
On Monday and Thursday nights, your hosts take the group out to dinner in Lagos. Dinner and drinks on these nights are not included in your weekly package tuition.
Low Season (Mar, Apr, Nov)​
Shared: 599€ / ~$674 USD
Private: 699€ / ~$786 USD
Ensuite: 799€ / ~$899 USD
Mid Season (May, June, Sept, Oct)​
Shared: 699€ / ~$786 USD
Private: 799€ / ~$899 USD
Ensuite: 899€ / ~$1,012 USD
High Season (July, Aug)​
Shared: 799€ / ~$899 USD
Private: 899€ / ~$1,012 USD
Ensuite: 999€ / ~$1,124 USD
*All private and en suite rooms are priced per person based on double occupancy. All private and en suite rooms can be shared by up to three people. Extra 150€ for a private or en suite room for 1 traveler.
– Tiny Whale Surf Lodge is open between late March and late November, and closes for the winter months (from late November to late March). In 2020 the lodge will reopen for their season on March 28th.
– Tiny Whale only accepts children 12 years of age and older, but they do allow babies up to 2 years old and can provide baby beds, high chairs, and for an extra cost even a babysitter service.
Tiny Whale Surf Lodge is located in the small village of Colinas Verdes in the Algarve region in southwest Portugal, about a five minute drive from the nearest town of Lagos. The Algarve is known for its stunning coastline, picturesque countryside, and beautiful beaches. The area is also known for having good consistent surf, as this region has one of the widest swell windows in Europe.
Fly into Faro International Airport (FAO). Discounted airport transfers can be arranged from/to Faro Airport. Shared Shuttle: 27€ each way per person/ Private Taxi (up to 4 ppl): 88€ each way/ Private Mini Bus (up to 8 ppl): 96€ each way
* If you're bringing your own board, you'll need to book a Private Mini Bus.
By paying a deposit for any of Tiny Whale Surf Lodge's services you agree to their following Terms and Conditions:
Activities (Surf & SUP school + 3rd party providers)
PAYMENT POLICY
-To secure a booking a 20% deposit will be taken in advance.
-Payment of the final balance (80%) is required 14 days before the activity takes place.
-In the event of cancellation, notice must be received 7 days prior to the activity commencing. A cancellation fee of 25€ will be charged and will be taken from your initial deposit.
-Refunds will not be issued for cancellations made within 7 days of the activity commencement date. If you have to postpone your booking, we will try and arrange a mutually convenient alternative date for up to one year from the initial date the deposit was paid.
SAFETY
-For any activities taking place in water it is required that all clients can swim a minimum of 25 metres.
-Clients are strictly required to follow the instructions of their teacher within the activity they are taking part in at all times.
-All the activities we provide ourselves are fully insured to cover any mispractice on our part where a customer may become injured.
-The client is not covered by insurance for general injuries such as fin cuts, sunburn, collisions by surf boards, weaver fish stings etc, that are out of control of the surf school.
-Any dry land surf coaching on skateboards is not insured as part of our surf school operation and clients take part at their own risk.
-We are not held responsible for the operation of any activities by 3rd party providers we book on behalf of our clients.
CONDITIONS
-The Algarve offers some of the most consistent surf in the world, however if we are unable to find suitable conditions by 2:30pm we reserve the right to only offer a tour of the local area or dry land based surf coaching. Due to the uncontrollable aspect of the surfing environment we are not able to give refunds when nature does not deliver.
Accommodation & Packages
PAYMENT POLICY
-To secure a booking, a 20% deposit will be taken in advance.
-40% of the balance is due 30 days before your check-in date, and the 40% remaining payment of the final balance is due in cash on arrival.
-It is only possible to receive a full refund of your deposit if you give a minimum of 60 days notice prior to the booking commencing. A 25€ cancellation fee will be applied and taken from your initial deposit.
-Reservations can be changed at no charge up to within 21 days of the holiday date commencing. Any changes are subject to availability.
-We recommend taking out travel Insurance, as no cancellations can be accepted within 30 days of your holiday commencing after the final balance has been paid.
-Bookings are taken on a first come first paid basis.
-A late check in charge of 25€ per booking may be charged for arrivals between 11.00pm & 7:00am.
-Prices are subject to change without prior notice unless the initial deposit has already been paid.
AIRPORT TRANSFERS
-It is the client's responsibility to read the joining information for the transfer within the email sent by us prior to arrival.
-It is the client's responsibility to find the transfer desk and check in with them within 30 minutes of the plane landing.
TRAVEL INSURANCE
-We recommend taking out good quality travel insurance for your holiday.
-If traveling from the UK we recommend you have an up to date EHIC card or equivalent for any medical services you might need.
http://www.nhs.uk/NHSEngland/Healthcareabroad/EHIC/Pages/about-the-ehic.aspx
-We are not responsible for any robbery, theft or damage of personal items that occurs whilst you are in our care or staying at our accommodation.
RENTAL EQUIPMENT
-Any loss or damage to any rented or borrowed equipment of ours in clients care will be charged at our discretion to fix or replace the item.