Oceanfront surf hotel and academy with excellent food, top-notch training facilities, and epic waves out front.
Infinity pool. Check. Ocean views from every room. Check. Carver skatepark. Check. Full-size gym, yoga studio, and 25-meter lap pool. Check. Super friendly staff and knowledgeable surf instructors. Triple check. When we say that Puro Surf Hotel and Performance Academy has it all, we mean it.
Located in the quiet little village of El Zonte in El Salvador, Puro Surf sits perched on a cliff with sweeping views of the Pacific and a very consistent right hand point break. The 13-room boutique hotel is the perfect place to leave behind any stress and relax into a surf-eat-sleep rhythm at a comfortable place that covers all the bases.
Aesthetically speaking, Puro Surf has some architectural eye candy, but it's not all about the looks, the design is also highly functional. The beautiful palapa-style roof of the hotel's restaurant Covana doubles as a rain catcher, helping the hotel recycle water naturally for their lawns, gardens, and property.
The hotel is strategically situated with easy walkable access to multiple surf breaks and you can check the waves from the infinity pool (always a plus). There's a punchy and consistent beach break only a stone's throw away, and if point breaks are more to your liking, take your pick, as there's a consistent right point out front and a left point around the corner.
The on-site Surf Academy caters to surfers of all abilities, offering everything from fundamentals for beginners, to coaching sessions and video analysis for more advanced surfers ready to take their surfing to the next level. All surf instructors are certified by the International Surfing Association and leverage the onsite training facilities to teach multiple aspects of surfing: technique, tactics, mind, and body.
VIBE: Modern comfort meets performance surf academy
LOCALE: Wave-rich oceanfront
ROOMS: 12 rooms of various sizes and a 2-bedroom apartment
FAMILY FRIENDLY: Yes
CLOSEST AIRPORT: El Salvador International Airport Oscar Arnulfo Romero (SAL) 
PRICING: from $200/night for rooms | $55/person for dorms | all-inclusive packages available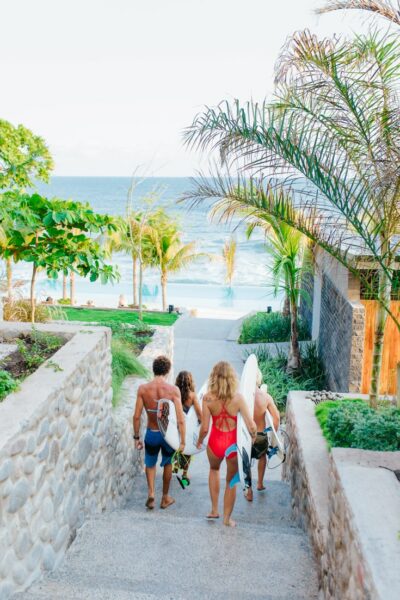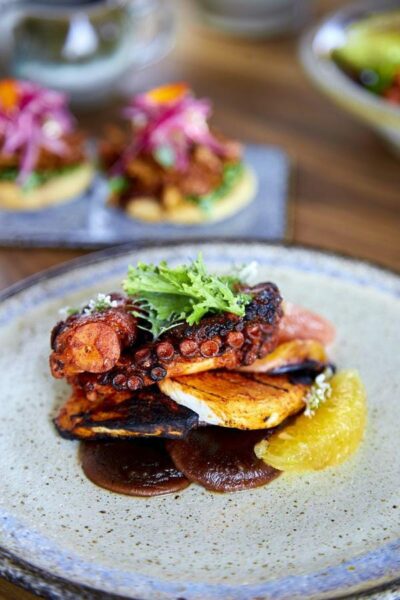 Rooms feature ocean views, floor-to-ceiling windows, plush beds, A/C, wifi, and a smart TV. Outfitted with handmade furniture and unique decor made by local craftsmen and artists, the comfy rooms are a perfect sanctuary to rest after an epic day of surf progression. Multiple options are available – from large suites for families to dorms for the solo traveler.
The property has lush green landscaping, ocean views from every angle, and plenty of places to relax in-between surfs. With an infinity pool (where you can keep your eyes on the waves), lap pool, yoga studio, full gym, and a concrete wave skatepark, you'll be living the dream and tapping into your full potential in and out of the water.
Puro Surf's open-air oceanview restaurant Covana sits under a soaring palapa and serves up outstanding global cuisine and local Salvadoran flavors. The seafood-rich menu features everything from healthy eats to fresh ceviches to artisan sandos. Fresh ingredients are sourced from local farms and fisherman, and there's also local craft beer and premium coffee on offer.
El Salvador is the land of world-class righthand point breaks, but there are lefthand points, river mouths, and hollow A-frame beach breaks on offer too. Being a south facing stretch of coast, the main surf season is from March to November, but you can typically find fun waves and favorable winds year round. January is the least favorable month for more experienced surfers, but it's one of the best months for beginners and kids. Whether you're a beginner or pro, longboarder or shortboarder, there's a variety of waves to suit your ability and style.
WATER TEMP: 80 – 83 °F ( 27 – 28 °C) all year long but can get a bit cooler on occassion
PEAK SURF SEASON: April – November
SHOULDER SURF SEASON: Nov – March
SURF EXPERIENCE: Beginner to advanced
Every room has an ocean view and comes with A/C, hot water, high speed internet, a smart TV, and in-room safe. All stays include breakfast from a selection of the house breakfast menu.
CHECK IN: 2 pm
CHECK OUT: 12 noon
Jr. King: $200
Double: $200
Deluxe King: $240
Triple: $240
Treehouse (2 bedroom apt): $300
Dorm bunk bed: $55
*Rates above are per night and are not inclusive of taxes; an 18% tax is added.
Surf and yoga classes, photo session, surf trip, ECO tour and therapeutic massage all included.
16 hours Professional Surf Coaching Sessions
7 dats of surfboard rental (Soft top of various Firewire surfboards)
7 photo sessions (1 per day)
7 video sessions (1 per day)
2 yoga sessions
1 Breathwork session with optional recovery ice bath
2 Airport Transfer
7 days and nights accommodation
Free access to academy facilities
32 non-alcohol drinks
7 Fruit and veggie extracts
7 Viva Espresso Coffe
3 x 90 min small group surf lessons
Photo session (raw footage)
1 Therapeutic Massage
1 half day surf trip to any surf break between La Libertad and KM 59
7 Breakfast (any pick from the menu)**
8 Lunch

(any pick from the menu)

**
7 Dinner

(any pick from the menu)

**
8 Dessert
1 night out on town
1 Eco tour – Tamanique waterfall trip
1 welcome kit and surprise
RATES: 7 night all inclusive packages
Single Bed Room (1 surfer): $4,000 (+ additional guest at no charge. Only includes house menu breakfasts for additional guest)
Single Bed Room (2 surfers): $3,300 per person
Double Bed Room (1 surfer): $4,000 (+ additional guest at no charge. Only includes house menu breakfasts for additional guest)
Double Bed Room (2 surfers): $3,300 per person

Triple Bed Room (1 surfer): $4,200* (+ additional guest at no charge. Only includes house menu breakfasts for additional guests)
Triple Bed Room (3 surfers): $3,000* per person
* min 3 people
** 1 dish per meal, from corresponding menu: Breakfast or lunch/dinner
– You can either book accommodations à la carte, or book an all-inclusive package (outlined above) that includes meals, airport transport, and various inclusions such as surf coaching, surf photos, and yoga classes.
– The hotel offers several tours and off-site activities including lake and waterfall hikes and tours of historic buildings and archeological sites which can be booked locally.
– Puro Surf is involved with multiple local nonprofits that give back to the surrounding community. They participate in community service such a beach clean-ups and also run day surf camps for the local kids. Guests are welcome to volunteer and help out with community programs during their stay, or you can also donate to various local organizations.
The easiest option is to fly into the El Salvador International Airport Oscar Arnulfo Romero (SAL). Puro Surf is about an hour and a half drive west of the airport and the hotel can arrange transport for you for $60 with a maximum of 4 people per car.
PAYMENT POLICY
For bookings made more than 90 days in advance, a 50% deposit is due to secure a reservation. If the reservation is less than 90 days from check in, 100% of the booking total is due to secure the reservation.
CANCELLATION POLICY
If a cancelation is made 30 days prior to check-in there is no charge. If a cancellation is made between 29-15 days prior to check-in, there is a 50% charge, and if the cancellation is 14 days or less days prior to check-in there is a 100% charge.