Sinalei Reef Resort & Spa
Serene beachfront resort on a lush property with ocean views and close access to premium uncrowded surf.
Located on the southern coast of the Samoan island of Upolu, Sinalei Reef Resort is a serene retreat complete with a private sandy beach, sheltered lagoon, pristine ocean views, and a 5-minute boat ride to some of the best surf breaks in Samoa (which are typically quite uncrowded).
With 29 villas spread across 33 meticulously groomed acres of lush vegetation, the locale feels very private and peaceful. Sinalei Resort blends modern convenience with an earthy Samoan twist. Tall vibrant green palm trees tower above the tropical grounds, and the property exudes an air of luxury, minus any pretention. The staff is warm and kind, and the vibe is laid back.
It's a 5-minute walk to the surf boat and a 5-10 minute boat ride to three different breaks out front. When you're not surfing, go for snorkel in gin-clear water on the reef right off the private pier in front of the resort, play a round at the 9-hole golf course (included in your stay), explore the island's natural treasures, or simply relax poolside with a tropical cocktail in hand.
VIBE: Island life
LOCALE: Tropical beachfront
ROOMS: 29 villas
FAMILY FRIENDLY: Partially / children 13 years and up are welcome
CLOSEST AIRPORT: Faleolo International Airport (APW)
PRICING: from $270 per night

 Lush Palm Perk
MENTION 'LUSHPLM' WHEN BOOKING AND GET:
Two complimentary cocktails at happy hour.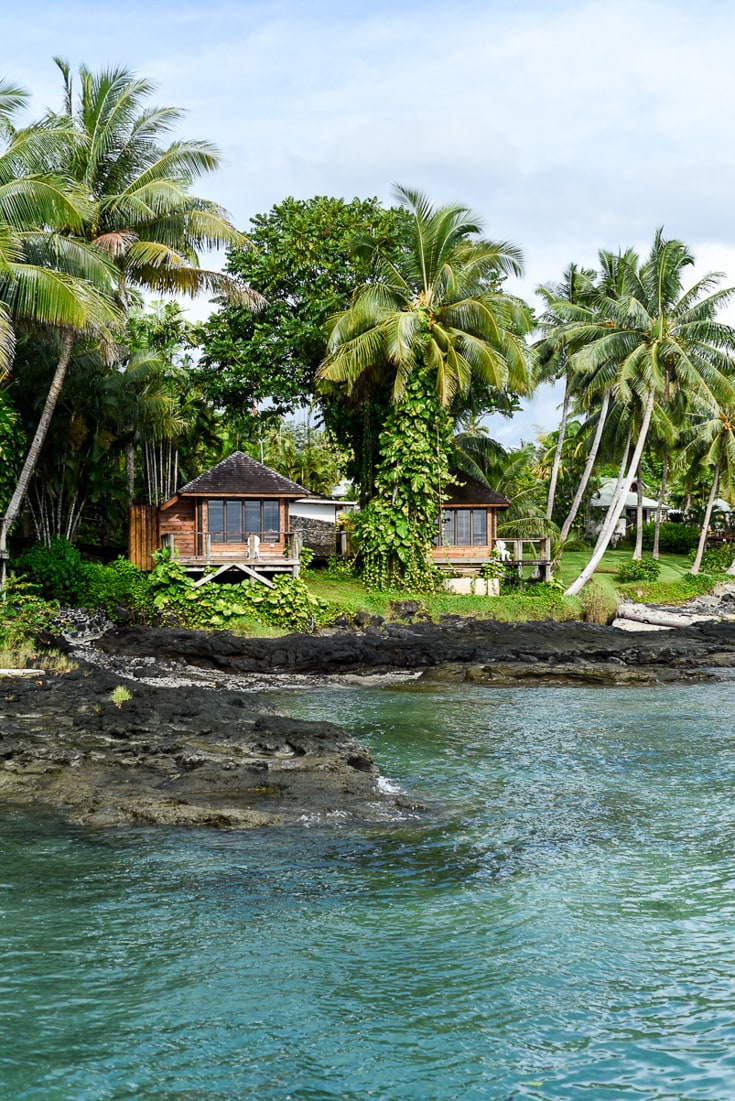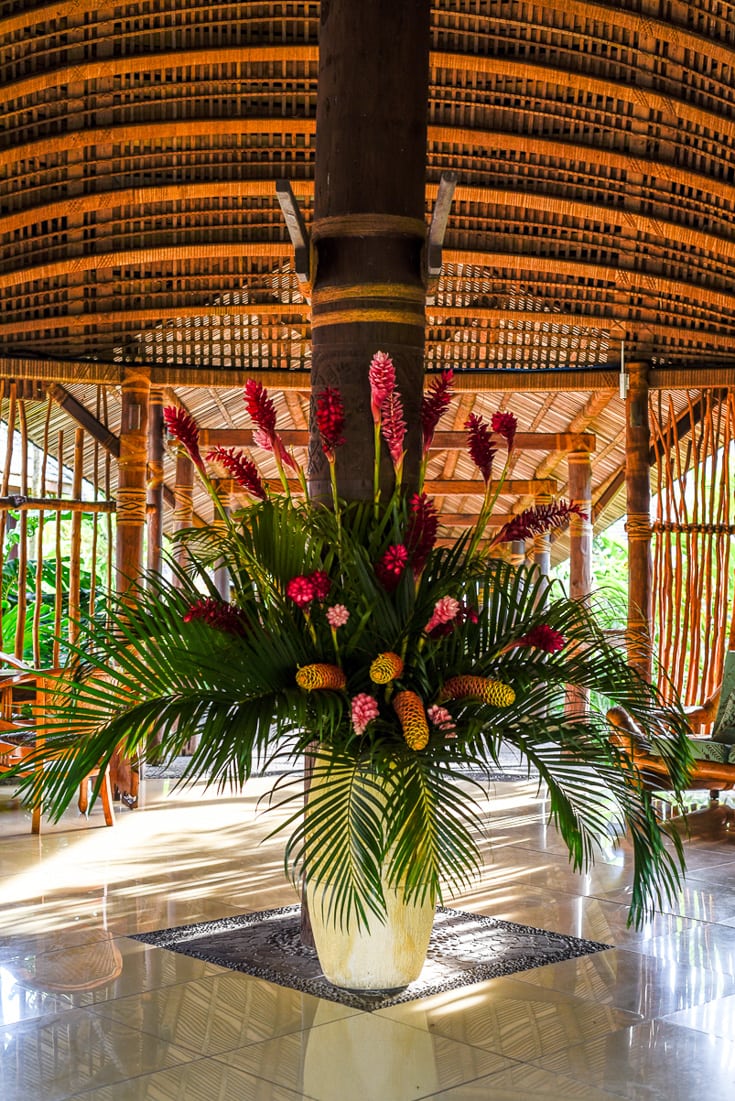 Crisp white linens and bright Samoan prints compliment high vaulted wooden ceilings, island accents, and polished dark timber floors. The bathrooms in the superior villas have glass ceilings that flood the space with light. All accommodations are lovely, but the standouts are the beachfront villas that sit right at the water's edge.
The grounds are impeccably groomed with tropical foliage at its finest. There's a small pier over the reef where you can go for a swim in crystal clear water, a private beach with lounge chairs, a pool area complete with a nearby bar for refreshments, and in case you need more activities, tennis courts and a 9-hole golf course.
Enjoy candlelit tables over turquoise green water at Sinalei's overwater restaurant, Ava I Toga. The fare is Samoan-inspired cuisine with a focus on local ingredients and sustainability. Try the Masi Masi Samoa (a local fish marinated in coconut, lemongrass, and ginger), and the incredibly delicious coconut mojito.
Samoa's island of Upolu receives year-round consistent swell, has a variety of powerful barreling waves, and the breaks are typically on the uncrowded side. The majority of Upolu's surf breaks are located on the south side of the island (near Sinalei), so Sinalei is a perfect location for a convenient home base. Most of the quality surf breaks in Samoa are outer reef passes and best accessed by boat. At Sinalei, you have the option to purchase a surf package with boat trips included (which is a great deal), or we can connect you with a top-notch surf guide for à la carte boat trips.
WATER TEMP: 78 – 84°F (26 – 29 °C)
PEAK SURF SEASON: April – Sept
SHOULDER SURF SEASON: Mar, Oct – Nov
SURF EXPERIENCE: Best for skilled intermediate to advanced surfers
Nightly stays include a daily full breakfast (menu selection), daily afternoon tea, 15-minute head and shoulder massage, complimentary snorkeling gear and kayaks, and use of the golf course and tennis courts.
CHECK IN: 2 pm
CHECK OUT: 11 am
$270 – $717 per night (double occupancy*) + 15% tax
* $82 per additional guest per night
7-night stay for two in a Traditional Garden View Villa
5 x surf sessions (boat trips) for two
1-hour massage per person
1G complimentary WiFi
Return airport transfers
Plus, everything included in typical stays: daily full breakfast (menu selection), daily afternoon tea, complimentary snorkeling gear and kayaks, and use of the golf course and tennis courts
Sinalei Resort has many activities and excursions available at an extra charge such as fishing trips, diving trips, eco-trekking, cooking experiences, and cultural tours.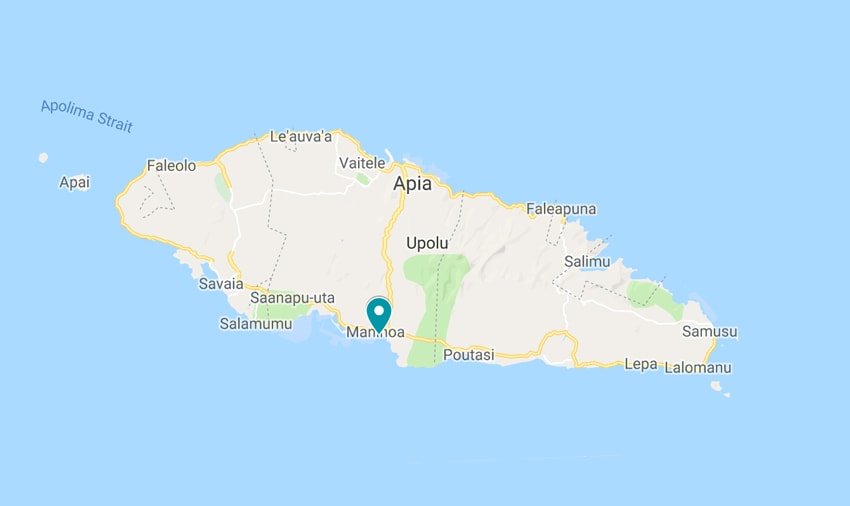 Samoa is a small island nation in the South Pacific with a bounty of natural beauty, sans much development. The three main islands are Upolu, Savaii, and American Samoa, but Upolu has the most surf breaks and travel infrastructure.
Upolu is home to great surf, many waterfalls, empty beaches, and the famed To Sua Ocean Trench – a stunningly beautiful natural pool made by lava tubes and connected to the ocean by an underwater cave.
Fly into Faleolo International Airport (APW) in Upolu. You can rent a car at the airport, take a taxi, or transfers can be arranged through the resort for $30 per person each way. If you're staying for 5 nights or more, airport transfers are complimentary. The drive to Sinalei Resort from the airport is around 50 minutes.