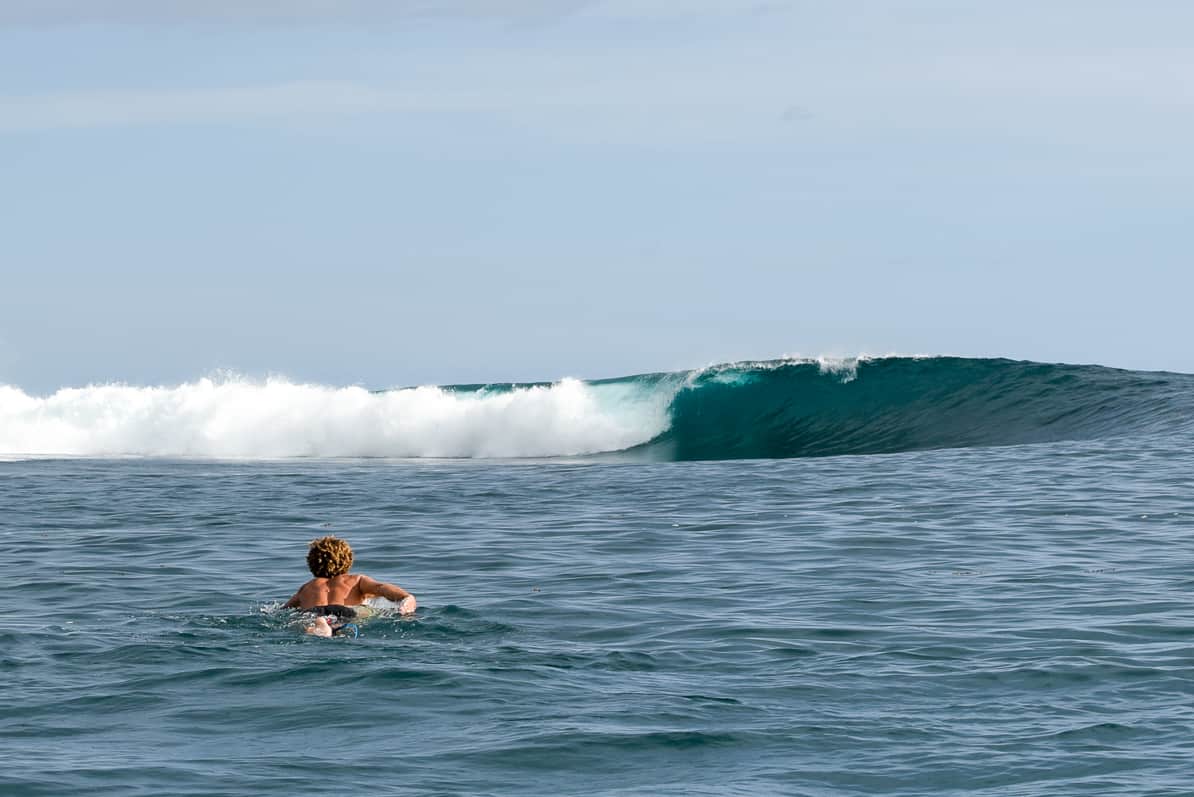 Samoa is a lush tropical paradise. There's heaps of palms trees, waterfalls, beaches, warm weather, and some killer surf. What makes Samoa an especially nice surf destination is that its waves are largely uncrowded. Yep, uncrowded waves in paradise, for realz.
With that said, Samoa ain't like Bali or Costa Rica where everything is easy and caters to surfers. While the surf has been long discovered, the surf culture is still kinda finding its place in a way. It's not easy to just roll up, scout the waves, and figure it all out on your own within a 10-day trip.
Matter of fact, you might get skunked without some guidance. The waves can be very fickle and so can the local norms. But don't be deterred, we'll help you sort it out and make sure that you're pointed in the right direction. And with a little luck on a swell standpoint, you're bound to score some unreal waves and have an epic trip.
Surfing Samoa
TRAVEL BASICS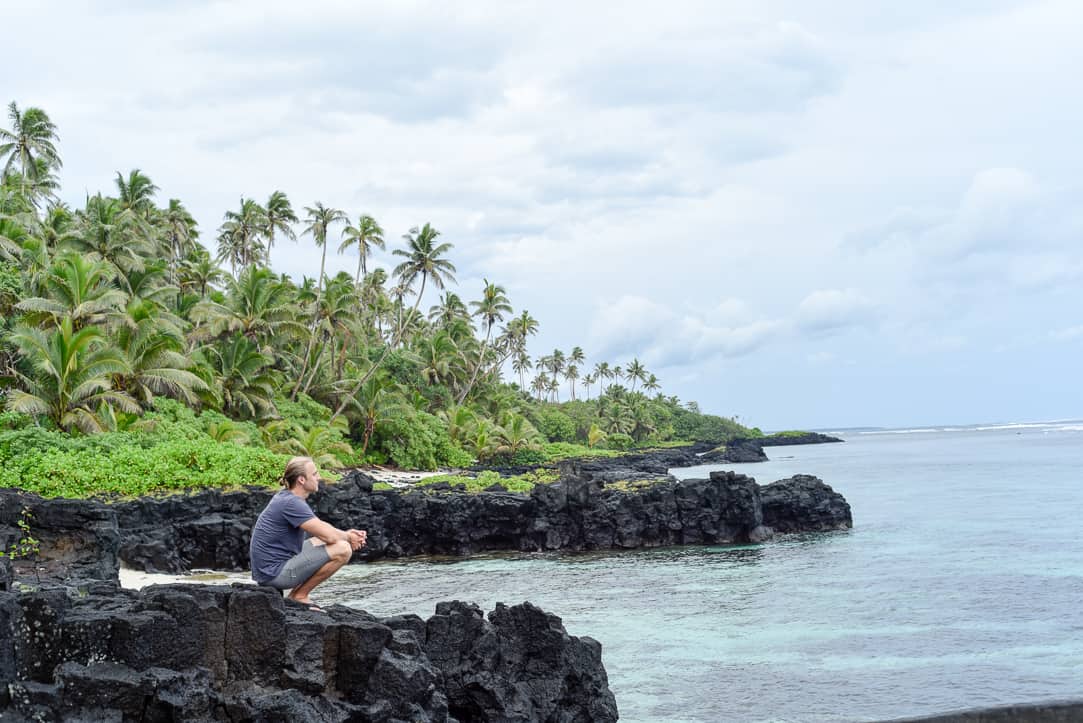 WEATHER: Samoa's weather is tropical all year round, with two distinct seasons – the wet season running from November to April, and the dry season running from May to October. The average daily temperature in Samoa is 83F, with the ocean temperature averaging in the 80s.
MONEY: The unit of currency in Samoa is the Western Samoa Tala (dollar), divided into 100 sene (cents).
TIPPING: Not expected or encouraged, though it is acceptable for outstanding service at nicer restaurants.
STAYING CONNECTED: There's almost no such thing as free wifi in Samoa and internet access can be challenging and confusing. A few upscale hotels in Samoa offer a free hour of internet per night, but otherwise, it's a paid service. Budget accommodations typically don't have any internet access available. Or often they claim they do and it doesn't work. The hotels that do offer internet have a few different paid options that typically run around $20 tala for 2 hours (around $8 US dollars). If you need reliable internet access, we recommend getting a Samoan SIM card with Digicel. You can buy packages of data for your phone and then hotspot your computer. Your phone needs to be unlocked for this to work. Visit a Digicel shop in Apia and they can set it all up for you.
LANGUAGE: The official language in Samoa is Samoan. Many Samoans in the tourism industry will speak some English, but English is fairly limited in more remote areas.
Hello: Talofa
Please: Fa'amolemole
Thank you: Fa'afetai
Goodbye: Tofa
GOOD TO KNOW: Almost everything in Samoa is closed on Sundays, besides hotels. There are a couple small shops open, but most everything else and all restaurants that aren't inside a hotel are likely closed.
Sundays are considered a day for rest and family in Samoa, and it is disrespectful to the local villages if you participate in activities that are not Sunday-approved. That includes surfing and swimming. The exception being at hotels that are private from the local villages. If you take out a boat from certain locations that are far enough off the coast then you can surf, but otherwise, there's no surfing on Sundays. We've seen some other exceptions, for example, a handful of Samoan families joined us swimming at a waterfall one Sunday, and when we asked them about the "no swimming on Sunday rule" they said that the rules were a bit more lax during the holidays (January) when the kids are out of school. The best rule of thumb is to ask someone where you're staying or in the area you're traveling to.
You can read more about Samoan culture, known as Fa'a Samoa (Samoan Way) here.
SAMOA SURF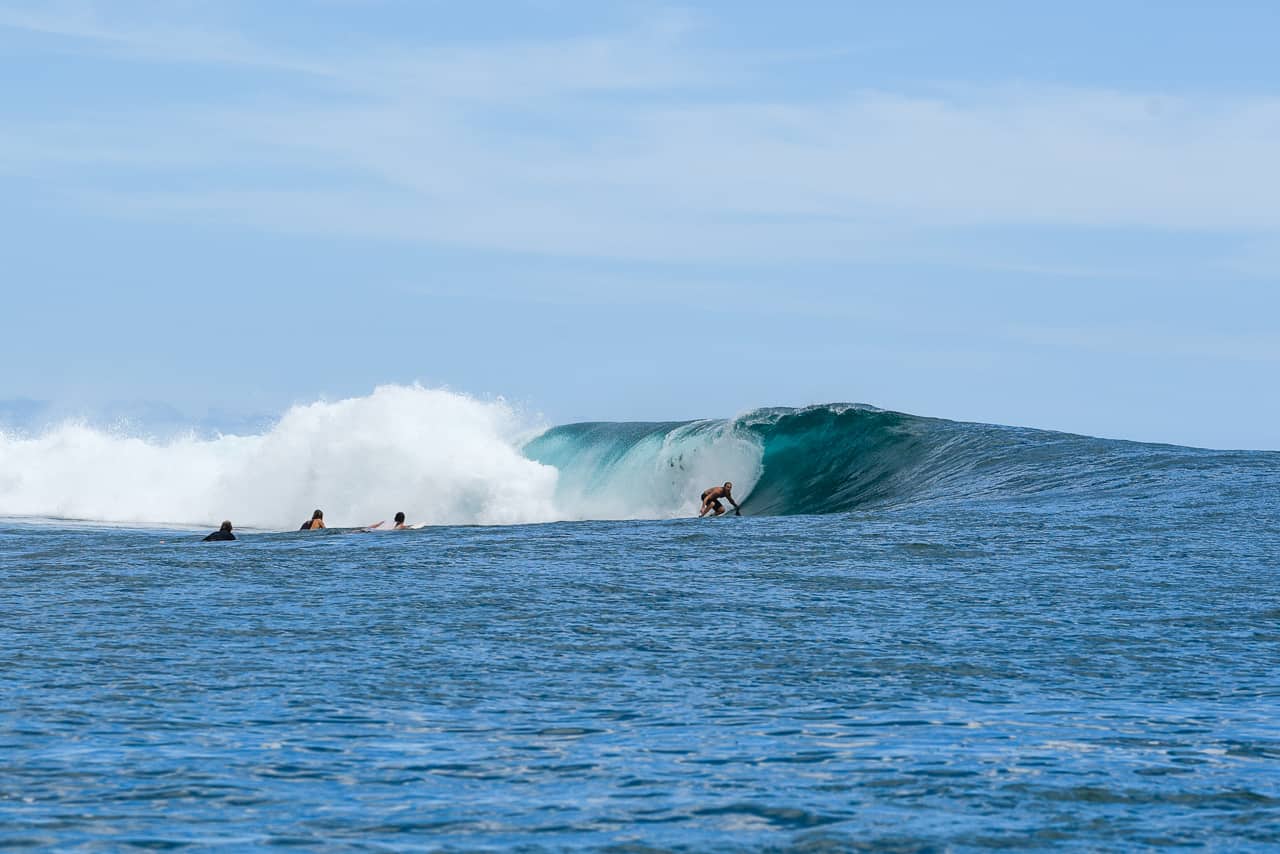 Types of Surf Breaks
Most of the waves in Samoa break over coral reef. Some reefs are quite jagged and sharp, and some are more worn, flat, and forgiving from the pounding surf wearing it down. With a little size and glassy conditions or offshore wind, most of the best waves are fast and hollow with barrel sections on offer.
Level of Difficulty
Since most of the breaks in Samoa have dangerous characteristics such as sharp, shallow reefs and heavier hollow waves, surfing in Samoa is best left to the experienced surfer. Samoa is not a great destination for beginners or those interested in learning how to surf. The waves tend to be fast and technical and rip tides can be a force to reckon with.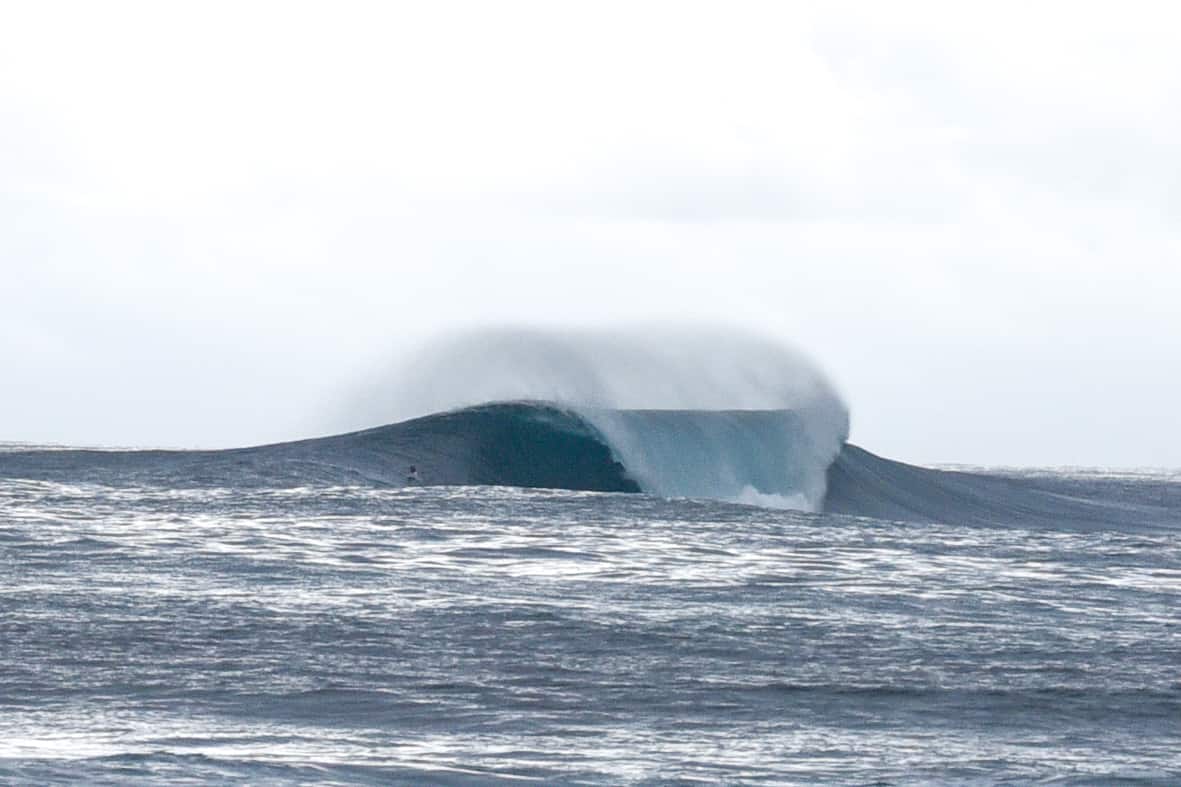 Season and Swell Info
Like many tropical islands, Samoa has a wet season and a dry season. The dry season is from May – October and this is when the south swells are rolling through. It's also when the southeast trade winds are blowing so it's best to get on it early when the wind is likely to be lighter. There are a couple of breaks like Nusafe'e Island (Devils Island) which favor the SE winds and Boulders which is protected.
The wet season is from November to April. The swells aren't typically as big as they are from May – September, but they can be and they still run in the head high to double overhead range. You also have the luxury of scoring both sides of the island. The north swells that pound the North Shore of Oahu roll on through the Pacific to find the North Shore of Upolu, they're just quite a bit smaller by the time they show up in Samoa.
You can also score south swells during the wet season, so there can be times where you have the chance to surf both sides of the island on the same day. There is usually something fun and surfable somewhere on the island.
Crowds
Samoa is an epic surfing destination with waves throughout the entire year. A crowded session typically has no more than a handful of surfers out with a terribly crowded session having a dozen or so at most. But don't fret, you can still easily score breaks all to yourself if that's what you're hoping for.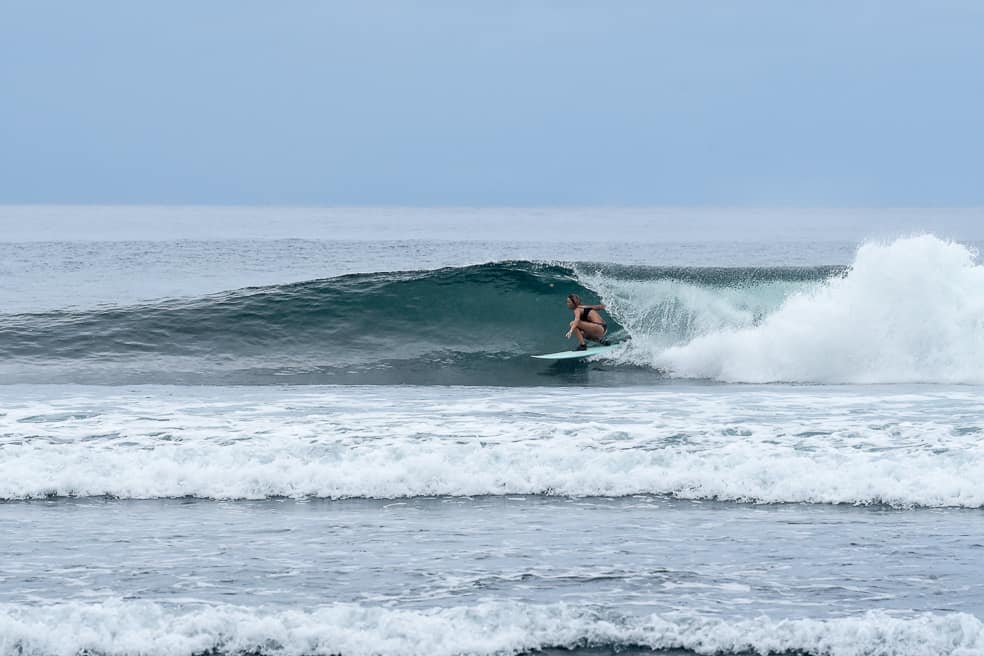 Water Temp
The water temperature in Samoa is so nice ranging from about 78 – 84 degrees Fahrenheit (26-29 celsius). The only reason you might want to wear a rashguard at times is to protect your precious skin from the powerful Samoan sun. The sun is quite strong so be sure to pack quality sunscreen and zinc so you can endure those long marathon sessions.
Getting to the Surf
It can be difficult to navigate on your own. First, you'll need a 4×4 as some roads can be very rugged. As you drive around and explore you'll quickly learn that nothing comes easy or free in Samoa.
You are expected to pay local villagers a fee (often 10-40 tala) to use the beach access roads to some of the best breaks on the north side of Upolu. It can get very confusing on who to pay and how much.
For instance, if you plan on making the trek to Tiavea, you can expect to pay 40 tala at the first village and 10 tala at the next one just to get down to check the surf. And if you're not a familiar face, you might get hit up to pay an additional 5 – 10 tala per surfer at the parking area by the locals.
Second, many of the quality surf breaks in Samoa are outer reef passes and best accessed by boat. There are a few breaks that you can paddle out to, but the paddle is quite long. At a couple breaks with nearby resorts there are attempts of privatization going on so you might find yourself being told to leave if you are not staying at their resort.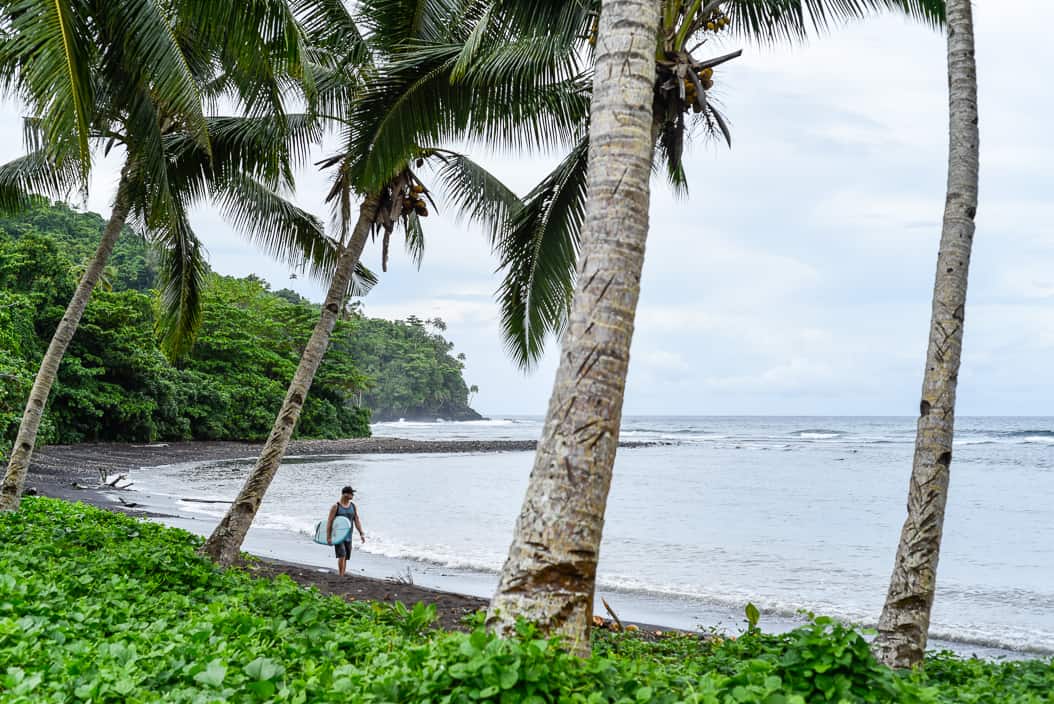 Good to Know
There is only one surf shop on the island and it's in Apia. Horizon Surf Shop has a basic assortment of wax, leashes, reef booties, rash guards, and beachwear. When we stopped by to check out the shop, they only had two boards for rent. The boards were old, yellow, and rather outdated pin tail step-ups. Probably not something you'd want to rent. They didn't have any boards for sale. Case in point, Samoa is a place where you'll need to bring all your own equipment, and you should definitely bring backups of everything as well. Check out this

Surf Trip Packing List

to make sure you're covered.
A Strong Recommendation: For multiple reasons, we highly recommend connecting with a surf guide to help you score the best waves the island has on offer and to help with navigating the often complicated surf scene in Samoa. We hooked up with Neil from Manoa Tours. Neil has been living in Samoa for 16 years and he has the place wired.
Here's some more info on some of the top surf breaks on Upolu.
SURF TRIP COSTS IN SAMOA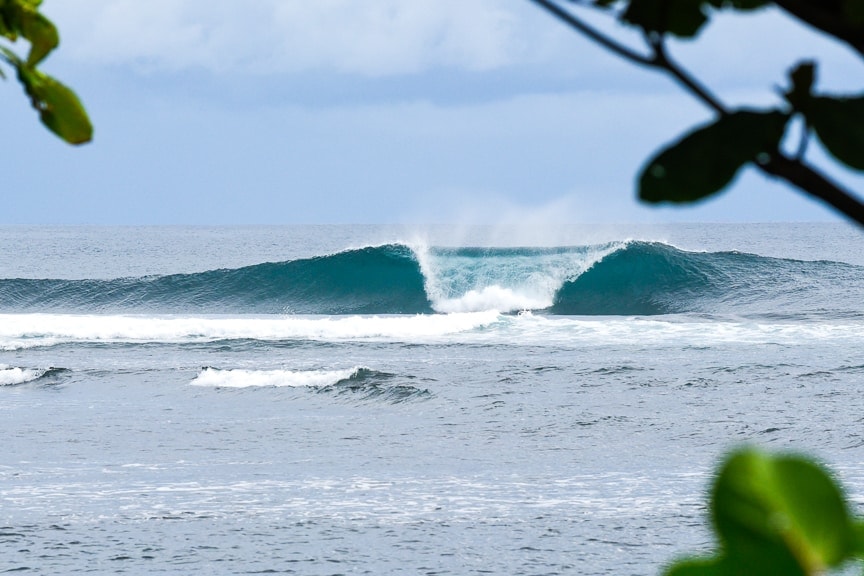 As with any travel, the cost of your surf trip will vary depending on what time of year you go, where you stay, and your overall travel style.
After traveling in Samoa for some time, we found that many surfers had misconceptions about the cost of a surf trip in Samoa. We can consider ourselves a couple of those surfers.
From first glance, it looks like Samoa is a budget surf destination and you can put together a trip on the cheap, but here's the bottom line. Samoa is NOT a budget surf destination. I repeat, Samoa is NOT a budget surf destination.
Yes, you can find cheap accommodation, but food in Samoa is first-world prices, and the biggest hidden costs are transportation. Transportation around the island itself and boat trips out to the surf add up.
And as mentioned in the surf lowdown above, the mass majority of breaks in Samoa are best accessed by boat. Or quite long paddles… like 30-45 minute paddles.
For example, here's what a typical single day of surfing Samoa can add up to. This is without transportation.
Budget room per person (the most basic fale): 60 WST ($24 USD) breakfast and dinner included
1st boat trip to the morning surf: 80 WST ($32 USD)
Lunch: 35 WST ($14 USD)
2nd boat trip for afternoon or evening session: 80 WST ($32 USD)
2 beers: 12 WST ($5 USD)
Grand Total for a single day would be about $107 USD, and that's being super conservative.
Can you possibly go a bit cheaper by eating nothing but ramen noodles and limiting yourself to only one surf per day? Maybe, if you're a vigilant budget traveler. But when all is said and done you wouldn't really be saving that much money since you have to factor in taxi rides to the store and the cost of groceries.
TRANSPORTATION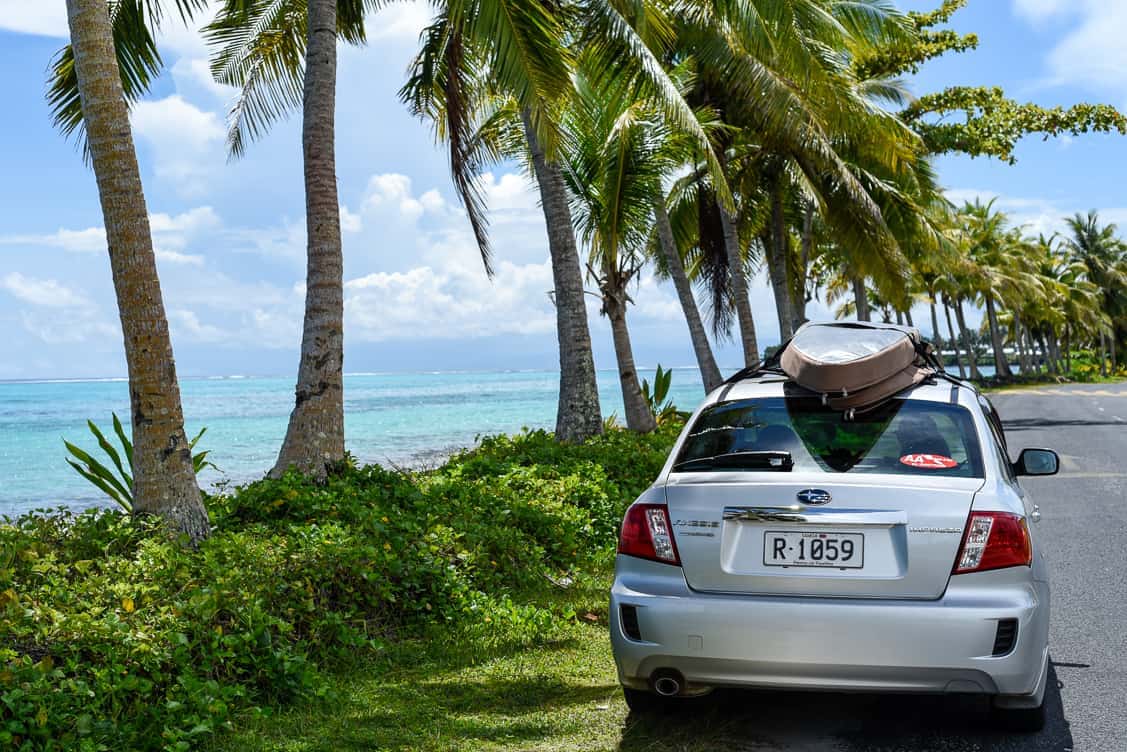 When we were planning our trip to Samoa we saw that rental cars were quite expensive so we thought we'd go for a scooter. But between the intense Samoan sun, feral dogs that will come after you, and dirt roads that need a 4×4, a scooter really isn't a great option. We opted to rent a car but wish we had got a 4×4 with some clearance.
If the sole focus of your trip is surfing and not so much sightseeing, we'd suggest saving the money you'd otherwise spend on car rentals and putting it towards a surf guide who would likely provide transportation either by boat or 4×4 to the surf.
Although, there are a lot of beautiful sights to see in Samoa such as the To Sua ocean trench and heaps of stunning waterfalls. So if budget is not a concern, then renting a car is a must if you value having any kind of independence when exploring the island.
Taxis can quickly add up and are not always a reliable source of transportation if you have firm plans to be somewhere at a specific time.
We used AA Rent-a-car and they were great. They delivered the car to a remote location on the south coast of Upolu, and then picked it up for free from a hotel in Apia when we no longer needed it.
You can rent a Subaru Forester for 140 WST ($56 USD) per day which should get you anywhere you want to go since they are all-wheel drive and have a bit of clearance. And you get a discount if you rent for 7 days or more, so it would be 120 WST ($48 USD) per day if you take advantage of the incentive.
WHERE TO STAY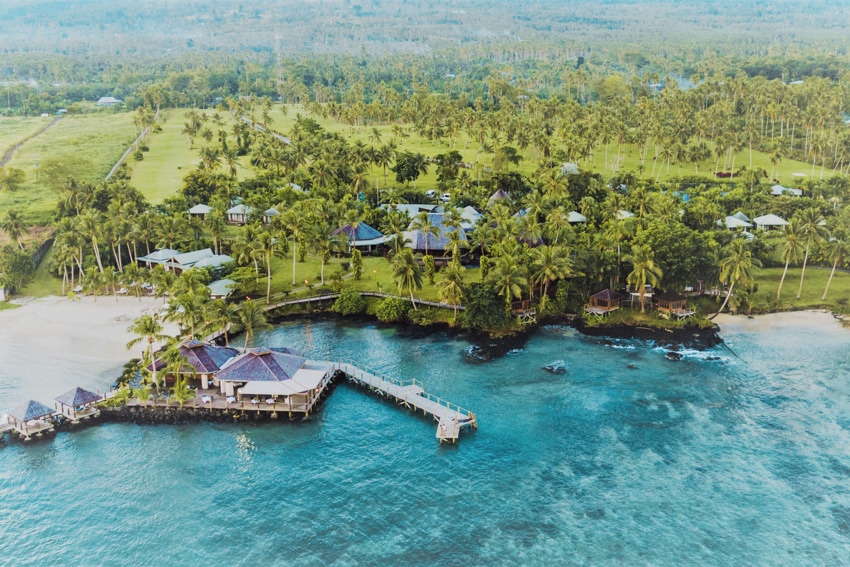 In Samoa, many of the top beaches are lined with beach fales from bare-bones basic ones to souped-up fancy beach bungalows. A traditional fale is typically an open-air form of shelter with a roof (like a hut), no walls, wooden construction, and may or may not come with a sleeping pad and mosquito net.
Basic fales are definitely the most budget option, but when I say basic, I mean seriously basic. You're essentially paying for an open-air space to lay your head with a roof for protection from the sun and rain. There would likely be a shared bathroom set up and potentially a restaurant or kitchen on premises with complimentary breakfast.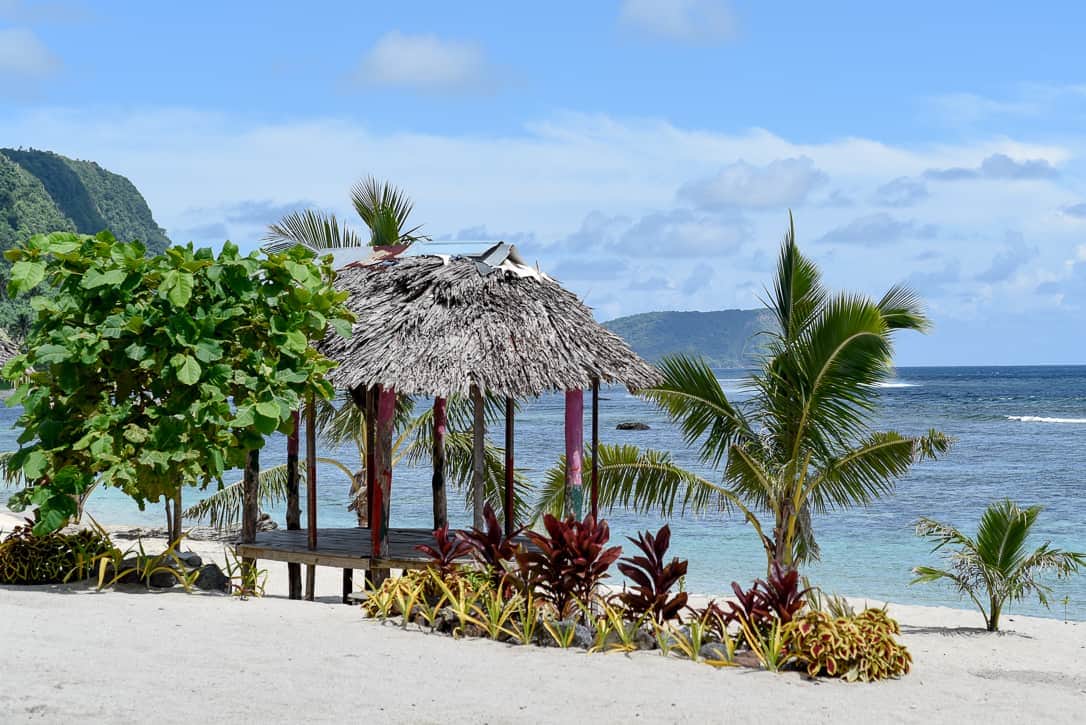 The mid-range is where you'll find the most accommodations. From cool hilltop treehouses to private enclosed beach fale inspired bungalows with air conditioning, there are plenty of options for a comfortable place to crash.
If you can swing it, Samoa has a couple of nice hotels on the coast with direct access to surf boats, which makes them the most convenient and easy way to navigate a surf trip in Samoa. A top-notch breakfast is likely included in the rate, along with an onsite restaurant with a view, and the sweet respite of air conditioning, which is quite handy in the Samoan heat.
For the best access to surf, you'll want to stay on the south coast of Upolu. Here are a few recommendations for every budget:
BUDGET • up to $100 per night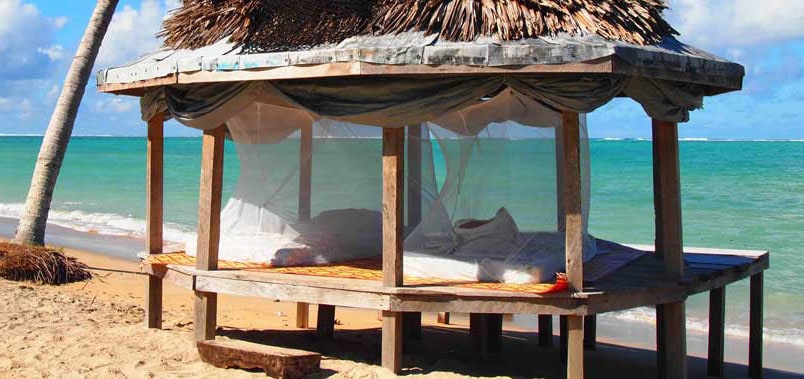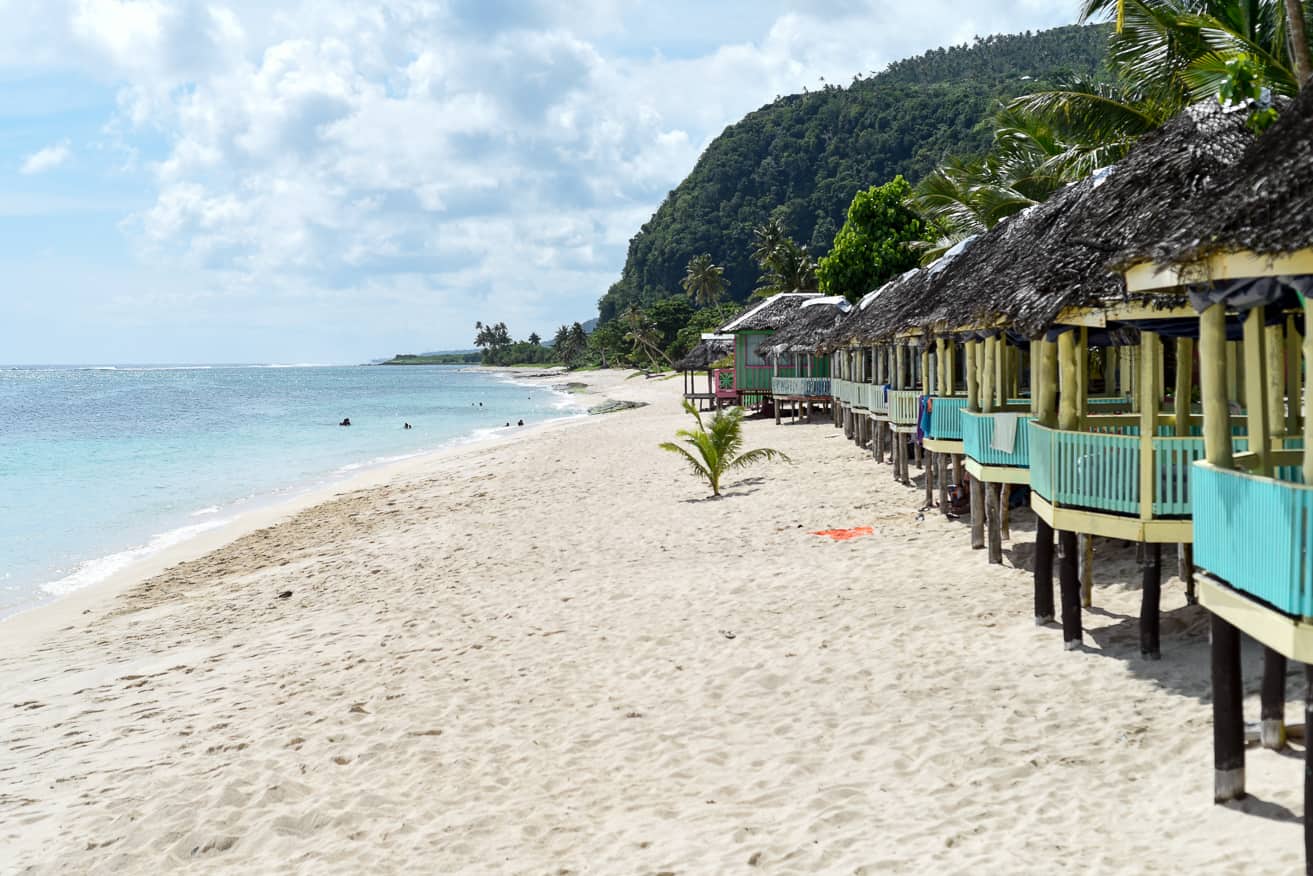 If you're interested in hopping over to the island of Savai'i, check out Satuiatua Beach Resort. We heard there's a fun wave you can paddle out to right from the beach.
MIDRANGE • $100 – $200 per night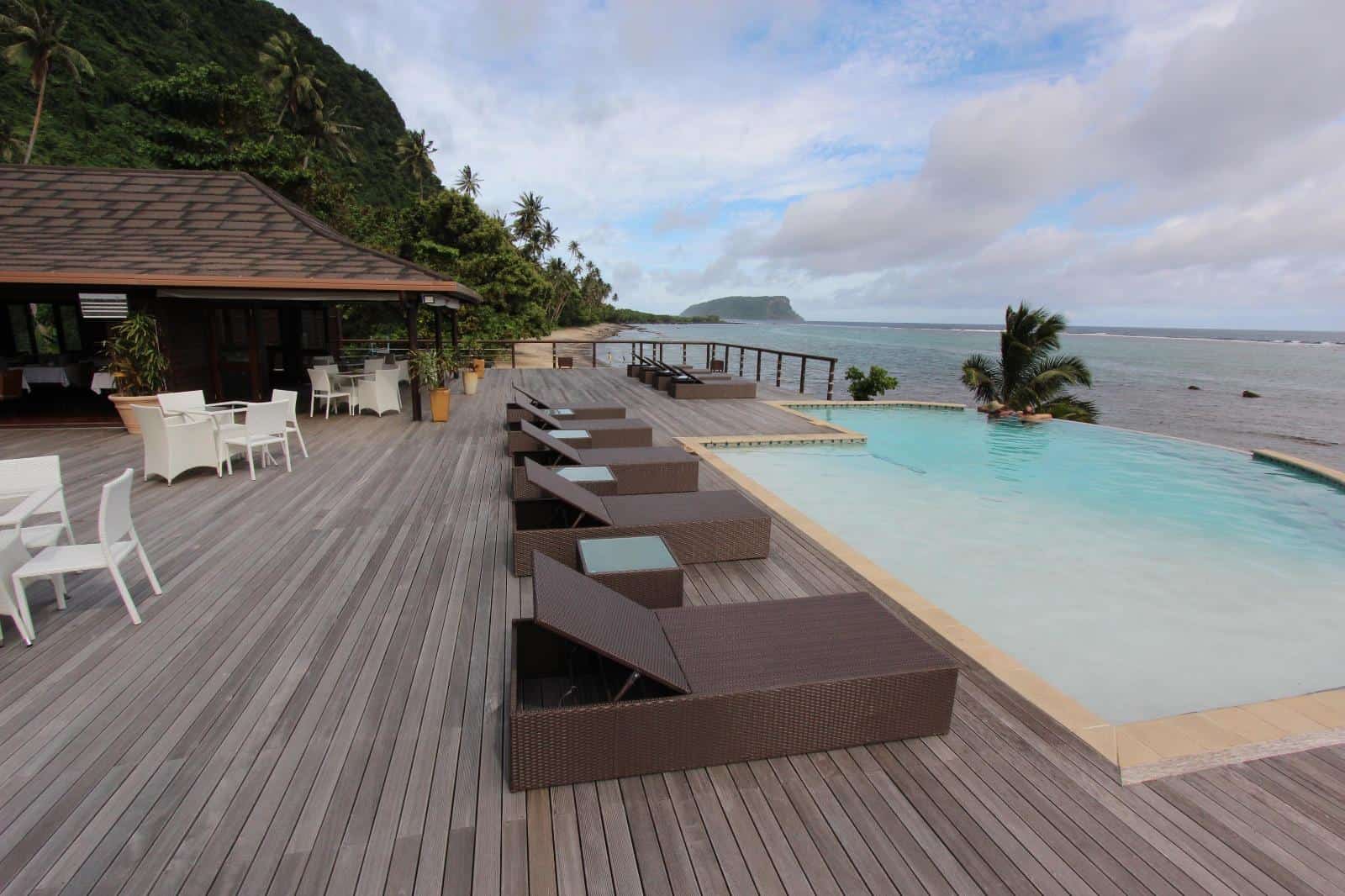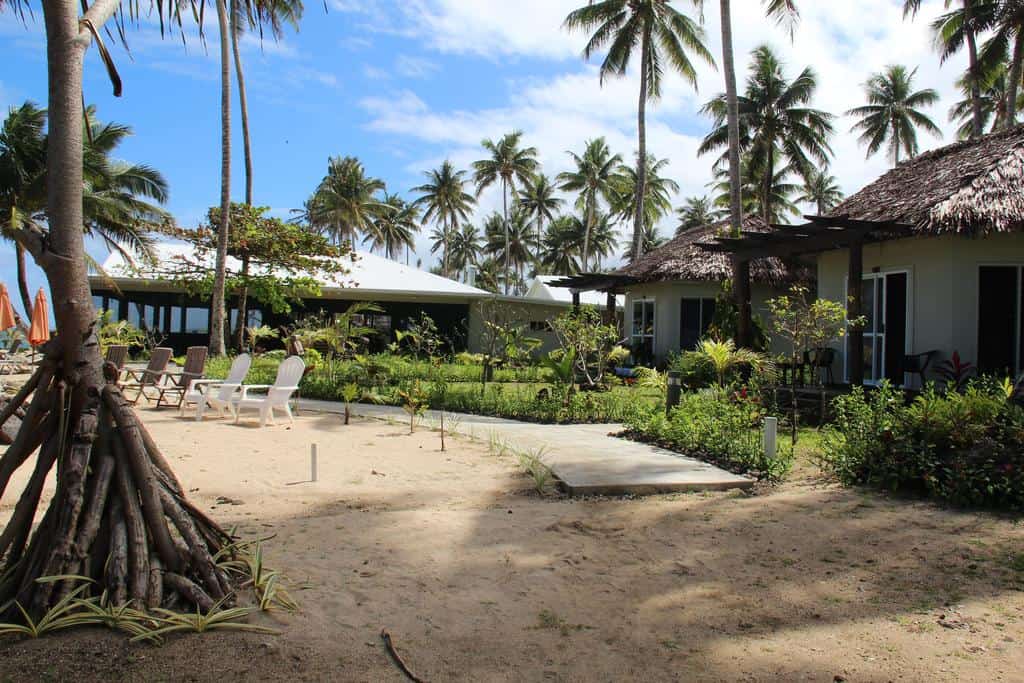 HIGH-END • $250+ per night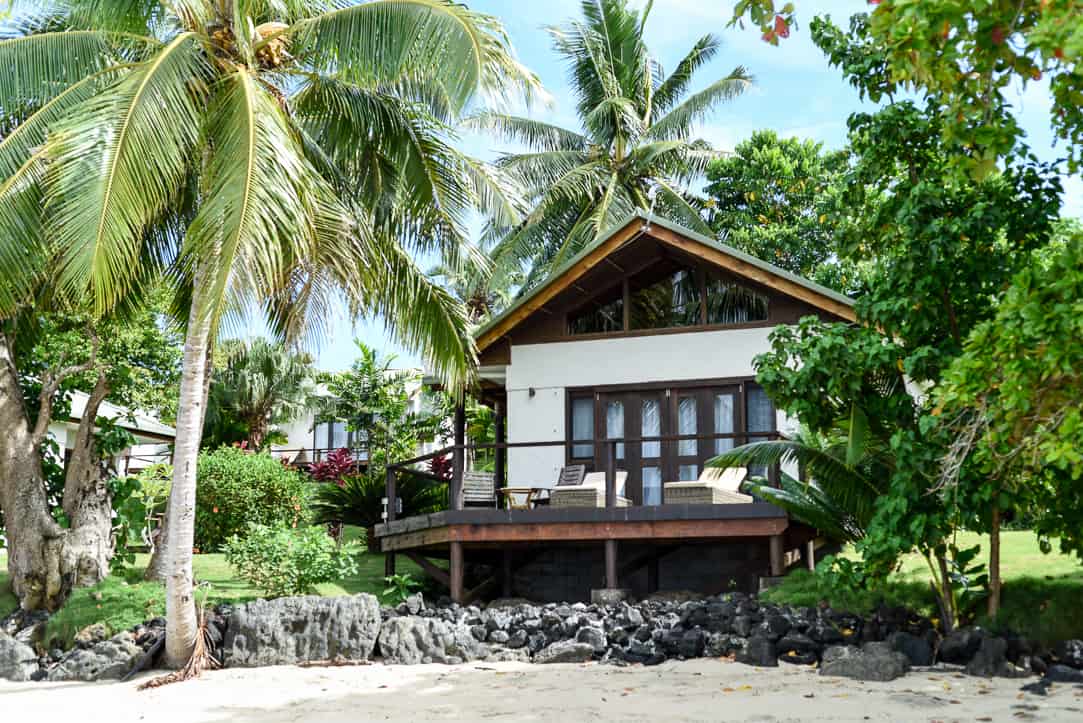 FOOD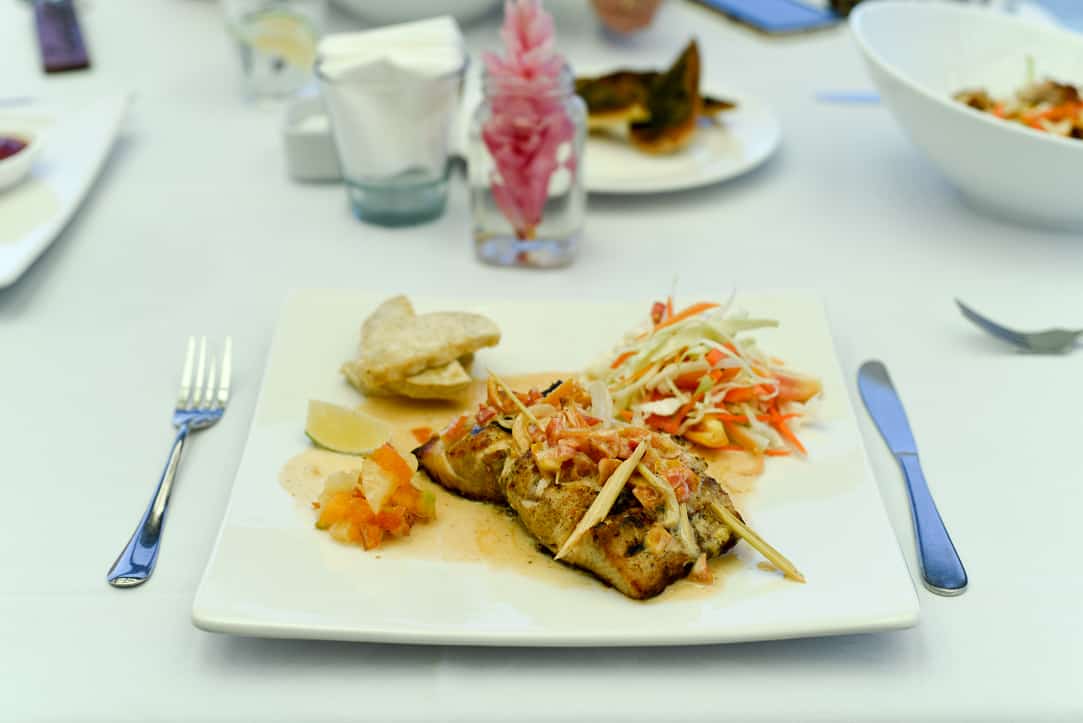 The cost of food in Samoa is probably more than you'd imagine. It's not like Bali where you can get a solid meal just about anywhere for $3 – 5 USD. Expect to pay first-world prices at most restaurants in Samoa.
The least expensive meal you can find are local barbecue stands on the roadsides where 6 – 8 WST will get you a plate of barbecue chicken, sausage, and rice. If you're going super budget, your best bet is a trip to the store and stocking up on pasta and ramen noodles to cook. But then you have to have some sort of kitchen to cook it in, and most budget accommodation do not have kitchens in Samoa.
Restaurants on the south coast of Upolu (where you should be staying for the surf) are all on the expensive side because they're all located in hotels, and it's more remote so there aren't many options. Restaurant prices are similar to what you would find in the US.
Around town in Apia, you can expect to pay 25 WST ($10 USD) for a burger, which is usually one of the less expensive items on the menu. A good meal at a restaurant in Apia or just about anywhere on the south coast of Upolu will cost you about 35 – 45 WST ($14-18 USD).
RESTAURANTS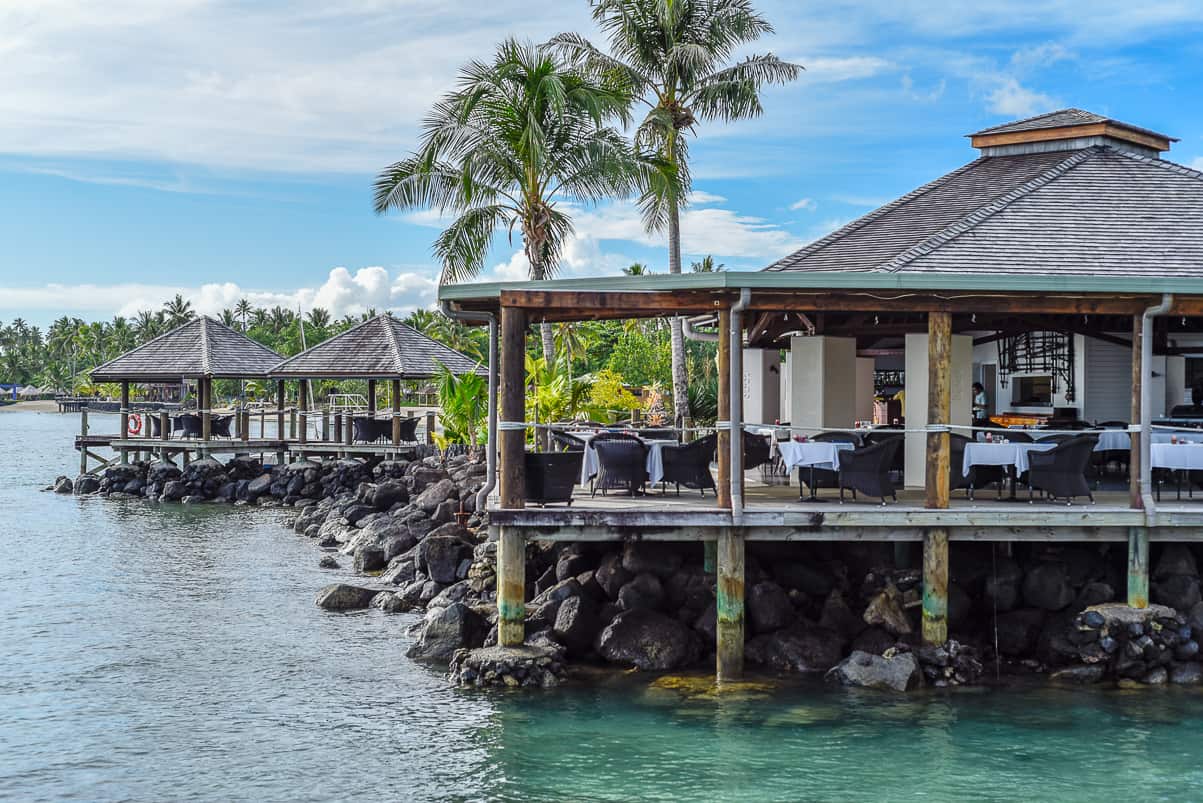 We rounded up a few of our favorite restaurants below. A gentle reminder: Almost all restaurants besides hotel restaurants are closed on Sundays. And beware of posted hours, as they're not always accurate.
TIFIAMOANA serves up delicious authentic Indian food at great prices. The huge homemade Samosas are some the very best we've ever had, and the Chicken Tikka Masala is perfection.
LEGENDS is one of the best restaurants in Samoa (in our humble foodie opinions). Open for breakfast and lunch, the menu features a mix of western classics and Samoan dishes made with local produce. Try the black rice and coconut cream, Mediterranean omelet, or the lagoon burger… but really, you can go wrong here. Open 8am – 3pm (Mon – Sat).
KRUSH is a smoothie and juice bar conveniently located on the Cross Island Road in Apia. Krush has a huge selection of smoothies and tasty vegan and vegetarian dishes.
AVA I TOGA is one of the best places in Samoa for dinner and drinks at sunset. If you're looking for a romantic locale, hands down, go here. Located at Sinalei Reef Resort, this gorgeous overwater restaurant has delicious food and amazing views to match. The menu is fresh Samoan-inspired cuisine with a focus on local ingredients and sustainability. Try their signature dish, Masi Masi Samoa: fresh Masi Masi fish marinated in coconut cream, lemongrass, ginger, fresh chili, tomato, and lemon basil wrapped with banana leaf and served with coconut rice and crispy taro. Absolutely divine.
GIORDANO'S serves up fresh Italian food in Apia and is one of the only restaurants (besides hotel restaurants) open on Sunday. A lovely outdoor patio, tasty pasta and pizza, and great service makes Giordano's a hit.
While we'd all rather not think about getting injured, there are too many cases of people who didn't think about insurance and get nailed with crazy medical bills after the matter.
That being the case, many hotels and surf properties actually require that you have approved travel insurance in case of a serious inquiry or trip cancellation, especially in the wake of COVID.
You know the deal—better safe than sorry. We recommend battleface or World Nomads Insurance. Both companies offer very comprehensive travel insurance and cover heaps of activities, including surfing and ocean sports. You can easily check them out and get a fast quote below.
Get a battleface Insurance Quote >>
Get a World Nomads Insurance Quote >>
So there you have it. We spent nearly a month surfing Samoa and learned a lot about the surf scene. Here's our Samoa Travel blog all about our stay in Samoa — the good times and a few not-so-good times!
And in case you missed it, here's a write-up on some of the top surf breaks on the island of Upolu, which is home to the majority of the breaks in Western Samoa.
Have any questions or comments about surfing Samoa?
Let us know in the comments below!
Dig this Guide to Surfing Samoa?
Check out other surf travel guides >>