Located in the Mexican state of Oaxaca and serving as the de facto center of Mexican big wave surfing, Puerto Escondido has been a staple of the Mexican surf experience for decades. First surfed in 1959, "Puerto," as surfers quickly came to call the beach break at Playa Zicatela, became a well-trafficked surf spot in the 1970s, when board design finally caught up with the lineup's powerful tubes.
By the 1990s, it was a yearly stop for the world's best freesurfers, and in the early 2000s, the nearby point breaks in Huatulco and Salina Cruz were revealed by The Search's itinerant world tour event. Then Puerto officially became one of the world's best big wave beach breaks a decade later when the Big Wave Tour added a stop there.
Today, Puerto is widely considered to be the best XL beach break on the planet and is a major travel hub for anyone surfing in Oaxaca, as well as a booming backpacker and local tourist stop. Playa Zicatela is where the big wave crew hangs out, while cruisier surfers enjoy the waves and nightlife at La Punta, which is around a mile down the beach.
The city of Puerto Escondido itself is quite large, with daily flights and just about anything you need for your stay in Mexico. Whether you are stopping through on your way to the points, looking to pack an enormous, sandy barrel, or just want to hang in a beautiful beach town with a booming backpacker scene, Puerto Escondido has you covered.
Location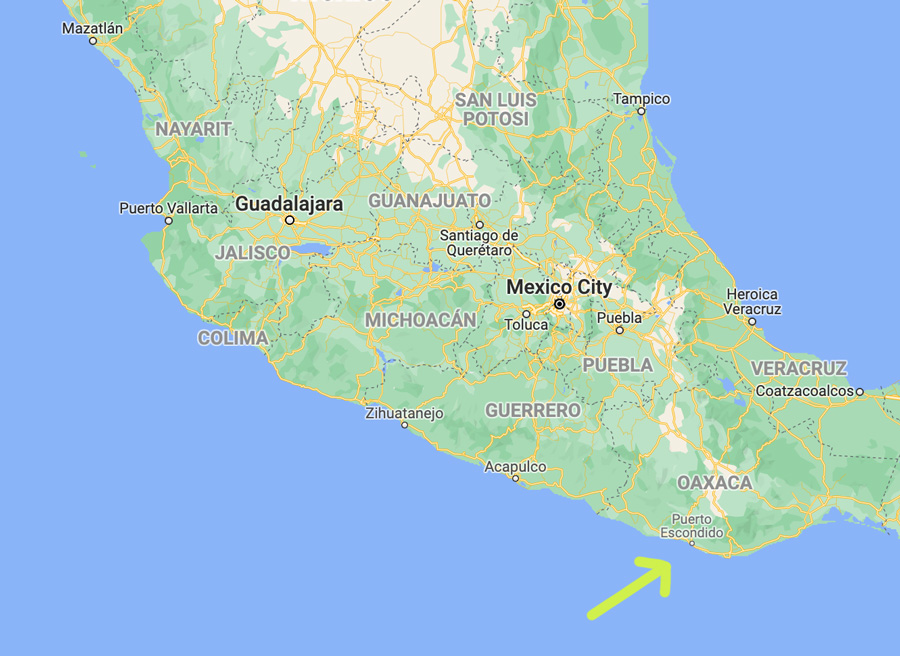 Puerto Escondido is a coastal city in the southern Mexican state of Oaxaca, approximately a two-hour drive from Huatulco and a six-hour drive from Oaxaca City. A popular destination for backpackers, local tourists, and visiting surfers, the city has numerous transportation options, a thriving party scene, and hundreds of restaurants, bars, and clubs that stay busy all year.
Surfing Puerto Escondido
Season & Swell Info
Technically located in the northern hemisphere, Puerto Escondido is open to south swells and fires during the northern hemi summer. Swells are most consistent between April and September, with June through August forming the heart of the season.
South swells are funneled through an offshore canyon that creates constructive interference (i.e., makes the waves bigger), with straight south swells being a bit peakier, while southwest swells produce running rights on the Far Bar.
Smaller swells are still common during the offseason (Mexico has one of the most swell-rich coastlines on the planet), but Zicatela rarely gets over head-high during this time. While that might sound like more than enough swell for some fun, the wave doesn't really get good until it's overhead.
Types of Surf Breaks
The beach break at Playa Zicatela is Puerto Escondido's most popular wave, and provides heavy, critical barrels from head-high+ to as big as it gets. Mark Healy famously paddled a 50-foot, close-out barrel there during the biggest swell ever seen. La Punta, which is located at the northern end of town, is a left-hand point break that is generally pretty user-friendly. There are also a number of lesser-known beach breaks in the area that work when the swell is too small for Zicatela.
Level of Difficulty
While La Punta is appropriate for virtually any level of surfer, Playa Zicatela is for competent barrel riders only, and turns into a pro/hell-man wave when it gets big. The Puerto Escondido area is famous for its giant waves, but there are also nearby surf spots that are accessible to beginner to intermediate surfers on smaller swells.
Crowds
The beach break at Playa Zicatela stays pretty crowded all season, particularly on the mid-sized swells that aren't quite life-threatening. That being said, the beach break is notorious for closeouts and rip currents, particularly as it gets bigger, so that helps to regulate the crowd.
Water Temperature
Because Puerto is located in southern Mexico and fires during the summer, the water stays quite warm. Water temps remain between 80 and 85 degrees F year-round, so board shorts or a bikini will typically suffice.
Good to Know
Playa Zicatela eats foam for breakfast, and you are likely to break most of the boards in your quiver, especially if they aren't glassed heavily. Fortunately, the local board repair crew is the best in the world and can put together snapped boards for relatively cheap. There are also a lot of boards for sale in town, although it is not advisable to show up without boards and expect to buy a quiver there. Bring what you think you will need, then avail yourself of the local services when what you brought inevitably proves to be inadequate.
Top Surf Spots
Playa Zicatela
Widely considered the world's heaviest beach break, Zicatela produces board-breaking barrels on a regular basis, ranging from overhead to enormous. Swells are focused and broken up into peaks by an offshore, underwater canyon, although the peaks tend to close out more and more the bigger the swell gets. Zicatela is the main wave in the Puerto Escondido area and is commonly referred to as Puerto.
La Punta
A user-friendly left-hand point break that can be epic on the rare occasion that the sand gets perfect. Attracts a healthy crowd of beginners, backpackers, and intermediate surfers who find Zicatela to be a bit too heavy, particularly during big swells.
Carrizalillo
While Carrizalillo isn't a world-class break by any means, this scenic cove with mellow rights and lefts can get super fun and is an ideal spot in the area for beginner and intermediate surfers. Smaller swells are especially good for beginners.
Barra De La Cruz
The quintessential Oaxacan right-hand point, Barra got busy after the world tour held an event in all-time conditions, then was all but abandoned after development on the beach diverted sand flow and ruined the wave. Recently, the sand has started to come back and the wave has improved somewhat, although it still hasn't recovered its previous glory. (2.5-hour drive from Puerto Escondido)
Punta Conejo
One of many high-quality right-hand points in the Salina Cruz area, Punta Conejo is rippable when small and an epic barrel when the swell gets bigger and the sand is good. Gets very busy due to the host of surf camps in the area, but the wave is worth the crowd. (4-hour drive from Puerto Escondido)
Puerto Escondido Surf Clips
Where to Stay
Like many areas in Mexico, Puerto Escondido offers accommodations at a wide range of price points. For a lower-budget trip, there are plenty of wallet-friendly hostels and hotels for under $100 a night. And if you're in the market for luxury, there are some beautiful spacious villas for rent from $300 – $2,000 per night (some equipped with staff like a chef, butler, etc).
Below is a curated list of top places to stay in Puerto Escondido at a range of price points. These properties were hand-picked based on location, design, amenities, reviews, and proximity to surf.
Budget • Under $100 per night
Mid-Range • $100 – $400
High-End • $400+
Eat & Drink
There are dozens if not hundreds of restaurants in the La Punta and Zicatela areas that cater to tourists, backpackers, and visiting surfers. Fare ranges from the typical Mexican tacos and seafood to Thai, Italian, pizza, hamburgers, and even falafel and hummus. Breakfast and lunch will run you between $5 – $10, while dinner is typically somewhere between $10 – $40. There are also tons of coffee shops, bakeries, smoothie stands, and health food stores.
In Puerto Escondido proper you will find more traditional fare, and prices will be much lower. A beer will cost you between 50 cents and a couple of dollars, depending on where you buy it. Water should only be consumed from sealed water bottles or trusted water dispensers, with a liter of water costing a little less than a dollar.
Things to Do
(besides surfing)
When the waves aren't pumping–which is pretty much every day starting around noon–there is still a lot to keep you busy. In addition to the nonstop social life and backpacker scene, you can check out the crocodiles in the mangroves, go on backwater tours, explore the mountains, shop for cultural keepsakes, and even do a guided temescal (a ritualistic Mexican sweat lodge ceremony).
Having your own rental car makes it easy to get out of town and check out the natural beauty of the Oaxacan landscape. Consider a trip to Oaxaca City, which is known for its architecture and food. Another great area to escape to is the Salina Cruz region, which, in addition to great waves, has dozens of secluded beaches/points with beautiful, rocky headlands.
Guided Activities with Top Reviews:
Surf Trip Costs
The cost of a surf trip to the Puerto Escondido area can vary widely depending on where you focus your trip and the level of service you seek out. Those staying in Zicatela and La Punta can stay for as low as $20 per night at hostels and $30 per person per night at hotels. And there are some beautiful luxury vacation rentals that range from around $350 per night up to $2,000 per night for fully-catered and staffed stays.
Food ranges from $5-$40 per meal at restaurants in the beach communities, and can be much cheaper if you head into the city and eat at local establishments. Groceries are also widely available and tend to be a bit cheaper than at home.
If you are planning to head to the points in Salina Cruz and Huatulco, expect to pay between $100-$300 per night, depending if you are at an all-inclusive camp or renting a place and driving yourself to the surf. Note, however, that many waves are only accessible to tourists if they come with a guide or a surf camp.
Flights from the US typically cost between $500-$700 roundtrip, although you can fly for around half as much if you depart out of Tijuana. Rental cars will run you $30-$100 per day depending on season and demand.
Travel Basics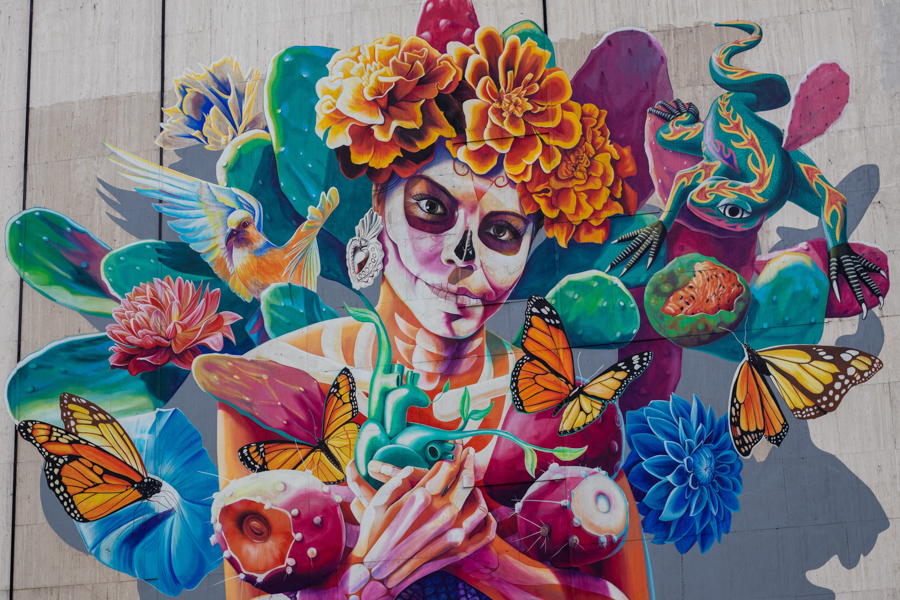 Seasons & Weather
The weather in Puerto Escondido remains pretty stable throughout the year, with temps staying around 80 degrees both in the air and the water. Winter tends to get more rain than summer, but you probably won't be there after September if you are looking for consistent swells.
The wind is consistently light offshore in the mornings and goes onshore at around 11 am every day. The exception to this rule is during storms when the wind is unpredictable and the ocean surface often stays bumpy from overnight squalls.
Currency
Unlike in the border towns of northern Mexico, the US dollar is not widely accepted in Oaxaca, where pesos are the main currency. Exchange rates hover around 20 pesos per dollar. ATMs are available throughout Puerto Escondido, and credit cards are widely accepted, but once you get outside of the city and out to some of the less developed points, you'll want to have enough pesos on you to last your entire stay.
Good to Know
Mexico has a reputation for petty crime and cartel violence, but if you keep your nose clean, it is actually pretty safe. Don't get mixed up in the local drug scene, try to avoid sketchy parties, keep your valuables locked up, and don't drive at night, and you should be fine.
Transportation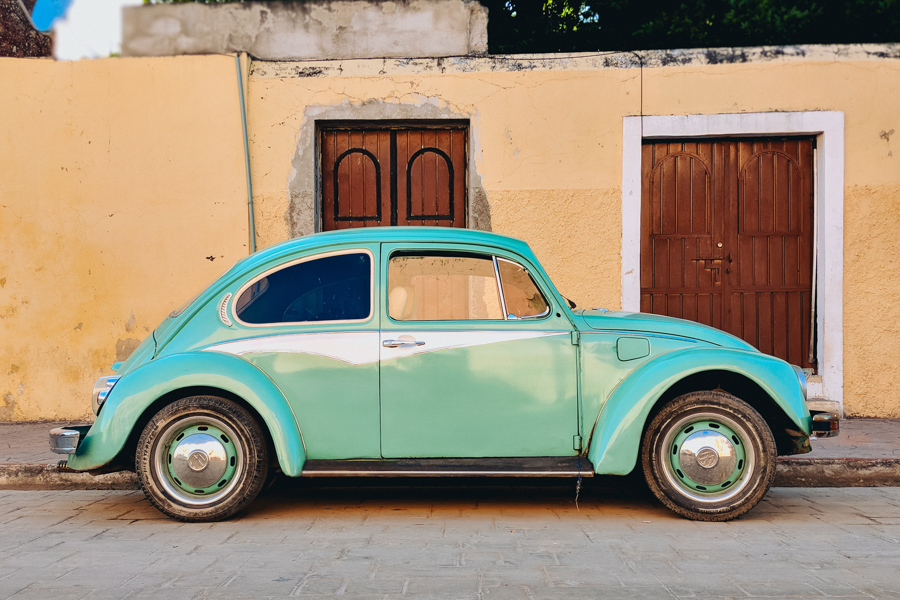 Most surfers either fly into Huatulco or straight into Puerto Escondido (PXM), although you can also fly into Oaxaca City and drive or bus down to the coast. If you are planning to base solely in Puerto Escondido (i.e., Zicatela/La Punta), then a taxi or bus from Huatulco or Puerto Escondido airports is a good option.
If you plan to go mobile and chase waves and conditions (or do a combo trip between Puerto and the points), then it might be worthwhile renting your own vehicle, particularly if you are with a group and can split the cost.
Questions, comments, or tips about Puerto Escondido surf travel?
Let us know in the comments below!