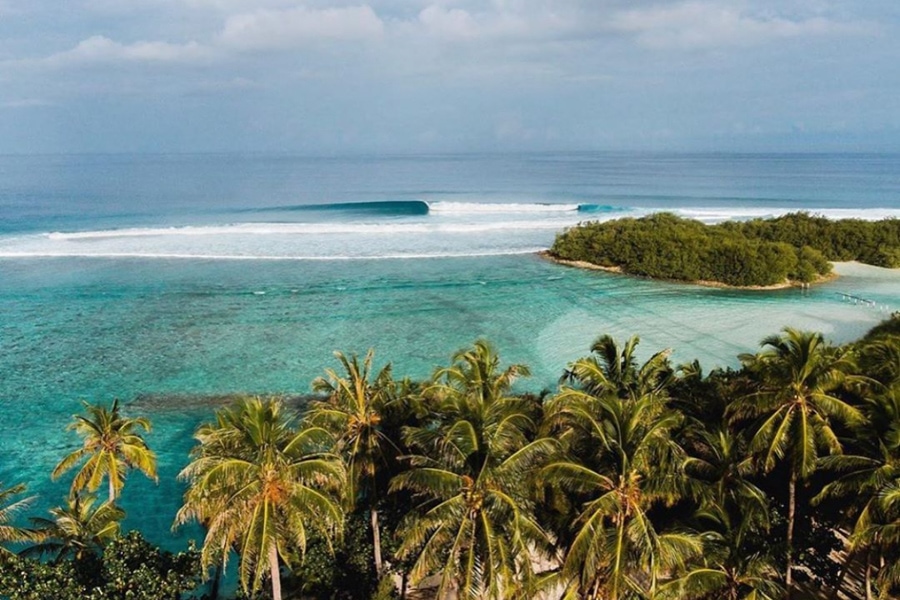 A Maldives surf trip serves up the brilliant combination of amazing user-friendly waves, island paradise perfection, and absolute barefoot luxury. Whether you're looking to take a group trip with friends or a family-friendly surf vacation, the Maldives is one of the most stunning surf destinations on the planet.
Located in the central Indian Ocean, off the west coast of India, the Maldives are a string of nearly 1,200 coral islands spread across 26 atolls that have come to epitomize the tropical paradise experience. Picture-perfect white sand beaches dotted with palm trees and five-star resorts are the norm in these largely uninhabited atolls accessed through Male (the capital), providing the quintessential beachcomber lifestyle—with every luxury you can dream up, of course.
The waves in the Maldives were discovered in the 1970s by Tony Hussein Hinde, who famously stumbled upon the surf potential there when he was shipwrecked in the Maldives while sailing from Sri Lanka to Reunion Island.
The region's original surfer and surfing pioneer, Tony established the Maldives surf tourism industry in the area (and by extension the tourism industry in general), which quickly grew as new waves were discovered and the Maldives was put on the map. Today, there are dozens of charter boats and surf resorts catering to thousands of satisfied wave riders each year.


Maldives Surf Regions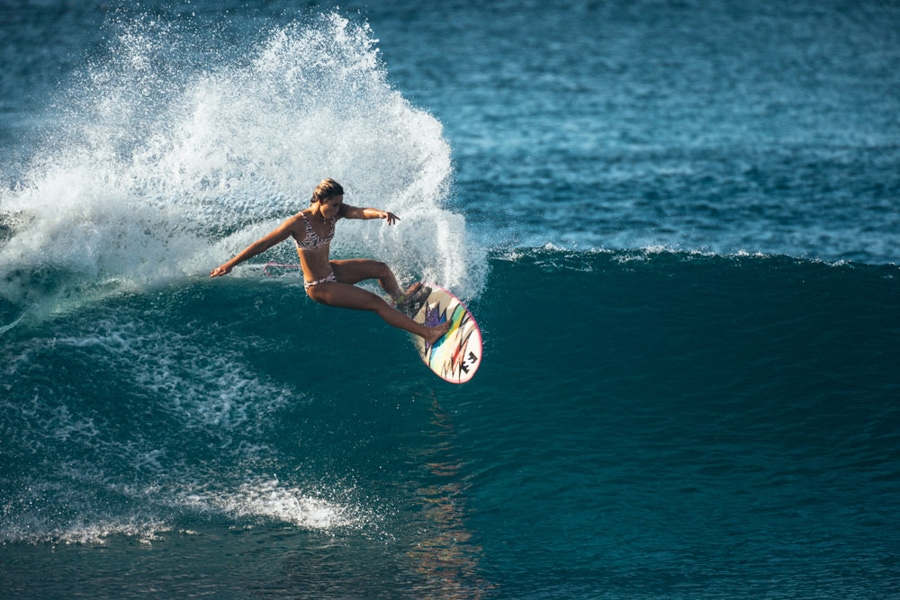 There are three main surf zones in the Maldives—the central atolls, the southern atolls, and the Male atolls. During the northeast monsoon in April and May, the southern atolls (such as Huvadhoo) tend to enjoy the best conditions.
Meanwhile, the central (Laamu) and northern (Male) atolls prefer the southeast monsoon, which typically stretches from May through October. Charter boats tend to base themselves down south during the early season, and then in the central and north atolls during the mid- to late season.
Surfing the Maldives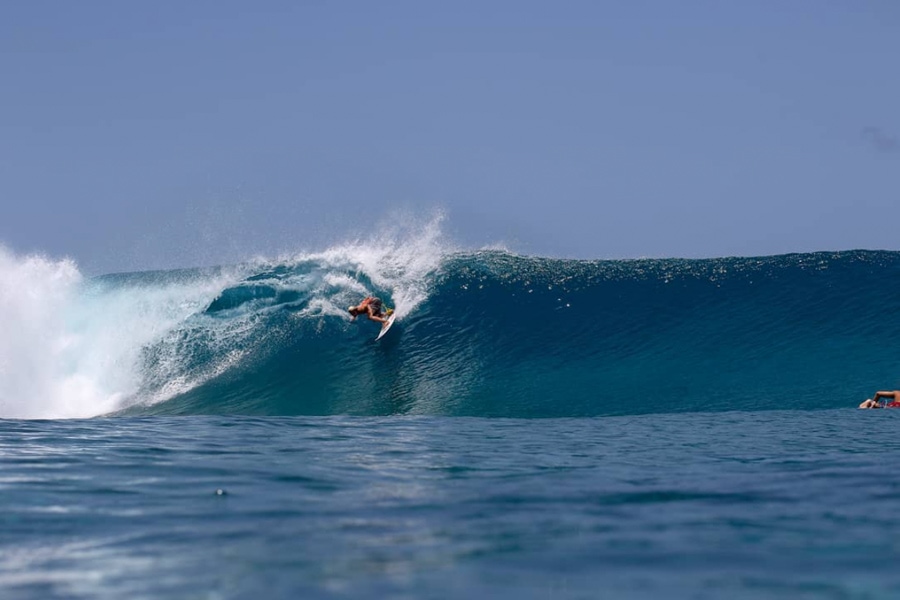 Types of Surf Breaks
Predominantly reef breaks and reef points, although typically not as heavy as the reef breaks in Hawaii, Tahiti, or Indonesia. Light winds and small to moderate swell produce sculpted, rippable walls for the every man surfer, making this a great destination for a family surf trip.
Level of Difficulty
Intermediate. Although surfers will need to be comfortable over reef, the waves tend to be relatively user-friendly, and don't often get above 8-12 feet on the face. There are also a handful of hollower waves that will appeal to experts, although the majority of pros who visit the Maldives do so to stack high-performance clips. The region also has a large variety of beginner waves for those who are new to the sport.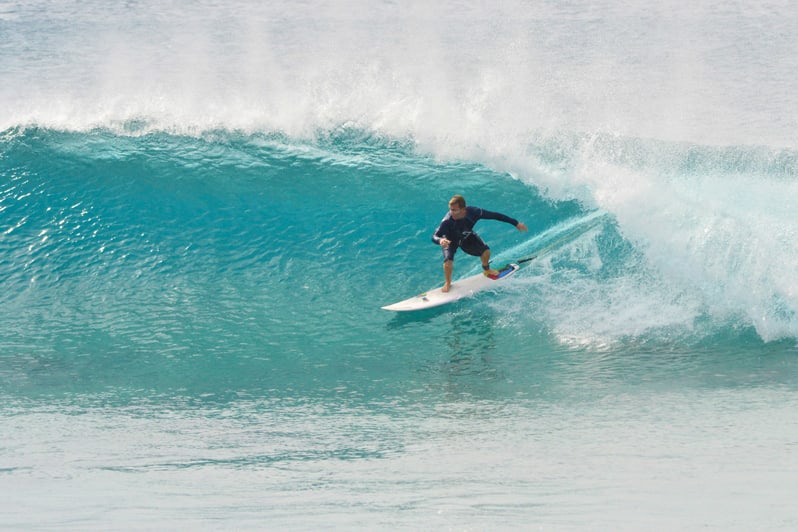 Surf Seasons & Swell
South swells out of the Indian Ocean are common from March through October. The cleanest conditions typically come early in the season, before the wind picks up, while the largest swells tend to arrive between June and August. September and October enjoy consistent swell with variable winds. Because the Maldives are so much farther north than Indonesia, these swells tend to be smaller than what you would find on Bali or in the Mentawais. However, they also tend to be more organized.
Crowds
Depending what region and waves you are surfing, you could be alone or with a few dozen other surfers. The more popular breaks tend to get more visits from charter boats, but some land camps have exclusive rights to the breaks out front.
Getting to the Surf
Nearly all of the waves in the Maldives are accessed through resort, surf camps, and liveaboard boat charters. While it is possible to do the Maldives independently, by the time you have traveled all that way, it's well worth it to book tours with a professional to ensure that you score.
Top Maldives Surf Spots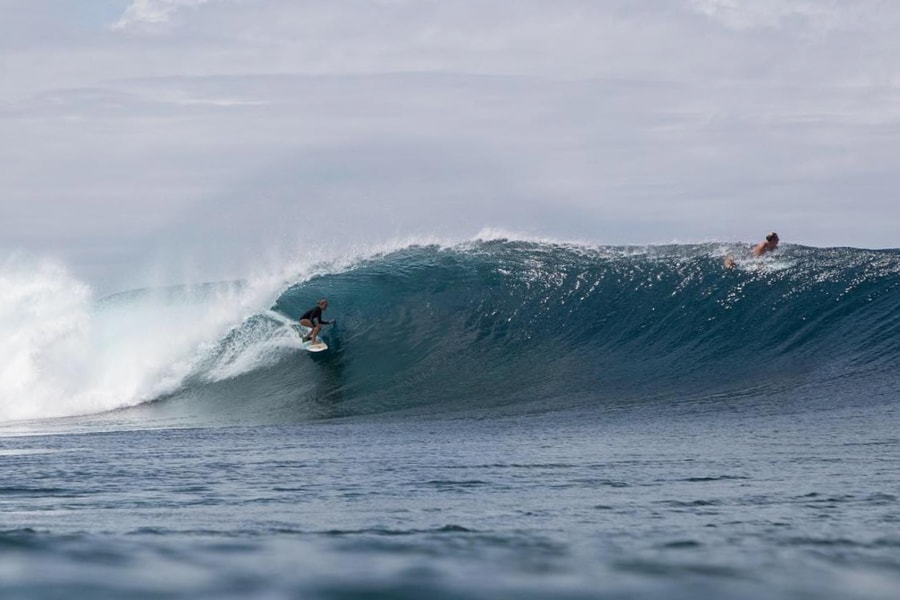 Male Atolls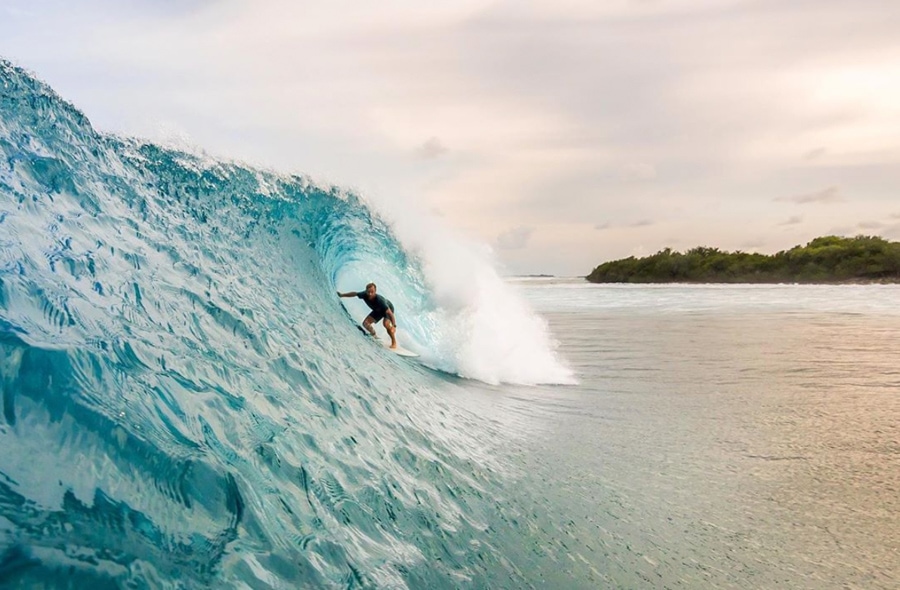 The original Maldives surf zone, the Male atolls are home to some of the country's best-known waves:
Cokes: A right-hand reef break that handles size and can produce barrels, Cokes is one of the more consequential waves in the area.
Chickens: A long left-hand reef point that is best in the head-high+ range, Chickens is located near Thulusdhoo Island, and can sometimes peel for upwards of 500 meters.
Jailbreaks: Located adjacent to what used to be the national prison, Jailbreaks is a fast, hollow right-hander that grows down the line.
Central Atolls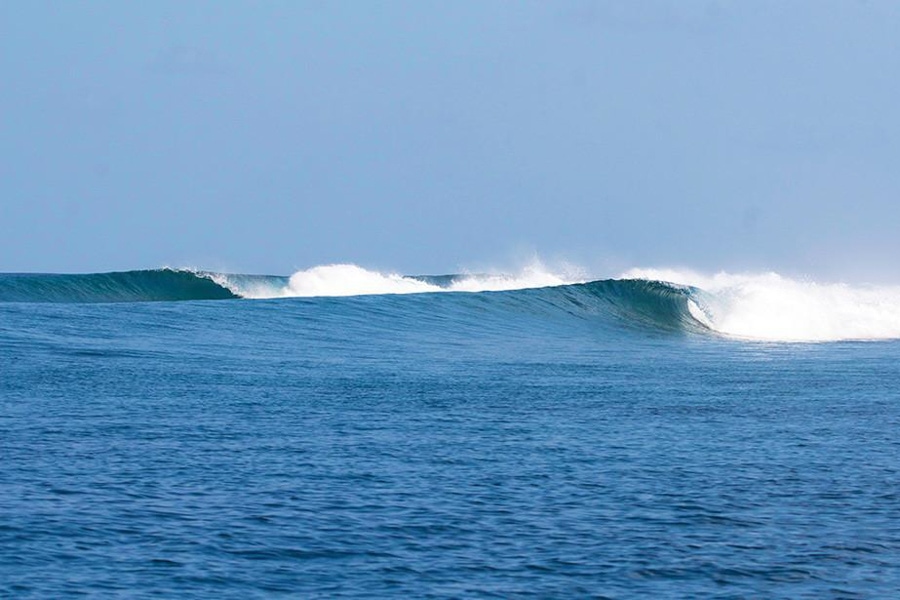 The least crowded surf zone in the Maldives, the central atolls feature a number of quality waves, despite having far fewer resorts and charter boats. This is a great area to check out if you prefer to surf alone.
Yin Yang: The most consistent spot in the Laamu area, Yin Yang starts off as a mellow wall before growing into a hollow, powerful inside section.
Tsunamis: Protected from westerly and northerly winds, Tsunamis is the most consistent east-facing break in the region, and is a good option for days when the monsoon winds aren't blowing.
Mikado: The go-to spot in Thaa, Mikado is a hollow right-hander that picks up a lot of swell, but is somewhat exposed to the wind.
Southern Atolls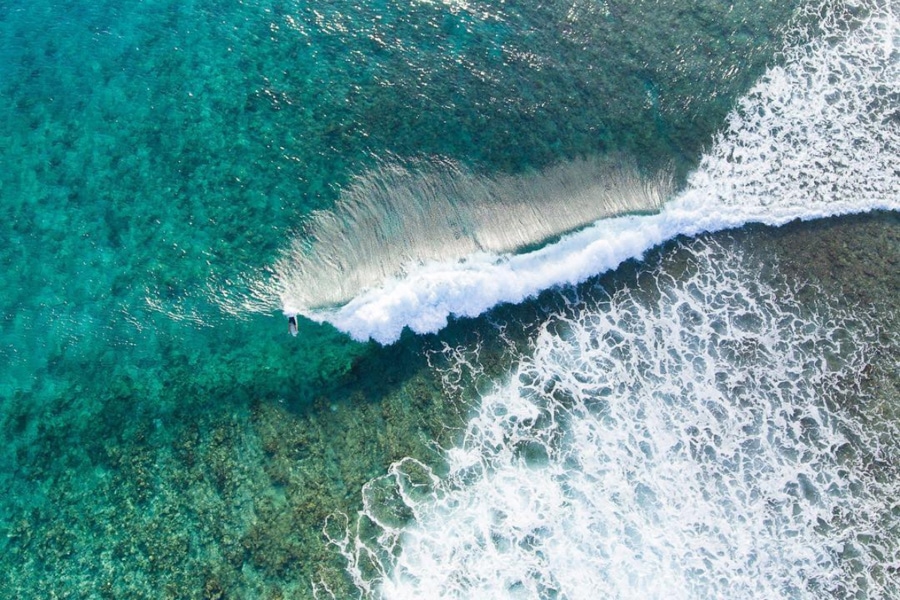 The southern atolls are the last frontier in the Maldives, still being explored, and predominantly visited by surf charter boats. Because they are located farther south than the rest of the country, they tend to pick up more swell, even in the shoulder seasons. However, they can also suffer from wind issues between May and August, when the southeast winds blow the strongest. Fortunately, there are numerous spots facing different directions, so there is almost always somewhere to surf.
Beacons: One of the heaviest waves in the Maldives, Beacons is a shallow, hollow, expert-only peak.
Tiger Stripes: A user-friendly left-hander, Tiger Stripes is a long, consistent wall that works best in west and northwest winds, and can be surfed at all tides.
Voodoos: This long, hollow right-hander handles southwest wind and all tides, and is best at around head-high.
Maldives Surf Resorts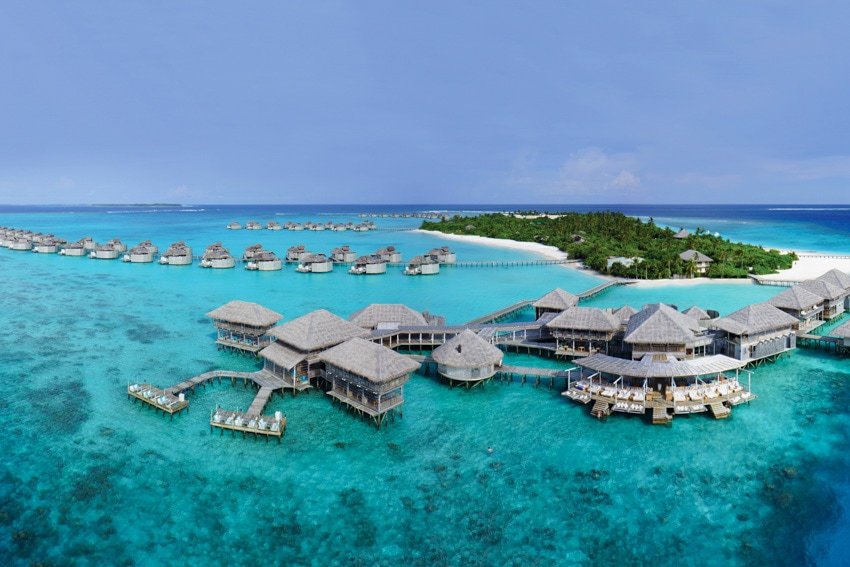 The Maldives is one of the most luxurious travel destinations in the world. Home to remote five-star resorts with every amenity your heart desires, tropical island perfection, and overwater bungalows galore – the islands of the Maldives attract jetsetters, honeymooners, and families in search of a luxury vacation with all the bells and whistles.
Because resorts in the Maldives attract a wide variety of travelers, Maldives surf resorts don't meet the typical definition of a surf resort where the property and the majority of guests revolve around surfing. In the Maldives, there aren't really resorts dedicated to surfing, rather, you'll find luxury resorts with access to nearby waves (and a few properties have an exclusive wave breaking off the resort's island).
While the Maldives is known to be a popular couples destination, it's also a fantastic destination for families, as many resorts have complimentary programs and activities for kids.
The remote locale and five-star experience bring a premium price point, but rest assured, this juice is worth the squeeze. The only downside will be spoiling yourself with a new standard of surf trip perfection. Here are our top recommendations for surf resorts in the Maldives: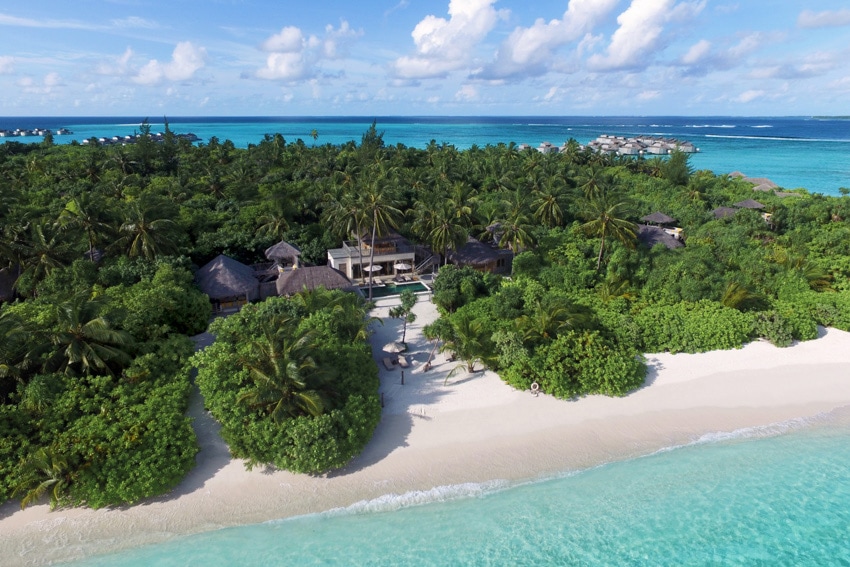 Located in the central atolls, Six Senses Laamu has stunning overwater amenities and luxury accommodations in overwater bungalows and beachfront villas. Surf-wise, there are a couple of waves only a short paddle from the resort beach, right across the channel is Yin Yangs (a consistent spot with potential for perfect right hand barrels) and of course, there are surf boats to access other nearby waves.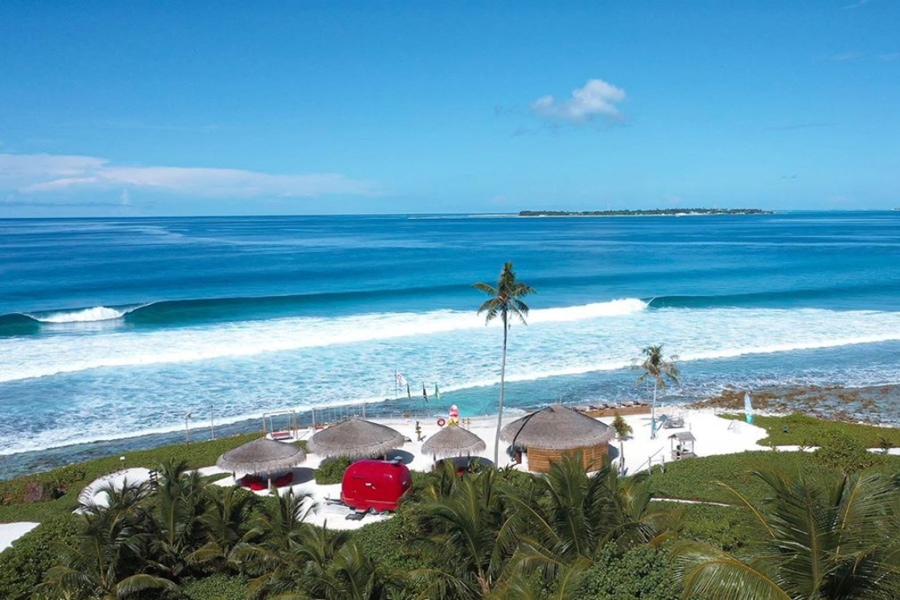 Niyama Private Islands is a luxury resort in the Central Atolls with a powerful and sometimes hollow left point (Vodi) breaking at the edge of the island. Five-star experience with beachfront villas, overwater bungalows, and the Maldives' largest kids' club.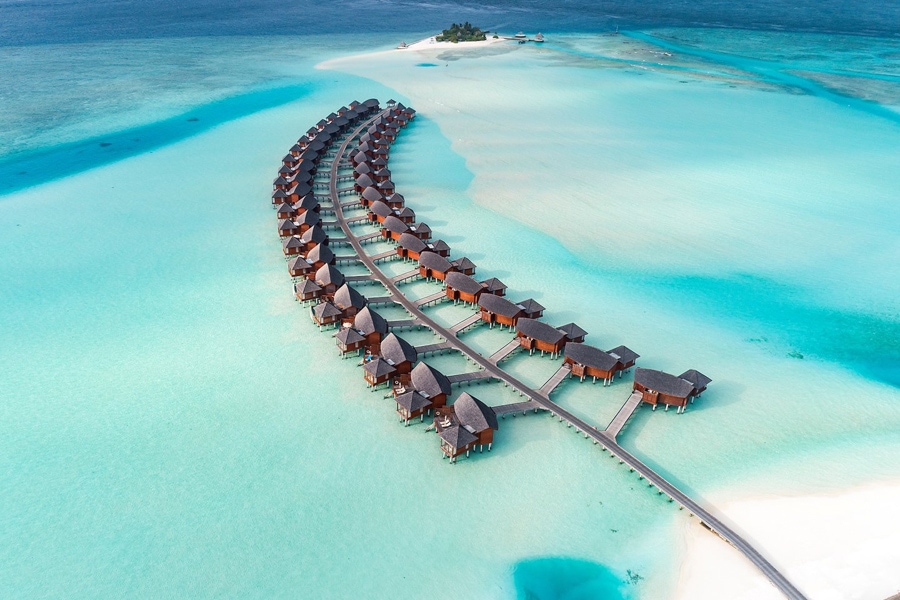 Anantara Veli and Anantara Dhigu are five-star sister resorts on two neighboring private islands – Anantara Veli has a fast barreling left peeling off the island, and both resorts have surf programs with access to nearby surf breaks. Anantara Dhigu is family-friendly with a great kid's club, while Anantara Veli is one of the few adults-only resorts in the Maldives.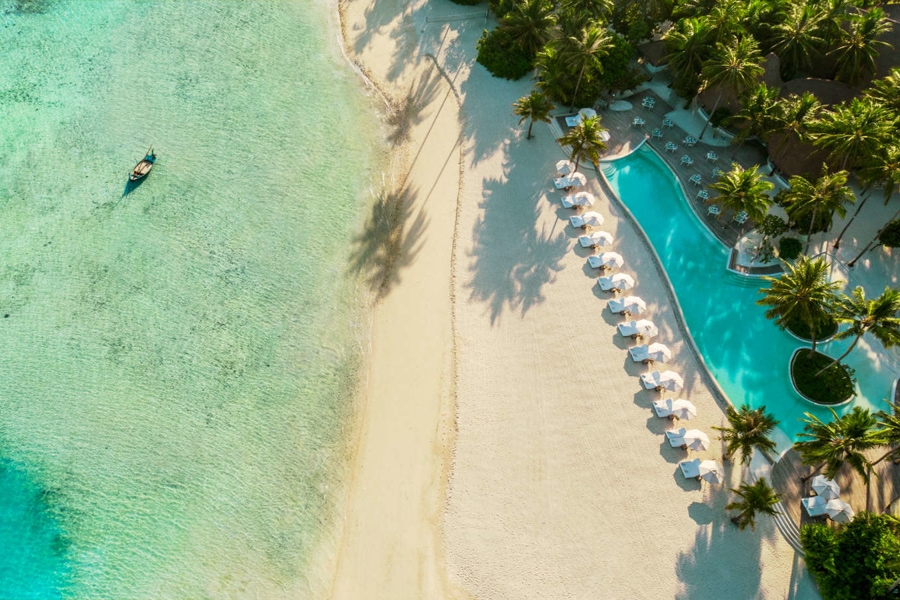 COMO Maalifushi is a luxury resort located on a private island in the remote Thaa Atoll in the southwest Maldives. A luxe speed boat provides access to 3 different nearby atolls with over 20 surf breaks.
Maldives Travel Basics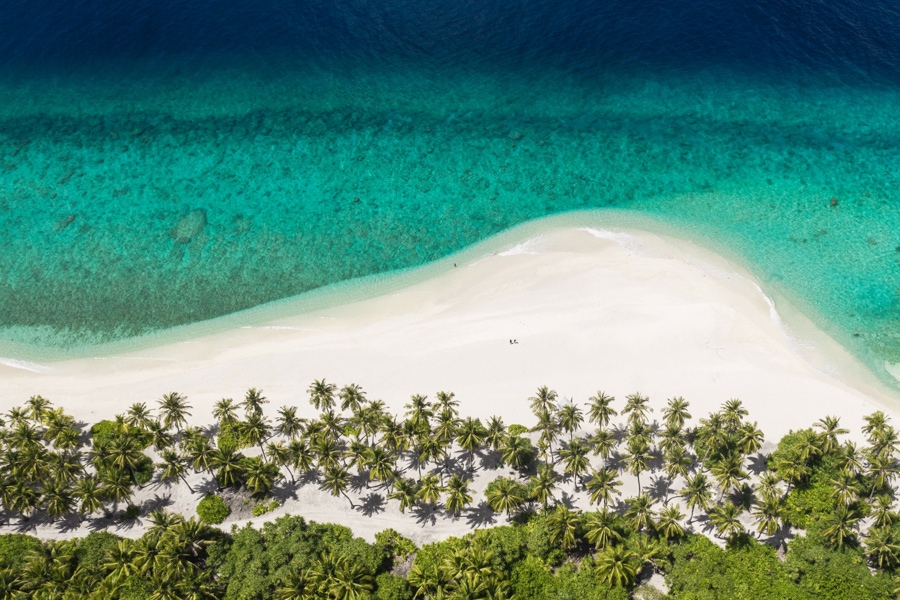 Weather
The climate is warm and sunny, with pleasant water and light trade winds to cool you down during the midday heat and humidity. The sun is a real factor in the Maldives, so make sure you bring adequate sun protection (rash guards, sunscreen, sunglasses, etc.). Water temps stay around 27 C (81 F) all year, so there is no need for a wetsuit. While the surf season is also the "wet" season, the clouds and squalls tend to blow over the islands relatively quickly, which means that the weather stays pretty close to perfect most of the time, with air temps between 68 – 86 °F (20 – 30 °C).
Currency
The local currency is the Maldivian Rufiyaa, which trades at approximately 6 cents USD. That equates to around 15 Rufiyaa per US dollar.
Staying Connected
Nearly all visitors to the Maldives stay at resorts, which typically provide Internet access/Wi-Fi. Independent travelers can purchase SIM cards at the airport upon arrival. These come preloaded, and are much cheaper than using roaming services on most foreign data plans.
Good to Know
Although the Maldives are a tropical beach destination, they are also a Muslim nation. While the resorts are accustomed to Western traditions and have no problem with guests lounging all day in board shorts or bikinis, it is advised that you dress modestly when outside of your resort and amongst the local population.
Maldives Surf Trip Costs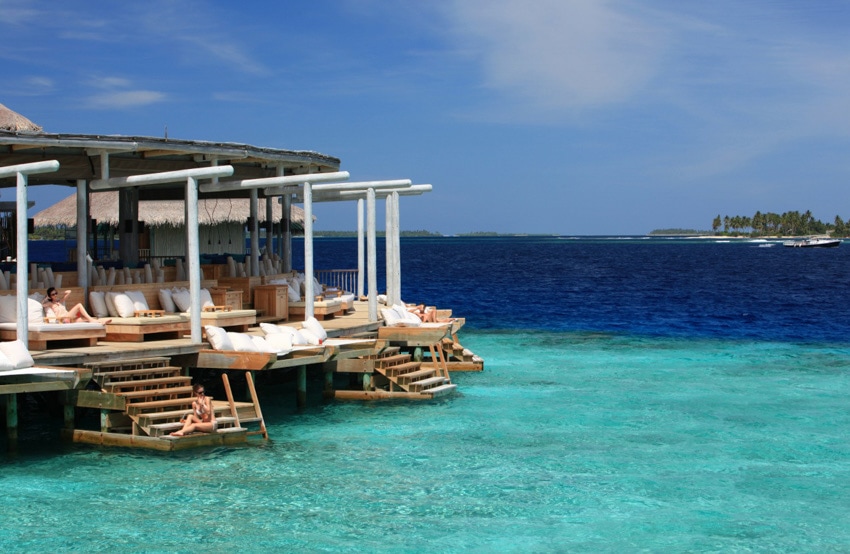 The Maldives are one of the most popular luxury vacation destinations on the planet and home to some of the world's best-appointed resorts. Add that to the remote nature of this archipelago and you're looking at premium pricing to experience this surfer's paradise.
Although prices can be quite high when compared to other surf destinations, the picturesque Maldivian atolls are as idyllic as they come, so if there were ever a time to treat yourself to a five-star holiday experience, this is it.
Expect costs to range between $300 and $1,000+ per person, per day, depending on where you stay and what level of luxury you opt for. Some stays will include food and drink, transportation, and multiple activities, so many costs can be included in your booking.
Another additional cost will be boats to access the surf (if you're staying at a resort versus a charter boat). There are only a couple of resorts with a surf break right at the island, so staying at most places will require a boat to access the surf (or a seaplane if you really want to go for it). Surf boat rates vary depending on the resort, but typically range from $100 – $250 per surf transfer.
Transportation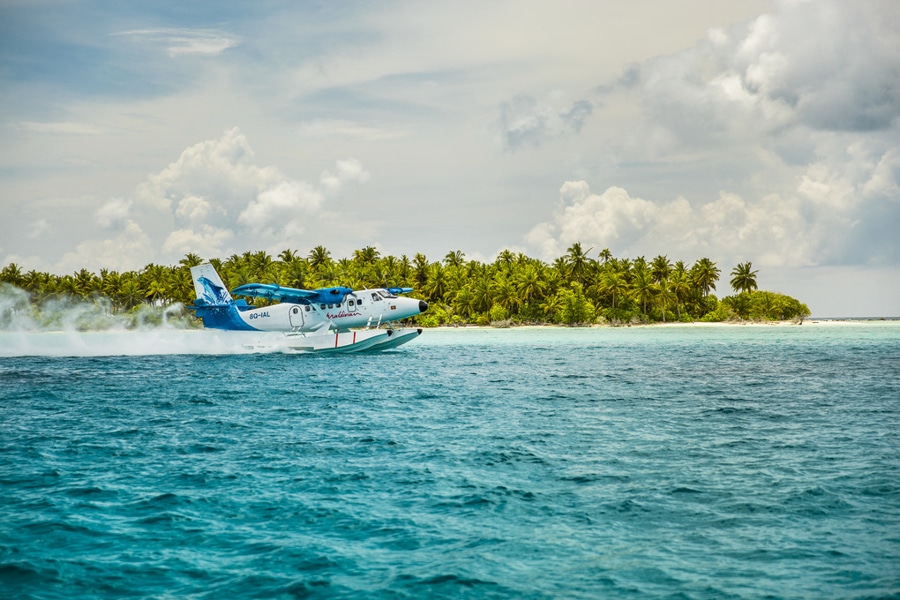 Nearly all surfers visiting the Maldives do so through resorts or charter boats, so your transportation in the Maldives is typically taken care of by your provider. Surf resorts will have boats to get you to the surf, and liveaboard charters are obviously always out on the water in search of perfect waves. That being said, independent travelers typically find it easy to get around, as the islands are relatively small and the people are quite friendly.
Most international flights come into Male's Velana International Airport (MLE), with connecting domestic flights to numerous atolls throughout the country, including Laamu, Thaa, Huvadhoo, and Dhaalu.
While we'd all rather not think about getting injured, there are too many cases of people who didn't think about insurance and get nailed with crazy medical bills after the matter.
That being the case, many hotels and surf properties actually require that you have approved travel insurance in case of a serious inquiry or trip cancellation, especially in the wake of COVID.
You know the deal—better safe than sorry. We recommend battleface or World Nomads Insurance. Both companies offer very comprehensive travel insurance and cover heaps of activities, including surfing and ocean sports. You can easily check them out and get a fast quote below.
Get a battleface Insurance Quote >>
Get a World Nomads Insurance Quote >>
Have questions or comments about surfing the Maldives?
Let us know in the comments below!