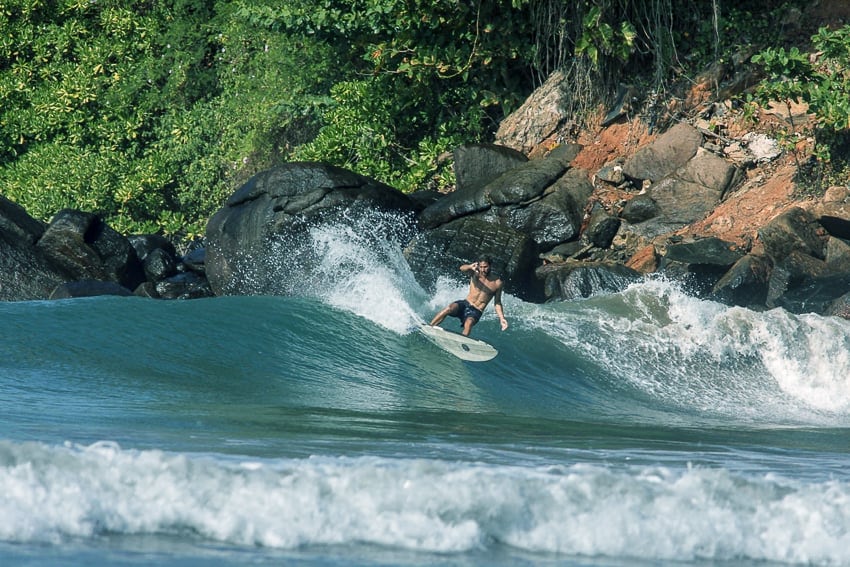 Surf camps for adults are the bee's knees. Imagine an oceanside paradise where your only responsibilities include surfing, eating, and more surfing. The general schedule of a surf camp day goes something like this: eat, surf, eat, chill, snack, surf, eat, sleep, repeat. Throw in a sprinkling of yoga classes, boat trips, pool time, and hikes and you're all set.
Surf camps come in many different forms, but the big differentiator between a surf camp and the standard a la carte beach hotel is that surf camps are designed to support you surfing as much as possible, and are packaged to include most things. Most things being accommodation, meals, surf gear, and surf lessons, coaching, or guiding depending on your surf ability.
Some surf camps for adults are all-inclusive, and others offer half-board options or some flexibility to tailor your trip depending on your preference.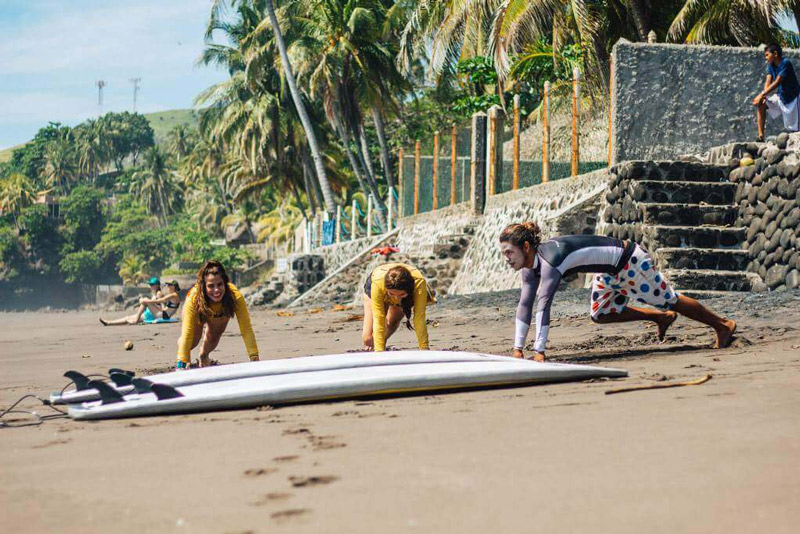 If you're a beginner surfer or interested in learning how to surf, surf camps are a great place to get started and build a solid foundation with daily surf lessons. Alternatively, if you're a more advanced surfer, you'll have access to surf guides who are dialed into the local waves so you're sure to have the best chance at being on the best waves around at any given moment.
Surf camps come with a wide variety of vibes, so be sure to give any camp you're considering a thorough inspection to make sure it fits your ideal setup. Some surf camps are geared toward a health/wellness getaway with yoga classes and healthy foods, some locations are best for more intermediate and advanced surfers, while others cater to a party-happy younger crowd.
Whatever your preference, surf camps are an awesome way to take a surf trip because you don't have to do much planning or handle logistics. Most things are taken care of so you get to focus on surfing your brains out and having an absolute blast.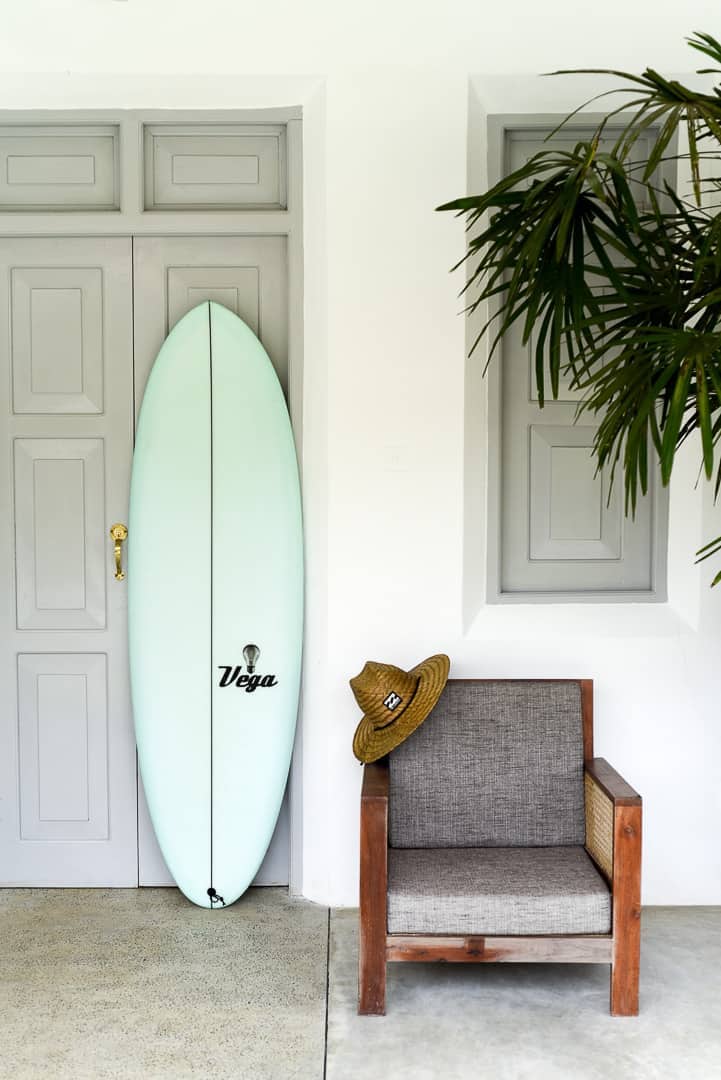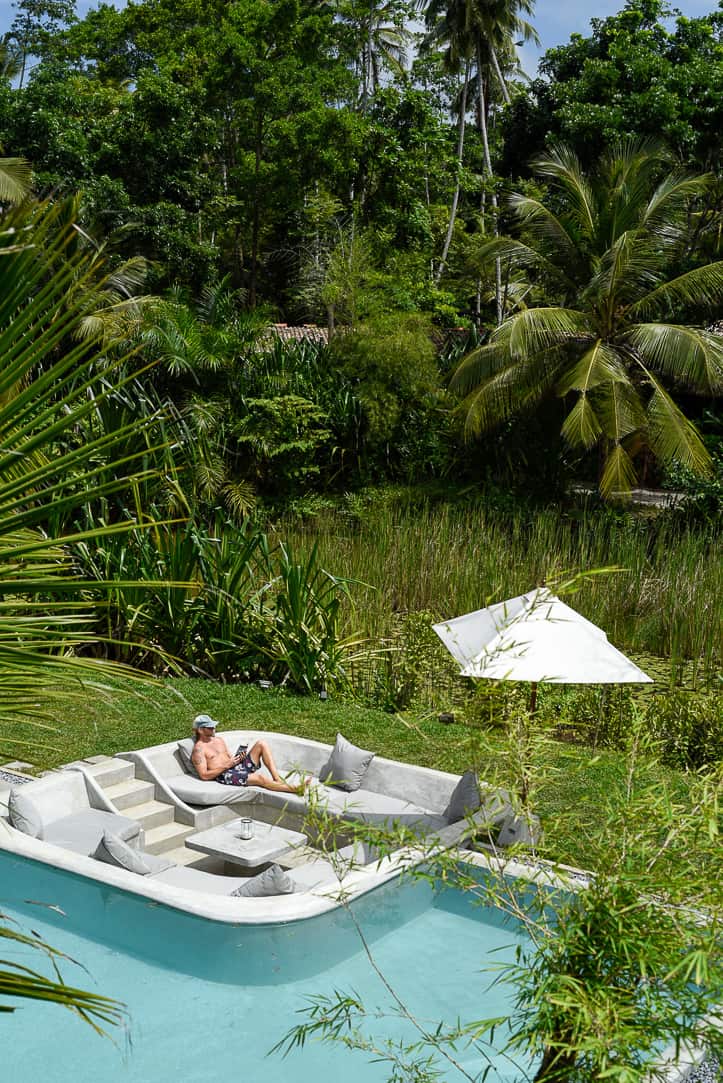 To expedite your surf camp vacation bliss, we've rounded up a few of the best surf camps around the world. These surf camps for adults were hand-picked based on design, location, reputation, amenities, and overall experience. The surf camps on the list all have different types of packages so be sure to check out what's included with pricing.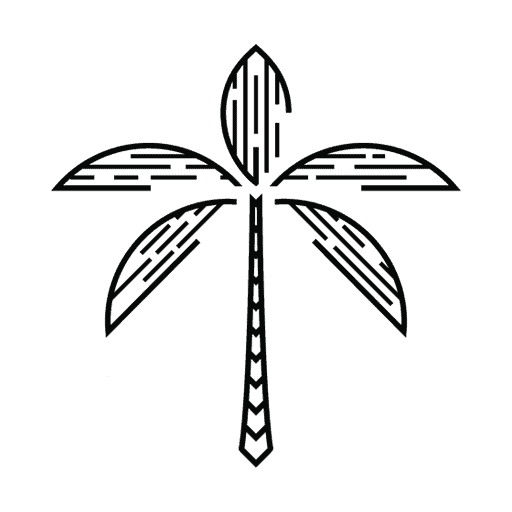 Surf Camps for Adults
Playa El Tunco, El Salvador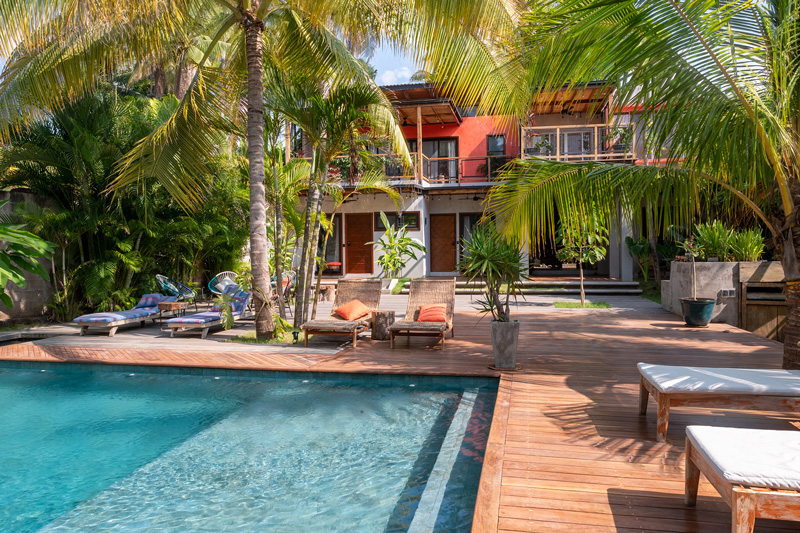 Balancé Surf & Yoga Retreat runs fantastic surf retreats at a stylish beachfront property at one of the best surf breaks in El Salvador. Set right on the beach in Playa El Tunco, this boutique retreat includes just about everything you need to have an amazing surf trip, so you can basically pick travel dates, get your flight, and be ready to roll.
Beachfront accommodations, delicious meals at the onsite cafe, surf guides, massages, transportation, and more, are all done for you and wrapped up in a perfect surf trip package. These retreats have flexible check-in dates (i.e. there aren't set arrival/departure dates) and cater to both beginner and intermediate surfers. You can also get your yoga-on at their onsite yoga studio which holds regular classes with top-notch teachers (yoga is an optional add-on to any stay). Read more.
BEST FOR: Solo travelers, couples, groups, and families looking for an upscale mostly-inclusive surf getaway with flexible dates.
PRICING: $780 – $2,195 USD per person per week (rates vary depending on room and occupancy)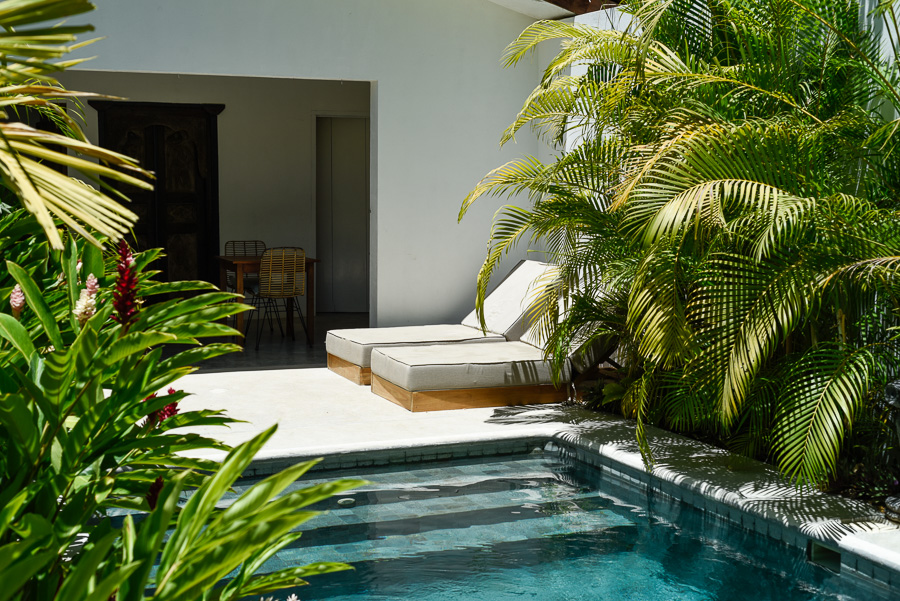 Lucero Surf Vacations offers boutique surf and yoga retreats at a beautiful property with top-notch surf lessons and fantastic hospitality. Located in the charming surf town of Santa Teresa, Costa Rica, week-long packages include small-group surf lessons, beautiful accommodations, and daily delicious breakfast.
These laidback retreats are lovely for all types of travelers, but they're an especially great option for families, as most surf camps don't accept children into their programs. At Lucero, they not only accept children into their retreats, but they also give kids wonderful surf lessons, have babysitters available to the parents, and the whole experience is a very family-friendly environment. Read more.
BEST FOR: Solo travelers, couples, and families looking for a mellow and healthy surf getaway.
PRICING: $970 – $1,545 USD per person per week
El Zonte, El Salvador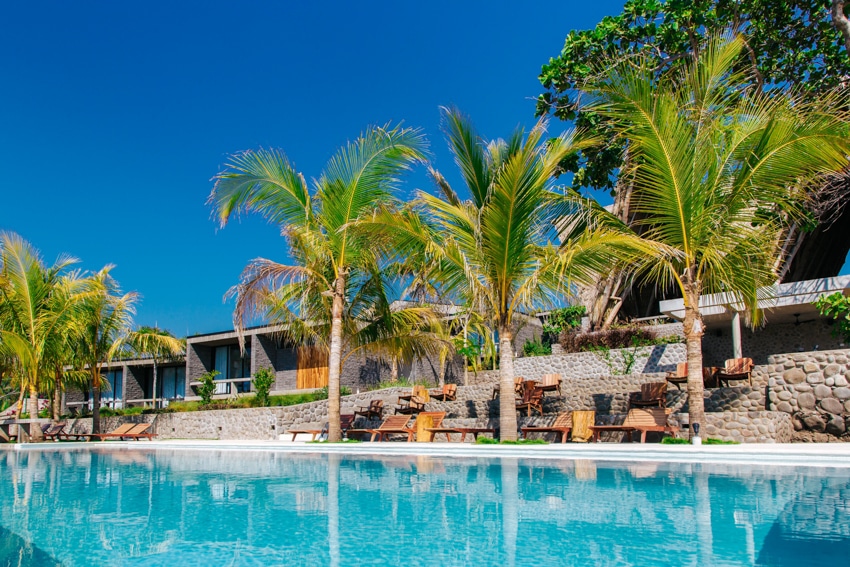 Puro Surf is an oceanfront surf hotel and performance academy with excellent food, top-notch training facilities, and epic waves out front. The 13-room property has multiple pools, a full-size gym, yoga studio, Carver skatepark, and ocean views from every room.
The on-site Surf Academy caters to surfers of all abilities, offering everything from fundamentals for beginners, to coaching sessions and video analysis for more advanced surfers ready to take their surfing to the next level. Stays and lessons are available a la carte, or surf-camp style with packages that include accommodations, surf lessons/guiding, meals, and more. Read more.
BEST FOR: Beginner to advanced surfers looking to uplevel their surf skills at an upscale tropical retreat.
PRICING: from $900 – $2,500 USD per person per week depending on the package
Lagos, Portugal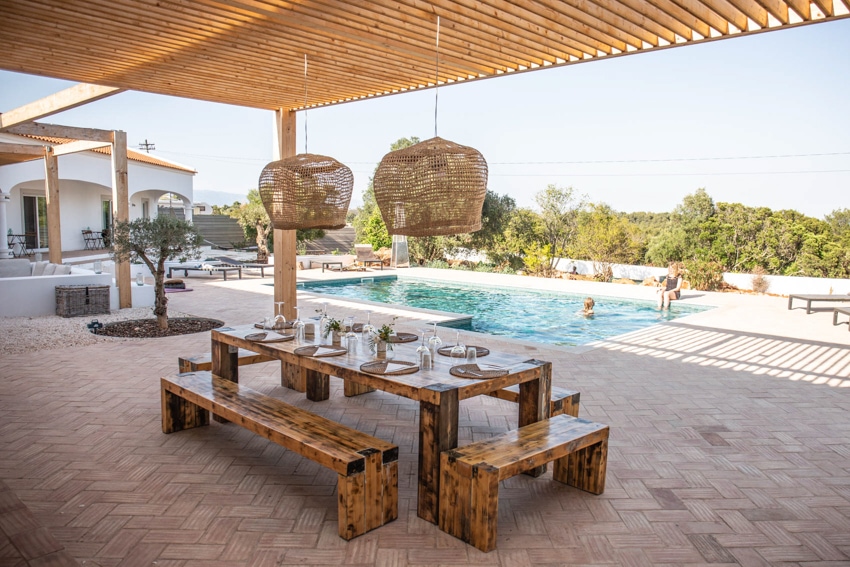 Tiny Whale Surf Lodge is an upscale boutique surf camp tucked away in the countryside on Portugal's stunning Algarve coast. Surrounded by greenery and peaceful vibes, this place is a gem of a surf retreat. Tiny Whale specializes in week-long packages that include seven nights of accommodation, most meals (by their very talented in-house chef), excellent small-group surf lessons, all surf equipment, transportation to the beaches, and other goodies. Read more.
BEST FOR: Solo travelers, couples, and groups looking for an upscale surf retreat in a social but mellow atmosphere.
PRICING: from 735€ per person per week
Playa Santa Teresa, Costa Rica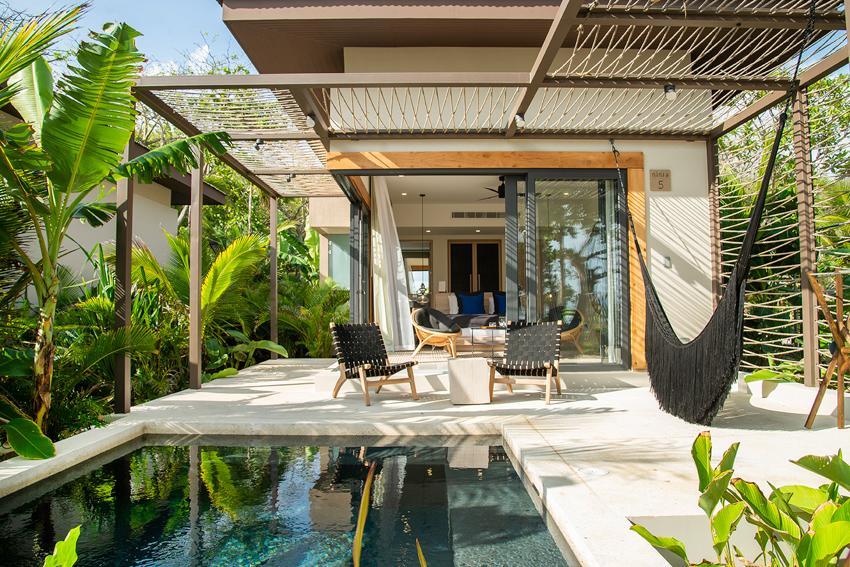 This luxe beachfront boutique hotel is a surfer's paradise. Nantipa has one of the best beachfront locations in Costa Rica for surfing, with multiple fun surf breaks right out front and within walking distance. The hotel is available to book à la carte, so while it isn't a surf retreat in a traditional sense, they have fantastic Surf & Yoga Packages available that make an ideal (and convenient) surf getaway.
Surf & Yoga packages are for 4 or 6 nights and include the accommodations of your choice, surf lessons (or guiding), yoga classes, private roundtrip airport transfers, a massage, a waterfall excursion, and more (and if yoga isn't your jam you can easily omit the yoga). If you want a barefoot-luxury surf trip with flexible dates, Nantipa is a perfect fit. Read more.
BEST FOR: Couples, groups, and families looking for a flexible and luxe surf trip with fun waves right out front.
PRICING: from $1,801 USD per person, plus taxes
Ahangama, Sri Lanka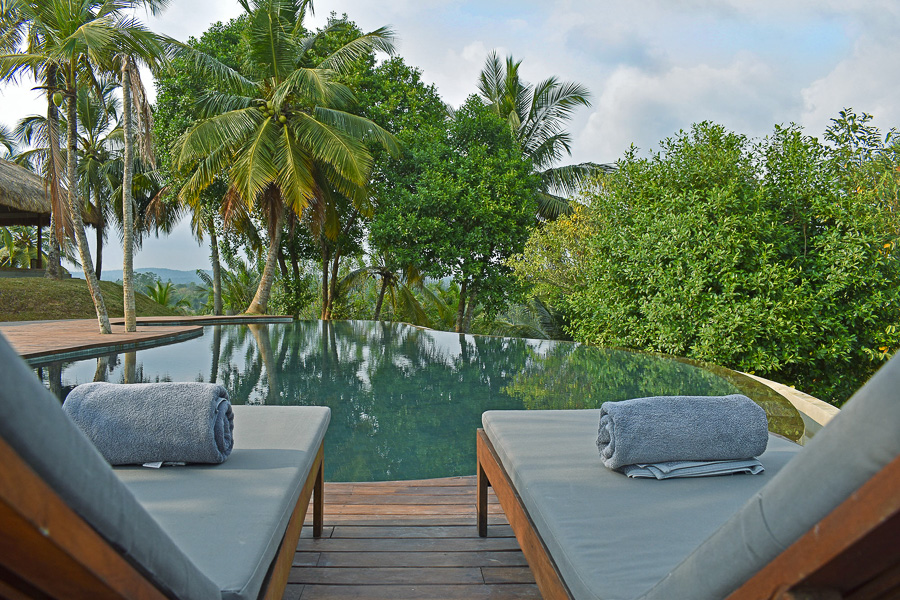 Soul & Surf is an all-inclusive surf and yoga retreat at a modern tropical locale in Sri Lanka. This beautifully designed surf camp offers 7- and 14-night retreats complete with daily yoga, surf lessons, and delicious healthy meals. Read more.
BEST FOR: Solo travelers, couples, groups, and families looking for an all-inclusive, relaxing, and healthy surf yoga experience.
PRICING: from $1,400 USD per person per week
Popoyo, Nicaragua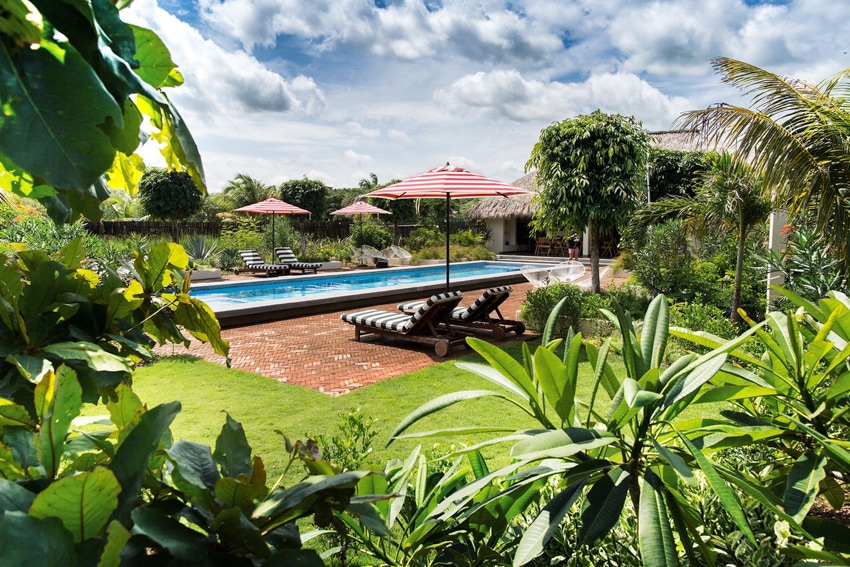 Steps from the sand at Playa Santana, Malibu Popoyo is an all-inclusive boutique surf hotel with easy access to plentiful surf on Nicaragua's Costa Esmeralda. Along with lovely accommodations, stays include three organic meals per day at the onsite restaurant, daily guided yoga sessions, unlimited 4×4 transportation to any surf break, and daily personal surf guiding or instruction. Read more.
BEST FOR: Couples, groups, and families looking for a laidback surf trip at an upscale secluded spot.
PRICING: from $220 per night (double occupancy) + 17% taxes
Bukit Peninsula, Bali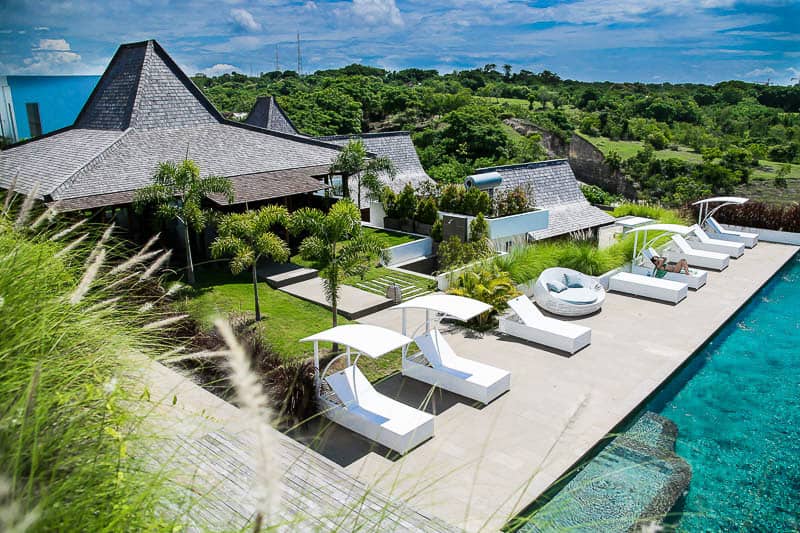 Rapture Surfcamp Bali is a modern surf camp and school on the southern coast of Bali's Bukit Peninsula. The surf camp offers a range of price points to suit every budget–accommodations range from spacious light-filled private rooms and suites to super nice budget-friendly dorm rooms. Surf lessons and surfboard rentals are available a la carte, so you can tailor your experience and pricing accordingly. Read more.
BEST FOR: Solo travelers, couples, and groups looking for a social and flexible surf camp.
PRICING: €40 per night in a dorm, €88 per night private room (plus 10% government tax)
Hollow Tree's Resort is an all-inclusive beachfront surf resort in the Mentawai Islands at one of the finest rights in the world. Hollow Tree's sits on a stunning stretch of white sand beach with Lance's Right (aka Hollow Tree's) surf break directly out front. The surf resort caters to surfers of all levels and has no less than 10 world-class waves within a short boat or bike ride from the resort. Read more.
BEST FOR: Intermediate to advanced surfers looking for an exotic surf trip in a tropical paradise.
PRICING: $220 USD per person, per night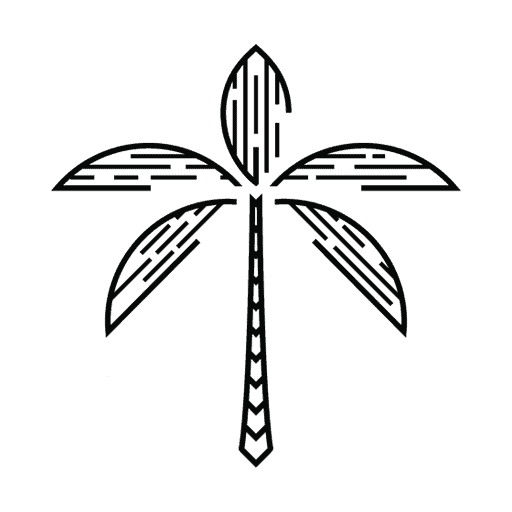 For more top surf destinations, check out the Best Places to Surf >>
For more surf hotels and surf villas, check out our Surf Resort Guide >>