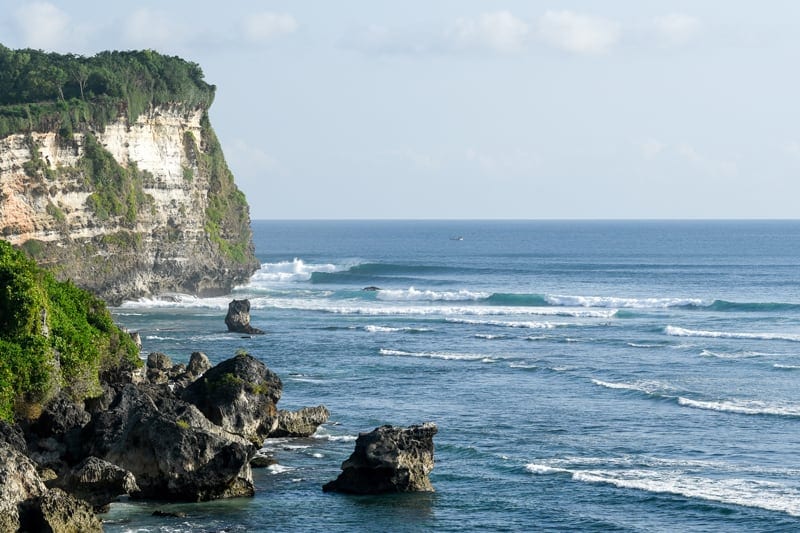 If you're on the fence about a surf trip to Bali, get off that fence pronto and go. This little island in Indonesia is chock-full of natural beauty and magical vibes. And fortunately for us surfers, the waves are also pretty darn magical.
If the beauty, magic, and surf weren't enough, the water temperature averages around 85 °F (29 °C), the Balinese are some of the most friendly people around, the food is amazing, and your money goes a long way.  So yeah, Bali is a surfer's paradise.
In this Guide to Surfing Bali, we cover everything you need to know to plan a surf trip to the Island of the Gods. When and where to go, the lowdown on the surf, places to stay, transportation, and what you can expect cost-wise, from budget to luxury.
For info on surfing other regions of Indonesia, check out our Guide to Surfing Indonesia >>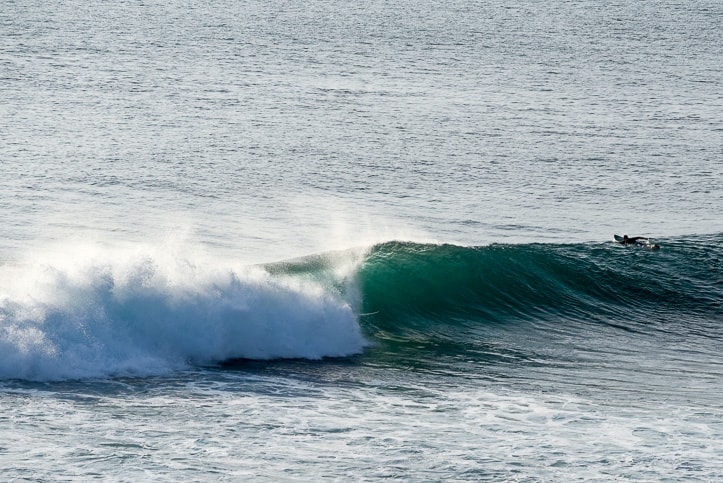 Tourism in Bali was sparked by surfing in the 1960s and the waves have continued to attract surfers from around the world ever since. Imagine how amazing it must have been to explore Bali's breaks in the 60s (time machine, anyone?)!
Nowadays the more well-known spots can get quite crowded in the high season, but with some determination and luck, it's possible to find yourself amongst a handful of surfers on some days.
A big bonus with surf trips in Bali is if you get some flat days on your trip there's plenty of awesome things to do to keep you busy. Everything from exploring temples and waterfalls, to laying around gorgeous pools and beaches, to getting your party on if that's your cup of tea.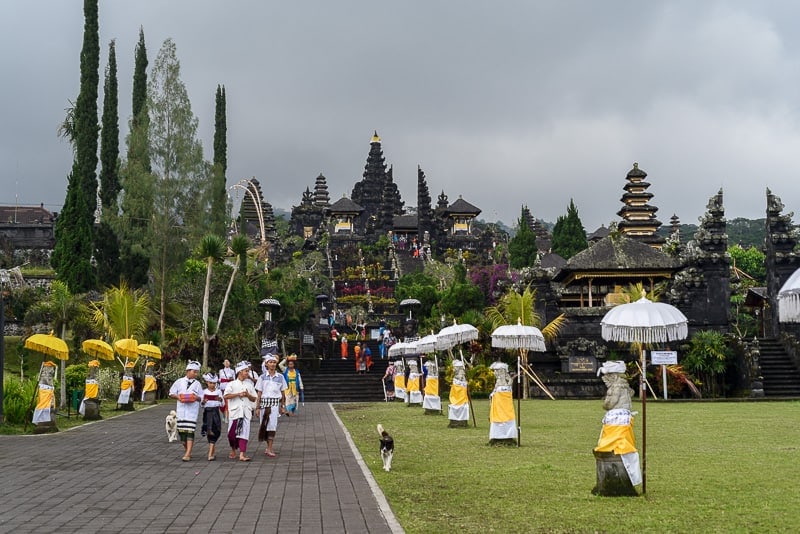 Surfing Bali
TRAVEL BASICS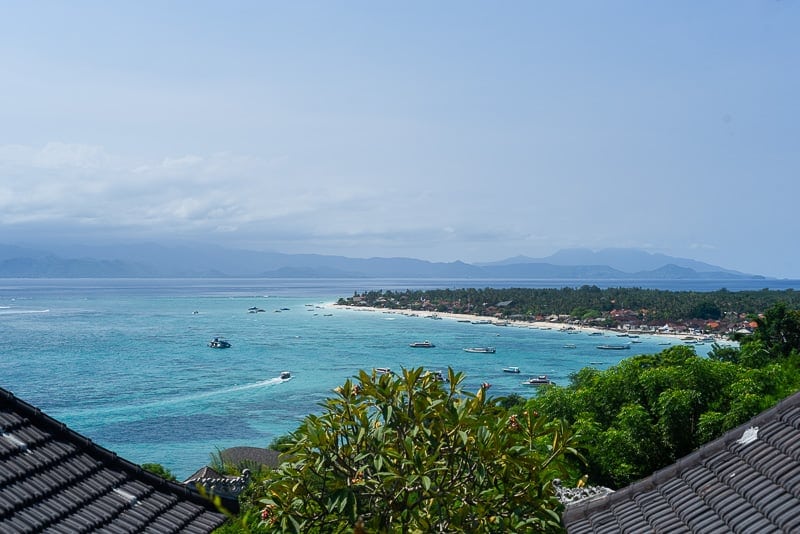 WHERE: Bali is an island and province in Indonesia. Approximately 8 degrees south of the equator, the province includes the island of Bali and a few smaller neighboring islands (notably Nusa Penida, Nusa Lembongan, and Nusa Ceningan).
WEATHER: Bali has a fairly consistent tropical, warm, and humid climate year round. Average year-round temperature is around 86 °F (30 °C) with a humidity level of about 85%. Bali has two main distinctive seasons: dry season (April – September) and rainy season (October – March).
MONEY: Indonesian Rupiah (IDR) is the currency of Bali (and all Indonesia). At the time of writing, 1 USD = 13,300 IDR / 1 AUD = 9,800 IDR / 1 EURO = 14,600 IDR
TIPPING: Not expected or encouraged, though it is acceptable for outstanding service at nicer restaurants. Some more upscale restaurants add a non-negotiable tip to your final bill which can range from 5% to 10% (these added tips are always disclosed on the menu).
STAYING CONNECTED: For a developing island, Bali has pretty good internet overall due to the tourism industry. Generally, mid to high range accommodations will have faster, better internet, but even budget accommodations will usually have decent wifi. Apparently, restaurants and cafes have seen the benefits of offering free wifi because almost every place will advertise "free wifi" (besides small local warungs). As with anywhere, the more rural you travel, the less internet access you'll find, but you should still be able to find decent wifi in rural Bali. If you want to have data for your phone, pick up a SIM card at the airport or in a store. Telkomsel is a large Indonesian phone company with good coverage.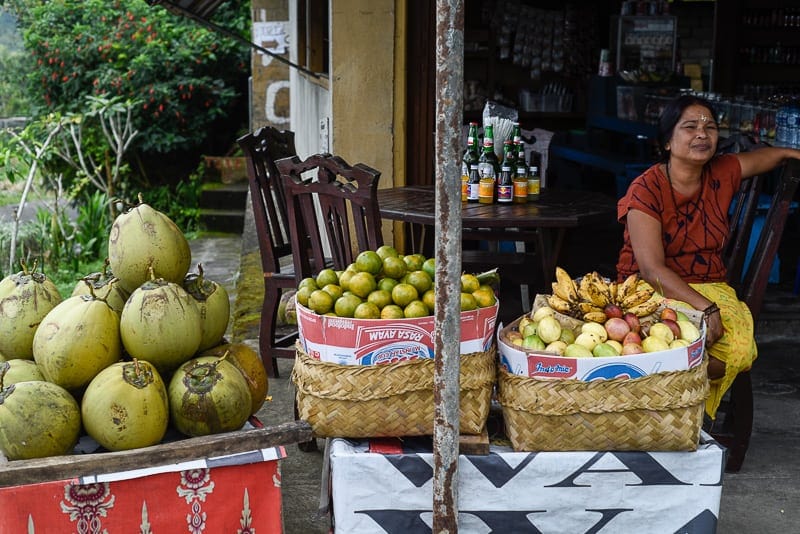 LANGUAGE: Bahasa Indonesia and Balinese. Indonesian (AKA Bahasa Indonesia) is the official language of Indonesia and the language used in most government, mass media, etc in Bali. In addition to speaking Indonesian, most Indonesians are fluent in one or more than 700 indigenous local languages (examples include Balinese, Javanese, and Sundanese). Most Balinese are bilingual if not trilingual (Indonesian, Balinese, English). Many Balinese people in the tourism industry will speak some English, but English can fairly limited in more remote areas. Here are a few Bahasa Indonesian words to get you started
Good morning: Selamat pagi (s'lah-mawt pag-jee)
Good day: Selamat siang (s'lah-mawt see-ung)
Good afternoon: Selamat sore (s'lah-mawt sore-eh)
Good night: Selamat malam (s'lah-mawt maw-lahm)
Please (can I have?) = Minta (min-tah)
Please (help me) = Tolong (toe-long)
Thank you: Terima Kasih (teh-ree-mah kah-see)
You're welcome: Sama Sama (saw-ma saw-ma)
WATER: Tap water in Bali is not drinkable. Always drink bottled water, and we recommend brushing your teeth using bottled water.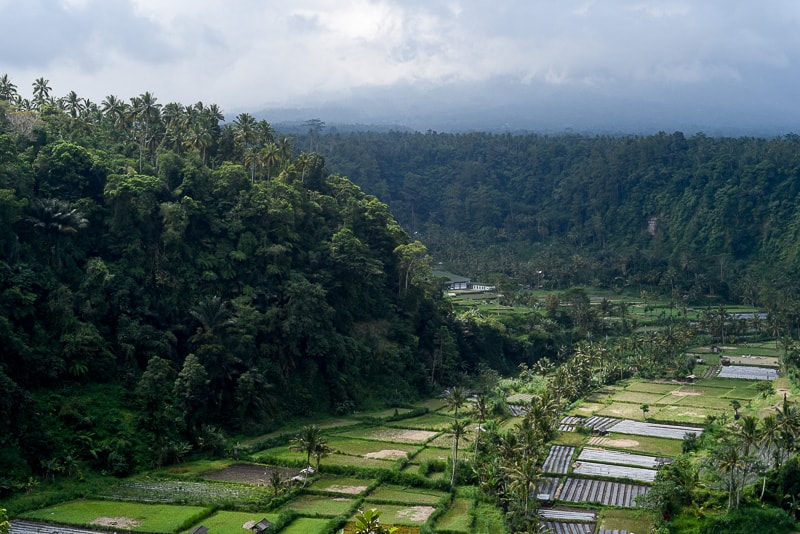 GOOD TO KNOW: Here's some etiquette in Bali that's helpful to practice during your trip:
Don't use your left hand to shake hands, touch, or give. This has to do with the left hand being used for hygienic purposes. Balinese traditionally don't use toilet paper (they use water), and the left hand is reserved for bathroom duties. Therefore, the left hand is considered somewhat dirty, and should never be used to touch other people or to hand something over.
Dress and act modestly. This doesn't mean you need to cover up entirely or cut out all PDA, it's just good to be aware that Balinese people are more conservative than Westerners, and frown on public displays of affection. In more touristed areas it's pretty relaxed, just be especially considerate near temples or in rural parts of Bali.
Temple etiquette. When visiting a Balinese temple, both women and men should wear shirts that cover shoulders and part of the upper arms. And special leg coverings are mandatory. Both women and men must wear a sarong (kain kamben) around your legs, and a temple scarf (selendang) around your waist. Feel free to bring your own, but at most temple entrances you can rent both items for use during your visit.

SURFING BALI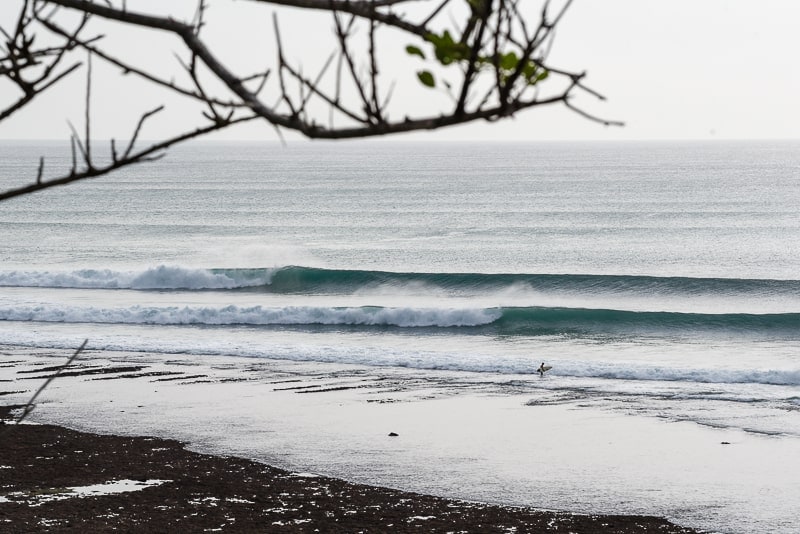 Indonesia is home to some of the best surf on the planet, and Bali is no exception. With so much surf within a relatively small area, there are almost always great waves to be found. This quote from Surfline sums it up quite nicely: "Indonesia has more islands with better surf than anywhere else on earth." We like it.
The Southern Indian Ocean supplies Indo with consistent solid swells, so surf can be found year-round. That being said, the surf in Bali is relative to its wet and dry seasons.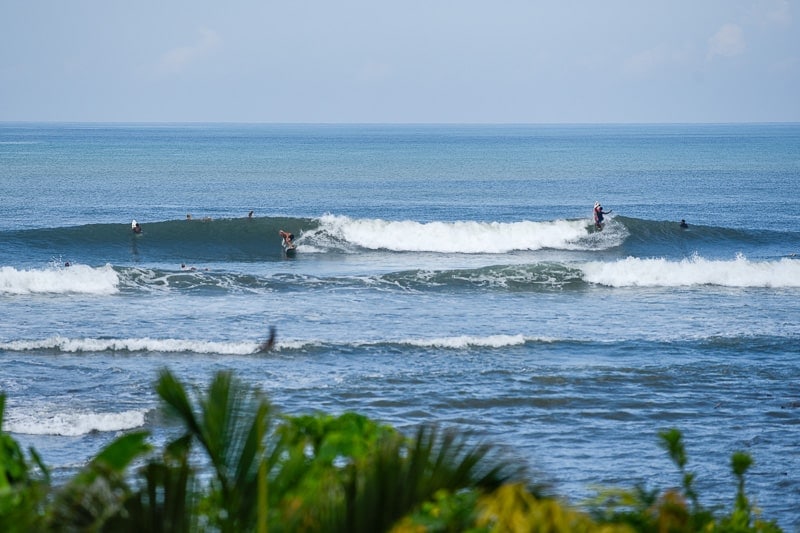 The cooler dry season from May to September is the best time for Bali's west coast, which is jam-packed with breaks, many of them world famous like Uluwatu and Padang Padang. From June to August, the winter in Bali brings in large swells and strong offshore winds for the west coast breaks.
The Bukit Peninsula in Southwest Bali has some of the best surf in Bali and its off-the-beaten-path feel is perfect for those who want to avoid the busy touristy areas of Kuta and Seminyak.
>> Check out 6 HELPFUL TIPS FOR SURFING ULUWATU>>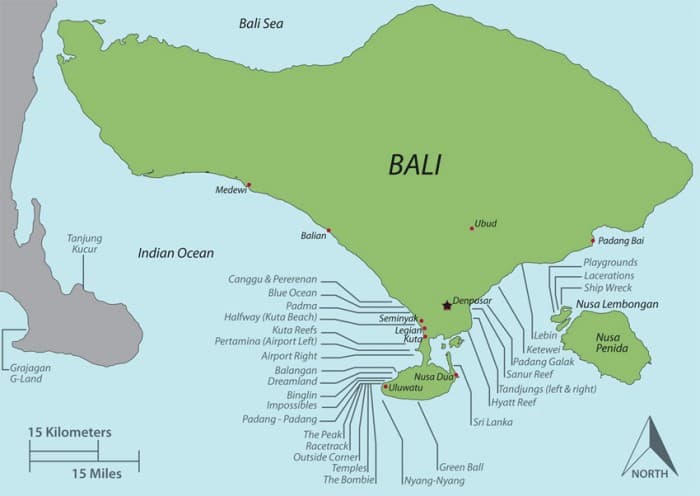 The main wet season in Bali is during the summer and fall, roughly November to March, with October, April, and May considered shoulder months. During the wet season the wind shifts to blow primarily from the west, so the east coast breaks get offshore winds and come into play.
This is the time of year that east coast breaks like Keramas, Serangan, Sri Lanka and Sanur produce world class conditions. Whereas the west coast serves up primarily lefts, the east coast is full of right-hand breaks.
For info on surfing other regions of Indonesia, check out our Guide to Surfing Indonesia >>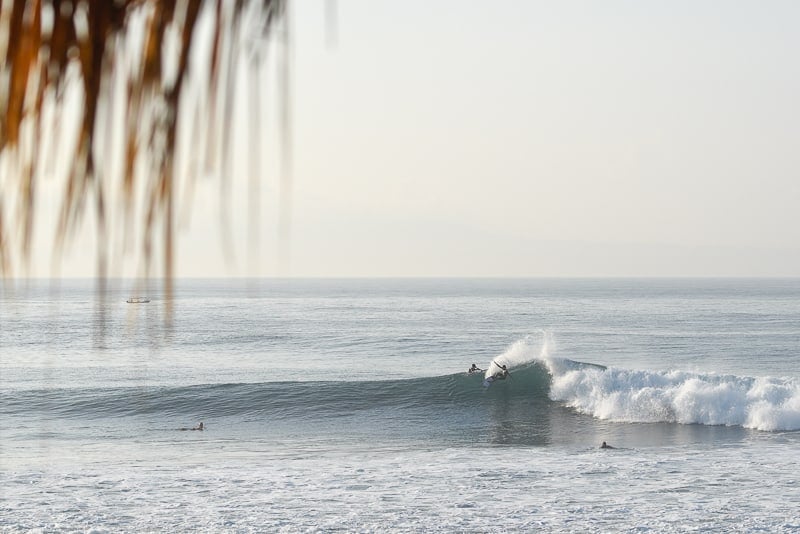 A note on surf booties: There's a lot of reef breaks in Bali, and oftentimes you'll have to walk across plenty of reef to get to the break. Most of the surf breaks on the Bukit Peninsula (Uluwatu area) come along with 50 – 100 meter walks across a jagged reef.
Obviously, it totally depends on your comfort and tolerance for hoofing it across the sharp reef, but we would recommend that it's a good idea to bring some booties along.
SURF TRIP COSTS IN BALI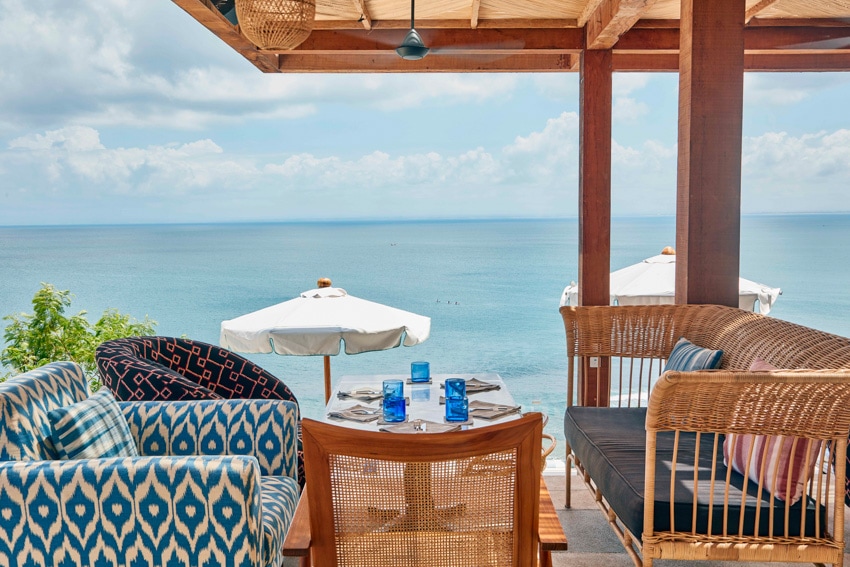 As with any travel, the cost of your surf trip will vary depending on what time of year you go, where you stay, and your overall travel style. But no matter if you're on a tight budget or livin' large, your money will go a long way in Bali. That being said, the best time to visit Bali is outside of the high season, as the prices and crowds exponentially rise.
LOW SEASON
Low season in Bali can be found at two different times of the year: January to April, and October through November. Like most low seasons, there are discounts everywhere and you can find good deals on airfare. The low season coincides with Bali's rainy season, but rainfall isn't excessive so you're still able to do most activities. 
SHOULDER
Shoulder season in Bali is May, June, and September. These shoulder months are an ideal time to visit Bali because it's dry season (less rain and humidity) and a great time for surf, but you're avoiding the crowds and prices of high season. During shoulder season you can find some reduced rates and can book places to stay and activities more spontaneously than high season.
HIGH SEASON
High season in Bali is July and August, and also around Christmas and New Year. During the high season rates increase by 50% or more, and many hotels and restaurants need to be booked far in advance. It goes without saying that there are more crowds and traffic than any other time of year, and it's generally best to avoid this time of year, if possible.
TRANSPORTATION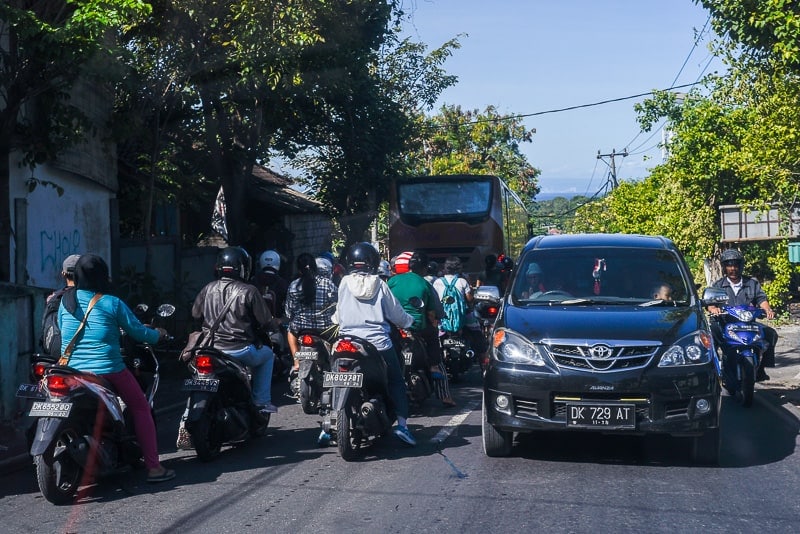 Transportation in Bali is straightforward, as there aren't a lot of options. The good news is that you don't need a lot of options because the ones available are both easy and a good value, especially if you're traveling with two or more people. Basically, you can hire a driver or rent a scooter, and we'll go into details about those options below.
Depending on where you're traveling from, your flight might end up being your largest cost for your whole trip. We've listed out some sample flight costs below.
FLIGHT COSTS
If you live in Australia or New Zealand, you probably know that you can score great fares to Bali. If you live in the United States or Europe, the single biggest cost of your trip could very well be your flight.
The main airport in Bali is Ngurah Rai International Airport, also known as Denpasar International Airport, which is located in southern Bali, 13 kilometers south of Denpasar. Lucky for us, the Denpasar Airport got a lovely makeover in 2014, and it's now rated one of the best airports in the world.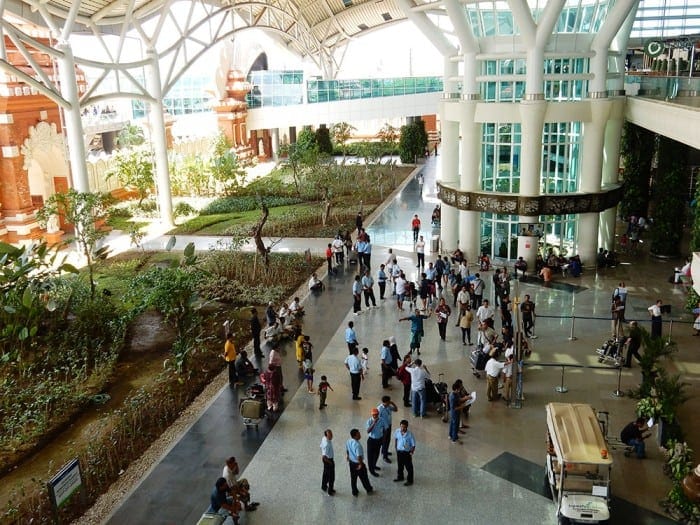 To give you an idea of airfare costs to Bali, we rounded up some airfare prices from a handful of major cities below.  All flight prices* are roundtrip including taxes, and shown in US dollars.

LAX > Denpasar:

good deal: $700
average: $1200
NYC >Denpasar:
good deal: $830
average: $1300
Miami > Denpasar:
good deal: $1350
average: $1700
London >Denpasar:
good deal: $760
average: $900
Sydney >Denpasar:
good deal: $430
average: $600
SURFBOARD BAG FEES 
Unless you fly on one of the few airlines that don't charge for surfboard bags, tack on an additional $75- $200 each way if you want to bring some boards. Check out our guide to surfboard bag fees for the lowdown on the best and worst airlines for board bag fees.
GETTING AROUND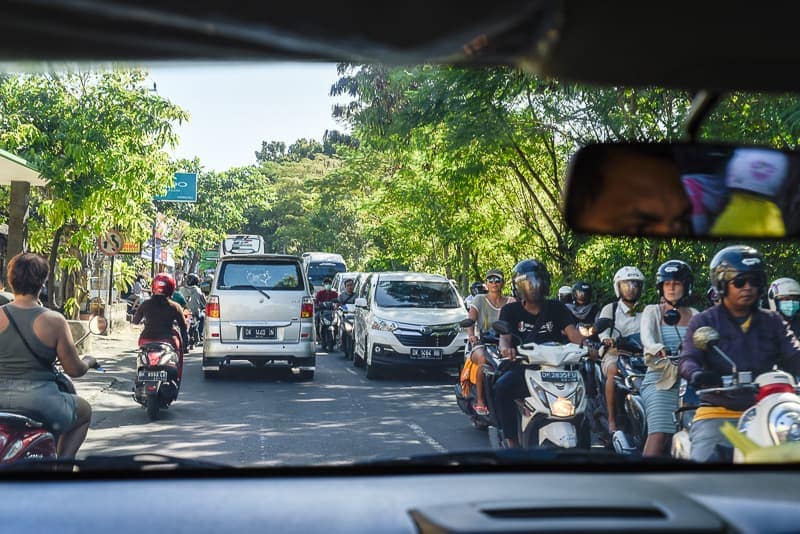 Hiring a Driver: When you're traveling long distances (40 minutes+), the best way to get around is hiring a driver. If you're new to the idea it might sound like an expensive option, but hiring a driver/car in Bali is actually a relatively budget-friendly way to get around and by far the safest. I'll explain.
Driving in Bali is a crazy mad dash of disorganized chaos. Motorbikes weave in and out of traffic, people barely pay attention to what few traffic signs there are, and it's pretty much a total free-for-all.
It's literally a complete wonder there aren't constant pile-ups and accidents all over the place. So with that being said, drivers in Bali are used to this chaos and navigate it well, whereas we non-locals would have an extremely hard time driving. Just take my word for it and do yourself a favor–hire drivers to get around.
COST: $30 – $50 (400,000 – 600,000 Rp) to hire a driver for a full day.
Point-to-point destinations are of course much less.
TIPS ON HIRING A DRIVER IN BALI
If possible, ask the place you're staying if they know a driver or can call one. Another great option is to ask other travelers for recommendations (many drivers have business cards they give out to passengers).
We know a wonderful driver in Bali who was actually recommended to us before our trip. If you email us we're happy to give you his info!
In busier tourist areas drivers will be waving around signs that say "transport."
Discuss and agree on a route, itinerary, or pricing beforehand.
If you've hired the driver for the day, they'll ask you where you want to go, and good drivers will make recommendations. Some great drivers will take the role of a tour guide and can really make your day. Remember to tip them for great service.
If you've hired a driver for the day, buy the driver lunch and offer drinks and snacks.
OTHER TRANSPORTATION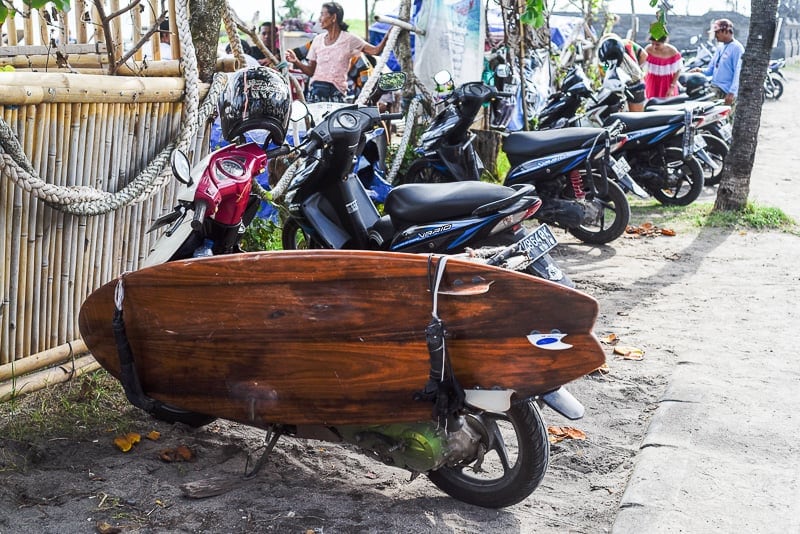 Renting a Scooter: Another option for getting around in Bali is renting a scooter, but we only recommend this under very specific circumstances. As I mentioned, driving in Bali is dangerous and chaotic as-is, so driving a scooter is about 50 times worse. This isn't an exaggeration. Visitors get into serious motorcycle accidents on a daily basis, some of which are fatal.
The exception to this rule is if you're staying in a more remote location and you stick to driving around that local area. For example, we rented a scooter when we stayed in the more-rural Bukit Peninsula and we felt very comfortable on a scooter. There aren't many cars on the road, and it's relatively safe (if you're a decent scooter driver). We hopped around from one surf spot to the next without issue, and it was an easy and lovely way to explore the area.
But still be aware, as we heard from locals that you should never cruise around with a shoulder bag or purse hanging off your side. It's an easy target for thieves, and we heard about tourists being pulled off their scooters by bag snatchers. In one situation, two young female travelers were killed when a bag was snatched off one of them while they were driving. Not to be all doom and gloom–just know the risks and of course always be street smart!
COST: $7-10 (90,000 – 130,000 Rp) per day for a scooter with a surfboard rack.
Boats and Ferries: To get to the islands off of Bali, you can either fly or take a boat. Ferries can be extremely slow and take anywhere from 6 to 12 hours, so definitely opt for a fast boat! There are many fast boats operating between Bali, Nusa Lembongan, Lombok, and the Gili islands.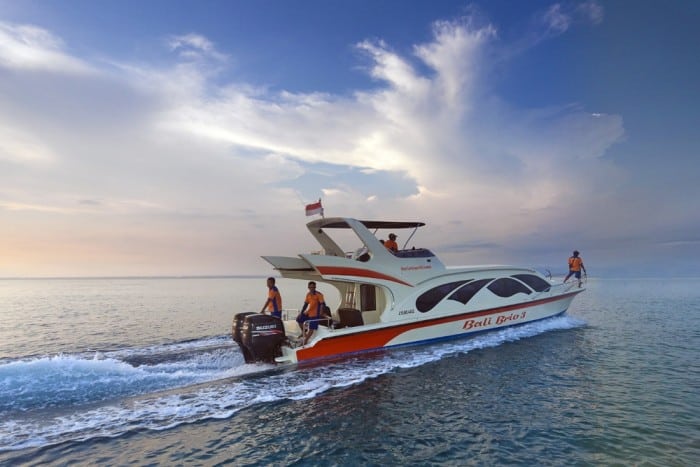 Padang Bai > Lombok or Gili Islands
COST: $83 round trip (1.08M Rp) via Gilicat
Sanur > Nusa Lembongan
Sanur > Gili Islands or Senggigi Lombok
COST: $90 round trip (1.2M Rp) with Bali Brio
WHERE TO STAY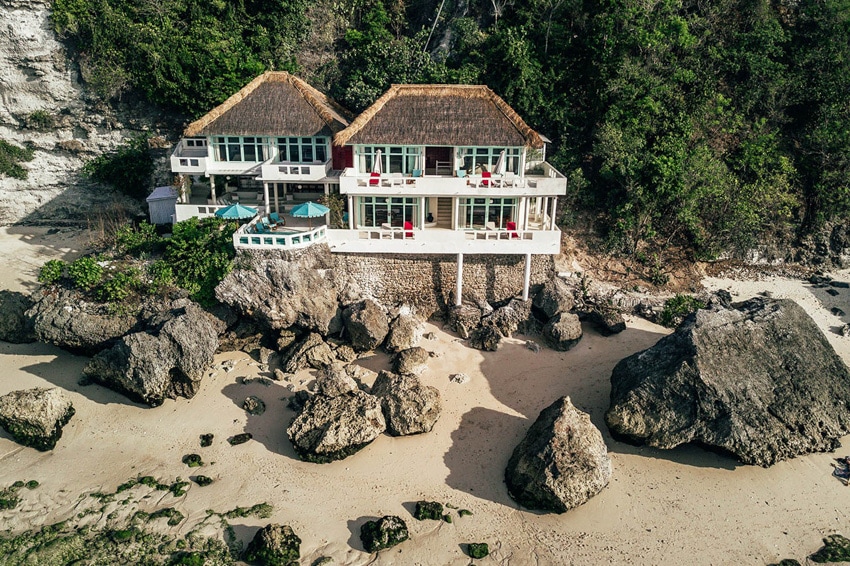 Bali is full of seriously gorgeous places to stay and rates are incredibly reasonable. For example, we've scored over-the-top five-star hotels for $180 a night (including breakfast), whereas the same type of hotel could cost upwards of $500 in the United States. Heck, you can barely get a three-star hotel in some US cities for $180.
Whatever your budget, you'll find plenty of really awesome options in Bali. There are also lots of surf camps and getaways specifically tailored to surfers in Bali. Many surf trip packages include accommodations, meals, surf lessons, and transport to the breaks.
We've rounded up some examples below of what you can expect for your money in different price ranges. And here's a whole list of 10 rad Bali Hotels for Surfing based on ease of access to surf breaks and the ability to scout the surf from your hotel:
BUDGET • up to $50 per night
If you're tight on cash, Bali offers a lot of lodging options. Whereas in many surf destinations you'd be looking at hostels in this price range, in Bali you can get a decent, if not lovely, private room. Obviously, sharing a room with a travel companion makes this even more economical, and many rooms in this price range give you the option for either a queen bed or two double beds.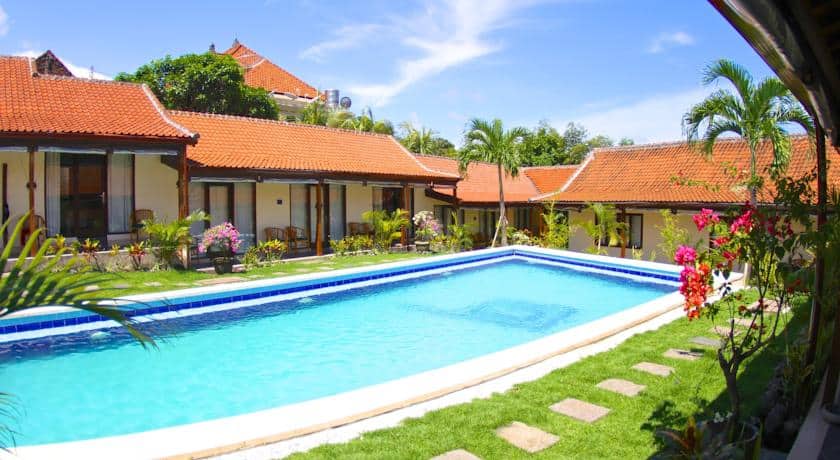 MID-RANGE • $50 – $200 per night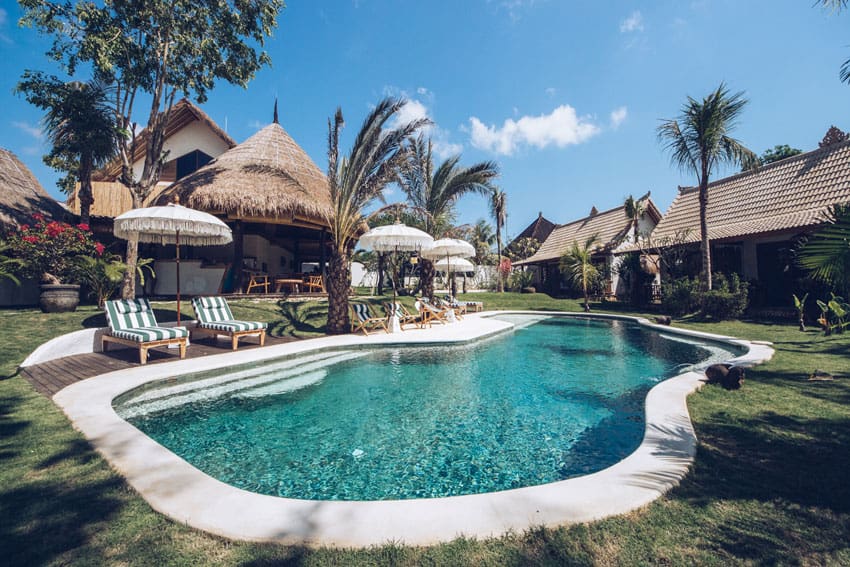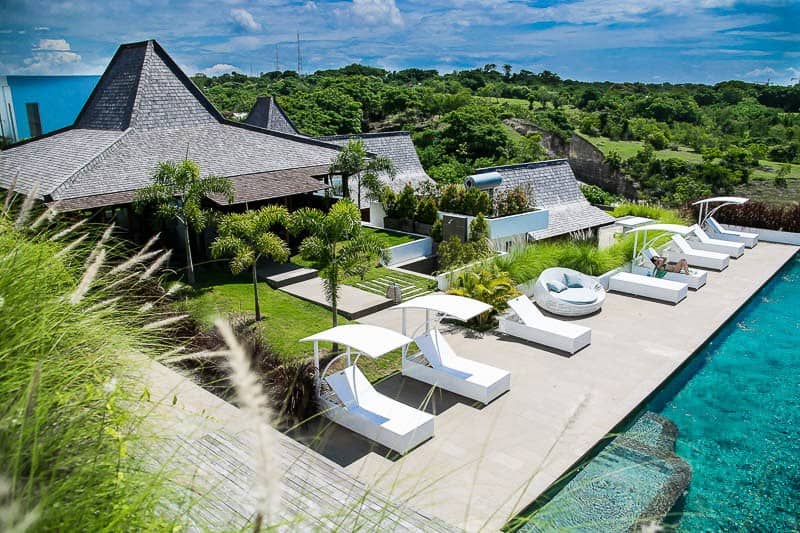 LUXURY • $200+ per night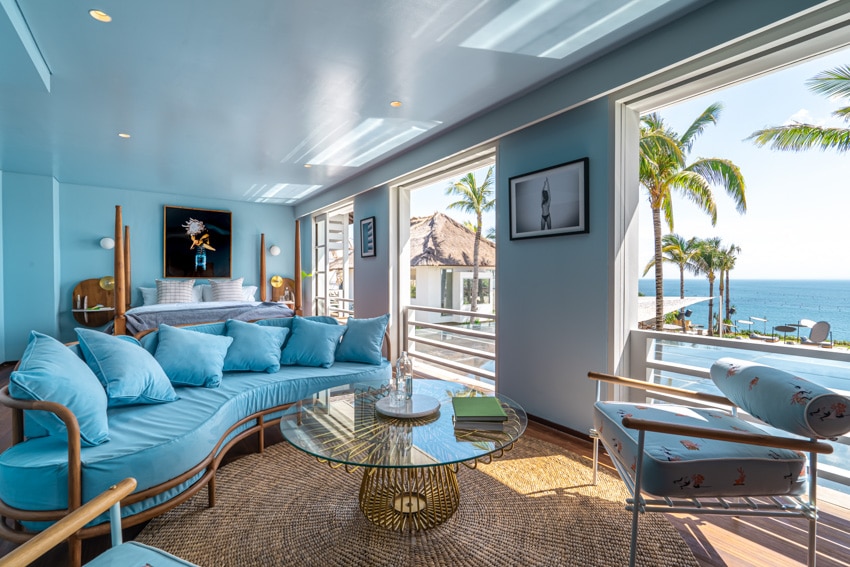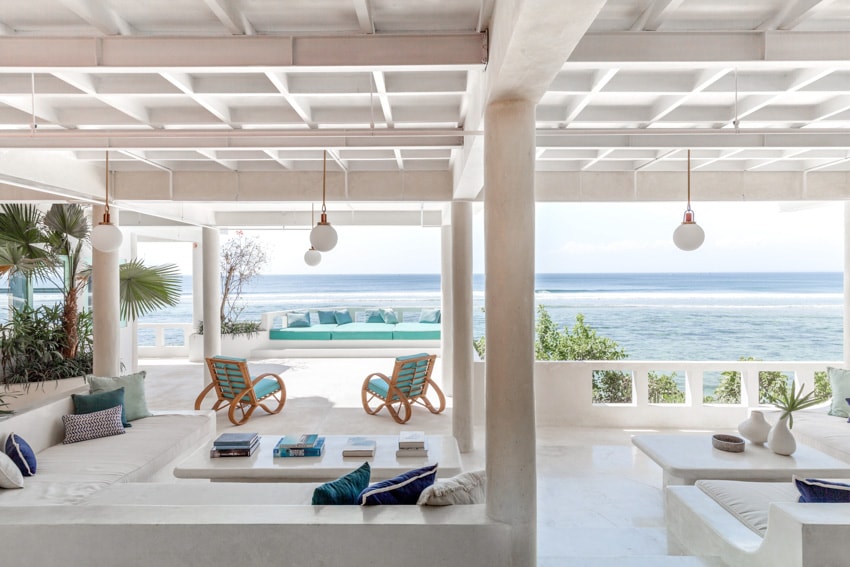 FOOD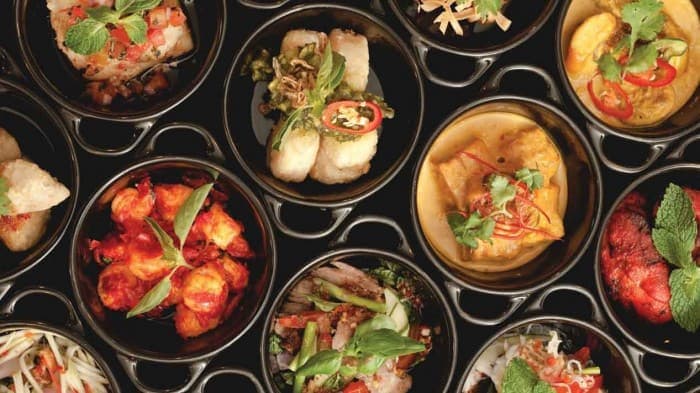 It didn't matter if I was eating a $3 plate of mie goreng (fried noodle dish), or a $15 plate of fresh seafood, I never had a bad or even mediocre meal in Bali. And that's a lot coming from this self-proclaimed food snob.
Bali is a food lover's paradise, especially if you like spicy food! Just the thought of Indonesian food makes me go into a Homer-Simpson-donut-loving food trance. Mmmm. In case I didn't make my point, Indonesian food is insanely delicious! Fragrant spices, exotic island ingredients, and slow cooking techniques majorly pack some punch in the flavor department.
There's plenty of options for meat eaters and vegetarians alike. For meat eaters, you'll definitely want to try some local specialties like Babi Guling (slow-roasted sucking pig), sate (marinated and skewered grilled meats), Bebek Betutu (slow-cooked duck), and fresh seafood dishes.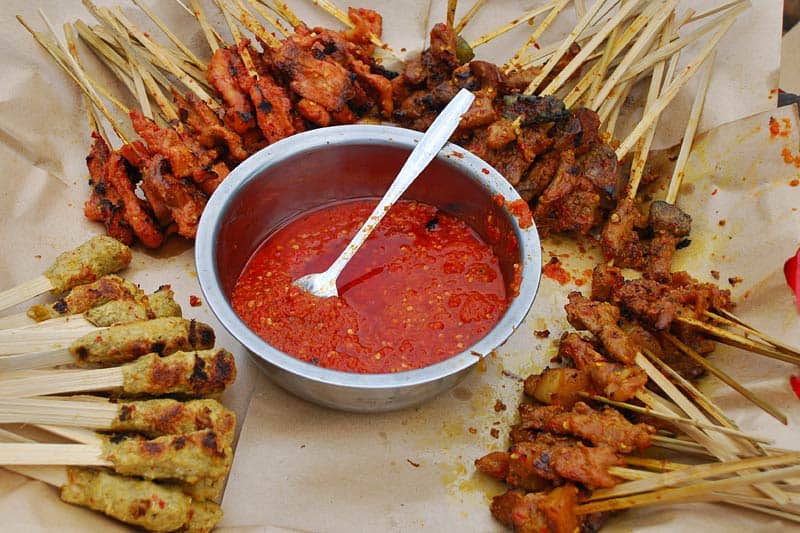 For vegans and vegetarians, you'll find heaps of fantastic vegan and vegetarian options all over the island. As you can imagine, fresh tropical fruits and vegetables make for some mean vegan delights. Many restaurants offer tofu and tempe along with plenty of vegetable, rice, and noodle dishes to choose from.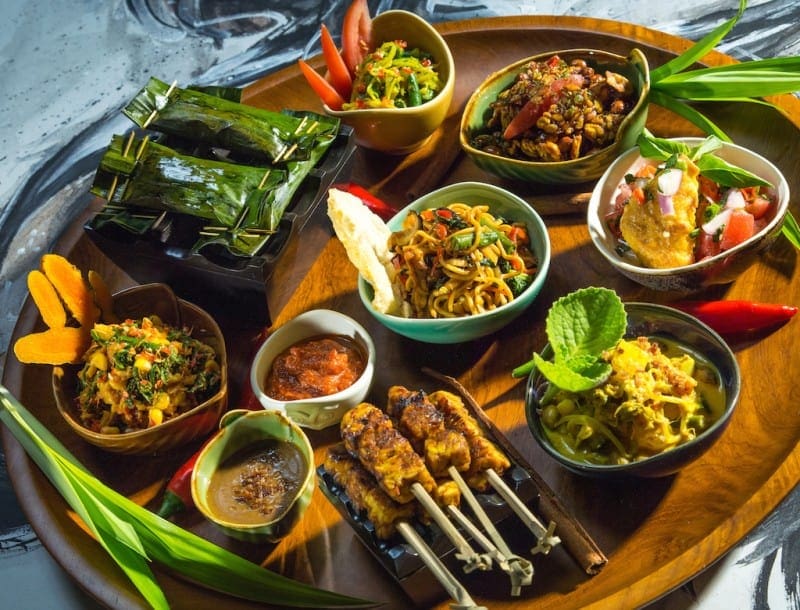 If you're not into Indonesian food for some (crazy!) reason, there's every other type of cuisine available, from Italian to Mexican to Californian if you so desire. Canggu, the Uluwatu area, and Ubud all have a growing roster of impressive restaurants with top-notch food and design to choose from.
COST: As with everything else, there's a wide range of food costs in Bali. But overall, food and drinks are cheap, and at warungs (local Balinese restaurants), you can spend around $5 for a meal. If you're on a budget and stick to cooking and eating at local places you could spend as little as $15 a day on food.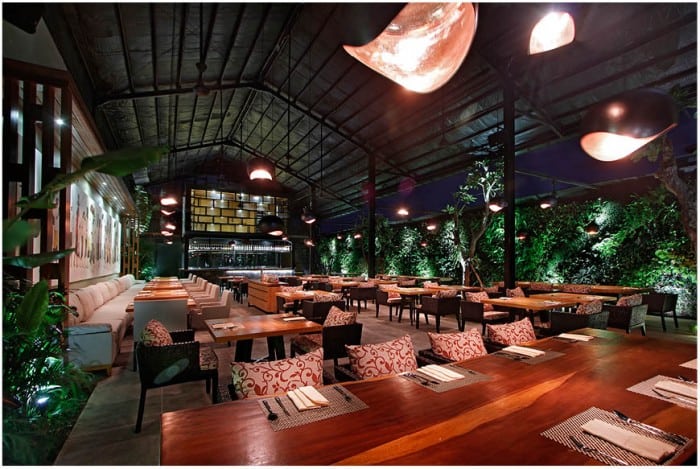 BOARD RENTALS AND SURF LESSONS
Since Bali is such a renowned surf destination, there's plenty of options for both surfboard rentals and lessons. That being said, some rural locations like the Bukit Peninsula offer fewer options for board rentals.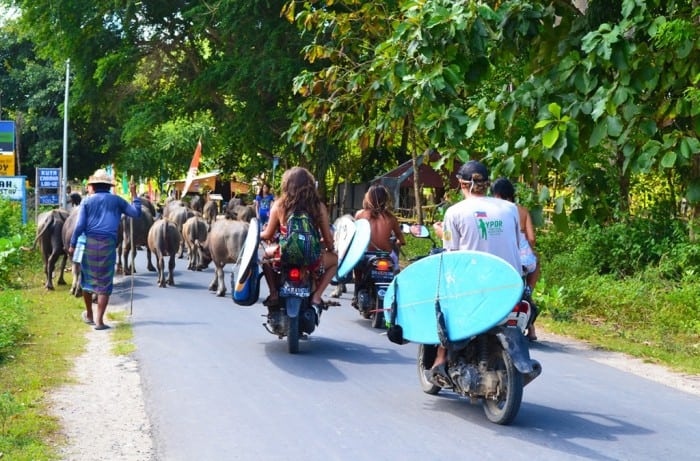 SURFBOARD RENTALS
If you're a beginner, definitely don't bring a surfboard with you, as many surf schools and lessons will include board rental. And even if you're not taking lessons there's plenty of boards you can rent hourly or daily.
If you're an intermediate to advanced shredder, there's obvious pros and cons to taking boards. Cons being that you have to pay airline surfboard bag fees, risk board damage, and lug your boards around. The pros are that you're all set with your ideal boards and you don't have to search for the right board to rent.
In some more touristed areas, like Kuta and Seminyak there are more options for surfboard rentals, but in rural areas like on the Bukit Peninsula (Uluwatu area), there can be slim pickings rental-wise.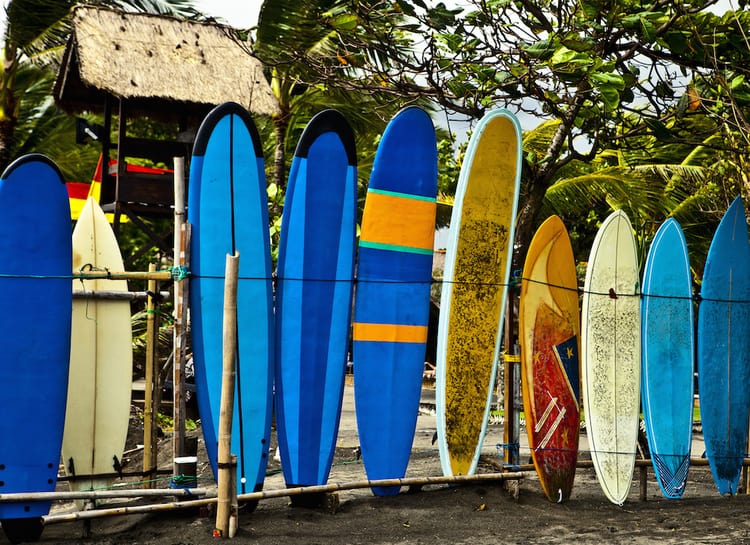 We had a hard time finding good boards to rent in the Uluwatu area because there were a lot of funky damaged boards (not shocking with that reef), or newer boards you could demo for a pretty penny. The good news is that many of the breaks will have shops or warungs that have boards for rent, you just have to ask around.
The other thing is that if you rent by the breaks, the vendors typically don't rent out on a daily basis, so you can only rent by the hour and then you're board-less again for your next session which can be inconvenient. Generally, it's cheaper to rent a board in town that you can rent by the day, but again there could be fewer options. You can read more about board rentals in our article on helpful tips for surfing Uluwatu.
SURF LESSONS
There are lots of options for surf lessons, especially around Kuta, Seminyak, and Canggu. Of course, conditions change on a daily basis, but typically the breaks on the Bukit Peninsula and Nusa Lembongan are reserved for higher-level intermediate to expert surfers. Surf lessons vary in cost depending on the number of people in the lesson, and the number of lessons purchased.
SURF CHARTERS IN BALI
Surf charters in Bali come in many different forms. Surf charters vary from 1-2 week voyages to 1-2 day trips, to several hours depending on what you're looking for.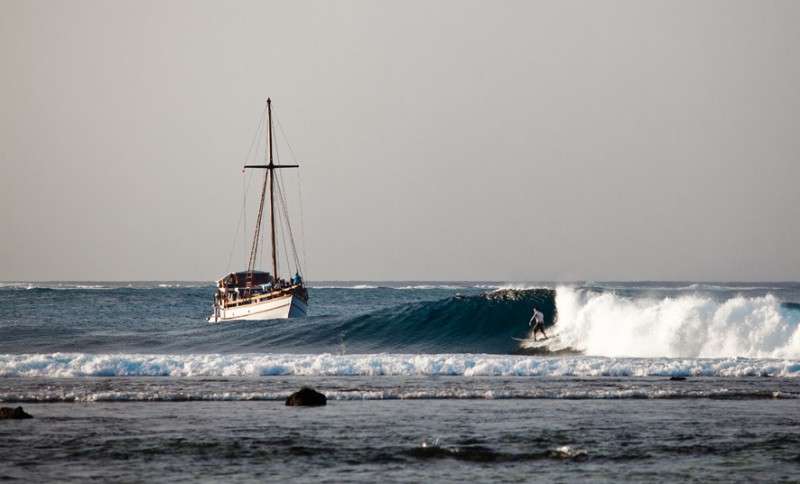 Here are a few examples of pricing* on surf charters in Bali:
*All pricing is in US dollars
Dreamweaver Surf Charters 

7 days/7 nights:

Peak Season (April – September): $1,140 per person
Low Season (October to the end of March): $990 per person

Bali Surf Charters

7 days/6 nights

starting at $950 per person

2 day/ 1 night

Bali Surf Express

Full day (8 hours):

$95 – $120 per person (includes hotel/villa transfer)
TRAVEL INSURANCE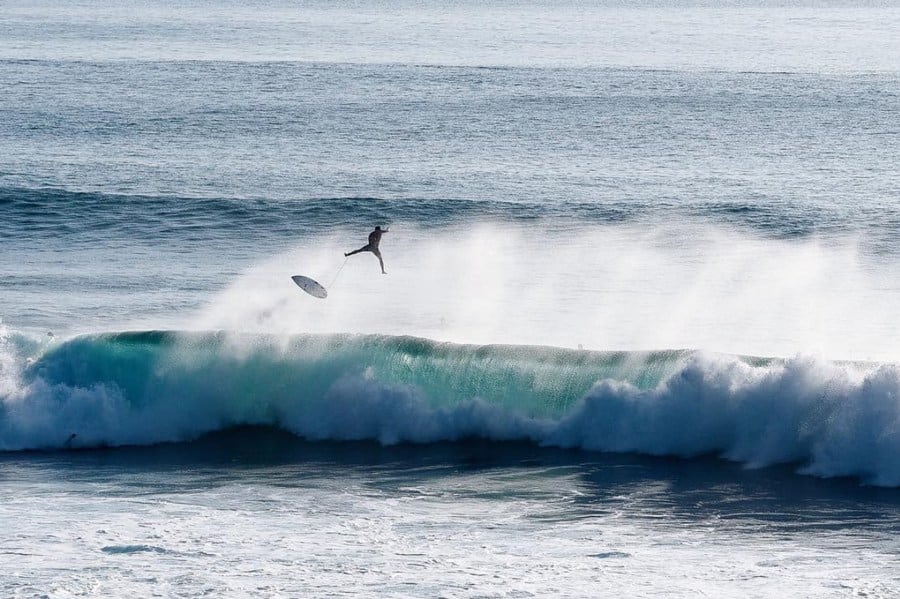 Of course, the last thing you want to think about is a major injury, but it would be much, much worse if you need serious medical attention and you're without insurance. Unfortunately, there are just too many cases of people who didn't think about insurance and ended up getting nailed with a ridiculous medical bill.
You know the deal—better safe than sorry. We use and recommend World Nomads Insurance. They offer very comprehensive travel insurance and cover heaps of activities, including surfing and ocean sports. You can easily check it out and get a fast quote here.
THE BREAKDOWN ON SURF TRIP COSTS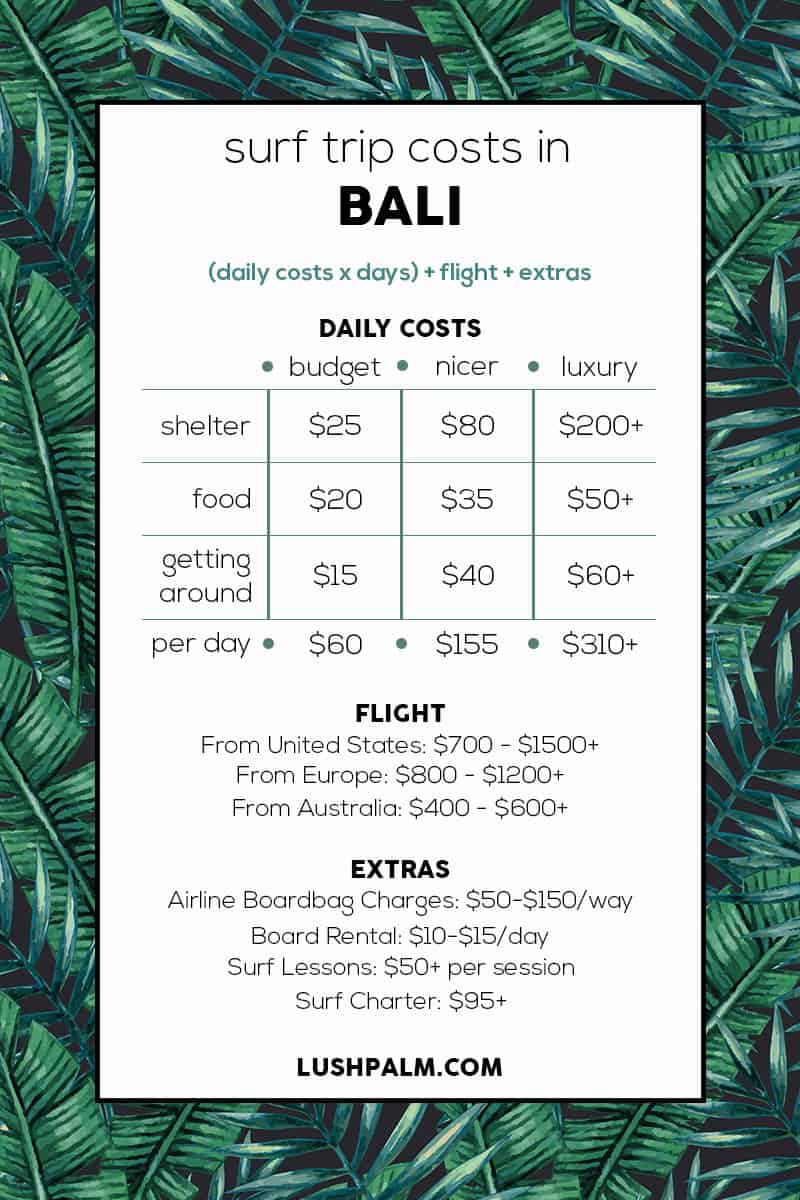 We hope this Guide to Surfing Bali will help you start planning and ultimately make that Bali surf trip a reality. Last but not least, be sure to check out our ultimate Surf Trip Packing List for a full breakdown of everything you might want to take on your trip.
If you have any specific questions or would like to add a tip of your own, please let us know in the comments below! Cheers!

Like this Guide to Surfing Bali?