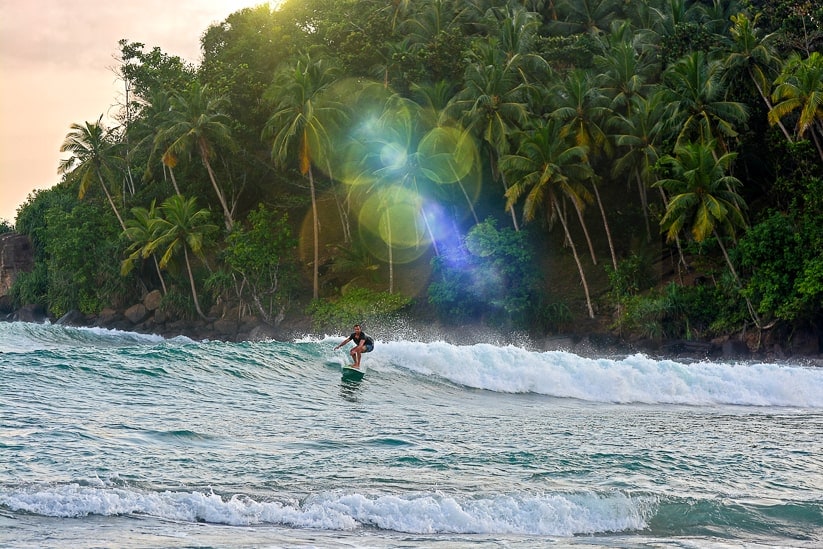 Surf safaris in tuk tuks, delicious curries, and fun waves for every ability of surfer — this is surfing Sri Lanka. Sri Lanka is a beautiful country. With friendly people and impressive landscapes, you'll find yourself in good company with stunning scenery wherever you go.
Sri Lanka has two very different surf hubs operating on opposing surf season schedules, so you can score fun waves in Sri Lanka any time of the year. In this guide on surfing Sri Lanka, we'll fill you in on the basics, when to go where, surf trip costs, transportation, where to stay, the food situation, and other essential info to help you plan your next surf trip to Sri Lanka.
Surfing Sri Lanka
SRI LANKA TRAVEL BASICS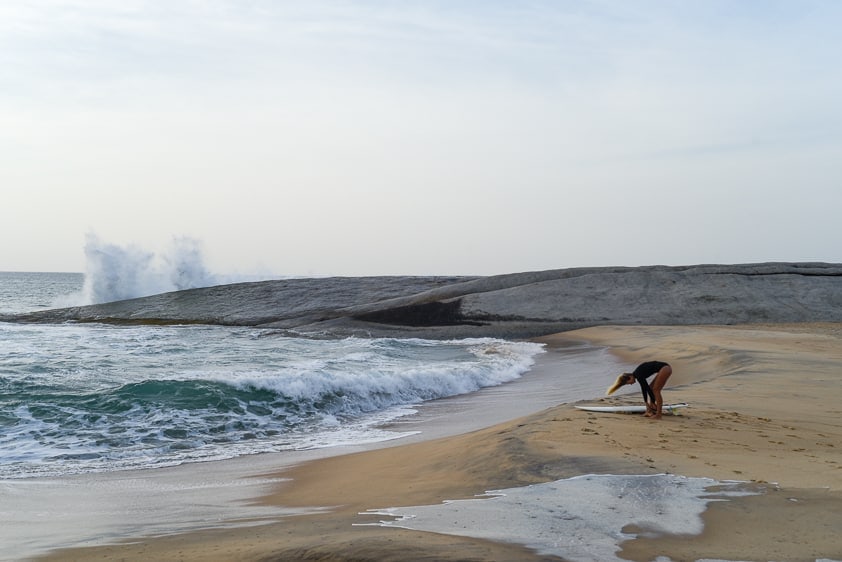 WEATHER: The weather in Sri Lanka is like you'd expect on a tropical island. Mostly hot and humid with some tropical thunderstorms rolling through here and there to cool things down a bit.
For both the eastern and the southwest provinces, if you're chasing the best surf your timing will coincide with the hotter and drier season.
This means temperatures will likely be in the 86-104 degrees Fahrenheit range or 30-40 degrees Celsius. And it can often feel hotter than what your average weather app is telling you, so you might want to stick with surfing in the mornings and evenings as often as possible to avoid the brutal sun and heat.
MONEY: The unit of currency in Sri Lanka is the Sri Lankan Rupee. As of August 2017, 1 US Dollar = 150 Sri Lankan Rupees, 1 Euro = 179 Sri Lankan Rupees, 1 British Pound = 199 Sri Lankan Rupees, and 1 Australian Dollar = 121 Sri Lankan Rupees.
TIPPING: Tipping in Sri Lanka is not expected but is always appreciated. Some restaurants will add on a 10-12 percent service charge, but you can't count on that money going to your server. Leaving around 10 percent of the total bill directly with our server is what we typically did.
Usually, there would be no need to tip a tuk-tuk driver, but you can always tip for exceptional service.
STAYING CONNECTED: We picked up a Dialog SIM card at the airport for about 1500 Sri Lankan Rupees or 10 US Dollars. There was only one plan available to us which included 8.5GB of data and 3-4G network coverage. Dialog does not allow you to use your mobile phone as a hotspot which is a bummer. But most hotels and restaurants offer free wifi.
GOOD TO KNOW: If you're planning to visit either of the surf provinces in their monsoon season, it's considered to be "off-season" and will be significantly slower with fewer eating and sleeping options available. Many hotels and restaurants completely close up shop.
Although the monsoon season definitely brings more rain and storms, keep in mind that the weather forecasts are not very accurate for the southwest coast of Sri Lanka. The forecasts may likely show thunderstorms all day every day, but the reality could be a quick rain in the early morning or afternoon.
We found the southwest coast to be a welcome relief when we visited in the off-season. It was 10 degrees cooler than up in Arugam Bay and much quieter, which was a nice change of pace.
SRI LANKA SURF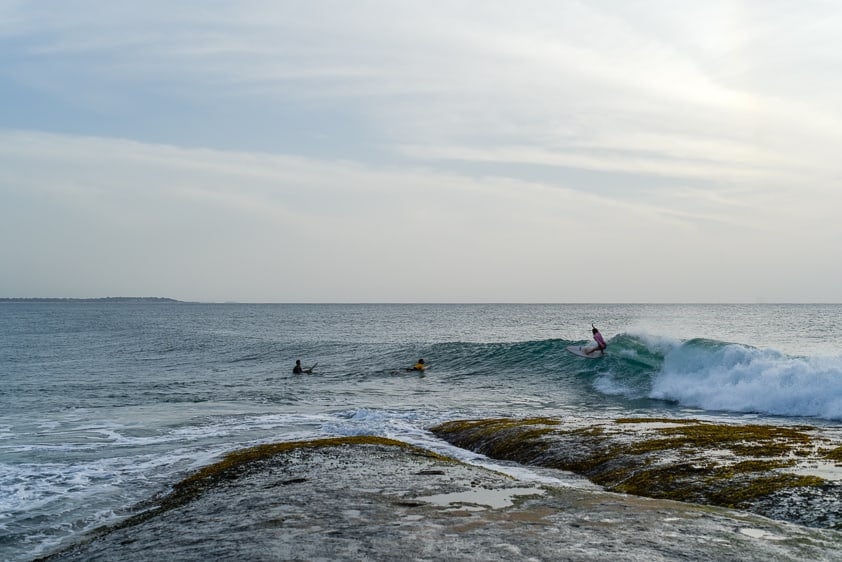 Types of Surf Breaks
Sri Lanka has a variety of surf breaks to choose from and something for everyone. You will find sand bottom points, beach breaks, reef breaks and other interesting little set ups along the way.
For the most part, many of the breaks are fairly user-friendly, making Sri Lanka an excellent option for the beginner to intermediate surfer.
If you're an advanced surfer seeking a bit more juice or some hollow barrels, you can find that too. However, don't go expecting Indonesia type consistency, quality, and power.
Level of Difficulty
Once again, Sri Lanka is a great place to learn to surf or to hone your skills and advance into some more serious waves. With a variety of user-friendly waves and some really great surf instructors to help you progress, surfing in Sri Lanka caters to all levels of experience.
Season & Swell Info
There are two main surf hubs in Sri Lanka– on the Southwest Coast around Ahangama and Weligama, and in the Eastern Province around Arugam Bay.
SOUTHWEST COAST // Ahangama, Weligama, Hikkaduwa
On the Southwest Coast, the best conditions and greatest variety of waves are typically on offer from November through April. This is where you'll find a variety of beach and reef breaks like Rams Right, The Rock, Lazy Lefts, Weligama, Plantations, Mirissa Point and many other quality waves on offer.
The same SW swells that hit Indonesia show up in Sri Lanka. The winds are most likely to be offshore in the mornings and late afternoons. Waves often run in the head high range and can push to double overhead during this time.
In the offseason on the Southwest Coast, many of the premiere breaks like Rams, The Rock, Lazy Lefts, and other main breaks stop working due to less than ideal wind conditions and different swell directions.
However, unlike the Eastern Province during the offseason, there's still swell in the water and places with wind protection or where it blows cross-offshore where you can score some fun waves year round.
EASTERN PROVINCE // Arugam Bay
The surf season around Arugam Bay is from May through September. This is when the scattered right-hand sand bottom points of this dry and arid region come to life with the passing southeast/southwest swells. A few of the breaks in this area are Arugam Bay, Pottuvil Point, Whiskey Point, Peanut Farm, Elephant Rock, and Okanda.
During the peak season, Arugam Bay is graced with many offshore mornings and there are several nearby breaks which have headlands that provide some wind protection and keep things fairly clean and ridable throughout the day.
During the offseason in the Eastern Province (October – April), it's likely to be flat and not worth a visit if you're looking for waves.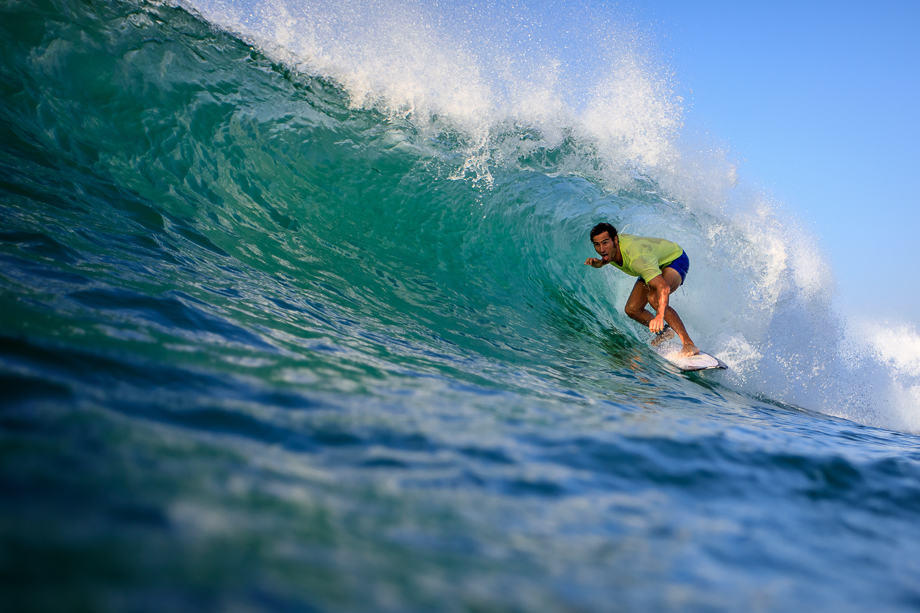 Crowds
At the best breaks on both coasts you can certainly count on finding hefty crowds much of the time.
SOUTHWEST COAST // Ahangama / Weligama / Hikkaduwa
On the Southwest Coast, there is such a great variety of waves to choose from in close proximity that you can avoid the worst of it if you're willing to drive around a bit to check the various breaks for the smallest crowds.
If you're an advanced surfer you might even find yourself scoring Rams Right barrel with only a handful of others out since there are a lot of beginner and intermediate surfers around who won't be too keen on surfing a fast hollow shallow reef break.
EASTERN PROVINCE // Arugam Bay
In the Eastern Province, Arugam Bay is the main attraction and located directly in town. You'll likely find dozens of surfers out at all times. Eager surfers are up and on it long before first light to beat the crowds and the heat, mostly the crowds.
Don't be surprised if you think you're the first one to paddle out while it's still dark only to find a healthy lineup of others with the same idea. That being said, it's definitely worth a shot and you just might avoid the worst of it.
A hint for surfing the Eastern Province. The further away you get from Arugam Bay, the fewer surfers you're likely to encounter. There are still places you can surf all alone at least for a period of time before a few others show up.
In both regions, there are still waves out of sight and farther than most people are willing to go searching for waves. So if you're feeling adventurous, you'll likely be rewarded if you go searching off-the-beaten-path.
Water Temperature
The water temperature in Sri Lanka ranges from about 80 to 84 degrees Fahrenheit or 27 to 29 degrees Celsius all year long. So be prepared to enjoy all those board shorts and bikini sessions, although you might want to wear a rash guard from time to time for some extra protection from the powerful sun.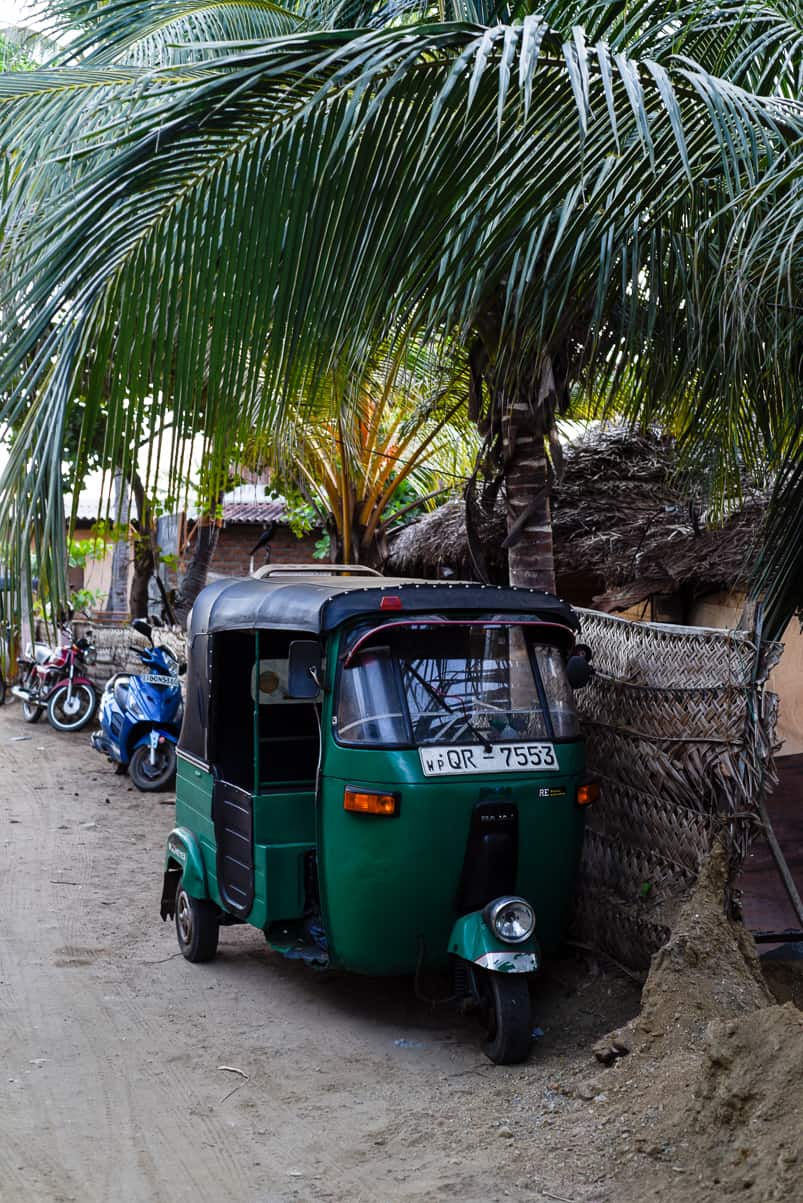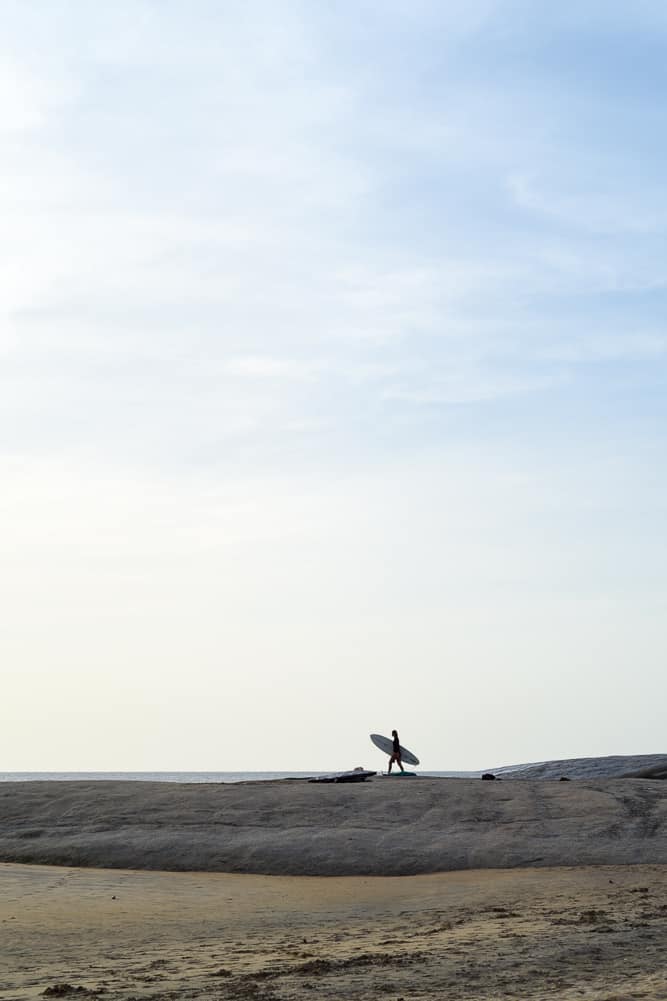 Getting to the Surf
Hiring a tuk-tuk driver is the easiest way to get to the surf in most cases and also part of the fun of surfing Sri Lanka. Most hotels and resorts will be more than happy to help you sort it out. Or you can always chat and negotiate prices with local drivers yourself.
If you don't use tuk-tuks to get around, try to stick with someone who is experienced with driving in Sri Lanka as you will quickly learn that the roads are chaotic, to say the least. Think Mad Max without the explosives. Okay maybe not that bad, but let's just say everyone from tuk-tuk drivers to bus drivers pull seriously erratic and risky maneuvers… especially those crazy bus drivers.
SOUTHWEST COAST // Ahangama / Weligama / Hikkaduwa
On the Southwest Coast, the surf breaks are closer together and you can see many of them from the main coastal road which makes it easier to navigate.
You can rent a scooter for about $6-$8 USD per day to explore the area at your own leisure or hire a tuk-tuk driver for similar costs as Arugam Bay.
EASTERN PROVINCE // Arugam Bay
In Arugam Bay, we had an awesome driver by the name of Kannan. He's a super cool local surfer who is happy to go hunt for waves at a fair price. Leave a comment below if you're heading to Sri Lanka and would like his contact info.
In most cases any given tuk-tuk driver will start high for their going rate, so always be prepared to negotiate a rate that you feel okay with and never get into a tuk-tuk or taxi until the rate has been agreed on.
To hire a tuk-tuk driver for a 4-5 hour round trip surf expedition from Arugam Bay to Okanda or the Lighthouse (two of the farthest well-known breaks from Arugam Bay; about a 45-minute drive) the going price is about 3000 Sri Lankan Rupees or about $20 USD.
The closer breaks to Arugam Bay such as Whiskey Point, Peanut Farm, Pottuvil Point, and Elephant Rock will likely cost around 1000-2500 rupees (around $7 – $17 USD) for a round trip tuk-tuk ride. Tuk-tuks hold two passengers comfortably, but you can squeeze in a third if you need to.
You can rent a scooter for about $6-$8 USD per day, but you might want to take a tuk-tuk to the break your first time and pay close attention to the roads. All of the breaks outside of Arugam Bay require navigating through unmarked dirt roads.
We'll cover more in our transportation section below, including car/scooter rentals and how to get around on your longer trips.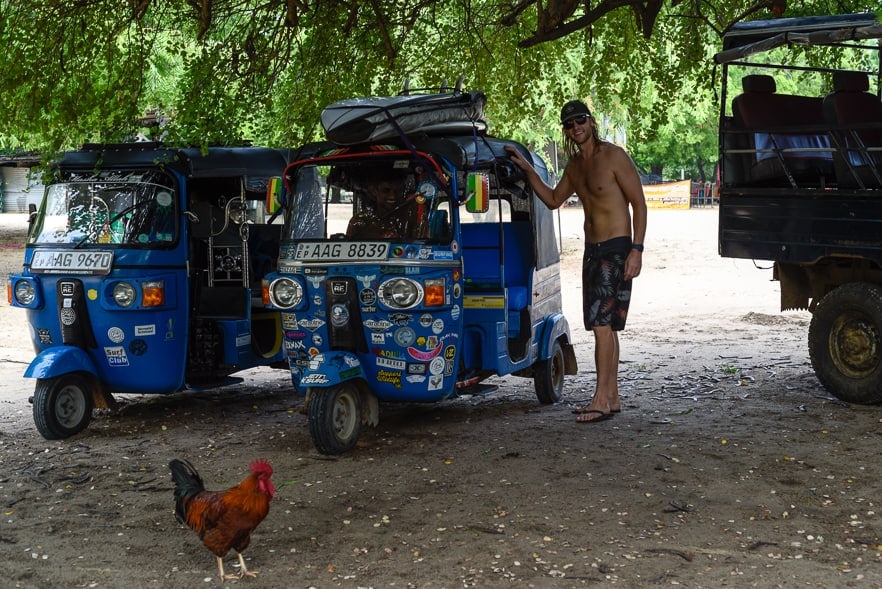 Good to Know
The off-season on the Southwest Coast of Sri Lanka is from around May through October. A lot of hotels and restaurants fully close up shop during this timeframe due to a lack of tourism. You can still score fun waves at this time, but there are definitely fewer breaks on offer.
The offseason in the Eastern Province is around October through April. While there might be some random swells during the shoulder months, it's basically flat at Arugam Bay and all the nearby breaks so probably not worth a visit if you're seeking surf. A ton of hotels and restaurants fully shut down there as well.
SURF TRIP COSTS IN SRI LANKA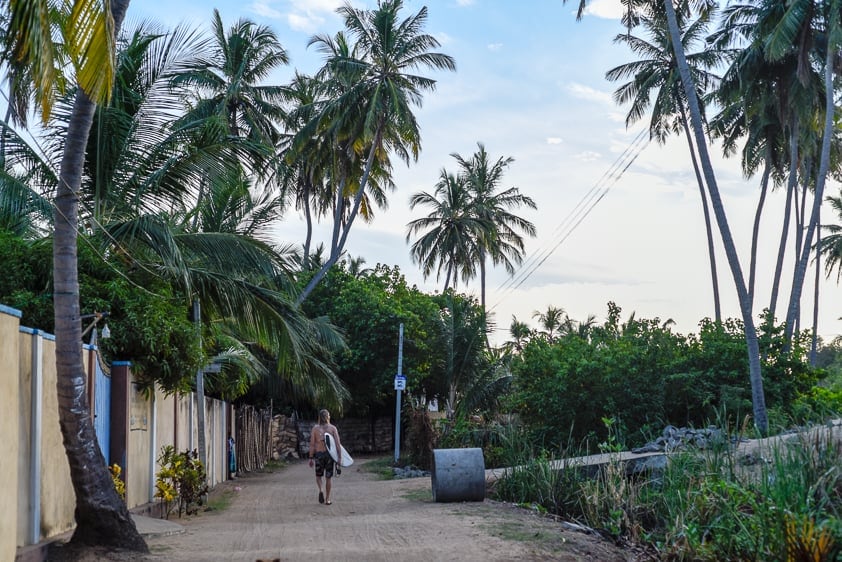 From budget accommodation to luxury, you can find it in Sri Lanka. To give you an idea of potential costs, here are a couple of examples of what you might encounter on a daily basis during the peak season. Whatever route you take budget-wise, you will also need to consider the cost of transportation to and from the area you plan to visit (which we'll cover in the transportation section below).
Low Budget
You can easily find accommodation in the peak season for under $10-$20 USD per night. These places will be very basic and you typically won't get air conditioning at this price. You can eat street roti at 60-100 rupees or about 50 cents as a common snack and go with to rice and curry dishes at local restaurants for lunch and dinner at around 200-300 rupees or $1.50-$2.00 USD per meal.
If you want to get away from your nearest break to surf other waves a tuk-tuk ride will run you around 900-3000 rupees ($6-$20 USD) round trip for a few hours of surfing. Add in $3-$4 USD for your daily beer budget and you're golden.
Low budget breakdown. Roughly speaking.
Room: $15 per night
Snacks: $3 per day for rotis and other snacks
Meals: $6 per day ($2 per meal)
Transportation: $12 per day
Beers: $4 per day
Water: $2 per day
Grand total: $42 USD per day (knock off $10 or so if you're splitting your room and transportation)
Mid-Range Budget
You can find mid-range rooms with air conditioning and breakfast included in the $50-$150 USD per night range. You'll still want your fix of roti and street food. Meals at nicer restaurants will run 600-1000 rupees or $4-$7 USD per meal. You might take some longer or more frequent tuk-tuk rides and pay a little more for drinks at nicer restaurants.
Room: $80 per night
Snacks: $5 per day
Meals: $21 per day ($7 per meal)
Transportation: $20 per day
Beers and coffee: $10 per day
Water: $2 per day
Grand total: $138 US per day (knock off $40+ if you're splitting your room and transportation)
Luxury
Ah, the finer things. Always a nice option if you can swing it. For those of you with a little extra jingle, Sri Lanka has some really incredible hotels and surf retreats on offer.
We had an awesome stay at an all-inclusive surf and yoga retreat on the Southwest Coast called Soul & Surf Sri Lanka. From yoga lessons to delicious food to transportation, everything is included and taken care of. You can check out Soul & Surf here.
Grand total: around $200 USD per day and up.
TRANSPORTATION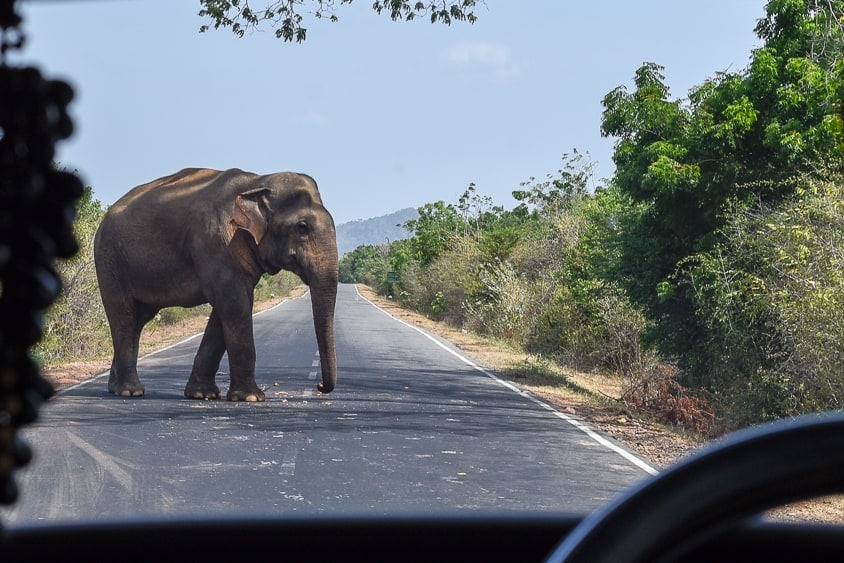 Getting around in Sri Lanka is always an adventure. You can see lots of amazing wildlife right off the roads, from peacocks to monkeys, to elephants if you're lucky.
In certain parts of the country, wild elephants hang out in the middle of the road. Our driver told us that because people feed the elephants along the roadside, the elephants will now stand there just waiting for passing cars to feed them through the window.
While we can't deny that it was a cool sight, please be respectful and heed the signs: don't feed any wild animals! One of the most incredible things about Sri Lanka is the wildlife, but elephants begging on the side of the road is a negative effect of human interference with wild animals and the natural environment.
Back to the nitty-gritty. Transportation costs in Sri Lanka are reasonable, especially if you're traveling with others so you can split the cost.
Both surf hubs are far away from the airport (Arugam Bay is a 7-10 hour drive, and the Southwest coast is a 3-4 hour drive), so you have a couple of basic options for transportation.
Option 1: Travel from the airport to your surf hub by way of a taxi, bus, or train, and then use tuk-tuks or rent a scooter to get around at your destination.
Option 2: Rent a car and drive yourself.
We highly recommend option 1, as renting a car will likely be more expensive at about $40 USD per day for a compact car, and driving in Sri Lanka is a bit sketchy. For the most part, taxi drivers, bus drivers, and tuk-tuk drivers all abide by the same rules: drive fast and pass often (even on blind corners).
If you're not used to playing chicken with nearly every other vehicle on the road, this may be a bit nerve-racking for you at first. Especially when it's a large bus moving fast and there's barely enough space for both of you with pedestrians to the side.
With that said, renting your own vehicle is probably not a great idea if this is your first time to Sri Lanka.
Southwest Coast / Ahangama, Weligama, Mirissa
PRIVATE TAXI: A mid-sized six-seater taxi van from the airport in Colombo to Ahangama (about a three-hour drive) should cost you about 10,000-12,000 rupees or $65-$80 USD.
TRAIN + TUK TUK: A train from Colombo to Weligama (about a 2.5-4 hour train ride) is $2-$4 USD, and then a local tuk-tuk to get to your hotel will likely be less than $5 USD.
BUS + TAXI: A bus from Colombo to Galle is about $2 USD. And a taxi from Galle to Weligama should cost around $10-$15 USD, or there is a train from Galle to Weligama for $1 USD.
While it's not 100% accurate and doesn't show every bus and train route out there, Rome2Rio is a great trip planning tool when it comes to learning about transportation options.
Eastern Province / Arugam Bay
PRIVATE TAXI: A mid-sized six-seater taxi van from the airport to Arugam Bay which is about an eight-hour drive should cost you about 18,000-19,000 rupees or $120-$126 USD. You can potentially get a better price if you go directly to a driver and shop around.
BUSES: There are several options to take a bus from Columbo to Arugam Bay. You can take a local bus from the Colombo Main Bus Terminal just about every hour for around $4-$5 USD.

There is a direct bus, number 98, which departs twice a day at 5 am and 8 pm from Colombo to Pottuvil. A ticket should cost you less than $5 USD.
A luxury air-conditioned bus will cost around $10-$15 USD. For more information about bus schedules, routes, and fares, click here.
There aren't any direct trains to Arugam Bay from Columbo, so if you're set on taking the train it would be best to catch the train from Colombo to Badulla. And then a bus or taxi from Badulla to Arugam Bay. The train from Colombo to Badulla should cost less than $4 USD. The bus from Badulla to Pottuvil will be around $4 USD, and then another $6-$8 USD for a tuk-tuk or taxi from Pottuvil to Arugam Bay.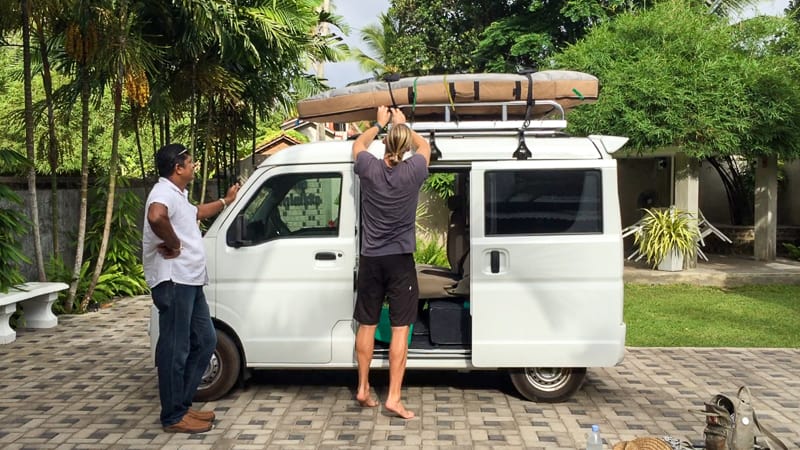 There are plenty of options for getting around in Sri Lanka. We decided not to hassle with the trains and buses since we were lugging around our bulky surfboard bags, but we heard that the scenery on the train routes is absolutely gorgeous and that you can sit can dangle your legs off the side of the train which sounds pretty rad.
If you want to go on the train or a bus with surfboard bags it might pose some challenges. You might have to wait around for a bus or train with extra cargo space and pay a few extra bucks. So plan accordingly.
WHERE TO STAY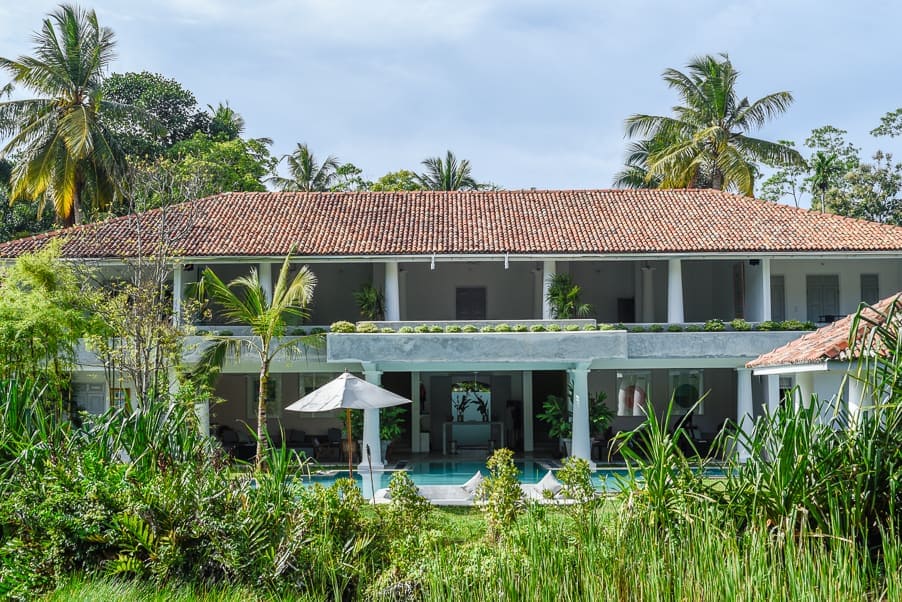 As with the waves in Sri Lanka, so goes with places to stay– there's something for everyone.
In the lower budget range (less than $75 USD per night) you can find some decent guesthouses and hostels. You can even find a place to lay your head for less than $10 per night if that's what you're looking for.
In the mid-range ($75-$150 per night) there are a lot of great options (many with air conditioning and breakfast included), with new hotels sprouting up regularly. From surf camps to private villas, there are some nice places if you book in advance for the peak season.
In the luxury realm (over $150 per night) you'll be in for a treat. There are some fantastic luxury hotels and surf villas, as well as all-inclusive surf retreats. Many luxury options will include extras like breakfast, unlimited filtered water, coffee, snacks and so on. Or if you're staying at an all-inclusive retreat, most everything will be included in your stay.
Here are a handful of our top recommendations.
MIDRANGE • $75 – $150 per night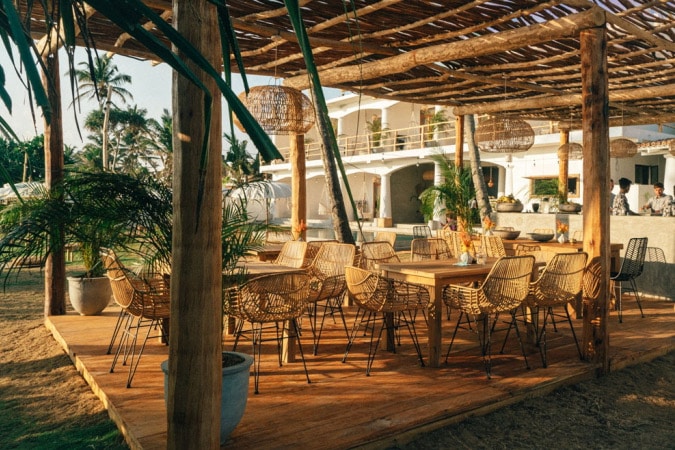 LUXURY • $150+ per night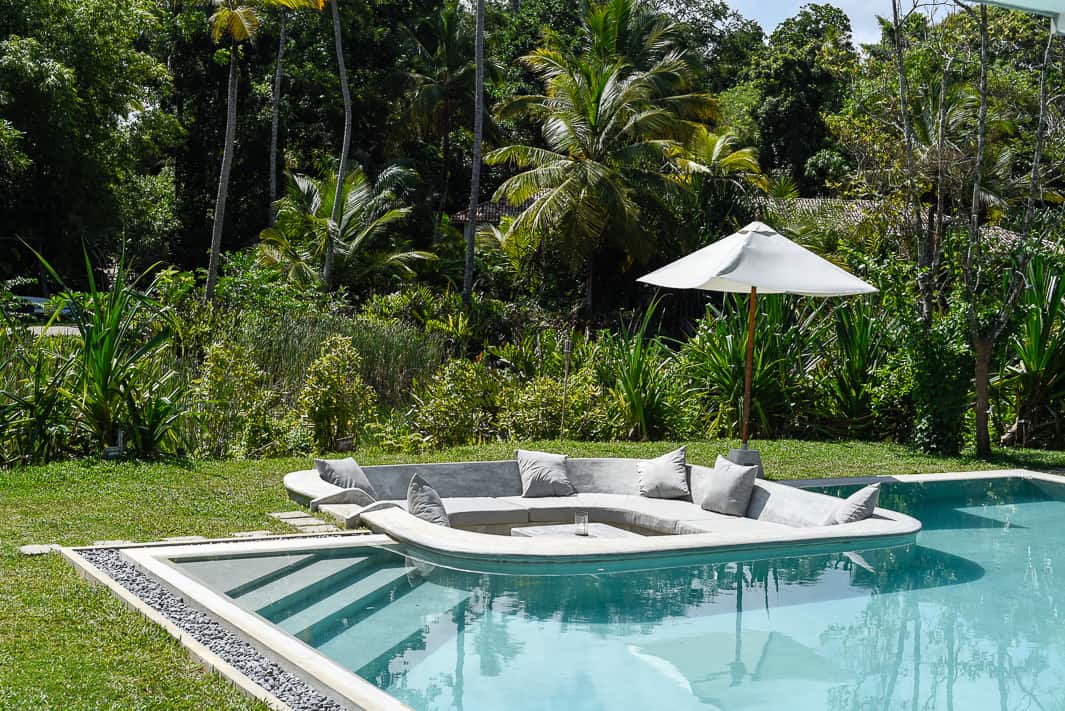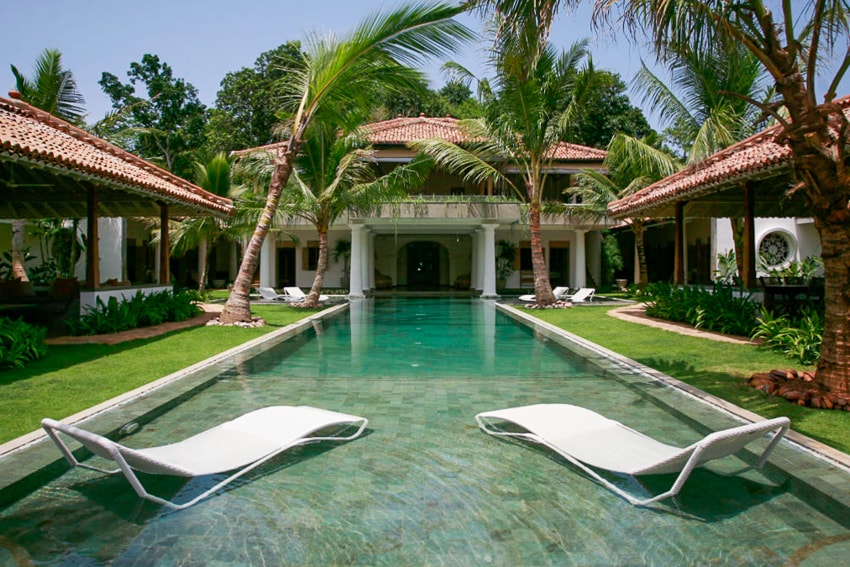 FOOD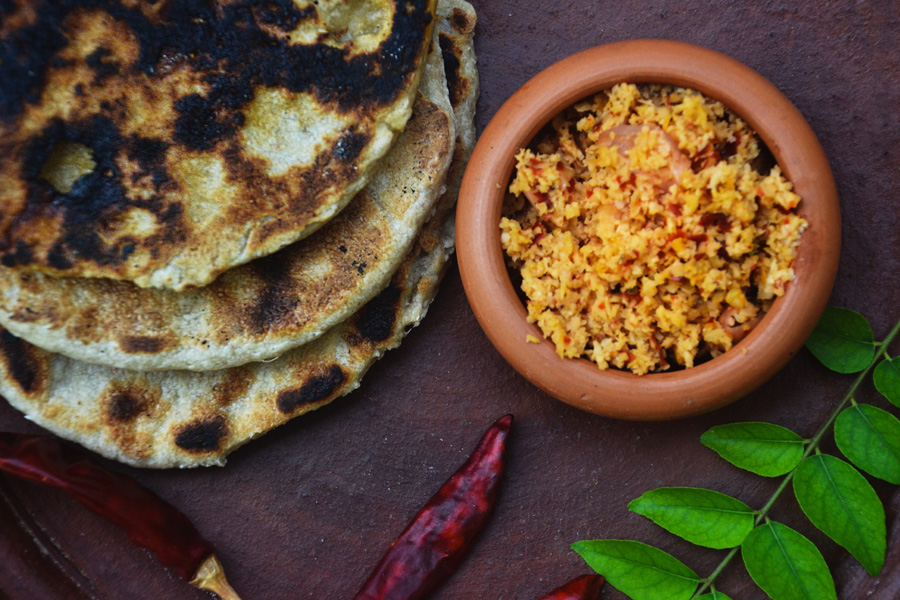 For food options in Sri Lanka, you'll find curries, roti, a mix of international western options, and more curries. Sri Lankan food is similar to Indian food with plenty of rich spices and flavors — and absolutely delicious!
A lot of the restaurants in the tourist hubs of Sri Lanka try to be everything to everyone. Many menus offer everything from local dishes to burgers, noodles, and more. Personally, I prefer not to eat at restaurants that try to offer everything, but when options were slim, we ate our fair share of meals at places like this and even they were quite good, although we always ordered the local dishes.
Sri Lankan curries are super tasty! And roti are tasty easy snacks you can find at street vendors all over the country.
An inexpensive local restaurant will cost about 200 – 300 rupees for rice and curry ($1.50 – $2 USD).
A mid-range restaurant will cost around 600 – 1000 rupees for a meal ($4 – $7 USD).
A high-end restaurant will cost you 1500 – 3000 rupees for a meal ($10 – $20 USD).
While we'd all rather not think about getting injured, there are too many cases of people who didn't think about insurance and get nailed with crazy medical bills after the matter.
That being the case, many hotels and surf properties actually require that you have approved travel insurance in case of a serious inquiry or trip cancellation, especially in the wake of COVID.
You know the deal—better safe than sorry. We recommend battleface or World Nomads Insurance. Both companies offer very comprehensive travel insurance and cover heaps of activities, including surfing and ocean sports. You can easily check them out and get a fast quote below.
Get a battleface Insurance Quote >>
Get a World Nomads Insurance Quote >>
Questions, comments, or recommendations?
Please let us know in the comments below!
Dig this Guide to Surfing Sri Lanka?