Friendly welcoming locals, views that'll leave you breathless, food like you've never had it before, and countless uncrowded barrels to choose from. Welcome to surfing South Africa.
If you're looking for a super rad surf trip off the beaten path and minus the crowds, put South Africa at the top of your list. With uncrowded line-ups, tons of wave variety, incredible wildlife and stunning landscapes, South Africa offers up a surf trip for the books.
When most foreign surfers think of South Africa they think of Jeffreys Bay, or the 'perfect wave' of Cape St. Francis made famous in the legendary surf film The Endless Summer. In this guide, we'll touch on the famous JBay and Cape St. Francis, and also give you the lowdown on many other amazing surf spots you've probably never heard of.
South Africa is a large country with heaps of coastline, so this Guide will mostly focus on surfing the Western Cape of South Africa (near Cape Town). This stretch of coastline is ripe with all kinds of waves from your dreams. From world-class picture perfect A-Frame beach breaks, to ginormous barrels, point breaks, and heaving mutating slabs… you want it, they got it.
To give you best local info out there, we've brought South African surfer and surf guide extraordinaire Ru de Bruin on board to give you the lowdown on surfing South Africa. Ru is one of the founders of South Africa Surf Tours, a surf guiding company that specializes in finding you some of the best uncrowded waves in South Africa.
Ru and his team are made up of experienced local surf guides who bring a wealth of local wave knowledge to the table and make sure you're at the right place at the right time. With a great price point, newly remodeled surf lodge, and a serious appreciation for good food and beer, these guys are on-point. If you're looking for an awesome guided surf trip, we highly recommend these legends to show you what South Africa has on offer.
Without further ado, we're going to pass the mic to Ru to enlighten us about the many rewards of surfing South Africa. We'll cover travel basics, the waves, surf trip costs, transportation, where to stay, and of course, food. Take it away, Ru!
South Africa is a surf destination out of the ordinary. I think the thing that makes South Africa such a sick surf holiday, is the variety it offers.

You could be sitting on the back of an old-school green Landy looking at Elephants one minute, and dining in a world-class seaside restaurant the next.

You could spend your time sipping exquisite wines in old Dutch vineyards, or hiking between waterfalls & secret pools. Whichever way you choose to travel, you're in for a bloody good time.
TRAVEL BASICS
WEATHER: The weather varies from region to region in South Africa, but in general it is mild and comfortable, with usually hot and sunny summers and colder winters.
Cape Town is notorious for its unpredictable weather and having the ability to give us all four seasons in one day. The wind can get VERY strong, particularly in the summer months. This makes Cape Town the kitesurfing hub it is. Summer begins in November and lasts until the end of February, with an average temperature of around 23 degrees (73°F), and reaching over 35 degrees (95°F) on hot days.
MONEY: Our currency is the South African Rand. Due to our newly fired ex-president, Jacob Zuma's mismanagement of the country, the South African Rand is weak in comparison to most other currencies–which means a helluva good time for visitors! Food, beer, and accommodation are generally pretty affordable for anyone with Dollars, Euros or Pounds.
12 South African Rand = $1 USD, €.81 EUR, £.70 GBP
STAYING CONNECTED: Internet and mobile data is one of the few things that are quite expensive for people visiting South Africa. You're looking at around R150 for 1 Gig of data on your mobile.
Most bars and restaurants, hotels and lodges in the major cities have wifi, so that makes things a bit easier when wanting to stay connected. Many of the surf spots we take our guests to (which are further up the West Coast and a bit more off the beaten path) have absolutely zero internet or phone reception. Which makes it an even better experience (in our humble opinions 😉 ).
LOCAL INSIGHTS: Cape Town is an amazing place with world class setups. There's always swell around and its always offshore somewhere. You just have to commit to the search, and you're bound to find the gems.
So many people are afraid to visit South Africa because of the negative aspects portrayed in the media about our country. Crime, corruption, and inefficiency, in general, seem to be the themes of our international publicity.
If we, as South African locals, could emphasize any one point about South Africa, it's that it is 100% possible to have a safe & incredible surf holiday here. It's all about ensuring that you do enough research before heading out on your own, or–try and travel with a local guide. This country has so many amazing and authentic experiences to offer.
SURFING SOUTH AFRICA
TYPES OF SURF BREAKS: All kinds of breaks, beach breaks, reefs, slabs, wedges, point breaks. We've got it all. It's just a case of where, and when.
LEVEL OF DIFFICULTY: There are waves for all skill levels, from beginner to expert. Some of the best and most renowned waves require a higher skill level and aren't recommended for those who are just starting out. Be safe, and ensure you understand the tides before heading out, as some spots can get pretty heavy.
SEASON AND SWELL INFO: There are waves throughout the whole year, with each season having different trade winds that light up different spots.
REGIONS: There are three main regions around Cape Town:
The Cape Peninsula that starts from the City Bowl and goes down to Cape Point Nature Reserve–this region has more surf spots than most countries do.
The East Coast (Overberg) which also holds dozens of epic spots that are usually less crowded than the ones along the Cape Peninsula.
Lastly, you have the West Coast, this is the place we see when we picture Heaven. It is barren and raw, and has the most powerful waves during the winter months.
CROWDS: Crowds can get intense around weekends or holidays at well-known spots during the summer months when the weather is nice and warm and the sun sets late. But once the seasons go into winter the crowds dissipate.
Do a bit of searching to find the lesser known spots, and most of the time it will just be you and your crew getting the waves of your life.
WATER TEMP: Summer months (November – February) the water ranges from 9 to 13 degrees (48 – 55°F) around the Cape Peninsula and West Coast, and the East Coast gets slightly warmer and can get up to 20 degrees (68°F) at times. Winter months the water is usually a bit warmer and hovers around 14 to 15 degrees (57 – 59°F) at most times all along the coast.
GETTING TO THE SURF: You will need to make use of cars and drive yourself as there are no reliable sources of public transport. For many of the lesser-known spots, you'll need 4×4 capabilities (we'll elaborate on this in the transport section farther below).
SOUTH AFRICA WAVES
Llandudno: This is a beach break situated just outside of the Cape City Bowl. It offers crystal clear wedging barrels that break predominantly right but has some A-frame breaks in the middle of the beach. The spot gets crowded in the summer months and is offshore with the summer trade winds.
Noordhoek: Another world class wedging beach break that is not for the faint-hearted, breaks shallow and it is heavy.
Dunes: Just a bit more south than Noordhoek, you take a 20min walk down a long white sandy beach and you will be greeted by some of the best A-frame waves you have ever laid your eyes on. It handles up to 10ft. It is also not for the faint-hearted. It gets crowded when it's really good, and for good reason.
Caves: A right-hand wedge beach break laid at the foot of one of the most beautiful mountain ranges in the Boland area. This wave gets heavy, shallow and just amazing! It is a magnet for swell in the summer months and you will be able to find waves here most days throughout summer.
Famous Last Words: To get to this wave, you will have to drive about two and half hours out of Cape Town and up the West Coast. When the seasons start changing to winter you often get greeted with beautiful offshore winds in the morning and will see some of the most square draining shore breaks you have ever seen. Offering ridiculous barrels and ramps for those that like to take to the air. A favorite for most skilled surfers that like to mission around Cape Town.
Jeffreys Bay and Cape Saint Francis are about a 7.5-hour drive from Cape Town. Of course, they're both legendary breaks with heaps of interest so here's the lowdown…
SURF TRIP COSTS IN SOUTH AFRICA
Let's start with accommodation. Pricing for places to stay can range from R250 to R1000 plus ( $21 – $83+ USD) per person per night.
Like most places, the cheap options will be basic and most of the time not in a convenient area, while more expensive accommodation will be nicer and in a better location.
Fuel is a big expense where it costs you R13.50 a liter ($1.12 USD), and the more you drive the more money you will spend.
On the food side of things, meals will set you back anything from R30 to R150 ($2.50 – $12.50 USD) a meal. Coffee is at around R25 ($2 USD) at most places and a beer will cost about the same. Personally, for me, I think R1000 a day ($83 USD) will give you more than enough to get around, eat well and stay in a nice place. It depends obviously on personal preference and how fancy you are 😉
WHERE TO STAY
In the lower budget range (less than $50 USD per night) there are heaps of hostels around the city and self-accommodation that you can locate on Airbnb or booking.com. Along the coasts, there are also campsites at good prices.
In mid-range pricing ($50-$150 per night) you can find really nice guest houses that have incredible locations and offer excellent services with breakfast included.
In the luxury realm (over $150 per night) you can find luxury hotels all over the place but choose carefully because they can come with a very high price while offering around the same level of service as a good guesthouse.
BUDGET
COST: $50 or less per night
There are many of campsites and self-catering accommodation along the coast that you could choose from. Traveling here in winter is the cheapest, for obvious reasons. Here are a couple spots that we have stayed at and enjoyed (bear in mind we're pretty easy-going though).
MID-RANGE
COST: $50 – $150 per night
LUXURY
COST: $150 or more per night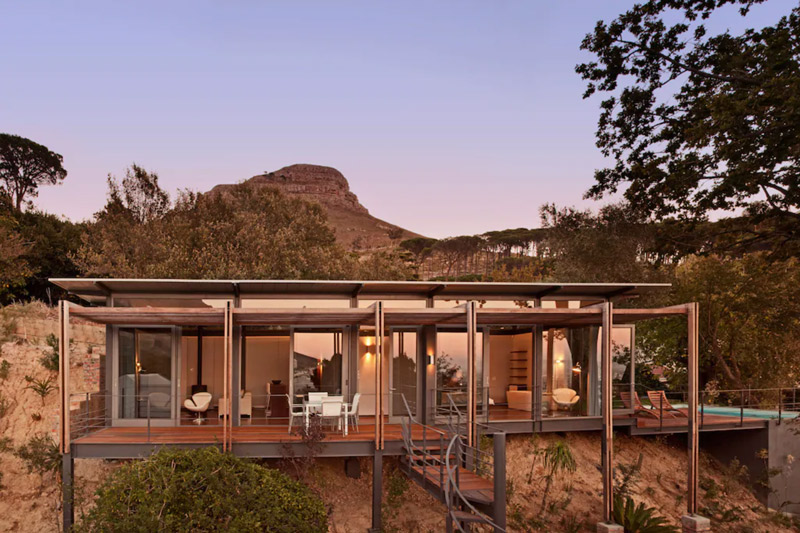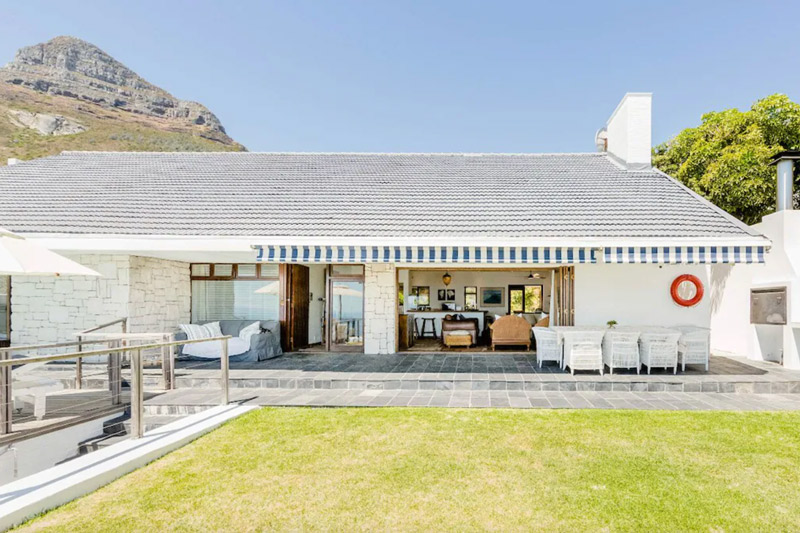 TRANSPORTATION
Right, so public transport is a bit of an issue here—we won't sugar coat it. It's generally unsafe to use public trains or buses that are not the newest MyCity buses. The public trains are notorious for muggings and crime.
Public minibusses and taxis are also generally considered unsafe for tourists. The drivers tend to ignore general road rules and there's high rate of accidents in minibusses.
Luckily, we have Uber in most places now—which is safe, and affordable. You can also hire transport at the airport which is an affordable option. There are even low-cost hiring companies which offer lower-end cars at a fraction of the price (e.g. 'rent-a-cheapie' is popular among surfers in Cape Town).
If you're looking to find some of the lesser-known surf spots, you'll need a 4×4 vehicle, and there's not likely to be mobile reception to use your navigation system. Ahem, that's where having a personal guide can come in handy.
FOOD
With so many restaurants, bars, food markets, food trucks and festivals, it's no surprise that foodies from across the globe flock to Cape Town for their vacays.
Whether you're in the mood for a tapas bar, sushi spot or vegan coffee shop, the choices are endless. Throw in some craft beer tasting, a gourmet gin experience or a high tea, and you're living the dream.
A cheap local restaurant will cost about R100 ($8 USD) for a burger and chips, and a beer or glass of wine.

A mid-range restaurant will cost around R120-R200 ($10 – $16) for a meal.

A high-end restaurant will cost you R300 ($25 USD) or more for a meal.
Here are a few traditional South African foods to try:
Boerewors: This traditional thick farmer's sausage is a staple at braais and hangover breakfasts.
Vetkoek: It's a fried ball of dough, filled with different things like jam, cheese or mince. Vetkoek really lives up to its name, meaning 'fat cake'.
Braai: A traditional South African BBQ. There's usually loads of beer, wine & general merriment involved.
Koeksisters: Braided dough that's deep-fried and soaked in syrup. So delish.
Malva pudding: Simple baked pudding with toffee sauce. It's the kind of dessert a Saffa granny will make you before you leave.
Biltong: You can buy these strips of dried and spiced meat – usually beef, kudu or ostrich – at almost any supermarket or corner café. It's almost like jerky, except a million times better.
Bobotie: Gently spiced minced lamb or beef topped with an egg-and-milk layer and browned in the oven.
A huge thanks to Ru for sharing his local surf wisdom and giving us a whole lot of reasons to visit South Africa!
If you're interested in a surf trip with everything taken care of, South Africa Surf Tours offer guided 7-, 10-, and 14-day trips for intermediate to expert surfers and bodyboarders. They also offer custom trips to places like Skeleton Bay (hello wave bucket list!).
Happy Travels!