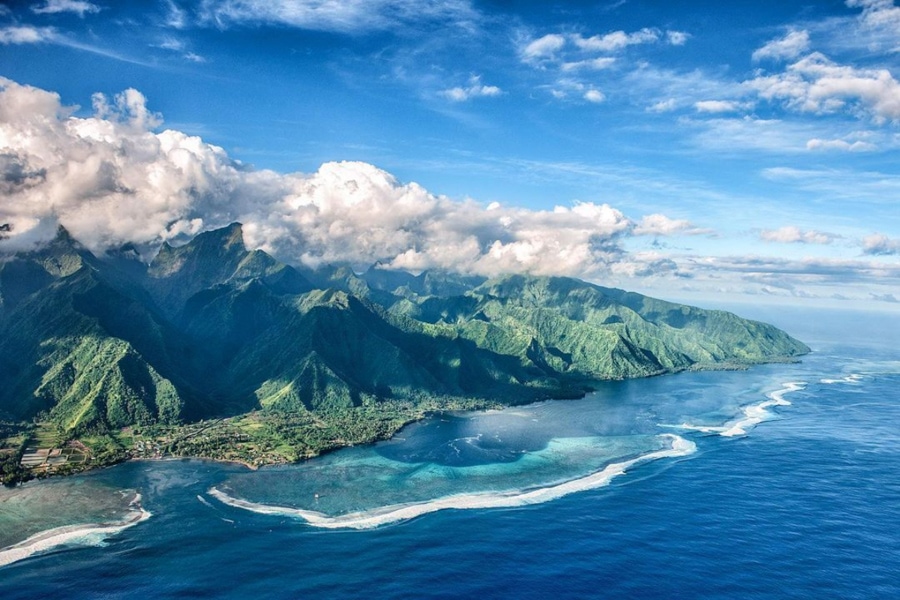 Tahiti is a quintessential tropical island paradise. Add in the epic surf situation and it's also a surfer's paradise. Lush mountain ranges with towering waterfalls descend to picturesque white and black sand beaches with crystal clear blue waters, vibrant coral reefs, and powerful waves.
The Islands of Tahiti (known officially as French Polynesia) consist of five island groups which include 118 islands and atolls. The total land area of the 118 islands is quite small (1,544 square miles, which is roughly the same size as the state of Rhode Island), but the whole country of French Polynesia covers a wide expanse of ocean and islands, including over 1.5 million square miles (approximately the same size as Western Europe!).
Tahiti Island is the largest, most populated island in French Polynesia, and home to the international airport, the capital of Papeete (pronounced Pa-pee-yet-tay), and the world-famous marvel known as Teahupo'o (more on that later). Fun fact: The uninitiated might be surprised to learn that "Tahiti" technically only applies to the single island of Tahiti.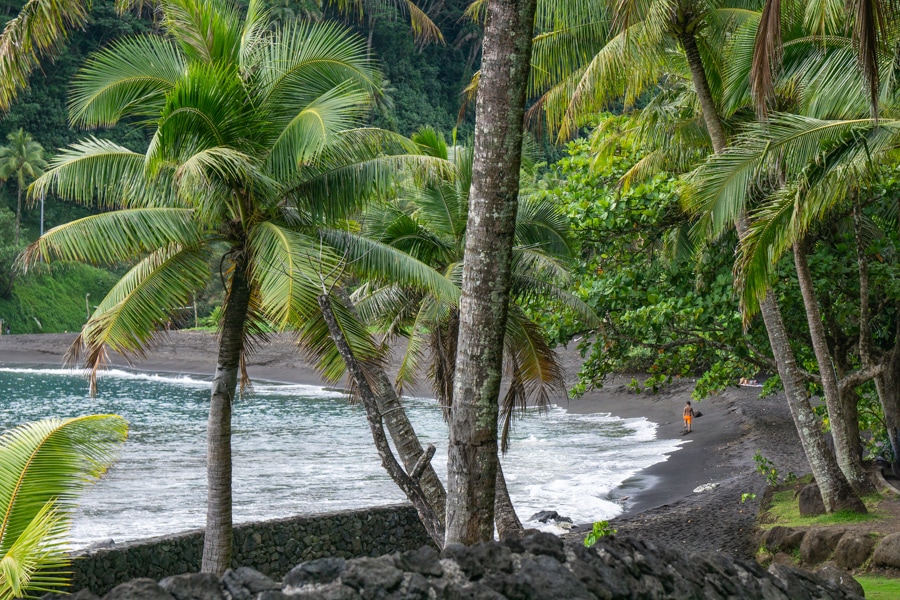 In the 1960s, Bruce Brown and the cast of The Endless Summer traveled to Tahiti and declared "there's no surf in Tahiti." Unfortunately for them, they were just in all the wrong places, because of course they were proven absolutely wrong about that declaration. French Polynesia is rich with surf breaks, as is the island of Tahiti.
Located at the end of the road in Tahiti's southwest corner is one of the heaviest and most famous waves in the world: Teahupo'o. An annual stop on the Championship Tour and featured in countless surf clips, Teahupo'o is as well-known (and challenging) as it gets, but if you venture on a surf trip to Tahiti, rest assured that there are plenty of other breaks all over the island as well.
To get the local lowdown, we asked pro surfer and Teahupo'o local Vahine Fierro to share her insights on where to surf, eat, stay, and play on the beautiful island of Tahiti.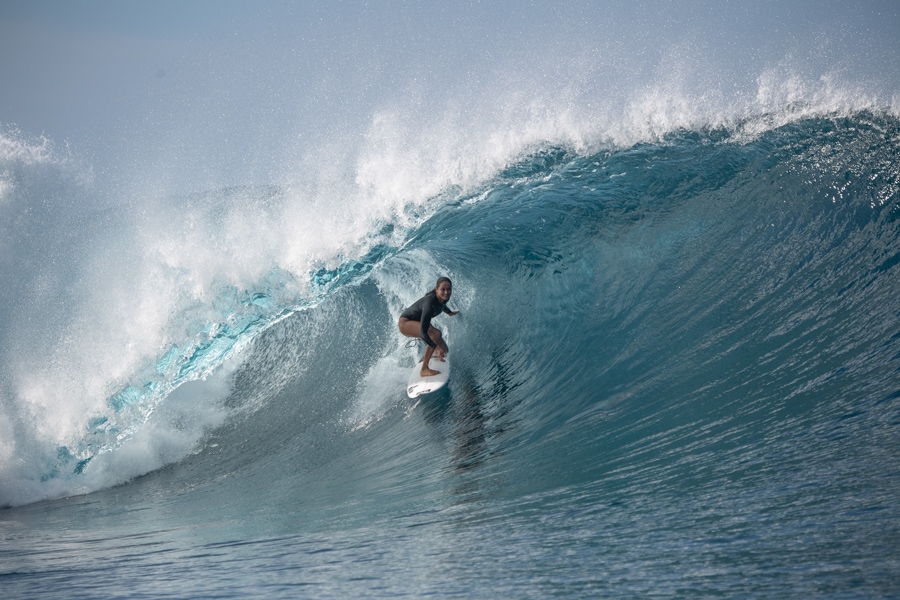 Born and raised in French Polynesia, Vahine is an up-and-coming talent to watch – a World Junior Champion, she recently took home the award for Best Barrel of the Year at the 2019 Surfer's Awards for a perfect tube at Teahupo'o. At only 21 years old, Vahine is charging the gnarliest breaks and sharing lineups with the likes of Michel Bourez and Jeremy Flores.
While Vahine likely won't get you dialed into surfing Teahupo'o (that's on you), perhaps she can help us get dialed into other parts of Tahiti.
Here are Vahine's top picks on where to go and what to do on her home island of Tahiti. Take it away, Vahine!
Tahiti Island
The Lowdown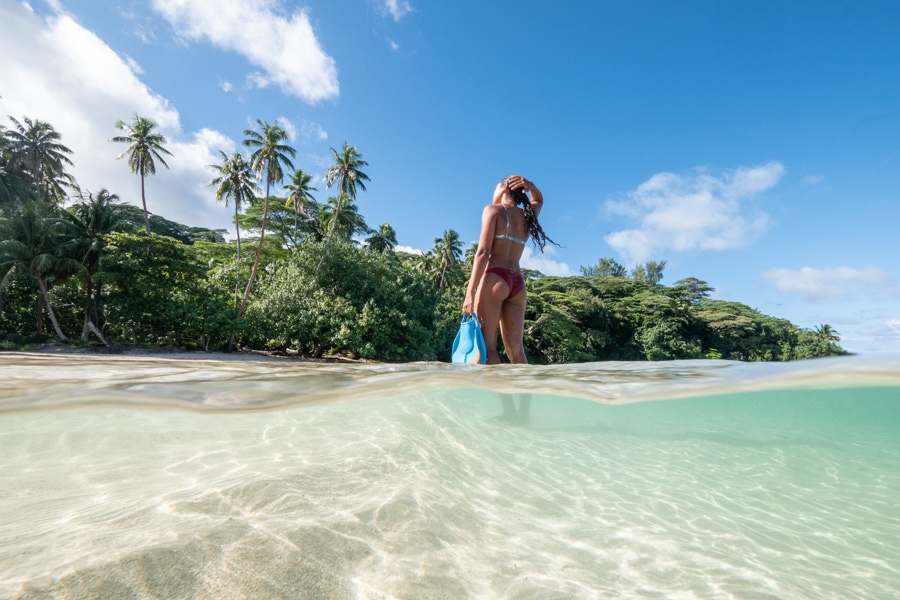 Tahiti, AKA paradise on earth, and my favorite place to be! Tahiti has this special energy that I cannot find anywhere else in the world (and I travel a lot!) The food is amazing, and there are the most welcoming people you can find️. The culture is still pretty strong and I think that's why it makes this place so so sooo special. Tahitian people are very respectful and it's important to do the same when you visit!
In 5 Words
Fun | Special | Beautiful | Unique | Unforgettable
Tahiti Surf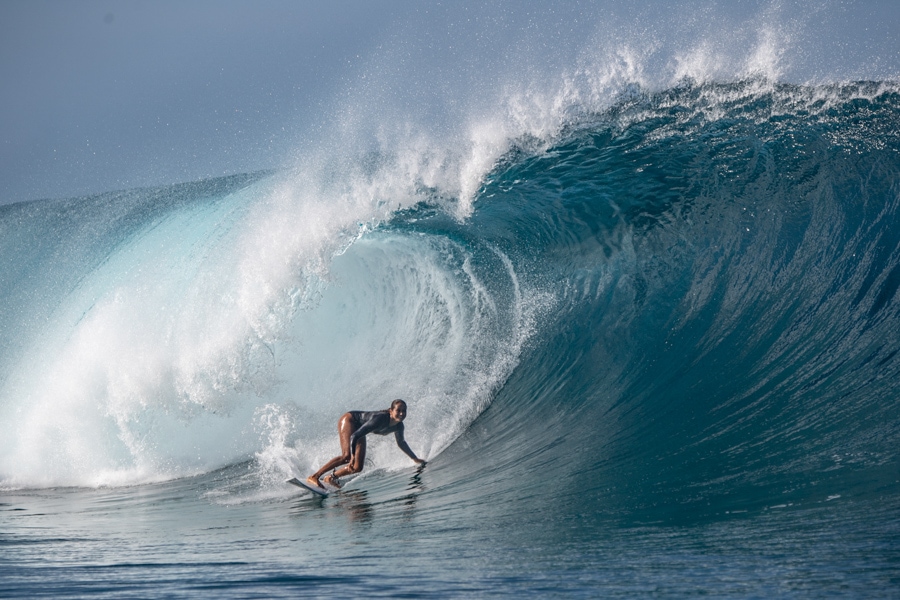 TEAHUPO'O is the most famous reef break in the world – it's a left and is known for its perfection. Located at The End of the Road of Tahiti, it can get very big but it's such a perfect wave.
I'll only name Teahupo'o because everyone knows about it. But there are easily accessible waves everywhere around the island 🙂
Lush Palm Surf Notes
Thanks to it's fortunate location, Tahiti is exposed to both S/SW swells and NW/N swells that deliver quality year-round surf. The biggest S/SW swells arrive in the dry season between April and October with 4 – 15 foot surf, and November to March (the wet season) brings waves in the 2 – 5 foot range for the S/SW swells, and 3 – 8 foot range for the NW/N swells. While Tahiti is known for its powerful and hollow reef breaks (often breaking over shallow coral), there are also more manageable waves to be found around the island and also on the neighboring island of Moorea.
WATER TEMP: 77 – 80 °F (25 – 27 °C)
PEAK SURF SEASON: Apr – Oct has the largest, most powerful waves
SHOULDER SURF SEASON: Nov – Mar is best for more user-friendly surf
SURF EXPERIENCE: Intermediate to Big Wave Pro
Eat & Drink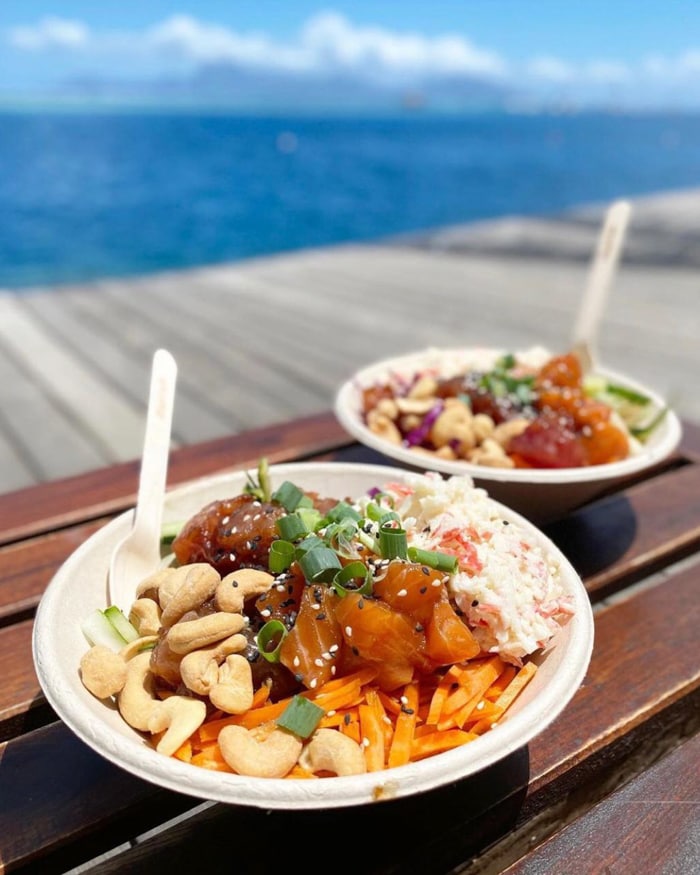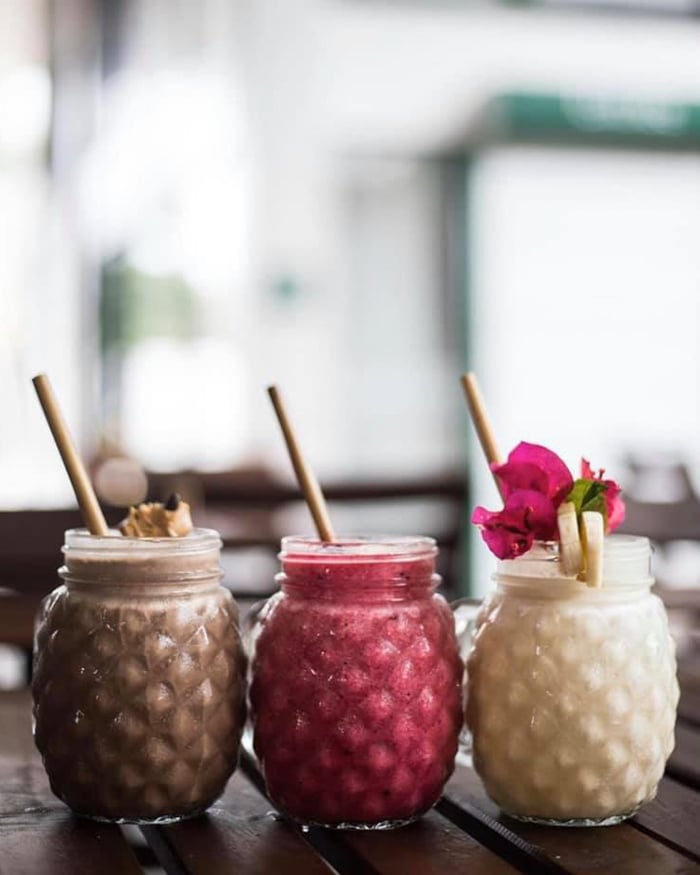 POKE BAR (pictured above) makes the most perfect poke you can ever eat! You can get delicious breakfast, lunch, and desserts (and the waffles are next level). Smoothies and smoothie bowls are so refreshing after a long day at the beach or to start your day! Poke Bar is open from 10 am to 10 pm and has two different locations – one in Papeete and the other one in Taapuna on the ocean).
MAMA'S BEACH HOUSE is an amazing restaurant with the freshest fish and the best grill! Located in Mahina (Pointe Venus), they are open from 11 am to 3 pm. And it's always full so make sure you arrive early.
SNACK TAHARU'U is a small local restaurant on Taharu'u Beach with views of the surf in Papara. I always go there after my training because it's right on the beach and it's so good as well!
TAVIANA is a snack located in Vairao open for lunchtime. Perfect after a long session at The End of the Road with the best fish, steak, and salad!
LE MANOA is a fantastic restaurant in Taravao. I usually go there for a more classy dinner with friends, but they are also open for lunch. This place is so good, it's heaven in my mouth every time I go there. Le Manoa is always full so usually, you have to reserve a table before you go.
Where to Stay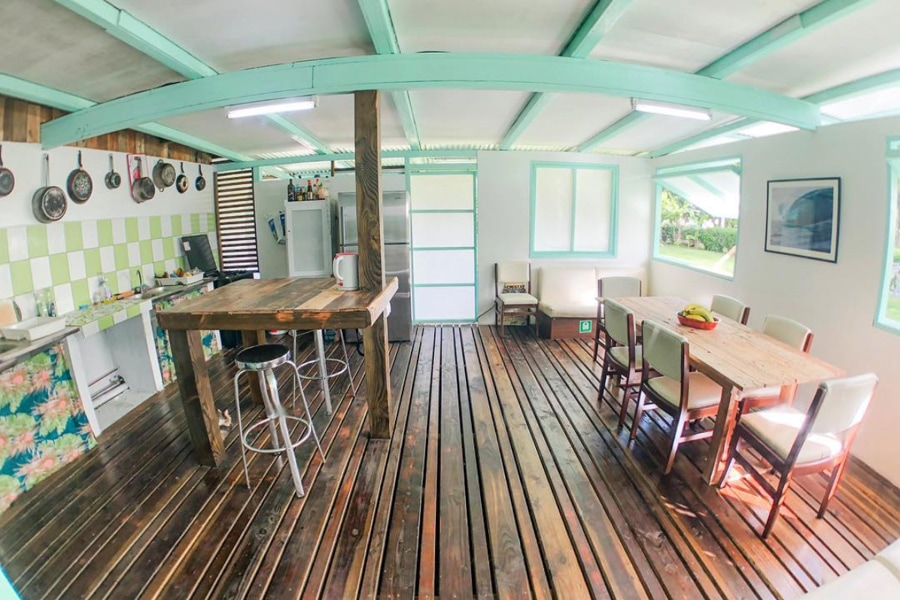 TAHURAI HOMESTAY is a wonderful place to stay located in Teahupo'o village. You live the Teahupo'o lifestyle with the local people and they are amazing, and make the best food!!
VANIRA LODGE TEAHUPO'O is a beautiful spot with 9 traditional Polynesian bungalows set on the hill overlooking the lagoon and the waves. If conditions at Teahupo'o are too challenging on the day, there are other perfect Tahiti surf spots, such as the right-hand beach break at the river mouth.
PAPA PEVA located right in front of the ocean view on Teahupo'o. Peva is one of the most respected people at The End of the Road. He also has a private valley right out the back of his homestay and it has wild horses everywhere, waterfall and it looks like fairytopia! It's a place full of energy.
Things to Do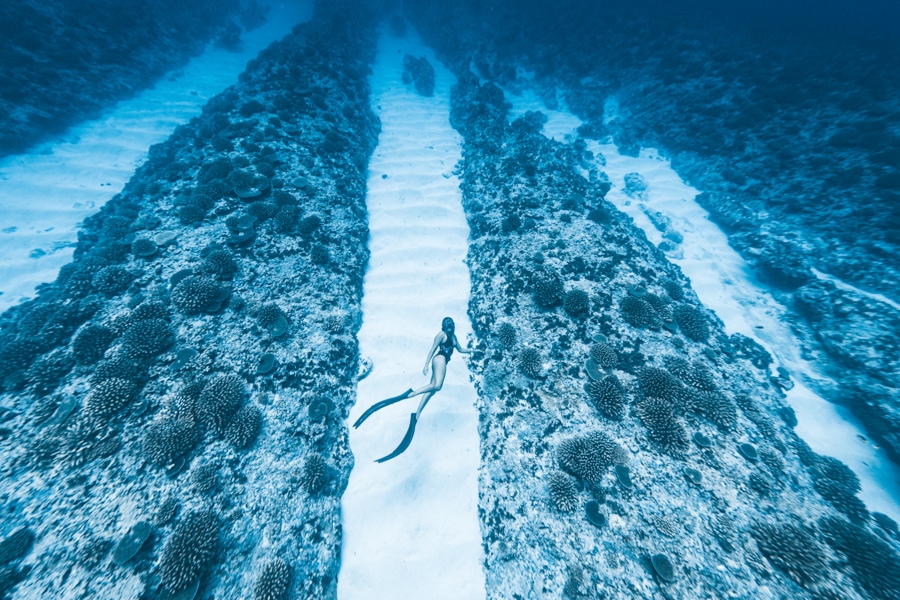 GO ON A BOAT TOUR with Cindy Taxi Boat at Teahupo'o (she's the best driver out at Teahupo'o). She knows all the prettiest spots after the road that are only accessible by boat. They have a special kind of energy that will leave you speechless.
TAKE THE FERRY TO MOOREA (Tahiti's sister island). You cross the ocean to go from Tahiti to Moorea and you can spend the day there and it's so beautiful.
TAKE AN ISLAND TOUR. Cross Tahiti with a car tour that takes you from one side of the island to the other. The trip takes you through the mountains and in the middle of the island there's the most beautiful waterfall you can ever imagine.
LEARN HOW TO KITESURF in Mahina. Some days can be very windy so it's the perfect occasion to learn how to manage the wind!
CORAL GARDENERS is an environmental organization located in Moorea. You can adopt a coral and learn how to plant a coral and by doing that you will help them save the reef. It's the most amazing organization and the owners are local people from Moorea.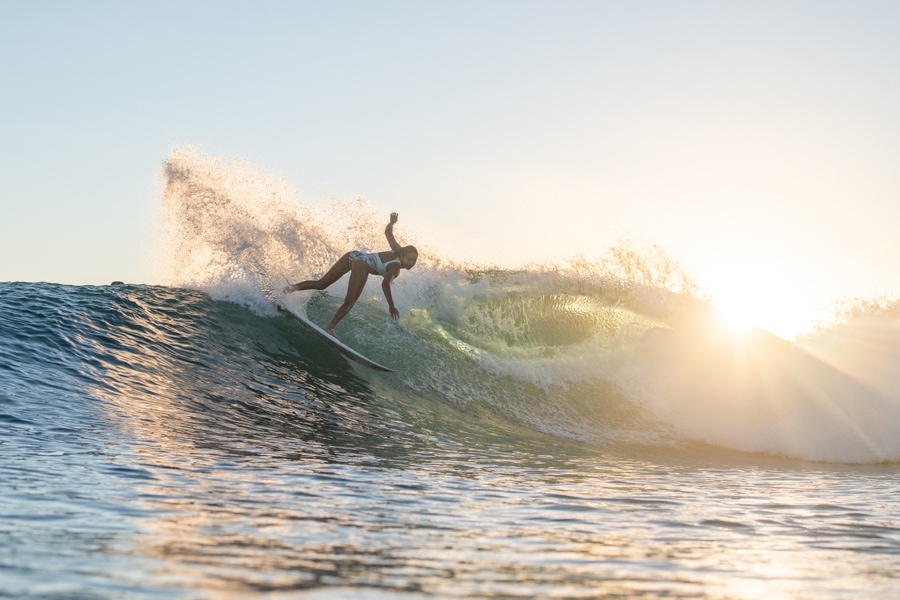 A huge thank you to Vahine for sharing her favorites in Tahiti!
To keep up with Vahine's adventures (and insane barrels) in Tahiti and beyond, you can follow her here on Instagram.