Surfing Puerto Rico offers up a variety of incredible waves in a stunning tropical island paradise. Commonly known as the 'North Shore of the Caribbean,' some surf spots in Puerto Rico pull off a good imitation of certain hollow Hawaiian barrels that grace many a surf mag.
A hop, skip, and a jump from the East Coast of the US, surfing Puerto Rico is a right of passage for many east coasters. Who wouldn't want to escape the cold harsh winters with a trip to a tropical paradise with warm water and an abundance of good waves? Exactly.
Besides the lure of the pumping surf, Puerto Rico delivers some serious laidback friendly vibes that are downright infectious (in a good way). You can't help but unwind, relax, and tap into the chill island way of life.
In this Guide to Surfing Puerto Rico, we cover everything you need to know to plan an awesome trip in this slice of surf paradise. The guide details surf seasons, surf break info, trip costs, where to stay, things to do (besides surfing), transportation, and more, with a focus on the island's northwest beach communities (AKA surf mecca) of Rincon, Aguada, and Aguadilla.
These surf-lined beach towns are some of the main reasons why surfers from around the globe make their way to Puerto Rico—perhaps also because of the crystal clear 80-degree water, beautiful beaches, and laidback beach life.
Surfing Puerto Rico
Surf Seasons
Summer in Puerto Rico is hot and fickle, not ideal if you're looking to score some tasty waves and only have a week to work with. The best time to surf in Puerto Rico would be late fall, winter, and early spring. In September the Atlantic Ocean begins to come to life delivering fun-sized surf to the shorelines of northwest Puerto Rico.
Winter swells are where Puerto Rico earned its name as the North Shore of the Atlantic. This is when the surf can get big and gnarly. Treacherous barrels over shallow reefs and seriously strong currents and rip tides are more common. However, there is always the possibility of getting skunked as there can be times when the surf is nominal or flat for more than several days in a row. However, not to worry, as there is usually something to surf somewhere.
Level of Difficulty
Since Puerto Rico is mostly known for big, hollow, powerful surf and reef breaks, it is definitely more suitable for intermediate to advanced surfers. Puerto Rico is also known for having strong currents and riptides, as well as a healthy supply of sea urchins.
All factors considered, having surf experience is recommended and Puerto Rico is not a great place to learn to surf. That being said, there are usually always options for beginners with proper guidance.
As with most surf destinations, when it's big there are typically places where a less experienced surfer can have fun and get their feet wet too. Big swells come and go leaving the days before and after the peak of the swell fun-sized and manageable for the novice surfer. So know your limits and ask around if you're not an expert.
Crowds
Puerto Rico's good surf is no secret and since it's a very easy and desirable surf destination to travel to in the winter, it gets busy during the peak season. The crowds start to die off in March and the off-shore winds start to blow more consistently. Head-high plus surf can stick around through May and you can find yourself surfing amongst a small crowd at a break that would otherwise potentially have dozens of surfers on it.
Puerto Rico Surf Spots
Surfing Rincón
Antonio's
Reef break that caters to the intermediate and experienced surfer. Spread out rights and lefts. Best in the morning as afternoon onshores can ruin it. N/NW/NE swells and southerly winds are ideal. A rippable performance wave. The rights can be long and really good when it's working.
Sandy Beach
Caters to all levels of surfing. Sand bottom beach break with some rocky reefs in the mix. Mostly lefts with occasional sandbar rights coming through in front of Tamboo Tavern. When it's working, the lefts can get very long and rippable. Ideal swells are from the N/NW/NE with southerly winds.
Pool's
Suited for intermediate to advanced surfers. Pools is a pretty shallow reef break with a few scattered right and left peaks. A juicy wave that packs a punch when it's overhead. Fun and rippable when in the shoulder to head high range. Works best on N, NW, and NE swells and has some wind protection from the NE trades.
Domes
Caters to all levels of experience and all kinds of wave craft riders when it's smaller. Domes breaks over a fairly shallow rock reef. Works best on N, NW, and NE swells with SE winds. Mostly rights with some lefts. When bigger and doing its thing, the rights are the main attraction as they tend to be long and hollow.
Maria's
Fun for the whole family, and then some. Maria's tends to be a very crowded spot. A long, fast, spread out right, that can connect from the main point clear on through the inside on a good swell. Best on a NW swell, with NE trades, and a lower tide.
Piston's and Dogman's
For the adventurous and more experienced surfer, park at Maria's and take a walk south past the river mouth to explore these breaks which offer some fun hollow lefts and rights over shallow reef.
Tres Palmas
One of Puerto Rico's famous big wave spots, this wave is only suitable for experienced big wave chargers. Doesn't start working until it's double overhead. Know your limits.
Surfing Aguadilla
Bridges
Caters to all levels. Located in Aguadilla central, Bridges is known for its playful glassy waves and inevitable crowds. It's also known to be a bit polluted as a result of runoff from town. But even the filthiest lineup can't keep a frothing surfer from a rippable sand/reef bottom right-hand point break. And that's what you'll find here when the swell direction is right (WNW).
Crash Boat
Intermediate to advanced surfers. A punchy sand bottom right with hollow sections that attracts quite the bodyboarding crew.
Wilderness
Intermediate to advanced surfers. A fun rolling right-hand reef-bottom point that can handle large swells. Cruisy wave, good for longboarding on your average day. There's a shorter more punchy left-hander over shallow reef to pick off here and there too.
Surfers Beach
Beginner to advanced depending on the day. Reef break. Consistent break that could be fun and easy-going when shoulder high or smaller. Gets punchier and more hollow once head high and bigger. Watch out for the urchins and the rips.
Surf Lessons & Surfboard Rentals
While the surf in Puerto Rico is best suited to more intermediate and advanced surfers, it's possible to take surf lessons, and a good surf instructor will help find a safe spot that is good for beginners. Here are a couple of resources for surfboard rentals and surf lessons.
Puerto Rico Travel Basics
WEATHER: Puerto Rico is a tropical climate, so the temperature stays around a balmy 80°F – 85°F the whole year (26°C – 29 °C). The rainy season in Puerto Rico is from April to November, but as with many tropical climates, rain showers are typically scattered in the afternoons and don't last very long. So even if there's rain in the forecast, there's a good chance you can have a nice sunny morning and just a few showers later in the day.
TOURISM SEASONS: December through April is considered the high season in Puerto Rico. Many east coasters are looking to escape the frigid winter and Puerto Rico is only a cheap and short flight away.
June to September is considered the low season which coincides with their rainy hurricane season. You might be able to score a discounted rate at a hotel, but you're not so likely to be scoring any surf in the area this time of year unless you get lucky with an out-of-season swell.
From the months of September to November and April to May are when you can really score in Puerto Rico. Sure, the surf is likely to be bigger during the peak swell season of winter, but during the shoulder season months, you can still potentially score some really fun waves with not as many people out. The downside is that you run the risk of getting skunked.
The shoulder seasons of the fall and spring in Puerto Rico are where it's at, in my opinion. You'll likely find fewer crowds, more human-sized surf, and a quieter small-town vibe as opposed to the bustling peak season months.
MONEY: Puerto Rico is a territory of the United States and they use the United States Dollar (USD) as their local currency.
TIPPING: Yes, being a United States territory and using the USD also comes along with other American customs, such as tipping. Which usually means leaving about an extra 15-20% of the total bill on sit down meals, $1 extra per drink at a bar directly to the bartender when they hand you your beverage, or a couple of extra dollars cash for taxi drivers, bellboys, people who provide room services, etc.
Where to Stay
There are a handful of small hotels and B&Bs near great surf in Rincón, and if you're traveling with a group, one of the best options is renting a villa or vacation rental. The Rincón area has some wonderful places to stay tucked away on tropical hillsides and right on the sand with a surf break out front. Below are a few of our top picks for where to stay in Rincón Puerto Rico based on amenities, design, reviews, and proximity to surf breaks.
Under $250 per night
$250+ per night
Eat & Drink
LA COPA LLENA serves up beautifully-crafted brunch and dinner in a lovely open-air patio right on the beach.
CARTA BUENA is a rad little food truck with delicious healthy farm-fresh snacks, smoothies, juices, coffee, sandos, and other tasty treats made with ingredients from their own organic garden (which you can walk around in while you wait for your food).
RINCÓN BEER COMPANY slings craft beer and simple but good eats at this cool micro-brewery located in the heart of Rincón.
POOL BAR SUSHI is a delicious indoor/outdoor restaurant and bar with tasty sushi on offer. There's also a good chance there will be a good surf film playing on a big screen above their pool.
TULUUM – if you're surfing up in the Aguadilla area you might want to stop by Tuluum in Isabela for some tasty margaritas and Mexican food.
Things to Do in Puerto Rico
(besides surfing)
With an abundance of natural beauty and ocean sports, there are tons of fun things to do in Puerto Rico. Whether you prefer an adrenaline-fueled adventure or leisurely cruise, you'll find activities to suit every taste. Here are a handful of top activities and excursions in Puerto Rico (besides surfing and beach hopping!):
Active Explorations
On the Water
Leisurely Pursuits
Transportation
Flights
It's best to fly direct into Aguadilla where you're only about 45 minutes from Rincon. If you fly into San Juan, it's a solid 2 – 3 hour drive across the island depending on traffic and road conditions.
All flight prices are round-trip and shown in US dollars and note that around the Christmas holiday season, flights can be double or triple the cost.
Surfboard fees: Unless you fly on one of the few airlines that don't charge surfboard bag fees, tack on an additional $75- $200 each way if you want to take a couple of boards. Check out our Guide to Surfboard Bag Fees to see which airline might be your best bet.
LAX > BQN (Aguadilla):
good deal: $350
average: $450
NYC > BQN:
good deal: $202
average: $250
Fort Lauderdale >BQN:
good deal: $100
average: $200
London >BQN:
good deal: $750
average: $900
Sydney >BQN:
good deal: $1200
average: $1,400
Getting Around
There aren't a lot of options for transportation in Puerto Rico and especially not with a surfboard in tow, so renting a car is essential. It's ideal to rent a 4-wheel drive with some clearance if you want to explore more off-the-beaten path spots like Wilderness in the Aguadilla area (which requires some off-roading through pretty deep puddles at certain times of year).
If you like the challenge of off-roading a 2-wheel drive sedan, it can be done, but not without potential consequences. We made it through some rough areas in such a car rental, but we nearly got stuck in some deep mud and might have damaged the front bumper a tad. Just a tad. Aaaanyhow, if you plan on driving down dirt things that barely resemble roads, we highly recommend going with a 4×4.
The cost of renting a car is roughly the following:
$15-25 per day for an economy 2-wheel drive car (for the budget-conscious adventurous type seeking the thrill of potentially getting stuck somewhere. There are some places where a 2-wheel drive car simply won't cut it).
$40-65 per day for a 4-wheel drive vehicle (for the not-so-budget-concerned traveler who likes to be fully equipped and ready for any adventure that presents itself).
We suggest going the 4-wheel route if you plan to explore and like to get off the beaten path, and going with a smaller car if you know you'll just be sticking with the more easily accessible breaks.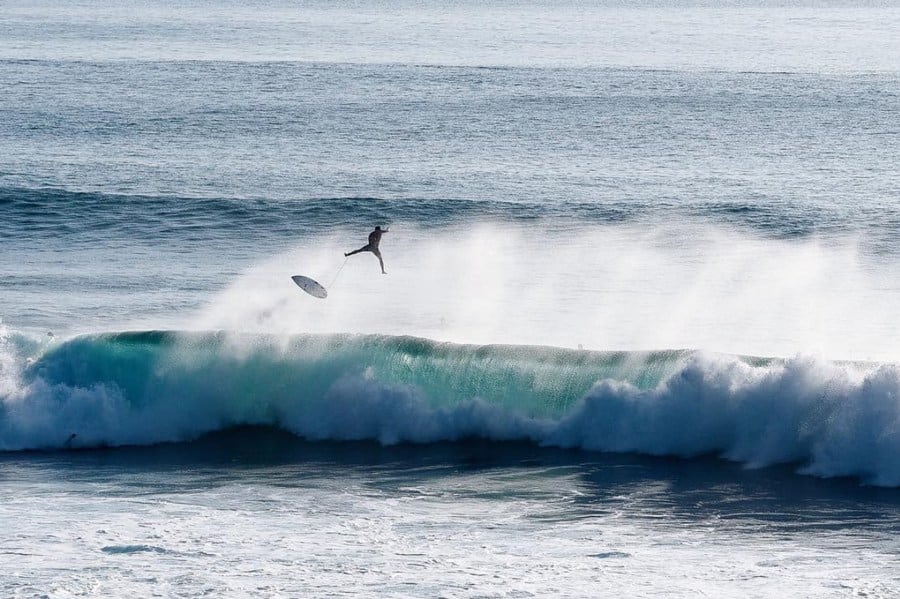 Of course, the last thing you want to think about is a major injury, but it would be much, much worse if you need serious medical attention and you're without insurance. Unfortunately, there are just too many cases of people who didn't think about insurance and ended up getting nailed with a huge medical bill.
You know the deal—better safe than sorry. We use and recommend World Nomads Insurance. They offer very comprehensive travel insurance and cover all sorts of activities, including surfing and ocean sports. You can easily check it out and get a fast quote here. Safe travels!
Have any questions about surfing Puerto Rico?
Let us know in the comments below!