Surf Swimwear & Wetsuits for Women
Whether you're a beginner surfer or conquering double-overhead waves, wearing the right swimwear when surfing is very important.
Mission: don't flash the whole lineup.
A non-negotiable with surf swimwear is that is needs to stay put. The best surf swimwear is comfortable, secure, and gives you the confidence and flexibility to perform without restriction. Essentially, you want to wear suits that don't require your attention so you can focus your energy on the waves and having fun.
Function + style = surf swimwear happy place
Here's a round up of our favorite swimwear brands for lady sliders. From effortlessly cool surf suits to sporty bikinis to eco-friendly wetsuits, these labels deliver the goods.
" The best surfer out there is the one having the most fun. "
A Guide to Women's Surf Swimwear
It's an awesome time to be a lady slider. More women are surfing than ever and there are plenty of beautiful options for surf swimwear designed
specifically for women (hallelujah!).
Thanks to a new crop of women's surf brands we don't have to choose between style and function – today's suits come in many forms that
gracefully accomplish both goals.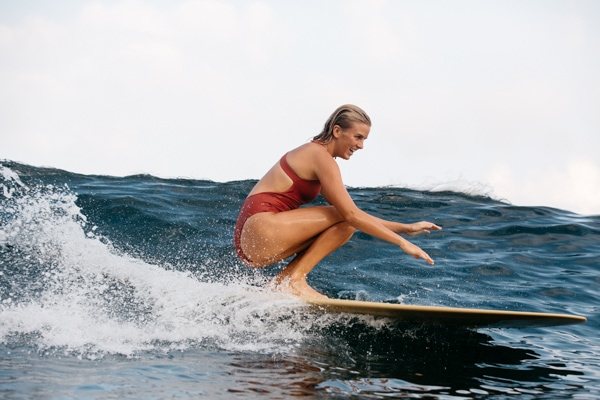 The Lowdown
Wearing the right surf swimwear can make or break a surf session. The ideal swimwear will stay put during duck dives, wipeouts, and whatever else the ocean throws at you.
The last thing you want is to have to adjust your suit after every duck dive or be constantly pulling up your bottoms or hanging onto your top. Wearing functional swimwear that stays in place will give you more confidence and energy to focus on the waves and having fun.
And these days you don't need to sacrifice style for performance – there are more options than ever for stylish suits that perform.
What to Look For
Surf swimwear and wetsuits should fit nice and snug, but you still want to feel comfortable and have plenty of freedom of movement. Basically, the best surf suits are the ones you forget you're wearing.
Swimsuits from any swimwear brand can sometimes work for surfing, it just depends on the cut and how the suit fits on your body. The issue with swimwear not specifically designed for surf is exactly that – it wasn't designed to stand up to the strength of the ocean.
All of the surf swimwear brands on our list above were made specifically for surfing, or by surfer designers who created pieces they could surf in.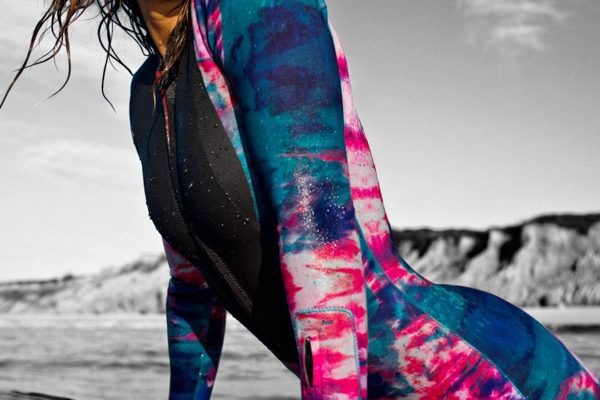 TYPES OF SURF SWIMWEAR
& why they're awesome
Surf Suits
Surf suits are basically one-piece swimsuits with a bit more coverage on the arms. There are many different cuts, but many surf suits have long sleeves, some have short sleeves, and some even have a bit of a turtleneck for extra sun protection.
Surf suits are useful for a few reasons – depending on the material they can give a bit of extra warmth when needed. They give extra sun protection. And typically surf suits are really comfortable and stay put in the surf because of how they fit on the body.
Rash Guards
Rash guards are typically made from swimwear material like lycra and are meant to be worn over your primary swimsuit. They do exactly what they sound like – prevent rashes on your stomach and areas on your arms (depending on the design). Rash guards are also handy to wear when you're in a tropical location and exposed to strong sun for long amounts of time.
So not only can rash guards help with rashes, but they're really great for sun protection. There's a trend of wearing normal t-shirts in lieu of a proper rashguard, which works in some ways. But t-shirts get super loose in the water so they move around a lot, and they also take a really long time to dry as opposed to fast-drying rashguards.
Surf Leggings
Surf leggings are becoming more popular because they're a versatile piece to have in your surf wear wardrobe. Surf leggings are usually made with a thinner lycra-type material, but there are also leggings made of neoprene for some extra warmth. Surf leggings are helpful for sun protection, and also to prevent rashes on the inner thighs that can occur if you're surfing a lot.
Wetsuits
Wetsuits come in an array of cuts and thicknesses. The main purpose of a wetsuit is to keep you warm in colder water and chilly conditions, and they can also prevent rashes. Wetsuits were traditionally made from neoprene, and now there are a couple of more eco-friendly options on the market made from limestone and tree rubber.
Wetsuit thickness ranges from 1mm – 6mm. Popular thicknesses are 2mm, 3/2mm, 4/3mm, and 5/4mm. The fractions mean that the suit is made with two different types of neoprene – a thicker neoprene for the torso, and the thinner neoprene for the arms and legs.
Wetsuits made with a lighter thickness (under 3mm) are typically called 'spring suits' because they're worn in-between the cold of the winter and warmest of the summer. You can read more about wetsuits in our Guide to Women's Wetsuits.
Tip
If you're ordering a suit online, always be sure to review the company's sizing guide because sizing can really vary depending on the surf brand. This especially goes for wetsuits.