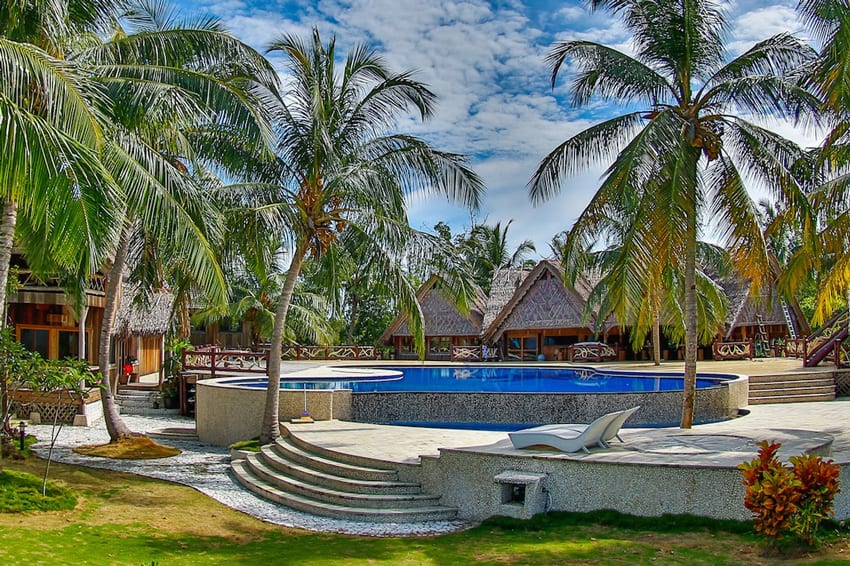 Kandui Villas is a luxury boutique surf resort in one of the most wave-rich regions on the planet.
Kandui Villas is what surf trip dreams are made of. Located in the Playground Area of the Mentawai Islands (AKA one of the most wave-rich zones on the planet), Kandui Villas is a boutique luxury surf resort with two missions: to get you surfing the best waves of your life and to be a desirable and comfortable holiday for any non-surfers in the family. Lucky for us, Kandui delivers on all fronts.
Whether you're out scoring the famously perfect Mentawai surf or lounging around the oversized pool, get ready for a holiday to remember.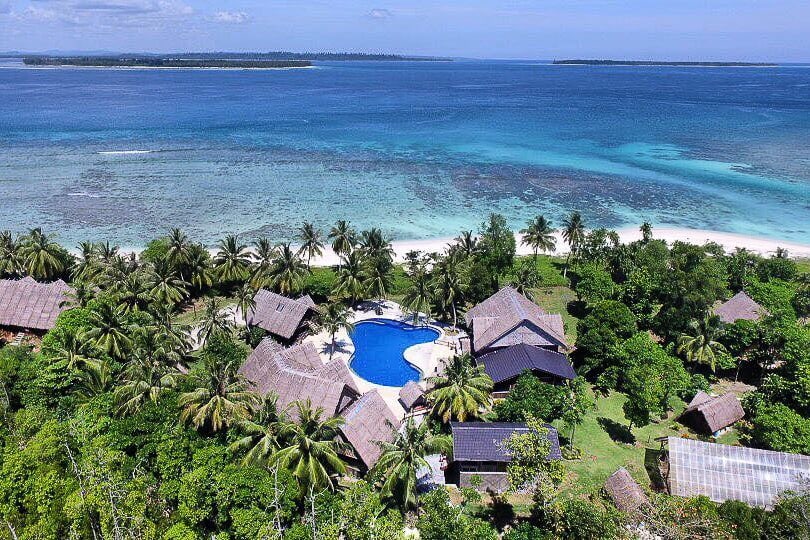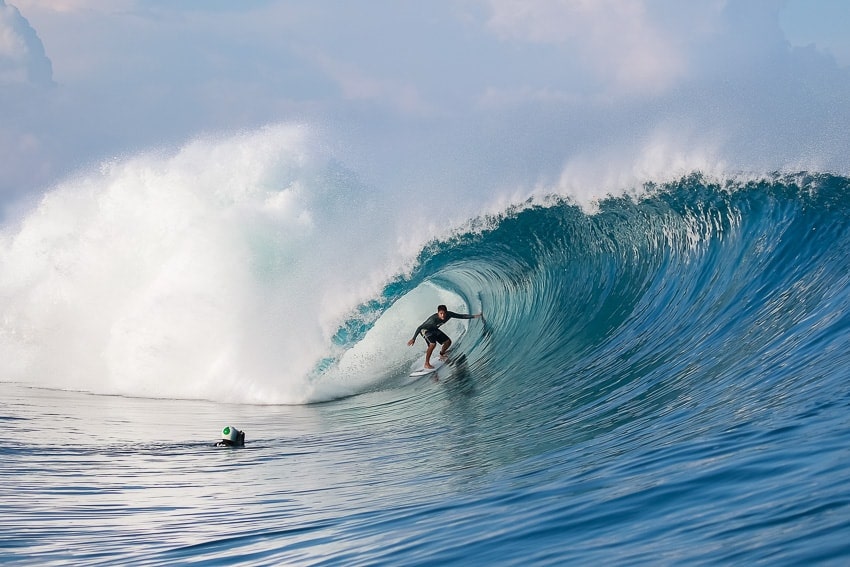 Positioned on the tiny island of Karangmajet in Indonesia, the beachfront property has two breaks directly out front and boasts two dozen other spots within 30 minutes by fast boat.
It's no wonder this region is fittingly known as 'Playgrounds.' Fun, absolutely, and also quite the challenge if you're looking to test your abilities on some uber fast and hollow Indo tubes. If you're not ready for your best John John impression, don't despair. There are plenty of premium setups to choose from to suit surfers of all skill levels.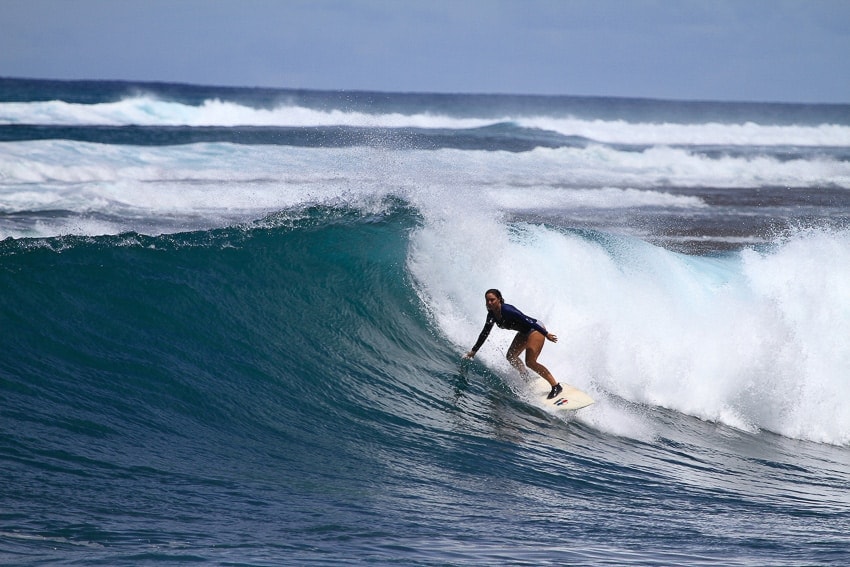 Kandui Villas has 12 hand-carved wooden umas (bungalows) to stay in that give you plenty of space to spread out, or to bring the whole family. Each uma has two king-size beds downstairs, and one king-size or two single-size beds in a spacious second-story loft. Every uma comes with all the modern amenities like A/C, hot water, and a minibar, as well as private beach access and a sweet ocean view.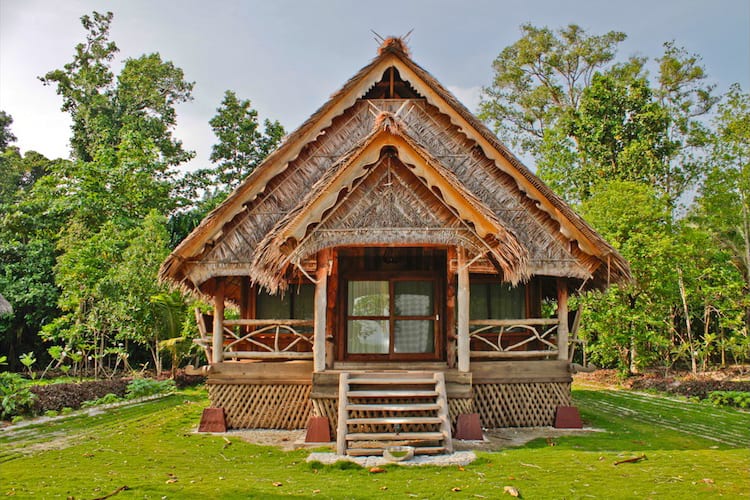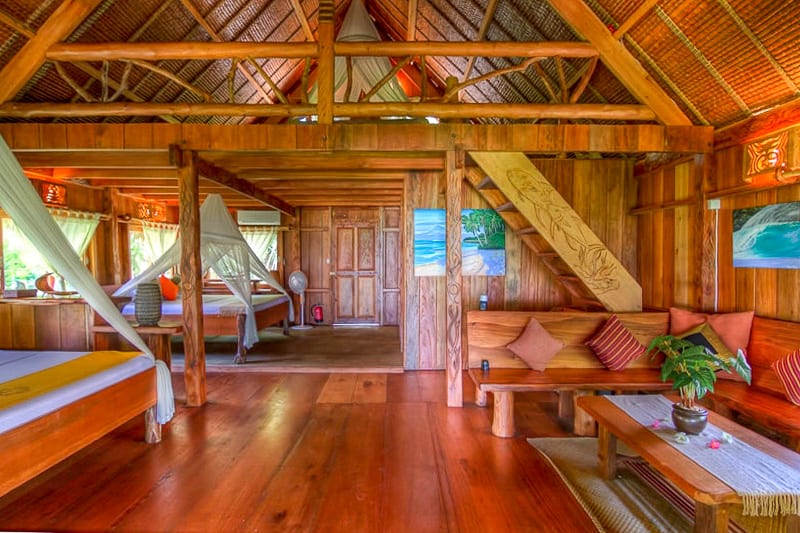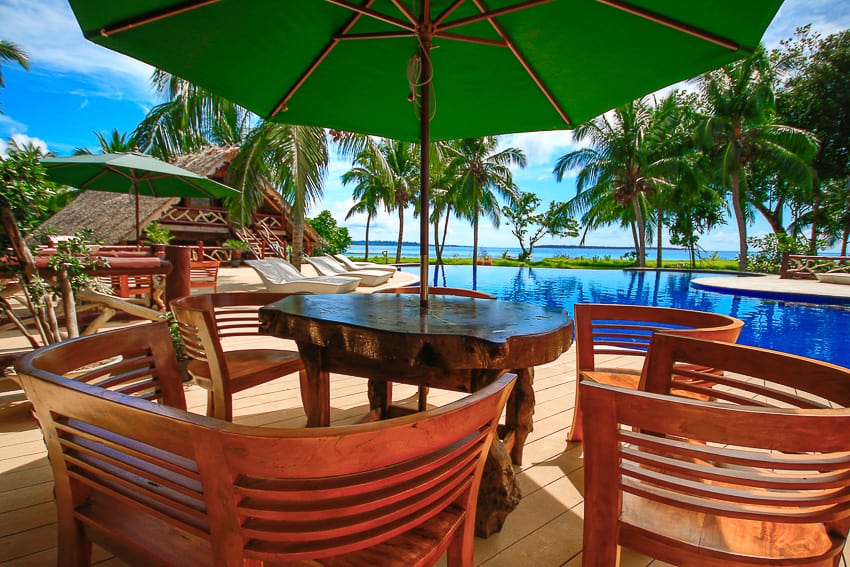 The Kandui restaurant serves up a revolving mix of international cuisine with fresh local seafood and veggies grown at the on-site organic greenhouse.
In the evenings after you've watched the sunset from the pool deck, settle into the poolside bar with your crew to reminisce over the day's spoils and prepare yourself for the next. Because if there's one thing you can count on with a trip to Kandui Villas, it's epic waves you'll to want to talk about. The kind of waves that keep guests coming back year after year.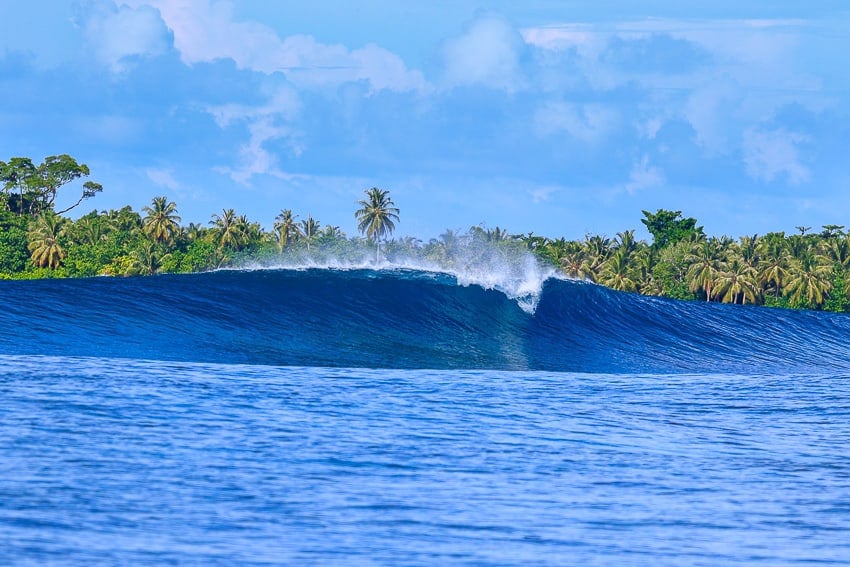 THE SURF
Kandui Villas is located in the Mentawais islands between Siberut and Sipora known as Playgrounds. There are more than two dozen spots breaking on about half-a-dozen small- to medium-sized islands in this area. This area is the most wave rich zone on the planet. Whether you are looking for fun playful runners or deep long barrels, the Playgrounds every type of wave you are looking for and the surf guides at Kandui Villas will get you there.
Swell and conditions are the biggest variables on how great your surf trip is going to be. The Kandui Villas staff and surf guide's knowledge of the area will get you into the best waves possible given the current conditions. One of the most unique things about the Mentawais is the light and variable wind patterns which usually means there is a wave to surf with favorable winds.
CLOSEST WAVES
KANDUI LEFT – A long and consistent left hander right around the corner from the Resort. The wave offers a barrel of the takeoff and a long open face for multiple manoeuvers down the line. Being on the other side of the island and facing east the left is a good option when the wind is onshore at HT's. Perfect for all levels and long perfect left lovers.
RIFLES – Kandui Right is an 800+ yards long right-hander that can have a barrel from start to finish. This wave is so good, people sit and wait for this wave to break.
A-FRAMES – consistent high-performance left-hander that can throw a barrel on the right swell.
4 BOBS – super fun right-hander that is way less intense than Kandui & Rifles.
PHOTOS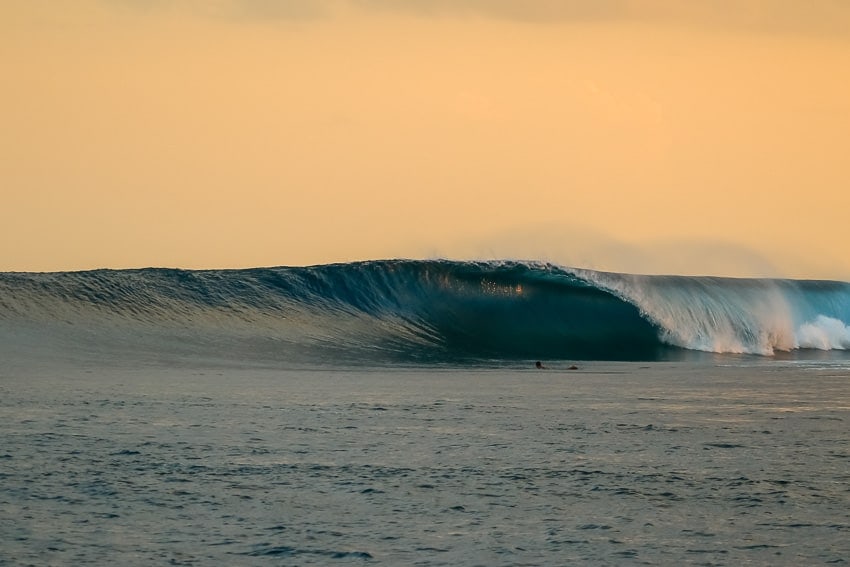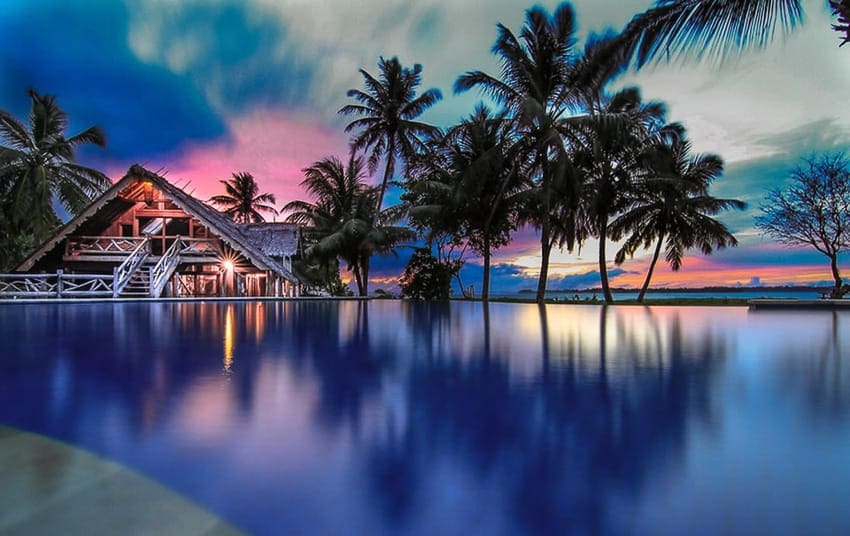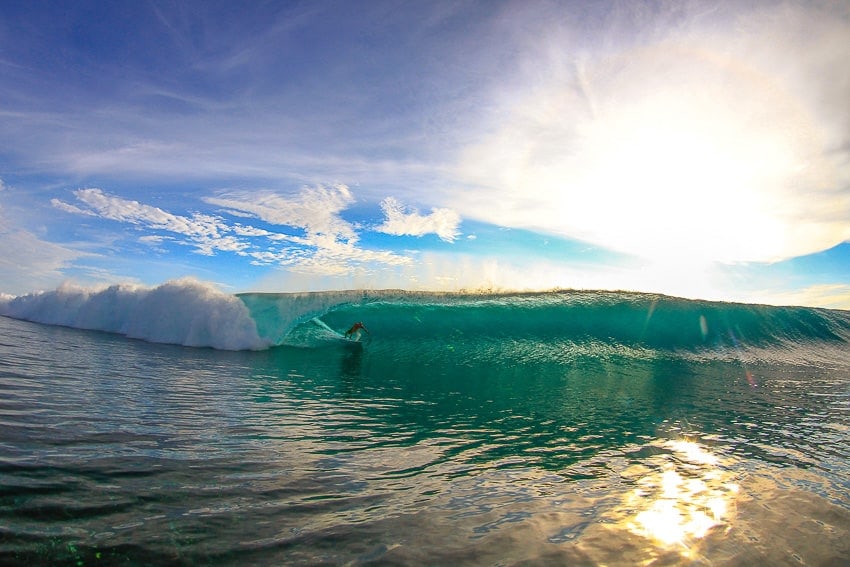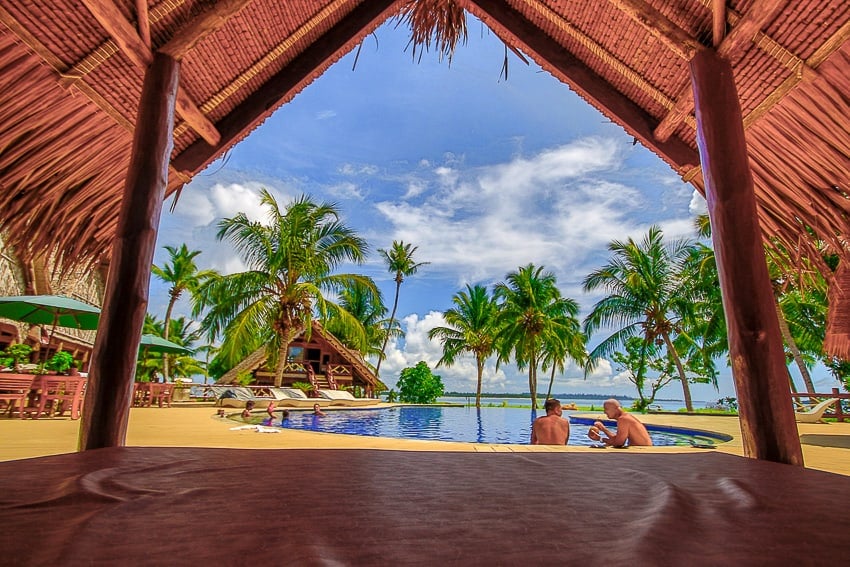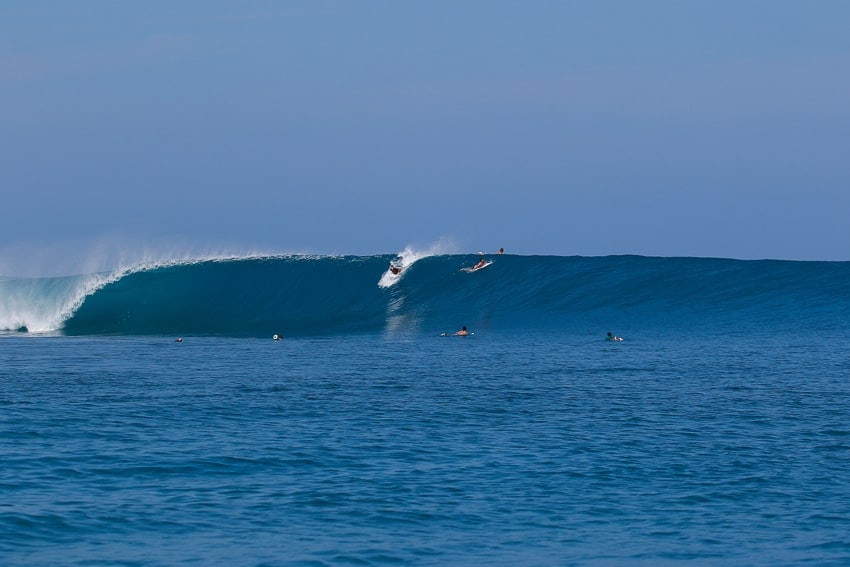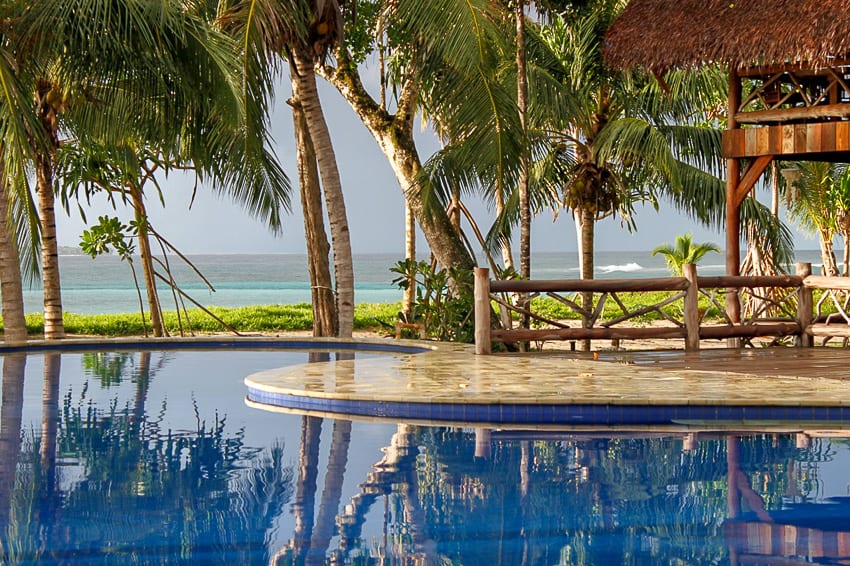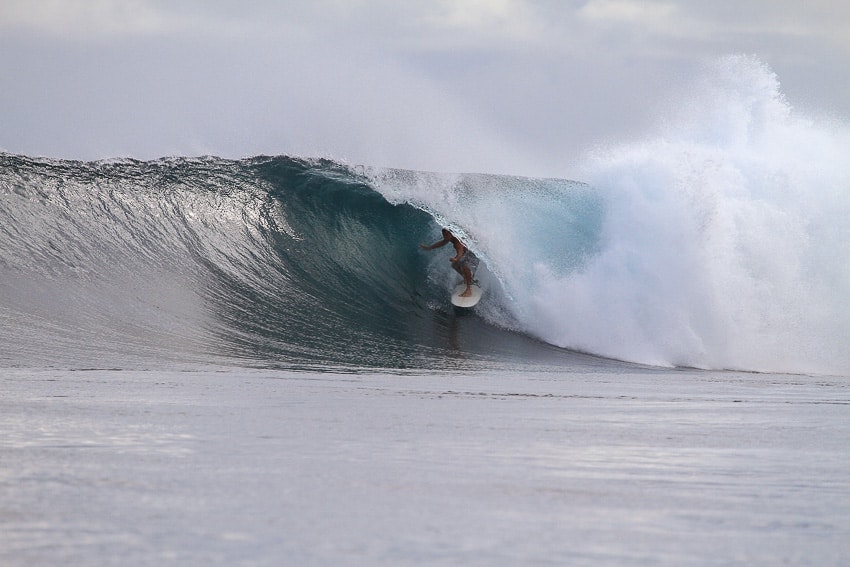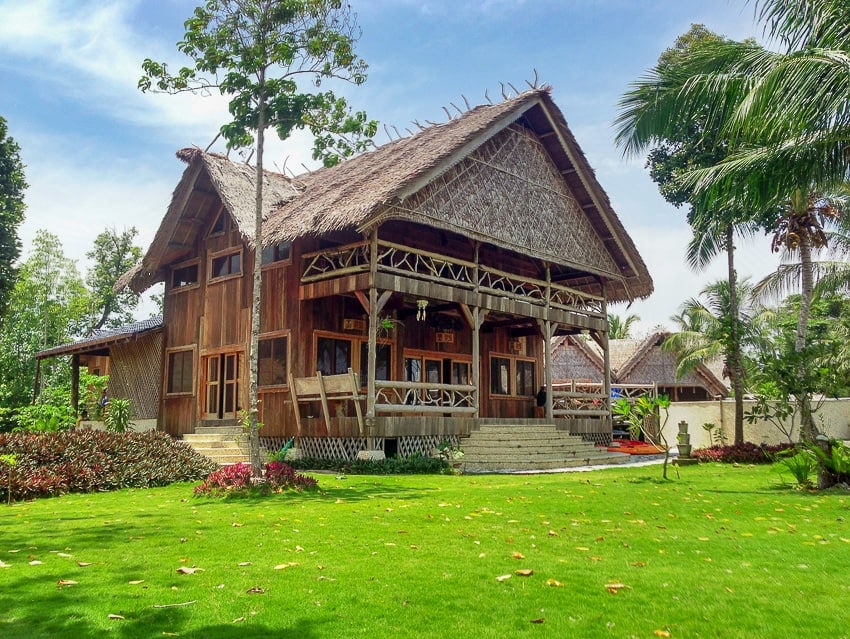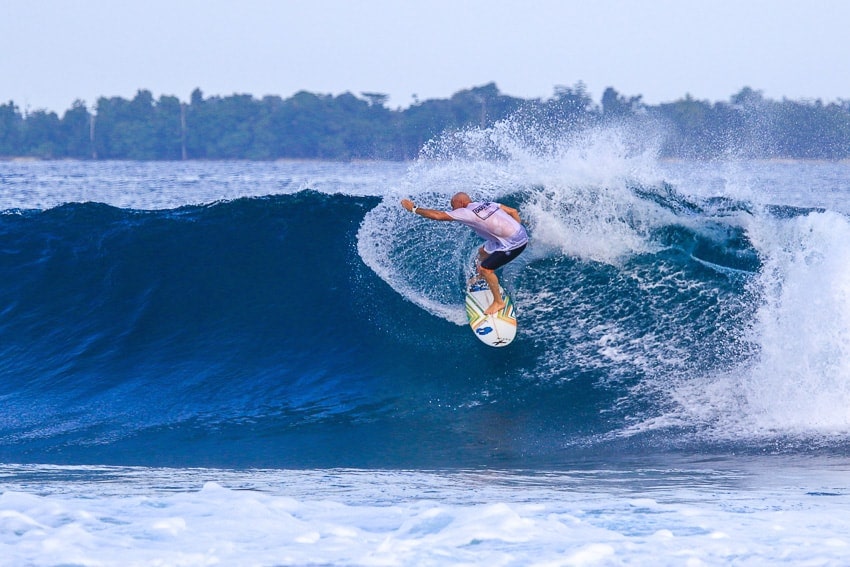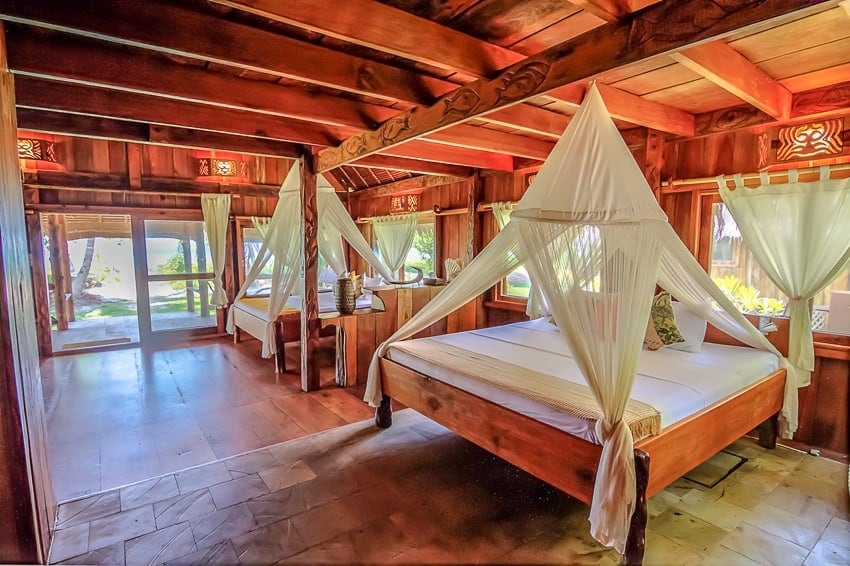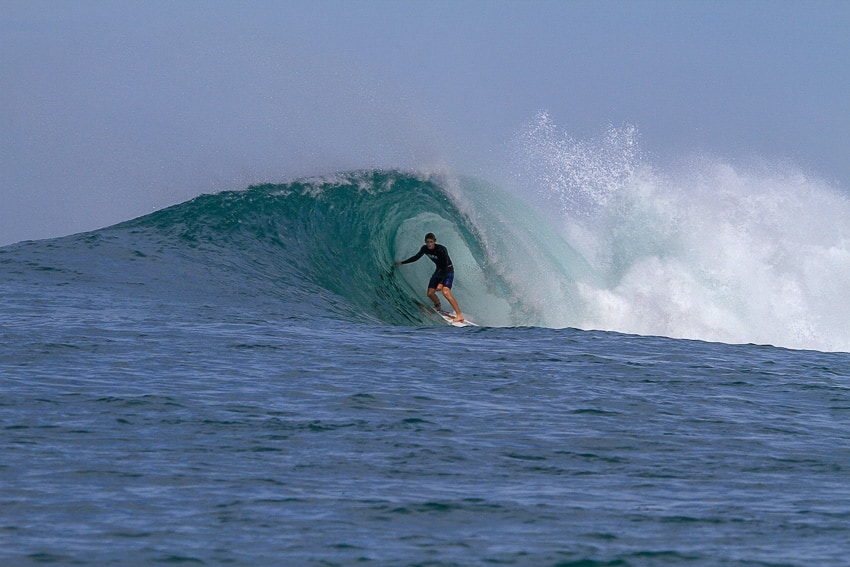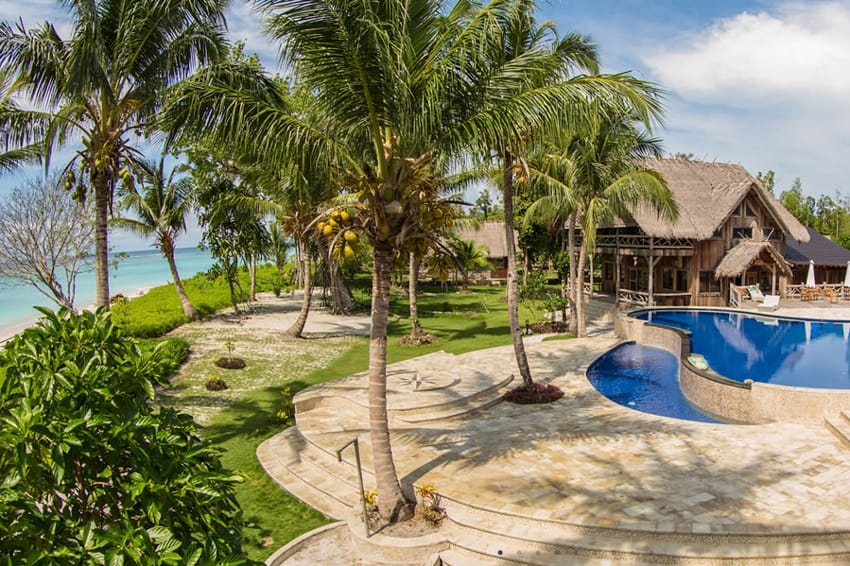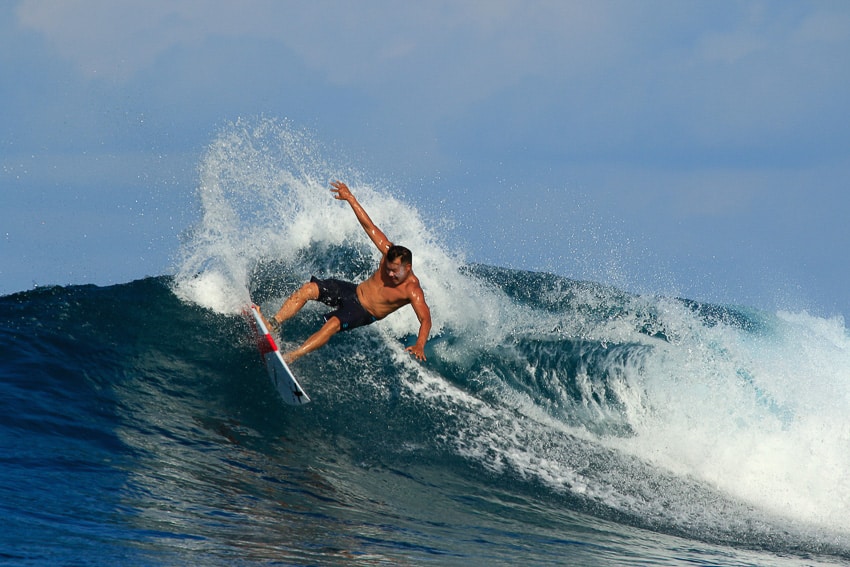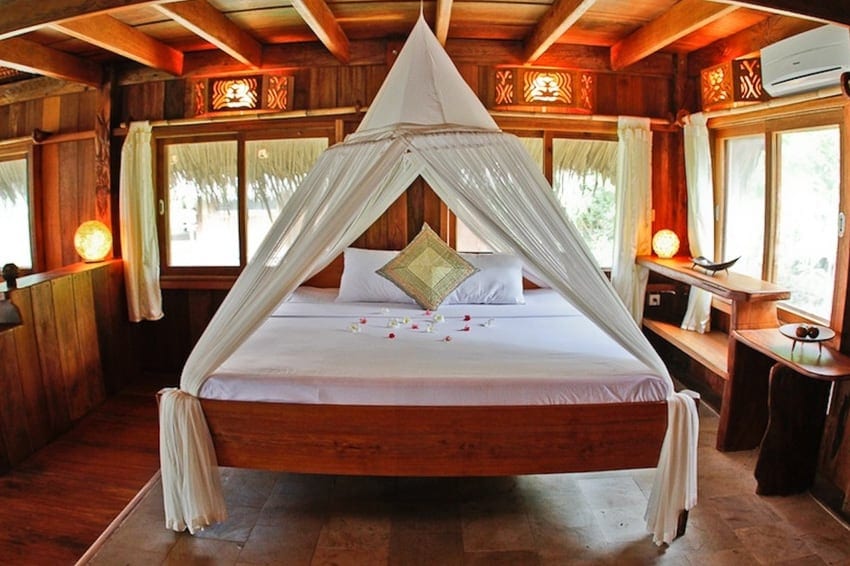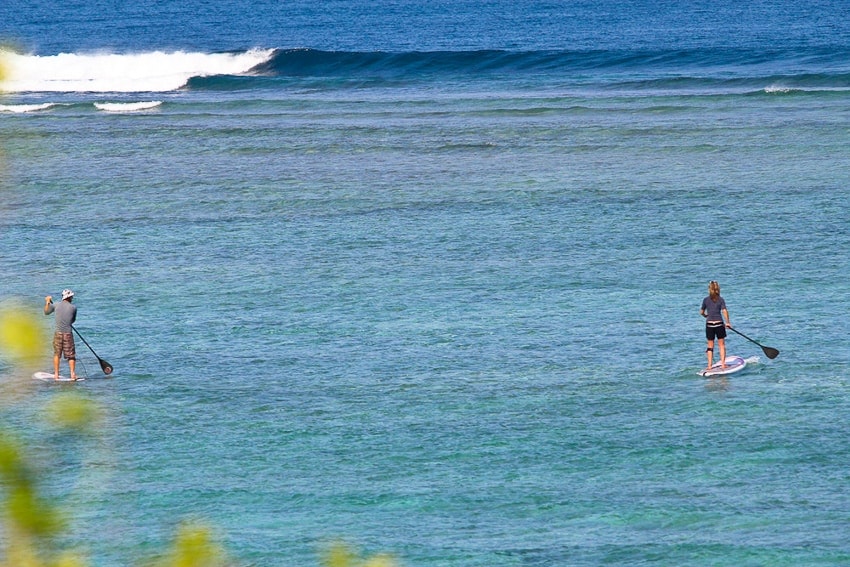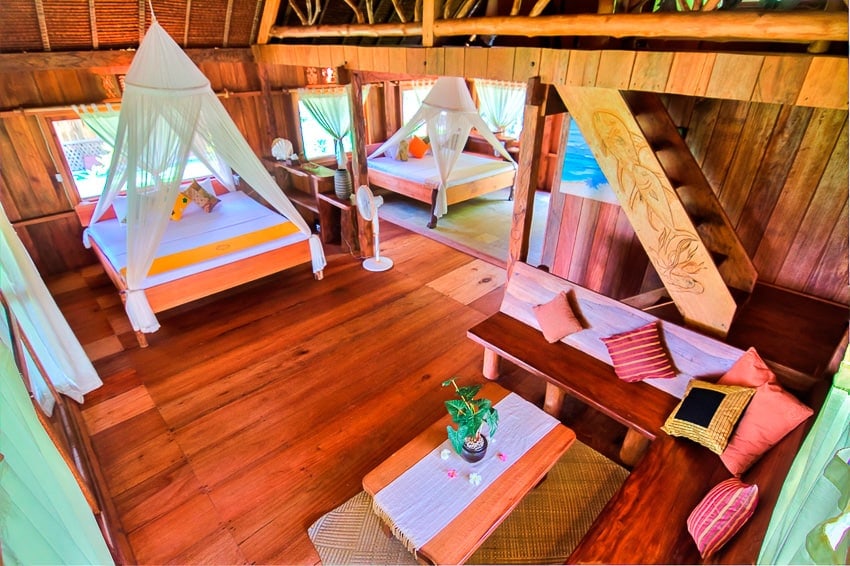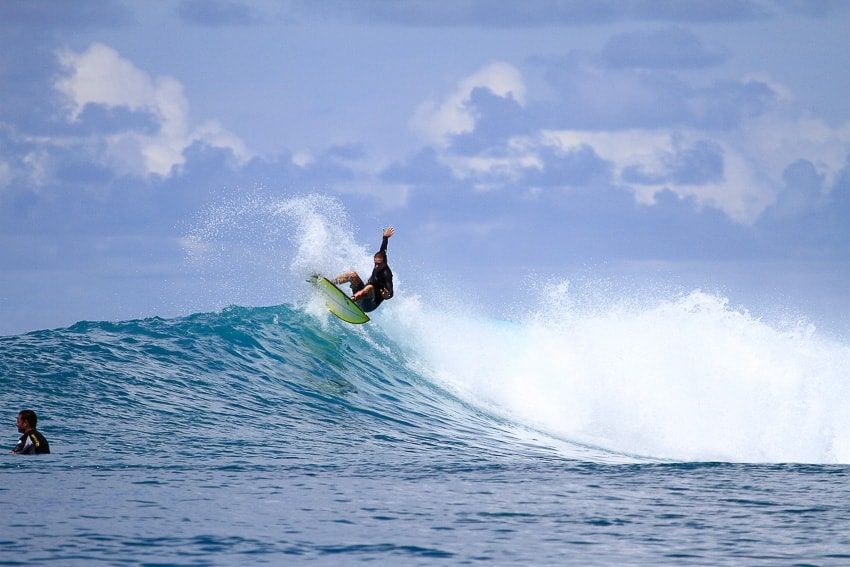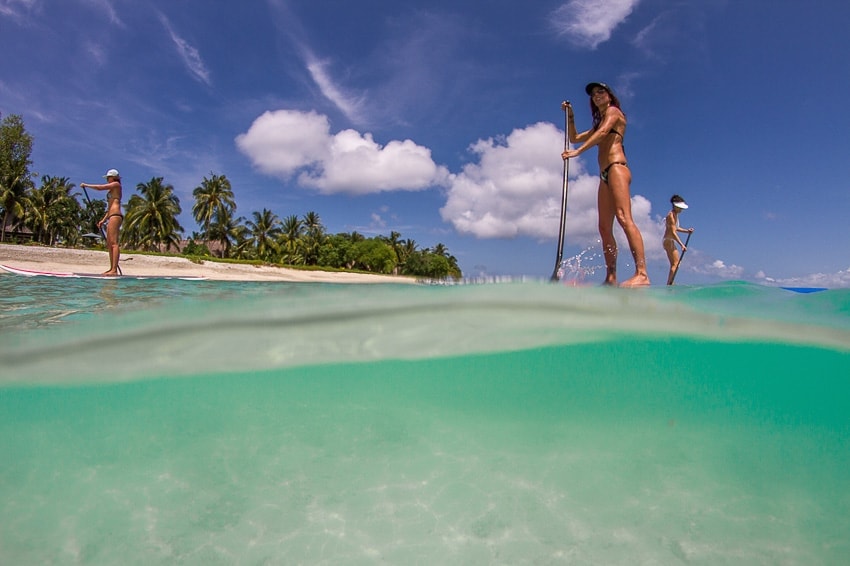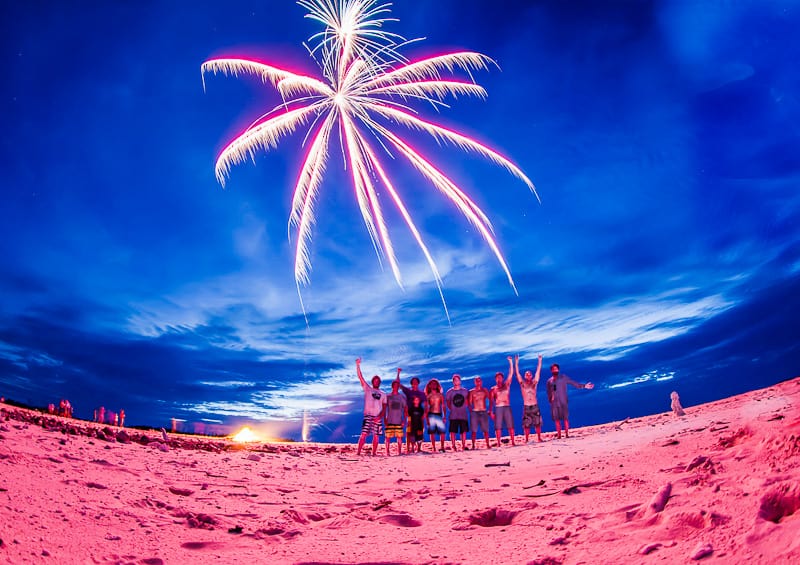 THE SKINNY
LOCATION: Mentawai Islands, Indonesia
CLOSEST AIRPORT: Padang (PDG)
PROPERTY TYPE: Boutique Luxury Surf Resort
PROPERTY SIZE & STYLE: 12 Umas based double or triple occupancy
FAMILY FRIENDLY: Yes
WATER TEMP: 80 – 84 °F ( 27 – 29 °C) all year long
PEAK SURF SEASON: April – early October
SHOULDER SURF SEASON: Mid March – Mid April and Mid September – Mid October
OFF SEASON: Mid October – Mid March
SURF EXPERIENCE: Any level Beginner to Advanced
PRICING: Packages start at $265 per night per person for the Kandui Island Package to $315 per night per person for All Access Surf Packages. Couples rates and child rates are available