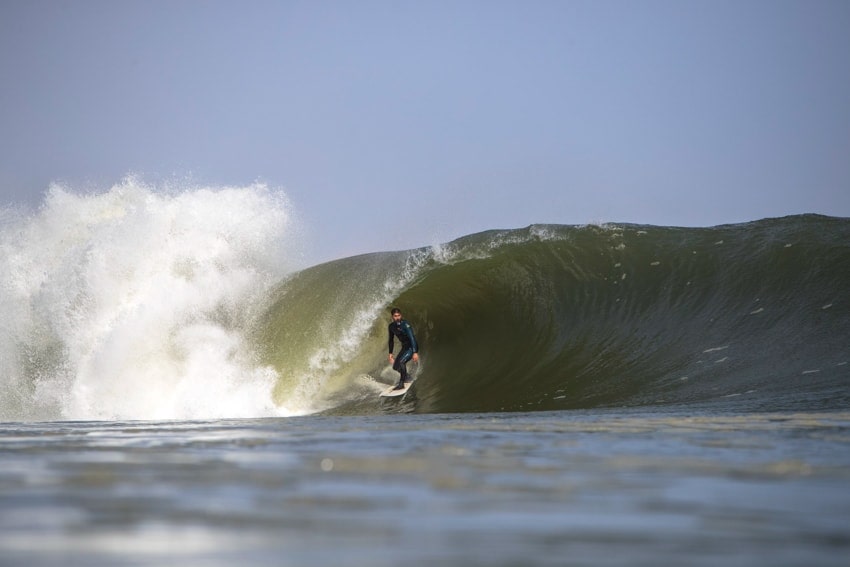 Skeleton Bay is one of those marvels of the surfing world. With the potential for mile-long rides of the barreling kind, it's the type of wave that surfers daydream about. Corey Lopez put the wave on the map in the mid-2000s with videos of multiple 30-second tubes, and today many consider Skeleton Bay to be one of the best left-hand breaks in the world.
Not convinced? Just watch this video of Koa Smith getting eight barrels on a magical mile-long wave. Eight. Barrels.
In June, multiple swells hit Skeleton Bay and the world's best descended. It was Billy Kemper's first trip to Skeleton Bay and he shared a few thoughts with Surfline:
It was like six-foot Teahupoo, but two miles long with absolute perfect conditions… the best waves I've witnessed in my life. It's hard to believe that a wave can be that good, it's like playing a video game or some shit. You honestly need to see it in person to understand how good it is.
While there are a whole lot of convincing arguments to drop your life and jet to Namibia on the fly, there's quite a bit of small print involved. Mainly that Skeleton Bay is an extremely challenging wave to surf, and not an easy one to get to.
The wave is located on the remote Skeleton Coast in Namibia. This charming stretch of desert has quite a few menacing nicknames: Portuguese sailors called it "The Gates of Hell," the Bushmen of Namibia call it "the land God made in anger," and another favorite is "Africa's Bermuda Triangle."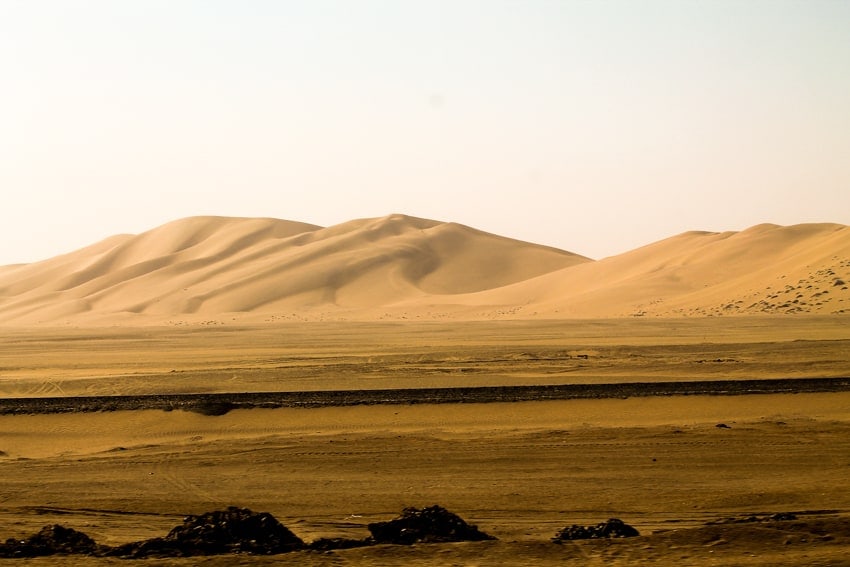 Not only is the area desolate AF, the coast is littered with… wait for it… skeletons. Though originally named for the remains of whales and seals from the whaling industry, the coast is now home to over a thousand skeletal remains of shipwrecks and some of their unfortunate crew.
If that wasn't eerie enough, a cold upwelling current creates a thick fog that blankets the coast for most of the year. So in addition to Skeleton Bay being one of the best waves on the planet, let's go ahead and add it to the top of the most ominous category. Whether you decide to go in spite of the ominous locale or because of it, the bottom line is that you should probably go because life is short and the whole scene is right out of some Indiana-Jones-inspired adventure novel.
Also, word on the street is that some shifting sands are threatening to shift this wave out of barrel-perfection existence, so better get it while it's hot!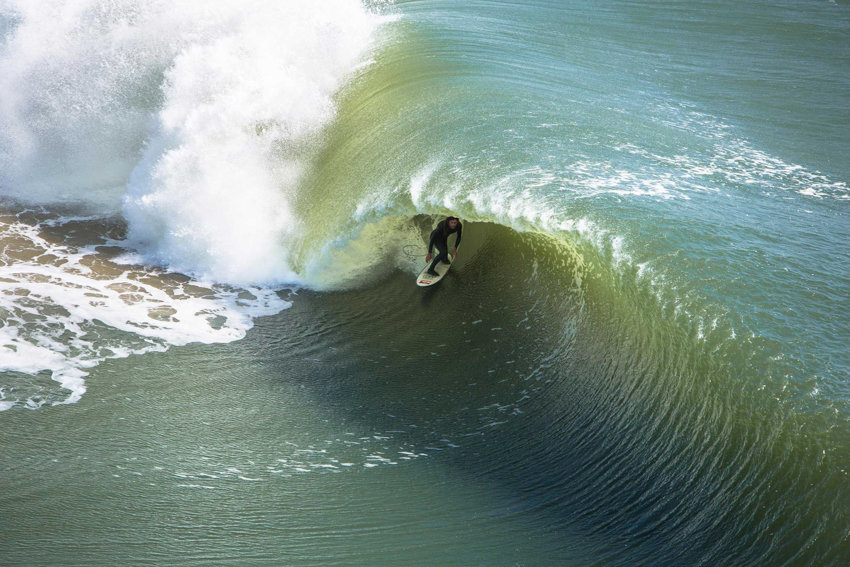 To help make your Skeleton Bay dreams come true, we hit up Skeleton Bay wave hunter Ruan de Bruin for the lowdown. Ruan (AKA Ru) is the founder of South Africa Surf Tours, a surf guiding company that specializes in surf trips in southwest South Africa and, you guessed it, Skeleton Bay.
Here's what Ru has to say on surfing this remote gem of a wave…
Surfing Skeleton Bay, Namibia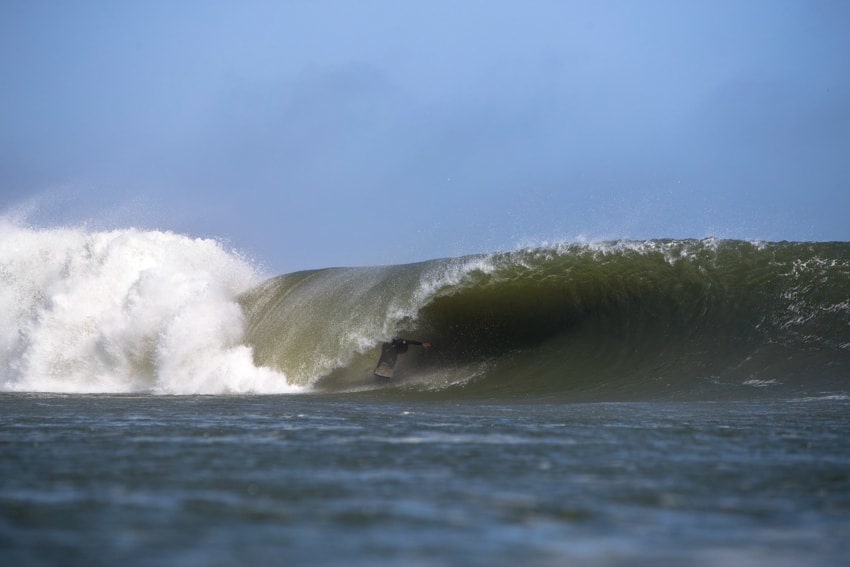 This wave doesn't need much of an introduction. Skeleton Bay (AKA Donkey Bay) is rated the best wave in the world by multiple professional wave riders internationally. The long draining left-hander will leave you in awe as you witness 2km of picture-perfect draining barrels in ankle deep water. It is heavy, fast and the best barrel you will ever lay your eyes on.
The wave is very fickle when it comes to the swell size and direction. It only starts working once the Southern Hemisphere starts moving into the winter months (May – September) and then it needs a big long-period groundswell to wrap in at just the right angle. If the swell isn't big enough, Skeleton Bay doesn't break. And when the swell does get big enough, it usually only lasts for a short time, maybe up to two days, sometimes three days if your karma is very, very good.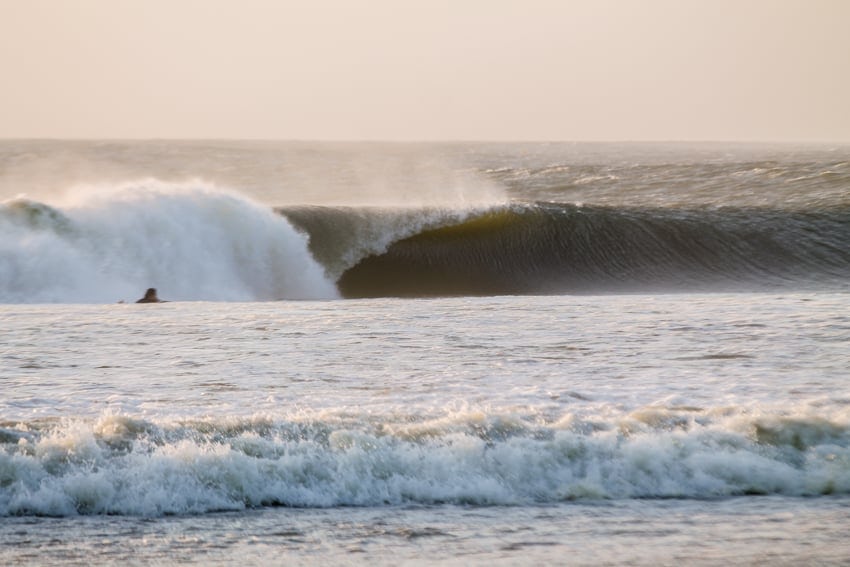 In our opinion, the best way to approach a surf trip to the Donkey is to wait for the right swell to show on the charts, and then start planning your trip. Otherwise, you could be waiting for a very long time, or never see it break.
When a swell decides to show its face, surfers from across the globe start spinning in circles to make last minute decisions and start thinking of excuses to spin to their boss as to why they're not going to be at work the following week. Consequently, you can expect a solid group of people lined up on the beach when the swell hits.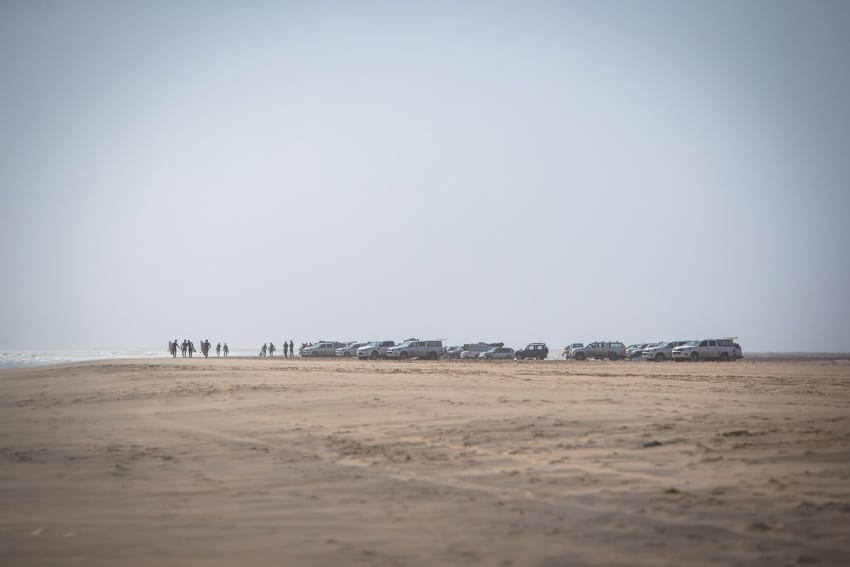 On the flip side, only about 20% to 30% of the surfers that show up at the beach will actually manage to get the wave they have been dreaming of their whole lives. The reality is that the wave is difficult, fast, shallow and should only be surfed by those who are experienced.
There is also a very strong rip that sucks you down the point at about 20 kilometers per hour (12.4 mph). This means, if you don't catch a wave in your first five minutes in the water, you'll find yourself at the bottom of the point, and then have to make the 2km trek back up the point without even catching a wave. Bummer.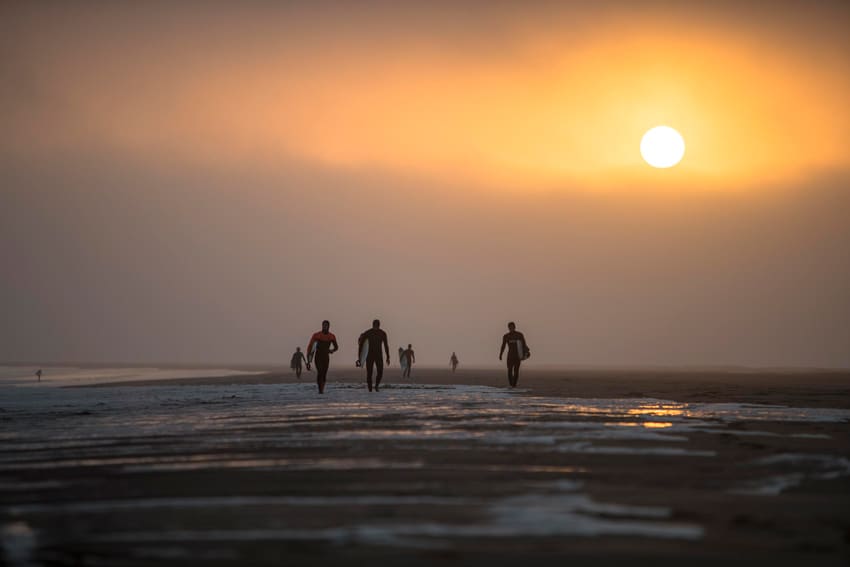 Unfortunately, Skeleton swells don't last long. If you're lucky, you will get 2 days in a row of the best waves of your life. Sometimes when the stars align you could get two swells in one week, leaving you feeling like you've won the lottery.
This trip is honestly one of the most insane, incredible surf trips I've ever experienced. From dropping everything at the last minute to make trip plans, to barrels that last up to 60 seconds. People go as far as saying that this trip is life-changing. It's a natural wonder and the absolute holy grail for surfers.
Where is Skeleton Bay?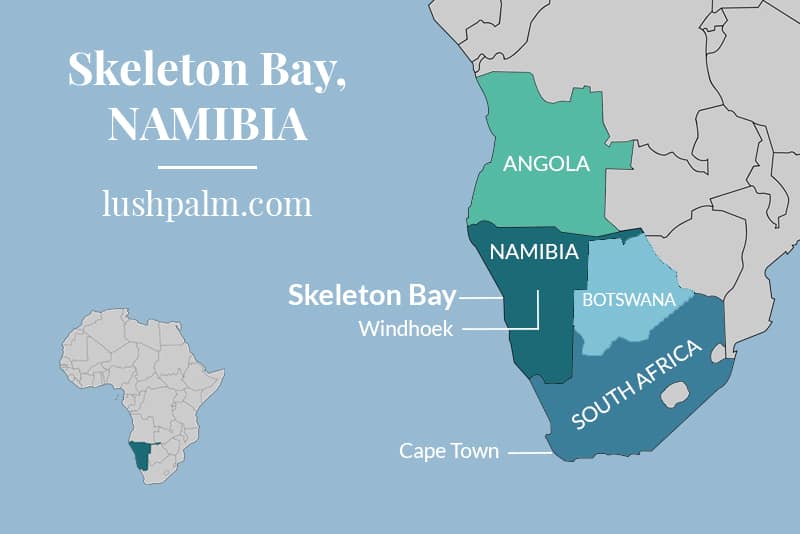 Located along Namibia's remote Skeleton Coast near Walvis Bay, this surf trip is an experience like no other. The bay is in the middle of the Namibian desert–it's hot, cold, dusty and windy–but it's all worth it if you catch Skeleton Bay on the right conditions.
Is it Sharky?
There is a seal colony at the bottom of the point, so people assume the water is sharky. The thing is, the water is always a dark brown murky color, so even if they are there you wouldn't even know (hopefully). Like most other spots, the possibility of sharks is always there. So you need to be aware of your surroundings at all times.
Safety & Good to Know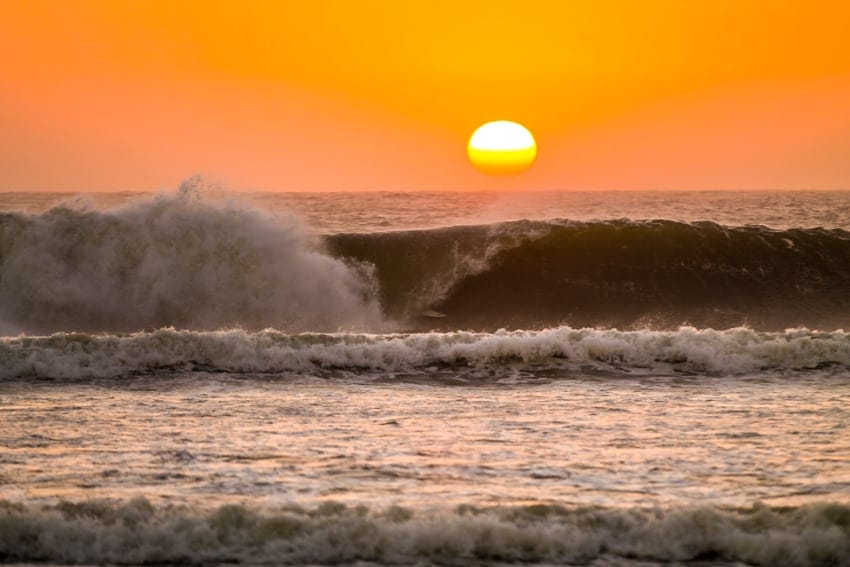 Namibia is safe and the locals are very friendly. The weather is desert-like, dry and hot. The water typically hovers around 15 to 16 degrees (59 – 61°F). Bring plenty of supplies, a good wetsuit, warm clothes, and a couple extra boards. Because you will snap a couple. That's pretty much a guarantee.
Locals have started a no '4×4 back to the peak' policy, so you'll want to make sure your cardio is on point for the lengthy walk-backs.
How to Get to Skeleton Bay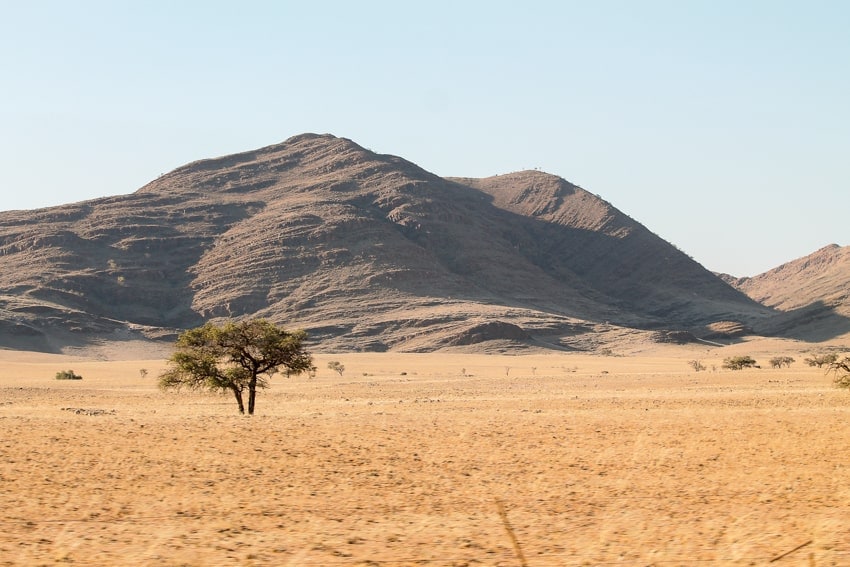 Skeleton Bay is on the Skeleton Coast in the outskirts of Walvis Bay in Namibia, Africa. You can either drive up from Cape Town which takes about 24 hours each way, or you can fly into Walvis Bay, Namibia (about a 45-minute drive to Skeleton Bay) or Windhoek, Namibia (about a 6-hour drive to Walvis Bay). You'll need a 4 x 4 to get to the surf break, as you'll be winding through unpaved desert roads in the middle of nowhere, and then driving on the beach.
Thanks to Ru for sharing his insights on surfing Skeleton Bay! As you can see, this ain't your typical on-the-fly-I-don't-need-a-plan type of trip. Scoring a fickle wave in the middle of an eerie Namibian desert takes some doing.
Logistics-wise, we'd recommend you find a great guide to help make your trip happen. South Africa Surf Tours run 14-day trips that run between Namibia and Cape Town, South Africa. Pricing is around $2,300 per person for all airport transfers, transportation, accommodation, most meals, a wildlife safari game drive, and all kinds of other perks. You can learn more here.
For more on Surfing in Africa, check out our Guide to Surfing South Africa >>
Oh, and in case you're wondering what a 2-minute, 8-barrel Skeleton Bay wave looks like from a surfer's POV, here's Koa Smith's…