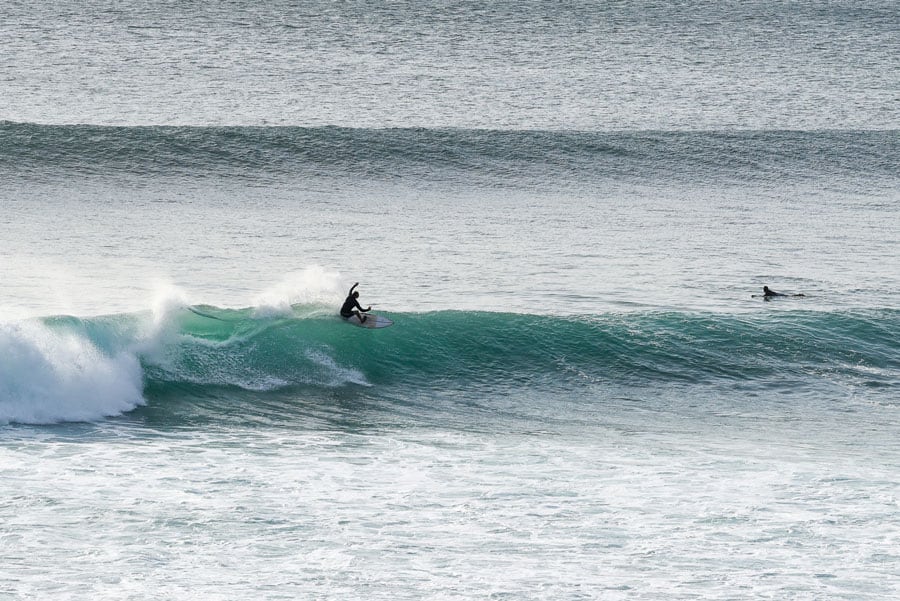 Surf apps are like any other realm of apps out there. Some are quite handy with some very cool features that make your life easier, and others are, well, meh at best.
In our continuous effort to bring you the best of the best and make your surf life the bee's knees, we've sorted through the meh to bring you 10 awesome surf apps to help you find the best waves, surf videos, forecasts, shark alerts (yep), and other cool surf stuff you never knew you needed.
SWELL NAVIGATOR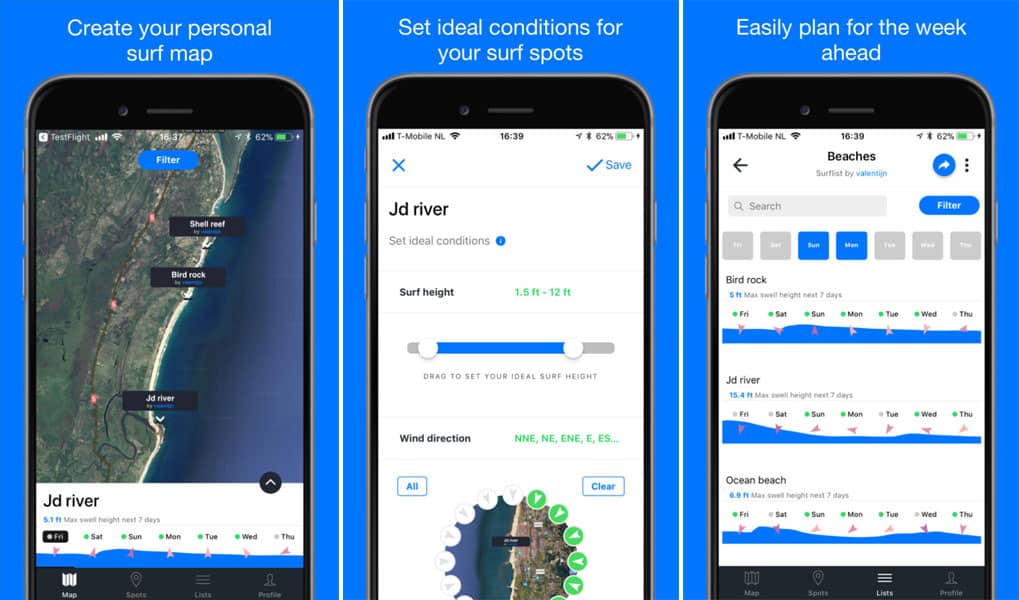 How often do you monitor multiple surf forecast websites plotting your upcoming surfs? If you're like most surfers, it may very well be every single day of your life. Which is cool if you enjoy studying multiple sites to find out where you should go when. But here's an alternative if you want to spend more time surfing and less time comparing forecasts.
The Swell Navigator surf app is almost like an automatic surf concierge that alerts you when your favorite breaks will have your favorite conditions.
Step 1: Add surf spots in your area, and/or prepare for a trip by adding the best spots in the region you're heading to. Step 2: Set your ideal conditions at your favorite spots (surf height, wind direction, swell direction, etc). Step 3: sit back and relax because Swell Navigator will monitor conditions for you and tell you exactly when it's on at which break.
You can also build your own personal surf spot database and compare surf forecasts for the upcoming week.
COST: free
NOBODY SURF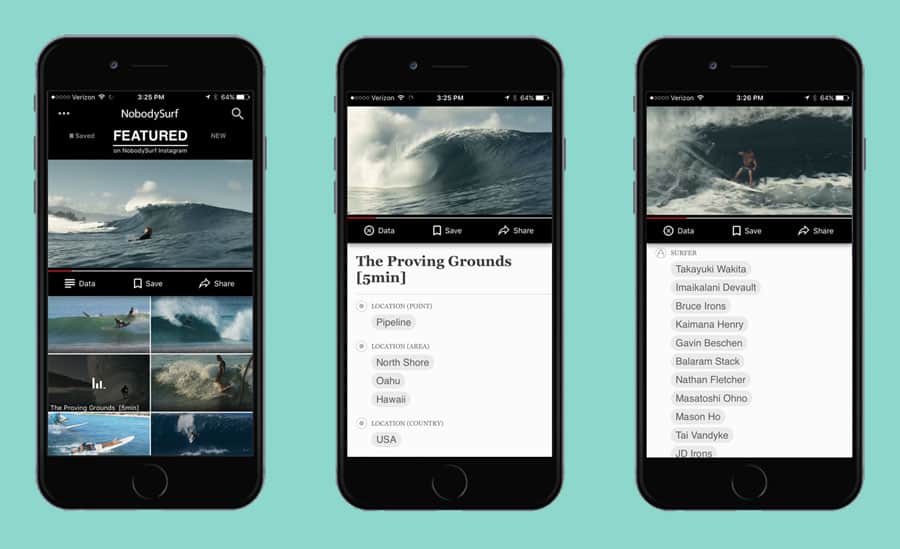 The only thing better than surfing is watching surfing (or, ahem, maybe a couple things we won't mention here). Moving on… Nobody Surf is a free video streaming app that gives you on-demand access to thousands of free-surfing videos on Youtube and Vimeo created by surfers and filmmakers around the world.
A super cool feature is the "data" tab on every video that gives you the info on the location, surfers, filmmakers, and music. Then you can easily check out more related videos by tapping the specific video data.
So for example, say I'm planning a surf trip to Costa Rica and I want to binge-watch surf videos shot in Costa Rica (AKA serious research). You can either use the search function or if you check out the video data of a film shot in Costa Rica, it's as easy as tapping your screen and voila! Let the bingeing commence.
Use the Apple TV (Airplay) feature to cast the videos to your big screen and binge in HD. Or if you're keen on making some surf films of your own, you can submit your videos to be featured on NobodySurf.
COST: free
DORSAL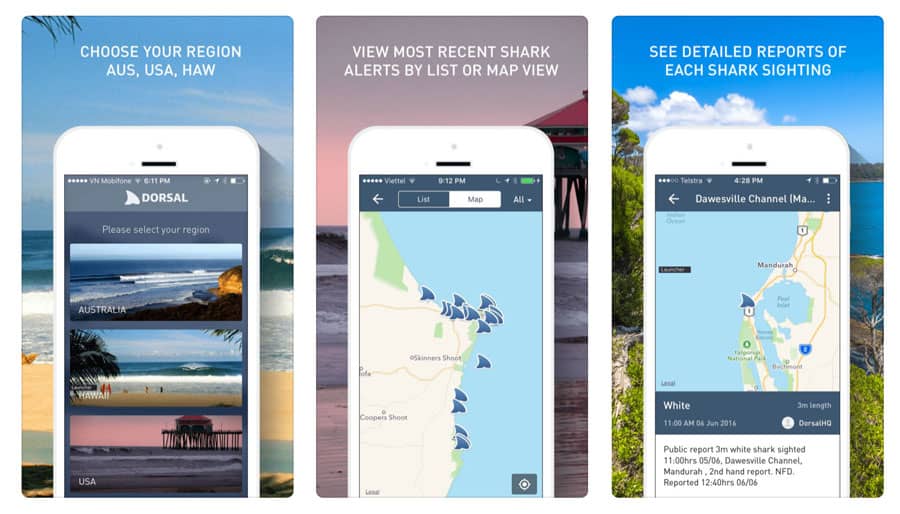 As much as we never want to talk about certain "wildlife" swimming under our dangling legs, said wildlife is an important part of the ocean's ecosystem, and yes, also a part of our reality as surfers.
Dorsal app is a free community-based shark alert solution that enables ocean folk and authorities to immediately alert others to shark sightings or attacks in their area. Available in Australia, USA, and Hawaii, you can search your local area for any reports of shark sightings in the last 12 hours.
There's a basic free service, and also a subscription service for $9.99 a year that gives you automatic push notifications of sightings within your GPS location or favorite locations.
COST: free, or $9.99 subscription
WORLD SURF LEAGUE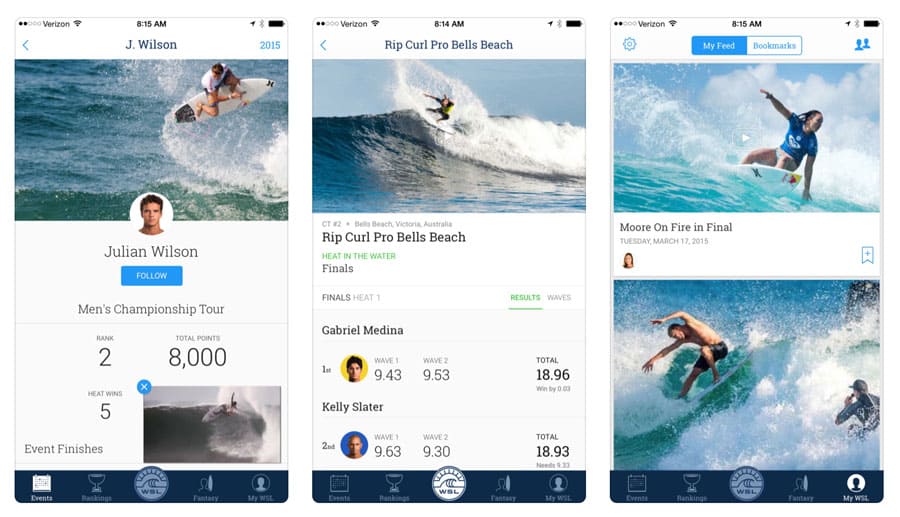 The WSL's free app gives you access to all the World Surf League goodness on the go. Add alerts to get notified when the Championship Tour and Big Wave competitions start and get access to live broadcasts within the app so you can watch from work (shhh!), poolside, or Aunt Shelly's annual family picnic.
The app makes it easy to stalk your favorite surfers with your own personalized "MY WSL" feed featuring the latest videos, news, and photos of all your favorite athletes. You can even create athlete alerts to let you know when your fav surfers hit the water.
COST: free
SURFLINE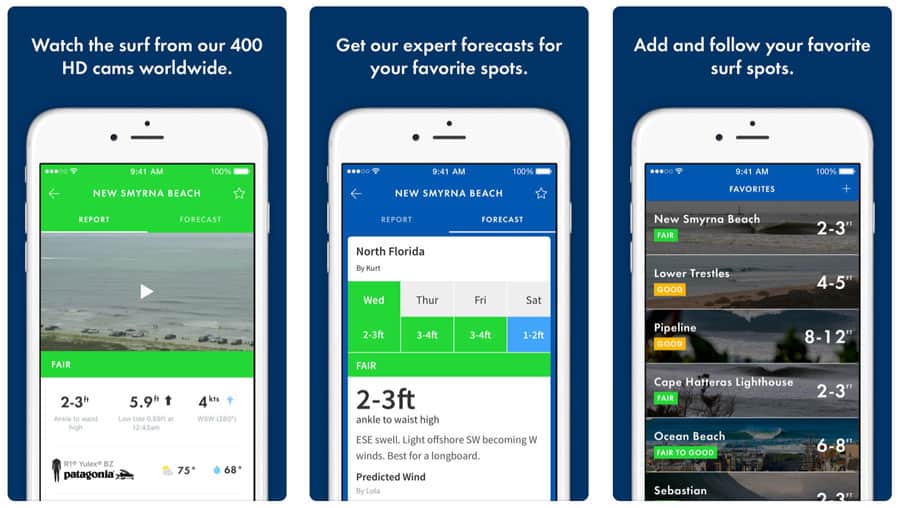 As one of the most popular surf report and surf forecast companies in the world, Surfline is a top resource for many a' surfer. If you're new to surf reports, Surfline keeps it straightforward with a simple forecast summary and rating system. And if you're a seasoned pro you can find all the data you would ever need for your local breaks or destinations abroad.
The Surfline app is basically a streamlined version of their website. You can check the surf in real time on Surfline's network of 300+ global HD cams, access their twice-a-day surf reports, get interactive maps to help you find breaks near you with the best conditions, and create your list of favorite breaks to check out the conditions at a glance and get easy access to your fav breaks. And that's just for starters.
There are free and premium versions of the Surfline app, as there is on Surfline's website. With the free version, you can watch webcams, check the daily surf report, and see their three-day surf forecast. With the premium membership, you can watch the surf cams ad-free, see a 17-day forecast, and gain additional insights and swell analysis by their team of expert forecasters.
COST: free access with limited features, or Surfline premium membership is $7.99 monthly or $95.88 annually. 50% off for students and military.
MAGIC SEAWEED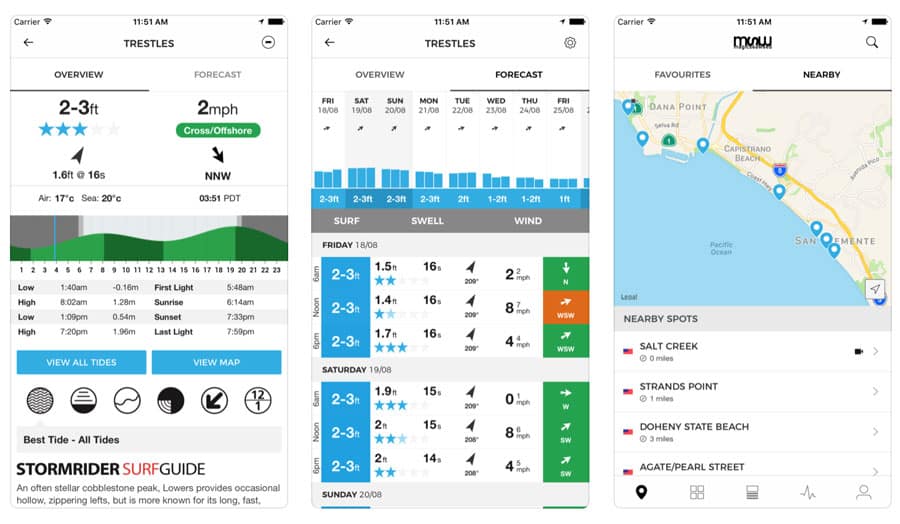 MagicSeaweed is another top surf forecasting company that offers dialed-in surf data from around the globe. Like their website, the Magicseaweed app makes it easy to assess current and future surf conditions at a glance.
MagicSeaweed uses a condition rating system of one to five stars and color-coded wind directions of red, orange, and green to indicate if the winds are favorable or unfavorable.
With the free version, you can check webcams, the daily surf report, and view the ten-day surf forecast. With MagicSeaweed Pro you can watch the surf cams without ads, see a 15-day forecast, and gain additional insights and swell analysis by their team of expert forecasters.
COST: Free for basic. €25.99 for Magicseaweed Pro if paid annually, or €2.69 per month.
ENDANGERED WAVES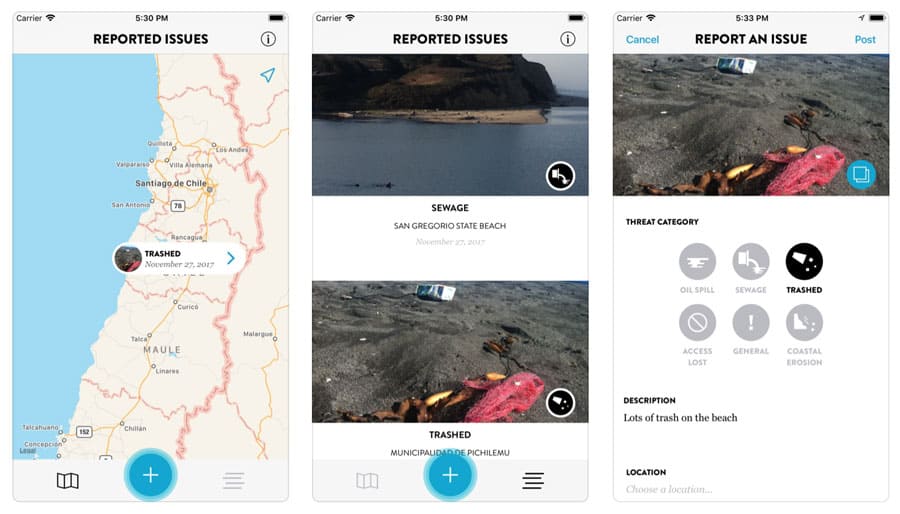 Created by the awesome Save the Waves Coalition, Endangered Waves is a brand new app (launched December 2017) that encourages and empowers surfers to monitor the health of their coastlines.
The Endangered waves app enables surfers (and ocean-lovers) to take a more active role in ocean/coastal conservation by giving them a way to get involved and impact their communities in a positive way.
The app works like this: If you see an environmental issue at the beach like an oil spill, eroding coastline, sewage, trash or otherwise, snap a photo with your phone, select a "threat category" from the list that describes the situation, and posts your report. Your photo will get geotagged and shared with the world. Save the Waves will receive your report and alert the proper groups to help with the specific issue.
Eventually, this valuable data will help scientists, local NGOs, and government agencies combat major issues facing our oceans. Endangered Waves is crowdsourced activism at its best!
COST: free
SURFTRACKR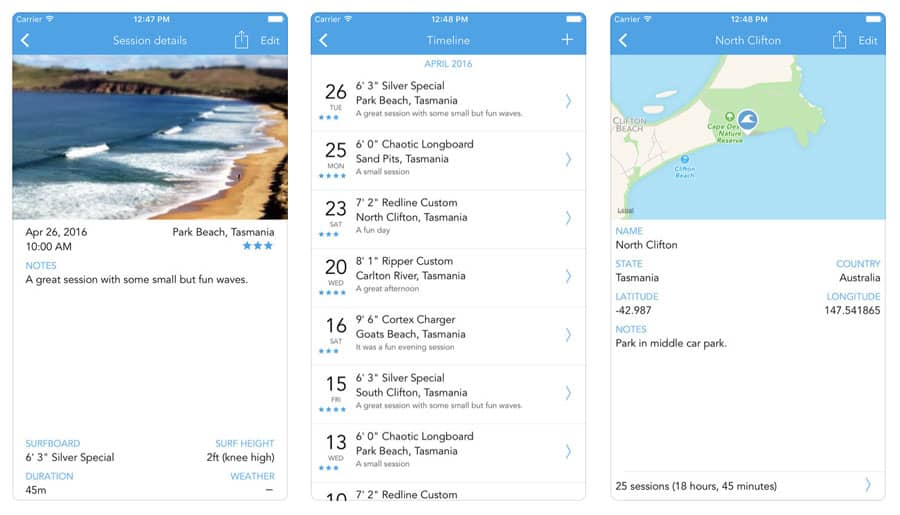 If you're a surfer who is into documenting every surf session then this one's for you! SurfTrackr is a straightforward app that helps you record and track all kinds of surf session info to your data-loving heart's content.
Add a surfboard and your location to start, and then add your surf sessions with the date, time, how long you surfed, surf height, rating, and any other swell notes you want to record.
The basic version is free, or you can upgrade to SurfTrackr Pro to add photos, multiple surfboards, and automatic weather. You can also get all analytical by viewing charts and stats, and even export your data to hang on your wall or tattoo on your arm. If you're into that kind of thing.
COST: free, or $1.99 for SurfTrackr Pro
DAWN PATROL
(Apple Watch or iPhone required)

We're not ones to bring much technology out to the surf, but we couldn't resist adding the Dawn Patrol app to the list. So here's the deal. To make this app work, you have to take your Apple Watch or iPhone out surfing. I don't know how I feel about bringing an iPhone out to the surf, but hey, it's an option.
Anyway, wear your Apple watch (or iPhone) out surfing and the Dawn Patrol app will track your surf and measure your waves. The app will count your waves, know your top speed, measure your wave time, know your distance surfed per wave (and in total), and even measure your heart rate and calories burned.
DA SURF ENGINE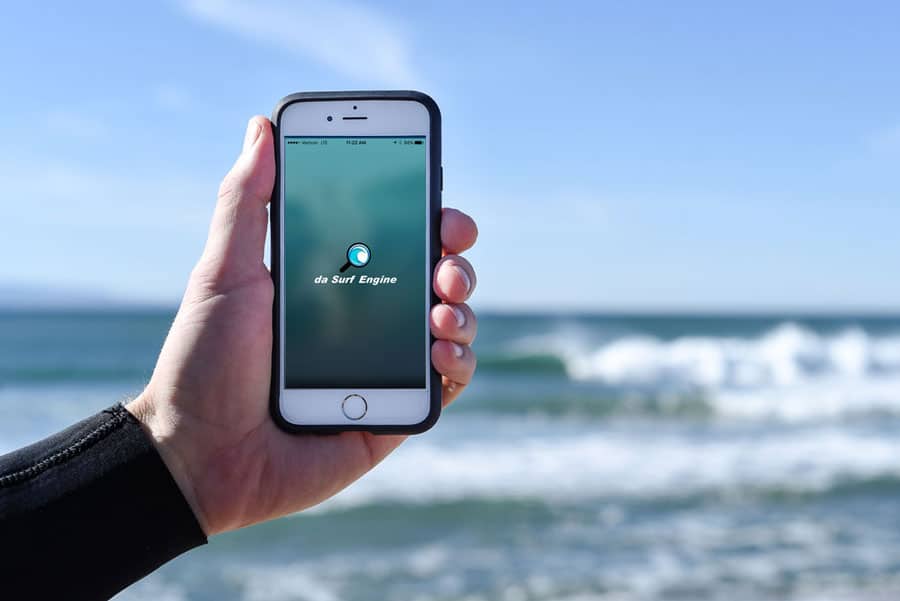 Finding waves that suit your skill and preference can be quite the time-consuming task.  You can spend hours reading about different surf breaks and still come up empty-handed (or perhaps mildly confused) when it comes to finding surf breaks suited to your personal taste.
With da Surf Engine app you can search for your perfect waves based on surf style, ability, wave type, seasonality, geography, swell direction, wind conditions, and more.
This data-packed surf app gives you the ability to search over 8,000 surf breaks around the globe based on tons of personalized criteria. So whether you're looking for breaks in your area or for your next surf trip abroad, you can find your perfect wave match in no time flat. Think of it as Match.com for waves.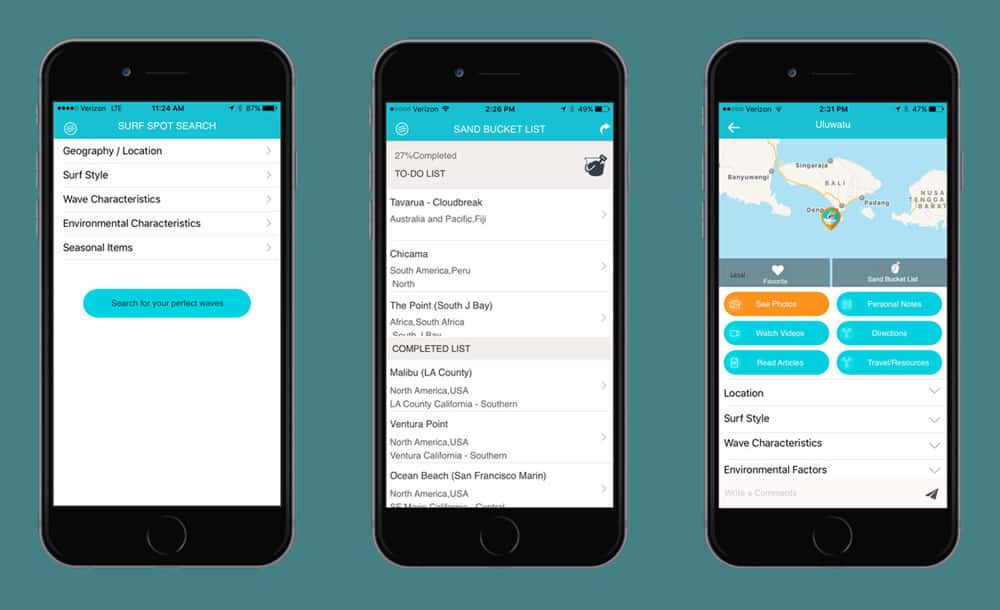 The app also has a "Buddy Search" feature where you can find and connect with other surfers in your local area based on specific search criteria. And one of our favorite features is the "Sand Bucket List" where you can create your wave wishlist… and then revel in checking them off one by one as you make your surf dreams come true. Yew!
Learn more about da Surf Engine App, or download the app here.
COST: free, $6.99 to access additional search criteria
* This post was created in partnership with da Surf Engine and Swell Navigator. Opinions are our own.