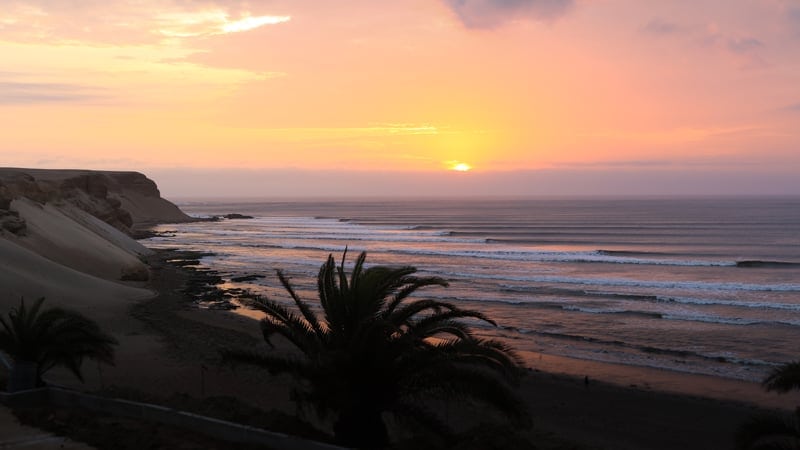 Surfing in Peru offers up the goods: 1,500 miles of coastline, year-round swell, heaps of offshore wind, and swell from all directions. It's also home to what some consider the world's longest left, Chicama.
Northern Peru has some of the best surf in the country. With relatively low crowds, long rides, and warmer water than the rest of the country, North Peru has epic surf trip written all over it.
To find the best that this vast area has to offer, we hit up Amy Schwartz and John Furness, co-founders of Unleash, a new remote surf and work experience headed to Northern Peru in February 2018. After living in North Peru for a couple stints, Amy and John fell in love with the surfing digital nomad lifestyle and created Unleash to invite others to easily experience the same.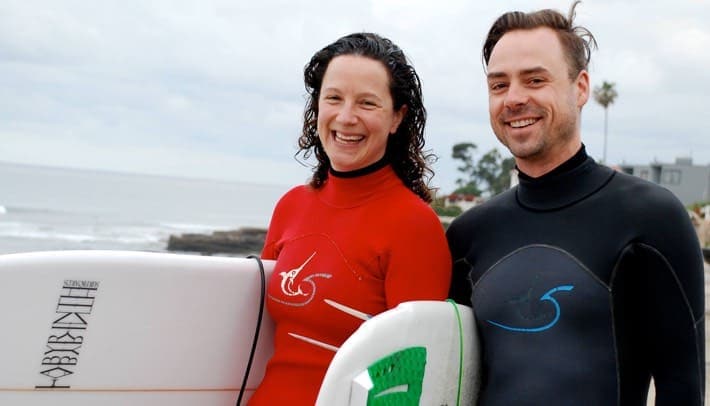 Unleash offers remote workers what is essentially a cross between a surf trip and a co-working space, and the first trip destination is Huanchaco, Peru. A small non-touristy fishing village slash World Surfing Reserve, Huanchaco has consistent waves and is an hour drive to the infamous Chicama.
With a deep knowledge of the breaks and surfside towns of Northern Peru, Amy and John shared with us the best places to surf, eat, stay and play in this unique coastal playground.
Take it away guys!
WHERE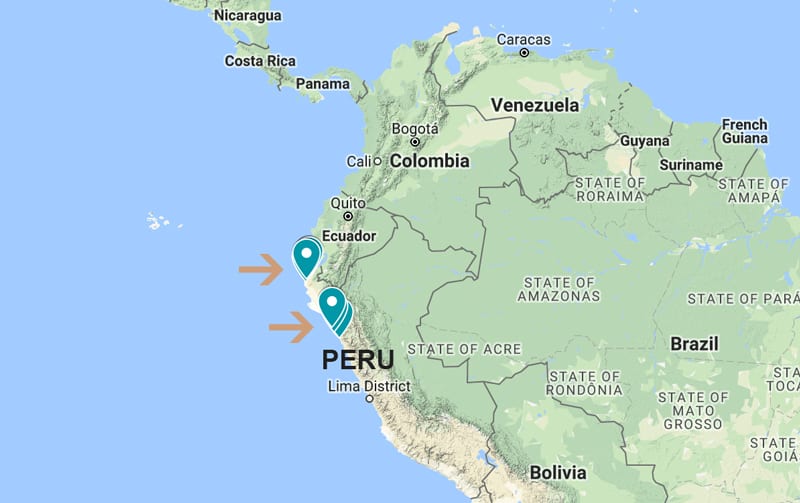 Rumours you've heard about minimal crowds and epic conditions are true. Northern Peru is a heaven of impossibly long lefts that peel along desert beaches, with the occasional barreling reef and mellow shore-break.
The coconut-palm lined beaches in the state of Tumbes do best with summer swell from the north. La Libertad, Lambayeque and Piura pick up the Southern swells of the winter and the Northern swells of the summer, which means waves every day, all year round.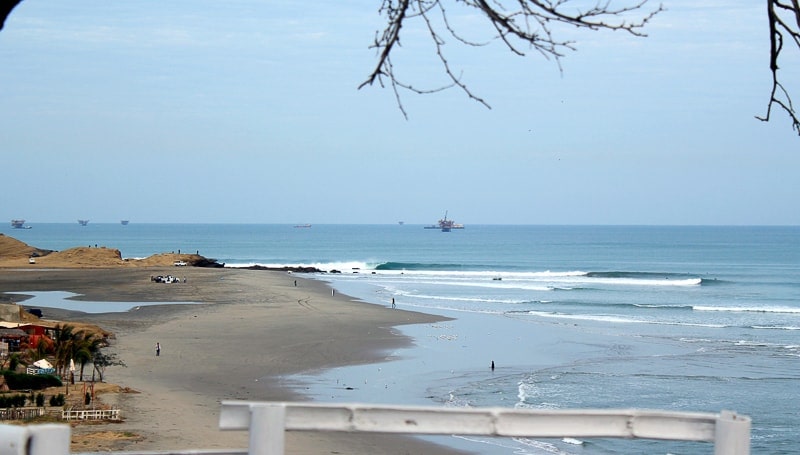 Although the 650 km stretch of coastline is on the bucket list of every South American surfer it is still off the radar of the international surfing masses. With the best cuisine in Latin America south of Mexico, friendly local surfers, inexpensive accommodation and low-likelihood of getting skunked, you'd probably better get here before the secret gets out.
IN FIVE ADJECTIVES
Desert-vistas, fresh-fish, juicy-mangos, earthy-vibes and hammocks
SURF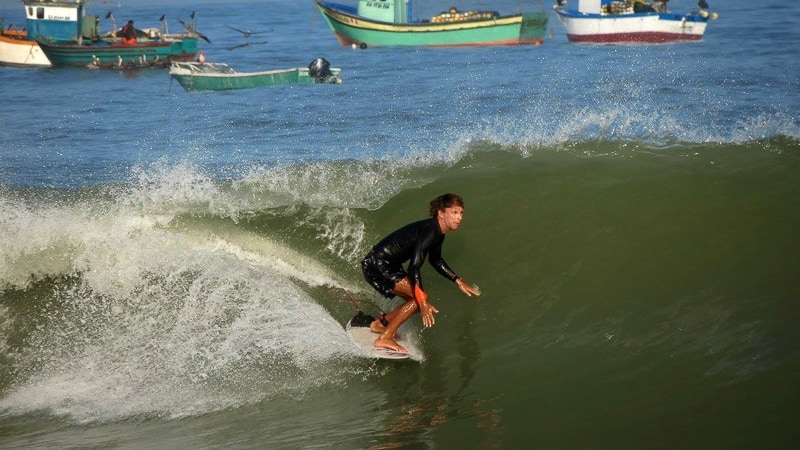 HUANCHACO has the most ideal beginner wave in the region. It peels into a small protected bay and is always working. On the other side of the wooden pier is an expansive area of reef and point-break sections that makes longboarders and shortboarders alike happy.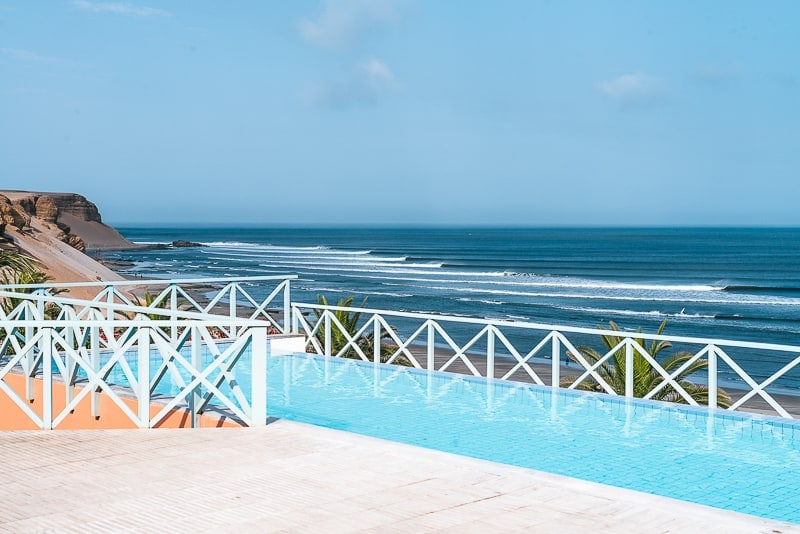 CHICAMA (Puerto Malabrigo) is known as the longest left in the world, where you'll be more likely to hop off a wave because your thighs are sore than because it ended. It is a surprisingly accessible and thrilling wave for every level of surfer. There's a lot of current though, so it is worth the extra cash to get a zodiac to give you a ride back to the take-off.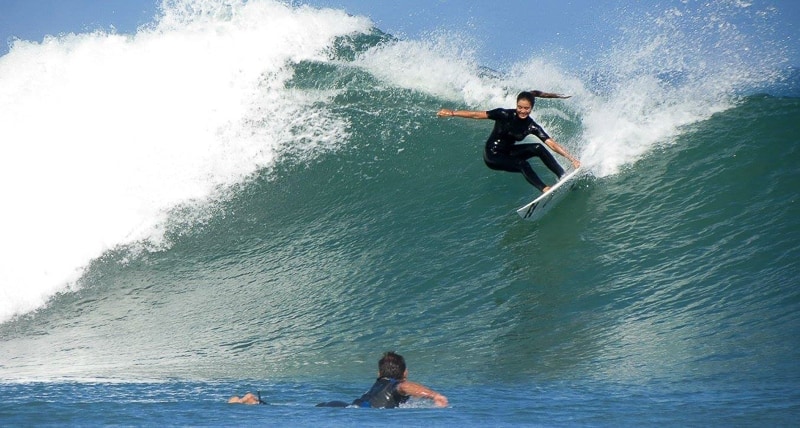 PISCINAS is in the wave-garden of zippy lefts that is Lobitos. It starts as a point near a large man-made tidal pool and cruises over a sandy bottom. At 2-3 feet it is a pleasantly fast ride for a novice and gets speedier and more challenging in the up-to 7+ feet that it holds.
CABO BLANCO is Peru's fast and barrelly Pipeline. The expert-only wave breaks over a foreboding black reef, which is in contrast to the sleepy fishing town where Ernest Hemingway purportedly got the idea to write The Old Man and the Sea.
MANCORA has a consistent and mostly mellow reef break. The beach fills up with partying Limeños most of the summer which results in crowds of good surfers in the water.
PACASMAYO is the favourite of many locals. For those that can get into its fast first section it can be a longer ride than Chicama, and it holds up to 6 meters of swell. On smaller days it has sections that beginners and intermediates love too.
EAT + DRINK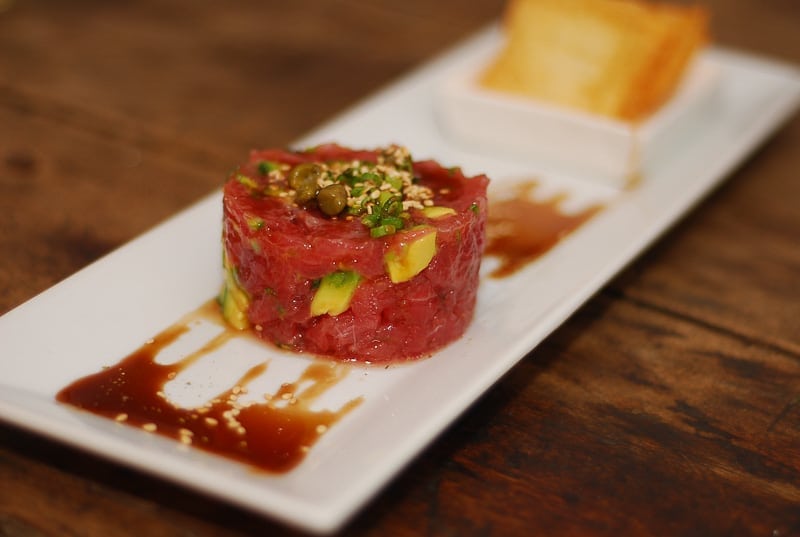 UMI is a small Peruvian-Japanese sushi-bar in Huanchaco located 1-block from the beach that only the locals know how to find. The surfer-chef fills rolls with Ceviche, hand-made tofu, fresh octopus and drizzles passion-fruit or fresh olive sauce. I have licked the plate here.
EL MANGLAR in Los Organos has perfected the salty-citrus-sweet flavours that make Peruvian food so addictive. Try their limon-fresh ceviche, saucy picante de mariscos, melt-in-your mouth "sweating" fish and fried mashed plantains. If you're lucky they'll have some fresh donuts on the ready for dessert.
LA SIRENA DE JUAN in Mancora is higher in price and flavour than the average beach-side palapa. You can indulge in Massaman Thai curry, sweet potato ravioli, fresh-tuna tatare and luscious desserts.
EL TRANQUI in Lobitos dishes up hearty breakfasts and post-surf meals in the Peruvian fresh fish with double-carb style. You eat on the patio of Tranqui's wooden house and if you pop by in the evening you might get lucky and snag a piece of fresh banana cake. Bring your best surf sticker to add to his vast collection.
SLEEP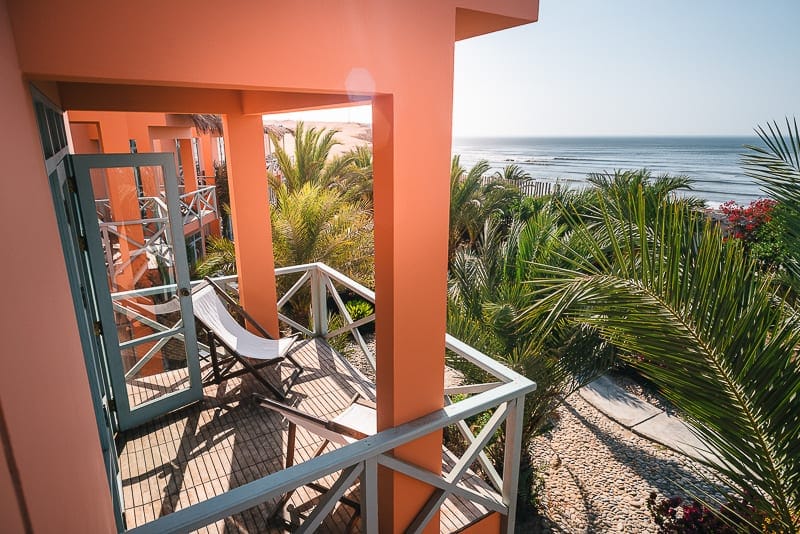 CHICAMA BOUTIQUE HOTEL AND SPA is worth the splurge. This 20-room resort caters to your every surf-tired whim. Massages, saunas, ping-pong tables, hearty buffet breakfast that is still available after your morning surf, a pool and hot tub overlooking the wave and a decent restaurant that can cater to vegetarians. They also have some mind-blowing antiques that you should ask the owner, Miguel, about.
PUNTA HUANCHACO HOSTEL in Huanchaco is a brand new place with great showers, private rooms and dorms that is just steps from the break and next to a delicious bakery. It is affectionately run by Gigi, and her wide-smiling (and surf-stoked) husband – who will join you for a surf or take you to other waves in the region.
LA CASONA provides the real (read: rustic) Lobitos experience. This meandering mansion was an elegant general's house at the height of the town's oil riches in the early 19th century. It's now a colourful hostel with private rooms and incredible views of the beach from its wraparound balcony.
WAK'A VILLA in Los Organos is a stylish surfer's dream house and my favourite place in Peru to relax. Overlooking a private beach and a fast point break, it's generous decks are prime viewing for whales, sunsets and surf-checks. You're a ten-minute beach-walk to Organos village. The surfer-owners can arrange to have someone cook for you. Sigh.
DO + SEE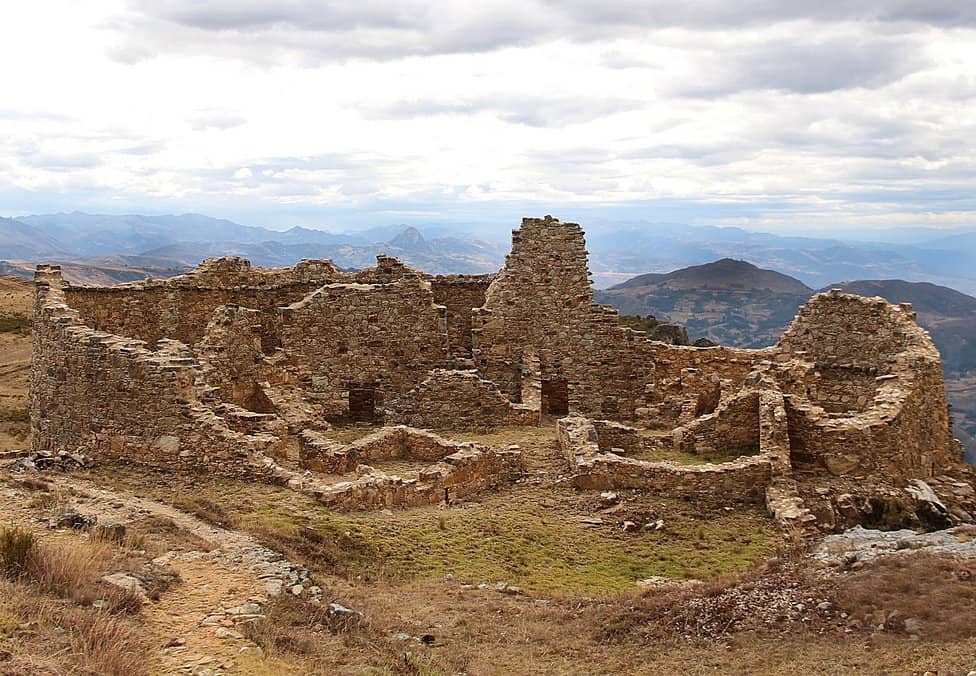 THE LADY OF CAO is just south of Chicama, and is a stunning minimalist museum with the mummified body of high-priestess who ruled the Moche people of the Chicama Valley 1700 years ago. Out of respect for her soul you can only see her elaborately tattooed body through a trippy arrangement of mirrors. The sophisticated jewelry and weapons tucked into her mummy shroud are worth the visit alone.
CABALLITO DE TORTORAS are the world's first surf crafts that have been used by fisher people in this region for 5000 years. They're still used daily by subsistence fishermen in Huanchaco and Puerto Malabrigo. Have a chat with the fisherman next to the pier in Huanchaco about taking you for a ride or showing you how they make them with a special reed that grows in the protected ponds nearby.
AROMAS THAI's owner, Jarunee, is hands-down the best Thai massage therapist I've met anywhere (including Thailand) but set up shop in Huanchaco. Hand-made facial and body scrubs make a delicious appetizer to getting your surfing knots worked on with her elbows, knees and feet.
WHALE WATCHING from the port in Los Organos there are boats that will take you to see masses of giant turtles, sea lions lounging on oil rigs, migrating humpback whales and the Galapagos-famous blue-footed boobies.
MARCAHUAMACHUCO • If you can't get Machu Picchu to yourself, go here and you'll have an impressive pre-Incan fort all to yourself. Nestled 12000ft up in the Andean foothills, it a relatively short drive from the coast considering the stark change in landscape and culture from the Peruvian seaside.
SHOP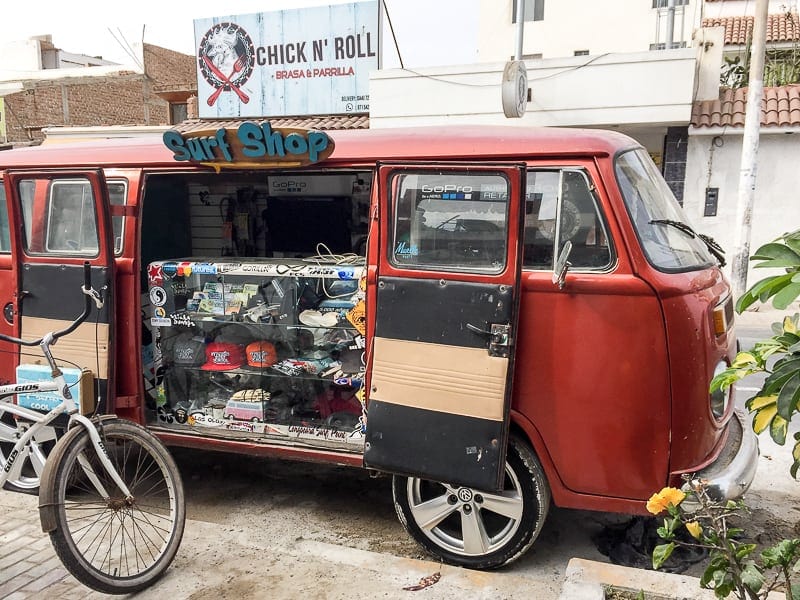 RANDALL'S SURF VAN is a lovingly renovated VW bus in Huanchaco that is bar-none the coolest tiny surf shop I've ever seen. It is parked outside of the My Friend restaurant and hostel during the day. If you need some fins, a hat or a hashtag-worthy photo for Instagram, this is your best bet in Huanchaco.
THE ORGANIC MARKET IN HUANCHACO on Thursday mornings has fancy coffee, stevia-sweetened natural yogurt, chemical-free sunscreen and soaps, fresh-coconut milk (by request), organic mangos and veggies. There are about 5 stalls set up in front of Moksha Hostel on the waterfront with almost everything your healthy heart desires.
CATACAOS ARTESANIA DISTRICT near Piura is a bustling market full of handmade everything: hammocks, straw hats, dangly earrings, leather purses, silver jewelry. Northern Peru can be a bit of a desert for handicraft shops and I often go home empty handed, unless I make it to this little slice of shopping heaven.
If you have any favorites you want to add to the list, let us know in the comments below! And if you're interested in surfing in Peru and working remotely in Huanchaco, check out Unleash for more info!