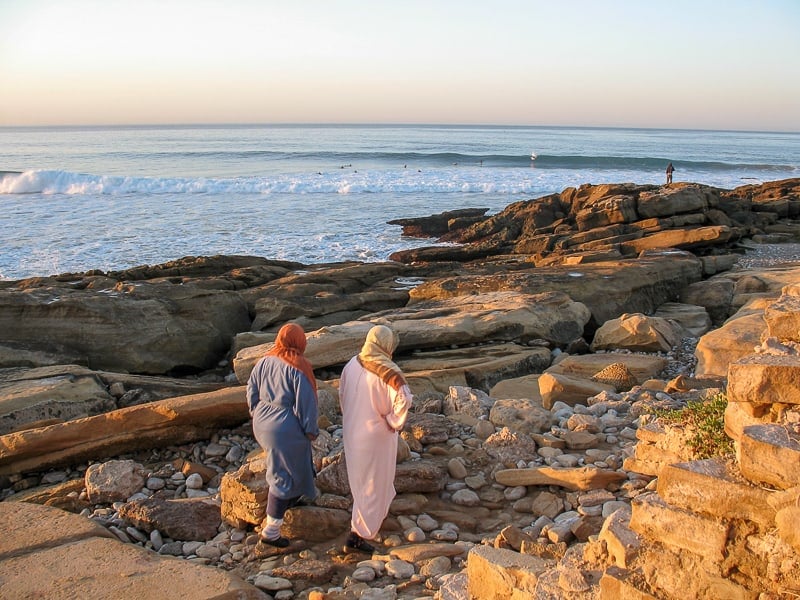 On our first morning in Morocco's surf mecca of Taghazout, I stood on a pale, rocky cliff overlooking a gorgeous, wide-open bay stacked with lines of big, frothy-lipped waves. A chilly desert wind pushed at my back as I watched the waves curl and crumble in front of Tamri Beach's caramel-colored sand glittering in the early morning sun. It didn't take me long to pull on my 4-3 and scramble down the steep trail to the water's edge.
I was giddy with excitement. Six months before, my husband, Kurt, and I had moved from Washington State to Sicily, Italy. We were loving the adventure but suffering from a serious case of wave withdrawal. Before that, we had spent three years traveling the globe in search of surf, from Fiji to Costa Rica to the chilly Northwest.
Though we had surfed a handful of times in Sicily since moving there, the waves weren't great. The Mediterranean occasionally kicks up decent surf, but the fetch is so short that there's little warning, and the swell lasts hours, not days. Our trip to Morocco was a dream come true: our first good waves in almost a year, our first African surf experience, and our first taste of surfing the mighty Atlantic.
That first morning, I savored every ride, the offshore breeze buzzing past my ears, the trickling whisper of my fin cutting through the seamless slope of water. The waves were perfect, fluffy walls with long rides and plenty of peaks to try, allowing the sparse crowd lots of space.
Other surfers were surprised to learn that we were Americans—they had assumed we were British. This happened again and again during our stay in Morocco, each time with the same result: a big smile and a welcoming vibe. It made us feel special.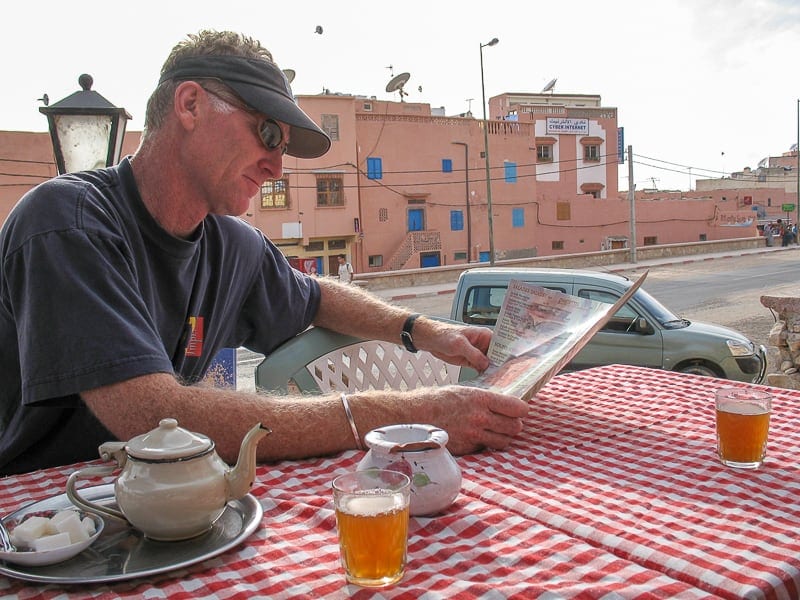 Back in Taghazout, we ate French pastries and drank the famous mint tea at an outdoor café just down the street from our apartment. In the daylight, the little town reminded me of a dusty Baja outpost but with a Euro-African twist: dark-eyed men in long, hooded robes discussing business in the open square, French groms toting surfboards, and fresh baguettes being delivered to the cafés via rickety bicycle.
A handful of businesses and restaurants lined the street along with a tiny surf shop, two hodge-podge groceries, an Internet café (with the wonkiest keyboard I've ever seen), and a t-shirt shop.
The two-bedroom flat we'd rented through Surf Maroc, a surf camp in Taghazout, was a perfect base camp. Our balcony overlooked the expansive Atlantic where rollers crested and swished across a rock-slab coastline crisscrossed by deep grooves, like a giant checkerboard tilting into the sea.
Early the next morning, after a cup of instant coffee doused with dollops of canned, condensed milk, we loaded up our silver Renault Berlingo, a cross between a mini-van and a jeep that was part of our rental package, and headed out.
A cold wind from the desert had arrived in the night, and the swell had jumped. Pale, desolate hillsides dotted with green scrub rolled away to the East as we steered along the coast, the cerulean Atlantic a stark contrast to the sparse, dusty desert.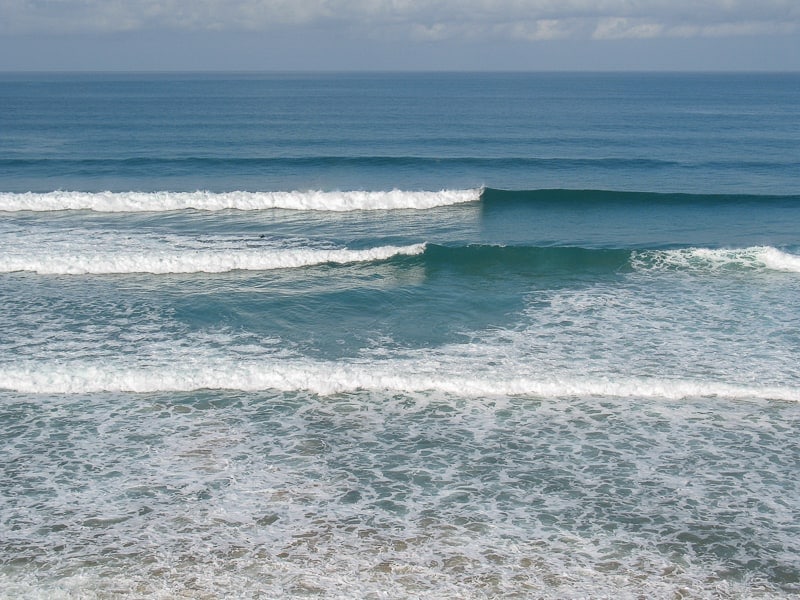 We were waved through a police checkpoint, the scowling guards wearing neatly pressed, army-green uniforms, then another further up the road. We passed wide-open bays and high, rocky points where prickly-looking trees and shrubs dotted with dainty white flowers grew in clusters. We checked every point and bay on the way north—not seeing a single surfer in the water—figuring we'd end up surfing Tamri again. But when we arrived, the giant waves were closing out in big, thundering walls.
I'd heard about a lively souk, or market, a few hundred kilometers further on. We'd planned to drive there later in the week but with our day suddenly open, we decided to keep driving north to Essaouira.
The countryside whirled by in a blur, the road intersecting fertile valleys then winding up and over barren hillsides. Several times ferocious wind gusts readjusted the surfboards and we were forced to stop and assess the load. Finally, we pulled just short of the entrance to what we hoped was the souk and paid a man a few dirhams to park on the street. We had no choice but to hope the boards would still be there when we returned.
If you ever get the chance to see a real souk, and not the tourist trap kind found in Marrakech, you'll witness something truly amazing. The souk was a beehive of activity: a man in a hooded, maroon-colored robe pushed a rickety wooden cart piled high with fresh, green mint, bearded men sold olives out of large plastic drums, women covered head-to-toe in layers of satiny fabric carried shopping bags full of tangerines, baguettes, and freshly killed chickens.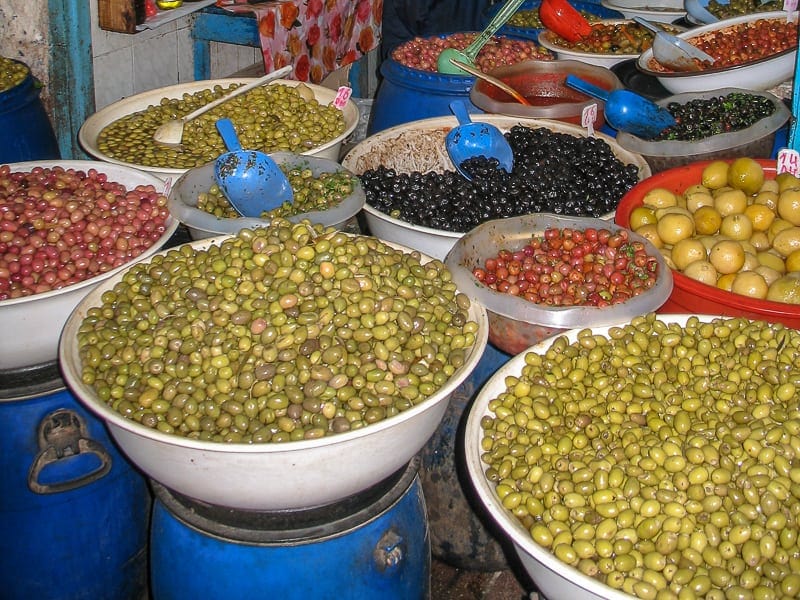 The maze of streets seemed endless, side corridors stacked with red and blue milk crates led into darkness while the main artery was packed with locals: pairs of women in headscarves, groups of men in grubby sweatshirts and cheap plastic sandals, old ladies with shrunken mouths, all of them shopping and going about their day.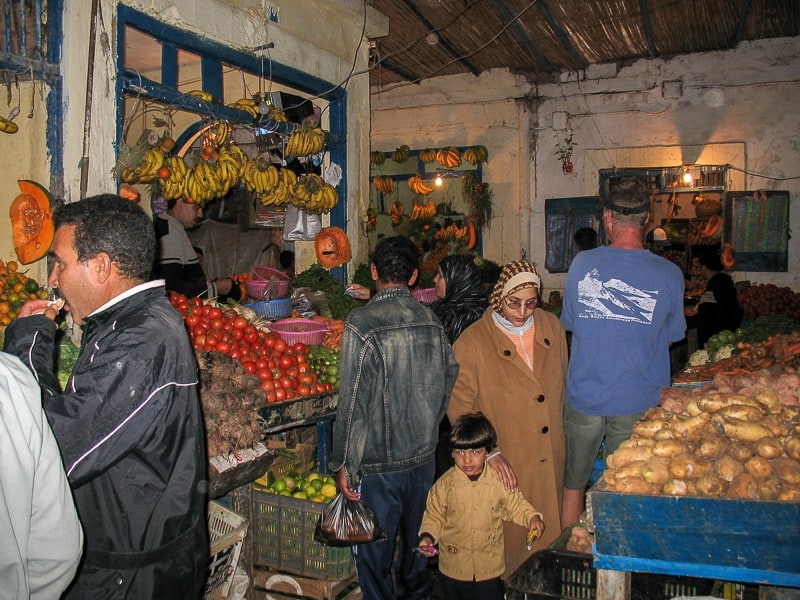 Tiny spice shops offered tiered tables showcasing conical piles of powdered curry and paprika, plastic tubs of various roots (including Viagra) or chunks of fragrant musk. Inside, brightly colored rows of pottery lined shelves that extended to the ceiling. I nodded at the few other tourists that passed but didn't stop to chat; I was afraid that sharing my sense of enchantment would somehow break its spell.
It was decided on the ride home from Essaouira to capitalize on the early incoming tide the next morning with a crack-of-dawn start at Boiler's Point, where a gritty sandstone slab extended into an exposed bay. But that next morning, Boiler's looked like a repeat of Tamri the previous morning—big and closing out—so we checked every point on the way south, with the same result. The big swell had indeed arrived, but there was no place to ride it.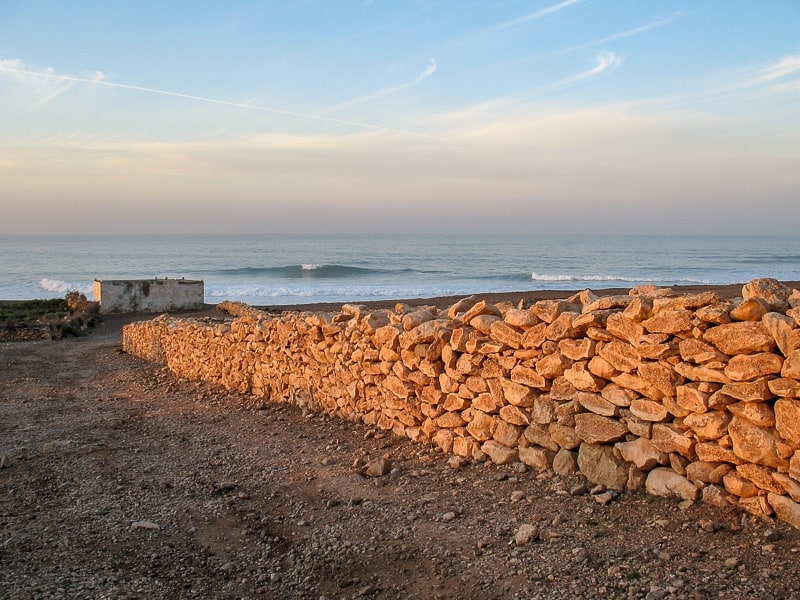 We headed to Anchor Point, where deep-blue waves framed by the rock-slab shore peeled the entire length of the bay. The rising sun illuminated the diamond-glitter spray from the waves and cast an orange glow across the rocks. Local women wearing headscarves and layered, full-length dresses soaked to the knees from saltwater hacked mussels off the rocks in the low, low tide, oblivious to the flocks of surfers swirling around them.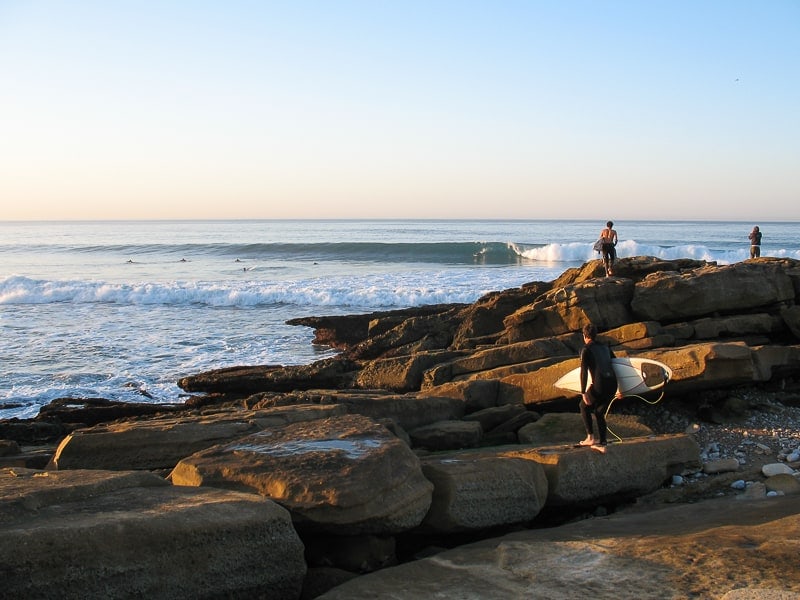 I was too chicken to surf this day—I generally avoid crowds and the jockeying that goes with them. Plus, accessing the lineup involved a death-defying jump off the rocks or a mile-long paddle against a strong current.
Instead, we headed to a break down the road called Banana's. For some reason, Banana's had a bad rap—some called it mushy, others claimed it was jam-packed with kooks and beginners, but maybe those who'd spread such rumors had never surfed it on a twelve-foot swell.
The paddle-out was straightforward, in a channel along the rocky cliff's edge, the wave was a big-walled, fun peeler, and the beginners stayed on the far inside and mostly out of the way. However, it was crowded. Because the swell was so big, surfers were concentrated at Banana's and Anchor Point.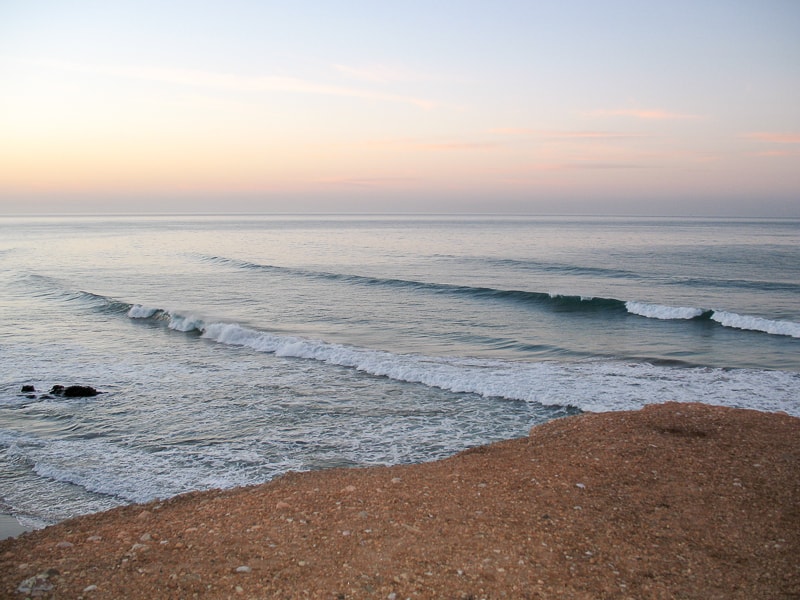 The rides were long, and the offshores groomed the peaks to perfect shape. We spent each morning of the big swell surfing there. Afternoons were even more crowded, so we sometimes surfed at Crocodile Rock, a point/beach a few kilometers north that mostly offered speedy, wind-blown closeouts, and the chance to rinse off the dust. Some afternoons we didn't surf at all, instead hanging out at a café drinking café au laits or mint tea, or getting Moroccan cooking lessons from Rachid, our favorite server.
The swell did eventually get too big even for Banana's. We spent a frustrating morning on our second to last day trying to paddle out with no luck. The rip along the rocks had vanished and the current moved us swiftly south, plus our feet got a beating from the barnacles and jagged rocks. So we surfed the big, blue bombs at Panorama Point, just south of town, a place that had been as flat as a lake on our arrival day.
When we packed up our boards for our return to Sicily, Morocco had made a deep impression on me. Morocco is one of the most interesting places I've ever surfed—full of mystery and culture as well as great waves.
TAGHAZOUT SURF / TRAVEL TIPS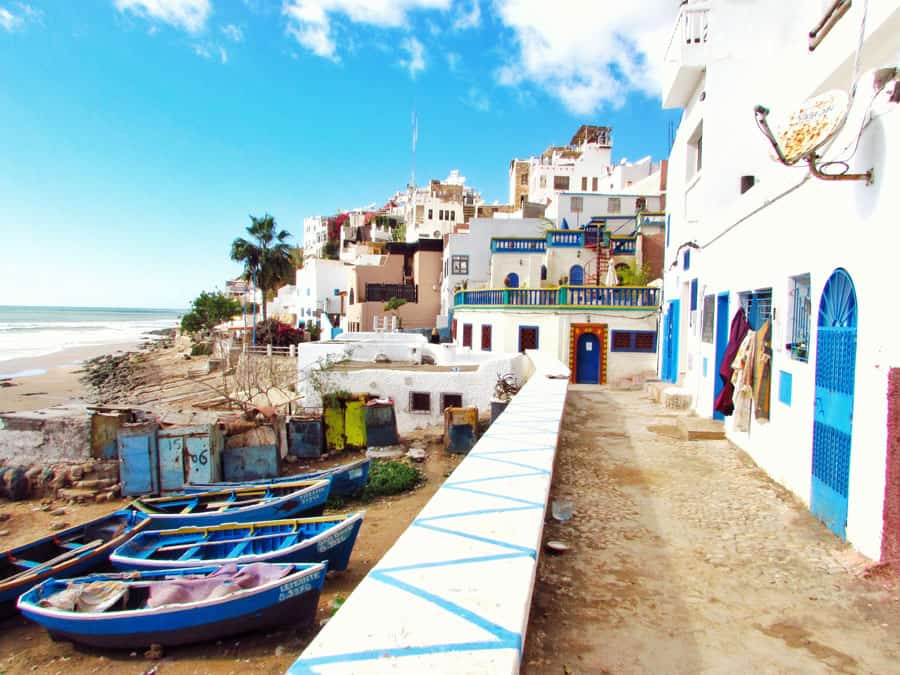 Where to Stay
Renting an apartment and car together can save some money, plus the car will be waiting for you at your place so there's no haggling or waiting at the airport. It's also great to have a fridge and a place to cook. There are surf camps in the Agadir/Taghazout area, which are great for solo travelers. Some even offer lesson packages or guiding services. We arranged our rentals through Surf Maroc but there are others. Renting a caravan/RV and exploring is a great option. Taghazout isn't the only place with waves.
Where to Eat
There's a huge grocery store in every big town, if you are doing the apartment option, head there for basic supplies and alcohol (which is sparse everywhere else). Morocco has a strong French influence, so be sure to enjoy baguettes, café au lait, and croissants during your stay. For dinner, the cuisine relies heavily on fish and grains like couscous, usually cooked up in an earthen mini oven called a tagine. The food is generally tasty, not spicy, and relatively cheap.
When to Go
From November-March, the bigger, more reliable swells hit the African coast. We visited in December and were treated to a nice, long-period groundswell. Summer can be fun too, with smaller waves, less people, and warmer air temps.
Can beginners surf in Morocco?
Yes. Beginners should bring booties for foot protection in the whitewash. Some beaches (like Banana's) have brutally sharp barnacles and rocks.
Is it safe to travel to Morocco?
During our trip, we experienced only one (out of about 20) encounter with a military checkpoint that cost us money (about $40US). Our apartment was secure and safe (though a stray cat that we had befriended got in and peed on our bed) and we never carried any cash or valuables with us when we went out surfing in case our car got broken into. It never did, but leaving cash and camera behind is a good policy. There are plenty of street vendors, some can get a little aggressive. This is another good reason not to carry cash while you are out surfing—if you have no money, the hustlers will quickly leave you alone.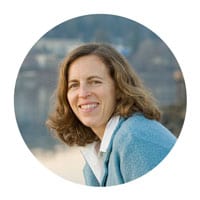 Amy Waeschle is the author of Going Over the Falls, and Chasing Waves, A Surfer's Tale of Obsessive Wandering. Find out more at amywaeschle.com