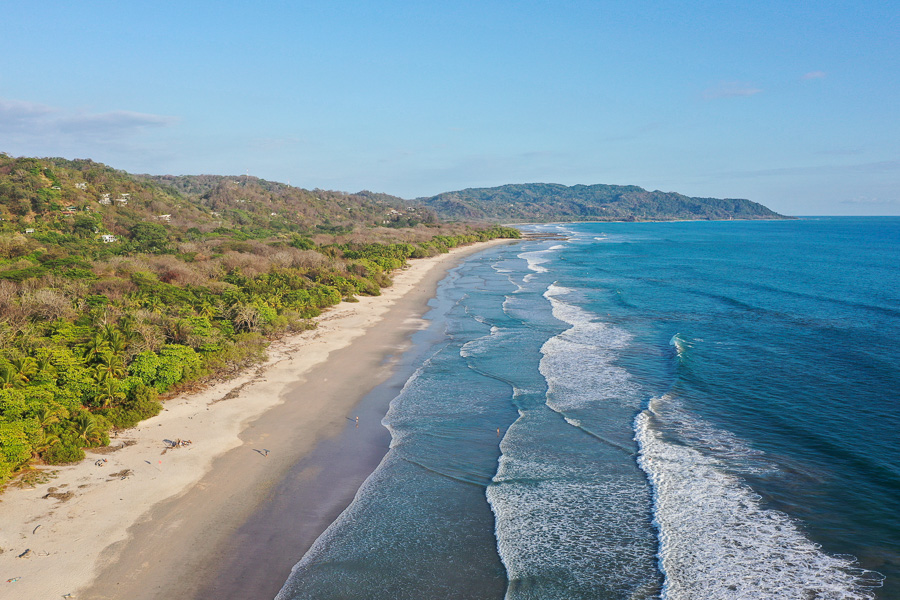 Sometimes you just need a little extra pura vida in your life. Like most of the world, Eric and I didn't do much traveling last year with the Coronavirus situation happening. We're super fortunate to live in a sunny beach town in southern California, but still, the travel bug was acting up so we started planning a getaway to escape the frigid March waters of San Diego.
Costa Rica is now open to travelers (without a PCR test) so we packed our trusty face masks (can't wait until those are a thing of the past!) and headed down south to Santa Teresa, Costa Rica, for some warm waves and tropical vibes.
Santa Teresa, Costa Rica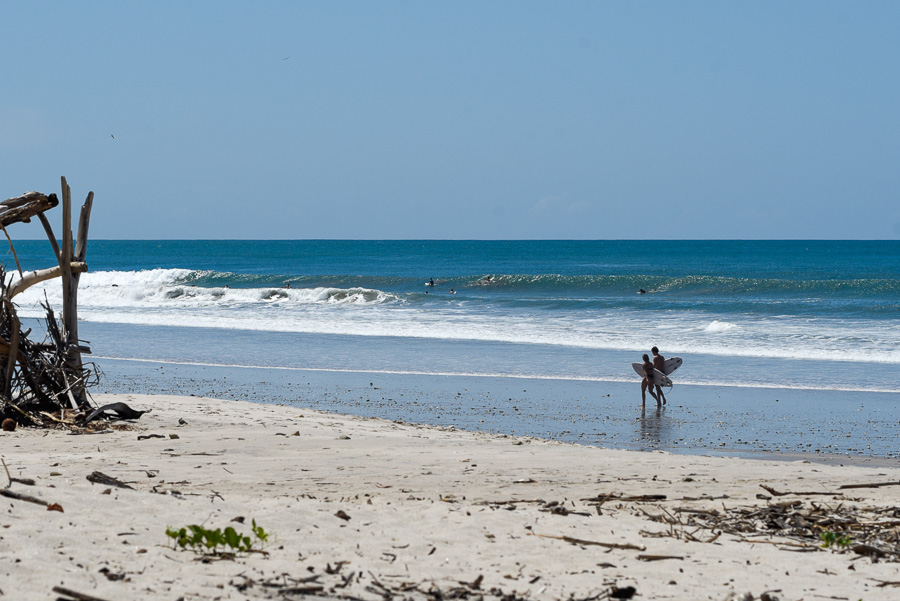 Santa Teresa is a small laidback surf town located on the Nicoya Peninsula on the Pacific Coast of Costa Rica. Once a quaint fishing community, over the past 20 years Santa Teresa has grown into a buzzing surf and yoga destination full of surfers and travelers seeking waves, sunshine, and the pura vida way of life. Many of those visitors found all of the above and decided to stay.
The influx of expats and travelers from all over the world has led to an international feel to this charming surf village, and along with it an abundance of fantastic restaurants, villas, and hotels to enjoy.
While the area has grown in recent years, there are no high-rises or large unsightly buildings to speak of, the main road remains unpaved, and locals and visitors still gather on the beach every evening to hang out and collectively watch the epic sunsets.
With white-sand beaches bordered by jungle and great surf breaks, consistent swell, and year-round warm water, Santa Teresa is a quintessential surfer's paradise.
Mission: Surf & Pura Vida / March 2021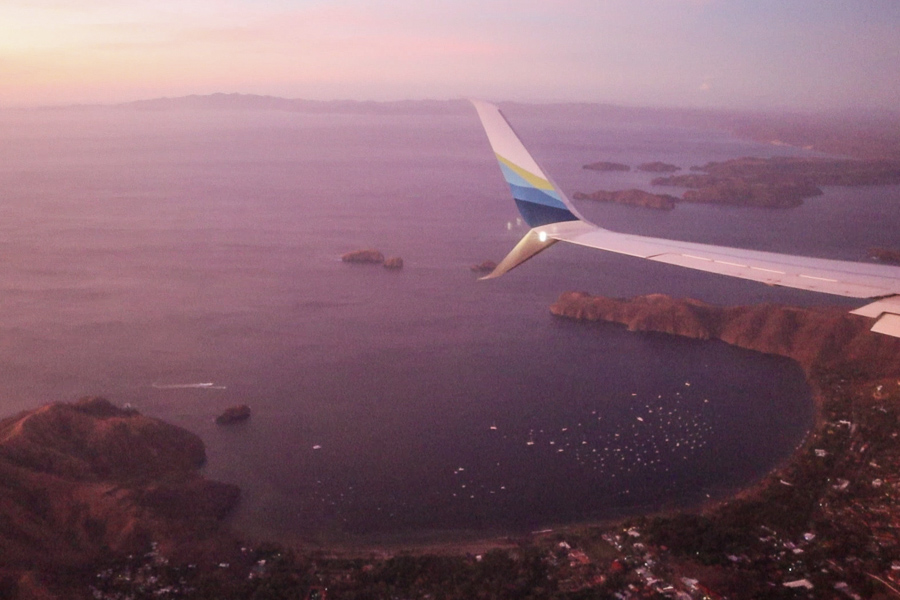 I've been to Santa Teresa multiple times over the years, but it had been a whopping seven years since Eric and I were last in the area. The last time we were there, Eric actually proposed on the beach at sunset (awww) so I don't know how we were going to top that, but if there's a will there is a way.
To get to Santa Teresa I've always flown into the airport in San Jose (SJO), but since we were planning on staying mostly in northern Costa Rica for the whole of our trip, we flew into the Liberia Airport (LIR) – located about an hour south of the Nicaraguan border – and rented a car. The drive from the Liberia airport to Santa Teresa used to be much longer, but thanks to some brand new roads on the Nicoya Peninsula, it's now an easy 4-hour drive.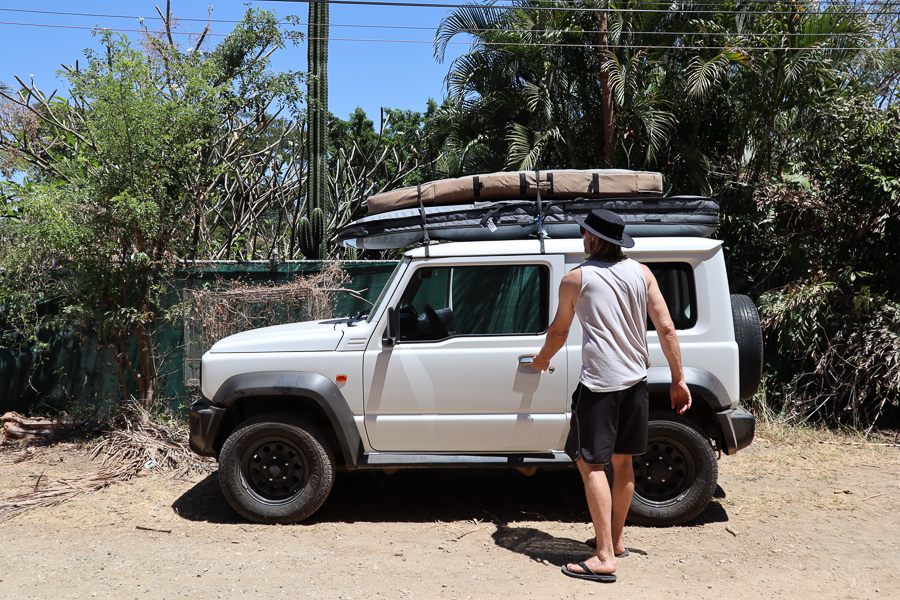 Our drive was mellow and before we knew it we arrived at Lucero Surf Retreats, a lovely family-owned boutique hotel with surf retreats and surf guiding. Tucked away on a hillside in the center of Santa Teresa, Lucero has an ideal location – close to everything you need yet in a quiet locale, and only a 6-ish minute walk to the beach.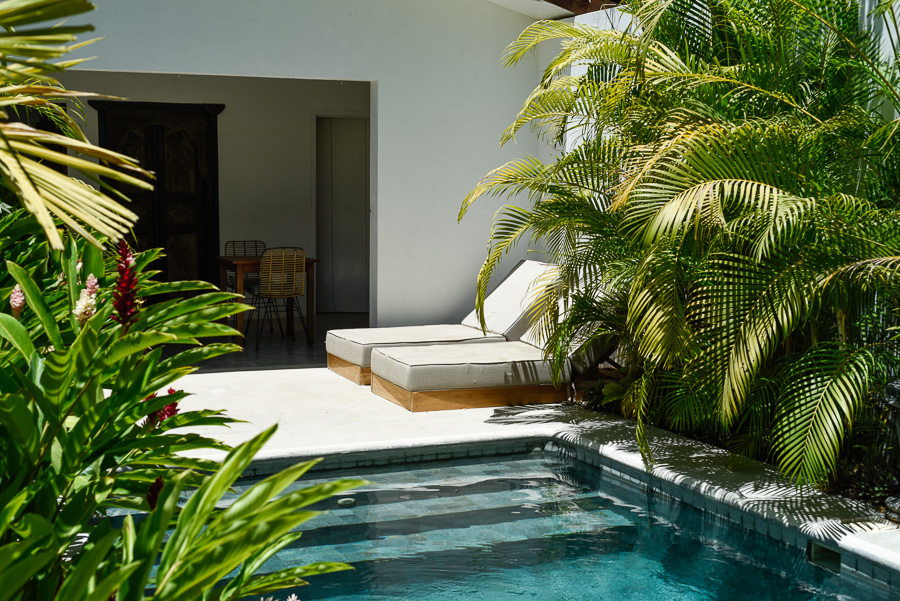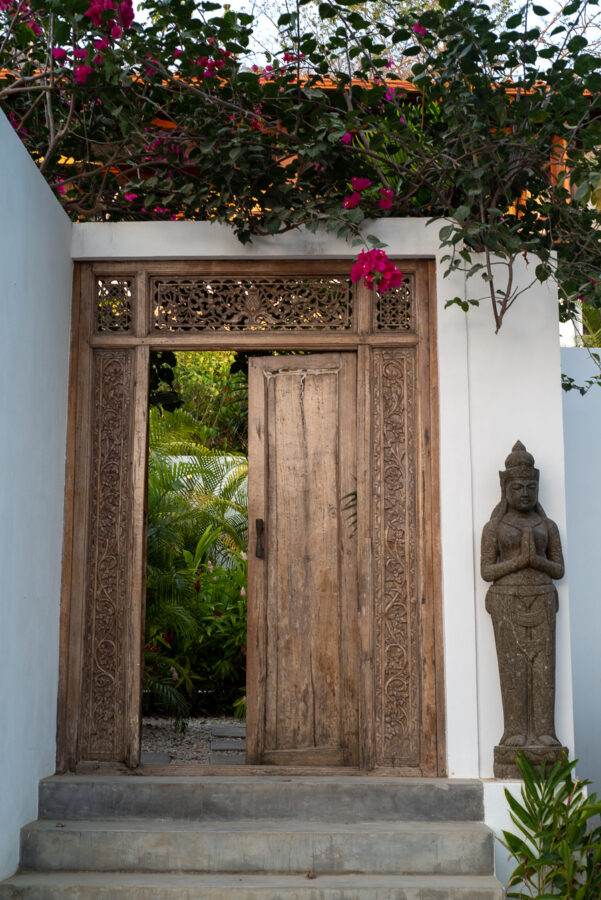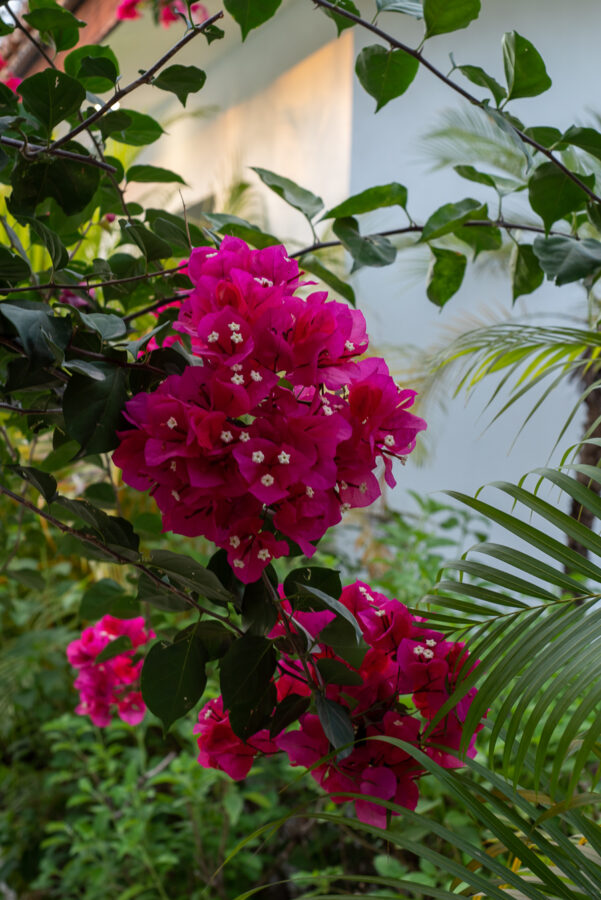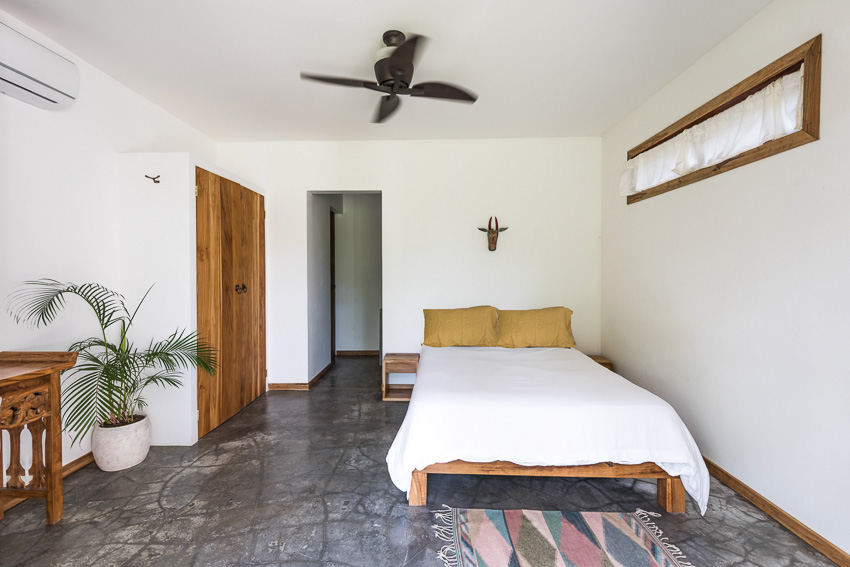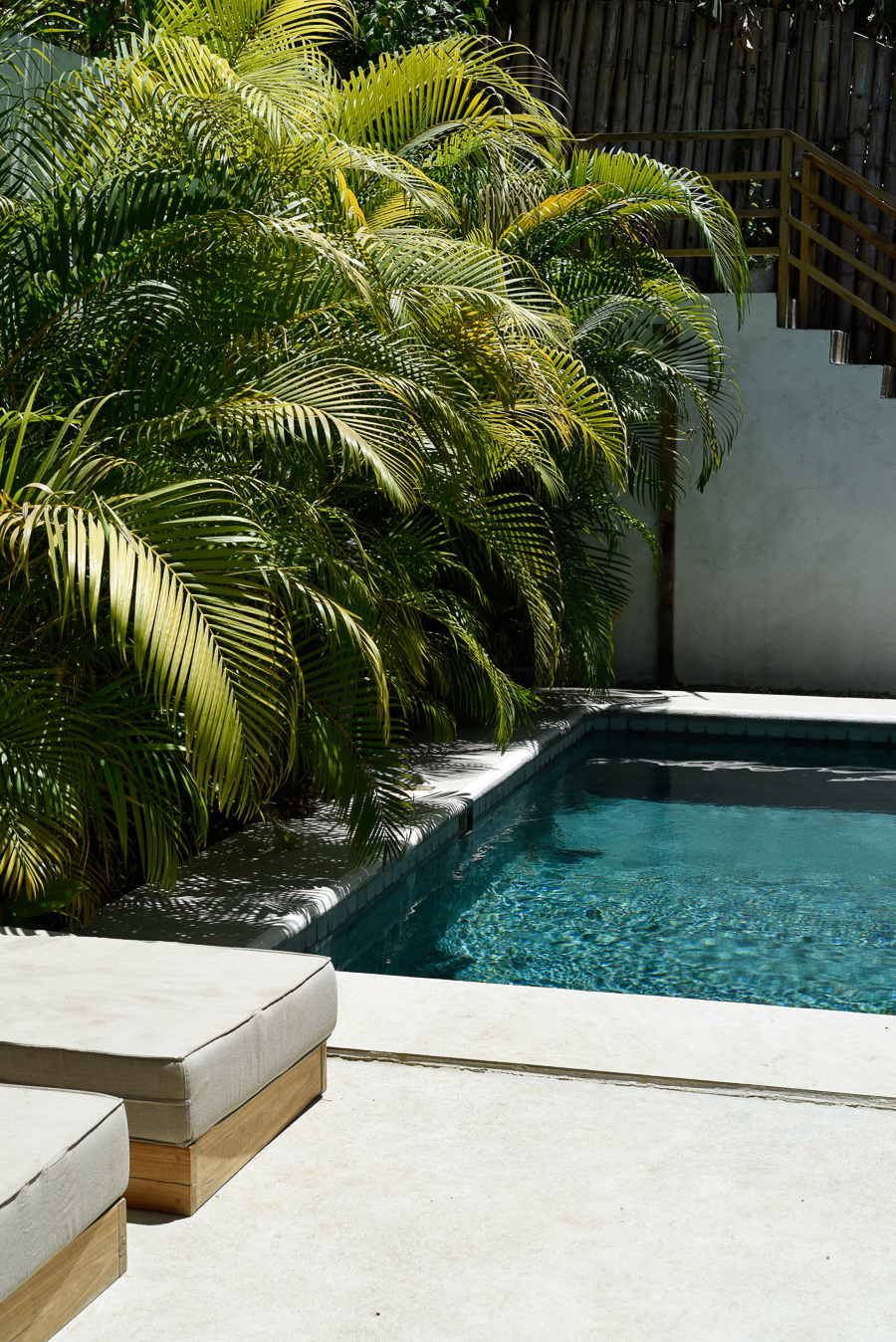 We unloaded our luggage and board bags, settled into our room at Lucero, and then went out walking to find some dinner. And by walking, I mean, we walked four minutes down the road and stopped for a bite at Eat Street, an open-air food hall set up with three restaurants, a cocktail bar, and plenty of hip-ness.
With its high open-air ceiling, chalkboard menus, hanging plants, crafty cocktails, and twinkle lights, Eat Street looks right out of a foodie-hip neighborhood in Portland or Canggu. While this type of place was rare (if non-existent) on our last trip, we found hip eateries to be the new norm in town. Foodies rejoice.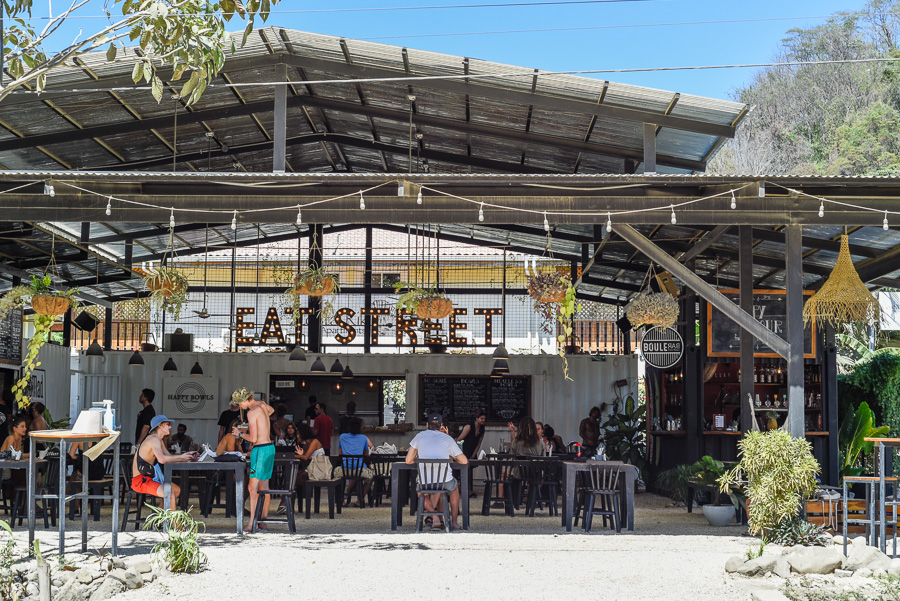 We ordered some noodle bowls and looked for a place to sit. It was a Saturday night and just about every table was taken, so we eyed a couple of bar tables when I spotted a friend from back home. I knew he had moved to Santa Teresa and we were planning to connect, so it was truly a small-town moment that we ran into him after being in town for a whole two hours. Small world, indeed.
We joined him and his girlfriend and got the lowdown on how they're enjoying life in Santa Teresa. A summary in two words: loving it. They loved the mellow pace of life, enjoyed walking everywhere, the beaches, surfing, and the mojitos at this spot, Boule Bar at Eat Street, which he raved are the best in town. Sign me up.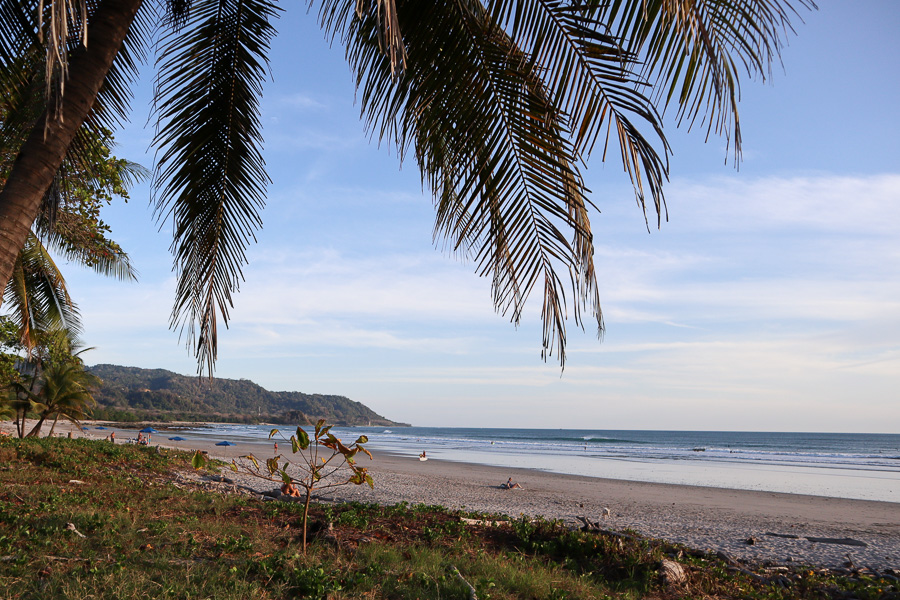 The next morning we weren't expecting much surf-wise because the report looked pretty small and meh. So we took our time to have a leisurely breakfast at Lucero and chat with some hotel guests and the owners Marieke and Jared. Jared has been living and surfing in Santa Teresa for over 15 years and kindly gave us the lowdown on some of the local breaks.
We got out late to surf, but followed Jared's recommendation and hit a beach break near Playa Carmen. We were especially stoked to find some super fun shoulder-to-head-high waves with only a handful of surfers on it. There were a couple of peaks spreading people out, and with light offshores with tapered left and rights rolling through, we stayed out for a few hours and ended up having a really fun session. Thanks, Jared!
Over the following week, we had an awesome stay at Lucero and eased into a glorious routine that was a mix of fun waves, great food, leisurely chats with travelers, and some good 'ol fashioned chillaxing. Here's a glimpse of our trip and a few cliff notes…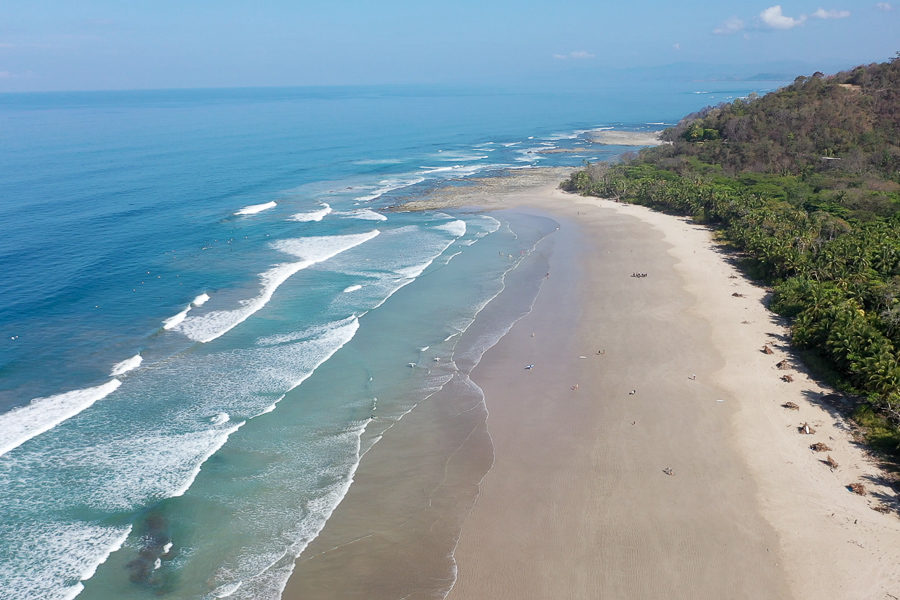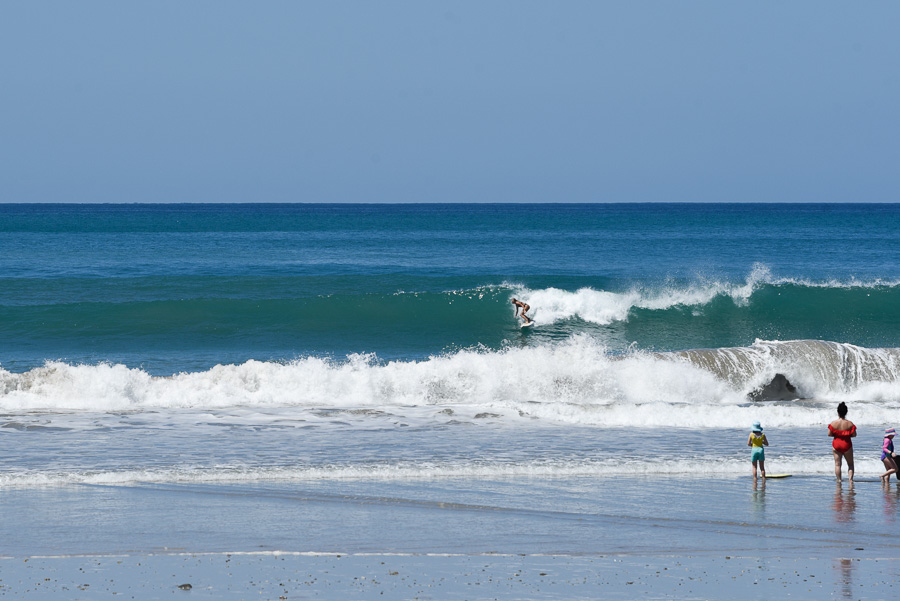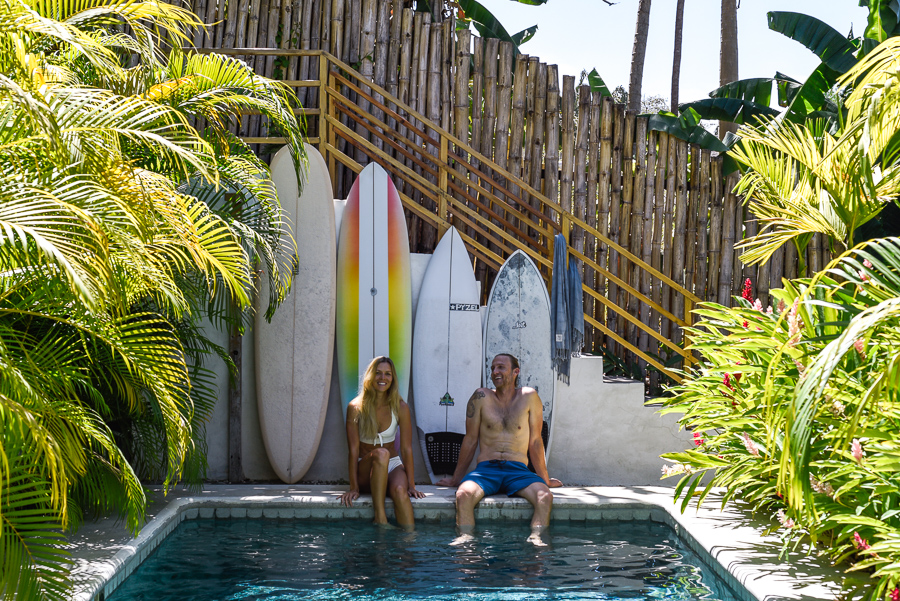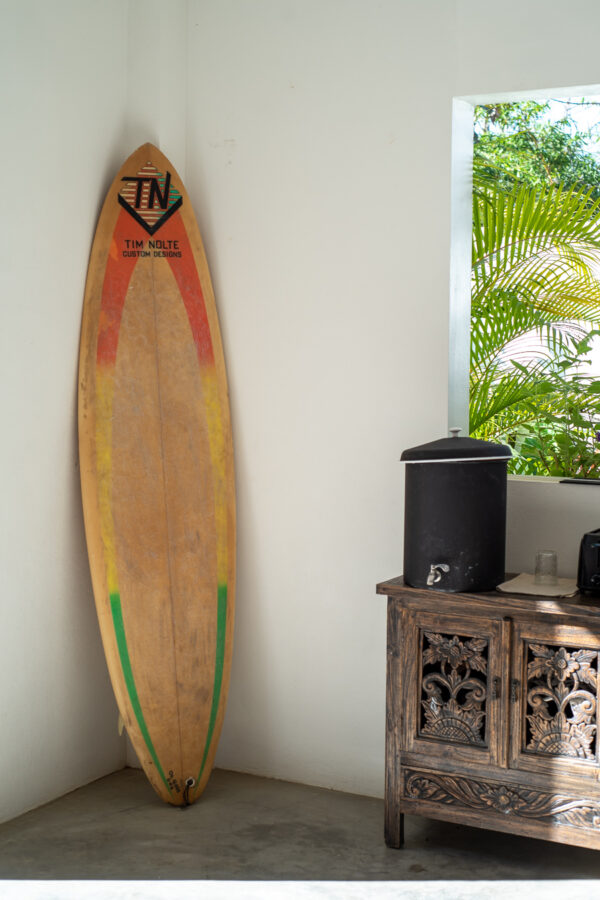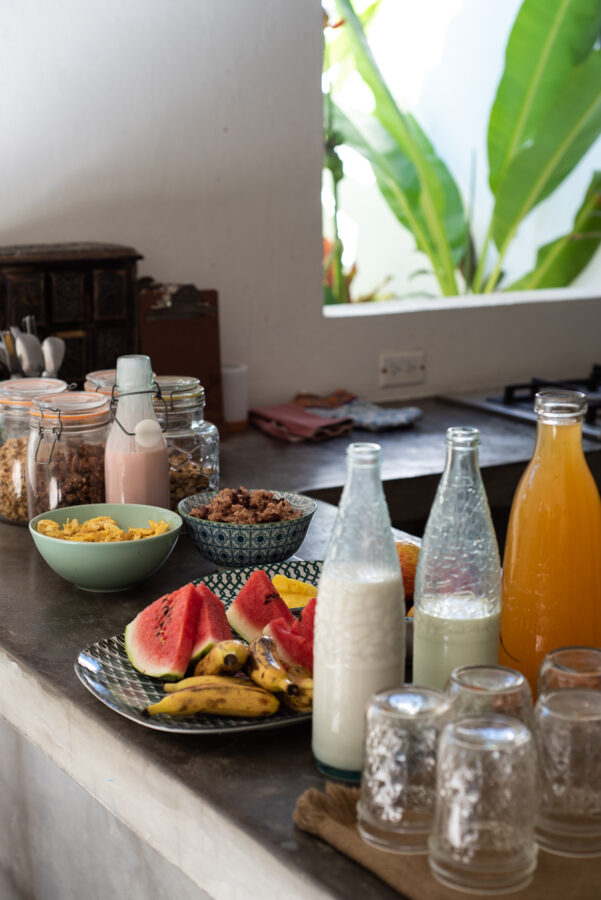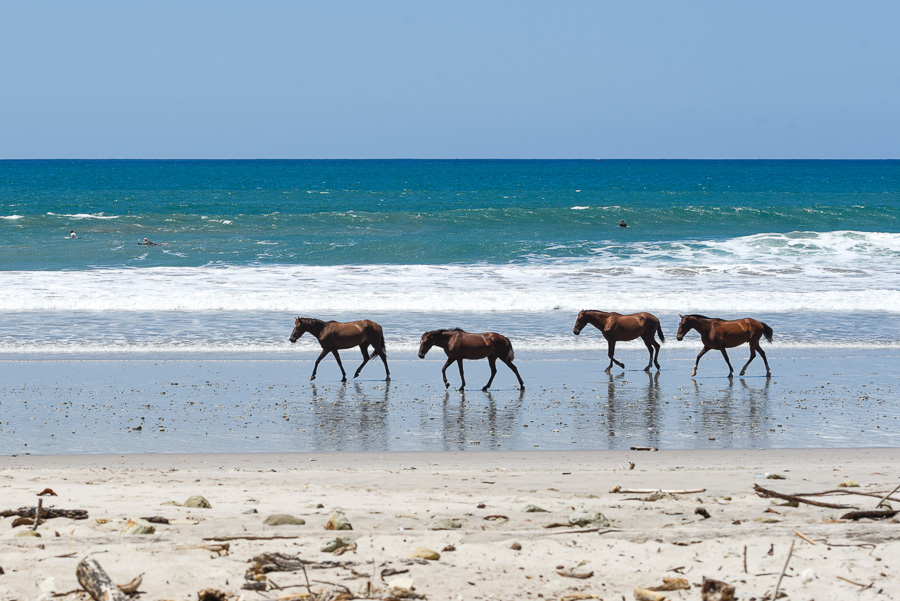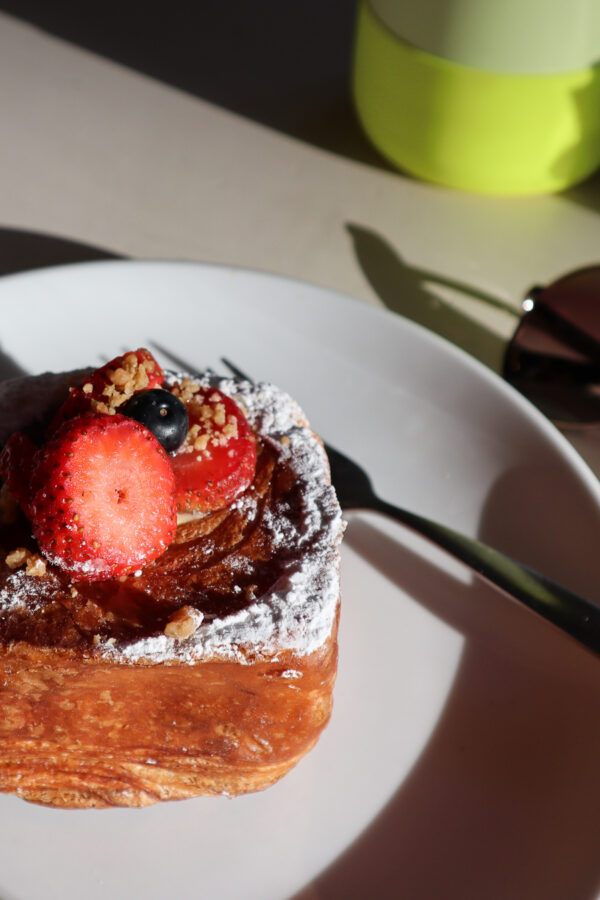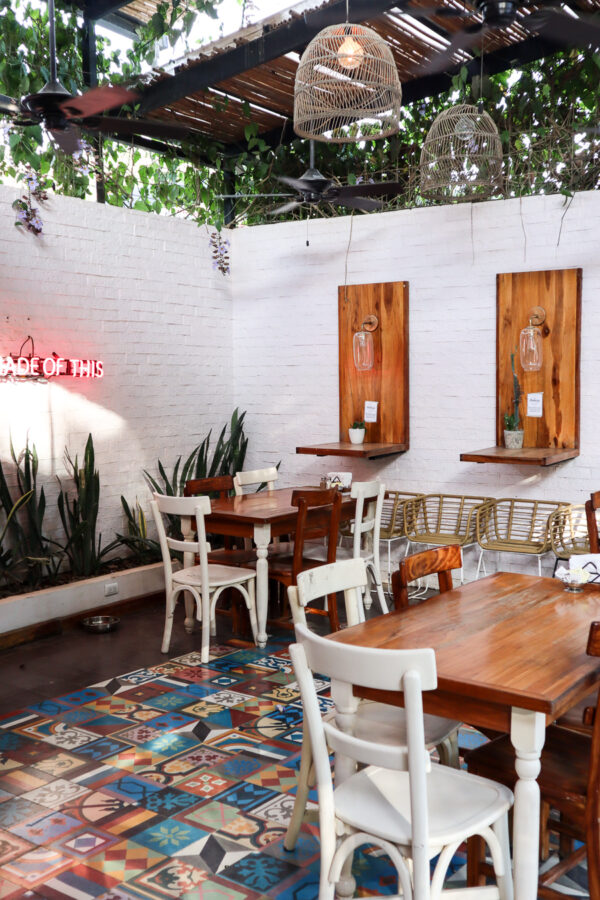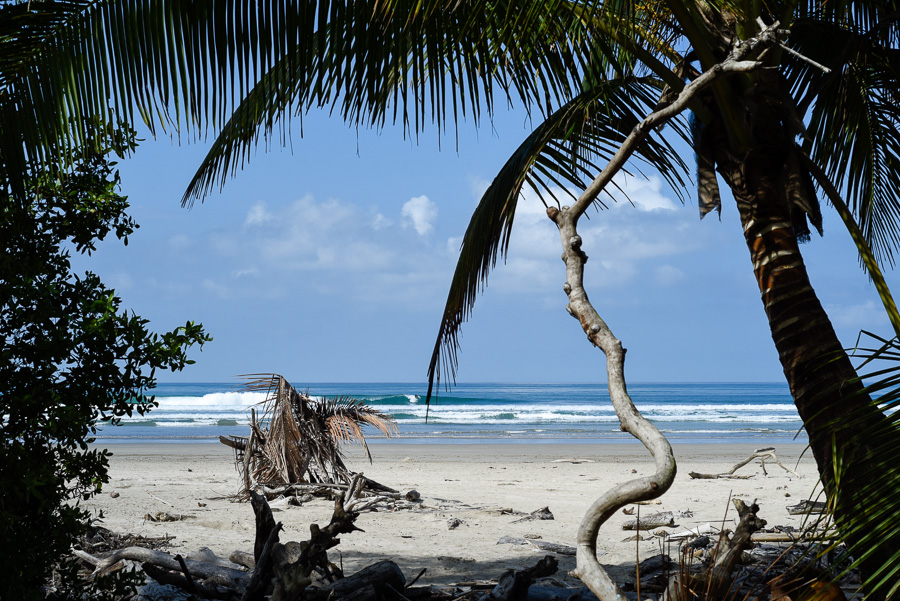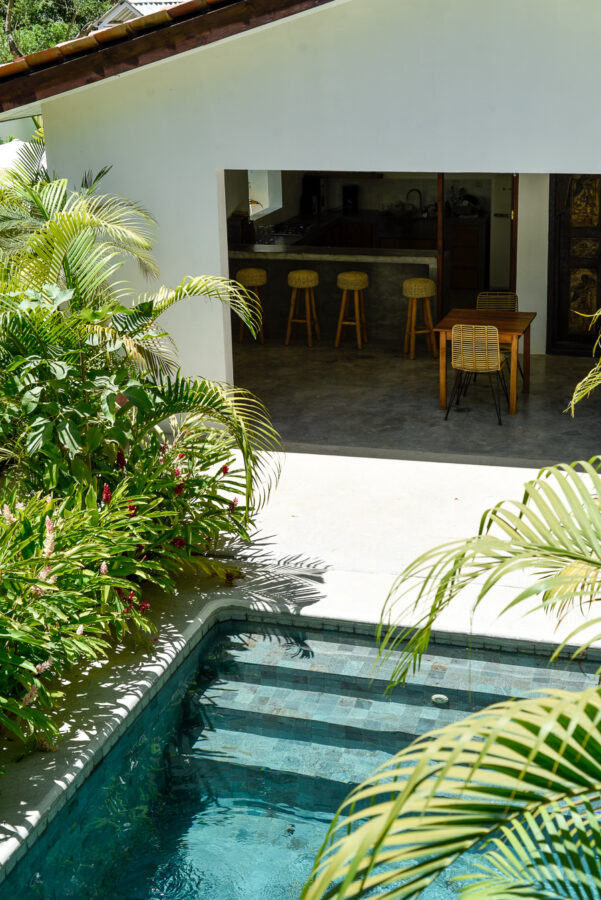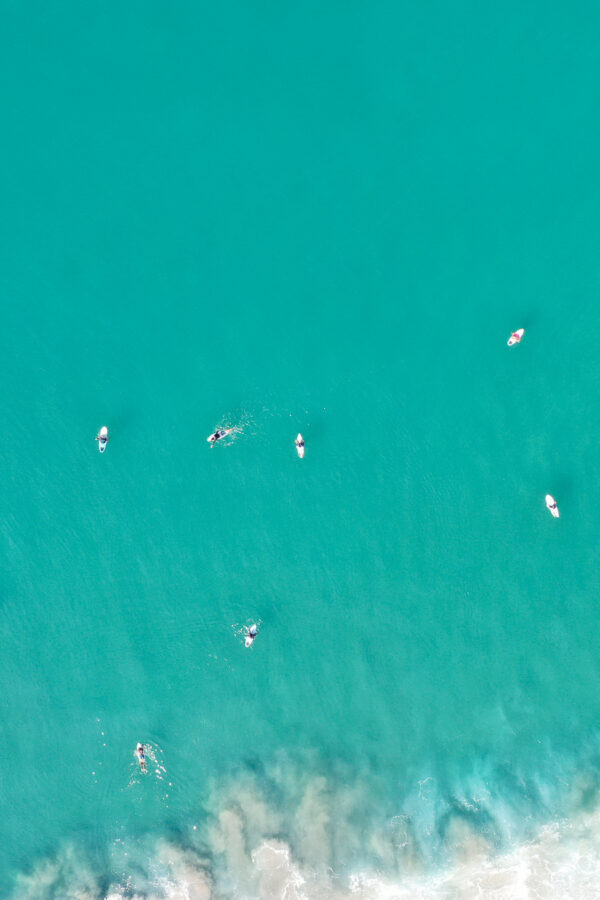 Santa Teresa Surf Notes:
Santa Teresa and neighboring Mal País (both on the Nicoya Peninsula) have become one of Costa Rica's most popular surf zones, with a wide variety of point breaks and beach breaks that are fun, consistent, and user-friendly. Suitable for surfers ranging from beginners to experts, the local waves are typically the biggest during the south swell season from April through October, while there are still plenty of fun and clean waves on offer the rest of year during the dryer summer months of November through March.
WATER TEMP: 77 – 86 °F (25 – 30 °C)
SURF SEASON: Gets waves year-round
BIGGEST SURF SEASON: Apr – Oct
SHOULDER SURF SEASON: Nov – Mar
SURF EXPERIENCE: Beginner to advanced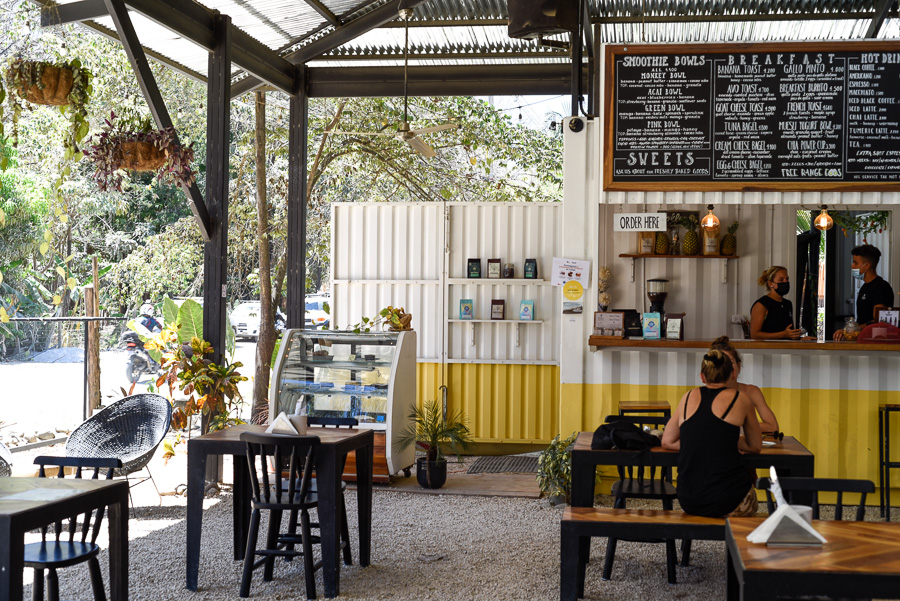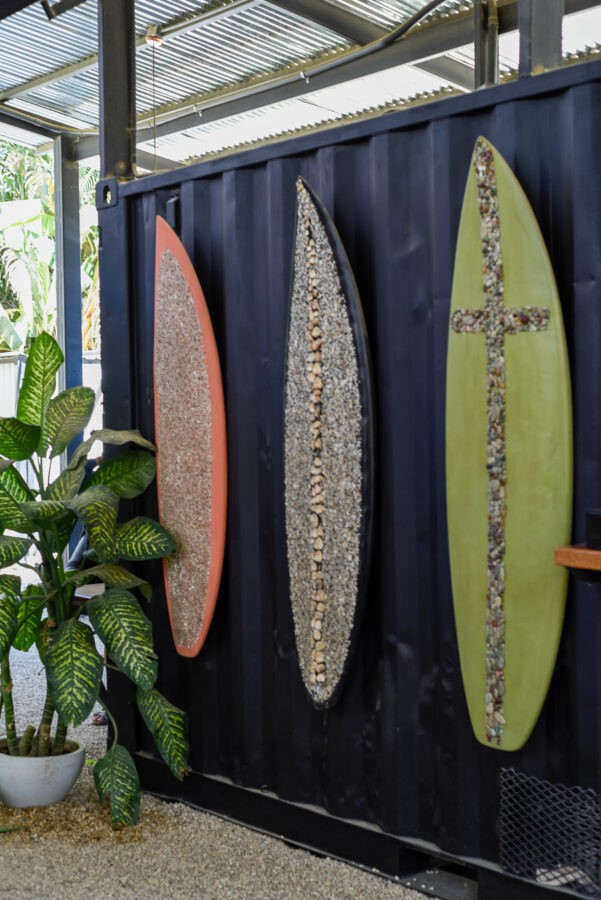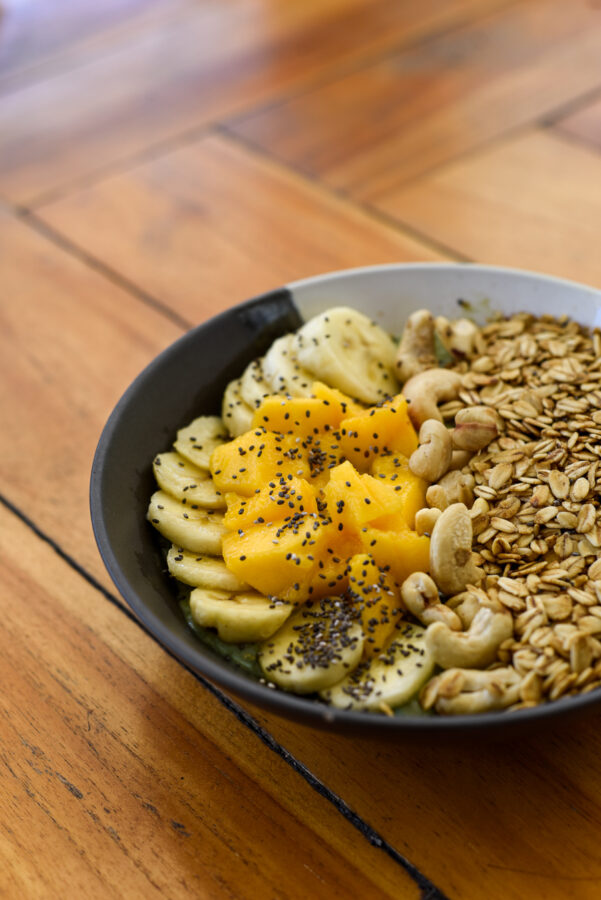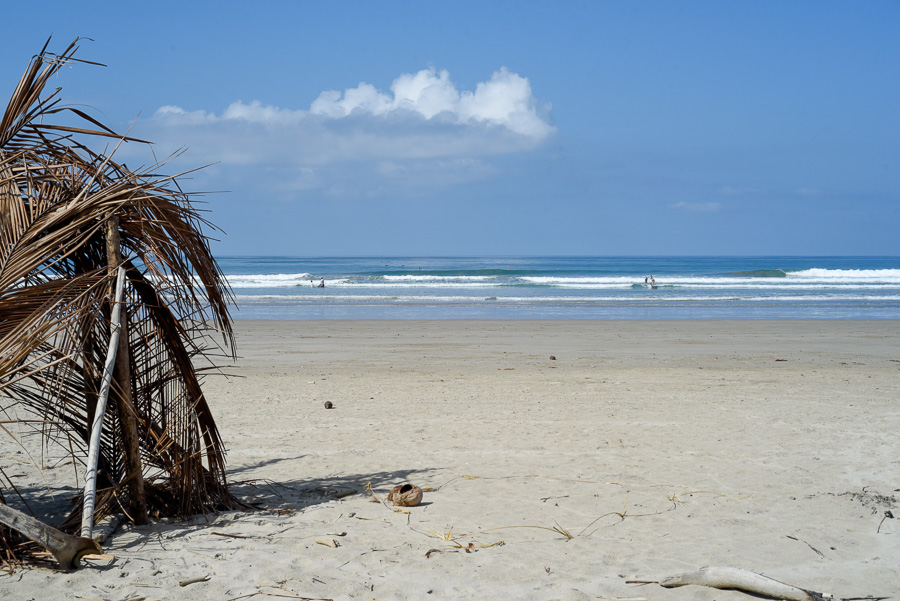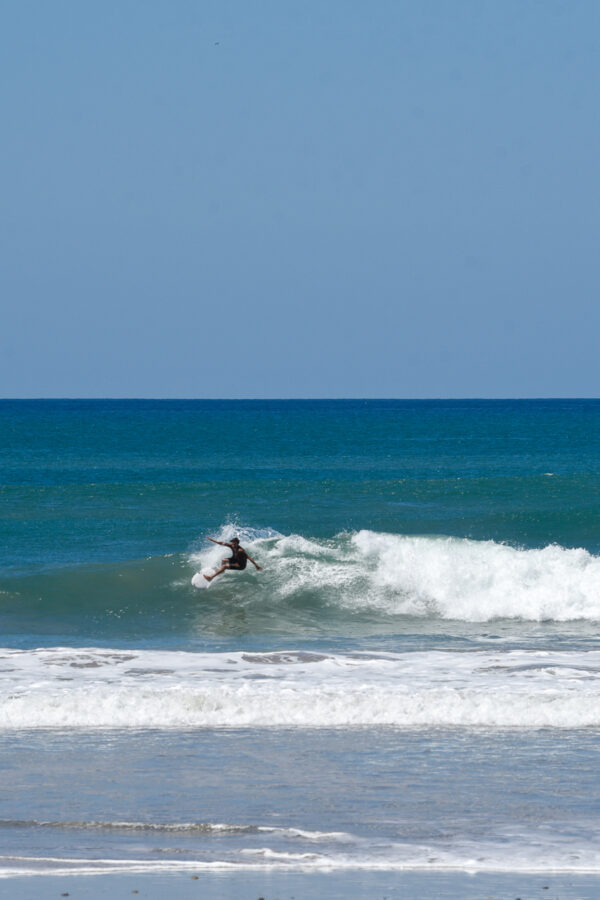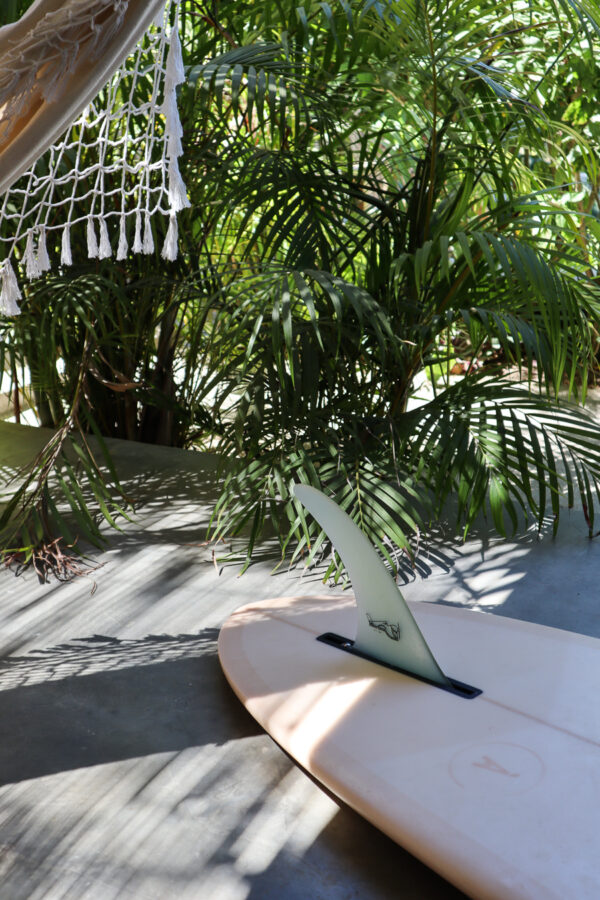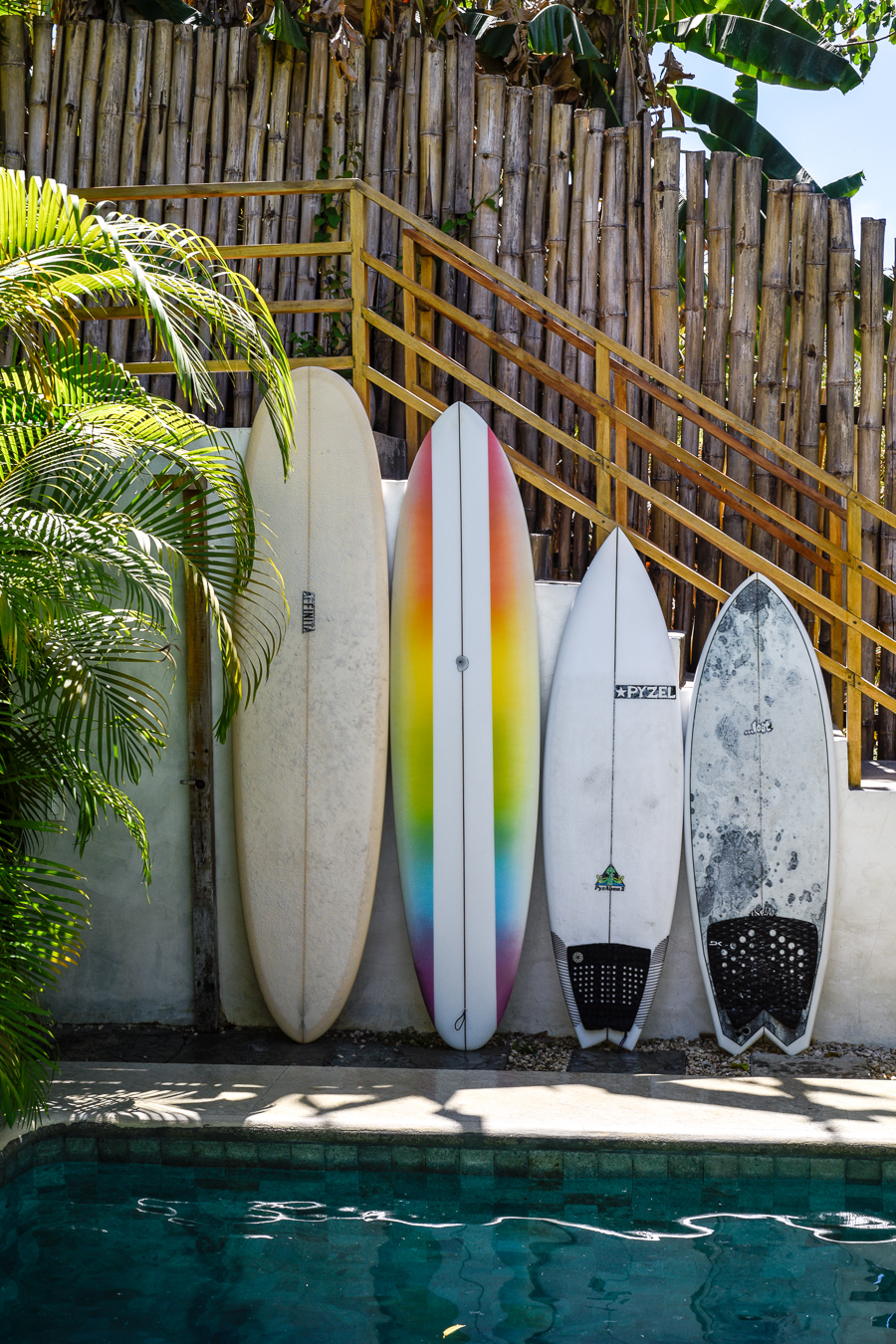 What We Love About Lucero:
The beautiful boutique property is tucked away, very private and quiet, yet within walking distance to everything you need (restaurants, small markets, etc).
It's a 6 – 8 minute walk to the beach (depending on how tranquilo your pace is).
Top-notch surf lessons and surf guiding are available for all levels (you can book a Surf & Stay Package that includes accommodation, breakfast, and lessons or guiding).
The beds and linens are super comfortable (which can be hard to find in Costa Rica).
Everyone is so welcoming and friendly it feels like staying with friends.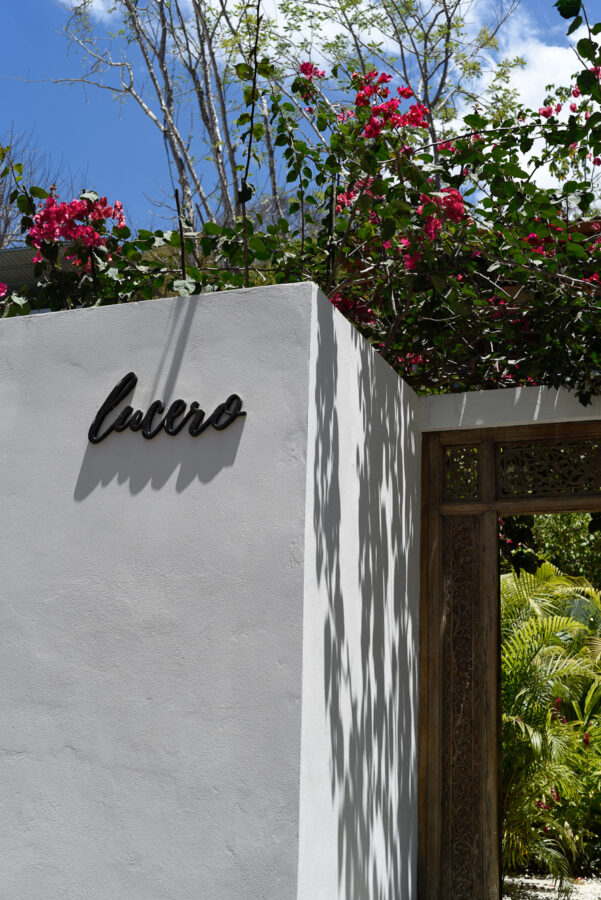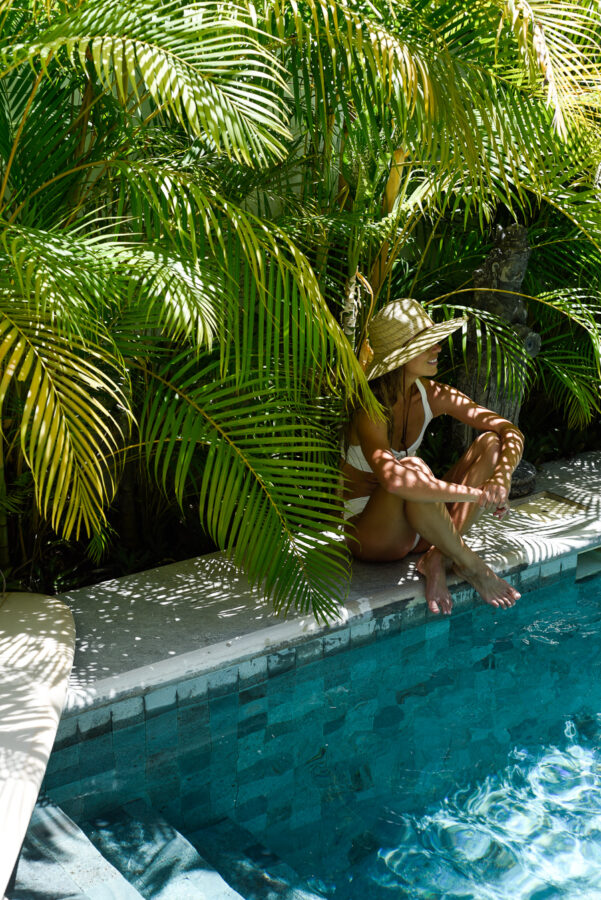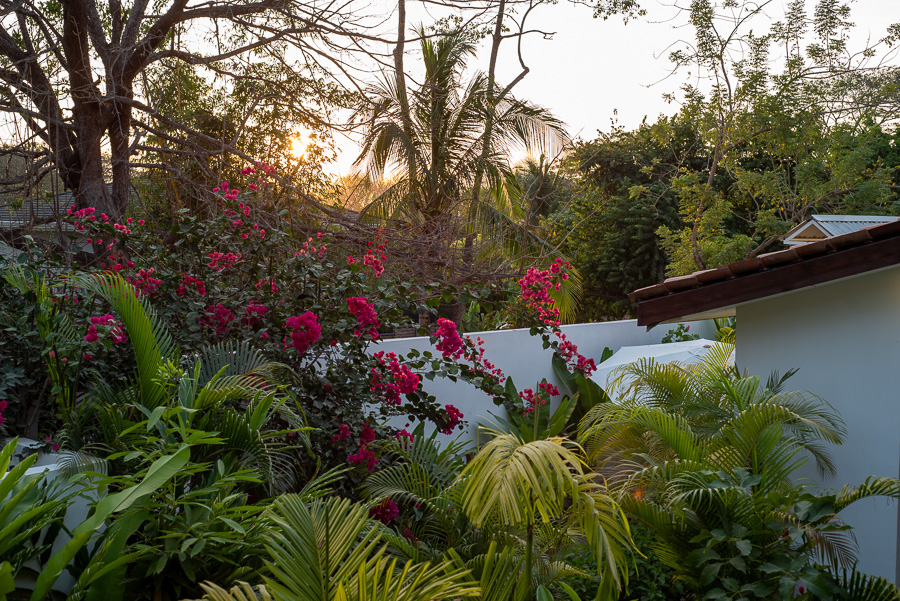 Aside from our blissful day-to-day surf, eat, sleep, regimen, I also gave Eric a terrible multi-level bowl cut (definitely a highlight), and I worked on my on-camera pool-jumping skills (Eric is a natural, while I clearly have a ways to go).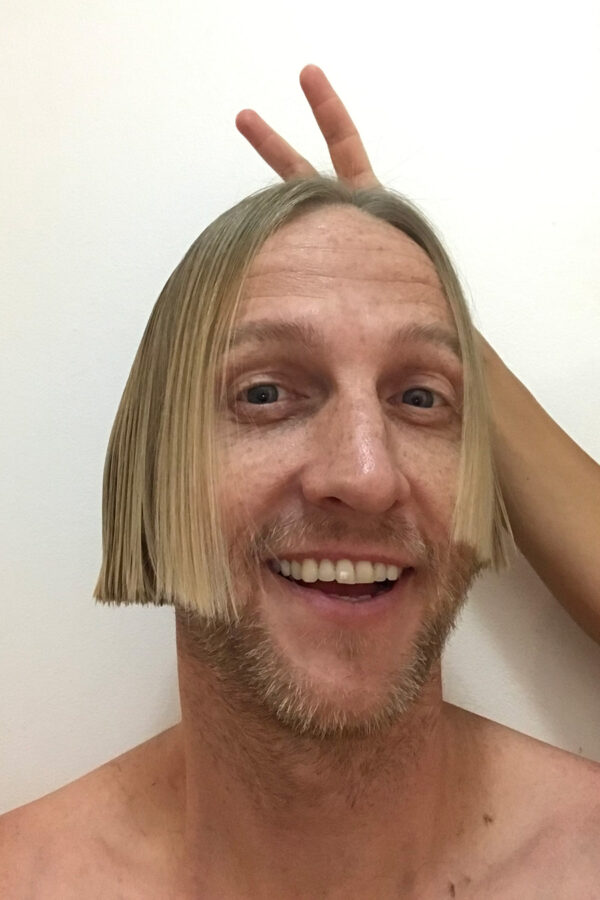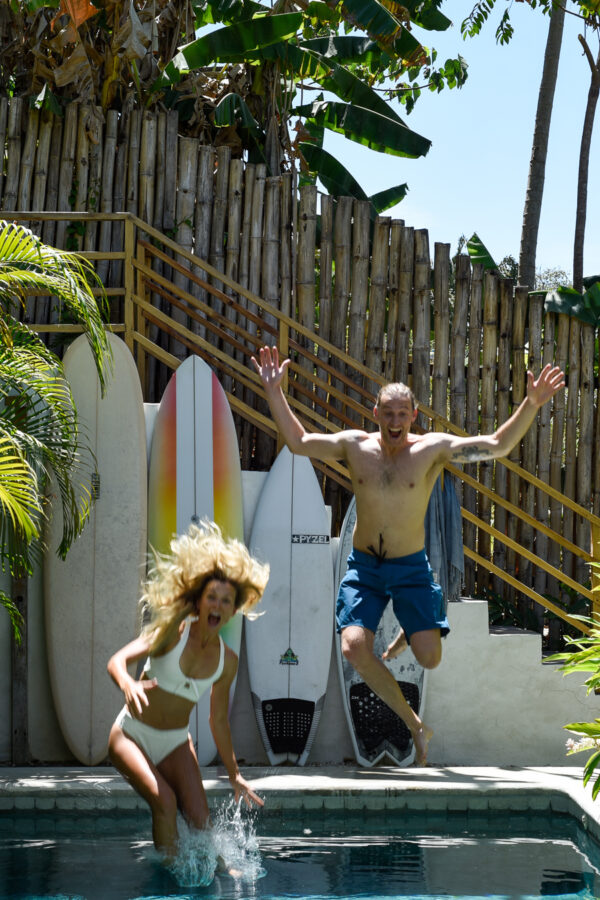 All and all, we had an awesome trip to Santa Teresa and successfully fueled up on fun waves and pura vida. And while it was hard to top the amazingness of Eric's proposal seven years prior, that multi-level bowl cut was a close follow-up :)))
– Tara
Costa Rica COVID-19 Travel Notes
If you're wondering about the COVID elephant in the room and how it was traveling to Costa Rica in these interesting times… in a nutshell: it was pretty straightforward and easy from the United States. We flew from Los Angeles to Liberia, and the Los Angeles airport was the most mellow and empty we've ever seen it. In the airports and planes, you just need to wear a mask the whole trip (unless you're eating or drinking).
For entry into Costa Rica, you need two things: 1) specific health insurance for your travel dates, and 2) fill out a 'Health Pass' online before your flight (here are all the details via the Costa Rica Tourism Board). And then when you fly back to the US, you have to get a COVID-19 test in Costa Rica ($100 – $150) within 72 hours of your flight and test negative to board your flight (OR have documentation showing that you have recovered from COVID-19 within the last three months).
Any questions, comments, or concerns? Let us know in the comments below and we'll do our best to help! Happy travels
To learn more about surfing in Costa Rica check out: