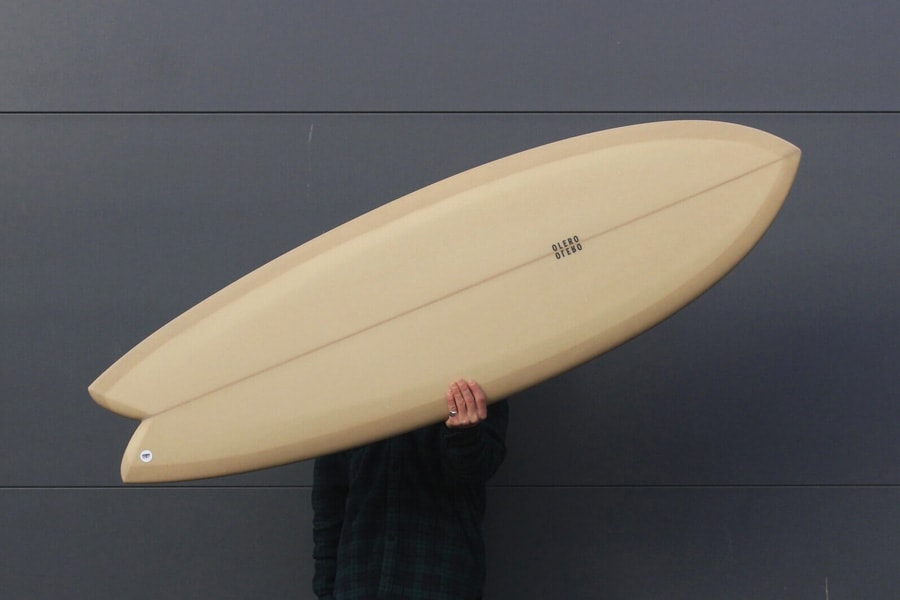 The fish surfboard is one of my go-to boards because I find that people respect me more with a fish under my arm. Just kidding. That's not the reason at all. Although, I have had my fair share of random compliments from complete strangers passing by as recent as last week. "Nice fish," he said. "Thanks." I replied. Riveting, I know.
Anyways, the real reason that my fish surfboard is one of my go-to boards is that I live in San Diego, where small and mushy surf is commonplace and I've found that my fish is a great option to surf in average conditions. And beyond that, drum roll please… fish surfboards are a helluva lot of fun to surf.
I wrote this article because I love my fish and I think every surfer should have one. If you're interested in learning more about fish surfboards, you're in the right place. I'll be covering everything from what makes a fish a fish, a little history on how the fish came to be, the variety of conditions that fish are good for, and some frequently asked questions about fish surfboards.
Let's dive in.
The Fish Surfboard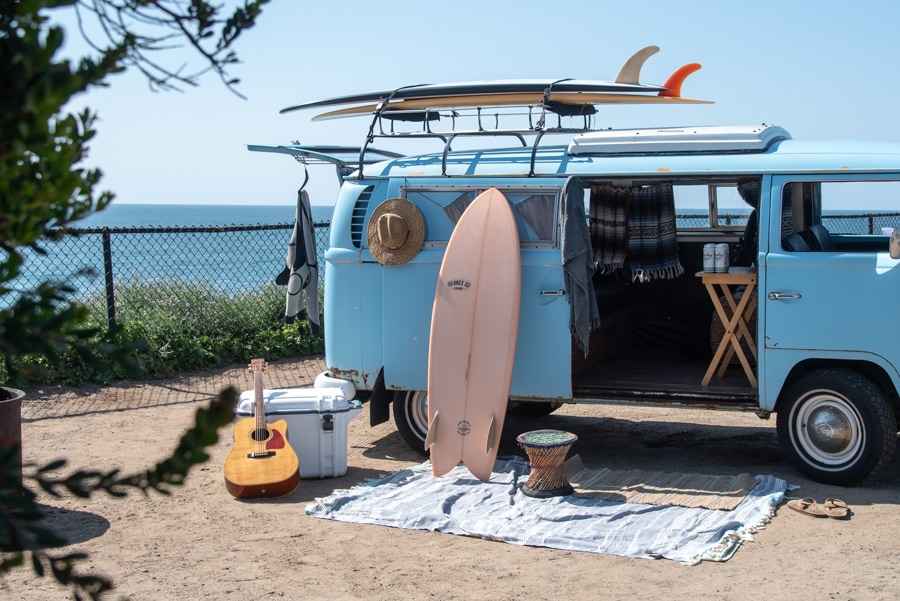 When most people think of or refer to a fish surfboard, they are likely referring to a short, wide, flat, and thicker-than-normal surfboard with a bit of volume and a fish-like swallow tail. These are some of the most common defining characteristics of a fish.
That being said, a fish surfboard can come in all sorts of shapes and sizes. From your typical 5 foot something standard fish to 7 or 8 foot plus mega fish, and everything in between. Generally speaking though, for a classic retro fish surfboard design, most surfers ride a fish that is about 2 – 6 inches shorter than they are tall depending on their weight. For example, I'm 6'1 ¾" and I surf a 5'8". Although, I'd probably go for a 5'10" these days as sometimes I wish I had a little more length.
Features of a Fish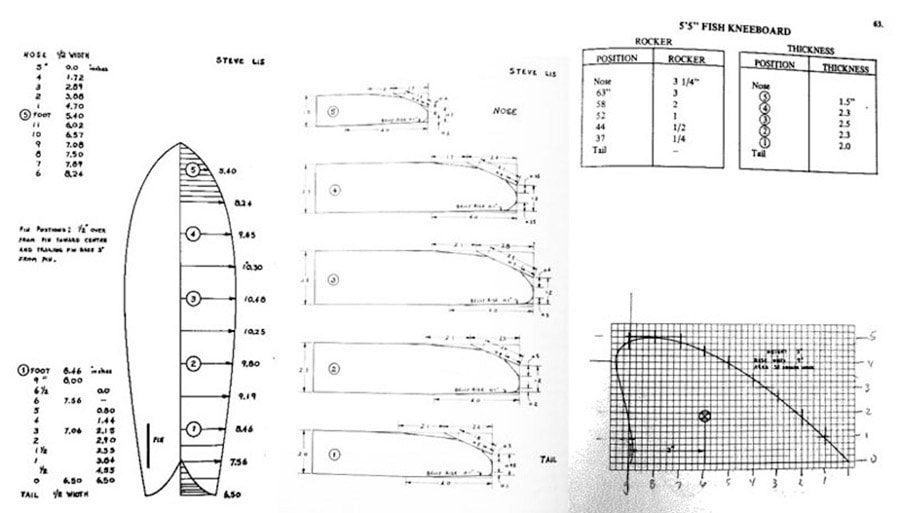 Nose: wide but still comes to a point at the tip
Rocker: not much, typically pretty flat
Rails: tend to be medium to full due to thickness
Tail: very fish-y, you known, like a fish tail
Width: an inch or three wider than a normal shortboard
Thickness: a bit thicker than a standard shortboard
Volume: usually a little more than you normally ride but not always
Fin set up: twins and quads reign but whatever floats your boat
Construction: poly, epoxy, and soft top foamie
Fish Fin Setups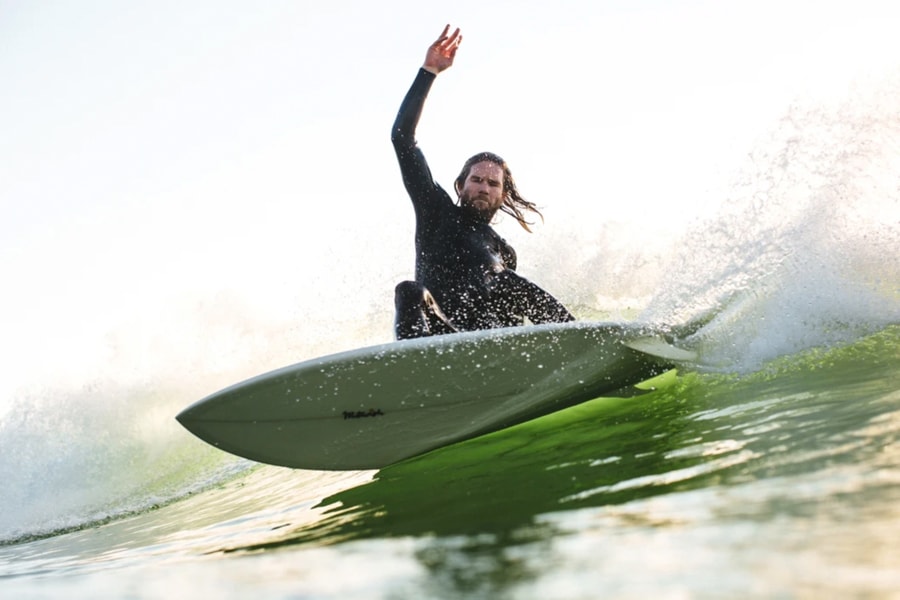 Twin fins on fish surfboards go together like peanut butter and jelly (or whatever amazing combination of food you fancy) so "twinnies" are commonplace in the world of fish jargon. But, like most things in this wild multi-dimensional world we live in, fish surfboards can be ridden (and are made) with any assortment of fin setups your heart desires depending on your wave-shredding preferences and the conditions.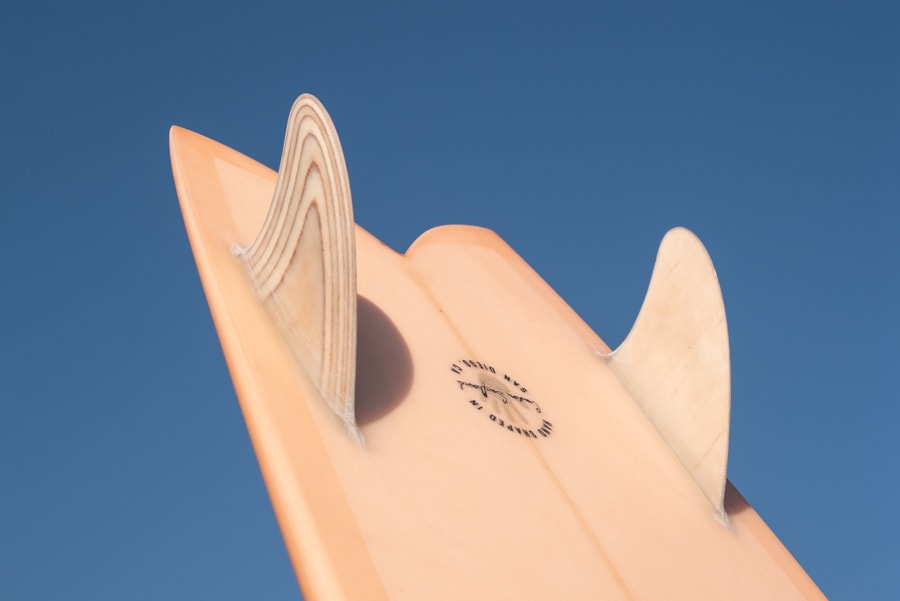 Some general fin guidelines

:
Want that classic retro fish feel all loose and flowing? Opt for two fins and go with a twinnie.
Want a little more drive, hold through turns, and performance? Opt for four fins and pick up a quad.
Not sure what you want to get? Snag a five fin set up and ride it as a thruster, quad, or twin fin. Although it likely won't be ideal placement for twin fins which are usually more or less placed between outer fins and inner fins on your typical quad.
A Brief History of the Fish Surfboard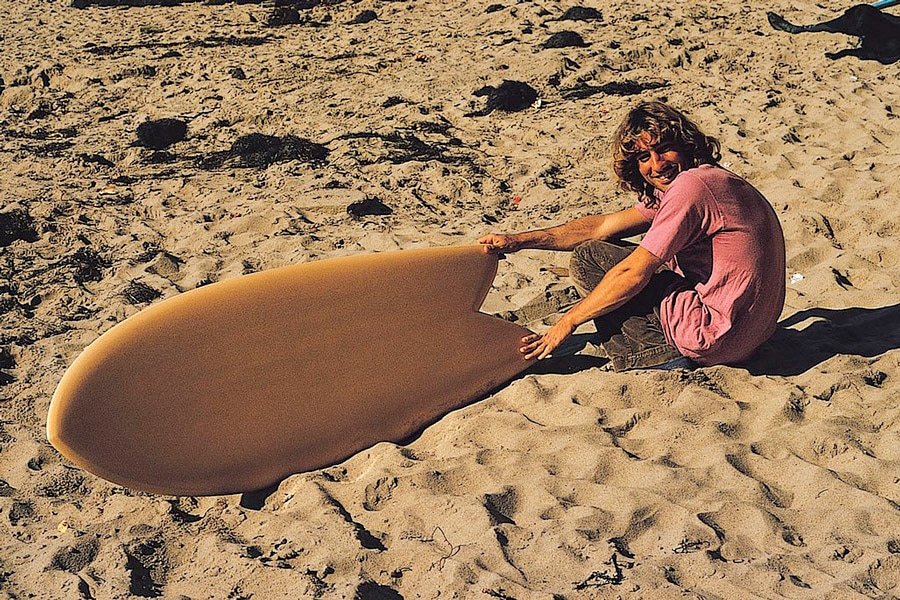 In a nutshell, in 1967 a San Diego-based kneeboarder, Steve Lis, originally designed what is now known as the fish surfboard because he wanted to push the limits of his radical kneeboarding skills at the reefs of La Jolla and shred the gnar a little bit harder.
At only 16 years old, Lis transformed a broken-in-half longboard into his first fish shape – and while no one was privy at the time, the Fish would later be credited as a huge advance in surfboard design which helped drive the shortboard revolution.
By the early 70s, Steve's design had made its way through the ranks to some notable professional surfers. In 1972, top-surfers Jim Blears and David Nuuhiwa surfed fish-inspired designs at the World Championships in San Diego in some rather crappy surf where they won first and second place. It's thought that this contributed to the fish gaining the reputation of being a good choice for mushy lack-luster surf (which fish shapes definitely are in my experience).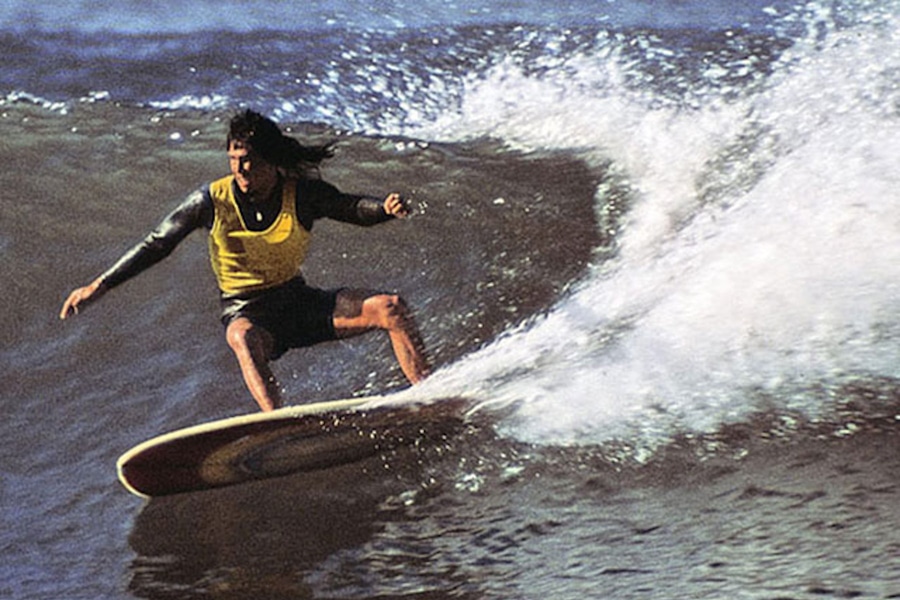 If you're not familiar with present-day World Championship surfing, riding a fish on the Championship circuit is unheard of these days so that's really cool that some guys were riding fish in professional contests back in the day.
Anyway, some years later, Australian Surfer Mark Richards further tweaked and modified the fish design taking notes from shapers' fish designs (like Reno Abellira) to be more performance-oriented and similar to shortboards of that era and MR surfed his hybrid performance twin fin to a triumphant streak of four championship titles from 1979 – 1982.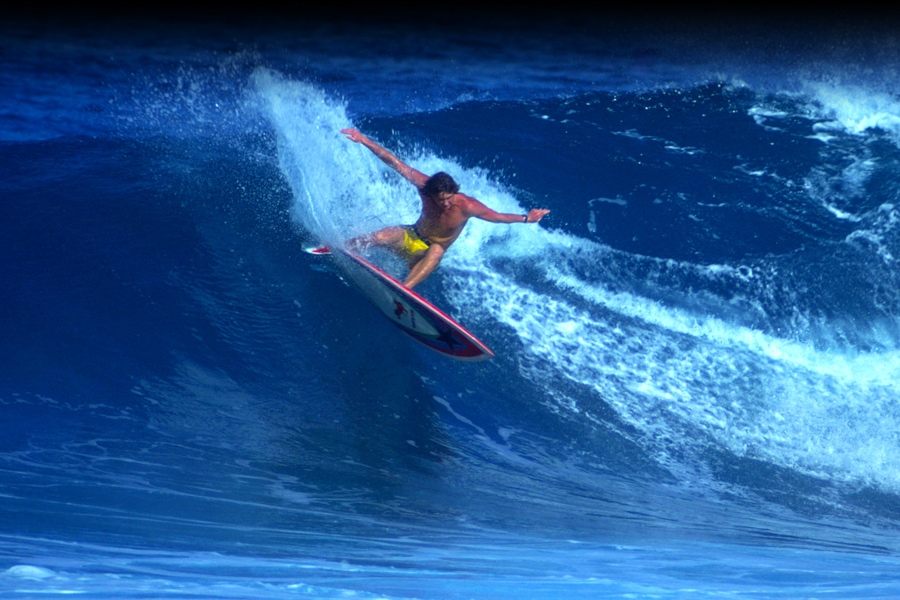 Over the next decade or so the popularity of the fish lost its steam as shortboard surfboard designs like the thruster were considered to be more progressive and took over as the go-to shape. It wasn't until the 90s when world-renowned surfboard shaper Matt Biolos (and others) shaped some fish-inspired designs breathing life and interest back into all sorts of different fish and groveler designs.
What are Fish Surfboards Good for?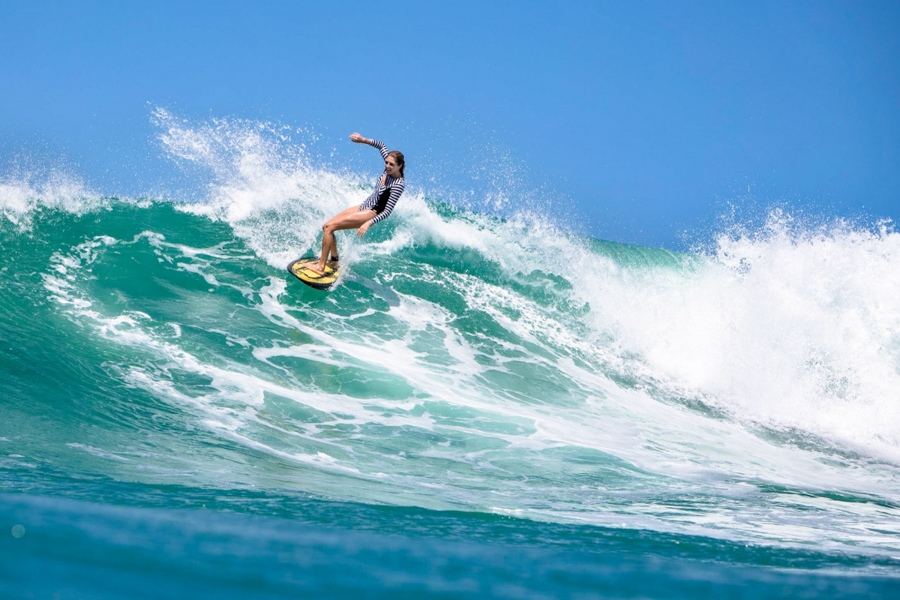 Fish surfboards are quite versatile so you're bound to see surfers riding them in a wide variety of conditions from mushy (or hollow!) beach breaks to reefs and points. When I went on a yearlong round-the-world surf trip one of the two surfboards I brought along was my trusty 5'8" retro fish with a quad fin setup. I surfed it all over the globe in knee-high slop to overhead reefs and points and it's still one of my go-to boards for 80% of the surf we get in San Diego.
I think for the average surfer, fish surfboards are especially good for cruisey and mellow reefs or beach breaks and long rippable points in the waist-high to overhead range because they're super fast and easily generate speed which always helps in slower conditions, but Lis' original design was actually intended for more powerful and hollow reef breaks which many expert surfers demonstrate in all the epic fish surf films nowadays. So if you're wondering if you can surf a fish in big waves, you absolutely can if you've got the skills for it!
Case in point – this Deus Ex Machina short film featuring one of the masters of riding tiny fish on beefy waves, Harrison Roach:
A Few Key Benefits of Fish
Speed: With a flatter rocker and wider outline, fish surfboards are super fast down the line. Generating speed is a huge benefit because it's an important factor in surfing your best, performing maneuvers, and making sections.
Paddlebility: With the extra width and thickness, fish surfboards tend to have more volume and buoyancy – pair that with the flatter rocker and they paddle pretty darn well which typically translates to catching more waves and having more fun.
Versatility: While fish were originally designed for hollow, punchy reef breaks, they have rightfully earned the reputation for being super fun in mushy lack-luster surf. These boards are very versatile and the only limits of a fish are the limits of your own imagination (and surf ability).
Just for fun, here's a rad clip of Dave Rastovich talking about and surfing his quiver of Gary McNeill surfboards. The first two are twin-fin fish.
Are Fish Surfboards Good for Beginners?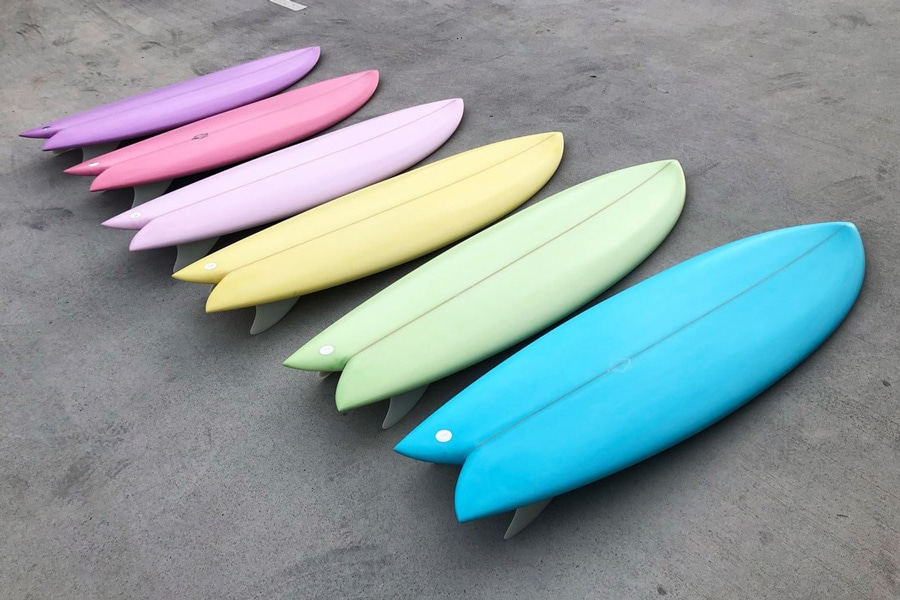 It really depends on your skill level and where you're at in your beginner journey. I think the term beginner can mean a lot of different things to different people, so let me break it down for you a bit from my perspective. For the average person, learning to surf is a slow and challenging progression, and most people are stuck in the beginner realm for quite some time (maybe even indefinitely).
So there are absolute beginners who are brand new to surfing, there are beginners who have been at it for some time but are still working on the fundamentals, and then there are advanced beginners who have nailed the fundamentals and are getting a hang of surfing but ultimately still fall into the beginner category.
If you're just starting out on your surfing journey, then no, a fish surfboard isn't the ideal board for you. You're best to start off on a good size mid-length or longboard depending on your height, weight, skill, fitness, and overall determination. If that's you, check out our article about Best Beginner Surfboards or Soft Top Surfboards for some boards that are a great starting point. And for a comprehensive overview of the different types of surfboard shapes, check out this Surfboard Guide.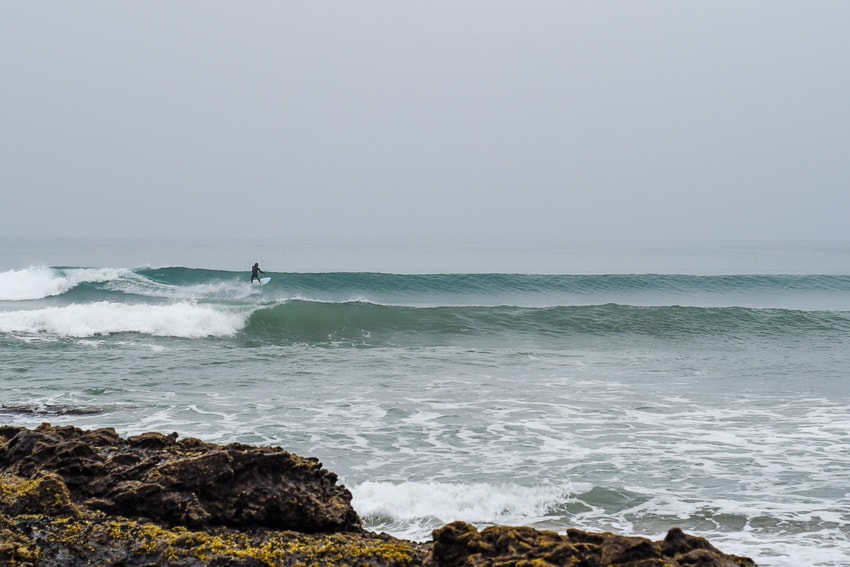 Now, once you've been at it for some time and have nailed the fundamentals, then a fish surfboard could be a good choice. But again, it's not black and white. For instance, it probably wouldn't be ideal to go from a 9-foot beginner-friendly longboard down to a traditional little retro fish shape.
A small fish surfboard can be fast, loose, and squirrely so that likely wouldn't be a fun transition and learning curve. That said, if you are keen on picking up a fish for whatever reason and you've nailed the fundamentals but are still in the beginner realm, I'd suggest getting either a foamie fish or something with a fishy outline but with a bit more size, or a combination of the two.
What Size Fish Surfboard Should I Get?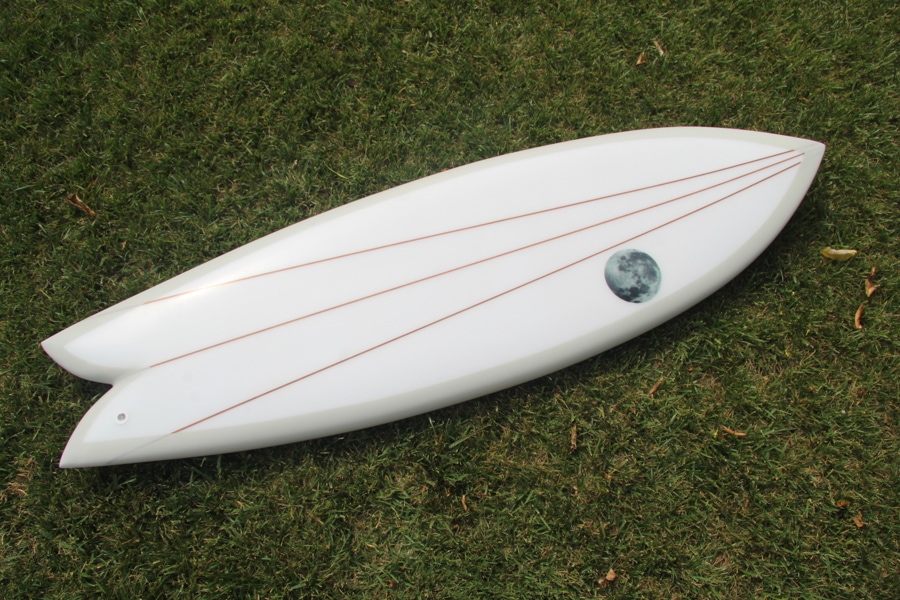 That's a loaded question without a one-size-fits-all answer. As I mentioned above, generally speaking, if you're looking to get a pretty standard old school retro fish surfboard shape and you're an average surfer and average weight for your height, you'll likely want to be looking for something about 2 – 6 inches shorter than your height. If in doubt, start with a fish around your height, see if you like it, and adjust accordingly.
With so many takes on retro fish designs out there these days along with other variables like the type of waves you plan to surf and your own shred-ability, there can be more to consider.
If you like a lot of extra float or you're carrying around some extra weight from all those delicious IPAs you've consumed the last few months, then maybe consider erroring on the side some extra length and volume. Or, if it's a more slender narrow fish design, then you'll probably want to get something closer to your actual height or just an inch or two shorter than you are tall.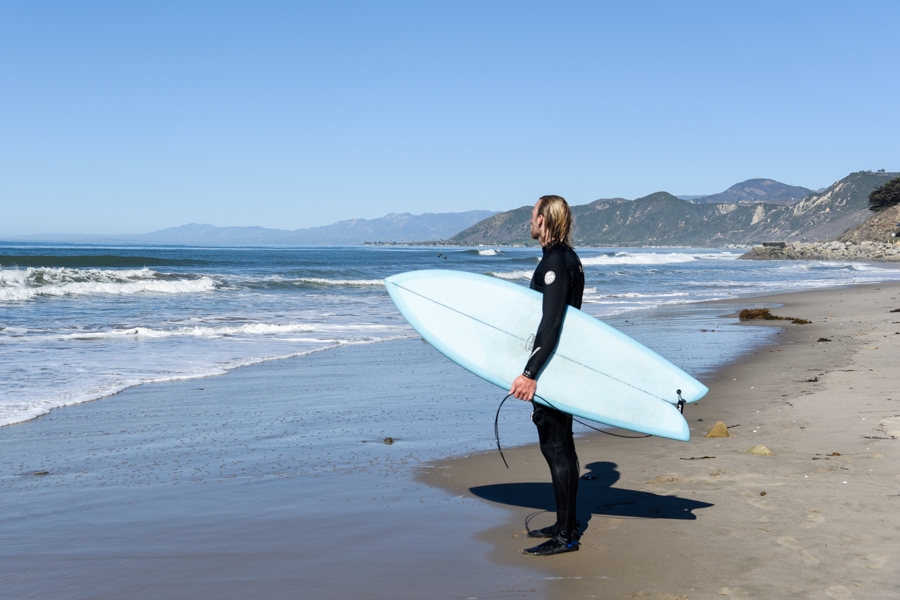 Where to Buy a Fish Surfboard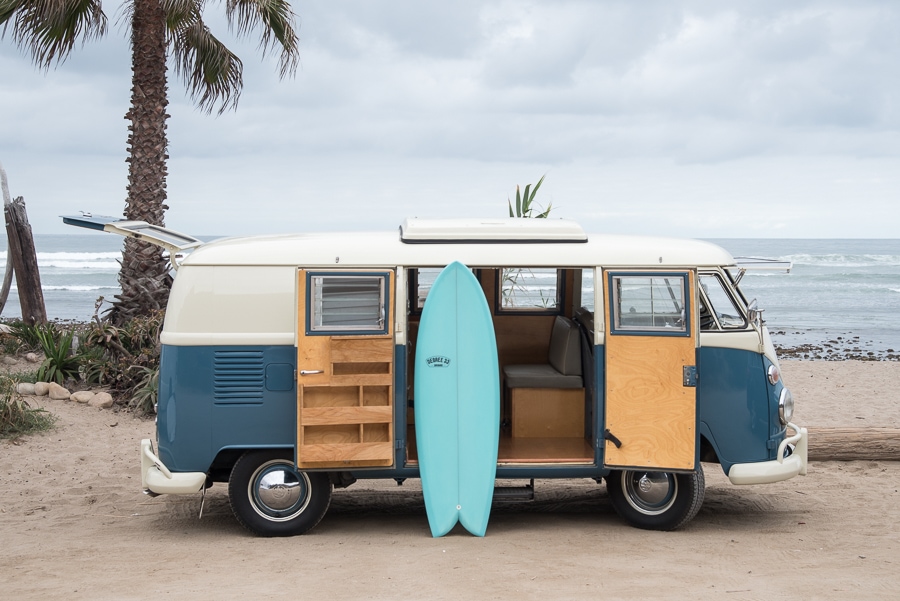 If you live near some good surf shops that stock a variety of boards then of course that's always an option, or you can work with a shaper to custom shape a board.
One of the best places to buy a fish surfboard online is Degree 33 Surfboards. Degree 33 is an authentic San Diego-based surf company with a great assortment of fish surfboards (and lots of other shapes) in stock, and they offer free shipping to the contiguous US. You can check out their modern retro fish here (and below), and they also make a soft top fish as well.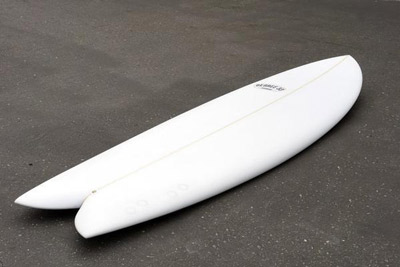 Available 5' 6″ to 6' 4″ in various colors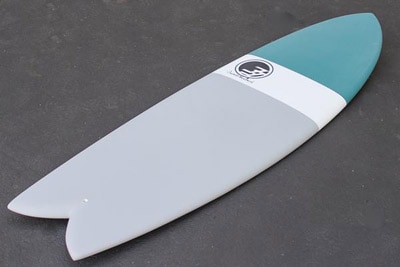 Available 5' 8″ to 6' in two colors
If you would like to continue your fish enlightenment, firstly, I highly recommend starting to surf one, and second, check out FISH, a fantastic documentary about the history of the fish surfboard design and its influence on surf culture. Below is the trailer and you can rent the film via Vimeo.
Questions, comments, or want to share your love of fish with the world?
Leave a comment below. Cheers!