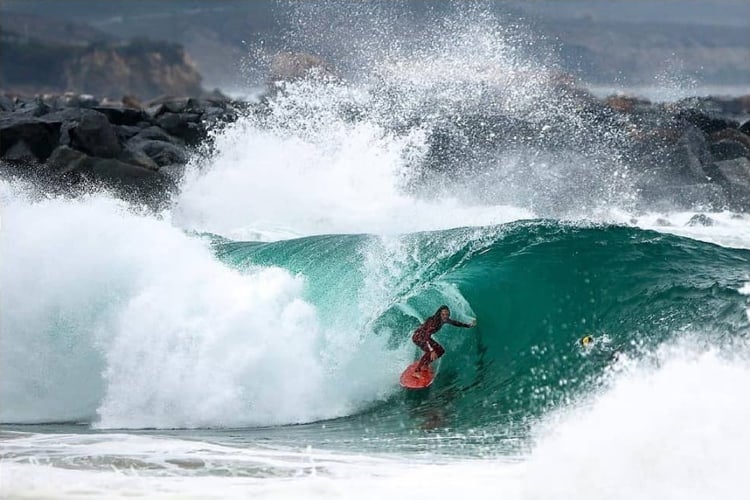 Once upon a time, there was a soft top surfboard and it was very uncool. But then one day, that incredibly uncool surfboard got in with the right crowd… and everything changed.
Oh, the story of the soft top surfboard. I remember a time when soft top surfboards were considered to be lame and kooky. They were the sure sign of a newbie and your average too-cool-for-school-surfer wouldn't be caught dead walking around with one of those dorky boards under their arm.
Good lord, how times have changed… for the better. Nowadays, soft top surfboards or foam top surfboards, have become a staple in your average surfer's quiver. They've basically become synonymous with good vibes, having fun, and are now some of the coolest surfboards in town.
Not that long ago, it seemed that foam surfboards were mostly 7, 8, or 9-feet long and particularly ugly. Now they come in all shapes and sizes and some foamies even have pretty sleek designs and style for days.
Soft top surfboards are a great option for surfers of all abilities for different reasons.
For beginner surfers, an 8- to 9-foot foam longboard surfboard is a really good option as a beginner surfboard for a variety of reasons. A big ol' foam longboard is easy to paddle, user-friendly, super forgiving, and very stable which makes catching waves and standing up a lot easier.
Spoiler alert— when you're learning how to surf, you'll inevitably fall and you just might get hit by your board. But not to worry, because your soft surfboard will be a helluva lot more forgiving than your typical hard fiberglass surfboard.
Another nice thing about foam surfboards is that you don't really have to worry about dings. You can just chuck it in the back of a truck, casually throw it up on the roof of your car, or even drop it right on its rail and WHAM!, it greets your careless handling with a smile and miraculously remains ding-free.
For intermediate to advanced surfers, foam surfboards are all about having fun. And since they come in all shapes and sizes these days you can find a foam top surfboard for just about anything.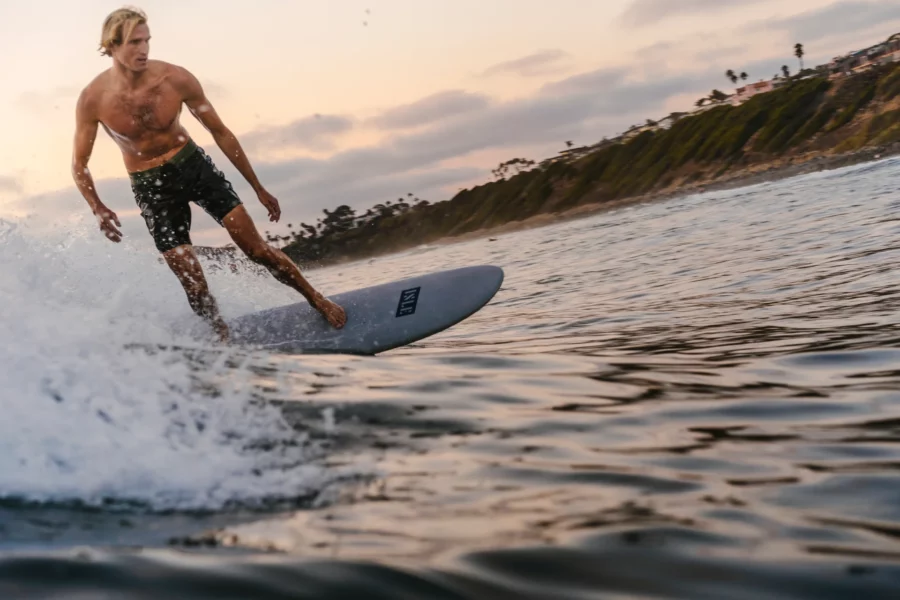 Grab a foam longboard for cruising on small crummy summer days, or a soft top fish surfboard for those dumpy shallow beach break barrels that you love to thrash around in so much. You won't have to be so concerned about getting gouged by your board when you get swallowed up by froth pits and drop into closeouts.
Soft top surfboards have seriously come a long way in design and shred-ability. You can find just about any size, shape, and fin set that you would ever want. From quad fins to single fins, shortboards to longboards, and everything in-between, the age of the foam surfboard is upon us, so do yourself a favor and don't miss out on the fun.
For your foam surfboard scouting pleasure, here's a collection of the best soft top surfboard brands around.


Soft Top Surfboard Guide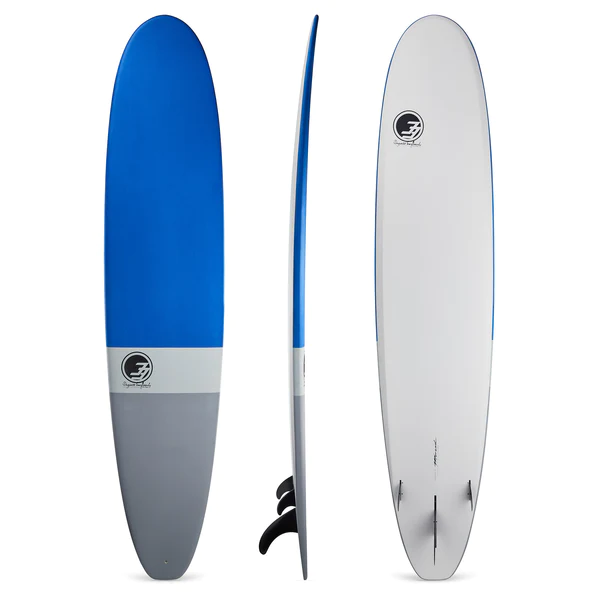 This 9-foot longboard by Degree 33 is perfect for beginner surfers or more advanced surfers wanting to up your wave count. The board is a Hybrid Epoxy Softtop which has a soft EVA foam deck on top and a durable epoxy build on the bottom – a combo that gives you the perks of a soft top with the performance of an epoxy board. 2 + 1 FCS fin boxes and center fins included.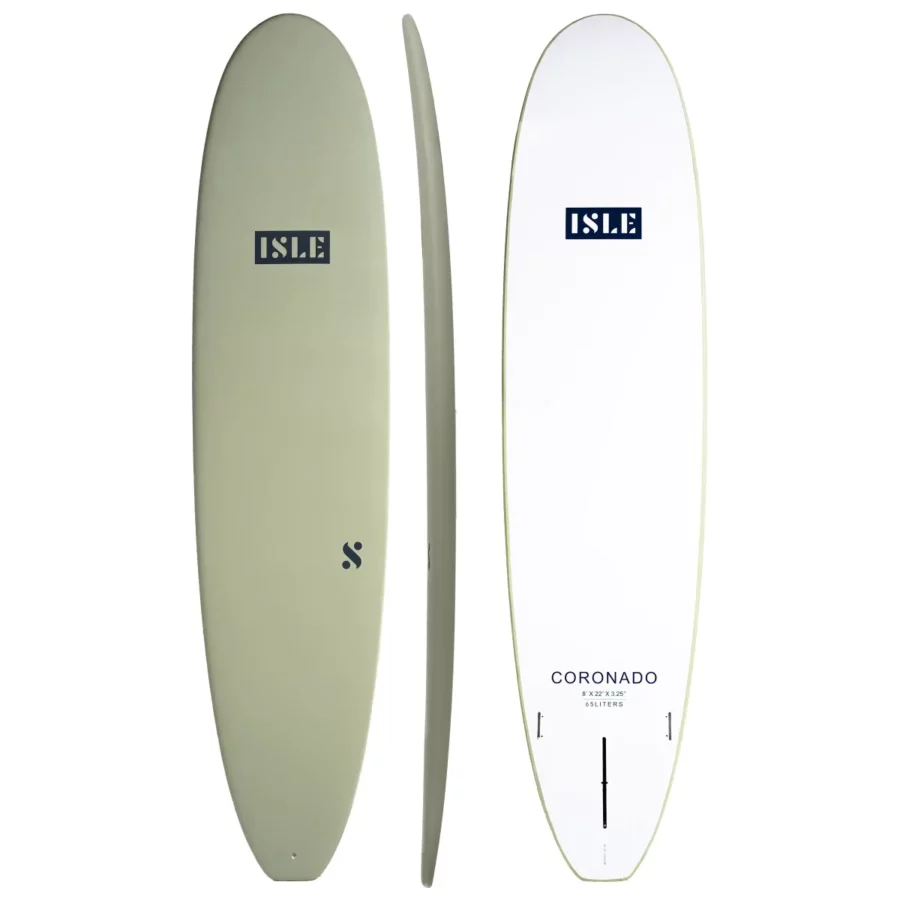 The 8′ Coronado soft top surfboard offers a great mix of performance and durability crafted with ISLE's revolutionary PowerFuse™ hybrid soft top construction. You'll be amazed by its lightweight design featuring a soft top and hard bottom. Available for shipping in two sizes (7'6 and 8′) the Coronado is designed to cater to surfers of all levels. With a 2+1 fin set up, the 8′ is equipped with an 8″ nylon center fin for enhanced control and maneuverability. For the 7'6 size, you'll find a sleek 7″ fin.
Want the performance of a regular surfboard with the perks of a soft top? Get the best of both worlds with Degree 33's 8-foot Ultimate Longboard Surfboard. Made with a Hybrid Epoxy Softtop, the board has soft EVA foam on top and a durable epoxy build on the bottom. Ideal for all skill levels who want a board that's easy to catch waves on yet has more maneuverability than a 9-foot longboard. Available in four different color options.
The 9-foot Fun Guy Soft Surfboard by Critical Slide Society is a dapper foam board available in four sizes including 7′, 7'6, 8′ and 9'1. These funboard lengths are great for novice surfers. This stylish foam board features Epoxy Soft construction with generous width for extra stability at the nose and tail, slightly tapered rails for better flow and maneuverability, and a low entry rocker for effortless wave catching.
With eight feet of foamy goodness, this is Catch Surf's mid-length log, complete with a classic longboard shape and wave-catching delightfulness. Take your pick from four styling colors: Electric Lemon (above), Vanilla, Hot Pink, and Cool Blue.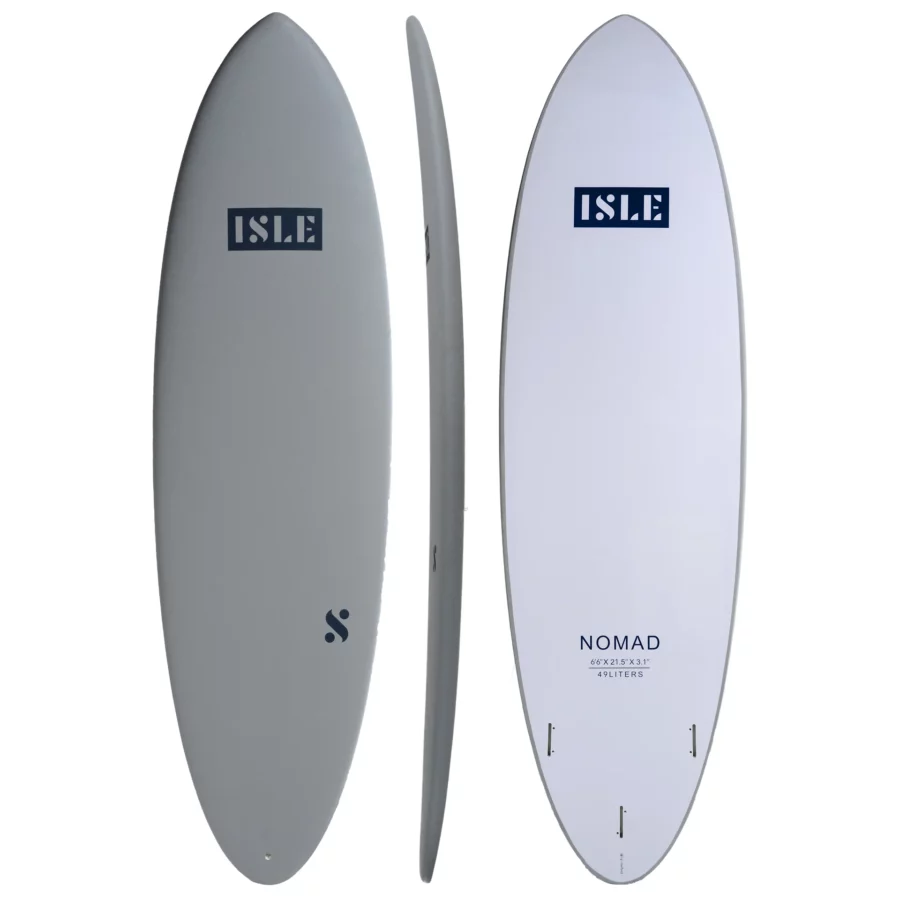 Next up, the 6'6 Nomad Soft Top Surfboard, your ultimate companion for everyday surfing and travel adventures. Designed with maximum versatility in mind, its pulled-in thumb tail and full rails ensure easy paddling and a high wave count, while maintaining smooth control in a variety of conditions. With its large surface volume, stable thruster fin set, and soft-top construction, the Nomad offers ultimate comfort, grip, and is a nice option for surfing more critical waves on a soft top.
The Codfather Hybrid Softtop by Degree 33 is a 6-foot fish surfboard that's a unique blend of soft top and epoxy board. The fish has a soft deck with grippy foam, and a durable epoxy bottom that gives way more performance than a typical foam board. Beach break fun time here you come!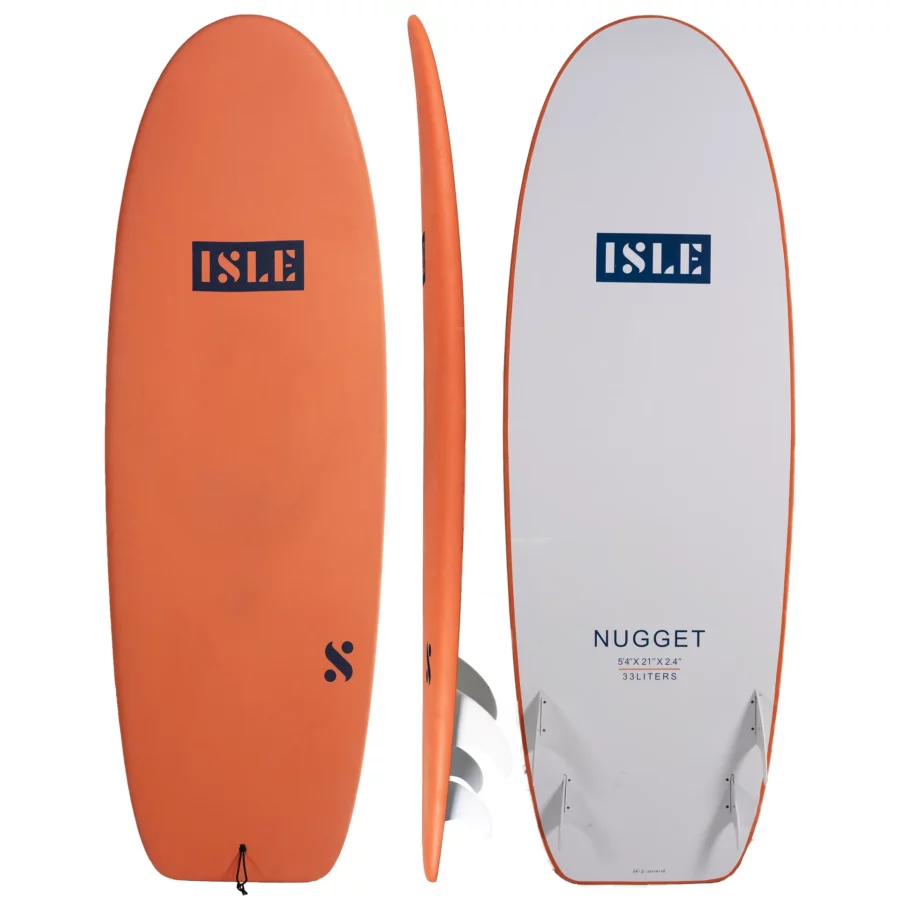 The 5'4 Nugget High-Performance Soft Top is built to last. This compact powerhouse of a nugget enables riders to effortlessly carve down the line with speed and holds its own on bigger open-face waves. With ISLE's PowerFuse soft-top construction, it offers a nice blend of durability and performance. The Nugget's wider deck ensures easy maneuverability and loose feel, while its shortened size effortlessly generates speed. With a low entry rocker and quad-fin setup, this board will up your wave count and have flying through the flats.
Get the perks of a soft top with the performance of an epoxy board with this 5'7 Hybrid Epoxy Soft Top Shortboard. The Cloud has a soft top EVA foam deck combined with a durable epoxy build on the bottom. With a chopped tail and tail flip that gives a loose, skatey feel, this board is perfect for radical beach break maneuvers without worrying about dings and damage.
You can ride the 54 inch Beater Twin Fin with or without fins, bodyboard, or skim — it's your call. Transform any beach day into an epic tale of radness! With its strong, lightweight, and water-resistant core, dual maple-ply wood stringers, and high-density bottom, this is the stiffest and most durable Beater ever made.
Introducing the Odysea Pro Stump JOB Surfboard, a beloved choice for surfers young and old. Its "stump" shortboard design fuels your need for speed. For those still honing their skills, the highly buoyant composition and grippy polyurethane deck provide stability and confidence. This playful shortboard suits riders of all levels, boasting a dual composite core for stiffness and durability. With three maple stringers for added rigidity, its stumpy design aids in fast maneuvers. The thruster fins and square tail strike the perfect balance between drive, agility, and control.


Want more surfboard goodness? Check out: