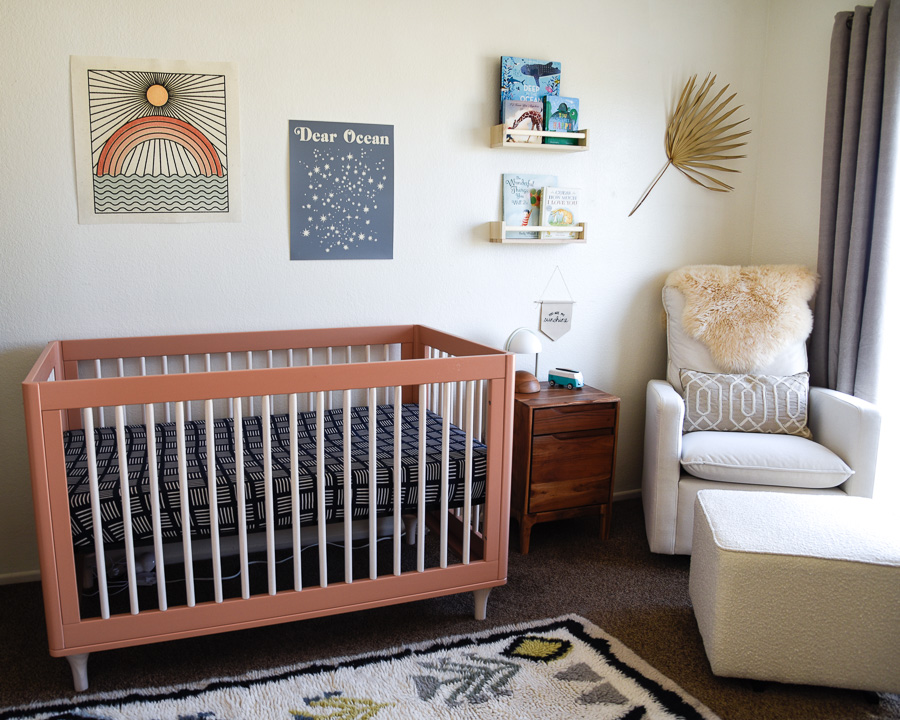 I have a thing for beach bungalows and surfy spaces. So when I became pregnant and started thinking about the baby's nursery, it was a no-brainer. I shamelessly took the route of any parent wanting to impose their own passions on their offspring 🙂 . Being a surf enthusiast and lover of the ocean, baby's nursery was destined to be an ocean-inspired happy place.
Even though I knew the nursery would be filled with surf and ocean things, I never thought of it really having a 'theme' because it's really an extension of our personal style and vibe of the rest of our home. Which might read something like 'Coastal California surf bungalow.'
Our home has light and bright surfy vibes with antique wood furniture, coastal artwork, plants, surfboards, and a neutral color palette with pops of color (plenty of blues and greens). So when I thought about the nursery, it was all about extending that style into the space with some fun baby-special details.
When planning for the nursery, there are three things I wanted:
1. Ocean and surf-inspired art and details.
If you search for ocean/beach/surf art and decor there are a whole lot of cheezy things out there. I wanted the space to have a coastal vibe, without overdoing it or being too literal.
2. Functional and as minimalist as possible.
I don't like a lot of clutter and the room is on the smaller side, so I wanted to keep it simple and only add what we were really going to use.
3. Furniture with GREENGUARD Gold Certification
Unfortunately, there are many chemicals used to manufacture everyday products we use in our homes like furniture, building materials, cleaning products, and personal care products. Commonly called volatile organic compounds (VOCs), these carbon-based chemicals become airborne at room temperature and can be hazardous to our health. Studies show that the majority of everyday chemical exposure people have happens through the air we breathe in our homes, offices, and other indoor environments. Yikes.
Since babies are extra sensitive and undergo such massive development in the first couple of years, it's ideal to give them the most healthy environment possible. Cue GREENGUARD Gold Certification.
GREENGUARD Gold Certification is a voluntary third-party program that tests for over 10,000 chemicals and Volatile Organic Compounds. Products certified under this program bear the GREENGUARD Gold label and indicate that a material, process, or finished product meets extremely rigorous standards for low emission of volatile organic compounds. You can learn more about GREENGUARD Gold Certification here.
TLDR: Furniture certified under this program means a healthier environment for your family and your baby.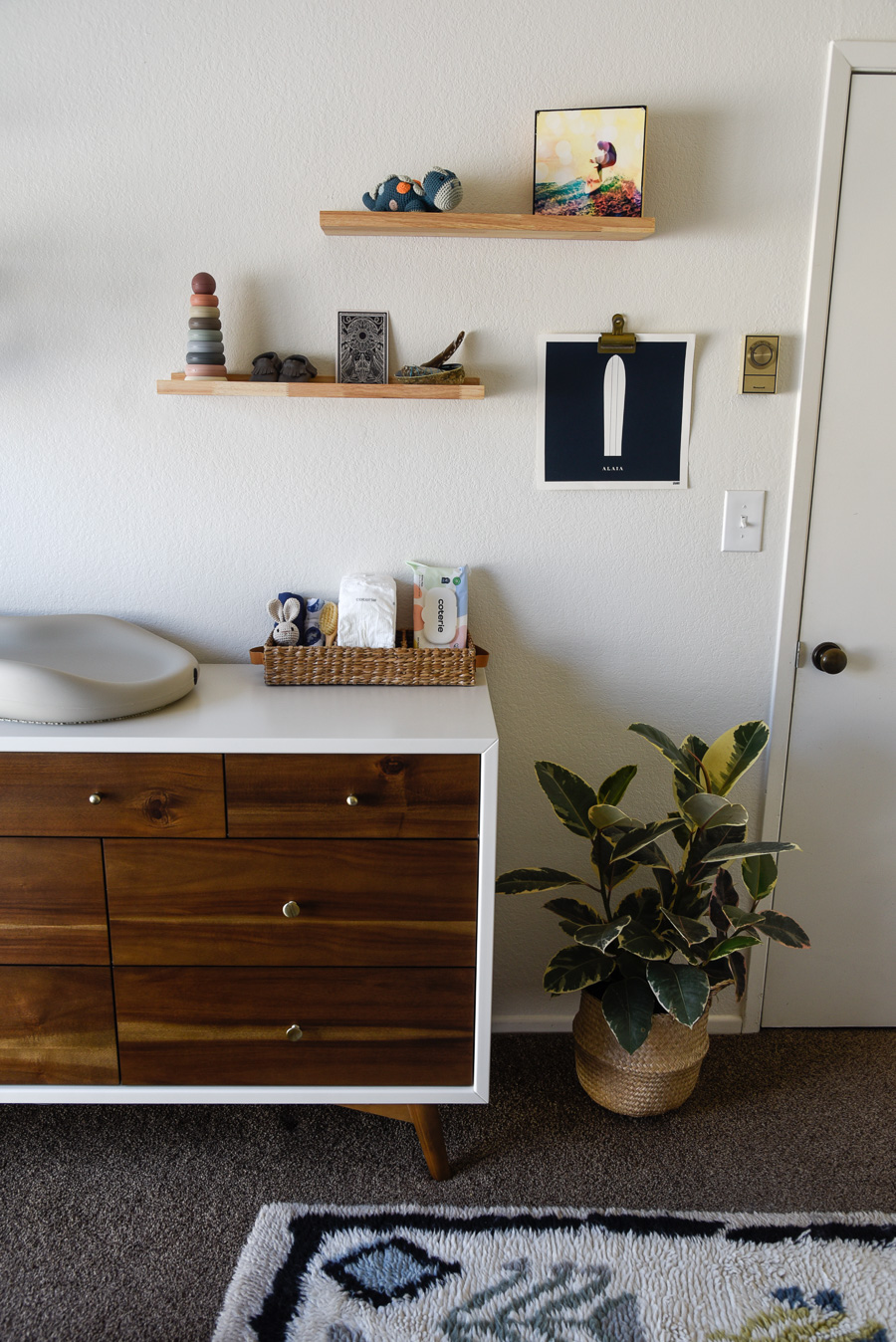 With my criteria in mind, I got busy on Pinterest and started putting together the pieces!
I started with finding the nursery furniture first and then filled in the details. After tons of research, I got all of my main nursery furniture from Babyletto. Babyletto makes stylish and modern nursery furniture, and the majority of their pieces are GREENGUARD Gold Certified and made with solid wood. Another bonus is that much of their furniture is made with sustainably sourced solid New Zealand pine wood, which is one of the most renewable woods available.
My crib, dresser, chair, ottoman, and crib mattress are all from Babyletto. I had originally wanted a couple of matching pieces, but some were back-ordered, so I ended up mixing quite a few elements for the final design. I was a bit unsure how it would turn out, but I'm really happy with the result. The pieces from Babyletto are a mix of light and dark woods, neutral colors, and a pop of bouclé on the ottoman (love that bouclé!).
With the major pieces in place, I filled in the details with hints of the ocean and some meaningful items. The final result is exactly what I wanted and it's a serene little space for our little guy!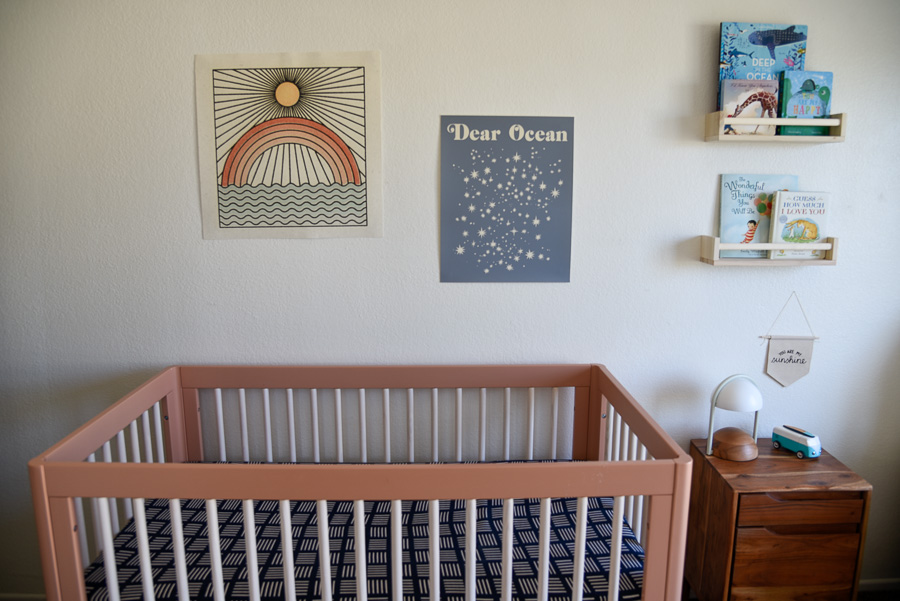 The

Lolly Crib

transitions from crib to toddler bed and daybed, and includes a toddler bed conversion rail. The crib is currently available in seven colors – this color is Canyon/Washed Natural.
I admittedly spent waaay too much time finding and deciding on the artwork for the nursery. I think it's because when you search for art and decor that are ocean or surf-inspired you'll find a whole lot of cheesiness. We decided on these prints from two different artists based in California whose work I love. The

rainbow and sun print

on the left is by Daren Thomas Magee, and the

'Dear, Ocean' print

is by Daniella Manini.
I knew I wanted little bookshelves for the wall and found a great Ikea hack on Pinterest. These shelves we used for books are actually spice shelves from Ikea made from solid wood, and they are only $7 apiece!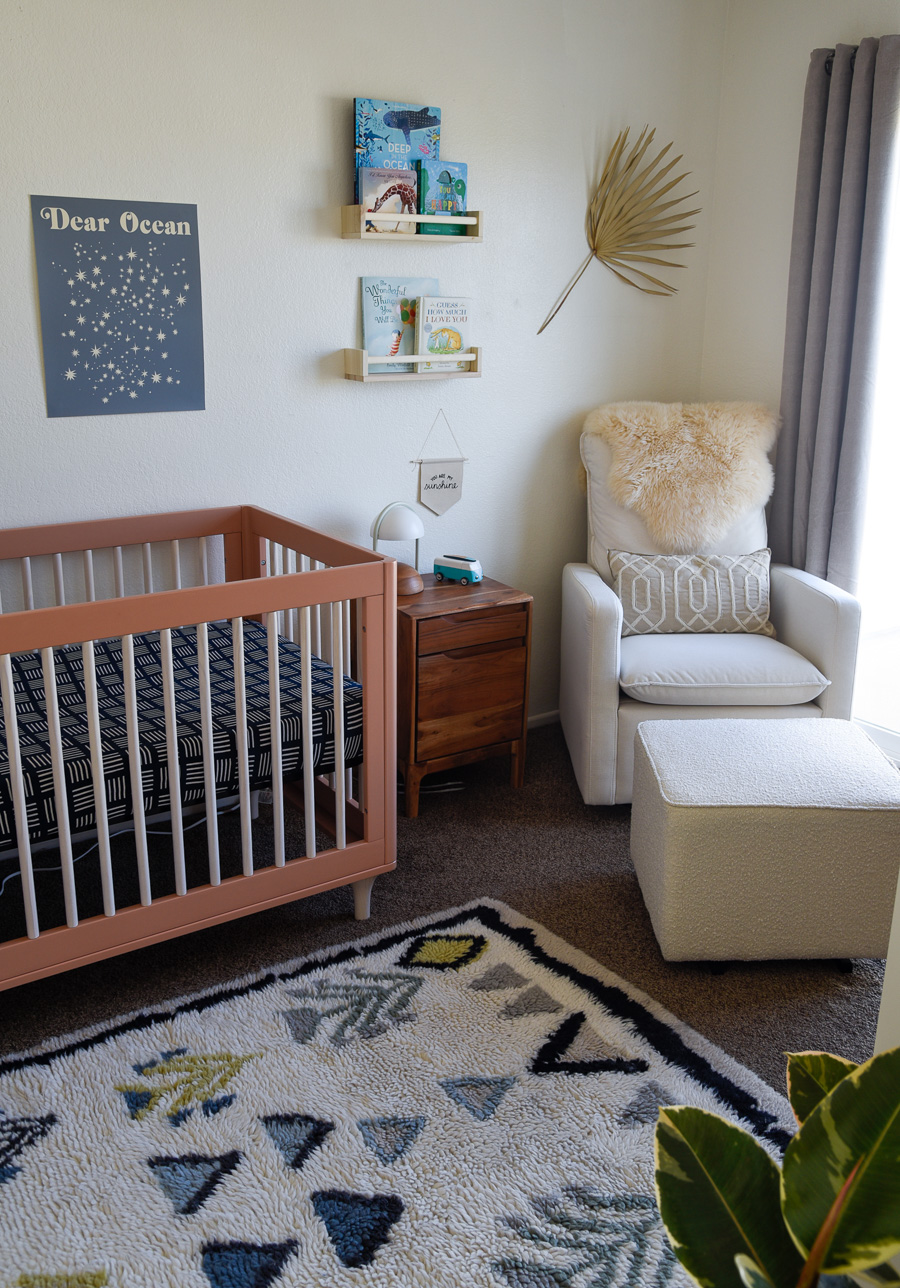 The Cali Pillowback Swivel Glider (in Performance Cream Eco-Weave) has a nice high back and is sooo very comfy. The

Kiwi Ottoman

is bouclé and its secret power is that it's a gliding ottoman so it makes for smooth gliding with the chair.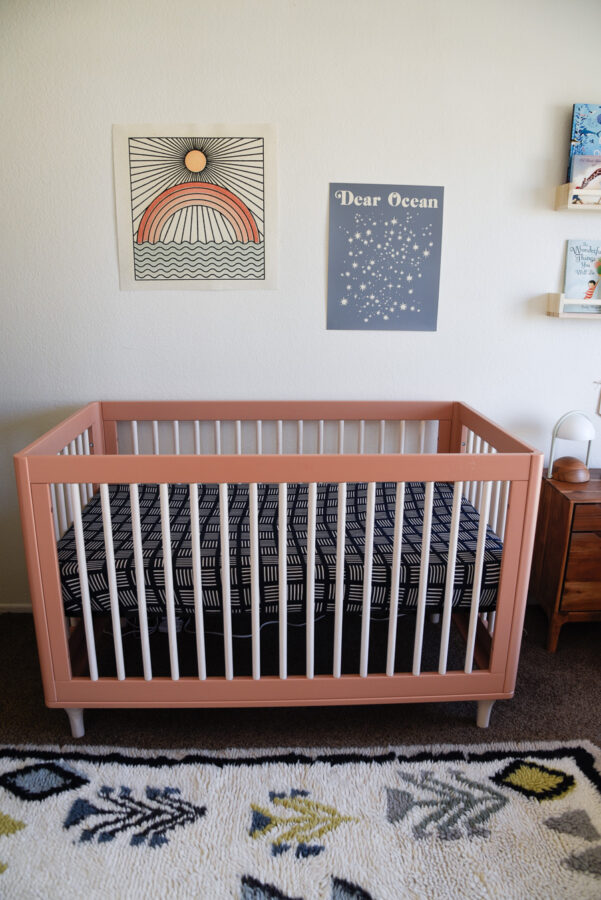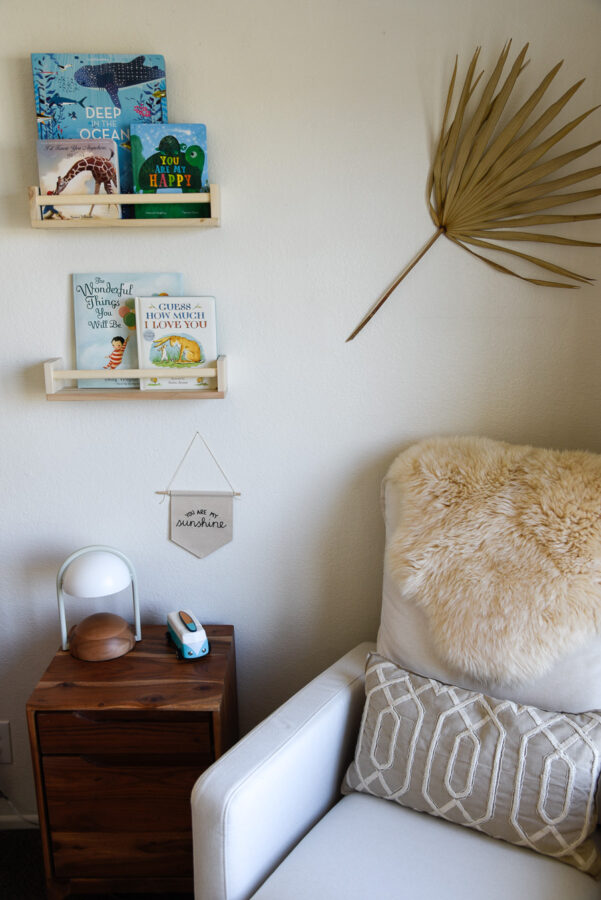 The wood and metal table lamp is from Crate&kids and it's ideal for the nursery because it gives off a soft glow and has a dimmer switch. Perfect for nighttime diaper changes and feedings!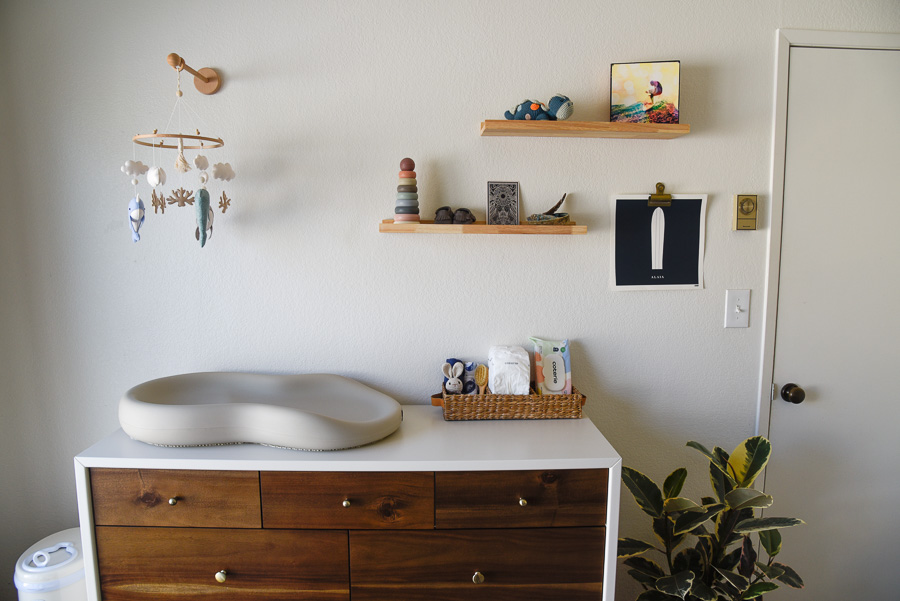 I looked at tons of dressers but found that many weren't deep enough to safely fit a changing pad on top. This Palma Dresser was the perfect pick (not to mention really dapper!). This 7-drawer dresser is large and wide enough to accommodate the Keekaroo changing pad on top with extra space and has plenty of storage in the drawers. Bonus: the dresser is delivered assembled in one piece so there's no need to spend any time building it!
I liked the idea of hanging a mobile over the changing pad to engage the baby during diaper changes. Turns out, our baby is really mellow at diaper changes (yay!) so we'll change him downstairs often, but he absolutely loves this mobile (and I'm also pretty obsessed with it)! The mobile is by Wondery Handmade, a super talented maker on Etsy who – you guessed it – hand makes the most beautiful mobiles. You can find this whale mobile here.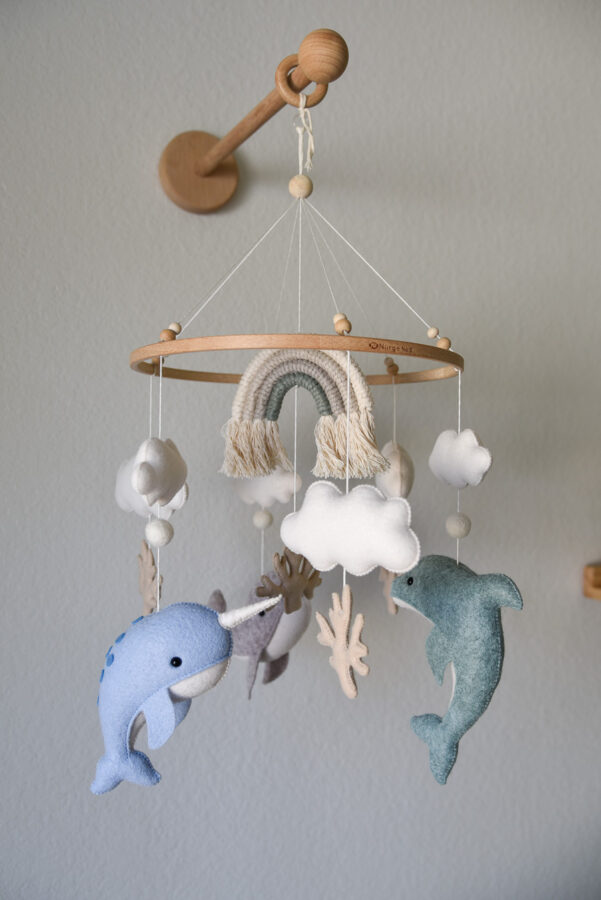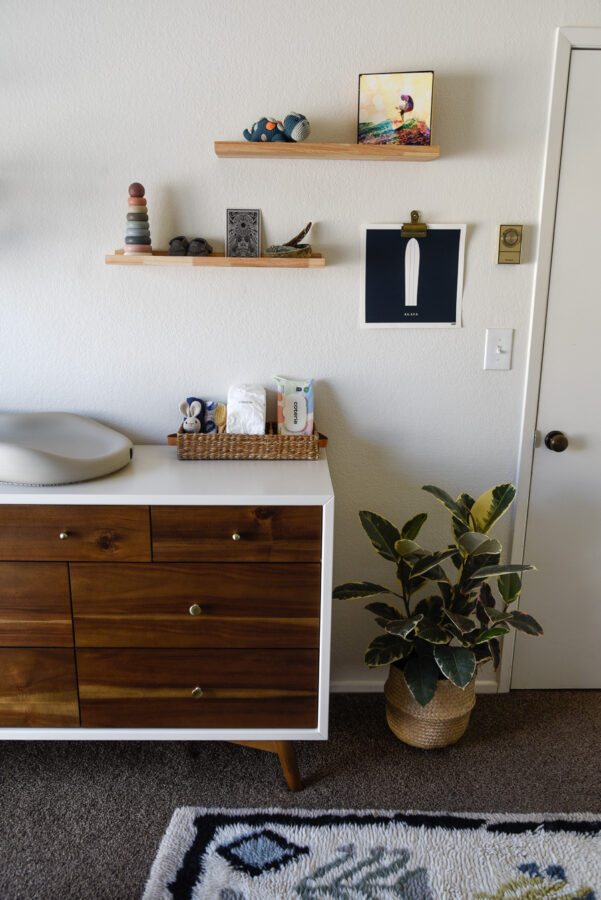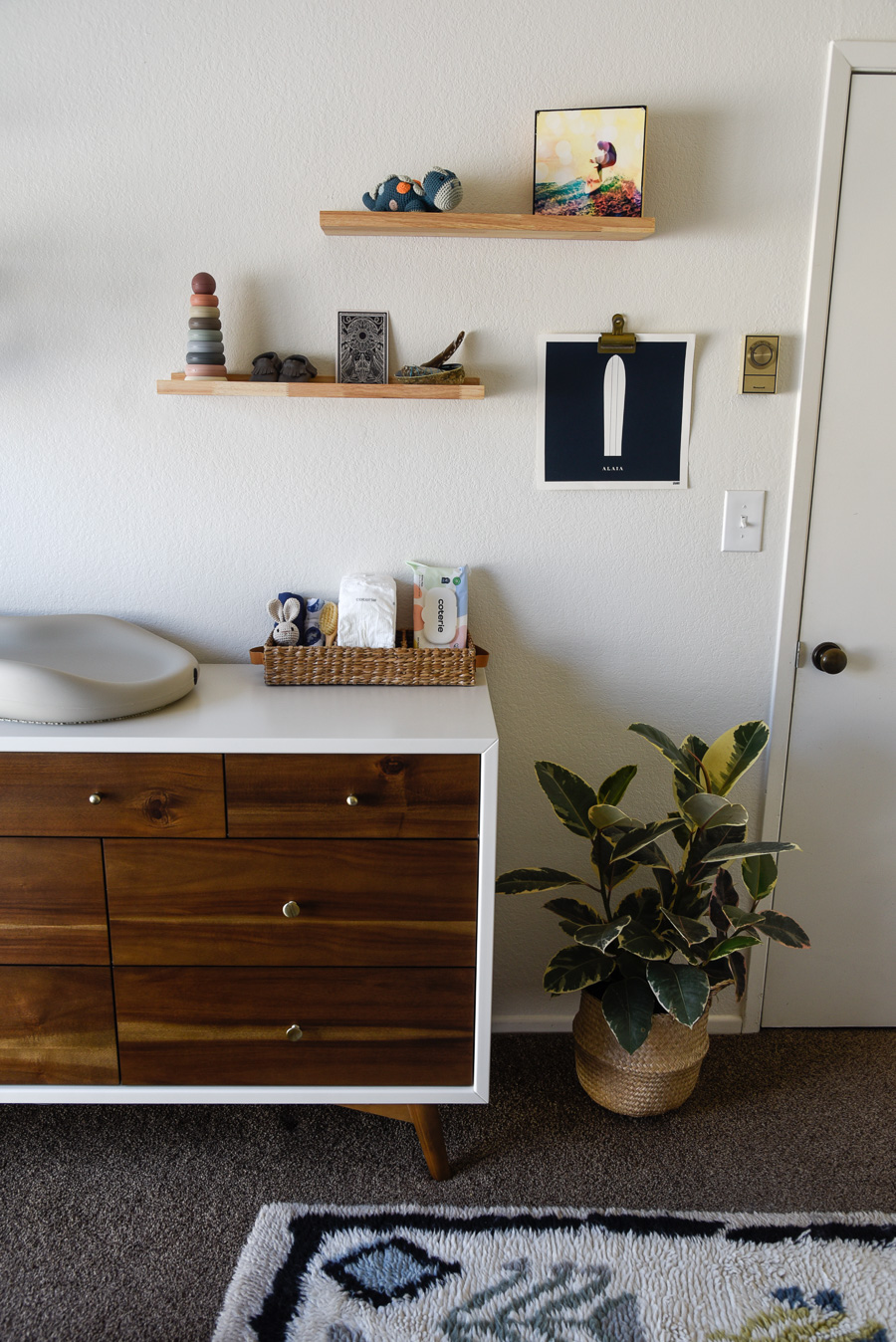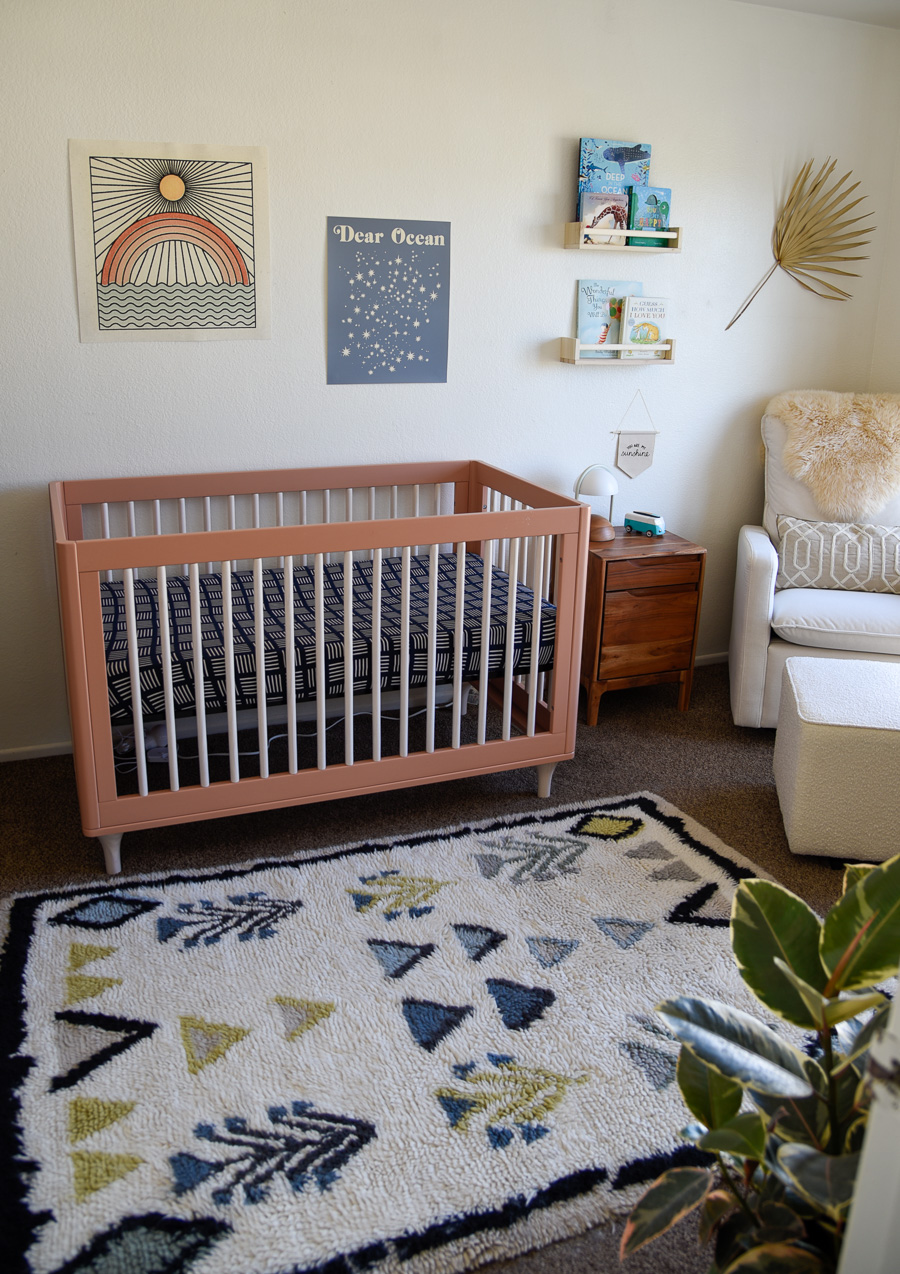 I love how this

Taza Kids Rug from Crate&kids

ties the room together. I wasn't so sure about adding a rug on top of carpet, but the room has a brown carpet that I'm not a fan of, so I gave the rug a try and it ended up being a great addition to the space.
This post was created in partnership with Babyletto. That said, we only partner with companies we genuinely like and all words and opinions are my own. Thank you for supporting the brands that help keep Lush Palm going with fresh content and helpful guides.