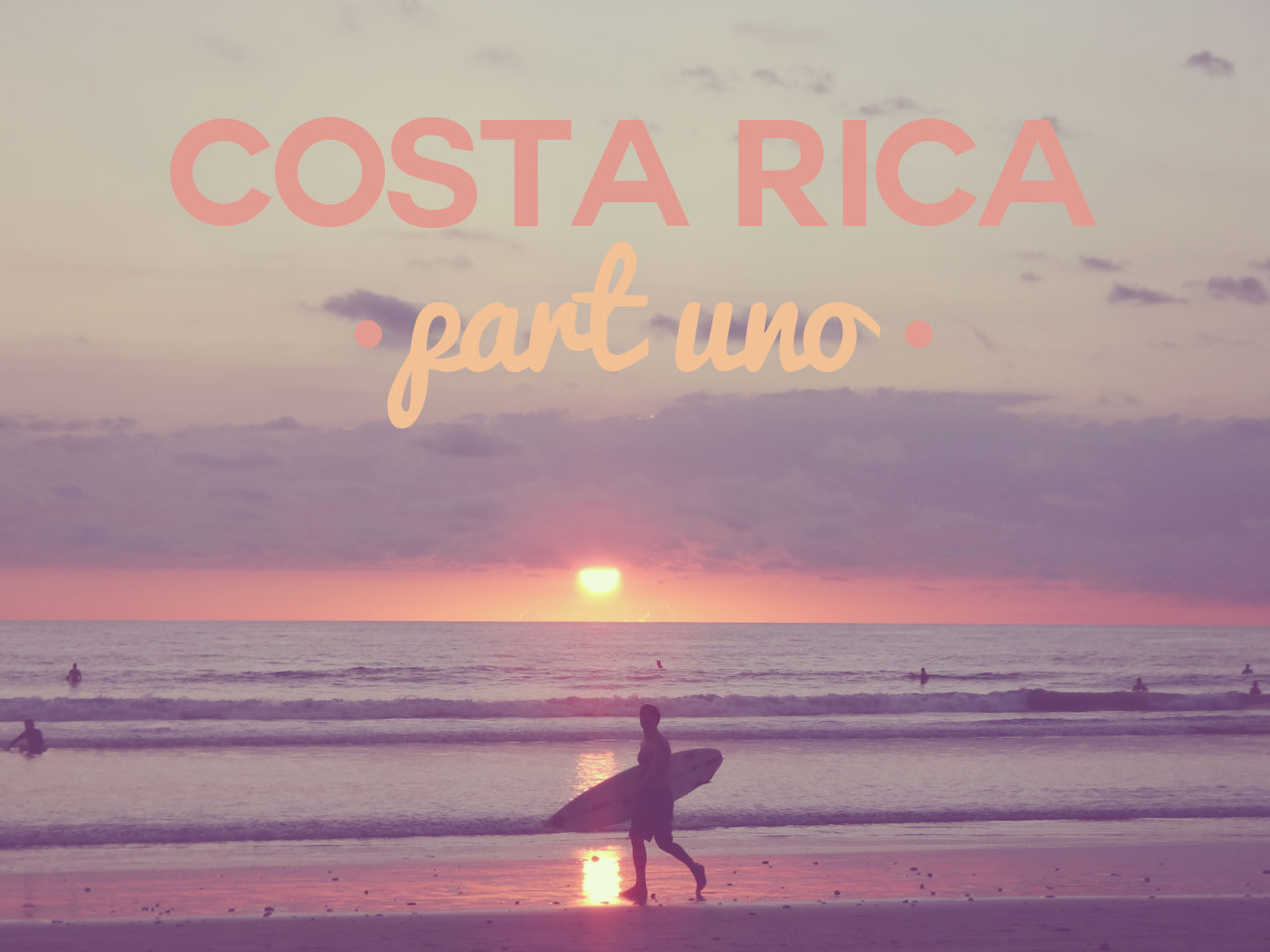 Let's talk Costa Rica. I've been to Costa Rica four times and I absolutely love it. A beautiful country with friendly people and fun active things to do- what's not to love?  Last year my now-husband and I got engaged on the beach in Costa Rica so it just makes it all that more special to us. Costa Rica will definitely always have a special place in our hearts :)!
Pura Vida
The Ticos (local Costa Ricans) are so warm, the vibe so mellow, and even with the influx of tourism and development over the past 20 years, some spots have been able to stay off-the-beaten-path. Or at least feel that way.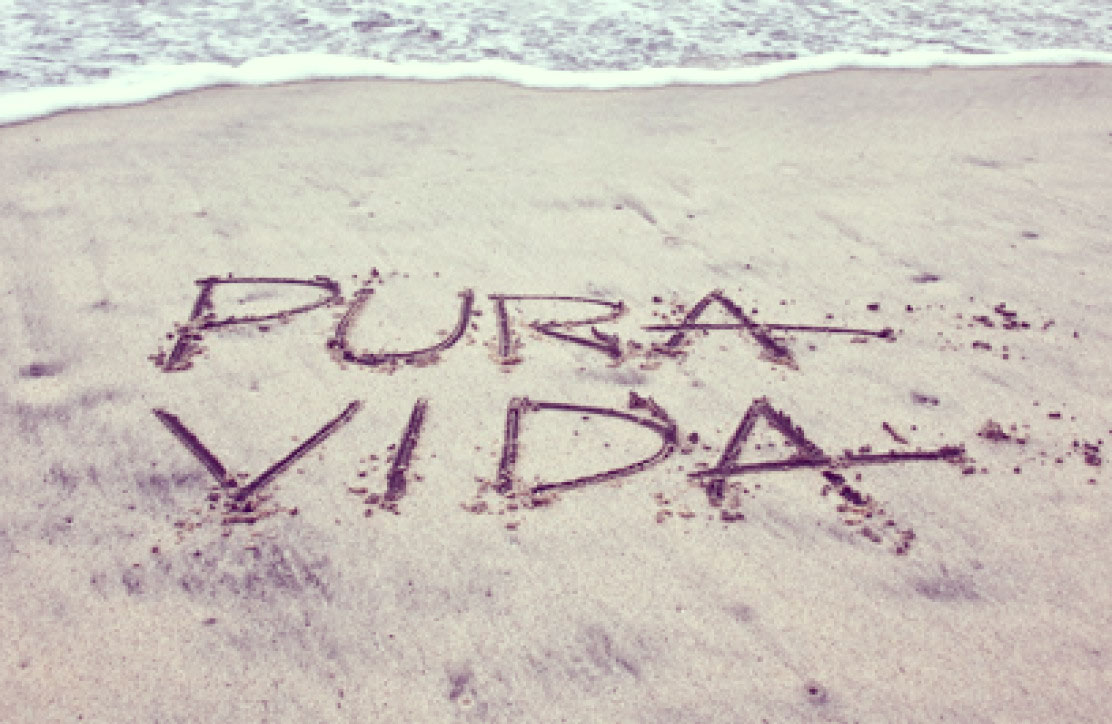 Costa Rica has a country slogan that defines the Costa Rican way of life: "Pura Vida." The literal translation of pura vida is "pure life," but the deeper meaning serves as a lifestyle and mantra for Ticos and Costa Rican transplants alike. Pura vida means all of the above and more: a wonderful life, chill life, good life, take it easy, awesome, no worries, live life to the fullest, celebrate life, etc. Pura Vida is Costa Rica's "hakuna matata!"
Why Playa Santa Teresa?
I first went to Costa Rica about 9 (ish) years ago and visited a couple of different spots before finding my personal favorite. After traveling around the central coast for a handful of days visiting Jaco (avoid it) and the black sand beach of Playa Hermosa, I set my sights on a place that was quite the trek to get to- but the guidebook said it was worth it. Praise the guidebook because I fell in love with this little slice of heaven, Playa Santa Teresa.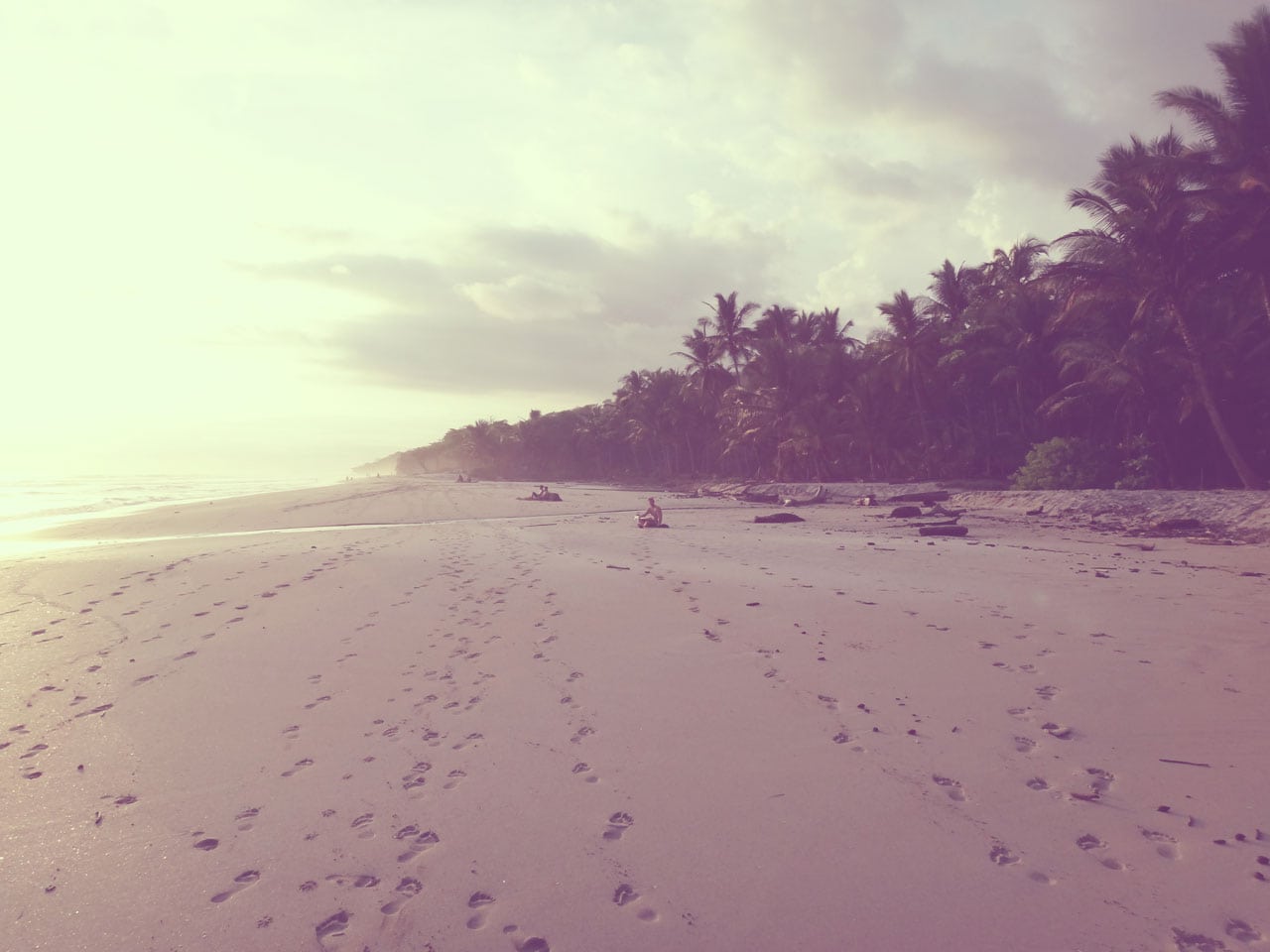 I stayed at a $10/night surfer hostel a minute's walk from the beach and had an epic time. I loved my trip so much I literally vowed to return as soon as possible. Almost a year later I did return, and now two more times since then. Anyway, I'm almost reluctant to write about this place because I want to keep it a secret, but almost 10 years after I first visited- it's definitely nowhere near a secret.
The celebrities have arrived, as well as quite a bit of new development. Giselle, Tom Brady, and Mel Gibson have houses there, and on one of my trips Matthew McConaughey showed up at a local beach party. He was pretty gonzo- but he had just broken up with Penelope Cruz so I can't say I blame him ;).
While Playa Santa Teresa isn't as hidden as it once was, it has thankfully developed in a pretty good way so far. There's still only one little main dirt road through town, high-profile big box hotels are nowhere to be seen, and the beaches are as wide and (almost) empty as ever.
Last May, Eric, myself, and Eric's sister April headed to Santa Teresa for a week of relaxing vacation. Eric and I ended up with a bit of relaxation, a whole lot of adventuring, and a proposal straight out of the movies.
How To Get There
Playa Santa Teresa is on the Nicoya Peninsula which you can access two ways from the capital of San Jose. You can take a 35-minute flight from San Jose to Tambor through Nature Air or Sansa. Or you can drive (or take a local buses). From San Jose, drive to Puntarenas (about 1.5 – 2 hours) where you'll hop a ferry to Paquera. Flying is definitely faster but driving and taking the ferry is a great way to see the countryside and the ferry is a lovely ride (and is stocked with beer and music :).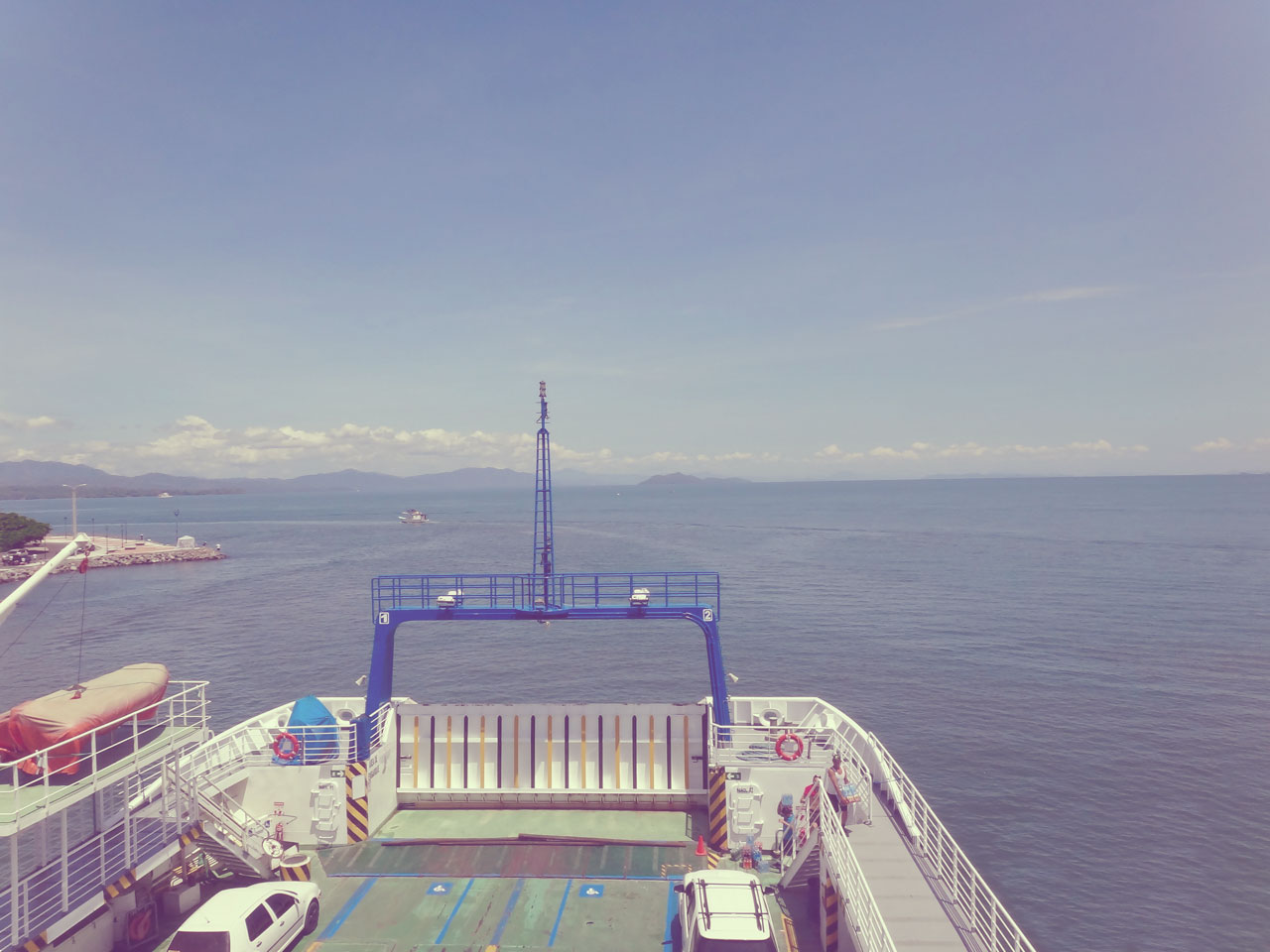 From Paquera it's about an hour and a half drive to Playa Santa Teresa.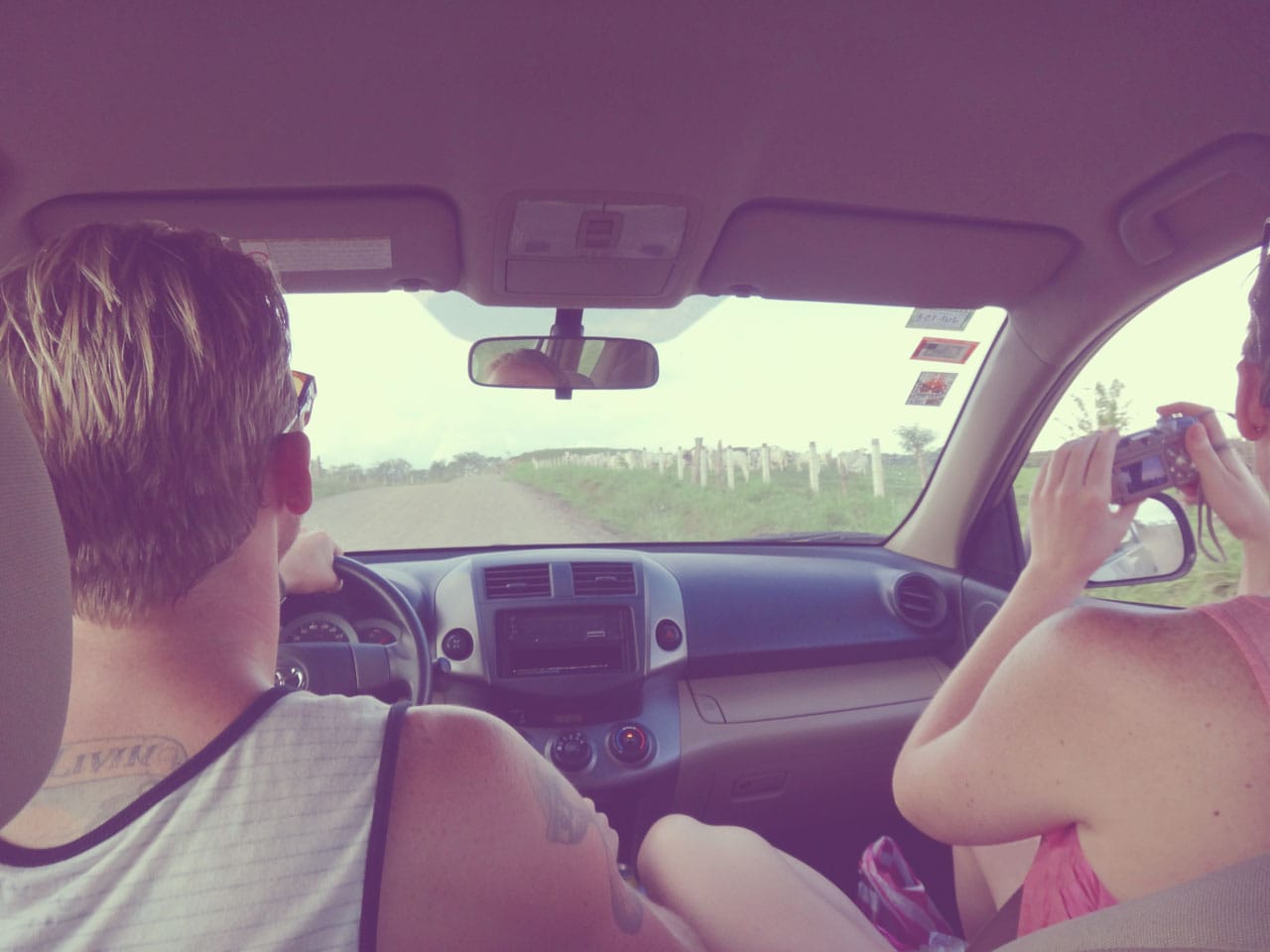 The roads go from paved to dirt, but they're pretty easy during the dry season.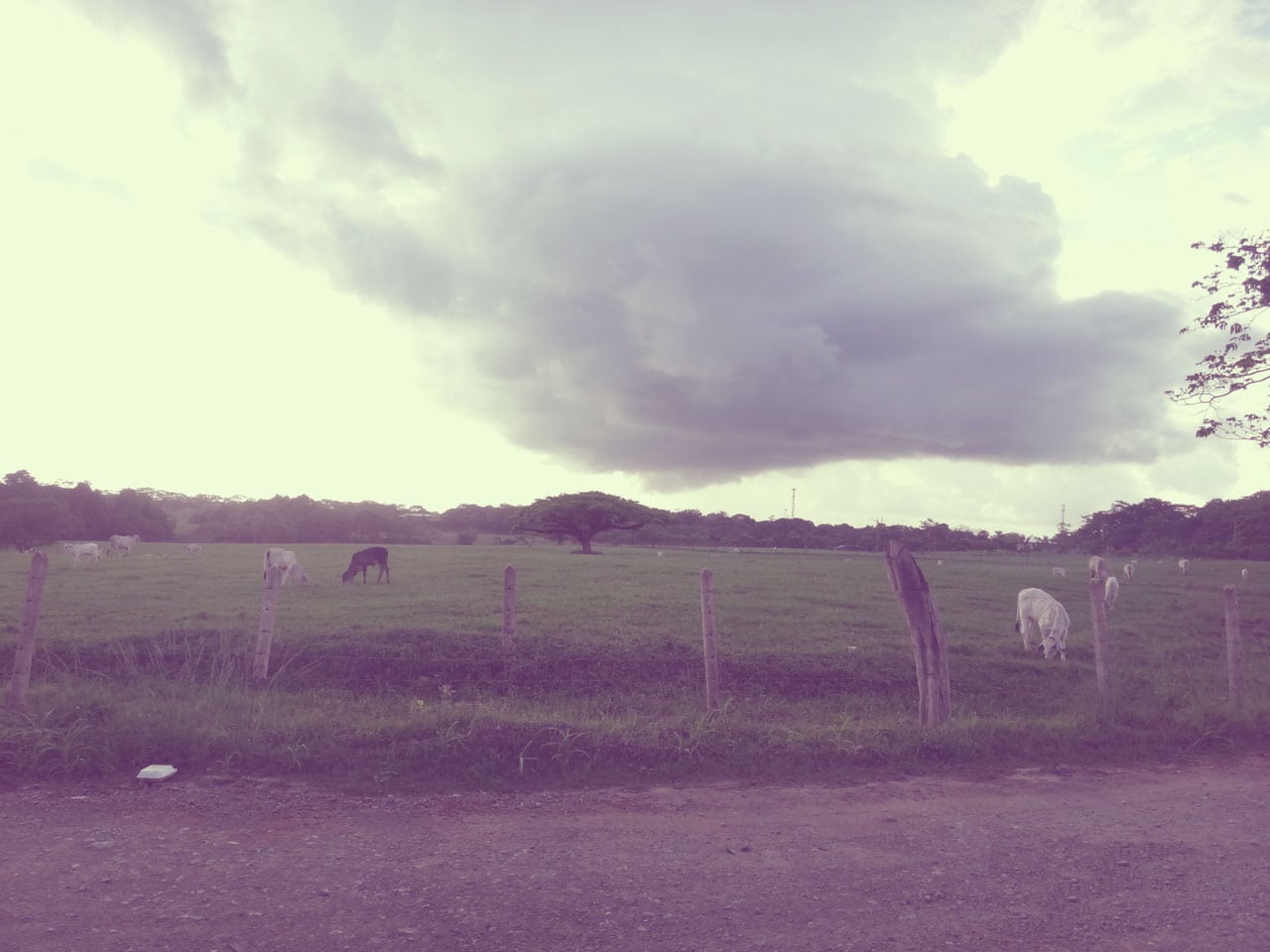 The Nicoya Peninsula is a pretty remote area. Outside of the main towns there's a whole lot of rolling countryside and cows. Lots of beautiful cows.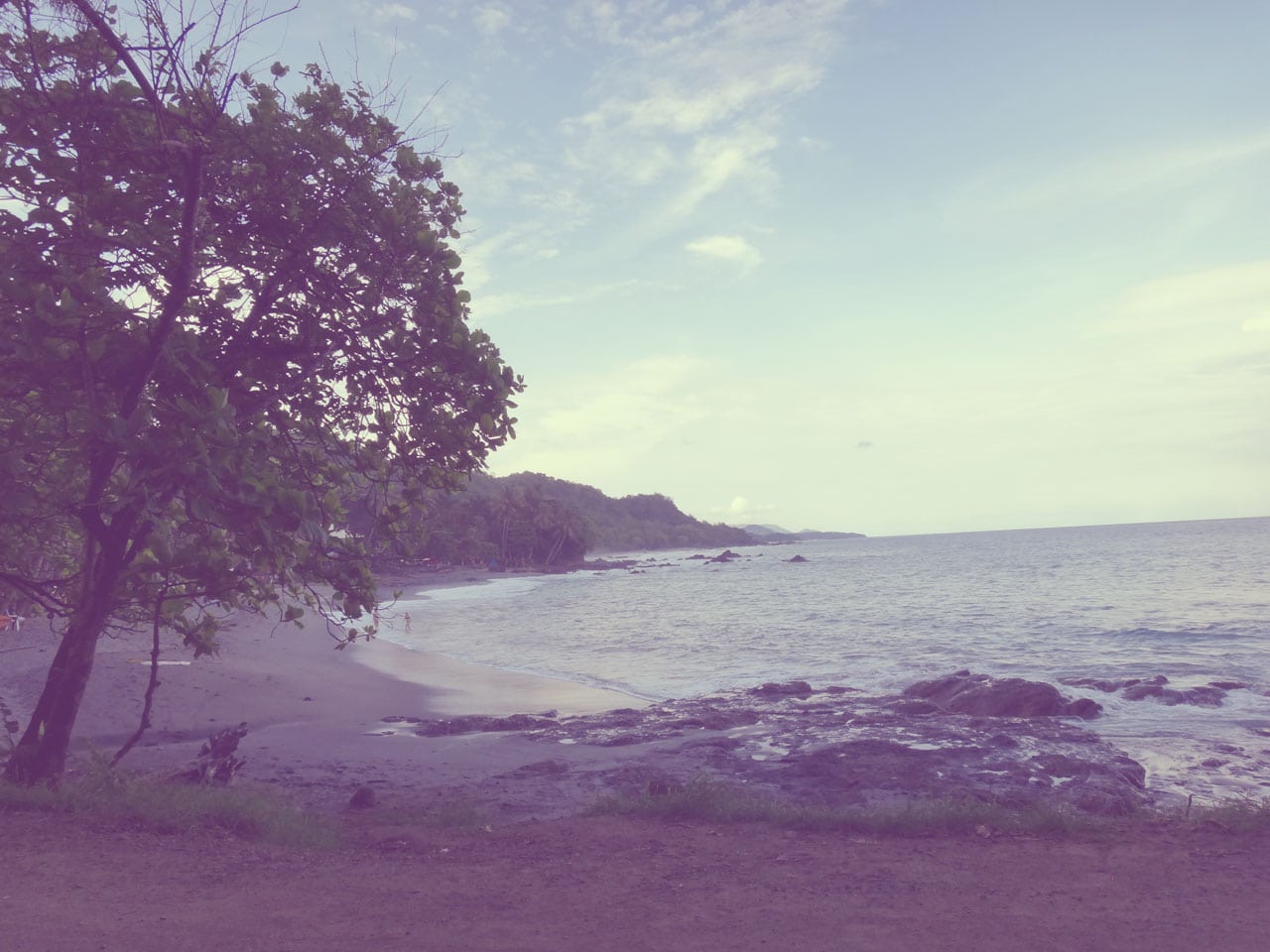 Passing the little beach town of Montezuma.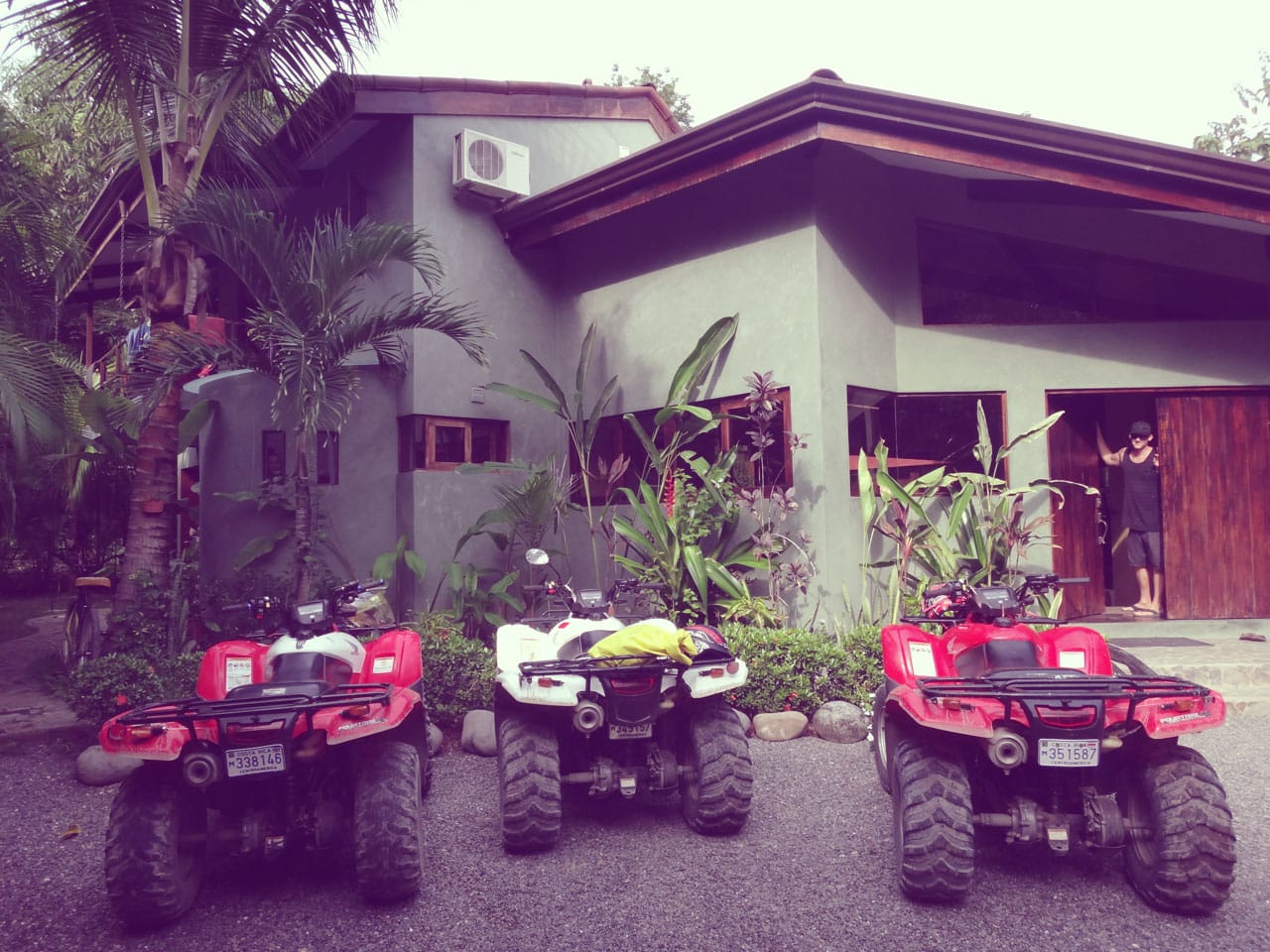 Where To Stay
There are lots of great options ranging from budget-friendly hostels to small hotels to gorgeous vacation rentals. If you have a larger group I recommend going the vacation rental route because you can find some really beautiful houses to rent at pretty reasonable prices. There's a ton of listings on VRBO and Airbnb.
We stayed at an awesome VRBO about a two minute walk from the beach. Casa Escondida is a C-shaped house that surrounds a courtyard with a pool. The two bedrooms are on opposite sides of the house and have huge sliding doors that open up to the pool. When you wake up in the morning you can just open your doors and dive right in!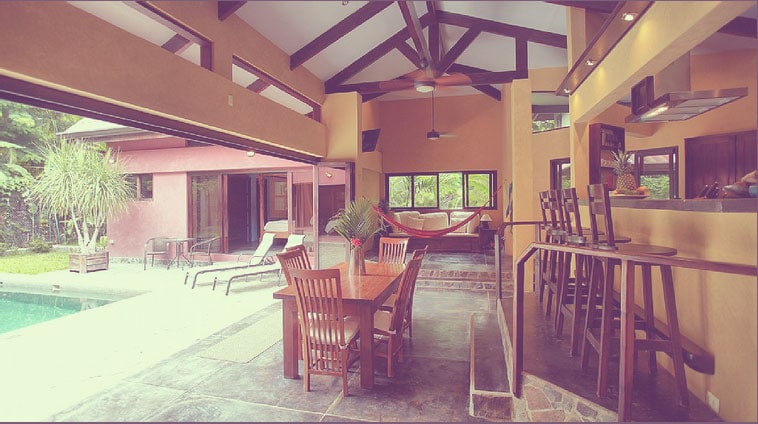 An open layout and hammocks abound.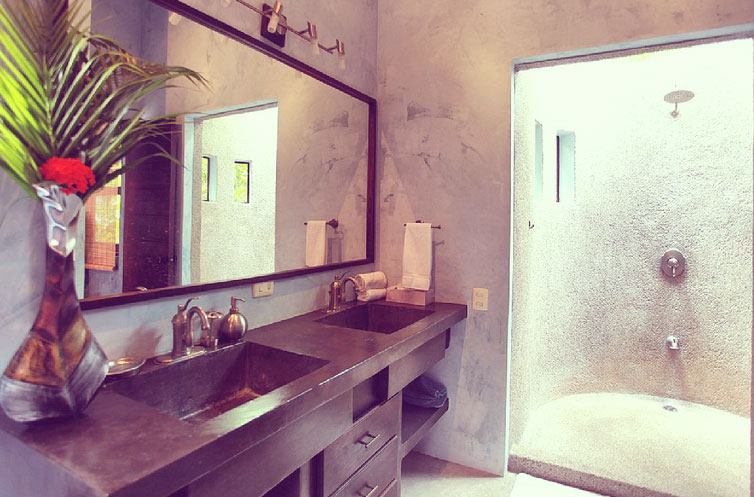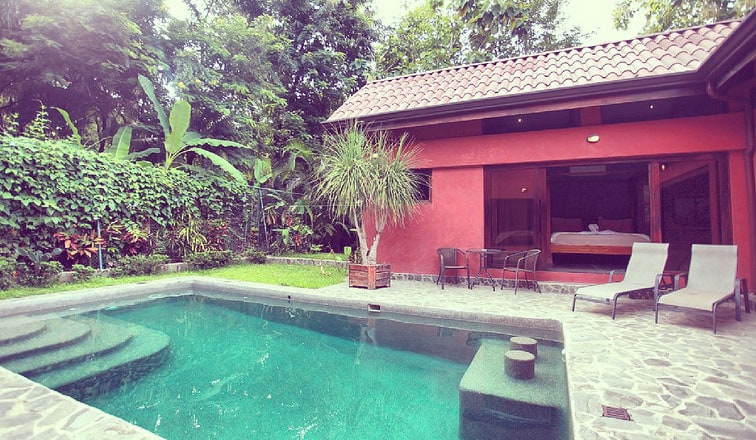 The owner of the house is a California transplant that lives in a unit on the property with his super adorable toddler. Kristian is an awesome host and he went out of his way to make our stay the epitome of pura vida.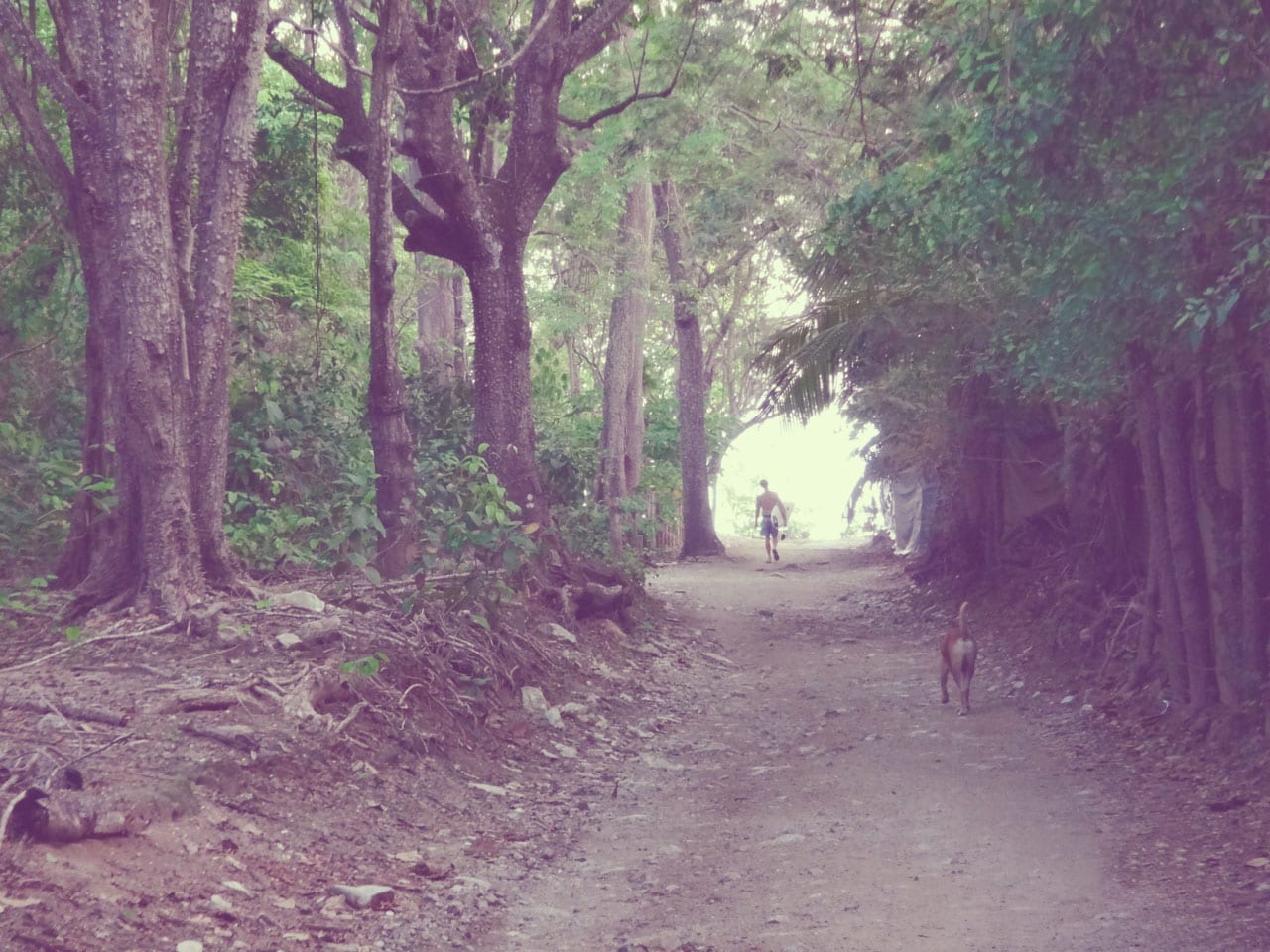 This is the path to the beach across from the house. Thick jungle opens up into a wide expanse of beach.
Adventure Time
For such a tiny spot, there's a lot you can do in Santa Teresa and the surrounding area. You can go the chill beach route, yoga, zipline, ATV, hike, and of course, surf. Costa Rica is well known for its epic surf- and the Mal Pais/ Santa Teresa area is no exception. Needless to say, we were hitting the waves every day.
Our host Kristian was so incredibly generous and let us take out any of the boards in his quiver. Thanks, Kristian!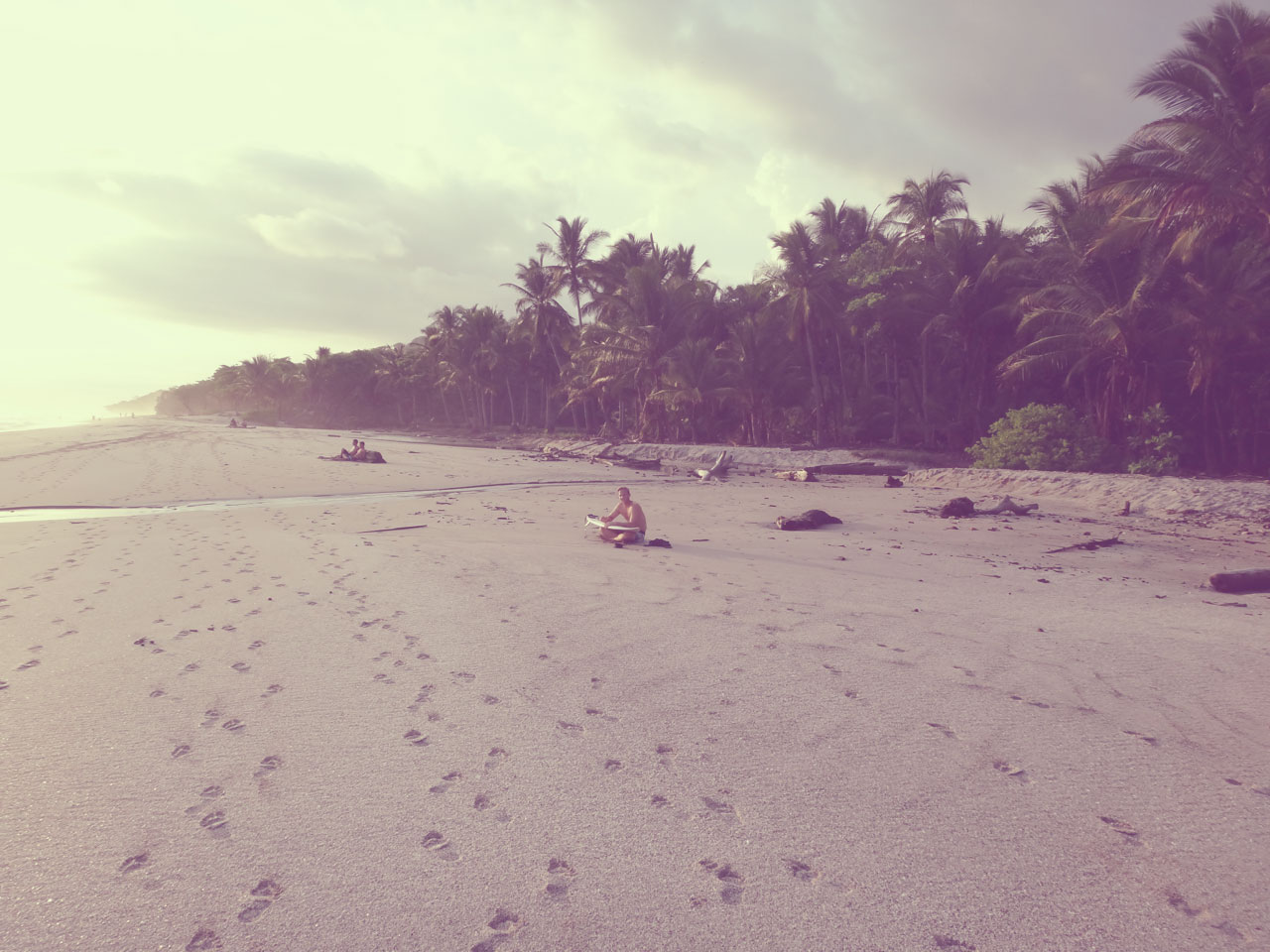 Ziplining in Montezuma
I've always wanted to zipline and we decided to take an afternoon to go ziplining near Montezuma (about a 45 minute drive away). Bottom line: ziplining is super ridiculously fun! But not for the faint of heart or person afraid of heights. You will be flying high and let's just say if any equipment were to fail for one reason or another… you'd be toast. But we survived so I'm sure you'll be fine ;).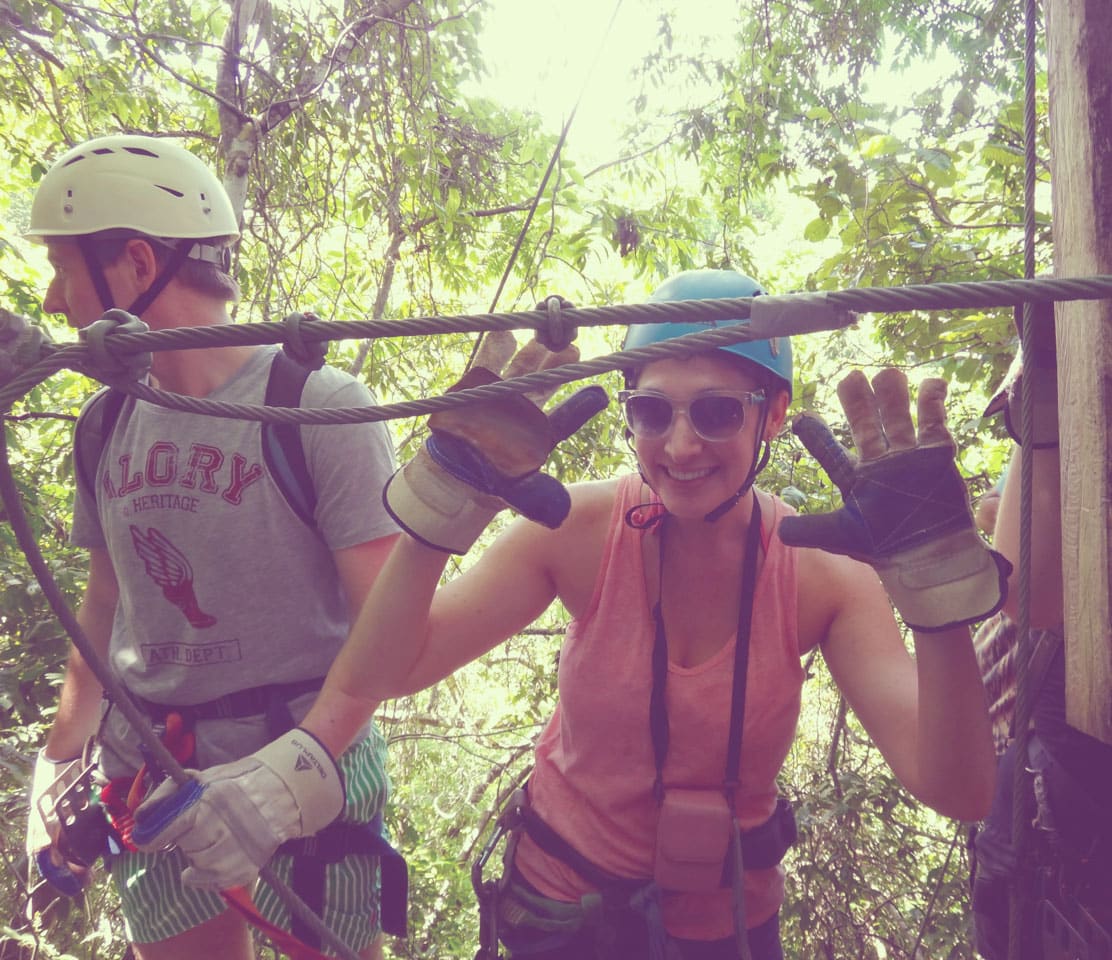 April showing off her fancy gloves.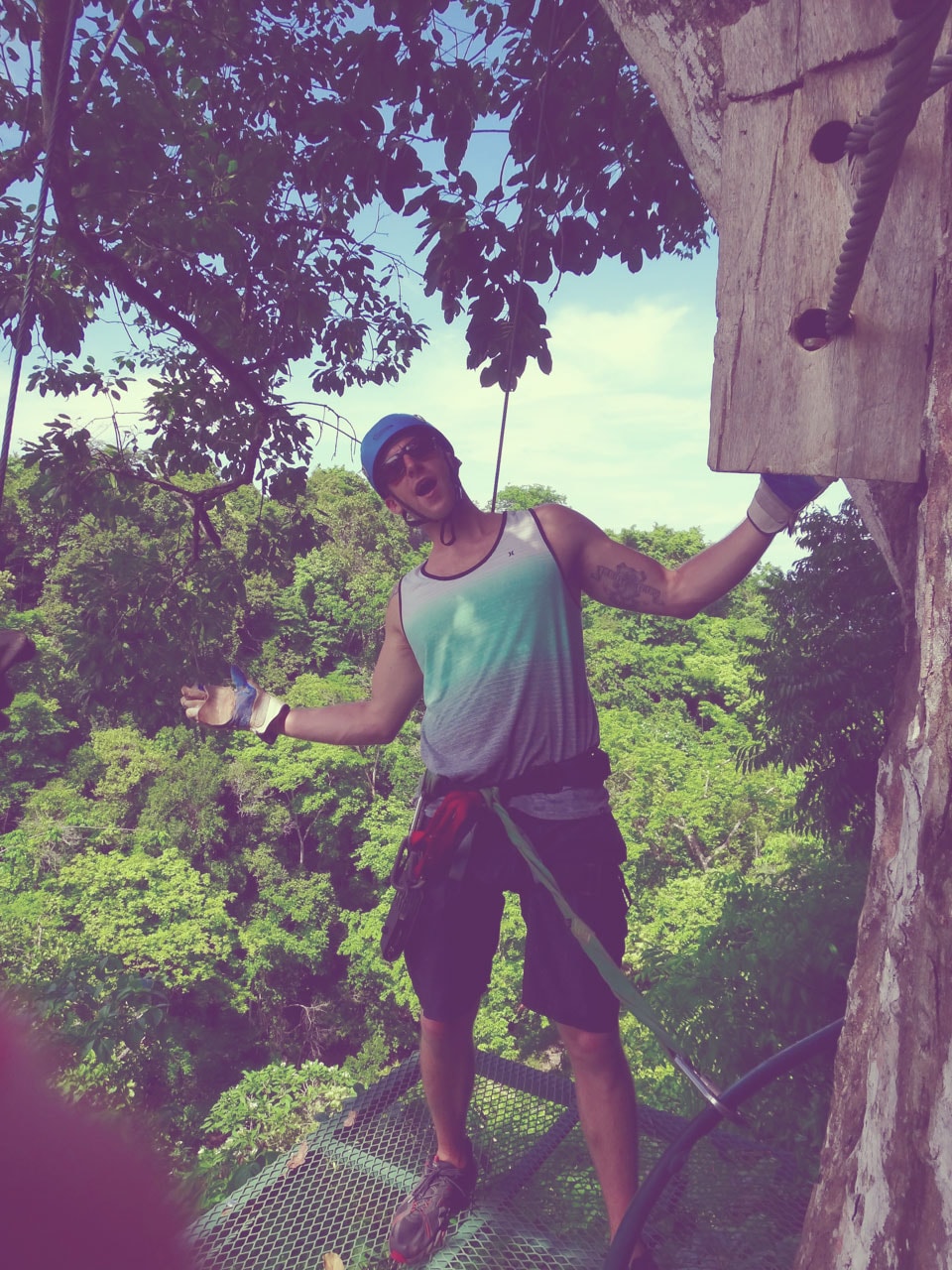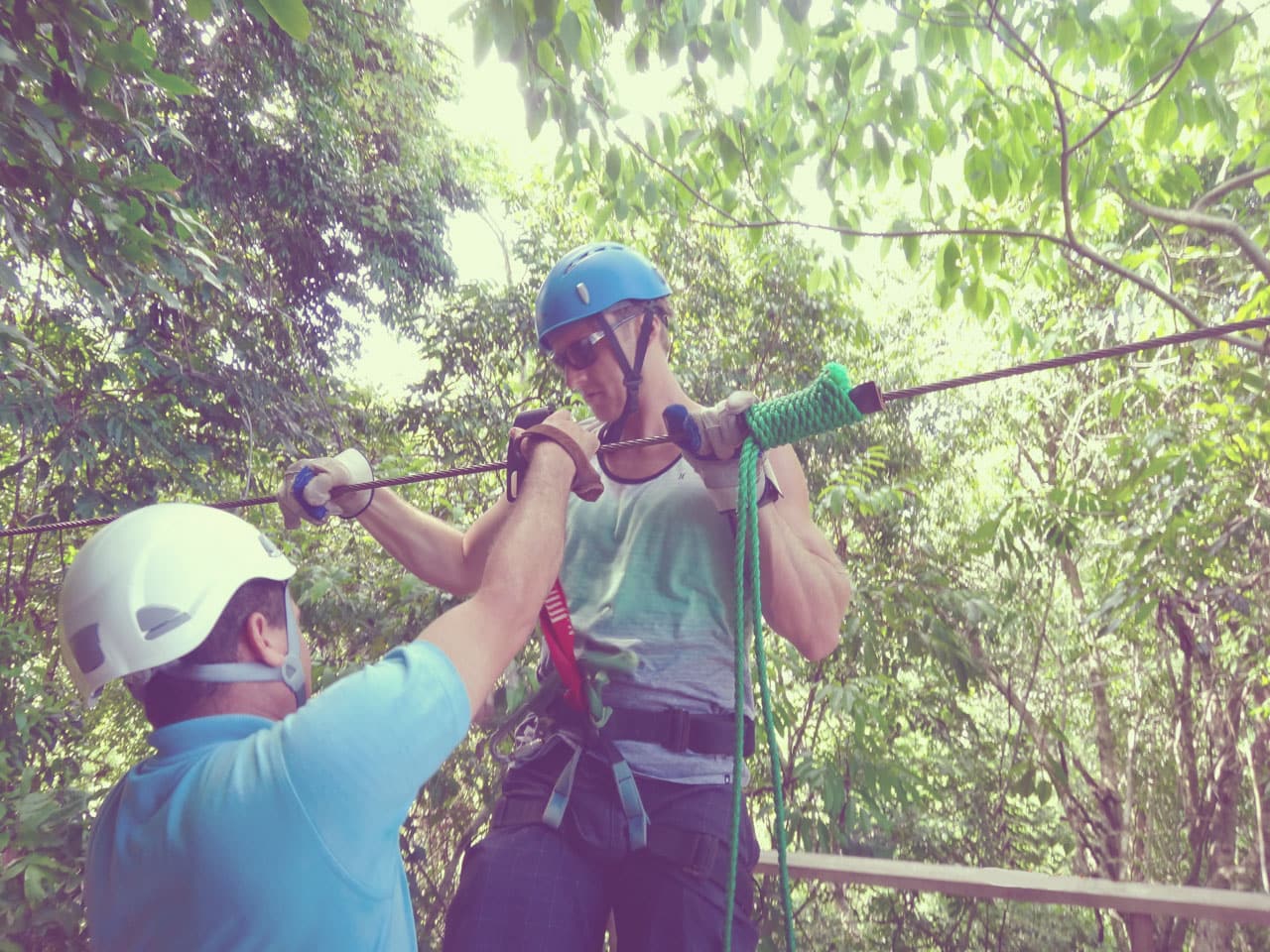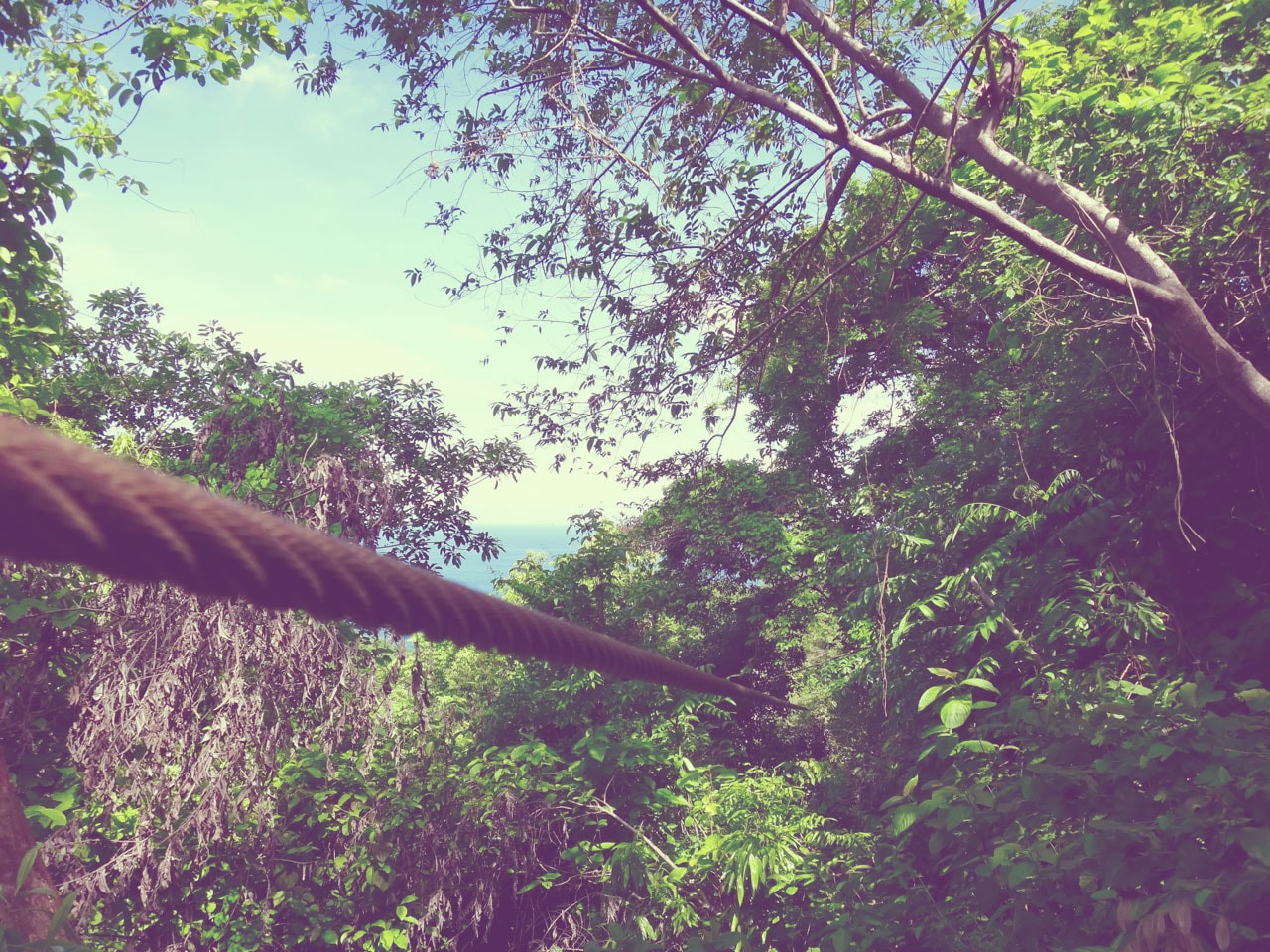 About half way through the zipline tour we stopped to go check out the Montezuma waterfalls. There's a series of three waterfalls along a river and I've actually visited them on every trip to Costa Rica. They're super beautiful. It's hilarious because every trip previous to this one I hiked an insanely scary and risky trail to get to the top of the waterfalls. Like a "make one wrong move and you fall hundreds of feet to your death" hike.
The hike was barely scary in my early twenties but no biggie. Then I realized in my last two trips how crazy-scary the hike is (being closer to 30 sure does change your perspective haha). I was pleased to learn on this trip that there is a way to get to the waterfalls without risking certain death. Rejoice!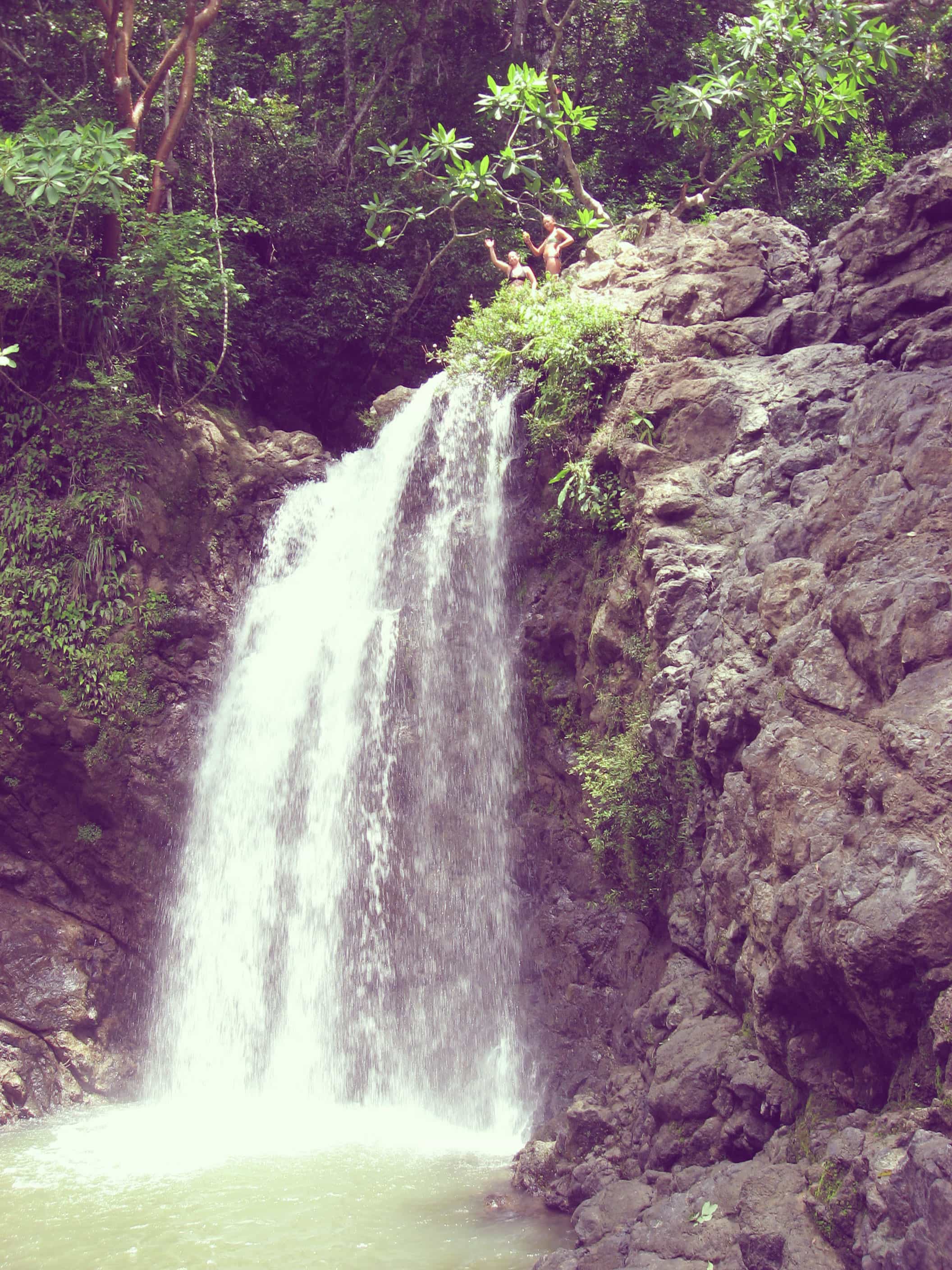 Here's one of the three waterfalls. I jumped off this thing when I was 21. I'm glad I got that out of the way so I never have to do it again :).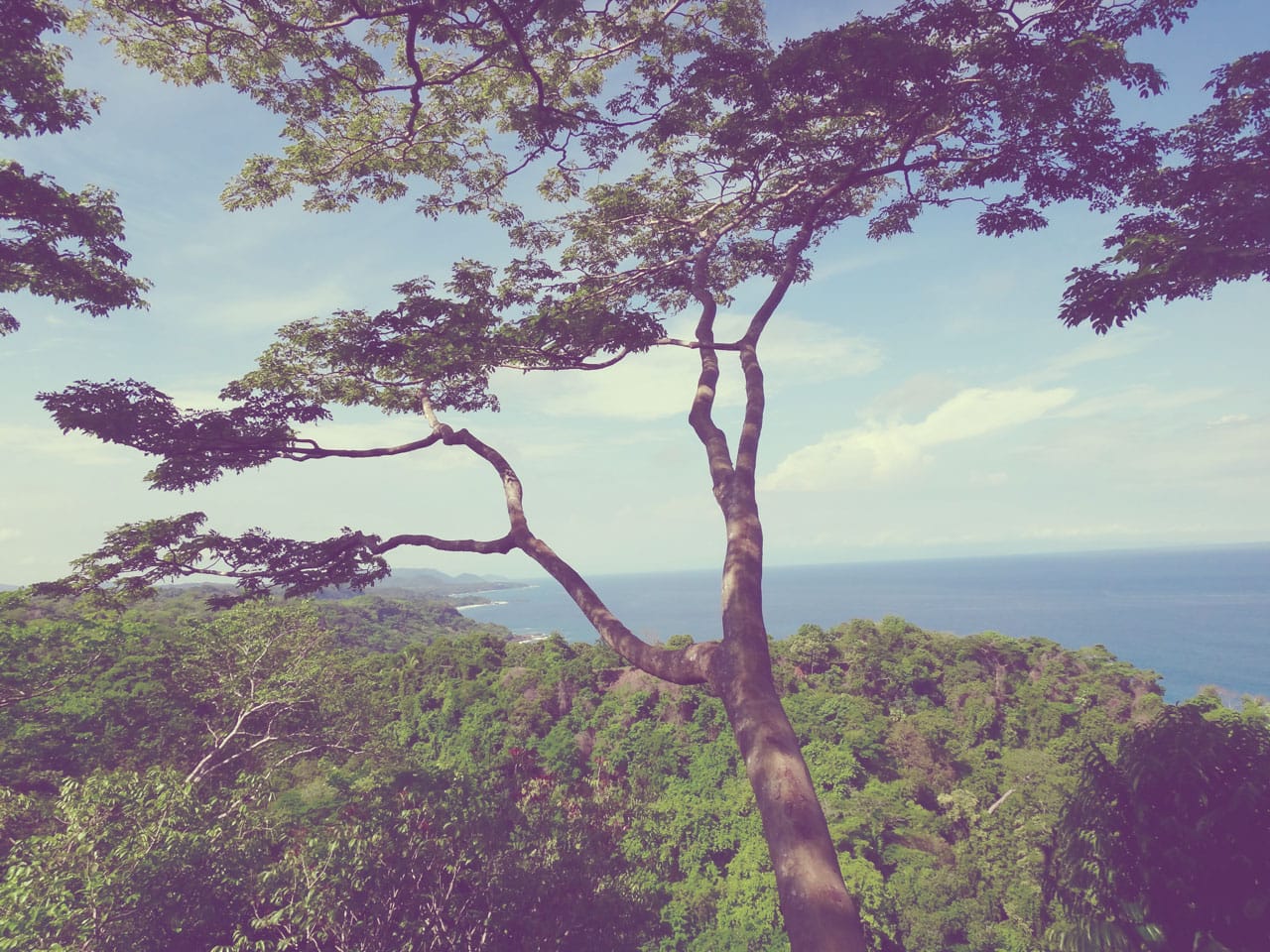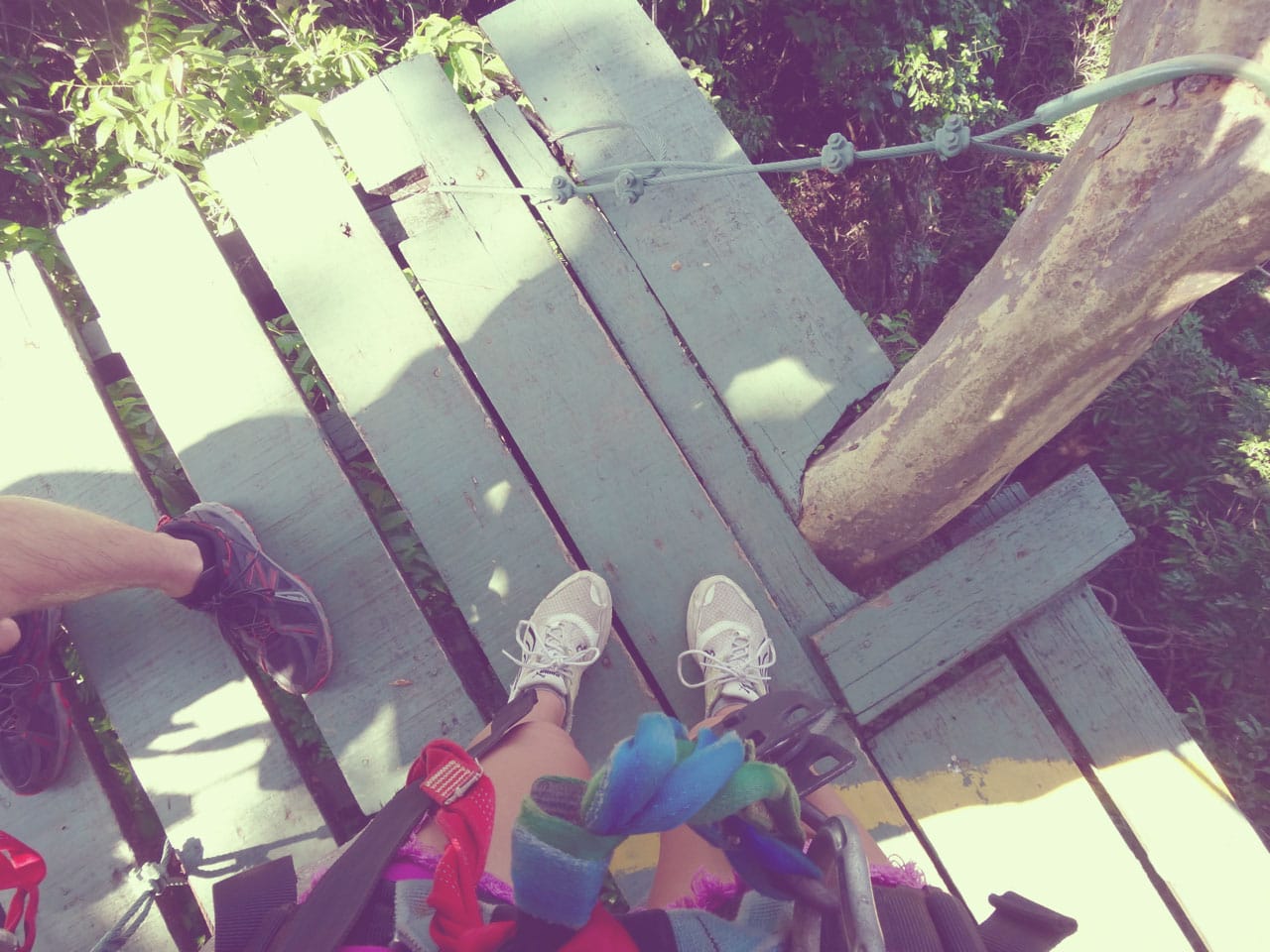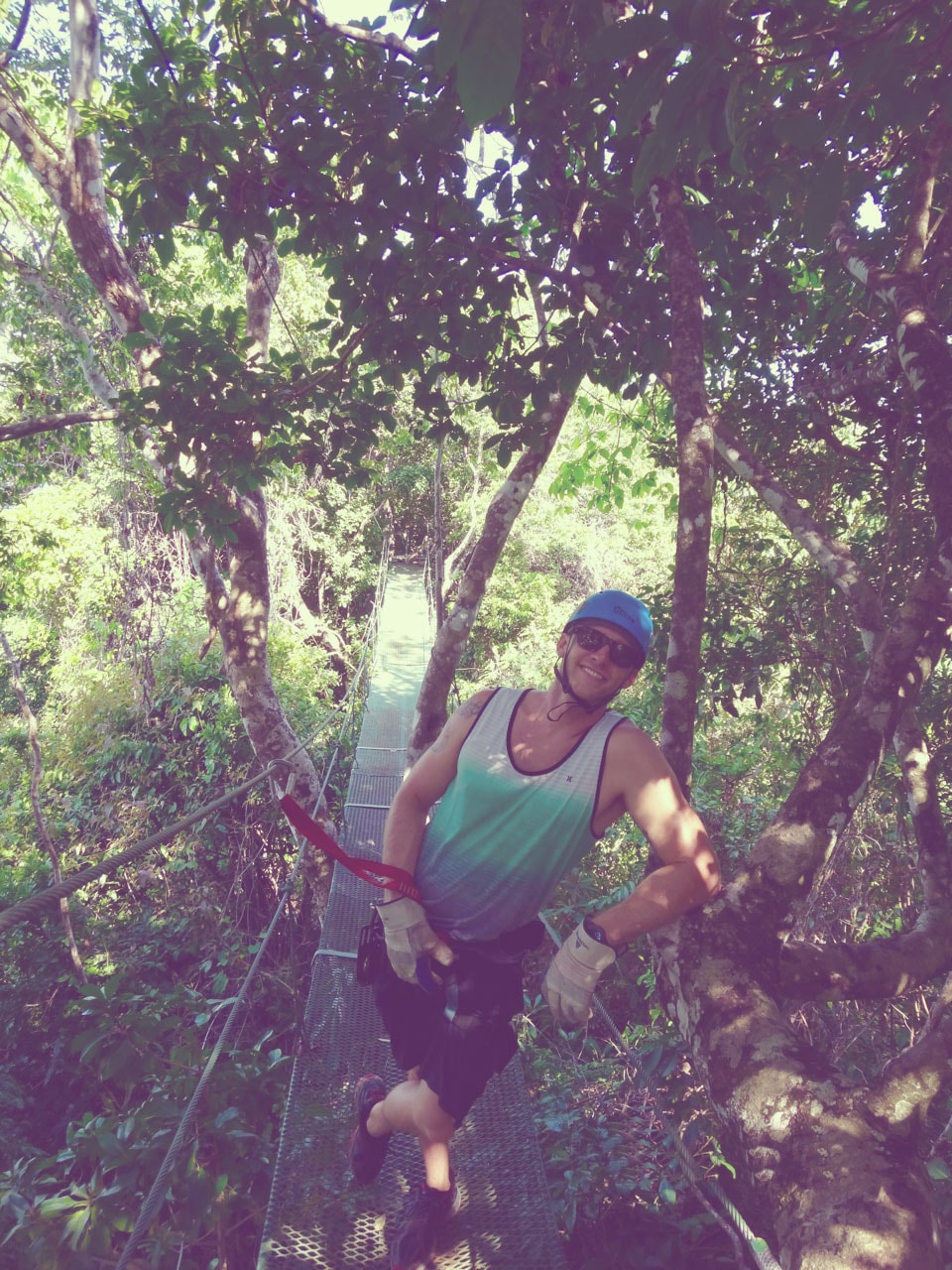 Eric is right at home in the trees because he's such a monkey haha. Little did I know that while we were ziplining, that sly dog had an engagement ring on him all day! He wanted to be ready if there was a perfect moment. Eric later told me how he almost lost the ring (twice!) on our zipline tour. He looks pretty chill here though- maybe this is right after he recovered the ring haha.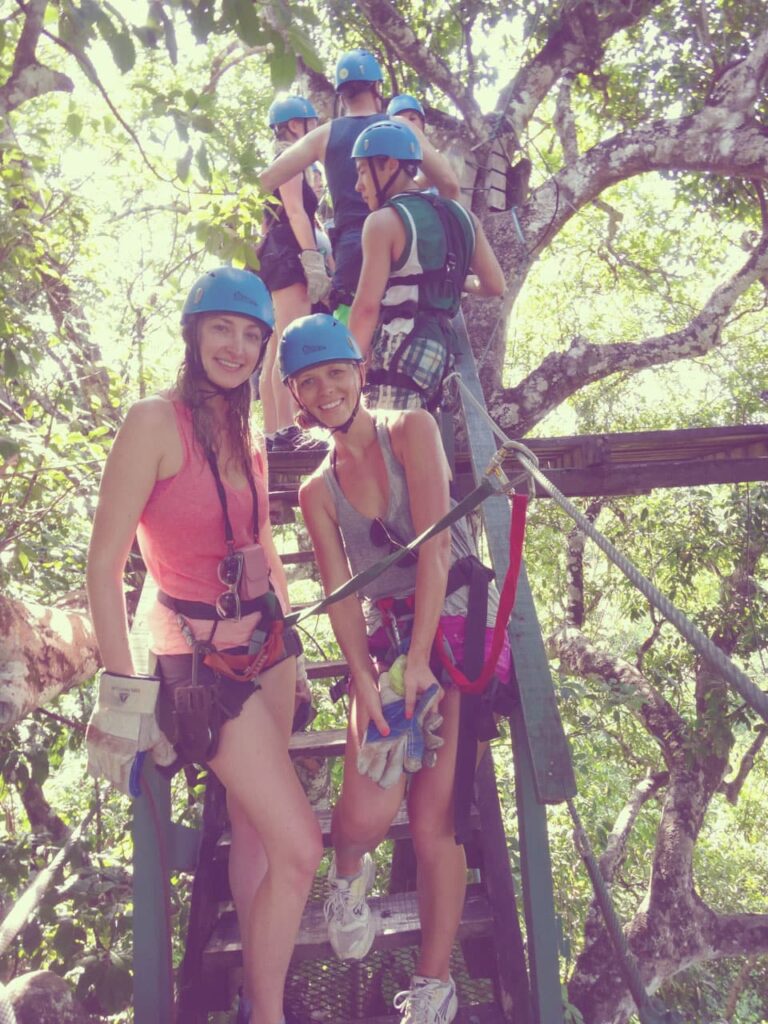 It was pretty hot but we're not drenched in sweat- we had just swam around in the waterfalls :).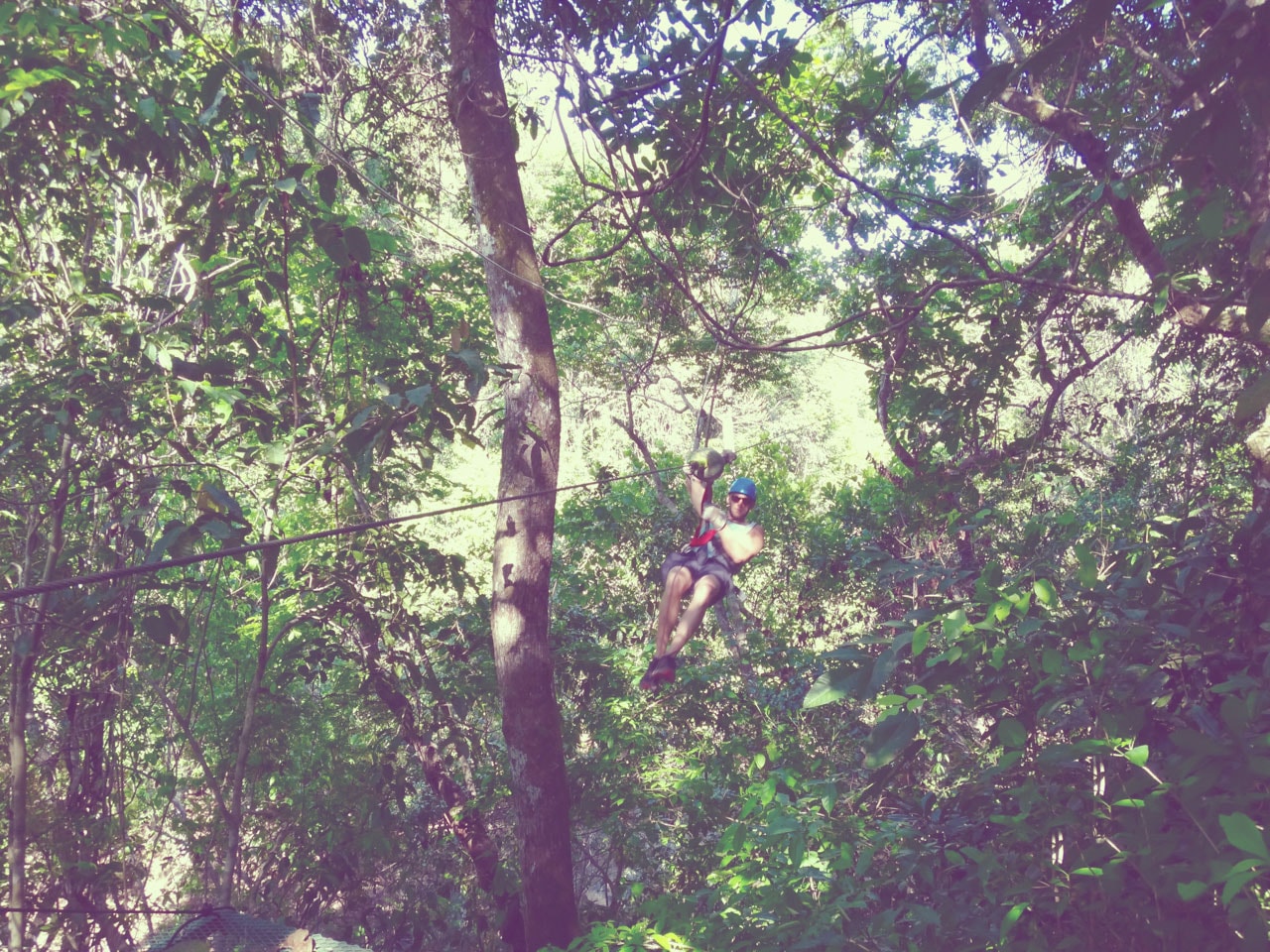 Interesting factoid: I recently learned the Nicoya Peninsula in Costa Rica is an official Blue Zone. Blue Zones are a few select places in the world where people live measurably longer lives. This is great because you might just live longer if you spend some time there. I mean, look how happy this puppy is…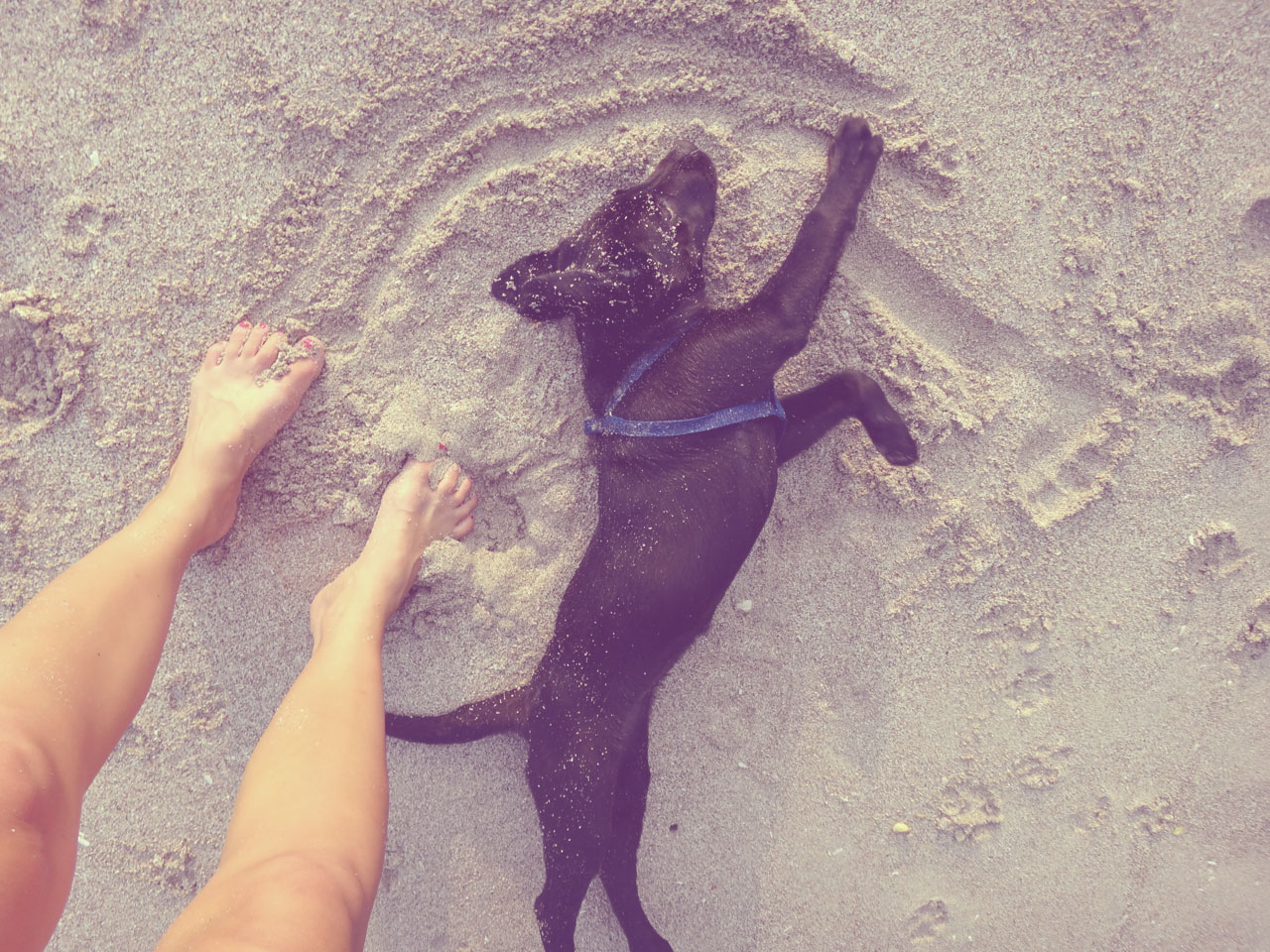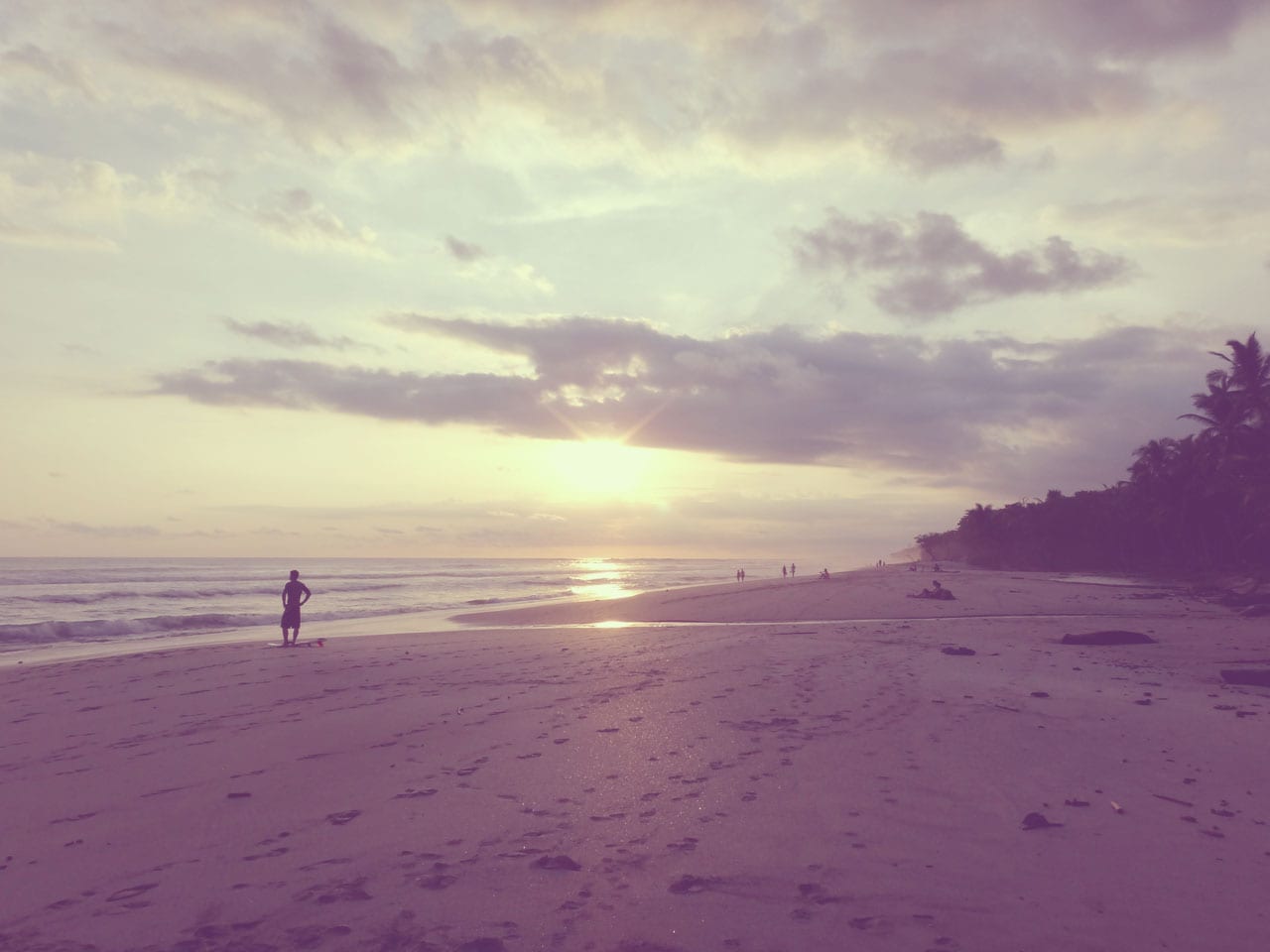 Pura Vida!
xoxo
– Tara