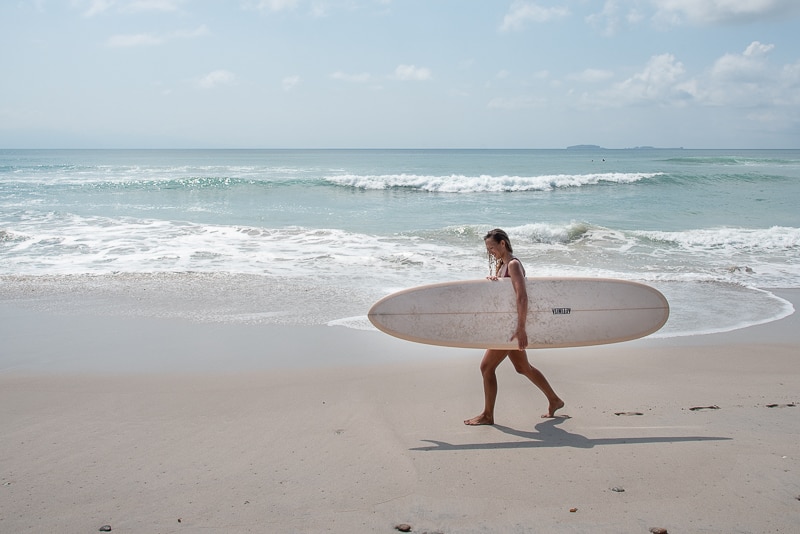 Last week we scored in Mexico. The more you go surf trippin', the more you can appreciate how amazing it is when you go on a surf trip and end up really scoring. You can do as much weather and swell calculations as you want, but if nature doesn't cooperate there's nothing you can do.
Lucky for us, the forces of nature came together to give us some heavenly days of surf in central Mexico.
We're super busy right now (exciting stuff in the works for Lush Palm!) but our good friends were getting married in Puerto Vallarta so we were committed to being there. And seeing how their wedding venue was so close to Sayulita and neighboring waves, we flew in a week early to do some serious wave research (it's part of our job after all… someone's gotta do it).
I had been to Sayulita about 10 years ago, and have heard there's been a lot of development and changes in the last 5 years, so I was curious to check out the new scene.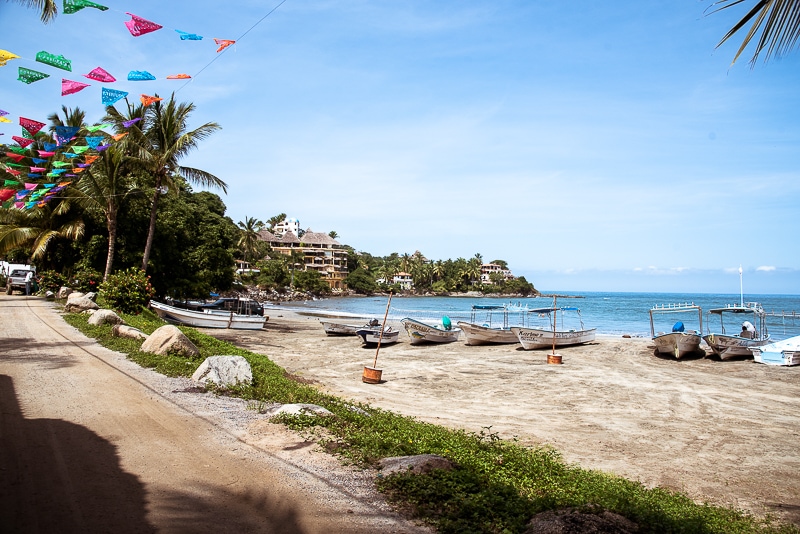 We flew into Puerto Vallarta, rented a car for $4 a day, and hit the road for the 45-minute drive to Sayulita. Halfway into our drive, we were pulled over by the police for speeding. Turns out, Eric was in fact speeding, but to his defense, he was going with the flow of traffic and everyone else was speeding way more.
Anyway, the policeman went on to explain how he was going to take Eric's license and we would have to go to their office to pay the ticket, etc, etc. There's no shortage of stories about travelers being shaken down by the police in Mexico, so we were anticipating the 'ol shakedown and were a bit bummed to start the trip with a ticket.
The policeman explained he was going to write us a ticket, walked back to his car and came back with his partner. We were thinking oh here it comes. The officer goes on to introduce his partner who makes small talk with us and then… a Mexican traveling miracle happened! The guy says "this is my superior and he says we'll let you off with a warning this time."
Whaaaaa?! A warning! In Mexico?! I don't even get warnings in the States! We thanked the officers about a thousand times, promised not to speed, and continued on our merry way towards Sayulita. Lady luck (and a really nice police officer) was on our side.
When we entered Sayulita, it was immediately evident how much it has changed since I had visited 10 years ago. My faraway Sayulita memories were of a sleepy little coastal town with some dusty roads and a pretty quiet beach.
The Sayulita of today is a bustling little resort town with tons of restaurants, visitors, and tourist shops. But even with the new buzz and development, Sayulita has managed to maintain its charm. Colorful flags hang over the narrow cobblestone streets, palm trees adorn the central plaza, and inexpensive taco stands are mixed in with the hip new cafes.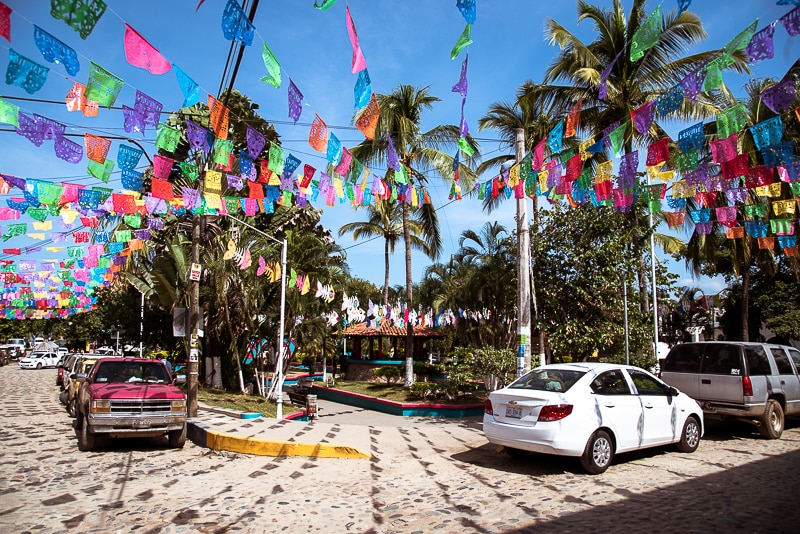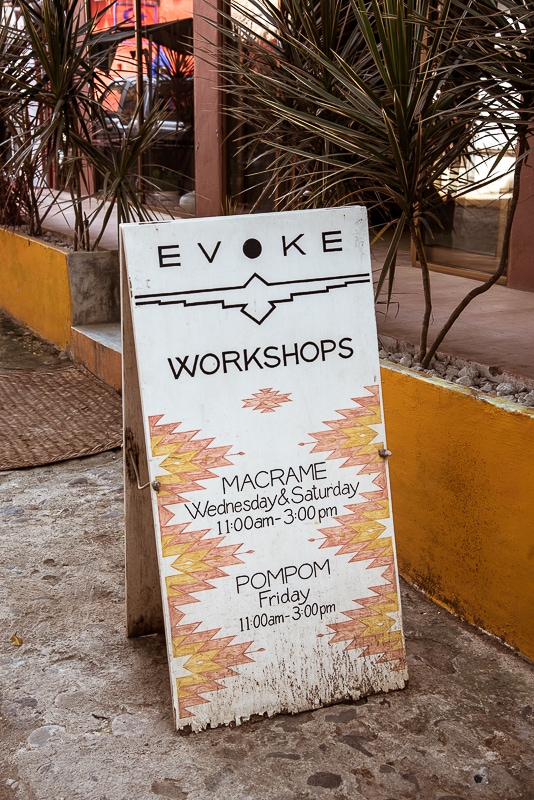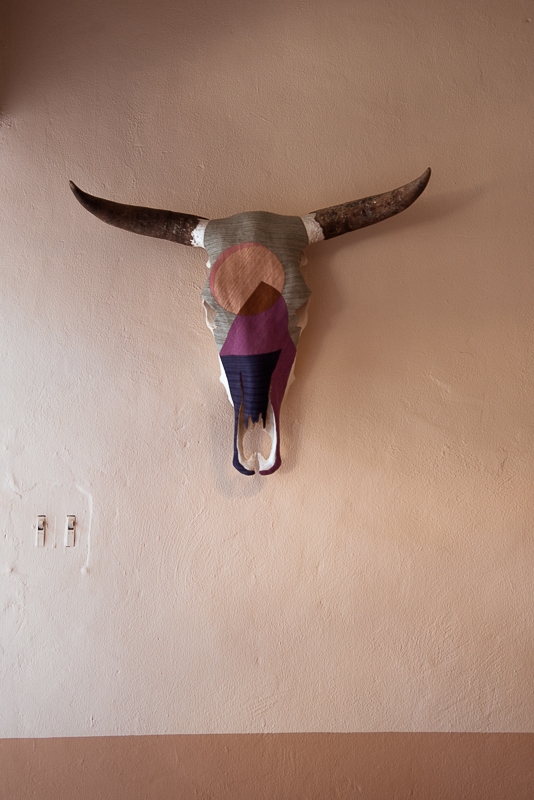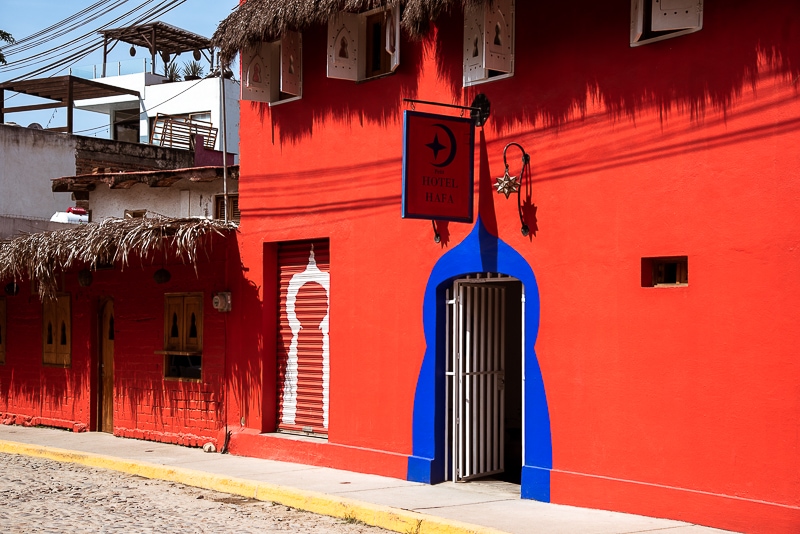 We stayed at Petit Hotel Hafa, a charming boutique hotel in the center of Sayulita, and a couple blocks away from the beach. We settled in, did a quick surf check (no waves), and headed out for some dinner. And oh, the joys of legit Mexican food! We found a little spot called Mary's and thoroughly enjoyed some chicken mole, shrimp tacos, guacamole, and margaritas. Mmmm que bueno.
We chatted to a couple next to us who own a vacation home in Sayulita and got some good tips. One, that you can't really go wrong with the food in Sayulita because there are so many really great places to eat (my kind of place!). And two, that Dia de Los Muertos was coming up and Sayulita is an especially wonderful place to experience it.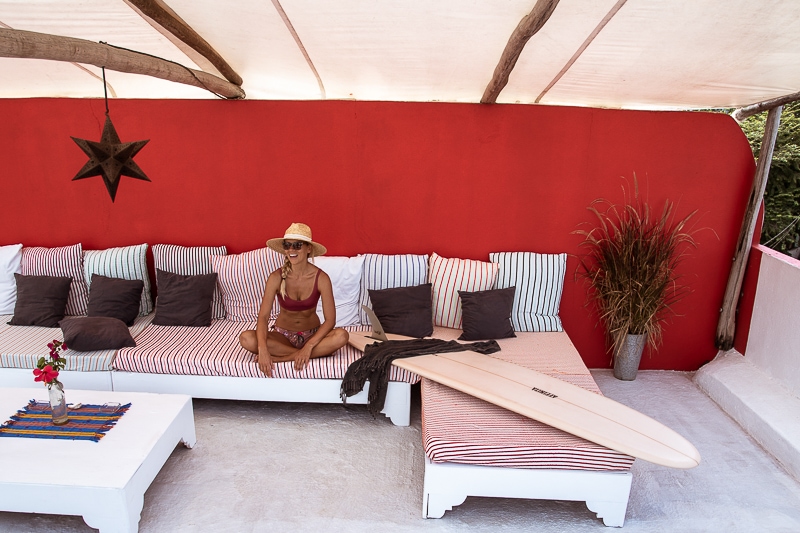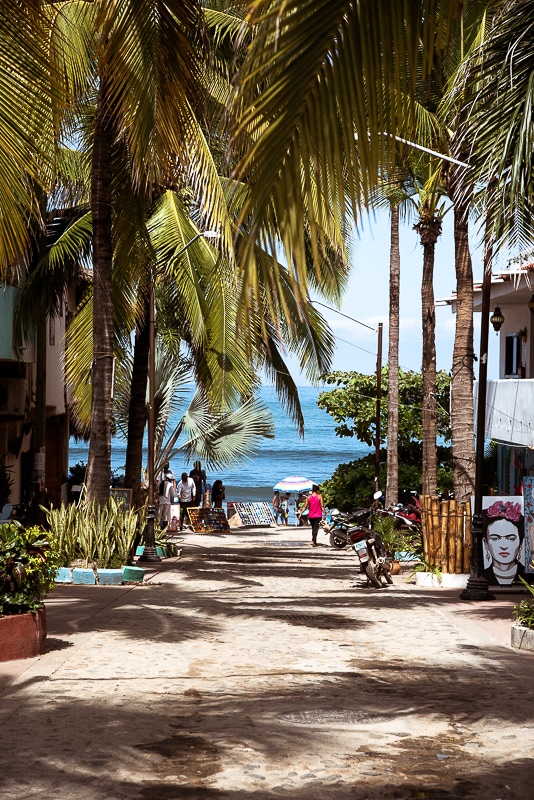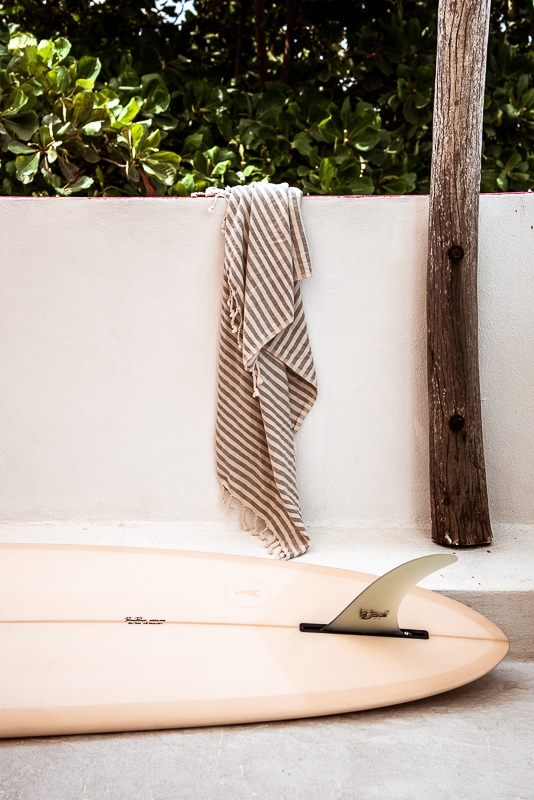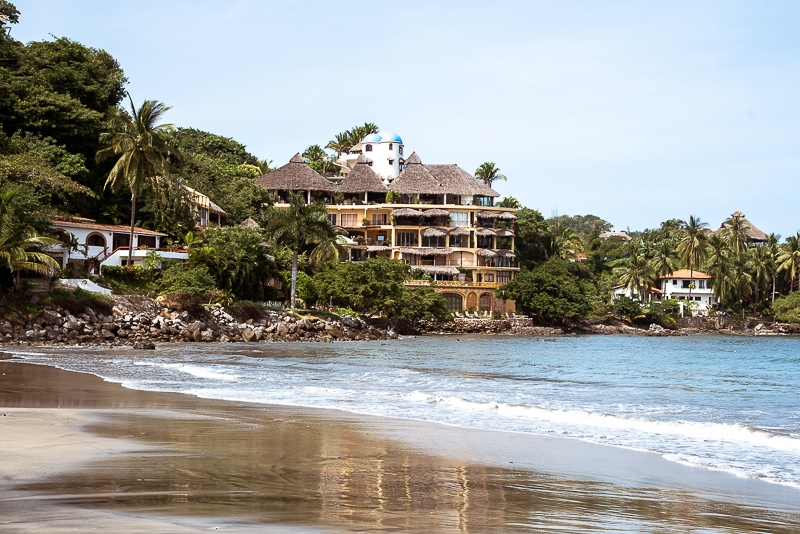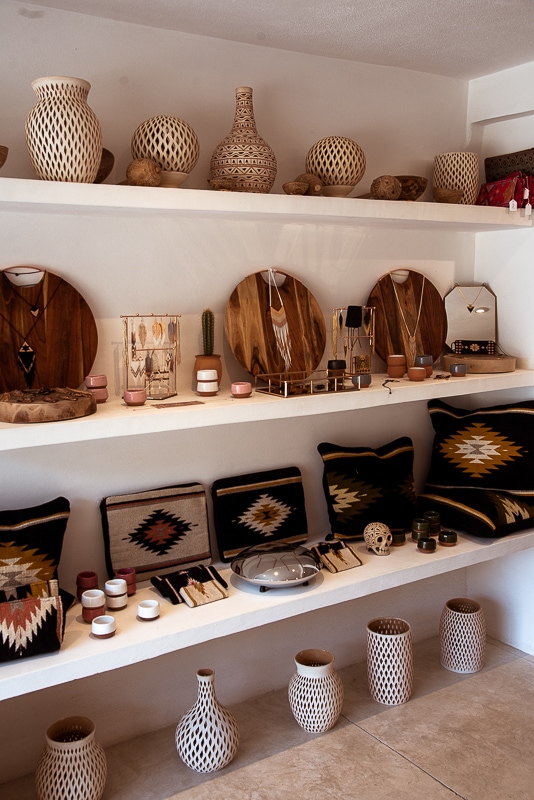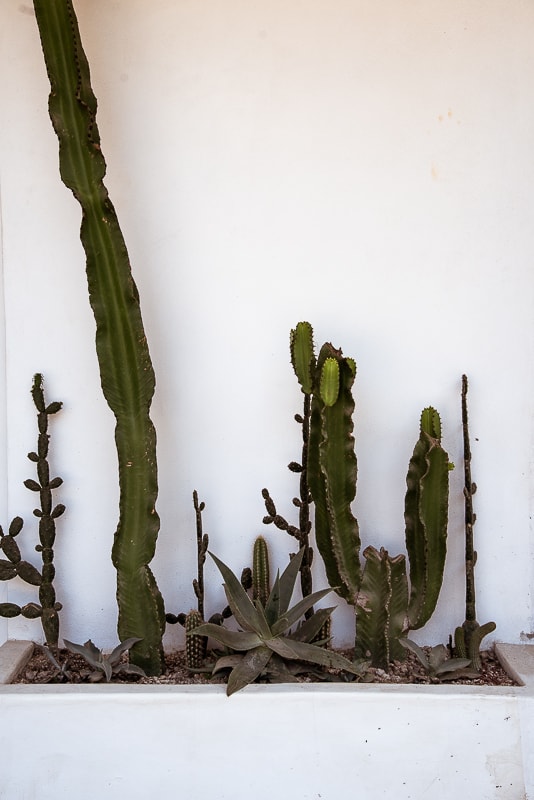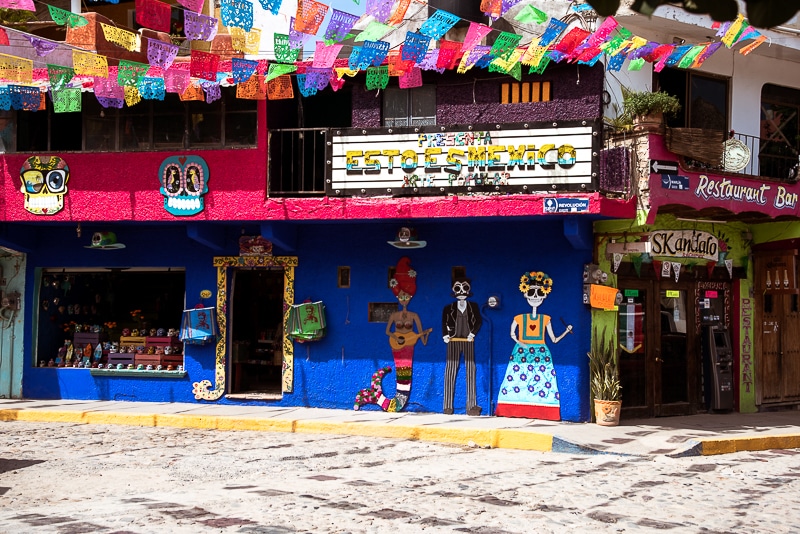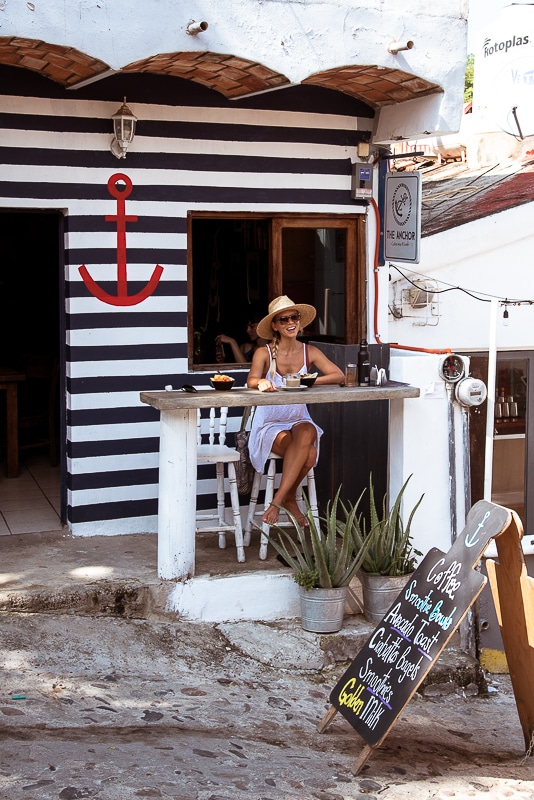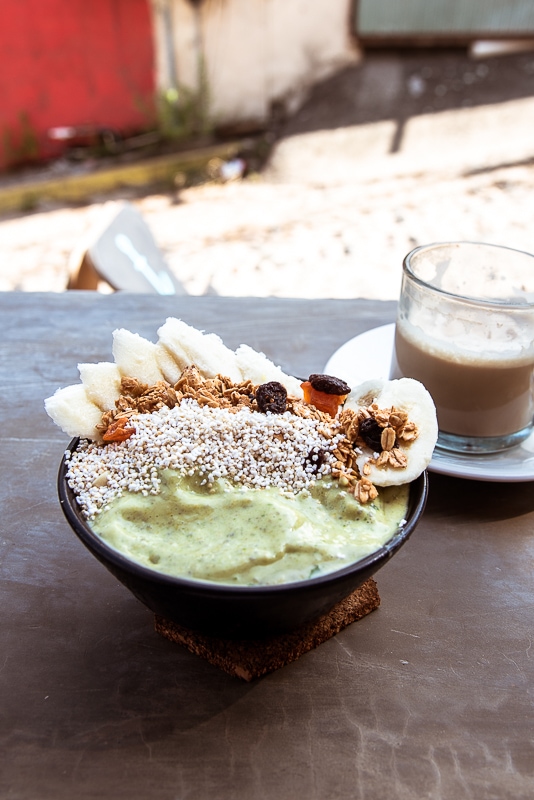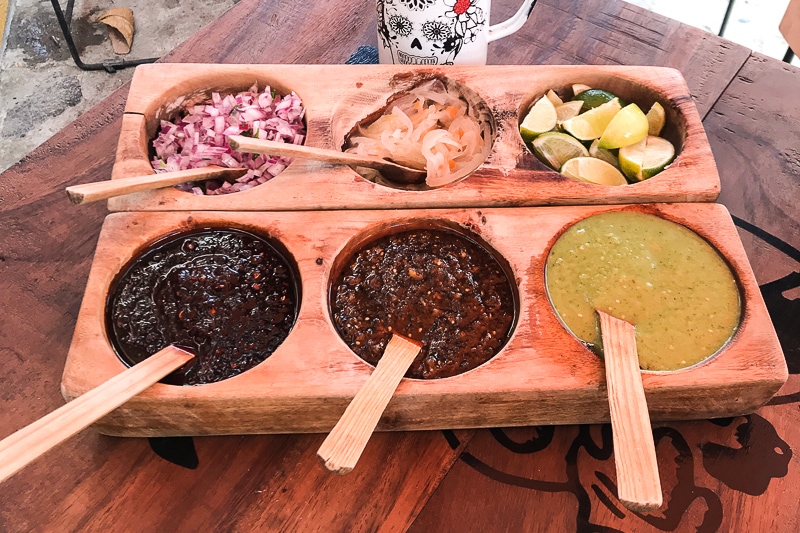 The next day we had surf on the agenda and it looked like the swell direction (a long-period southwest) was best for the Punta Mita area, about a 20-minute drive south.
There's a rad couple from Norway (Hayden and Laila) we had been in touch with for the past year through our website because they were planning their own round-the-world surf journey (they are now in month 11!) and in a total awesome coincidence, they were staying in Punta Mita when we were there. So we planned to meet up at a remote-ish surf break in Punta Mita.
And so began our first day of complete surf-stoked happiness. When we arrived at the break there were about three people out, one of them our friend Hayden. Eric and I paddled out, immediately caught a couple of waves, and afterward looked at each other with huge wide eyes and ridiculous ear-to-ear smiles. Holy shit that's a fun wave!
This little reef break was producing wave after wave of clean couple-foot-overhead perfection. Rights and lefts just reeling off long rides all the way to the beach, and the crowd was about 5 – 6 people total at any given time.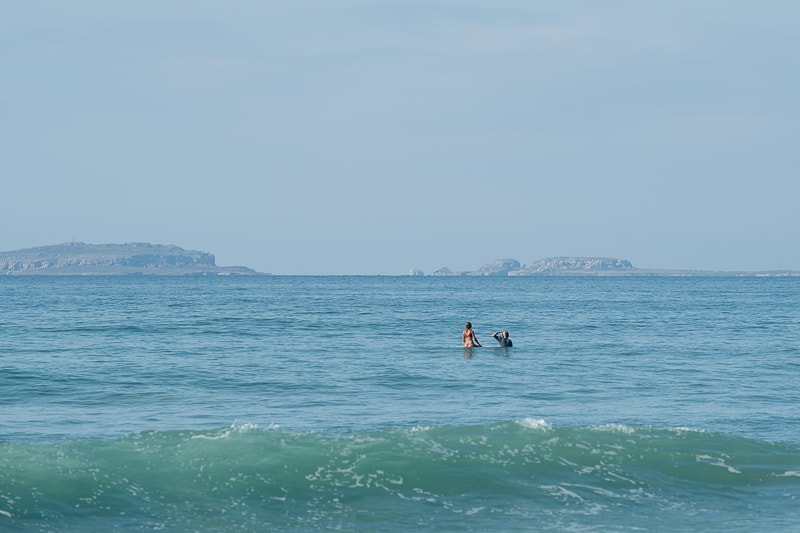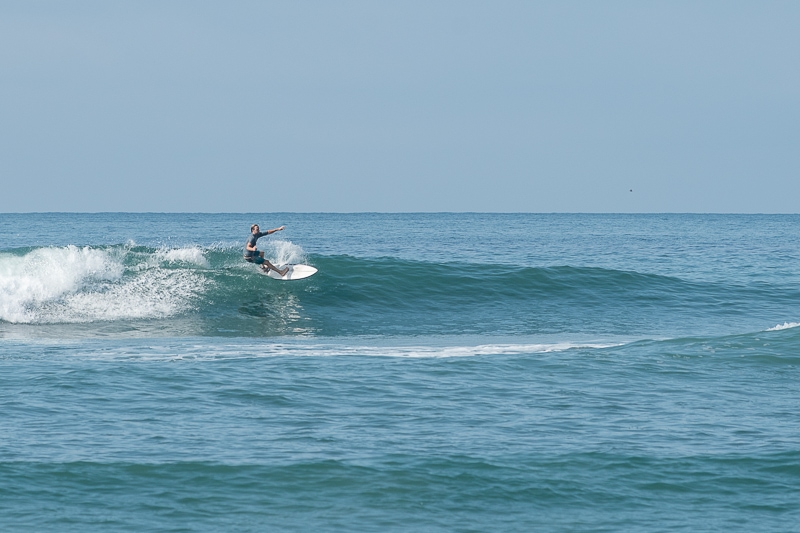 Eric and I decided that between the perfect waves and a water temperature of around 80 degrees, we had landed in paradise. Hayden told us that it was the biggest he has seen at that spot. We thanked Lady Luck, surfed the afternoon away, and capped off the day sipping margaritas watching the sunset with our amigos.
The next day we headed to a different break in Punta Mita… and again, we scored. When we showed up there were three other people in the water and again, the waves were ridiculously fun. Long perfectly shaped rights and lefts just peeling in the best way possible. Conditions got better and better as the afternoon went on, and even though some more people showed up, there were plenty of waves to go around.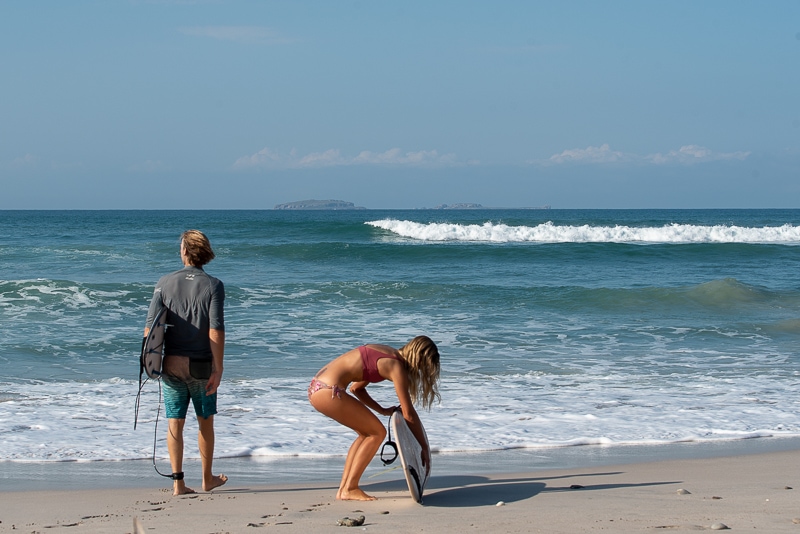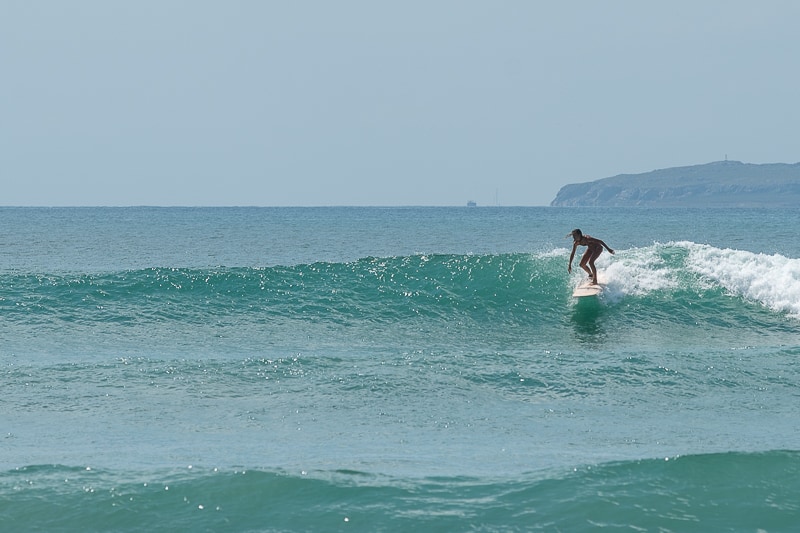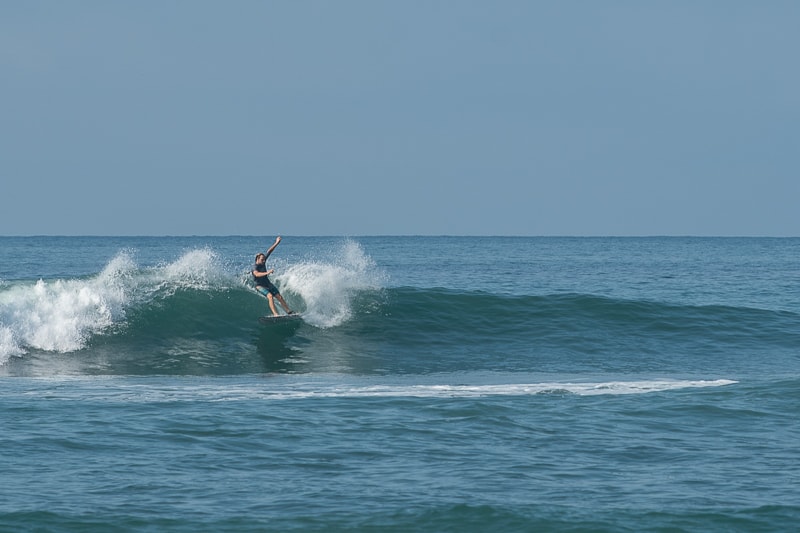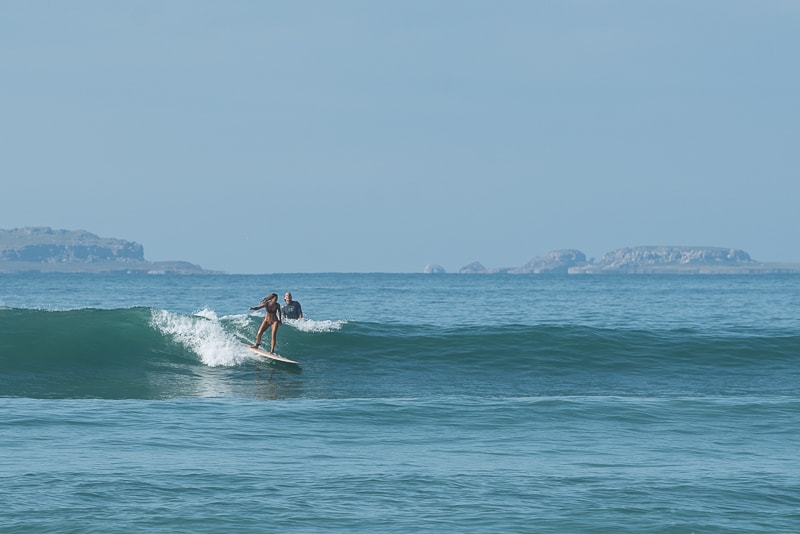 We surfed until we were utterly exhausted and afterward ponied up at a beach restaurant for some shrimp fajitas. Low and behold, out in front of a little harbor in Punta Mita there's this chill longboard wave pumping out long long rides. Turns out this wave is called Anclote and it only breaks a handful of times every year. This just happened to be one of them.
We were tired from the afternoon session, but that wave looked too good to pass up so we paddled out for a post-surf, post-fajita sunset surf (this should definitely become a thing). There was a quite the crowd on this wave, but a lot of beginners staying on the inside so we went far out for the bigger sets and it worked out just beautifully.
The waves were clean glass-off perfection and just seemed to go on forever. I caught some of the longest rides of my life! The rides were so long, halfway through I was in a blissful state of shock and awe, thinking holy shit it's still going? It's still going?!!! When I finally kicked out at this little jetty I looked back to where I had caught the wave and the lineup was so far away they looked like ants. It was freaking amazing.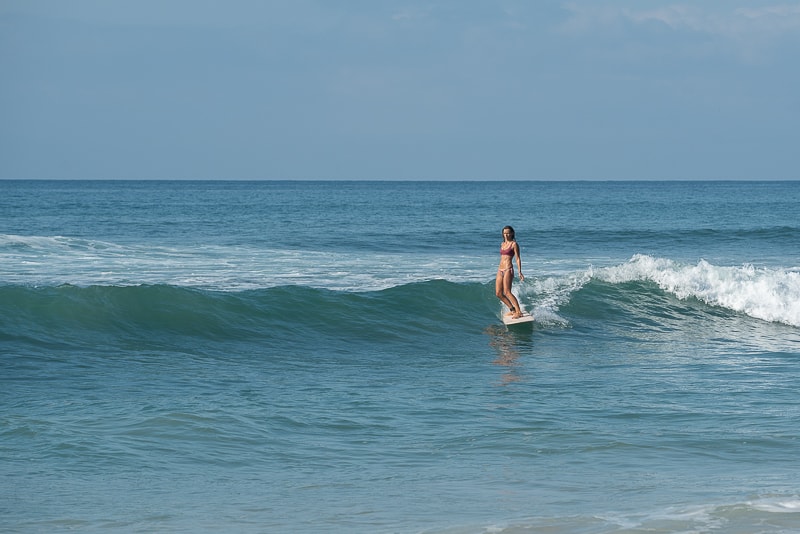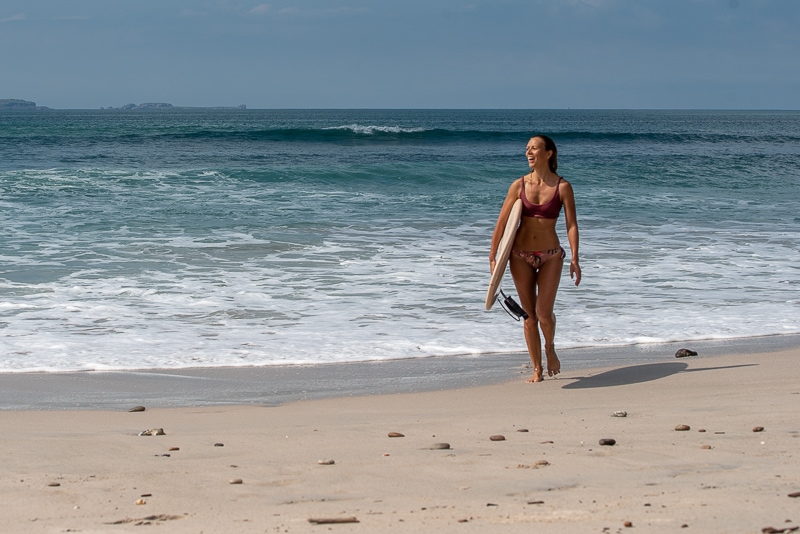 So yeah, we absolutely scored and had such an awesome time. The largest and biggest waves roll through the Sayulita area in the winter, but surf can be found year round. Turns out, October is relatively quiet tourism-wise, and we just totally lucked out with a fantastic swell at a good time of year.
We had a great time hanging out with our friends from Norway and it's always such a cool thing to connect with people you've met online in real life. The digital world has its downsides, but I love when it brings people together.
After a week of fun surf, good times, and Mexican feasting, we headed down to Puerto Vallarta for more good times, more feasting, and to celebrate our friends' wedding. It. was. a. blast.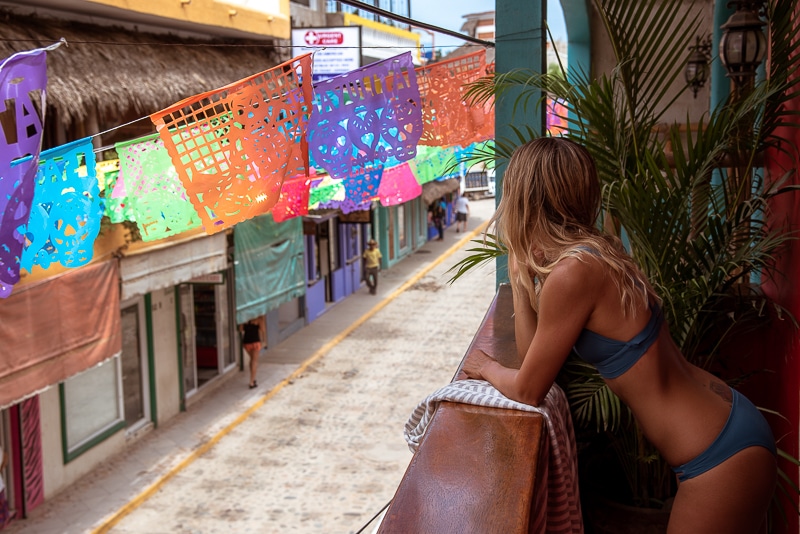 You know when you're so darn busy that you feel like there's no way you could get away? Well, that's how I felt prior to this trip. Super busy and a bit stressed about a never-ending to-do list on hand.
By the end of the trip I was completely refreshed and ready to get back to working hard and facing challenges, but minus all the self-imposed stress. Ahhhh. Sometimes it's reaaally hard to break away from what we think is SO urgent and important when in reality, it's not so important. And certainly not worth stressing about.
For me, this trip was a good reminder of this. I couldn't imagine stepping away for a minute and when I did, nothing fell apart, there was no disaster. Sometimes a change in routine and taking a big fresh breath of air is exactly what the doctor ordered. And/or surf and tequila. That works too.