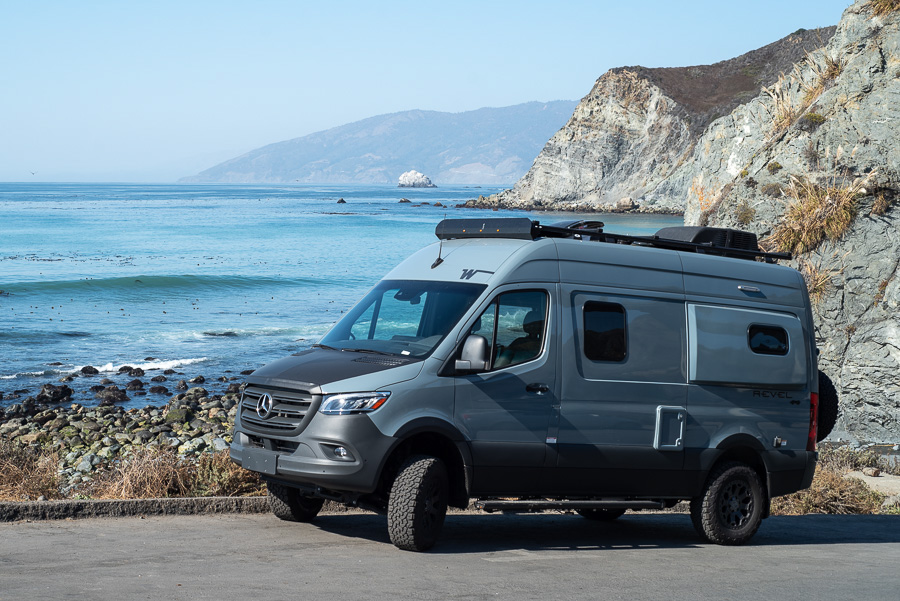 RV rentals are an awesome way to travel and explore any place on the planet — and especially a place with endless natural beauty like California. With its stunning coastline, epic surf breaks, impressive National Parks, and famous sights, California offers a wide variety of adventures for all types of travelers.
Being based in San Diego, we've had the pleasure of taking many road trips and camping trips throughout California, and we've rented multiple RVs for different trips. Through lots of research and our personal rental experiences, we've learned a ton about RV rentals and camper van rentals in California.
The great news is that there are lots of fantastic RVs and campervans for rent all over the Golden State — from custom campervans to luxury travel trailers and everything in between. It can be tricky to navigate all the options and find the right rig for your needs, so we created this guide to help you find the perfect California RV rental for your trip.
In this guide, we break down the top things you need to know about renting an RV in California, including RV rental prices, seasonality, one-way fees, mileage, pet policies, top rental locations, and our recommendations for the best RV rentals in California.
Why Rent a RV?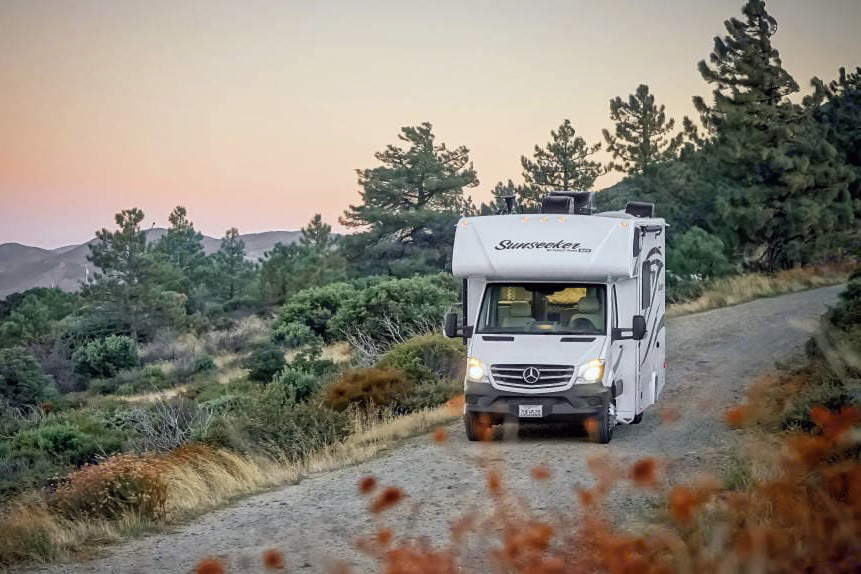 RV rentals are a comfortable and fun way to take a road trip adventure and explore the great outdoors. Whether you're planning a multi-destination road trip, camping surf trip, or National Park adventure, with an RV rental you get to be surrounded by nature with many of the comforts and convenience of home.
Renting an RV gives you the benefits of RV ownership without the downsides. You get all the perks of RV travel without the large investment, storage, and maintenance of ownership. It also allows you to rent the perfect type of RV based on the trip you want to take.
Want to get off the grid in the mountains? Opt for an off-road campervan with solar power. Heading for a beach camping trip with a couple of families? Go for a larger motorhome with a full kitchen and all the bells and whistles.
There are thousands of fantastic RV rentals in California and they come in all shapes, sizes, and price points. From hip custom Sprinter vans to retro-fabulous airstreams to luxury travel trailers, you'll find there are endless options that offer different ways to travel and experience the #RVlife.
RV Rental Prices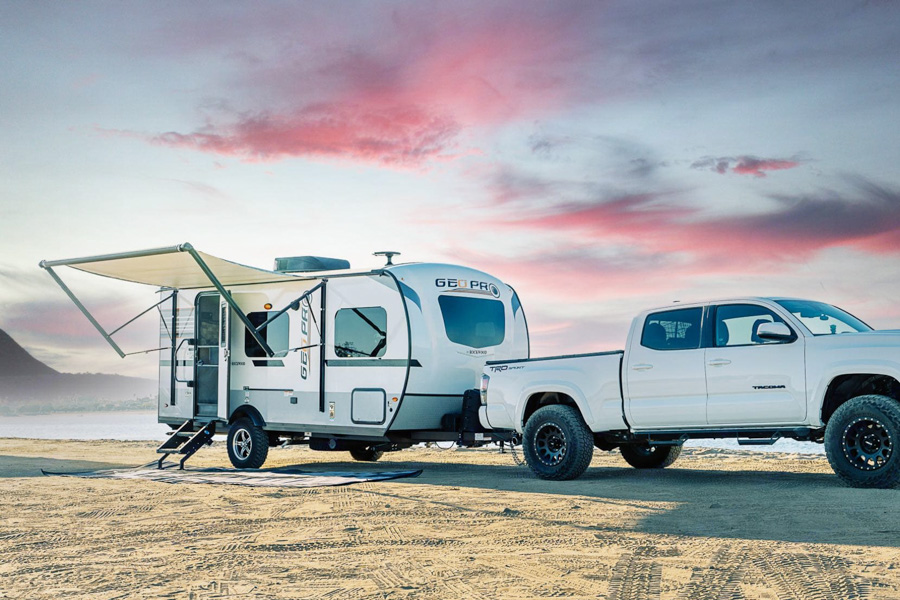 One of the top questions we hear is: How much to rent an RV in California? I wish the answer to this was more simple, but the reality is that California RV rental prices can vary greatly depending on the RV type/size/age, rental location, time of year, what's included, and the length of rental. That said, here's a range to give you an idea:
While California RV rental prices can range anywhere from $70 – $350+ per night, generally speaking,

the average RV rental price in California is around $130 – $250 per night

.
Naturally, newer RVs with more features are going to cost more than older RVs, and renting in the high travel season will be more expensive than renting in the low season. There are many variables that play into RV pricing, and we'll dig into some details about pricing below.
Travel Seasons in California
One of the factors that most affect RV rental prices in California (besides the type of RV) is the time of year you'll be traveling. Prices will be lowest during the less busy seasons and higher during the busiest travel seasons and US holidays such as Thanksgiving, Christmas/New Years, and holidays with 3-day weekends.
Here are the general seasons for road trips and travel in California:
High season (highest prices): June – September (summer)
Mid season (mid prices): October, April, and May
Low season (lowest prices): November – March (winter)
What's Included in an RV Rental?
What's included in an RV rental will vary depending on the company or individual owner you're renting from, but typically, many rentals include some mileage (50 – 150 miles per day), kitchen and cooking utensils, bedding, and some other camping gear like camp chairs.
Some companies rent RVs with lots of amenities already included in their pricing, while others come relatively bare bones and renters have the option to add amenities like cooking utensils and bedding at an additional charge.
Because inclusions vary so much, keep this in mind when comparing pricing, and it's a good idea to make sure you read the fine print before making a reservation so you understand exactly what's included and what isn't included in your rental.
Additional RV Rental Costs
The additional costs of renting an RV can include insurance, gas, cleaning fees, campsite fees, and potentially mileage. It's good to know that most RV rentals come with 50 – 150 miles per day included with your rental, but typically there will be extra charges for additional miles driven.
Many rental companies and owners also have special gear and add-ons available at an additional cost like stand-up paddleboards, bike racks, hammocks, kayaks, and more.
RV Rentals in California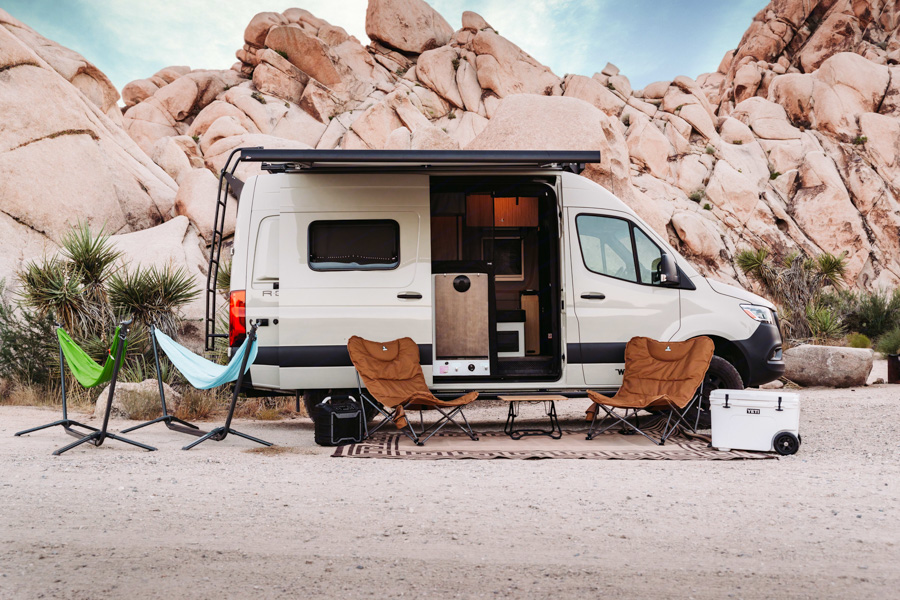 The RV rental market has completely transformed over the past ten years due to the popularity of #vanlife and the introduction of peer-to-peer RV rentals. There are now tons of RV rentals available and many ways to rent an RV. Places to rent an RV generally fall into three categories:
Online peer-to-peer marketplaces, where owners list their RVs, and renters can find and book a rental from the individual owner.
Corporate rental companies who own and rent out their own fleets of RVs and campervans.
Smaller mom-and-pop rental companies who rent out a small fleet of (typically quite customized) RVs or campervans. Many times, these companies also list their rentals on a large rental marketplace like Outdoorsy, which is great so you can get the insurance and support of the marketplace.
Below are our top recommendations for RV rentals in California. Like most things, all options have their pros and cons, and we'll cover some reasons why one or the other might be better for you.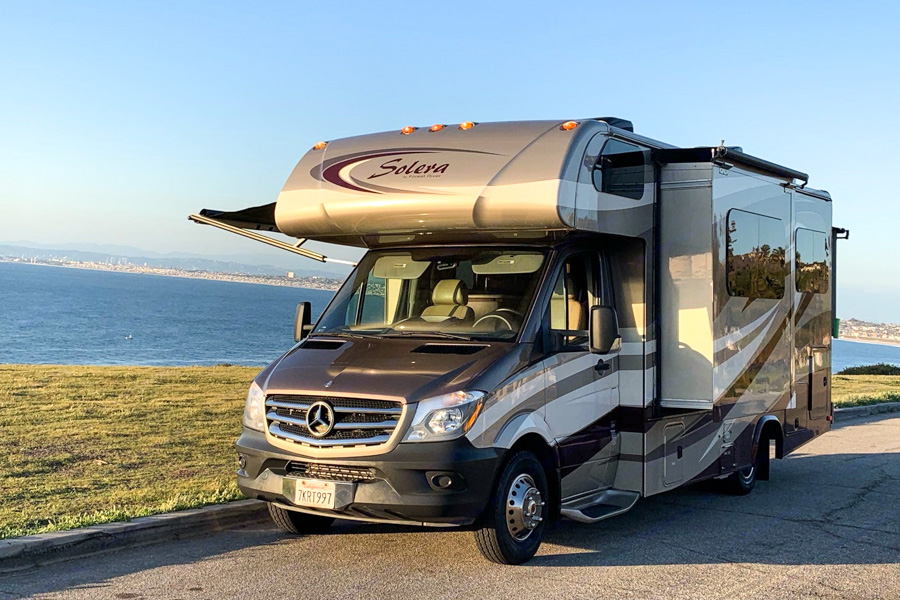 Outdoorsy is an online rental marketplace that connects RV owners with RV renters. It's like the Airbnb of RV rentals. Outdoorsy has every category of RV and camper van available, with a huge range of amenities—you'll find everything from vintage Airstreams, to luxury camper vans, to huge Class A buses with all the bells and whistles.
There are thousands of listings for RV rentals in California, many of which are concentrated near the larger cities like San Diego, Los Angeles, and San Francisco (though there are many options available in smaller areas as well).
Outdoorsy is one of the best places to rent an RV because of the large amount of RVs available, an easy rental process, solid insurance options, and great customer service in case you need help.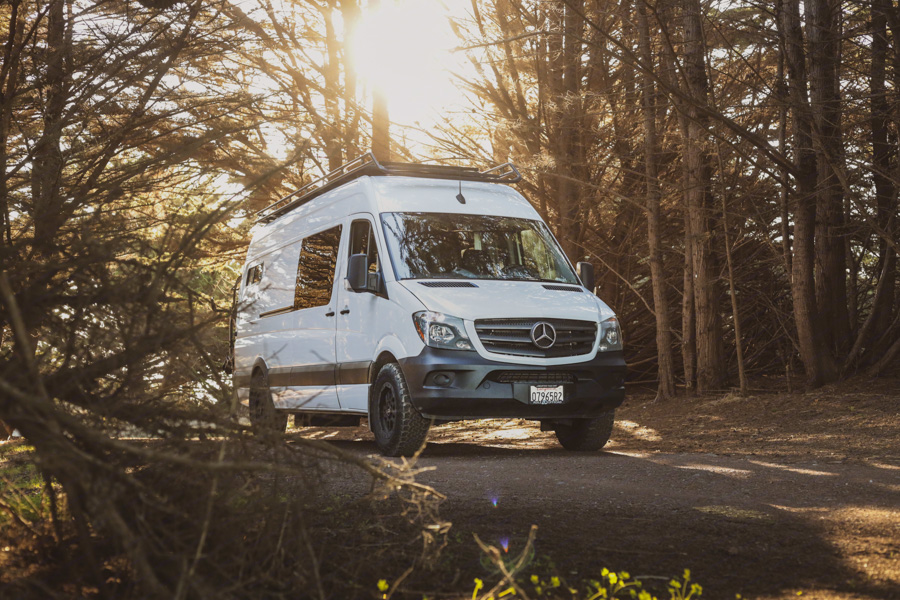 Like Airbnb, you communicate directly with the RV owner, and Outdoorsy gives you security and support through the process. When booking through Outdoorsy, you get $1M insurance (you just need to pass the DMV check), 24/7 RV rental roadside assistance, and a customer support team on hand.
One of our favorite features on Outdoorsy is how easy it is to find the exact amenities and features you're looking for, even if you don't know anything about RV models. With Outdoorsy's search function, you can filter your RV rental search based on location, type of RV, price, and even specific details like solar power or pet-friendly.
With most RV rentals on the platform, the setup is that you pick up the rental from the owner, but some rentals also have the option to have the RV delivered to a specific location, so you can have the RV dropped off at your campsite, your home, or wherever you like. This can be convenient in a lot of scenarios, but it's especially helpful for travel trailers so you can skip the hassle of towing and just roll up to your campsite ready to party!
LUSH PALM PERKS: Use promo code 'LushPalm' at checkout for $50 off your rental.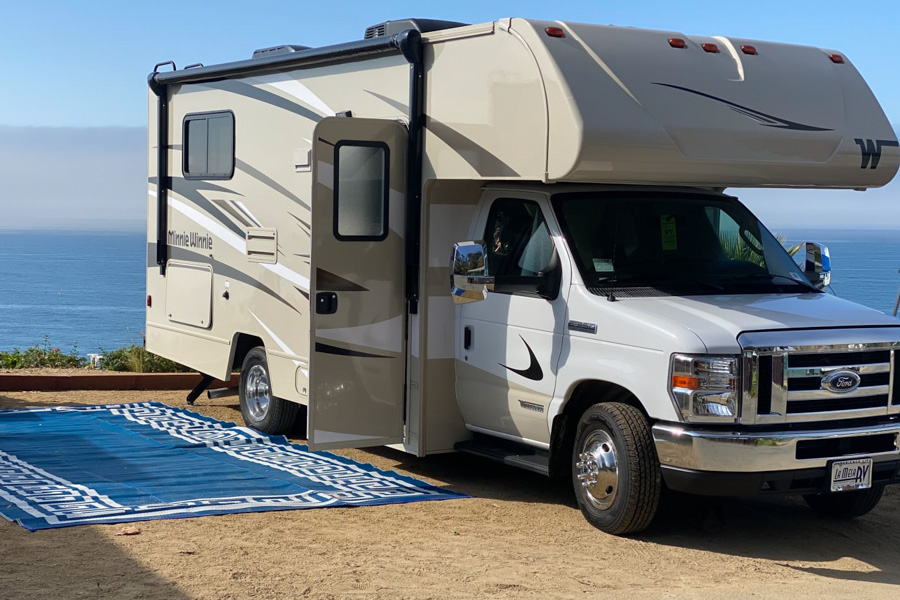 RVshare is another large peer-to-peer RV rental platform where you can find many RVs and campervans for rent by owner. In addition to private owners renting out their RVs, some RV dealers also rent their rigs through RVshare.
Like Outdoorsy, RVshare has a wide selection of RVs and you can find every type of RV on the market (and then some), and they also have lots of filters to find exactly what you're looking for.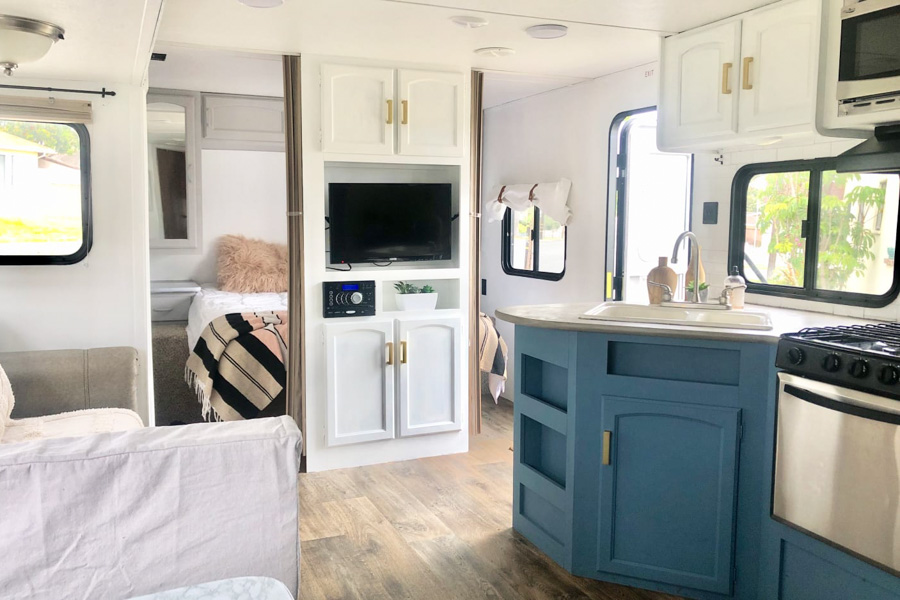 RVshare offers many of the same features as Outdoorsy, but a couple of differences is that RVshare's collision insurance is lower ($200,000 coverage versus Outdoorsy's $1M), and they also have some ads on their site, which isn't a huge deal but I'm personally not a fan of this.
We prefer Outdoorsy because of the easy-to-navigate design of their website, easy booking process, and support. But it's good to know there are multiple options out there and RVshare is another very good reputable option for RV rentals!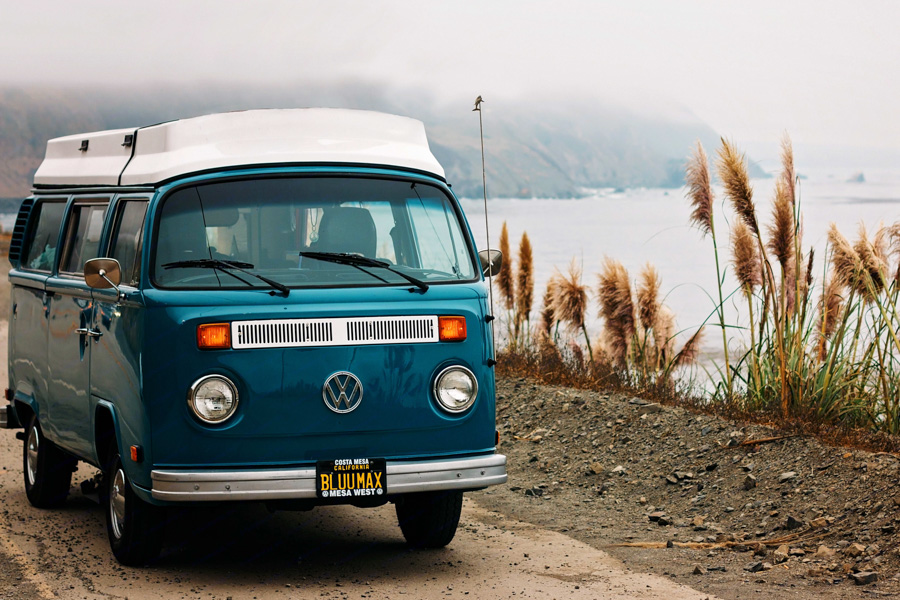 If you're looking for a smaller, more versatile type of RV (versus a larger motorhome), renting a campervan is an awesome way to travel and experience the freedom of having a home on wheels. There are lots of great custom campervans available to rent on Outdoorsy, and there are also a few great companies to consider that specialize in campervan rentals.
Because the majority of rentals on the large marketplaces are rented out by owners (and not companies), most rentals don't offer one-way trips. In other words, you aren't able to pick up the campervan in one location and drop it off in another — which can be a great option depending on your route.
The campervan rental companies below offer options for one-way trips, and have fleets of cool campervans at great prices.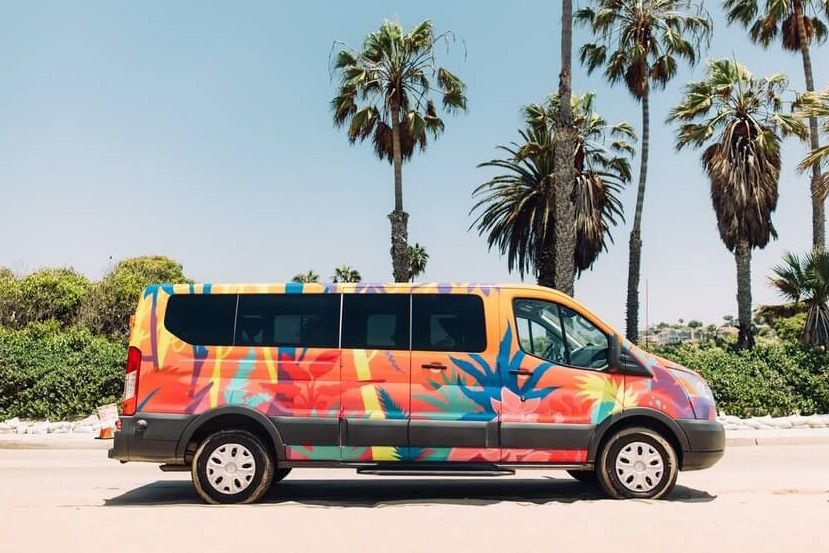 Escape Campervans is one of the most established campervan companies in the US and operates the largest fleet of camper vans in North America. With 13 locations across the US and Canada, you have lots of options and flexibility to pick up your camper at one spot and drop it off at another spot at the end of your trip.
Escape's campervans are decked out with custom artwork and come in four sizes: Santa Cruz (small), Mavericks (medium), Big Sur (large), and a Jeep Camper with a pop-up rooftop tent. All campers are outfitted with beds, storage space, sinks, refrigerators, stoves, come with 24/7 roadside assistance, and allow extra drivers for free.
WEST COAST LOCATIONS: Los Angeles, San Francisco, Portland, Seattle, Vancouver
LUSH PALM PERKS: Use promo code 'LUSH25' at check out for $25 off your rental.
COST: from $76 per night (not including taxes and insurance)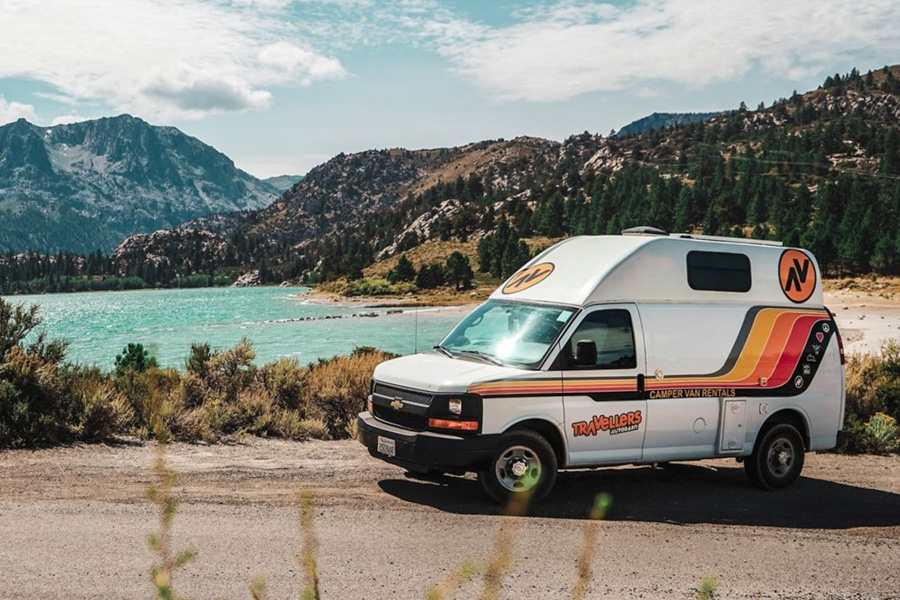 Travellers Autobarn rents budget-friendly campervans with a spacious layout that allows you to stand up inside the camper. The two campervan models come with a sink, microwave, fridge, gas stove, 120 Volt and USB plug-ins, and free unlimited miles with all rentals (which is a huge bonus if you're planning on covering some distances!).
Traveller's Autobarn has three locations between coastal California and Vegas (with more locations opening soon), and the extra fee for one-way trips is $175. A great perk for longer trips is that one-way fees are waived for all rentals over 28 days.
RENTAL LOCATIONS: Los Angeles, San Francisco, and Las Vegas
COST: from $55 per day (not including taxes and insurance)
Best RV Rentals in California (by City)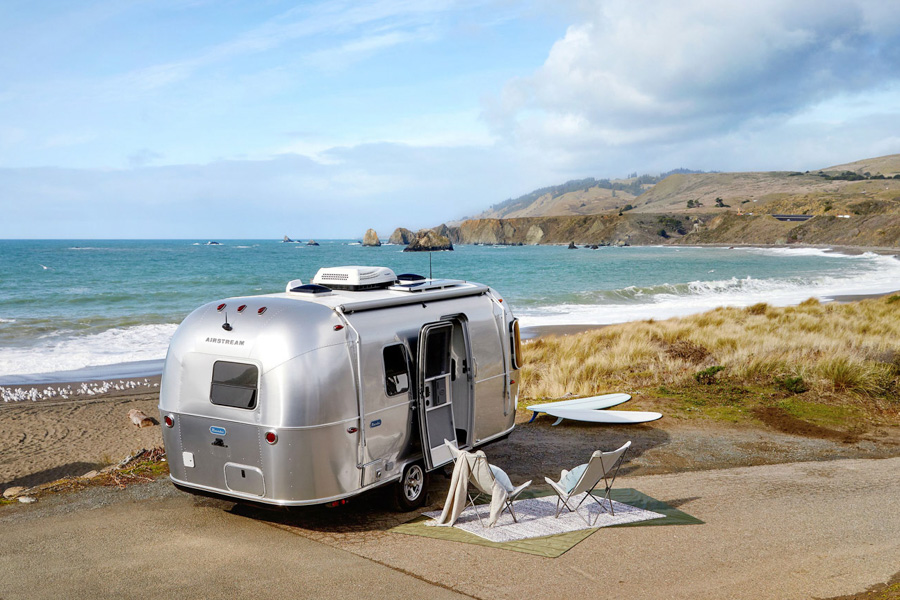 California is one of the very best places on earth to get into nature and explore in an RV. Between the beaches, forests, deserts, mountains, and bustling cities, California really does have it all. With so many beautiful places on offer, the only issue when planning a trip to California is deciding where you want to go and figuring out your itinerary!
The largest selection and variety of RV rentals are concentrated near the major cities in California (which of course is very convenient if you're flying into California): San Diego, Los Angeles, San Francisco and the Bay Area, and Sacramento.
Once you decide where you want to pick up your RV rental, here's a handy guide to a few awesome RV rentals in each city to give you an idea of what's available.
RV Rental San Diego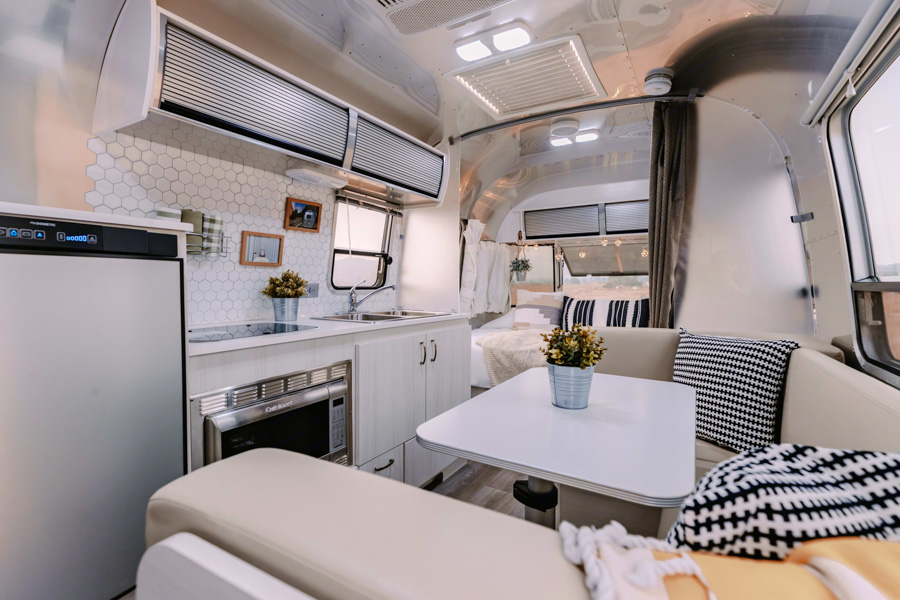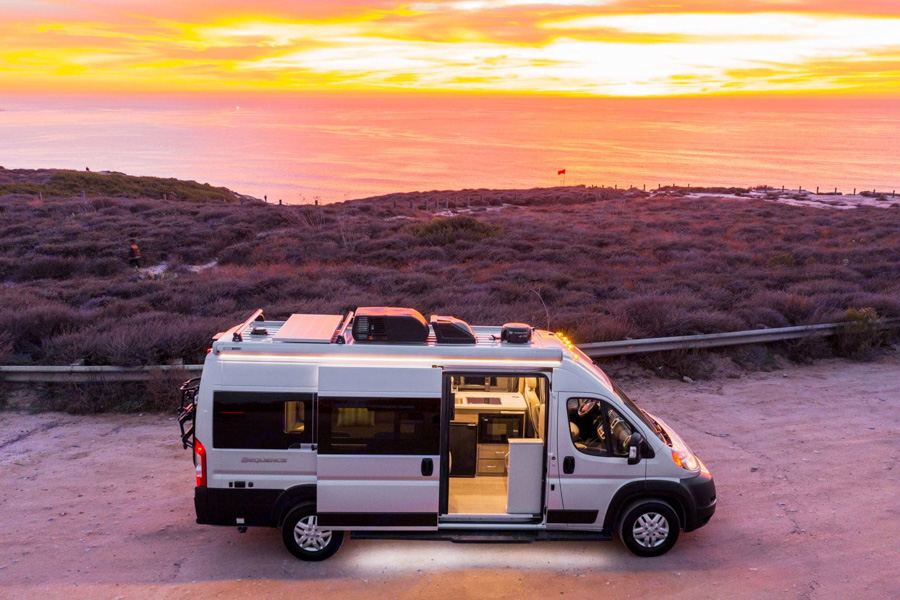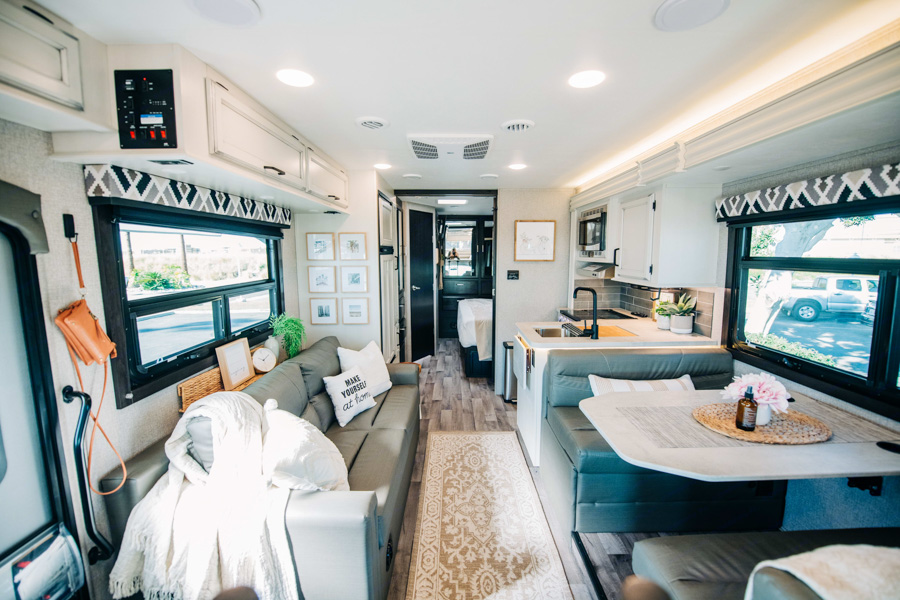 RV Rental Los Angeles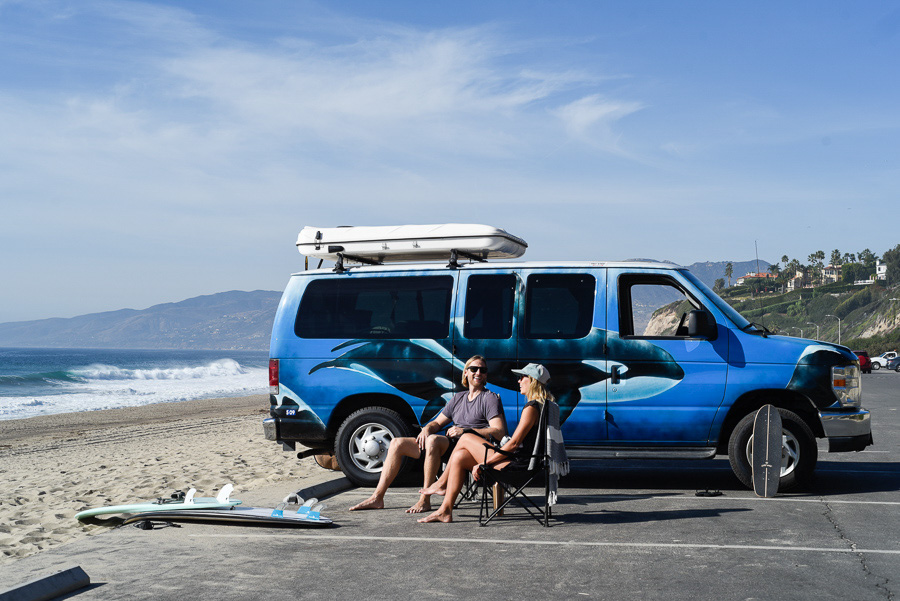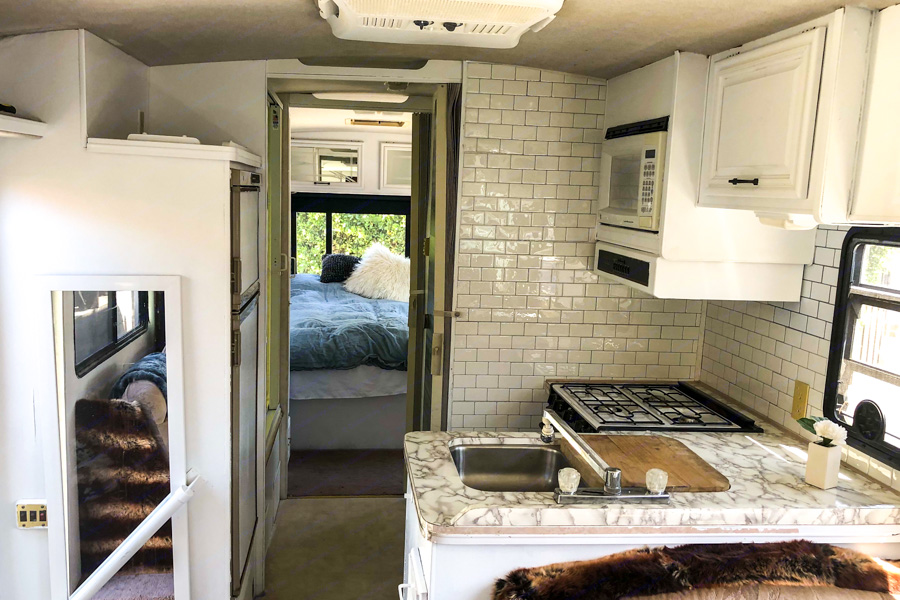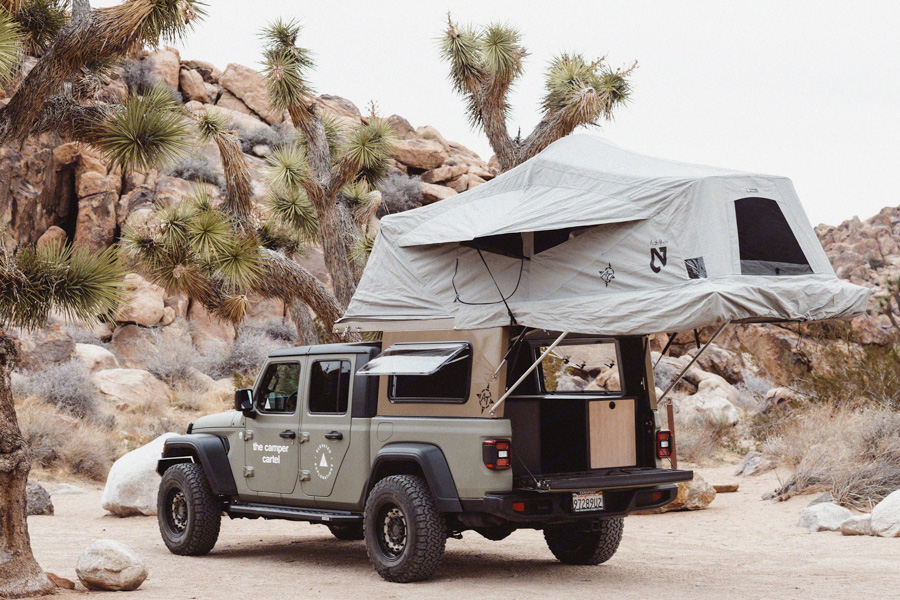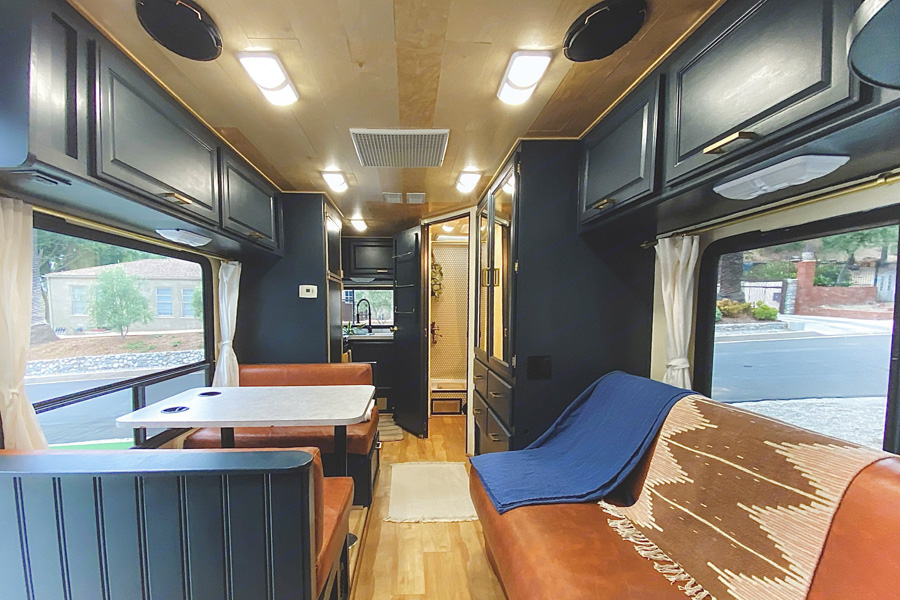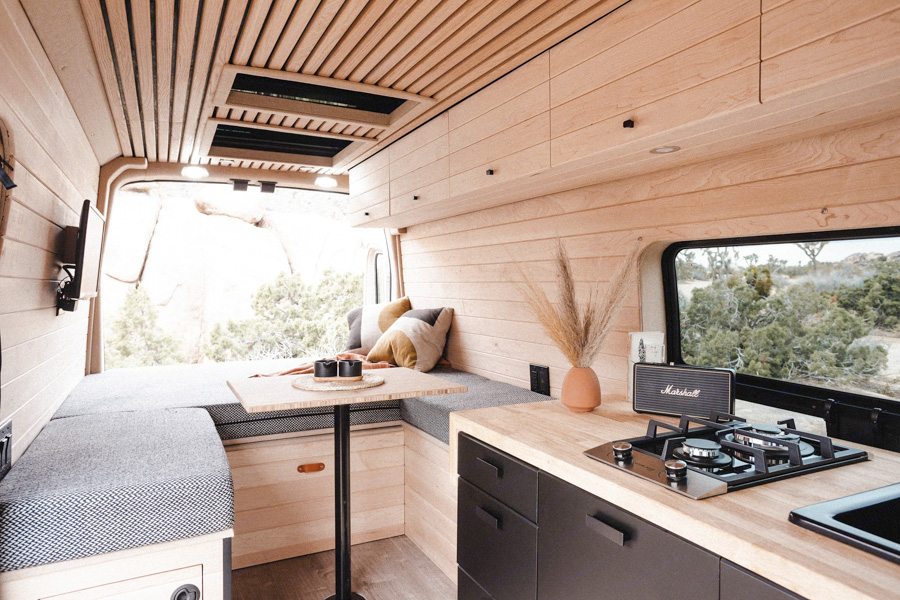 RV Rental Bay Area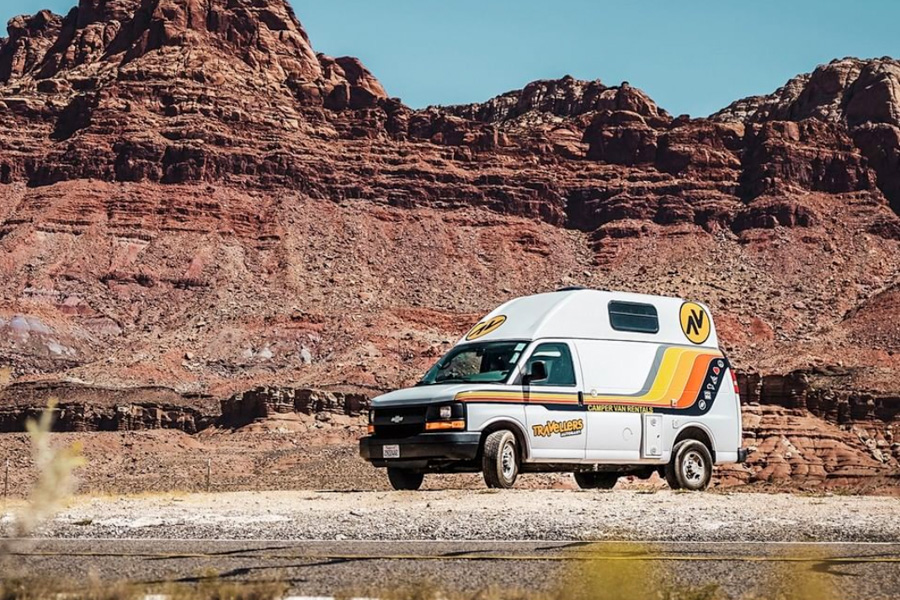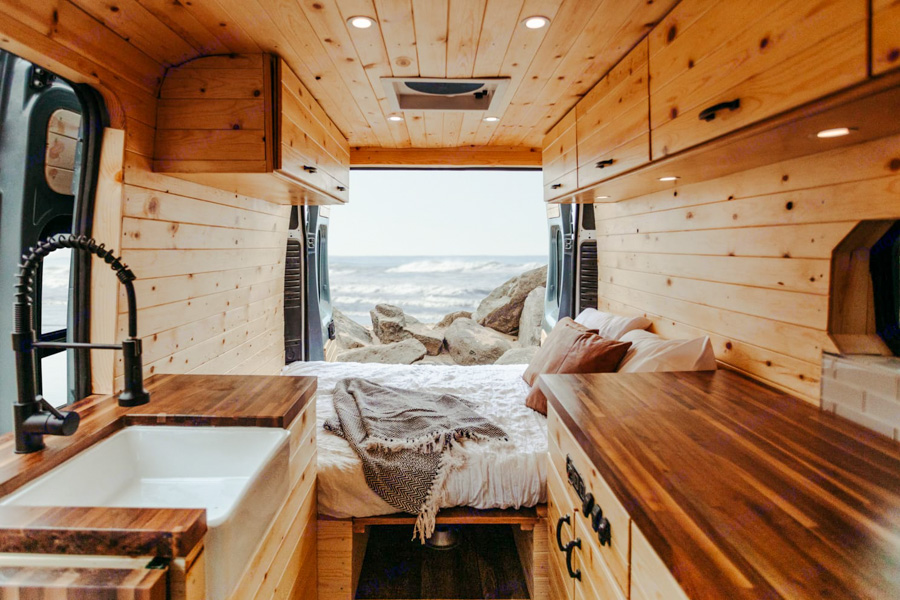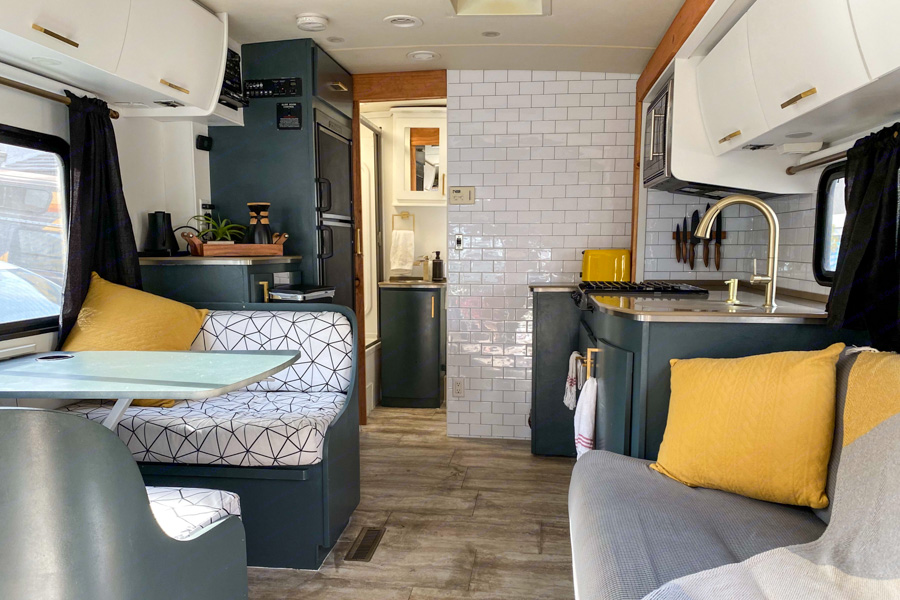 RV Rental Sacramento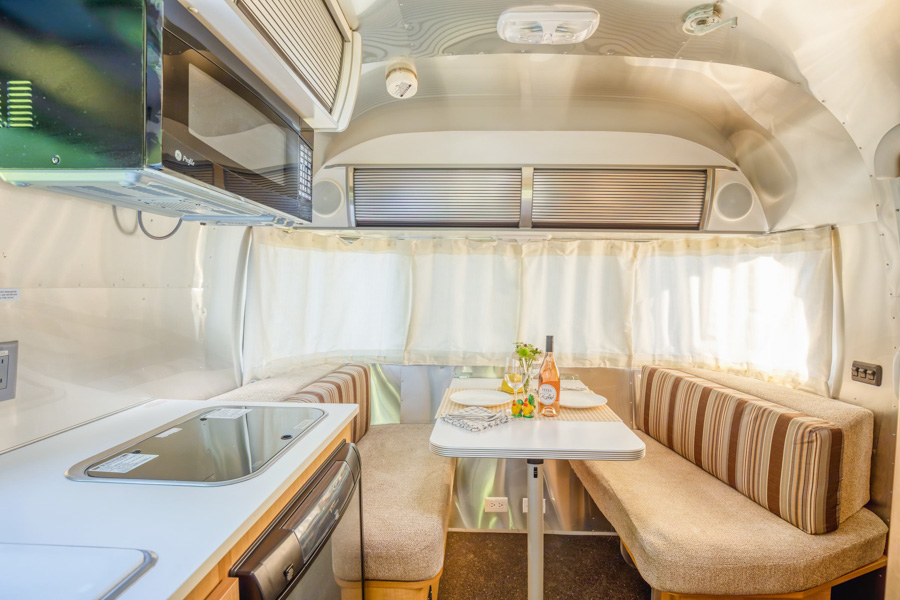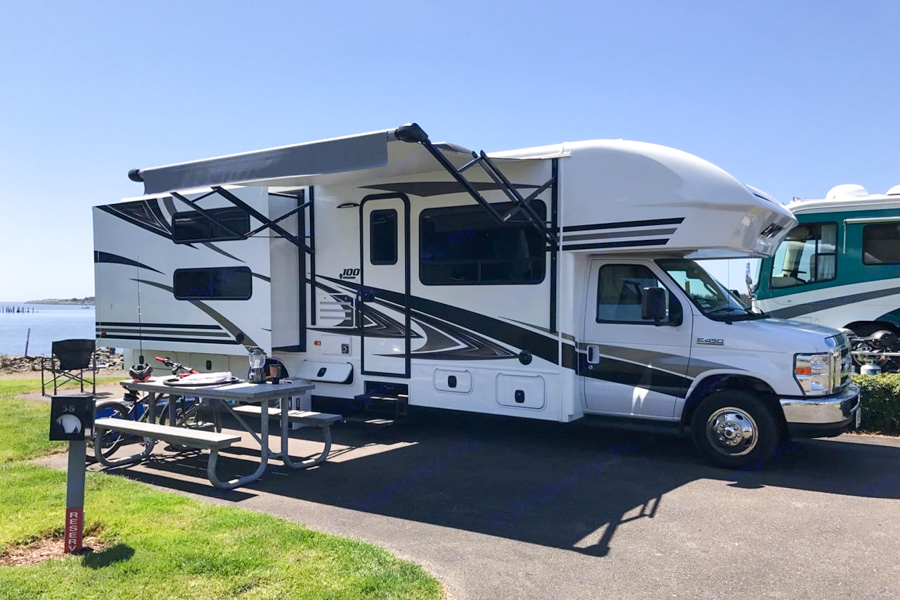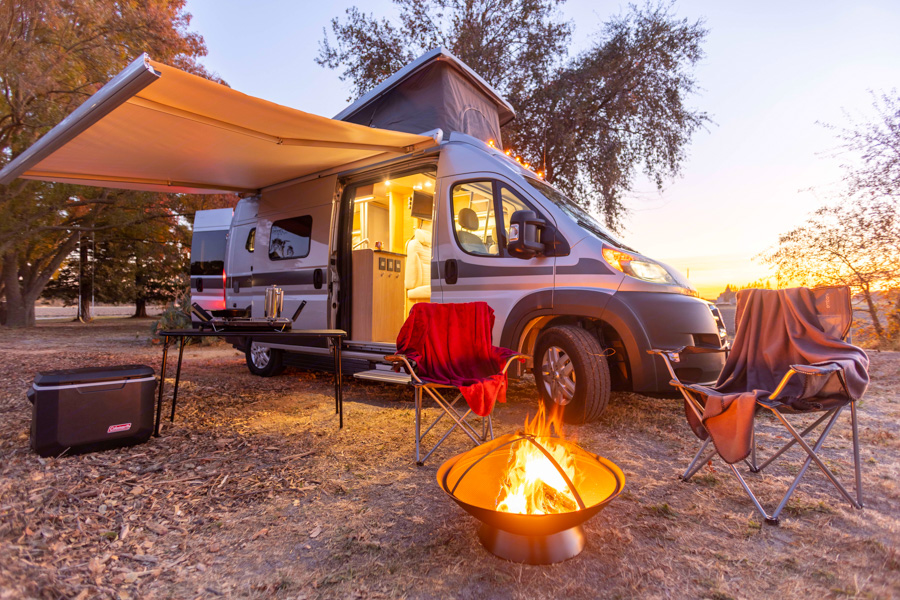 RV Rental Tips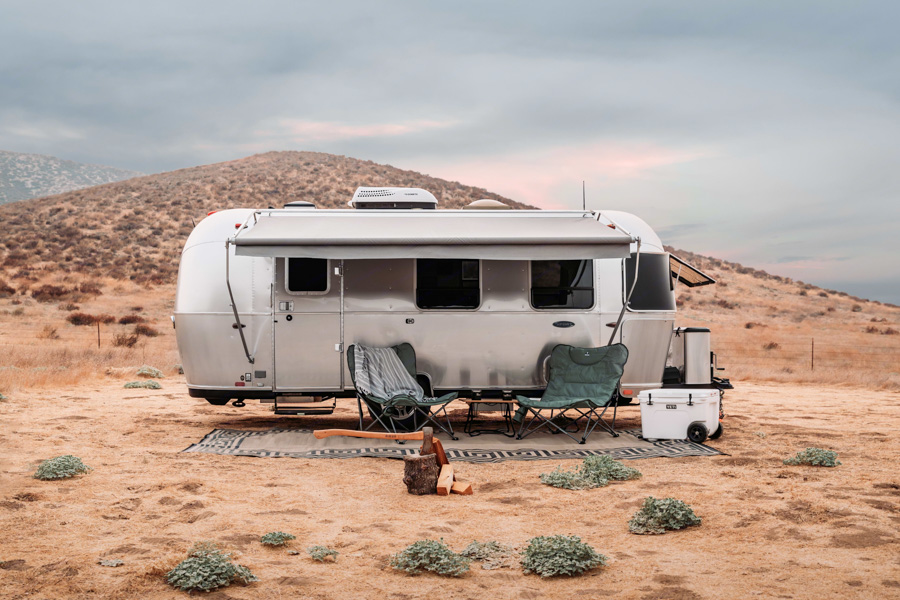 1 • Before booking your RV, make sure you know the RV's amenities and what's included in your rental.
RV rentals come in all different shapes, sizes, and types of amenities. Before making your reservation, make sure you have the amenities you want for your trip, and read the small print to get clear on what's included and not included in the pricing. This way you won't have any surprises cost-wise, and it will also help you plan what to pack for your trip.
Inclusions for RV and campervan rentals can vary widely, but a few things to look out for specifically are:
Mileage: Most RV rentals come with 50 – 150 miles per day included, and then you'll have to pay extra for miles driven over that amount. So if you're planning on covering some ground, check the charge for extra mileage and do the math so you know the cost for the extra miles. Pro Tip: Campervan rentals with Traveller's Autobarn include unlimited miles with their rentals!
Bedding & Cooking Equipment: Many RV rentals come fully equipped to include bedding, towels, and cooking/kitchen equipment, but some rentals don't include these things and offer these items as additional optional charges.
Extras: Some RV rentals will offer lots of extras you can add, which can be super convenient depending on the gear you need (or if you're flying into California). A few examples of popular extras are: coolers, chairs, awnings, bike racks, stand-up paddleboards, and kayaks.
Pet Fees: If you want to bring Fido along, you'll need to make sure the RV rental is pet friendly, and beyond that, check what the extra charge is for pets. Many rentals will charge an extra fee per day for pets, so this can be an important thing to look at when comparing rental prices. Pro-Tip: You can use search filters to search exclusively for pet-friendly rentals on Outdoorsy.
2 • Double check how many people the RV rental can seat and sleep.
The amount of passengers in an RV is determined by the number of seatbelts available in the RV. Many drivable RVs can sleep the same amount of people they can carry as passengers (i.e. seats 6 people, sleeps 6 people). But these seats/sleeps numbers sometimes don't match up for certain types of RVs, especially campervans. There are some campervans that seat 2 and sleep 4, or vice versa.
So whether you're renting a motorhome or campervan, if you're traveling with more than 2 people, always double-check to make sure the RV has the space and seat belts to both seat and sleep your whole group!
3 • Make campsite reservations well in advance. Especially for the summer and high seasons.
While California is a huge state with lots of campsites, campgrounds will absolutely book out in the busy seasons. So if you're planning to travel in the summertime or over holiday weekends, we highly recommend booking your campgrounds in advance to avoid disappointment (and/or being stranded without a place to camp!).
Some of the most popular campgrounds (especially along the California coast and at National Parks) can book out many months in advance for the busiest seasons, so the sooner you reserve your campsites, the better. There are a few sites where you can easily book campgrounds online, but a great starting point to discover and book campsites in California is Reserve California. If you're heading to the coast, check out the best beach camping in California for surfing.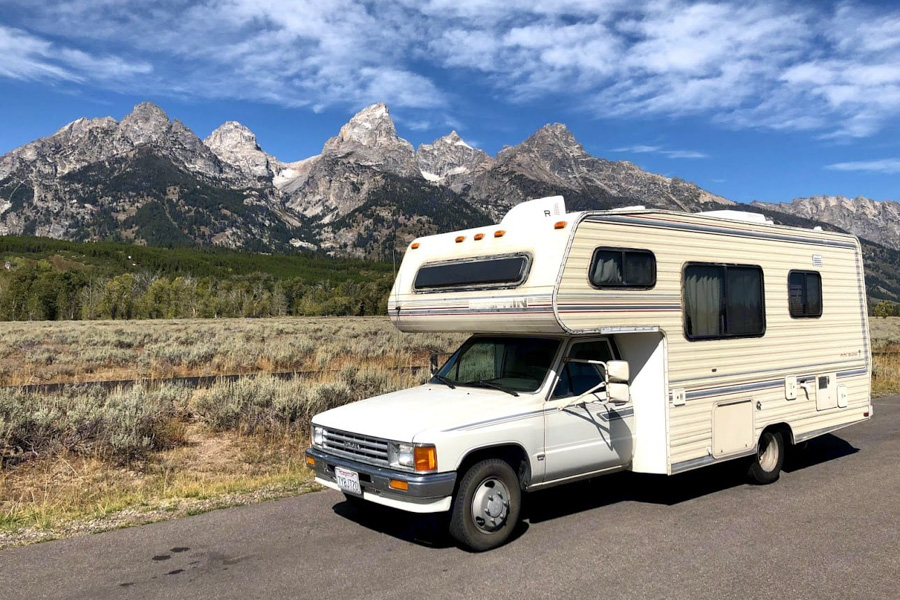 4 • If you're on a tight budget, follow these tips to keep costs down:
Rent an older RV. The newest RV models will have the highest price tags, so you can often find good deals on older RVs. Older RV rentals can be in great shape, have the same amenities as newer models, and some older RVs even come with a side of retro character. (See example above)
Rent for a week or longer. Of course, this isn't always doable if you're working with a short time frame for your trip, but it's good to know that many owners and rental companies offer discounts when you rent for a week, month, or more.
Minimize driving, if possible. More driving = more gas which can really add up when driving a large vehicle. Also, if you drive more miles, you could potentially end up having to pay for additional mileage (depending on the mileage included in your rental terms).
Avoid renting during the high season (the summer and holidays). You'll find the best rates on rentals and even some campgrounds during the slower travel seasons. Read more in Tip #5 below.
5 • For the best RV prices, travel in the off-season or shoulder season.
RV rental pricing will range greatly depending on the time of year you're traveling. In California, RV rentals are the most expensive in the summer months (roughly June – September) and during holiday weekends. You're most likely to find deals and the lowest rates in the shoulder season (October, April, and May) or winter off-season (November – March).
6 • Pack light!
RVs can have plenty of storage space (depending on the size/model), but you don't necessarily want every nook and cranny to be overflowing with stuff. In addition to your personal things like gear and clothing, make sure to save space for extras like groceries and bedding.
Many RVs have moving components that shift to transform into beds or other setups and if you have lots of stuff everywhere, you constantly have to move your things to access other things (we affectionately call this 'the shit shuffle'). Make it easy on yourself and don't overpack.
Have any questions about California RV rental?
Let us know in the comments below!