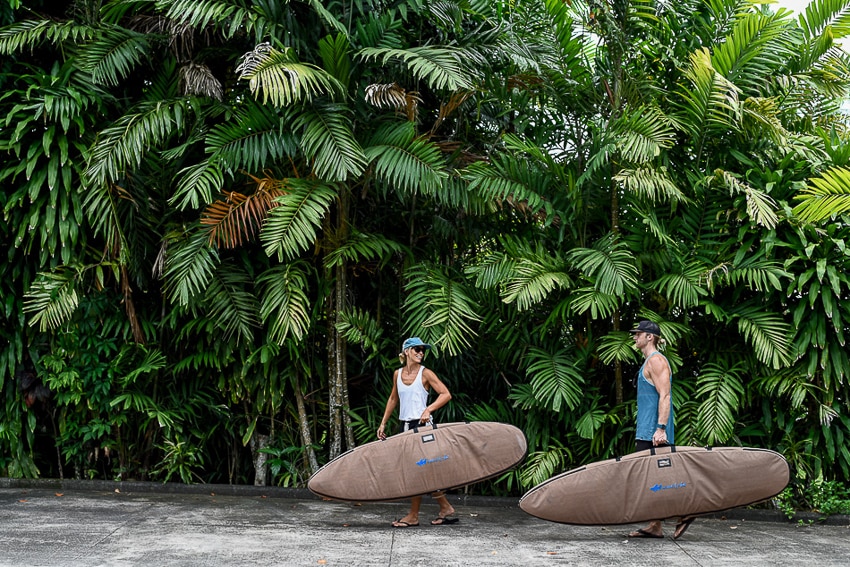 Surf trips are the bee's knees. Traveling to an exotic location where your only responsibility is finding and surfing the best waves around is a formula for a darn good time, every time. But there's definitely some extra work involved when it comes to surf travel and planning the perfect surf trip.
From researching surf destinations, to surfboard bag fees, to swell info, planning a trip around waves involves a whole lot more than your average getaway.
After surf-tripping around the world for a year, we've learned a few things—sometimes the hard way— about how to plan, make the most of your surf trips, and avoid anything that might reduce your time in the water. Here are our top 11 surf travel tips that will make your next surf trip the most epic one yet!

Surf Travel 101
1 • Research surfboard bag fees before you book your flight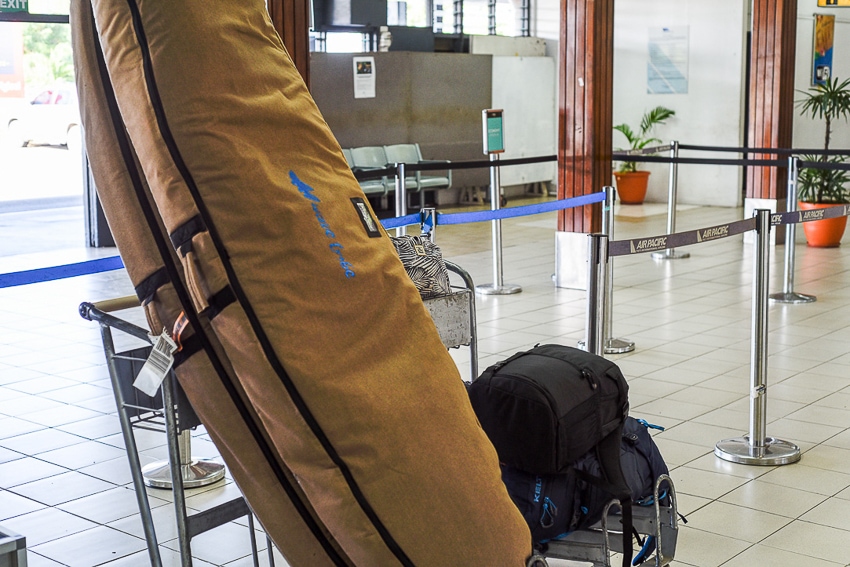 This is a big one. If you plan to bring boards on your surf trip, make sure to confirm airline charges for board bags before you book your airfare. Sometimes the lowest airfare you find won't have the best policy for board bags and you'll end up paying more than you expected. The last thing you want to do is get to the airport and find out the airline wants to charge you the price of a new surfboard to check your board bag.
Always research the cost of board bag fees online, and then follow up with a call to the airline to confirm the rate. We learned this the hard way when an airline robbed us because they said they hadn't updated their website with the new surfboard bag policy. Not cool. And when you're faced with paying a crazy fee or missing your flight, you don't have much of a choice.
Anyway, always double-check policies before you book your flight so you know the total price of your airfare plus your bag fees. Check out our Guide to Surfboard Bag Fees for the lowdown on the best airlines for board bag fees.
2 • Do your homework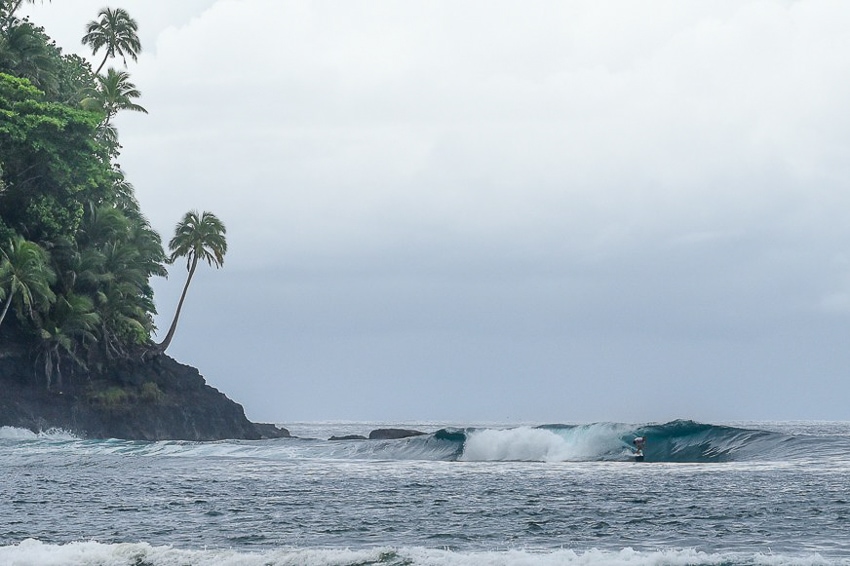 Doing a healthy dose of research before your trip is priceless. Know the costs, get to know the lay of the land, read up on some surf breaks you're interested in, plan how to get around, and make sure you know the basics so you have an idea of what to expect and what you need to pack.
Are you staying as close as possible to surf breaks? What's the water temperature? How remote is your destination? Are there any surf shops around for ding repair or supplies? What extra equipment do you need? Will you need to take a boat to surf breaks?
The more you know, the fewer surprises you'll encounter and the more time you can spend in the water.
3 • Choose your surf destination wisely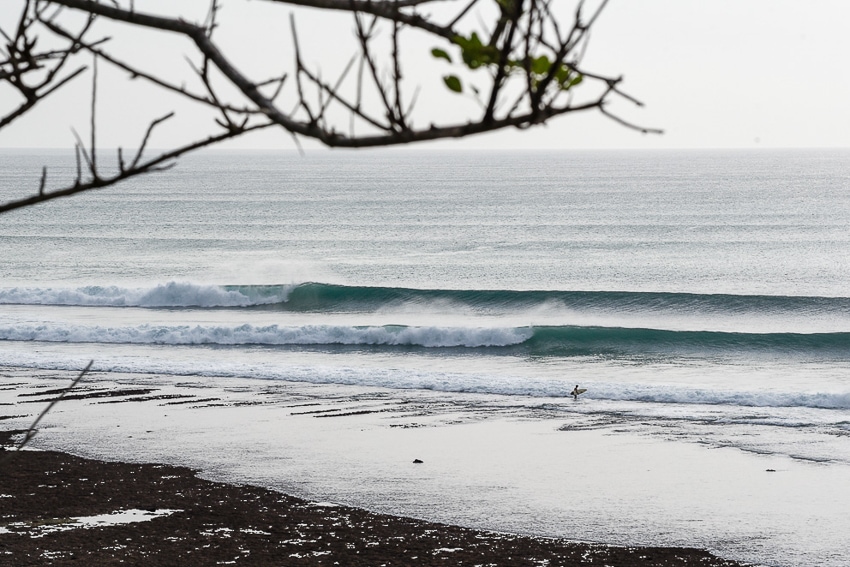 Make sure your destination has surf breaks that suit your surf ability. The last thing you want is to plan an epic surf trip only to learn when you get there that you have no business being in the overhead powerful reef breaks on offer. For example, surfing Samoa is not for beginners and I wouldn't recommend it to any beginners or people learning how to surf. Do your research so your destination matches your ability and you're not scrambling to find the right breaks when you're already there.
Be realistic about your surf ability and pick your surf destination accordingly. And along those same lines, pick your season wisely as well. Swells and waves change depending on the time of year, so a place that is ideal for intermediates at one time of year might be better for advanced surfers at another. Do plenty of research in the planning phase of your surf trips so you have the best chance at matching your surf ability and scoring as many waves as possible.
Not sure where to start? Check out this lowdown on 9 Top Surf Destinations Around the World and our Travel Collection.
Here are a few top

surf travel guides

for your surf trip planning pleasure:
4 • Shoulder seasons rule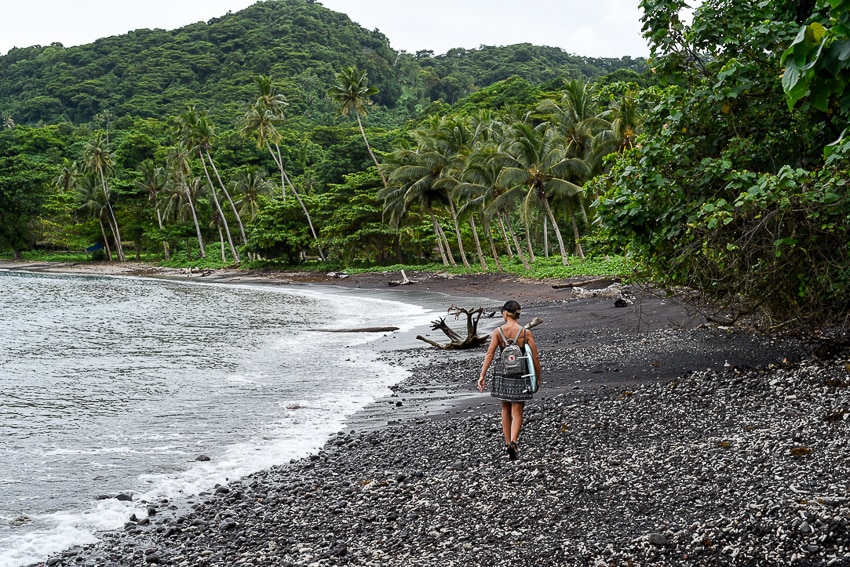 To avoid the largest crowds and score lower prices, consider traveling in the shoulder (or low) season instead of the peak season. Peak season will always bring the highest prices and most people, so hitting the time in between low and peak seasons can be a great time to schedule a trip. If you want to save money, avoid traveling over major holidays, especially Christmas and New Years, as they almost always have the highest prices.
5 • Visas are for realz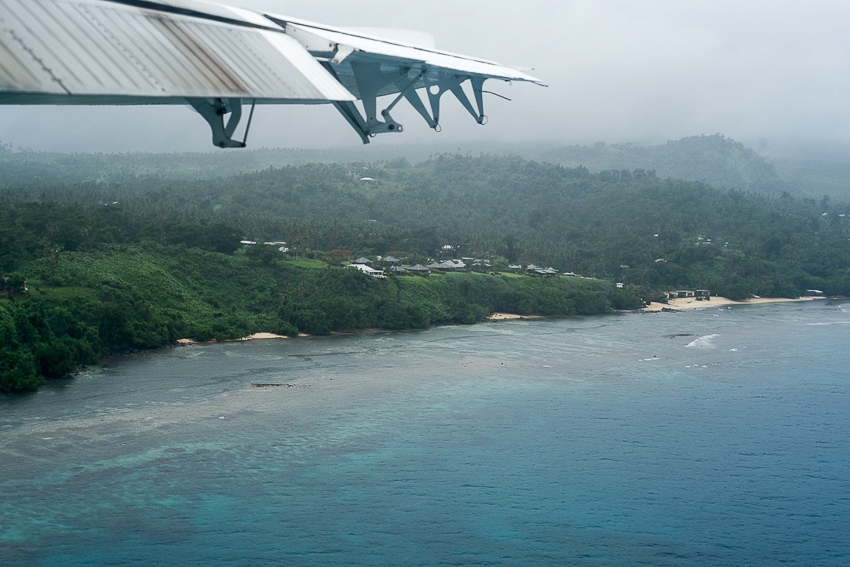 Researching details like visa requirements are in the realm of 'least fun things to do' when planning a trip, but necessary nonetheless. Research visa requirements for your destination. This especially applies to trips that are 30 days or longer, but even for short trips, you need to know what's up. Some countries will slap you with a healthy (e.g. horrible) fine for overstaying your visa and you can even get blacklisted from the country if you overstay a long period of time without a valid visa.
6 • Get to know the culture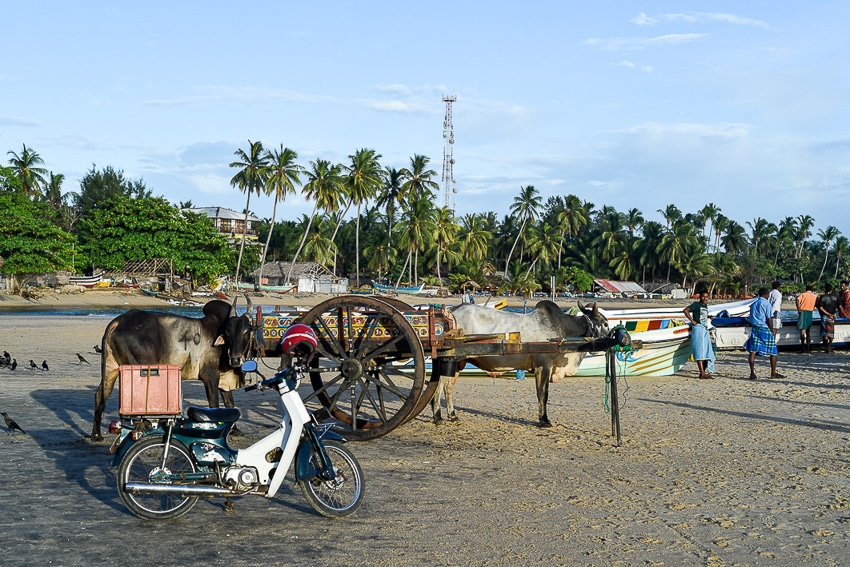 You don't want to be that guy or gal. Do yourself a favor and read up on cultural norms and etiquette in your destination so you can be a conscious traveler and be respectful. Learning a few words like greetings, please, and thank you will go a long way and locals appreciate the effort.
Ladies, unfortunately, as I'm sure you know, traveling as a woman can make for some unwanted male attention (ahem, especially in swimwear), so it always helps to research your destination to see how conservative it is. Some places (especially many Muslim surf destinations in Indonesia) aren't cool with you parading around in a skimpy bikini, or any bikini or revealing clothing for that matter.
Obviously, we all have different comfort levels with attention and I'm all for women being free to wear what they want, but it's also important to be respectful of the culture you're visiting. This also goes for visiting religious places and temples—always try to be aware of local customs (this usually means covering up) and be a respectful traveler.
And a general word of advice to the guys: female travelers get enough catcalls from the locals. Don't be a D-bag and just don't do it. Be respectful and treat ladies as you would like your little sister to be treated. Be cool. Thank you!
7 • Have a board strategy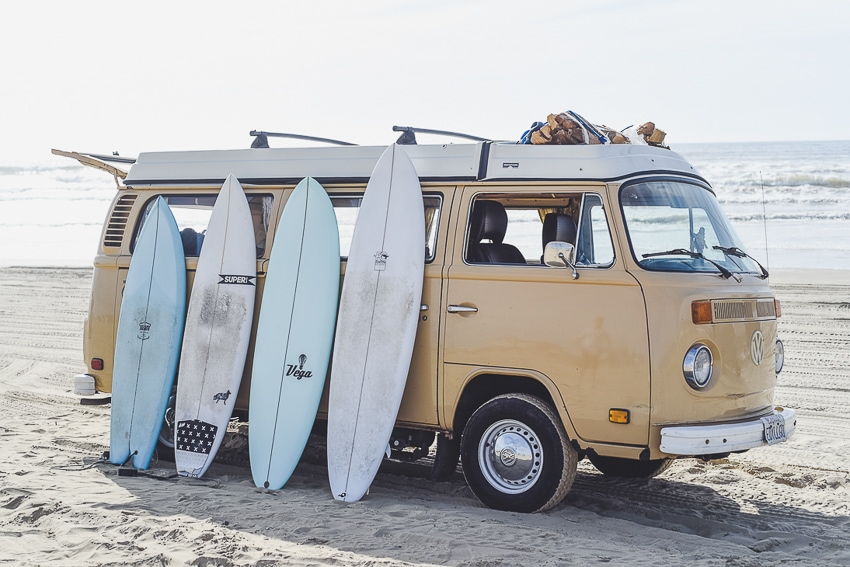 No matter where you're going, bring some good all around surfboards for different conditions. Again, doing your homework really pays off in this department. Even if you're headed somewhere with a reputation for performance waves, Mother Nature likes to throw curve balls, so make sure you bring a fish or another versatile all-around board you can surf in small or mushy conditions. And once again, be sure to check airline policies for surfboard bags because some airlines will only allow one or two surfboards per bag which might make a difference in what you decide to bring.
We faced some serious decisions in planning for a year on the road with only two surfboards each, so we feel your pain. You can check out how we went about choosing our round-the-world surfboard quiver here.
8 • Pack extras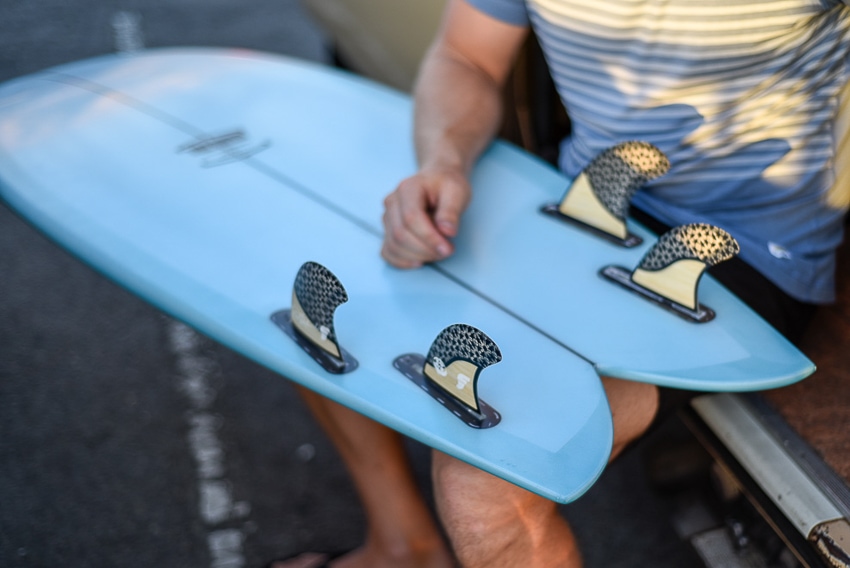 It's good to have an idea about whether or not your destination has surf shops around or extra surf supplies available. The number of extras you decide to bring will depend on how remote you'll be. But a good rule of thumb is to at least bring a few backups to keep you covered.
Pack extra fins, a leash, ding repair, and plenty of wax. And don't skimp on packing plenty of good quality sunscreen and zinc. Many surf destinations will charge an arm and a leg for sunscreen (and don't have a good selection), so make sure to pack plenty of your own to avoid the tourist up-charge.
For an extensive list of surf gear and supplies to bring on your trip, check out our super-detailed Surf Trip Packing List!
9 • Add this stuff to your packing list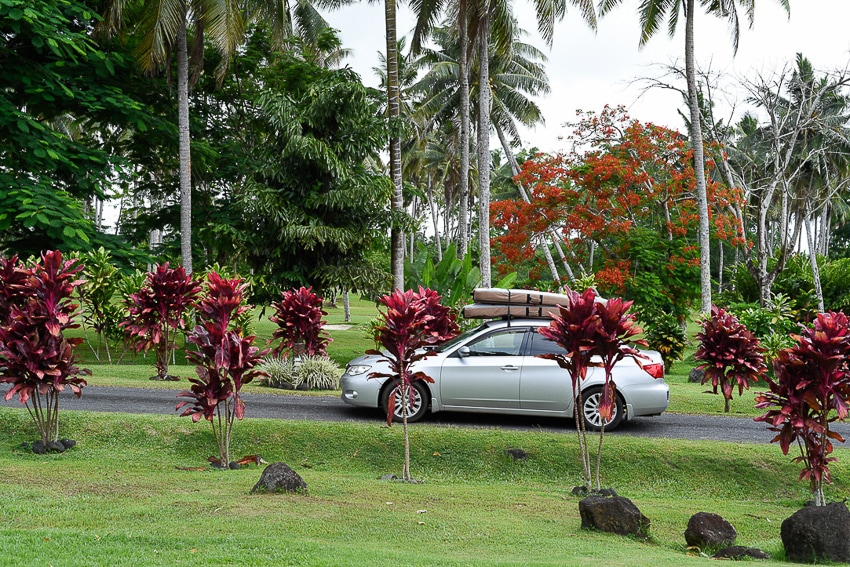 For a proper list of surf supplies to pack on your trip, check out our surf trip packing list, but here are a few easily forgettable things that you should definitely pack:
Compact beach towe

l

– Turkish beach towels are lightweight, compact, fast-drying, and are the perfect towels for surf trips. We traveled around the world with these towels and they're now are a packing essential for all our surf trips. Check out our picks for the best Turkish beach towels.

ACTIVE Skin Repair

– Prevent infection and help your body heal faster from reef cuts with this awesome antibacterial aid in your first aid kit. And speaking of first aid kits… pack one!
First Aid Kit – Depending on your destination, it can be a pain or straight-up difficult to get basic first aid needs. Pack a few band-aids, antibacterial gel (like ACTIVE skin repair), gauze, anti-diarrheal medicine, and medicine for pain or fever (such as acetaminophen, aspirin, or ibuprofen).
Probiotics – Many surf destinations come with an increased risk of stomach issues, from unsafe drinking water, food poisoning, or otherwise. Take some good probiotics to keep your digestive system strong and good bacteria flourishing. The last thing you want is to be out with food poisoning when the waves are pumping.
Zinc – The tropical sun is no joke. Save your skin by giving your face a generous dose of zinc for your sessions.
Long Sleeve Rash Guard – I'm one of those who loves surfing in warm water without a wetsuit, but a long sleeve rash guard always comes in handy. Whether you want to give your skin a break from the sun, have a bit of extra warmth for an early morning session, or want to jump into the waves without doing the sunscreen drill, a rash guard is the bee's knees. (Here's a couple of good rash guards for guys and for gals)
Plenty of Sunscreen – Skin cancer and sunburns suck. Make sure to bring plenty of good quality water-resistant sunscreen.
Solar Rez – Be equipped to quickly and easily fix small dings.
Basic Soft Racks – Depending on where you're going and your mode of transportation, you can often run into extra difficulty lugging around surfboard bags. I can't tell you how many times we've used our racks on our travels. Obviously, you'll use them on your own rental car, but they're also a huge help when taking other modes of transportation.

Racks can come in handy when drivers might want to charge extra for taking a bigger car (we've found that many drivers will want to fit board bags inside the vehicle for some reason) or when someone wants to tie your boards to the roof with a crappy rope. Also, have a photo of the racks in action stored on your phone so you can easily show drivers the setup. We always put the racks on ourselves, but when there's a communication barrier, it helps to have a photo to show drivers the setup so they understand exactly how you will secure the bags. They're much more likely to say yes if they see a photo.
10 • Protect your boards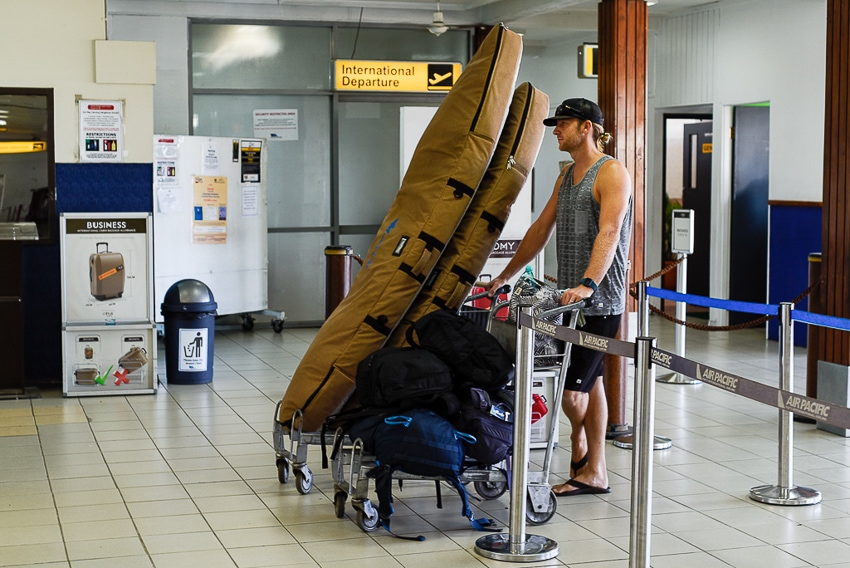 Airlines don't have a great reputation for treating boards with care, so make sure you protect your boards with plenty of padding. Wrap the nose, tail, and rails of your surfboards with your towel, rash guard, or wetsuit. This will provide extra padding for your precious cargo and you'll also save space in your other bags.
Depending on the padding of your surfboard bag, you might even want to get some extra foam to wrap your boards nice and snug. I recently bought this sound-absorbing foam to give my boards some extra padding and it's worked like a charm on all my flights so far.
11 • Get travel insurance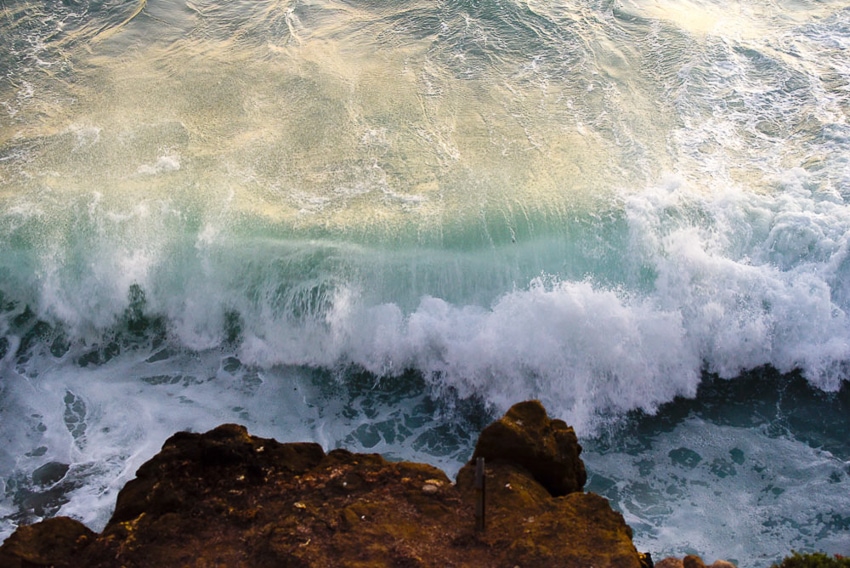 As much as we'd like to deny it, shit happens, so make sure you're covered with some really good travel insurance. Especially if you're going to a developing country or a remote location. If you get seriously injured you might have to be helicoptered out, and even if you manage to have a swift recovery, medical bills are no joke.
Of course, the last thing you want is a major injury, but it would be much, much worse if you need serious medical attention and you're without insurance. You know the deal—better safe than sorry. We use and recommend World Nomads Insurance. They offer very comprehensive travel insurance and cover heaps of activities, including surfing and ocean sports. You can easily check it out and get a fast quote here.
There's a lot that goes into surf travel and planning a surf trip. And generally speaking, the more prepared you are the better! Happy surf travels!
What are your go-to's when planning or packing for a surf trip?
Let us know in the comments below.