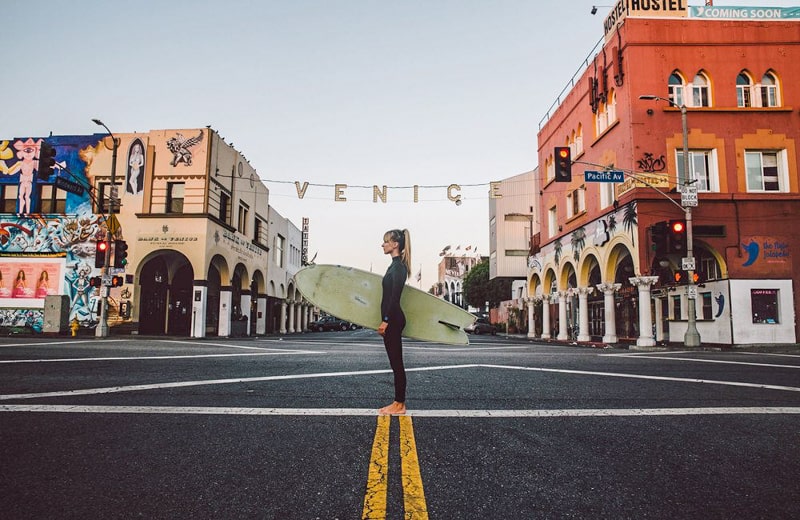 Los Angeles is an urban jungle, but a special type of urban jungle with the Pacific on one side and mountains on the other. With so many different neighborhoods with a variety of vibes, it's hard to know where to start when visiting the vast city of LA. Our vote: start at the coast.
Located between Santa Monica and Marina del Rey, Venice Beach is a unique melting pot of an LA neighborhood. Venice is known for its eccentric characters, colorful streets, and free-spirited bohemian artist vibe. While some big brands have set up shop in recent years, there's still an abundance of cool independent restaurants and shops to be found.
We hit up local entrepreneur/surfer/creative guy Romain Goudinoux to get the local lowdown on Venice Beach surf, and the best places to eat, stay, and play in Venice Beach. Romain is the founder of Saltfish Surf Co., a surf lifestyle brand with a line of beautiful handmade bags and accessories for surfers, beachgoers, and travelers.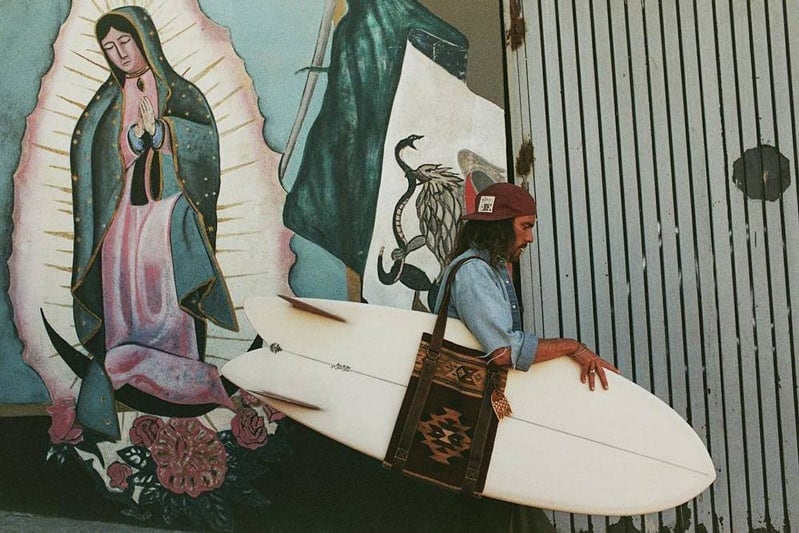 Originally from a small beach town in the South of France, Romain has called Venice Beach home for over eight years and absolutely loves the place. When Romain isn't designing new awesome products for Saltfish, he's surfing, traveling, and livin' the California dream in sunny Venice.
Without further ado, we'll pass the mic to Romain to let us in on his favorite local haunts in Venice Beach. Take it away, Romain!
Venice Beach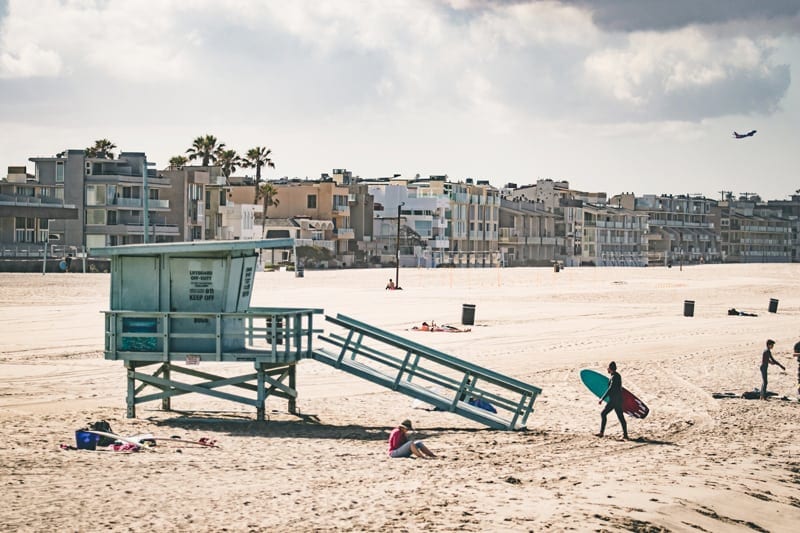 THE LOWDOWN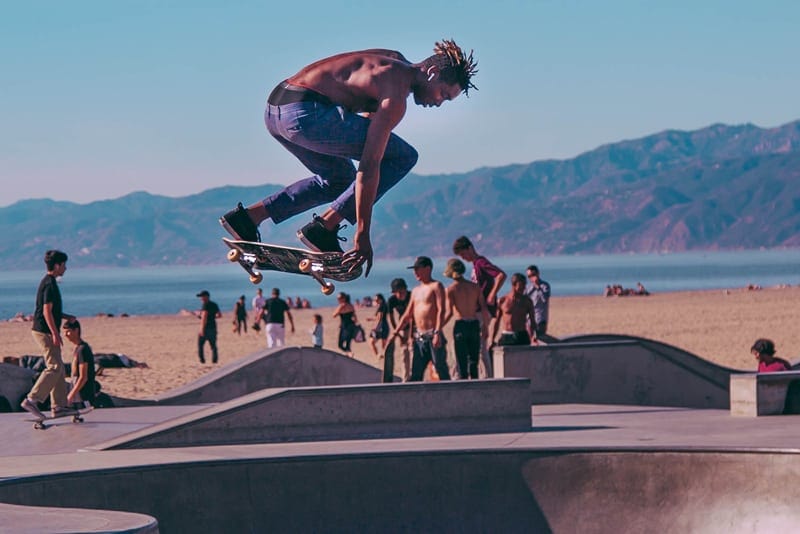 Venice to me is (still) the reminiscence of Dogtown; skaters, surfers, artists, weirdos, all congregated on this stretch of beach on the border of Los Angeles. Even though nowadays, the city has been taking over by the tech industry (Google installed its headquarters in 2011 and other tech companies followed right after) the spirit of "Venice Of America", as tobacco millionnaire and Venice Beach founder Abbot Kinney called it since its development in 1905, is still alive.
WHERE
Venice is located between Santa Monica and Marina Del Rey in the big metropole of Los Angeles.
IN 5 ADJECTIVES
Fun / World Famous / Historical / Crazy / Artsy
VENICE BEACH SURF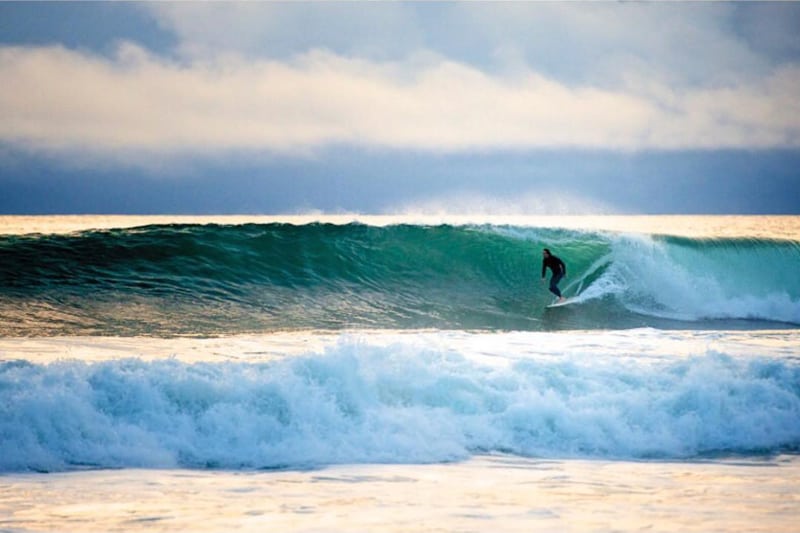 Venice is not really your "dream wave" surf destination. It's very sensitive to swell direction and tides and gets blown out most days by 10 am. BUT! It is located right in between North LA County, Ventura, and Santa Barbara in the north and Orange County and San Diego County in the south which all provide excellent surf all year round at just about an hour, an hour and a half from Venice. Anyways, here's a couple breaks in Venice and close by where you'll have plenty of fun. Enjoy!
BREAKWATER is the main surf spot in Venice. Located right in the middle of the Boardwalk, steps from the world-famous Venice signs. It picks up mostly W and NW swells and works better on a mid to high tide. Often crowded, you can choose from a couple peaks here and there between the 2 jetties but the main break is right by rocks and offers a long, fast and rippable right on the good swell and tide. The crowd mysteriously thins out when it gets over 4 to 5ft and most locals enjoy it to themselves then.
THE PIER at the end of Washington Blvd. is the other main spot in Venice. It also gets plenty of waves on a W or NW swell. You can choose to surf the north side of the Pier which offers a hollow left or the south side which holds a long and fun right and also plenty of smaller beach break peaks all the way to the marina.
MALIBU is the most iconic point break in California. And this means two things:
– Most perfect right-hand point break in California.
– Most crowded right-hand point break in California.
EL PORTO is a Los Angeles winter swell magnet. Located at the tail end of Manhattan Beach, right by LAX, it's a long stretch of beach with several peaks all along. It picks up any W and NW swell and can get pretty good but also big and scary. HammerLand is the wave that breaks from the north jetty and gets very very good but only a few locals ride it.
EAT & DRINK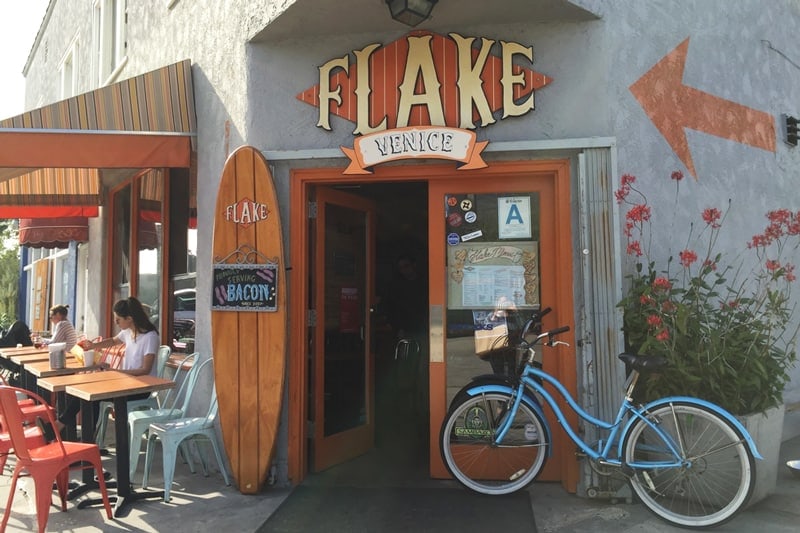 There are plenty of bougie, overpriced yet delicious spots all around town but you can go on any website and find them. Here is a list of more local places, cafes, bars, and restaurants that have been there longer than Google and the tech kooks.
FLAKE is a family-operated business and has been serving delicious snacks and sandwiches to the Venice community for over 10 years now. Home of the "Rad Muffin" and "CroJo", two specialty breakfast sandwiches, Flake opens its doors daily from 7 am to 3:30 pm on the ever-growing Rose Avenue. You can get acai bowls, breakfast burritos or just enjoy a good cup of joe from Groundwork Coffee in the friendliest vibe.
LA FIESTA BRAVA is my go-to Mexican spot in Venice. You can call it a "hole-a-wall" but it's been a local favorite for many years. They serve traditional, homemade Mexican food, and the shrimp tacos, shrimp fajitas, and horchata are some of the best you'll ever have!
ABBOT'S PIZZA is simply the best pizza spot in town with the coolest staff and home of the infamous salad pizza!
HINANO is a Venice institution and the best dive bar ever in the world! They've been serving world-famous burgers and frosty beers since 1962 and it used to be Jim Morrison's favorite hang out spot. Good vibes, cold-ass beers, free popcorn, and pool tables, you'll have a great time. They also have great live music Fridays, Saturdays, and Sundays starting at 5 pm. You're welcome!
HAMA SUSHI is the original sushi place in Venice. It's been here for decades and is well known for its delicious and eccentric rolls. You can sit at the bar and in the front room to enjoy a casual vibe and watch projected old-school surf movies or you can choose the back room for a cozier and more intimate experience. Anyways, the food is the bomb and the sake delicious!
STAY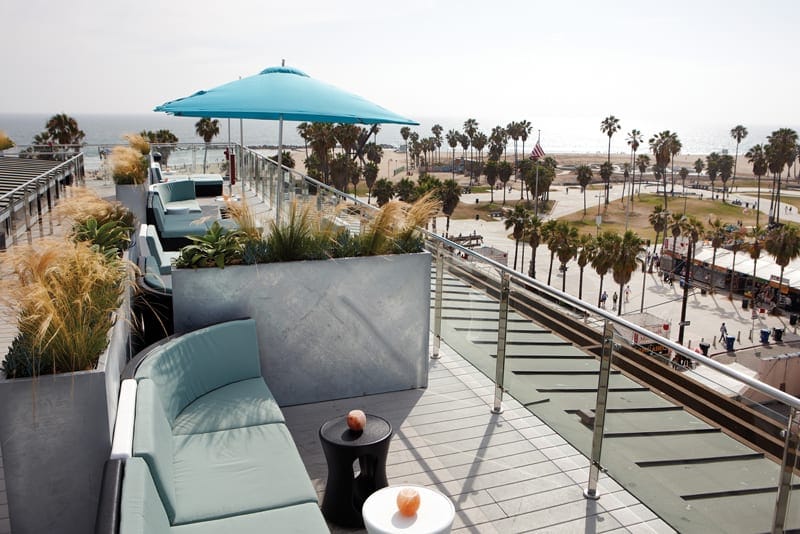 VRBOs are everywhere in Venice, of every kind, and for every budget. During a business trip or a vacation, find the perfect spot for you and live like a local.
HOTEL ERWIN is a classy yet laid-back hotel that offers a great experience of Venice as it is located right on the Venice Boardwalk. Friendly, approachable, and eclectic it has one of the best rooftop bars in Venice with a direct view of the Breakwater. It's the spot to catch a beautiful sunset while sipping on a delicious cocktail.
CADILLAC HOTEL was built in 1914 and has been a Venice landmark for more than a century. Its Southern California beach vibe provides the ideal environment to relax and explore the sights of Los Angeles from Beverly Hills to Downtown, from Santa Monica to Hollywood.
DO & SEE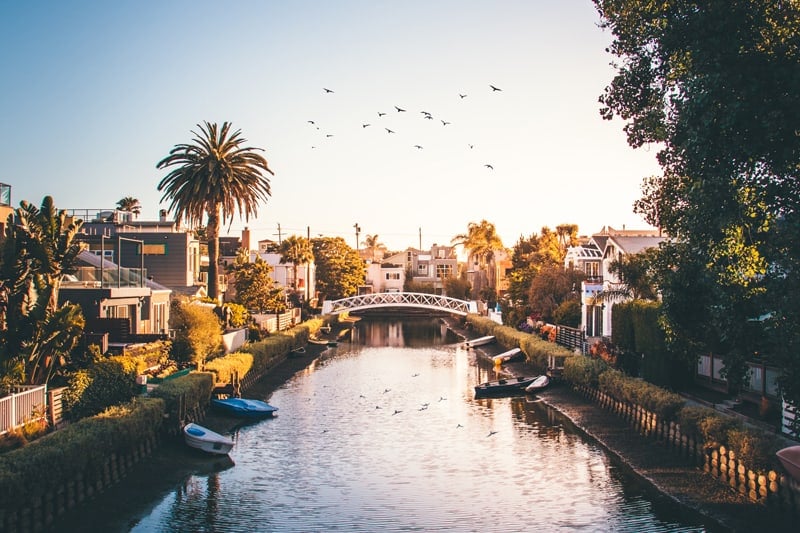 THE BOARDWALK is where you'll find probably the most eclectic, strange, funny, bizarre, and eccentric bunch of people in the world. From Rose Ave. to the pier at Washington Ave.; cheesy tourist boutiques, street performers, bodybuilders at Muscle Beach, everything and everyone is gathered here for your amusement and entertainment.
THE SKATEPARK has been rebuilt in October 2009 with the tremendous effort of local skaters and skating professionals. On any given day, you can stop by and watch skateboarding prowesses from 6-year-old little rippers to old-school skateboard legends.
THE CANALS are probably my favorite place in Venice. Surrounded by beautiful and eccentric houses, the Canals have been built in 1905 by developer Abbot Kinney as part of his Venice of America plan. Just a couple blocks from the Boardwalk but somehow a little bit hidden, it is a quiet and serene neighborhood where you can walk around, admiring the architecture, the flowers and vegetation, and the ducks chilling in the canals.
ABBOT KINNEY is the best place for people-watching (besides the Boardwalk). From hippy-wannabees to Japanese tourists to celebrities, you'll find on the boulevard all kinds of characters trying to fit in the confused melting pot of people that Abbot Kinney has become. You will also enjoy its diversity in terms of architecture, as old and tiny boutiques share the sidewalk.
SHOP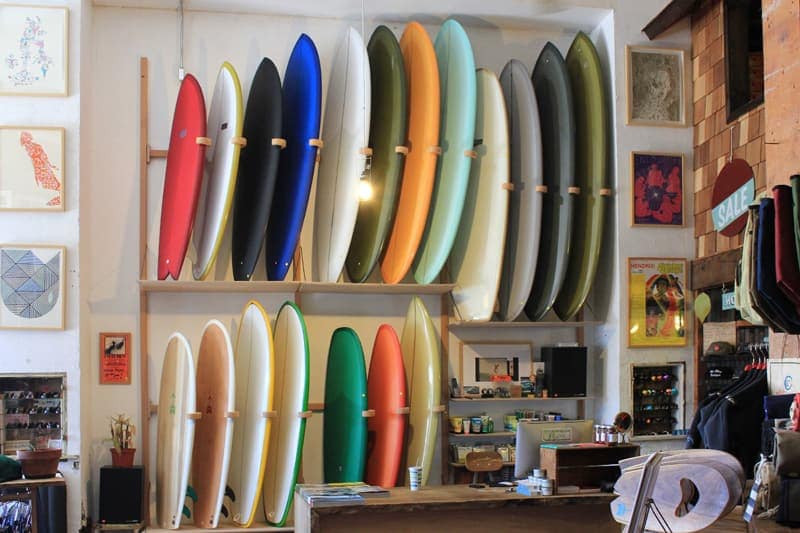 MOLLUSK SURF SHOP is an institution. Not your typical surf shop, it has an artsy vibe to it and you won't find the industry's big brand here. They have an amazing selection of boards from California's best shapers and their used boards rack is everyone's dream quiver.
GENERAL ADMISSION is located at 52 Brooks Ave and is inspired by everything "California." It has a fine selection of menswear and accessories. You'll find unique pieces that will suit your style, dressy or casual. Most importantly, the vibe is rad and you'll be most likely greeted with a cold beer from local brewery House Beer. And if you happen to be there at the right time, they sometimes throw the most epic parties on their parking lot across the street with amazing food, drinks, and music.
GOTTA HAVE IT is a must-stop in Venice to find the best selection of vintage clothing. From costumes, funky vintage pieces or everyday rad old school shirts and jeans to all accessories, you'll love the vibe and will for sure find something that you will keep forever.
AMIGAWILD is dedicated to bringing you the best designers from Venice and Los Angeles in one unique lifestyle shop on Lincoln Blvd.
ABBOT KINNEY is the obvious shopping destination in Venice. Quoted as "the coolest block in America" by GQ in 2012, it is now home to chain stores like Adidas, but you can still find some really cool mom-and-pop boutiques like Skylark or Burro.
MEDMEN is the latest obsession in Venice. After California legalized marijuana for recreational use to everyone, MedMen took over the market, offering high-end edibles and spliffs. You will be ID'd twice at the entrance but then you will feel like you entered a Louis Vuitton store as everything is presented in such a way that it feels so special. A true experience, in-store and after.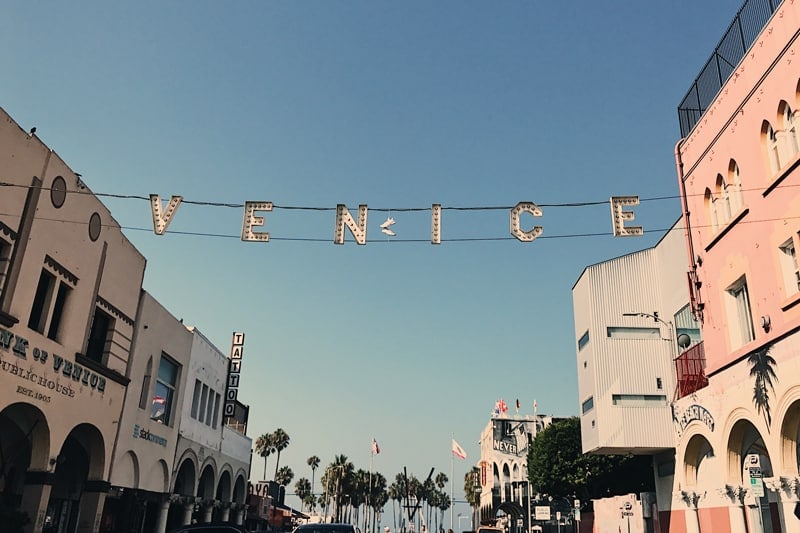 A huge THANK YOU to Romain for sharing his favs in Venice Beach. You can check out Saltfish Surf Co. here, and show some love on Instagram at @saltfishsurfco. Cheers!