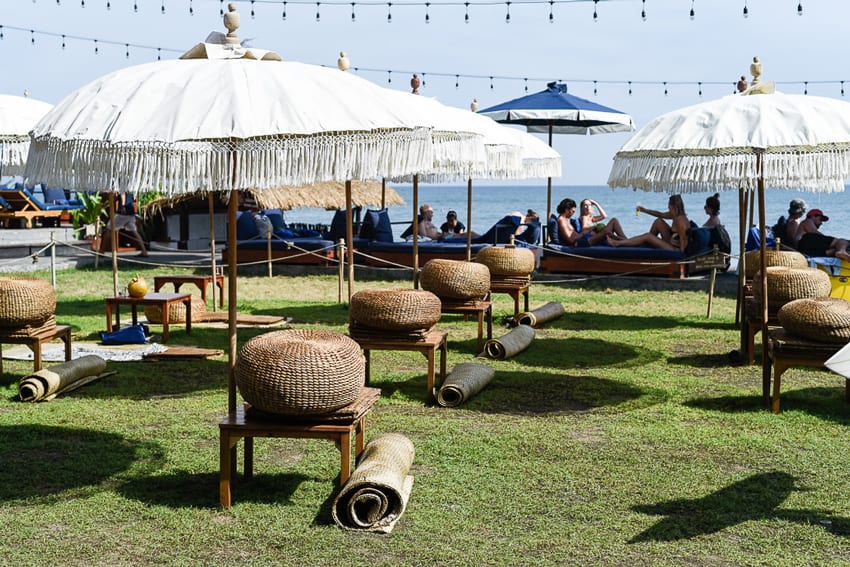 Canggu, Bali, is a hip beach town on the southwest coast of the island, just north of the busy resort area of Seminyak. Once a sleepy fishing village, in recent years the area has transformed into a hipster hub full of digital nomads, yoga studios, health cafés, and creative energy. And of course, there are those super fun waves that attract surfers from around the globe.
Canggu has a handful of very accessible waves suitable for beginners to rippers. The surf can definitely get a bit crowded, but if you're respectful and wait for your opportunity you're sure to score some fun ones. Canggu doesn't have the white sand beaches and turquoise water you'll find in other parts of the island, but the stunning rice fields, chill vibes, and proximity to some of the best restaurants and hangouts in Bali well make up for it.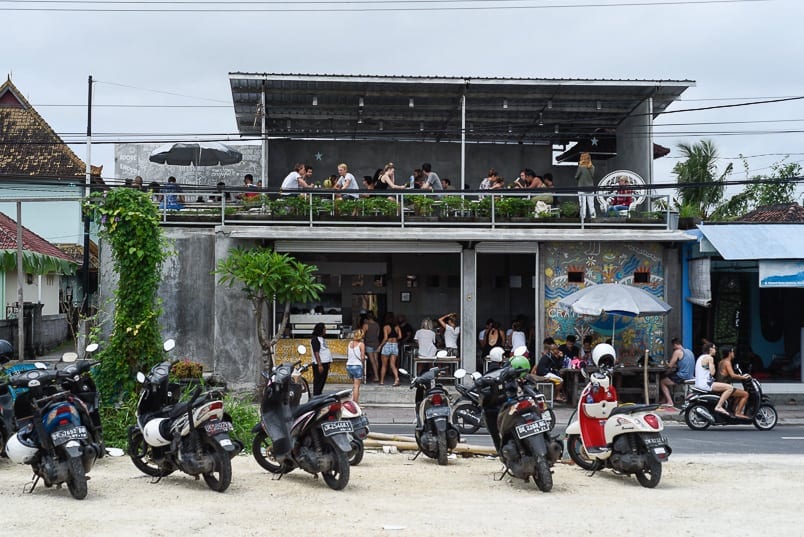 There's a lot going on in this little bohemian oasis so we caught up with local shaper/surfer/water pagan Mar Cubillos for the lowdown on his favorite places to surf, eat, stay, and play in Canggu, Bali.
Mar is the founder of Folklore Surf, a Canggu-based label that makes rad custom surfboards, has a beautifully curated surf/apparel/coffee shop, clothing line, print magazine, and is launching a surf retreat in Uluwatu this year. Whew!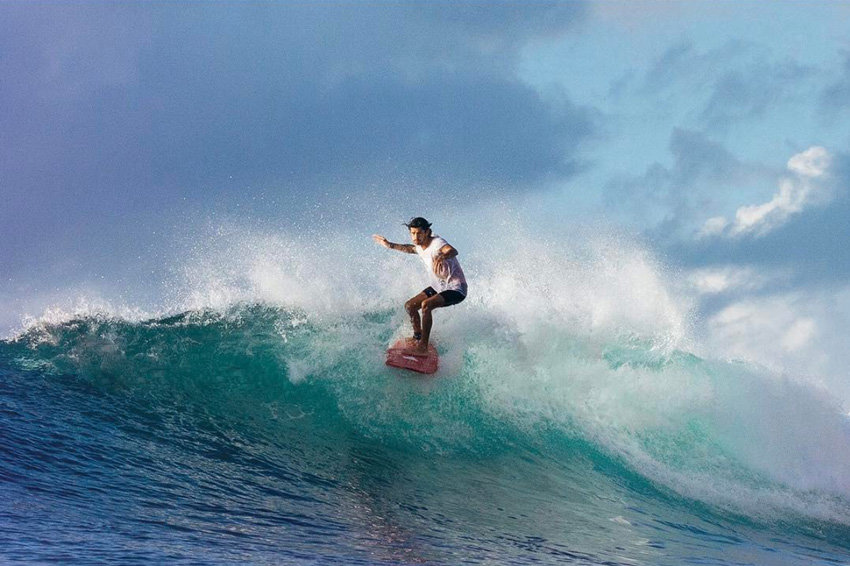 Mar arrived in Canggu in 2014 and knows a thing or two about the 'Gu. When Mar isn't shaping and creating awesomeness for Folklore, you can find him trimming one of his longboards, retro single fins, or chowing on the best Mexican food in town.
Here are Mar's picks on where to go and what to do in this slice of Bali surf heaven. Take it away, Mar!


Canggu, Bali
THE LOWDOWN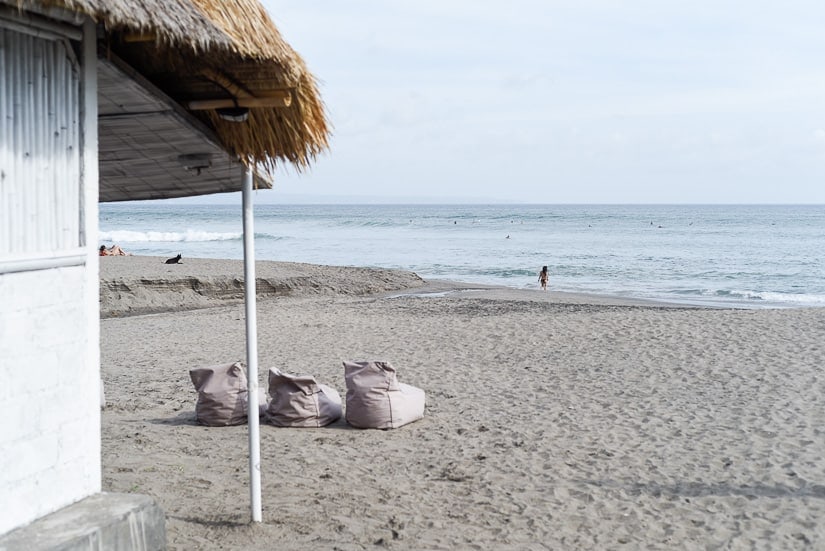 Canggu is located North West of Kuta, next to its famous "touristy" area, Seminyak. When I first arrived in Bali four years ago, I was introduced to a much different Canggu, the one with a few favorite places to chill with your expat and local friends and an occasional "wild" night drinking a few Bintangs and dancing on the beach.
This Canggu is no longer the same. Although it is amazing for small brands like ours, we are seeing a lot more competition and a market infatuated by the "same same" and big brands taking over, for fuck's sake, even that orange Cheeto of Trump wants a piece of Canggu. However, due to the younger crowd and more artsy folks visiting this little old fishers paradise, some restaurants have managed to stay true to its roots, it's packed with amazing people, and great waves.
IN FIVE ADJECTIVES
Hipster | Younger | Open Minded | Aware | Great Waves
SURF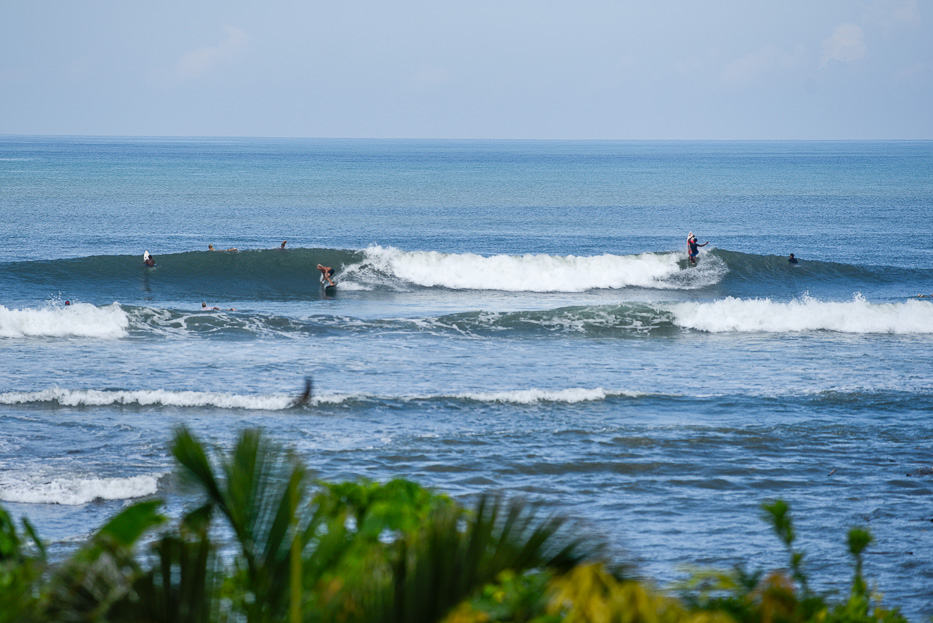 Hmmmm… I don't want to get in trouble with the locals, neither I want to tell where those empty waves still remain in Bali, so, I am gonna stick with the most popular waves instead to surf in da'gu.
BERAWA has an amazing sandbar and a mix of reef that is constantly shifting, so every week surfing there is like a box of chocolates, not only that, but it sets up so nicely for head dips… Great for a Fish or a Quad. Loggable when its small in town.
BATU BOLONG is a shit show of a wave, I have never seen so many people on one spot at once, you will see all kinds of surfers in the lineup, from famous locals to pro surfers, beginners and not to mention all the hungover peeps trying to "cure" their headaches. But if you score this wave early in the morning on the right conditions, you will have a massive top-to-bottom solid wall to either trim to the nose of your log, or carve until you ride it almost all the way to the beach… Great for logging and summer boards.
OUTSIDE BERAWA • This wave doesn't really have a name… I can only hint at it, whenever its massive in town and you are looking for big drops and a big shoulder to play with, head to this wave, but don't be fooled by how slow it looks from far away—that wave has lots of power and can give you a good toss.
EAT & DRINK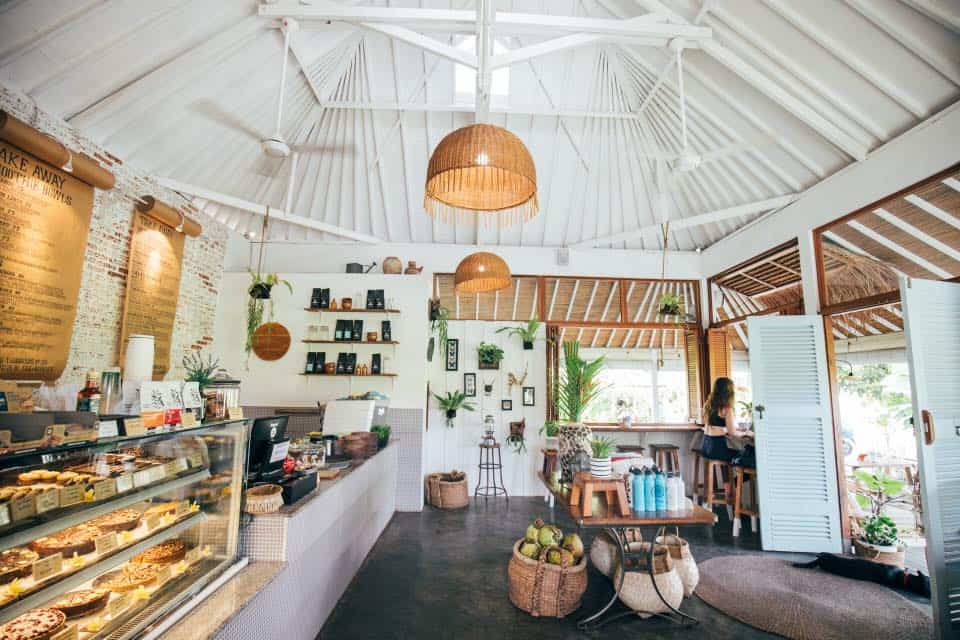 CANTEEN is one of the originals in Canggu, their food and vibes are great. Plus they support and help the community a lot. Dave has an amazing collection of retro boards to examine while you eat too.
TACO CASA • I have to admit, Mexican food is one of my favorites to eat, however, it is hard to find a good burrito in town, except for Taco Casa, it's really good and not overpriced like other Mexican places in Canggu.
HAPPY CHAPPY in nearby Seminyak is one of my favorite Chinese restaurants in Bali. So not lame and expensive. 
SHADY SHACK has great healthy and all vegetarian choices. But most people that come to Canggu know about that place.
ECHO BEACH • There are all kinds of fresh fish for you to pick from and cooked to your taste, it's super "cheap," can't beat the view and the butterfish is finger licking… (Cheap compared to western prices, but not as you cheap as you may think, Bali ain't as cheap as it used to be).
STAY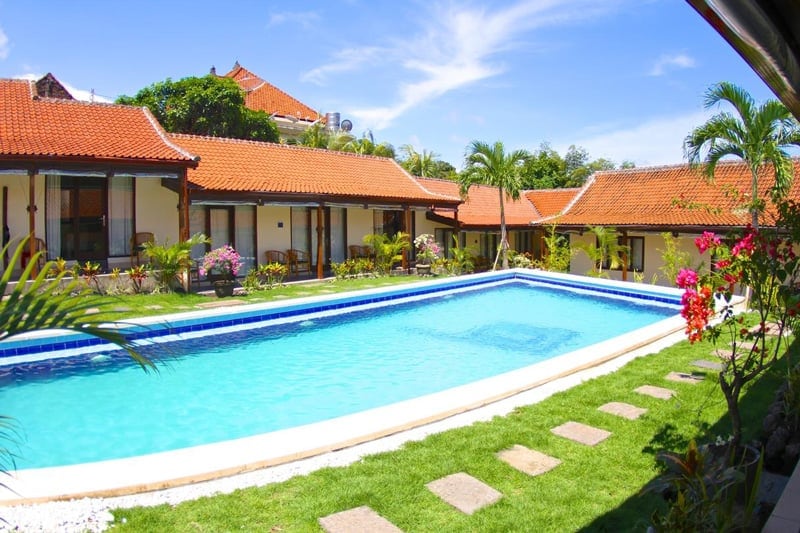 MOTE SURF STAY is a hidden gem in Bali. The place is mostly catered to surfers, the staff is incredibly nice and the prices are amazing for what you get.
DOJO BALI • My friends over at Dojo have a really cool accommodation spot for expats, where they can use good internet (cos' the internet in Bali ain't cheap and it runs on snail mail), brand new rooms and a limited amount of rooms making it a lot more exclusive, while hanging with a more mature entrepreneur crowd. I have made lots of friends there myself and is a great place to make solid connections in da Gu'.
FRii HOTEL is a cool spot if you are looking for something more comfortable and super close to the beach. The rooms are quite nice, cozy and it offers a younger vibe crowd.
THE FARM is another great place to stay. Cory, one of the owners has an amazing sense of humor, just for that alone, you should stay there. He is not by any means a clown nor a magician, although he does pull good lines out of nowhere… His homestay is packed with a great crowd of surfers and less "kooks" per say.
(note: the below Bali hotels are located in other parts of Bali)
FLKLR SURF • 😉 We have an exclusive surf retreat in Uluwatu, our camp isn't like most camps in the area, ours is 100% personalized and only with 5 other guests + you don't need to drag your board around, you can surf any of our boards while you stay with us.
KELLY'S WARUNG has an oceanfront view of one of the most amazing waves in Bali, Bingin. This place is so unique as it still carries a lot of that untouched Bali vibe. It doesn't have A/C or any luxurious accommodations, but local vibes and unbelievably great views and food.
DO & SEE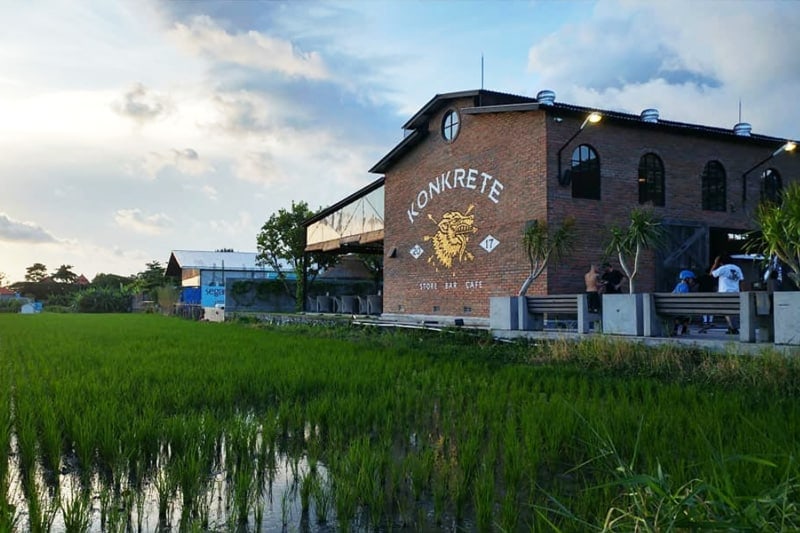 I think this question will vary according to your age, as I am not one to party a lot, but do go and see people skate over at KONKRETE in Berawa Beach, it's not as crowded as other skating spots in the area. 
DRIVE • One of my favorite things to do in Bali is grabbing my bike and driving until I get "lost". Bali has a lot of amazing and untouched land further up the west coast, not to mentioned the amazing surf spots you could find.
VOLCANOS • There are a few volcanos to choose from, but Batur is an amazing experience, plus you get to test your insurance walking 2 hours up on volcanic soil. Plus, you get to cool off from the Bali heat a bit, it can get nippy up there, but don't worry, there's plenty of hot beverages to sip on as you watch the sun rise above the clouds.
WATERFALLS • Same thing, there are plenty to pick from and my favorite is…
SURF • Well, do surf the crap out of this Island, be respectful to the locals and sip on a coconut at Old Man's late in the afternoon, it has killer sunsets.
SHOP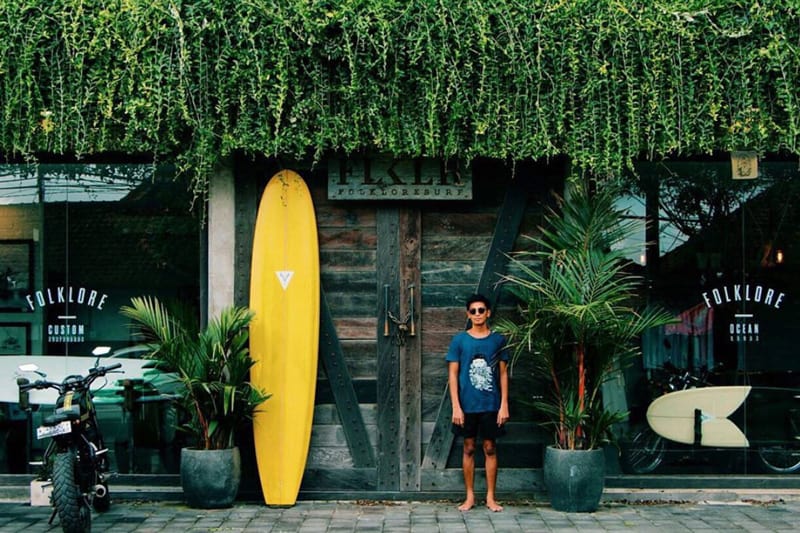 There are lots of shops in the area and so many more popping up in every corner that is hard to pick up from, however, if we aren't speaking mainstream brands, there's a really nice market on the weekends right next to Rotti on Batu Bolong. You can find all kinds of local crafty peeps selling all kinds of unique goods.
INDOSOLE's shop is just being built and I cannot wait to see what they'll do. This brand is helping out the community as well, they make super comfy shoes from recycled Balinese tires and are one of a kind.
HAZE & GLORY • Our friends have a pretty cool shop right next to the old Crate location on Batu Bolong road.
FLKLR SURF • Well, I am not one to brag, but we are making some really cool swimsuits for women to surf with, our tees are so soft that most people sleep in them. We have lots of little gems at the shop that we do not advertise on our site, yet. Plus we support and give back to the community as well.
BALD & BRIGHT TATTOO • This isn't a shopping place per say, but they do have some pretty cool art on the wall and amazing artists working there.
A huge thank you to Mar for sharing his favs in the 'Gu!
If you want to ogle some super sweet boards (I know you do), check out Folklore's site and Instagram for some handsome board goodness. Mmm…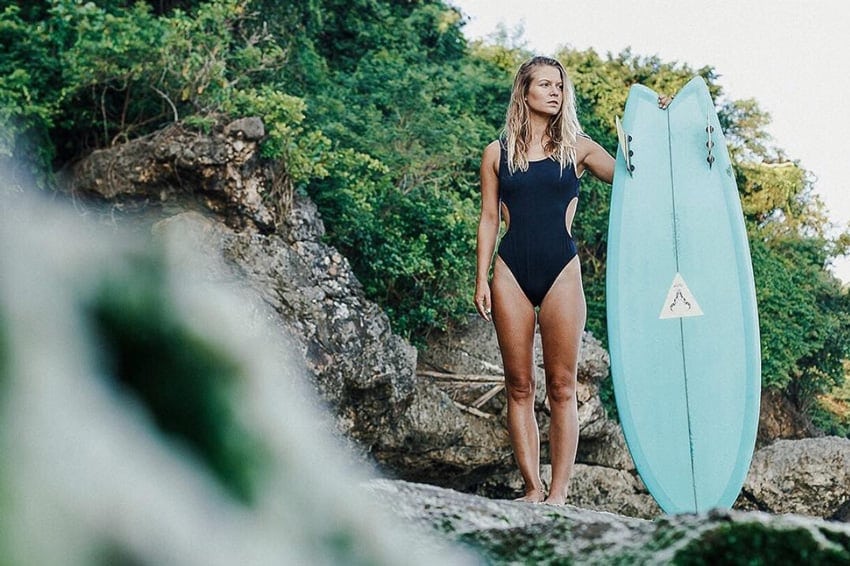 Headed on a surf trip to Indonesia?
Check out our Guide to

Surfing Bali

 and Guide to

Surfing Indonesia

for everything you need to know to plan an epic trip.