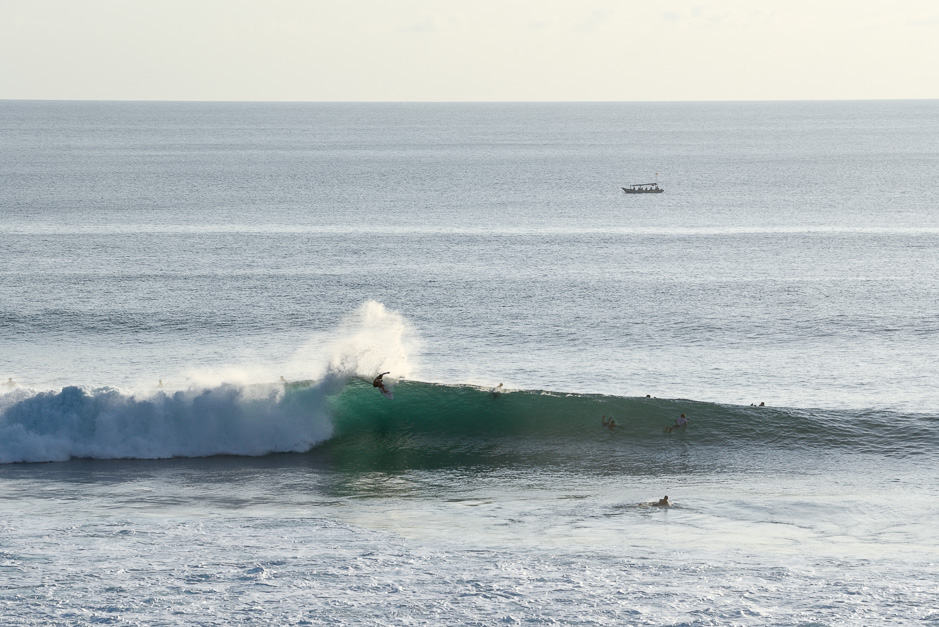 If you surf and haven't been to Bali yet, go! Like, tomorrow. Okay, maybe not tomorrow. But seriously, make some plans to get over there as soon as your time and budget permits. Bali has a lot on offer; warm water, epic surf, delicious food, friendly people, great places to stay, and so much more.
Uluwatu has been a world-famous surf break since the 1970s film, Morning of the Earth. Ever since the film started making the rounds, surfers from around the globe have flocked to this magnificent stretch of coast hoping to get a taste of its extremely consistent perfection.
After spending a couple of months exploring and surfing Bali and Uluwatu, I've learned a bit about how to make the most of a surf trip to this magical land of waves and Bintangs. So without further ado, here's the lowdown on surfing Uluwatu, and a few tips to make your visit a whole lot smoother.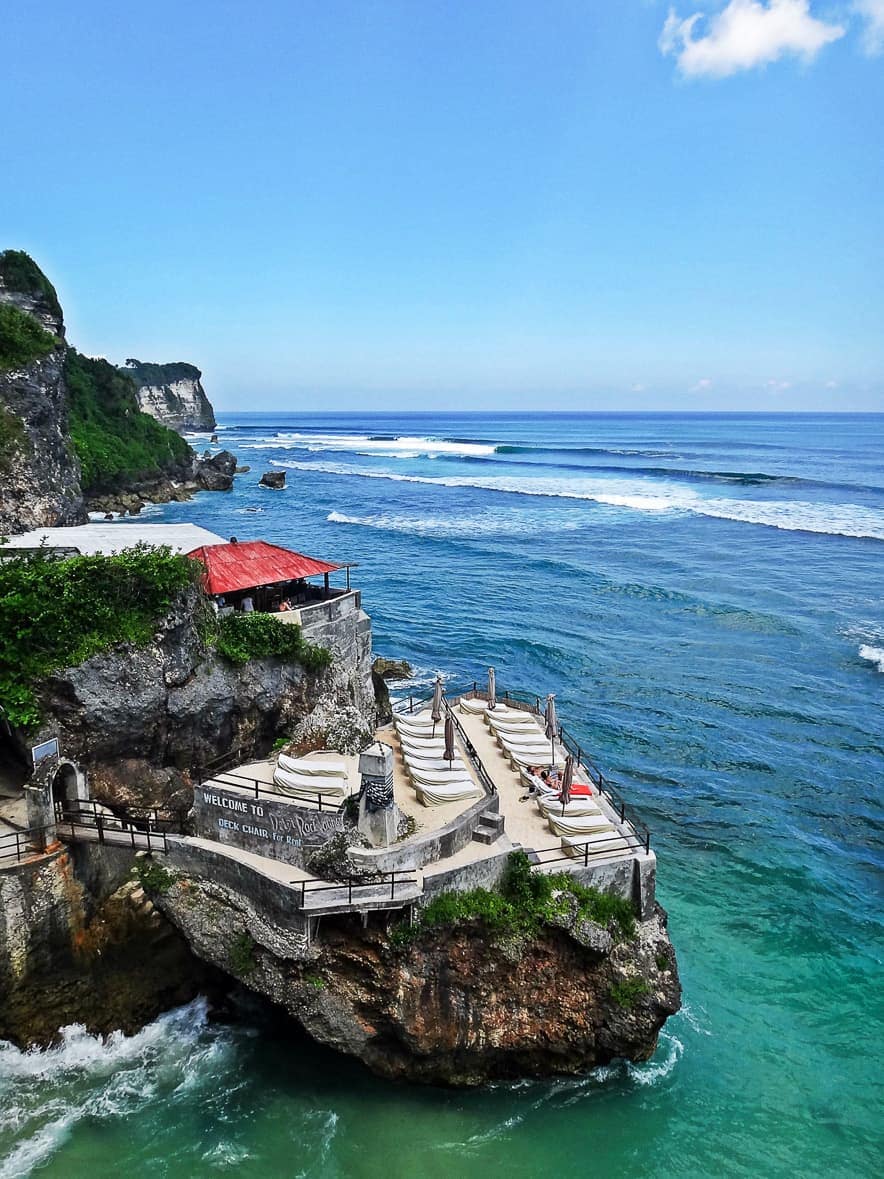 Surfing Uluwatu
1 • The 6 Peaks of Uluwatu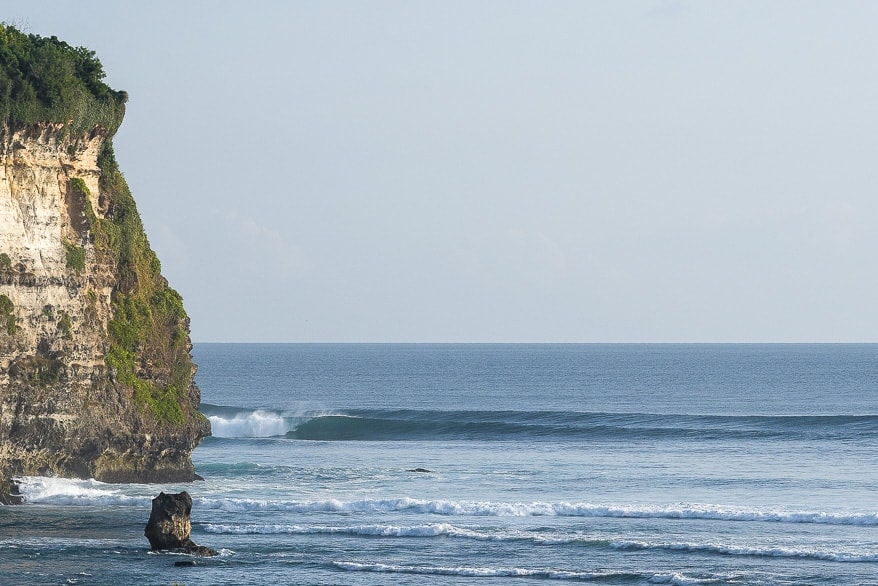 Uluwatu is actually a cluster of 6 different reef breaks on the southwest tip of the Bukit Peninsula. From the left point to the right you'll find Secrets, Temples, Bombie, Peak, Outside Corner, and The Racetrack.
There are roughly about 100 meters between each of the 6 peaks. On a good day if it's double overhead you could potentially connect a ride from Bombie clear through The Racetrack.
The farthest waves around the bluff are Secrets and Temples and are somewhat similar. The waves can often look like they're going to close out only to hold up and peel off along the shallow reef. There are plenty of barrels on offer if you're good enough to slow down and pull in. Respect the lineup and wait your turn and you'll be sure to score some fun ones.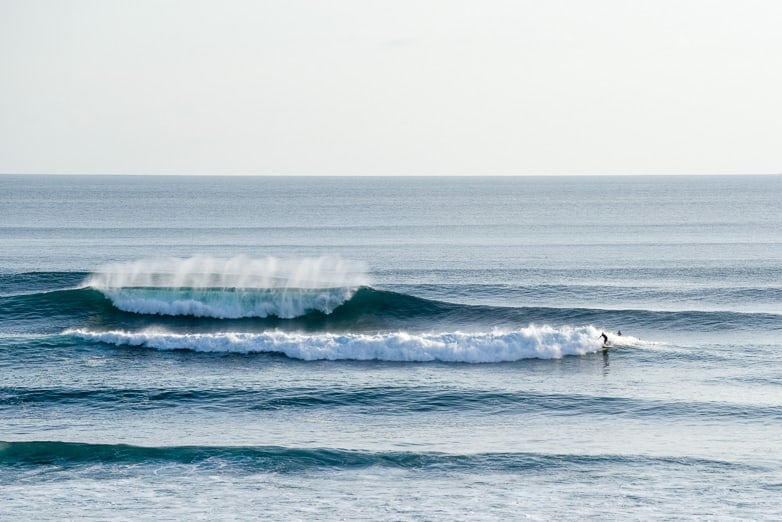 Bombie is the deepest wave and in a league of its own. There are often only a handful of surfers interested in the peak. The large peak grows and jacks up as the deeper water turns into shallow and it would be wise to take a few extra inches of length and liters of volume on your surfboard if you're keen on snagging a Bombie's bomb.
Peak and Outside Corner are two of the main waves and where you'll often find the masses. And for good reason. Perfect peaks line up nicely and produce clean barrels over shallow reef. If you're set on getting a good wave there you'll need to be comfortable with navigating the crowds as everyone wants a piece of the action and the locals have it wired.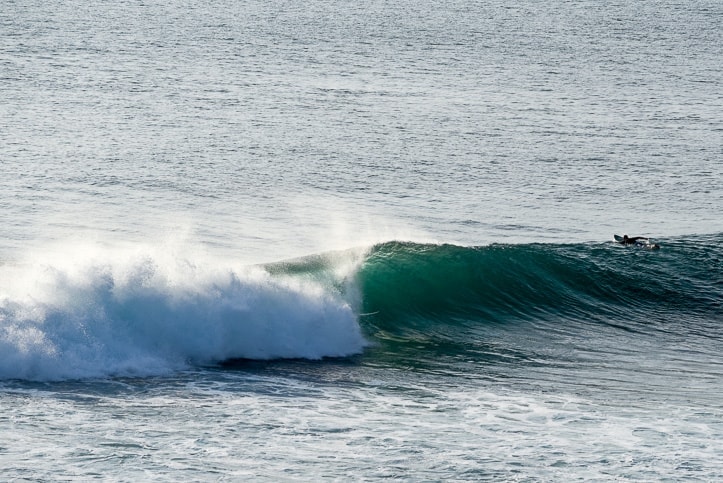 On a good day, The Racetrack can produce barrels like clockwork. You'll have a rippable open face followed by a draining barrel almost in the exact same spot every time. It's a beautiful thing.
2 • Access and Paddling Out to Surf Uluwatu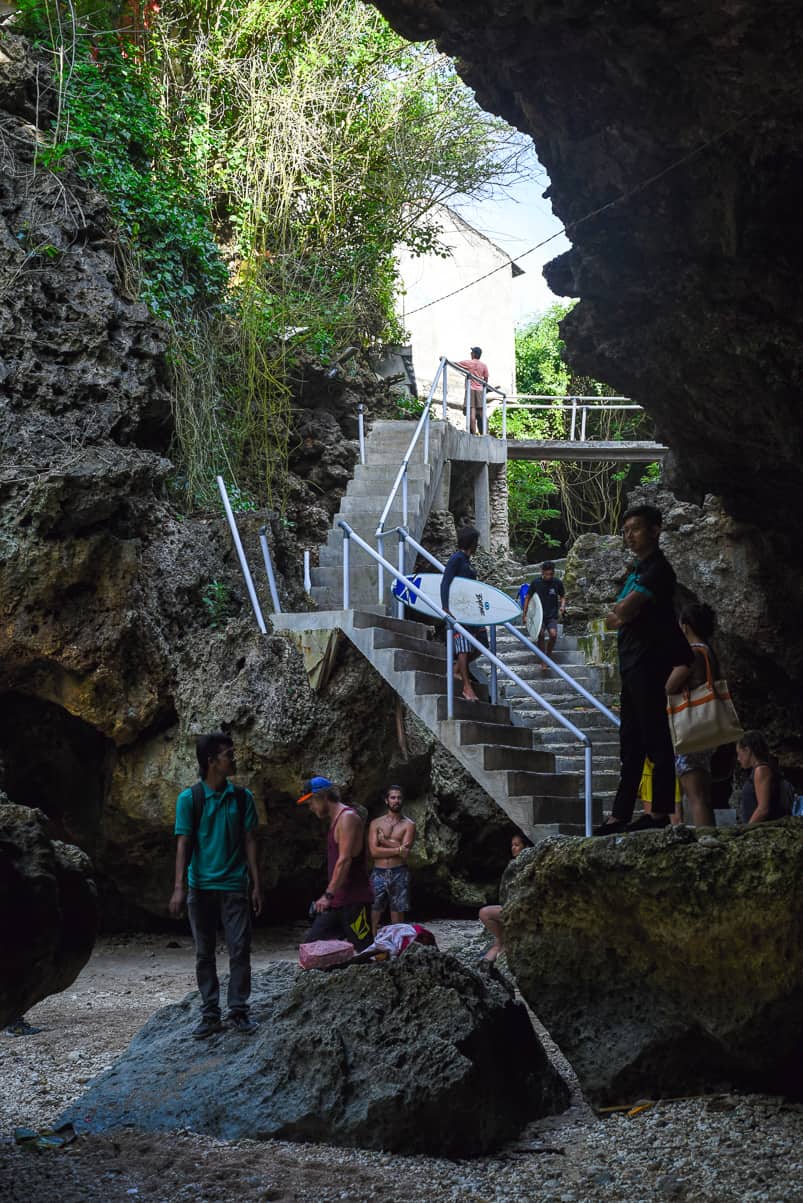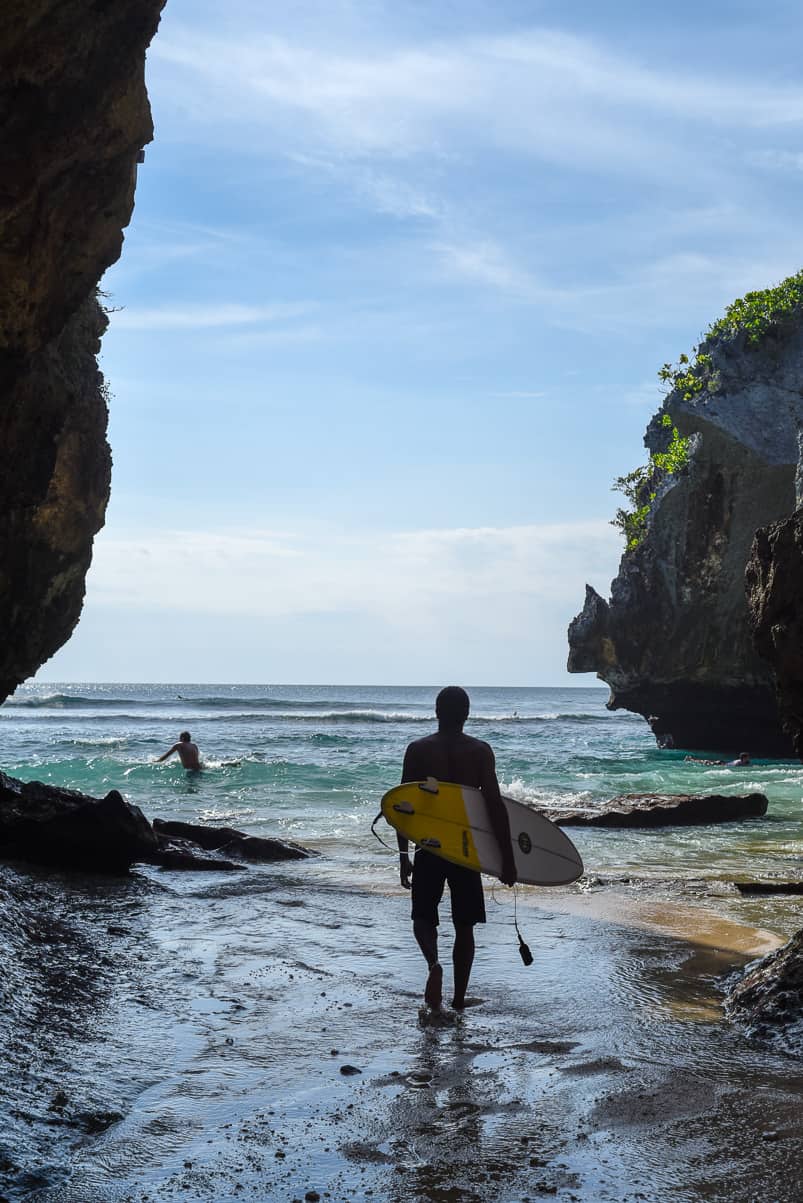 As far as getting in is concerned, on larger swells, a mid to low tide is the best time to go because of where you access the breaks from. You get in the water through a rocky cave entrance. Once you walk down the famous steps to the main cave entrance of Uluwatu you can either paddle straight out from there if you're looking to surf The Racetrack, Outside Corner, or Peak.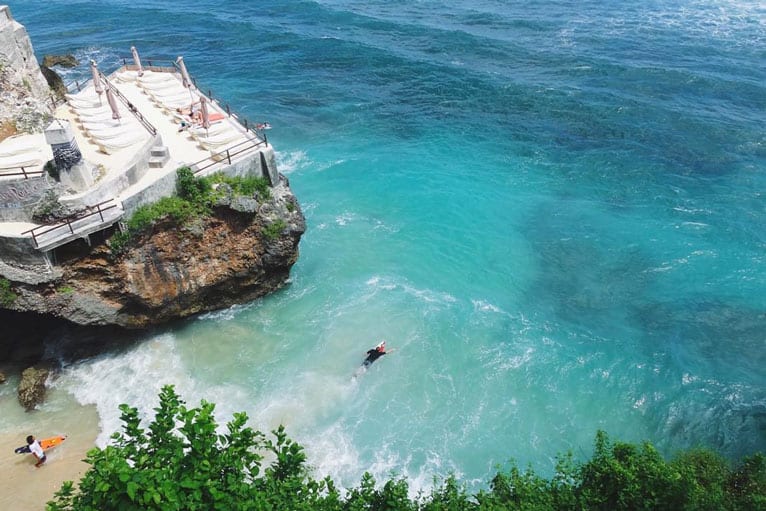 Or when you walk down the staircase go left and you'll see another cave entrance that takes you to a hidden beach and a better point of access if you want to paddle out to Secrets and Temples. It's a beautiful sandy beach for lounging and swimming at mid tides if you have a non-surfing partner too!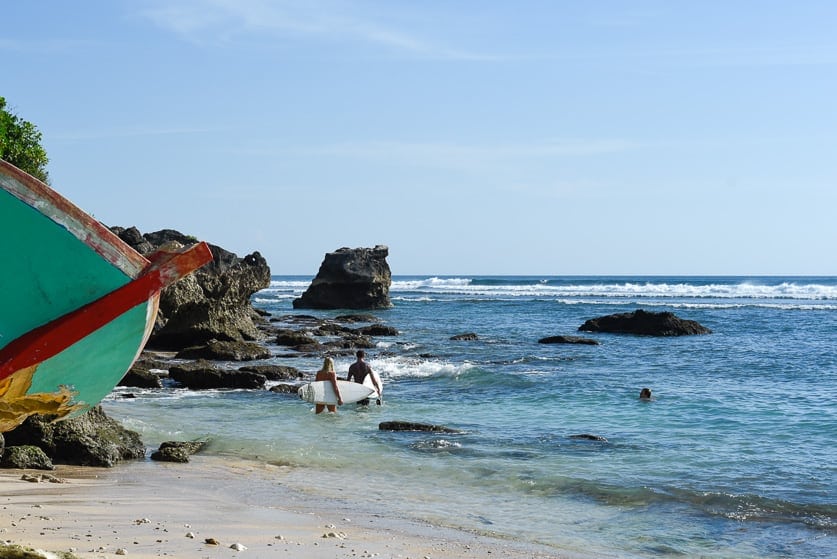 But when the tide is high and the swell is big, serious surges can come crashing into this cave wreaking all kinds of havoc on the inexperienced surfer or ill-informed tourist. Don't be that guy (or gal).
If it's head high or under, just about any tide should be fine for getting in and there will most likely be something glorious waiting for you out at the breakers. The water is super clean and clear, mid-80s, and the surf comes in all shapes and sizes from fun open shoulders to hollow draining barrels across the shallow and sharp reef.
3 • To Bootie or Not to Bootie?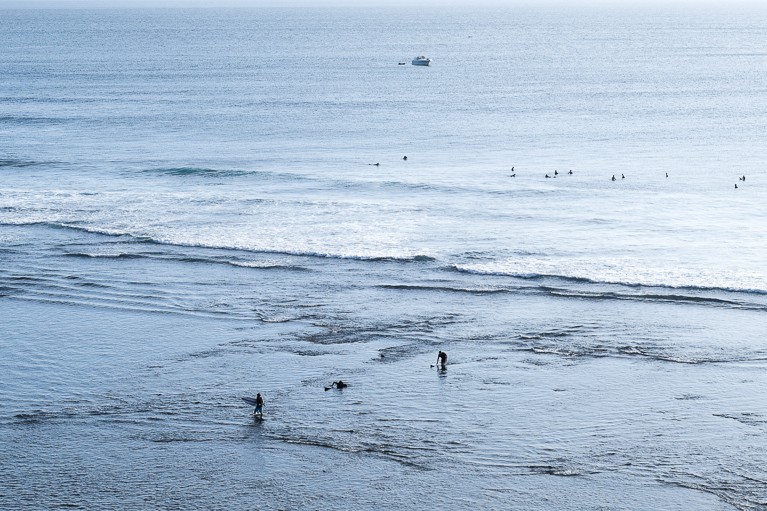 That is the question. I'd recommend to any friend to pack a pair of reef booties. But it totally depends on your comfort and tolerance for hoofing it across the sharp reef. It's probably about 50/50 in the lineup. A lot of locals don't wear booties. I'd bet most of them have cuts and open sores on their feet because many of the surf breaks on the Bukit come along with 50 – 100 meter walks across a jagged reef.
I prefer to preserve my precious tender feet. I know for a fact that I have softer soles than most people and I'm more susceptible to getting cuts. So I always wear booties if I know I'll be walking across the reef. I've had sharp pieces of reef go through my bootie and puncture my foot to give you an idea of what you're working with.
You can pick up booties all over the cliffside shops of Uluwatu. You just might pay a little extra if you buy them in Bali instead of bringing a pair from home.
4 • Rent a Board or Bring Your Own?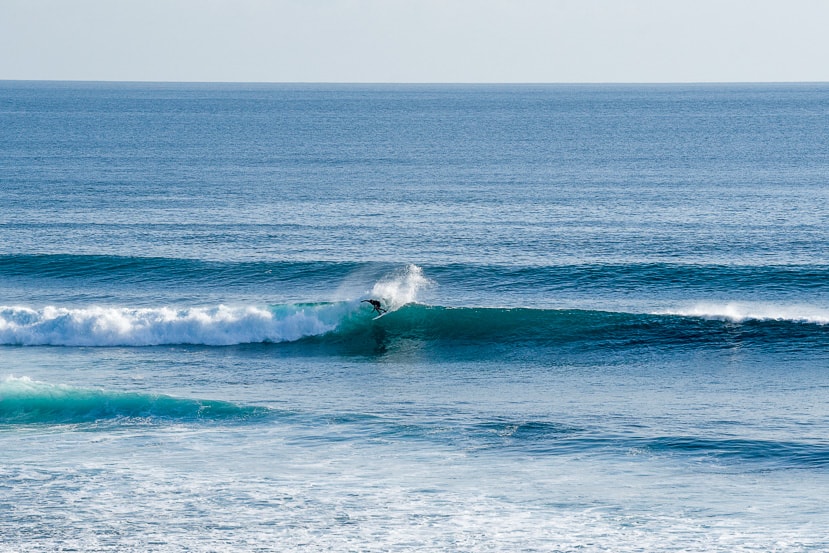 It's always nice to have your own equipment, but board bag fees can be ridiculous ($150 – $200+ each way), and sometimes it's nice to travel without surfboard bags. I rented a board the first time and brought my own boards on our second trip.
Check out our guide on the Best Airlines for Surfboard Bag Fees >>
There are several places to rent boards in town, some with better selections than others. Just about any of the breaks you check out will have shops or restaurants (warungs) that have boards for rent. Uluwatu is a cool little community perched up on a cliff and there are dozens of vendors, plenty of which are board rental shops. That said, the selection can be minimal, so it's really best to bring your own boards or you can also consider buying a board in Bali (there are some great local shapers and surf shops with nice boards for sale).
Here's the deal when renting a board. Like any good businessperson, these guys obviously want to make as much money as they can, so be prepared to negotiate. Negotiating is very common, almost expected in the Indonesian culture. On the cliffs, you should be able to rent a board for a few hours for about $10 USD total (150,000 rupiah). About 50,000 rupiah an hour was what I found to be a fair rate when renting there.
It's a bit cheaper to hire a surfboard in town, you can find a decent board for about 80 – 100,000 rupiah a day and you get to keep it overnight for 24 hours. In my experience, the vendors at Uluwatu break on the cliffs weren't too keen on renting out their boards overnight so your only option is by the hour. But in some cases, like if it's pumping and you're simply under-gunned, it's definitely worth it and very convenient.
5 • Where to Stay in Uluwatu?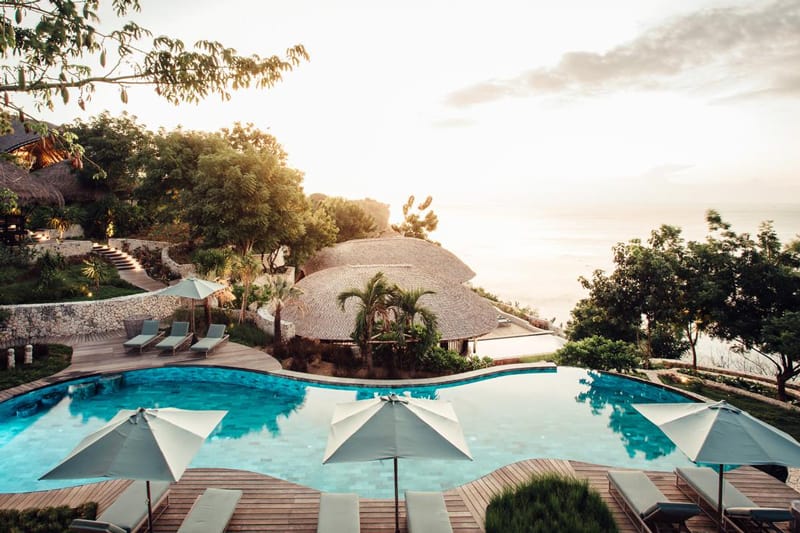 There are many amazing places to stay in Uluwatu — surf resorts, surf camps, villas, hostels, you name it. You can find basic accommodations from $15 – $30 USD a night, on up to cliffside luxury hotels with surf break views. Your money goes a long way for accommodations in Bali so if you can swing it, this is the place to splurge. We've found luxury 5-star hotels in Bali for $180 per night that would cost $800+ in many parts of the world, so Bali is the place to level up your stay.
Check out our Guide to Surfing Bali for a detailed breakdown of accommodations and surf trip costs in Uluwatu and beyond.
And here's a list of 10 rad Bali Hotels for Surfing based on ease of access to surf breaks and the ability to scout the surf from your hotel:
6 • How to Get Around in Uluwatu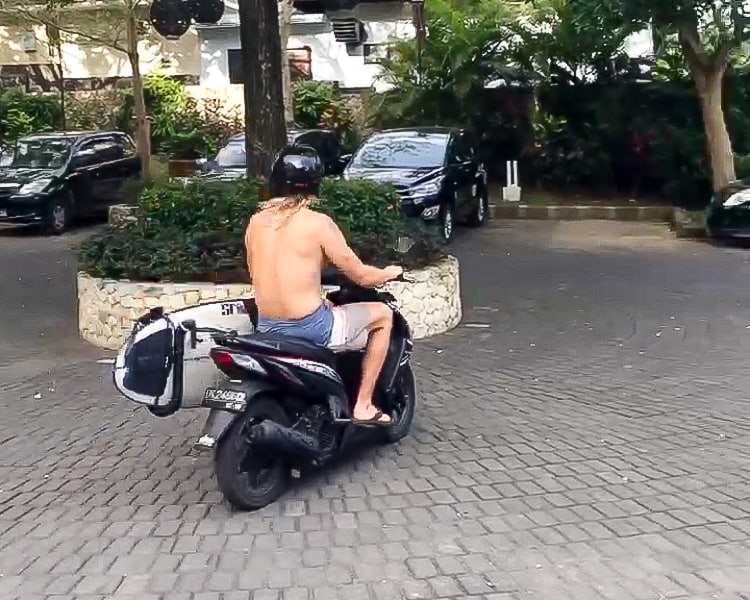 Rent a scooter! Renting a scooter is a great way to get around in the Uluwatu area. You can expect to pay $4 – $6 USD a day for a scooter with a surfboard rack. Most likely, where ever you're staying will be happy to help you get one. The quality of the scooters can vary greatly from beatdown to brand new. Make sure you know how everything works before taking off.
Renting a scooter is the best way to explore your surroundings in a scenic place like the Bukit Peninsula. Uluwatu is somewhat remote so it isn't crazy busy like some of the more touristy areas in Bali.
However, be aware of a few things when driving a scooter. Never cruise around with a backpack, shoulder bag, or purse hanging off your side. It's an easy target for thieves and there are stories of tourists being pulled off their scooters by bag snatchers. We met a tourist moments after her iPhone had been snatched right out of her hand (this happens often), so be careful if you're using your phone for navigation.
Bali is a relatively safe place, but things like this do happen, so it's good to just be aware. When on the road, always stash your belongings in the compartment under the scooter seat and you should be all good!


Besides Uluwatu, we've surfed many breaks all over Bali including Padang Padang, Impossibles, Balagan, Bingin, Keramas, Canggu, and beyond. And Playgrounds, Shipwrecks, and Razors in Nusa Lembongan (a small nearby island). If you have any questions, let us know in the comments below and we're happy to share additional insights. We also created a comprehensive guide to surfing Bali where you can learn all about costs, places to stay, an overview of other breaks, and more.
Check out our complete Guide to Surfing Bali >>
And don't forget, as when surfing anywhere around the world, be respectful in the lineup, smile and don't take yourself so seriously.
Cheers, Eric
Bonus Tip • Getting There From California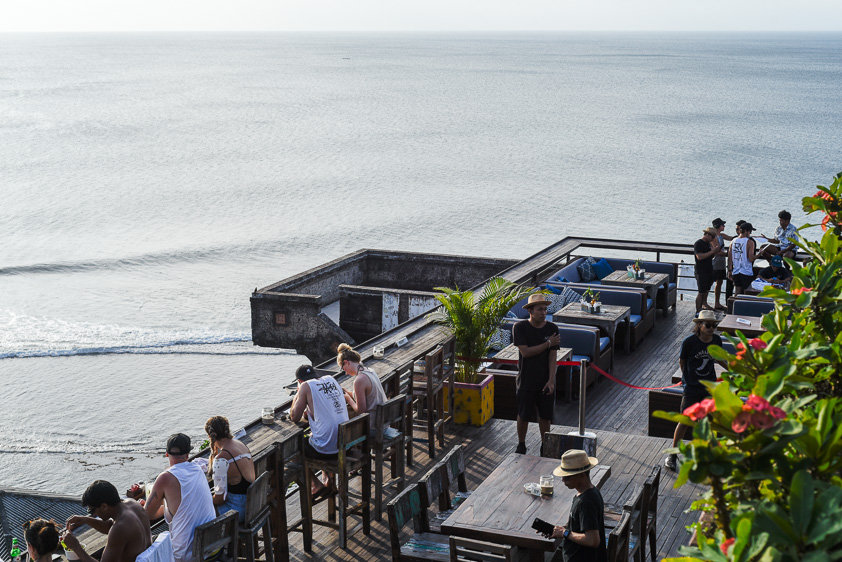 On our first trip to Bali we flew out of LAX and got an awesome deal on our flights – we paid about $900 each and booked through Expedia. One of the benefits of booking flights through Expedia is they offer some killer deals (40-60% off in many cases) on booking hotels through them afterward.
That allowed for us to stay at some really nice places in Ubud and the Bukit Peninsula for reasonable rates of anywhere between $100 – $200 a night. Of all places, Bali is a great place to splurge since your money goes a long way.
From LAX our flight was about 15 hours to Melbourne, a short layover, and then about another 5 hours from Melbourne to Denpasar. It's a long trip for us Californians, but it's worth every second it takes to get there!
Before we first went to Bali I was introduced to a local driver through a mutual friend who picked us up from the airport. His name is Wayan Suta, and I have his contact info if you're interested in being picked up from the airport by a friendly honest driver you can count on. Wayan is so nice, speaks perfect English, and it was an absolute pleasure to be greeted by him in an airport full of hustling taxi drivers. Drop me an email if you would like his contact info.
Have any questions or comments about surfing Uluwatu?
Let us know in the comments below!