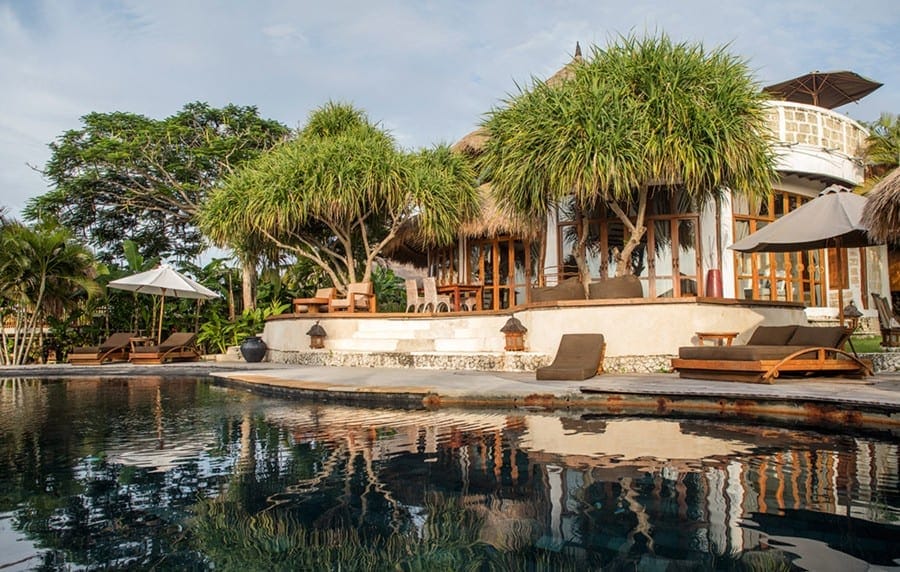 Bali hotels might seem like a dime a dozen, but if you're planning on surfing Bali, your access to surf checks (and therefore your digs) can make the difference between an epic surf trip and meh.
Imagine waking up, rolling out of bed, walking to your hotel pool or breakfast nook and feasting your eyes on a live surf report… because you're looking at the waves. When it comes to finding the best Bali hotels for surfing, location can be a game-changer.
By staying at a hotel where you can easily check the waves and get to the surf at the drop of a hat, you now have a luxury that many traveling surfers don't have. You can watch for the best conditions, the smallest crowds, and sneak in a quickie when the elements come together.
With ease of access to the surf and watching waves on the brain, we've rounded up the ten best Bali hotels for surfing (in no particular order), and their closest surf breaks.


Closest Surf Break: Keramas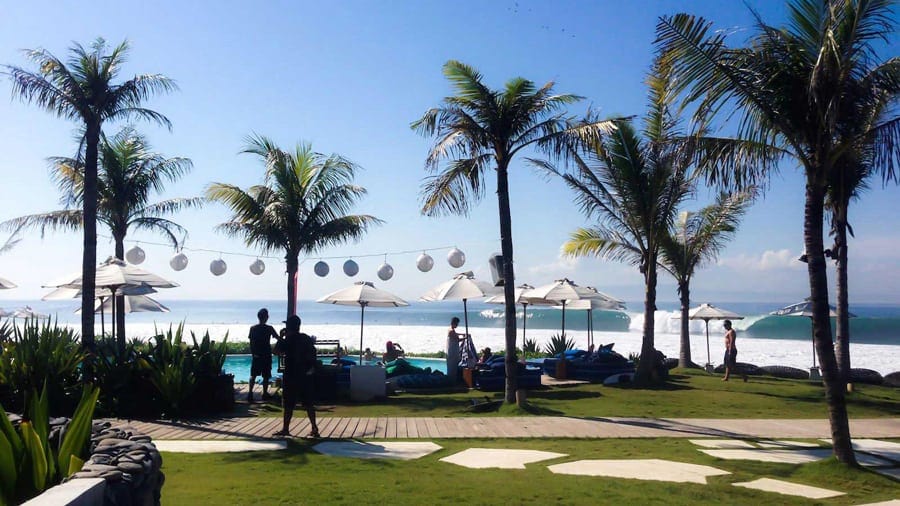 Komune Bali has a tempting selling point: it's parked directly in front of world-class Keramas. Oh, and the grounds aren't too shabby either.
The lushly landscaped property is equipped with a beautiful beachfront bar and pool (with plenty a' comfy lounges) where you can watch the waves all day long and pounce when the time is right. And if daylight hours aren't enough for your surf-obsessed self, Komune lights up Keramas at night with floodlights and offers night surfing with a limit of six surfers in the water at a time.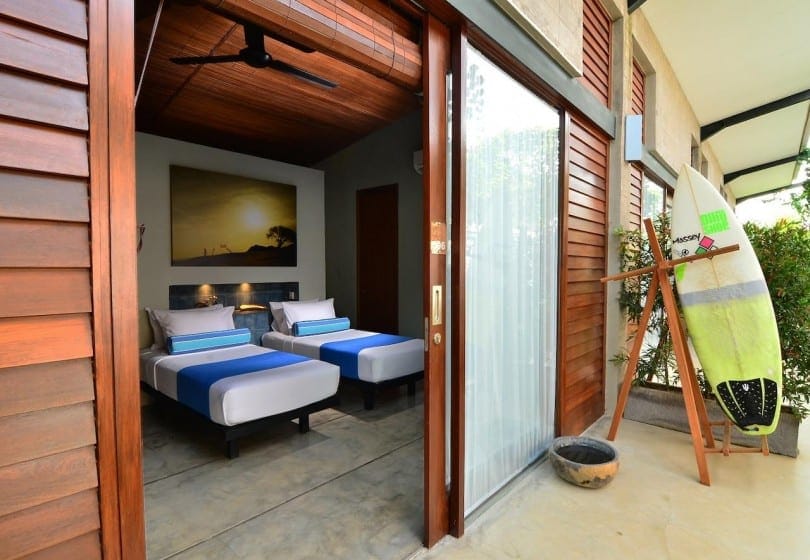 With a surfboard rack for every room, an adult-only pool, Balinese spa, full gym, and a delicious health-inspired restaurant called the Health Hub, Komune is a home run for the traveling surfer who digs amenities.
RATES: starting around $100 per night
Closest Surf Break: Padang Padang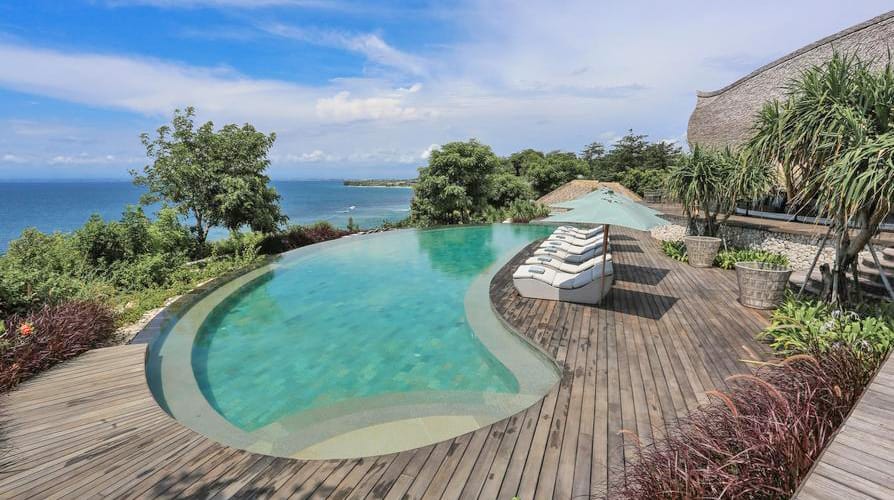 Suarga Padang Padang is an absolutely gorgeous cliffside boutique resort with views of Padang Padang to the left and Impossibles to the right. Besides having one of the best views of Padang Padang, this sexy hotel was developed with sustainability and indigenous architectural influence in mind.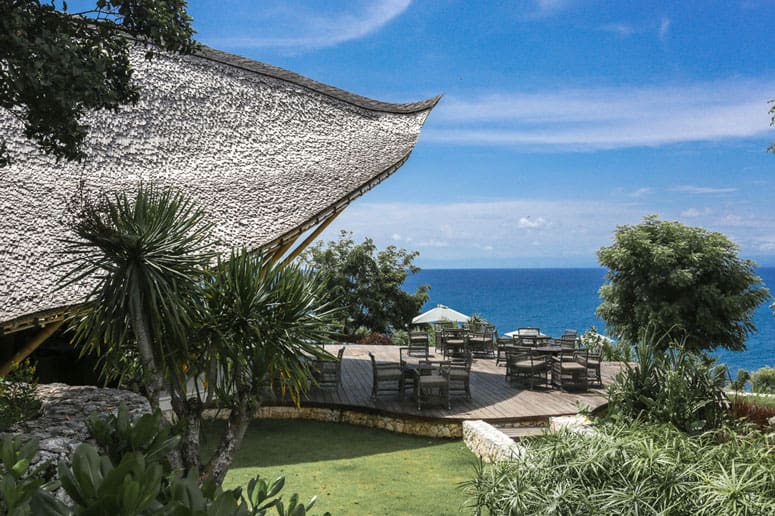 Suarga comes along with all the bells and whistles that you'd hope for in a luxurious boutique hotel, including an infinity pool with surf break views for days, an open-air lounge for sipping Bintangs and coconuts, and a modern Balinese-inspired farm-to-table restaurant.
RATES: starting around $290 per night
Closest Surf Break: Impossibles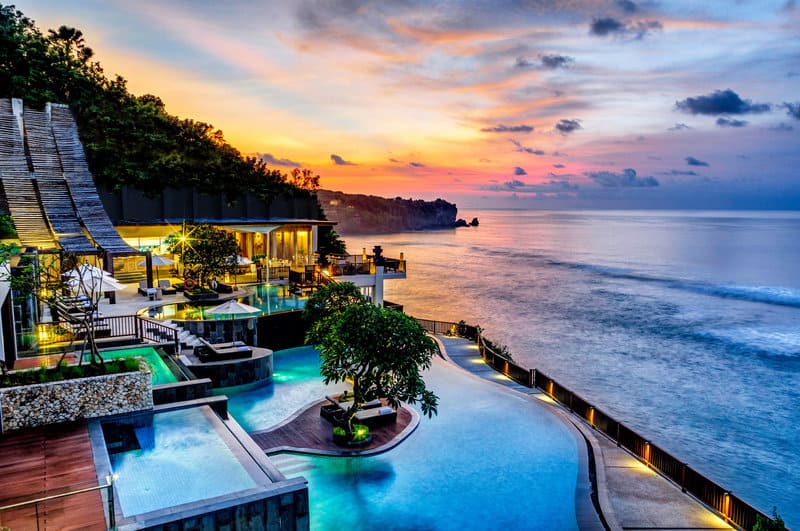 Located directly on the bluff above Impossibles is the 5-star Anantara Uluwatu Bali Resort. Infinity pool, check, quick access to the break, check, tasty restaurant with stunning views from Padang Padang to Dreamland, check.
Anantara used to have an elevator that went right from the bluff down to the surf, but I think it may be indefinitely out of service likely due to corrosion and the weathered dock below that gets submerged on a daily basis with the high tide.
Without the convenience of the elevator, it's still only a short walk around the front of the hotel and down the bluff.
RATES: starting around $280 per night
Closest Surf Break: Impossibles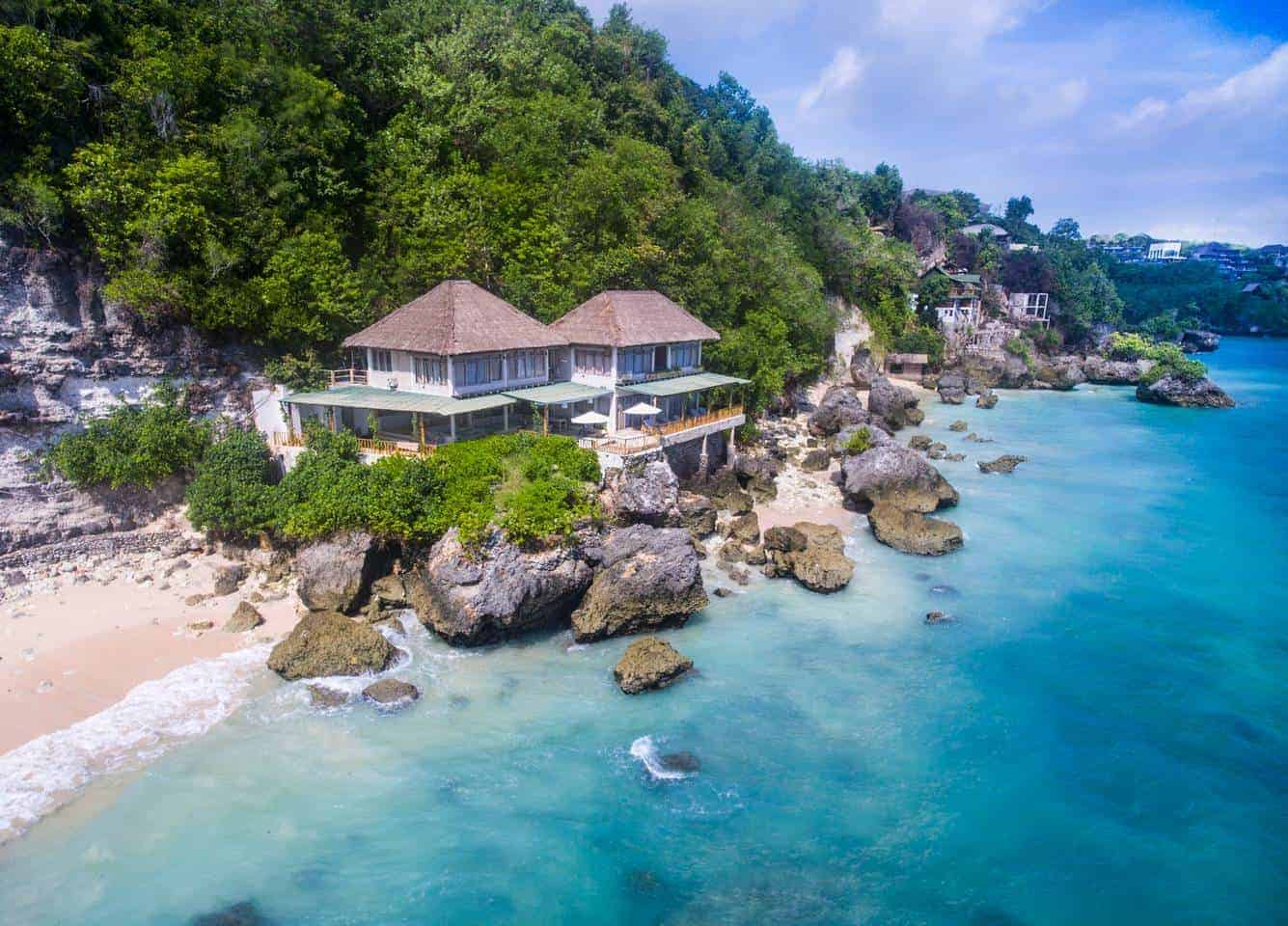 If the 5-minute walk down the cliff from Anantara is too far for you, or you have a big group, Mandala, The Rocks might be your jam. Perched at the foot of the cliffs at Impossibles surf break, this stunning luxury villa gets you as close as possible to the ocean.
All rooms come with insane ocean views, so you can check the surf in the morning by lifting your head a few inches from your pillow. At The Rocks, you're never more than five seconds from where you paddle out to surf the famously picturesque Impossibles surf break.
RATES: starting around $500 per night for the entire house
Closest Surf Break: Bingin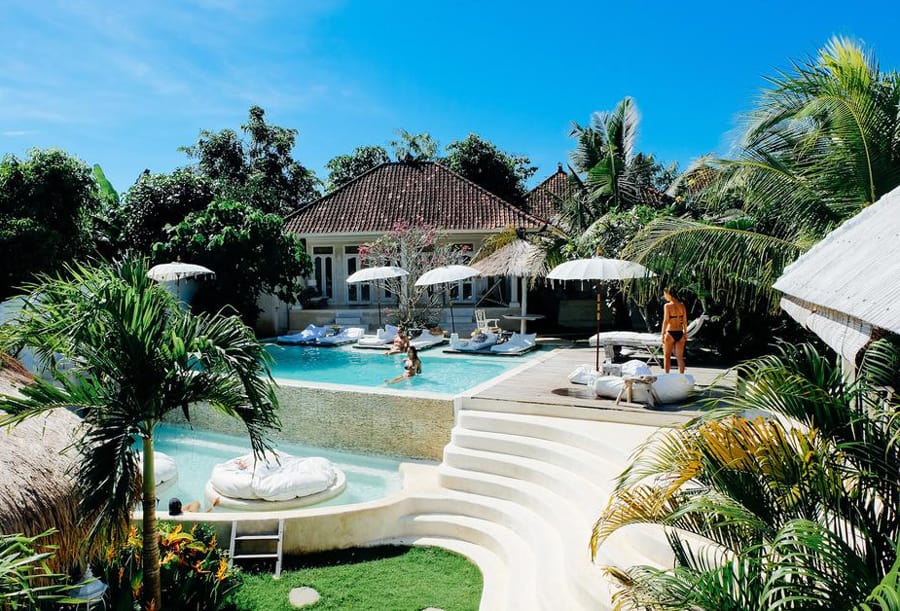 If you're into chic whitewashed rooms, outdoor bathrooms, Instagram-worthy pools, and rad ocean views, Sal Secret Spot has your name on it. This eco-friendly boutique hotel has two locations in Uluwatu, both at Bingin.
The Main Sal Resort is located 200 meters from the cliff at Bingin (so it's a quick walk to check the surf), and the Beach Sal Resort is located right above Bingin beach with stunning views of the ocean and the barreling Bingin surf break.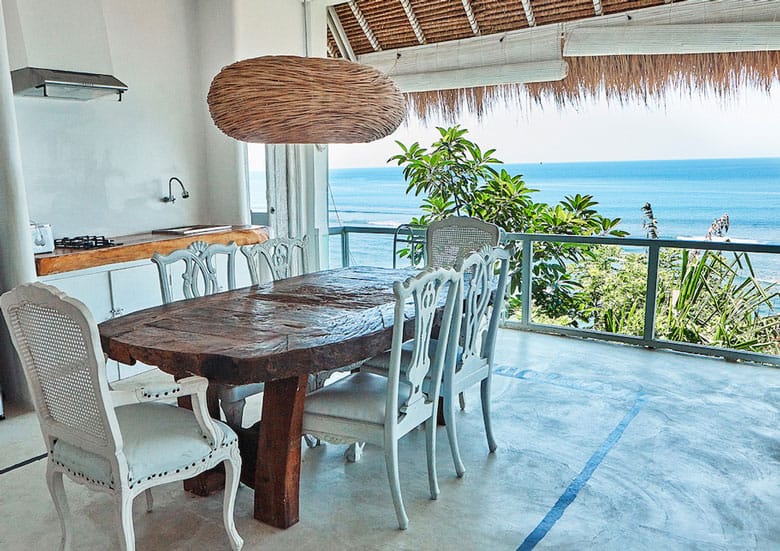 If you're traveling with a crew, check out their Deluxe Beach Apartment with 3 bedrooms/3 bathrooms and killer views of Bingin.
RATES: starting around $80 per night
Closest Surf Break: Balangan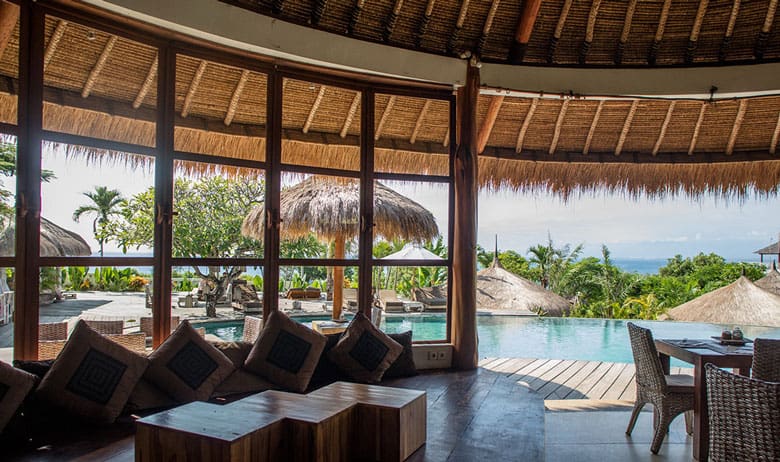 La Joya Hotel is nestled away in a lush oasis above the white sand Balangan Beach and super fun Balangan surf break. Balangan is a great break for intermediate surfers who are perhaps not quite ready for barrelling Uluwatu, and there's also a surf school that offers lessons for beginners on the inside.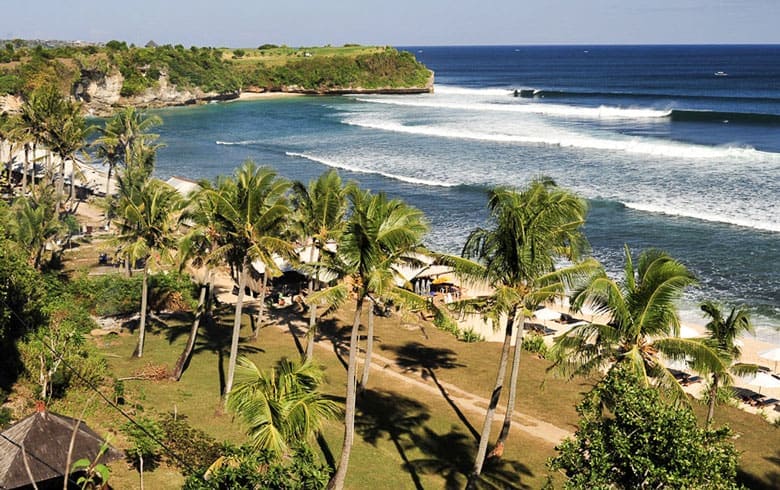 La Joya has very cool thatched-roof bungalows on offer, or if you're rolling deep, get in on their seriously awesome private luxury villa complete with a private swimming pool, tropical garden, sun deck, and upstairs terrace with a hot tub and one of the best views of Balangan Beach.
RATES: starting around $89 per night
Closest Surf Break: Balian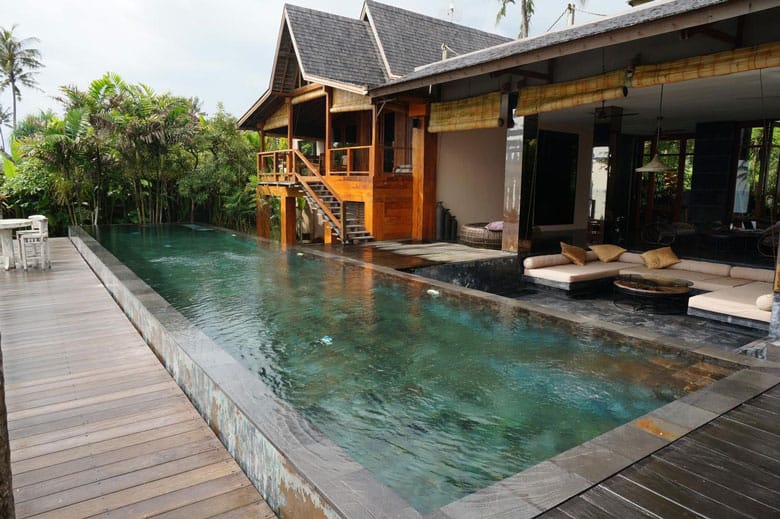 Okay, we're cheating because this place isn't actually a hotel… it's a villa. But it's oceanfront with a view of Balian surf break, so we couldn't resist adding it to the list. Villa Tao is a 9,600 square-foot luxury villa for 10 with a big 'ol pool and seriously awesome views of the black sand beach (and waves) of Balian.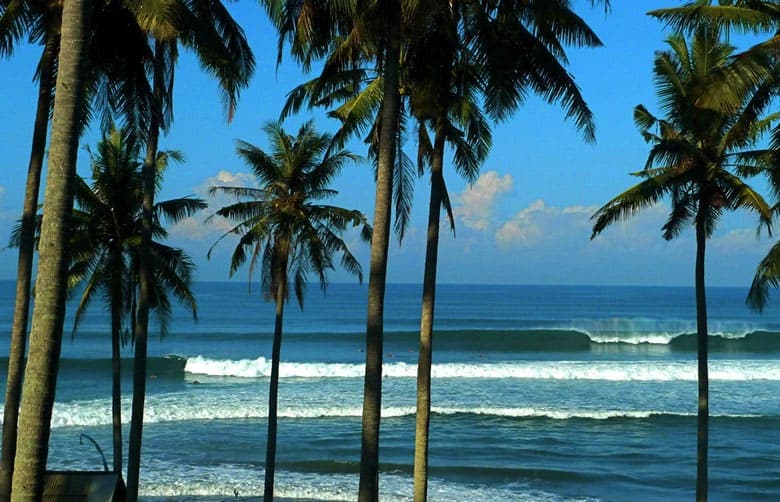 Located a whole 3-minute walk to the water, you're sure to score your share of the top-notch less-populated waves of Balian, one of the best beaches in Bali. And you can chillax in luxury in between sessions at your infinity pool with a Bintang. #InfinityPoolsAndBintangs
RATES: starting around $390 per night
Closest Surf Break: Canggu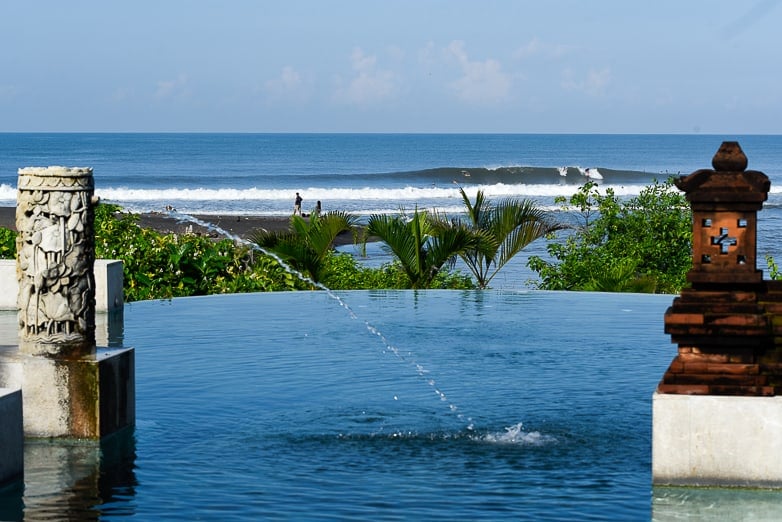 Anginsepoi hotel is located just steps from the beach at the northern end of Canggu and has a great view of the river mouth break, Pererenan. It's only a short scooter ride away from the hustle and crowds of the main strip in Canggu (which is nice if you like to be near the action, but not quite in it).
After a very quick stroll to the beach from this nice and affordable boutique hotel, you'll be greeted by all the breaks of Canggu within 100 yards or so from each other.
Assess the wave situation and take your pick from the point to the left, the shifty peaks of the beach break out front, or the river mouth to the right, everything is within close very proximity. You could also paddle north of the river mouth where there's another fun A-frame that is sometimes less crowded than the breaks of Canggu proper.
RATES: starting around $50 per night
Closest Surf Break: Secrets (Uluwatu)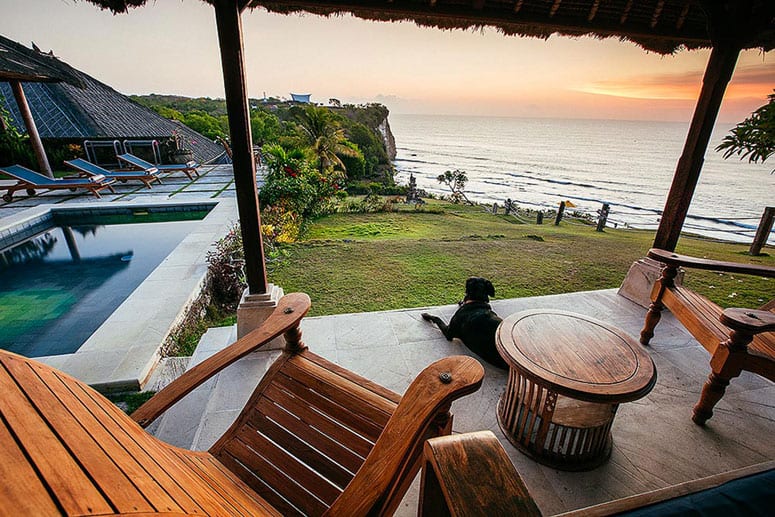 Uluwatu Surf Villas is no secret, so book in advance. With only ten or so villas on offer and stunning views of the infamous Uluwatu, this boutique hotel has it all– from cliffside sunset yoga sessions to your own private pool.
Not to mention our favorite feature: you're never more than a staircase away from world-class Uluwatu surf break.
RATES: starting at $150 per night for single occupancy
Closest Surf Break: Bingin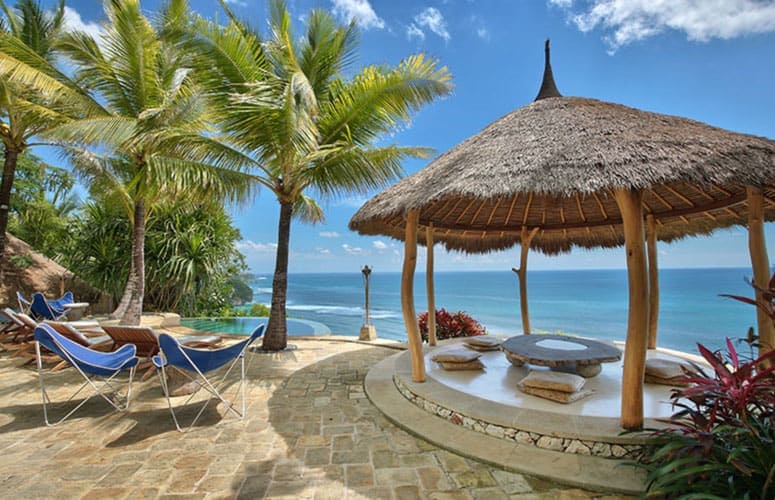 Mick's Place is a true gem. With a cliffside infinity pool situated directly over Bingin surf break, when you're not getting barreled, you'll likely be perched up on the hilltop watching others get barreled. Which is not a bad way to spend the day.
Between surfs, you'll be enjoying exclusive access to one of the best views in town where you can relax, refuel, and easily motivate for another paddle out when the elements come together… or simply put your feet up with a Bintang and enjoy another beautiful Bukit sunset.
RATES: starting at around $125 per night
Planning a surf trip to Indo? Check out these Guides to: