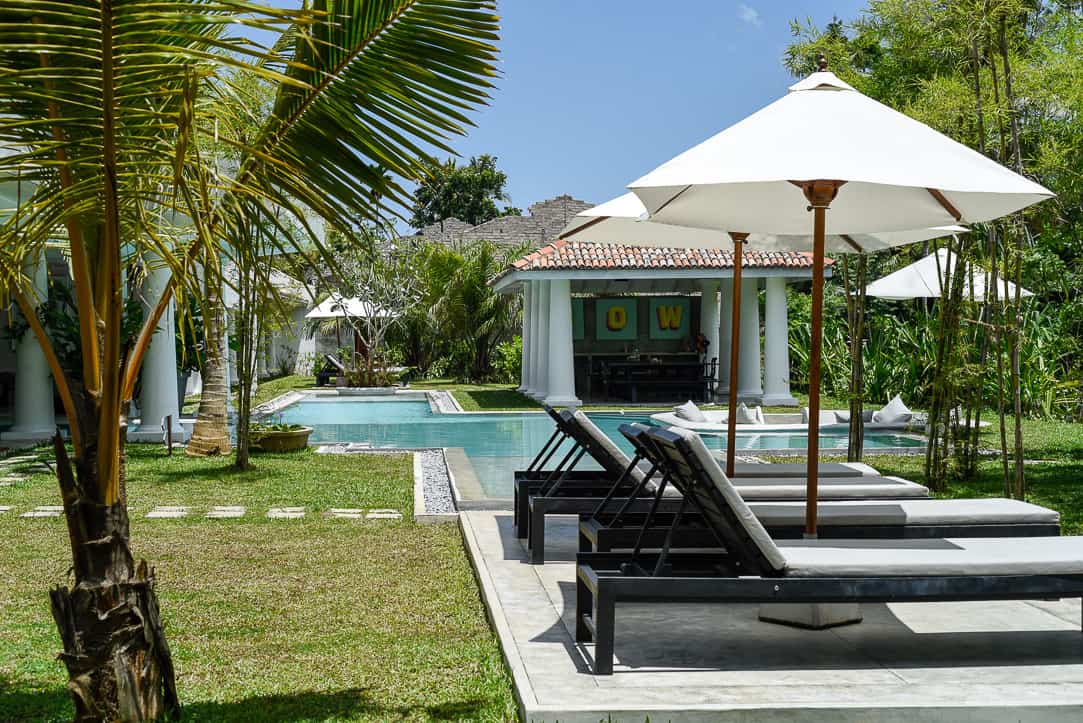 A few months ago we had the absolute pleasure of experiencing a weeklong surf and yoga retreat with the Soul & Surf crew in Sri Lanka. We laughed, we cried, we practiced yoga and surfed every single day, sometimes twice! Ok, well, maybe we didn't cry, but we had a lot of really awesome and inspiring conversations throughout the week and an all-around amazing experience.
We felt like kindred spirits with the S & S crew. And naturally, that led to all sorts of conversations about things like goal-setting, achieving dreams, dealing with self-doubt and limiting beliefs, the pressures of societal norms, how we made our dream trip happen and a whole lot more.
After our stay with Soul & Surf, we were invited to do an interview with questions about our trip like, what we were doing before we left, how we made it happen, the highs and lows of traveling for a year, our advice for other people looking to leave a corporate job to travel the world, and what's next for us. Turns out, we have a lot to say about the subject.
This post is a result of that interview and was first published on Soul & Surf's website. The interview can be read in its original form, here.
And be sure to check out our exciting post-trip update and plans at the very bottom of this article.
---
Original post from Soul & Surf, September 2017
Next in our Soul People series is 2 inspiring individuals who stayed with us in Sri Lanka, Tara and Eric from Lush Palm.
Where's home for you guys?
Tara: Sunny Encinitas, California… and we absolutely love it! Encinitas is a beautiful mellow surf town in north San Diego so it's an easy place to fall in love with.
Eric: Although, we were recently thrown a curveball when our landlord told us out of the blue that he has decided to sell our place. So we'll get back to California just in time to move our things out of our old home!
Tara: It's quite an unexpected turn of events and we're just being open and going with the flow. We're suddenly being pointed in a bit of a different direction and it feels like the universe is working to keep us living nomadically on the road for a while longer. Which is all part of the adventure and totally cool with us!
Eric: But truth is, as cliché as it might sound, having been on the road for nearly a year living out of our backpacks we feel like home is wherever we are as long as we're with each other. And having a kitchen helps too. Haha. And even though we'll no longer have our place back home, this trip has really solidified just how much we love San Diego, so that will most likely be our home base again someday in the future.
What were you doing before you decided to hit the road?
Eric: Planning, plotting, and saving for our great escape of course! Well, I worked in membership development and sales at an incredible organization called Vistage Worldwide. The company basically offers executive-level mentoring and coaching and professionally facilitated mastermind groups for CEOs and business owners.
It's a really cool concept where a retired CEO is trained as a mentor, coach, and group facilitator. And then that retired CEO becomes the mentor and coach to a small group of active CEOs and business owners. The deep work that gets done at Vistage is quite remarkable. I have tremendous respect for the company, my colleagues, and my role so I gave them a 3-month notice of my departure and helped them find my replacement— who happens to be a good friend of mine. It all worked out so well, I left on great terms and I couldn't be happier with the outcome.
Tara: I've worked in digital marketing for the past several years. I've been really fortunate to work with some great companies in the past, my favorite being an ad agency in LA called The Visionaire Group (TVGLA). At TVG I worked on the social media team for multiple TV shows and global brands. I managed the social media for Wheel of Fortune (a legendary game show in the US) and it was a lot of fun. My last job before taking off was communications manager for an early stage start-up in Encinitas which was a really great learning experience in a lot of ways.
Was there a specific moment that made you jack it in?
Eric: The trip was a long time coming. I was scribbling rough travel routes and budgets even before Tara and I ever met. Actually, I broke up with my previous girlfriend because I wanted to take a big trip like this and I didn't see her in the picture. I met Tara a week later and we immediately hit it off which changed everything.
As our relationship developed I knew she was the one because I could totally see us traveling the world together. The great solo trip I had been dreaming of organically transformed into our big trip as if that was the way it was always supposed to be.
Tara: So yeah, even before Eric and I met, we both independently had dreams to travel the world so we talked about it a lot. We went on our honeymoon in Bali in May 2015—which was essentially a surf trip disguised as a honeymoon haha— it was our first time in Asia and we had an absolute blast. We were only able to get away from work for two weeks, which is considered a super long trip for US standards, so after all the travel time we had about 10 nights in Bali.
We loved our trip to Bali so much, we had this moment where we were like "We don't want to leave!" We really wanted more time to explore Bali and more of Asia. That was the moment when we decided, okay, we need to make this happen!
We wanted to be able to explore without time constraints. We wanted to have the freedom to island hop for months on end. And we didn't want our jobs to constantly dictate our lives. We really wanted to make our own life schedule for a while!
As soon as we returned from Bali we starting researching, put pen to paper, figured out how much money we would need to save and got serious about our dream trip.
Eric: I remember the night we wrote it all down and started mapping out rough routes. We came up with a concrete budget and created our savings goals. That was a big moment when we could see what it was really going to take to make it happen. We put together some pretty aggressive goals which put our timeline at about 18 months until departure.
Tara: It's amazing how powerful it can be to write down your goals and dreams. When we started making plans and wrote down our budget and goals, it's as if it became tangible and attainable… and it made our goals and dreams become reality. We set our goals, started saving, and we were set on making our trip happen, no matter what.
Did you get any grief from family or friends when you told them you were leaving?
Eric: Not really. Everyone was pretty much cool and supportive of the whole trip.
Tara: Yeah, we didn't get much grief… we're lucky that we got really minimal grief, and mostly lots of support and well-wishes. But it's kind of funny because I feel like our family and friends reacted differently depending on how close it was to our departure date. It took us about a year and a half or so to save up funds, so we started talking about our trip about a year and a half out.
I don't know if some people don't plan ahead that much, or if it was just so far out that people didn't really take us seriously, but in the beginning everyone was like, wow, that's cool. But then as we were on our six-month countdown, and then our three-month countdown and still talking about it our family and friends were like: "Whoa! So you guys are seriously doing this?! You're really leaving your jobs and home and taking off for a YEAR?!" It was so hilarious! We were like… "um… of course we're serious. Did you think we were kidding?" Haha!
And then the closer our departure came, the more bits of grief we got… but only loving caring grief from family just being parents worried about our safety and whatnot. All and all our friends and family have been awesome, super supportive, and some of our friends even came out to meet us in Bali which was a really incredible time.
Can you share some highlights of your trip so far?
Eric: Definitely! We've had some unreal sessions around the world. One of our favorite highlights is when we scored a somewhat off-the-beaten-path break in New Zealand with just the two of us out and super fun conditions. You could catch this long left-hand point break and ride the wave all the way to the sand, jump off, walk back up to the point, paddle out 20 meters or so, catch another wave and do it all over again. It was a surf travel dream come true!
Tara: Yeah, having a beautiful break all to ourselves with views of emerald green water and an empty stretch of beach and farmland was just incredible. Eric wrote a really awesome blog about our time surfing in New Zealand, it was just amazing.
We could go on and on about highlights because it's been so such an incredible trip!
But another favorite that comes to mind is that we spent a week on an island in Indonesia that has barely a speck of tourism called Sumba. There's one super luxury resort on one side of the island and not much else. A friend of a friend bought some land on a remote stretch of coast that has some good surf breaks and is basically homesteading the land, living there with his wife, baby, a couple friends, and building a few structures to host guests for ocean-centric trips.
A hut was just completed, and Eric and I decided to take a trip over to check it out.
We stayed in an open-air bamboo hut on the beach, surfed empty waves, and had no internet or technology to speak of. Our few neighbors along the stretch of coast were seaweed farmers and their families, and the local pigs that would cross on little paths in front of our hut.
We befriended a huge black pig who liked her belly rubbed and named her Petunia. We rode ATVs up the empty beach and surfed waves with no-one else around. At the hottest part of the day, we laid around in hammocks and read.
Eric: Yeah, Sumba was surreal. It felt like we had gone back in time in a way… One afternoon, we went spearfishing, caught some nice fish, and cooked them over a fire pit and a few beers at sunset. It was so awesome!
Tara: It was really the first time we had been in such a remote, off-the-beaten-path area away from tourism, technology, and western anything. And it was simply beautiful!
We're a bit behind in writing about our latest travels, but on Lush Palm, you can check out some of our adventures and lots of photos on our surf blog here.
What's been the hardest thing about life on the road?
Eric: A few things come to mind. For starters, the endless planning and research that goes into a trip like this. It might sound ridiculous, but when you're on a trip like this you have to constantly be planning and researching your next move. Planning flights, transportation, places to stay, what you want to do and see, etc, etc.
Tara: It seems silly to say anything is hard on the road, but in reality, long-term travel definitely comes with little challenges. Besides the constant planning and little things like lugging big surfboard bags around the world, really the biggest challenge for us has been finding a balance between working on Lush Palm and exploring. It's so incredible and we're so grateful to have created something we're so passionate about, but one of the major reasons we took our trip was to explore the world and experience other cultures and slow down a bit.
So we constantly have this battle between working and not working, which is ironic in so many ways. We left our jobs to travel the world, and in the interim created something we're so passionate about working on that we have to make a conscious effort to balance work and travel. It almost goes without saying that the fact this is our biggest challenge in our lives right now is absolutely amazing!
Eric: Yeah, there's so much we want to do with Lush Palm that it can feel overwhelming at times, but we're making great progress every month, which is incredibly exciting and motivating. So perhaps one of our greatest challenges is making the time to slow down and just be.
Between constantly planning, exploring, and working on Lush Palm in our downtime, we tend to leave very little time to just chill out and relax. We know it's completely up to us to choose what we do with our time, but I suppose you can say one of our challenges is slowing down. So we're working on it!
That's one of the reasons why our retreat at Soul & Surf was extra special… We definitely leaned into just being and it was very nice.
What happens when you get home? Back to work or something else?
Tara: Well, we're definitely going to have to go back to earning an income at some point in the near future! But we have some really exciting prospects in the works that will hopefully enable us to continue realizing our dream of working for ourselves and having flexibility with time and location.
Eric: We have some savings for our return, so first we plan on being nomads for a while—for a change haha— and bounce around the west coast catching up with our family and friends for a couple months while we put some serious hours into Lush Palm over the holidays.
We're just starting to monetize Lush Palm, so for more immediate income, I'm planning to start working with my sister who has her own business in the executive recruiting space. We're hoping I can replace my previous income, while still maintaining a very flexible schedule… Which would allow us both to keep working toward our ultimate goal of scaling Lush Palm into a lucrative business.
Tara: Yeah so I'm open to part-time and contract work, but our plan is to keep me working on Lush Palm full time to give it the attention it needs to take it to the next level. We have so many ideas for Lush Palm, it's just a matter of time to put everything together!
So we'll be working hard to grow Lush Palm into the best resource for surf travel and lifestyle out there. Big picture, we want to publish detailed guidebooks on surf destinations, kind of like stylish Lonely Planet guidebooks specifically for surf travel.
In the meantime, we'll continue creating inspirational and helpful content to make it easier for you to plan the surf trips of your dreams! Yeeeeeew!
Oh, and then we'll also be doing a lot more traveling… the world is a big beautiful place!
What advice would you give to anyone who's thinking about ditching the corporate world?
Eric: We understand that not everyone has the same dreams as we do or the same wanderlust and urge to travel the world. But if you're one of those people who do, please do not put your dreams on hold any longer. Follow your bliss!
Get out a pen and paper right now, do some research and crunch some numbers, come up with a budget, create a savings goal and set up a special savings account—sign up for Mint or see if your bank offers a similar platform—move some money, anything, into your 'Dream Fund' immediately, and begin the progress bar countdown! If you want a more detailed breakdown of how we came up with our savings goals and budget. Check out our blog post about How to Quit Your Job and Travel the World.
Tara: Many times, the only way for something new to come into your life is if you make the space for it.
If you're pulled in a certain direction, or you're interested in exploring an alternative way of life or a passion, go for it! Find what makes you excited to wake up in the morning and go do it.
Leaving our routine lives to realize our dream to travel the world is one of the best decisions we've ever made. It's been incredible in so many ways, and our lives will be forever changed because of it. In a really, really good way!
If you're considering ditching the corporate world my advice would be: what are you waiting for? It has become a cliché, but only because it's true… life is so short! I'm sure you've felt it before… It blows by so fast, and I, personally, don't want any regrets. Let's call it regret prevention. The last thing I want is to be at the end of my life thinking, "what if?" Or "I wish I would have…" Do you want to look back on your life wishing you would have done things differently?
And not to be morose, but we're not in control of when we leave this world. We could have until we're 100, or we could have another month. Life is a gift, and it should be celebrated and lived as such. And life is so fast so there's no time to waste! All we have is now, so make it count.
So if you're thinking about ditching your job, make a plan and do it! What's the worst thing that can happen?
You know there's the saying: Good things come to those who wait. I don't like that saying so much… I think good things come to those who make shit happen and hustle. If you're waiting for the "right time" or the right sign, or XY and Z to come together, your dreams might never happen. For our dreams to happen, we need to get out there and make them happen!
So if you're dreaming of ditching your corporate job and joining the circus or going on an adventure around the world or starting a business out of your passion, the only way to avoid asking "what if?" in your life is if you get out there and do it. So give it a try! The unknown is a beautiful thing. It's where endless possibilities live.
*Here's an article Tara wrote after being asked this last question which goes into more depth on why we quit our jobs and left our comfortable lives to follow our dreams.
Is there an inspirational moment or something that you've learned during your stay at in Sri Lanka and/or at Soul and Surf that you will bring back with you and be able to use in your everyday life or business?
Tara: I was really inspired by the awesome people working at Soul & Surf. As I got to know them throughout the week, it seemed that everyone was following their happiness on their own unique paths.
Making the decision to live on a tropical island across the world from the conventional western way of life is a big decision, and I loved getting to know everyone, hearing their stories, and learning more about what brought them to Sri Lanka.
One of my favorite quotes is by philosopher and civil right leader Howard Thurman. He writes:
"Don't ask what the world needs. Ask what makes you come alive, and go do it. Because what the world needs is people who have come alive."
At Soul & Surf, I got to know others who were following their happiness, and "come alive," so to speak. It's very much of what Eric and I are feeling and doing in our lives, so being around others who share this feeling was powerful and inspirational.
There are people out there in the world following their bliss, and Soul & Surf is full of these lovely people. You guys are our tribe!
Eric: Yes, I'd like to double down on everything Tara just said! And I had some takeaways as well. One thing I took with me is that we all need to make time and space to just be more often. I try to be present and in the moment as often as possible in my everyday life, but being at a place like Soul & Surf was a good reminder to live in the now.
Also, like surfing, life is a constant progression. Soul & Surf was a great place for self-improvement. I think we must continue to work on and develop our life skills in order to become the best versions of ourselves. Nobody is perfect. But whether we want to work on our communication, managing expectations, listening, spirituality, or otherwise, I think there is always something we can improve on.
What does Soul mean to you?
Eric: Soul is the core of who we are. The life and spirit and light of our physical bodies. The spiritual innermost essence of our existence. The soul represents to me the deepest, most pure, most mysterious part of the human experience. I view the soul as an absolute energy of love, light, compassion, joy, bliss, happiness, and gratitude. A good-natured universal spirit energy free of ego, ethnicity, status, nationality and any limiting labels that we carry through life. A limitless eternal capsule of our individual spirits and experiences on Earth.
Tara: Wow. I concur.
Thanks so much guys, check out what Tara and Eric thought of their trip to Sri Lanka HERE
As I mentioned, we have some exciting updates (for us at least 😁) we want to share! As of the time we're re-publishing this interview (Nov 2017), some things have changed. Specifically, the fact that not too long after this interview Tara and I talked more about what we wanted to do once our year was up and we got back home.
After discussing options like To work for someone else, or ourselves? and To rent another place, or to stretch out our money and live nomadically for a while? and revisiting our core values and lifestyle goals, we decided the clear answer was to commit both of us to further pursue our dreams full time.
What does that mean to us? Well, our big picture dream has been to create a lifestyle where we love what we do for work, we make a good income, we're in control of our schedule and we have freedom of location. This has been our intention with Lush Palm from the very beginning and while we're on the right track, we're not there yet and we have a lot of work to do. So what better time than now?
I'll spare you the full details in this post, but basically, we feel we're in the right place, at the right time. We've got momentum in our corner and loads of really exciting projects we're working on together full-time to turn our next dream into our lifestyle reality.
Onwards and upwards my friends!
Cheers, Eric
Thanks for reading and be sure to sign up for our email newsletter below to keep with our latest adventures, destination guides, and other exciting new developments!