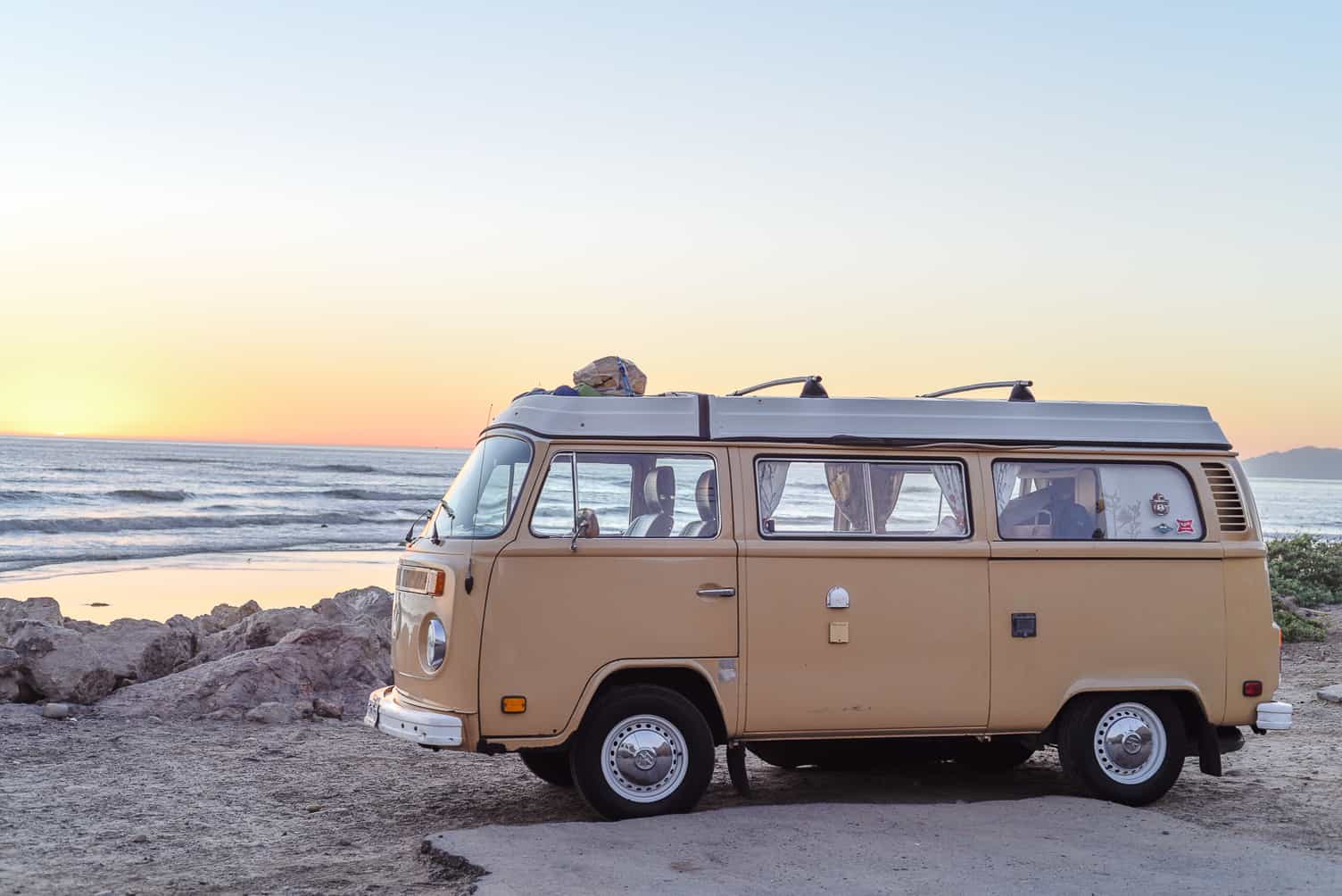 There's something undeniably special about hitting the open road. The wind in your hair, the sweet taste of escaping the everyday grind, the freedom to stop and go as you please. That feeling of endless potential to explore new places, find adventure, or simply slow down and smell those roses.
If you want to magnify the best things about a road trip, rent a vintage Volkswagen camper bus and watch things really get magical.
Based in the Los Angeles area, Vintage Surfari Wagons rents a groovy fleet of VW camper buses and Vanagons for your California road-tripping pleasure.
When Eric and I decided to explore the California coast before we embarked on our round the world adventure, we took a cue from our bus-living surf-chasing California surfer forefathers and made a plan to surf and camp our way up the coast. When we found Vintage Surfari Wagons we knew we had found the one to make our California surf safari happen.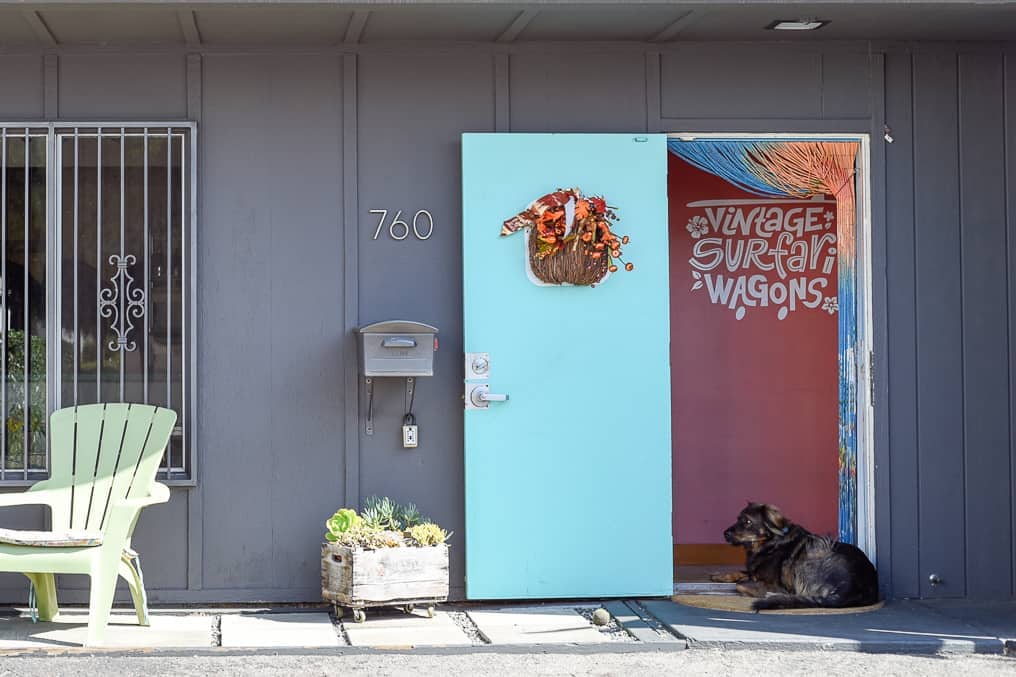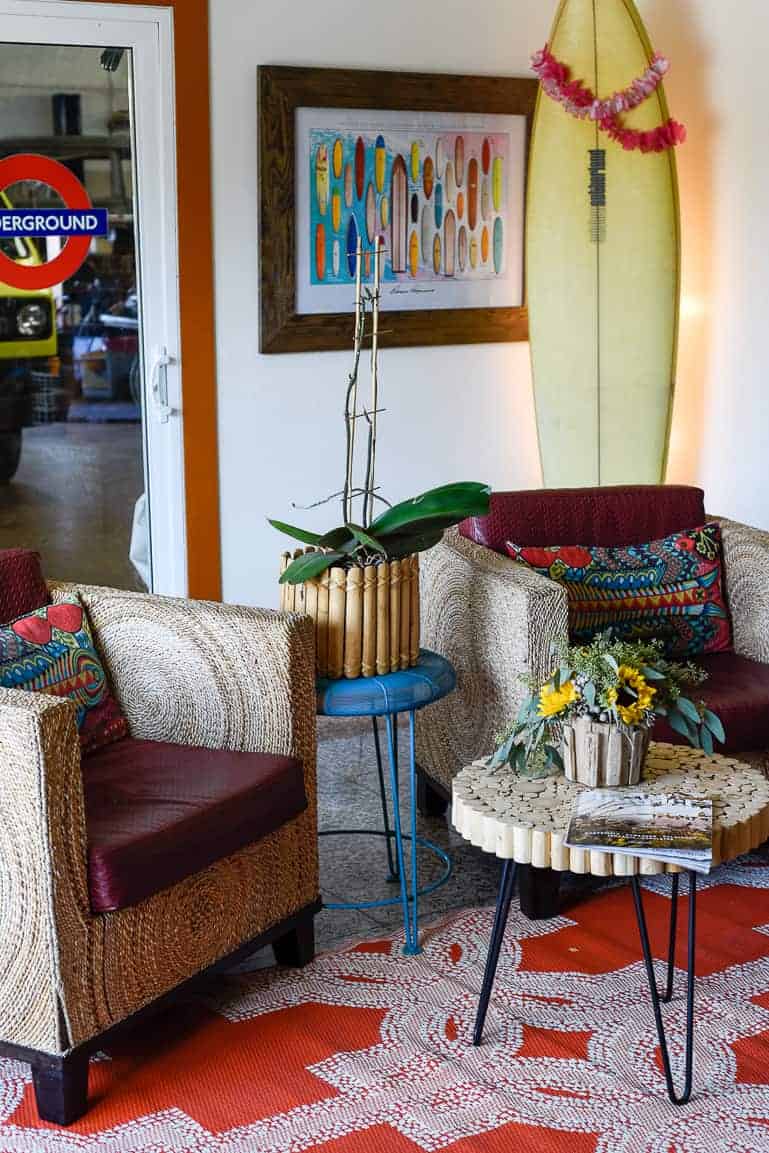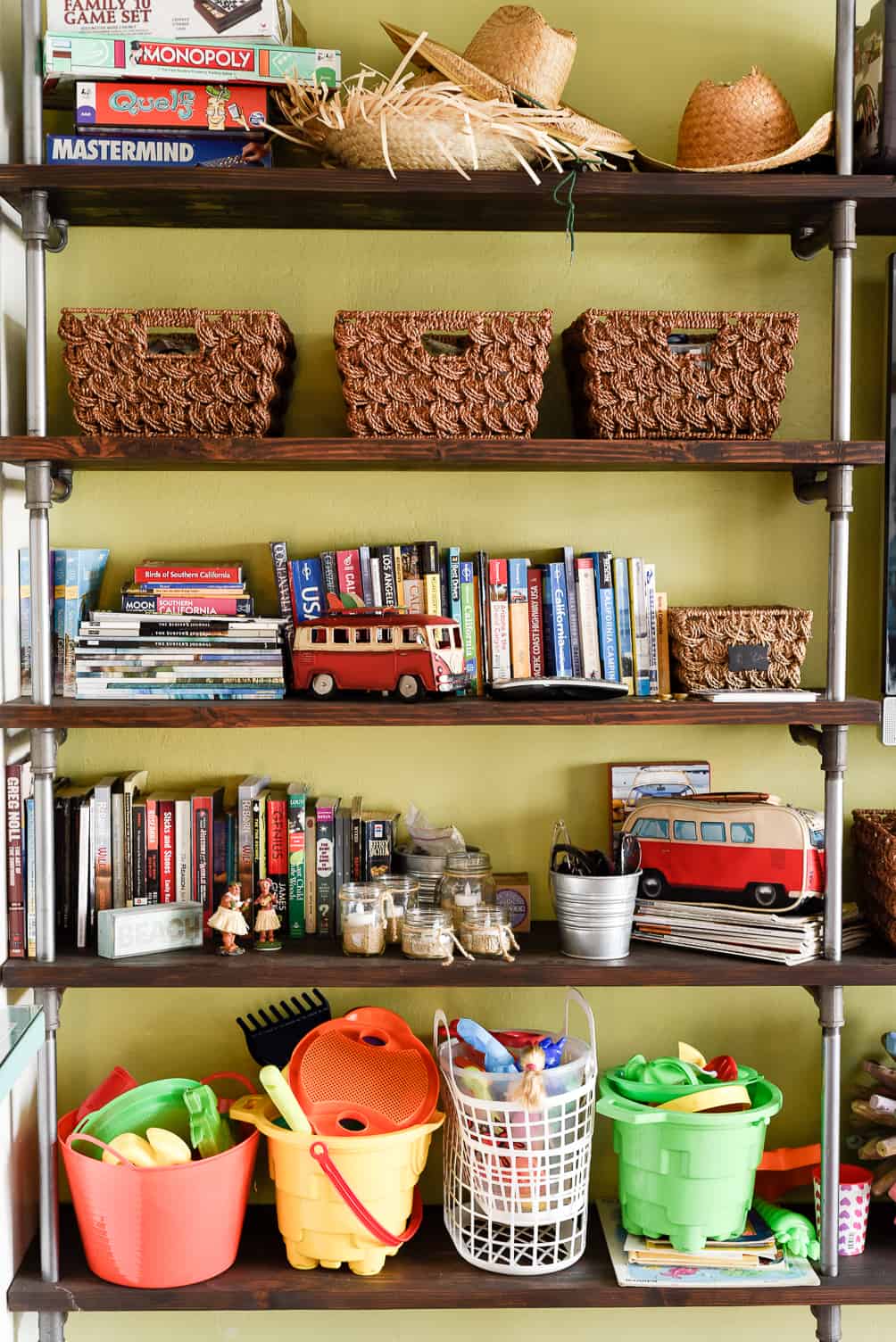 On a sunny October afternoon, we were greeted by owners Bill and Diane Staggs with smiles and good vibes aplenty at Vintage Surfari Wagons headquarters in Costa Mesa. It didn't feel like we were renting a camper as much as meeting up with extended family members.
Bill's relationship with Volkswagens began as a kid, spending summers camping at San Onofre and Mammoth with his family in a VW Sundowner. Bill showed us a framed photo from his childhood that looks like an incredible Volkswagen ad.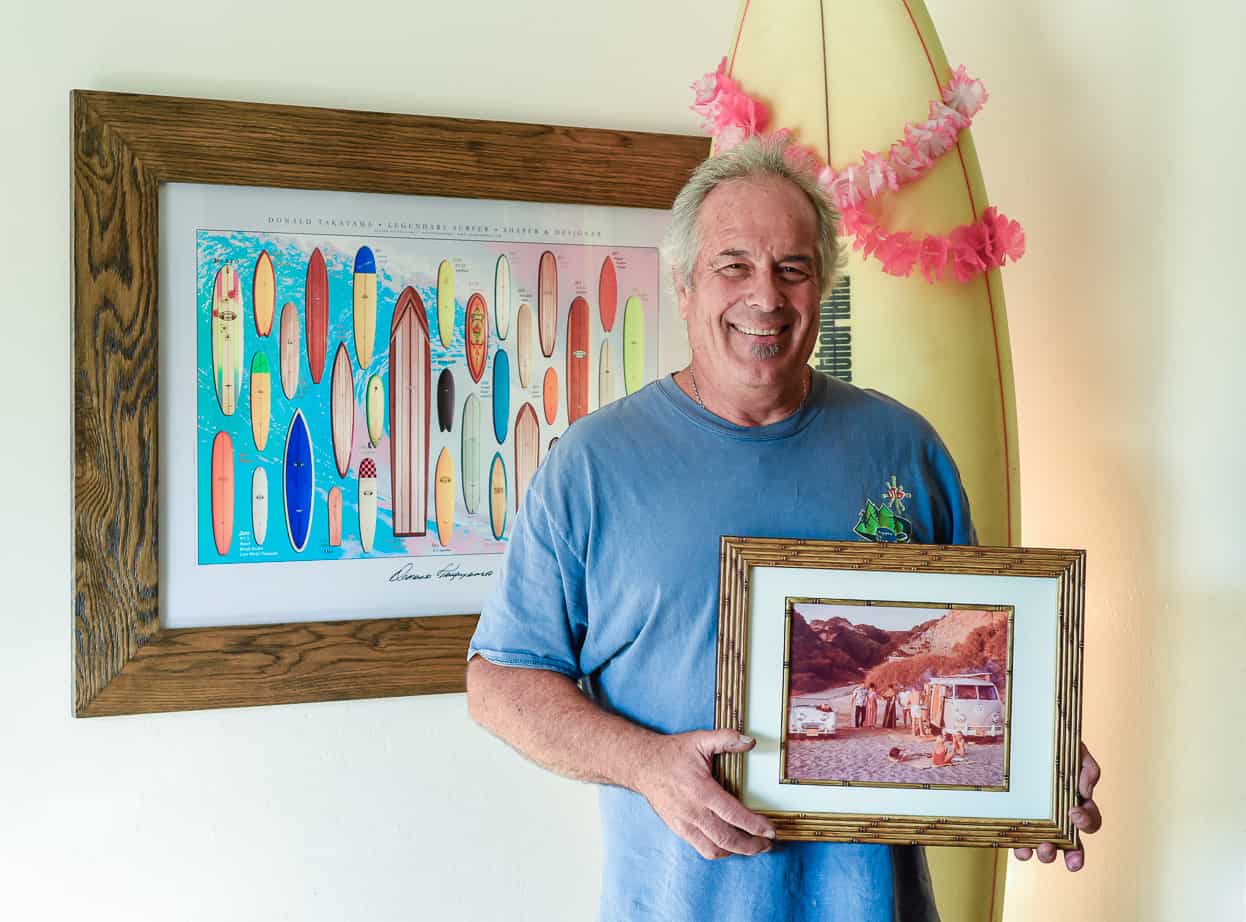 Having grown up around VWs and German cars, Bill had an early affection for Volkswagens. "In 1971 I bought my first bus," Bill said. "I can't think of any time since the early 80s I haven't had at least one Volkswagen."
The idea for Vintage Surfari Wagons came to Bill in 2004 when he and Diane were planning a trip to Hawaii to visit some friends. Bill had a vivid dream they were driving around Hawaii in their own VW camper bus and he woke up thinking how cool it would be to have his bus over in Hawaii on their trip.
Bill told Diane about his dream and they agreed it would be awesome if there was a company in Hawaii that rented VW camper buses. They didn't find said company, but they were able to find a VW bus to rent, and they ended up having a great trip. Meanwhile, Bill and Diane's wheels were turning on how to bring their vintage camper rental concept to life.
After doing lots of research, getting feedback from friends, and experiencing a series of random extremely positive affirmations, Bill and Diane officially started Vintage Surfari Wagons in Costa Mesa in 2005.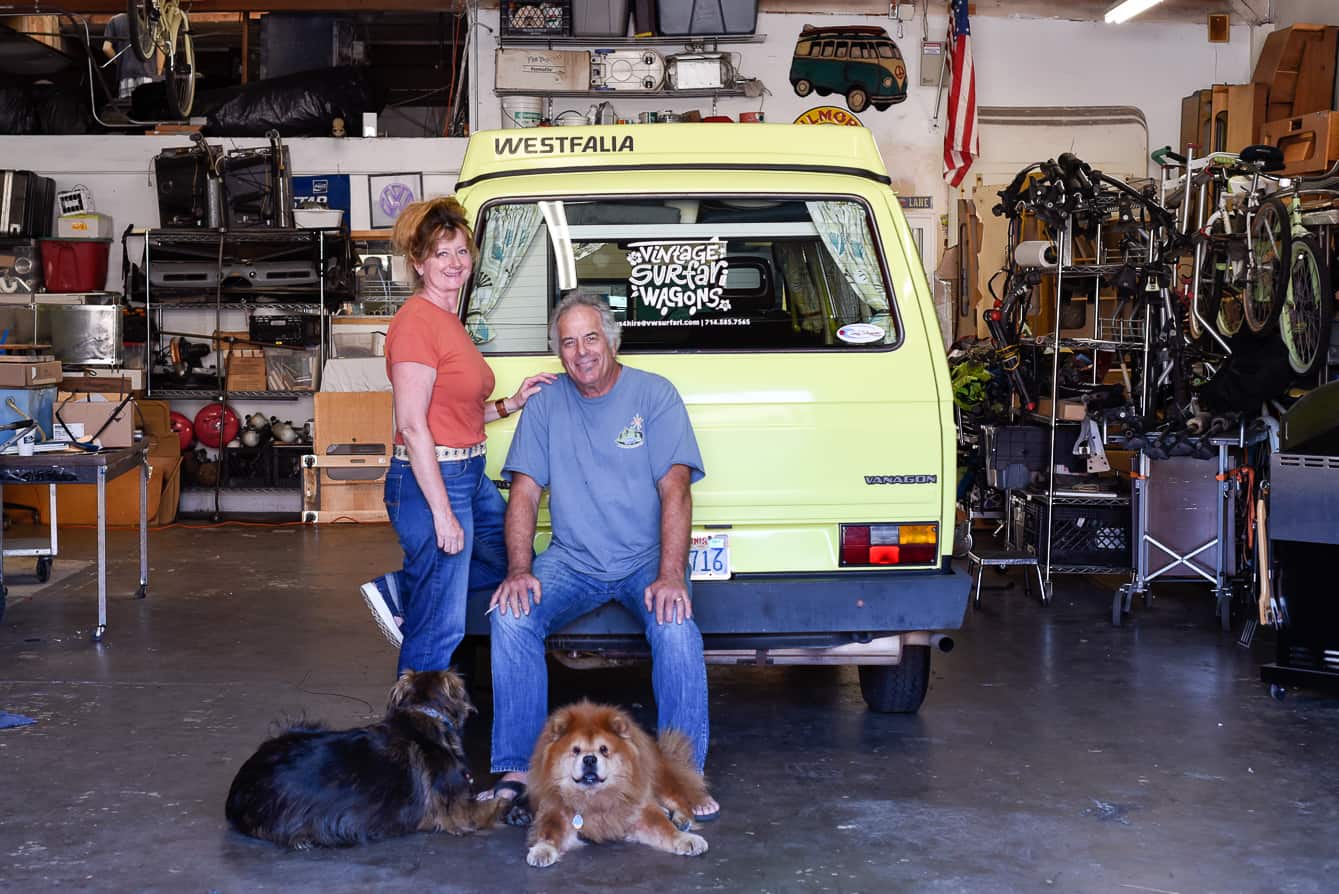 Bill and Diane are passionate about the VW buses themselves, but they also feel there's something magical about the experience of traveling in a VW bus. Bill explains,
I don't really think we're renting the Volkswagen buses as much as we're renting an idea. We're giving people the opportunity to, you know, slow life down a bit. Reconnect with each other and reconnect with their children, and reconnect with the environment. It's something that everybody seems to want and can't really get in their day to day life. Somehow or another we've tapped into something about the cars that allow people to do that.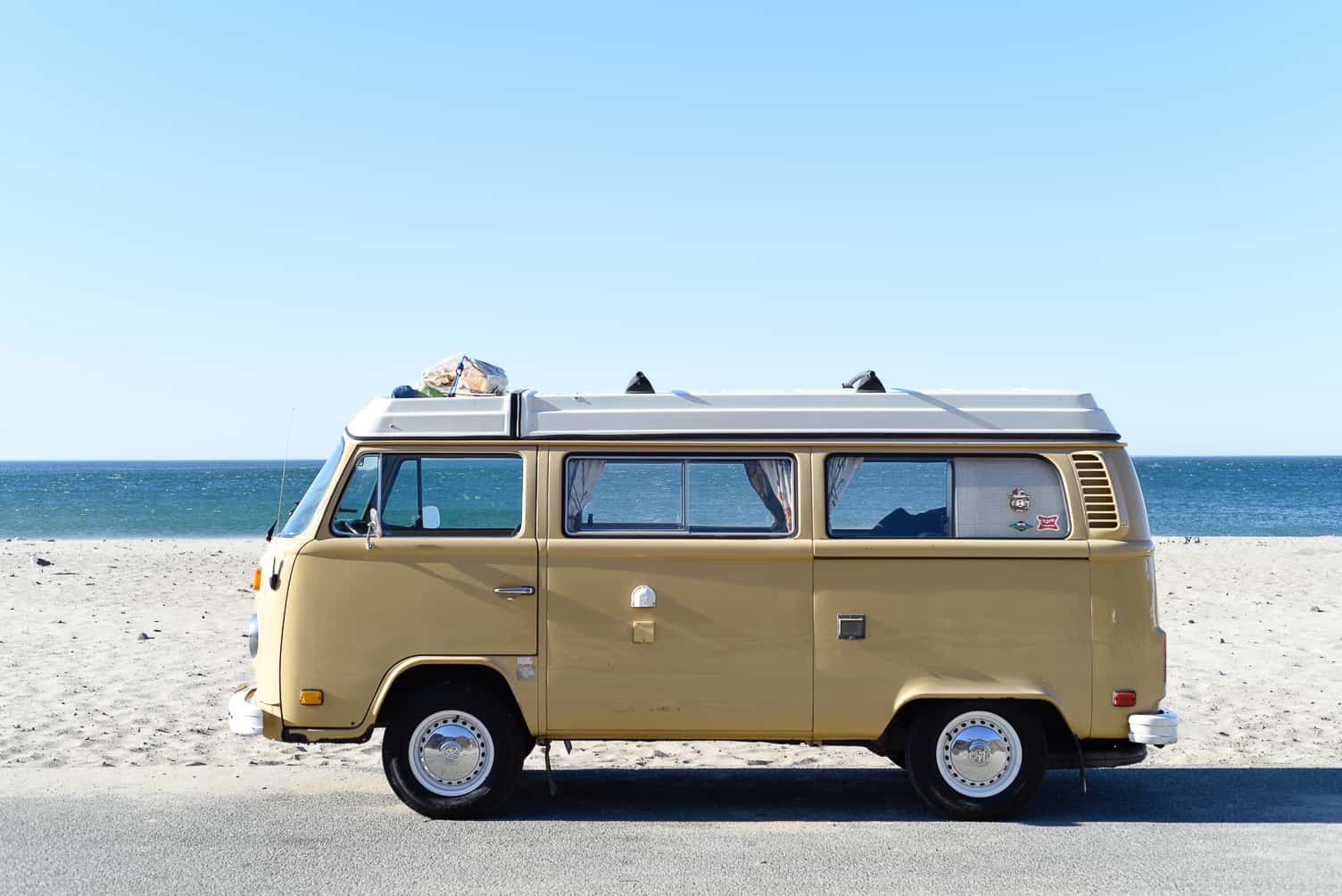 After Bill gave us the grand tour and lowdown on our bus, we chatted, played fetch with one of their dogs, and slowly but surely moved our things into our new home on wheels. We hadn't even gotten into our bus yet and it seemed like we had already started to slow our pace.
All VSW's buses have names and personalities to match. Our surfari wagon was a 1979 Deluxe Westfalia Pop-Top named Eddie, as in "Eddie Would Go," which was, of course, the perfect companion for our surfing California road trip mission. After taking our sweet time packing up and bidding farewell to our new friends at VSW, we hit the road and headed north.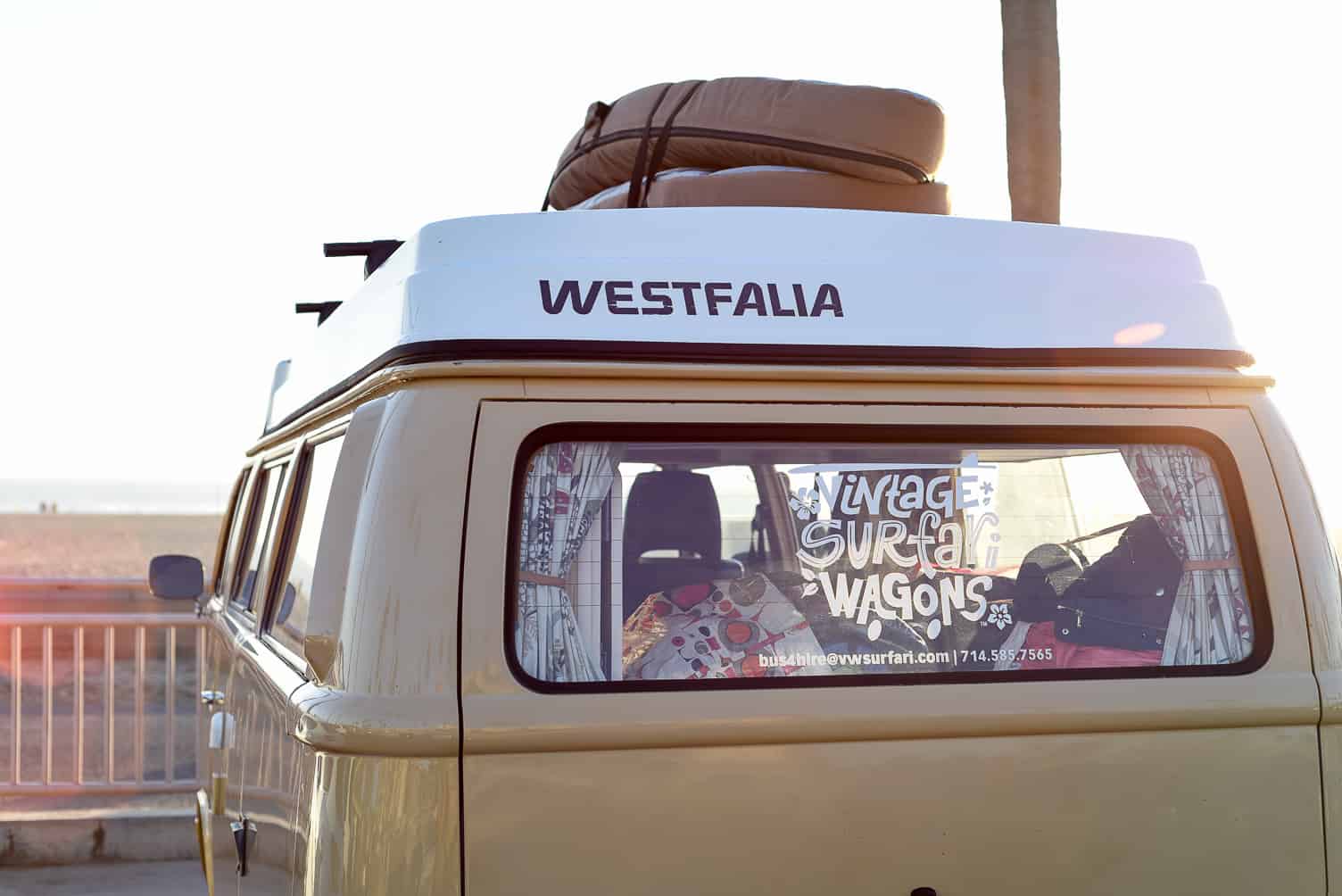 Instead of getting stuck in Los Angeles rush hour we opted to stop at nearby Huntington Beach for a surf before the sun went down. Eric had a spanking new surfboard, so he sat at the edge of the bus to wax his board while I admired Eddie and snapped some photos.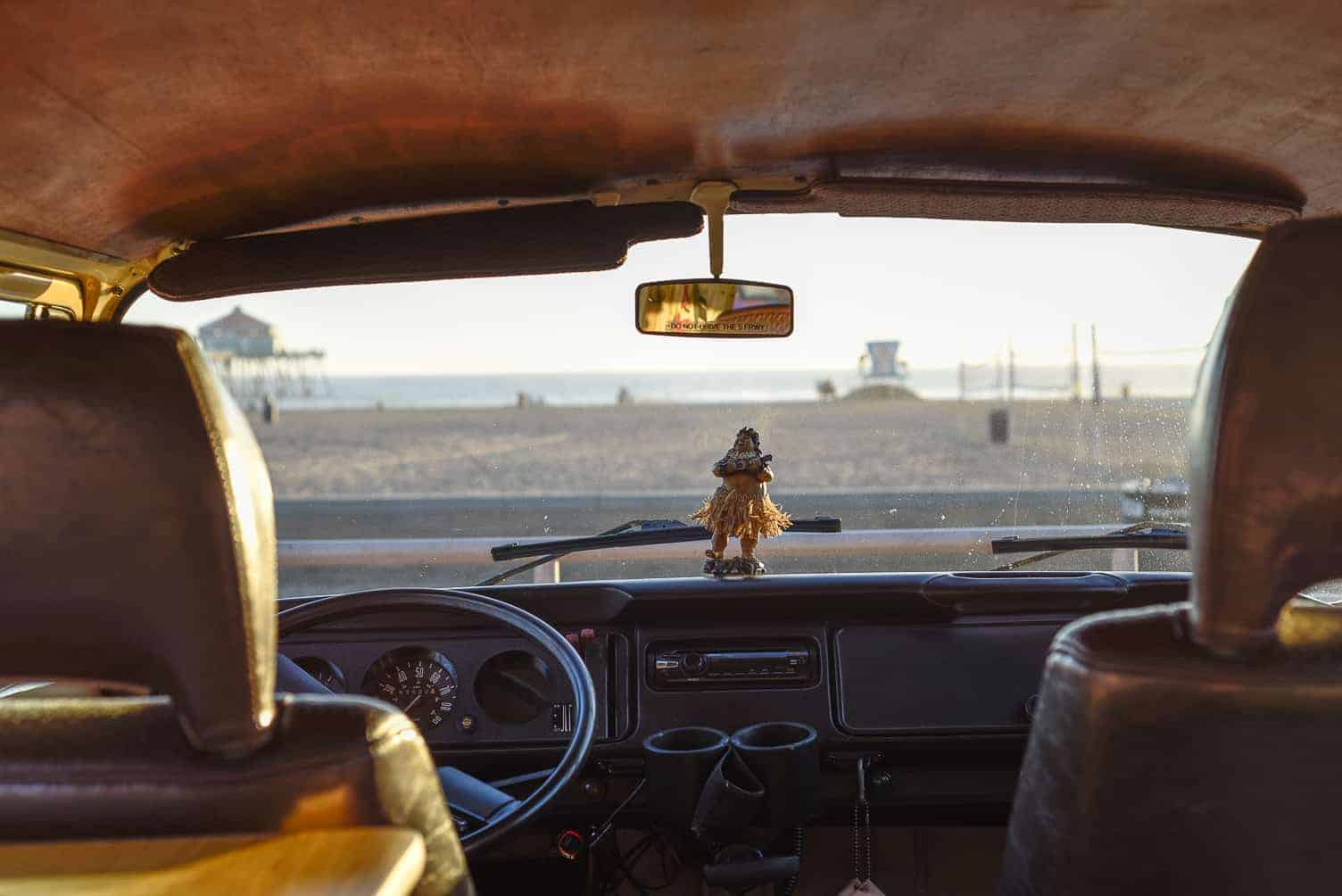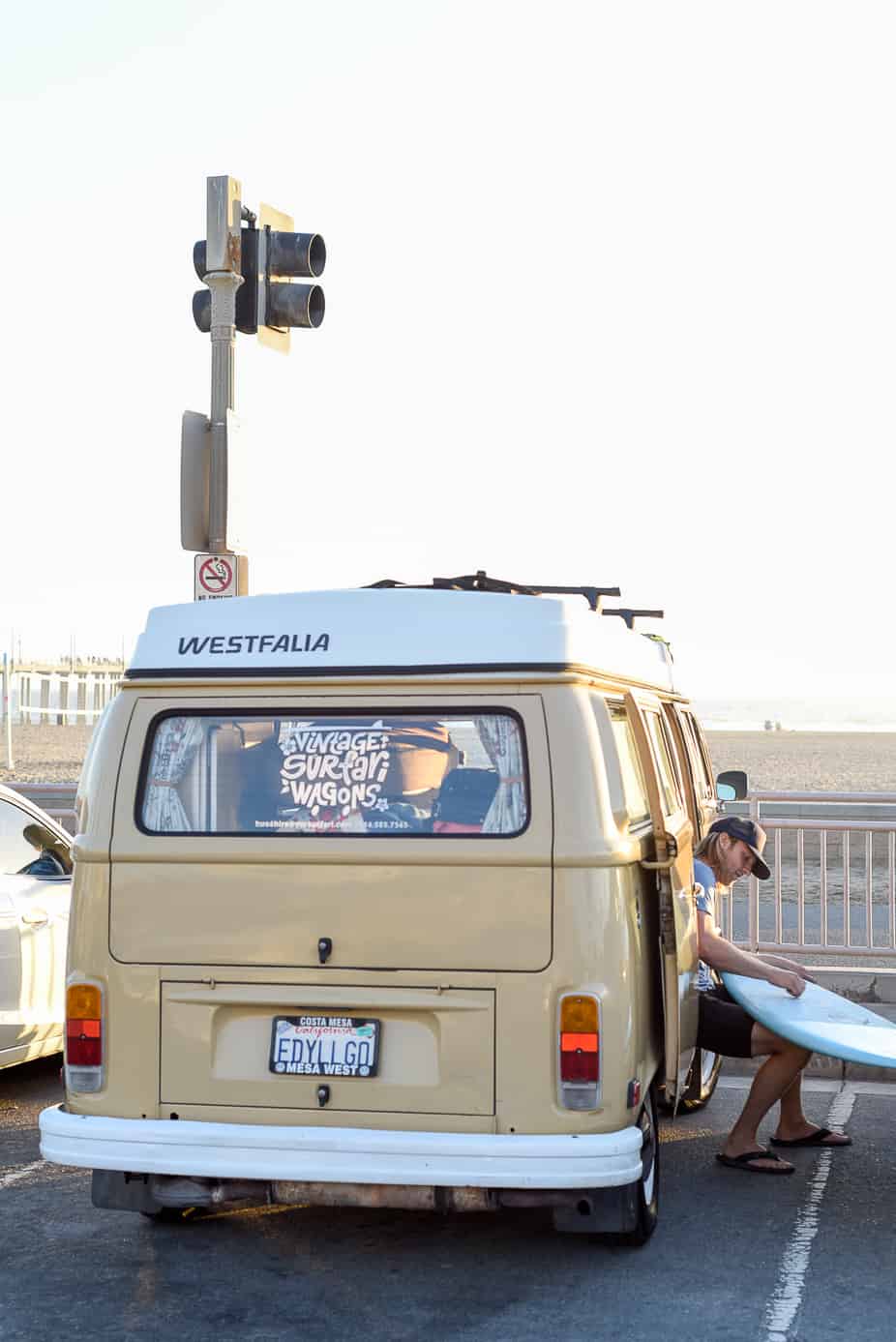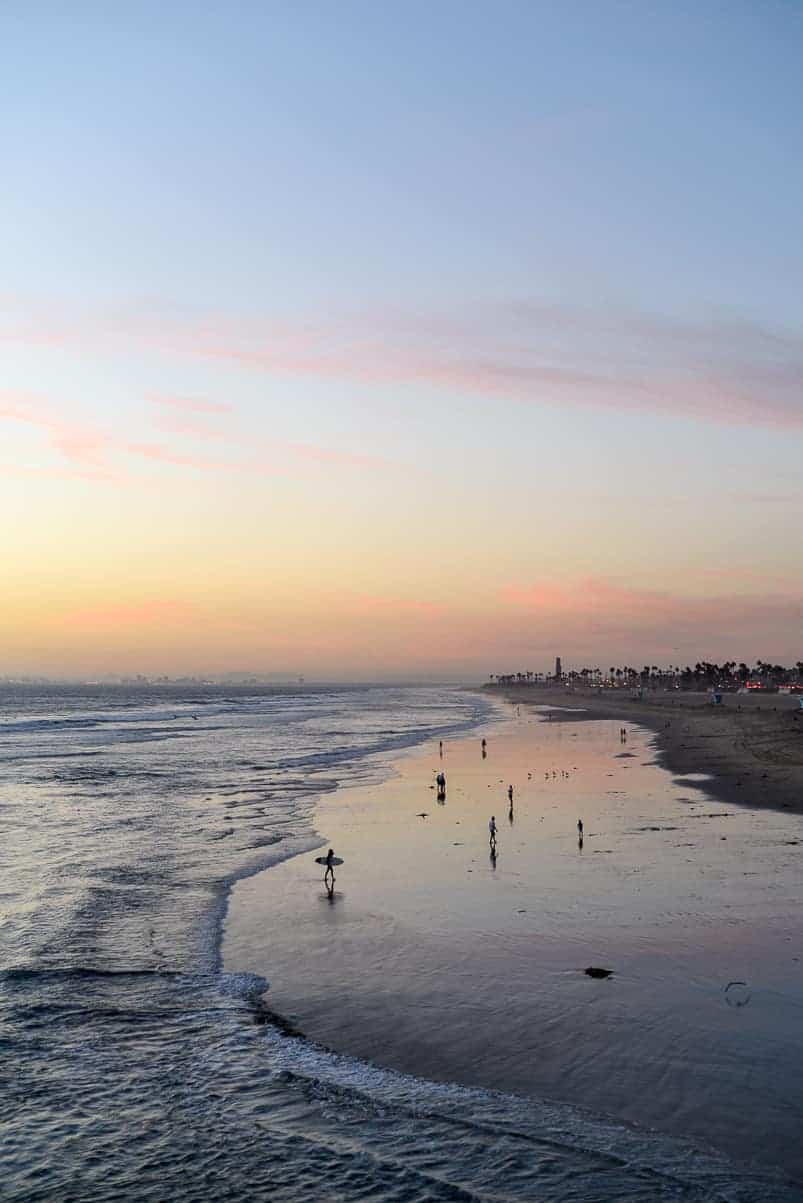 And just like that, something started to happen. People chatted with us and walked over to get a closer look at Eddie. A model and photographer asked to take photos in front of the bus. And everyone was smiling. It was like Eddie was emanating happy vibes in a radius around him and people couldn't help but be affected. Us included.
Throughout our trip we exchanged peace signs with strangers, we had many conversations that started with Eddie, and we created memories that probably wouldn't have happened if our trusty VW bus hadn't been involved.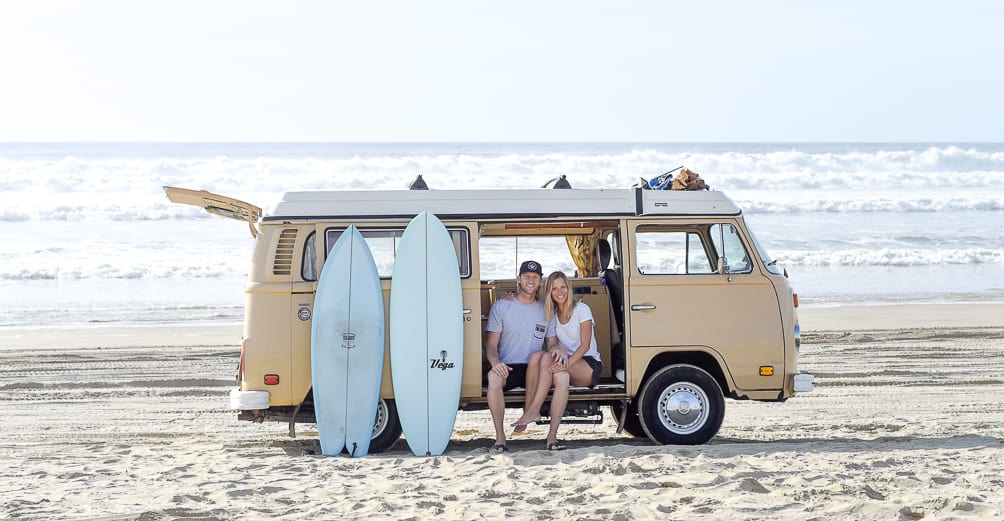 The next 10 days we explored the glorious California coast at a mellow pace. We sang along to The Beatles, The Beach Boys, The Rolling Stones… and yes, it was totally like an awesome music video up in there. We camped, cooked, scouted for waves, and we surfed.
We napped in a beach parking lot in Ventura (which we later found out is illegal, oops! 🙂 ), we made hot chai on the stove while checking the waves in Big Sur, we stopped at random lovely places to picnic, and we changed our plans on a dime depending on the wave forecast. To summarize in three words: it was awesome.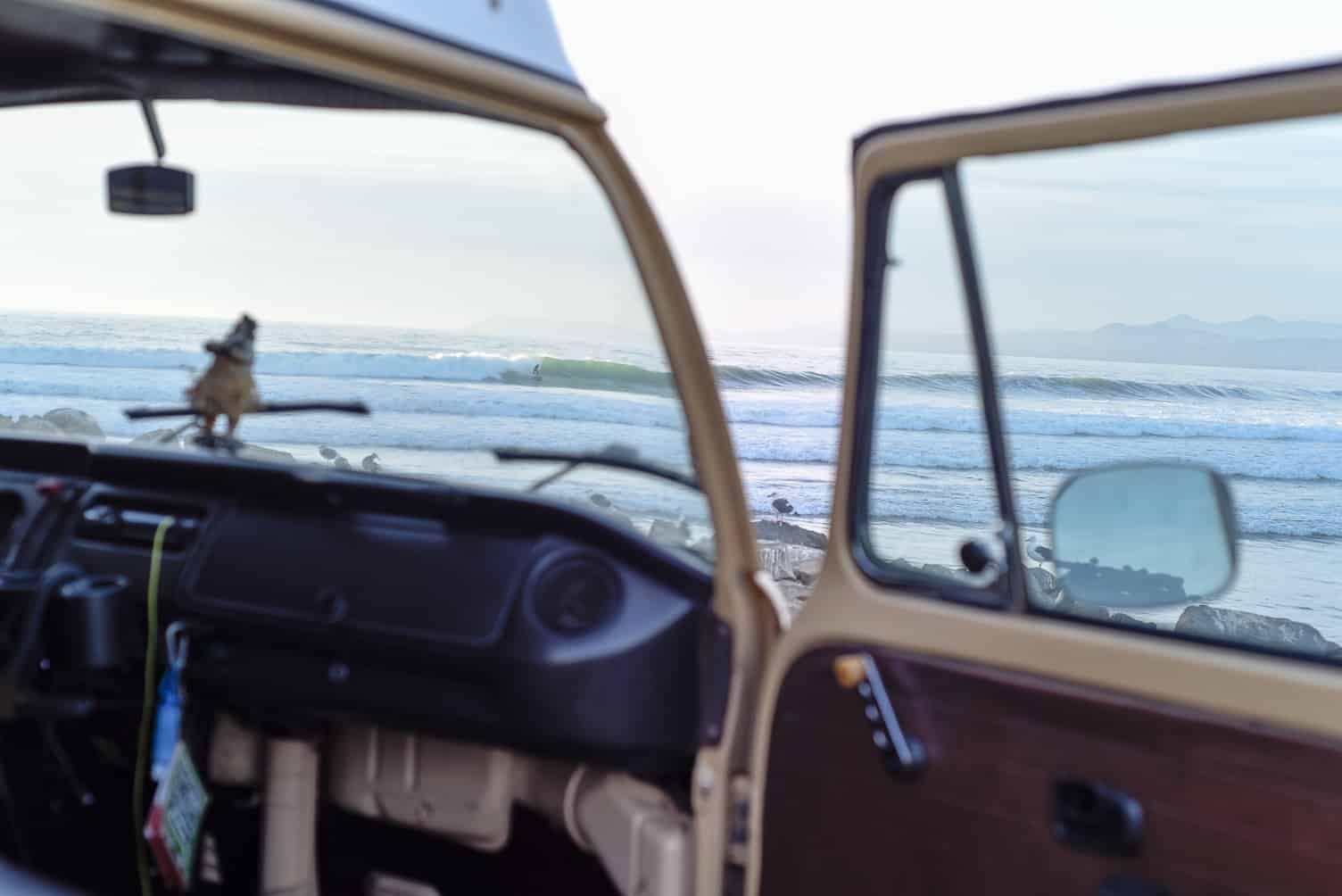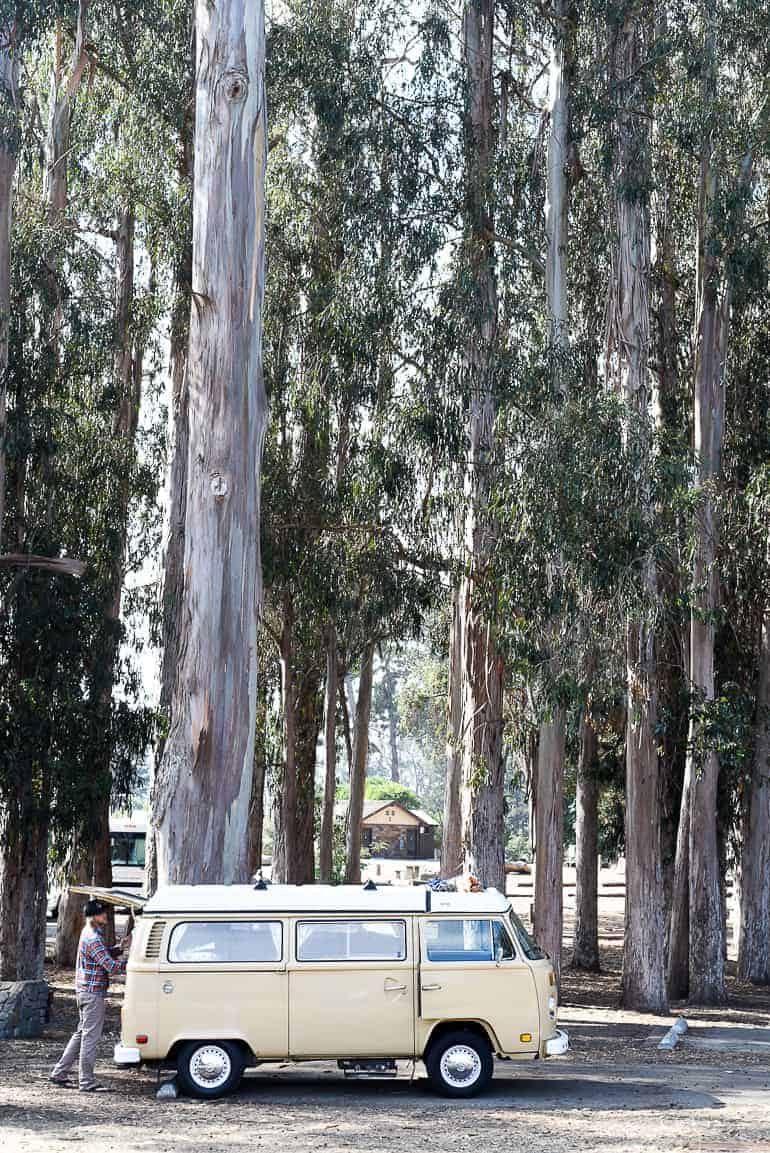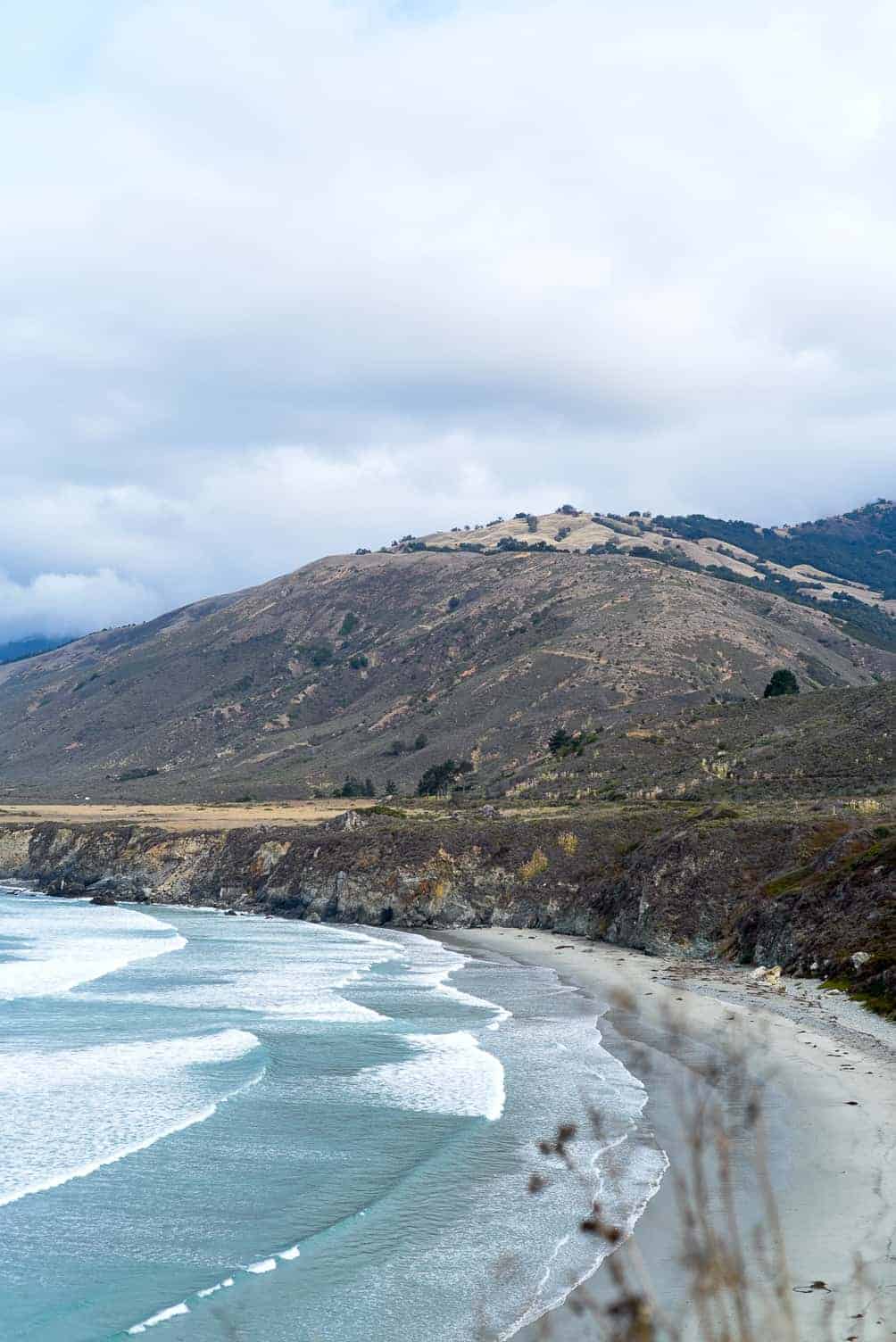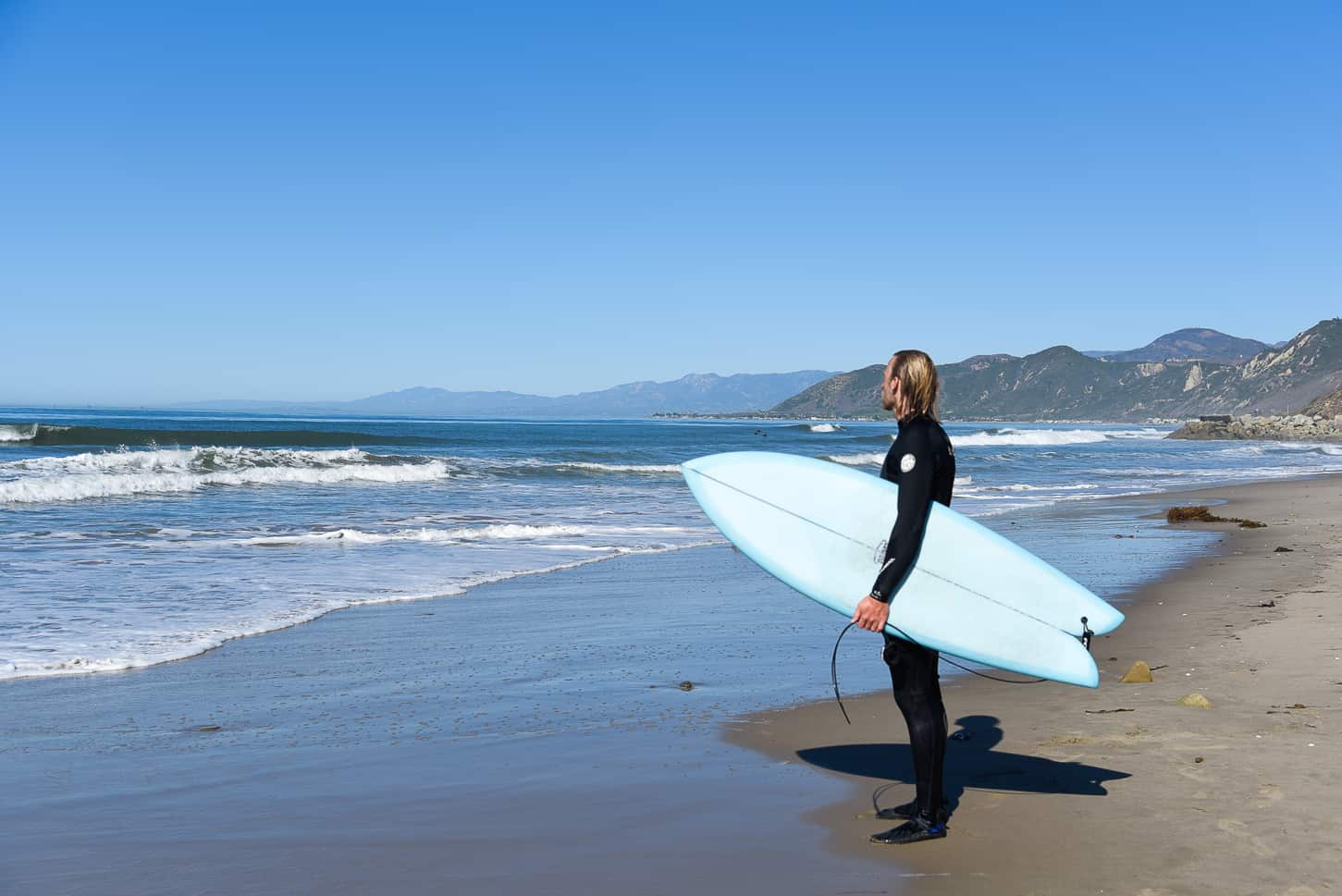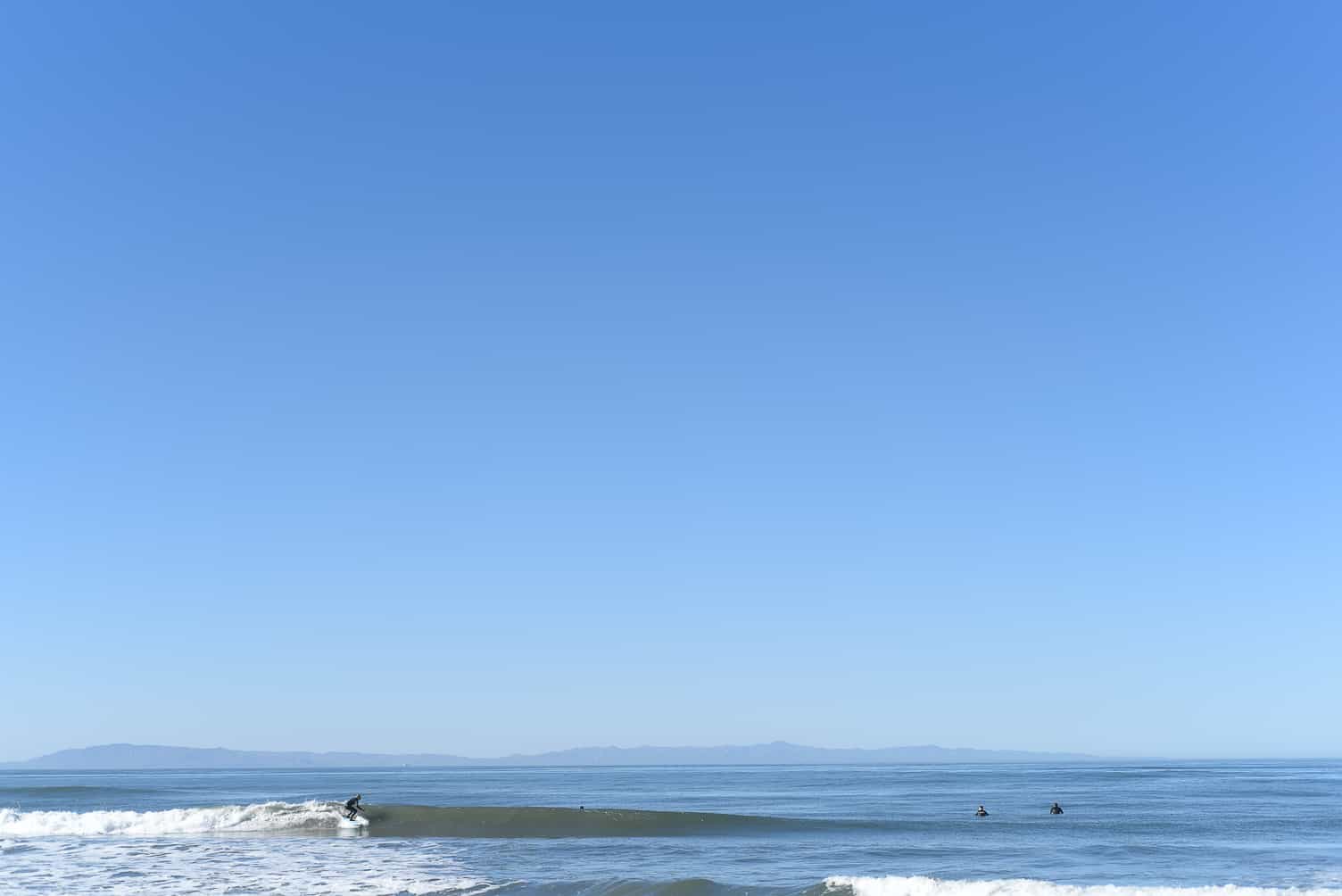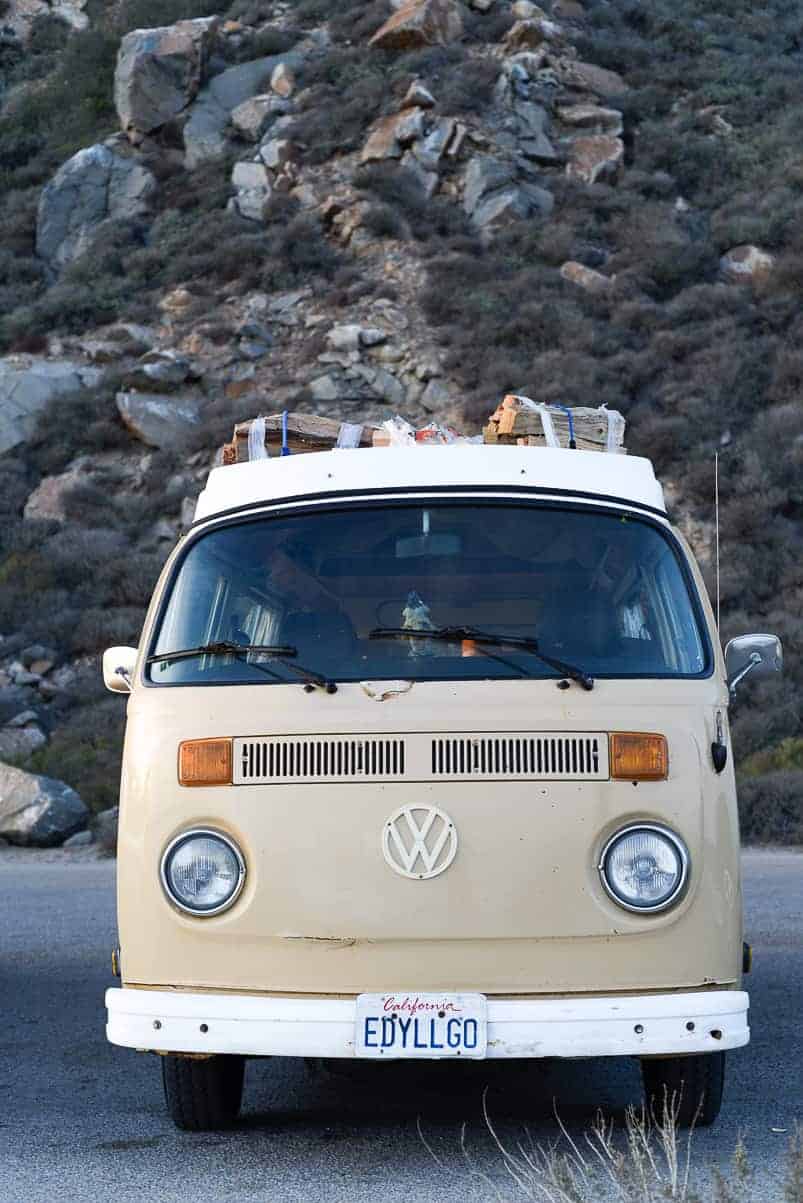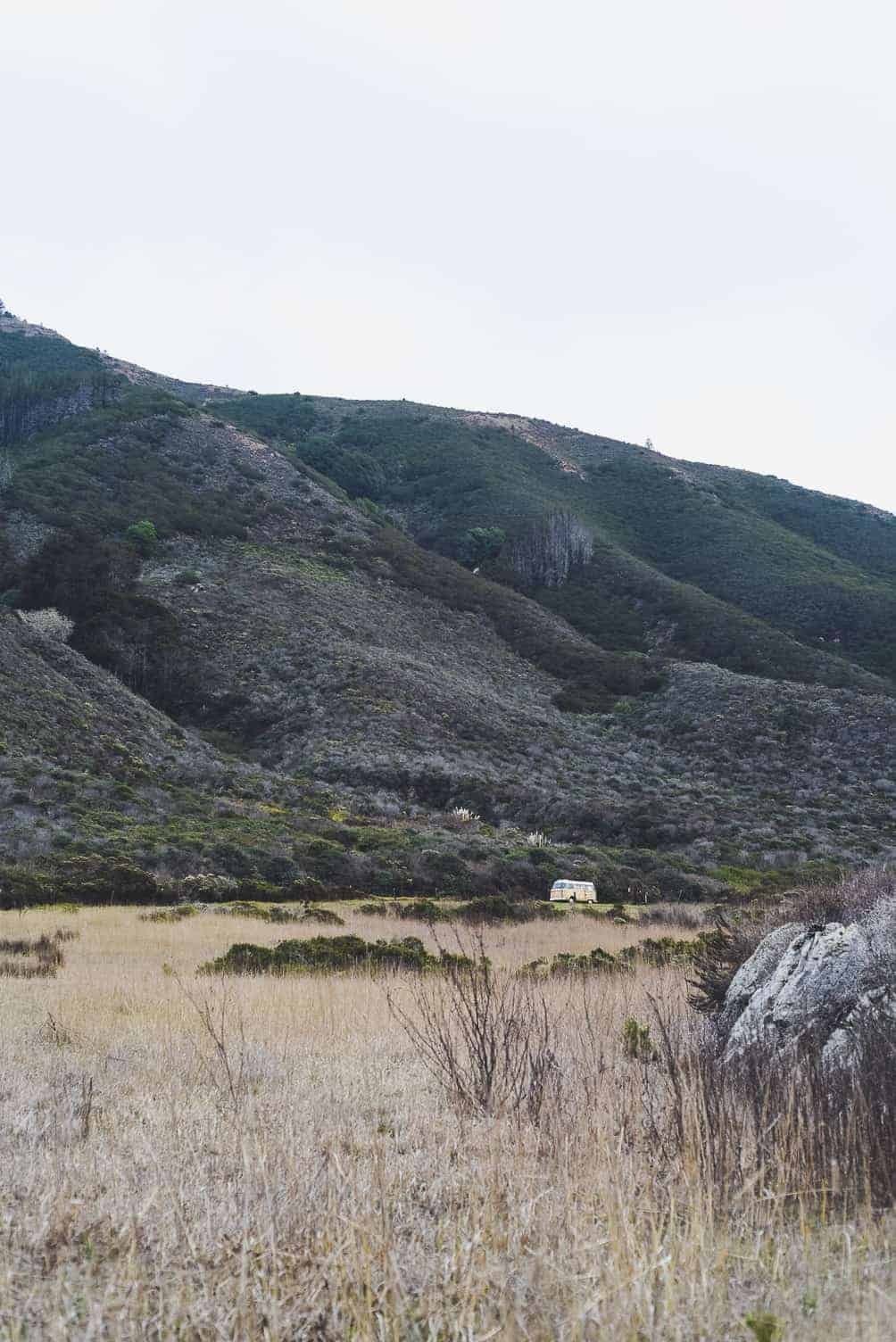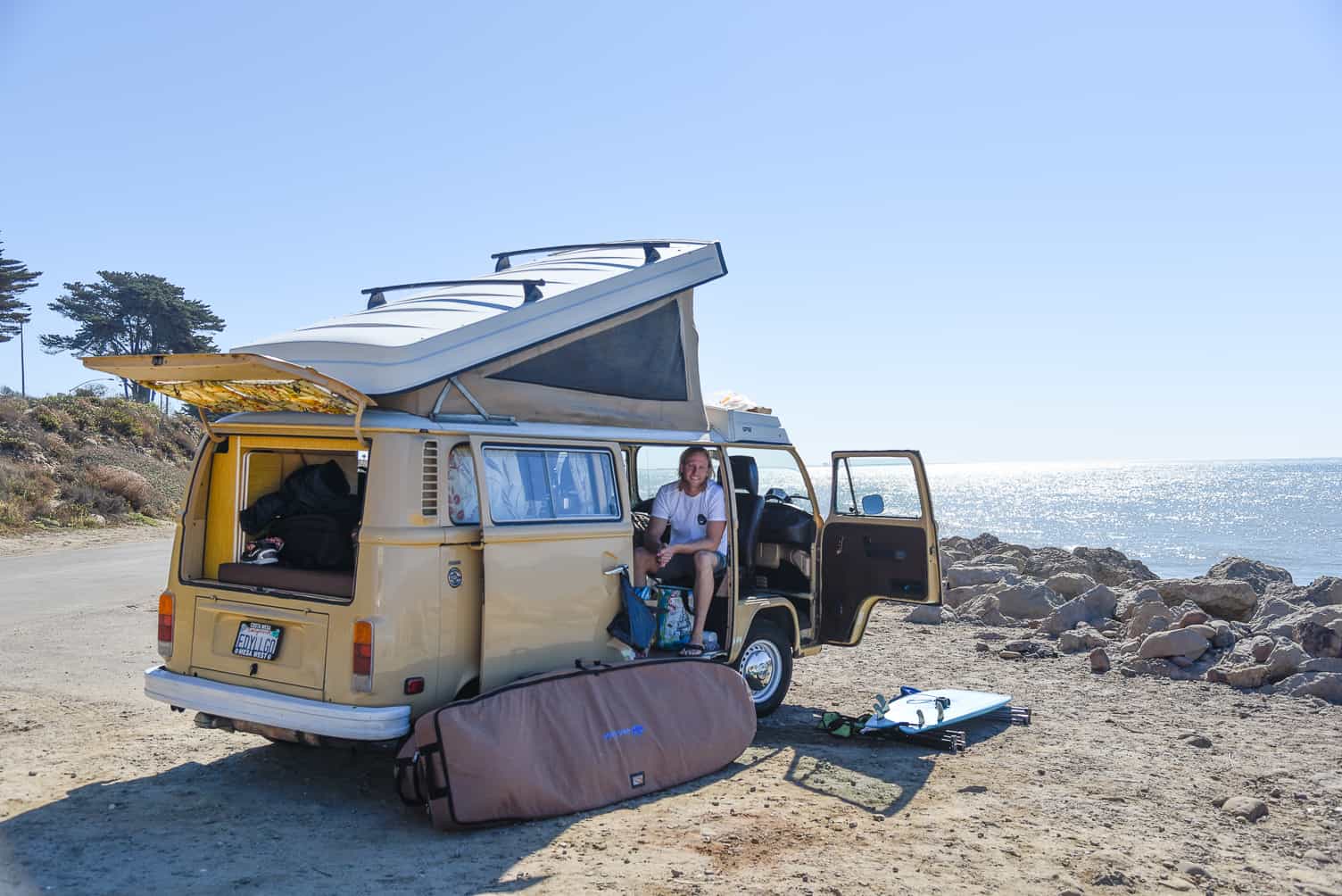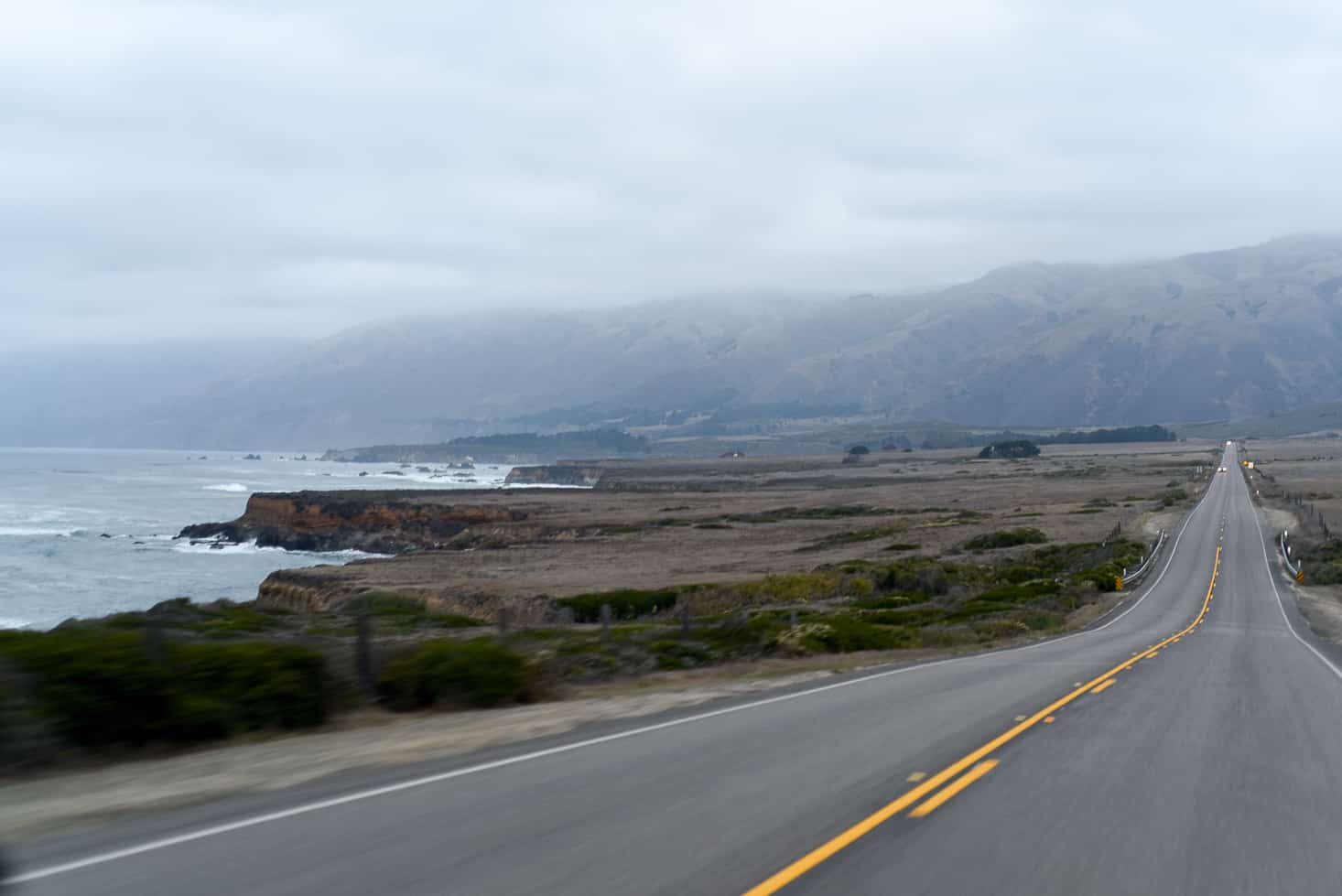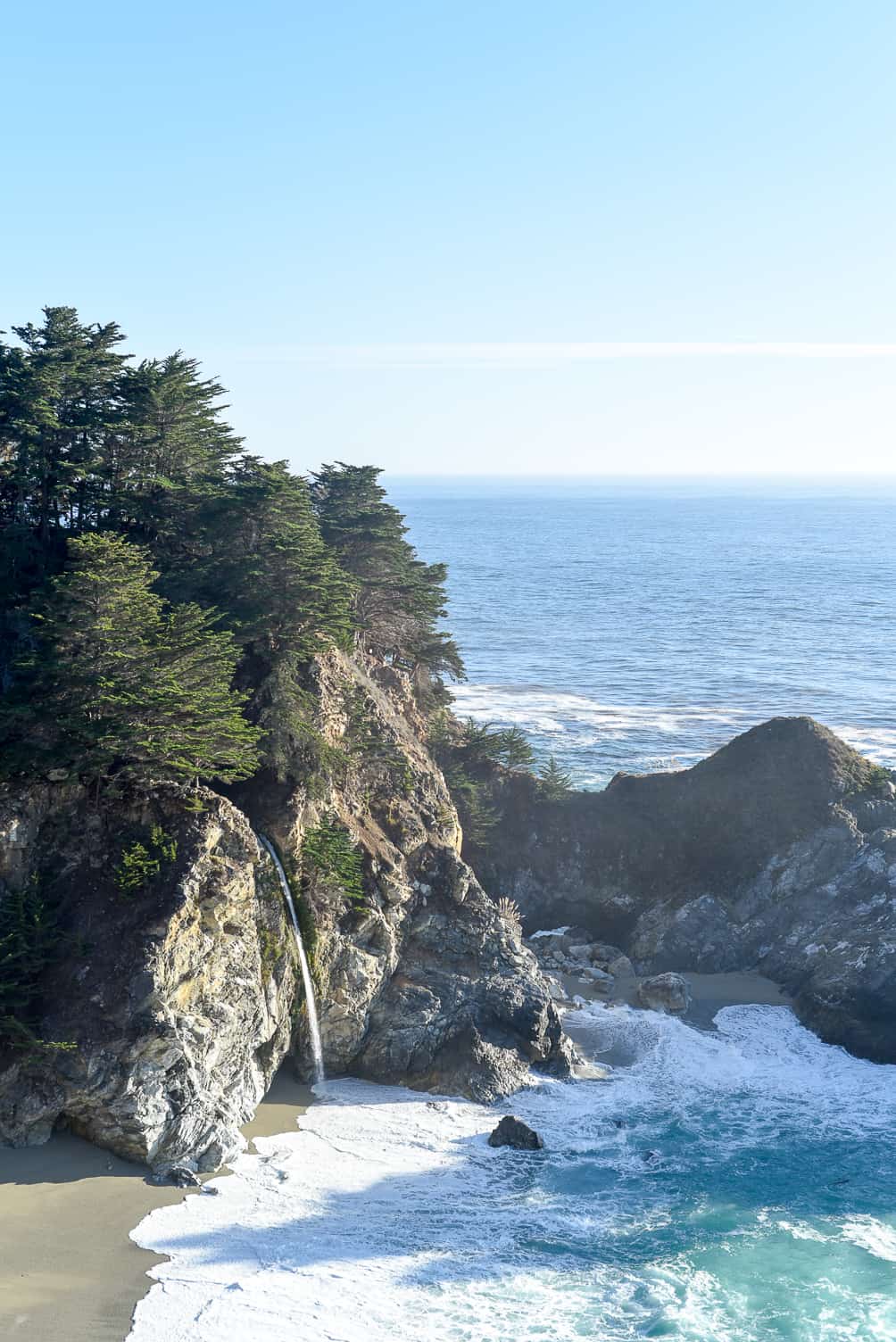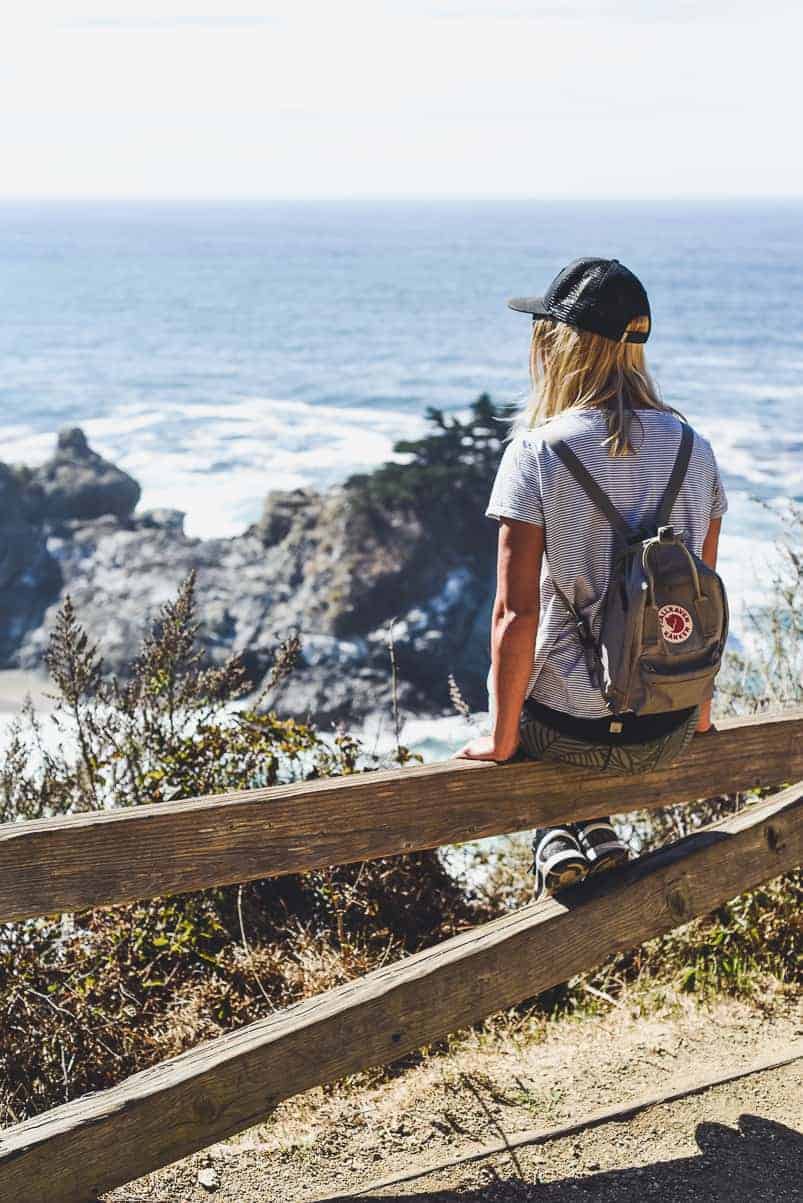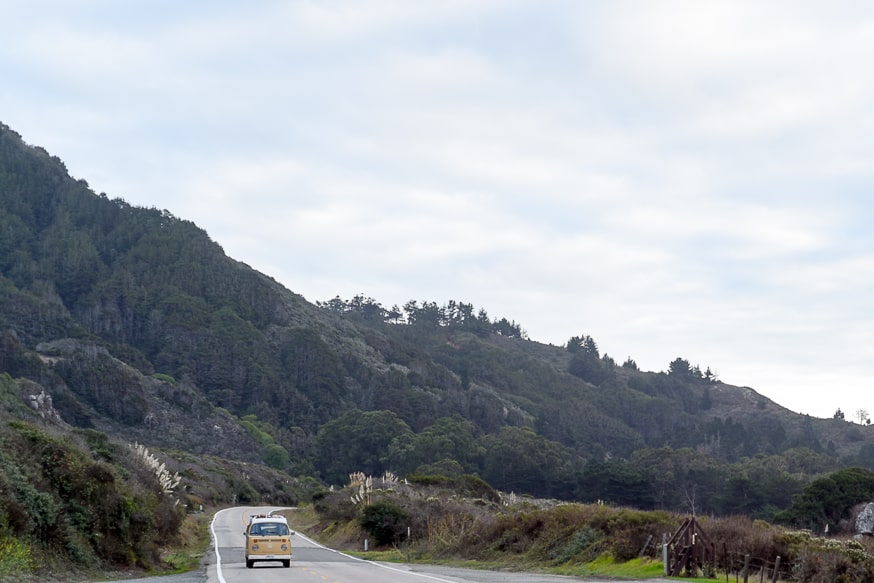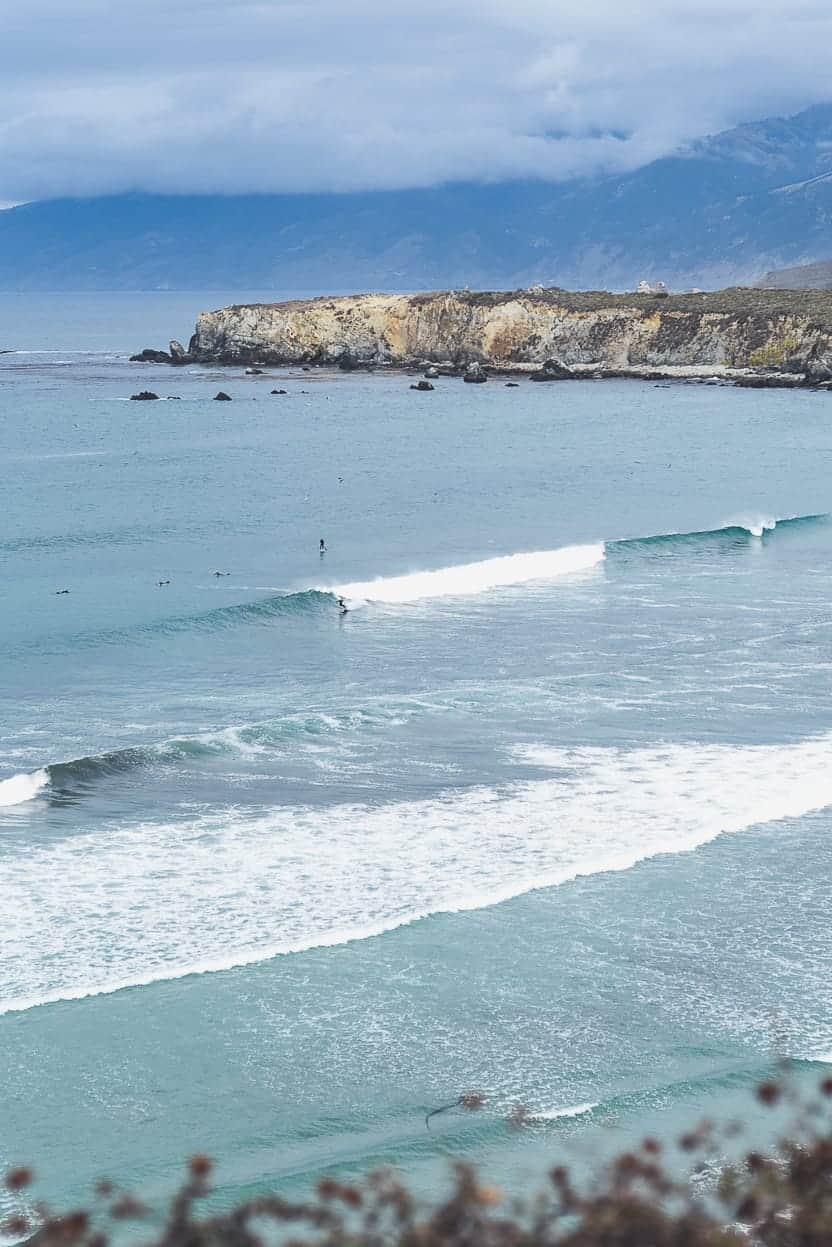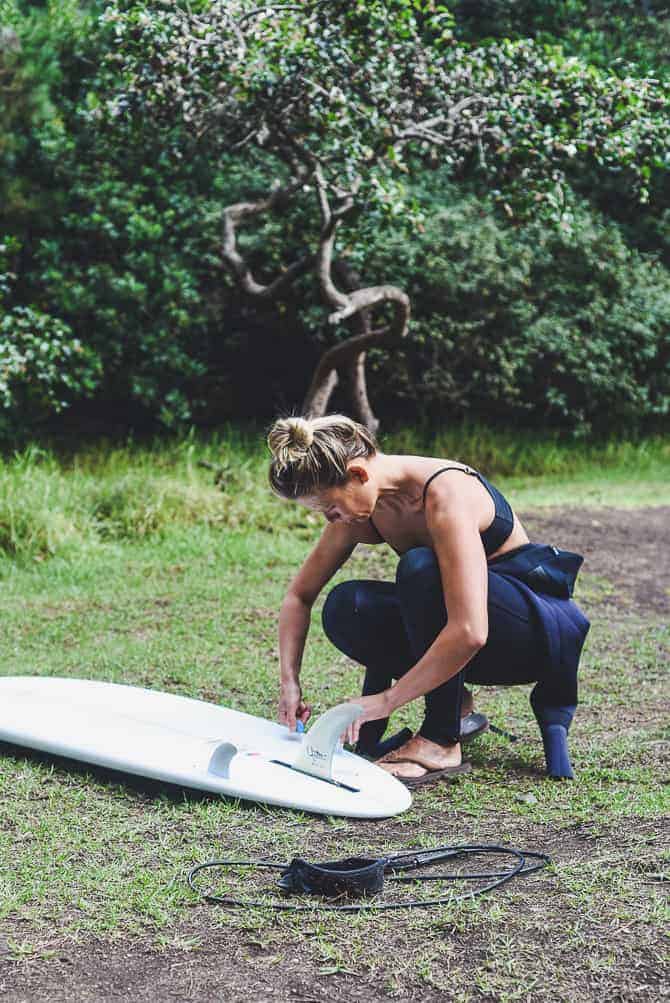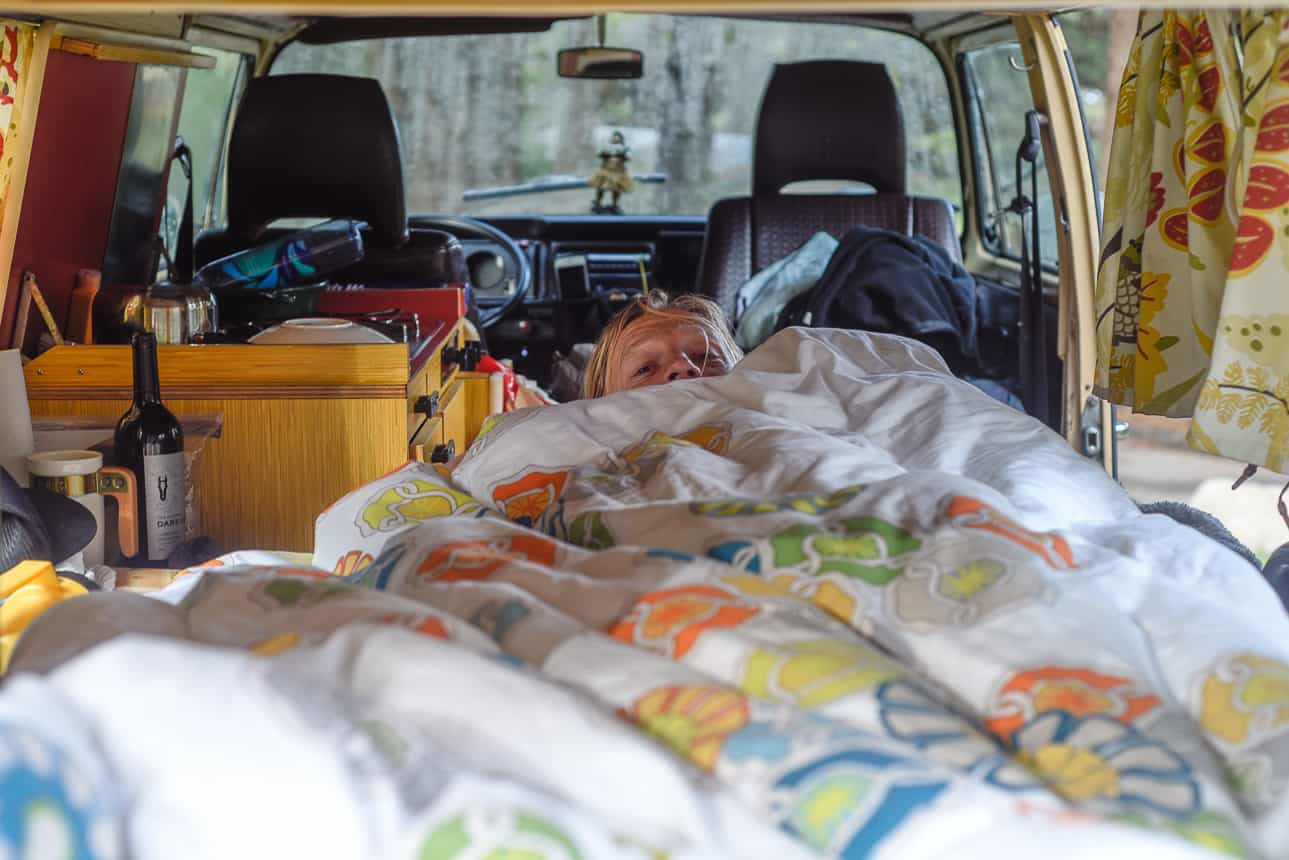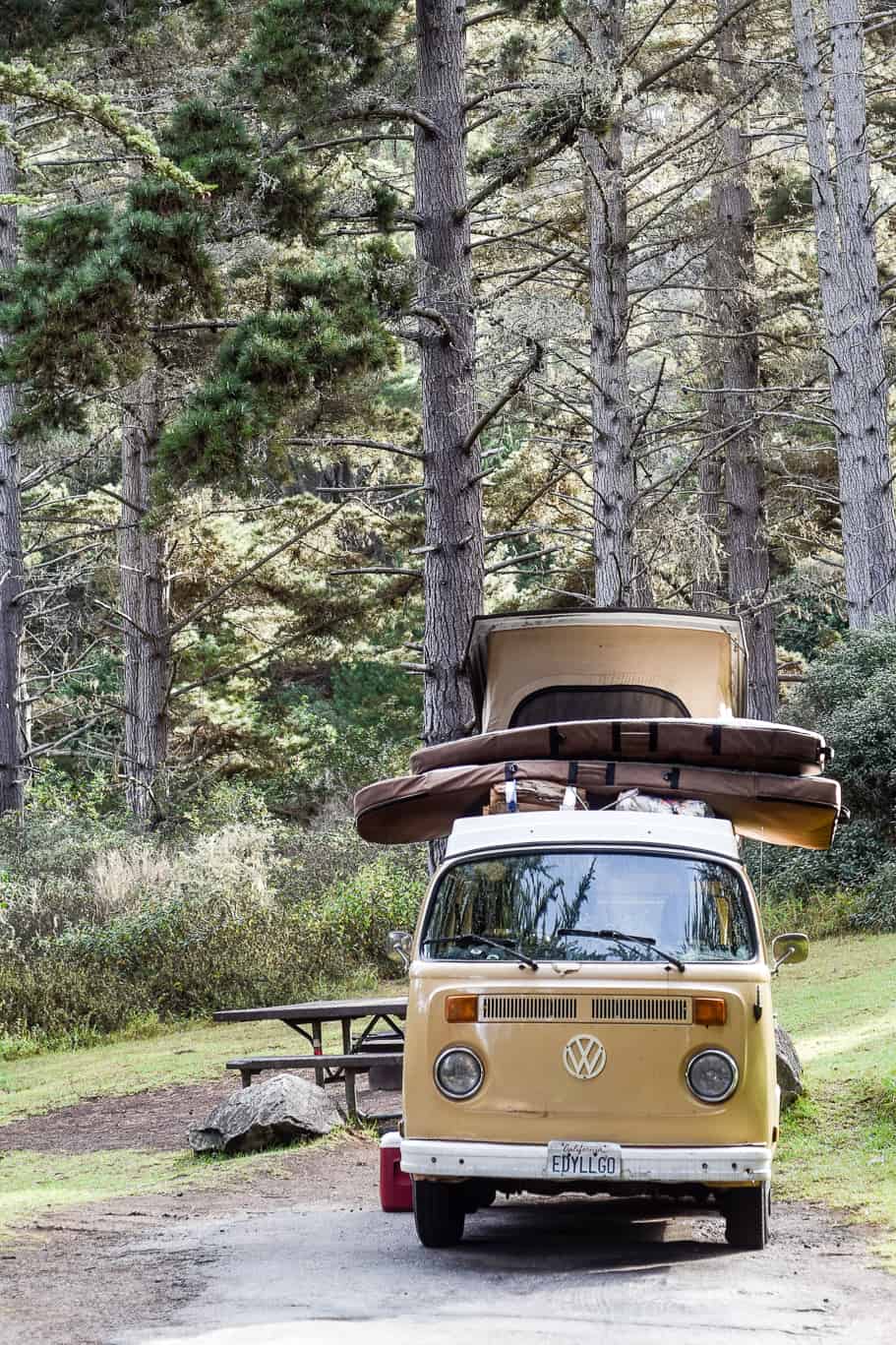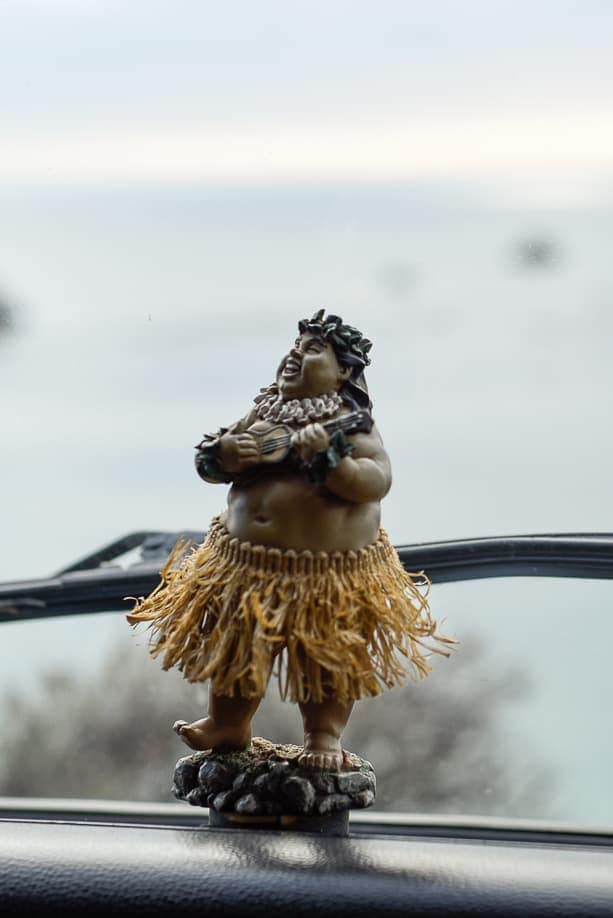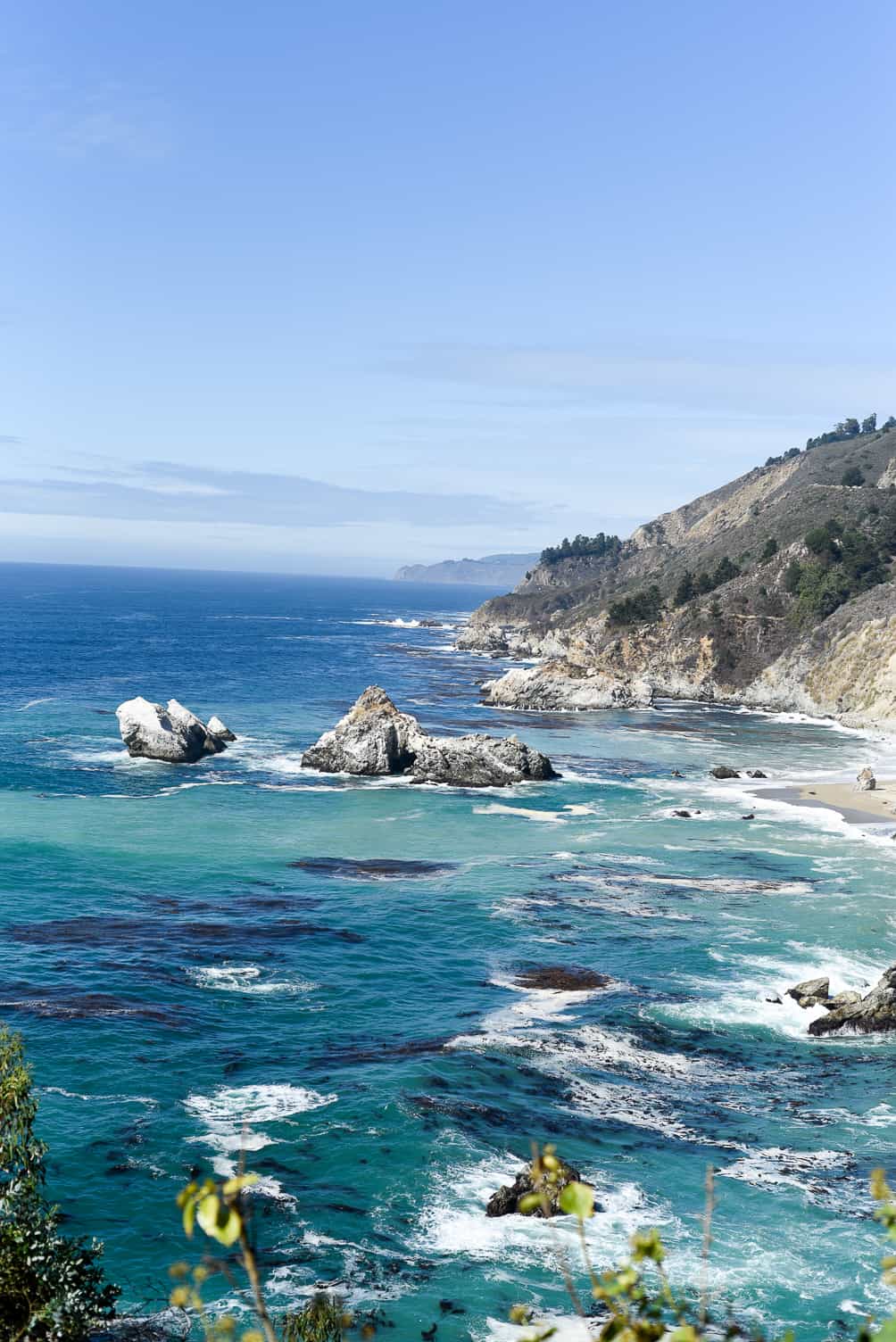 Road tripping with a home on wheels gives you a new kind of road trip freedom. And somehow, like a far-out mobile time machine, the Volkswagen bus has a way of taking you back to a different time. A time before technology would begin to keep people constantly connected, a time before the pace of life seemed to propel forward at a neck-breaking speed.
Who knows how the VW bus became some sort of magical time portal, but it just is. In a really good way. So if you're thinking about the possibility of exploring California in a VW bus, perhaps ask yourself what Eddie would do.
Eddie would go.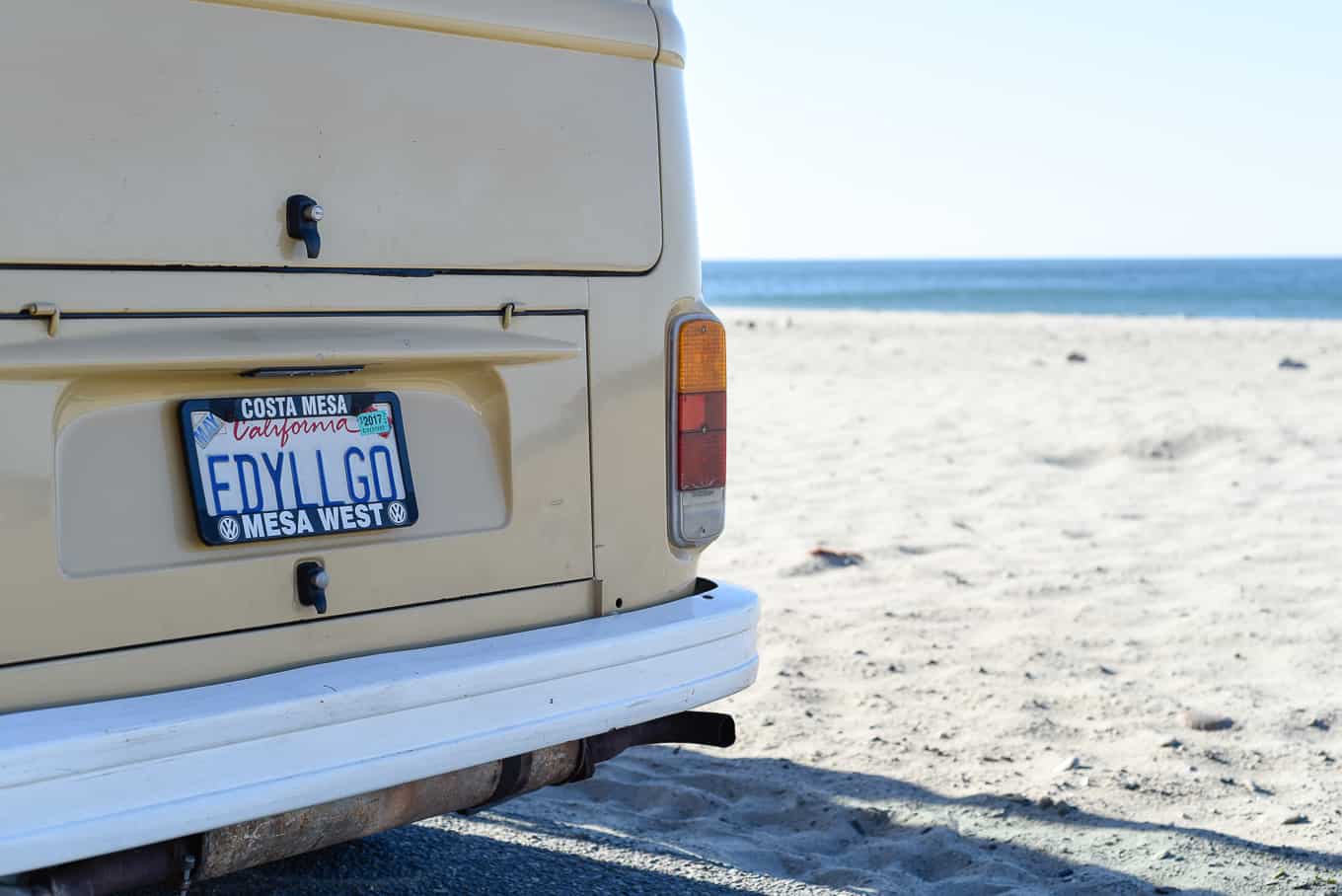 *If you'd like to read more about our Pacific Coast Highway surf trip, check out Part 1 / Huntington Beach to Morro Bay or Part 2 / Big Sur
• THE SKINNY •
Vintage Surfari Wagons rents a fleet of super sweet retro VW Eurovans, Vanagons, and Westfalia campers. Each bus has its own unique charm, and they've been revived with fresh trim and other accents.
The dining/living room couch converts to a full-size bed, and if you rent a pop-top, there's another full-size bunk up above.
The buses all come standard with essentials such as: stove, sink (with water tank), ice box or refrigerator, dining table, and all the other accessories you'll need to make it all happen. Like dishes, pots, pans, cutting boards, french press, dishwashing liquid, etc… the campers are fully equipped. You don't need to bring anything except clothing, food, and surfboards.
RENTAL LOCATION: Costa Mesa, California (about an hour drive from Los Angeles International Airport)
PASSENGERS: 4-5 people (sleeps 2-4 adults depending on model)
MILEAGE: 120 free miles included per rental day (Additional miles on Vanagon and Eurovan buses are at .39/mile. Bay Window buses are .79/mile per additional mile.)
PETS: Pets are welcome with prior approval. A $100 per pet per rental is required (maximum of 2) and they request that dogs be under 45 pounds.
PRICING:
LOW SEASON
$129 – $169 per day /$830 – $1100 per week
MID SEASON
$149 – $189 per day /$985 – $1220 per week
HIGH SEASON
$1200 – $1500 weekly
ONE-WAY FEE: $550 (and a 14-day minimum rental required)
INSURANCE: $18 – $28 per day
If you are a North American resident and have a full coverage auto policy (liability, comprehensive and collision), then you're probably insured while driving one of Surfari's VWs.
GOOD TO KNOW: These vintage VWs are exactly that–vintage! Because these buses were developed in the 1930s and built with all the technical sophistication of the 1970s, you don't have some of those modern car conveniences you take for granted. Most of the buses have a manual transmission, there's no air conditioning or power anything, and VSW asks that you not exceed 65 mph (105 kph).
Purveyors of epic self-drive road trips and group camp tours via a fleet of nostalgic VW campmobiles.