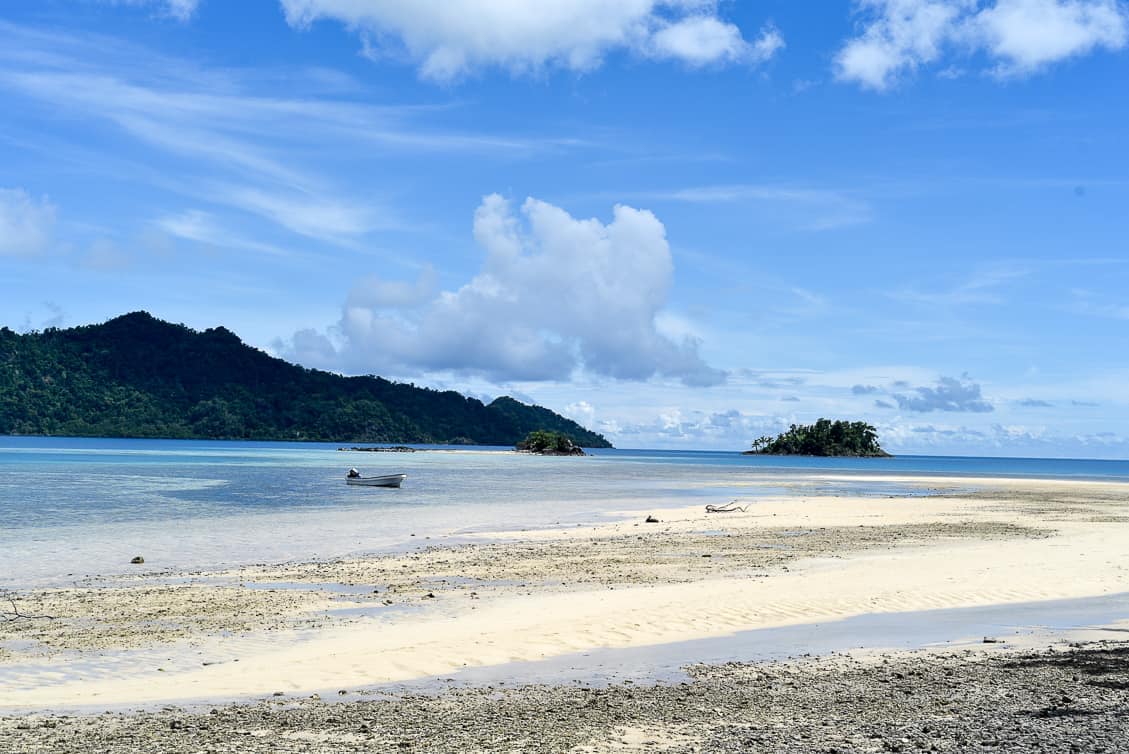 Fiji is known for many things—island perfection, vacations, and of course, legendary surf. And like many-a-legendary surf destination, you can bet that the most famous breaks are going to have the biggest crowds.
When we planned our trip to Fiji, we decided to forgo the most well-known spots for the time being and venture up to a small surf resort located on Qamea island, near Taveuni in northern Fiji.
For some reason, the only direct flight from Samoa to Fiji was at 3 am (which makes absolutely no sense because the flight is only around 3 hours!) so we arrived in Suva, Fiji, exhausted but excited. Our flight out to Taveuni was the next day, so we found a great little hotel in the jungle to stay for a night, Colo-i-Suva Rainforest Eco Resort. Unfortunately, we were too tired to do anything but nap and feed some fish at our hotel, but we recouped and were all ready for our flight out the next day.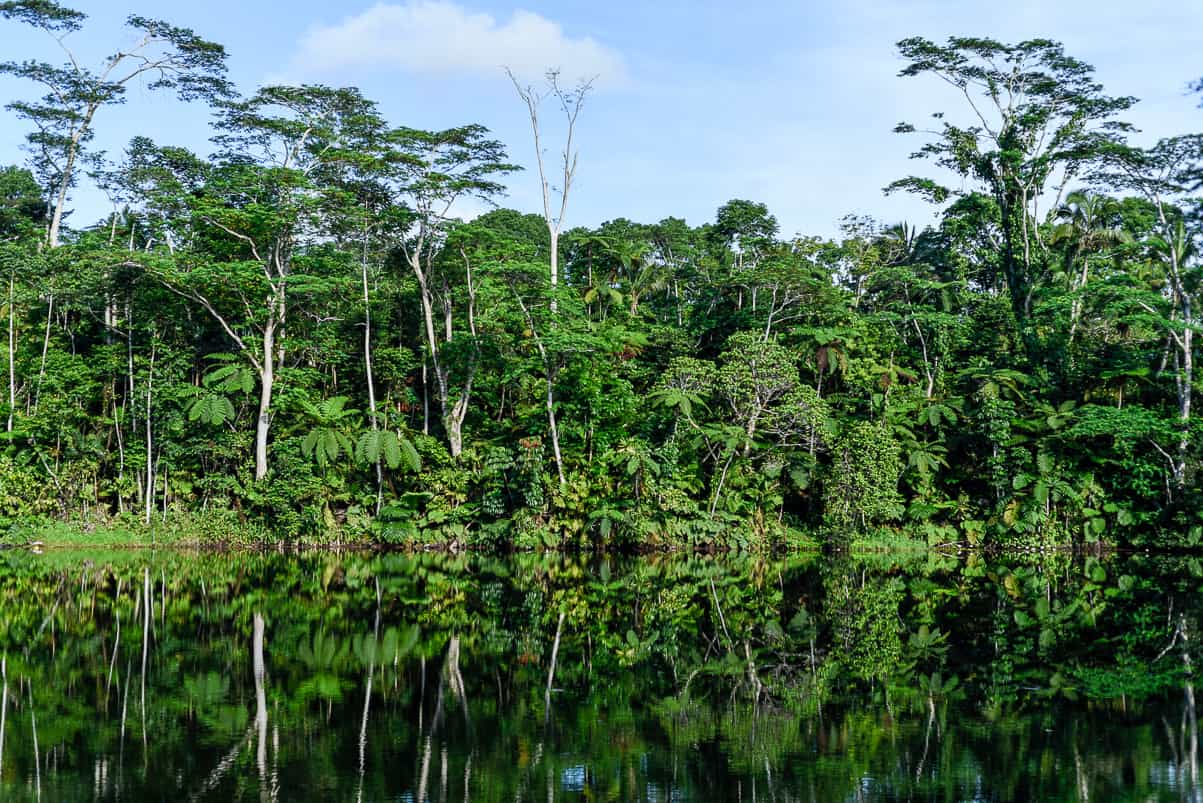 The next day we flew from Suva to Taveuni, AKA "The Garden Isle." It was a beautiful day and the flight took us over hundreds of little islands. The views were spectacular—the colors of the ocean changed with the reefs and depths so much that it reminded me of an abstract painting. Mother nature's art, indeed!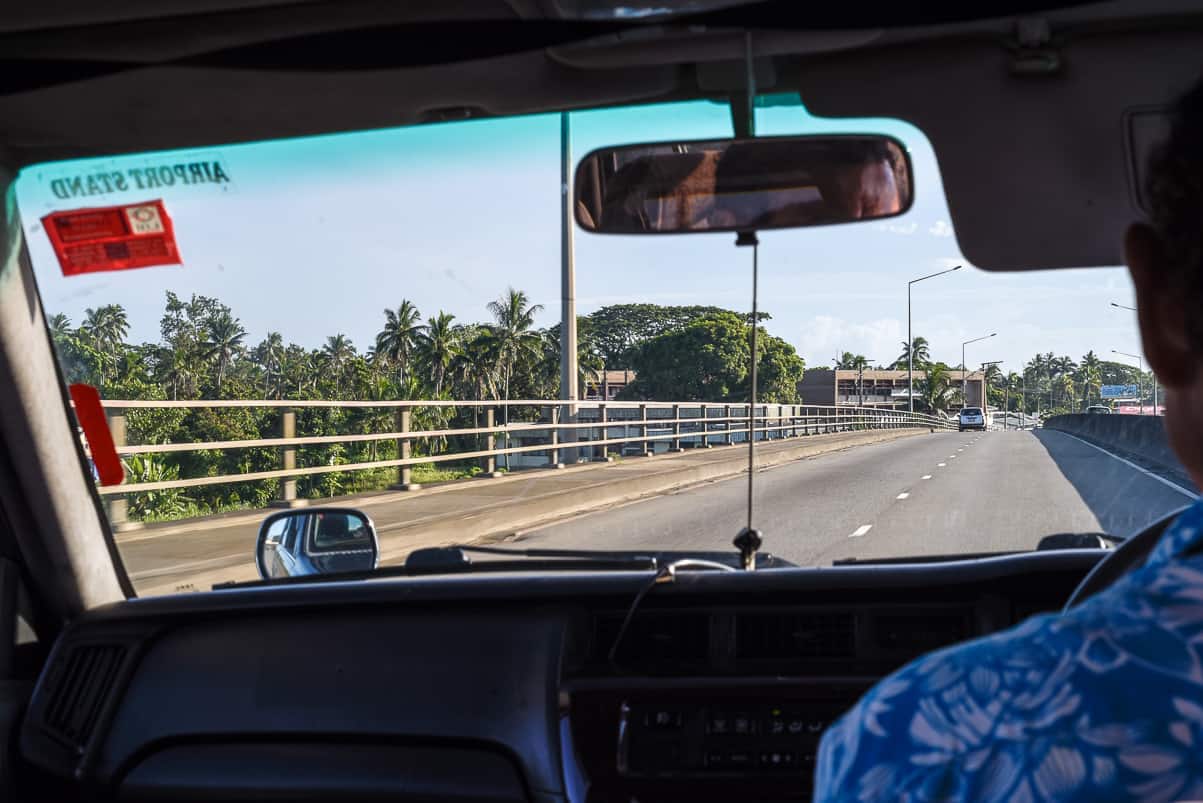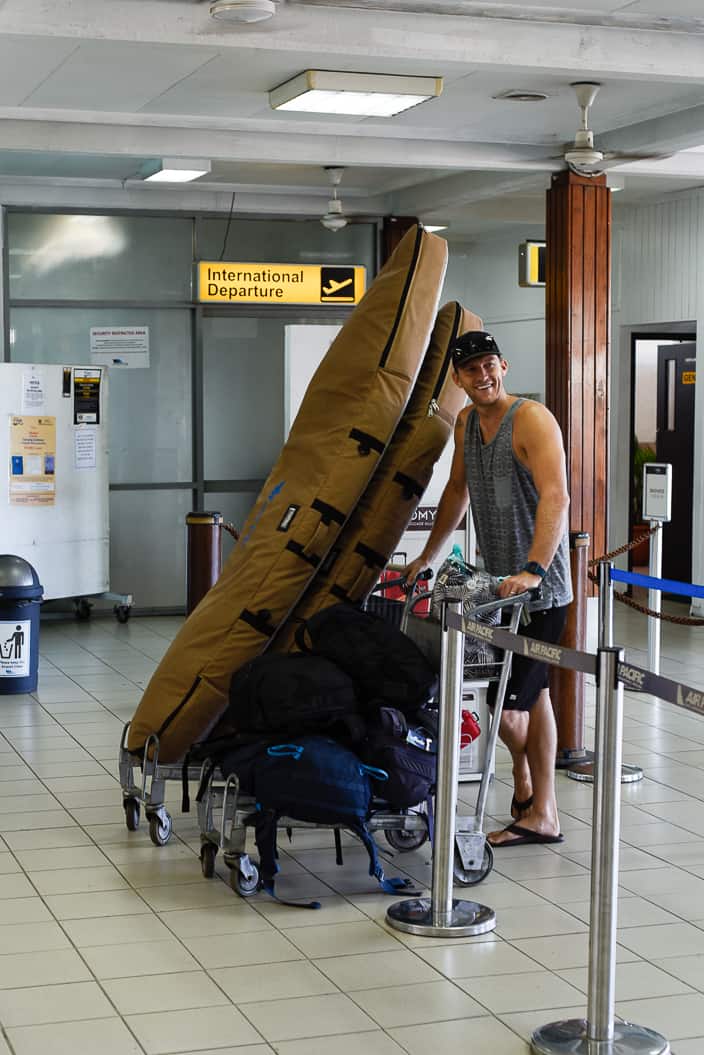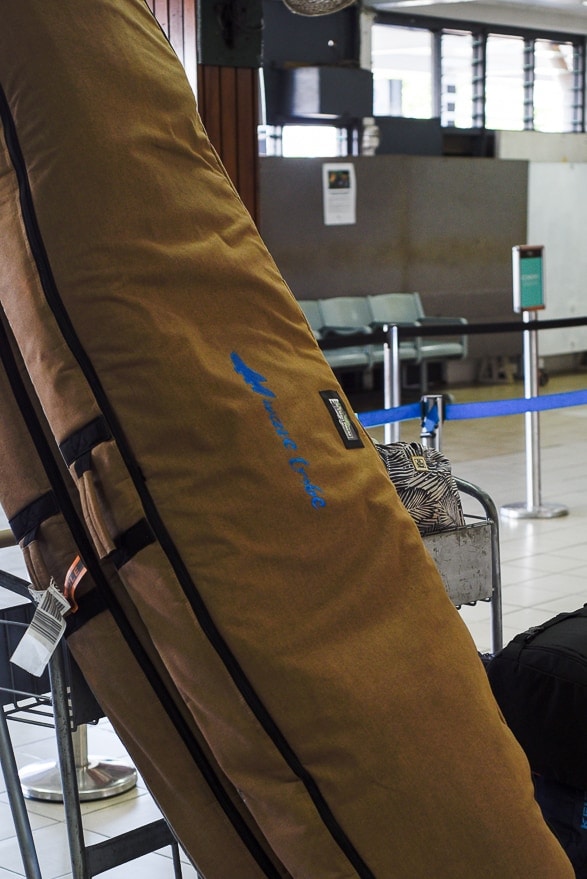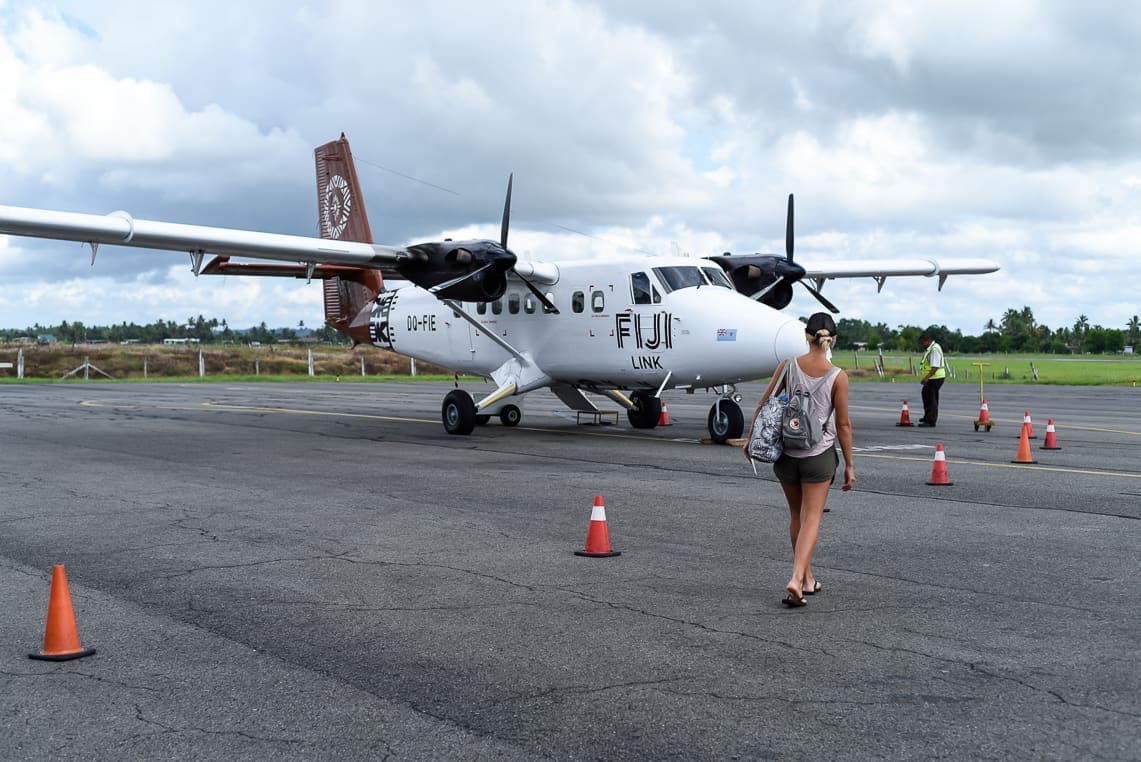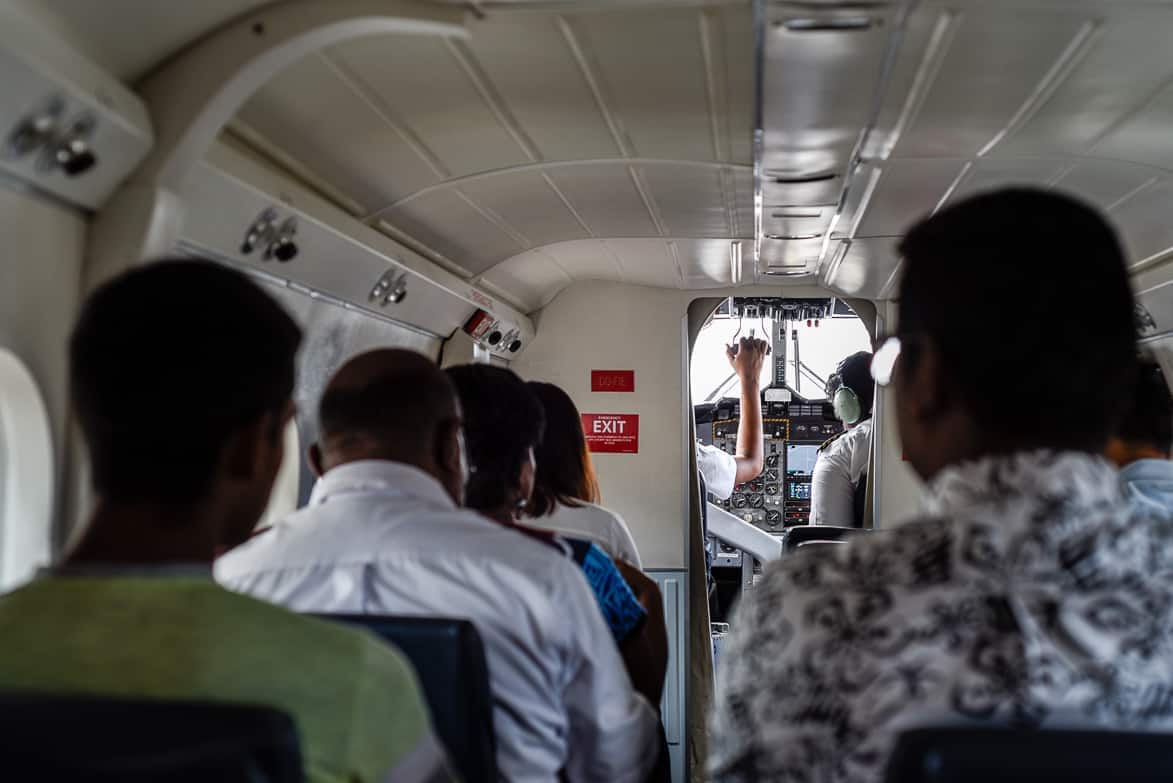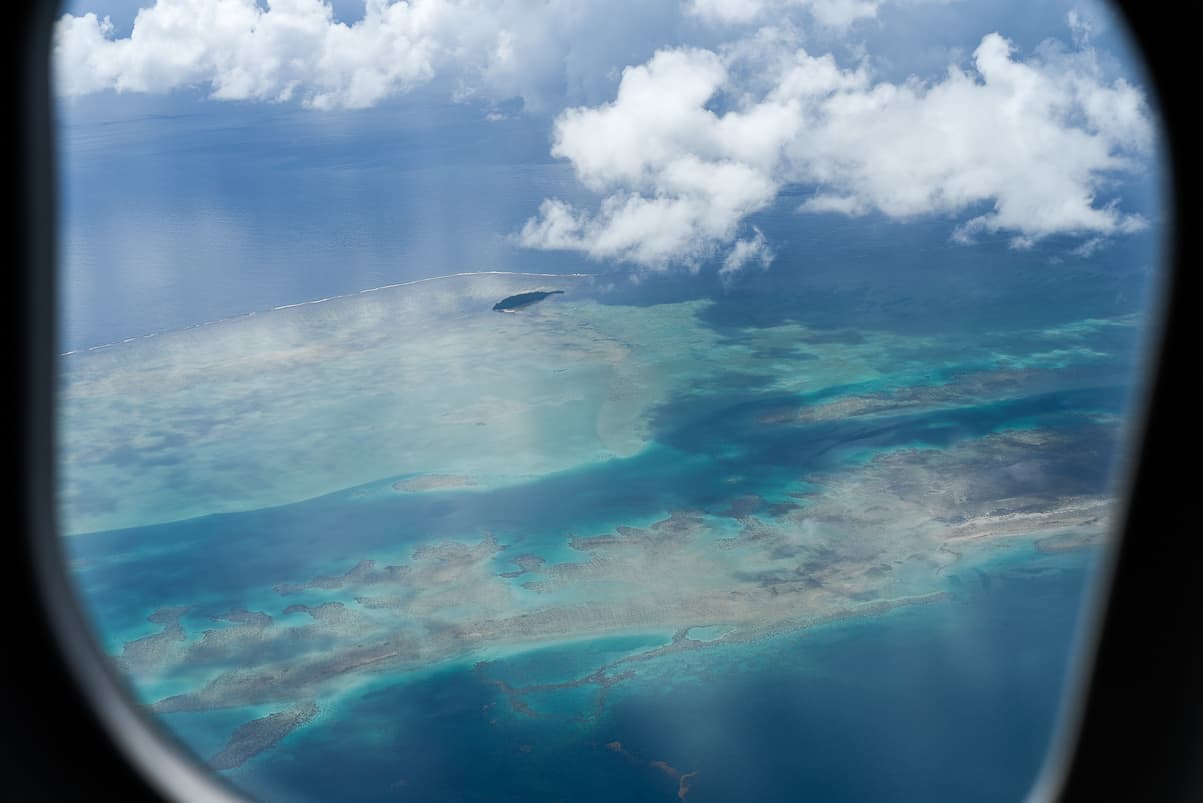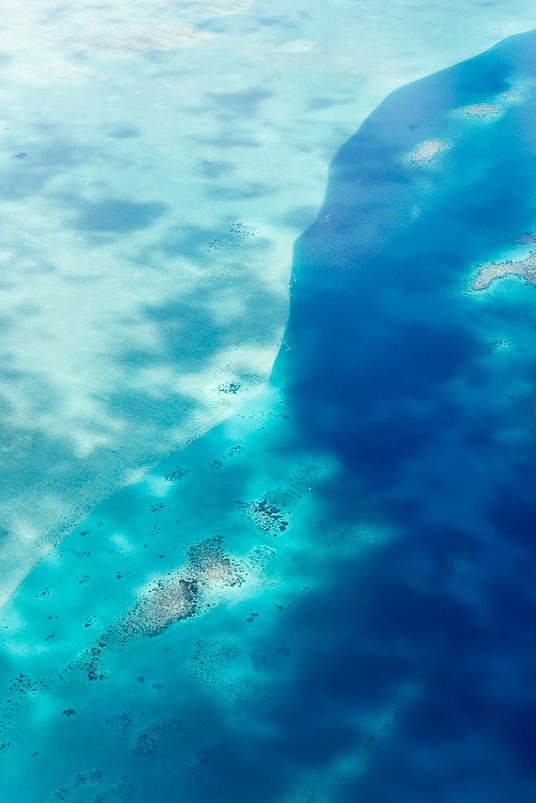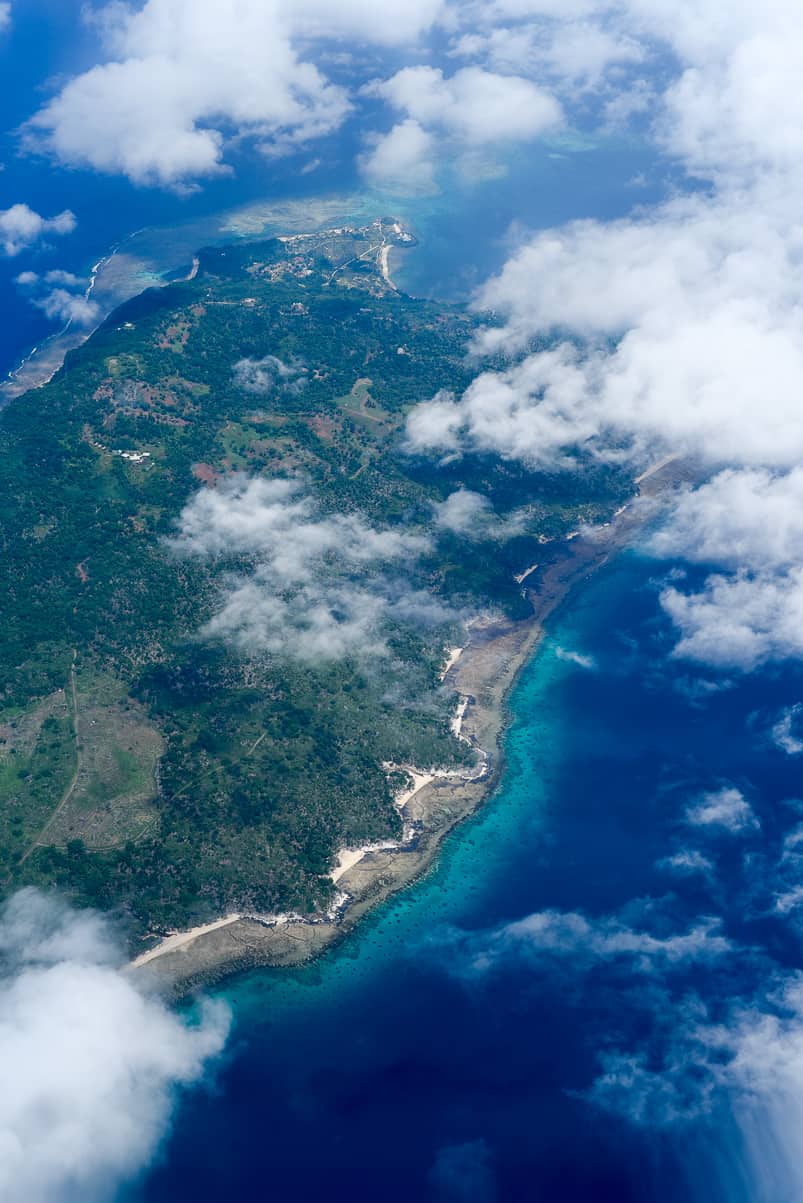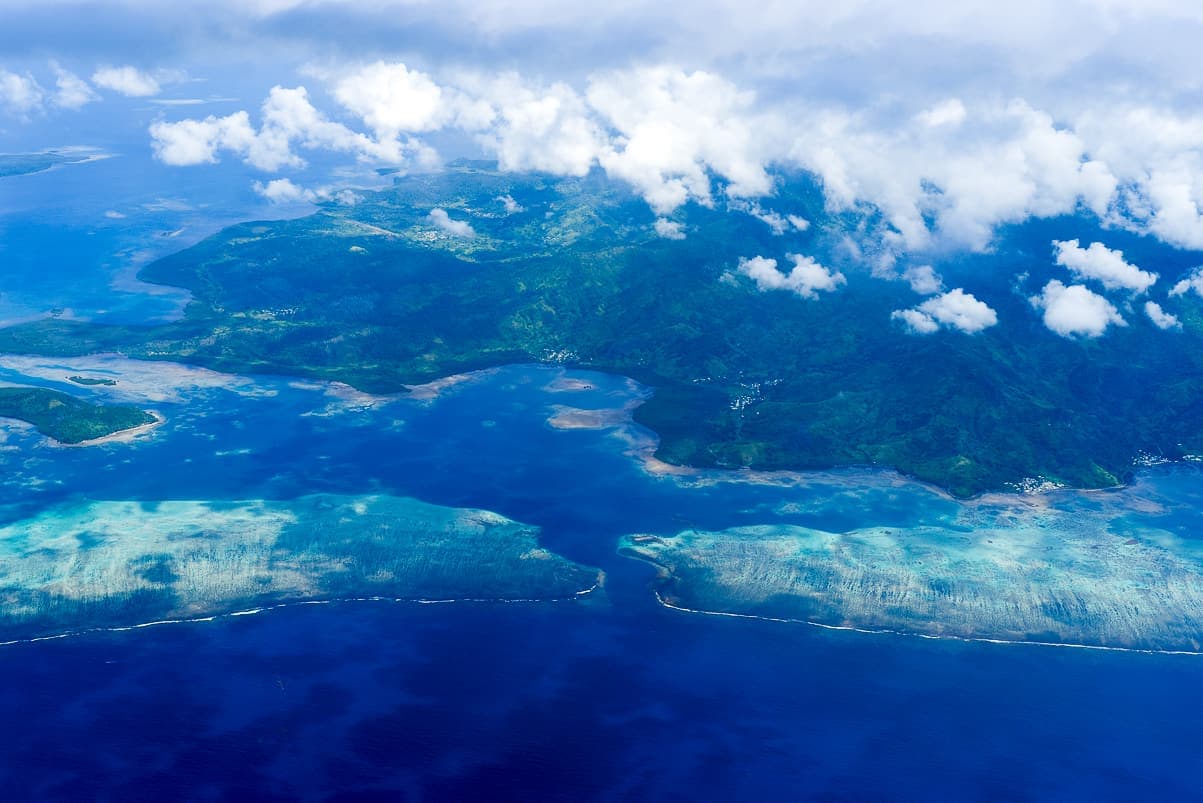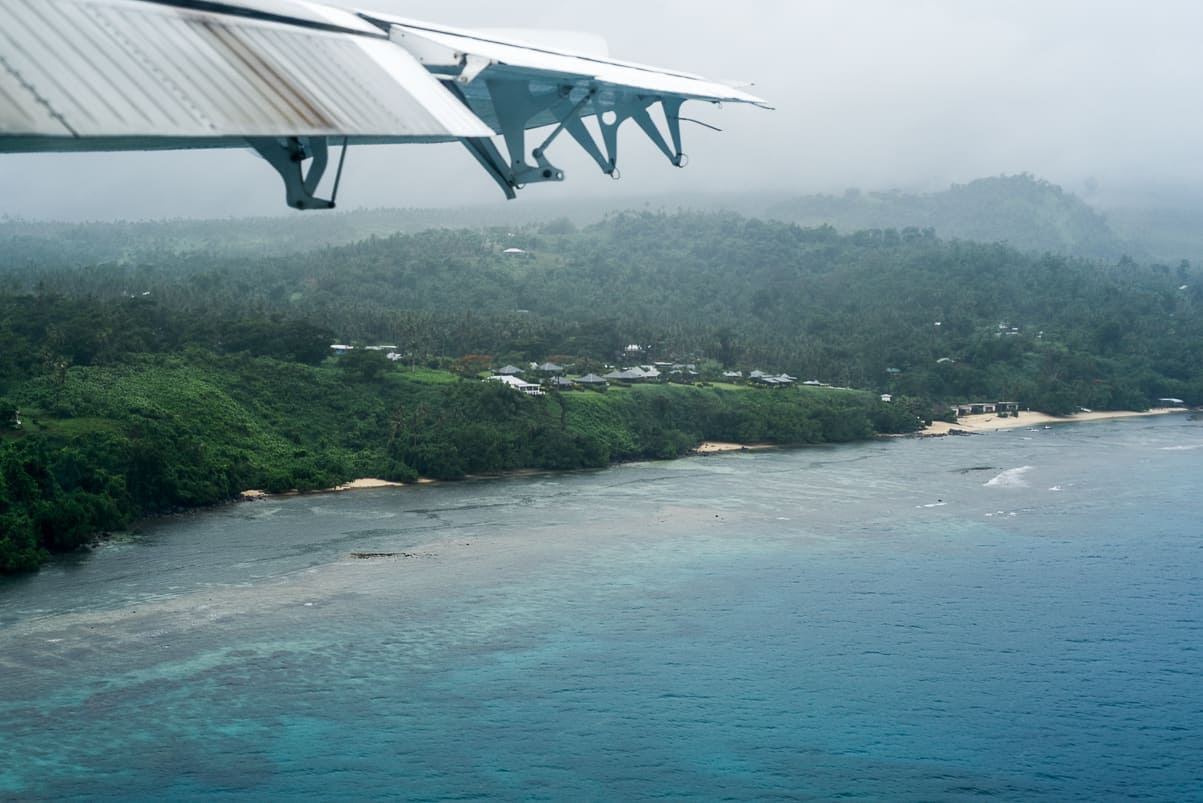 Eric and I have a knack for arriving at a new destination in the pouring rain. I suppose it's more dramatic that way. I'm not talking about a mere sprinkle… I mean full-on pouring, potentially flood-causing rain. So yeah, that's what happened when we arrived in Taveuni. Raining like Fijian cats and dogs.
Luckily our driver picked us up without a hitch and we continued on our merry way. After about a 30-minute drive, we were dropped off at a random little hut at the end of a random little road on the beach. Still pouring rain, we were instructed in broken English to stay at the hut and a boat would pick us up to take us to Qamea island. So there we were with not a soul around, only a notice posted in Fijian, and we're staring at the rain pouring down over the ocean. We're going out in that? Yay, what a dramatic voyage!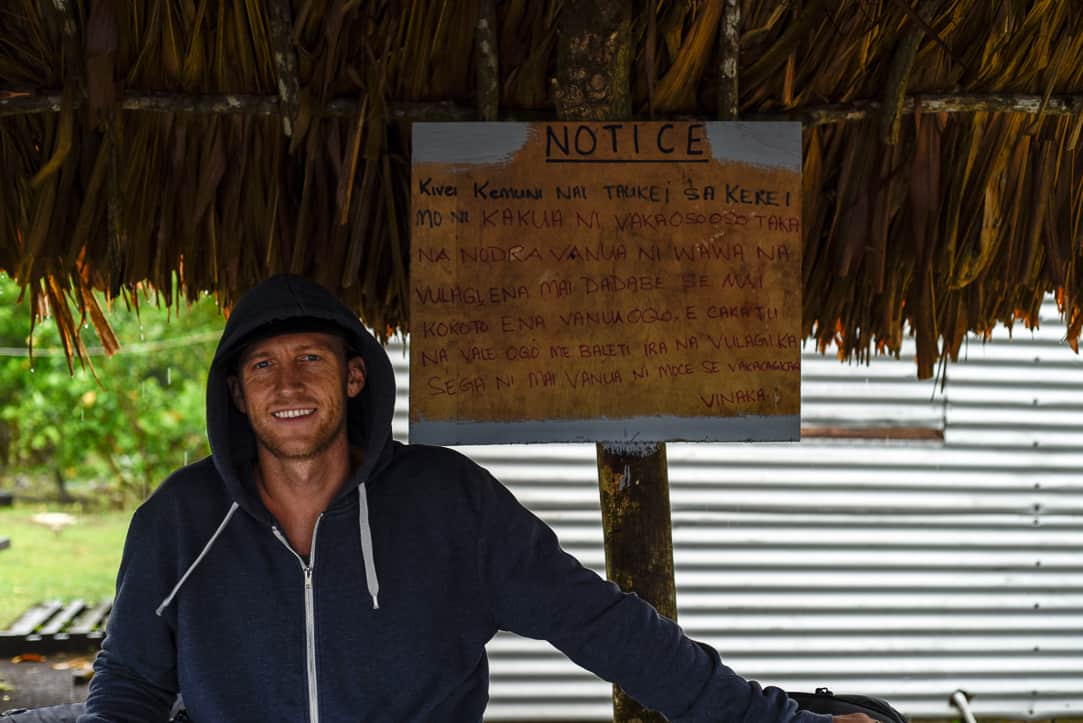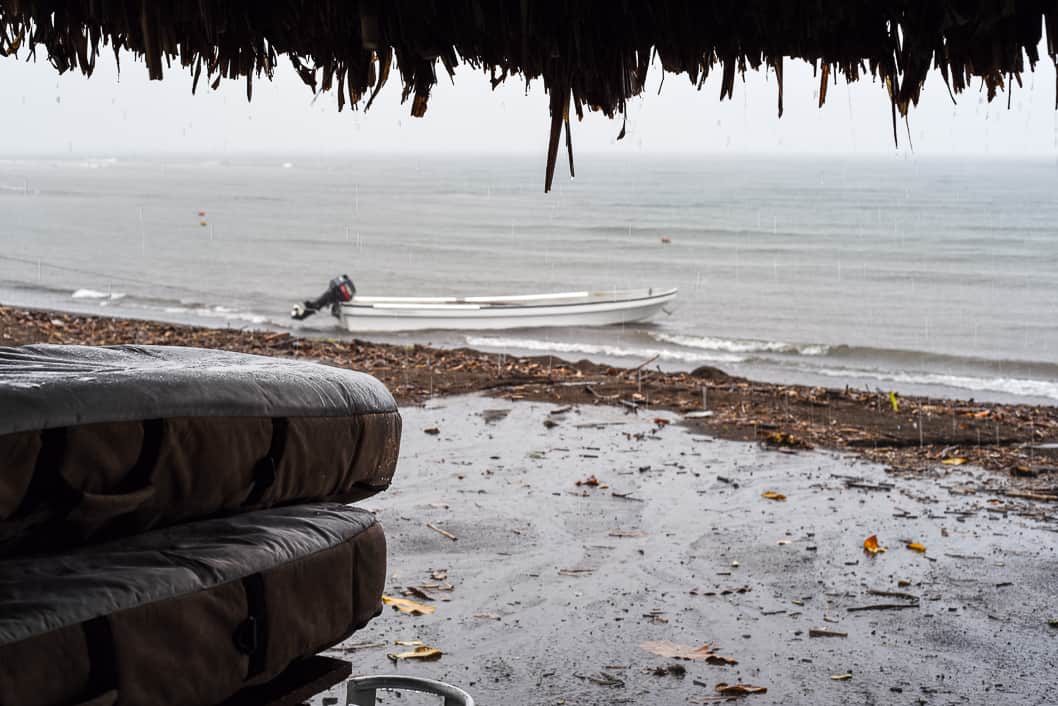 Luckily the rain died down a bit by the time the boat arrived. We're certainly not afraid of any water, but our laptops and cameras are! We jerry-rigged some rain protection for our tech gear, slapped on some rain slickers, and headed out to our tiny island home.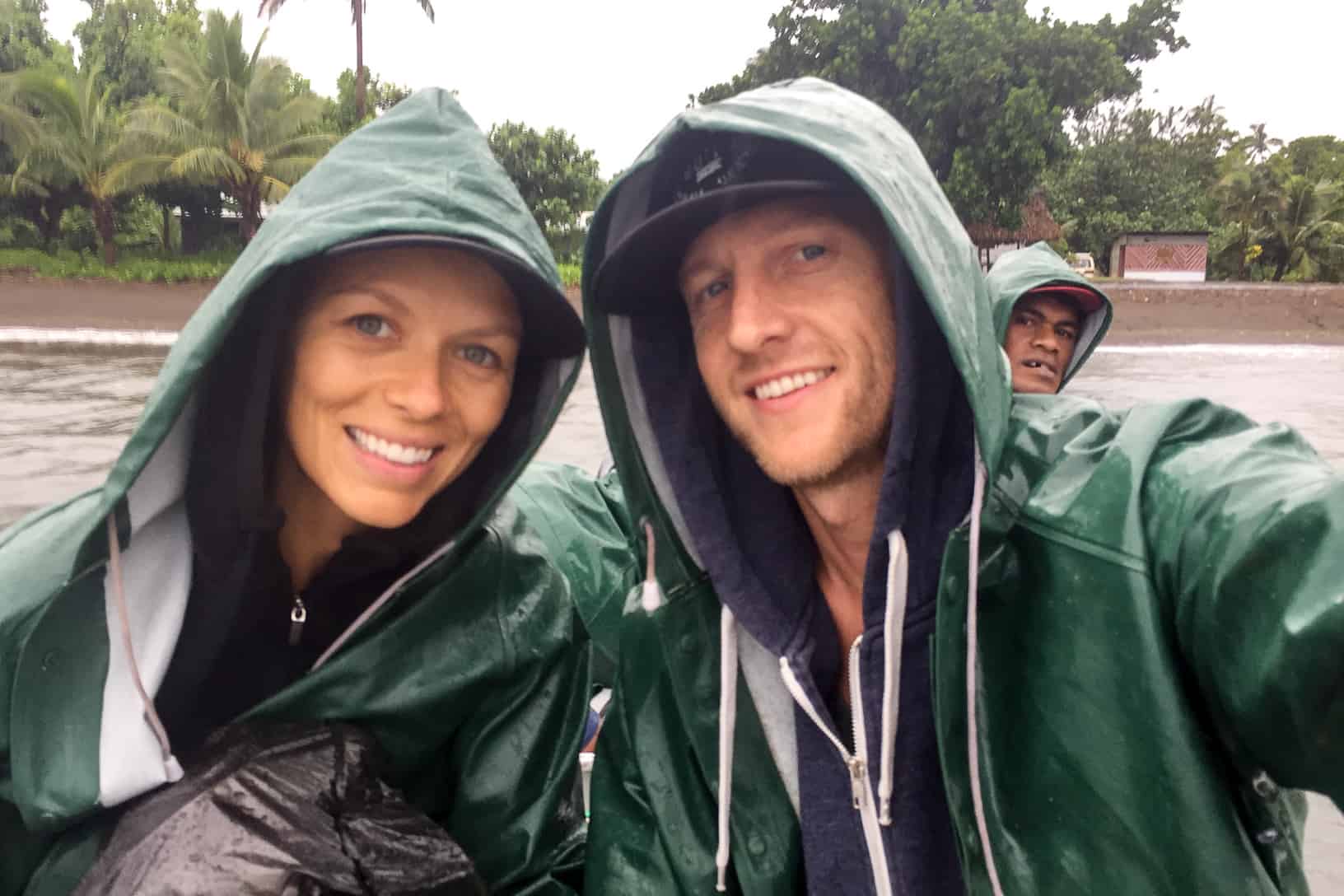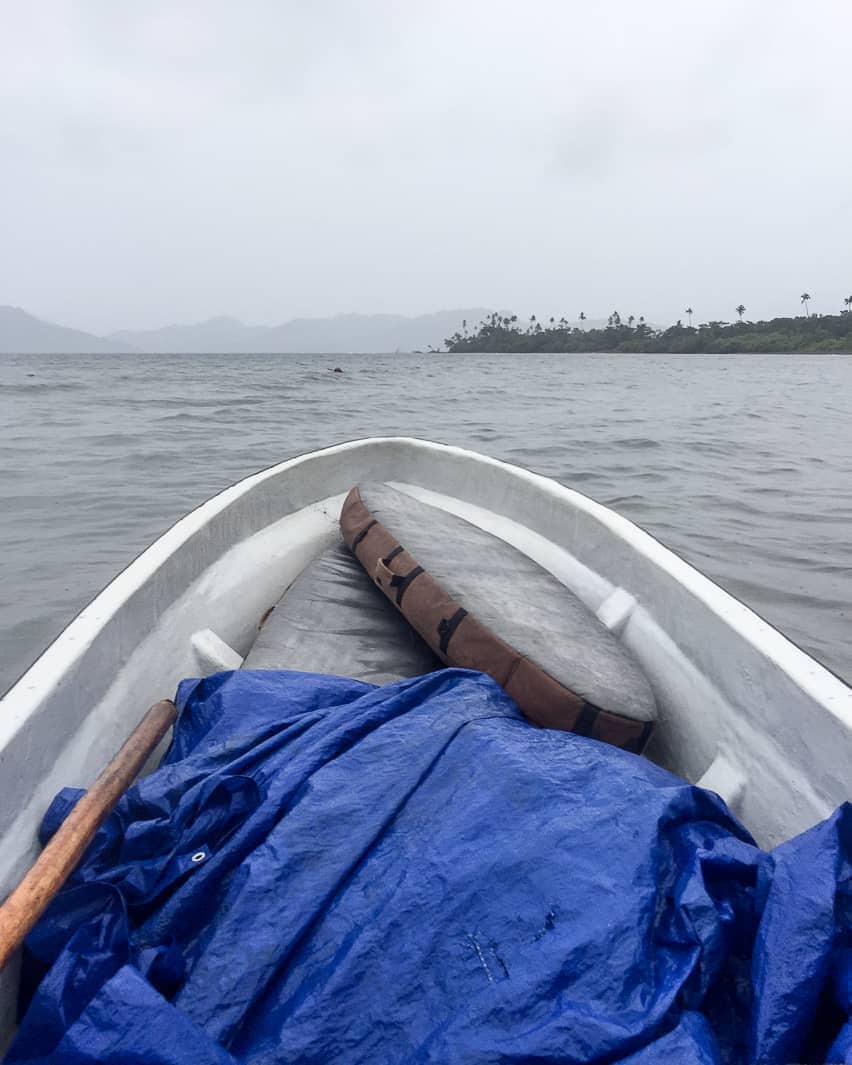 We stayed at Maqai Eco Surf Resort for a week and had an awesome time. Amazing location, delicious food, wonderful staff, and remote island perfection make this place a total win. It took a bit of extra effort to get out there but it was definitely worth it.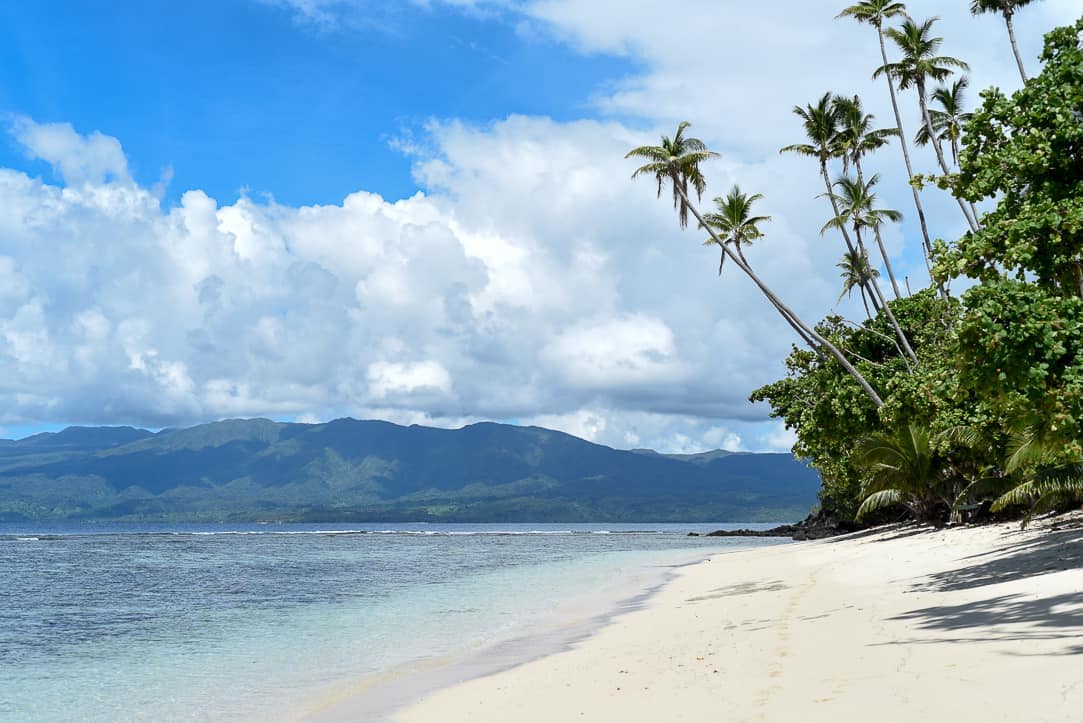 Maqai Beach Eco Surf Resort is located on Qamea Island, a tiny island off of Taveuni, and the only way in is by boat. There are no roads on the island and development consists of a couple of Fijian villages and two resorts. None of which are anywhere near each other. The resort consists of several basic bungalows right on a strip of their own beach, and a sand-floored common living space with couches and tables by the kitchen and bar.
Fancy, no. Fabulous, YES.
The hotel is managed by Jeff, a South African guy who previously ran safaris in Africa before moving to Fiji. Not only is he a great host, he tells incredible stories. So in addition to the conversation with other guests (everyone sits together for dinner), we were treated to Jeff's safari stories of lions and adventure over our candlelit dinner.
One night Jeff proclaimed it movie night and we watched Riding Giants on a big screen with our toes in the sand and the sound of Fijian waves lapping our private beach in the background.
Jeff had just rescued an adorable dog, Suki, who is Miss Personality and a ton of fun. Suki was an instant friend and we had a great time hanging out with her and playing around on the beach.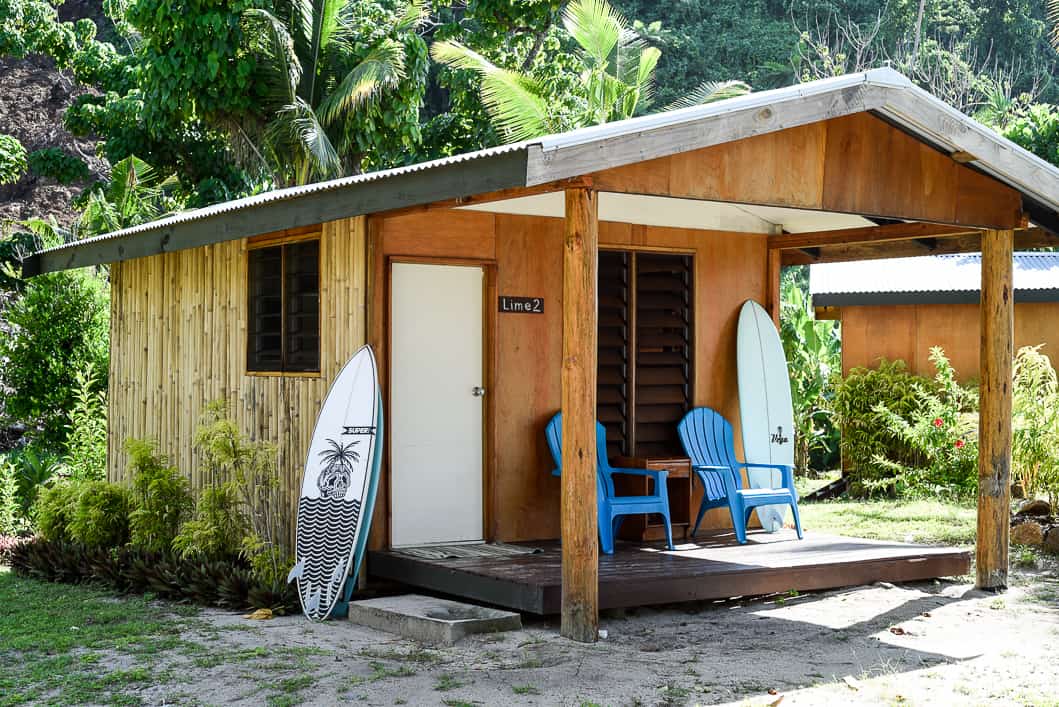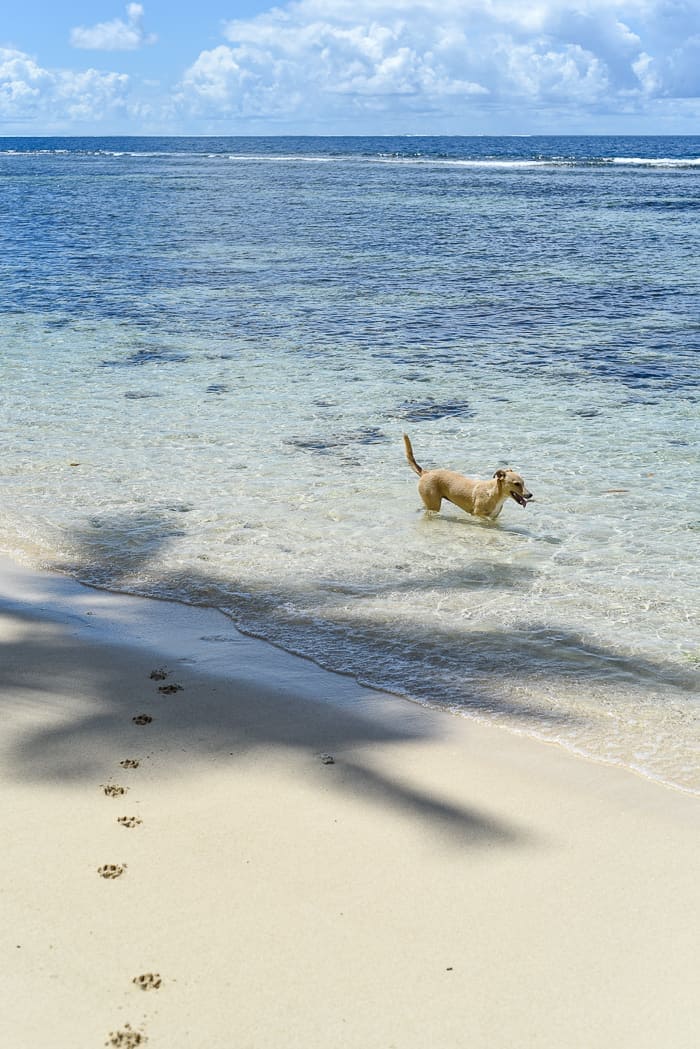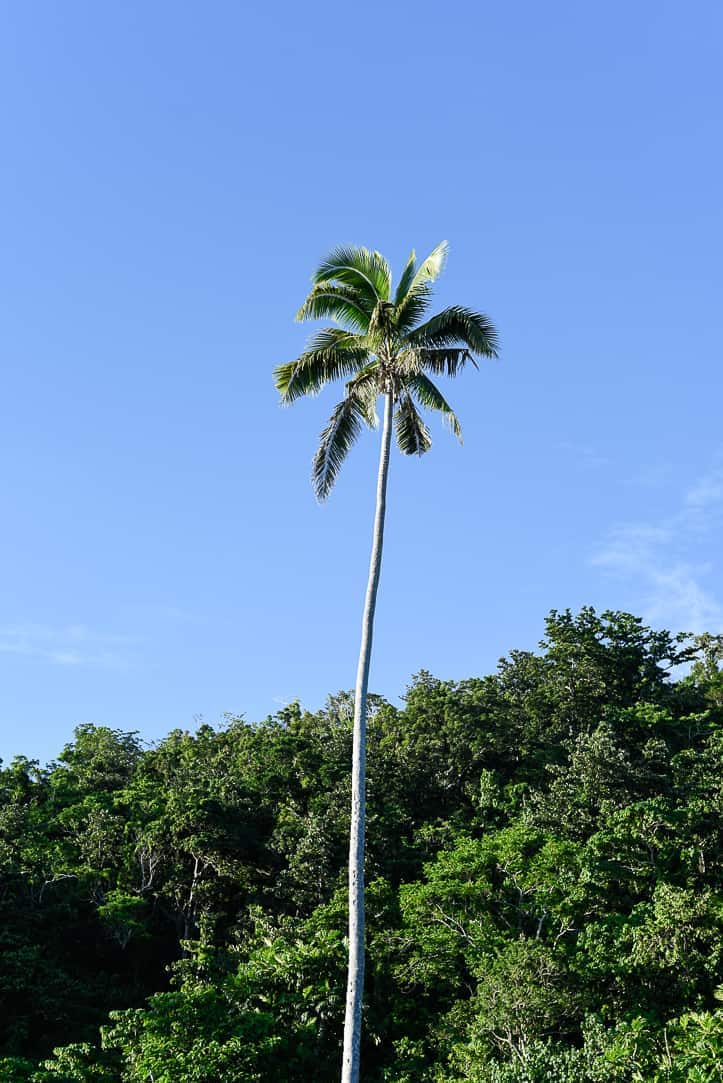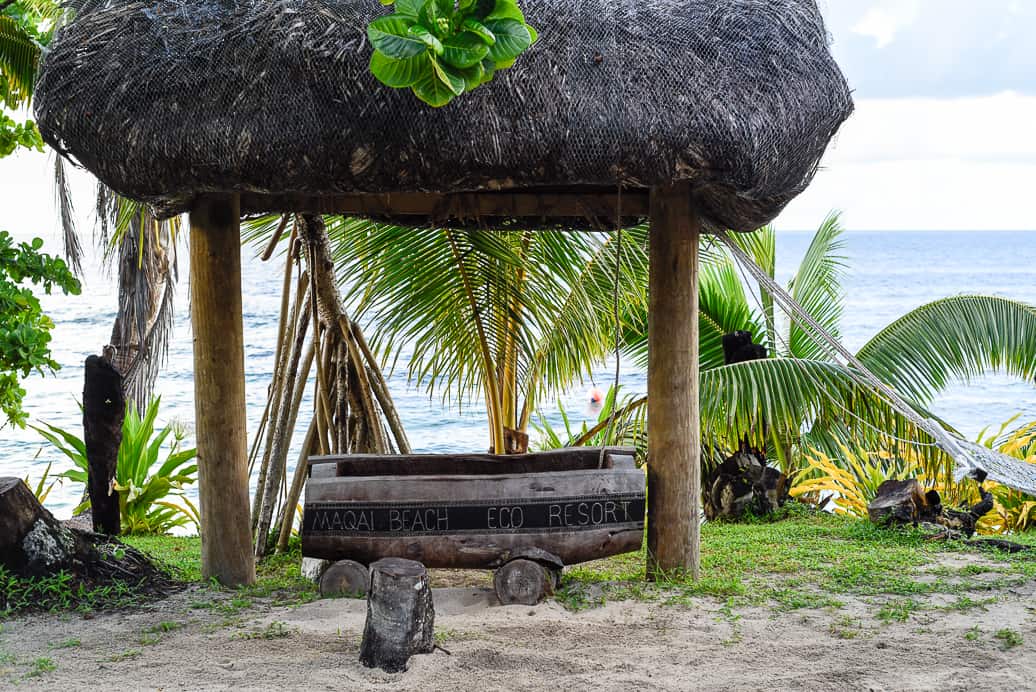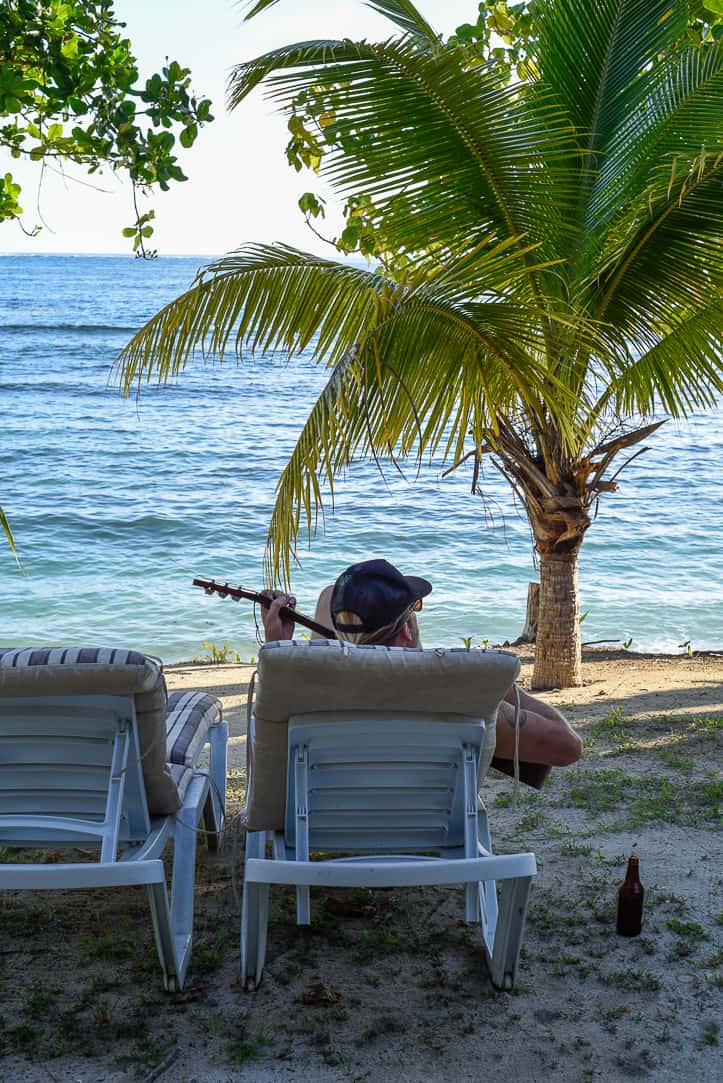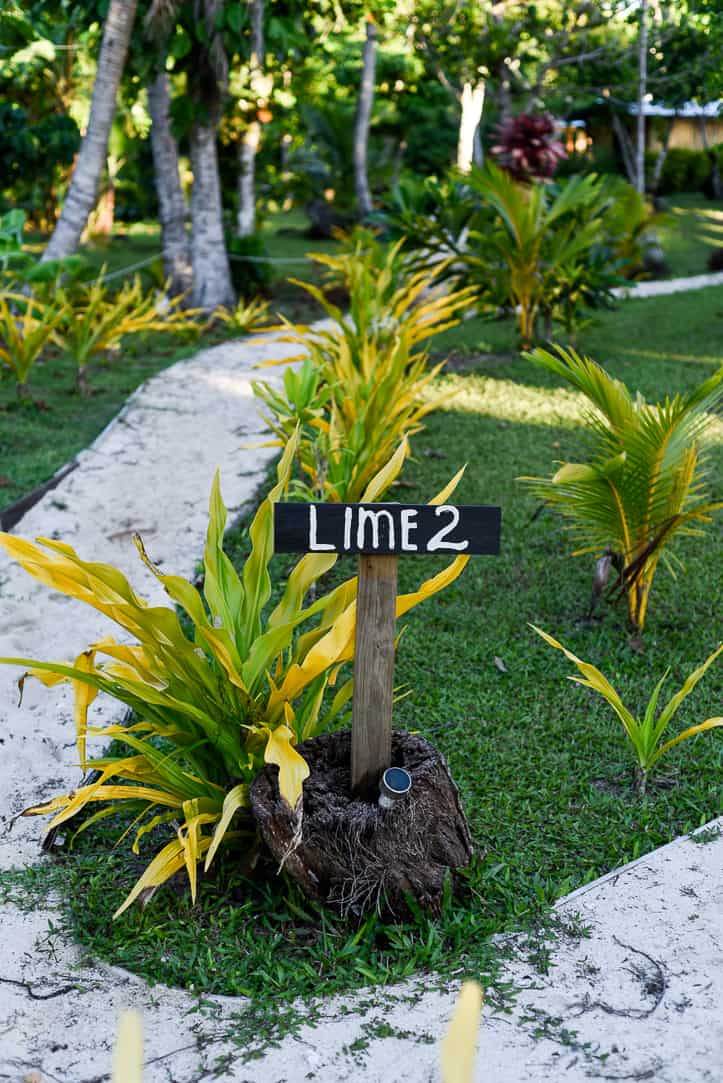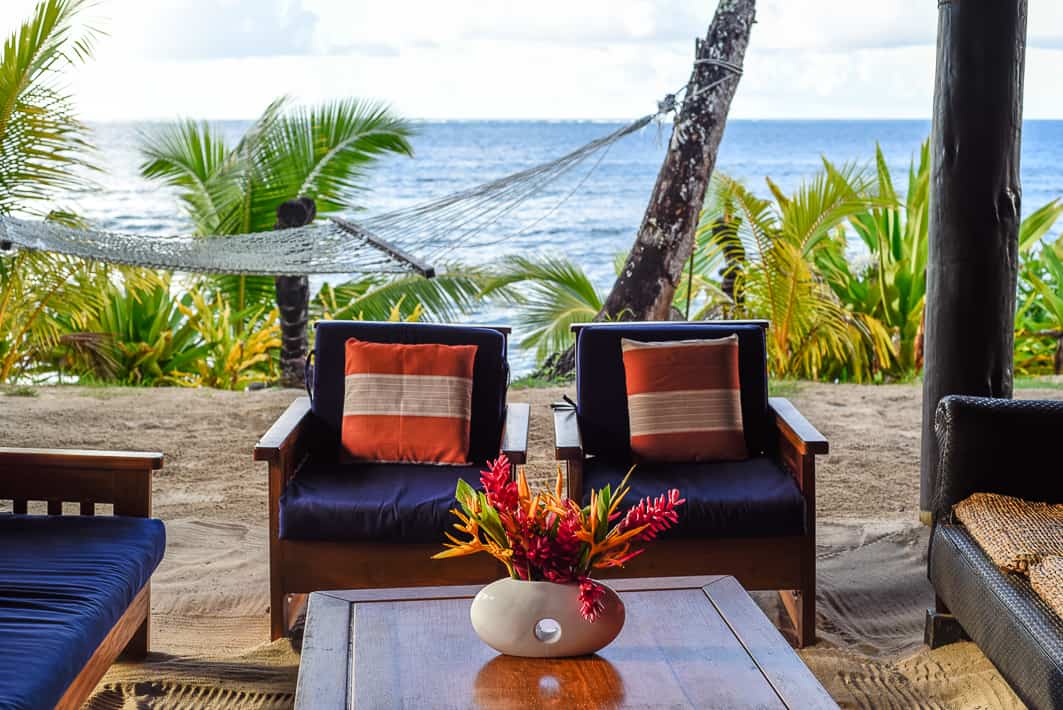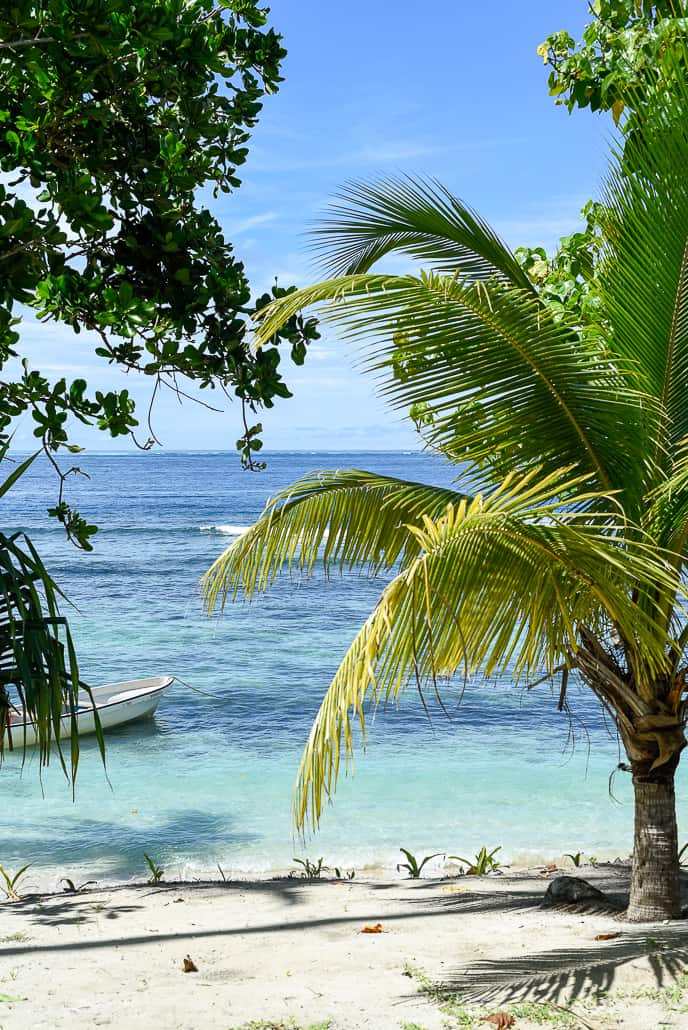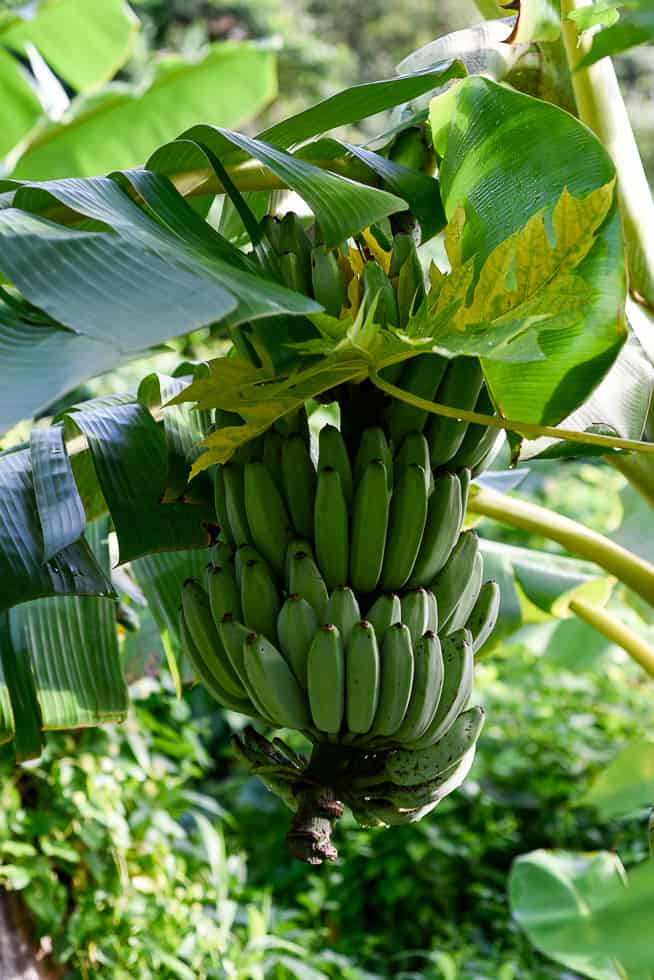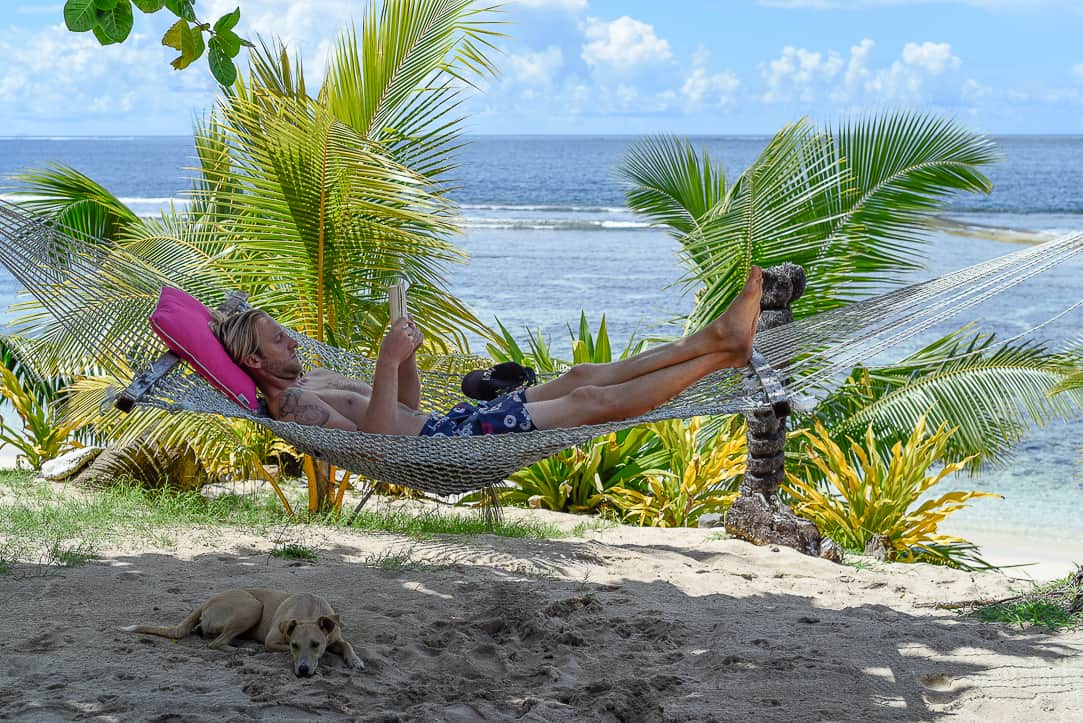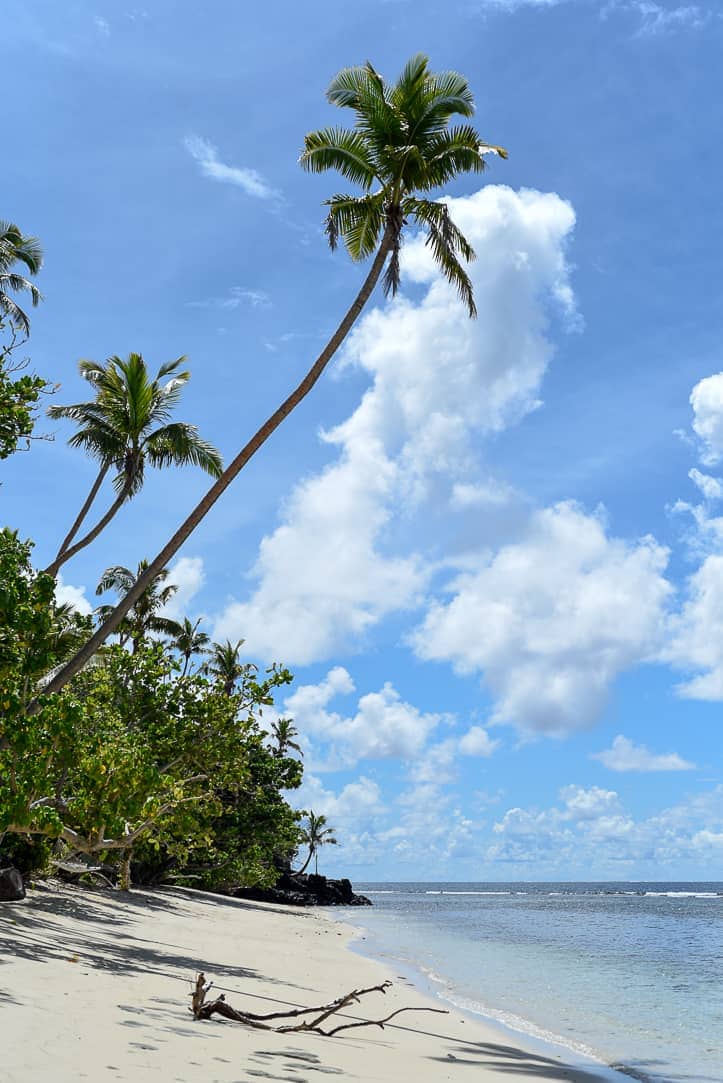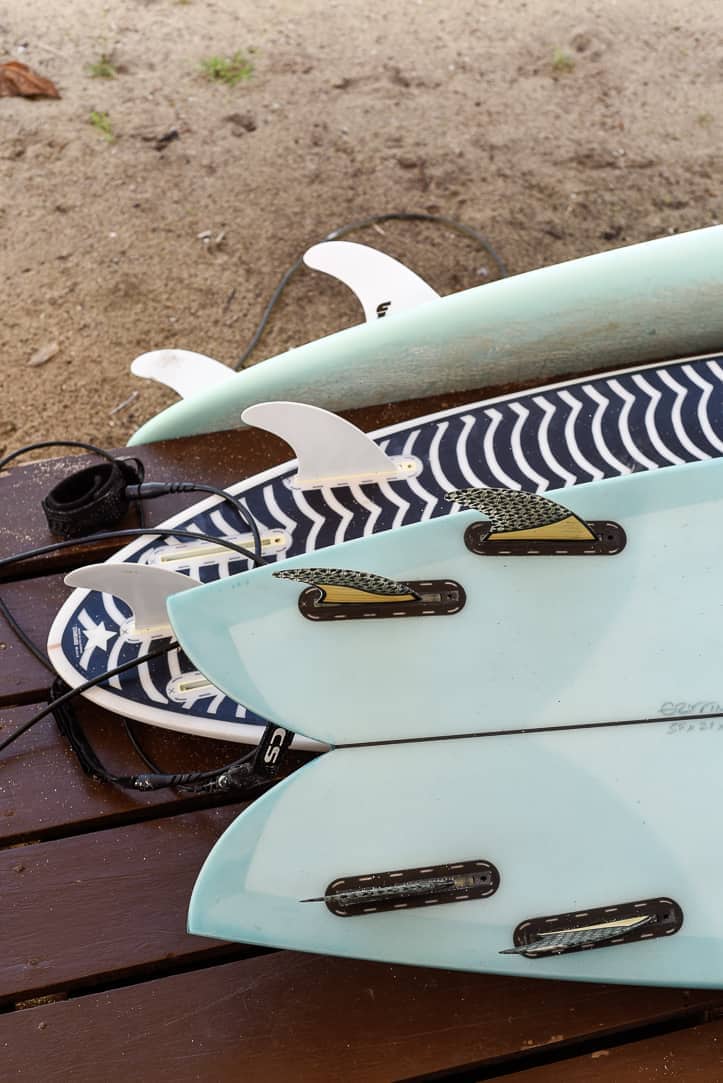 Surf-wise, we had a couple of fun days when we first arrived. Some big 'ol overhead rights were going off on our first day. I had stepped up my game to bigger surf in Samoa so I paddled on over to the peak and took off on a very large, very powerful wave. In retrospect, I misjudged the size a bit and didn't realize just how big the surf was. Rookie mistake.
The wave was beautiful… I, on the other hand, somehow got off balance, fell, and got worked so bad. Yay for new breaks, haha. Oh the joys of surf travel :). I may not have made the wave, but I survived… so there's that. Always looking at the silver lining.
The current was super strong continuously pulling us to a bad spot and my arms were getting exhausted from paddling. At one point it became clear that the only way I was going to get out of the situation and back to the boat was to ride a wave the size of which I did not want to ride. But a girl's gotta do what a girl's gotta do.
I needed a push (figuratively and literally), so Eric pushed me into a wave that seemed to grow exponentially as soon as I took off. It was a bumpy ride on this beast and the only thing going through my head was "F*%$#@CKKKK this wave is huge!!! F*$%&*$CKKKK!" And I was thinking that in a very negative way. Not like "far out this is awesome!" It's meaning was "holy f-ing shit am I going to survive a fall?!"
Then this lovely ginormous wave starts to close out and so instead of letting it smash over my head, I bail and try to punch through. Half way through my dive I realize that the wave is too big to punch through and I'm so utterly screwed. Low and behold, the wave grabs me and bodyslams me over the falls.
As I'm writing this today, I'm happy to report I successfully survived my scariest session ever. So yeah silver lining is… I'm alive, yay!
Anyway, personal scary sessions aside, we also had a couple fun smaller sessions off Maqai (thank goodness). Fun waves with a total of 2-5 friendly people out in crystal-clear perfect water. A couple times Eric and I found ourselves out in the line up just the two of us going "is this real life?" And it was. It was real, really awesome life.
Sorry, we don't have any photos of the waves at Maqai… we prioritized surfing over taking photos, so you're just going to have to check it out for yourself.
A good swell was supposed to hit, but unfortunately, it never came. So we spent some time relaxing in our little remote island paradise which was actually a really nice break. I know, I know, you'd think we would be relaxing all the time, but I swear we're so busy bouncing around and planning and surfing we don't typically leave much time to chill. Yeah, right, cry me a river, I know!
In our surf package we had boat trips included and since we weren't able to use those for surf, we took two day trips spearfishing and freediving around the islands near Maqai. A couple awesome local guys who worked at the resort, Villy and Uli, took us out along with another guest, Alex. We had such a freaking blast.
We'd roll up (seemingly) in the middle of nowhere without any other boats or people around and hop out on a reef. The water was incredibly clear and we saw tons of fish, jellyfish, squid, coral, and I was super excited to see a handful of white-tipped reef sharks. We spent about five hours motoring from one dive spot to the next. The guys kept saying, "okay last stop," and Eric, Alex and I were like little kids pleading to stay in a pool. Just one more spot?! Pretty please?!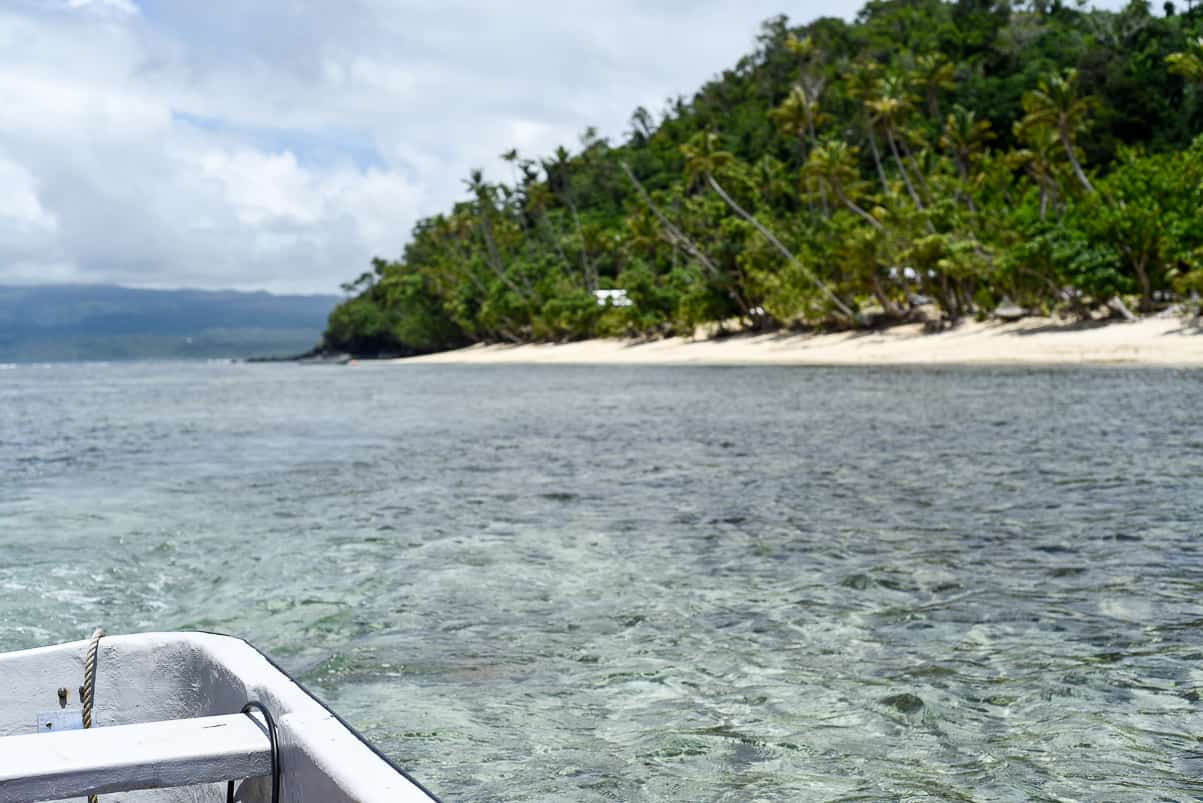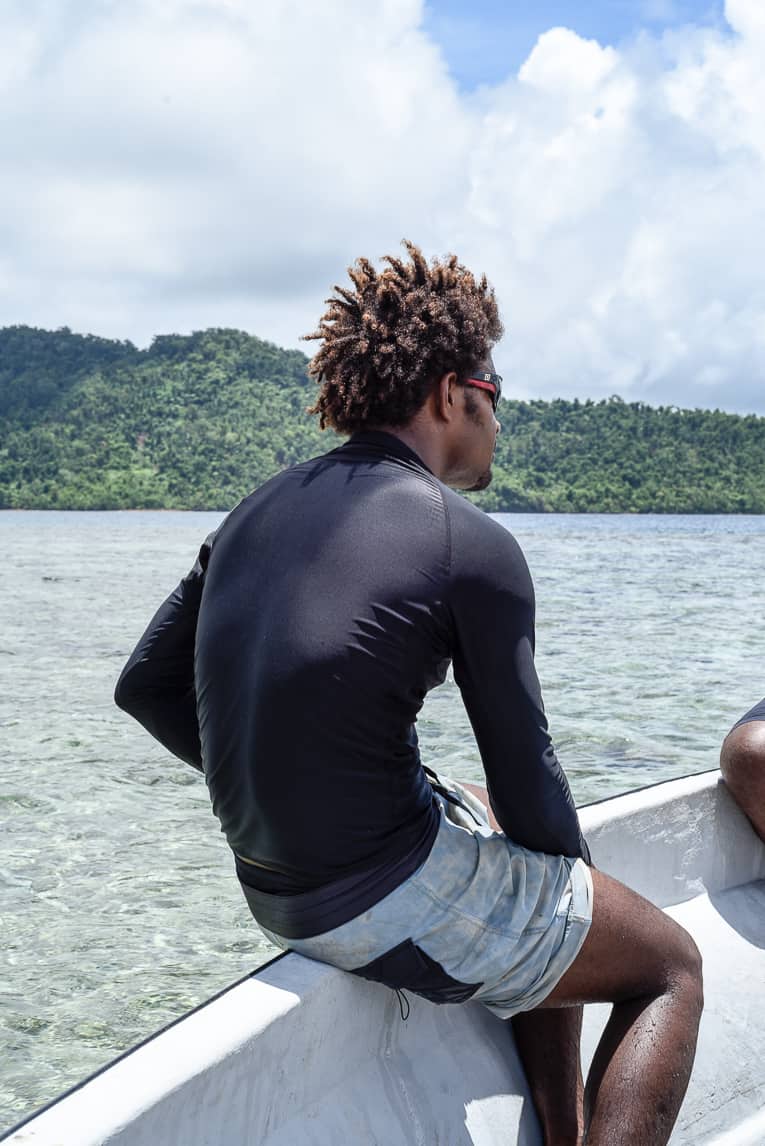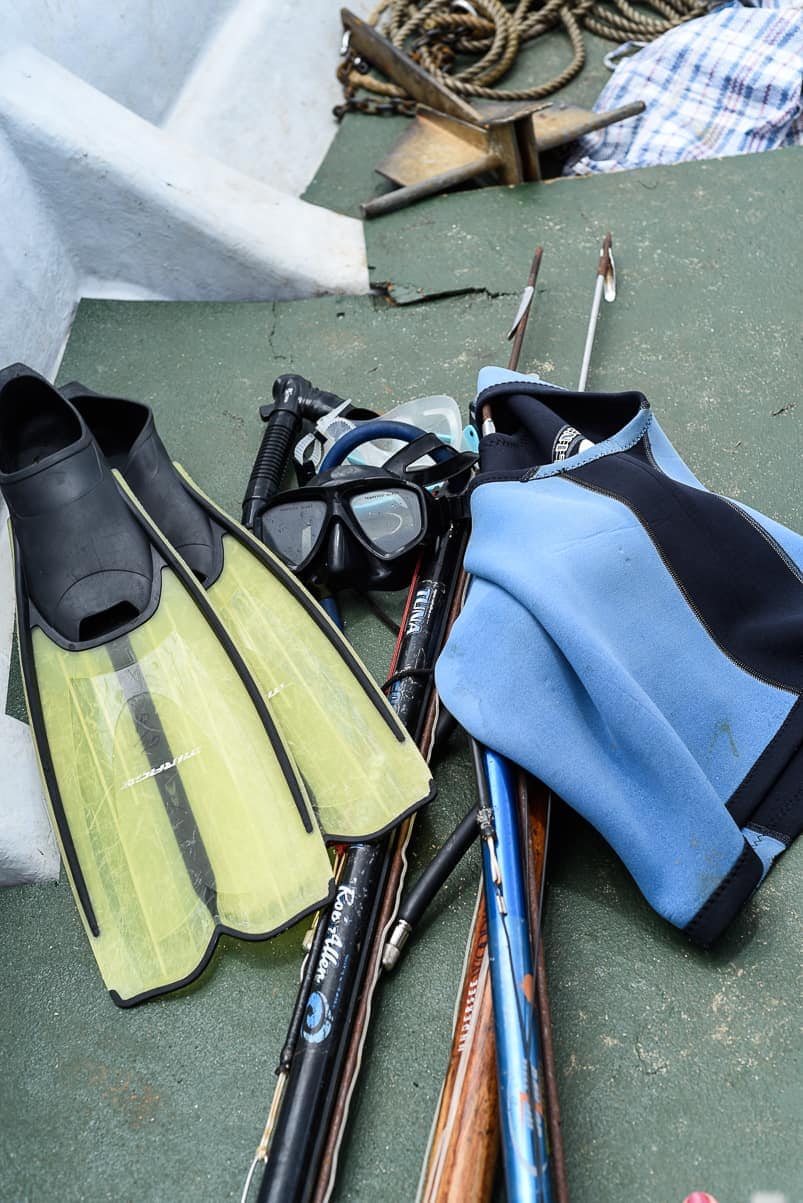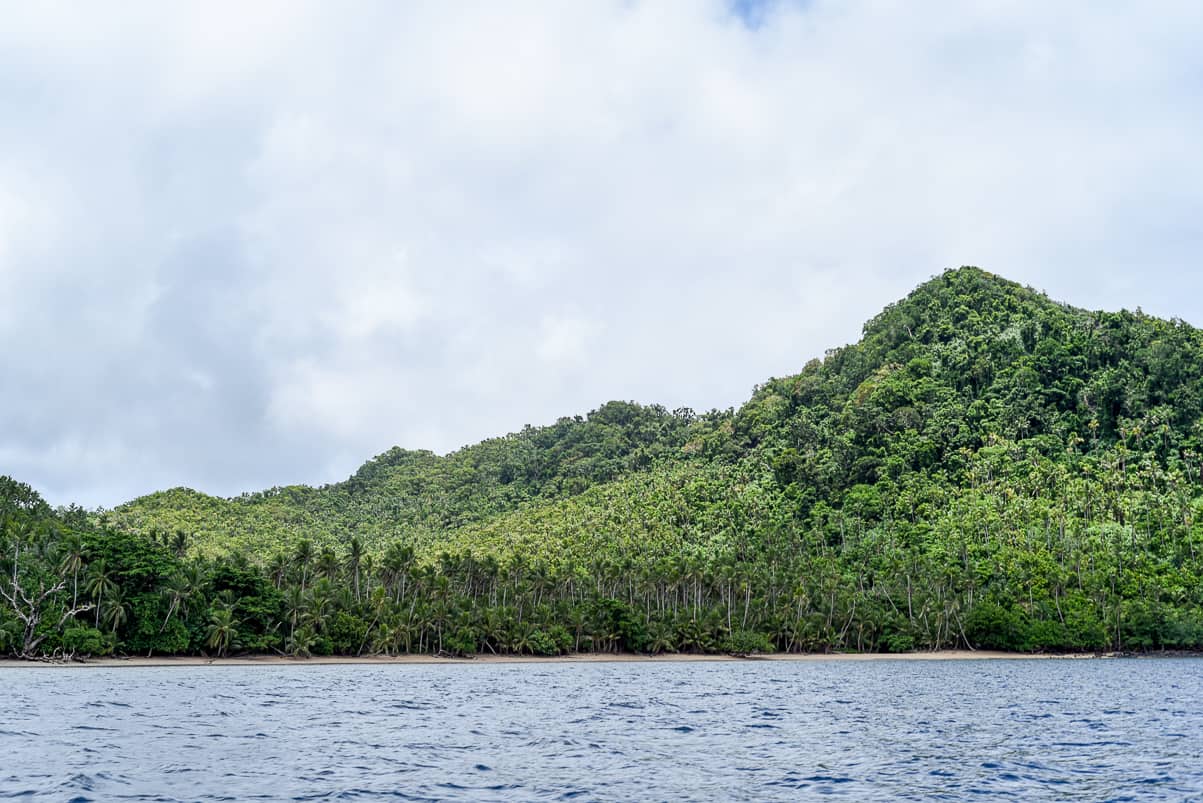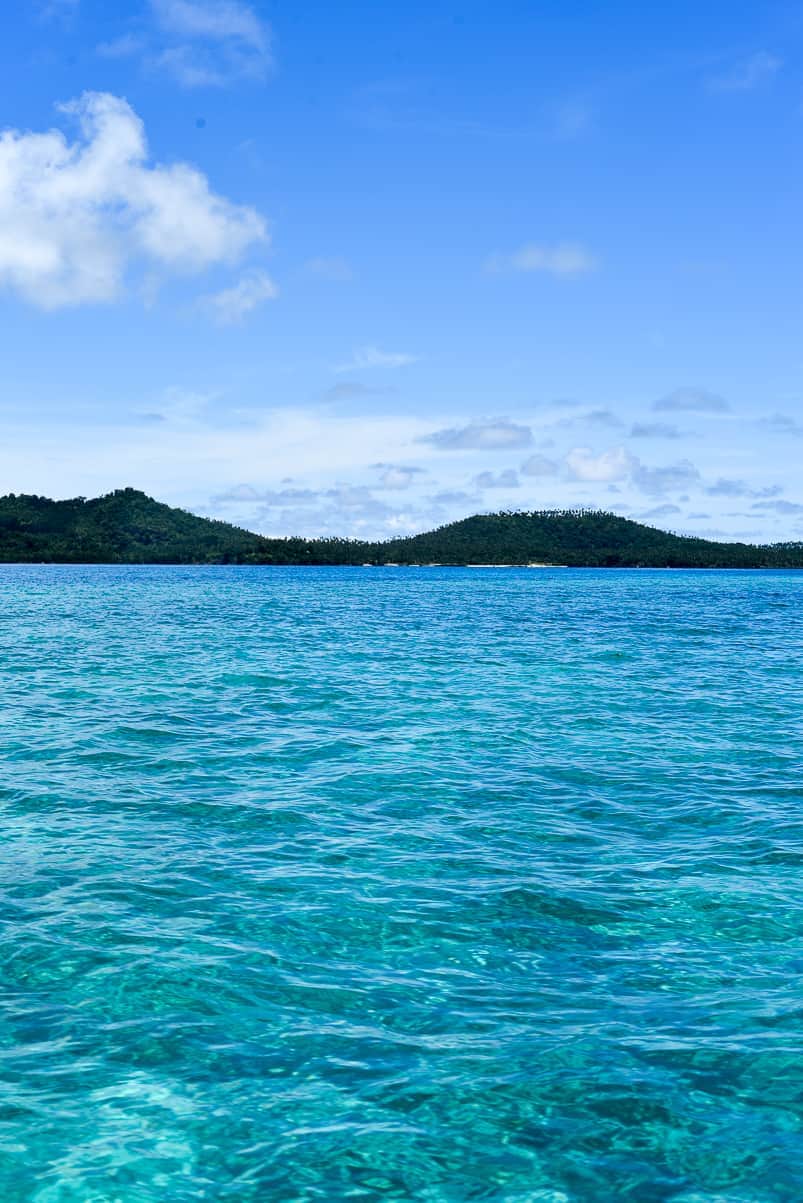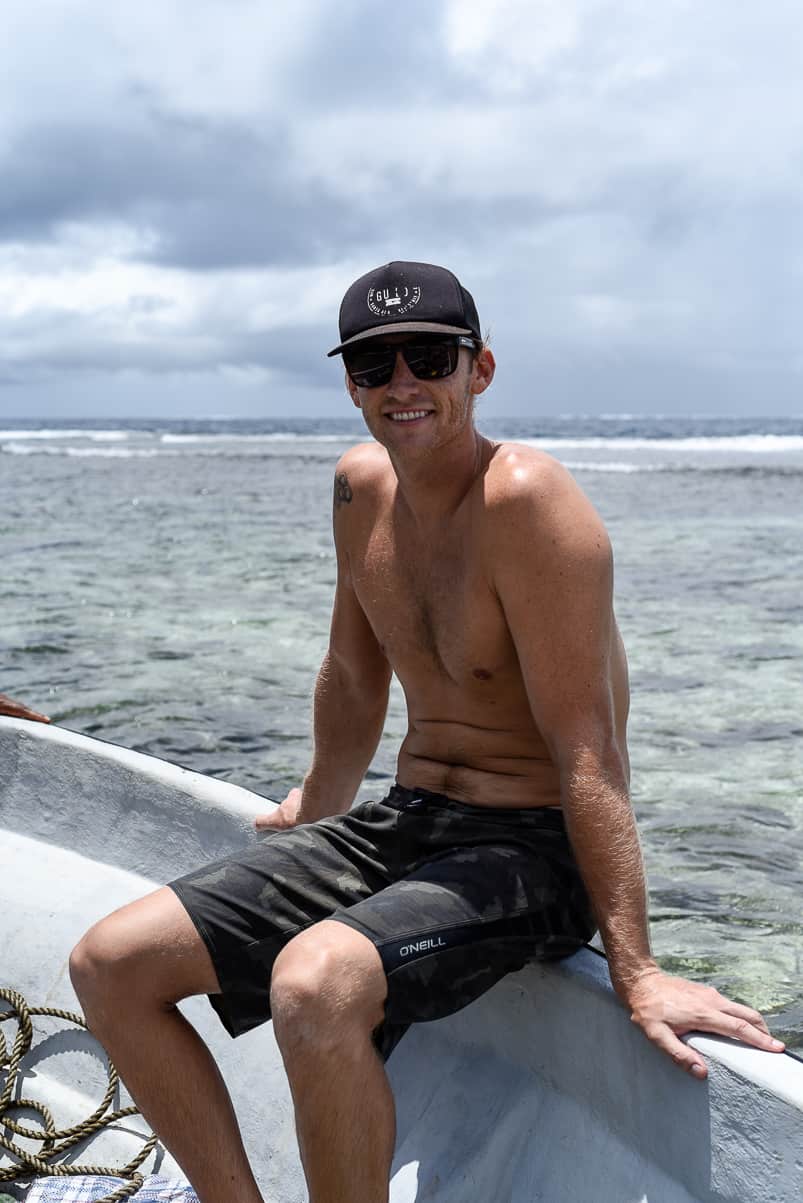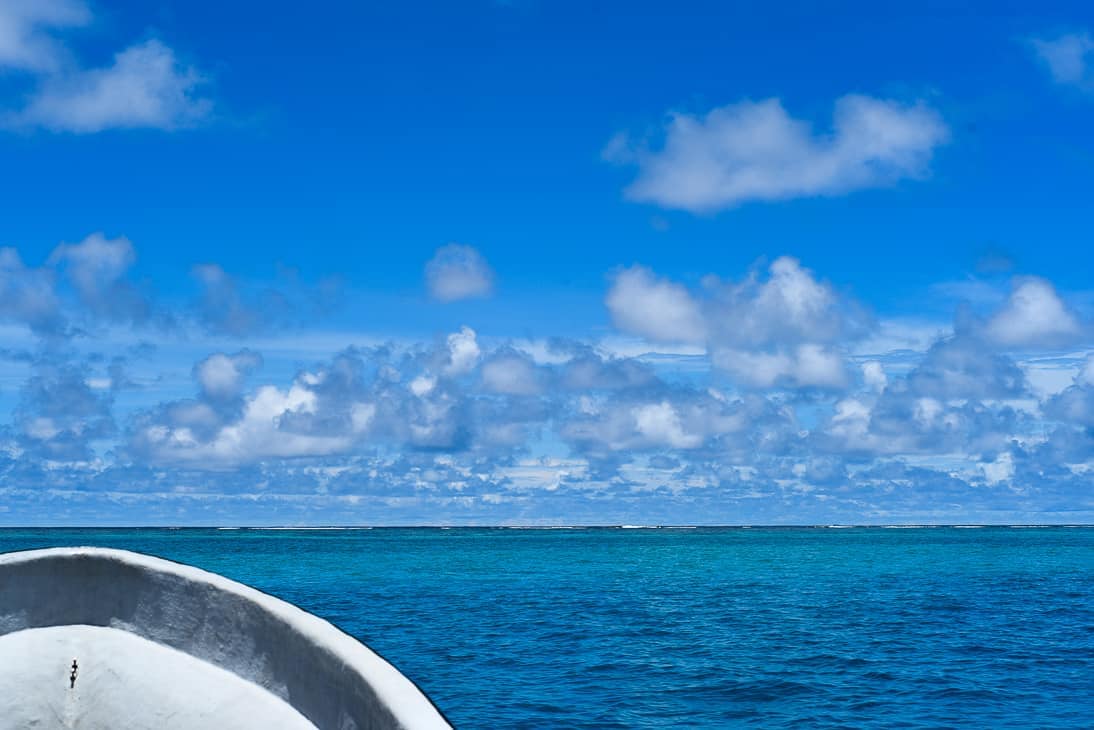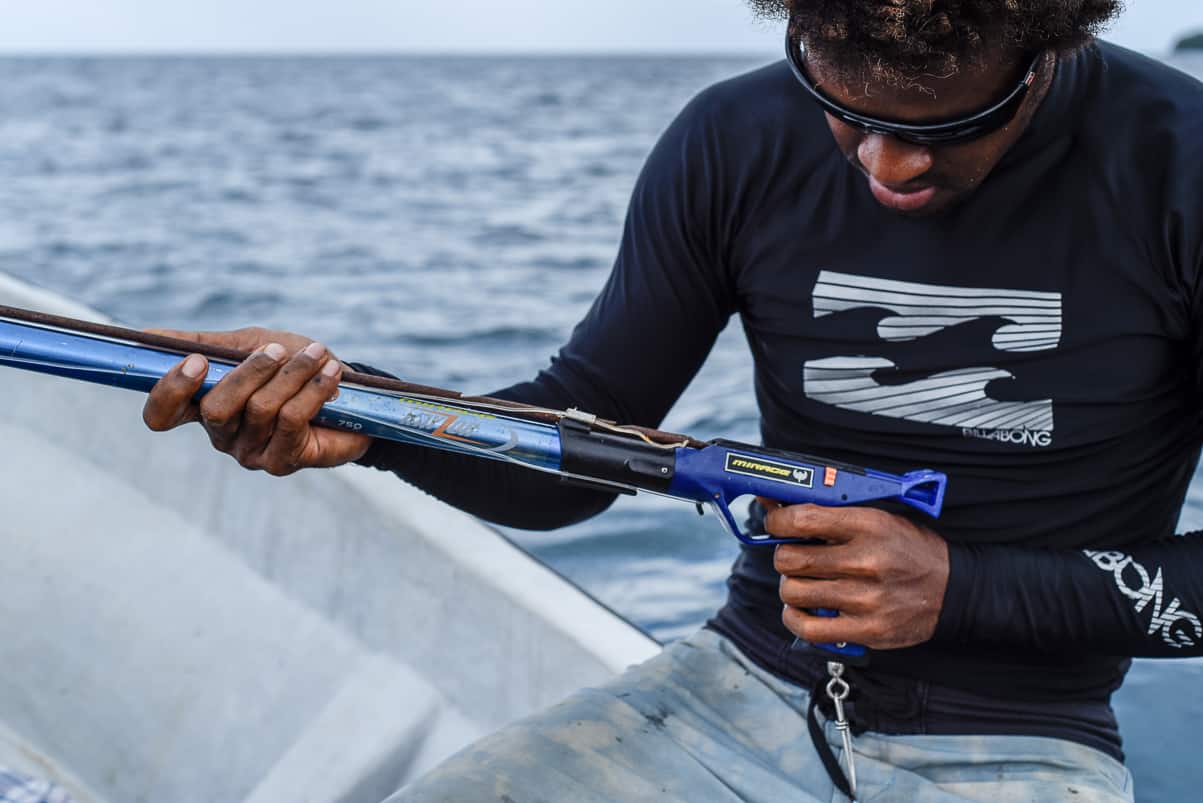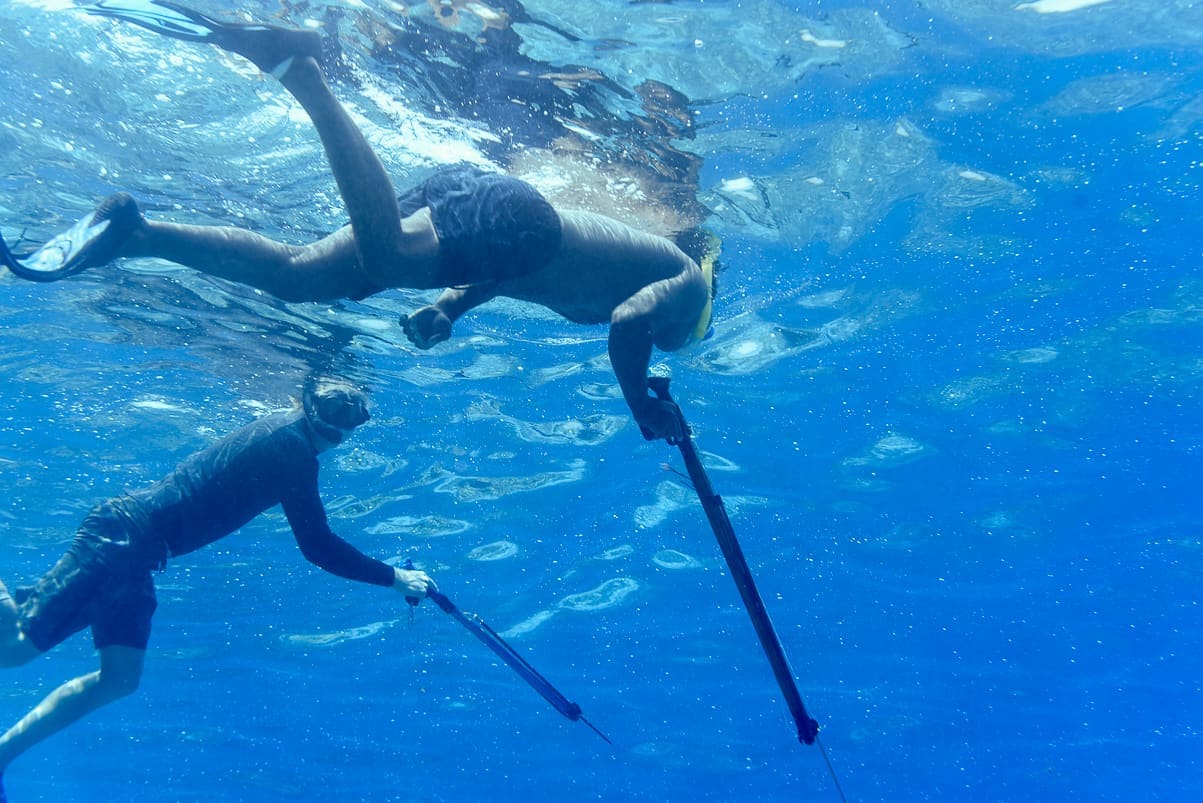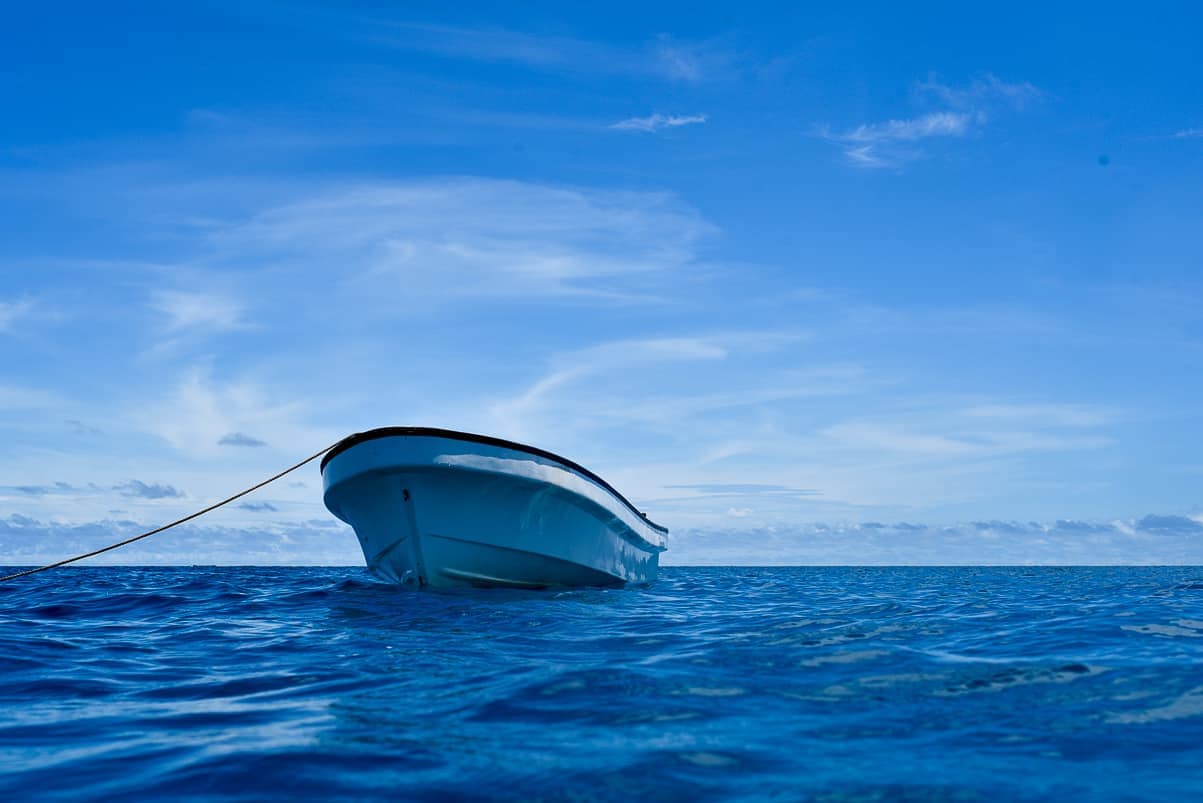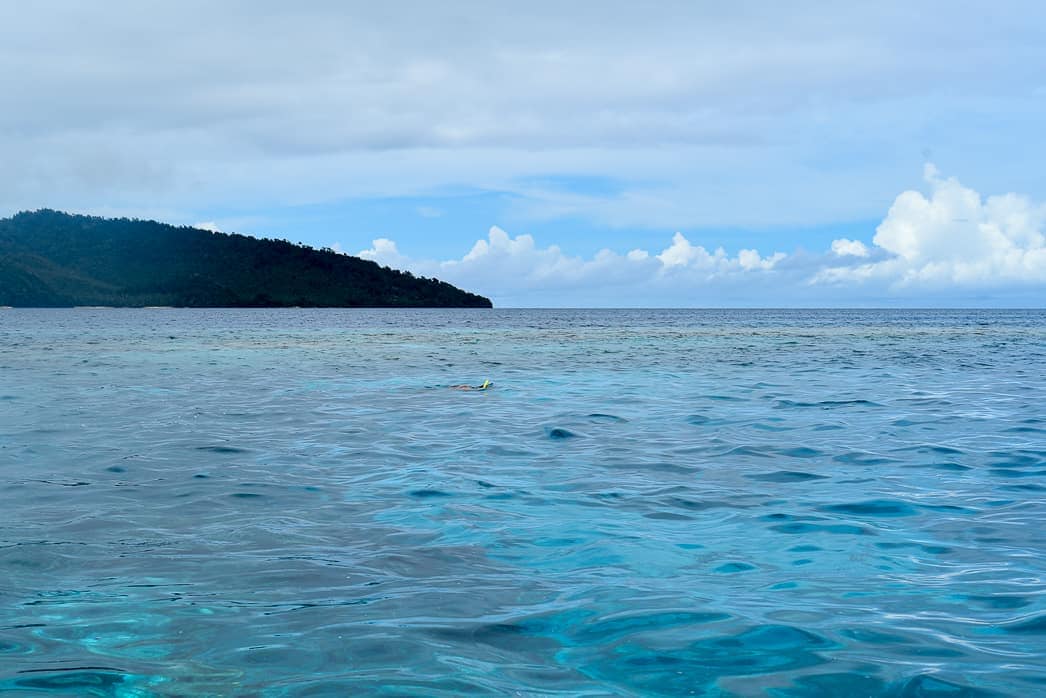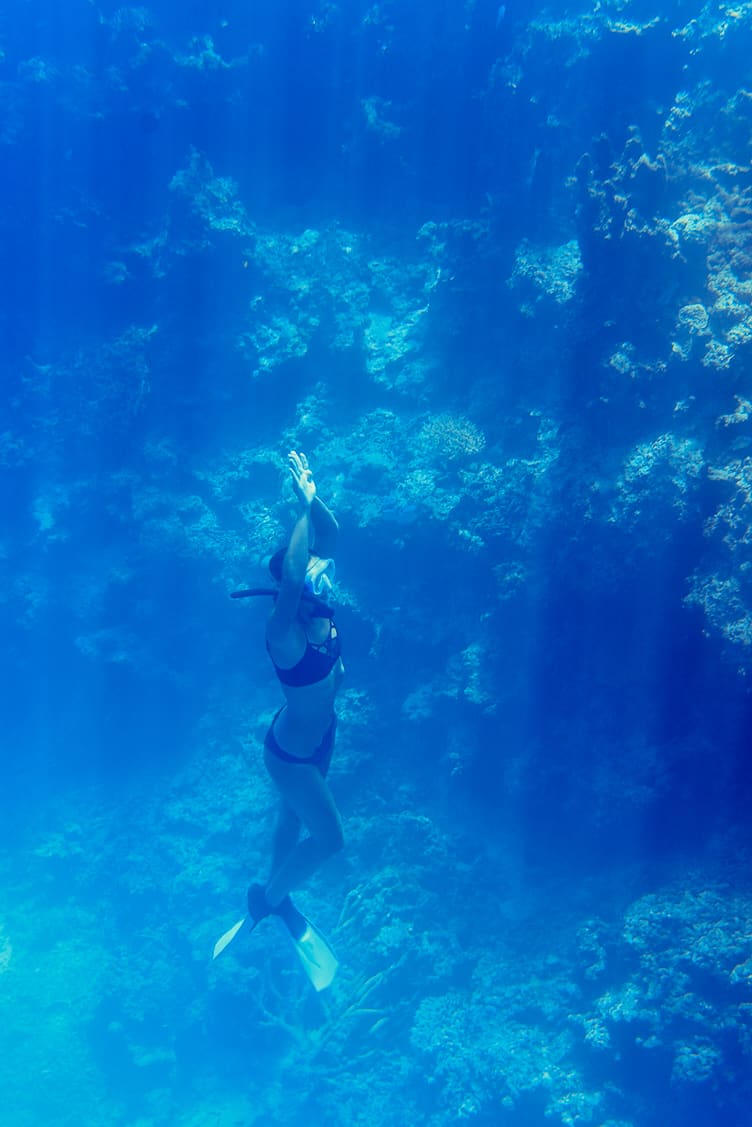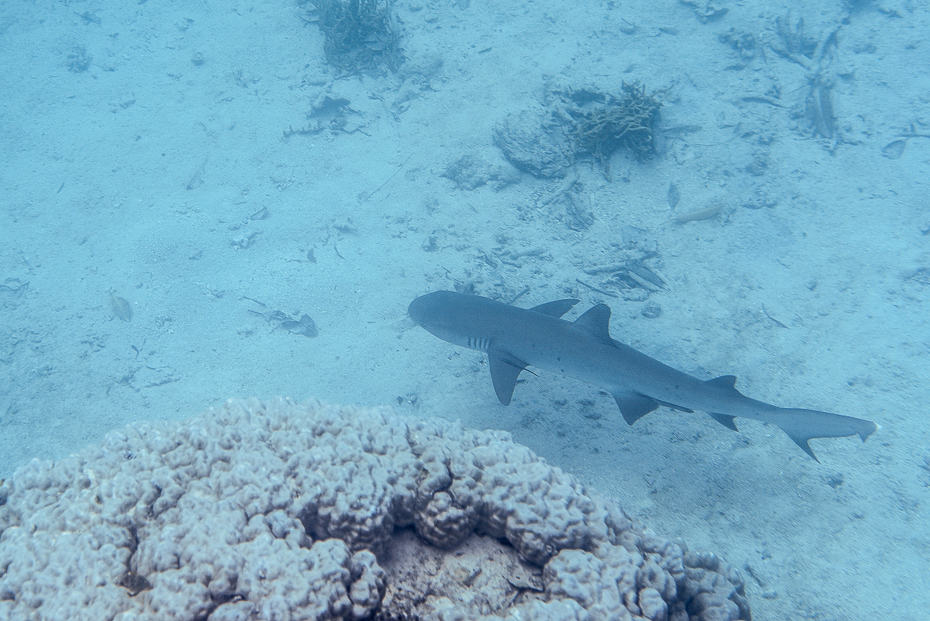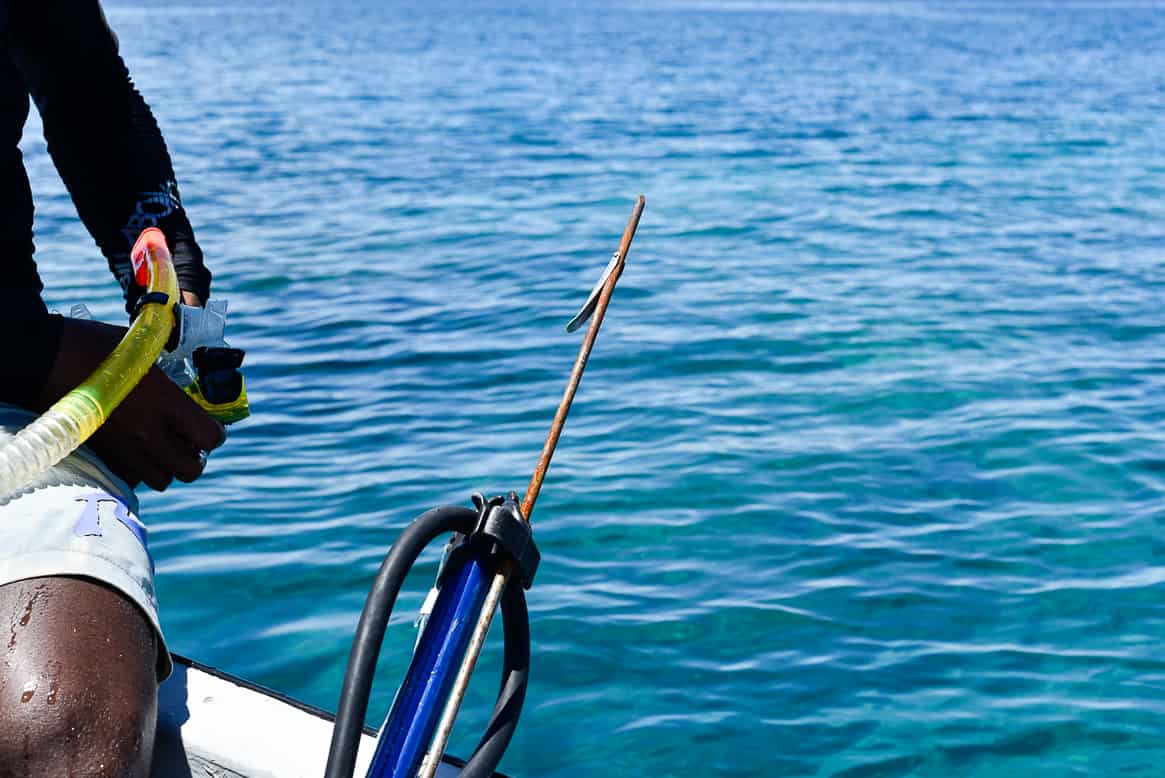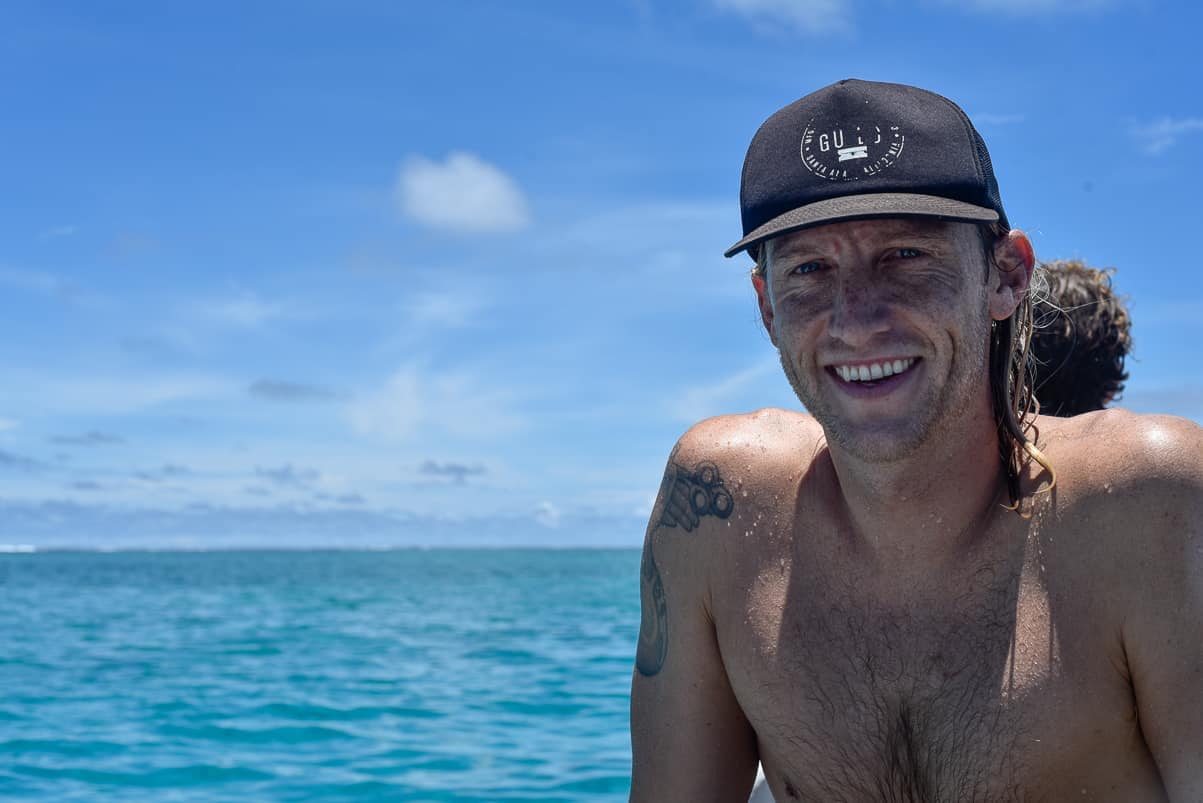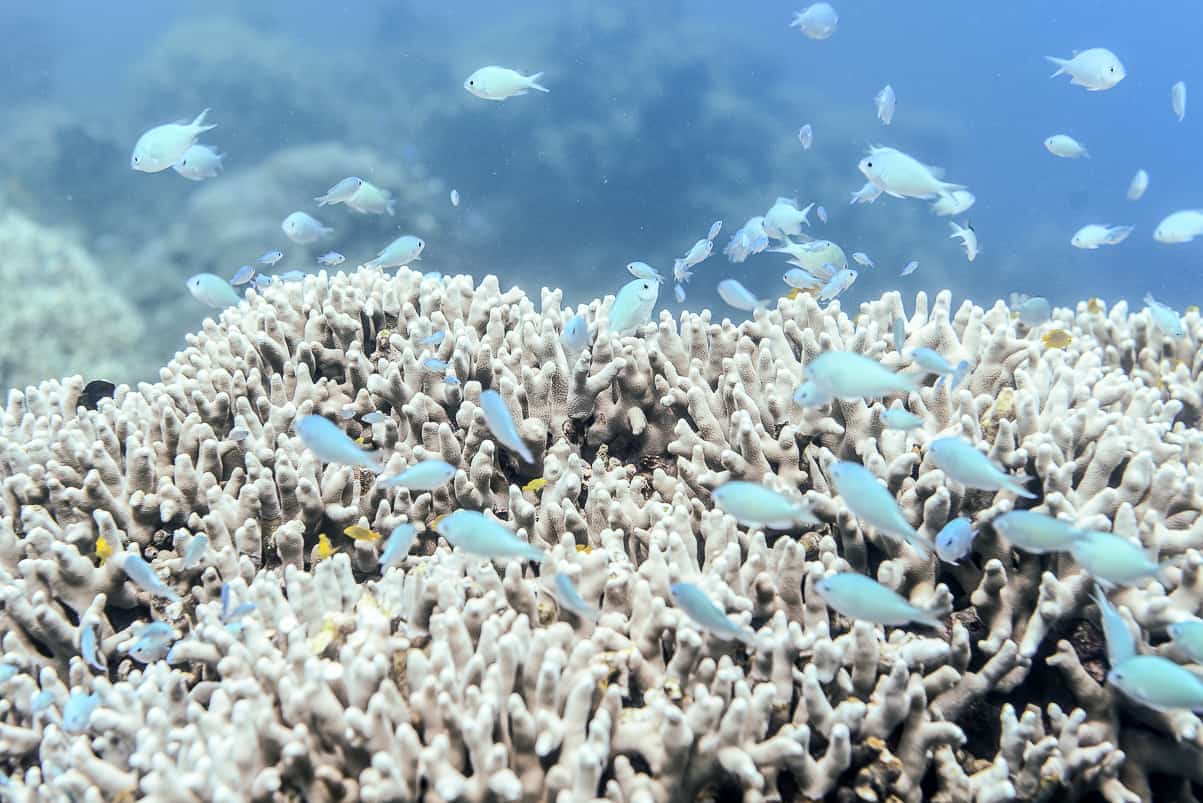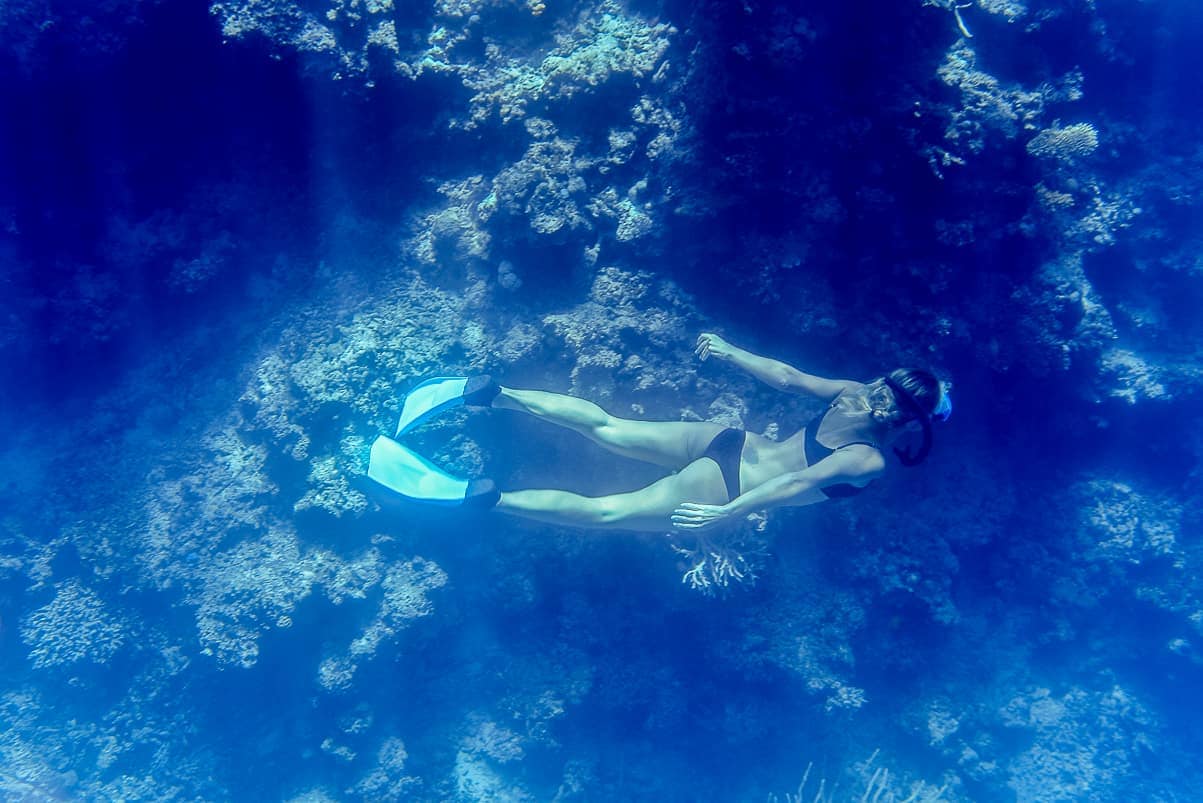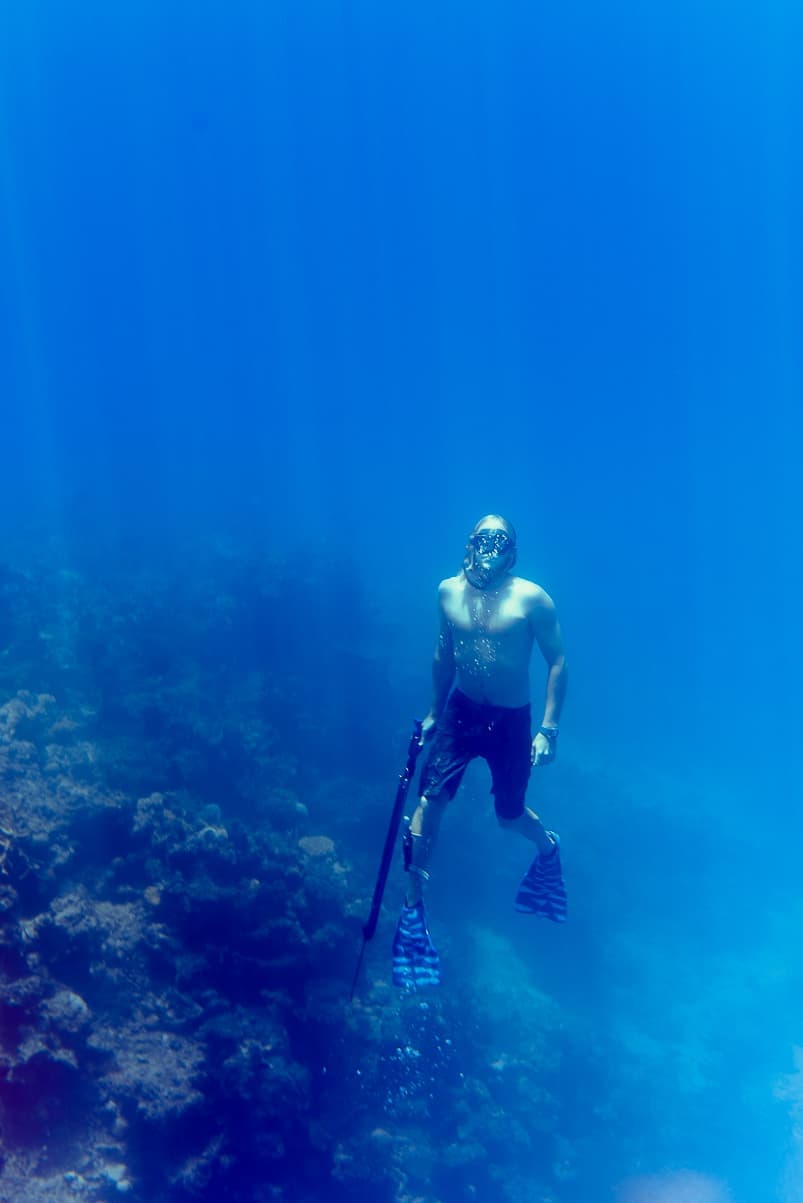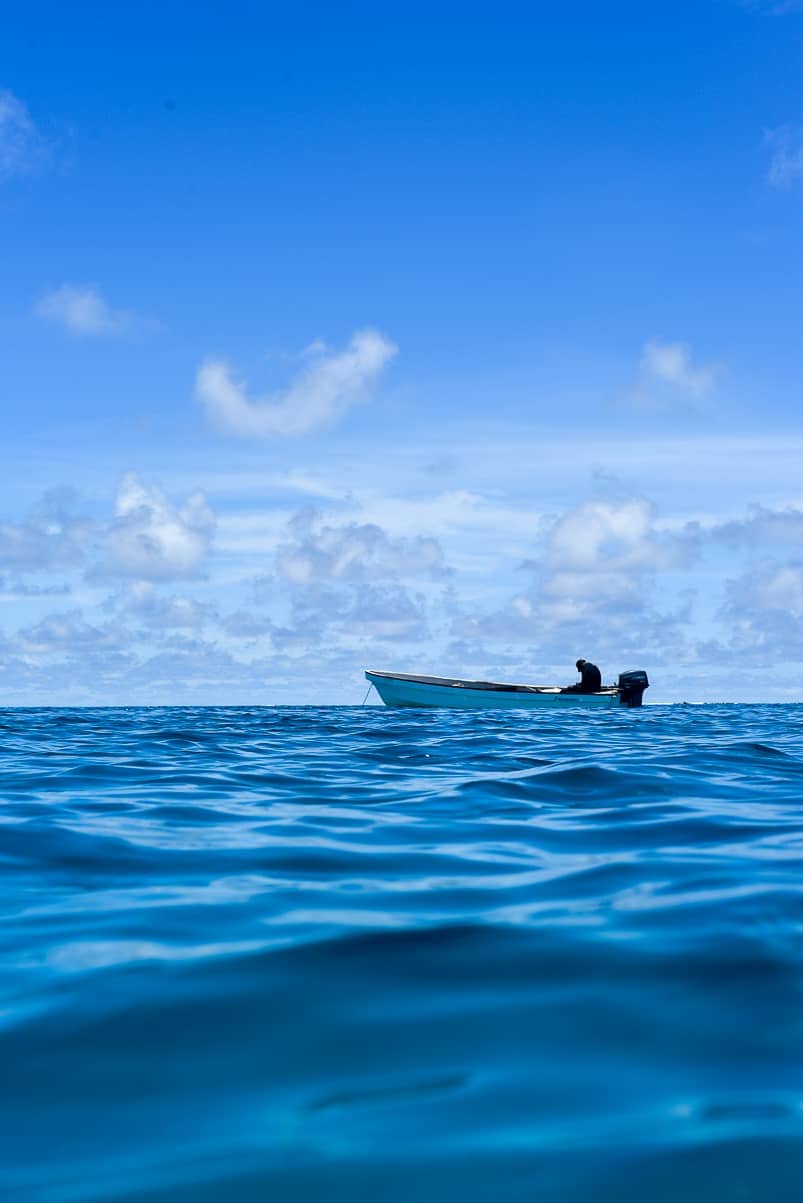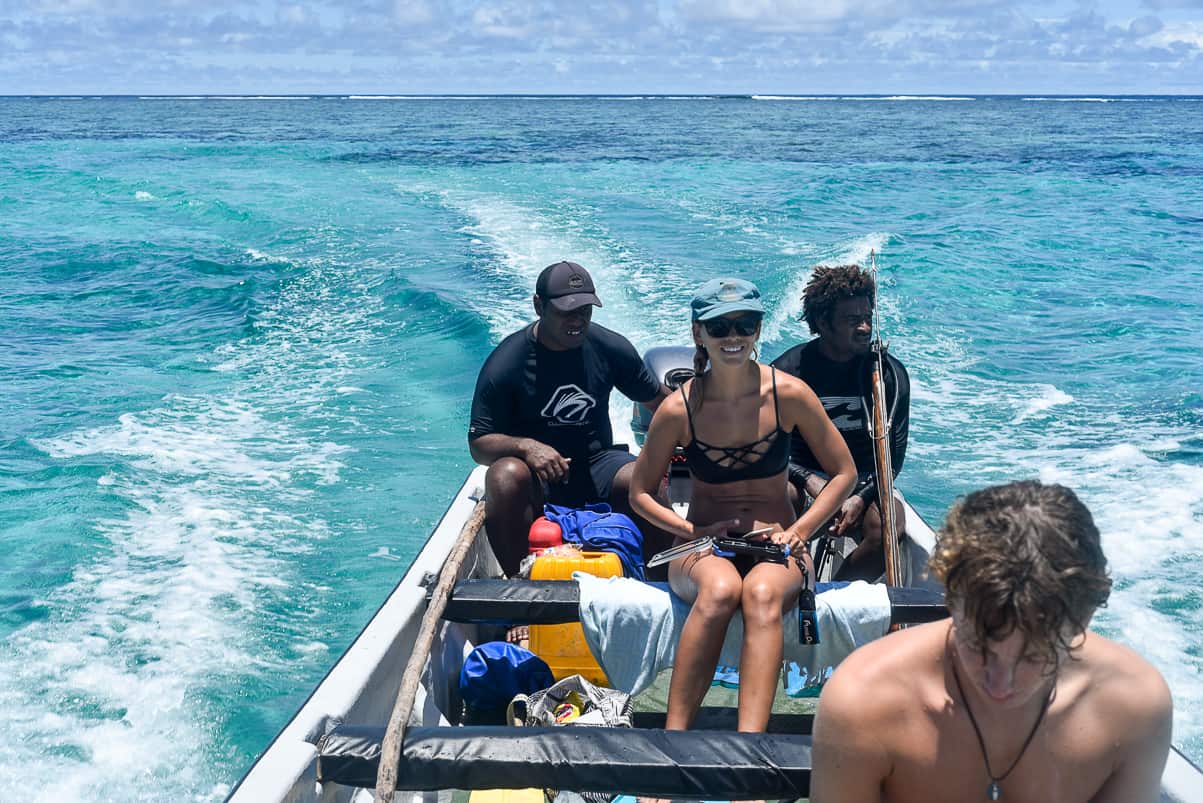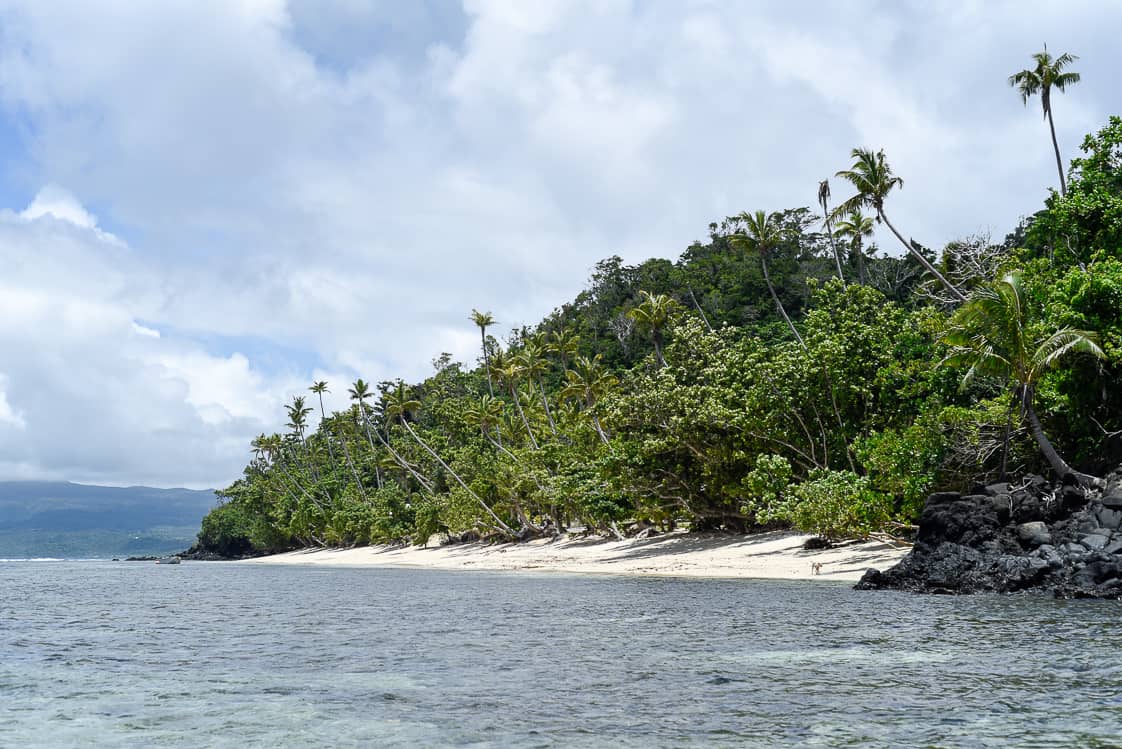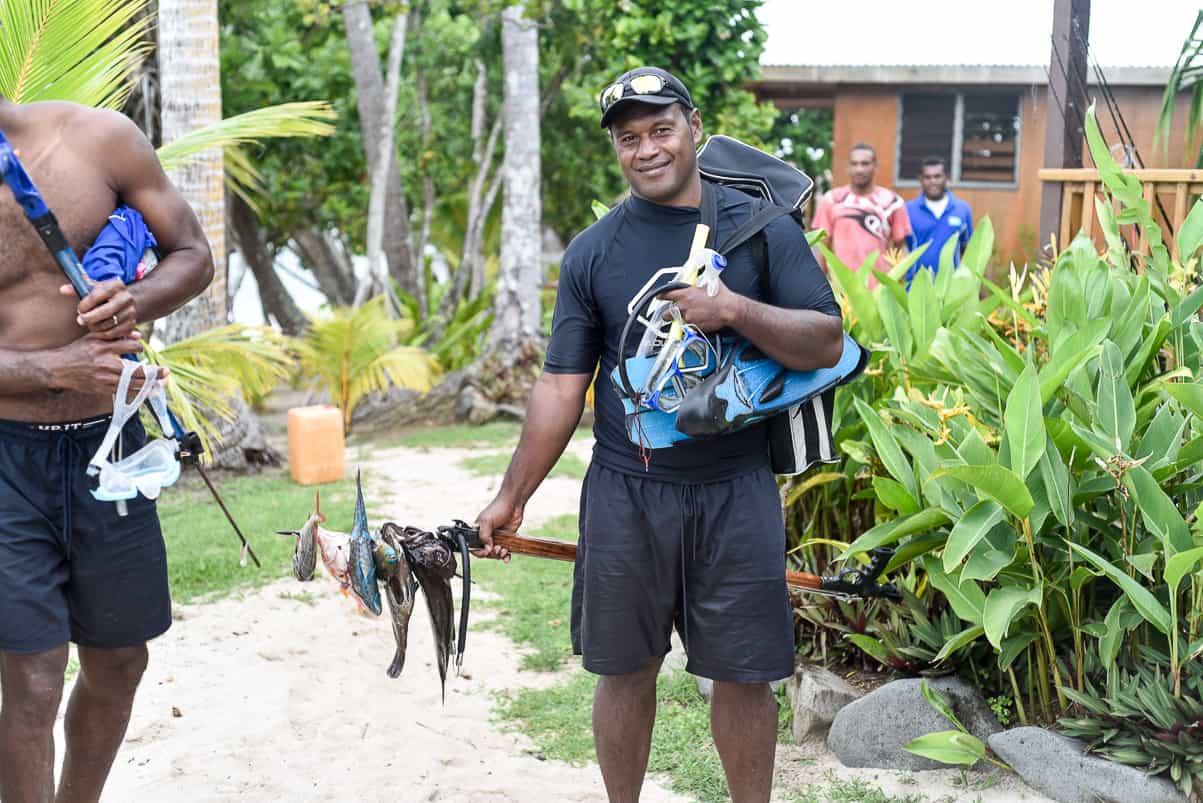 The next day we went for another round of spearfishing and this time brought some food, so we settled into a picnic on a remote little beach in the afternoon. Eric and Alex didn't spear any fish but both had stories of the "fish that got away." I, on the other hand, shot lots of fish… with my camera :).
Fish or no fish, we all had such a fun time and we really enjoyed the heck out of our stay on this little island. (And a few days later Eric speared two hefty fish at another spot so it was all really good training leading up to his first speared fish)!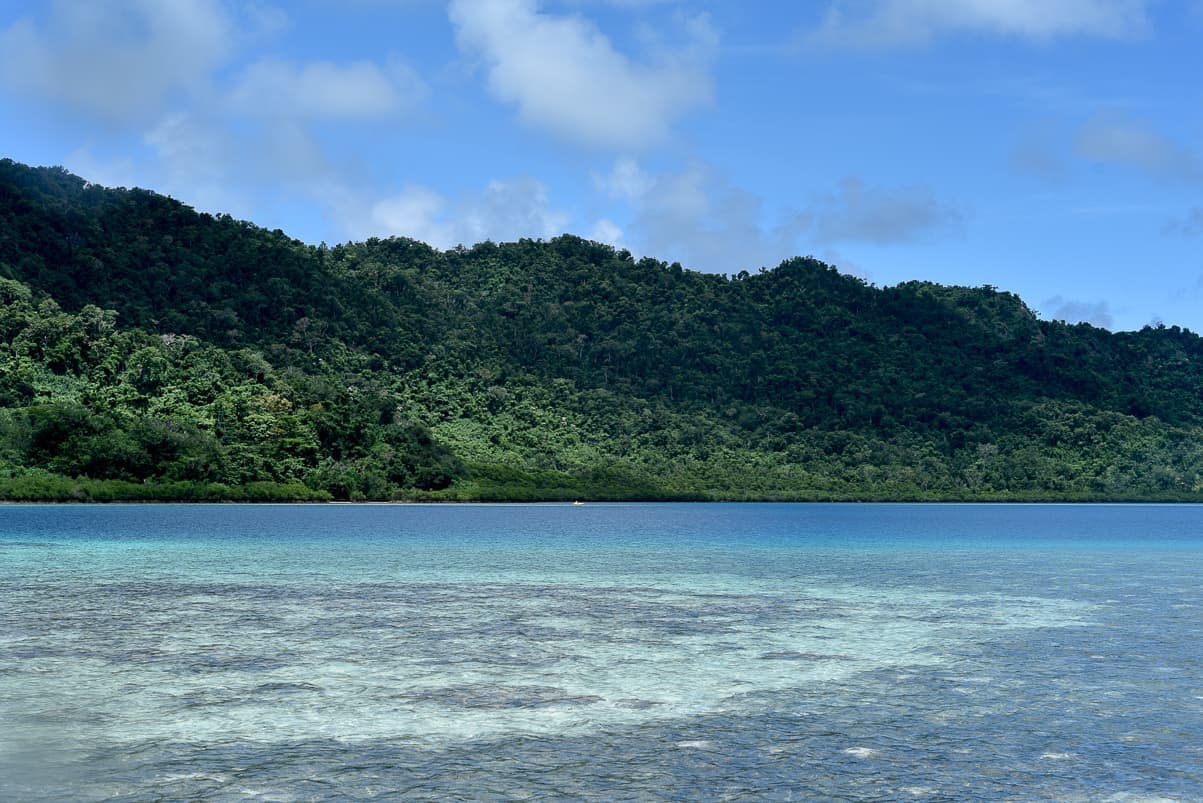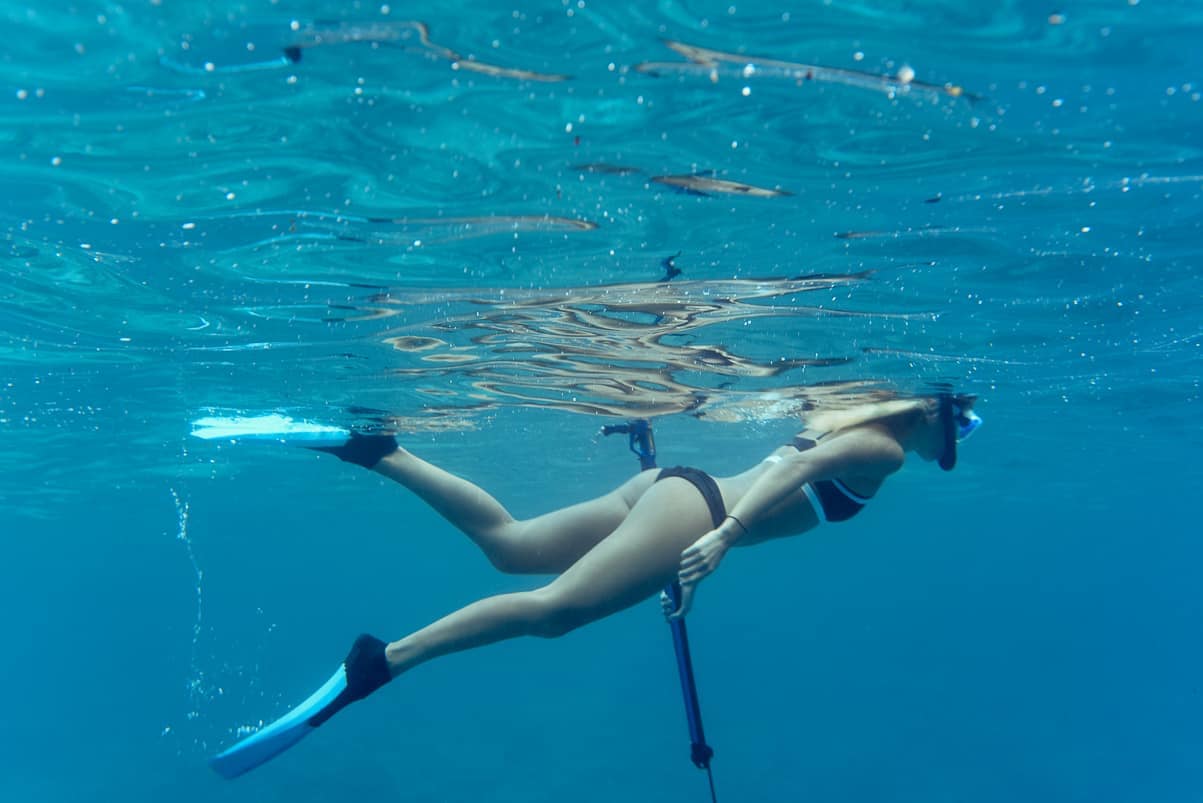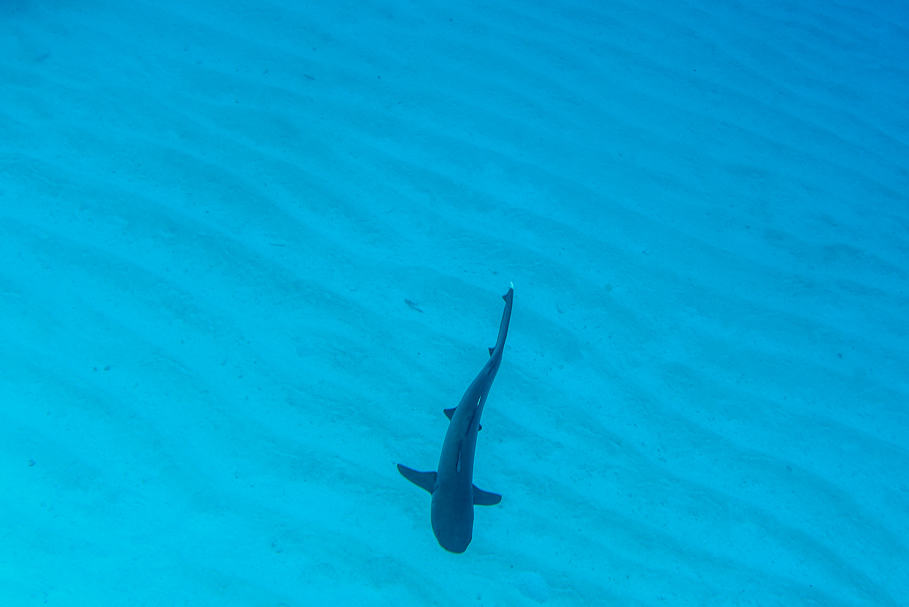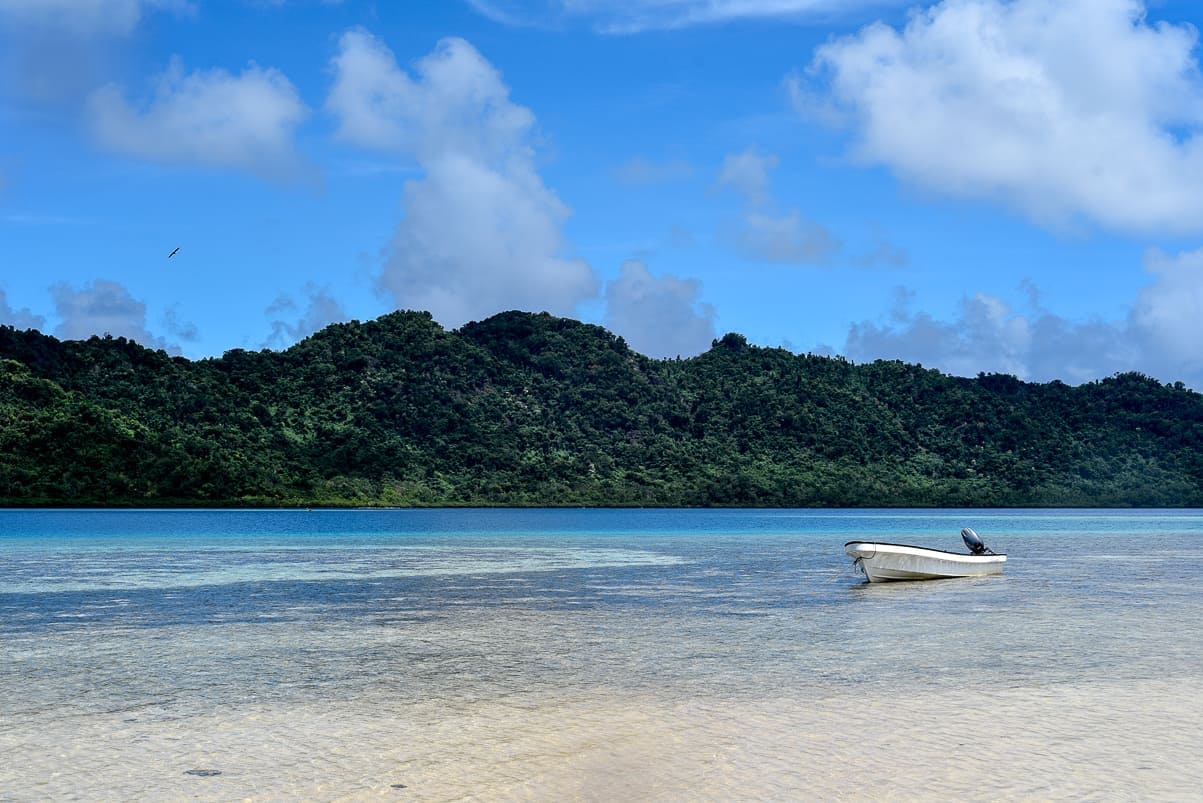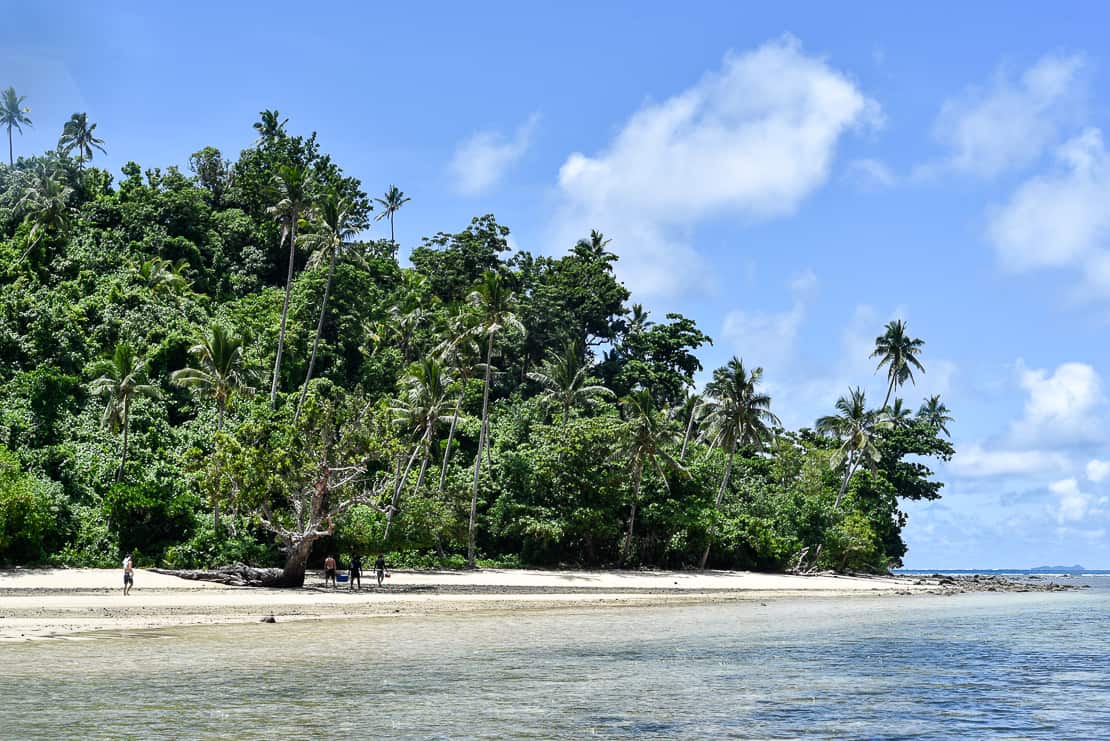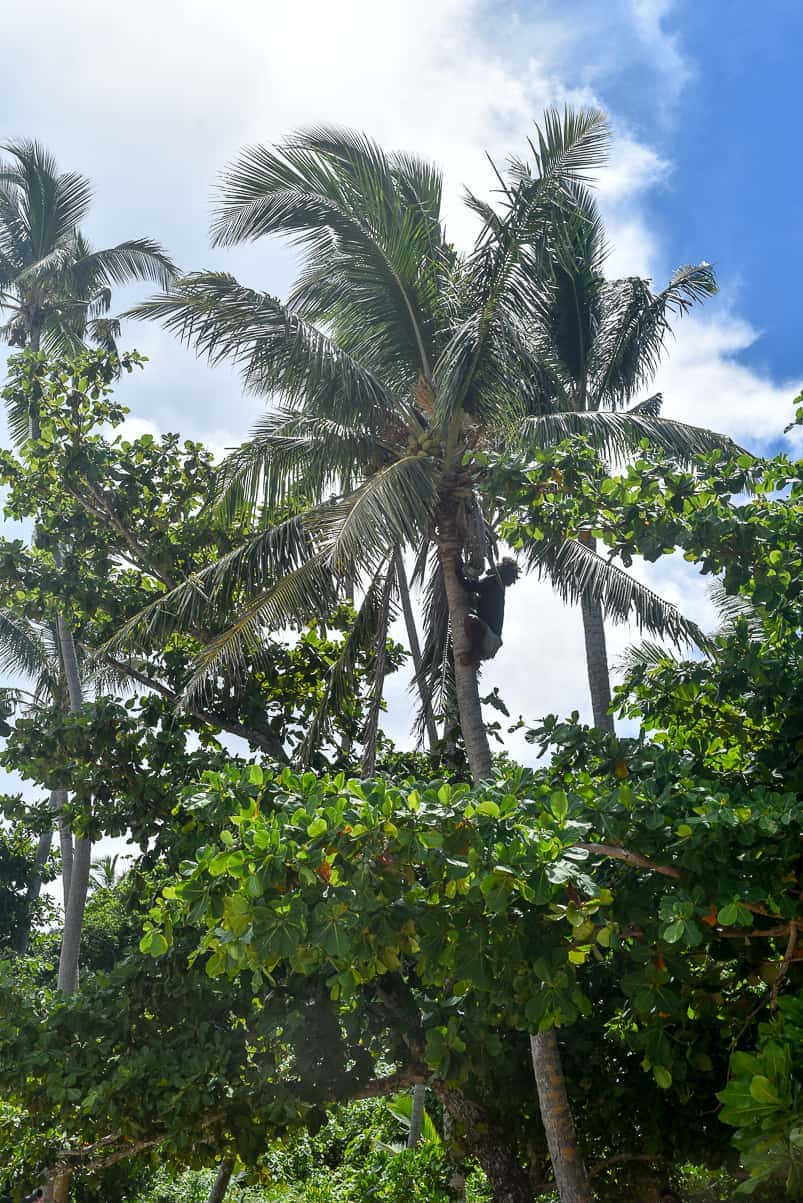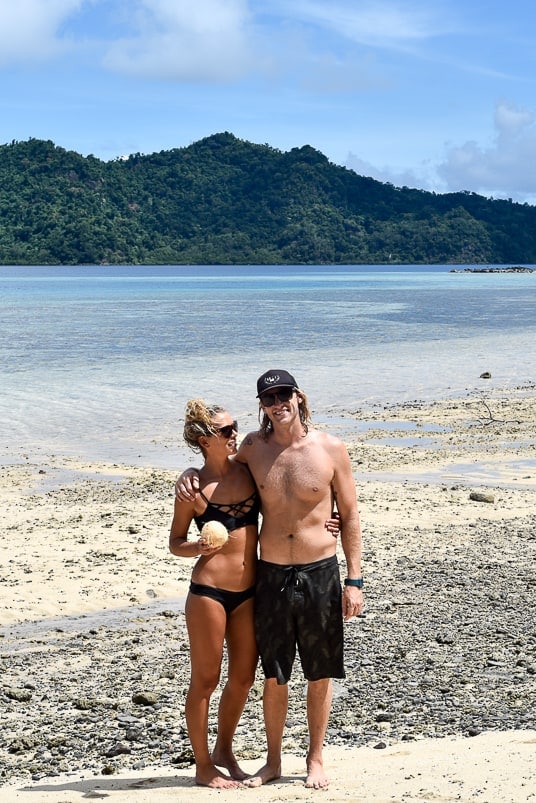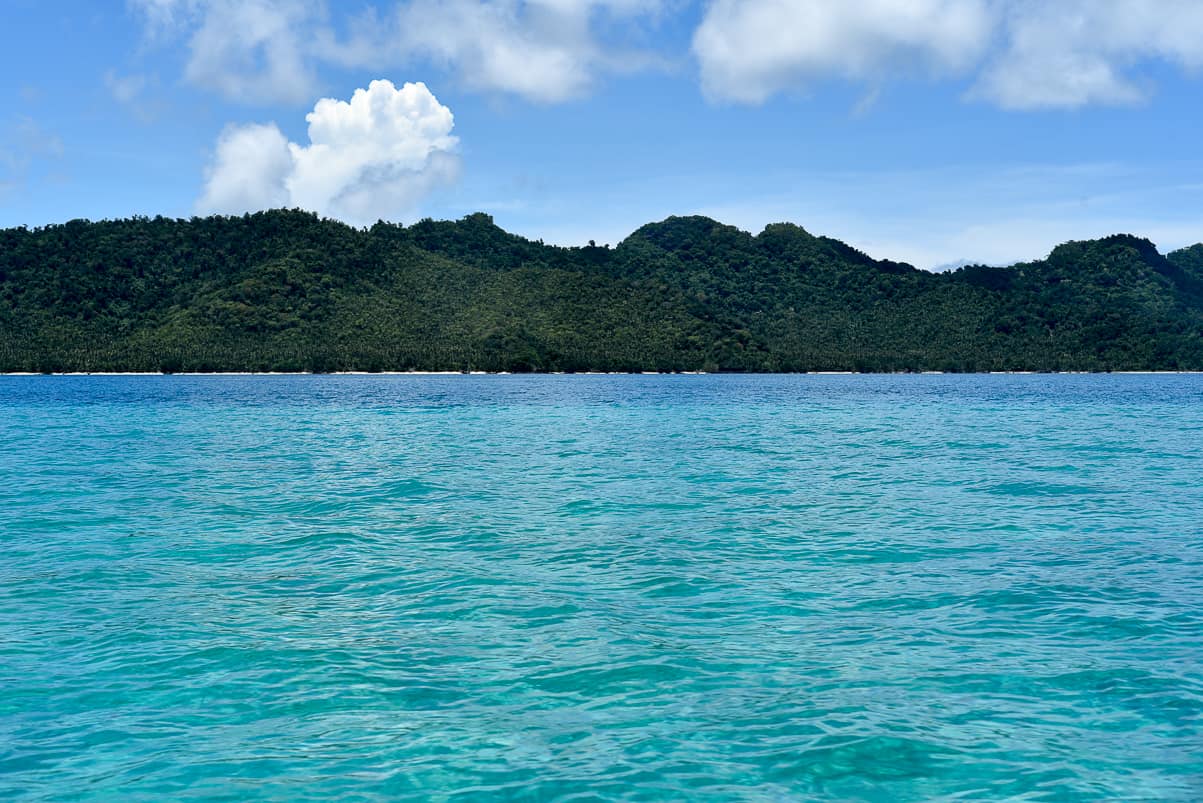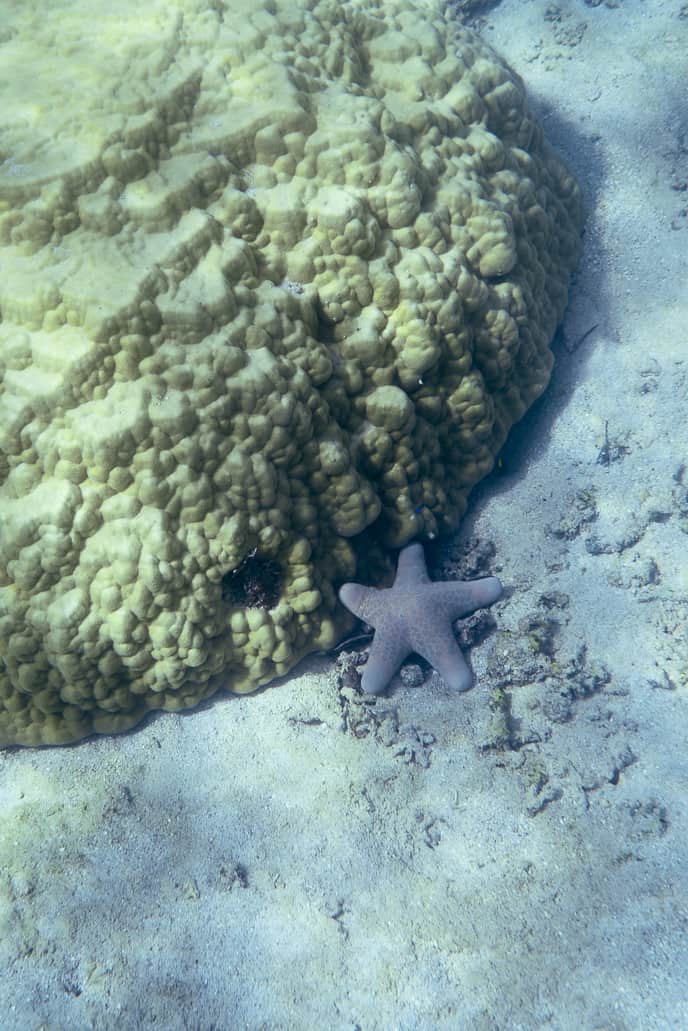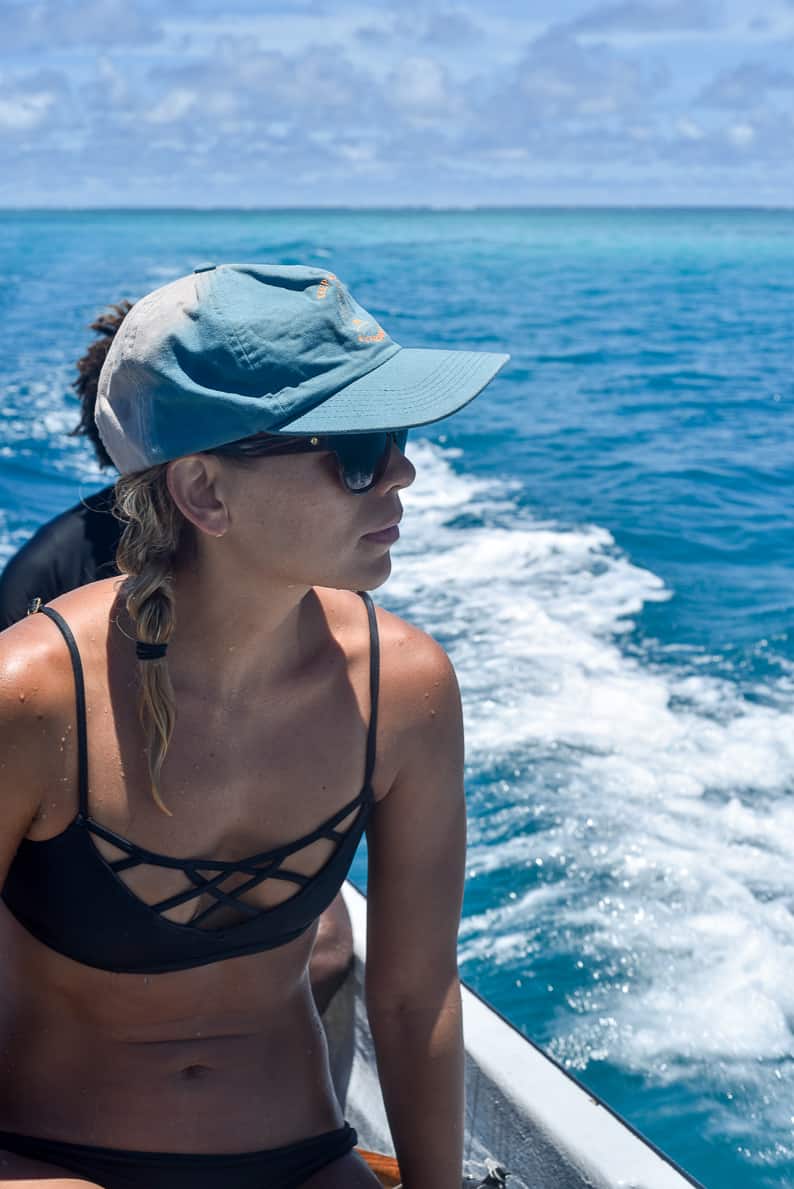 All and all, we had an incredible stay at Maqai. Wonderful people and a wonderful place—what more could you ask for? Okay, yeah, perfect waves every single day… but besides that… 🙂
After our week in the charming beach shacks of Maqai Resort, we checked into luxury at Tides Reach Resort. Check out our stay in Taveuni at Tides Reach here.
xo, Tara