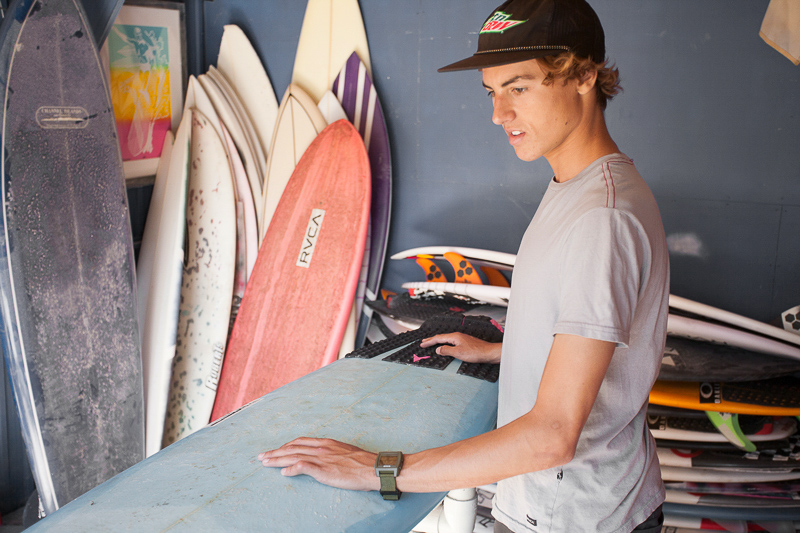 Surf brands have always been an integral part of the beach lifestyle. Indeed, many of these brands have helped shape not only the surf industry, but the entire sport itself. From creating board shorts, surf bikinis, wetsuits, surf clothing, and other surfing essentials, to sponsoring championship events and the world's best athletes, surf brands have helped shape our culture for more than half a century.
Many of the biggest brands have even gone on to transcend the surf industry as a whole, becoming household names across the US and expanding into a variety of extreme sports, the arts, music festivals, and other pop culture genres.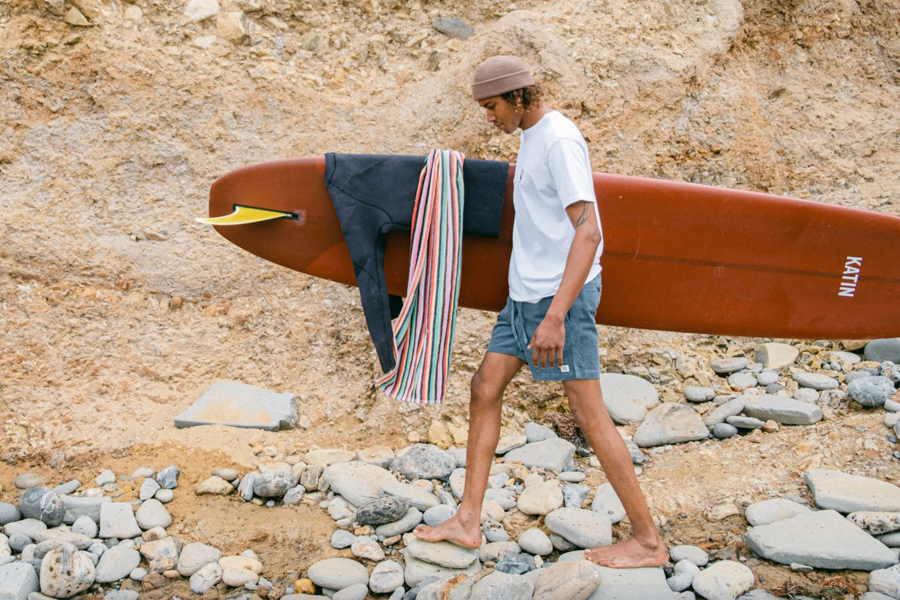 But regardless of their individual successes, the truly core surf brands—those that real wave riders turn to when they need real surf gear—all have similar values as their foundation: They were built by people who live and breathe surfing, and who have funded this lifelong pursuit by creating the very things that help the rest of us spend time in the water.
Here are 21 of the best surf brands, from OG industry stalwarts to some of the newest, most exciting brands to hit the market in the past few years.


BEST SURF BRANDS
The New School Surf Brands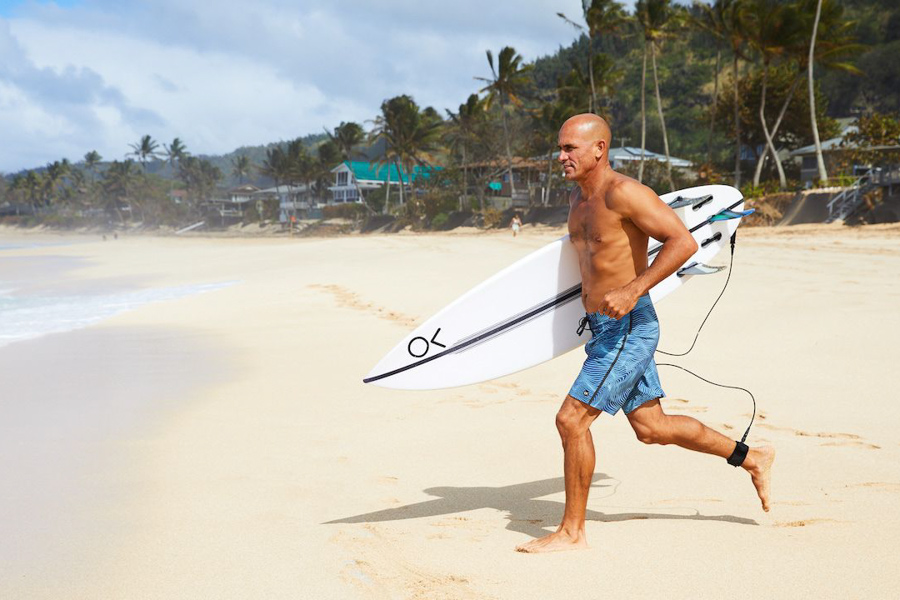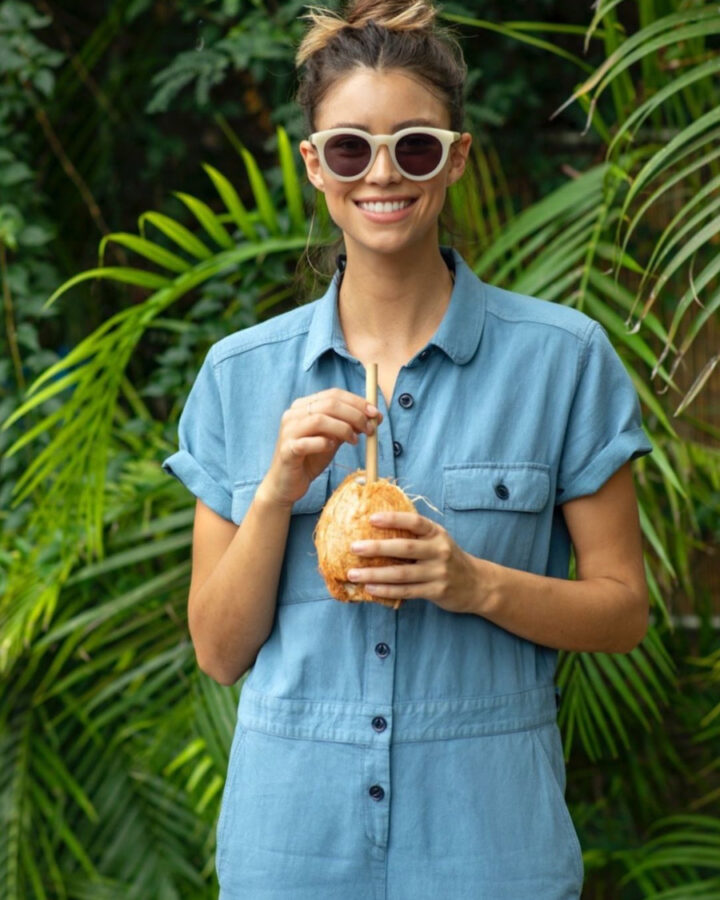 ROOTS: Founded by Kelly Slater and John Moore in Los Angeles, California, in 2015.
As the greatest surfer of all time and the long-time face of iconic surf brand Quiksilver, virtually everything Kelly Slater does receives maximum publicity. So when Slater announced that he was leaving Quik and starting his own brand, the entire surf world started talking. The next year, Slater launched Outerknown, a collaboration with acclaimed designer John Moore that emphasizes sustainability and environmental responsibility.
A higher-end fashion line that utilizes fabrics and thread created from recycled fishing nets and other environmentally sound sources, Outerknown differentiates itself from traditional surf brands through its philosophy, quality, and price point. That being said, any company started by Kelly Slater is a surf company at heart, and Outerknown has gone on to solidify its street cred by sponsoring a handful of world tour events. It also expanded in 2019 to include a women's line.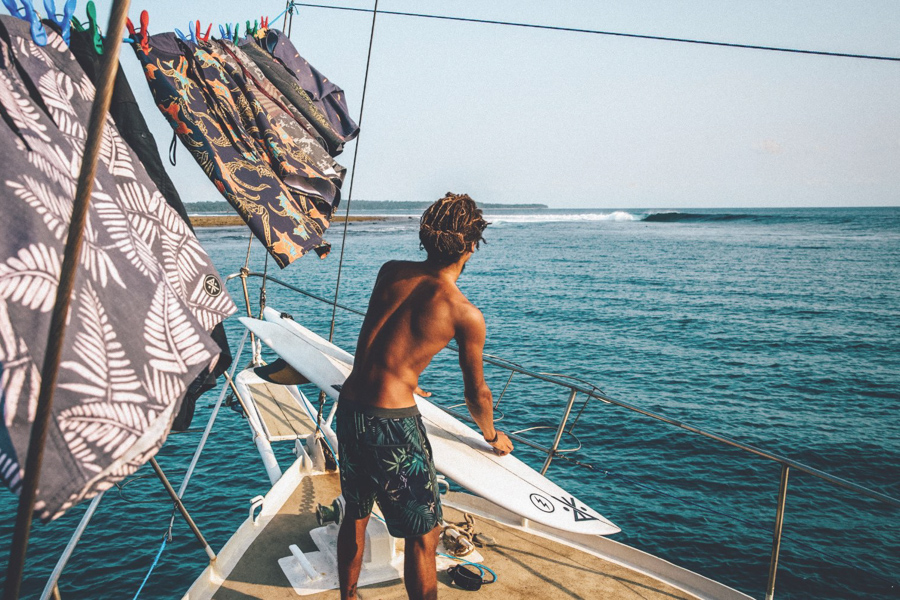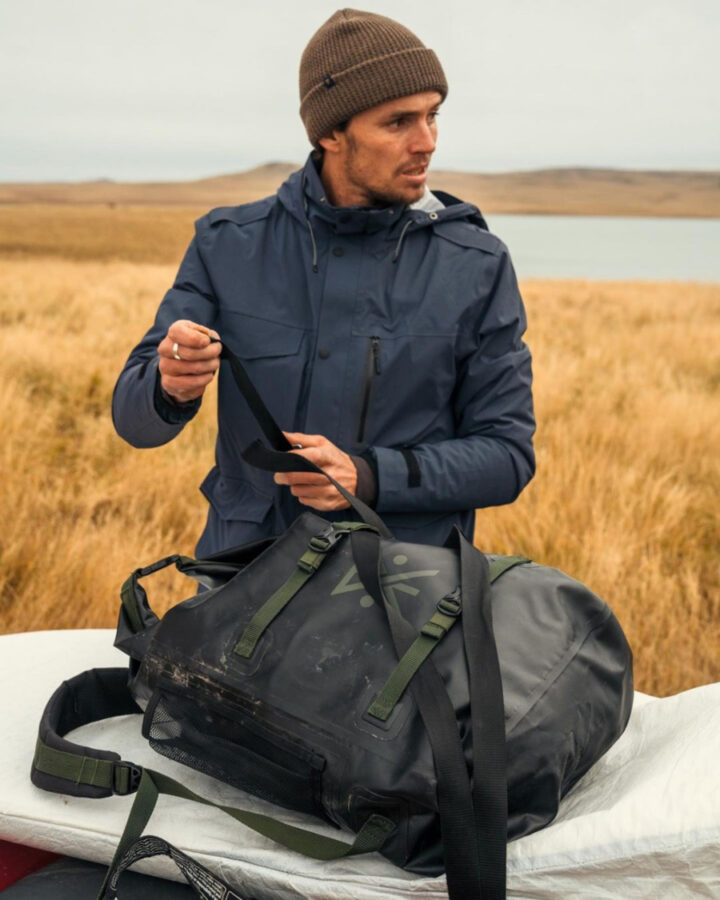 ROOTS: Roark was founded by Ryan Sirianni and Ryan Hitzel in Orange County, California, in 2009.
Like many of the industry's newest brands, Roark Revival was created by a duo of creatives with proven experience in the surf clothing market. Founders Hitzel and Sirianni are both big believers in storytelling, and created Roark to reflect that passion, gearing the brand not only toward outdoor adventure, but also the stories that develop through the pursuit. 
Roark started small, but soon had window space in a wide range of surf industry retailers, such as Patagonia, Wavelengths, and Wetsand. It quickly began to grow, establishing its own credibility and bringing on a team of avid adventurers from a range of disciplines, with surfing always at the core.
The brand has strived from the beginning to represent surfing and surf travel as it truly is, rather than presenting the whitewashed version that the founders felt many of the larger brands had defaulted to. Today, Roark is at the center of the surf/adventure theme subculture, driving innovation and presenting an alternative aesthetic for those who love to surf, but also a whole lot more.
Roark Revival makes a collection of durable ruggedly-handsome goods — everything from boardshorts and button-ups to hardy backpacks and pocket knives.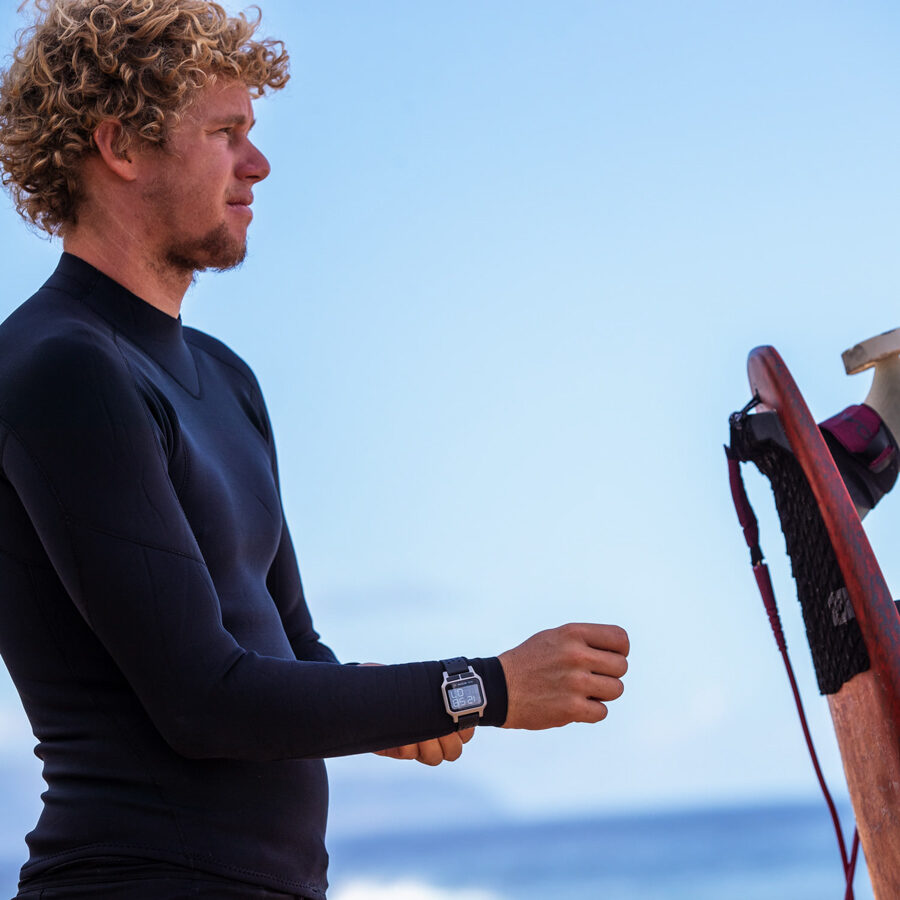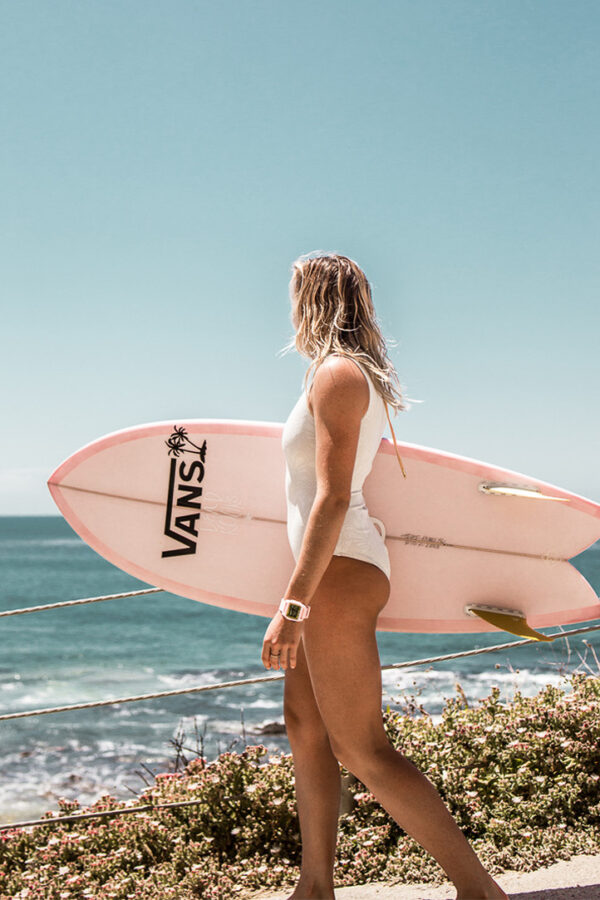 ROOTS: Founded by Andy Laats and Chad DiNenna in Encinitas, California, in 1997.
In an industry dominated by apparel, Nixon stands out as a dedicated manufacturer of fine watches and accessories. Created by two entrepreneurs with extensive experience in the action sports sphere, Nixon soon attracted the attention of Billabong, which acquired the brand in 2006, effectively turning Nixon into the first "surf watch" company. Nixon went on to sponsor numerous surfers, snowboarders, and tour events, gaining credibility amongst consumers and establishing itself as a solid brand in the surf and action sports space.
In 2012, Nixon parted ways with Billabong to once again become an independent brand. In addition to their focus on premium watches for guys and gals, Nixon also produces a full range of bags, leather goods, and accessories.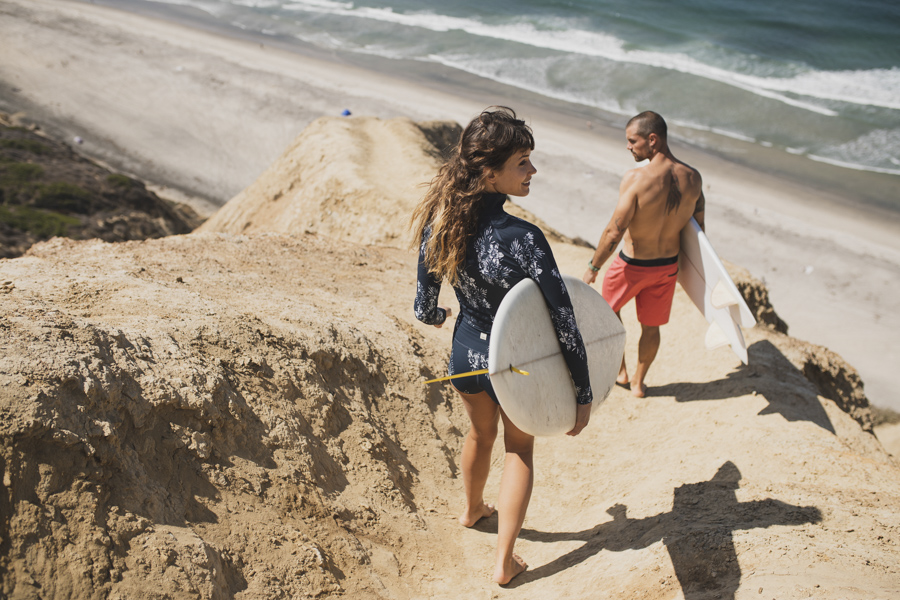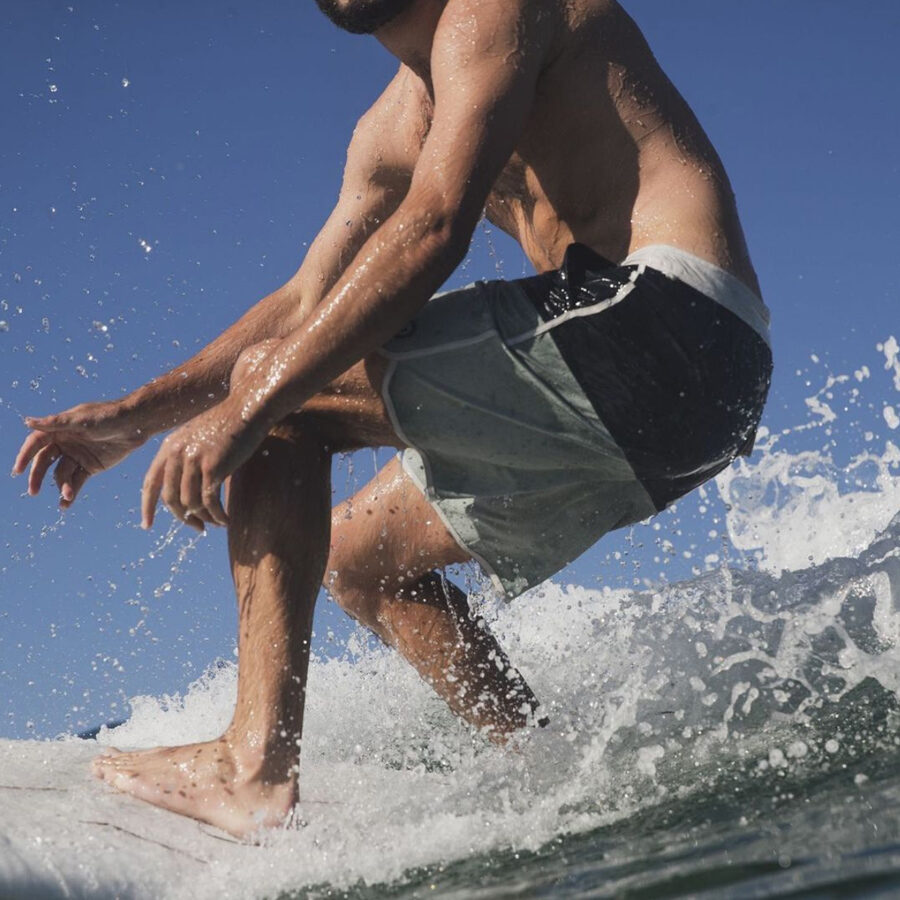 ROOTS: Founded by Joe Kudla in Encinitas, California, in 2013.
Originally launched to fill the void of good yoga clothing for men, surfer/founder Joe Kudla and team quickly evolved Vuori to reflect its roots in the San Diego area, expanding into a high-quality fitness, sport, and surf brand for both men and women that's as comfortable on the beach as it is in the yoga studio.
Vuori has quickly gained popularity thanks to smart and versatile designs that work throughout the day – from yoga class, to the surf, to grabbing a brew with amigos. Think boardshorts with the characteristics of activewear like moisture wicking, anti-odor, quick-drying, locker loops, and 4-way stretch. Also, super buttery performance fabrics (their men's joggers and women's joggers are some of the comfiest pants, ever).
Drawing on a commitment to ethical manufacturing, sustainability, and 100% carbon footprint offsetting, Vuori is a feel-good fit for active people who love movement as much as they love the outdoors.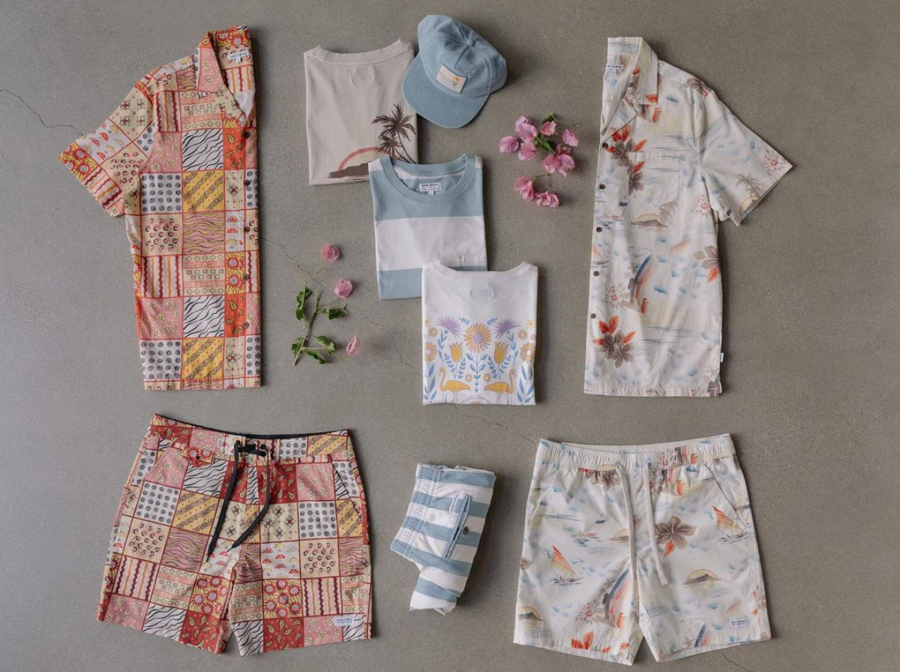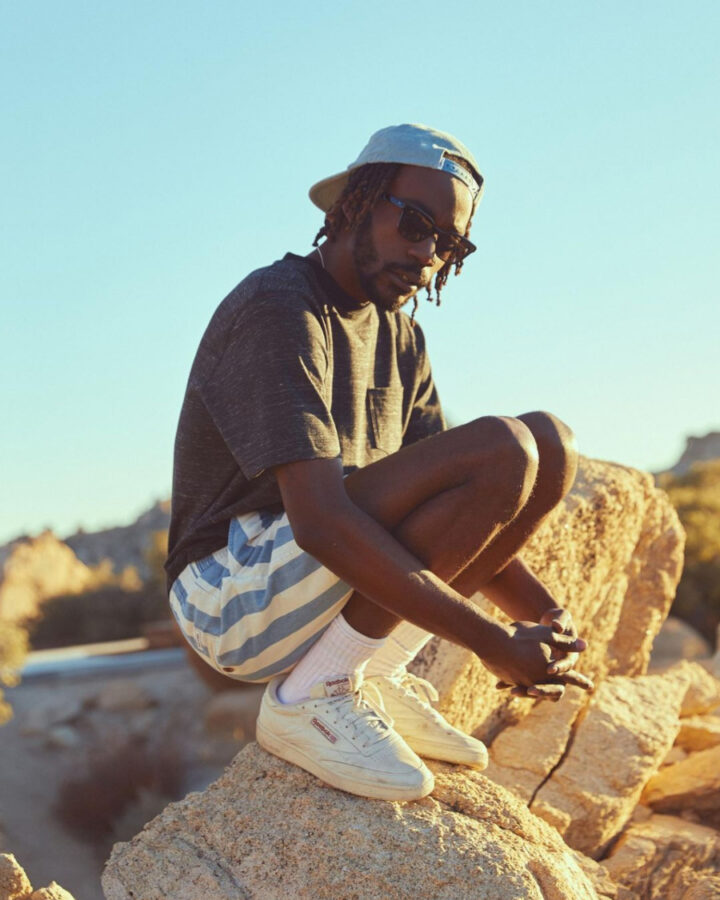 ROOTS: Founded by Masa Shibahara, Motoo Noda, Tim Cochran, and Rama McCabe in Los Angeles, California, in 2013.
A collaboration born from the merging of Australian and Japanese surf culture, Banks Journal is the brainchild of Tokyo's Masa Shibahara and Motoo Noda and Byron Bay's Tim Cochran and Rama McCabe. The brand was born to celebrate the coastal lifestyle while merging style and function with sustainability.
A relative newcomer to the new age of retro-inspired fashion, Banks Journal has bolstered its publicity and enhanced its aesthetic with the help of team rider Jared Mell, who is considered one of the world's best loggers and a bona fide style master. Through a commitment to fashion, utility, and environmental awareness, the brand has quickly become a leader in the neo-hip surfing subculture.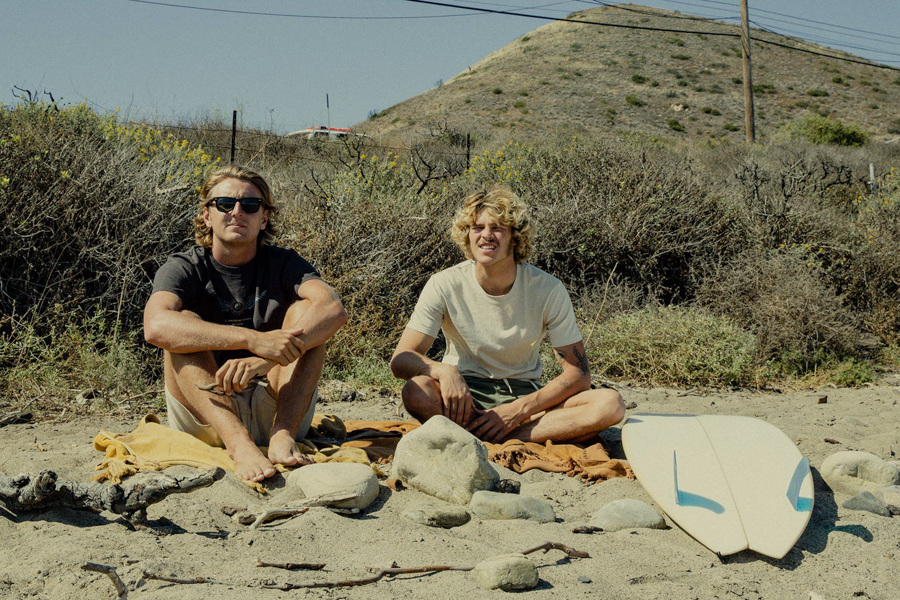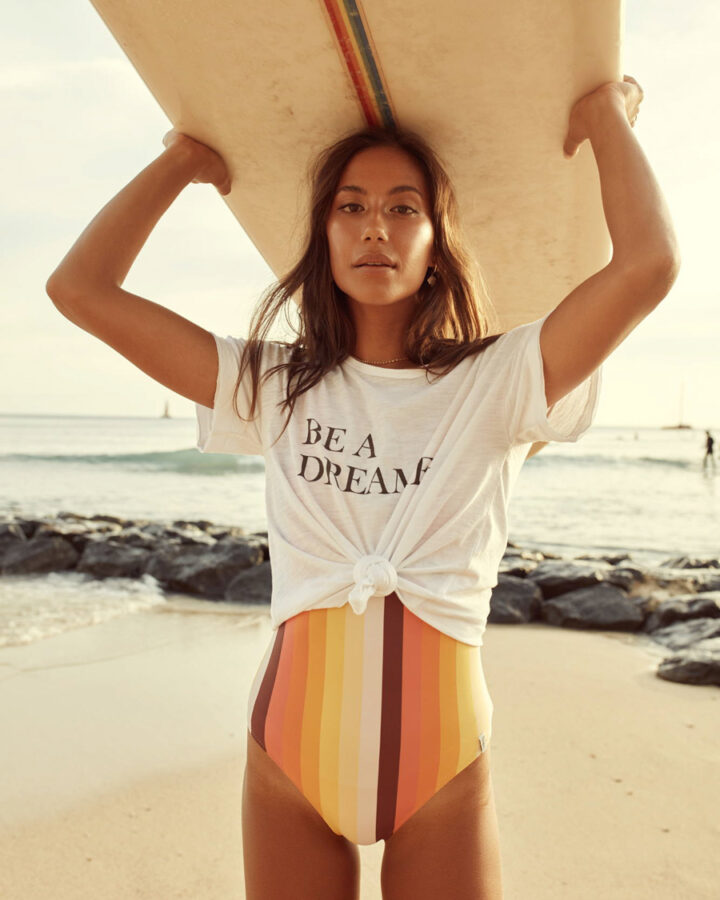 ROOTS: Founded by Neal Purchase, Jr. and Jamal Gray in Burleigh Heads, Australia, in 2003.
Neal Purchase Jr. is a legend of East Coast Australian surfing, a renowned shaper, an alternative surfboard enthusiast, and one of the most stylish wave riders in our sports history. In 2003, he also became the co-founder Rhythm — of one of surfing's newest alternative brands, helping to pave the way for the neo-hipster movement that would ultimately redefine the surf industry.
Drawing inspiration from surf, travel, art, and music, Rhythm is based in the center of the Australian surf industry in Burleigh Heads, but has spread its message around the world and become an integral part of the new global beach lifestyle fashion movement.
Rhythm's men's line is all about understated old-school cool, and the women's is retro-inspired feminine with a hint of boho. Dig it.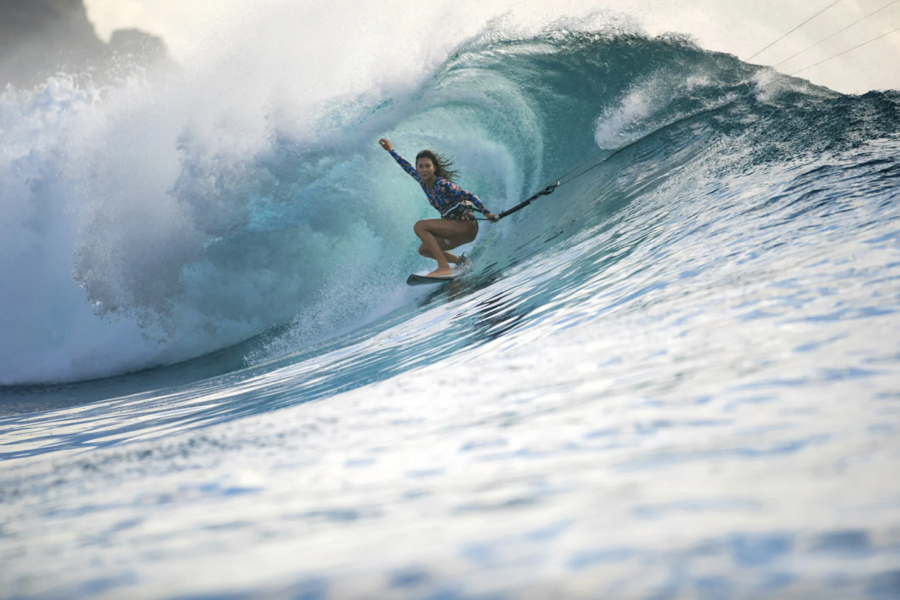 ROOTS: Founded by Yvon Chouinard in Ventura, California, in 1972.
When Yvon Chouinard started Patagonia in the early 1970s, it had nothing to do with surfing. It was a rock climbing company – one of the original rock climbing companies – and quickly evolved into a leading outdoor sports clothing company.
Based on the mission of building the best product, causing no unnecessary harm, and using business to inspire and implement solutions to the environmental crisis, Patagonia refused to go public, and instead has remained a privately owned B Corp that holds itself to similar standards as a nonprofit organization.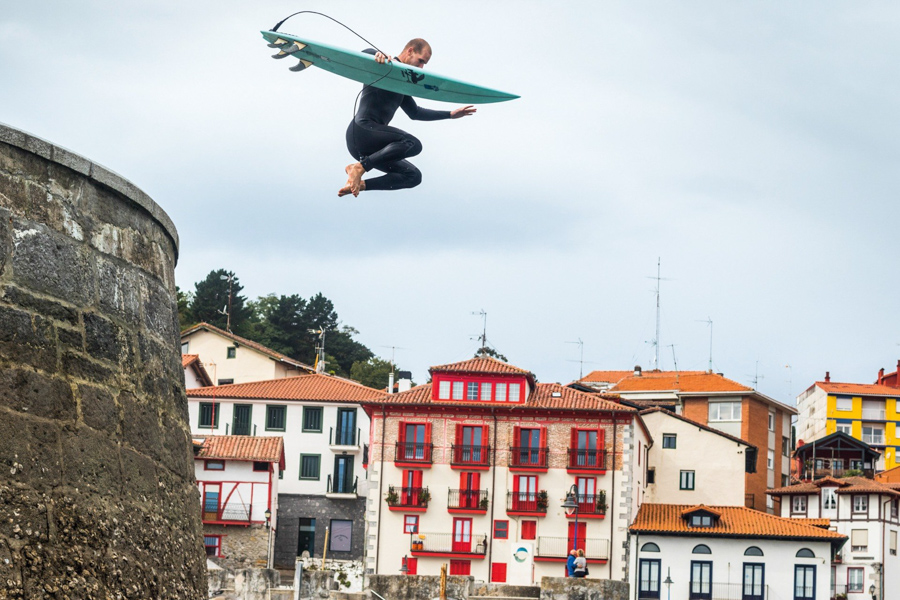 After dabbling in surf on and off for years (Chouinard is a passionate surfer), Patagonia added its first surf ambassadors to the team in 2010 when the brand hired Keith, Chris, and Dan Malloy – three brothers who were at the vanguard of surf progression and who would go on to shape surf culture with their films, books, and collaborations with surfer-celebrities such as musician Jack Johnson.
A little more than a decade later, Patagonia has positioned itself as a leading surf brand, with a massive team of talented ambassadors, a library of some of the best surf films ever made, and a quiver of wetsuits, board shorts, and swimsuits for guys and gals that are as environmentally conscious as they are well made.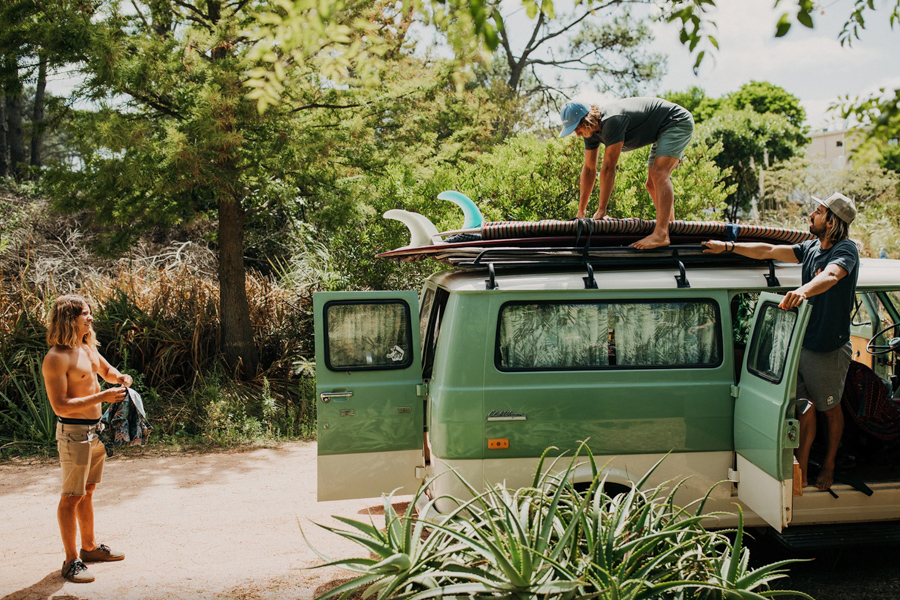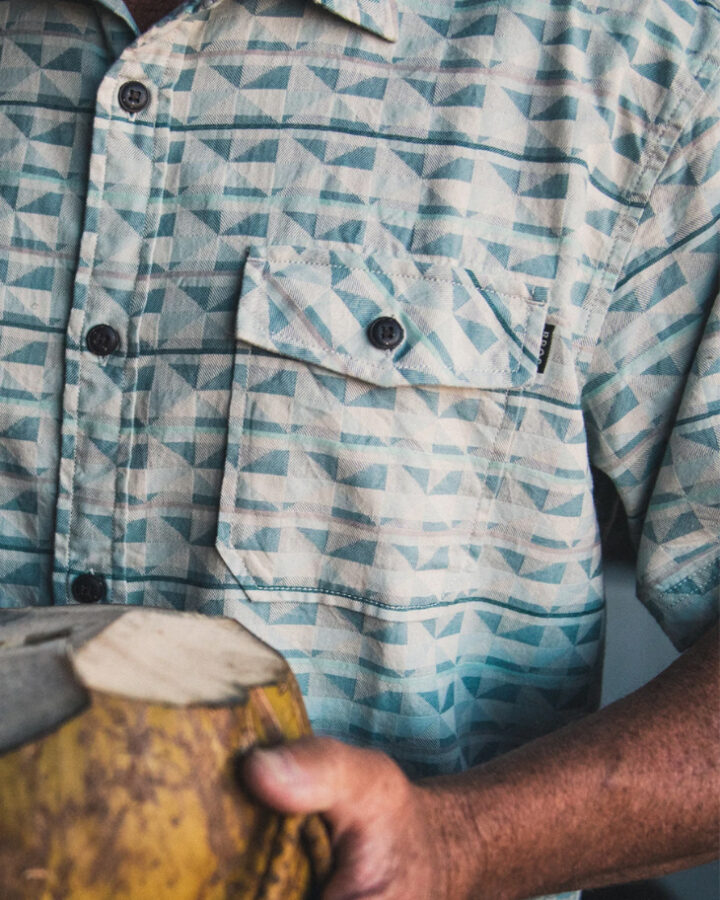 ROOTS: Founded by Chase Heard and Andy Stephanian in Austin, Texas, in 2010.
A rarity when it comes to successful surf brands, Howler Brothers is a Gulf Coast brand built on East Coast vibes, with a name inspired by Costa Rica! Founders Chase Heard and Andy Stephanian grew up surfing and fishing in Florida and Virginia, but are both now based in Austin, Texas, where they run a brand that stands out in the surf industry due to its rootsy, backwater vibe.
Inspired by the incessant howling of the howler monkeys Chase and Andy would hear while on surf trips to Costa Rica, Howler Brothers creates a limited-run collection of quality clothing based on the coastal lifestyle. Whether you are chasing a swell South Padre Island, shore-casting on the delta, exploring Central America, or simply enjoying a beer by a beachside campfire, Howler Brothers fits the bill.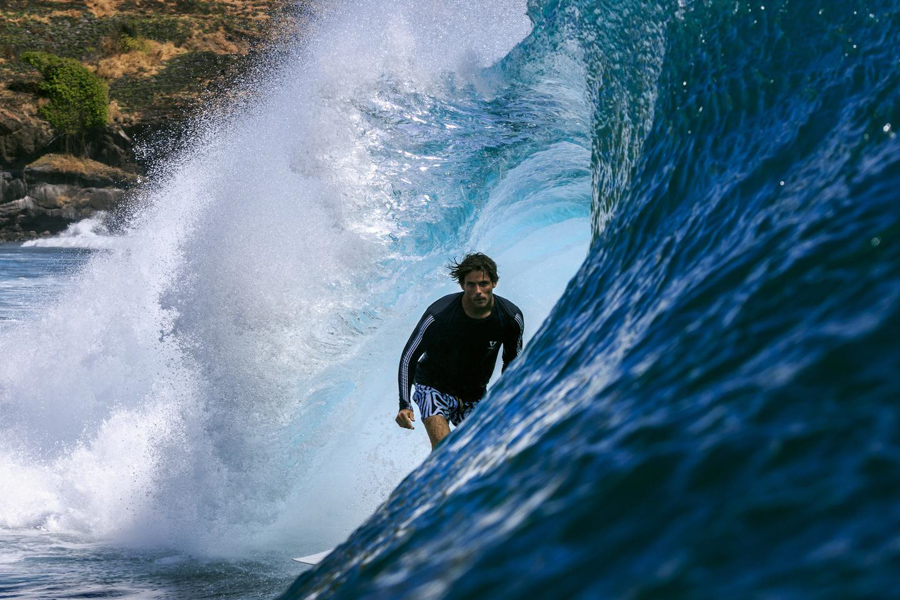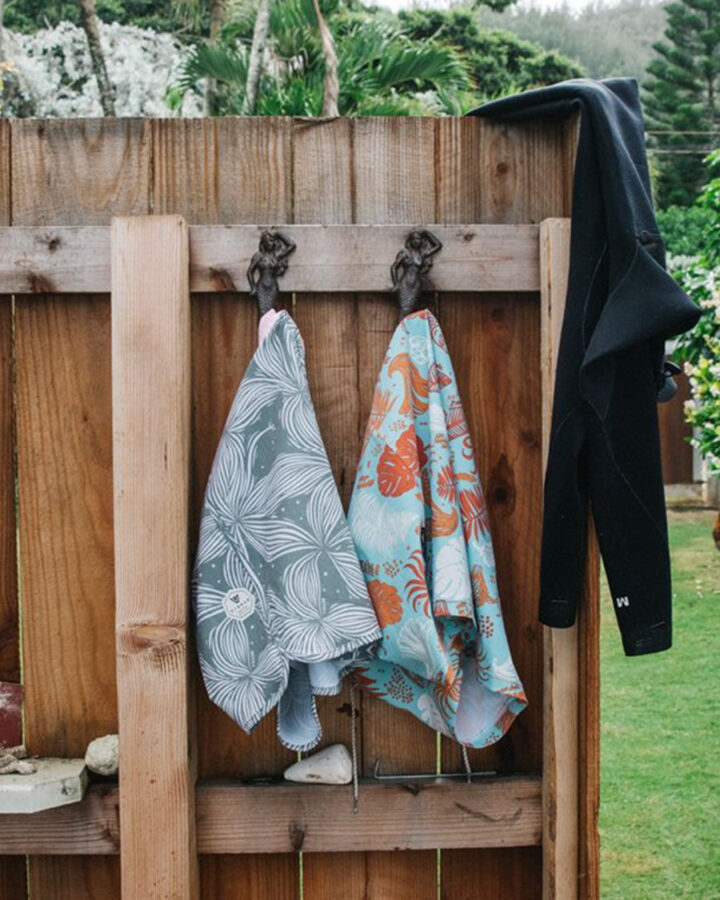 ROOTS: Founded by Paul Naude in Aliso Viejo, California, in 2013.
As the former head of Billabong US operations, Vissla founder Paul Naude was ready to shift focus and do something different. Abandoning the big-box, publicly-traded model and looking for something more holistic and organic, he started Vissla in 2013 in concert with the ride-everything/surf-everything movement.
Drawing inspiration from what he calls "creators and innovators," Naude's brand emphasizes style, function, art, and sustainability, and supports a team full of some of surfing's most interesting characters, from scientist/shredder Cliff Kapono and big wave world champion Grant "Twiggy" Baker to photographer Jeremiah Kline and artist/shaper Thomas Campbell.
Vissla's aesthetic is equal parts function and fashion, with a stylish range of menswear, board shorts, and top-quality wetsuits. Utilizing eco-friendlier neoprene and upcycled coconut fabrics, Vissla seeks to "protect and surf" by committing itself to find more sustainable ways to create quality products for discerning wave riders.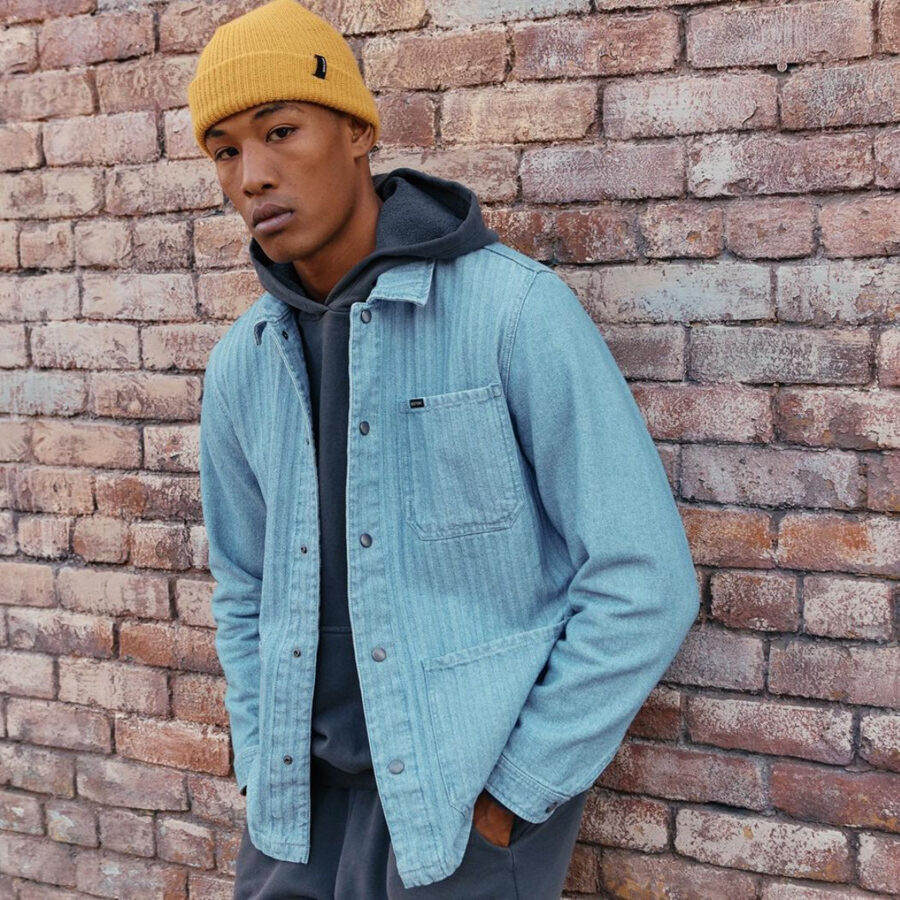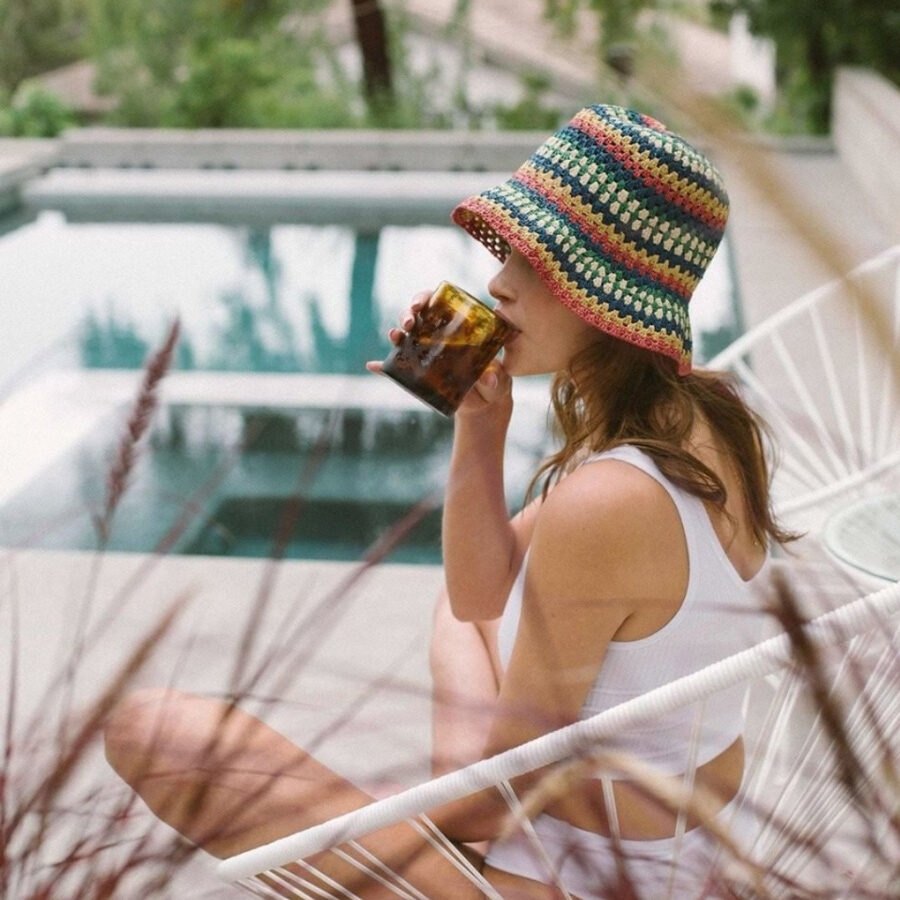 ROOTS: Founded by David Stoddard in Oceanside, California, in 2004.
The street-wear brand Brixton had a small and unassuming start in David Stoddard's garage, where the original plan was simply to make a hat. The newsboy-style hat soon gained traction with the local crowd, and within a few years the brand with a name inspired by The Clash had become a global phenomenon.
In addition to making a huge collection of headwear (from fedoras to caps to beanies), Brixton has full clothing lines for guys and gals.
Focused in equal parts on art, music, exploration, and adventure, Brixton has become a "surf brand" by association, rather than intention – although the crew behind the threads has always been deeply immersed in the Southern California beach scene.
Blending fashion and self-expression with the workman ethos of "mariners and aviators, cowboys and laborers," Brixton is a counter-culture movement that has taken the surf culture by storm. In other words, it's a perfect reflection of the wave riding lifestyle in general.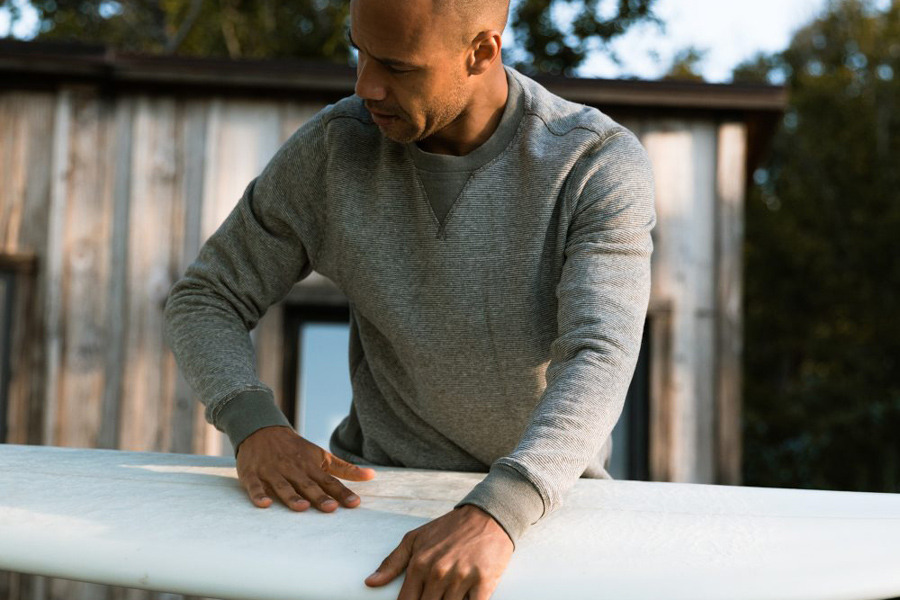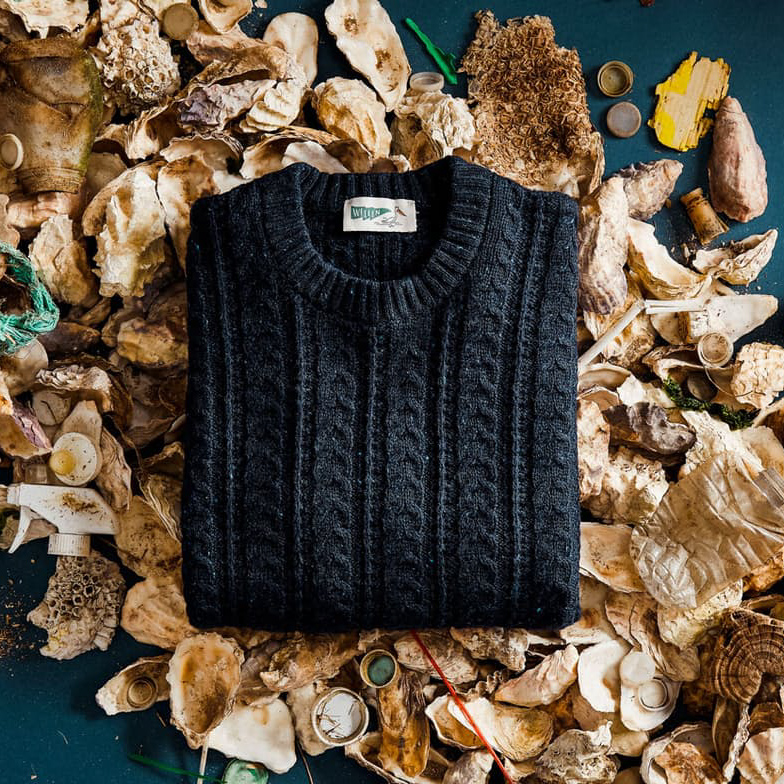 ROOTS: Founded by Matthew Jung in Los Angeles, California, in 2007.
Originally a surfboard brand in the Los Angeles area, Wellen quickly expanded to include a line of quality threads and grew a dedicated following. As it evolved from a surfboard company into a premium coastal lifestyle brand, Wellen attracted the attention of major retailers and was eventually taken over by online retailer (and purveyors of very cool gear) Huckberry.
Huckberry has maintained Wellen's commitment to a beach-focused aesthetic while leading the brand to new levels of sustainability. The entire line is built from recycled, organic, or Bluedesign-certified fabrics in environmentally conscious factories that upcycle virtually everything involved in the creation process, from water to fabric scraps. Through the use of durable yet comfortable materials such as hemp, Wellen makes pieces that last, in styles that are timeless yet casual.
Mollusk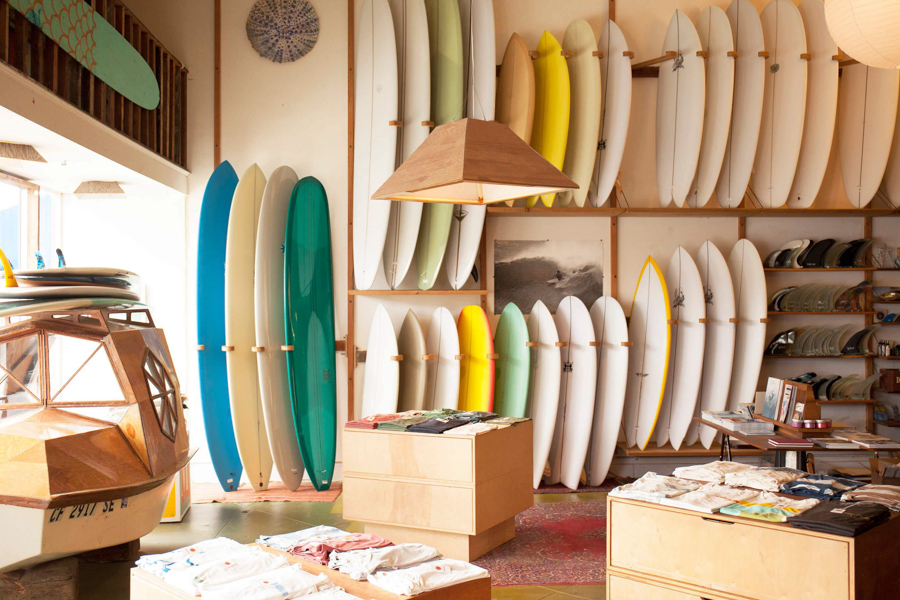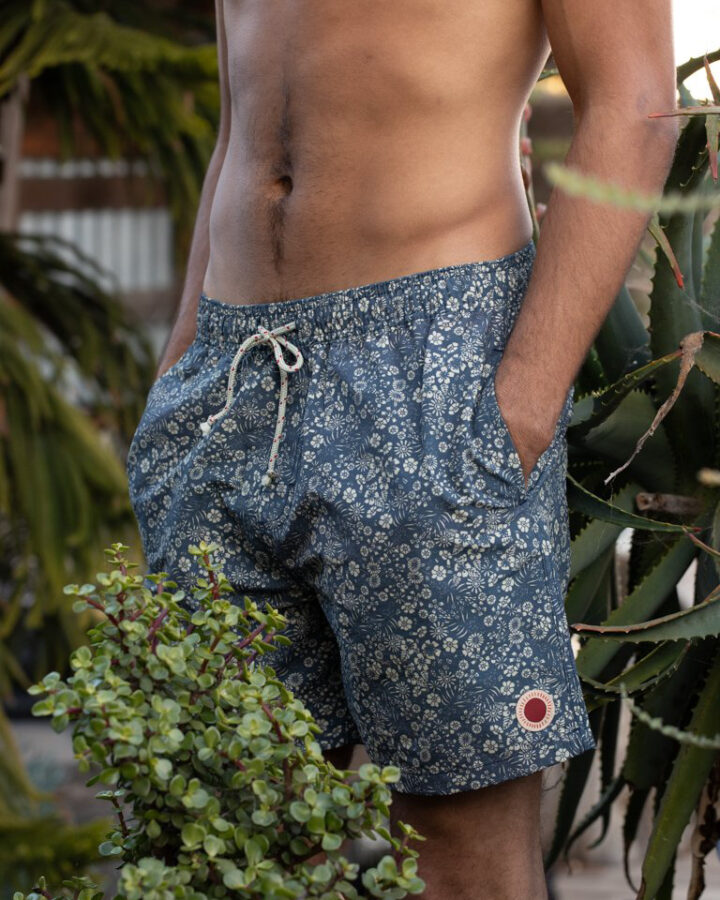 ROOTS: Founded by John McCambridge in San Francisco, California, in 2005.
Opened in 2005, during the heart of the "ride everything" renaissance and a newfound appreciation for handcrafted goods from talented artisans, Mollusk Surf Shop in San Francisco epitomized the new surfing aesthetic.
With its retro-fantastic shop and stocking a wide range of hand-shaped boards that celebrated the designs of past eras, Mollusk softened the edges of a surf culture that had been defined by a punk rock ethos in the 1990s. Soon people all over the West Coast were trimming on traditional logs, high-lining retro fish, and lounging in thigh-length board shorts. Ever since, Mollusk has continued to spread the appreciation for surfing's history and all things groovy.
Mollusk eventually opened additional shops in Venice Beach and Santa Barbara, and launched a clothing line with collections for guys, gals, and kiddos. The collections are a modern interpretation of sixties/seventies surf style – think laidback, subtle earthy hues, and effortlessly cool.
The OG Surf Brands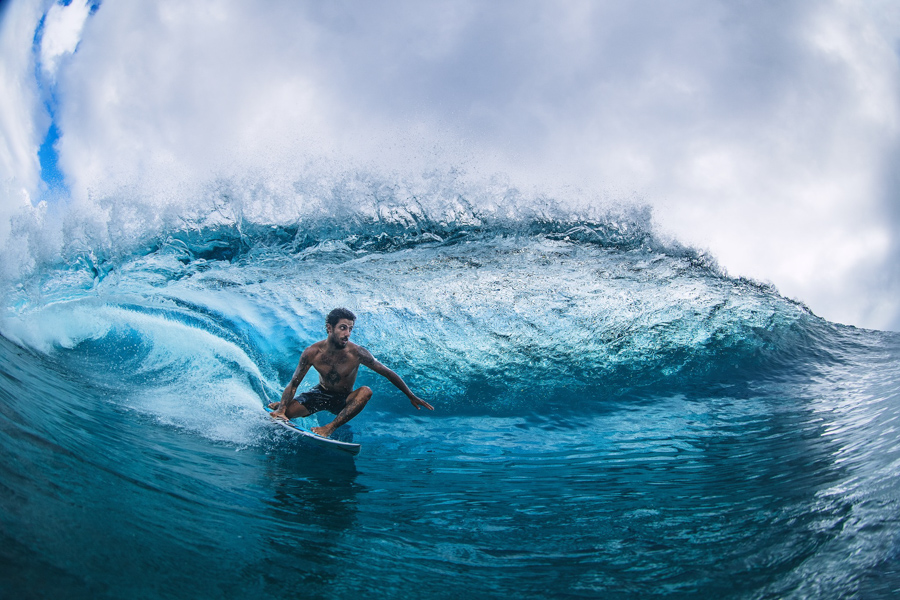 ROOTS: Founded by Bob Hurley in Costa Mesa, California, in 1979.
While Hurley didn't become a household name until 1999, the company was technically started 20 years earlier when Bob Hurley created the surfboard and design company in Southern California. Five years later, Bob Hurley acquired the US rights to Billabong, which he led until 1998, when the decision was made not to renew the rights. In 1999, Bob took his original company, Hurley Surfboards, and expanded it into Hurley International, which quickly became one of the industry's leading surfwear brands.
While ownership of the company has changed a few times, Hurley remains one of the largest and most respected brands in surfing and sponsors some of the world's top surfers like Kolohe Andino, Felipe Toledo, and Carissa Moore.
Along with clothing and swimwear lines for men, women, and kids, Hurley also produces a line of wetsuits and award-winning boardshorts. Hurley took home the SIMA "Boardshort of the Year" Award for five consecutive years for their innovative line of Phantom boardshorts.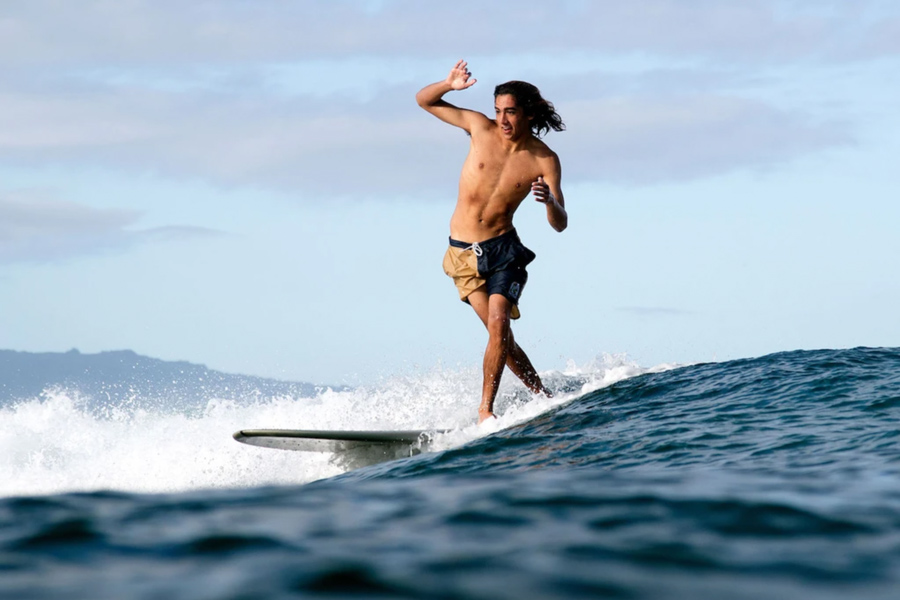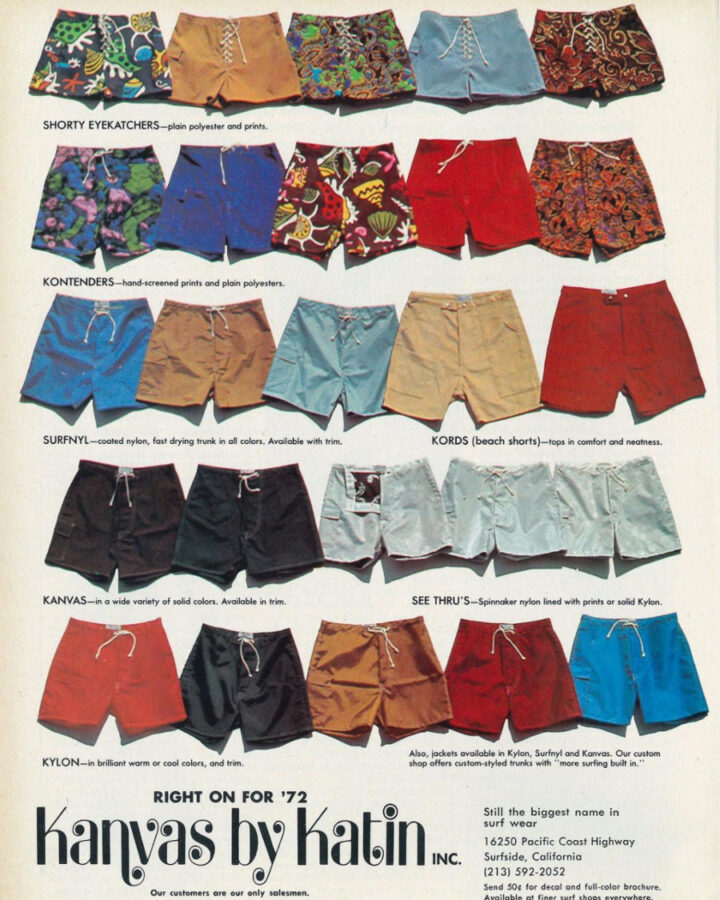 ROOTS: Founded by Walter and Nancy Katin in Surfside, California, in 1959.
Katin has a unique and colorful history. In 1954, Walter and Nancy Katin started a company called Kanvas by Katin that created canvas boat covers. Their covers were notoriously hardy, and after a few years, a handful of friends asked the Katins to use their canvas to make them boat shorts.
The shorts proved durable and popular, but Walter decided to continue focusing on boat covers. But that all changed when a young Corky Carroll came into his shop and asked Walter to make him some canvas board shorts for surfing. Corky Carroll soon became the world's first professional surfer, and Katin soon became the first name in the California board short industry.
By the 1960s Katins were an integral part of mainstream surf culture. Walter passed in 1967, but Nancy kept the brand alive, and Katin shorts were worn by some of the world's best and most respected surfers, including Gerry Lopez, Shaun Thomson, and Eddie Aikau. Nancy ran the business from the same shop until 1986, when she passed away. The Katin brand was left to Sato Hughes, the company's original seamstress, who has continued the tradition and leads the Katin brand from the same shop today.
Katin still makes their storied surf trunks, and has expanded into a line of stylin' graphic tees, shirts, flannels, hats, and other surfer-approved accoutrements.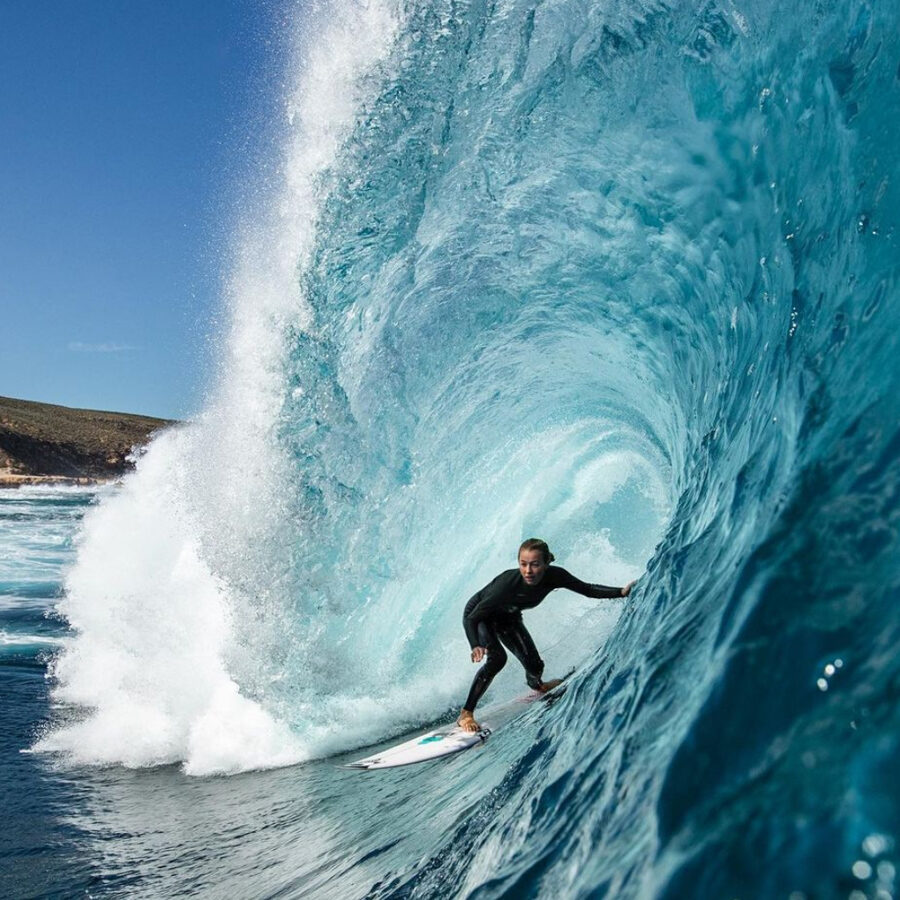 ROOTS: Founded by Jack O'Neill in San Francisco, California, in 1952.
O'Neill was started in the fifties by Mr. Jack O'Neill, a man who has become a bona fide surfing legend. He opened the world's first surf shop in 1952 and invented the wetsuit, and his son Pat is credited with inventing the surf leash. Between the two of them, the O'Neills opened up an enormous amount of coastline to surfing with their groundbreaking inventions.
Jack's shop eventually moved to Santa Cruz in the 1960s, where it dominated the American surf industry for the next 40 years. Today, O'Neill remains one of the most respected brands in the industry, with a celebrated team of ambassadors and some of the best neoprene on offer.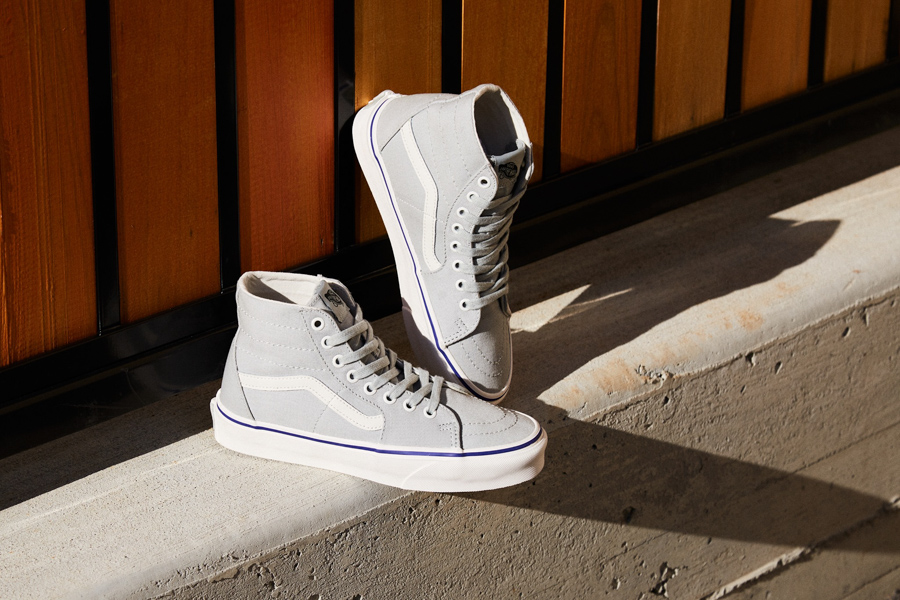 ROOTS: Founded by Paul Van Doren and Jim Van Doren in Anaheim, California, in 1966.
Opened in the mid-1960s, the Van Doren Rubber company created its shoes on site and sold them directly to the public, making it unique amongst shoe manufacturers. Model #44 became the company's signature shoe (now known as the Authentic™) and put it on the map with skateboarders (most of whom also happened to be surfers). A short time later, the company adopted the name the House of Vans.
In 1982, Vans went mainstream when Sean Penn's Jeff Spicoli character wore a pair of Vans Slip-Ons in the film Fast Times at Ridgemont High. By this time, Vans had adopted the tagline "Off the Wall" and become an established surf brand.
Over the years, Vans has sponsored and then bought the rights to the Warped Tour, purchased the rights to be presenting sponsor of the Triple Crown of Surfing, and sponsored iconic surfers such as Joel Tudor, Dane Reynolds, John Florence, and the Gudauskas brothers, making it one of the most core brands in the surf world.
In addition to their lines of men's footwear and women's footwear, Vans has created lines of clothing for men, women, and kids, and snowboard boots.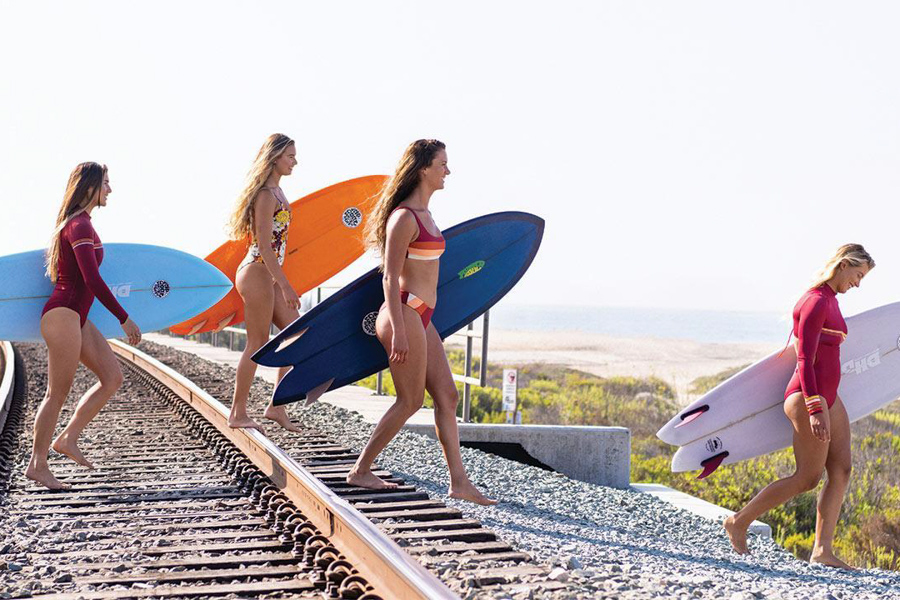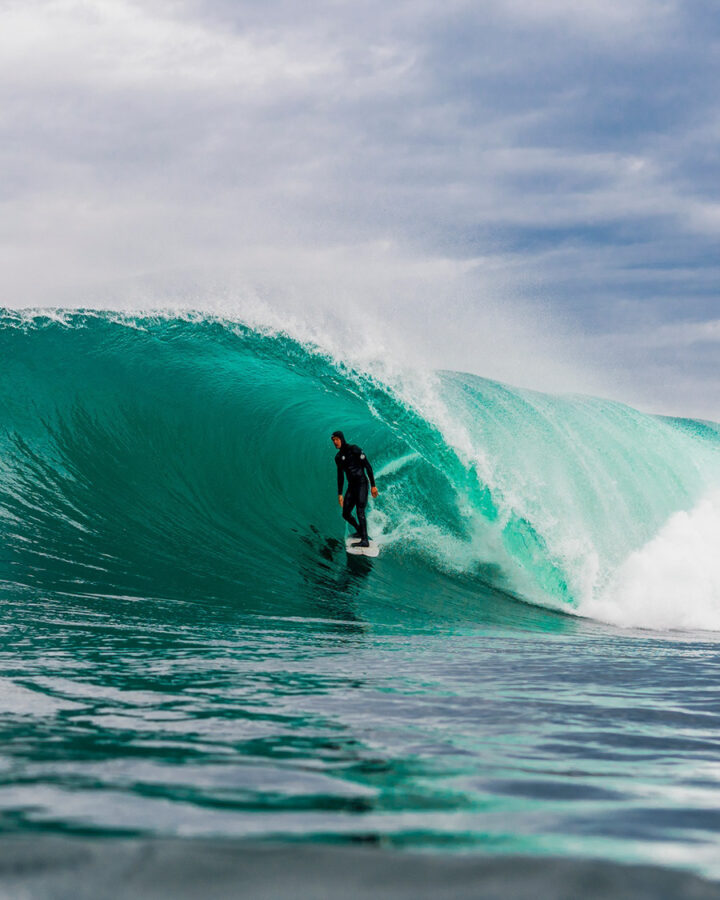 ROOTS: Founded by Doug Warbrick and Brian Singer in Torquay, Australia, in 1969.
One of surfing's oldest and most respected brands, Rip Curl started in a garage in Torquay, where Doug Warbrick and Brian Singer started shaping boards in 1969. A short time later, Alan Greene joined the team and they started making wetsuits to complement the boards.
In 1980 the brand moved into its current headquarters on Torquay Highway, and by then it had become a leader in the Australian surf industry and was sponsoring the Bells Beach world tour event (which has become the world's longest-running professional event). Rip Curl's "The Search" became synonymous with surf exploration and travel, and showcased the surfing of Tom Curren during the peak of his popularity and talent.
Today, Rip Curl is a global leader in wetsuits and surf apparel, and boasts one of the strongest teams of sponsored athletes in the water, including Gabriel Medina, Mick Fanning, Tyler Wright, Owen Wright, Bethany Hamilton, Conner Coffin, Mason Ho, and of course the timeless Tom Curren. The brand and team continue to search the world for new waves while supporting the Torquay/Bells Beach surf community.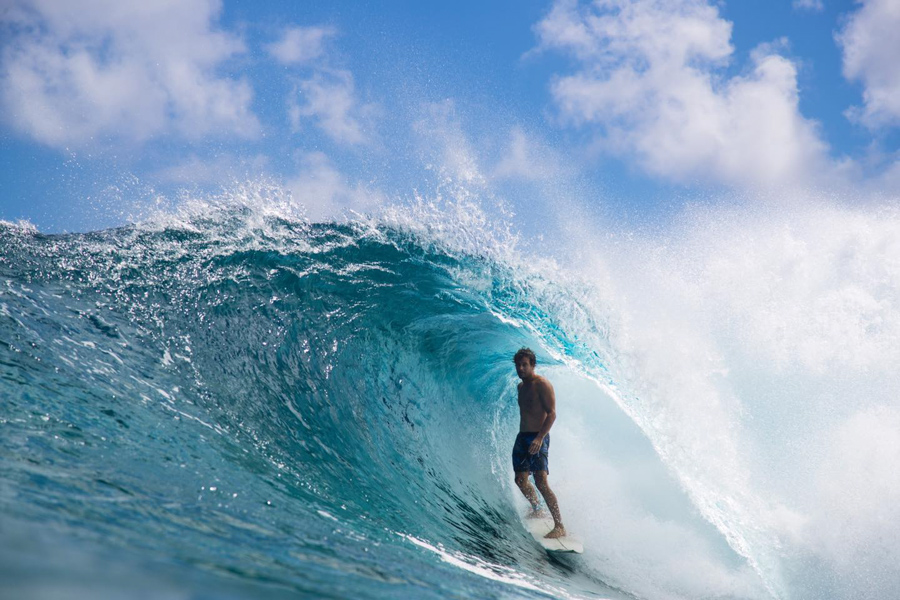 ROOTS: Founded by Alan Greene and John Law in Torquay, Australia, in 1973.
The early years of the surf industry were a time of constant growth and change, with a lot of the innovation coming from a small group of friends and dedicated watermen. After Doug Warbrick, Brian Singer, and Alan Greene got Rip Curl established, Alan branched out in the early 1970s to start Quiksilver, with Warbrick and Singer serving as equal partners in the new brand. Warbrick and Singer eventually sold their shares to Greene in order to focus more on Rip Curl, while Greene led Quik with the help of his new partner John Law.
Quiksilver initially focused on board shorts, but quickly grew into the world's largest surf apparel brand, with its "mountain wave" logo becoming virtually synonymous with surfing. In 1984, Jeff Hakman and Bob McKnight brought the company to the US, where it quickly grew to dominate the market, thanks in large part to team rider Kelly Slater. Then, in 1991, Quiksilver launched its women's line, Roxy, which sponsored competitive powerhouse Lisa Anderson and was largely responsible for the explosion of women's surfing in the 1990s.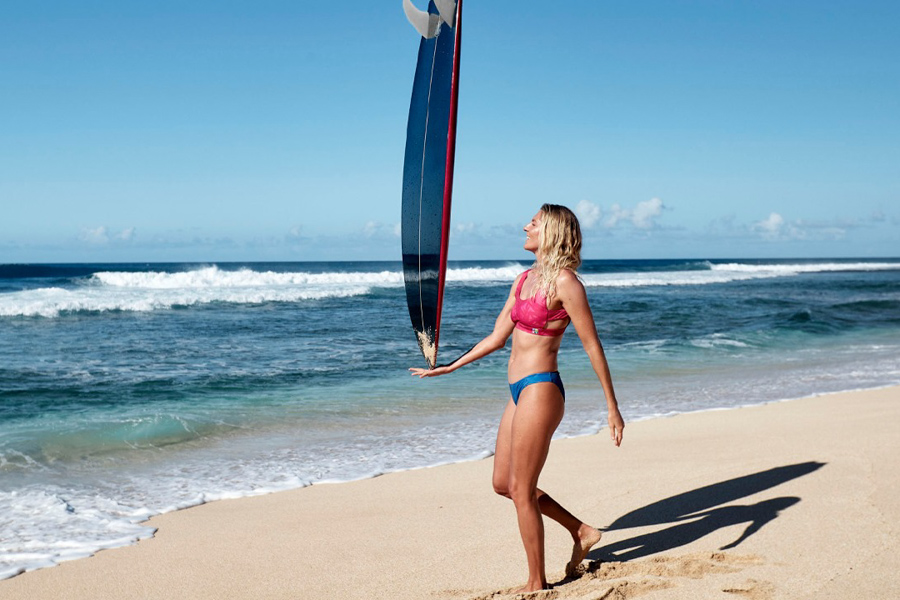 Today, Quiksilver remains one of the leaders of the surf industry, owning numerous subsidiary companies, sponsoring world tour events, and employing a leading team of athletes. Jeremy Flores, Mikey Wright, Kanoa Igarashi, and Leo Fioravanti lead the Quik team, while Roxy's stable of riders includes world champions Steph Gilmore, Lisa Anderson, and Kelia Moniz, as well as young upstarts like Caroline Marks.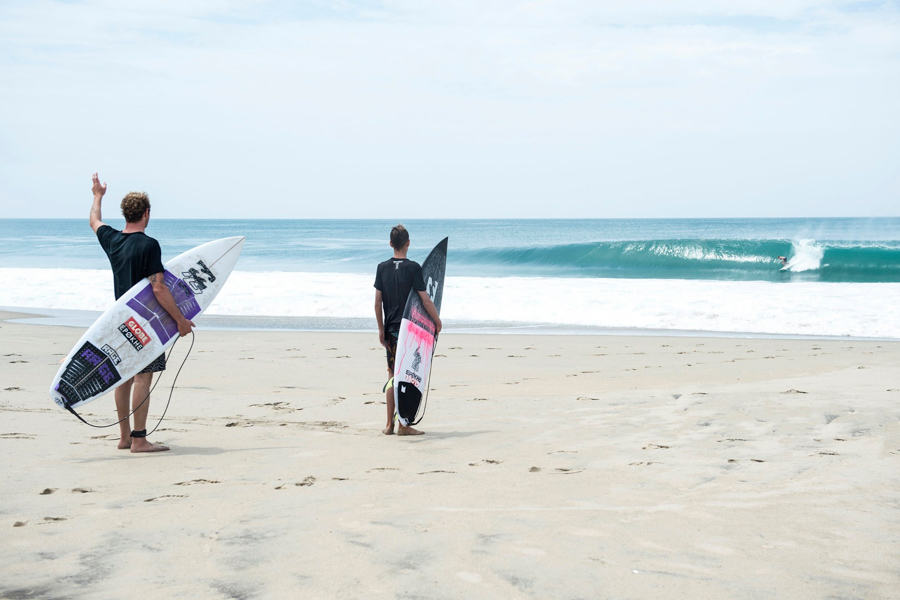 ROOTS: Founded by Gordon Merchant in Burleigh Heads, Australia, in 1973.
Longtime contemporary and competitor of Quiksilver, Billabong dominated surfing throughout the 1990s and early 2000s on the back of performances by team riders such as Andy Irons and Shane Dorian, but the brand traces its roots much farther back.
When Gordon Merchant started Billabong in 1973, he set out to produce quality board shorts and apparel for the surfers of NSW and the Gold Coast, but the company quickly outgrew the region and became a global brand. Billabong eventually expanded to create a number of other surf and boardsport accessories through subsidiaries such as Von Zipper, Honolua, Xcel, Sector 9, and RVCA.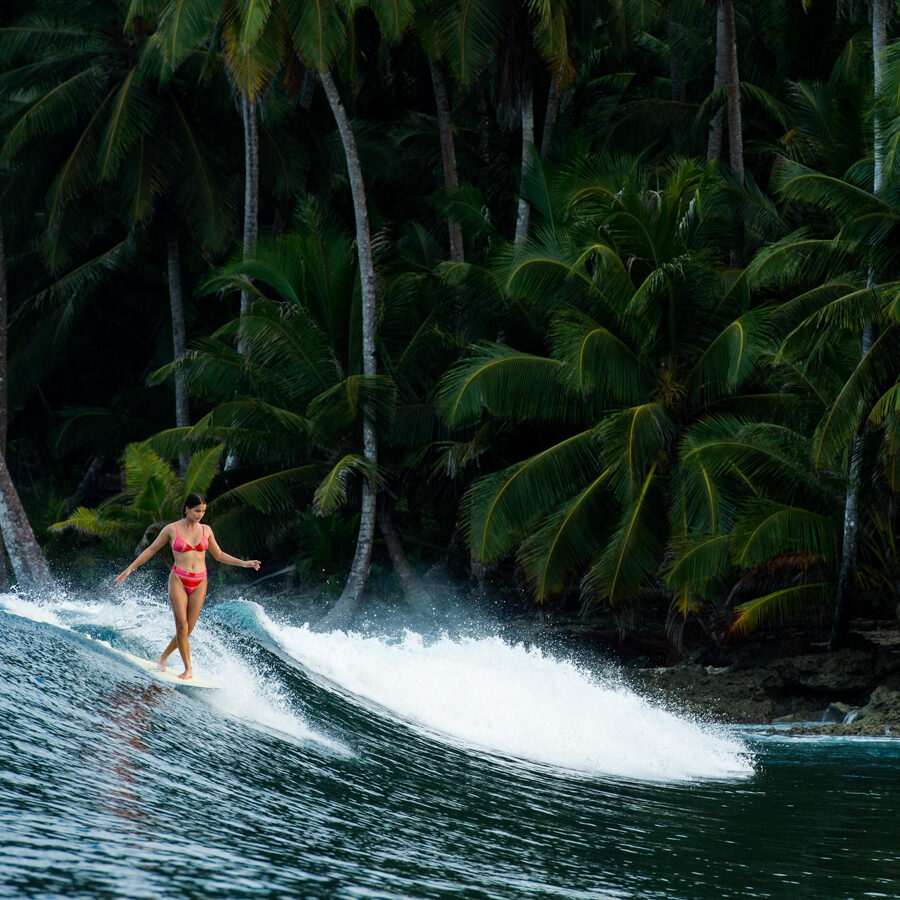 Billabong struggled financially through the early 2010s, but never lost its street cred and returned to profitability in 2014. While it was acquired by Boardriders, Inc. (current owner of Quiksilver) in 2018, the two Australian original board short companies have maintained their autonomy and continue to serve as industry juggernauts, owning a large percentage of the market share and symbolizing the surf lifestyle for a major portion of the surf population.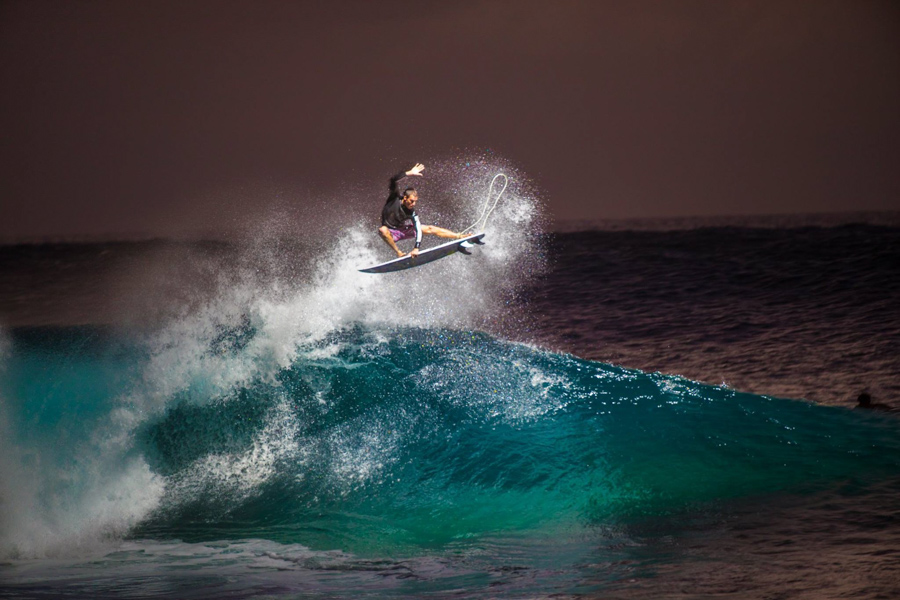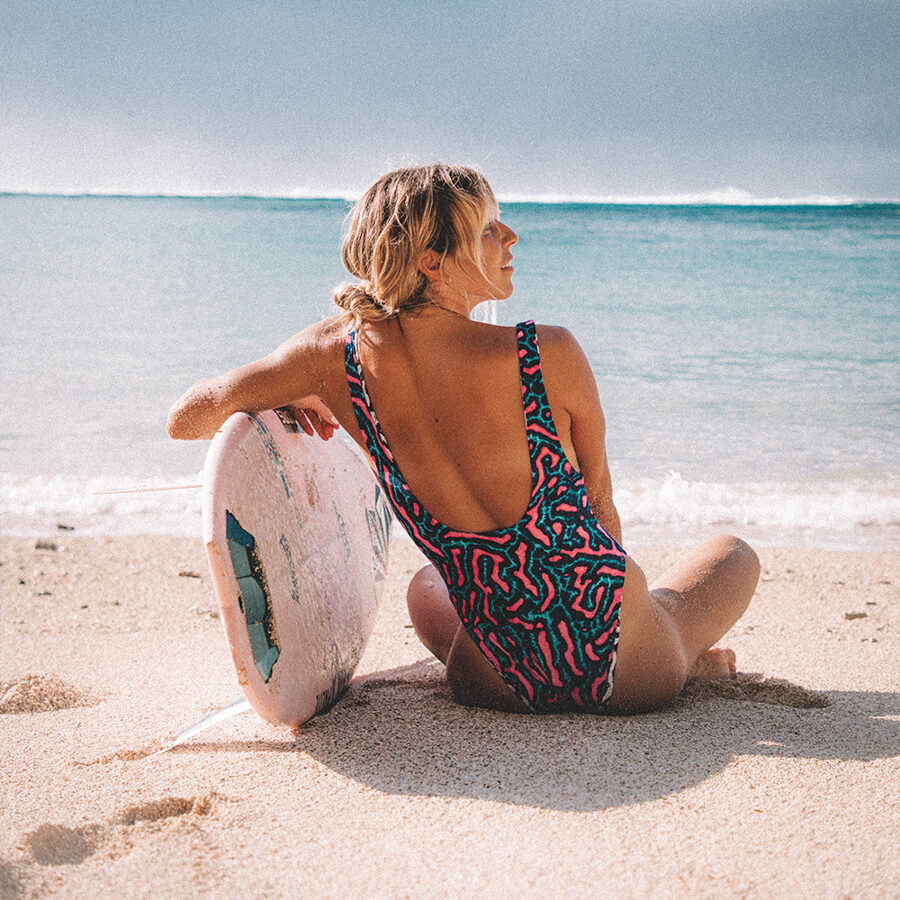 ROOTS: Founded by Richard Wolcott and Tucker Hall in Orange County, California, in 1991.
Positioning itself as a less mainstream, anti-establishment alternative to the Billabong/Quiksilver corporate hegemony, Volcom quickly gained popularity in the early 1990s with the help of superstar team riders such as Bruce Irons.
In the early years, Volcom was very much a garage brand, with sales being run out of Tucker's bedroom in Huntington Beach and corporate headquarters set up in Richard's bedroom in Newport. The brand was equal parts surf, snowboarding, and skating, and appealed to the disenchanted youth of the 1990s who were tired of the clean-cut mainstream ethos of the modern surf industry.
In the past 30 years, Volcom has grown into one of the biggest US surf brands, always maintaining its counter-culture image, largely through creative marketing campaigns and a team of anti-establishment individualists who eschew the norm in pursuit of their own agenda – surfers such as Noa Deane, Ryan Burch, Ozzie Wright, Gavin Beschen, Dusty Payne, and Nate Tyler.
While garage brands have given way to boutique labels in the 2010s, Volcom maintains its appeal and its position in the industry, and continues to sponsor major events such as the Volcom Pipe Pro.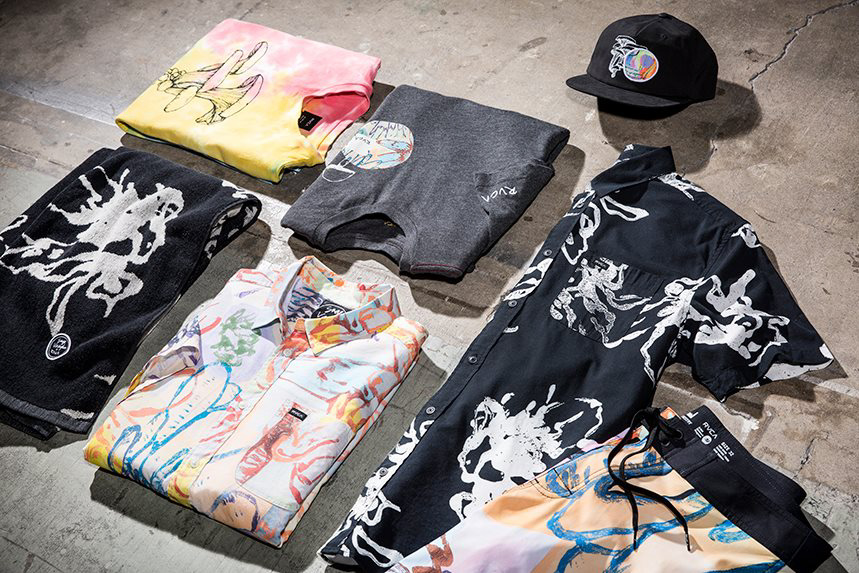 ROOTS: Founded by Pat Tenore and Conan Hayes in Costa Mesa, California, in 1999.
The first of the "alternative" surf brands that moved beyond a pure surf ethos and branched out into the art, music, and skate scenes, RVCA's tagline, "the balance of opposites" has grown from a fledgling movement into an industry staple. Although the brand was purchased by Billabong in 2010, it has maintained its grassroots street cred and a hard-core team of riders that actively differentiate it from the clean-cut, corporate aesthetic of publicly-traded brands such as Billabong and Quiksilver.
While the V and A in the brand's name symbolize the balance of opposites that its founders so highly value, the brand is actually pronounced "rew-ka," with the V serving phonetically as a "u." Currently boasting a team of world-class surfers, skaters, artists, and MMA fighters, RVCA can be seen on surfers such as Kala Alexander, Makua Rothman, and Sage Erickson.


What are your favorite surf brands?
Let us know in the comments below!
Check out more Surf Brands: