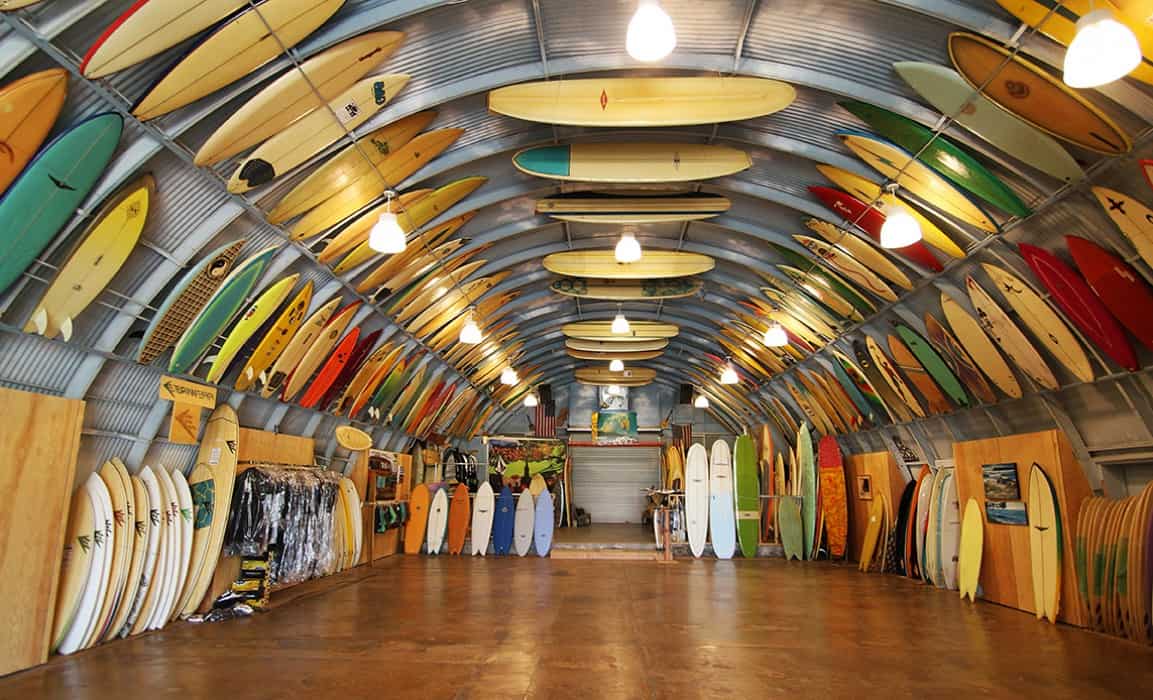 Oh, for the love of surfboards! There's nothing better than surfing surfboards, but when you can't be surfing them, you might as well be admiring them. So instead of hiding your boards away, put them on display with a stylin' surfboard rack. It's a win-win. The right rack can add a cool vibe to your digs and give you extra motivation to mind surf when you're not out in the waves.
Whether you want to show off your current go-to, a favorite custom design, or line up your whole surfboard quiver in your living room, we've rounded up 13 of the coolest surfboard racks to give you some inspiration. You'll find our top picks for single surfboard wall mounts, surfboard wall racks for multiple boards, freestanding surfboard racks, and DIY surfboard racks.
And if you could use some inspiration on what you'll be putting on display, be sure to check out these awesome surfboard brands with style for days.
Surfboard Racks
SURFBOARD WALL MOUNTS
Created by a team of designers with a passion for surfing, GNARWALL is a sleek, minimalist, and super easy-to-install surfboard hanger. Designed to be completely hidden, the GNARWALL displays your sweetest boards without any distractions.
The setup is made from sustainable materials, comes at an awesome price, and is available for Futures, FCS, FCS II, or single-fin fin boxes. $30 – $45
This solid surfboard wall rack by COR Surf is made of sustainable bamboo, it's easy to install, and protects your board's rails with a protective rubber strip. The rack holds any size surfboard, wakeboard, snowboard, or kiteboard, and is strong enough to work perfectly as a longboard wall mount. Also available in Dark Wood. $38.99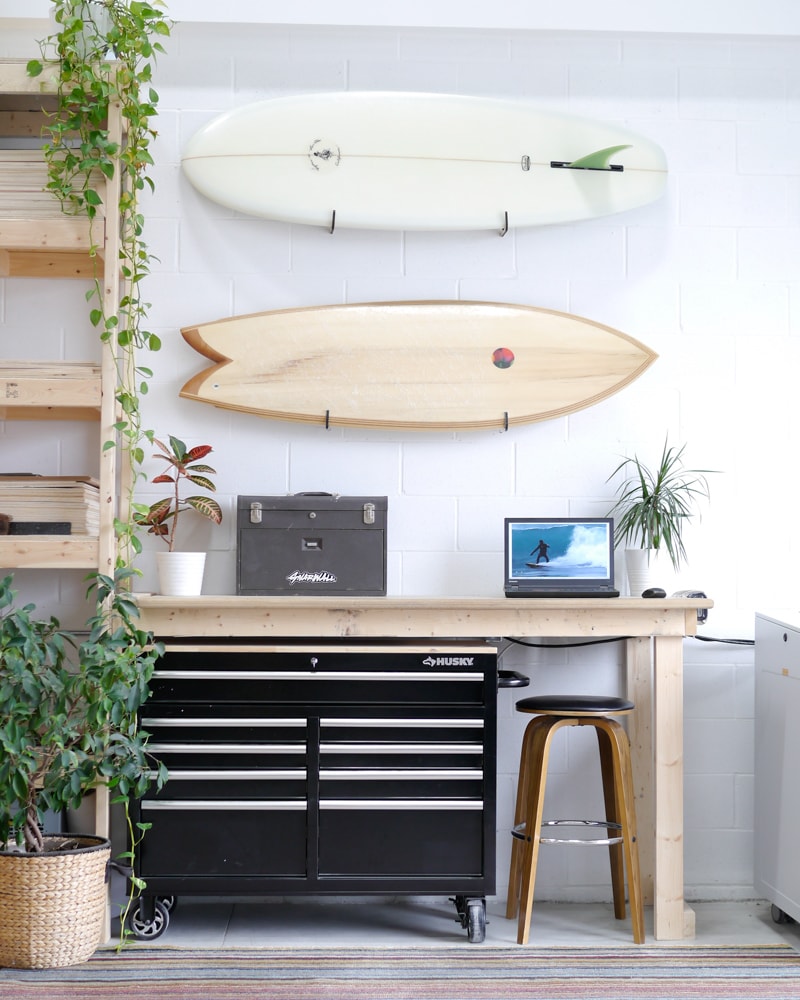 This horizontal surfboard wall mount by GNARWALL has a clean streamlined design to display your favorite boards in style. The unobtrusive handcrafted hooks are lined with neoprene for extra cush on your rails, and come with mounting hardware for either drywall or concrete/block. Choose from Baltic Birch or Acrylic. $40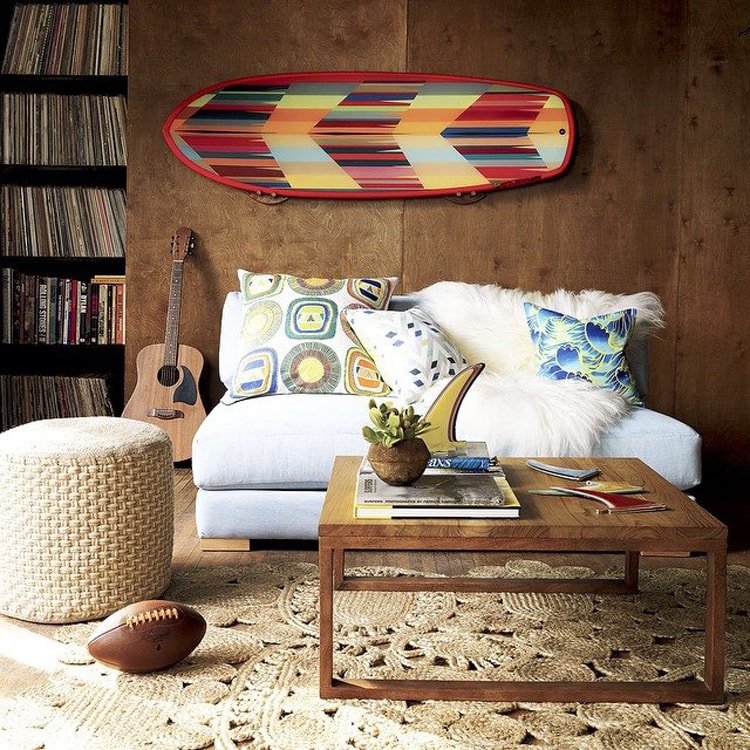 Hawaiian Gun Racks make minimalist wooden surfboard racks for single board displays.
5 • Beaut Board Display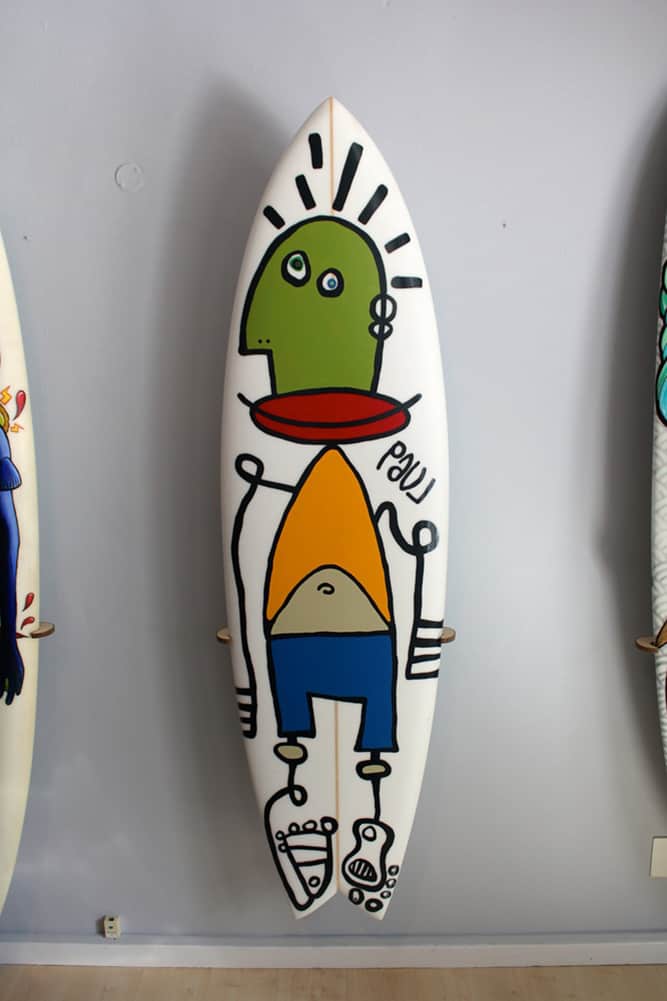 Display a favorite board in minimalist style with this adjustable wall mounted system. The Beaut Board Display's mounting bracket is adjustable to accommodate most board sizes, with a cork and rubber composite to cushion your prized possession. (This designer is based in South Africa, so unless you happen to be local, you'll have to inquire about international shipping). $95
SURFBOARD WALL RACKS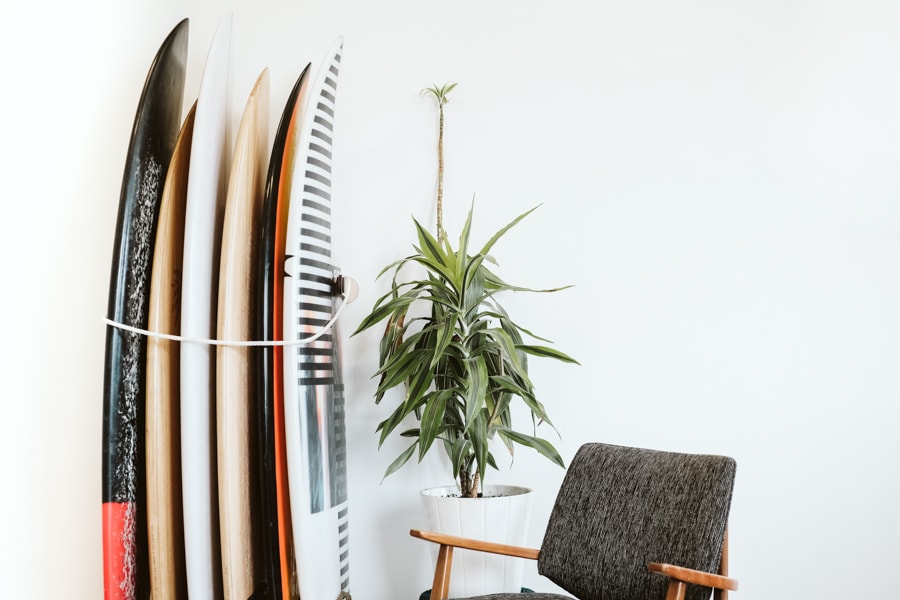 This vertical surfboard wall rack is a minimalist and versatile rack that would be a dapper addition to any living space. The rack holds up to six boards, it's made from environmentally-friendly Baltic Birch, and it has removable arms that enable you to customize the board spacing for different quiver sizes. For the double the fun, check out the Double Rack which holds 13 boards in the same style. $95
FREESTANDING SURFBOARD RACKS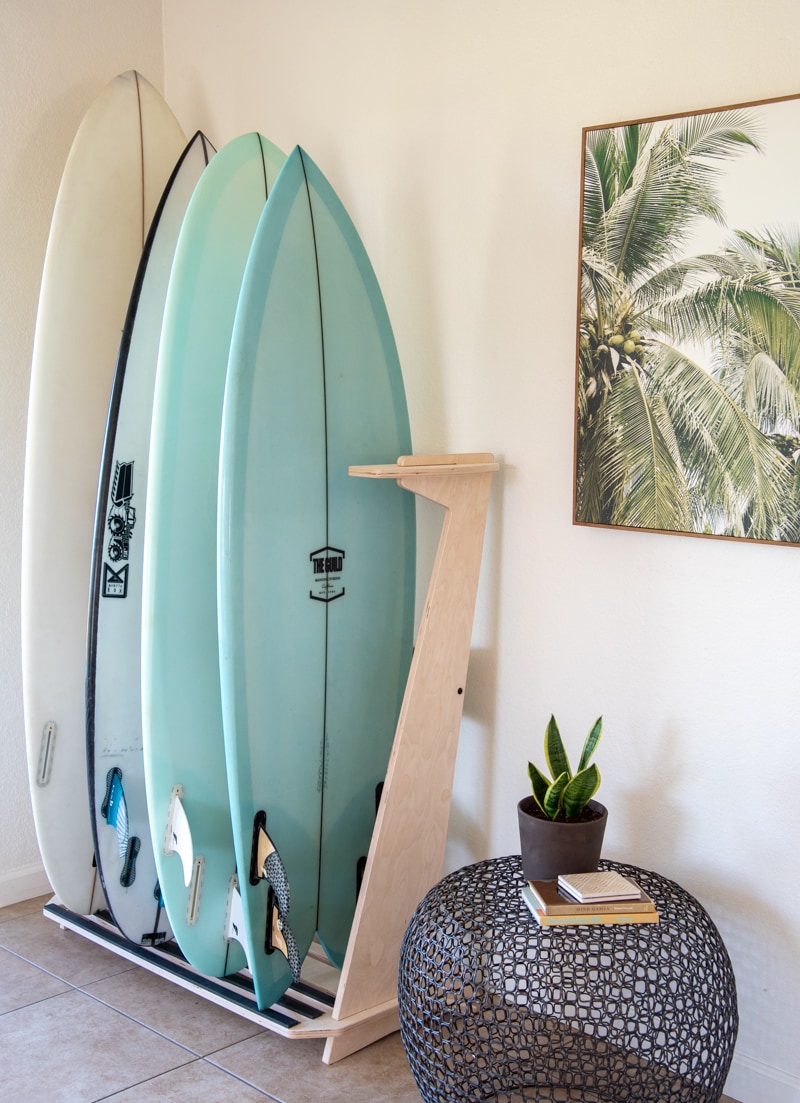 The Pacifica by Rado Racks is a freestanding wooden surfboard rack with cushioning support in all the right places. Made from quality Baltic Birch, this surfboard rack holds four boards, is easy to assemble, and is super easy on the eyes. $220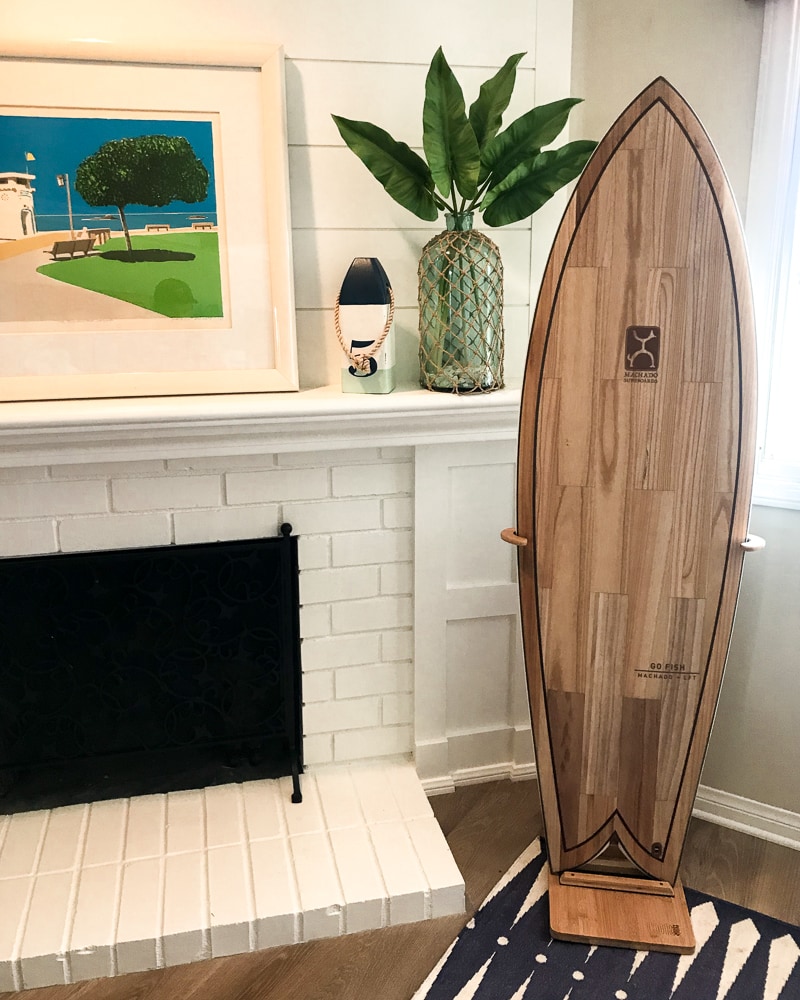 This freestanding bamboo surfboard stand by COR Surf is a perfect solution when you want to display a single board in style without committing to any holes in the wall. The arms are adjustable so you can customize them depending on your board's size, and the stand has a protective rubber base plate to give your precious rail some extra padding. $99.99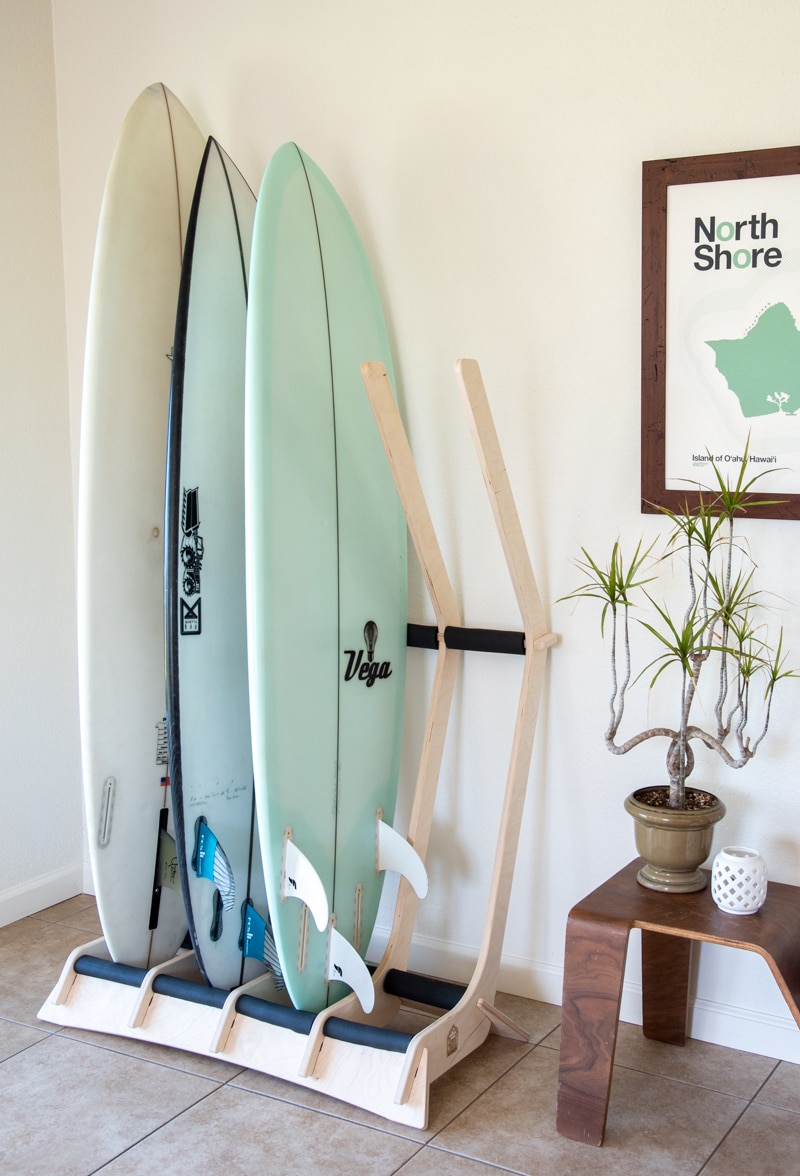 The Lineup Freestanding Surfboard Rack is a stylish way to display four of your favorite boards without any wall damage or mounting. This surfboard rack is made from beautiful Baltic Birch, is easy peasy to assemble, and comes outfitted with thick foam padding to cushion the rails and tails of your four best friends. $210
DIY SURFBOARD RACKS
10 • Hanging Surfboards DIY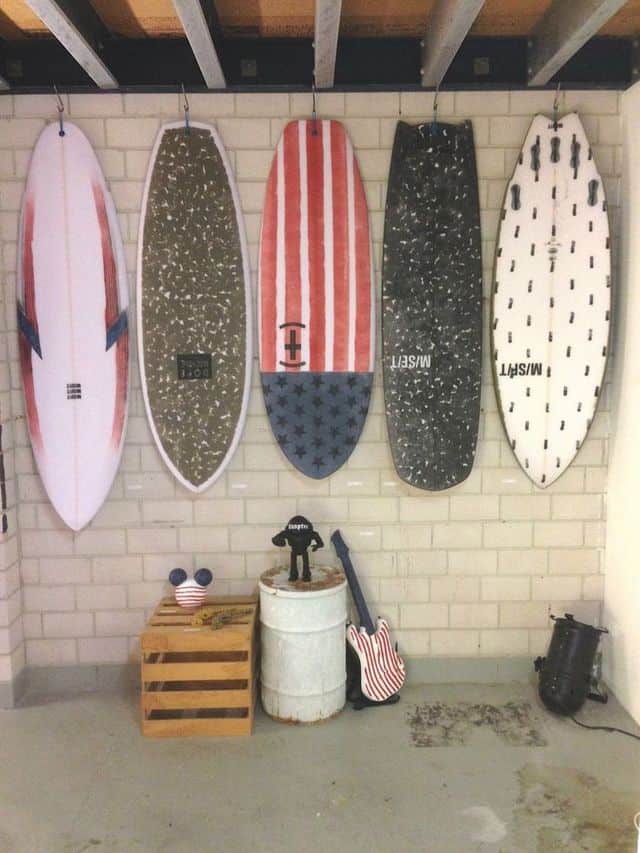 Have some wall space, a metal beam, and rad boards? Get creative and hang your surfboards by their leash ropes for instant surfboard art.
11 • Driftwood Surfboard Rack DIY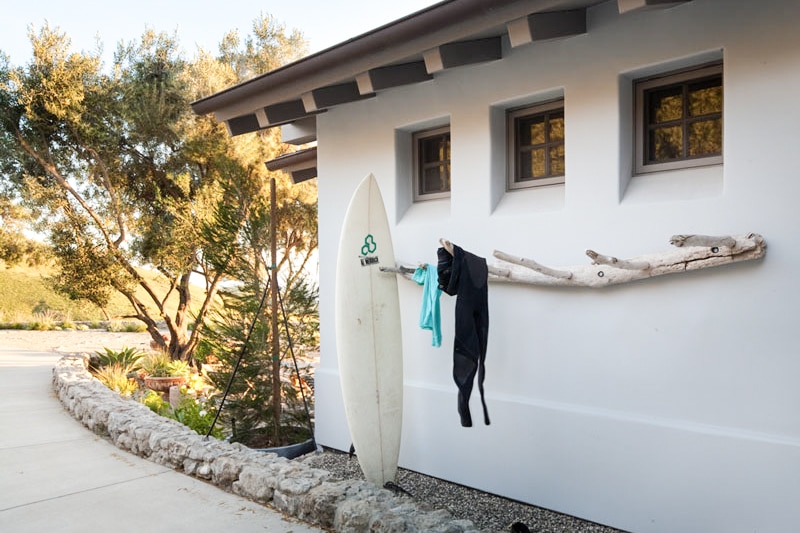 Give the standard DIY surfboard rack an upgrade with some driftwood and bolts.
12 • DIY Hanging Rope Rack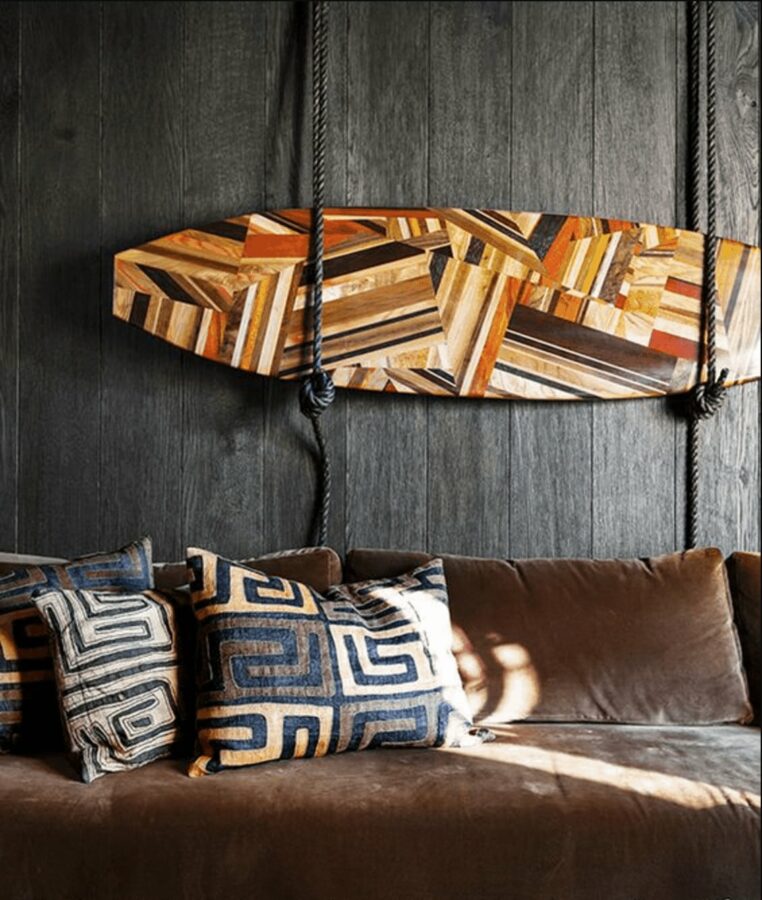 Get crafty and make your own surfboard display with some rope and knots.
13 • Instant Beam Racks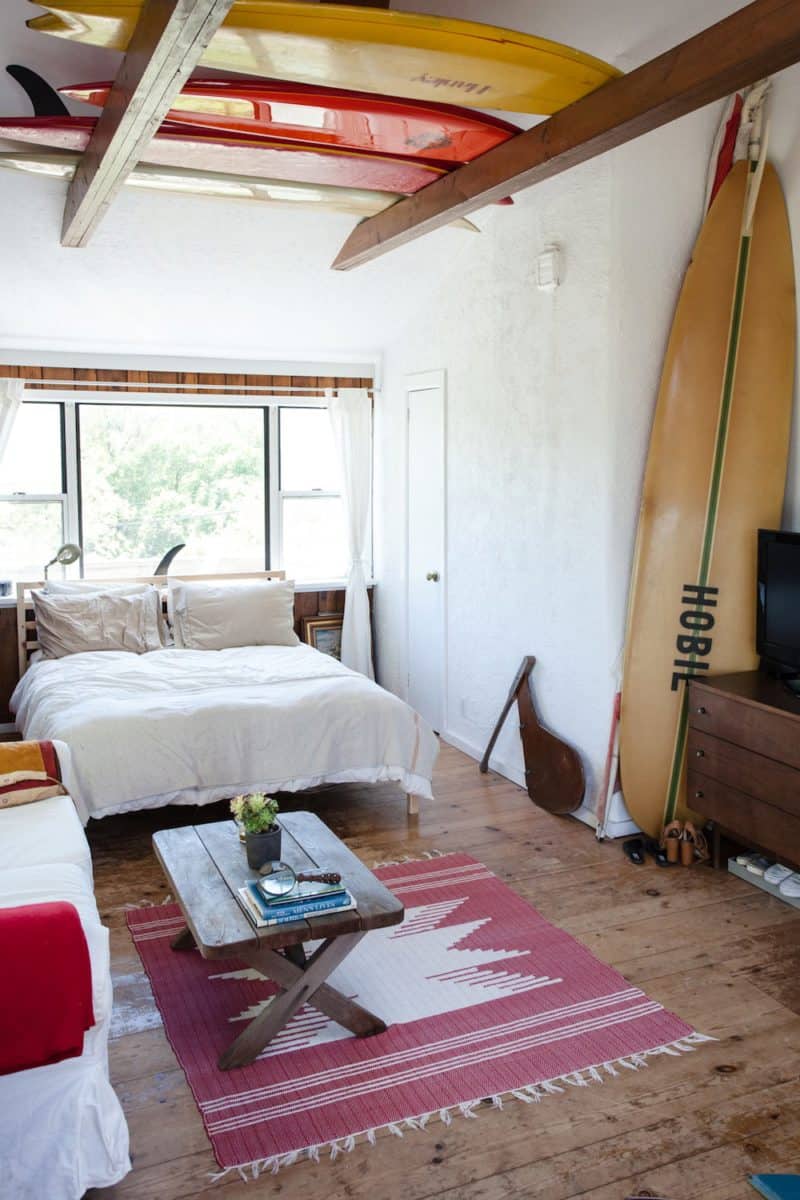 Happen to have some beams with a high ceiling? Put those things to use and throw your boards up there. Insta-racks!

Now that you're all set with a rack, might as well get a new board or two while you're at it. Check out: