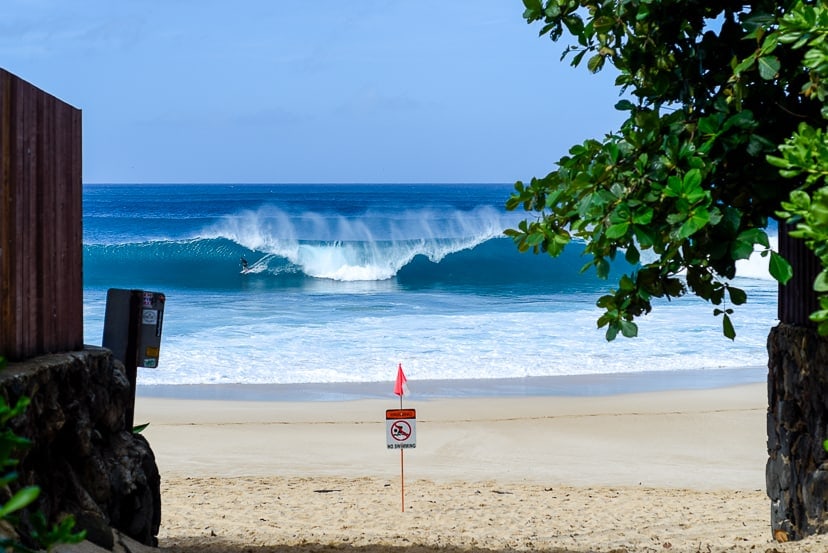 North Shore Oahu is a special place. There are those incredible waves that lure surfers from around the world, and the vibe has a small town Hawaiian feel that makes you want to settle in and stay for a while.
Busloads of daytrippers are dropped off in Haleiwa and Sunset Beach, but if you can look beyond the tourist bustle, you'll find a charming and friendly stretch of coastline that you won't want to leave.
I'm lucky enough to have been going to the North Shore since I was 10 years old, and I can happily report that it hasn't changed all that much in that time. The locals have fought to maintain the small town feel and keep out large developments so they can "keep the country country."
Recently, we spent a couple of months on the North Shore and really got to know some great spots. Here's our mini guide to the North Shore featuring a few of our favorites…

North Shore, Oahu
WHERE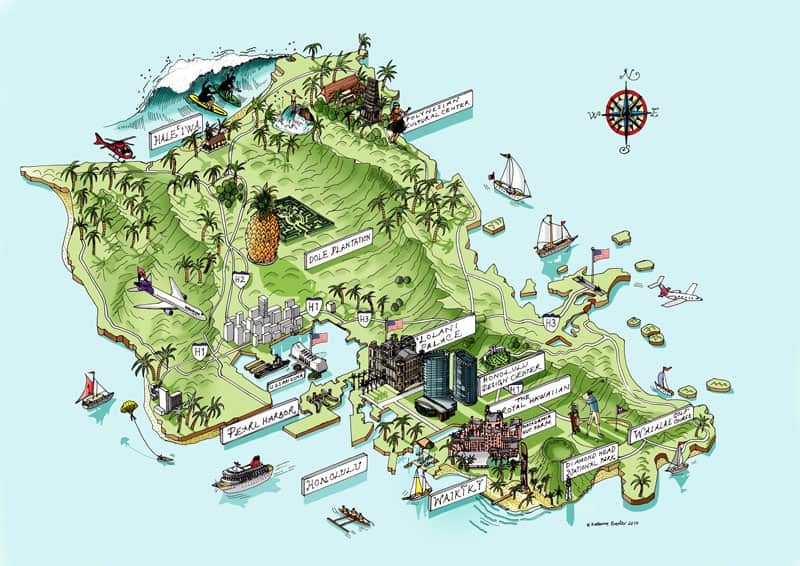 In case you're wondering, the North Shore is in fact located on the Northern coast of the island of Oahu, Hawaii, about an hour drive from Honolulu. World-renowned for its incredible waves in the winter, the North Shore attracts surfers from around the globe.
In the summertime, the ocean completely transforms into calm swimmable waters ideal for snorkeling and diving. The beaches are very family friendly and there's lots of beach fun to be had. The main town on the North Shore is Haleiwa, a small community and collection of shops and restaurants at the west side of the North Shore.
Whether you're looking for beautiful beaches, a laidback vibe, amazing surf, or all of the above, the North Shore is a perfect place for a vacation in paradise.
SURF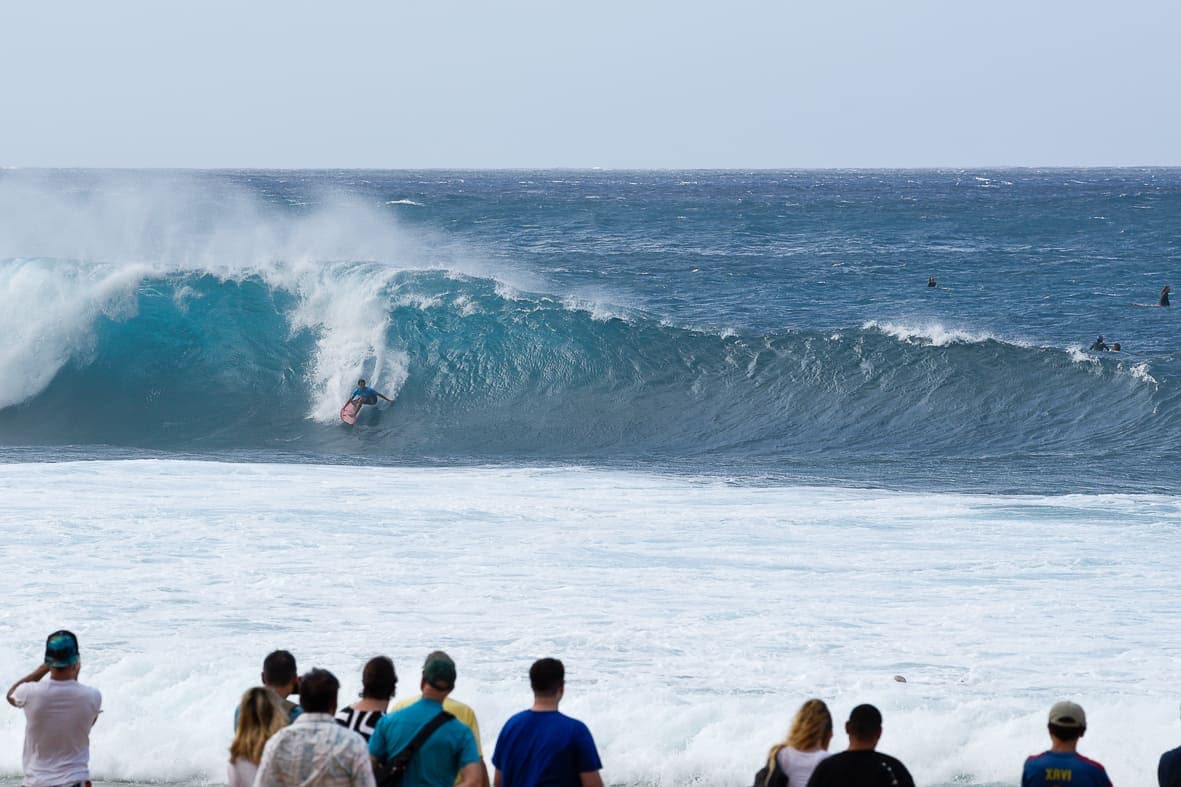 It's no secret that the North Shore is home to some of the most famous surf breaks in the world. Waves on the North Shore are known for their power and magnificence, and surfing is a spectator sport. During the winter when north swells roll through waves can get up to 20-30 feet and several iconic North Shore surf competitions take place. For this reason, professional surfers from all over the world spend much of their time from November to January on the North Shore.
The North Shore gets waves from around September when early season NW swells start to churn, until about May when late-season swells still pulse through. From October through April is when the North Shore comes to life with some of the best waves on the planet.
For your safety, it's good to know that conditions can change very rapidly. One moment you can be surfing a playful head high wave, and a moment later you could be regretfully watching a massive double overhead set coming your way.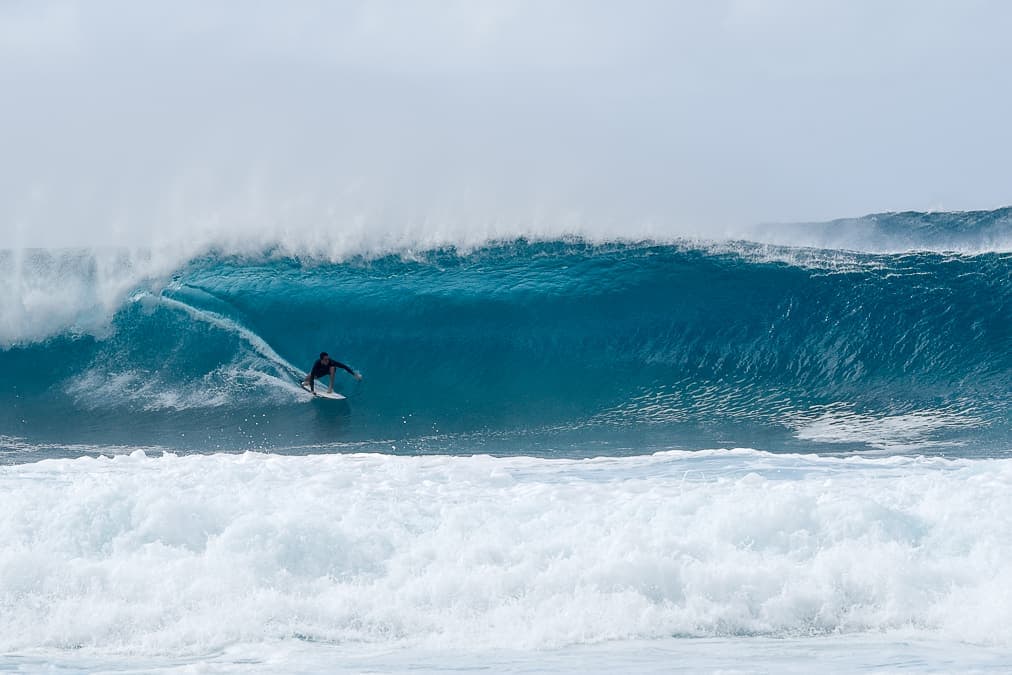 Generally speaking, surfing on the North Shore is best suited for experienced surfers because the waves are very powerful and almost all of the breaks are over coral reefs. However, there are a few user-friendly spots for beginners and plenty of options to take surf lessons from experienced local guides. Here's the surf forecast via Surfline.
As with everywhere you travel, always respect the locals. This is especially important in Hawaii where crowds can be large and localism high. Be realistic about your surf abilities and above all else, be cool.
For more info on surfing in Oahu, check out our Guide to Oahu, Hawaii.
For an overview of the most well-known surf breaks on Oahu, check out our Guide to Oahu Surf Spots.
EAT & DRINK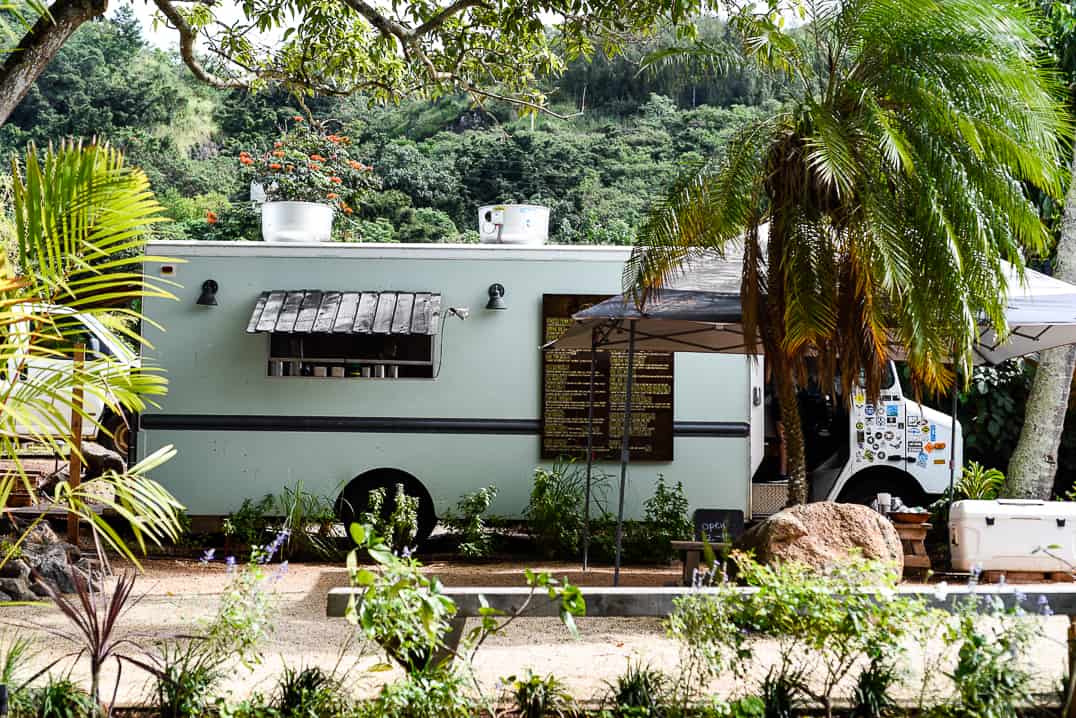 The North Shore has upped its game in the food department over the past several years thanks to the multiple food trucks that have sprung up along the road. The trucks have everything from Cajun food to acai bowls, so if you're with a group of people and can't agree on a place to eat, stop by the collection of food trucks in Haleiwa, or across the street from Shark's Cove.
Nightlife on the North Shore is pretty much non-existent, or rather, not publicly existent. Everything closes quite early, the exception being Surfer Bar at Turtle Bay Resort, which slings drinks until 2 am. Otherwise, North Shore is all about the house parties, especially in the winter when the pros are in town and the surf brands settle into large houses at Pipeline.
THE ELEPHANT SHACK serves up fresh insanely delicious Thai food that's even better after a long surf session or day on the beach. Everything on the menu is a winner, but the Larb and Yum Gai Yang are out of this world. Be warned that the "medium spicy" is sometimes extremely spicy. This place was previously a very successful food truck called The Elephant Truck, and now they have a permanent location in Haleiwa. Do as the locals do and order online through their app, 808elephant. Vegetarian and vegan options. Open 12-9pm, closed Tuesdays.
HALEIWA BOWLS is a palm-fringed counter in Haleiwa with a variety of Acai bowls to power you up for a day of surfing or beach-ing. Deck out your bowl in a smorgasbord of toppings and blends, from chia seeds to maca powder. Open 7:30am – 6:30pm.
WAILUA BAKERY is a tiny deli and bakery in Haleiwa with healthy smoothies, sweet treats, and tasty sandwiches served on fresh house-made bread. Try their turkey sando made with large slices of roasted turkey (no cold cuts here) on their pesto wheat bread. Mmmm. Great place to pick up a picnic for the beach. Cash only. Open 10am – 5pm, closed Sundays.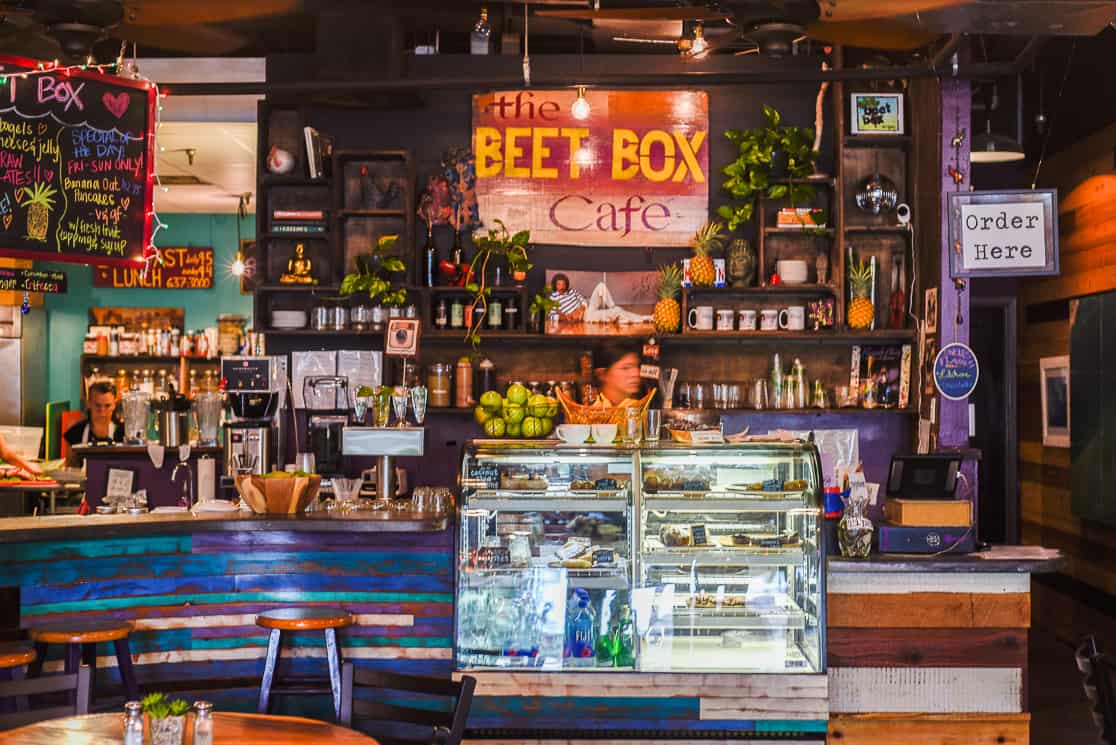 BEET BOX CAFE is an order-at-the-counter cafe with great options for vegetarians and vegans. Chow down on the Beet Box (breakfast) Burrito and a banana kale almond butter smoothie surrounded by succulents and photos of Lionel Ritchie. Seriously, they have a thing for Lionel. Open for breakfast and lunch, 7am – 4pm.
LEI LEI'S is a restaurant and bar located on the golf course at Turtle Bay Resort. Dine on perfectly cooked filet mignon, baby back ribs, or fresh fish with views of the golf course. Fantastic service and a full bar.
THE POINT SUNSET & POOL BAR at Turtle Bay Resort is the best place to watch the sunset with a cocktail in hand (besides making a cocktail yourself and sitting on a beach somewhere). Guests and locals gather at this watering hole to watch the sun dip below the horizon and surfers do their thang at the break on the west side of the resort (Turtle Bay West).
HONORARY MENTION: TAQUERIA EL RANCHO is a seriously delicious taqueria in Wahiawa that serves up fast and authentic Mexican food. The tacos are insane (and we tried them shortly after a stint in Baja… so that's saying a lot). Try the El Pastor Taco Grande or Carne Asada Torta. This is an "honorary mention" because it's not technically on the North Shore, it's actually on the way to Haleiwa (about 25 minutes south of Haleiwa). But if you have a hankering for tacos this is the place to go. (Full disclosure: our friend owns this place, BUT we're so discerning, we wouldn't recommend it unless it was really good. And it's beyond good. Scout's honor.)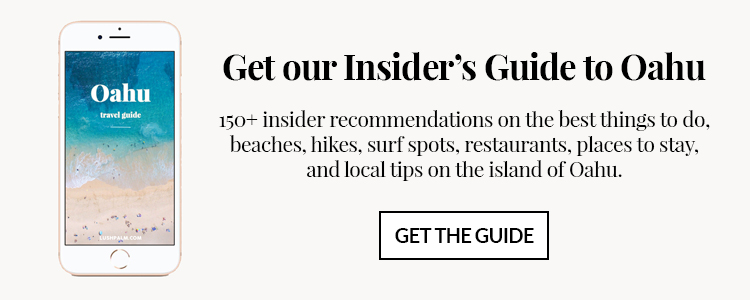 WHERE TO STAY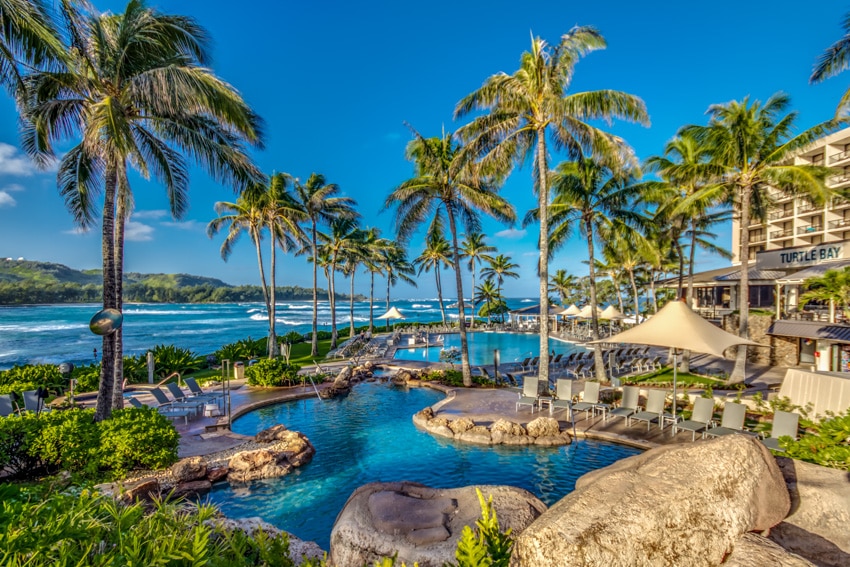 Thankfully, the North Shore has been successful in keeping mass development at bay, so your best bet for a place to stay is either a vacation rental or for big resort fare with all the amenities, we recommend Turtle Bay Resort. Turtle Bay is oceanfront, has stunning ocean views from almost every angle, and it's surrounded by over 850 acres of mostly undeveloped land and coastline.
There used to be many vacation rental options on Airbnb, VRBO, etc, but due to some recent strict short-term rental laws, many short-term rentals are no longer available. We're dialed into the North Shore and help travelers find great places to stay, so feel free to get in touch to let us know what you're looking for and we can help you find a great spot for your trip.
For the closest access to the best surf, we recommend staying between Waimea Bay and Sunset Beach/Backyards, or Turtle Bay is also a great spot with a fun user-friendly surf break right at the hotel and easy access to great trails all around the property.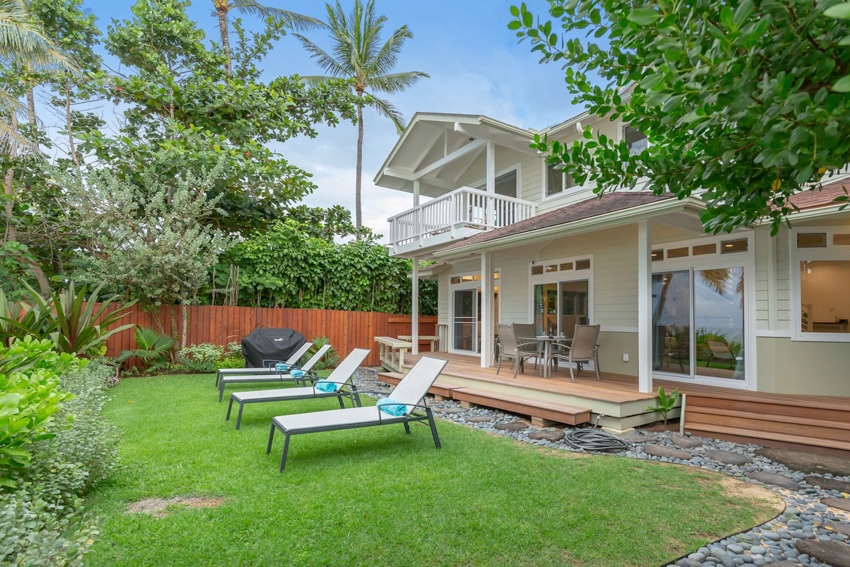 A COUPLE OF OUR FAVORITE BEACHFRONT RENTALS: 
BACKPACKERS VACATION INN & HOSTEL is a good option if you're traveling on a budget, especially if you're traveling solo. It's nothing fancy, but it has a great location right across from Three Tables beach, and close walking distance to the grocery store (Foodland) and a gaggle of food trucks. Dorm beds are $30 USD per night.
DO & SEE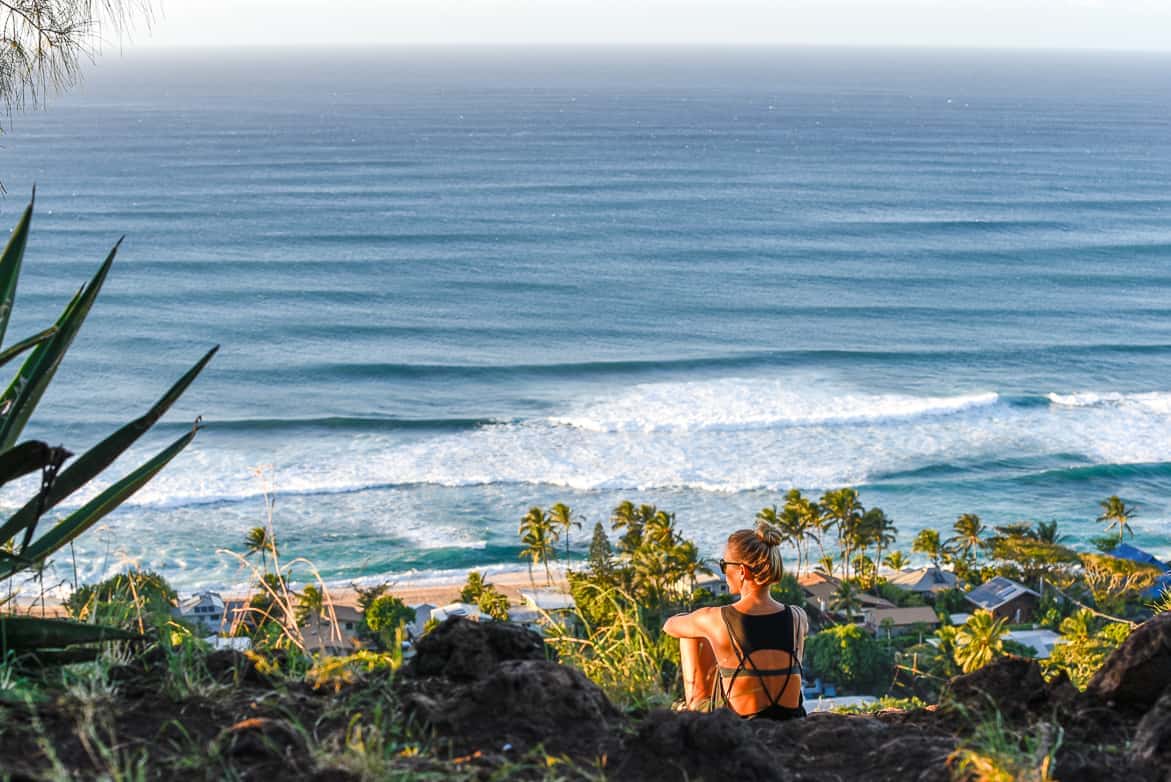 It's no surprise that the waves and beaches are the main draws on the North Shore, but here are a few suggestions for when you're not surfing or beach-ing (if that's possible).
SHARK'S COVE is a great place for a snorkel or dive, but mostly in the summer (sometimes in spring and fall), as the winter brings strong currents and waves. You can rent equipment in Haleiwa at Surf N Sea, or across the street from Shark's Cove.
SUNSET PILLBOX HIKE is a short and steep hike that winds up the mountain behind Pipeline to gorgeous views of the North Shore at the top. Park at Ehukai Beach Park, or along the road by the elementary school. Then walk into the parking lot at the school and you will see the entrance to the hike on the left side. Wear tennis shoes or hiking boots (it can get very muddy) and bring your camera.
WAIMEA VALLEY is a botanical garden with paved paths that wind through a towering lush gorge to Waimea Falls. While heavily touristed, it's still a beautiful place to visit and even learn a bit about the Hawaiian villages that once existed in the valley. Wear your bathing suit to swim in the refreshing falls at the top.
If you can make it work, try to visit on a Thursday, as there's a great farmer's market with live music, fresh produce, and an array of food vendors serving up everything from crepes to Thai food. The farmer's market is open every Thursday from 2 – 6pm.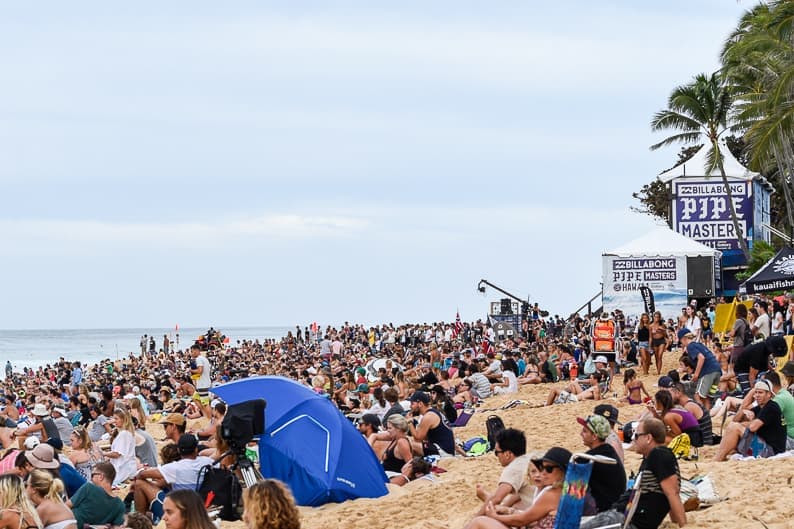 SURF COMPETITIONS are sprinkled throughout the winter, and North Shore is one of the most epic places to see the world's best surfers battle it out. Check out our guide and schedule of the top surf contests on the North Shore of Oahu for dates and info on the 2018 – 2019 winter season.
In case you're not familiar with the format of surf contests, here's the lowdown. Since coordinators can't predict what exact dates will have the best conditions for surf, there are windows (aka holding periods) in which the contest might take place. For example, if the window for the Pipeline Masters is December 8 – 20, weather and wave conditions are closely monitored during these dates, and every day of the contest window, coordinators will make the call whether the contest is on or not.
If you're visiting Oahu in a contest window, check out the website of the contest every morning to see if the contest is on. Or check out the Surfline website, as they usually report whether contests are a go. Here's a list of the top North Shore Surf Competitions.
SHOP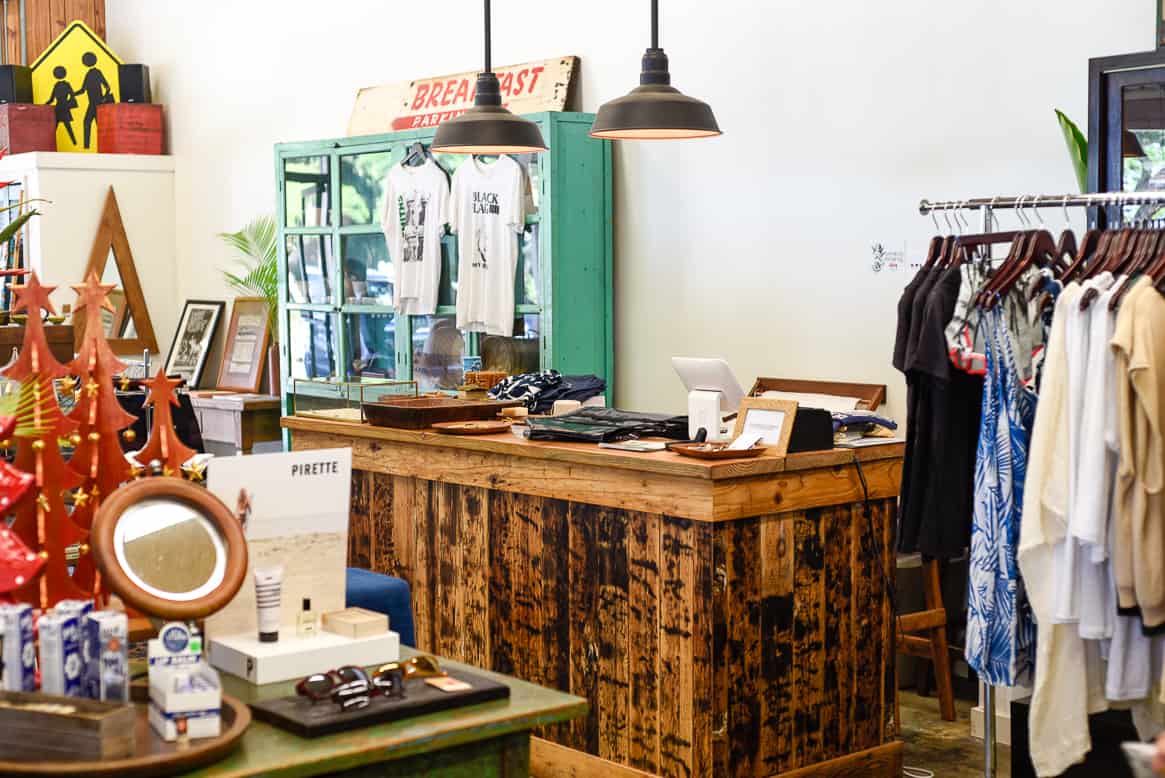 NO. 808 is a gender-neutral boutique in that carries über hip fashion for men and women, as well as an assortment of Hawaiian-inspired coolness. Shop beachy jewelry, pillows, beach bags, Hawaiian books, vintage tees, and other finds you never knew you needed. Open 11am – 6pm.
GUAVA is a beautifully curated women's shop with irresistible clothing and swimwear by (mostly) Hawaiian designers. Get your fill of flowy beach dresses, cover-ups, and sexy swimwear. The store also has a lovely collection of small items perfect for gifts like cards, change purses, art prints, colorful tassels, and the like. Open 10am – 6ish.
SURF N SEA has been a staple on the North Shore since 1965 and is jam-packed (literally) with surfboards, clothing, and dive gear. Surf N Sea is heavily-trafficked with tourists because of rentals and heaps of souvenirs, but they actually have a good selection of new and used boards at decent prices. Open 9am – 7pm.
The North Shore is a very special place so please treat it with Aloha spirit and lots of love :). If you have any questions or recommendations to share for North Shore Oahu, please let us know in the comments below! Mahalo!
To plan the perfect trip to Oahu, check out our Premium

Oahu Travel Guide

>>