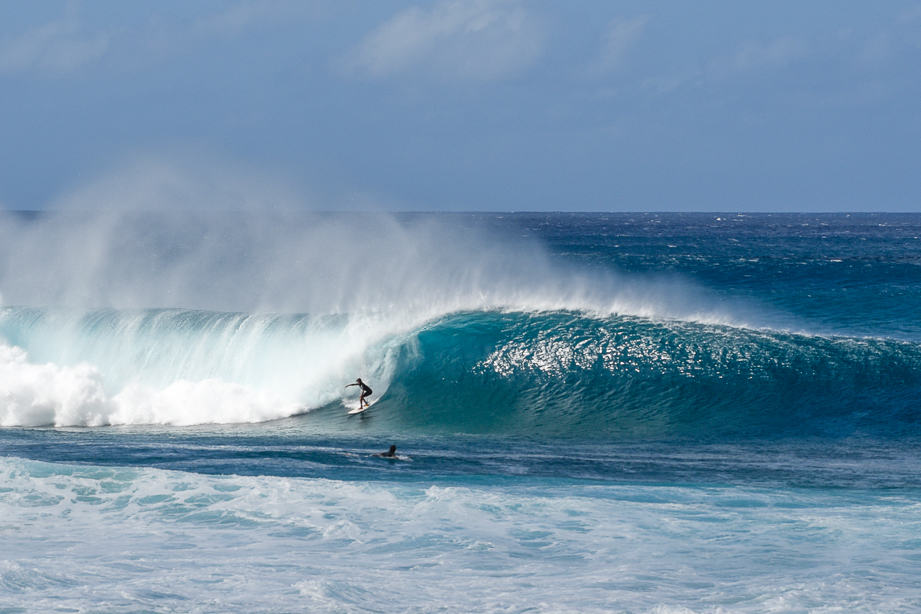 The island of Oahu is home to some of the best and most famous surf breaks in the world, many of which are located on the North Shore. From the picture perfect barrels of Banzai Pipeline to the humongous mountainous waves of Waimea Bay, Oahu has some of the most photographed waves in the world.
There are fun waves in Oahu year round and tons of breaks to explore throughout the relatively small island. It's probably best to get acquainted with some of the more popular breaks first though so you can get a taste of Hawaiian surf and learn the lay of the land a little bit before you go venturing off to the lesser-known breaks.
You can drive across the island in about an hour to an hour and a half, depending on traffic (which can get really busy depending on the time of day). On the North Shore, AKA the 7-mile miracle, it can sometimes take 30 to 40 minutes to drive end to end. The speed limit from Hale'iwa to Turtle Bay is mostly a laidback 25 to 35 miles per hour and the area can get a lot of traffic from frequent north shore surf competitions in the winter and tourist buses making frequent stops in Hale'iwa, Sunset Beach, and the oh-so-popular shrimp trucks.
If you're planning a trip to Oahu, check out our detailed guides:
Back to Oahu's top surf breaks. For the sake of keeping less known breaks less known, we've simply rounded up some of the most popular and well-known surf spots on the North Shore of Oahu and beyond.
OAHU SURF SPOTS
NORTH SHORE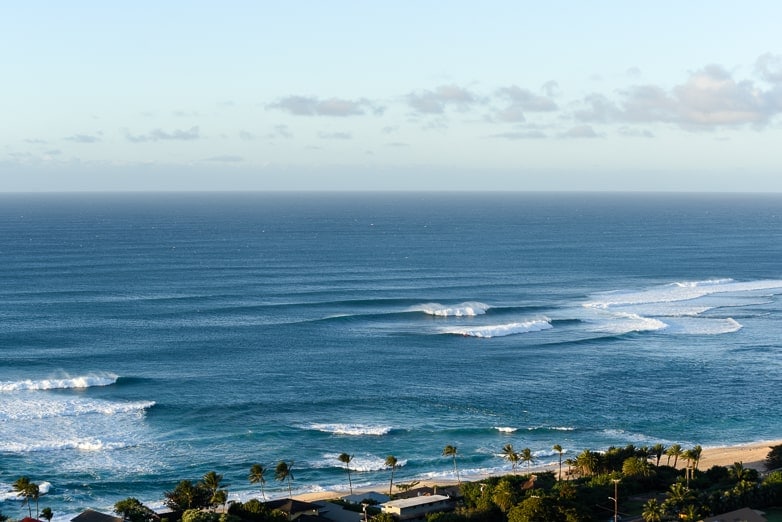 HALE'IWA, OAHU (ALI'I BEACH PARK): Reef break. Punchy rights and lefts on offer. Hollow barrels if big enough. Arena for high-performance surfing.
PUA'ENA POINT: Slabby reef out at the main peak. Very popular place for surf lessons because the white water from the set waves out back funnels into the little bay-like setup making it a great place to teach surfing. The breakers out back offer up rippable lefts and rights. If it's a small day could serve as a good place for a progressing surfer to put their developing skills to the test.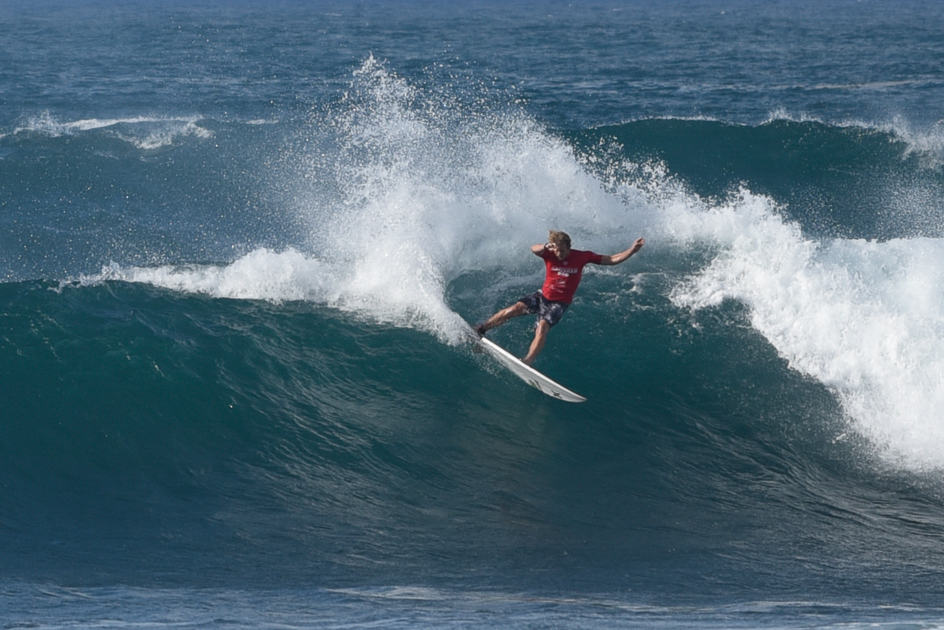 LANIAKEA (LANI'S): Reef break. Long lined up rights and peaky punchier lefts on offer. Lani's is the first break you see when driving on Kam Hwy from Honolulu or Hale'iwa. Because of the quick and easy access and the fact that it's a swell magnet, it can get quite busy at times.
CHUNS: Reef break. The most sought-after peak is the right. Typically lots of longboards and hybrid boards dominating the lineup but still a wave where a short board could be a fun option when it's good. There's often a peak that breaks left without many people paying attention to it. It tends to much much shallower going left. This is a popular place for lessons since it's definitely a mellower longboard-friendly wave.
WAIMEA BAY: Deepwater big wave spot. Waimea Bay only breaks on big swells and is known for its open water power and size. Experts only.
OFF-THE-WALL: Patches of sand and reef. Fun Hawaiian style beach break. Works on all tides. Very punchy often hollow rights and lefts on offer. Because of the shifty peaks going both directions, the crowd can be spread out at times. Can hold double overhead plus.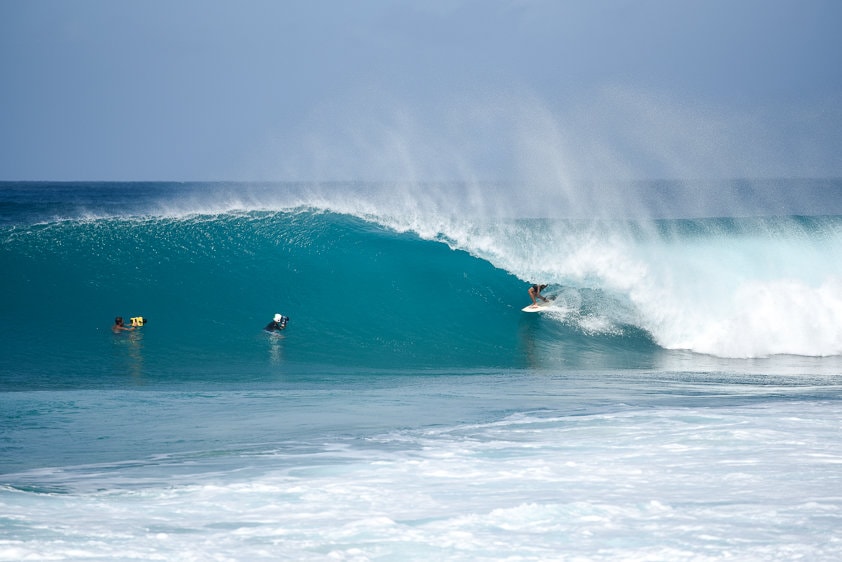 BACKDOOR: Shallow, craggy, dangerous reef. Right-hand barrel perfection breaking at Pipeline toward Off-the-wall. This is essentially surfing a right at Pipeline. Experts only.
BANZAI PIPELINE (PIPE): Shallow, craggy, dangerous reef. The legendary perfect left-hand barrel that the entire world knows about, including non-surfers. Experts only.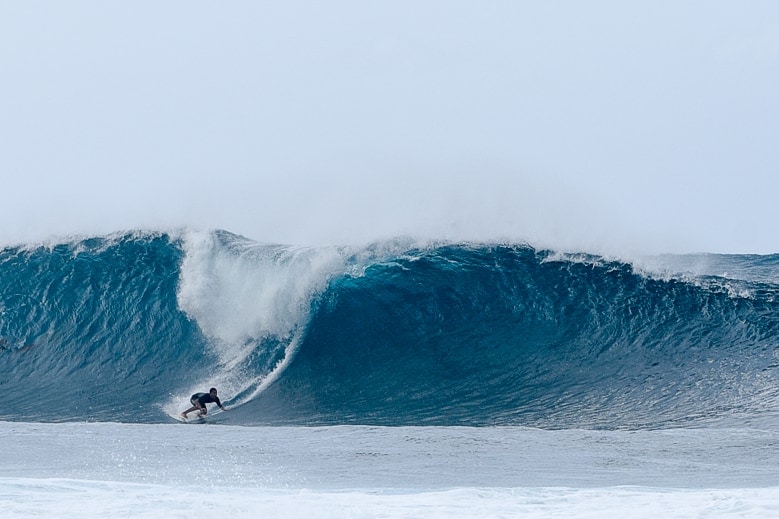 EHUKAI BEACH PARK: The little stretch of beach directly to the right of Pipeline. Patches of sand and reef. Rights and lefts on offer. Could be a good option if there is some swell in the water but it's not big enough for Pipe to turn on.
ROCKY POINT: Rocky Lefts and Rocky Rights. Reef break. Strong currents! Produces rippable faces and some solid barrels. Hotspot for rippers from around the world as a lot of photographers post up there all day. The shifty peaks and strong currents keep the crowd mixed up and on their toes. Advanced only.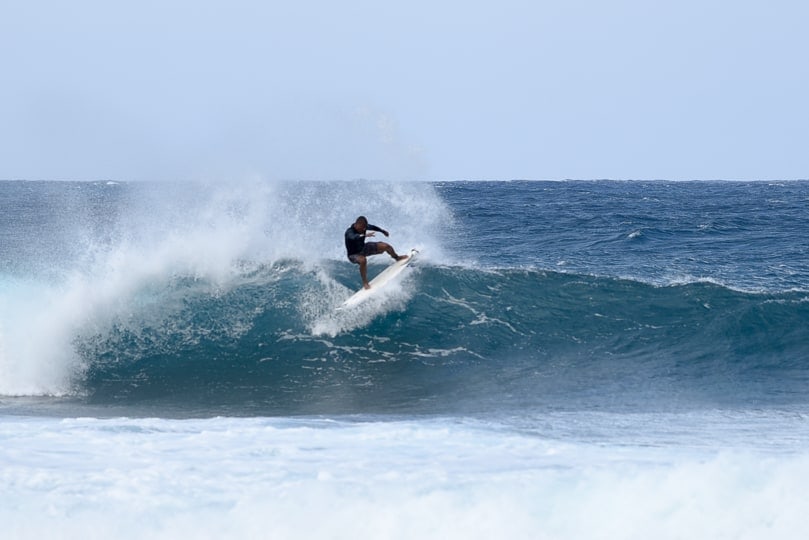 SUNSET BEACH: Another world famous gem of the North Shore. Slabby reef break. Can produce massive, unruly waves. Long paddle out. Multiple peaks over a huge area. Lefts and rights on offer with the rights being favored.
VELZYLAND: Reef break. Often a draining right-hand ledge of a barrel with smashable sections. Lefts on offer too but they break into some very sharp and shallow reef. Locals have it dialed and on lockdown so be aware. As in, pay attention, wait your turn, bring your best etiquette, have a good attitude, and don't expect to get anything. And hey, maybe you'll get lucky.
*Note, if you want to stay in an awesome 4-bedroom beachfront villa right at Velzyland Beach and around the corner from Sunset Beach, check out Hale Pono >>.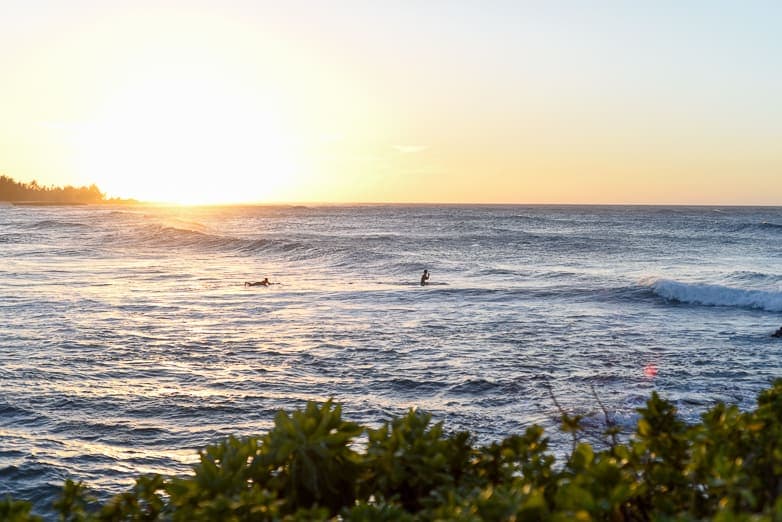 TURTLE BAY WEST: Right-hand reef break to the side of Turtle Bay Resort (which is a great place to grab a drink and catch sunset when you're not surfing). Can get fun. Usually a mellow crowd since the resort is right there which brings a mix of people. Paddle out over shallow reef especially at lower tides. Good mix of all surfboard shapes and styles. Often people taking lessons on the inside.
SOUTH SHORE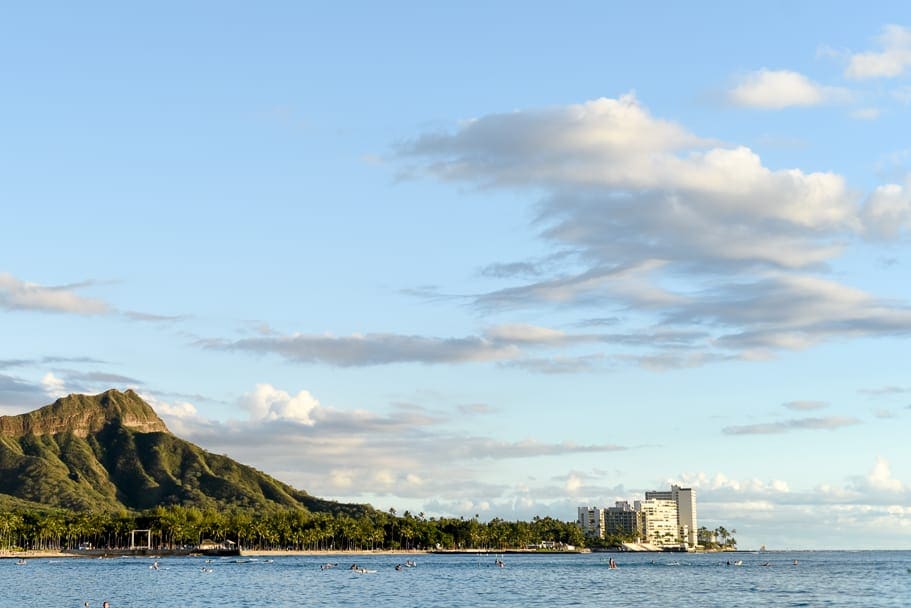 ALA MOANA BOWLS: Sharp and shallow left-hand reef break. The South Shore's main attraction when it comes to long, hollow, draining barrels and high-performance surfing. Ala Mo or simply Bowls is one of the premier waves in "Town" (Honolulu). With its prestigious reputation comes fierce crowds and a highly competitive lineup, especially for non-locals.
KAISERS: Reef break. Bowly hollow right with a softer left. The right empties into a channel and the left goes over some very shallow reef. Busy and highly competitive. Advanced intermediates to expert only. Best on a mid tide.
THREE'S: Reef break. Fast and hollow right-hander. All levels of surfers can be found in the lineup.
CANOES: Reef break. Fun and mellow waves on offer on smaller days with lots of ocean kayaks and outrigger canoes cruising through at any given moment. When a decent south swell fills in it thins out the canoe population and attracts more of the local ripper crew who want a piece of the draining right-hand barrel.
QUEENS: Reef beak closest to Town, so always crowded and with lots of beginners. Depending on the size and swell direction either the left or the right will be longer and better. On a bigger south swell the left could get really good and be one of the most rippable waves in Town.
PUBLICS: Reef break. Sharp and shallow with live coral reef. One of the longest lefts and most consistent surf breaks around Honolulu. A bit of a paddle out and dangerously shallow at low tides, best to avoid getting in or out at a dead low. Softer wave on a higher tide and hollower on a lower tide.
WEST SIDE
MAKAHA: Reef break point. A very popular and known-to-be-localized right-hand point. There are multiple peaks and sections depending on the size, tides, and overall conditions. The peaks are known as Point, Bowl, Blowhole, and Inside Reef. You'll find all kinds of board riders in the water on any given day. Picks up all sorts of swell directions so it can be a fun option when other places are blown out or not working.
If you're headed to the North Shore, check out:
For more info on traveling in Oahu, check out:
Oahu Hawaii / Everything You Need To Know to Plan a Trip >>
TRAVEL INSURANCE
While we'd all rather not think about getting injured, there are too many cases of people who didn't think about insurance and get nailed with crazy medical bills after the matter.
That being the case, many hotels and surf properties actually require that you have approved travel insurance in case of a serious inquiry or trip cancellation, especially in the wake of COVID.
You know the deal—better safe than sorry. We recommend Battleface or World Nomads Insurance. Both companies offer very comprehensive travel insurance and cover heaps of activities, including surfing and ocean sports. You can easily check them out and get a fast quote below.
Get a Battleface Insurance Quote >>