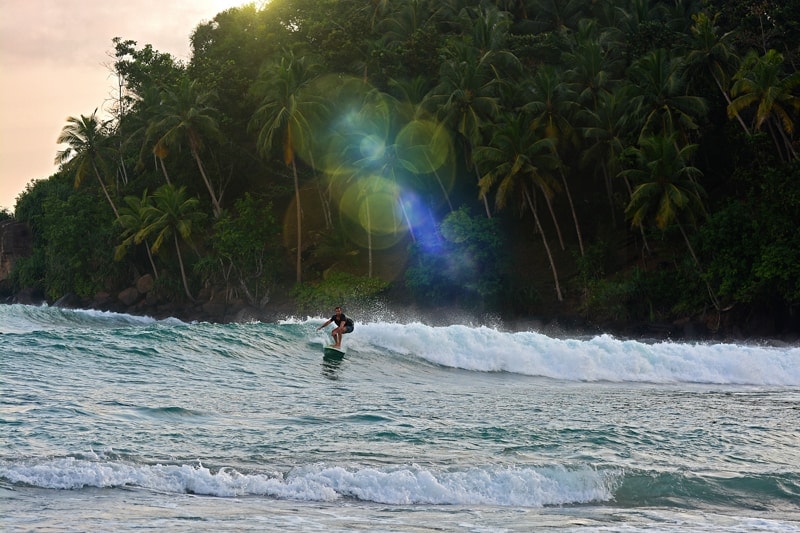 Surfing isn't the easiest thing to learn, but it's definitely one of the most rewarding. Spending hours in the ocean riding waves and hanging out with friends not only reaches astronomical levels of fun, it's downright good for the soul.
It can take some time to learn how to surf, so a great way to start surfing (or progress as a beginner) is to take a surf trip where you can surf every day to really build your skills and get momentum in your learning process.
You can visit a surf destination and take surf lessons, or an especially ideal option for beginner surfers is to spend a week or two at a quality surf camp where you'll have access to skilled surf instructors teaching and guiding you every step of the way.
Whether you're still practicing your paddling and duck dives or you can already stand up and go down the line, finding beginner-friendly surf destinations and surf breaks can make a huge difference as you kick off your surfing career.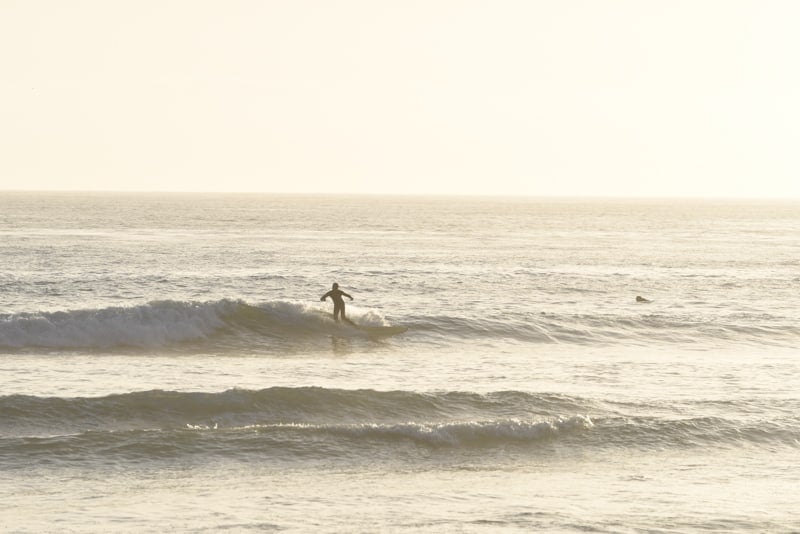 There are a few important factors to look for when choosing an ideal place to learn how to surf:
A sand-bottom break will be the most forgiving in the inevitable wipeouts.
Slow-breaking waves with lots of room to stand up and ride to the beach will help you master balancing on your surfboard.
And a friendly line-up where you can trade waves with other beginner surfers will help you be more comfortable as you learn the basics and practice proper surf etiquette.
These few elements will not only make surfing easier, but they will also make it a lot more fun.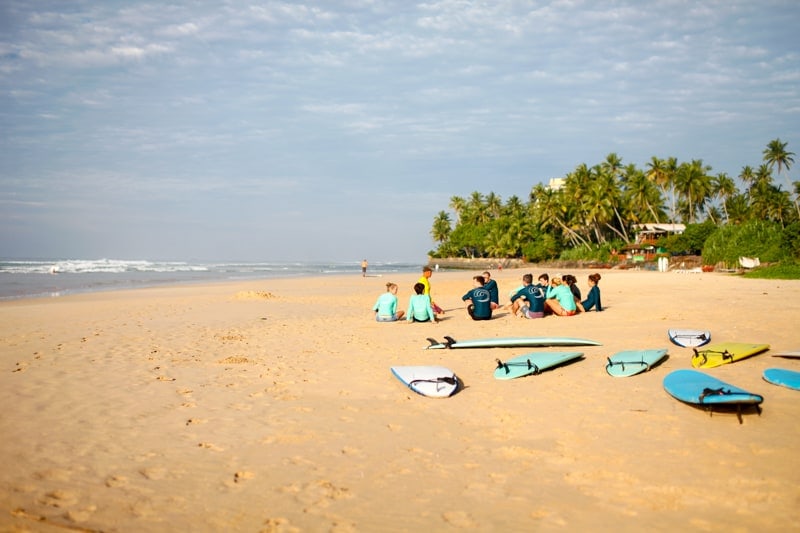 If you're just starting out, we highly recommend taking some surf lessons to learn basic techniques, proper surf etiquette, surf safety, and get hands-on help in the water. Watching some youtube videos might give you the gist of what to do, but getting some guidance from good surf instructors will really help your learning curve and set you up with a solid foundation from the get-go.
In the meantime, check out this guide for everything you need to know before you get into the ocean:
To help you on your surfing journey, we've rounded up the best surf trips for beginners around the world that check all the boxes and then some.
These surf destinations have the perfect setup for beginner surfers, and they're also great places to visit in general, so when you're not surfing there's a ton of other things you can enjoy. So pack your bags, grab your suit, and get ready to hit the waves!


SURF TRIPS FOR BEGINNERS
1 • Costa Rica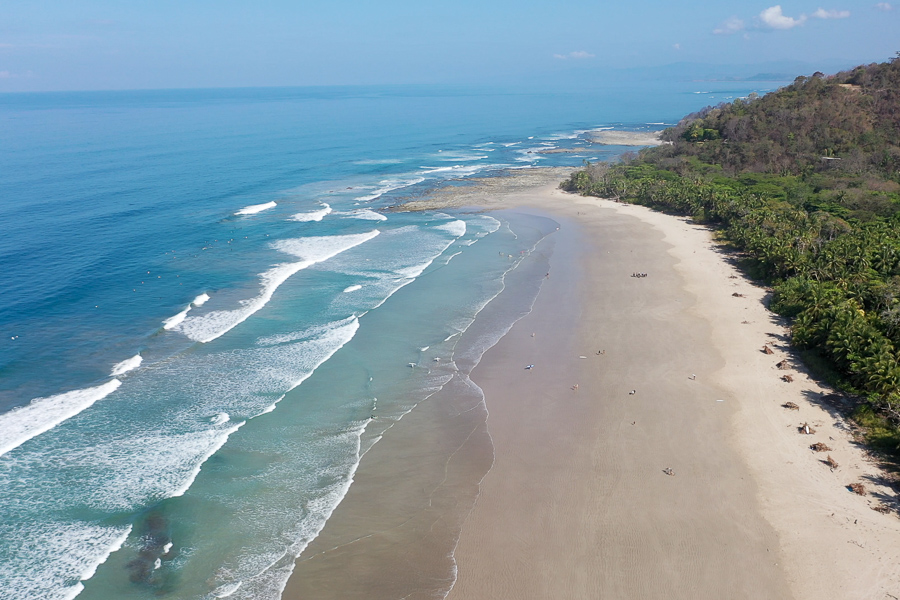 Costa Rica is one of the best places to surf for beginners. The water is warm, the long wide beaches are sandy, and there's a wide variety of beginner-friendly breaks at multiple destinations along the Pacific Coast. For a top-notch surf coaching experience to help you get better at surfing faster, check out Lush Palm Costa Rica — our (super awesome) luxury all-inclusive surf and yoga retreats in Costa Rica.
If you want to take a break from surfing or explore the wilds of Costa Rica, there are endless possibilities for you to get out and adventure. From ziplining and horseback riding to sunset sailing and snorkeling, Costa Rica delivers the goods.
2 • Weligama, Sri Lanka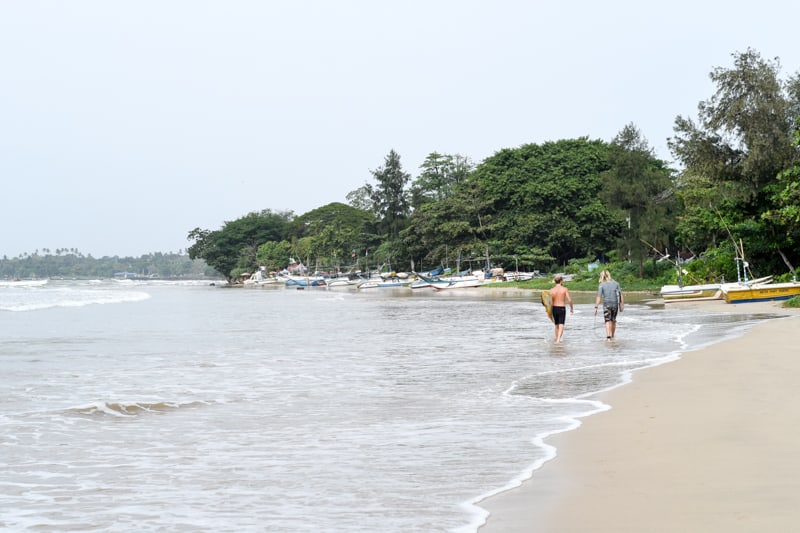 The translation of Weligama is "sandy beach," which describes this place perfectly. Two kilometers of sandy beach with small rolling waves and good wind protection. While the surf season on the southwest coast of Sri Lanka is November through April, Weligama has good conditions for beginners year-round. We highly recommend the surf and yoga retreats at Soul & Surf Sri Lanka.
3 • San Diego, California
San Diego is rich with a beautiful coastline, great weather, and consistent year-round waves. While there are plenty of top-notch waves for advanced surfers, San Diego's many sandy beaches and mellow breaks are ideal setups for learning how to surf. Stay at Surfhouse in Encinitas and take lessons with their skilled surf instructors.
4 • Byron Bay, Australia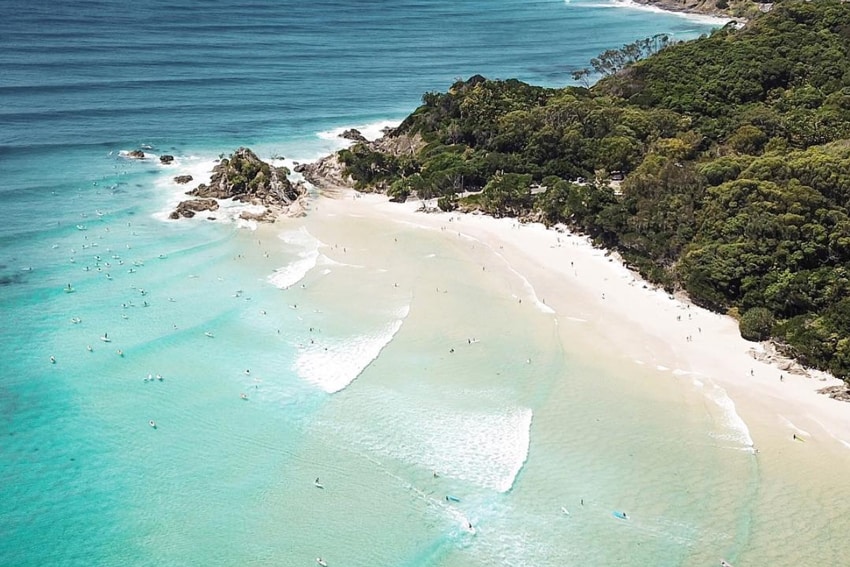 This coastal town in the southeastern state of New South Wales is known for its beautiful beaches, stylish cafes, and buzzing nightlife. The Pass and Wategos Beach are two of the most fun spots to take out a foamy and learn how to surf. For lessons, check out Soul Surf School.
5 • North Shore, Oahu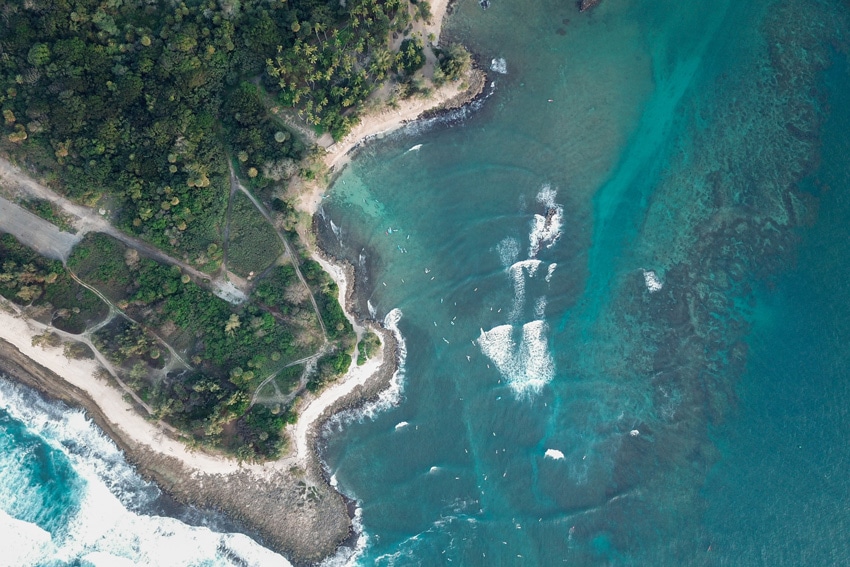 North Shore Oahu is home to some of the best and most powerful waves in the world, so it's actually not a place many people would think of as a destination for beginner surfers. Many breaks are off-limits to beginners, but there are actually a few breaks (check out Pua`ena Point and Chun's) that are sheltered from the larger swells and produce easy rolling waves perfect for learners.
Stay at the oceanfront Turtle Bay Resort and arrange lessons with the concierge, or get in touch with North Shore Surf Girls or Uncle Bryan's Sunset Suratt Surf School for small group lessons and private lessons.
6 • Malibu, California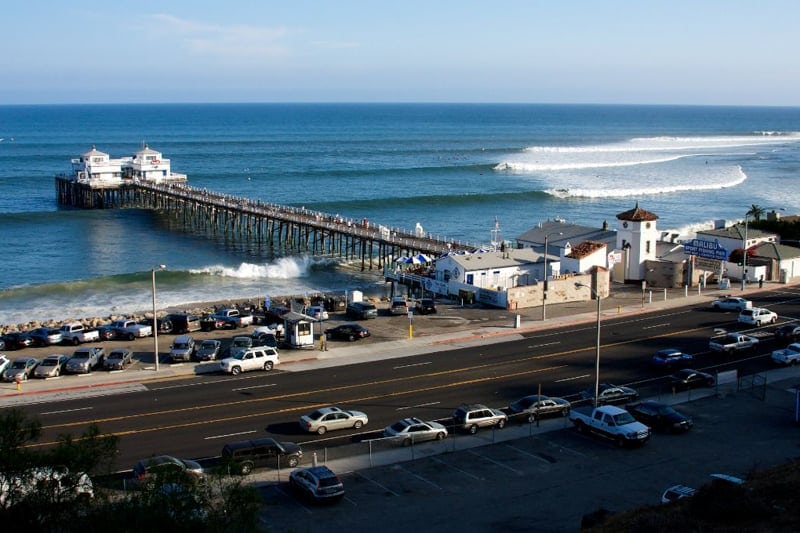 This iconic destination has waves for surfers with all styles and skill levels. Surfrider Beach has three right-hand point breaks as the swell wraps in towards the pier. While the first point can break fast and hollow, the second and third are perfect to get you on your feet and riding down the line. Head over to Malibu Makos Surf Camp if you need any help.
7 • Ericeira, Portugal
Once a small traditional fishing village, Ericeira Portugal has blossomed into a holiday hotspot and surfing mecca thanks to its picturesque views, beautiful beaches, and density of surf breaks. This wave-rich region has its share of world-class waves for the most advanced surfers, but there's plenty of gentler waves for beginners to get in on the action.
Rapture Surfcamp Portugal is a great surf camp close to the beach that offers surf/stay packages and a la carte surf lessons with licensed instructors.
8 • Montauk, New York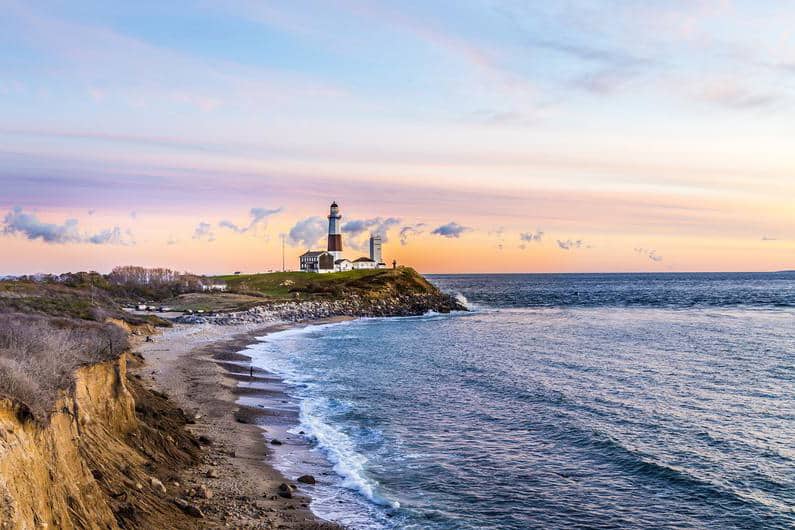 Featured in Surfer magazine as one of the 'Top Ten Surf Towns in America,' Montauk is a popular surf destination for both local and traveling surfers. Ditch Plains is a great spot to get some practice before you paddle out to more crowded line-ups. If you need one or two technical tips, CoreysWave has lessons for all ages and skill levels.
9 • Sayulita, Mexico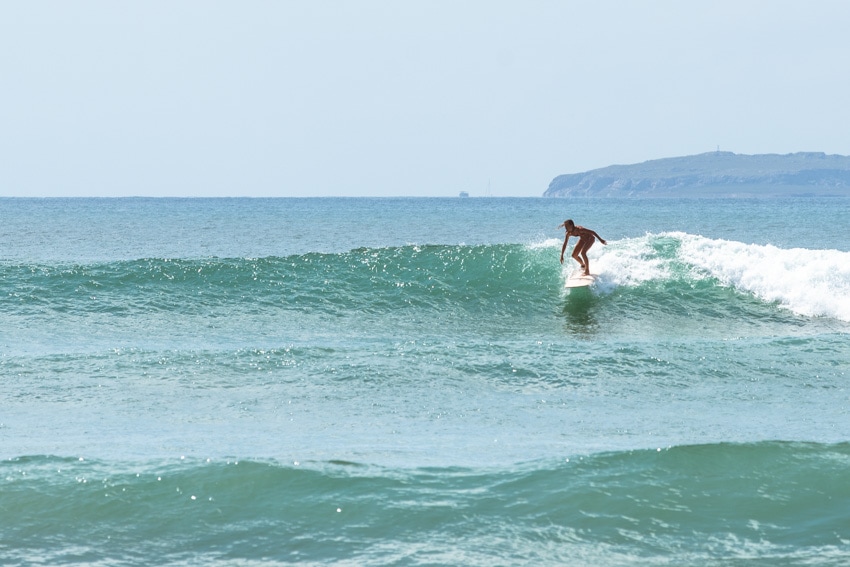 The wide variety of waves breaking on this coast have turned Sayulita and the Riviera Nayarit into a popular surf trip destination. With a sub-tropical climate comparable to the Hawaiian Islands, the reefs right in front of the town are perfect for beginners and longboarders. I Love Waves offers personalized surf and yoga instruction on the Riviera.
For a luxe place to stay with a group, check out Casa Saturno. Another good option is Petit Hotel Hafa, a lovely boutique hotel right in the heart of the action.


For more surf destinations, surf camps, and surf resorts: